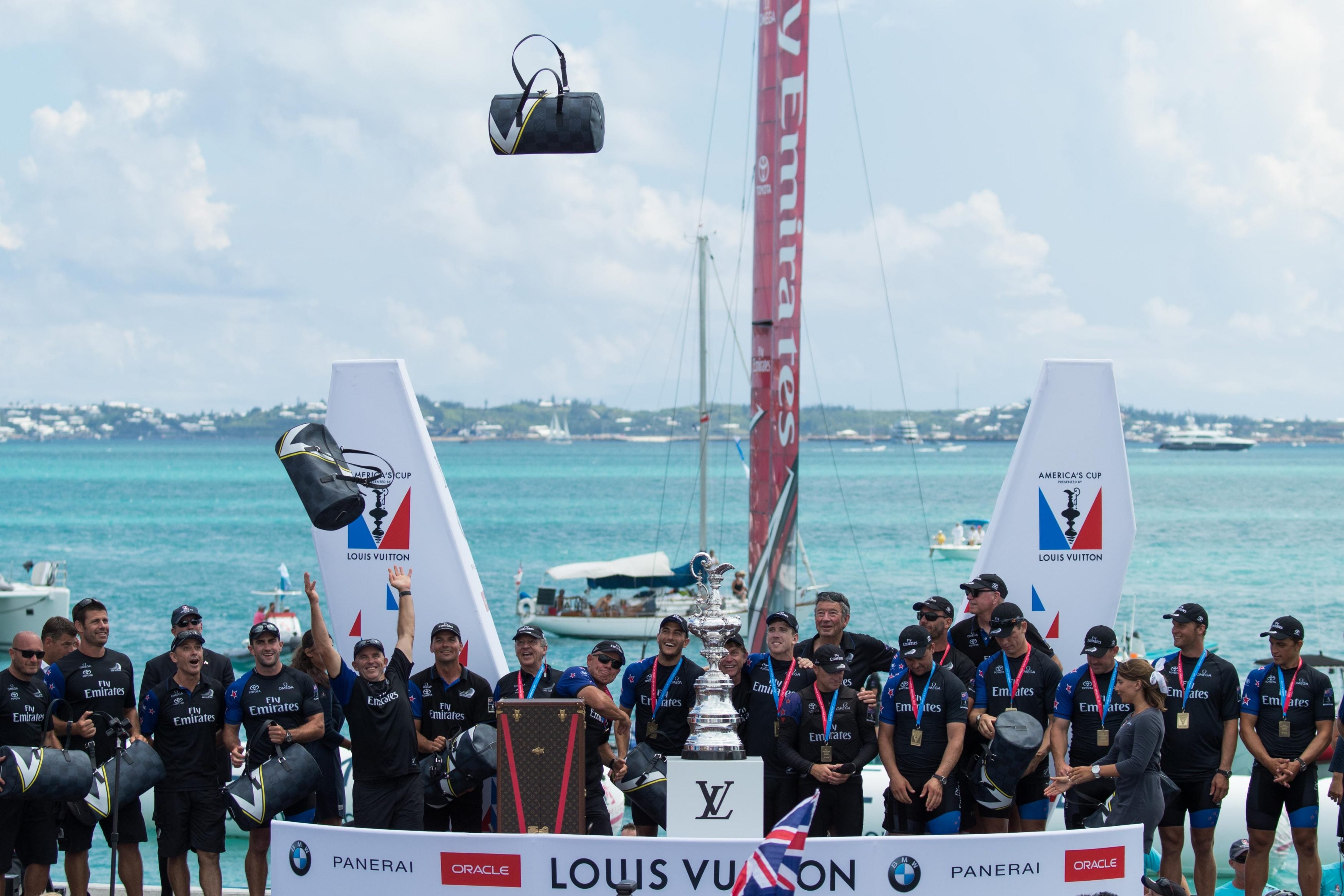 All sporting competitions have losers, but the America's Cup has more than most.  For the Bermuda America's Cup, we're not sure yet just who the biggest loser is, and while it will take some time (and some numbers) to figure out just whose ass is bleeding the most, we've got our ideas:  Is it Russell Coutts, who lost his first-ever America's Cup after winning 6 of them as either CEO or Skipper, while picking up a reputation as one of the worst event administrators in the history of the Cup? Or perhaps it's Bermuda, where a funereal pall has descended on an island that was promised so much by Russel and his minions and is now left with nothing but a huge bill, terrible TV ratings, a giant new events center in a country that doesn't have enough inhabitants to attract big events, and a July election that will likely see the AC-friendly government out on its ass.  Is it Franck Cammas, who has all but promised that his sponsors will not spend the money to go to New Zealand?  Or is it Jimmy Spithill, who was not just beaten around the course, but beaten at his own game – the starting box, and the press conference – by a kid who was sailing on the Youth team just four years ago?
Actually, the biggest loser might just be the folks at Louis Vuitton, and as you can see in this photo from the final awards ceremony, the new holders of America's Cup don't like their overpriced bags at all.  That's tens of thousands of dollars of ugly-ass Louis Vuitton "prize" duffels being launched into the crowd by ETNZ seconds after receiving them from some functionary, and with Prada now the Challenger of Record, it's safe to say that the next America's Cup will be the first in a very long time where Louis Vuitton ain't on the event sponsor list, the guest list, or any other list.  Good news for tennis, golf, and motor racing though – give LV a call folks – they'll have some spare sponsorship money laying around now!
Photo courtesy of Richard Hodder/Emirates Team New Zealand
June 28th, 2017
Just $60,000 (plus taxes) buys you a 40′ rib with 700 horsepower (2016 Yamaha) – that's barely the cost of the motors – and a hell of a story to tell.  Lying Bermuda…
June 28th, 2017
The D-35 cats may look positively dated when compared to modern foilers, but they're still some of the quickest light air boats in the world, and they still rule Lake Geneva.  We loved this pic from the one of the biggest lake races anywhere – last week's Bol D'Or – where Dona Bertarelli's Ladycat took second place to brother Ernesto's Alinghi by just 90 seconds after five hours of racing.  Jerome Clerc's foiling GC32 Realteam was the first non-D35 on the list, taking third.
Chris Schmid photo above of the final beat to the finish, with a gallery here.
While we'd love to be able to use this photo to break the news that this brother-sister rivalry could spill over to the next America's Cup (and what a story THAT would be!), we've unfortunately received a statement from the team this morning that puts an end to the speculation.  "At this moment in time there is no chance of us doing an AC," said a spokesperson for the team.
I think we speak for sailors (and sailor chicks) everywhere when we say: Dona, PLEASE!
June 28th, 2017
Every now and again some rich guy tries to dispute the validity of an America's Cup challenge, and a couple of hours ago this photo surfaced to nip all that in the bud.  The photo, shot aboard ETNZ principal Matteo De Nora's 46m Imagine, shows the Commodore of the CVS handing over their Challenge to the Comm of RNZYS at the actual moment ETNZ completes its dominant run over Oracle Team USA.
Chat about the new Challenger of Record in the COR thread here, and vote for the kind of boat you'd most like to see in AC36 in Auckland in the Next AC Boat Poll thread here.
June 28th, 2017
24 hours with French sailor François Gabart onboard his 100ft trimaran MACIF designed by the VPLP design team, this 30-metre wide, 21 metre wide boat has been designed for solo sailing. A light boat (14.5 tonnes) with very fine hulls. Much more from Christophe Launay.
June 28th, 2017
Just as the America's Cup comes to a close, another spectacular multihull race has begun. Four "Ultime" category trimarans have departed Europe for a mid-summer Transatlantic race to New York, because, well, 'Merica.
In homage to when the yanks came to the aid of the frogs in WWI in 1917 – and to recognize our nation's friendship and solidarity – comes the centennial transat known as "The Bridge". From the bridge of Brittany's Saint-Nazaire to the Verrazano Bridge in New York, the four crewed Ultime's are up against a formidable opponent in the Queen Mary 2; the Atlantic's last remaining ocean liner. While the sailboat vs. ocean liner concept is more than a bit hoakie, watching the battle between this quartet of huge tri's is anything but.
After a day in light and inconsistent breeze, the fleet is now on the back side of a low, reaching towards North America with pace. Francis Joyon and IDEC Sport currently lead from Francois Gabart and MACIF, having swapped the lead back and forth, and currently separated by a just a couple of miles on the tracker.  
Thomas Coville and SODEBO continue to slip behind, 85 miles back, with fourth-place Yves Le Blévec's Actual a further 120 back. It's still very early, and the route to the Big Apple is a complicated one in between a series of lows, so we're grabbing the popcorn now.
For the record, the Queen Mary 2 has stormed to an impressive early lead with her reliable daily VMG runs of 560+ down the rhumb line. – Ronnie Simpson.
June 28th, 2017
One of the desperation moves of the AC came when last week, Coutts brought in spanish superstar design consultant Juan Barcopero to help troubleshoot their massive speed disadvantage.  Fortunately, an OTUSA Anarchist caught it on video, and we've finally translated and subtitled it.  Enjoy this rare look inside the secret world of the Oracle Design Team.
June 27th, 2017
TP52 moulds have been put to good use recently but with a bit added on top. With the 2017 Rolex TP52 World Championship coming up, a decade after the first Rolex TP52 worlds in 2006 in Miami and after so much development of boats and class racing over the years, maybe a good time to weigh in?
A TP52 is of course more than a set of numbers, but then again to get an idea what you are actually looking at or reading about numbers do help. The length overall of 15.85m and beam of 4.42m result in a hull area including the transom of just under 85m2 and a deck area of just under 59m2. Depending on build quality a Nomex cored hull will weigh 500-550kg, a Nomex cored deck 210-240kg and the internal structure just over 300kg. Then taping the lot together plus some items like composite chainplates, stanchion sockets and so on will add another 50kg for a total weight of the composite construction of 1,050-1,150kg.
If not restricted by the TP52 structural guidelines I would say theoretically one can build up to 10 per cent lighter, but either at considerable added cost using ultra high-modulus carbon and optimised Nomex cores or at reduced strength or a very unproductive combination of the two. There is no way one can build lighter, stronger and cheaper by for instance using foam cores as I still see suggested every now and then. Photo thanks to Max Ranchi
June 27th, 2017
110's racing in NoCal. Funky retro cool. Thanks to Odile Hines.
June 27th, 2017
The 35th America's Cup is now history and it ended, as the poet T.S. Eliot once wrote, "Not with a bang but a whimper." A whimper from a thoroughly defeated Oracle Team USA who simply could not rise to the occasion. As I have always said, a little bit of extra boat speed can make you look like a tactical genius and Emirates Team New Zealand had boat speed to burn. ETNZ could sail deeper downwind and higher upwind while maintaining the same speed as OTUSA and that, my friends, is how you win boat races.
So let's congratulate Peter Burling and his team. They did a fine job and are deserved winners of the America's Cup, but just a quick little aside. The next time I hear a commentator refer to Mr Burling as the "young" Peter Burling there will be some blood letting. Ferchristsake Horatio Nelson was just 20 when he took on his first command of the Royal navy.
But I digress. Last week I wrote a piece about ETNZ secret potion being an intense National Pride, but I was wrong. Their secret ingredient was the man not at the helm of the boat, but at the helm of the entire operation and I am talking about my old mate Grant Dalton, or Dalts as most people call him.
We raced together in the 81/81 Whitbread Round the Race, not on the same boat, but all of us racing back in those days were a merry band of brothers. Dalts was a tousled haired, mustachioed, unassuming person who was quick with a laugh and even quicker with a beer. I had no idea that he would rise to become one of the most powerful people in sailing and I am guessing that he also had no idea how successful his career would be, but maybe I am wrong.
Dalton's career was for a long time in the shadow of Peter Blake, the Kiwi superstar  who captured the imagination of the New Zealand public by winning the Whitbread and the America's Cup. Blake was tall and smooth; Dalton not so much and definitely not smooth. Blake was knighted for his contribution to sailing. Let's see if the Queen nods in the direction of Dalton who surely deserves it, but I think that some of his public comments over the years may disqualify him.
Dalton was never politically correct and he certainly had firm opinions on some issues. I am thinking of one comment leveled toward the first ever all-female team to race in the Whitbread. It was the 89/90 Whitbread when Tracy Edwards led her crew aboard Maiden. Dalton famously stated that if an all-female team ever won a leg of the Whitbread he would shove a pineapple up his arse and walk down Queen Street, the main street in Auckland. Edwards won the second leg of that race into Fremantle, Australia and to this day none of us is sure whether Dalton kept his word on that one or not.
At the heart of every successful effort you need strong leadership and Grant Dalton has provided the absolute best kind of leadership. He leads from the front and inspires by example. It took him four attempts, two as crew and two as skipper, before he won the Volvo Ocean Race, but in the 1993/94 race he dominated aboard New Zealand Endeavour winning three of the six legs and taking the overall win.
He went on to race in three more Volvo Ocean Races before hanging up his oilies and turning his eye toward the America's Cup. Dalton led the charge to win the Cup in San Francisco in 2013 and we all know how that ended, but what most don't know was how close the whole operation came to closing down after that loss. Much of their backing comes from the New Zealand government and with such a dramatic loss the NZ public were rightfully less interested in chucking piles of money their way.
But Dalton is nothing if not a scrapper. In 2015 he chose to axe helmsman Dean Barker and replace him with Peter Burling, a move that at the time had many calling for Dalton himself to be fired but let's admit it, in hindsight, it was pure genius. It also didn't help Team New Zealand when Bermuda was announced as the host of the upcoming AC. New Zealand viewed Bermuda as a commercial wasteland. Through it all Grant Dalton managed to keep it together and the rest, as they say, is history.
So I was very happy when Emirates Team New Zealand closed out the Cup yesterday and I was even more pleased to see Dalton on board one of the most sophisticated sailboats in the world wearing a pair of flip flops, or jandals as the Kiwis like to call them. My kind of guy and let's hope that the Queen can forgive him for a few of his less than noble comments over the years. Photo credit Onne van der Wal.
June 27th, 2017