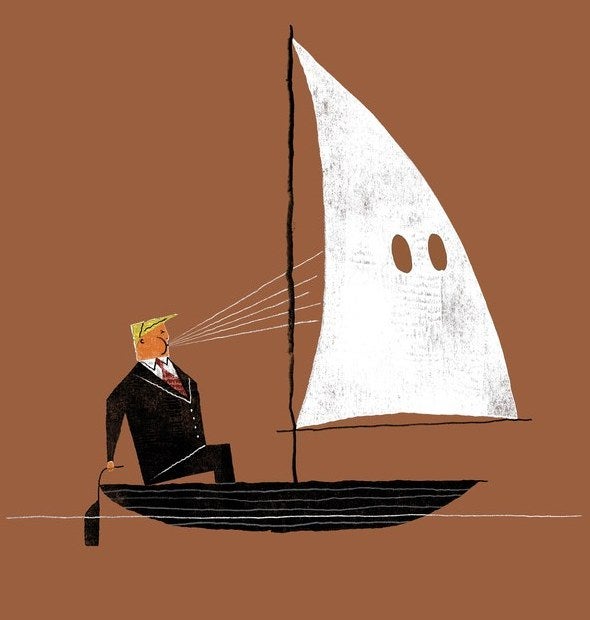 At the risk of insulting female sailors everywhere, we present this week's SCOTW, courtesy of the New Yorker's excellent cover illustration.  Of course we know that Dolt 45 doesn't sail, and as far as we know, he's not a chick. But we do know that he is a blow hard racist. Keep blowing, Twitler, it would seem to be all you are good for.
August 19th, 2017
I am always interested to know people think of my opinions and the information that I share in my Great Circle Sails blog. Actually, for a while there I was wondering if anyone even reads my blog but lately I have been getting some fan mail so some people are enjoying my point of view. Not so much a person that goes by the name Anarchist David. Most of my blog pieces are published on Sailing Anarchy which is by far the most read sailing publication, online or on paper. You see Anarchist David took issue with the piece I wrote about David Witt, the skipper of the Volvo Ocean Race entry Sun Hun Kai Scallywag.
Anyone that knows me or has read anything I have written will know that I am a huge proponent of women in sailing. As a kid I marveled at Claire Francis when she did the singlehanded transatlantic race, and then went on to skipper a boat in the Whitbread Race. I was onboard with Tracy Edwards long before she led the first all-female team in the Whitbread and was simply blown away by Ellen MacArthur and what she accomplished. There were many other female sailors, both inshore sailors and offshore sailors, that have inspired and amazed me with their talent. So therefore I was very pleased when the the rules for the upcoming Volvo Ocean Race were changed to fully encourage teams to take women onboard by allowing them to have more crew members than simply an all-male team. One of the first teams to do so was the Spanish entry Mapfre and they dominated the recent so-called Leg Zero. The only team to go with an all-male crew was the aforementioned Team Sun Hun Kai Scallywag and I am not surprised and definitely not displeased to see that they came in dead last in the overall standings of Leg Zero.
Here is how Anarchist David responded to my criticism of skipper Witt (edited a little for brevity).  "Brian Hancock, SA's resident grumpyguts, is at it again, desperate to exhibit his ignorance and prejudices in this article. He wants to death-ride David Witt, skipper of the Sun Hun Kai Scallywagentry in the Volvo Race for having the temerity to express an opinion about mixed-gender crews. (read full article here – ed.)
Witt is what we Australians call "fair dinkum" – a forthright bloke who doesn't hide behind glib phrases or pretend to support every new outbreak of political correctness. He has decided to contest the Volvo with an all-male crew. It was a tactical decision and the rules allow it. Witt's crime, according to Hancock, is to have been honest enough to give his reasons in public. Just for that, Hancock says he will be "happy" if Sun Hun Kai Scallywag does poorly in the race. Nice sportsmanship, Brian."
Fair dinkum huh? Neanderthal more like it. Chauvinist for sure. You see I get Fair Dinkum. I have traveled all over Australia – I once hitchhiked from Fremantle to Sydney – and I love the Australian people, but fair dinkum is no longer an excuse for sticking your head in the sand as if the times are not achanging. The times have moved on from the stupidity of believing men are imminently superior to women. We aren't and it's high time we all got over that old outdated notion especially when it comes to sailing. I am a good sailor, but I will never be in the league of Ellen MacArthur or Sam Davies or Dee Caffari. They are far superior to me by any measure.
What I write is fair game and I am happy to take criticism, but I will also push back when the writer that challenges me has his head squarely up his outback. So Anarchist David, I am not a grumpyguts. I am an enlightened person who long ago ( at around the age of nine growing up in apartheid South Africa) came to the conclusion that no one person is superior to another in any way just because of gender or race or any other factor and your comments could not have come at a worse time as we in the US are dealing with a bunch of fair dinkum neanderthals who practically set the city of Charlottesville on fire last weekend.
-Brian Hancock
August 19th, 2017
Just a month after Mischa Heemskerk and Stephan Dekker's ridiculous, all-bullet (gold fleet) performance to win their first-ever F-18 World Championship, Mischa is back in the driver's seat on Poland's Baltic Sea coast as the A-Cat Worlds fleet fires up, and if this pic is any evidence, he's on the prowl…[just joking, Carrie -ed].  Head to the thread to find out more about the deck sweepers, stabilizers, and no-boom rigs amongst the crazy tech in this fast foiling fleet.  Video preview here and big thanks toPJ Dwarshuis and the guys at DNA Performance for their help in putting together this comprehensive preview/form guide.  By the way, with both the Moths and A-Cats hosting their largest-ever world championships in 2017 and the average age continuing to plummet amongst the fleets, is there anyone out there who still thinks foiling is a fad?  News and photos from the event are over here.
19 nationalities and 150 boats on the entry list proves the growing interest in this highly competitive and foiling catamaran class. Dozens of past World Champs  in a variety of classes discovered the A class cat over the last few years as the ultimate in singlehanded excitement.  The A cats are challenging to sail, with nearly unmatched and highly-refined development in one of the last truly open classes left.  Many ideas coming from the A-class trickled down to other boats and even into the AC Cats; it's not surprising then that many Cup sailors and designers play in the A for fun.  .
The reigning world champion and man to beat at the moment is DNA team rider, developer and fellow Dutchman Mischa Heemskerk. Mischa is on a roll, as last month he also won the Formula 18 class world title with 7 straight bullets in the goldfleet final and before that won the locally well known Round Texel race.
Mischa will face big competition from the squad from Polish A-Cat builder Exploder, which has put in countless hours in their effort to break DNA's string of five straight A-Cat Worlds. Heemskerk's biggest competition should come from Aussie Exploder riders like two-time World Champ Stevie Brewin and double Olympic medallist and Tornado world champ Darren Bundock, who've been working as a team to unseat the reigning Dutch champ.
While Poland may be better known for growing gorgeous women and brewing great vodka, their sailors are a major force to be reckoned with, especially with the added motivation of winning on their home turf.   The next generation of cat kids is led by 24-year old Jakub Surowiec who proved very strong at the last big European regattas, while Tymotek Bendyk and Jacek Noetzel are also factors – the latter is the longtime Polish champion and also the driving force behind the successful growth of the Class in Poland.
Mischa will again be sailing the stealthy black carbon DNA F1,  unchanged for the second year of production now. The platform is identical to his winning boat at last years worlds in Medemblik, Holland.
The DNA F1 is highly optimized for low aero drag, proving extremely fast in all conditions. The construction is state-of-the-art carbon/prepreg/nomex honeycomb, built in a unique one-shot method in Holland Composites' autoclave. Carbon fiber to weight ratio is unmatched, resulting in platforms that remain stiff for longtime.  We introduced the semi-rigid carbon trampoline last year, stiffening the platform and making the boat look extremely slick.
The 'Z' foils, which have all four foils kept deployed in the water during sailing, as originally developed by DNA in 2014 are still unchanged. We have been playing with other foil designs however keep returning to the original shape – it is easy to optimize for one particular condition but in our view the best foil is the one offering the best all-around performance. You could see this clearly in the AC where they had various foils for different wind ranges – we have to make do with one throughout the entire event hence our quest for a good all arounder.
The decksweeper sails are common nowadays, but it was Mischa who developed the modern iteration of these super-efficient mainsails to a new level.  The sail seals all the way to the airtight trampolines, resulting in significantly higher efficiency of the rig.  This helped DNA take 1st and 2nd at the '15 Worlds, and while Glenn is taking a much-needed family holiday instead of sailing Worlds, the America's Cup winner and 9-time A-Cat world champ says he'll be back soon to set things straight.
Sails might just be as important as foils in this fleet's development, and Mischa Sails, the Polish Bryt sails and North Sails all use Contender Maxx cloth, which has proven very suitable for these refined and flexible rigs which needs to depower and repower within seconds. Brewin sails and Landenberger sails go for radial-cut sails from conventional laminates, some of them optimized for lower rigs and some top teams going boom-less, while other sailmakers stick to the 'half-wishboom' setup.  where other sail makers stick to the 'half-wishboom' setup.
Polish builder Exploder pushed foil development to the extreme by developing literally dozens of prototype foils and rudders designed by Spanish designer Gonzalo Redondo.  They've also varied their daggerboard and beam positions a lot over the last year, resulting in many different Exploders to come to the right setup. Exploder builds their boats out of home-made carbon prepreg/nomex, and in a more typical production method of two bonded halves per hull, making the boat a bit more straigh forward with less extreme beam shapes and conventional trampolines. Their Z foil (type number 21) looks to be the one to get right now, which surprisingly comes pretty close in surface and foiling angle to the now 4-year-old original DNA foil.
Foil design is all about finding the right compromise between control and speed , combining good low end performance with top speed and top control when it starts blowing. It really looks like the same challenge as seen in the AC , but on a smaller and more fun scale!
Upwind foiling seems to be the new challenge and it will be very interesting to see if this will pay off this championship. Australian sailors seems to have made a big step there, optimizing their rigs with shorter masts to get the center of effort lower for better, easier balance foiling upwind. Yet by doing this, they probably sacrifice some light wind performance there, so time will tell if it will pay off during the entire event.
Swiss manufacturer Schreuer with team rider and developer Sandro Caviezel pushes upwind foiling even further, developing his stunning airplane looking G7 with the same rigid trampoline technique first seen on the DNA F1. Sandro is looking extremely slippery upwind in this Swiss piece of art. Especially in moderate conditions and flat seas, Sandro could be a surprise contender.
It's fantastic to see that the foiling revolution actually made the class stronger than ever. There has been a lot of discussion about foiling and about class rules in recent years, but the cool thing is that, in the end, those rules controversies led to the Z foil development, which proves to be the best foiling configuration possible for small catamarans. Loading boards from the top-down and leaving both boards down during racing brings easy handling of boats whilst sailing and also onshore. Most important, it eliminates the handling of boards up and down at each tack or gybe, and this important fact keeps racing interesting because tactical short tacks and gybes are not so costly.
The same type of boards are used now for the new Olympic upgrade of the Nacra 17. These boats are only on the water for a few weeks now, but sailors will quickly learn how to sail these boats fast and safe as happened in the A class. Without a doubt it will be an eye opener in the fleet of Olympic classes.
With the Polish Nationals/pre-Worlds having gone off in a mostly low-riding light-air affair, top Spaniard Manual Calavia came out on top, and the short-rigged Aussies may be scratching their heads to decide whether to go for the short rig (8 meters) or the common 9 meter rigs next week.
All European sailors stay with standardized 9 meter masts, nowadays nearly all produced by Scott Andersons' Fiberfoam from Austria. Two choices there: The common and proven standard untapered section, which has been a class favorite for many years, or the tapered wingsection which was developed and built by DNA four years ago and now manufactured by Fiberfoam for DNA. The DNA's mast section tapers from 165 to 125 mm, flattening out in the top to only 45 mm, so much more extreme than the original 60 mm thick standard section. Obviously, with the trend of foiling and smaller apparent wind angles these sections will become standard in the class quickly.
Attempts to wider wingmasts and even solid wings are still made in the class, but on the twitchy super light A-class, so far no one has proven any gain. But without any doubt, development also won't stop in this area.
The A class is more alive than ever. More and more resources are put into development by builders and sailors, and foiling is no longer for pro's only, but all average and above A class sailors are consistently foiling nowadays, making sailing the A's hugely attractive and addictive.
Which other class features competitive and attractive racing from 4 to 22 knots in all sea states, in more than twenty countries worldwide? We rest assured that the A-class remains the class to keep an eye on for the coming years.
-PJ Dwarshuis
August 18th, 2017

Big Pimpin'
For the select few sailors looking for the ultimate in Grand Prix one-design, it looks like the TF-10 might just be it. With electronic rake control, off-watch bunks for distance races, and a M&M design that appears to be extremely well mannered, the TF-10 seems to answer all the right questions for even the out-of-shape or septuagenarian owner.
The boys at DNA put together the sea trial video above that includes quite a lot of info directly from the owners mouths – owners with experience in everything from Melges World Championships to J/105s at the Big Boat Series to Marstrom 32s in Sweden, and they explain why they've decided they've moved out of all that jazz and into this.  We've been told they've all signed off on the design, the components are greenlit, and production on hulls 2 and 3 is now under construction in Holland with the fourth beginning soon.
Sailing Anarchy will be aboard hull number 1 as soon as possible for a full review; a truly stable foiling multihull has long been sailing's unicorn and we're goddamned stoked to check her out.
Details and sea trials are over on the DNA site here.
August 18th, 2017

SA Exclusive
Here is the brand new J/121; after all systems had been installed for engine, power-train, steering, plumbing, electrical and the water-ballast distribution pumps and manifolds, the deck was fitted and installed. Can't wait to see what this "All American" thing can do!
August 17th, 2017
It sounds like Volvo 65 Hull Number 8 will indeed be on the starting line in a few short months, and our dockside insiders tell us it will be carrying a GBR sail number!
A slightly weaker rumor has skiff legend Chris Nicholson running the show, which leads us invariably to the speculation that number 8 might just be funded – in part anyway – by the British guy he's often raced for, who we told you is the world's most interesting racing yacht owner.
We're also hearing that one of the existing skippers may be looking for a new job soon.  We're not quite sure who it is yet, though fortunately there is a place to speculate on just that sort of thing.
August 17th, 2017
August 17th, 2017
We won't even tell you how we (didn't) solve the equation. How did you do???
August 16th, 2017
Big Pimpin'
Thanks to the R4 update to Raymarine's Award-Winning Evolution line of autopilots, a sailor is allowed better understanding and responsiveness to the winds and waters around him than ever before. The R4 upgrade provides 9-axis gyro stabilization of wind and navigation data, and Evolution TrackIQ for tighter track-keeping, accuracy and responsiveness to sea & wind conditions.
At the heart of this Raymarine Autopilot System is the 9-axis EV sensor core. This sensor core intelligently monitors vessel motion in all three dimensions (yaw, pitch-and-roll and rate of turn) and adapts to changing sea conditions.
Now, with the R4, the role of the EV sensor core has been expanded with new algorithms to improve the accuracy of measuring wind conditions. With this improved awareness of wind angle and speeds, the autopilot delivers incredibly sharp and responsive steer-to-wind control, giving sailors the confidence to let the Evolution take over whenever needed. The Evolution will steer to a set wind angle, sail downwind, or close hauled without risk of gybing or heading up into the wind. It will detect and automatically respond to true wind shifts, preventing unnecessary trimming of sails.
The Evolution was created to "learn" your vessel's steering characteristics, calibrating automatically over time without you having to adjust anything manually. As you navigate, this intelligent system continues to calibrate.
While some versions of the Raymarine Evolution Autopilot are for powerboats, the EV-100 Tiller, EV-100 Wheel, and EV-200 Linear Evolution systems are for tiller-drive, wheel-drive, and mechanical steering sailboats. These autopilot systems are available at Citimarine Store, or any other major marine accessories retailer.
August 16th, 2017
Pretty sure this has not been seen before – a tandem kite board! Leave it to the kooks in 'Frisco….
August 16th, 2017