It is customary to take home a souvenir when you go on holiday. Equally it is not good form to try and take something the locals still want to use. The RP 66, Alive from Hobart, Tasmania came to Hong Kong to enter the Volvo Hong Kong to Vietnam Race run by the Royal Hong Kong Yacht Club.
However, even before the warning signal was raised they decided to take the Outer Distance Mark for a tour of Victoria Harbour. What is it with Aussie skippers and marks?
When the time for the warning signal arrived, Race Officer Simon Boyde calmly hoisted the AP while the mark boat pursued Alive, retrieved the buoy and, only 5 minutes later than advertised, posted the warning signal.
Clearly the episode didn't distract the crew of Alive too much as they made best of the sometimes shifty winds to lead the fleet out of Victoria Harbour and, closely followed by the Cookson 50, Mascalzone Latino.
With winds of 15-20 knots showing on the various wind sites the crews are assured of a speedy ride as they head towards what is currently a rain soaked Vietnam which is experiencing some of the heaviest rains in years courtesy of an earlier typhoon.
SS
October 18th, 2017
Over seventy Viper 640s from around the globe are registered and getting ready to meet in Fort Walton Beach, FL, for the 2017 Beacon Group Viper 640 North American Championships. The event, hosted by the Fort Walton Yacht Club unofficially kicks off October 22 with the Marlow Ropes NAC Warm-Up Regatta. The Beacon Group Viper 640 North American Championships October 24-28th
Teams from Canada, Bermuda, the United Kingdom, Australia, and the good ole USA will battle it out on the waters of Choctawhatchee Bay. Sailors planning to sail range in age from teens to sixties and seventies with both women and men eyeing the prize. Following the event, some of these Viper teams are doing a Turn-and Burn, packing their boats in containers to be shipped directly to Perth, Australia, for the 2018 Viper 640 World Championship in February 17-23
The Title Sponsor for the North Americans, The Beacon Group, will also be represented on the water by the Beacon Group's Founder, Cliff Farrah. Cliff will be sailing with his daughter Cameron and team mate Brian Lambert.
In an interview with Cliff we found that he is passionate about three things: his family, his company and sailing. "Top level one-design racing is what I seek, and the Viper 640 Class embodies the wonderful competition of world class professional and Corinthian racing, and a growing, thriving sailing community. I'm particularly excited but the recent recognition of the Viper as a World Class by World Sailing. We are proud to serve as the title sponsor for what promises to be the largest gathering of Viper 640 sailboats in the world. We look forward to being a part of this great event."
Follow the event right here.
October 18th, 2017
With all the talk of declining fleets, lack of interest in racing and needless expense of going racing, sometimes you just have to start from the beginning again.
So it has been with the Manly Combined Clubs Series in Brisbane, Australia. Now, Brisbane does not a huge keelboat fleet and it is spread around a number of clubs and boat harbours.
Also, it has a keen trailer boat fleet which tends to turn up at any event going.
So how do you fit all that together and get over 50 boats on the one race course? You make cheap, simple, fun and put the owners back in charge. So how does it work? The Series has a Committee of owners who love sailing and do all the administration and this is done independent of any yacht club. No professional administrators here. No club representatives. No yacht club politics. Clubs are asked to provide support, but never run the show.
Ironically, the Club that provides the most support to the Committee is historically a trailer power boat and fishing club not a sailing club. The Series runs one race a month for the whole year with two weekend events, one two day racing event and one a fleet cruise. So no onerous week in week out crew commitments.
It is cheap on any standard, you get 14, yes 14 races the entry fee is an outrageous AUD$ 100.00. Again the point is that conducting a sail boat race is not profit making centre for some club administrator looking to shore up their job. As to who turns up, you get everything from Farr 6000 trailer sailers, Farr 30s to First 40s, DK 46s and few 50 footers.
Three divisions are run, roughly grouping similar boats with similar boats but the Committee never tells an owner which division to sail in. Courses are chosen each week by a few old hands to get the best course for the conditions. Variety is good, usually with one good kite ride.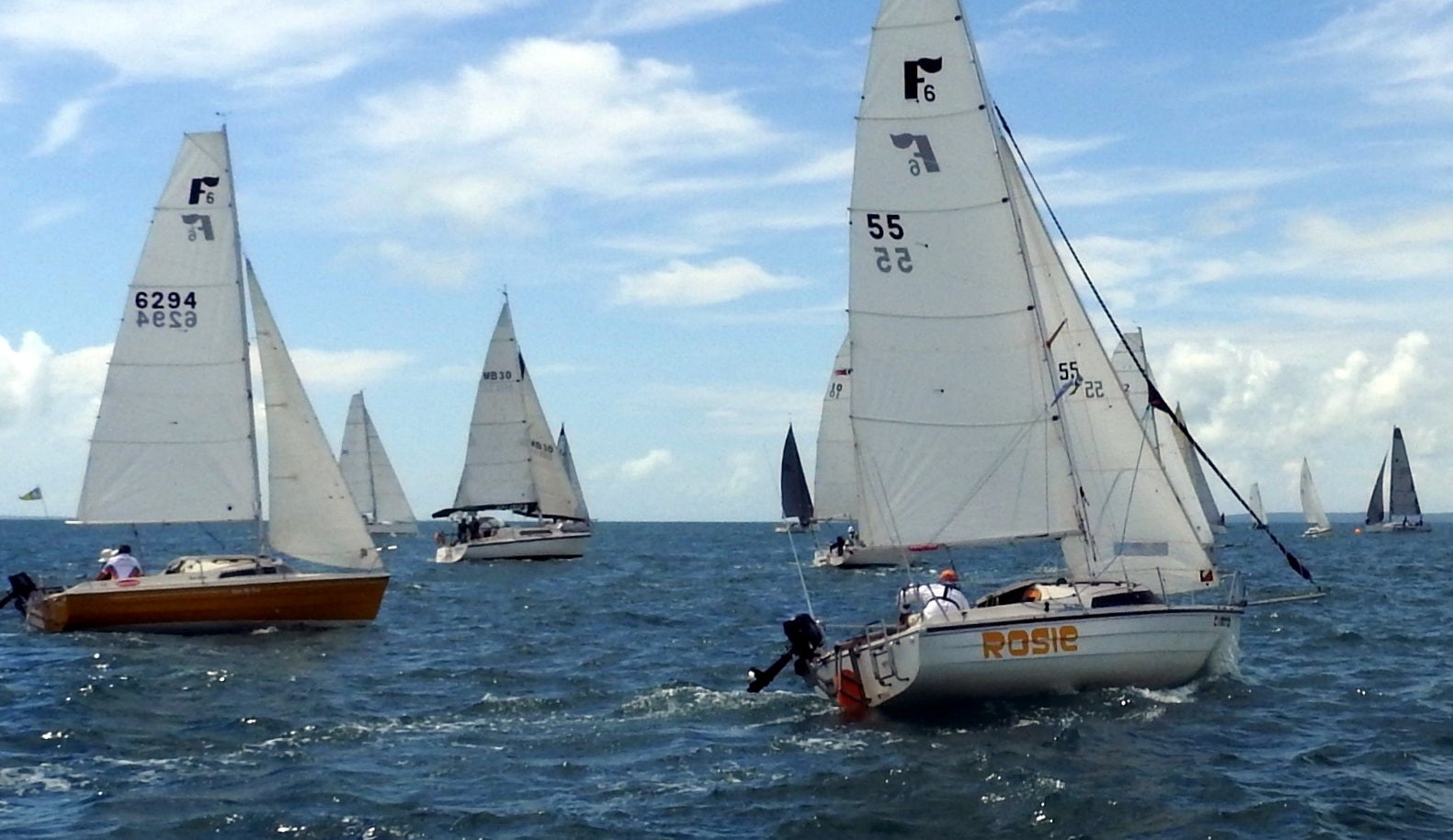 Single handed sailing is encouraged but you can't use the autopilot for a whole leg of the course. Handicaps are not run on any recognised system but along several guiding principles, you do well you go up, you do poorly you go down but you buy new sails or change the boat, everyone knows and you go up.
How much you go up or down generally depends on how many boats raced in your division that day. You win on the big day, you go up more than winning on a slow day. It is what it is.
The best sailed boat is usually the one that keeps improving over the year so usually ends up on top so no one complains and if someone does there is enough history of performances to deal with it. Because competitor numbers go up and down from race to race unlike a single regatta, RRS scoring systems are abandoned and Committee use their own scoring system where series points for any position in one race varies with the number of boats competing that day. So a second in division on a 20 boat day is much better than a second on a 10 boat day.
In short, you get rewarded when you win on the big days. For the small trailer boats which are also members of the Trailer Sailer Club of Queensland (TSCQ), a deal has been done whereby membership of TSCQ gets you automatic entry to the Combined Club Series with no separate entry fee.
At the end of the year there is reckoning based upon how many TSCQ boats actually sailed each race as not every boat will sail every race. That way the little boats don't have to fully pay up when each may sail only half the races. Again, make it easy and make it cheap for the owners especially the little guys.
Remember, idea is not make money from owners but to let them go racing together for fun. Sure the race management gets a bit casual some days and the results are not available by the time you hit the dock but funnily enough there always seems to be many more people around at the end of racing that you actually want to have a beer with. Funny that!
Anarchist Lydia
Title semi-rip-off thanks to Rage.
October 17th, 2017
When you're hot, you're hot, and nobody is hotter than electronics and nav guru Artie Means. Artie just guided Peter Thornton's turboed Volvo 70,  as they set the new outright elapsed time record from Chicago to Mackinac. We grabbed Artie for a quick five post record questions…
Q: How did this come about?
A: A very lucky opportunity as Il Mostro's navigator, Matt wWachowicz 'was busy at another event, I got to jump in as the guest navigator. Plus Peter assembles a killer team (Justin Slattery, Phil Trinter, Freddie Shanks, Chris Higgins, etc). Chicago YC has encouraged teams to make WSSRC approved runs to establish records outside of the race window.
Q: What were the challenges?
A: It's always tricky to find a good weather window for a run like this, especially when trying to beat a multihull record with a monohull; it takes really good conditions, a solid team, boat, and minimal breakage. We had all of those!
Q: How was the boat?
A: The boat is awesome. A Volvo 70, lightened up, bigger spirit, bigger main, deeper keel….basically all the tricks.
Q: Was it ever in doubt?
A: The start was quite dicey. We had 7-10 knots for the first few hours; which aren't record setting conditions. But we were banking (with A LOT of advice from Ken Campbell – Commander's WX) on the building breeze, and wanted the flatter prefrontal sea state. Luckily it all worked out quite nicely.
Q: What's the next challenge for you?
A: Dave & Peter Askew just added a Volvo 70 to the Wizard team; so really excited to be prepping & navigating for Sydney Hobart with their team.
Jump in the discussion thread if you wish…..
October 17th, 2017
Inspired by the story above? Well here is a very similar opportunity…
The first of this breed to enter brokerage captivity, with a desire to bust loose and wreak some serious havoc.
A Volvo Ocean 65 that is absolutely ready to go, having undergone a full refit at the Volvo Ocean Race.
A full technical breakdown of this yacht is available on request.
Click here to learn more. Brought to you by Seahorse brokerage.
October 17th, 2017
There some interesting boats in the SA Classifieds; how about a couple of genuine light air PHRF killer J/39's, a Flying Tiger 10 or two, perhaps? Howzabout a Sunfast 3200? How about the prettiest, gray hulled J/145? Moore 24? melges 24?
Check them out; you can almost always find something that floats your boat!
October 17th, 2017
Apologies if you have already seen this; for the rest of you – enjoy! And be sure to watch in in HD.
Title inspiration from Iggy Pop – ed.
October 16th, 2017
After the Caribbean Islands were left devastated from recent hurricanes, Dutch yacht transport company Sevenstar quietly went to work. The result: last week Sevenstar delivered 140 pallets of aid, including generators, medicines and water at no cost to the devastated island of St Thomas for the American Red Cross.
Says Richard Klabbers, MD Sevenstar Yacht Transport: "We are frequent visitors to the Caribbean islands, delivering hundreds of yachts each year. Over the last ten years we have built many great relationships; they are close friends and are in great need of help to re-build their community. We have the ships, and we want to help. It is fantastic to be able to assist in a meaningful way with what we do best – providing timely transports in a well prepared and coordinated manner."
We see it as our humanitarian responsibility to take care of those in need and where possible we will help at no cost.
Please contact Nic Kühne who is coordinating our aid efforts on should you feel we can be of further service.
October 16th, 2017
The boys at OneSails Perth putting the finishing touches on their super bad filmless 4T molded sails for our Santa Cruz 33, Anarchy III. Omg, we are so stoked!
October 16th, 2017
I have been reading about this latest "crisis" to befall the Volvo Ocean Race, formerly known as the Whitbread Round the World Race, and can only smile. Yup the VOR has finally grown up; the suits are "officially" in charge.
OK for those that have not been following a couple of things. The Volvo Ocean Race bills itself, and rightly so, as the preeminent fully crewed offshore ocean race and the 13th edition is about to set sail from Alicante, Spain this weekend. With just over a week to go to the start of the race one of the teams, Team AkzoNobel, decided that it was a swell idea to can it's skipper. Can, as in fire him, or to put it in PR-speak, he was 'invited to stay on but declined.'
The (former) skipper is the Dutch sailor Simeon Tienpont who has participated in two previous VOR races and has also been part of a winning America's Cup team. Clearly the guy is qualified and he put together a formidable crew that includes Brad Jackson, an old mate of mine who is a Watch Captain, and Jules Salter a three-time veteran of the race. Did I mention that the next Volvo Ocean Race starts this weekend?
Before I get too deep in the weeds here I must note that I really don't have a clue what actually happened. (we do, click here. – ed).  Both sides have (presumably) lawyered-up and the statements coming from both sides are as vague as a hookers perfume after a long night…:)  I have, however, been in this game for a long time and I can smell a suit from a mile away.
Tienpont, cleverly, wrote a lucrative deal with his sponsor before becoming engaged with them. AkzoNobel is, according to their website, "a leading global paints and coatings company and a major producer of specialty chemicals." Fair enough and I can see why they would probably like to align themselves with a global brand like the Volvo Ocean Race especially since the idea of the VOR is all about being clean; as in the wind is free and the water is pure, and they make chemicals which I am guessing are not so clean or pure. But I digress. It seems that AkzoNobel has been less than impressed with the performance of their skipper and his management team, Steam Ocean B.V. There was, apparently, a cost overrun on some things and AkzoNobel used this as an excuse to terminate their contract with Steam Ocean B.V.  In other words the "suits" got involved.
Let me digress one more time. The very best thing that happened to the VOR was the appointment of Mark Turner as CEO. There are few people more qualified to run this race but less than a year into his term Mark is out. Resigned I believe (or was he pushed…:)?  Mark had many interesting and innovative ideas of how to bring this iconic event into the 21 century but it seems he might have fallen afoul of the bean counters. And he is out.
Late this afternoon there was a report that the aforementioned Brad Jackson has been appointed as skipper of AkzoNobel. Good for him and I am sure he will deliver but I have to wonder where you draw the line. Loyalty to your mate and the guy who hired you, or loyalty to the pay check that will come as skipper. That goes for the rest of the crew. They too could have resigned in protest and I read that there were plenty of rumblings on that note, but a job is a job and a paycheck is a paycheck so I don't blame them. But I do blame the suits for their heavy handedness. One thing that sets a winning team apart from the rest is crew morale. I am sure that crew morale is at a low ebb on the good ship AkzoNobel.
So back to where I started. The Volvo Ocean Race has finally grown up and come of age. It's now about money, bean counters, egos and suits. Surely this is a sign of a well developed event?
Brian Hancock
October 16th, 2017