One of the desperation moves of the AC came when last week, Coutts brought in spanish superstar design consultant Juan Barcopero to help troubleshoot their massive speed disadvantage.  Fortunately, an OTUSA Anarchist caught it on video, and we've finally translated and subtitled it.  Enjoy this rare look inside the secret world of the Oracle Design Team.
June 27th, 2017
TP52 moulds have been put to good use recently but with a bit added on top. With the 2017 Rolex TP52 World Championship coming up, a decade after the first Rolex TP52 worlds in 2006 in Miami and after so much development of boats and class racing over the years, maybe a good time to weigh in?
A TP52 is of course more than a set of numbers, but then again to get an idea what you are actually looking at or reading about numbers do help. The length overall of 15.85m and beam of 4.42m result in a hull area including the transom of just under 85m2 and a deck area of just under 59m2. Depending on build quality a Nomex cored hull will weigh 500-550kg, a Nomex cored deck 210-240kg and the internal structure just over 300kg. Then taping the lot together plus some items like composite chainplates, stanchion sockets and so on will add another 50kg for a total weight of the composite construction of 1,050-1,150kg.
If not restricted by the TP52 structural guidelines I would say theoretically one can build up to 10 per cent lighter, but either at considerable added cost using ultra high-modulus carbon and optimised Nomex cores or at reduced strength or a very unproductive combination of the two. There is no way one can build lighter, stronger and cheaper by for instance using foam cores as I still see suggested every now and then. Photo thanks to Max Ranchi
June 27th, 2017
110's racing in NoCal. Funky retro cool. Thanks to Odile Hines.
June 27th, 2017
The 35th America's Cup is now history and it ended, as the poet T.S. Eliot once wrote, "Not with a bang but a whimper." A whimper from a thoroughly defeated Oracle Team USA who simply could not rise to the occasion. As I have always said, a little bit of extra boat speed can make you look like a tactical genius and Emirates Team New Zealand had boat speed to burn. ETNZ could sail deeper downwind and higher upwind while maintaining the same speed as OTUSA and that, my friends, is how you win boat races.
So let's congratulate Peter Burling and his team. They did a fine job and are deserved winners of the America's Cup, but just a quick little aside. The next time I hear a commentator refer to Mr Burling as the "young" Peter Burling there will be some blood letting. Ferchristsake Horatio Nelson was just 20 when he took on his first command of the Royal navy.
But I digress. Last week I wrote a piece about ETNZ secret potion being an intense National Pride, but I was wrong. Their secret ingredient was the man not at the helm of the boat, but at the helm of the entire operation and I am talking about my old mate Grant Dalton, or Dalts as most people call him.
We raced together in the 81/81 Whitbread Round the Race, not on the same boat, but all of us racing back in those days were a merry band of brothers. Dalts was a tousled haired, mustachioed, unassuming person who was quick with a laugh and even quicker with a beer. I had no idea that he would rise to become one of the most powerful people in sailing and I am guessing that he also had no idea how successful his career would be, but maybe I am wrong.
Dalton's career was for a long time in the shadow of Peter Blake, the Kiwi superstar  who captured the imagination of the New Zealand public by winning the Whitbread and the America's Cup. Blake was tall and smooth; Dalton not so much and definitely not smooth. Blake was knighted for his contribution to sailing. Let's see if the Queen nods in the direction of Dalton who surely deserves it, but I think that some of his public comments over the years may disqualify him.
Dalton was never politically correct and he certainly had firm opinions on some issues. I am thinking of one comment leveled toward the first ever all-female team to race in the Whitbread. It was the 89/90 Whitbread when Tracy Edwards led her crew aboard Maiden. Dalton famously stated that if an all-female team ever won a leg of the Whitbread he would shove a pineapple up his arse and walk down Queen Street, the main street in Auckland. Edwards won the second leg of that race into Fremantle, Australia and to this day none of us is sure whether Dalton kept his word on that one or not.
At the heart of every successful effort you need strong leadership and Grant Dalton has provided the absolute best kind of leadership. He leads from the front and inspires by example. It took him four attempts, two as crew and two as skipper, before he won the Volvo Ocean Race, but in the 1993/94 race he dominated aboard New Zealand Endeavour winning three of the six legs and taking the overall win.
He went on to race in three more Volvo Ocean Races before hanging up his oilies and turning his eye toward the America's Cup. Dalton led the charge to win the Cup in San Francisco in 2013 and we all know how that ended, but what most don't know was how close the whole operation came to closing down after that loss. Much of their backing comes from the New Zealand government and with such a dramatic loss the NZ public were rightfully less interested in chucking piles of money their way.
But Dalton is nothing if not a scrapper. In 2015 he chose to axe helmsman Dean Barker and replace him with Peter Burling, a move that at the time had many calling for Dalton himself to be fired but let's admit it, in hindsight, it was pure genius. It also didn't help Team New Zealand when Bermuda was announced as the host of the upcoming AC. New Zealand viewed Bermuda as a commercial wasteland. Through it all Grant Dalton managed to keep it together and the rest, as they say, is history.
So I was very happy when Emirates Team New Zealand closed out the Cup yesterday and I was even more pleased to see Dalton on board one of the most sophisticated sailboats in the world wearing a pair of flip flops, or jandals as the Kiwis like to call them. My kind of guy and let's hope that the Queen can forgive him for a few of his less than noble comments over the years. Photo credit Onne van der Wal.
June 27th, 2017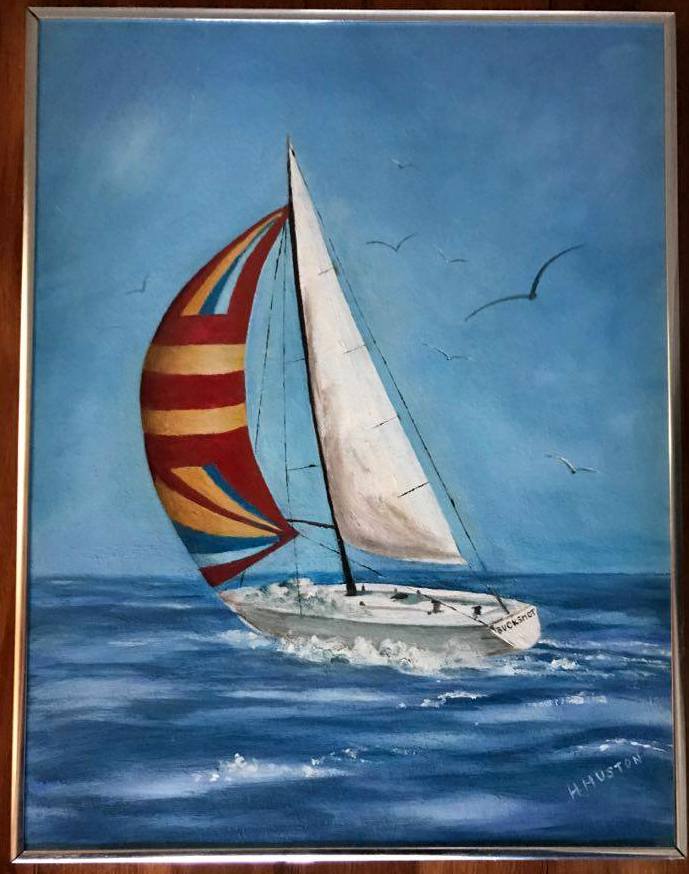 Sad to say that Doug Peterson, noted designer, passed away today. As a kid, I was fascinated with Ganbare, the boat that changed big boat sailing and set the tone for the IOR for almost a decade.
Years later, when I wandered into Carl Eichenlaub's yard to talk about Lightnings, there staring me in the face was a brand new Peterson design – Forte – his first breakthrough fractional rig, which was being built for the 1980 SORC.
While there had been other fractional rigged IOR boats by this time, Peterson was credited with really accelerating the growth curve of that aspect of the IOR rule. Forte was very successful that year in the SORC.
I got to know Doug a bit through Carl and that boat, and others over the years. The painting below is my late grandfather Huston's interpretation of Forte, which had appeared on the cover of a SoCal sailing magazine called "Waterfront".
Doug designed a lot really cool race winning boats – Stinger – Louisiana Crude and the line of Serendipity 43's that came out of that design (and I actually ended up selling those boats for Serendipity), Checkmate (which last I looked a few weeks ago was for sale, and is in immaculate condition) – and many others.
In the '92 Cup, Doug was one of the principle designers for America 3, and then in '95 went to work for Team New Zealand, of course they took the Cup from SDYC. The day the trophy was awarded to RNZYS, my then girlfriend and I wandered out to the dock at SDYC to see the J Boat Endeavor, which was sort of the TNZ mothership. The crew was gathering on the boat.
We were chatting with Crusty, who I had gotten to know when he came to Balboa YC and won the Governor's Cup, and by then had become part of TNZ. The last two guys to come to the boat, holding the Cup, were Coutts and Doug. I threw them the last dock line as they departed SDYC.
It is then somewhat really ironic to me that Doug died today, the day the Kiwis win the Cup back again. It is exactly the sort of karma I would have expected from him.
Thanks for all you did for the sport Doug, and giving us some awesome boats on which to sail. – Peter Huston.
June 26th, 2017
June 26th, 2017
This could very well be the final briefing of the ACRM age. regatta director Iain Murray and head judge Richard Slater answer our questions and lay out Day 5 of the 35th America's Cup Match.
June 26th, 2017
This great piece from the aptly named "Civilian" news. Its slogan?  All The News That Fits On A Page. 
After two consecutive wins against Team Oracle in Bermuda, Emirates Team New Zealand have set themselves up perfectly to lose the competition 7-6.
The New Zealanders pushed themselves out to a 6-1 lead this morning, maintaining the position they've held for the last four years; one win from victory.
Helmsman Peter Burling said he was "very happy" to have reached the same milestone the team did in 2013.
"A large match-point lead is what we've been aiming for this whole competition," he said, "so we're very happy to get here, and we feel we're now well poised to lose from this point on."
But despite a cautious optimism, Burling says the job isn't done yet, and that it "won't be easy" to lose another six races in a row.
"That will be a challenge," he said, "and I think Jimmy [Spithill] and his crew will certainly give it their best shot."
For his part, Spithill isn't counting his chickens either, and is instead planning to race boats.
"We're not taking this for granted, no," said Spithill, who answered questions today flanked by 3 screens playing the last race of the 2013 Cup in San Francisco. "The consensus amongst our guys is really, this is going far, far too much to plan for our liking.
"In some ways it almost looks like they're trying to give us the win, so we have to be wary of that."
Asked if he could turn the video down so reporters could hear his answers, he replied "No, I won't do that."
Despite the fact there may only be one race left in the competition, Oracle has demanded four more press conferences for tomorrow morning, as Spithill feels he hasn't talked enough yet.
June 26th, 2017
For some reason, a nervous Kiwi nation can't be consoled by talking to their countrymen, so they turn to Mr. Clean to calm their frazzled nerves.  Here's a strong 7 minutes of live radio with Sailing Anarchy and Newstalk ZB's Larry Williams on what to expect for Day 5 of the America's Cup Match.
June 26th, 2017
While the Bermudians should be proud of providing an excellent in-person experience for fans of America's Cup racing, the media output from the event has been – until quite recently – far weaker, with the dull press conferences at the centerpiece.  Fortunately they allowed longtime Chicago media pro (and F-18 and A-Cat racer) Laura Muma to take over last week, and with Mr. Clean showing the rest of the reporters how to get their hands dirty after his arrival, things are finally getting interesting.  Still, we absolutely love this shot posted by Facebooker MOA BEER last night of Pete "Sam The Eagle" Burling and Jimmy "Rowlf The Dog" Spithill.
To watch Jimmy finally begin to crush under the pressure of a woefully unprepared and underperforming America's Cup effort, head into last night's Press Conference, below.  Two more races today (if necessary)…and we've learned not to make any predictions when things are on Match Point.
June 26th, 2017