Big Pimpin'
Same Same but different…the 2017 Fremantle to Geraldton Race started in a SW Seabreeze which just filled in time for the start. Pretty normal you would think being Fremantle in Spring…but even the weather bureau got this one wrong, along with predict wind and every other provider of data.
Intense cells produced by a trough produced rain, lightning and downdrafts across the 220 nm race north changed the race strategy significantly and it was a race of many sail changes and a wind direction that did a few laps of the compass rose.
Our team worked really hard all race, day and night to make sure we always had the right sail combination and were on the making board going as fast as possible. This, some great navigating by the Scoop plus our dynamite new OneSails A2+ were instrumental in the win. – Paul Eldrid, OneSails.
Music from one of the greatest rock tunes ever.
October 19th, 2017
Gary Jobson's in hot water again after specifically telling reporters in August that a report of the National Sailing Hall of Fame moving to Newport was erroneous.  "For the record: The National Sailing Hall of Fame is located in Annapolis, Maryland, and we are diligently proceeding through the development process for a new facility in Annapolis," Jobson said in a written statement after rumors surfaced of the NSHOF looking at a Rhody option.
Today the long-rumored move looked a lot closer to reality, after the Newport Daily News reported this morning that more than 100 people gathered in Newport City Hall on Wednesday to listen to a pitch by Sailing Hall of Fame President Gary Jobson about their proposed spot for the organization and Hall.  The full timeline of Jobson's efforts to shop the NSHOF around are in this piece in Newport This Week.
For the record, and to be perfectly clear – we have been quite impressed with the success of the NSHOF's vision, and Gary's been a big driver of it, so for that, we salute him.  We also don't think it's a bad idea at all for the NSHOF to move to the city that's the clear capital of sailing in America, and it's likely that there's way less money available from the Annapolis community and government than in sailing-subsidized Rhode Island.
But if the guy doing the negotiating is making misleading statements to the media that make it look like city is being played against city – and his credibility has already taken a recent hit – the whole thing might well be doomed.
October 19th, 2017
We've gotten a surprising amount of mail and comments questioning the newsworthiness of Il Mostro's smashing of Steve Fossett's 20 year old Chicago-Mackinac course record, and we wanted to set the record straight for all the coastal-living folks who don't get it.
Firstly, about record-setting in general: Part of the problem is that there's not a huge record-setting culture in American sailing, and many US sailors just don't understand the point.  Lloyd and Brian T did a great job smashing tons of records on the Phaedo 3 just as Ryan B and the Lending Club folks did with their big trimaran, but they're the first American-owned teams since Fossett to really take aim at record-breaking campaign  and it will take many more of these to develop the kind of US prestige and status for world records that they have in places like France and the UK.
Secondly, the Midwestern angle: Understand that this record was more for Midwestern fans of adventure and sailing than a world-wide audience.  You ocean-dwellers don't realize that the Chicago Mackinac Race is a monster in local sports, and in fact it's a bigger race by participation than the Newport-Bermuda, Transpac, and Ensenada Races combined.  Hell, with an average of around 300 and a 2008 fleet near 450, it's the biggest distance race in the hemisphere by far.  Add that to the sheer volume of media the race gets from TV and news reporters in the third-biggest city in America (and the tens of millions of hits their race tracker gets) and you have lots and lots of reasons for even the average joe in Chitown to pay attention.
Thirdly, the whole Course vs. Race record thing.  Think of it this way: If Lewis Hamilton sets the fastest lap ever at COTA in Austin next week, he'll have the highly prestigious F1 Race Record for the track for another year.  He probably will get the "Course Record" in qualifying as well, as he's done the past couple of years.  But if some unrestricted 3000 hp frankenstein of a ground effect car can somehow go and do 500 laps of practice and then set a lap time 1 second faster than Hamilton, Lewis will no longer own the outright lap record.
It's the same here: Il Mostro sets the outright course record, which for the vast majority of big records (think RTW, transatlantic, route of discovery, round britain and ireland, etc) is the one that counts most.  To those who race the mack regularly, maybe not, but it will be Thornton's and Il Mostro's name on the WSSRC page, and that's pretty damned sweet.
Fourthly, and perhaps most importantly to us, Il Mostro becomes the first monohull to beat a record set by a multihull in ages!  With monohulls generally relegated to their own 'division' records in most passages or races – akin to the 'tallest midget' award – it's refreshing to see a big, oceangoing yacht take nearly an hour off a record set by a fucking America's Cup catamaran that weighs not much more than Il Mostro's mainsail.  Seriously boys – props.
And finally, the Club: We really love the fact that the entire thing was orchestrated with the owner of the Mack race, the Chicago Yacht Club.  While all clubs have their issues, the CYC lately is about as far from the stuffy, elderly-run clubs we all know about as you can get, and they've made a targeted effort to get more things happening out-of-season to make sure their race continues to set the standard of offshore US races.
The course requirements (minimal), start line, and finish line were all agreed upon between the owners, yacht club & WSSRC, and the commodore of CYC & Chicago Mac chairman both met us at the dock pre-start. The club & WSSRC had representatives visually confirm the start & finish along with an onboard supplied tracker.  Additionally the club is encouraging any/all boats to make additional runs at the record, and as the record-setting navigator told us, "It's waaaay more fun to pick a nice time to sail up the lake!"
October 19th, 2017
With the Volvo headed back in a few months and a new State law passed last month to bring more and bigger sailing events to the Ocean State, Rhode Island may be the hottest sailing community in the country.  The Captain of Rhode Island's Official Sailing Education Vessel is hot too, but for different reasons: He took the Oliver Hazard Perry out earlier this week and did his best impression of a ping pong ball in Newport Harbor, using at least four yachts and powerboats as fenders in the process.
Watch the video to see why you don't take a full-rigged ship off the dock in 25-30 knots of onshore breeze – and if you do, you make sure you don't foul both props with a dockline!  What could they have done once propulsion was gone?  Let 'em know in the dicussion thread, and tip o' the hat to SA'er BrickTopHarry for the find.
October 19th, 2017
After an extraordinary incident in which the same vessel had to be rescued twice in two days, Irish politicians are contemplating measures to penalize boaters for going to sea during heavy weather warnings.
On Monday, the Rosslare Harbour RNLI lifeboat and her crew of seven volunteers had to launch twice into "ferocious seas with wind speed in excess of 70 knots" to rescue a yacht crew in distress. The conditions were extremely challenging, with swells to 20 feet, but the team managed to secure a tow line to the yacht and brought it safely back into Rosslare Harbour.
"When the lifeboat crew reached them they were side on to the weather, taking a ferocious pounding and in danger of getting overwhelmed. I think if another hour had passed this story may not have had such a successful outcome," said Dave Maloney, Rosslare RNLI lifeboat operations manager.
On Tuesday afternoon, another RNLI lifeboat had to deploy to rescue the same yacht after its crew issued another distress call. The lifeboat put one of its volunteer crewmembers aboard the yacht to assist with the tow back to the port of Arklow.
October 18th, 2017
The Environment
Hywind Scotland, the first floating wind farm in the world, has started to deliver electricity to the Scottish grid.  The 30MW wind farm, operated by Statoil in partnership with Masdar, is located 25 kilometers offshore Peterhead in Aberdeenshire, Scotland, and will power approximately 20,000 households.
The onshore operations and maintenance base for Hywind Scotland is located in Peterhead, while the operations center is located in Great Yarmouth. Linked to the Hywind Scotland project Statoil and partner Masdar will also install Batwind, a 1MWh Lithium battery storage solution for offshore wind energy. Battery storage has the potential to mitigate intermittency and optimize output. Read on.
Note: Don't tell Putin's Cockholster about this. His Big Oil whoremasters will demand that he declare war on Scotland. Oh wait, Scottish aren't brown enough. – ed.
October 18th, 2017
It is customary to take home a souvenir when you go on holiday. Equally it is not good form to try and take something the locals still want to use. The RP 66, Alive from Hobart, Tasmania came to Hong Kong to enter the Volvo Hong Kong to Vietnam Race run by the Royal Hong Kong Yacht Club.
However, even before the warning signal was raised they decided to take the Outer Distance Mark for a tour of Victoria Harbour. What is it with Aussie skippers and marks?
When the time for the warning signal arrived, Race Officer Simon Boyde calmly hoisted the AP while the mark boat pursued Alive, retrieved the buoy and, only 5 minutes later than advertised, posted the warning signal.
Clearly the episode didn't distract the crew of Alive too much as they made best of the sometimes shifty winds to lead the fleet out of Victoria Harbour and, closely followed by the Cookson 50, Mascalzone Latino.
With winds of 15-20 knots showing on the various wind sites the crews are assured of a speedy ride as they head towards what is currently a rain soaked Vietnam which is experiencing some of the heaviest rains in years courtesy of an earlier typhoon.
SS
October 18th, 2017
Over seventy Viper 640s from around the globe are registered and getting ready to meet in Fort Walton Beach, FL, for the 2017 Beacon Group Viper 640 North American Championships. The event, hosted by the Fort Walton Yacht Club unofficially kicks off October 22 with the Marlow Ropes NAC Warm-Up Regatta. The Beacon Group Viper 640 North American Championships October 24-28th
Teams from Canada, Bermuda, the United Kingdom, Australia, and the good ole USA will battle it out on the waters of Choctawhatchee Bay. Sailors planning to sail range in age from teens to sixties and seventies with both women and men eyeing the prize. Following the event, some of these Viper teams are doing a Turn-and Burn, packing their boats in containers to be shipped directly to Perth, Australia, for the 2018 Viper 640 World Championship in February 17-23
The Title Sponsor for the North Americans, The Beacon Group, will also be represented on the water by the Beacon Group's Founder, Cliff Farrah. Cliff will be sailing with his daughter Cameron and team mate Brian Lambert.
In an interview with Cliff we found that he is passionate about three things: his family, his company and sailing. "Top level one-design racing is what I seek, and the Viper 640 Class embodies the wonderful competition of world class professional and Corinthian racing, and a growing, thriving sailing community. I'm particularly excited but the recent recognition of the Viper as a World Class by World Sailing. We are proud to serve as the title sponsor for what promises to be the largest gathering of Viper 640 sailboats in the world. We look forward to being a part of this great event."
Follow the event right here.
October 18th, 2017
With all the talk of declining fleets, lack of interest in racing and needless expense of going racing, sometimes you just have to start from the beginning again.
So it has been with the Manly Combined Clubs Series in Brisbane, Australia. Now, Brisbane does not a huge keelboat fleet and it is spread around a number of clubs and boat harbours.
Also, it has a keen trailer boat fleet which tends to turn up at any event going.
So how do you fit all that together and get over 50 boats on the one race course? You make cheap, simple, fun and put the owners back in charge. So how does it work? The Series has a Committee of owners who love sailing and do all the administration and this is done independent of any yacht club. No professional administrators here. No club representatives. No yacht club politics. Clubs are asked to provide support, but never run the show.
Ironically, the Club that provides the most support to the Committee is historically a trailer power boat and fishing club not a sailing club. The Series runs one race a month for the whole year with two weekend events, one two day racing event and one a fleet cruise. So no onerous week in week out crew commitments.
It is cheap on any standard, you get 14, yes 14 races the entry fee is an outrageous AUD$ 100.00. Again the point is that conducting a sail boat race is not profit making centre for some club administrator looking to shore up their job. As to who turns up, you get everything from Farr 6000 trailer sailers, Farr 30s to First 40s, DK 46s and few 50 footers.
Three divisions are run, roughly grouping similar boats with similar boats but the Committee never tells an owner which division to sail in. Courses are chosen each week by a few old hands to get the best course for the conditions. Variety is good, usually with one good kite ride.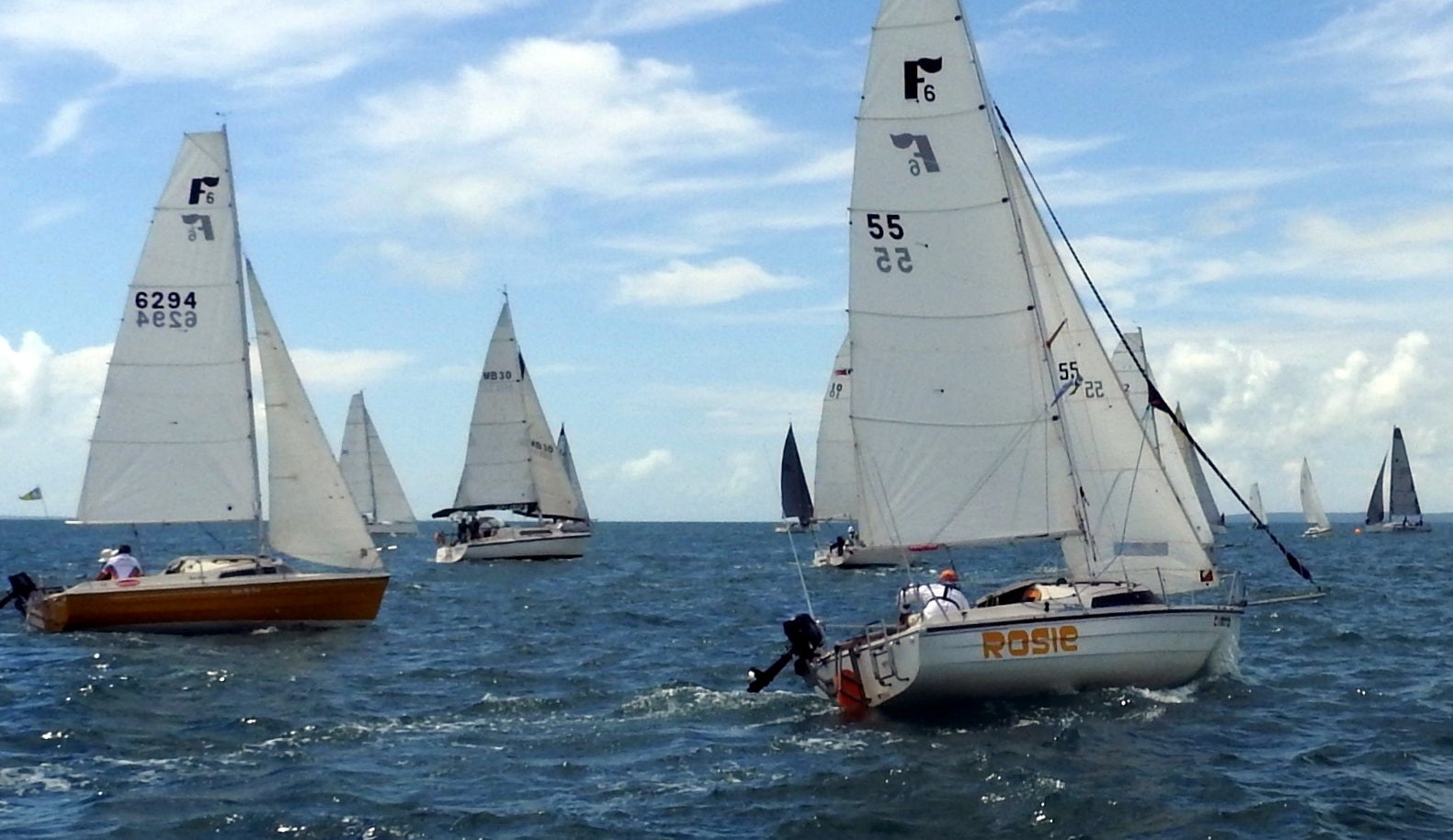 Single handed sailing is encouraged but you can't use the autopilot for a whole leg of the course. Handicaps are not run on any recognised system but along several guiding principles, you do well you go up, you do poorly you go down but you buy new sails or change the boat, everyone knows and you go up.
How much you go up or down generally depends on how many boats raced in your division that day. You win on the big day, you go up more than winning on a slow day. It is what it is.
The best sailed boat is usually the one that keeps improving over the year so usually ends up on top so no one complains and if someone does there is enough history of performances to deal with it. Because competitor numbers go up and down from race to race unlike a single regatta, RRS scoring systems are abandoned and Committee use their own scoring system where series points for any position in one race varies with the number of boats competing that day. So a second in division on a 20 boat day is much better than a second on a 10 boat day.
In short, you get rewarded when you win on the big days. For the small trailer boats which are also members of the Trailer Sailer Club of Queensland (TSCQ), a deal has been done whereby membership of TSCQ gets you automatic entry to the Combined Club Series with no separate entry fee.
At the end of the year there is reckoning based upon how many TSCQ boats actually sailed each race as not every boat will sail every race. That way the little boats don't have to fully pay up when each may sail only half the races. Again, make it easy and make it cheap for the owners especially the little guys.
Remember, idea is not make money from owners but to let them go racing together for fun. Sure the race management gets a bit casual some days and the results are not available by the time you hit the dock but funnily enough there always seems to be many more people around at the end of racing that you actually want to have a beer with. Funny that!
Anarchist Lydia
Title semi-rip-off thanks to Rage.
October 17th, 2017
When you're hot, you're hot, and nobody is hotter than electronics and nav guru Artie Means. Artie just guided Peter Thornton's turboed Volvo 70,  as they set the new outright elapsed time record from Chicago to Mackinac. We grabbed Artie for a quick five post record questions…
Q: How did this come about?
A: A very lucky opportunity as Il Mostro's navigator, Matt wWachowicz 'was busy at another event, I got to jump in as the guest navigator. Plus Peter assembles a killer team (Justin Slattery, Phil Trinter, Freddie Shanks, Chris Higgins, etc). Chicago YC has encouraged teams to make WSSRC approved runs to establish records outside of the race window.
Q: What were the challenges?
A: It's always tricky to find a good weather window for a run like this, especially when trying to beat a multihull record with a monohull; it takes really good conditions, a solid team, boat, and minimal breakage. We had all of those!
Q: How was the boat?
A: The boat is awesome. A Volvo 70, lightened up, bigger spirit, bigger main, deeper keel….basically all the tricks.
Q: Was it ever in doubt?
A: The start was quite dicey. We had 7-10 knots for the first few hours; which aren't record setting conditions. But we were banking (with A LOT of advice from Ken Campbell – Commander's WX) on the building breeze, and wanted the flatter prefrontal sea state. Luckily it all worked out quite nicely.
Q: What's the next challenge for you?
A: Dave & Peter Askew just added a Volvo 70 to the Wizard team; so really excited to be prepping & navigating for Sydney Hobart with their team.
Jump in the discussion thread if you wish…..
October 17th, 2017