Vento Di Sardegna only had a few months with an Italian name before being taken over by Mich Desj's Mer Agitee management company, and while we continue to operate under rumors that a Dutch sailor will make a run at the Vendee in this beast (and we think it's this guy), no one seems to be able to confirm whats coming for this new VPLP/Verdier just yet.  Similarly, the 5 new builds in the 2015 TJV are staying mum about their issues and findings, so for now, we have only Alex Thomson's frank account.  Fortunately, our Senior Editor is headed to Europe to the METS show next week on a factfinding expedition, and no one can hide from Mr. Clean…
Think you can spot what's wrong with the Persico build of Vento?  We can't, but we do love time lapse.
November 10th, 2015
Russia's recent sporting exploits include allegedly fixing the bid along with FIFA for the 2018 World Cup and using the Sochi Olympics to divert attention from an armed buildup that would turn into an invasion and annexation of a sovereign neighbor, so it shouldn't surprise anyone to learn that the Russian government has run a huge state-sponsored doping scheme for its Olympic athletes.  But even the most jaded Russophobe might still be shocked at just how big and pervasive the program was.
The doping scheme was uncovered by a German TV report almost a year ago, and in the meantime,  WADA – the independent agency charged with investigating and preventing doping in the Olympics and many other high-profile events – spent a small fortune investigating the charges. This morning, they released their over-300 page report, and it's nasty.
The New York Times wrote that "Members of Russia's secret service intimidated workers at a drug-testing lab to cover up top athletes' positive results."  FSB agents "impersonated lab engineers during the Winter Olympics in Sochi last year." A lab once destroyed more than 1,400 samples to keep them from the investigation.  "Athletes adopted false identities to avoid unexpected testing. Some paid to make doping violations disappear. Others bribed the antidoping authorities to ensure favorable results, and top sports officials routinely submitted bogus urine samples for athletes who were doping."
The report implicates athletes, coaches, trainers, doctors, and the Russian institutions and government agencies that helped engineer and fund the program, and we're still reading to find out whether it was as big and unethical as the Soviet and East German programs of the 60s and 70s that are credited with creating modern blood doping.  Interpol is starting criminal investigations, WADA discredited Russia's national testing lab, the IAAF are discussing Russia's punishment while everyone's trying to figure out who gets their medals stripped – and who becomes a newly-crowned medalist.
Finally, Olympic Sailing finally gets some freedom from the pollution limelight – but only because the Russian Sailing Team needs a lot more than steroids and adderall to start winning.  Surely ISAF is praying that their prominent partner had nothing to do with the doping despite being a major sponsor for the Russian National Team…'cause Gazprom doing something unethical would be a huge surprise…
And of course, old Vlad is denying the whole thing as either a fabrication or a conspiracy. Just like those fabricated tanks in Crimea.
You can download the full report here.
November 10th, 2015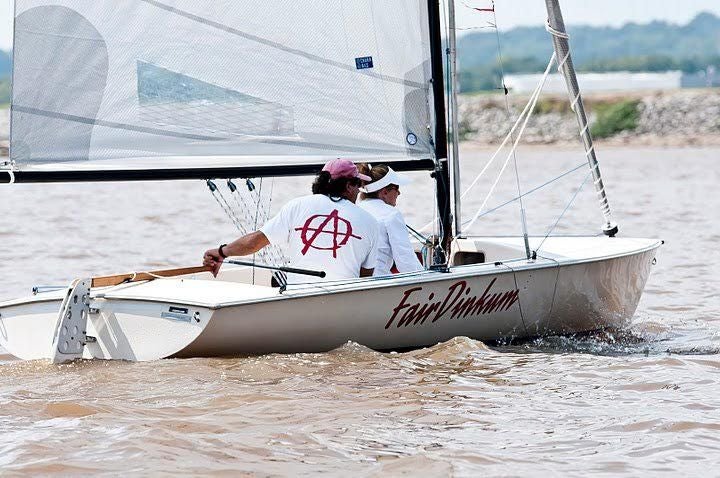 Class Action
Fair Dinkum is a Buccaneer 18. She's old but she's fast. Skipper is Brian & crewing is Deb. Other Buccaneer sailors claim Anarchy is Fair Dinkum's middle name out on the course, but we just like to say we are the "Fairest" Bucc of them all.
 - Anarchist Debbie.
November 9th, 2015
Unlike, Paper, Rock, Scissors, this is no game and literally, utterly deadly serious. This is actually about more traditional forms of navigation and your obligations as a skipper.
Now GPS and Chartplotters have been a tremendous development aiding in both the accessibility and ease of use when it comes to navigation. As such, they have also introduced a whole new category of sailor to the wonders of the ocean. However, the perception is incorrect. It is the Skipper's responsibility to have Admiralty (Hydrographer) Charts with them. After all, safety at sea begins and ends with you.
You see 95% of the world you want to explore does actually require you to have paper charts on board and use them. You'll also find that it's mandatory under your insurance policy, such as with Pantaenius, to carry the appropriate ones for your current cruising area and also meet that country's statutory safety regulations.
Now if you think it can't happen to you, then reflect on the fact that some of the world's best parked their boat on the Cargados Carajos Shoals in the Indian Ocean. Team Vestas Wind went up on the bricks doing 19 knots because of an over reliance on digital charts. Even if you zoom right in, you can miss things and sometimes the material is not even there and words like 'incomplete' can pop up.
Equally, it is not about whether you grew up with Loran C or Radio Direction Finders, let alone star charts or sun shots from your sextant. It is about knowing things like dead reckoning, fathom lines, chronometers and tide tables, along with the thorough planning of your passages, not getting over-tired and ensuring you have done everything to gain some local knowledge.
Tim Cox is the Race Director at the Cruising Yacht Club of Australia and is an ardent proponent of the need for complete navigation, as it were. "Electronic charts are a fantastic aid, but that is just the point. They are not the sole tool you have at your disposal or should be using, especially when in close proximity to shore or known obstacles."
"It is important that Navigators and sailors understand the terminology of the maritime environment such as Chart Datum – the basis for measurement of depth and tide. Passage planners must consult relevant publications, such as the Australian Pilot, as they alert mariners to danger", said Cox.
"The Notice to Mariners system for paper charts does ensure that the best information is available to the consumer. Remember that the notes on a paper chart will detail how accurate it is, and also the time of the latest survey. This could be the 1960s or way, way earlier and back to the brilliant Cook and his armada of Junior Officers."
"No matter which Hydrographer is providing the electronic chart, they produce packages and the resellers just simply do not purchase the most expensive ones. Things are not down to the final inch at all. The electronic distance to known coastal landmarks can vary by 50-200m; so how much room do you want to leave, especially at night? Overall, the closer you go to known danger, the more attention you have to pay to knowing the local environment", Cox finished by saying.
So in summary you can see that it is a combination of sticking the head out of the companionway stuff and then there are also Pilot Guides, books, magazines, websites, Google Earth, people at your yacht club, along with those you visit and the skill tests that some of them run.
Cover with the crew that know boats, is both sensible and prudent. Having the correct charts, along with pencils, erasers, parallel ruler and dividers on board, and also knowing how to use them, is both intelligent, and as you have seen here, mandatory.  - John Curnow.
November 9th, 2015
We wondered what Philippe Kahn has been up to…
First test sail and we were amazed with the stability compared to a Nacra FCS or a Flying Phantom. 2 years in the making. Compjetely different from a Nacra FCS. Significantly lighter 2+ feet wider, stiffer… 3 Rd generation foils and rudders systems. Look at the stability on foils, the difference between a Volkswagen and a Porsche. Two years on the making. The only common component with a Nacra FCS are the hulls that foil out of the water anyway, those are a good design, are carbon and are out of the water most of the time. An amazing 20 ft machine.
Perhaps the highest performance in the world. Beautiful to sail. Snoozy.. Which is great because most foiled are always on edge. It took us two years to achieve this balance!
November 9th, 2015
Big Pimpin'
Farr Yacht Sales has re-organized into a territorial business model and added a Farr Yacht Sales Europe office, headed by Joe Hall. The addition increases the company's presence throughout the world – with offices currently located in Annapolis, Md. and Cowes, UK.
The new division, Farr Yacht Sales Europe, will serve as an outlet for Farr Yacht Design's new production yachts and for Farr Yacht Sale's brokerage listings.
"Primarily, it is the opportunity that the Farr brand brings to the table; with a phenomenal pedigree and background in both racing and cruising yachts," said Hall. "There are few household names in sailing, and Farr is one of them and I am looking forward to helping Farr Yacht Sales take advantage of that and develop their European business in the coming years."
Joe Hall has acted as an exclusive dealer for the Farr 280 one Design in the U.K. prior to joining FYS. He remains the exclusive dealer in the area and has had success developing the class in Europe. Four Farr 280s are actively sailing in the Solent, as well as one yacht in Switzerland and more are on the way. Hall also owns Activate Switch Limited, a sales and marketing agency, specializing in the marine sector.
November 9th, 2015
The Emerging Nations Programme is designed to create opportunities and better prepare young sailors as they build up to the 2015 ISAF Youth Worlds set to be held in Langkawi, Malaysia from 27 December 2015 to 3 January 2016.
ISAF will host regional performance clinics in five continents to provide class specific coaching expertise. This great shot from Christophe Launay, with a bunch more here.
Title inspiration thanks to Drizzy.
November 9th, 2015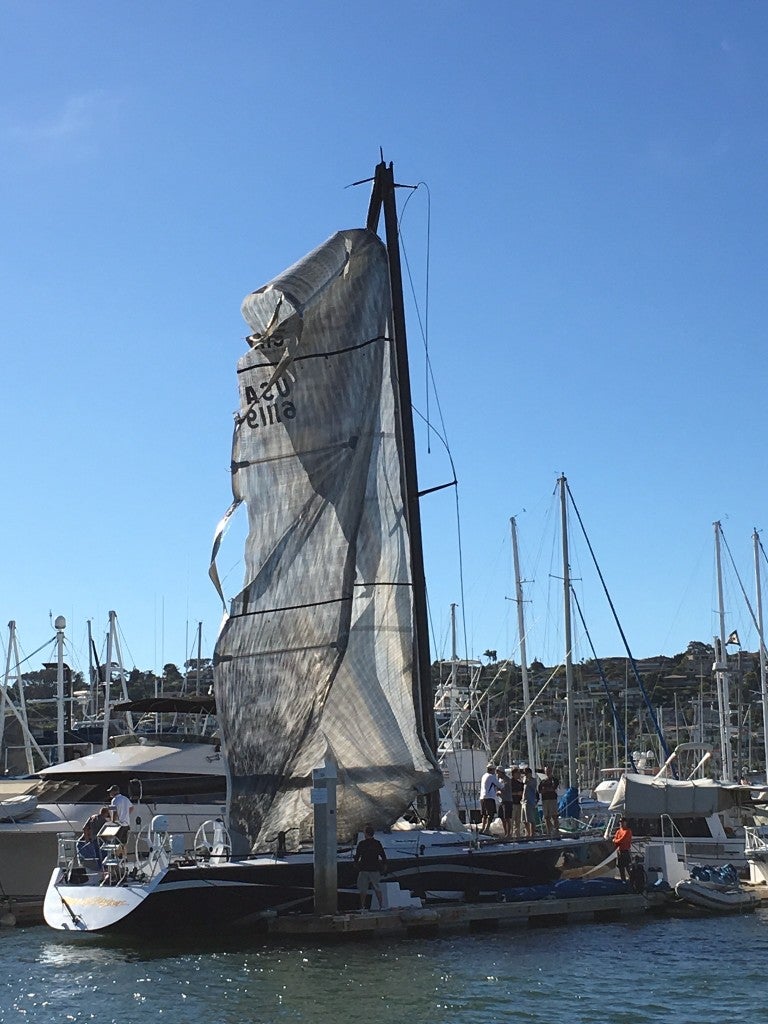 DC was dismasted today in San Diego's Hot Rum race; early reports suggest they were flying a masthead A-sail in a good breeze (12-15) on a close reach on the first leg when the tip broke off at the hounds.
UPDATE: We sent Dennis a note asking how it went down.  Here's his response:
Not sure as the top of the mast is suspended 40 feet above the deck,  We suspect the ball fitting on the end of the fitting attached to the D-3 at the top of the mast failed,  It will be difficult to know until we see it on the ground,  In any event it will be costly and time consuming to put back in a racing mode,  It could be spliced but would not be the same.    Possible it is the end of her career as a race boat,   Maybe best served as  a "head boat " doing whale watching! 
cheers dc
November 8th, 2015
Breaking News
French co-skippers François Gabart and Pascal Bidégorry on the new 30m Ultime Trimaran MACIF crossed the finish line at 05:59Hrs 27secs UTC this morning (00:59hrs 27secs local) in Itajaí, Brazil as first Ultime, to take line honours in the 5400 miles Transat Jacques Vabre double handed Transatlantic race which left Le Havre, France at 1230hrs UTC on Sunday 25th October.
The elapsed time for Gabart, 32, and Bidégorry, 47, is 12 days 17hrs 29min 27sec sailing at an average speed of 17.68 kts for the theoretical course of 5400 Nms (10,000kms). They ensured MACIF win its first ever ocean race. The new VPLP design, which was only launched in August, actually sailed 6340 Nms on the water at a real average speed of 20.75kts
It is the first time that Gabart, who won the solo round the world Vendée Globe race in 2013 at his first attempt at the age of 29, has triumphed in the Transat Jacques Vabre race. He was second in the IMOCA class on his first ever ocean race in 2009. Bidégorry was on the winning multihull in 2005.
November 6th, 2015
The new Anarchy, coming to Dago soon…
November 6th, 2015