This rendering of the VPLP awesome 156′ Evidence concept is clearly wildly inaccurate. Only one chick in the Jacuzzi??? Nobody would believe that for one minute!
November 7th, 2017
Once again, LaserPerformance looks to be up to no good.  Plagued with terrible customer service for years and unable to provide a steady stream of quality parts for both Lasers and Sunfish, the ISCA (of which our own Mr. Clean is a member) finally acted to protect its members by voting to allow other manufacturers to supply parts for Sunfish, and the folks at LP appear to have taken that as a declaration of war, lawyers and all.  Why does this company always find itself on the wrong side of their customers and the sport itself, and how the hell are they still allowed to be part of the Olympics?  Here's the letter that Sunfish Class Prez Laurence Mass posted today, and after you've read it (and if it pisses you off like it does us), call your national sailing association's rep currently at the World Sailing meeting and let them know that it's time to hold LP's feet to the fire.  Photo credit to Sue Ingram via the Proper Course blog.
I had hoped to send a President's letter out after the 2017 World Sailing Conference, however, certain events had forced me to change the letter and release it sooner.  As you may have seen or heard, Laser Performance (LP), has announced that they are starting their own Sunfish Class, the International Sunfish Class Organization.  Over the last two years ISCA has tried unsuccessfully, to negotiate to a support and trademark agreement with LP.  For two successive years, 4 weeks before the World Championships LP has threatened to withhold the containers of World Championship boats unless we signed their agreement.  LP stopped supporting the class with charter boats and financially in 2011.  When asked about this, LP response was "sign the Trademark agreement and you will see we will support the class." ISCA and LP signed a support outline but, never a support agreement.  At LP's insistence these two agreements were to be independent of each other.

The World Council was prepared to sign a trademark agreement until LP required that the ISCA initials and the name International Sunfish Class Association name were to be signed over to LP as well.  This was a deal breaker for the World Council.  LP has long wanted to control ISCA. LP's new sunfish class has blatantly copied ISCA's Class Rules, Constitution, calendar, and website.  LP has even copied the same NSCA and regional USSCA Representatives.  Most Representatives are likely unaware of this. LP is trying to imply that LP's class has replaced ISCA.  IT HAS NOT.  We remain united and independent from the builder.  This just goes to further illustrate that their intentions were control the class.  World Sailing currently only recognizes ISCA.  No other International Class can run World Championships for the Sunfish Class Boat.

In August 2017, the World Council decided that we would not sign the restrictive trademark agreement and changed ISCA class rules to allow non-builder supplied, class approved spars, masts, goosenecks, sails and parts.  World Sailing should approve this class rule change this week in Mexico.  This rule change has been proposed many times before and has been a long time coming.  This rule change was important because it allows the flow of parts from several suppliers vs. one builder.  The builder cannot unilaterally decide to change parts in a one-design class as they have done several times without the class's knowledge or input.  This ultimately undermines the integrity of the Sunfish one-design class.  We as a one-design class cannot allow this to happen anymore.

As for the trademark, LP has issued ISCA a cease and desist notice.  As of 31 March 2018, ISCA is no longer allowed to use the Sunfish logo in conjunction with running regattas. ISCA is the only class that can holds World Championships for the Sunfish Class boat.  LP has not and does not run regattas.  ISCA, USSCA, and other National Sunfish Class Associations run regattas.  ISCA does not need to use the Sunfish trademark to run regattas for the Sunfish class boat.  ISCA will continue to run regattas as the only recognized international class for the sunfish class boat.

In conclusion, availability of class legal parts should improve and the class will no longer be held hostage by an unreliable supply of parts from one builder.  ISCA Class members will be eligible for substantial discounts on ISCA class approved racing sails, purchased through the class.  Now, more than ever, it's vitally important that we start to build back our membership, move this class forward and grow again.

Laurence H. Mass

President
November 7th, 2017
Our apologies to Matt D and the Nepean Sailing Club for misstating the location of the excellent I-14 capsize video we posted yesterday.
The correction comes from one of the RC, with thanks to SailingShot and the NSC website for this pic of a slightly more balanced 14 crew during the Ottawa Skiff Grand Prix.
The I-14 capsize frostbite video happened in Ottawa on Lac Deschenes (Ottawa river).  It was the Britannia YC/Nepean Sailing Club Frostbite series.

Chris Rands, Shark CAN 1471

NSC/RCYC
November 7th, 2017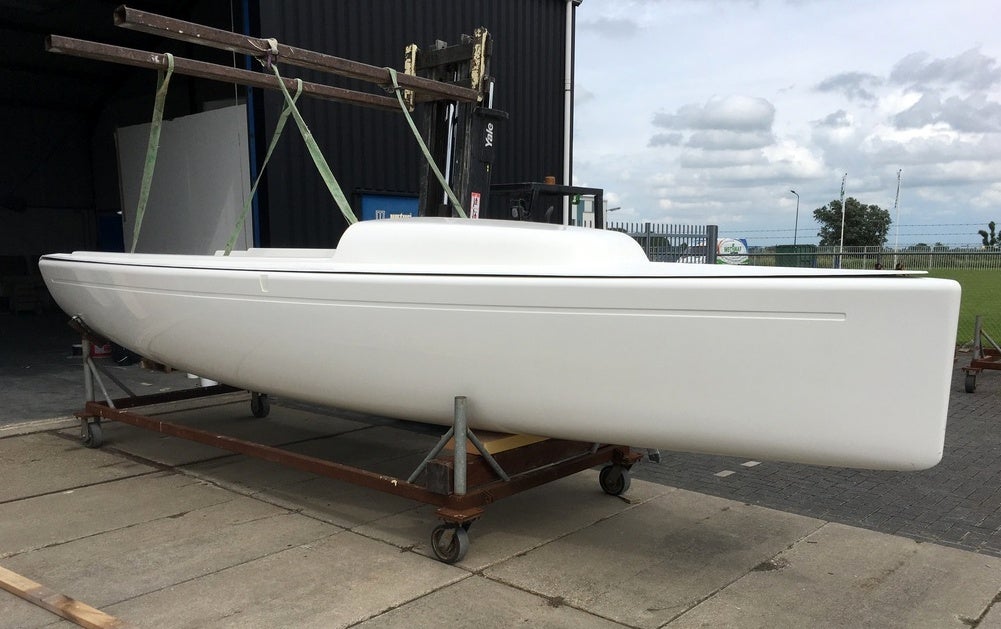 A comfort sporty? We'd love to know.
November 7th, 2017
This former R/P STC 65 is now 69′ and available for truly pennies on the dollah. Built impeccably by McConaghy ( Sydney) she first started life out as an STC 65 and was very successful at the 2008 maxi worlds beating her sister ships handily. Then she became Vanquish and her success continued from the east coast of the states to right across the pond with results both in the transatlantic race that Summer as well as the Fastnet (3rd overall).
From there she moved to California with much success in both races to Mexico and to Hawaii. In 2015, her LOA was extended to 69 feet ( similar to her bigger sister Wizard) and the results on the race course have continued with her last major race, a 1st to finish and 1st overall in the 2016 Miami to Havana Cuba race.
On the hard, waiting to get wet. Looking for the maybe once in a lifetime opportunity to own a big, bad-ass looking machine? Check it. This is brought to you by Seahorse Brokerage.
November 7th, 2017
Ronnie Simpson breaks down an amazing feat taking place in the Atlantic as we speak…
They say round-the-world record attempts are often won and lost in the Atlantic, and thus far, Francois Gabart and his 100-foot trimaran MACIF are off to a cracking start and making steady 700+ mile per day progress down the Atlantic. #winning. The objective is Thomas Coville's less-than-one-year-old solo round-the-world record of 49 days 3 hours 4 minutes onboard Sodebo Ultim. It took Coville no fewer than four attempts, legendary skill, a new whip and a miracle weather window across the Indian (and much of the Southern) Ocean to knock an incredible week-plus off of Francis Joyon's old record.
To say that his record is going to be tough to break would be an understatement, but if there's one person on earth who can do it at the moment, it's Francois Gabart. Everything the kid has touched in his career has turned to gold. With wins in the Vendée Globe, Route du Rhum, Transat Jacques Vabre, setting the 24 hour solo distance, and more, 'Golden Boy' Gabart has proven himself to be nearly unbeatable since entering the solo arena; a protege of Desjoyeaux himself.
To say we're excited to see Francois and team go 'code green' just two weeks after officially entering standby mode, and be setting a record pace down the Atlantic is an understatement. Since the moment that he popped up on most people's radars in the 2010 Barcelona World Race as Michel Desjoyeaux's co-skipper on Foncia, the sailing world collectively knew that Gabart possessed a rare talent and would one day become a household name. Practically the moment after Gabart's ultra-impressive victory in his debut Vendée Globe, the team communicated that they wanted to build a maxi-tri and go after solo records with Francois as skipper. So when we see the massive blue, white and yellow trimaran sustaining 30 knots down the Atlantic, it reminds us of a young John John Florence chasing his first world surfing championship.
Years, even decades in the making, it doesn't seem so much a matter of if, but when Francois will become the first sailor to ever put his name in the books as fastest to solo circumnavigate both a monohull and a multihull. (His monohull record was broken in the last VG). Arguably the best part? Win or lose, we know that Seb Josse onboard Maxi Edmond de Rothschild and Armel le Cleac'h on the very recently launched Banque Populaire IX will be waiting in the wings with brand-new full-foiling monsters ready to attack whatever current record is in place this time next year or the year after.
As for Gabart, the 'Golden Boy' is currently some 150-250 miles ahead of his virtual rival Thomas Coville, averaging 30 knots more or less, and surely looking to put as many miles in the bank as he can before getting down south, where Coville made major gains on the reference time. Open up Google Translate and follow along with the MACIF team's very nicely done team page and tracker, which even shows data such as how many hours (or how few for that matter…) of sleep Gabart has been able to log in the last 24 hours, and how many turns of the winches he's made while grinding those massive sails up and down.
Gabart and MACIF are currently on a starboard gybe putting in some necessary westing before gybing pack to port and rumbling down on the doldrums. Current models show a compression zone forming between two holes in the ITCZ in about two day's time. Will Francois be able to thread the needle and hook into his first Southern Ocean low in good standing against Coville's lofty reference time? Only one way to find out. Follow here, here, here and here.
Website.
Tracker.
Facebook.
Twitter: @trimaranMACIF @SkipperMacif
November 6th, 2017
Unbelievable. Maybe we should put Scott Pruitt, Twitler's EPA Nazi, in charge to fix the problem. After all, he's doing such a great job here in the States.
No? Well, look at it this way, the Caribbean is now qualified to host Olympic sailing… Prps to Anarchist Patrick.
November 6th, 2017
Big Pimpin'
In describing the luff shape of Doyle Sails' new cable-less Code Zero, the designers use a lens analogy – which neatly illustrates the smooth curve that projects forward but gives no hint what it actually achieves. That subtle bulge represents a significant performance gain and an elegant solution to an issue that has troubled these asymmetrical sails ever since increasing boat speeds started dragging apparent wind further and further forward to the point where offwind progress was achieved with upwind trim.
Pictured: the Maxi72 Momo on the way to becoming 2017 world champion at the Maxi Worlds in Porto Cervo. The three individual luff 'lens' groups are visible on this Code Zero – the combined effect being to allow the luff profile to project significantly to weather with no blowback of surplus material.
As is often the case, class and rating rules often lagged behind the pace of technical development, leaving sailmakers and competitors to adopt clumsy work-arounds to extract the available performance within outdated regulations.
Almost from the time that asymmetrical spinnakers became mainstream, the name of the game has been to design flatter and flatter sails – until they came up hard against limits imposed by the rating rules.
Under IRC, for example, the definition of a spinnaker demands that the mid-girth measurement is at least 75 per cent of the foot length. Other offshore racing classes have similar constraints. The challenge was to achieve a sail with the area of a spinnaker and able to be used for heavy-air running, yet flat enough to operate like a masthead genoa at relatively tight angles in lighter airs.
November 6th, 2017
The International 14 continues to be one of the world's toughest dinghies, and not only to sail well – sometimes just to sail.  Skinny and difficult to get around while carrying a massive sail plan, the double trap I-14 makes great sailors, but only after making you look like a no-talent clutz.
Nice work from the Toronto skiff fleet's Matt D on the video compilation of 22 full capsizes during a recent frostbite event.
November 6th, 2017
With all the VOR and Transat and Vabre action, it is easy to forget what happened even a week ago….
November 5th, 2017