In life, if you are lucky, you will meet a person who changes your life; someone who takes you under their wing and helps you to be a better person; someone who makes a difference.  Today we lost one of those people, today we lost Hans Fogh.  My condolences and thoughts are with his family as they mourn his passing.
Hans touched the lives of many people, sailors and non-sailors alike, all over the world.  His sailing career was impressive with many Olympic appearances that included winning a silver and bronze medal; America's Cup; World championships wins in Flying Dutchman, Soling, Etchels and many local championship wins in a variety of classes.  I was fortunate enough to have raced with Hans in Solings, Stars, as well as on my 8 Metre.  I was also fortunate to have worked for Hans for many years where I learned many things about myself, things that Hans could see and helped me to realize.  "Do it right, and do it right away." was what Hans would say.  "There are no such things as problems, only solutions" was another saying of his.  Those of us who called him friend also know many of his "Hansisms" for which he was famous.  Many of us would try to immatate him and in our best Danish accent,  "Once you have boats speed you have nothing to worry about!" is always the first one that comes to mind.
I will remember Hans as a person who made a difference in this world; he made a difference in my life and I will be forever greatful for what he taught me and the opportunities he gave me.
Fair winds and slack tides Hans.  Rest in Peace.
-John Mitchele
Add your thoughts and/or stories about this inspirational Canadian mentor and sailor.

March 17th, 2014
What a great excuse to bail from the cold, yes, we are based in Texas and it took us a good 29 hour ride to get to Miami thanks to  the ice storm that hit the South last week; our double staked trailer behaved like a champ (courtesy of Ultra). But hey, if you don't want to get burn, stay out of the kitchen, right? well, it was all about "bring it on" for the 21 VX One teams that showed up at Coral Reef Yacht Club in Miami in occasion of the 2014 Bacardi Cup. This is the first year of the VX participating in the event, which congregated Stars (obviously), Melges 24, Melges 20, J/70, Viper 640′s and the new kids on the block (VX and J/70).
We shared the Alpha course with the J/70′s and Vipers, having the last start. The first two races on Thursday, where all about medium winds starting to build up until the end of the afternoon, when we were sent in because of a bad weather alarm, which promptly got to town with winds in the upper 30′s and your typical Miami style rain. Only two races on Day 1.
Day 2′s (Friday) forecast promised clear skies and strong winds from the NW, and boy did it blow!! The waters of Biscayne Bay had the crispy texture of the strong gusts all over the place, a bit of carnage in some fleets, rig coming down on some Melges 20′s. Wind average was 21 to 22 knots gusting to 29 knots. everybody on their toes and ready for epic rides. Some of us hit 14 knots of boat speed under main only while waiting between races, so it was game on. After several general recalls on the J/70 fleet, then Viper folks started and finally us. The VX fleet started with almost everyone one packed at the RC boat…the right was paying big. Wind kept blowing hard and the teams with three sailors onboard were holding pace and some of the two person boats were right there in the mix (overall winner is a 3-up crew and second place is a 2-Up crew), so after paying our upwind dues, here comes what we are here for: the run! …literally a run, boats started round the weather and offset marks, jumping on a plane, kites go up and BANG!!! the speedos started to climb and between surfing waves and dodging other boats, the rigs hummed and play that music that we love until the moment of truth brings you back to Earth: hey, we gotta gybe…3,2,1 and slam!! the main goes, the kite fills on the new side , the crew is already on the hiking straps and here we go again…our VX took good care of us; we gybed, nothing broke, no capsize, no drama.  Some crews, including the overall winners (Emily, Andrew and Donnie Brennan) reported speeds in excess of 22 knots…this is what we came here for, this is what we do.
Unfortunately, we only got three races in. Saturday, the last day of racing was a nice tanning session afloat waiting for the wind, which did not filled until 2 hours past the time limit, so we got back on the road, with big smiles and the same hunger feeling of the unfinished meal.
Congratulations to Team Smuggler for their victory, followed by DJ Bolyard and Hayden Bennett and in third place Kevin Northrop on USA 148.
Big thanks to the crew of Bennett Yachting (Rachel, Brian and Hayden Bennett) for all the great help and professionalism demonstrated on and off the water. The VX One fleet had its own base, a Beer/ on the water base RIB, a storage trailer, and we actually were pulled aside after racing and got told what we were doing wrong and shared the chalk talk with top finishers;  all this, together with the mandatory cafecito cubano every morning and the yuca frita y mojitos in the evening, makes it hard to say no for the next event.
Full results for all fleets here.  - Anarchist Rod
March 14th, 2014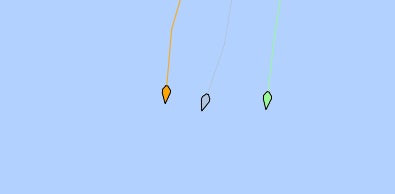 UPDATE: though a weak class, take a look at the battle at the front…
Since the PV Race (San Diego to Puerto Vallarta)  starts today (or yesterday depending on when this goes up) for the smaller, or "slower" boats, and no one has chimed in, I figured it was my obligation to at least say something about a fun 1,000 mile race down the coast.  With Ronnie Simpson on his way to Hawaii there is no one to give us a run-down of the boats!  I feel almost lost!  So here is my version… abbreviated so don't get upset if your favorite boat is not on here.
Class 4:  Velos has to have a good shot at being first to finish if there is any wind.  Looks slow but the grib files along the coast are never to accurate.  Got an up-close look at Swazik the other day and wow that is a beautiful boat.  They always sail well and on corrected time should be in there somewhere.
Class 3: Santa Cruz 50's a J-125 and the Roger's 46.  Would have been more exciting if Horizon and Resolute were still sailing in this fleet.  Have to give this class to the well sailed Rogers 46 "Bretwalda 3" who has been doing very well on the West Coast for the past few years. And speaking of Horizon, if anyone is looking to own the best and fastest SC 50 in the world, here is your chance.
Class 2:  Or known as the West Coast 70's.  Not much to say about this fleet for me.  Same guys on the same boats doing the same things… Prediction: Pyewacket or Grand Illusion.  Most exciting thing in this fleet for me is knowing my friend Jack Bazz is having his first offshore race and is on Mirage.  Means another poerson to surf with when we get to PV.
Class 1:  Happens to be the class I am in on board the TP52 "Destroyer" which is the ex-Grins.  Interesting class here because of the variety of boats.  Meanie, with Jeff Thorpe (Elvis) on board, has to have the advantage here.  This guy seems like he can do no wrong offshore these days.  On a side note, Meanie will be staying in Mexico and going Acapulco.  This makes 4 TP52's in Acapulco and rumor of another one coming.  Say a 2015 TP52 circuit stop there is in order?  So the other 52's in this fleet… Vincitore has a pretty regular group of guys and should put in a good showing.  Destroyer is a new boat for the family and we are going with a relatively large crew so doing well would be something of a massive bonus.  Bad Pak is such a sweet looking boat and I hope that they get is moving and sailing to its potential.
So the wind is looking a little on the light side but I don't think it matters because everyone is excited and looking forward to sunshine (well more sunshine if you live in California) and another adventure. Track us here.
Keith Magnussen
March 14th, 2014
Every year, 2 weeks prior the Sofia World Cup event, one of the organizing clubs, Club Nautic S'Arenal, offers to all the sailors that train in Mallorca a different kind of racing:
Arenal Training Camps Trophy.The rules of the competition allow the coaches to enter in the regatta field at any point to exchange suggestions with their sailors. Materials are allowed to be tested and changed, without informing the Regattas Committee. Also, those who prefer, can participate in just some of the trials, signing up even if the competition has already started. The fee is NOTHING. All free, and they have free food after racing and a t-shirt. No sponsorship, almost no PR, just for the sailors.
The result: 500 sailors from 29 countries, including, for example , the last Nacra 17 Worlds top 5 boats, with Frank Cammas and his big friend and VOLVO rival Iker Martinez in the fleet. I have seen 49er guys sailing in 49er fx boats with the girls, crews exchanging boats to test and see different options.. it's really amazing, all organised by a couple of young guys, Ferran and Alberto, that should be an example for many PR teams that can't get half of the entry list with heaps of money and sponsorship. Results a some info here. – Jesus Renedo.
March 14th, 2014

If you've never raced a Caribbean regatta, the Heineken Regatta is a great place to begin, and for 2014, the crew of El Ocaso were ready for what the regatta labels 'Serious Fun'.  Our race on El Ocaso began with Wednesday practice day and then the windward/leeward one-day Gill Commodore's Cup.  We won our class (Series 3), and were awarded the overall trophy for the single day event.  This really set the tone for Team El Ocaso as the full power of the Heineken Regatta began the next morning.

March 14th, 2014
Mexico may have stepped in some major public relations poo this winter thanks to some not-uncommon bureaucratic stupidity and arrogance, and it will never be as safe as your local suburb, but we maintain that the Pacific Coast of Mexico still has some of the most beautiful sailing grounds in the world and is worth the hassle.  This excellent spot in La Cruz was a tiny fishing village a decade ago, and now it's a fully developed community with a big marina that will serve as HQ for next week's Copa Del Mexico, the biggest regatta in the country. Supported with some great parties thanks to Mexican tourism sponsorship cash, this year will feature J24 North American Championships as well as an oceanic class, Wesmex (Optis), boards, and kites.  Check it here.  Jen Edney photo.
March 14th, 2014
Our old friend Mike Hennessy – owner/driver of Class 40 Dragon is one of at least two Americans to be sailing one of our all-time favorite races this year. It's a race named after booze, and every four years, the world's best offshore singlehanders use the race, known as the the Route Du Rhum, to test themselves against the Autumnal gales of the Atlantic.  
If you don't yet know Mike, he's been a member of the SA family for ages, and we've watched right here from the very beginning of his Dragon's racing program; Mike has shared the highs and the lows with all of us, and we will be there in St. Malo to wish him off again this coming November.  If you have some vacation time, it's one spectacle every sailor should see; not just because of St. Malo's beauty, the mouth-orgasmic seafood/wine/desserts/women, the offshore racing history, or the ability to see and touch everything from Tabarly's legendary yachts to the biggest racing trimaran every built – which will also be sailing to Guadeloupe with just one guy aboard.  No, the reason you go to St. Malo in November is for the crowd; nearly 1 and a half million people make their way through the race village in a week, with some 500,000 watching the start in person on race day.  It's a site worth seeing, and you only get it once every four years.

March 14th, 2014
Not a bad boat to pick up used, it is the very quick J/V 72′ former Ran, now called Robertissima. A brand new Ran is expected to debut in Mallorca next month. We'll get it for you. Photo thanks to Jesus Renedo, and check his video. Funny how much work goes into an already turn-key yacht…
March 13th, 2014
Here it is – the next round of "Ask Ullman", brought to you by – you guessed it – Ullman Sails!  Keep the questions coming – sail trim, boat handling, tactics, industry news, you name it.  Leave no stone unturned.  In most cases, we're probably all interested in the answer too.  Send 'em to the Editor here.

Q. My boat goes half a knot faster on port tack than starboard. What are the most common reasons for this? How do I find the cause?
A. The most common reason for this is that your speedo is not straight. Even a tiny bit off can give you a different reading even though the boat is probably still going the same speed. Also it may be that your mast is not centered or that your foils are not symmetrical. If none of these apply, then it's probably that the wave conditions are different and on one tack they are slowing you down.

Q. I am always curious about your projects. What did you think about the J-70 and will you keep sailing in that class?
A. The J/70 is a breath of fresh air. It's clearly the right boat at the right time and I am committed to sailing it for at least another year. The class has experienced amazing growth, which speaks to the need for a boat that is not as high performance as some other boats, yet the racing is very competitive and the distance between boats is minimal. This makes for some great racing.

Q. When you come on a boat for the first time, how do you judge people's skills at the job they are doing onboard, and then how do you go about changing people if you sense they are not up to par?
A. This is obviously a very delicate subject. The worst thing I can do to a crew is come onboard for a regatta, make changes and then walk away. One of the best things I can do is suggest that they hire a coach for a practice day sailing before the regatta. The coach can video tape things and review them afterwards. People never get to see themselves and a video never lies. The coach, along with the entire crew, can make suggestions. There is no point in making someone feel bad while they are racing, so it's best to suggest how to do things better and offer encouragement in a debrief for the day after the racing is over.
Q. I am curious what your thoughts are about having professionals sailing in different classes.
A: It really depends upon the boat and class. For example in a competitive class like the Melges 20, the class rules require a Cat 1 driver. The rest of the crew can be Cat 3s.  For the Melges 24 there are no restrictions at all. This is appropriate for this level of sailing. For PHRF in SoCal, there is a rule that no pros can drive and there is a limited number that can be onboard. This is a good rule for weekend sailing, but not for a championship regatta. It comes down to the class and the boat owners' decision to form a class rule.
March 13th, 2014
The folks at Red Dragon Yacht Building in Xiamen, China are making some waves. Recently named the new Asian builder of the J/80 which happens to be the keelboat for this year's Asian Games in Korea, they also produce the D5.8 (cum Flying Scot). The've tweaked this nearly 60 yr old boat with new flat-topped fully battened main, furling jib, NACA rudder and centerboard foils, modern controls.
March 13th, 2014
Here, courtesy of designer Rob Shaw, are a couple looks at a preliminary sketches of what a new 33′ canting keel sporty might look like. Here also are some very preliminary numbers:
Displacement 2,0187kg 4350lb
LOA 10m 33′
LWL 9.65 31'6″
Beam 3.0m 9'10″
Draft 2.5m 8′
Sail area (upwind) 85m2 915 sq ft
Crew 1-4
This is a concept that has the potential to turn into reality. Jump in and share your thoughts.
March 13th, 2014
We were super bummed out to hear that the Burwick family on the Open 40 Anasazi Girl had to be rescued by the Chilean Navy when the rig blew out of the boat in an area near Puerto Williams.
We know the conditions were intense based on the last articles we published about them.  It was unclear to us what has become of the boat, their home for so many years. You can read more here and stand by for the lastest work from papa James Burwick.
 Update from James Burwick
March 13th, 2014
With his his excellent mast walk video rapidly approaching a million Youtube views, long time Sailing Anarchy fan Alex Thomson wants to answer all of of our reader's questions, and there's always plenty to ask the charismatic British offshore racer.  He's agreed to do an exclusive AMA (Ask Me Anything) with us on Friday, with questions coming via the SA Forum, Facebook, and Twitter, so here's your chance to get all the info on the mechanics of the mast walk,  the value of PR Stunts, how to keep a sponsor happy, what it's like being the top Brit in a Frenchman's game, what his plans are for the various IMOCA/Ocean Master events this year, what's the goss on the UK's chance at an America's Cup, and anything else you like. We'll add up all the questions and get AT to hit them one by one in a Skype chat with Mr. Clean that we'll have up and running by the end of the weekend.
Post questions right here in the forum, or send them in to our Twitter page or on Facebook with the hashtag #mastwalk before Friday at 0900 GMT/0500 EDT.  And while you're at it, we highly recommend you have a look at the Aussie Sailing Team's video piss-take of AT's mast walk posted a few days back.  Hilarious stuff, and a good example of why Sailing Anarchy gets along so well with Australia.
March 12th, 2014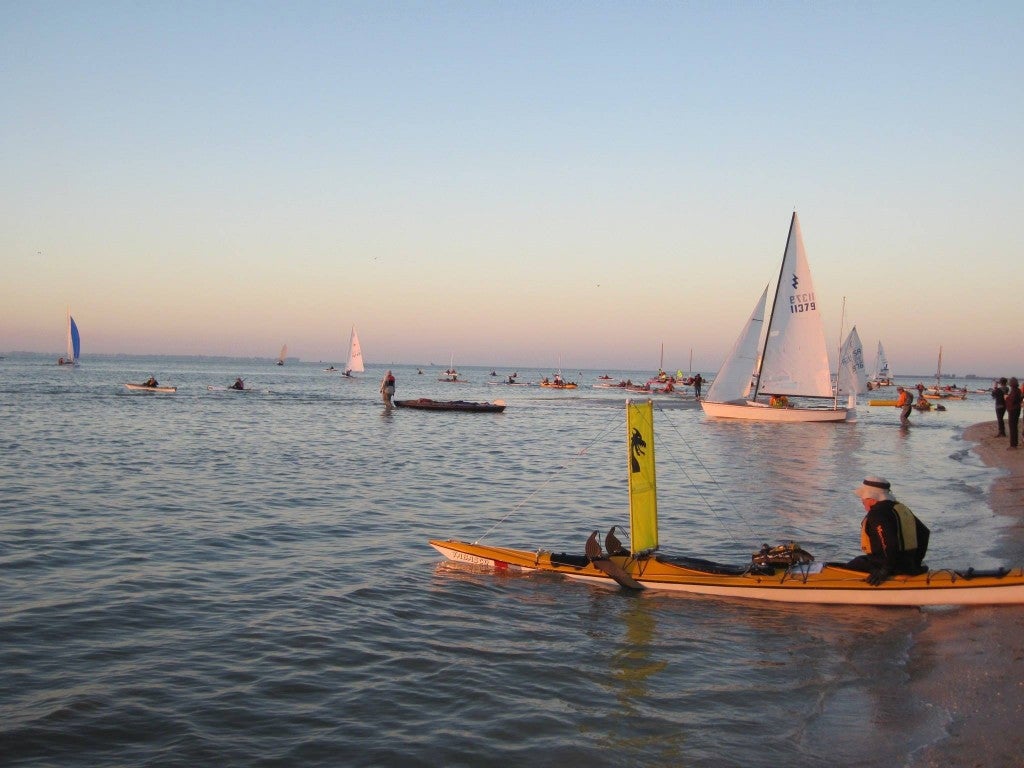 SA'er "zerothehero" filed a number of reports from the most unique race in all of sailing; the paddling, sailing, portaging, and pushing Watertribe Everglades Challenge.  You can see all his reports as well as a pile of other info and video in the thread, and below is a great excerpt.  Photo from another SA'er – Tom Ray.
So dinner in the boat was a bad idea for me.
After clearing the last of the mangroves we settled in on port, and after about an hour, Per got to dinner.  Earlier, my cafe con leche had spilled in the bilge and I had only gotten a few sips.  Oh, well.  The dinner had also fallen in the bilge, but I thought I had saved the top one.  So after Per ate, I opened my container to find it full of water!  One problem with that: Per had been peeing in the bailer which had a crack in it so who knows what was in that water.  Not eating that!
Per analyzes the numbers and says that, under current conditions, we will need to head out 25 miles to lay the cape.  I answer that there's no way I am sailing 25 miles off shore in a Lightning at night.  We analyze the conditions constantly and come up with a theory; the wind will back more and more and we may not have to tack at all.  The wind was strong and we were going to weather, making sleep very difficult.  We both managed a little, but really not enough.  I developed a headache and wasn't feeling great, I was starting to not take care of myself properly and this would become an issue later.
That night I had vivid hallucinations: The stars were traced into made-up constellations.  It was very cool but unnerving at the same time.  I kept thinking I could see shore even though I knew we were well past where we could see it.  There was a phantom palm tree following me just off to port, and we were 11 miles off the Everglades.  While sailing along in the dark we suddenly stopped, and a really weird feeling came over me.  I clicked on my head lamp and looked at the water, we were in the middle of a huge boil of water upwelling from below.  The water was full of sand and grit and had a strange color to it.  Spooky.  We pulled up the centerboard and rudder and drifted off the boil, finally free of its grip.  All-in-all, an unsettling experience in a night of them.  Even as far offshore as we were, the water depths are only around 20 feet or so and there are several currents converging out there.
Our theory on the wind played out and we kept getting lifted.  A little before dawn, we passed East Cape close enough to hear the birds.  As dawn broke, SOS and Poptarp came screaming out of Checkpoint 3 in their tri, Mosquito.  They gybed, and passed us to close to leeward.  Great looking boat.  In our 2 second conversation, we learned they were going outside, the long way around.  Not so painful in a boat that can do 20+ knots!  We continued tacking up into CP3 and a while later we saw Sambasailor leaving the CP.  This put the fire in Per.  We analyzed their course and figured they too were going south.  Per decides we are going to strike out across the bay, it's our only option if we want to try and beat Sambasailor.  We get into the checkpoint, grab some food and caffeine, use the facilities and leave.  Total time in CP3, about 20 minutes.  Up next, the exciting finish…Read on.
March 11th, 2014


Sailing videographers have been fighting with drones for years now.  Fighting to try to get them to fly reliably in 15+ knots, fighting to get them to deal with salt spray environments and boat launching, fighting to keep their $2000 toys from turning into melted circuit boards when they inevitably hit the drink, and fighting against local and national governments who don't want them up there unless they're spying on you for the NSA.
But from this excellent video, it looks like the guys at Pigeon Vision may have solved many of these problems.  The video is so good that we've lifted our lifetime ban on any videographer who uses the most uncreative, overused song in the history of sailing videos as a soundtrack.  It's nice work from one of the Caribbean's great regattas, and a good opportunity to congratulate Miami's Rick Wesslund's and his all-conquering El Ocaso (in a new-to-him J/122 for '14) on winning yet another overall Caribbean regatta with core crew Bob Hillier from Line Honors on the mainsheet and the world's best 40′ handicap cruiser/racer tactician, Anson Mulder, calling the track.
March 11th, 2014
You may not have noticed, but that world-famous breeding ground of both great and horrible ideas – the Sailing Anarchy Forums – has a new addition this month.  We welcome all of our kiteboarding friends to Kiteboarding Anarchy, and Anarchist "maestro" rekindled an old tradition in the forums; the reader boat review.  Only this time the boat fits in a bag, and goes 30 knots…or more. More pics (and ask the reviewer questions) here, and the manufacturer site is here.   And in other kiteboarding news, we're proud to be a sponsor of the inaugural Fort2Battery Race in Charleston, SC right after the Moth NAs and just before Charleston Race Week.  Already a pile of boards and moths are entered for this event modeled after SF's Bridge2Bridge but in the East Coast's kiting capital, and it should be a blast to hang out on the Battery and watch the carnage.  Nice going from a big Anarchy fan with the balls to give something new a try – Tim Fitzgerald.
MFG: Slingshot
Model: Darko
Size: 134 x 41.1
Year: 2013
Conditions: Salt water, flat/choppy, no waves 14-25kts
Boots: Y
Kite: RPM, Rally, various sizes
Initial impressions:
The artwork is great, and the bottom of the board is super visible if you lose it, or if someone is taking pictures of a grab.  It has fairly little rocker, and carries its edge all the way up.  The board is on the heavy side of medium and the flex is on the stiff side of stiff.  Slingshot fastrack, for super adjustability of stance.  All the bolts needed tightening before/after the first ride, but all good thereafter.  Bindings are quick to adjust.
Performance: 
The board rides like its a bigger board, you can really agressively downsize because of how wide it stays tip to tail.  This board generates a ton of pop with the right speed and ability to use it.  Even though it is 134x41cm wide, it doesn't feel like a wide board.  Even though it's a fairly stiff board, you can still feel the flex on the slop, though landings can be more abrupt than softer boards.  Beginners will like how well it gets up on plane, upwind, ability and speed…at the cost of a bit of face spray.  Experts will absolutely launch on this thing.
Verdict:
This is my favorite 2013 twin tip from Slingshot (I've demo'd the entire line).  It's definitely a go-to medium to heavy air flats kiteboard that will take anything you dish out at it.
March 11th, 2014
First shots of Team Australia sailing, thanks to Andrea Francolini!
March 11th, 2014
So we had coffee with a SoCal boat builder the other day, ostensibly to talk about ways to get people excited about the sport on the heels of our Flowers by the Door article, and what kind of boat would do that. Of course we talked sportie (32-33′?) and of course we talked price point ($75,000?) and some of the elements that would be part of that  (minimal carbon, retractable sprit, outboard in well instead of inboard, outboard rudder, a decent, minimal interior, aesthetics, etc.).
But the conversation was quickly realized as one of convention. Sure, a sexy and fast modern sportboat could be done at an attractive price point and while that might take off, it really would be little more than a rejigged M32 and the like. What would be areas of development that could make the boat more revolutionary than evolutionary, give the boat breakthrough speed, and generate excitement in perhaps a new segment of the market?
A canting keel was the element that jumped out as us as being the most interesting and performance enhancing. Given the success of designers like Rob Shaw in this area it seemed to be one worth exploring. Cost, complexity, reliability and usability being of the most importance.
And what about rig/sails/sail plan? Are there areas for forward thinking that are speed and cost effective?
Starting from zero, we were intrigued about what possibilities there might be. So the questions to you anarchists are along the lines of is the concept viable, what would you do or not do and would this concept be  marketable and doable?
March 11th, 2014
Is this not the very essence of what makes this sport so fucking awesome? And was this not the very essence of what made rack so fucking awful?
This awesome shot thanks to Mark Callanan with tons more here.
March 10th, 2014
One of our re-born features is our Design 101 series, brought to you this year by the boys at Farr Yacht Sales. Today Farr President Pat Shaughnessy breaks down the thoughts and processes behind the new Farr 280. Yes this is promotional, but the amount of effort that they are putting into the boat is fascinating. 
An idea

Everything starts as an idea, and the Farr 280 One Design was bred over quite a few years of discussions with owners and sailors of Farr 30s in particular. While everyone agrees the Farr 30 is a great boat, they also long for more modern features. They see things in magazines that they want to have, and while we've talked about how to add this or that to the existing boats, there is no real substitute for a well-designed, well-built, cohesive product.
So we set out to produce the modern equivalent of a Farr 30, and with several keys that we felt were very important. Finding the right combination of performance/cost/features to ensure that this would be a well-balanced and enjoyable boat like the Farr 30, but also one that was priced to achieve success and contained the features that would set it apart and make sure it would remain relevant for a long time to come.
The goal for this particular document is to show how far design extends into product development, and also how much more is required from designers in a modern project. For sure we are working in a time that demands more from design. Each component demands careful thought and execution. This particular project, though, is a good example of what needs to happen beyond the typical areas of design in order to really control a project, and to create something exceptional. In the following discussion we will step through the design stages that we use internally; stage 1: design brief, stage 2: conceptual development, stage 3: preliminary design, and stage 4: final design.
A sketch
In the beginning of any project we start to sketch around a bit to see what the initial idea looks like. Although it seems a little retro we still start things here at Farr Yacht Design with a sketch because it appropriately captures the amount of effort at the beginning of a project. As our design loops progress, detail gets added appropriately and the tools used for development add complication as they are required for the deliverables of that design stage. Most of all, sketching is fun.
The initial sketches are usually more than adequate to illustrate the complication of spatial relationships and the interplay of different conceptual choices. You can see in this initial sketch that we are considering a lifting keel, and matching rudder. We're trying to settle on an initial deck geometry that will work in both versions so that we can progress with a development platform that feeds both paths.
Market research. Is it positioned right?
As designers we often start our product research in a very technical way, by canvasing the competitors and tabling the relevant data into a viewable platform like this:
We use this information to position our boat relative to other market offerings. In a numbers sense we can see separation with other boats, and see where our concept should find advantages. If we switch to our marketing hat, we need to stop thinking as just designers and think about what the market gaps look like. We use another tool like this one that just helps us visualize the space where we need the product to fit:
Inside a given market gap we try to look for an advantaged space that will give our concept the best chance for success. In this case, we realize that there a number of relatively high performance existing/used boats in the market that offer very good performance for their cost (e.g. the Farr 30).
To combat that we've pushed our overall boat size as small as possible in order to reduce cost. That can be done within reason as long as the new boat maintains a performance advantage that makes it worth buying. Of course it is completely possible to make bigger faster boats, but within reason. One has to find the right amount of performance to encourage potential buyers out of their existing boats, and at a cost that they can afford to spend. The side benefit of a smaller boat becomes scalable costs like reduced crew numbers which ultimately works in everyone's favor if your sizing allows a step.
An investment group
In this case, we've pursued an investment group structure to fund the project as a whole, up until a point where the project can stand on its own. We estimate costs to fund several of the key areas, like; the design and engineering, the tooling, the spar design, the legal fees associated with the LLC, a marketing plan to support the project until it can be sustainably funded by boat sales, the construction of boat one, and an operations budget for boat number one through its debut regatta.
In this particular case a number of us internally could see the goodness in the project, and a fair portion of the investment group has been contributed to by employees of Farr Yacht Design, and Farr Yacht Sales. The remaining investors are ones we would classify as "friends of the program."
Overall the investment is relatively minor and with a good potential for return across an initial portion of the production which should occur in the first year. The production lifespan itself has been modeled on that of the Farr 30's, with a scaling down to a level of approximately 55 percent to account for the relatively slow economic environment.
A conceptual design
During the second stage of the design work, several key conceptual features are explored in an effort to accurately describe their cost, performance and desirability. Inevitably there are very few of these decisions which are easy and straight forward individual choices. A particular choice like that of a lifting versus fixed keel arrangement needs a fair amount of development to correctly understand the weight, performance, and cost of each arrangement.
Even with the technical tradeoffs in clear description, several other components need to be considered. For example, crane hoist arrangements in specific launching venues, warranty claim rates for each arrangement, trailering preferences, etc. In the end each of the choices requires a very detailed understanding and, even then, can be very subjective choices. In this example you can see the detail that some of these choices are modeled to before a decision is made:
 A rule, and a class that establishes control from the beginning
Almost all of our work has been predicated on establishing the best One Design that has ever been created. We have an incredible history of One Design class development on the design side, and the recent experience of the Volvo Ocean 65 to draw upon in determining how to accomplish this. One unavoidable point is that the rule and class development need to be a cohesive part of the design process from the very beginning.
Every component needs tight geometric controls that can only come from milled tooling. Hand built, inexpensive tooling just cannot do the job these days for a true One Design product. The construction of each part then needs to be done from kit cut components and infused lamination. Each part needs specific controls with a pre-determined target weight and allowances down to the gram.
This seemingly mundane part is a cockpit bin infill. It's removable to provide access to the inboard engine in case of future service needs. It contains the fuel fill, and separate storage areas for both flat items, and taller things that want to stay cold (like, say, beer bottles). This part comes from precision milled tooling. It has a target weight of 4.53kg and has predetermined tolerances that will require some parts to be rejected.
No component is too small to achieve top level detail, but also top level One Design control. All of that has to be an integral part of the design process from day one. It cannot be a control afterthought, and it can't come from poorly controlled tooling or build processes.
The Farr 280 One Design Class has been established with initial control within Farr Yacht Sales, and with a predetermined hand over point when we achieve an ownership group which can then self-sustain the class's needs. While it seems relatively trivial, the owners need to know that they can step directly into a pre-formed organization that has considered and planned for the things they will need going forward. Until that hand over point is reached, several of us here need to wear One Design Class hats. Between design, sales, marketing, and class development work, we are accustomed to wearing several different hats, and having some really challenging discussions.
A preliminary design
The preliminary design loop bridges the gap between the conceptual decisions and the final design work. With the key conceptual design decisions made, we move towards a complete package along with all the complexity that comes with the big tools. Our hull shapes and appendages are the product of extensive research utilizing a range of proprietary tools to produce the most hydrodynamically efficient solutions. The hull shapes utilize a sophisticated and highly resolved surface description that allows a high level of control in developing both the heeled and upright shape. These are analyzed using our in-house computational tools that include a proprietary high order panel method and state-of-the-art high fidelity simulations capable of capturing the details of the flow around the hull and appendages at high speeds and in waves.
Our appendage designs utilize extremely complex geometric modeling that allow the hydrodynamic and structural designs to be developed simultaneously ensuring designs are produced that are both hydrodynamically efficient and structurally optimized. Foil sections are developed in house utilizing computational analysis and tailored specifically to the yachts characteristics and performance envelope. We utilize a proprietary performance prediction program that is continually refined and advanced so as to accurately capture the performance differences between candidate designs. It also allows for efficient optimization of design characteristics to produce optimized designs that are fast and that handle well in even extreme conditions.
The powerful combination of Southern Spars, and North Sails Design Services has given us unparalleled access into the design of our complete aero package and the ideal partners for developing a new product. The preliminary design work in the aero package has focused on finding excellent cost/performance choices for the rig, and on a sail wardrobe that suits the needs of the boat and manages cost aggressively.
A trailering plan was developed in this stage to consider how a fixed keel boat can be transported easily. In this case we've focused on a fixed keel for performance and cost reasons, but with the recognition that trailering the boat in a low configuration may be an important consideration for some buyers. The keel is quickly removed from the boat and can be carried on the trailer, flat beneath the boat, in order to facilitate the low trailering mode. The same trailer can then be reconfigured in a high mode for storage, or for the owner who prefers to trailer high.
The modeling and engineering work is resolved to final detail level in order to feed two important directions of future work. The first is a detailed quoting package that is both fairly indicative of the final level of detail, and second, is a detailed weight calculation that can be used for the final geometry development. All vital components run through several FEA (Finite Element Analysis) loops to ensure that we have the correct geometry and engineering planned for the final work. The following is an example of FEA work done on the tiller:
We also use the stage 3 preliminary geometry to develop promotional rendering work. This work was outsourced to our friend and fellow Naval Architect, Paul Fuchs, whose renderings were then used in our initial brochure for the boat's Annapolis boat show premiere in 2013. The renderings themselves have presumably been seen by the audience here, so I'll skip that.
That initial promotional work also necessitated a logo to be developed for the boat, which by itself needed to consider several applications like dark backgrounds, light backgrounds, and stationary. It also gets used in all sorts of fun places like this:
Quoting and selecting suppliers
Our comprehensive package of 3D models, drawings, hardware load sheets, material quantities, etc. was sent to a group of nearly 40 select suppliers in order to determine the best combination of boat builder, rig supplier and hardware suppliers. Those choices balance availability, cost, delivery options and quality. Together our team of partners and suppliers represent the top tier of our industry, and formed the correct group for this project, but the choices aren't always cut and dry and require a lot of analysis to make sure that apples are compared with apples. Our investment group strategy relied on having a fixed boat cost across the initial production so an enormous effort went into the quoting and refinement process.
Final design
Everything that was completed in the stage 3 preliminary was ultimately redone in the final design work but within a final package of geometry in reaction to the development work, and weight calculations. The total package of final design information represents over 200 deliverables as we describe each component with 3D models, drawings, weight calculations, material cut files, etc. The total deliverables are then completed here in a traditional design sense and represent a little over 4000 hours of design time which is roughly 2 man years of work.
Promotional work
The promotional work for a project like this is never ending, and almost all of it requires some sort of designer level input. We have evolving versions of the; brochure, pricelist, designer comments, advertising, flags and banners. We have photo shoots, and magazine articles, and interviews, and silly things like stickers and bottle openers. We have a Facebook page, and a Twitter feed, and a website, and the list goes on. It never ends.
We've had to take a very conservative initial marketing approach in order to keep some of the really great things about the Farr 280 from being copied in competitive products. Now that it's too late to replicate those design features, we can show some of them off while building excitement for the boat's debut.
Sales
Farr Yacht Sales is set up to sell FYD produced work as well as broker existing boats of any design. While buyers can purchase directly from FYS we've also worked to create commission structures such that other brokers can find a level that suits them to sell the 280 as well. This way we can handle sales and support internally, with external agencies, or in several levels of shared sale and support.
Next
Our immediate focus is on preparations for Charleston Race Week. It's a key point of our total project plan to have a successful debut regatta. When boat one arrives in the US we know that we will have a good amount of work to do before we are ready to race. That initial work will be done here in Annapolis where we can devote full time effort for several weeks before the boat will have to head South. When the boat is in Charleston we will have a good crew onboard to make the most of our time on the water, and we'll also have a support boat there so that we can hopefully continue to collect good photographs of the boat sailing.
After Charleston, boat one will return to Annapolis and complete a summer of sailing here. Our focus will shift to support the debut regatta of boat two in Italy, and the same for the following boats as we work to impress at their local debuts.
As the debut work becomes a bit more defined and scripted we will turn our focus to complete the definition of the class racing rules. We have a few special things in mind to make this a strong class with the right kind of focus. Those ideas need plenty of work to realize, but they will be one of our biggest focuses going forward. We will have designed and built a boat that was more than just another average boat, and we will move towards making a class experience that continues that logic.
March 10th, 2014