Sailing Anarchy was launched right around the time when the first Moth – Brett Burville's surface-piercer – went flying.  As the Moth took over the world of ultra high-performance single handing, SA took over the sailing internet, and we've had a special relationship with the Moth ever since.  That explains our joy when we see just how incredibly strong the Moth is, with 2014 likely to mark the strongest year in the history of the foiling Moth.
This year's North American circuit is well underway, with longtime SA'er and two-time World Champ Bora Gulari defending his National title this coming weekend against new US Sailing Team member Brad Funk and a fleet including Star Gold Medalist Freddy Loof, multiple keelboat world champ Anthony Kotoun, and all the rest of the adrenaline junkie crowd.  We'll be there helping the US Class get photos, video, and news out via the US Moth Class Facebook Page this Friday to Sunday.
Meanwhile, the Moth Worlds at Hayling Island in the UK is about to set an all-time record for entries in a Moth WC – with 5 months to go until the event!  We Expect somewhere over 150 boats in Hayling including full teams from a number of America's Cup campaigns – foils will be the key to the next Cup, and the smart designers and sailors know that, with the A-Class split over whether to go forward or backwards, there is only one singlehander that will let them hone their skills for the biggest trophy of them all.
Europe is heating up just as quickly, with the first Act of the EFG MothEuroCup taking place in Bordeaux, France soon. It's the first of six awesome events held all over Europe, including the excellent Delta Lloyd Regatta in Holland in May, the Swiss and German Nationals, Traunsee Week in Austria and of course Europe's best sailing spot in Lake Garda has to be on the calendar as well. In this second year edition of the MothEuroCup, EFG Bank has stepped up to the plate as the series Sponsor, offering more than € 13,000 in total prize money.
With EFG Bank supporting Stars, Vipers, Melges 24s, and now the Moth, we're giving them a shout out; keep it up, bankers!  For a little video teaser of the Europcup, check this out on Vimeo.  Thierry Martinez photo from Hawaii.
March 20th, 2014
Hey, who knew SoCal would be rocking the big tri's. This pic is indeed in Long Beach and taken by Anarchist John happens to show the new Puerto Vallarta race record holder.
March 18th, 2014
This month, Kevin Hall does a little comparison shopping. Brought to you by Mauri Pro Sailing
I'm going to run with the family theme again. My sabbatical from the Cup combined with the fact that my cherished wife, Amanda, works full time mean that I have been working in the home for the past few months. Phone bill. School lunches. Tennis pickup. New gymnastics leotard (too small oops). Homework. Getting a serve from the my son's 3rd Grade teacher for not writing down which book he read. Groceries. Laundry (wash, and fold)…you get the picture.
I've always thought the phrase "preaching to the choir" was a little off. I mean, if the choir is busy singing like they're supposed to be, they can't hear you preaching, right? If this comes across as preachy, I apologize. Want I want to say is this: it is a lot harder than it looks.
Many of you will have read this somewhere. I had. Or maybe heard it from a mate. I had. Or even had a little glimmer of it when you took care of the kids for a whole weekend while she went to the spa with the girls. I had. None of that begins to shed actual light on the reality that when it's you, day in, day out, trying to keep the wheels near the car after they've fallen off again, you finally come to appreciate just how good you had it when your biggest worry was having left the Medium in the chaseboat when the seabreeze really kicks in.
In fact, that little glimmer of light you think you have is far worse than no light. Those couple days give you the false impression that you can extrapolate from your fun daddy weekend: We went to the movies in our pajamas! We had pancakes for dinner! Daddy gave me a sip of his beer then we watched Star Wars!… Just stretch that out to a month instead of a weekend, and that's what it would be like. Right? We might think being on duty for a long weekend provides legitimate insight into what it's really like running the household. I thought it did until very recently. I can assure you that it doesn't. So if you haven't for a while, thank her. Don't buy her roses though, she'll wonder what you've done wrong.
I have had one small victory. For years I have been frustrated by the amount of my waking life I spend looking for the correct Tupperware top. When we moved back home to NZ two months ago, I claimed two entire drawers in the kitchen. The Tupperware now goes in those drawers assembled. Not nested with tops flat against the side of the drawer. Each little box all put together with its top on it. Yes, it takes up more space. But I'm into time efficiency now, anything which will provide a predictable sequence of events. The fact that I have to walk down the hall to get a pan doesn't bother me. I can count on exactly how long that will take, and it's always less time than it takes my six year old to tie her shoes.
Some days I'm on fire. Treat in the lunches, nail the afterschool snacks, remember the playdate, everything. Those are usually the same days the kids pull clumps of hair out of each others' heads just before dinner.
If you're on a big sailing team, there will be days you have done everything right in your particular role, and the race still doesn't go well. I'm glad I knew about this before parenting. Not that I had so many days that I did things right out there. I did see firsthand how possible it was for it to seem everything was going OK but the wheels fell off or the bows went in anyway. It's an odd kind of frustration. Could one or should one have tried to help one of his teammates with his bit?
I think this is where it gets quite tricky. There's no right answer. People with high confidence, which is a big part of why they are there in the first place, are often at risk of inadvertently letting the ball in their own court drop while trying to help others keep their balls in the air. The teams with longer-standing, stronger cultures have feedback loops which help facilitate getting information around the place to provide the necessary support for the struggling members. Newer teams may not have those loops. Whether they are explicit or they happen by the espresso machine and in the bar, they are extremely important.
Maybe new guy just doesn't realize that the stopper knots he keeps putting in the end of the kite sheets not only have to be taken back out, but they also set off the moody bowman for the whole day. Or maybe someone who has been doing pro gigs for years and should probably know by now but for whatever reason doesn't, still leaves the rubbish loose in the cooler even though every day there's a rubbish bag right there. Things like that.
If you're in the wonderful and thrilling part of your career where this all sounds like an armchair has-been typing boring words, I envy you. Racing sailboats is a wonderful sport with unlimited room for learning and challenge. Don't get too distracted by this stuff (although being the guy who tidies the cooler and always carries sails shouldn't hurt your reputation). If some of it sounds familiar, look hard for ways to help spread the issues and the load around the team you're on. I recon the good old fashion piss-up can provide far more measurable benefit to team performance than you might think. If you were needing an excuse to grab a second or fifth drink with your mates while she's home holding the fort down, tell her you're working.
Title inspiration thanks to Black Flag
March 18th, 2014
Bringing a new product to market, especially a new sailboat, can be a time consuming, risky, expensive and sometimes futile, but with the new mxNext starting full production this week, we feel that it's all been totally worthwhile. Since we started SpeedDream it's been a fun and interesting ride. The sailing public seem genuinely interested in something new and completely different and this is borne out by the fact that we have already sold over a dozen mxNext's, most of them sight unseen.
The SpeedDream concept is about putting more innovation and excitement into sailing. We are not saying that we are the only ones with good ideas, but we are forging a path that brings a new look and performance potential to boats of all sizes starting with the mxNext. The idea of a carbon fiber boat, very light and strong with a lot of sail area including a sizable asymmetrical spinnaker, and hiking wings to allow the sailor to get their weight as far outboard as possible, is pretty cool. The hiking wings combined with the swept back wave-piercing bow work well while giving the boat a very distinct look. All the sailors that have taken the mxNext out for a test sail have loved it.
Mark LeBlanc, the builder of the mxNext is a very talented composite manufacturer having built carbon masts for Ted van Dusen for years and was the builder of the mxNext predecessor, the mxRay, which almost twenty years ago became the first production single-handed skiff to carry an asymmetrical spinnaker. Mark has set up shop in New Hampshire, built the molds and is ready for the full production. He is able to produce two boats a week and will roll the first one off his production line this week.
Among other mxNext news – together with Extreme Sailing Series we are developing an interesting opportunity to race a small fleet of mxNext's in Europe as part of their opening act, but at this point can't say much more as the contracts are not signed yet. If you are intrigued by this opportunity please make direct contact and we will provide more information. Contact Brian Hancock at brian@brianhancock.org.
March 18th, 2014
While the big bad trimarans ripped down the course on the San Diego to Puerto Vallarta race, with the MOD 70 Orion setting a record of 2 days, 8 hours, 33 minutes, the rest of the fleet is hitting a fair bit of light air. Here is the report from KMag on the TP 52 Destroyer…
It is Tuesday and it has been eventful to say the least.  After a respectable start we started losing ground fast.  So I started going through the motions of why we were so off the pace.  Backed the boat down twice (we are one of the only ones without a kelp cutter) and then we started getting a vibration that reminded me of Transpac on the 125….  Not again I am thinking.  So we talk about what could be wrong.. all the time going slow.  The wind came up last night and the vibration got really bad.  in 20kts of wind I was struggling to break free and barely hitting 17 for a top speed.
Fast forward to today and we are lazily sailing in 7kts of wind.  I had had enough… Time for GoPro.  And to my horror what do I see?  Something that looks like a 20ft piece of rope hanging off the keel!  So time to stop the boat and investigate.  Sails down and Squezy (Eduardo Jr) goes in the water for some action (we have good video of this).  He comes up with a massive piece of kelp that was wrapped around the keel.  Shit!  Well at least we are clean now!
Now we have the 2A up and a pretty good angle and still in the game to some extent (have to stay positive out here).  It always seems to be something.. but hey that's what offshore sailing is all about right? Track the fleet here.
Keith Magnussen
March 18th, 2014
The Melges 32 2014 sailing season has arrived, and the class seems to have begun its rebound from the record low turnout this winter and a cancelled Gold Cup last fall. Video stud and reigning world champ mastman Petey Crawford checks in:
With head ARGOnaut Jason Carroll taking the reigns as Class President it's a strong bet that the fleet will again find the golden fleece. Miami is host to the spring event in a few short weeks time as well as hosting the Gold Cup and the World Championship later in the year, and 3 more Melges 32 sanctioned regattas take place this summer in Newport including the US National Championship. With new blood in the fleet and some familiar faces from years past, it appears that the 32 class isn't ready to lay down just yet. Still feeling the effects of my  car vs. bike episode in Key West earlier this year, I sat out the Miami Winter regatta and produced the first of what will be a series of videos targeted to keep stoking the flames. Stay tuned.
March 18th, 2014
Thanks to a European feel, long, reach courses, and the most festival atmosphere of any regatta, the Heineken continues to be one of the only regattas in this hemisphere to attract a vibrant big-boat multihull racing scene. Nils Erickson's quick M&M Formula 40 cat Soma has owned that scene over the past few years, and he checks in with the best race report we've seen in a long time.  We're not sure if Soma is still doing charters as her website advertises, but if you ever have a chance to get aboard, jump on it.  Top shot from YachtShots, the rest from Soma's co-owner Meredith and Gunboat crew Jamie.
I learned an old German proverb a few years ago that I think applies to multihull racing in general, and this year's Heineken Regatta in particular: "A smart horse jumps only as high as it has to". If you remember the first season of the Extreme 40 class not a single boat flipped. By year two, a handful. Nowadays it seems like a boat flips every race. On a racing multihull you'd better be ready to press harder than your competitor and peer over the edge into the abyss we call the "mineshaft" if you want to win. Just don't go further than you have to, or you'll be that dumb horse.
This year's Heineken Regatta in St Martin saw the best, most modern assembly of multihulls in its history. The five Gunboats entered have (rightfully) gotten lots of love and press with their stories from Multihull Racing 1, but in addition to them were another 24 multis in 3 other classes. In Multihull 2 we had a Seacart 26, a sexy new Toro 34, a wicked fast Open 40, and perennial attendee and threat Carib Cat. We rounded out the fleet on our 30-yr old Formula 40 catamaran, Soma.
Not only was the list of boats formidable, but there were some industry bigwigs in attendance. Out of the blue, two weeks before the event, we got an email from Gino Morelli asking what it'd take to get an invite to sail on Soma. I doubt anyone doesn't recognize the name, but Gino is the designer and builder of Soma, as well as, um, sum lesser-known boats like the first generation Gunboats (48, 62, 66, 90), Playstation, Stars and Stripes '88, Alinghi and those quick little AC72s ETNZ and Luna Rossa/Prada.  Why one of the greatest designers in the history of sailing would want to slum it with a bunch of rank amateurs like us was beyond me, but it was an honor we couldn't refuse. He was Soma's Dad, and we've just been borrowing her.
We gave Gino his choice of jobs aboard and were happy to have his expertise on the mainsheet. Also sailing with us was multihull guru Torbjorn Linderson (ex-Marstrom, currently Future Fibres). Calle Hennix, owner of Seacart was racing his Seacart 26, Gunboat company owner Peter Johnstone was back on his 1st Gunboat, Tribe (GB6201). Designer David McCullough was racing on Slim (GB6606), multihull legend and the sailmaker for Soma and just about every fast multihull in attendance Paul "Whirly" Van Dyke was on Tigerlily (GB6603). Elvis/Team Argo (GB6204) had more collective world championships aboard than the rest of the 215-boat fleet combined. This wasn't the usual collection of rum drunk Caribbean sailors like us on Team Soma. We needed to come correct.
The first day's race was the Around the Island Race. There's something pure about an around the island race.  No handicap squabbles, no BS, first to finish. That's been our trophy 8 out of 9 years and we had no intention of letting it slip away this year. Conditions were on the high side of what's comfortable on Soma with a puffy 18-22, and big gusts in the low 30s. Full main weather, but marginal in the puffs. The Gunboats had the first start in the 215-boat fleet; we followed 5 minutes later. After a short mile-long beat to weather we turned downwind for a run to the west tip of the island, Basse Terre. We had piled bodies at the back of the boat trying to keep her nose out of the water, and the wind was nuking. We were quickly reeling in the frontrunners Coco De Mer and Elvis. Just as we evened up with Coco we had our first HARD stuff, both bows digging in and the rudders coming out of the water. Torbjorn, the giant 105 kilo Swedish mast designer, was launched from the aft beam right through our tiller cross bar, breaking it like a finish line tape. The boat came crashing back down suddenly. In full-power, downwind conditions I only had the use of the weather rudder. I jumped to leeward and drove off the leeward rudder/tiller that was more likely to stay in the water as the crew scrambled to effect a repair. We used every scrap piece of spectra aboard and lashed a boat hook to the cross bar as a splint. I had a sinking feeling we wouldn't last the race. "Are we pushing too hard?" I wondered. We got back on the throttle and began the upwind leg past Marigot. Conditions were great, flat water and reasonably steady wind.
The course takes the fleet into the full brunt of the Atlantic as you head up around the NE corner of the island, past the offshore island Tintimarre, and down the East coast to Phillipsburg. Seas and breeze were up, with ESE winds above 20 knots and gusting much higher. We had pulled one daggerboard up on our last tack to the weather mark, then cracked sheets and began the hot reach down the lumpy east coast of the island. We tried to crank up the weather daggerboard while barreling along at 25-28 knots but it didn't want to budge. We blew up the uphaul line, then hurried to get a halyard to the top of the board to try to get it up. In the meantime my wife was sharing driving duties with me, getting blasted by spray sitting to leeward supporting the splinted tiller cross arm and following my lead on helm. The trimmers were ready to blow sheets at a moment's notice in the marginal conditions, while our "floaters" were working on getting the board up. There was a LOUD crack and without looking I knew it was the daggerboard. I turned and, sure enough, saw the bottom half of our board roiling out of our wake. That sinking feeling again; we were snatching defeat from the jaws of victory, and it was getting really expensive. I pushed those feelings away. We stacked bodies aft and pressed on. A steep sea was running, making the just-past-beam reach difficult in full power. If we sailed the course to the corner of the island we'd bury a bow and be upside down for sure. If we heated a touch we'd get fully airborne launching off the waves. If we dove deep we'd end up on the beach at Orient. We'd commit high for a mile or two (so we could shed power), then dive deep and soak down to the route, and repeat. We were living, but it was hairy.
At the end of the reach we met the current running around the S tip of the island and the waves got steeper. We had stuffed the bows several times already, but she had popped up unscathed each time. One mile from the finish we had our hardest nose dive yet, parking the boat, burying the bows to the main cross beam, and totally submerging our 22' sprit. The sprit snapped just aft of the jib tack attachment. Both our furled code zero and screecher and half our sprit were underwater. The drag at the bow wanted to heat us up into the death zone and wanted to pull the bow under. The jib tack was 5' in the air and to leeward. It was mayhem. I dove deep trying to depower. We pulled and yanked but nothing we did could get the sprit and sails out of the water. We turned head to wind, got the main off the lock, dropped the main, and began floating haphazardly in the vague direction of the finish line. We cut all the spectra lashings holding the sprit on and recovered the broken pieces. After 15 minutes of damage control we lifted our heads to see 2nd place Elvis sail around us. That was it. The trophy would be lost. The regatta would be lost. That sinking feeling was here to stay. A black pit in our stomach, we had gotten too close to the edge. Not only was the weekend going to be a total waste (the flights, hotels, effort to get to the start line), we had done thousands of $$$ in damage. Keep in mind, Soma is paid for on professional boat crew's wages. My wife and I aren't wealthy, we don't have trust funds, and we just sank all of our money into buying our first house on a nearby island. She looked at me with tears brimming her eyes. We do this because we love it. The name Soma is a drug reference, it's means the perfect drug, in this case the high you get from sailing fast. It's an expensive addiction, and luckily my wife shares the addiction. This time the addiction got the better of us.
Just as we contemplated starting the motor and leaving in defeat, someone shouted out that Elvis had started 5 minutes ahead of us, and they were only a few hundred yards ahead of us with ½ mile to the finish. There was a chance! We dragged the main up 1/3 of the way, holding the leech away from the shrouds and limped across the finish line doing 10 knots. We later learned we finished 3m30s behind Elvis, but pulled off the fastest elapsed time by a mere 1m30s. We were elated. The weekend may be lost, but the Around the Island trophy would be ours!
We returned to the dock thrilled about our elapsed time win but dejected about the reality of our breakages. To add insult to injury, our French competitors protested us about our rating. Our rules adviser/tactician Jim Ryan and I went off to the yacht club to defend our name in the protest room. Waiting for the protest we learned that we had taken 1st on corrected despite the disasters on the water. Suddenly defeat didn't seem inevitable. I rushed back to the boat to see if anyone was up for a late night. Gino, Chris Curreri, and Chris Hanson were a step ahead of me. While Jim and I had gotten the protest thrown out they had scrounged materials for a repair. The Gunboat crews had graciously offered tools, materials, shop space, expertise, whatever we'd need. We had a pizza party in the parking lot as the wives and girlfriends cut carbon and peel ply and mixed epoxy, the boys took a grinder to the carbon sprit and laminated a repair. Gino pitched in 'til the very end and we walked away at 1:30 AM with hopes of sailing again.
At 5:30 AM we were back at the boat groggy and tired for a final hot-mixed layup. We bolted her back together, shoved the broken stump of a daggerboard down as far as we dared (and past Gino's recommendations) and limped out of the bridge for race 2. We managed a 1st on day 2, a downwind course that avoided our weak point of too little daggerboard. Day 3 turned into a lottery. A short beat, a long run, then a big rain cloud that sucked out all of the wind. We saw the big brains on Elvis chase the gradient to the south, and watched as Highland Fling and Peter Holmberg found the same escape route. We followed, found some breeze, and secured a comfortable 1st for the 3rd day in a row to win Multihull 2.
Looking back, this was probably our best Heineken yet. No despite of the breakages, but because of. We went through hell and high tide. Our "shore crew" of friends, wives, and girlfriends (Sasha, Tara, Jill, Mindy, Jamie, Matt), the Gunboat crews that helped (especially Elvis), Gino's expertise, advice, and good humor. What breakages? All we'll remember are the good times and great people.
In hindsight, we probably drove the boat a little too hard day one. Alright, maybe a lot too hard. As we learned, a smart horse jumps only as high as it has to. I guess that makes me a dumb horse. Good name for a boat, that. Hmmm….
Epilogue: The Tuesday after racing my wife and I were motoring in glass calm conditions from St. Martin to Virgin Gorda aboard the Gunboat 62 we work on. She called out, "look, a shark, err, wait, no, a log, wait, no, our FRIGGIN' daggerboard!" That's right, 4 days later and 15 miles to leeward we almost ran over our stump of a daggerboard. We recovered it, but I doubt it can be fixed. Maybe we'll make a bench out of it for our new house. Our first piece of furniture. Life gives you lemons, make lemonade.
March 18th, 2014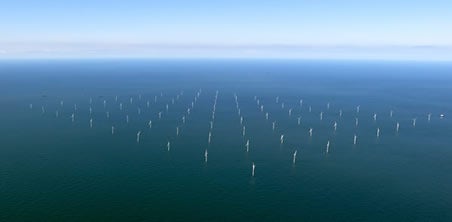 Coal and petcoke billionaire Bill Koch may have finally lost the last battle in his NIMBY war against the Cape Wind project that he and the 'environmental group' he founded has been fighting for more than a decade to keep off Nantucket Sound.  Koch, who admitted to Commonwealth Magazine last year that his problem with the 138-turbine wind farm was that it would "interfere with the aesthetics" of his home and the family compound he's creating (and who also complained that his power bill might go up), has spent several million dollars in an attempted war of attrition against Cape Wind that likely ended this past Monday with a decision from US District Court Judge Reggie Walton.  The judge upheld the Department of Interior's review of the process, rejecting a laundry list of pseudoscientific claims propounded by Koch's group, and paving the way for the project to secure the financing it needs to go forward this year.
The whole case is fascinating and is a great lesson in what's broken with America; even with no valid claim, truth, or science on their side, the ultra-wealthy can ruin almost anything or anyone.  Kudos to Cape Wind CEO Jim Gordon for having a massive set of nuts and sticking to his guns, something that even Koch is amazed with.  As the billionaire told Commonwealth, "Christ, this has been delayed for 10 years and any rational guy would have said there's a time value of money and say, 'Why am I doing this?"  At least Koch is clear about his part: To Koch, it seems that owning a palatial mansion on the water gives him the right to prevent anything from changing his view, right up to the point where rising sea levels and increasingly intense storms wash the whole mess into the sea.  Don't count Koch out just yet though – this is, after all, the guy who went to war against his own family for more than a decade.
March 18th, 2014
Sydneysider Russell Debney stumbled across this lyrical explanation of the enduring, historical rivalry between the man at the bow and the bloke holding the tiller, and we knew we had to share it with you.  Meanwwhile, the massively dominant JJ winner Gotta Love It 7 could only manage a 7th in last weekend's race, won by Rag & Famish with Cocko (Thurlow Fisher) a minute behind.  Full race videos are here.
"Let go that Jib" e' yells. Now I should know
The way an eighteen footer ought to go.
"W'y don't you ease 'er 'ead in them 'ard squals?
W'y don't you this? W'y don't you that?" 'e bawls.
Now I been in the eighteens sind a lad
I follerd in the footsteps of me Dad,
Who sailed with Ellis, Robbo and Chris Webb
I know the 'arbour, both in flood and ebb.
I work the eighteen right in the breeze
By knowin' w'en to 'old and w'en to ease,
While that mug lair, our skipper, squats down aft,
Just frozen still at every fluky draught.
"You'll 'ave us in the drink!" he bellyaches
But 'e's just coverin' 'is own mistakes.
A catspaw snaking down of Bradley's 'Ead,
Strikes terror in 'is 'eart, til it's like lead.
To sail our boat you've got to know just 'ow
She likes 'er 'eadsail pinnin' down the bow.
If I go payin' out the bloody sheet,
She gripes – and shivers in the wind a treat.
I've got to nail 'e down, or she won't sail,
But all I gets from Muggins is a wail:
"You'd think you got a grey nurse on that line.
You'll swim the mob and think you're doin' fine!"
But whats the use of tryin' to explain?
E would'nt understand, though its quite plain
That is 'e simply steers, and 'olds his bib,
We're in the money with me on this jib."
March 18th, 2014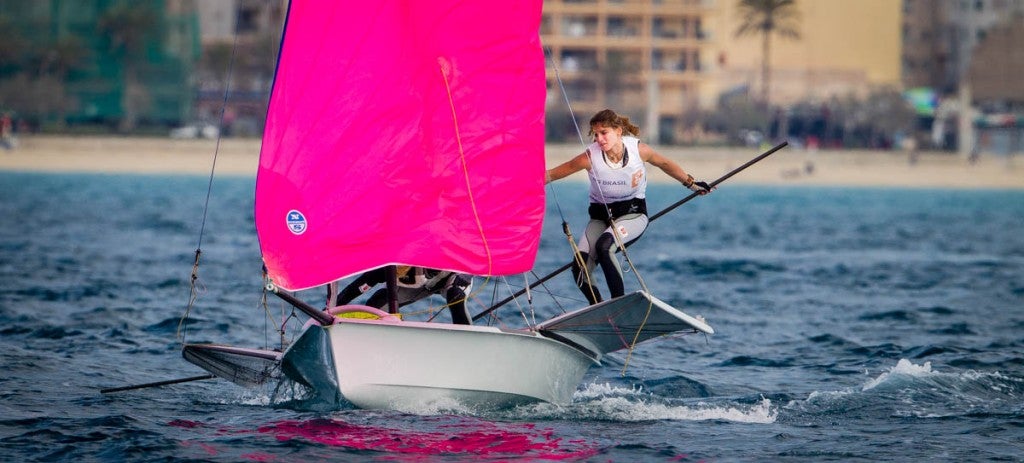 Check out the moves from Martine Suffiatti-Grael, daughter of Brazil's ultimate rock star sailor Torben Grael as she takes her first Sailor Chick of the Week award!  The young Brazilian, with Kahena Kunze on the front, took the win yesterday by over 30 points as the Arenal Training Camp Trophy wrapped up in Palma.  This event – the prelude to the Pricess Sofia Olympic Class event – has exploded in popularity recently despite a tiny budget, pulling a strong mix of next week's World Cup competitors and young sailors who want to share the same line.  The US team didn't enter, though after Miami we have high hopes for them at next week's event, and French and British sailors dominated the event with Spain taking some scalps as well, most notably in the 30-boat Nacra 17 class.  Full results here.
In other Palma news, the World Cup re-branding continues to prove how incompetent ISAF can be, with costs continuing to explode, still more format changes for seemingly every event, and dismal worldwide interest except in a few sailing-crazed nations.  To make matters worse, most of the live coverage from Palma promised to the public is now gone along with title sponsor MAPFRE; the Spanish company chose to spend their millions on a new Volvo Ocean Race campaign rather than throwing good money after bad on a dinghy regatta with a comparatively tiny ROI.   This is the last year of the Palma event's contract with sailing's international overlords, and if the island still has to come up with the money that ISAF wants to remain part of the 'World Cup" for 2015, our sources tell us the awesome Mediterranean venue will be out of the running.  Frankly, as great a venue and event as the Palma regatta is, we'd be surprised if the event isn't just as big without ISAF as it is with them.
Thanks to one of Europe's best sailing photographers - Spain's Jesùs Renedo - for the shot of the wonderful Martine, and get over to her campaign's Facebook page for more info.
March 17th, 2014
As long as Gunboat doesn't get bored of spending money on creative video teams like Rachel and Richard, we promise we won't get bored of watching them.  This one's a fun look at Jason Carroll's Gunboat 62 Elvis at the Heineken.  Title shout to Mojo Nixon; listen to the ultimate Elvis tribute in their 80′s punk classic here.
March 17th, 2014
We just learned that longtime dinghy and sport boat sailor and early SA'er Scott Fox pled guilty last month to Fraud and Tax Evasion charges in an ongoing Maine scheme that would make Wall Street proud.  According to the DOJ, "Fox used his position as a loan officer at Casco Northern Bank and at its successor, KeyBank, to originate or authorize over $14,000,000 in fraudulent loans and lines of credit using the identities of four real individuals, without their knowledge or consent. He used over $5,800,000 of the fraudulent proceeds to keep the loans current and prevent the detection of his scheme. He used almost $8,200,000 for personal expenses including to pay for his children's educations and family vacations, and to support his business, "The Boathouse." Fox failed to report receiving any of this income to the Internal Revenue Service ("IRS") causing a tax loss of over $1,300,000 between 2006 and 2011." Fox also bought a home and paid to support a mistress on his ill-gotten gains.
While he's been ordered to pay restitution to the bank and IRS, with his sentence likely to be at least 8-10 years in Federal prison (no parole), the reality is that Fox's debt is a write-off.  The terms of his plea agreement don't include a sentence so Fox could actually see the full 30 year maximum, though he's entitled to appeal anything over about 12 years on the terms of the deal.
The US Attorney's narrative on the scheme is here, and it's a fascinating look at just how far one man can go to keep all the balls in the air.  There's a thread about it here.
March 17th, 2014
At 111 feet long and 72 feet wide, the old VPLP Gerononimo was a groundbreaking racer in many ways. When Olivier De Kersauson launched her back in 2001, record breakers like Fossett and Peyron and Lewis were positive that giant catamarans were just better, and they'd proven it so clearly that many thought De Kersauson a nutter for risking so much on a boat that clearly couldn't accomplish anything.  But 100,000 mostly trouble-free miles and a Jules Verne (and several other) major records later, the boat's clear advantages – safety, ability to be driven hard, motion, upwindedness – emphatically ended the era of the maxi-catamaran.  Geronimo would become the basis for the most dominant record runners ever, as well as the boat that took the America's Cup back from Alinghi: Franck Cammas' (and now Armel Le Cle'ach's) monstrous Groupama 2/BP6, Pascal Bidegorry's (and then Loick Peyron, and now Yann and Dona's) BP5/Spindrift 2, and the BMW Oracle Racing 90 all came out of VPLP's computers and all owe their heritage heavily and directly to Geronimo.
This history lesson may bore some, but to us, ocean racing is all about history and legend, and that's why we share it with you.  And with 2014/15 seeing Thomas Coville rebuilding, refitting, repowering, and restoring Geronimo for his own Route Du Rhum, record aspirations, and Ultime solo 100+ footer class racing, we can't wait to see history come roaring to life again on the starting line.  Coville was just a kid when he first began racing with De Kersauson, and the brilliant Frenchman has now been part of most of the last decade's Jules Verne Trophy runs as well as a Volvo Ocean Race victory.  His narrow Nigel Irens Sodebo trimaran came tantalizingly close to claiming the Solo RTW record, but it's clear that Coville has given up on that concept in favor of the heavier and far more powerful Geronimo.  Above is an Yvan Zedda shot of the boat as her refit moves ahead quickly at Multiplast's yard; go here for a full gallery, here for a thread about the boat, and here for discussion on November's Route Du Rhum.
March 17th, 2014
In life, if you are lucky, you will meet a person who changes your life; someone who takes you under their wing and helps you to be a better person; someone who makes a difference.  Today we lost one of those people, today we lost Hans Fogh.  My condolences and thoughts are with his family as they mourn his passing.
Hans touched the lives of many people, sailors and non-sailors alike, all over the world.  His sailing career was impressive with many Olympic appearances that included winning a silver and bronze medal; America's Cup; World championships wins in Flying Dutchman, Soling, Etchels and many local championship wins in a variety of classes.  I was fortunate enough to have raced with Hans in Solings, Stars, as well as on my 8 Metre.  I was also fortunate to have worked for Hans for many years where I learned many things about myself, things that Hans could see and helped me to realize.  "Do it right, and do it right away." was what Hans would say.  "There are no such things as problems, only solutions" was another saying of his.  Those of us who called him friend also know many of his "Hansisms" for which he was famous.  Many of us would try to immatate him and in our best Danish accent,  "Once you have boats speed you have nothing to worry about!" is always the first one that comes to mind.
I will remember Hans as a person who made a difference in this world; he made a difference in my life and I will be forever greatful for what he taught me and the opportunities he gave me.
Fair winds and slack tides Hans.  Rest in Peace.
-John Mitchele
Add your thoughts and/or stories about this inspirational Canadian mentor and sailor.

March 17th, 2014
What a great excuse to bail from the cold, yes, we are based in Texas and it took us a good 29 hour ride to get to Miami thanks to  the ice storm that hit the South last week; our double staked trailer behaved like a champ (courtesy of Ultra). But hey, if you don't want to get burn, stay out of the kitchen, right? well, it was all about "bring it on" for the 21 VX One teams that showed up at Coral Reef Yacht Club in Miami in occasion of the 2014 Bacardi Cup. This is the first year of the VX participating in the event, which congregated Stars (obviously), Melges 24, Melges 20, J/70, Viper 640′s and the new kids on the block (VX and J/70).
We shared the Alpha course with the J/70′s and Vipers, having the last start. The first two races on Thursday, where all about medium winds starting to build up until the end of the afternoon, when we were sent in because of a bad weather alarm, which promptly got to town with winds in the upper 30′s and your typical Miami style rain. Only two races on Day 1.
Day 2′s (Friday) forecast promised clear skies and strong winds from the NW, and boy did it blow!! The waters of Biscayne Bay had the crispy texture of the strong gusts all over the place, a bit of carnage in some fleets, rig coming down on some Melges 20′s. Wind average was 21 to 22 knots gusting to 29 knots. everybody on their toes and ready for epic rides. Some of us hit 14 knots of boat speed under main only while waiting between races, so it was game on. After several general recalls on the J/70 fleet, then Viper folks started and finally us. The VX fleet started with almost everyone one packed at the RC boat…the right was paying big. Wind kept blowing hard and the teams with three sailors onboard were holding pace and some of the two person boats were right there in the mix (overall winner is a 3-up crew and second place is a 2-Up crew), so after paying our upwind dues, here comes what we are here for: the run! …literally a run, boats started round the weather and offset marks, jumping on a plane, kites go up and BANG!!! the speedos started to climb and between surfing waves and dodging other boats, the rigs hummed and play that music that we love until the moment of truth brings you back to Earth: hey, we gotta gybe…3,2,1 and slam!! the main goes, the kite fills on the new side , the crew is already on the hiking straps and here we go again…our VX took good care of us; we gybed, nothing broke, no capsize, no drama.  Some crews, including the overall winners (Emily, Andrew and Donnie Brennan) reported speeds in excess of 22 knots…this is what we came here for, this is what we do.
Unfortunately, we only got three races in. Saturday, the last day of racing was a nice tanning session afloat waiting for the wind, which did not filled until 2 hours past the time limit, so we got back on the road, with big smiles and the same hunger feeling of the unfinished meal.
Congratulations to Team Smuggler for their victory, followed by DJ Bolyard and Hayden Bennett and in third place Kevin Northrop on USA 148.
Big thanks to the crew of Bennett Yachting (Rachel, Brian and Hayden Bennett) for all the great help and professionalism demonstrated on and off the water. The VX One fleet had its own base, a Beer/ on the water base RIB, a storage trailer, and we actually were pulled aside after racing and got told what we were doing wrong and shared the chalk talk with top finishers;  all this, together with the mandatory cafecito cubano every morning and the yuca frita y mojitos in the evening, makes it hard to say no for the next event.
Full results for all fleets here.  - Anarchist Rod
March 14th, 2014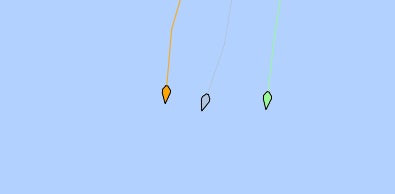 UPDATE: though a weak class, take a look at the battle at the front…
Since the PV Race (San Diego to Puerto Vallarta)  starts today (or yesterday depending on when this goes up) for the smaller, or "slower" boats, and no one has chimed in, I figured it was my obligation to at least say something about a fun 1,000 mile race down the coast.  With Ronnie Simpson on his way to Hawaii there is no one to give us a run-down of the boats!  I feel almost lost!  So here is my version… abbreviated so don't get upset if your favorite boat is not on here.
Class 4:  Velos has to have a good shot at being first to finish if there is any wind.  Looks slow but the grib files along the coast are never to accurate.  Got an up-close look at Swazik the other day and wow that is a beautiful boat.  They always sail well and on corrected time should be in there somewhere.
Class 3: Santa Cruz 50's a J-125 and the Roger's 46.  Would have been more exciting if Horizon and Resolute were still sailing in this fleet.  Have to give this class to the well sailed Rogers 46 "Bretwalda 3" who has been doing very well on the West Coast for the past few years. And speaking of Horizon, if anyone is looking to own the best and fastest SC 50 in the world, here is your chance.
Class 2:  Or known as the West Coast 70's.  Not much to say about this fleet for me.  Same guys on the same boats doing the same things… Prediction: Pyewacket or Grand Illusion.  Most exciting thing in this fleet for me is knowing my friend Jack Bazz is having his first offshore race and is on Mirage.  Means another poerson to surf with when we get to PV.
Class 1:  Happens to be the class I am in on board the TP52 "Destroyer" which is the ex-Grins.  Interesting class here because of the variety of boats.  Meanie, with Jeff Thorpe (Elvis) on board, has to have the advantage here.  This guy seems like he can do no wrong offshore these days.  On a side note, Meanie will be staying in Mexico and going Acapulco.  This makes 4 TP52's in Acapulco and rumor of another one coming.  Say a 2015 TP52 circuit stop there is in order?  So the other 52's in this fleet… Vincitore has a pretty regular group of guys and should put in a good showing.  Destroyer is a new boat for the family and we are going with a relatively large crew so doing well would be something of a massive bonus.  Bad Pak is such a sweet looking boat and I hope that they get is moving and sailing to its potential.
So the wind is looking a little on the light side but I don't think it matters because everyone is excited and looking forward to sunshine (well more sunshine if you live in California) and another adventure. Track us here.
Keith Magnussen
March 14th, 2014
Every year, 2 weeks prior the Sofia World Cup event, one of the organizing clubs, Club Nautic S'Arenal, offers to all the sailors that train in Mallorca a different kind of racing:
Arenal Training Camps Trophy.The rules of the competition allow the coaches to enter in the regatta field at any point to exchange suggestions with their sailors. Materials are allowed to be tested and changed, without informing the Regattas Committee. Also, those who prefer, can participate in just some of the trials, signing up even if the competition has already started. The fee is NOTHING. All free, and they have free food after racing and a t-shirt. No sponsorship, almost no PR, just for the sailors.
The result: 500 sailors from 29 countries, including, for example , the last Nacra 17 Worlds top 5 boats, with Frank Cammas and his big friend and VOLVO rival Iker Martinez in the fleet. I have seen 49er guys sailing in 49er fx boats with the girls, crews exchanging boats to test and see different options.. it's really amazing, all organised by a couple of young guys, Ferran and Alberto, that should be an example for many PR teams that can't get half of the entry list with heaps of money and sponsorship. Results a some info here. – Jesus Renedo.
March 14th, 2014

If you've never raced a Caribbean regatta, the Heineken Regatta is a great place to begin, and for 2014, the crew of El Ocaso were ready for what the regatta labels 'Serious Fun'.  Our race on El Ocaso began with Wednesday practice day and then the windward/leeward one-day Gill Commodore's Cup.  We won our class (Series 3), and were awarded the overall trophy for the single day event.  This really set the tone for Team El Ocaso as the full power of the Heineken Regatta began the next morning.

March 14th, 2014
Mexico may have stepped in some major public relations poo this winter thanks to some not-uncommon bureaucratic stupidity and arrogance, and it will never be as safe as your local suburb, but we maintain that the Pacific Coast of Mexico still has some of the most beautiful sailing grounds in the world and is worth the hassle.  This excellent spot in La Cruz was a tiny fishing village a decade ago, and now it's a fully developed community with a big marina that will serve as HQ for next week's Copa Del Mexico, the biggest regatta in the country. Supported with some great parties thanks to Mexican tourism sponsorship cash, this year will feature J24 North American Championships as well as an oceanic class, Wesmex (Optis), boards, and kites.  Check it here.  Jen Edney photo.
March 14th, 2014
Our old friend Mike Hennessy – owner/driver of Class 40 Dragon is one of at least two Americans to be sailing one of our all-time favorite races this year. It's a race named after booze, and every four years, the world's best offshore singlehanders use the race, known as the the Route Du Rhum, to test themselves against the Autumnal gales of the Atlantic.  
If you don't yet know Mike, he's been a member of the SA family for ages, and we've watched right here from the very beginning of his Dragon's racing program; Mike has shared the highs and the lows with all of us, and we will be there in St. Malo to wish him off again this coming November.  If you have some vacation time, it's one spectacle every sailor should see; not just because of St. Malo's beauty, the mouth-orgasmic seafood/wine/desserts/women, the offshore racing history, or the ability to see and touch everything from Tabarly's legendary yachts to the biggest racing trimaran every built – which will also be sailing to Guadeloupe with just one guy aboard.  No, the reason you go to St. Malo in November is for the crowd; nearly 1 and a half million people make their way through the race village in a week, with some 500,000 watching the start in person on race day.  It's a site worth seeing, and you only get it once every four years.

March 14th, 2014