This whole R/C sailing thing has me pretty good lately. I just sailed my new ODOM for the first time and am looking forward to getting my hat handed to me in the good and good sized fleet here in Dago. – ed.
July 17th, 2015
The first daily report from Keith Magnussen onboard the J 125 Timeshaver as they begin the trek to Hawaii…
Another fine mess I got myself into! Floating around the coast of California, well 150 miles off or so, and trying to get to Hawaii in these conditions is not ideal. The Timeshaver has been going along nicely, averting crisis and praying for wind. We had a few hours where we could not access our Iridium but we are live again!
Pete Heck is up on deck tacking back and forth in super light shifty breeze. I am supposed to relive him in a half an hour but who wants to do that? Owner, Viggo Torbensen, spared no expense and every puff of wind he gets excited which is good to see.
Rounding out the crew are long time team member Blake "Tokyo" Hamilton, Charlie Underwood and Cody Schuab. So far we are still having a super fun time even though it kind of sucks. On my end I thought we had a pretty decent night. We are a bit south of our fleet but that was part of the game plan. I have been having fun messing around with my new Replay XD Camers. It is like a GoPro but different. So far lots of flat water video!
I am sure next report will be a little more fun.
Keith
July 17th, 2015
When Sperry told us they wanted to support coverage of events we thought made a difference to the sport of sailing, we instantly thought of the J/70 Worlds.  Sure, there was a 95-boat Melges 24 Worlds two weeks ago in Denmark and a 100-boat SB20 Worlds in Lake Garda last week, but with nearly a thousand boats sold in three years, nothing comes close to the impact on racing made by the new and exploding class from the J0hnstones. And as evidenced by the 16-nation field in the boat's second-ever Worlds in La Rochelle, the effect is spreading far, and fast.
So we put together a 6-man crew to bring live video of all the racing to you guys, and we didn't skimp.  The live feed included commentary from SA's Senior Editor and Adventures of a Sailor Girl's Nic Douglass, along with daily highlight reels from Petey Crawford, and huge high-quality photo galleries from Sander Van Der Borch.  Why'd we go so big? Because we want to see more of the family-friendly, female-inclusive, youth-engaging vibe this little boat is giving to people all over the world, and the infrastructure J/boats have created to deliver well-built, good-looking, quick-ish little racers that are all damned similar to one another is something we admire.  And we felt privileged to be able to document it all.
Above you'll find our final movie from last week's Championship, and we really, really hope you'll sit through it until the end.  And don't be drinking coffee near the end.  If you laugh as much as we did, share the link with your friends. For the full interview with new World Champ Julian Fernandez, hit this link.  The full chat with Marty Kullman including the drama with North's DNE request is in here.  You can grab any one of the dozen-plus interviews and highlight reels in our Vimeo index.
As always, huge thanks to Sperry for their support, and to J/Composites Europe for all their support on the ground and on the water.  More thanks at the end of the video.
July 17th, 2015
Our boys on Lending Club are looking good and ripping right along. Currently going over 30 knots, they covered 725 miles in the last 24 hour period and are on pace to set the elapsed time record to Hawaii. Go the Club! Here's the latest from onboard the boat from C0-Skipper Ryan Breymaier:
We had a great afternoon yesterday, sailing with the full main and J1 at 100-120 TWA, in 18-25 knots. The wind seems to be lighter than whatever we read at the masthead, as we can carry the bigger sails over the indicated range easily. this is probably just due to the water being quite cold, keeping the breeze from settling onto the water..
Last night we changed to the Gennaker at 4:00 am, quite a project on this boat, with the off watch being called into action on the grinders to get the 300 pound sail to the top of the mast. Instant acceleration, 10 degrees lower and 6 knots or so faster.
This morning the break of day reveals a squally sky, but we are taking advantage of the slightly stronger breeze and better angle the squalls bring; we're making between 30-35 knots straight towards Hawaii at times which goes a long way to assuring a record pace. We are starting to see crap in the water, various floating plastic objects and more worryingly, we hit something quite solid with the windward rudder, which was bad luck, as it is usually nowhere near the water's surface. Miraculously, we dont seem to have sustained damage…
We are looking forward to nightfall, when the debris does not exist, as we cannot see it. Life onboard is routine, eating, sleeping, driving and repeat!
July 17th, 2015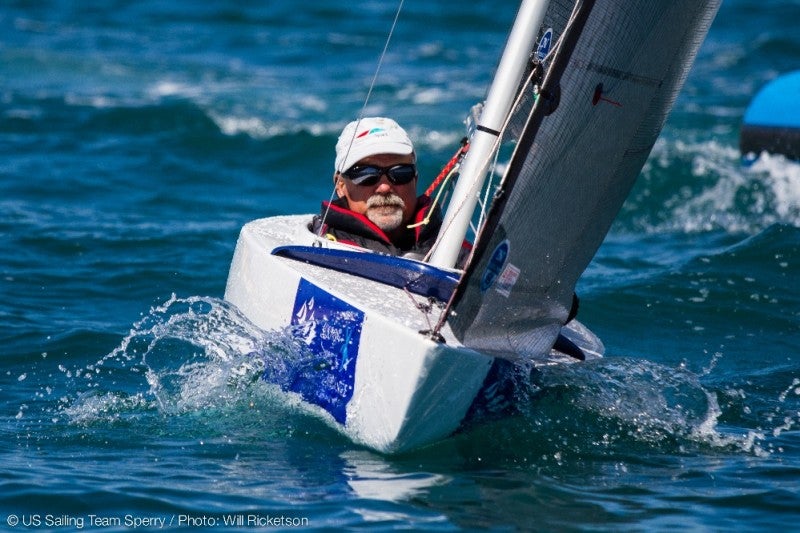 World famous "disabled" sailor Dee Smith will attempt to overcome his "disability" to navigate the R/P 74 Wizard to Hawaii. We expect that Wizard has been refitted with "disabled" sailor friendly ergonomics and other physical asissts to ensure that "disabled" sailor Smith can adequately deal with his "disability" on the long and often difficult 2,225 mile ocean race.
We salute the bravery of Smith as he stares down his "disability" on this voyage. Surely there are other disabled sailors sailing on non-disabled sailor crewed boats in this race, correct?
And it is so heartwarming to see that the sailing community has rallied around Smith and his quest for $270,000 in funding for his disabled Paralympics dream. He has received $90.00.
July 17th, 2015
A cool shot from Rick Tomlinson of the new Ker 40+, Invictus at the IRC Nationals in Cowes today. Look at the water exiting the cockpit!
July 17th, 2015
Aussie Mini sailor Katrina Ham says her boat was smashed to bits and she was left to die by an official Mini-Transat rescue boat two years ago during the stormy and poorly-managed 2013 race.  Now that she's qualified for the 2015 MT, those same organizers have now rejected her entry.  Here's the story, with thanks to Conrad Colman for the heads up.  Head over to Katrina's fundraising page to give her a hand, read more about her story over here, and blow up the MT organizers with the link to this story on Facebook until they quit acting like assholes.
Katrina, 27, from Brisbane has been working for years to get to reach her goal: the Mini Transat. Having moved to France 3 years ago, she lives in a van on the submarine base in Lorient and teaches English to survive. But this is not the first time Katrina has come up against hurdles. After finishing all the qualification requirements and getting to the start in 2013, the race was delayed and the fleet was diverted to northern Spain. During an organised delivery to the re-start, Katrina was taken under tow by an official accompanying boat which towed her into dangerous breaking waves. Her boat was let loose after she was rolled by a wave and she was hurtled into the water. Fortunately she was attached to her boat, but the boat that was towing her was nowhere to be seen. Katrina was discovered by chance by the harbour pilot who ended up swimming for his life as well! While Katrina was eventually brought back to shore, her boat was left drifting, to be smashed to pieces.
Proving that she's not one to give up, Katrina stayed in France, acquired another mini, and set out to get qualified again. Even though she completed all the requirements again, her entry has been rejected because they organizers want her to pay €2000 for the tracker that was apparently damaged when her boat was lost. Katrina has given the tracker back and has no legal obligation to pay for it but without the means to fight given the time restrictions Katrina's dream is threatened to be crushed again. It is crunch time at the end of the week, when entries close she either coughs up and gets to race (assuming they accept her and she finds the means to get to the start) or she misses out altogether…..not an easy choice given the circumstances.
Please help Katrina so that she can be on the start line. She won't win the race, but she has demonstrated for years that she has the skills and mental fortitude to overcome all the challenges ahead of her if she has the means. Please lend a hand and help this young adventurer fight back from the unjust position she has found herself in and succeed in realising her dream and sharing this adventure with you.
July 17th, 2015
We dig this posterized shot of Manouch Moshayedi's Bakewell-White 100 Rio shot yesterday cruising up Newport Harbor as she gets ready for her run at the Barn Door Trophy when the final Transpac gun sounds off tomorrow.  As required by the Transpac There's no canting keel, powered ballast pumps, or powered winches for this bad boy, though there is a seriously stacked crew for this pure sailing machine.
In a world where it takes $35 million dollars and a diesel-burning 100-footer to beat a 7-year old record held by a 70 footer (by about 4%), and where both those records are a sad joke compared to what unpowered multihulls have been doing for a decade, we applaud Manouch's purer goal, and we wish he and the crew the best of luck.
Track the fleet here, head over here to add a few views to the almost entirely unwatched video updates and highlights from the TPYC, and head here for the much busier SA thread.
And if you don't get the title allusion, just remember: you're never too old to be crazy. Thanks to Berkley Green at SoCalSailSport for the shot.
And look for onboard race reports from boat captain Keith Kilpatrick.
July 17th, 2015
Despite plenty of organizational touting of 'a new world record' fleet of nearly 200 F-18s for this week's Kiel Worlds, the actual fleet fell far short, but you've gotta love the strength of a fleet that's disappointed by 'just' 167 entries.
Meanwhile, it's a real battle royale at the front between 7 different nations, but after 6 races, it's the Spanish-flagged father/son team of Mitch and Ruben Booth leading reigning World Champ Gunnar Larsen on the tiebreak.  The Booths are on a fresh-from-the-factory Wildcat; if you're looking for a fast fleet that allows out-of-the-box boats and decade-old designs to race competitively, this is the one.
There's live tracking here, decent but low-res photos over on the event Facebook page, and some truly awful videos here.  Find our title inspiration over here, and if you have daddy issues, bring a tissue.
July 16th, 2015
Well, at least they pretended to! Your infamous Ed was invited to speak at Arizona Yacht Club yesterday, and a group of maybe 100 folks showed up to be insulted, laughed at, ridiculed and cursed. And those were the highlights. Seriously, it was great fun talking to and with this group of enthusiastic and dedicated sailors stuck in the middle of the desert. We had some great discussions, with me of course winning them all. I had the microphone after all…
This group  sail at Lake Pleasant, and have decent PHRF, OD, dinghy and Junior sailing. They pretended to actually want me to come back, so it looks like January I will be sailing in their Birthday Regatta in January. I think we'll throw a Sailing Anarchy party while we're there!
And if you'd like me to speak at your club, just ask.
July 15th, 2015