With just a few hours left until the fleet shoves off for the 3rd BCN World Race, Jen Edney gives us a look at the fleet (and we'll have the start live right here on the front page). To talk everything BWR and see more of this talented young photog's pics, head here.
Barcelona's Old Port is a flurry of activity here at the start of the third edition of The Barcelona World Race 2014/15, as birds and fans flock to the race village to get one last look at the boats and crews before they set out on their 23,000-mile, doublehanded journey around the world.  Hustle and bustle is the name of the game as the skippers and preparateurs (french for 'shore crew') make final preparations for the boats. The day has been quite busy for the teams as they had their final skippers meeting, the last of their media and interview obligations, and making sure everything is onboard…especially enough food.  Jorg Riechers had some comments about their food choices.  "We take a lot of food with us because I think many teams in the last race try to save weight with food which is stupid because when you are hungry you are not functioning and if you are not functioning you cannot work hard on the boat. We take food for 95 days so the goal is to eat as much as possible. No specific food, freeze dried food, lots of Chicken Tikka. The only thing we have that is brilliant is we have freeze dried fruit. Freeze dried fruit, freeze dried strawberries save your day."
Tomorrow the family, friends and fans of the sailors will say farewell in a ceremony before the start of the race at 13h00. It will be an emotional day as the sailors say goodbye to their families and switch into racing mode for the next 3 months. Many of the sailors, including Alex Thompson, know all too well what the feeling is like. When asked about how this time is different then the previous edition of the race Alex (who has two children age 4 and 6 months) said, "It didn't seem to be too bad when they were younger, I mean harder for me, less for them I guess because they don't really know what is going on but certainly as Oscar (4) has gotten older he's become more aware of what time is and how long 3 months is. I think it's important to try and remain with a connection, whether it be a phone call or a video…just small details keeps them happy and makes it easier for both of us."  For Bernard Stamm's family it is all they have known,"It's my job so it's part of their life.  We communicate, my wife is the contact on shore for everything. We are not leaving to say 'why did I leave!' We're going to race!"
The double-handed heavyweight duo have been asked many times how they will get along after many miles sailed single-handed. "It will be better then alone. You have 2 heads, 4 arms, 4 legs and everything will be more easy. People always ask if we can live together for three months but we are going to race for three months. We are just two to make the boat go as fast as the boat can go. For me it is not a problem, normally easy. But I will tell it much better when I come back."  Stramm says with a grin.
Here's a short look at the steeds.
The Beauty of an Open Class vs. One Design is that the boats have taken on personalities of their own, a combination of miles sailed, skippers who have driven them, "injuries" they have sustained,  improvements and races they've won. Below are the stories of the boats competing in the Barcelona World Race 2014/15:
Spirit of Hungary is the fourth IMOCA 60 designed and built by Nandor Fa. Launched in 2014, the boat is the first model to be built according to the new class rules. The hull, which is carbon fibre, was built at the Pauger shipyard (well-known for RC44s) and Nandor himself undertook some of the work. Following a return to the shipyard due to technical issues, that also prevented the crew from taking part in the IMOCA Ocean Masters New York-Barcelona Race last summer, the Barcelona World Race will be the first great test for Nandor and Conrad's yacht.
The Hugo Boss Alex Thomson and Pepe Ribes are sailing in the 2014/15 edition of the BWR is the former Virbac Paprec 3, winner of the previous edition of the race and a boat which stands out from the rest in terms of technical innovation. With Jean-Pierre Dick at the helm the boat finished in fourth place in the Vendée Globe 2012/13, despite sailing without a keel for 2,650 miles. Alex Thomson Racing purchased the boat and carried out a comprehensive refit, which included fitting a brand new keel. The IMOCA 60 was back on the water in April 2014 but en route to America for its first race, the IMOCA Ocean Masters New York to Barcelona Race, the yacht dismasted. However, following repairs the new Hugo Boss sealed a victory in the event, her first, with Pepe Ribes and Ryan Breymaier (in place of Alex, whose second child was due to be be born) on board.
After losing his JuanK IMOCA 60 to a storm on Christmas Eve in 2013, Bernard Stamm signed a lease/option to replace his Cheminees Poujoulat with Jörg Riechers' former boat Mare.. This is a yacht from the Farr studio, launched in 2007, taken by Michel Desjoyeaux to Vendée Globe victory in 2008/09 and later sailed to second place in the Barcelona World Race 2010/11 by Iker Martínez and Xabi Fernández. It later took the Vendée Globe 2012/13 start with Jérémie Beyou. The boat has been refitted a number of times to ensure it is up to date with the class rules. Bernard and Jean have also made some changes of their own.
GAES Centros Auditivos is the former SynerCiel skippered by Jean Le Cam, that finished the Vendée Globe 2012/13 in fifth place. Before that, as Renault Z.E., the yacht was sailed to third place in the Barcelona World Race 2010/11 by Pachi Rivero and Toño Piris. This yacht's first round the world challenge was the Vendée Globe 2008/09 as Gitana Eighty with Loïck Peyron at the helm, when she incorporated a number of innovative features including a swiveling/tacking interior. Therefore GAES Centros Auditivos really has been performance-tested and was prepared for this edition of the regatta at the FNOB's Ocean Sailing Base in Barcelona.
Built in 2007, Neutrogena is a solid vessel that has demonstrated its impressive potential on many occasions. Above all, this is a boat Guillermo knows well. The Spaniard took the yacht to the start of the first edition of the Barcelona World Race as Estrella Damm, although the crew were forced to abandon the race in South Africa due to rudder issues. The boat then took on the Vendée Globe 2008/09 as BT with Sébastien Josse at the helm. It later became Roland Jourdain's Veolia Environnement, winning the 2010 Route du Rhum. A year later, the boat donned the colours of Hugo Boss and Guillermo Altadill stepped back on board, joining Alex Thomson for the Transat Jacques Vabre 2011, finishing in second place. The Briton also logged a west-east transatlantic record with this IMOCA 60 and third place in the Vendée Globe 2012/13. Guillermo has been training with what was his former yacht since 2013.
The crew of One Planet, One Ocean and Pharmation will be racing on the former Kingfisher, the boat Ellen MacArthur famously smashed the Atlantic record from Plymouth to Newport with in 2000, taking second place in the Vendée Globe 2000/01 and later a Route du Rhum victory in 2002. It then became Educación Sin Fronteras with Albert Bargués and Servane Escoffier making their first non-stop, circumnavigation of the planet in the Barcelona World Race 2007/08. In the second edition of the double-handed, round the world challenge Gerard Marín and Ludovic Aglaor raced the yacht re-christened as Fòrum Marítim Català. One Planet, One Ocean & Pharmaton is therefore one of the IMOCA 60 fleet with the highest mileage and number of circumnavigations under its belt. This is a solid and reliable yacht that has recently undergone a thorough inspection at the FNOB Ocean Sailing Base, with special attention paid to the keel and appendages, the steering and the electronic on-board systems
Renault Captur is a Finot-Conq design launched in July 2007 that Armel Le Cléac'h took to second place in the Vendée Globe 2008/09 in 89 days and 9 hours. Le Cléac'h was also in the driving seat for the yacht's second place Route du Rhum finish in 2010. The boat underwent a refit in July this year. Over the past few weeks the rigging and appendages have been inspected and work has also been done on the electronics and mast. For this preparation, the team has had an outstanding technical advisor: Bertrand de Broc, the last skipper to compete aboard this IMOCA 60.
The We Are Water IMOCA 60 won the 2007-08 Barcelona World Race as Paprec- Virbac 2 in the hands of Jean-Pierre Dick and Damian Foxall. It is a Farr design which was built in New Zealand by Southern Ocean Marine, launched in February 2007. Then in the 2010-11 Barcelona World Race it was sailed to fourth place as Estrella Damm by Alex Pella and Pepe Ribes.
More to come on the crew themselves, and their ms are getting along and their thoughts on the race. In the mean time check the BWR site for daily updates and keep up with the skippers as they battle their way around the world!
December 30th, 2014
We're not quite sure how we missed this one; a really cool rendering of a monohull AC foiler concept that must have been done by a five year old with a really nice computer.  Or not.  From the Trickle Down thread.
December 30th, 2014
Strange times indeed when this unbelievably awesome looking machine is considered 'too small". Thanks to Anarchist Stu for the shot of the new Rambler 88. Title props right here.
December 30th, 2014
Big Pimpin'
More years ago than I care to remember I wanted a yacht designed that would break the monohull round the word record such as it was, and more importantly set a benchmark time. The only problem was, I did not want a canting keel for such a long and potentially dangerous trip.
This was so long ago that it would have been quite a challenge for a canter to make it around the planet in one piece without stopping – and the boat was to be 100ft – making things a little harder.
So, I spoke to Hugh Welbourn who I had been working with on some projects such as the 80ft BOLS Sport and who was currently designing the 93ft BOLS, and he, like a man selling contraband on a street corner, opened a drawer in his desk and pulled out something rather interesting…….
What Hugh showed me was a concept he had developed for an Open 60 campaign when the campaign was looking for bright ideas… well, it has only taken 15 years to catch on for them but that is another story. Does it work?, I asked – should do, he said. Well then, we should probably find out I said….. and so we did.
The story of how we got from there to Dynamic Stability Systems is a long one, with the odd twist and turn and a modest amount of patience, forbearance and endeavour but it has never been dull!
We started with radio controlled models on wind swept lakes in the wilds of Dartmoor, freezing our arses off in the name of "secrecy"; then we built bigger radio controlled models, then we stuck a foil on one side of a 23ft sports boat in Australia, then into a 40ft boat in Australia, then we built a 27ft scale "model" of the 100ft design that we could actually sail  then we stuck a foil in a 30 fter and then a 38 fter.
From here we built a 25ft DSS sports boat, with DSS as the starting point rather than as a retrofitted addition. From here the Quant guys  got interested and built a 28ft lake racer then a series of Quant 30′s for the Swiss Lakes. Other projects include Speedream and all the way up to Wild Oats fitting a DSS foil and then finally, acceptance in the IMOCA fleet.
Throughout this period we kissed a lot of frogs, not in a nationalistic sense, but in the sense that all the "players" in the industry wanted to be fellow pioneers, but as our Swiss friends say, "everyone wants to be the second first person". New is not always easy for people to understand……
So, the idea was born to create a yacht that was more mainstream than the über-lake racers of the Quant and yet did not carry the baggage of an existing brand and thinking process. We wanted something fresh, something with DSS at the core of the design, not just bolted on or added as a turbo boost or to address a flaw in the basic design. From this we started Infiniti Yachts.
The first two Infiniti Yachts were the 36 GTs, which was our interpretation of a "Gentleman's Day Sailor". It was designed to be sailed around in the light winds of the Mediterranean in the summer and do the odd race perhaps – there was no consideration to rating nor to anyone's opinion, it was just there to do a job for the client. It was never supposed to be a production boat and take the world by storm, but it was a nice opportunity to show what we could do.
Getting a little technical here, the 36 ft boat is actually about the hardest size of boat to do with DSS, it does not have a great deal of "natural pace" owing to its waterline length, and we could not put racks on it like we could with the Quant Boats, so it had to look "normal" but work – and it works pretty nicely. The longer the boat gets, the more natural pace it has and therefore the easier it is to have the DSS foil working earlier and better – speed is your friend!
The Infiniti 36 is a really nice boat, super quick in the light as it weighs only 2400kg but also quick in a breeze, especially two sail reaching as the videos will show – the nice thing is she sails very flat when she is quick, no more reaching around at 25 degrees of heel, and the videos pretty much tell all the story. We learnt a great deal from sailing the boats and we sailed them in all sorts of weather, up to 50 knots of wind a few times (not by choice) and there was even talk of sailing one across the Atlantic but the owner changed his plans.
So, now Infiniti Yachts is embarking on a new build, the Infiniti 46 R which is the first in a series build of a 46ft racing yacht, and early in the new year we will be putting out the details here, the story behind the boat, and how we go about designing and detailing the boat. Hopefully giving a greater insight into the processes we go through and answering a few questions on the forums.
Here are a couple of preliminary renders of the boat, not quite final, but not far off.
For more up to date news then "like" us on Facebook or check out the website. -Gordon Kay.
December 30th, 2014
So this is the answer to a bunch of drunk inbreeds driving their floating penis extensions on New year's Eve? Nice work.
The Coast Guard is implementing a temporary speed zone in Florida's Biscayne Bay on New Year's Eve for the first time ever, a response to a three-boat crash that killed four people on July 4.
The speed zone slows boaters on the bay to a maximum of 15 knots between the Julia Tuttle Causeway all the way south of Deering Bay Marina. Any boat caught going faster than 15 knots could be boarded by law enforcement and be cited, according to Miami's CBS affiliate.
December 30th, 2014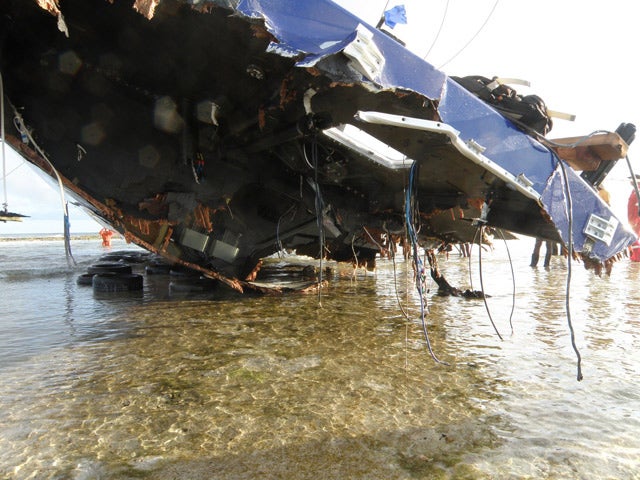 We saw this in the G Captain and thought we'd share…
Seldom does a salvage operation run as smoothly as that of the Volvo Ocean Racing yacht, "Vestas Wind". In a joint venture between Subtech and Svitzer, a team consisting of Neil Scott-Williams, Morgan Castle and Morne Uys of Subtech and Mike Smith and Rob Hare, veteran salvors from Svitzer was mobilized from South Africa under a Bimco Wreckhire to refloat and recover, intact, the remains of the "Vestas Wind" from the Cargados Carajos Shoal, 250nm North of Mauritius. The main objective being to salvage the deck intact to install in a new boat to be built, as that was the one item that would not be ready in time to make re-entry into the race possible.
Through the efforts of major sponsor, Maersk, arrangements were made for a container vessel, the "Jula S" to divert course and rendezvous with the salvage team during a very small window of time, on Sunday afternoon, off the Cargados Carajos Shoal. This gave the salvage team 2,5 days to inspect the vessel, confirm the method of salvage and then execute on the plan to be floating and ready for the "Jula S" or risk missing the opportunity and scuttling any chance of Team Vestas Wind re-entering the race. Read on.
December 29th, 2014
Team Brunel On-Board Reporter Stefan Coppers is prone to seasickness. People who are seasick feel ghastly and want nothing more than to get back on dry land as soon as possible. That's a little tricky as far as Stefan is concerned. The hulk of a Dutch media man has developed all kinds of handy tricks in a bid to limit his motion sickness – which is also called kinetosis in the medical world.
"If I had the winning tip, I wouldn't get seasick," Stefan Coppers laughs. "There isn't really a remedy for seasickness. Some people are prone to it and others are not. In our team, there are lads who can work and live below deck whatever the weather. Pablo Arrarte and I, on the other hand, suffer badly from seasickness." Read on.
December 29th, 2014
Back on the water today – different capacity.
Following Dongfeng while they tested out the repairs to a couple of sails with Nathan from 'The Boatyard' on board. A photo opportunity  like no other.
If anyone is in any doubt about the speed of these VO65 then think again. We spent an hour testing, slowing down, changing things – outrigger on, outrigger off, charging off again and so on. A quick blast across to Mapfre only to be waved away by Xabi Frernandez – with a big smile on his face as he did it. Well, when I say 'we' I was there holding the camera while others around me and on the boat did the work although how anyone who has the opportunity to sail these beautiful machines can call it work I am not sure.
When the time came to turn around in the RIB and bring ashore the masthead Code Zero for a small additional repair it became clear from the speed of the RIB and the time at that speed we had been close to 10 miles offshore in a relative blink.
I mentioned Xabi's smile earlier and I have to say that while these teams are fiercely competitive on the water, a short walk through the team base area shows beyond doubt that in some ways they are just like one big extended family willing to help each other where they can.
Tomorrow – on the boat, pics to follow ☺
Shanghai Sailor
December 29th, 2014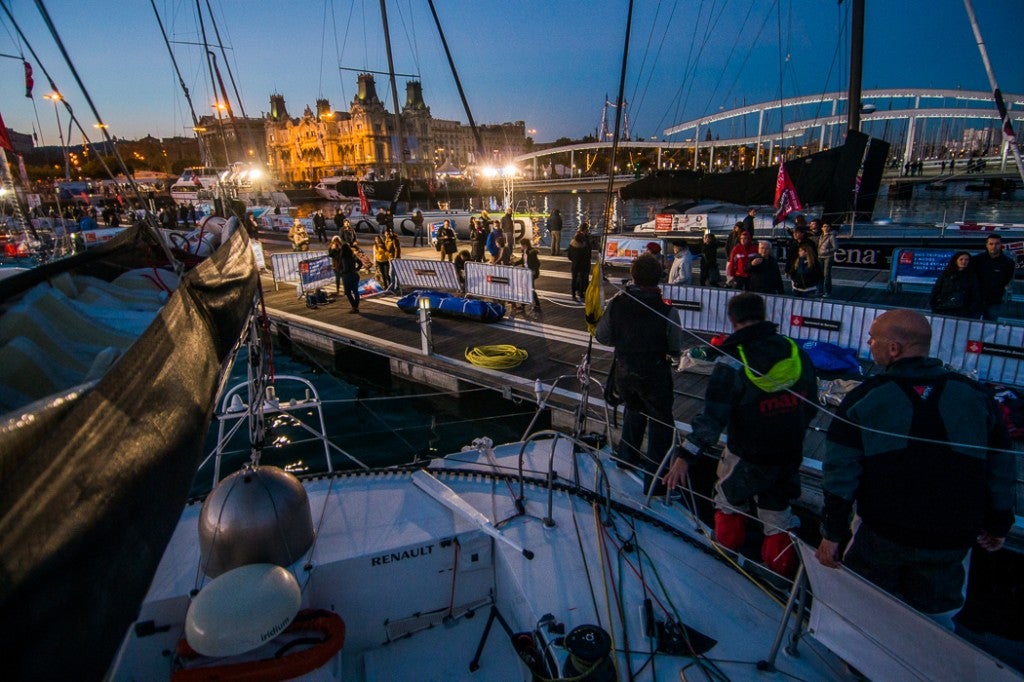 Jen Edney takes you to the World… Check her site while you're at it!
I'm excited to be here reporting for the Barcelona World Race. The race village is bustling with excitement as more people come by each day leading up to the start of the race. Energy, excitement, anticipation and anxiety are in the air as the teams make their final preparations to sail around the world. The lineup of sailors showcases incredible talent with a variety of experience and personalities amongst the teams. From the sailing heavy weights and most experienced, Swiss Bernard Stamm and Frenchman Jean Le Cam of Cheminees Poujoulat to the Barcelona brothers Bruno and Willy Garcia of We Are Water, the last to sign up for the race.
Spaniards Anna Corbella and Gerard Marin on GAES Centros Auditivos are one of the youngest crews, however this is not their first BWR entry and they have sailed many miles together. Anna says the only difference between her and the rest of the sailors is that she has to use the bucket more. As the only female she would like to use her experience to inspire young women. More to come on Anna and how she plans to do that over the next few days.
The crews are done with training and are in full on preparation mode, finishing the check list…or at least trying to get as much of it done as they can. Today joined German skipper Jorg Riechers and Seb (Sebastien) Audigane Renault Captur as they checked some issues with their mast and rigging with their shore crew.
I'm looking forward to catching up with all the crews over the next few days: Hugo Boss (Alex Thomson and Pepe Ribes ) Neutrogena (Guillermo Altadill and Chile's Jose Munoz) One Planet, One Ocean & Pharmation (Spaniards Didac Costa and Aleix Gelabert) Spirit of Hungary (Nandor Fa and Conrad Colman)
December 28th, 2014
Sure, the Volvo Ocean Race is about racing powerful racing yachts around the world but that is not all it is about. In each stopover there are activities designed to entertain and grab attention or in some cases, and lesser known, helping to facilitate the development of our sport.
Such is the case with the Optimist Team Racing event. Sailed in teams of 4 by local kids of varying abilities, in Abu Dhabi saw 7 teams spending 2 complete round robins followed, after a split into Gold and Silver fleets by a further round robin capped off by a winner takes all final.
Alongside the on the water event was a 3 day Team racing umpire's clinic designed to help further develop umpiring skills, and perhaps ultimately widen the pool of our sports race umpires at club, national or even international level. The Clinic was led by Chris Atkins (GBR) who literally 'wrote the book' on team racing so neither element could have had a better leader to produce what was for all concerned a meaningful and, for the kids, most importantly a fun event.
For those not familiar with how a team race is umpired, if a sailor feels a rule is infringed they protest and fly a flag. The protestee has seconds (typically 2-3) to respond with 1 turn. If they don't they receive an umpire flag and penalty of 2 turns and it can be fast and furious especially with the turning ability of the Oppie.
One things is for sure, these kids sailing in the Emirates do know the word 'Protest' and how to throw a flag in the air. They also know the rules better than many adults I have seen on the race course and the attendees of the Umpire Clinic who were now on the water, driving, calling and making decisions had more than enough opportunity to practice and test their newly acquired knowledge.
The final was a foregone conclusion all the way until mark 3 with one team in a clear winning combination but the trailing team threw everything at them up the final beat developing into what was almost 4 mini match races, while helping their teammates at the same time, only deciding AND reversing the result in the last 40-50 metres from the finish line.
Hectic for the racers and also requiring a deep drawing of breath by the umpires as the final boat crossed the line.
The is no doubt that the event was a tremendous success as I am sure will be replicated in the other stopovers of the Volvo Ocean Race around the globe. So just remember, the Volvo 65's may grab the headlines and the event may all? be about Return on Investment for the sponsors but by the time the race reaches Gothenburg there will be several hundred kids who have been introduced to proper umpired team racing and several dozen new potential team racing umpires out there. Well done VOR! – Shanghai Sailor.
December 28th, 2014
Local Knowledge
Another pilgrimage eastward, in search of solid water. To Canyon Ferry, east of the continental divide, iceboating Mecca of the West. John with his World Championship mini, and I with the Fed 5, both dirtboats decked out with runners for the season. We travel four hours from Lakeside, MT, back down the ramp the early afternoon sunshine, and rig in still air. As we finish, the predicted 6 to 10 shows up and we're off! The ice is four to six inches thick, with stippling of consolidated snow. This big water venue is known for its hazards, and we could see open water on the north end of the reservoir as we drove in. So we cruise about fairly close to the launch, take a break or two, and sail contentedly til the light fails. The trip is already a success!
Glenn has graciously offered us his newly minted "Clubhouse", five minutes away. We unwind in glorious warmth, feed ourselves, and crash ridiculously early so we can get up and do it again.
It's Saturday morning and the local boaters and skaters show around 10. No wind yet, so we strap on the skates, and Dave gives us the lowdown on known hazards, which we mark with flags in hopes of staying on top of the ice. We give ourselves some boundaries, some safe real estate, and as we skate back the blessed breeze starts to wind up. The glee level starts to ramp up, and rigging commences vigorously. Within fifteen minutes we've got a fleet scurrying about, mostly DNs, some Nites, a Manta, and us. All fairly evenly matched, a blast to run with similar machines!
We can run down the shoreline a ways and get into smoother ice. Nice ice, hard ice, fast! Not a huge amount of breeze, maybe 10, but with this surface the boats are getting into the thirties, always exhilarating, particularly with sunshine and temps in the forties! The locals are soon satisfied, and they wander off. But John and I rarely see these conditions, and we blissfully sail into another grand Montana sunset.
The prediction for Sunday is big! A front is approaching, wind fifteen to twenty, gusting to forty, with precip likely. By ten we're at the boats, and it's on! We rig the little sails, and we're off! No significant cloud cover, a few squalls pass through occasionally spitting snow or rain, but it's mostly sun and rapidly rising temps. I'm in heaven! The locals show again, rig, and scream around with us a while, but these conditions are brutal, with the gusts hitting hard, easily ten to fifteen knots over the mean wind speed, which is in the high teens. A bit much for those without the ability to shorten sail, so attrition sets in.
Although it's less than relaxing, I revel in this kind of sailing, the challenge of maintaining control in out of control conditions, while attempting to squeeze out as much speed as I dare. Load the boat up too much and the rear end breaks free. Violently, I learn! One puff hits ferociously while already travelling over fifty, and slams the boat into a 540 degree spin, nearly capsizing, then decelerating slowly, backwards, while I try to catch my breath! John's right behind me, and gets a front row seat.
I rig down another sail size and head out for more. It's late afternoon now, and the warmth and breeze are sending sheets of water across the surface in hypnotizing patterns, giving John and I the eerie sensation that we're moving, even as we stand next to our boats. The wind and water are burnishing the surface, with it getting faster and faster. It often looks like a mirror, which is spectacular, but also disguises any hazards, and it's now impossible to tell ice from open water. So as the day winds down, we reign in our acreage, staying closer to home to stay on safer ice. Finally I pack it in, and John uses up the last of the light to rack up a few more miles. Both of us logged nearly 40 miles apiece, and registered top speeds around 60 mph. A most excellent day!
Glenn and John's daughter, Sarah, spend the night with us, and the wind rages though the wee hours. We're back on the ice by eight the next morning for a little father daughter time at the tiller in Glenn's Nite. It dropped below freezing overnight, and the surface is once again hard and fast. The now eased breeze, and low angle lighting make for a memorable morning for them both. The boats are loaded, and we're back on the pavement by eleven, smiling all the way home. Watch it here. Thanks Canyon Ferry, you delivered once more!
-Anarchist Dave
December 28th, 2014
Everybody knows skinny chicks rule, right? 
Bob Oatley's Wild Oats XI has done it again, and in claiming Rolex Sydney Hobart Yacht Race line honours for an eighth time at 15.03.26 hours today, in the time of two days two hours three minutes and 26 seconds, goes down in the race's 70 year history as the only yacht to ever achieve this amazing feat. Check it.
This awesome shot thanks to Andrea Francolini – more here.
December 28th, 2014
Seemingly nothing good  ever happens on a ferry…
A ferry carrying nearly 500 people caught fire off the Greek island of Corfu early Sunday, trapping passengers on the top decks as gale-force winds and choppy seas hampered the evacuation. Greek and Italian rescue helicopters and vessels struggled to reach the stricken ferry, with nearby merchant ships lining up to form a wall against the raging gusts.
The fire broke out on the car deck of the Italian-flagged Norman Atlantic, traveling from the Greek port of Patras to Ancona, Italy with 423 passengers and 55 crew members on board. No one has been reported injured, and the ship was not in immediate danger of sinking, authorities said. Read on.
December 28th, 2014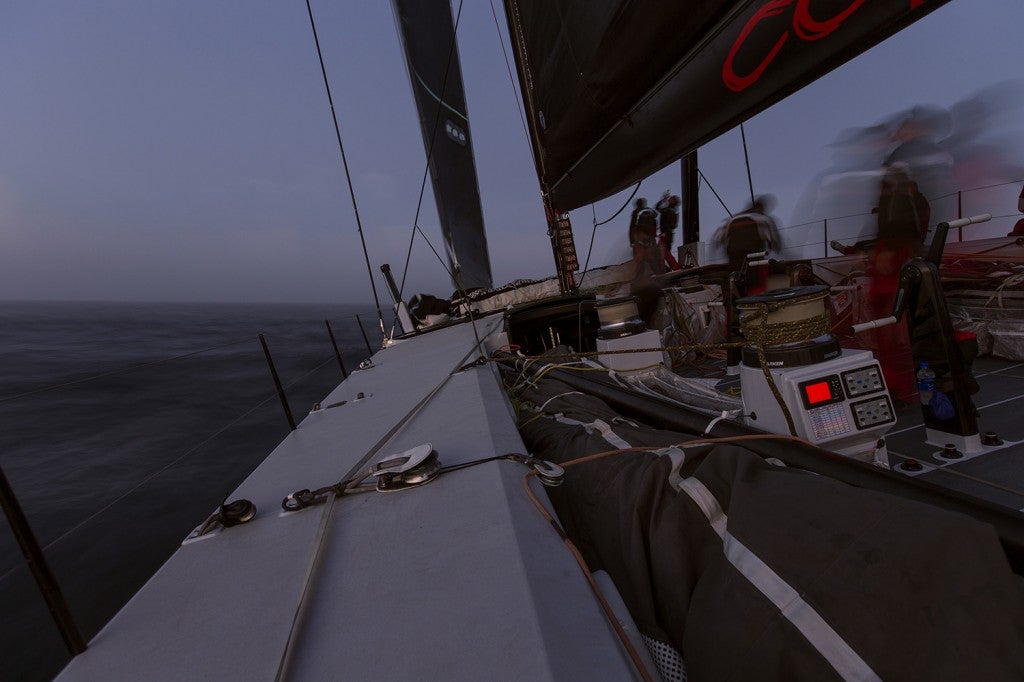 Wild Oats XI is on fire in the light breeze off the SE tip of Oz; she's a good 20 NM ahead of Comanche as they enter the Bass Strait at sunrise.  With building breeze and a free direction (and with Jimmy Spithill on the American boat), don't count 'em out just yet, and don't forget about the other monsters well to the West in potentially much better conditions; here's a great Morning Report from the Sydney-Hobart radio team including some info from Comanche navigator Stan Honey.  There's only one place on the web to get all the latest info in one spot; hit the thread. Andrea Francolini photo.
UPDATE: Here's a hearty SA shoutout to the boys on ADA (Assistance Dogs of Australia) Celestial, the Rogers 46 currently leading all handicap categories overall, and a crew which includes at least one On-The-Water Anarchy past staffer and OG Anarchist.  Get 'em, dingo!  A few boats have withdrawn, including the Perpetual Loyal 100′er, which claimed delaminating bow sections for the stop.
December 26th, 2014
UPDATE: Yahoo!7 has finally sorted out its shit and the full replay of the start of the Hobart Race is up in all its glory.  And now that you can click past the commercials, it's a pretty awesome spectacle, and other than the SD quality, the production is just fine.
It's almost like Yahoo!7 is a decade behind in digital thinking, assuming that the world should be grateful for a stuttery, low-res feed that doesn't even start on time, and we really can't understand how the normally brand-aware Rolex allows such a crappy broadcast partner to mess their pristine image up for the world to see.  At least Andrea Francolini is still making beautiful shots like the one above, and Nic Douglass's two-hour start commentary is massively entertaining – it's not everyday your commentary comes between bouts of feeding the fishes.
In the race itself, Wild Oats is beginning to shine in the lighter breeze down the course, and now's the time for the skinny maxi to build as big a lead as she can before the big monster comes blast reaching again later tonight. Track 'em here.
With a big bad fleet like this one, only a Big Audio Dynamite song is appropriate for inspiration.
Latest news in the thread.
December 25th, 2014
Check out these portraits of the men at the top of the 5 Supermaxis on this year's Sydney-Hobart line.  Andrea Francolini's shots continue to up the bar in creative photocoverage of this race; check his page here. 
December 25th, 2014

Nic's already live with interviews, analysis, commentary, and music for you all Boxing Day for the most exciting Sydney Hobart in recent memory. You can have all the Sailor Girl you want. Get some.
December 25th, 2014
We get a lot of fun Christmas cards every year, but this one from SA'er iTa303030 made us chuckle the most.  Share your Kwanzaa, Hanukah, and yeah, Christmas wishes in the thread, and remember: Just 'cause you ain't working doesn't mean we ain't!
So what's in store for the end of the year?  Plenty! 
We've got boots on the ground in Sydney and Hobart, and we'll get you everything you need to listen to both Nic Douglass's all-day live radio show and the official Yahoo/Channel 7 streaming video start of the Sydney-Hobart Race on December 26th (25th in the US and Europe)
Mr. Clean hits the road for Abu Dhabi on Sunday to bring you his customarily awesome interviews, analysis, and live commentary from the In-Port Race and Leg 3 start of the Volvo Ocean Race on January 2 and 3.
Our favorite cornbelt photojournalist Jen Edney is off to Barcelona to get all the inside stories from the 3rd Barcelona World Race.
and Petey Crawford's International Date Line troubles means he's missing Christmas entirely as he heads to Melbourne, Australia at this very moment to scout for our world-leading coverage of January's Moth Worlds.
If you love sailing, 2015 is going to be one hell of a year.  Don't change the channel.
December 24th, 2014
We were disappointed when the Melges 32 went from one of the most enjoyable classes around to another class for only the super-rich, and we stayed away for a while.  But after spending a week in Miami with the class, we're starting to get stoked; there's a brand new attitude and a definite push to bring the fun back to a class that never should have lost it.  This 22-minute video from Petey Crawford tells that story, along with the story of the regatta itself, and Jason Carroll's successful run to the first-ever two-time Melges 32 world champ win.  But it's also packed with great aerial shots, features about the juniors in the fleet, the women on the crews, and the surprisingly large number of 'family affairs.' In fact, one of those families provided our 'performance of the week', which went to billionaire brothers Dick and Doug Devos, both in their 50s.  We watched them hiking their respective balls off for a solid week on the rails of their respective 20-year old sons' boats Delta and Volpe, making some of the pros look lazy. That's love right there.
Stay tuned in January for a detailed analysis of what went wrong with the Melges 32 and why, and what's on the horizon for a boat that's still setting the performance standard for 30-foot sportboats more than a decade after she was designed.
December 24th, 2014
Moth, skiff, and Red Bull Youth AC Anarchist Ian Andrewes checks in from his Nacra 17 action in Rio after 2 weeks of 'the most effective training camp he's ever been part of'.  It was also a trip that featured the disturbing sights of toxic sludge, a navy burial at sea right off the harbor mouth, and a fireworks display that sent a yacht club's members fleeing for their lives; in other words, a typical month in Rio. We dig Ian's take on the dilemmas of an Olympic trialler and we hope you do too.  Thank him over here, or over here.
When I first came down to Brazil in August after a last-minute decision, it was to compete in the AqueceRio Olympic Test Event. Everything was moving quickly and it wasn't until my hour-long cab ride back to the airport that I found myself looking out the window, realizing I hadn't spent enough time in this place. I didn't understand what made Rio so unique or the way it manages to stay on just this side of total madness. How could I describe it to my friends and family?
I'd get another chance when we came back down this month, and I was determined to learn this place better and try to decide how I truly feel about the controversial waters Guanabara Bay. The Bay has been called one of the most beautiful places in the world, with absolutely perfect sailing conditions, and it's been described as one of the most polluted and horrendously disgusting bodies of water in the world, completely inappropriate for any waterborne activity.  And both are correct.
My first day back this trip, one of first things I noticed was the lack of trash in the water compared to last summer; conditions that had required a rudder or board cleaning every 50 meters then.   Much can be attributed to the odd garbage scows, roaming the water like giant aquatic Roombas and scooping up everything in their path, including the odd junior in an Opti.  It struck me as a wonderful improvement, but then I started to notice the water color – not the brown of the typical estuarine bay, but the thick, particle-choked haze of the untreated sewage flowing directly into our racing area.
I do believe this place is seriously sick. The waters are not just dirty; they are toxic and poisonous. Every day thousands of dead fish have been washing up on the beaches like its the apocalypse – their rotting bodies adding to the already pungent aroma of raw sewage at low tide. The ones that aren't quite dead flop around in an epileptic dance of rainbow-hued oily sludge and sand right until their death.
I have noticed a decrease in the amount of garbage in the Bay, but there's still plenty of work to be done, and I think all the sailors are hoping their organizations keep the pressure up.
Rio is a strange place, difficult to compare easily to other cities I know. Favelas rule the politics despite being made up of the poorest squatters and the nastiest criminals. Some people seem to pay taxes, but most don't.  In Niteroi, just across the bay, you find multimillion dollar houses along the waterfront, immediately adjacent to squatting families living in shacks made of driftwood, corrugated steel, and dock scraps.  But of course the shacks are loaded with electricity, satellite TV and running water courtesy of the welfare system…All of this disparity and more yet nobody seems all that disgruntled.
In fact, most locals I've met seem generally quite happy. Maybe they complain about a politician's decision or about the bad traffic, but the conversation never seems to carry on past that. Maybe something in the water gives these people such a cheerful disposition.
We're all hoping that the Olympics will help to shine spotlight the environmental issues in Rio, and that the public attention leads to improved sewage treatment and pollution control, not for us but for the people of Rio.  They deserve better.
As sailors, we need to promote and encourage change that extends far beyond this event.. I will keep coming back to this place as my captivation with the scenery and the strangely pleasant locals only makes me want to see change sooner. I hope each trip down to this gauche city in Brazil will show that steps are being made in the right direction and that it's not too late.  I'll keep you posted.
December 24th, 2014