…and two to take him. Take a look at the awesomeness of the AC! The Potential Economic Impact report looks like it has a lot of, um, potential. Hmmm, we're not seeing much about how 'Frisco took it in the shorts last time.
But we'll keep looking…sure we will. Happy reading.
April 23rd, 2015
Just about perfect for a caption contest, no?
April 22nd, 2015
It's not much of a secret any more, but we might as well let you in on the news that Key West Race Week will be back on the schedule for 2016, thanks to a group of Storm Trysail Club vets and run by St. Thomas YC's Bill Canfield.
Add this news to the various efforts sprouting throughout Florida to race to Cuba and/or rekindle the SORC, and we come to one conclusion: South Florida's big boat racing scene might well be on the road to the kind of recovery that one-designs have already seen in Miami, Pensacola, and Davis Island.
We're quite sure Key West is capable of being re-ignited, and we know Bill is smart enough to make it happen.  We also know the STC runs a damned good regatta up in Block Island. That said, this ain't an easy one; it's going to take an awful lot of hard work to bring life and credibility back to a regatta that spent the last decade throwing it all away.
Canfield runs one of the most respected regattas in the Caribbean, though he hasn't been immune from the down numbers and sponsor flight seen throughout the caribbean over the past few years.  The STC continues to flirt with success, but many of their southern efforts have fallen flat.
There are two things Canfield and his crew have going for them. The first is the astonishing pent-up demand of sailors looking to go to Cuba, and the end of KW Race Week is the perfect excuse to race to Havana.  If the STC can lock up a Cuba Race (there are now three different groups exploring such a race in 2015/16), it will be a huge boon to Key West racing.  The second tool they have to grow the event is the fact that several high-profile classes really want to race it – classes like the TP52, GC32, and similar – though we think this doesn't really help a more general regatta at all, and could in fact hurt it.
We expect an announcement from the new organizers soon, and the way they do it will give us all a clue on whether it will succeed.  Is it the same old crap, from the same old players? Or is it something new from a group that understands the world we live in today?
We sure do hope it is the latter.  America needs a great January regatta, and there aren't that many places as good as Key West.
April 22nd, 2015
Clean Report
When Sperry signed on to be a part of Sailing Anarchy's year-long media World Tour of some of the most interesting events in our sport, we had no mysteries about why.  "You guys ooze the kind of passion that Sperry was founded on, and we want to help you share it with the world," said Dave, one of their marketing bosses.
That's the easy answer; there is a deeper, more painful answer to 'why?' – and it's the reason Sailing Anarchy has been the world's best sailing website for the past decade.  Because this is not our job; it is our life, and without sailing, there's a good chance that the folks who run the place wouldn't be alive today.
So click the player above and learn what sailing means. To us at SA, to Petey behind the lens, to our sponsors, to our friends, but most importantly, to all the folks who do whatever it takes to bring the next generation to this lifesaving sport.
Gorgeous work from Petey Crawford; The first two parts of the series are here and here.
April 22nd, 2015
Sure, we'd prefer less clothes, but we like it! Jesus Renedo shooting sexy Olympic sailors in Hyeres, before the sailing world cup.
April 21st, 2015
There surely must be something behind this level of whining. Why tout all the effort "marketing and promoting" about this regatta, then attack someone who did nothing but help to promote it? Whatever, it is incredibly lame.  No wonder this sport can't get out of it's own way…
Gentlemen,
As Fleet Captain at Newport Harbor Yacht Club, I am responsible for the organization, planning, and execution of over 40 sailing events we host during the year. The Baldwin Cup is one of the premier events NHYC hosts during the year and it takes considerable time, effort, and expense to put on such a comprehensive event. One of the areas where we spend considerable time and money is the marketing and promotion of the Baldwin Cup – which includes our PR / communications team, photographers, bloggers, graphic designers, and video production and editing professionals.
After receiving the e-mail / newsletter from WD Schock titled "Best Baldwin Yet", I was surprised to see such significant inclusion of the NHYC owned and copyright protected promotional materials inside of your corporate promotion.
Can you please refer me to the individual(s) from NHYC who authorized WD Schock to use these materials and the contract where this agreement was executed??
If no such agreement is available, can you please remove the NHYC / Baldwin Cup copyrighted materials from your promotional campaigns and provide a documented apology to our writers, photographers, and videographers for this breech of use?
Finally, the Baldwin Cup is a private / invitational event intended for the racing participants and the invited guests of the Organizing Authority (NHYC). All the non-racing hospitality and social functions are invitation only events. In the future, please be sure you are included in the invitations for the specific events before arriving unexpectedly.
Thank you for your attention to these matters,
Sincerely,
John K. Fuller
2015 Fleet Captain – NHYC
April 21st, 2015
Love this shot from Christophe Launay at the ISAF Sailing World Cup 2015 – Hyères. Tons more right here.
April 21st, 2015
Mark Chisnell reports for B&G today with his first report on Leg 6 of the Volvo Ocean Race 2014-15…
"It was a very slow start from Itajai, but Leg 6 is now well and truly underway with the fleet heading upwind into freshening conditions. MAPFRE hold a narrow lead, but there's a long way to go to Newport. Mark Chisnell looks at the opening couple of days and what lies ahead." Read on.
April 21st, 2015
Renaud Laplanche, co-skipper Ryan Breymaier and the crew of the 105' trimaran Lending Club 2 have established a new world sailing speed record for the 635-nautical mile course from Castle Hill Lighthouse, in Newport, Rhode Island, to Kitchen Shoal Beacon in Bermuda. The new record, subject to ratification by the World Sailing Speed Record Council (WSSRC), is 23 hours, 9 minutes, 52 seconds at an average speed of 27 knots. It was only four days ago that the WSSRC ratified Lending Club 2's record-setting passage of early April from Cowes to Dinard (across the English Channel) to confirm their place in the sailing record books; Guinness World Records has also confirmed that they will include the record. That 138-nautical mile passage, at an average speed of 26.36 knots, was completed in 5 hours and 15 minutes – 8 minutes faster than the previous record which had stood since 2002. We ran five question by Ryan about this latest triumph…
SA:  What was the biggest challenge in this record run?
RB: The biggest challenge was finding the right time to take the start and we were pretty worried about having light air leaving Newport. We were concerned about whether we could trust the forecast or whether we'd get stuck drifting in no breeze just off the coast. Fortunately the conditions were as advertised in that it was light until five or six miles offshore and then from there we found the breeze we were looking for. We managed to cover the first miles in about 45 minutes before picking up speed and getting the boat properly on its way.
SA: What did you learn about the boat?
RB: We learned that the boat really needs flat water. This was reinforced more than ever during the Cowes to Dinard record. We didn't take enough heed to the advice of looking for flat water and we set off in reasonably big waves but thankfully we got the record anyway. This time we spent a lot more time looking for the right wave conditions and sailed in very flat water, except for the Gulf Stream. It made a huge difference and in the same breeze and same wind angle we found ourselves with 3 or 4 more knots more boat speed. This bodes well for the Transpac.
SA: What there an OMG moment.
RB: I think Renaud will agree that the OMG moment was when he realized he was driving the boat at 40+ knots. He always knew the boat was fast and he's a good driver but when he got it really lit up he had a huge smile on his face. Anyone driving a boat this big and powerful is quickly having a serious OMG moment.
SA: How much did you drive?
RB: In 23 hours I probably drove 4.5/5 hours. We have a crew who can all drive and so everyone does drive. We're only 7 sailors so its important to be polyvalent and it promotes equality, we all do everything and we all get to have a piece of the fun. I think this is the best way to be and it works very well onboard.
SA: What is the most difficult aspect of the new boat?
RB: There are two things that are really difficult with this boat. The first is getting it on and off the dock! We're getting used to it now but luckily our shore team are all really good RIB drivers and we had to quickly get well coordinated to keep things under control, even in light air. The second thing that is just life onboard other than sailing. The boat shakes so much you can hardly keep your balance and with the speed you have to be constantly bracing yourself, it makes going for a piss a fun experience. Quin our media guy has had to get special housing for his gear after taking a serious hosing the first time he came sailing, said it was like trying to shoot in a steam bath.
Its an amazing experience being let loose with a machine like this and we're really looking forward to hitting more top speeds on the west coast in a month or so. Before we go we've got a couple more weeks in Newport, our team has an open house ethic so anyone who wants to come and check out the boat is more than welcome. We're leaving Bermuda in an hour, so we should be there by lunch on Wednesday
Otherwise, see you in San Francisco!
April 20th, 2015
One of the funniest things we've seen in a long time. Nice work by Anarchist hoppy. Jump in the thread here.
April 20th, 2015
Clean Report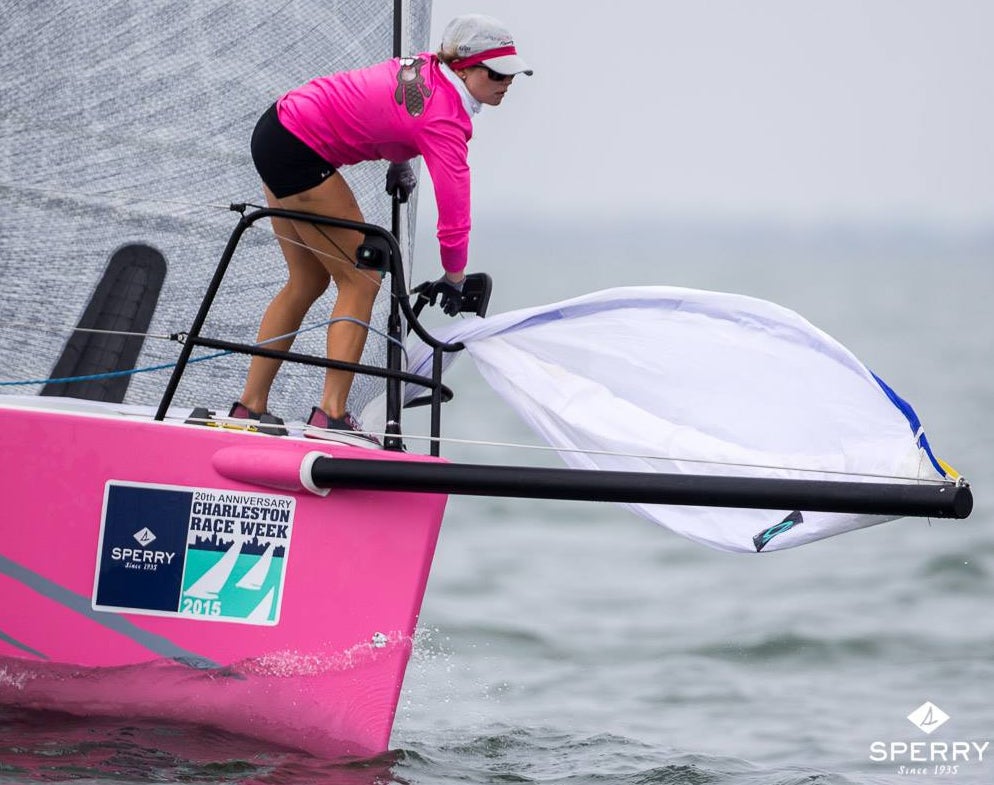 Despite light to moderate breeze and a noticeable lack of bikini weather, the 20th Anniversary of Sperry Charleston Race Week proved that CRW is not only here to stay, but that it is one of the most important regattas for sailing in America. 
It's not just the fact that so many serious racers gather here every year; the event seems to attract just about everyone in the sailing industry, and Randy Draftz and CORA are constantly chasing ways to make CRW more modern, more progressive and more fun.  Sailing Anarchy first partnered with the organizers an incredible 9 years ago, and we consider ourselves privileged to have been a part of what a few friends and sailing coaches started back in '96, and what CORA, the now-defunct SC Maritime Foundation, Randy Draftz, and a crowd of some of the most enthusiastic volunteers and sponsors in the world have built: America's must-do regatta.
We almost always avoid annoying you with press releases, but in this case, we're making an exception, because you all wanna know what happened in Charleston, and because I spent hours with Sperry Charleston Race Week Comms officer Dan Dickison and John Casey helping to write and edit an entire story about it.  Besides, it's my goddamned birthday, and I need a nap.  And it's not like you can't find out what really happened from the hundreds of awesome Sander Van Der Borch and Brian Carlin photos or hours of as-live streamed video and highlight reels and interviews from Petey Crawford.
So if you really want to know the down and dirty details, comb through on the CRW Facebook Page or head over to the Sperry Sailing Anarchy World Tour posts on our own Facebook Page and be sure to give yourself some time.   But other than a quick note of thanks to everyone at CORA and the CRW as well as our team of Mer, Petey, Morgan, JC, Sander and Brian here's a summary of the event, the way we saw it.
With an early start time, a moderate but consistent breeze from the Southeast, and a ripping tide pouring out of Charleston Harbor, overall victory and podium finishes were up for grabs through most of the 2015 Sperry Charleston Race Week fleet. Unlike Saturday, and early breeze meant three short, intense races in some classes and two in others, allowing a few teams to sew up runaway victories and a few more to make late runs to the top of the leaderboard in the quest for 20th Anniversary silver.
Charleston is immensely proud of its local university sailing team, and College of Charleston Sailing Team Captain Chase Shaw showed why in the J/22 Class. Shaw and his CofC crew reveled in the fast outgoing tide on Sunday, grabbing two bullets and holding off a late charge from US Sailing President Tom Hubbell aboard Air Force One.  Hubbell said he'd never had an easier time entering a regatta.  "You call up the College, they charter the boat to you, you jump in a plane, show up on the dock, and go race one-design at Charleston Race Week.  Could it be any easier?" said Hubbell, whose team finished just 3 points behind Shaw.  The J/22 Class also featured the Warrior Sailing Team, entirely crewed and helmed by wounded and disabled military veteran and managed by Charleston professional sailor Ben Poucher.  "Sailing with these guys against a fully able-bodied fleet was something we'd been relishing, and watching them put everything they have into it was pretty awesome," said Poucher.  The Warriors grabbed 8th out of 9th entries.  "It was a victory in every way," Poucher said.
14 year old Kyle Gamble and My Sharona shocked the until-then very tight J/111 fleet with three bullets on Sunday, giving them the easy win despite a hard week.  "We just sailed clean and fast and it's great to have days like that," said Gamble, whose father George steers their Pensacola-based boat.
Lone Mexican entry Flojito y Cooperando earned their first Charleston Race Week win with a runaway performance in the stacked 83-boat J/70 Class. But it still wasn't an easy day for them, despite their dominance. "With the black flag up and the current pushing us over the line, starting was nerve racking, said tactician Bill Hardesty, one of the most successful American one-design sailors of the decade. "We started in the second row a couple of times, and luckily we had the speed to work our way forward."
Also in the J/70s, Jud and Lindsay Smith on Africa stole a brilliant penultimate race win, setting up a final battle with Oslo, Normandy's Eivind Astrup and his Norwegian team on Norwegian Steam.  Smith found himself stuck in traffic on a crowded port-tack layline, while Astrup judged the speedy ebb current perfectly, sweeping around the final mark in first place and extending to the victory.  "It all came together at the right time, and now that we know the currents, we'll come back as locals," joked the skipper – just before singing "Happy Birthday" in Norwegian to celebrate Race Week's 20th.
The final race of the Melges 24 Class was a nailbiter, but in the end, perennial top helmsman and past Melges 24 Corinthian World Champion Bruce Ayres (Monsoon, Newport Beach, CA) stayed patient despite a spirited attack from College of Charleston junior Ryan Davidson aboard Battle Rhythm; Ayres and Davidson traded leads on the beat, with a luffing battle on the final run allowing Norway's Jens Altern Wathne (Bergen, Norway) to slip to leeward and take the final race win of the week. Ayres finished less than 10 seconds behind Davidson, tying the two on points, with Monsoon winning on the tiebreak – it was Ayres second-straight win in the Melges 24 Class at Sperry Charleston Race Week.  Wathne's win vaulted him into first place in the Corinthian (Amateur) division, with Australian entry ACCRU losing the top spot after having just gained it.  It may be decades since ACCRU skipper Kevin Nixon won his 18-foot skiff World Title on Sydney Harbour, and his crew consists of his wife and three children rather than two huge watermen, but the intense Aussie says he and his family knows they need to come back in 2016 to prove the Aussies can beat not only the Americans, but the Scandinavians as well.  "It's a point of pride," he said.  Both Wathne and Nixon agree that next year's event should be a big one for the Melges 24 Class.  "Charleston and the Melges 24 have a long history together, and with the 2016 Melges 24 Worlds coming back to the states for the November Miami Worlds, Charleston marks the real beginning of the workup to what should be a very big Worlds," said Wathne.
Only one point separated the top two teams at the start of the final race in the Melges 20 National Championship fleet. Midnight Blue performed under pressure, winning the final race with blinding downwind speed.  Richard Davies' Section 16 took second spot for the second time in Charleston, with third place Tom Kassberg on Flygfisk edging out Brazilian team Portobello, who spent much of the week in first place – until it really mattered. Both Portobello and Flygfisk found themselves in a dying breeze on the final leg, and deep in the fleet, the throwouts came into play.  According to Kassberg, "We were consistent throughout the week, so it felt good to have a cushion if we needed to throw out the last race."
In the Viper 640 fleet Jason Carroll's Argo didn't need the final race for a win, but 2nd and 3rd were still undecided. Zeke Horowitz on Jenny won his second race in a row to edge out Tumbling Dice by five points for second.
21-boat J/24 class also had a tight podium with local racer Scott McCormack (Mt. Pleasant, SC) and his Giggity playing the ebb perfectly today to jump ahead of favorite Tony Parker aboard Bangor Packet. Pipe Dream was only four points out of second place with a very steady score line.
Tohidu skipper Jay Cook won in two big ways this week; the lifelong Charleston sailor and longtime supporter of Sperry Charleston Race Week sailed with sons Adam and Travis together for the first time in more than 5 years, something Cook said 'was one of the best surprises I've ever had.' The Cooks and the longtime friends crewing their Beneteau 423 couldn't repeat her 2006 class victory, finishing in 10th place in the Pursuit Class, and Jay didn't expect to spend any time on the trophy stage, making the crowd's long and strong cheers all the more powerful when Cook was called up to receive the elegant wood-and-glass Jubilee Award for Sportsmanship.  Cook's tireless volunteerism and never-ending generosity in support of the Charleston sailing community are legendary in the community; an award well deserved.
After top-secret calculations to determine the winners in the most competitive classes in the regatta, Randy Draftz announced that Robin Team and his family-crewedTeamwork had won the historic and beautiful Palmetto Cup for the top PHRF performance of the regatta.  It marks an incredible 3rd overall win in Charleston, something the Teams say they want to try to add their name to the perpetual trophy again next year.
To no one's surprise, the Melges 20 National Championship fleet claims the trophy for the winner in the most competitive one-design fleet, with Long Island's Jason Michas  and Midnight Blue etching their names on the Charleston Race Week Cup.  Michas adds it to his new title of US National Champion.
In the Pursuit Class, Charleston-based Jamie Walker and his crew on board Walker's Swan 56 Azura were celebrating with smiles at the awards party. They didn't see the kind of breezes this heavier boat really requires, but nonetheless finished well enough to secure third overall. "Despite the lighter winds, this event is always fun and it's really spectacular. Fun is one of our principal goals. For us, it's safety No. 1, fun No. 2, and then results No. 3. But I'm really fortunate to have a crew that comes from Charleston, England, Germany and Boston. We're pretty multicultural actually." Walker said he loves and hates the Pursuit Class. "It's so frustrating to sit there and watch all those other boats start ahead of us, but once you're racing, it's an absolute blast."
Hank Stewart, the PRO on the most populous racing circle – the 83-boat J/70 course – was relieved and pleased at the end of the day. "I've never worked with the fleet split system that we used here (to orchestrate the large number of boats in this class), but it worked really well. I think the tight competition proves it works," he said.  Stuart says his volunteers and Race Week staff provided terrific support for the Race Committee, but emphasized that he "gives a lot of credit to the competitors. I think across all the classes at the event, the sailors were very gracious, particularly in showing such patience on Saturday when we had that lengthy postponement. And, at least on our course, it was worth the wait because we had two of the best contests of the event that day."
April 20th, 2015
This could not be a better look at how the new G4 tipped over!
April 19th, 2015
We're doubling 'em up again – first comes the final day of 2015 Sperry Charleston Race Week, and then the Itajai to Newport VOR Leg Start!  More breeze in Charleston today but still light in Brazil – spend a lazy Sunday watching sailing right here.
Charleston Race Week Day 3

Itajai-Newport VOR Leg Start

April 19th, 2015
A bit of a set back for the new G4. Damn, we hate to see that. Jump in the discussion thread for more.
April 18th, 2015
Drizzle doesn't dampen the mood for Charleston Race week. It didn't stop the ridiculous Sperry/Sailing Anarchy party last night, and racing commenced on time and on pace today. Under dark morning clouds, an eight knot northwesterly greeted the inside fleet and held enough to get high quality racing in. And what's Charleston Race Week without current. The ebb was flowing hard today, with teams jockeying for shallow water position all day. Who played it the best?
It's not Cinco de Mayo yet, but the J/70 Mexican team Flojito Y Cooperando helmed by Julian Fernandez celebrated early with two bullets today to set themselves apart in this talent laden fleet. Elvind Astrup's Norwegian Steam stayed consistent with a 1, 6, 5 to hold on to an early second. The top and only US team currently on the J/70 podium is Joel Ronning's Catapult. Since there are 78 J/70s racing in four separate fleets, the points add up quick and the scores are really close with eight boats tied in one way or another in the top 15. The fleets will be reset tomorrow for more qualifying racing.
Continuing the south of the border but north of the fleet tone, the lone Brazilian Melges 20 entry, Portabello, led by Cesar Gomes Neto, threw down some spicy upwind skills to keep ahead of Bruce Golison's Midlife Crisis by three points. Midnight Blue sailed well in today's darker conditions to keep it tight on the podium, behind second by only one point. Only eight points separate the top six in this wide-open class.
Guy Mossman's name is on the Melges 24 score sheet, but he's mending a broken hand from a 'being a nice guy' moment.  Lesson: Don't punch a fighting pit bull in the head. In his place on Battle Rhythm is Will van Cleefe, who earned a four point lead today over Brent McKenzie on Ex-Kahn, followed closely by Bruce Ayres on Monsoon.
Watch the full replay of all the live racing action here, and if the wind ever fills in, we'll have Saturday's racing for you on this page.
Brian Carlin photo of the sexy C&C 30 and the rest of PHRF A offshore, and seriously big, badass galleries from Brian and Sander Van Der Borch are over here.
And the Team Vestas Wind award goes to Christian Koppernaes in the VX-One fleet, who took the 'short tack the shore' move a little too far.  Sander Van Der Borch photo.
Results after day one here, and of course a huge thanks to our friends at Sperry for making SA's extended coverage of Charleston's action.
-John Casey
April 18th, 2015
Maxi-trimaran "Lending Club 2″ is in the starting blocks for the Newport to Bermuda Record
In 2000 Steve Fossett and the mighty Playstation covered the 635 mile course in 38 hours 15 years ago and we're aiming on cutting it down to at least 28 hours, if not less. Ideal conditions for us are moderate reaching breeze (15-20 knot) with not too big waves so we can get this beast going fast but not out of control. With a crew of just 7 it takes all we've got to manage the 850+ square metre sail-plan and keep the boat at 100% of its polars.
This weekend is showing an ideal departure time between late tonight and Sunday morning so its code green and we're ready to head out. We've got a tracker on the boat so you can follow us live with updates every 15 minutes and it will be continuous at the end.
We'll also be posting photos and videos to the FB page when we can.
We'll be coming back to Newport after Bermuda so anyone who hasn't had time this week, but still wants to see the boat is welcome to come on down to the Shipyard and help wash off the salt. Same goes for anyone in Bermuda, keep an eye on the tracker and come and say Hi when we get there! As always, thanks to our technical partners : Marlow Ropes, Guy Cotten foul weather gear, Under Water Kinetics technical equipment, Great Circle weather data analysis, Events Clothing and Switlik Survival Equipment. – Ryan Breymaier.
April 18th, 2015
If we're talking about foilers vs. floaters and record-breaker monohulls vs. the rest of the world, we must be talking about Saint Barth, and outright World Sailing Speed Record holder and longtime SA'er Paul "Larso" Larsen checks in from the ORMA-60 inspired racer/cruiser Paradox at Les Voiles.  Most of the chatter from St. Barths can be found here.
It was an interesting day with a wide range of conditions. Big, heavy rain squalls coming over the island on the preceding night with big calmish periods afterwards.  We put the Code Zero on the boat in the morning in prep. Another big squall washed over the fleet during the start sequences for the first classes (we were last off after the big Maxis).
Loick Peyron sailed on Phaedo today, but with big wind shifts and start line corrections, her timed run didn't really work out. They haven't really appreciated our "high mode" off the line previously so we considered that with Loick potentially changing their gentle start strategy (and with their handicap and speed they can afford to be gentle), I was worried they might try and get under us and squeeze us out at the start. Loick helmed our first start masterfully the other day… so full respect ( he's done some other s**t too, apparently).  Anyway, they were miles late.
We started mid line on a fairly even line and were happy with clean air and options. The chartered GB62 Elvis [world champ owner Jason Carroll is racing his Viper 640 in Charleston -ed] made a good start to leeward of us and we had the GC32 and G4 back and to windward. Phaedo tacked off once across the line and took a long beat out to sea (East) whilst we went in towards the island shore. I think we did pretty well to ride through the lulls and gusts. We sailed over the GC and the G4…which are just not that fast upwind yet. I fully respect the challenges of Mk1 development and I'm really enjoying watching this one done to this high level. It seems like it's being sailed very well. Putting it around a course not of your choosing really highlights the reality of the compromises though. The fact is, your dragging a lot of excess up the course with you. We had full main hull-flying conditions up the shore from time to time (not so easy on Paradox i.e. 19-20 knots) which were followed by 10 knot lumpy stuff trying to lay the top of the island. We weren't that far behind Phaedo when they hit the layline but they just tear chunks out of us when it gets lighter. They are two tons lighter with much more sail area and are only getting better and better with the tools.  Things even up a little more as it gets stronger (handicap wise at least).
We had managed to also put good distance between us and the GC (which was sailing under full rig today). I think Elvis may have been ahead of the G4 on this part of the race. The next short reach had us debating whether to hoist the zero or stay with the solent and peel straight to the big gennaker at the corner. We chose the latter but hated the short period sailing undercanvassed. We chased down "Lucky" on the next downwind, but it took a while in a light spot.  The GC joined us on the leg, promptly jumping onto foils and sailing away from us faster and deeper on a long starboard gybe. We sailed against two of the quick foilers in last years RTIsland race and we know how quick they can be! We were sailing pretty clean but they gracefully sailed through. We couldn't even see who was fourth.
On the following beat we were still in touch with the GC, past Lucky and chasing Lupa. We got to watch the G4 heading downwind. It looked like hard work in the marginal foiling conditions (i.e. sailing whatever angles it takes and trying everything to get on the foils). It wasn't a good day for a heavy foiling boat!  We rounded the next mark still behind the GC and cracked off onto a tight reach which turned into more of a beam reach. The wind had finally returned so that we had full foil down and could sit around 20-23 knots. We caught up and passed the GC pretty quickly… but it was obvious they had some problem on port tack. They should have been smoking us, but were still lowriding.  Anyway… as they say in the classics… "stiff s**t":)
So we pushed on, rounded the island further and went to the big gennaker/staysail combo. The GC came around the corner, gybed onto starboard and sure enough… popped onto the foils and took off again. We could see Bella Mente parked up in the distance and knew the race was far from over. There was one mark to round before the 3/4 mile or so beat up to the line. It all looked very light and random in there so we stood offshore.
The GC had overtaken us again and the big Swan Odin had somehow managed to slide down the inside gifted by it's own personal breeze. We stayed away from the mass of boats as we sailed from one swirl of wind and velocity header to the next. Somehow we rounded the mark just ahead of most of them and then fought our way upwind finally using the 0 in anything from 5-15 knots of wind. After a long period in those super light and fickle conditions we knew the handicap was a lottery but were very happy with the way we sailed through the bunch to claim our own little victory. The GC was a wounded bird so no big conclusions can be drawn there. Phaedo is in another league and I have no idea what they experienced at the finish. Elvis sailed very well and the G4 was a long way back. The G4 really is an interesting boat… so was the Hobie/Ketterman tri-foiler. I'm glad both of them exist. So basically, there was a lot of randomness on todays course. It's a great course and event and a very interesting collection of boats. I'm very much enjoying sailing on Paradox. She's a great ride.
-Paul
April 18th, 2015
The girls are pretty darn good in the VOR in-port races, can they keep it up? Awesome shot by Rick Tomlinson.
April 17th, 2015
You say you've got the classic yawl bug? Oh do we have the boat for you then!  A 1961 Concordia Yawl 39′ Wood Sailboat "Dame of Sark" that will be auctioned on April 29, 2015 @ 1PM @ the Dodson Boatyard – 194 Water St., Stonington, CT.
Continually maintained by Dodson Boatyard since 1991 to the highest standards, DAME OF SARK has been completely rebuilt since 1995 and had the definitive Concordia refit in 2000-01. DAME OF SARK (hull #86) was built in 1961 at Abeking and Rasmussen Shipyard, Lemwerder, Germany (originally incorporating laminated oak frames that were stronger than the unsuccessful steam bent frames of earlier Concordias).
This might be a hell of an opportunity!  Click here for full details
April 17th, 2015
MAPFRE was penalized two points in the Volvo Ocean Race. Some say they should have been disqualified, some say they didn't do anything to make the boat faster, so why penalize them at all?
What's the all the fuss about? Jump in right here to find out.
April 17th, 2015