Big Pimpin'
It hasn't been around long, but already Eelsnot racing hull coating is making a big difference on the race course! In Key West, Eelsnot-coated boats tied for first in the J/111 class (Spiff lost on countback), grabbed 11th and 13th overall/3rd Corinthian (B-Squared) in the J/70 Class, and took 5th in the Melges 24 (Party Girl). Eelsnot kept the slime off and the speed up in Miami too, with Entourage taking 3rd Corinthian in the Jaguar Cup and J/70s scoring a 4th and 5th in their big fleet at Bacardi Sailing Week (Reach Around and Rascal).  
Use the coupon code ANARCHY and grab your 10% discount when ordering two or more tubs of Eelsnot from our pals at Latis International today, and don't forget to check out their other offerings; the awesome Raptor deck grip and the best dock boxes ever – Mobox.
March 23rd, 2015
As if racing at America's most exciting freshwater venue wasn't enough, the shiny, happy people of North Bonneville, Washington have just turned up the fun dial to 11 for every non-junior sailing event at the Columbia Gorge Racing Association in Cascade Locks, Oregon.  That's because N. Bonneville – just 11 minutes by car from the Locks and over the stupefying Bridge of the Gods - now has the world's only city-owned marijuana shop, with the serious dank, vape, and edibles to make you even the worst regatta results seem just hilarious.  We're not joking at all - the chronic is now legal for anyone over 21 on both sides of the Columbia, and if organizers can't come up with some cannachocolate bars or oatmeal-haze cookies in your regatta bag, they're not trying hard enough!
Just in time, too – the Melges 24 Class is showing a serious resurgence, with 33 teams already registered for a summertime Gorge Nationals, as teams begin to build towards the recently-announced and already highly anticipated 2016 Miami Worlds.  Get to the Gorge; we'll have more on their upcoming events for you soon.
Offshore racers, we haven't forgotten your substance abuse needs either – just check out the just-approved powdered alcohol that's coming to a ditch bag near you as soon as this summer!  Save weight in your gear bag and still give yourself something to warm up those cold, late watches.  No word yet on how it is to snort…
March 23rd, 2015
For a second straight year, the Great Lakes are closed for business.  Icebreakers notwithstanding, the mass of ice still clogs much of the lakes – which reached a hair under the >92% ice cover they reached during last year's record cold – and it's making a big dent on the bottom line of the companies that depend on freshwater transit.  There's more here in the NY Times, and the view on the left is SA'er '12345′ chillin' chilling on the ice pile up off Montrose Beach looking at Lake Michigan this past weekend.
Meanwhile, Arctic sea ice reached its lowest maximum extant since satellites starting measuring it 40 years ago.  Get your Northwest Passage cruising plans ready (and don't count on the $30,000 per person cruise ships – they're sold out), and see here.
March 23rd, 2015
Because history has shown just how effective walls are against nature, Japan is doing 400 km of their very own to prevent the kind of mass death the last tsunami caused.  Will 5 stories tall be enough? 
We like local mayor Tsuneaki Iguchi's comment, and it applies to everyone everywhere who lives on a major coast.  "We don't need the sea wall to be higher. What we do need is for everyone to evacuate," Iguchi said.  Read the full story here.
March 23rd, 2015
New dad Ryan Breymaier and Lending Club have topped the 4ksb threshold in a fairly major way, and it's just the beginning.  Photo credit to Quin Bisset and Q-and-K.
From Ryan:
"This was on our first day sailing after putting the 41 meter tall "big rig" in the boat – it's got 5 meters on the rig that Loick Peyron won the Route du Rhum with.  Sail plan was a single-reefed main and J1, sailing downwind in 27 knots of breeze. Everything is going well, and our preparations for record breaking are moving ahead nicely…"
March 22nd, 2015
McLaughlin Boat Works announced its 25th Anniversary PRO Racer Giveaway today. Widely considered the fastest and most durable Optimist in the world, the chance to win one of the prized PRO Racers is surely an opportunity not to be missed.
The drawing, open to sailors ages 8-15, runs now through the end of the 2015 calendar year.
Entry forms can be found online at www.optistuff.com.
March 22nd, 2015
Your Editor is peeing on himself like a puppy over the arrival of his new Wrace GP 26! The little rocket landed in Dago yesterday, designer Jim Donovan arrives next week to lend some adult supervision installing the kelp cutter and getting the rig sorted, the sexy new inventory of Doyle New Zealand sails arrive thereafter, and away we go. So incredibly stoked! And the name of the boat might be our best work yet…. FB post here.
March 21st, 2015
K-Mag slowly rolls out of Dodge….
The Timeshaver made it to the start of the Newport to Cabo race ! After months of prep we got to the start line with little incident. Our crew had been working tirelessly to make sure everything is perfect and it is. The start was mellow, we got stuck under some bigger masts but managed a way around.
Bowman Jack Maranto hit the sack fast as he realized we are in for a bout of upwind sailing. I think our crew member from Holland secretly likes the upwind sailing but here on the West Coast we are looking for something a little different. The forecast is for more fun down the coast, we just have to get away from here.
March 21st, 2015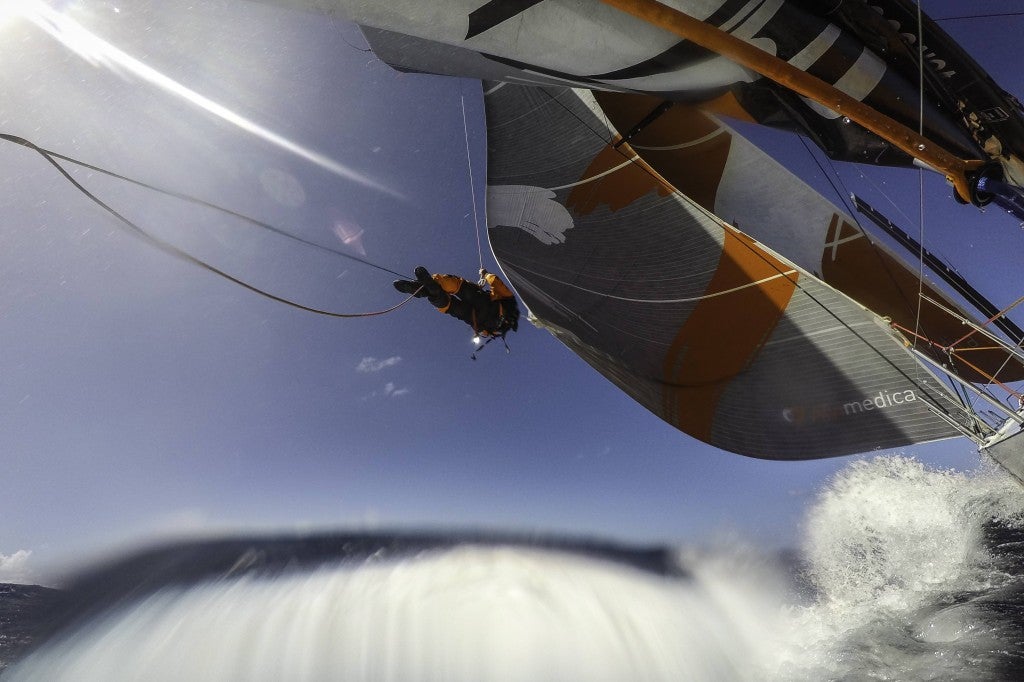 With thousands of photos coming through the Volvo Ocean Race satellite pipeline it's easy to skim past them, but this one sent in from Amory Ross a few days ago is, as of today, our favorite shot of the entire race.  It's likely Team Alvimedica bowman Nick Dana untrapping a halyard in big waves churned up by Cyclone Pam, and the tilt/shift effect on the crashing wave and the crispness of the headsail and logo create a truly unique and stunning contrast aboard the boat that's currently in the lead as they work their way into the Southern Ocean.  For one of the prettiest art shots of the race, check another Amory grab here.
Weather analysis, race chatter, and general yapping along with hundreds of your buddies in here.
March 20th, 2015
Does anyone else find it amazing that only 24 people died during one of the nastiest cyclone landfalls ever on one of the world's poorest islands?  We're all damned lucky to live in a time when most natural disasters are well known ahead of time, and everyone on the planet owes a debt to the multitudes of engineers and scientists who've made modern forecasting and observation possible. Check out this view of Pam as she hit Vanuatu, and head here for a high res gallery of the aftermath.
March 20th, 2015
Those of you who still think the 'second coming' story is real will probably not get this one either; instead, you might call your realtor to put in an offer…We promise we're not kidding when we tell you that this $2 million Bermuda America's Cup special 'fixer-upper' is actually named "Uppity".  Great views of the AC course top off this beauty – and according to the video walkthrough, she's selling at a discount.  Loaded African-Americans might want to look further afield…or at least change the name.
In other Cup news, Sailing Anarchy's new favorite is now Ben Ainslie Racing.  Not necessarily because we think they're going to win, but because BAR is the only team that's really thinking long term.  And with ETNZ's constant media shit show, they're now the most 'national' team – something that we find absolutely necessary if anyone is to turn around years of media, TV, and business model fails from Larry and Russell.  Ben would be a far better steward of the Cup and the competition than a confused old Ellison or the self-concerned Coutts.  Equally important is Ben's support – Portsmouth believes in him so much that they've given the BAR Portsmouth center 10 years of free rent Remember what San Francisco was prepared to give Larry after AC34?  A kick in the ass and a bill for $11M.
March 20th, 2015
PALO ALTO, CA—Explaining how economic conditions were drastically altering citizens' behavior and spending patterns, a report released Wednesday by researchers at Stanford Business School revealed that rising income inequality was causing more wealthy Americans to take on a second sailboat. "While those with higher incomes used to be able to get by with just a single reliable sailboat, that is no longer the case. Over the past 15 years, changing financial circumstances have led more and more affluent individuals across the country to get a second watercraft," said the report's lead researcher, Robert Anthony, adding that nowadays it's not uncommon for a rich American to have to juggle two, or sometimes even three 40-foot luxury sailing vessels, which are oftentimes located far apart from one another at different marinas.
March 20th, 2015
Truer words were never spoken. The Elliot 35 Crusader continues to light it up…
We just absolutely dominated the central triangle race wining every leg and taking out every trophy. One of the smallest boats in the fleet (giving 5ft of water line to many other boats including one canting keeler) but packing the biggest punch! I'm pretty sure we have now reached terminal velocity in a 35ft monohull, its somewhere around 27kts. Pure epic-ness. – BooBoo.
March 19th, 2015
Big Pimpin'
Madman Marine is a Brisbane, Australia based company established in 2013 to market autopilot remote controls and NMEA to WiFi Bridges. These low cost products have been sold to many different locations around the world and are enjoyed by owners of all different types of boat, whether sail or power, large or small.
Last year Madman Marine introduced the world first iSteer remote control which allows your Raymarine autopilot to be controlled easily and conveniently from an iPhone or iPad. As well as providing the usual 1 and 10 degree course change controls, most other functions such as autotack and mode selection are also provided in the iSteer app. The current autopilot mode, course and vessel heading are conveniently displayed along with a compass rose type display for those who'd rather not look at numbers.
All prices are in Australian currency and so even though Madman Marine products are already fantastic value for money, those in the US are particularly fortunate at present due to the current exchange rate which makes Madman Marine products even more favourably priced!
So for fast, friendly service and low cost products developed and used by a fellow sailor don't go past Madman Marine!
March 19th, 2015
Patrick Rynne of Waterlust fame sends this mouth cam shot  snapped last week in Turks and Caicos. He has a terrible life.
March 18th, 2015
Once again the central Sierras are too dry to support sailing this summer.
Southern California Edison gave us the bad news at the March 17th Big Creek community meeting. The word is that Huntington Lake levels will be higher for part of the summer but not high enough to hold the High Sierra Regatta. California is in the fourth year of drought now and things are getting serious. Last year the high elevation lakes were drained below the usual levels because of demands from the people who actually own the rights to the water. This year we are again running at 44% of normal precipitation, the snow pack is at 13% of normal for this time of the year.
The expected snow melt runoff will be 14% of normal. Recreation is far down the list of priorities well behind drinking water (several San Joaquin Valley cities are currently trucking in water for household use), water for farming (hundreds of thousands of acres are not being farmed because of water shortages) and power generation (the actual reason these lakes exist). As we were preparing for this year's regatta we could see there was a good chance we would not have enough water.
But we planned it like it was a sure thing. We have everything ready to go, Notice of Race, Race Instructions, new High Sierra Race Course Sheets that will allow us to implement a 5 new race format & professional race management…everything but a tee shirt design. We are just going to put it all in a box and pull it out for July 2016. SO…ave the dates July 10, & 11 and July 17 & 18 2016 for the rescheduled 61st annual High Sierra Regatta.
Of course you know the real reason this is happening is God punishing us for disrespecting Scott Tempesta a few years back. We are going to fix that by having Scott bring his amazing GP26 up in July 2016. In fact I have even taken the trouble to recommend a graphics package for it. After all, these boats are made for SPEED and another word for SPEED is METH and one synonym for METH is FRESNO…so… – Danial Irwin.
March 18th, 2015
Good drone video fascinates sailors, mostly because it gives us a view that helicopters have never been able to show us before – a close-up aerial.  For coaching, it's invaluable, but for everything else, UAV's are kind of a pain in the ass.
Drones are expensive when you consider that the average maritime operator loses 2-3 each year.  They're annoying and potentially unsafe – sooner or later, a big one's gonna go through a sail or hit someone in the face, and then they'll be banned from regattas. They're also now regulated throughout Europe, the US, and the Antipodes, and thanks to those regulations, drone pilots have jacked their prices up, often actually costing more than a helicopter rental.  And unless you're a top team with clever coaches and daily video debriefs, the footage really isn't worth much; you don't have the still-photo capability that a dude in a helo does, and a highlight reel editor only needs 20 or 30 seconds of HD aerials for his daily piece – it's just not worth the thousands of dollars that the geeks want to charge for it.
But a balloon?  A controllable blimp?  Cheap and reliable, with minimal battery requirements and the possibility of a long tether with a live HD feed?  Now that's something we can get into, and thanks to Massimo Tomassini and Petey Crawford for the discovery.  Anyone know more about this one?  Get in touch.
March 18th, 2015
Clean's obsession with Ted Kravitz's Formula 1 'Notebook' inspired his series of SA 'Dock Walks' this past year, and it's quickly become a crowd favorite whether at the Melges Worlds, VOR starts, or Key West.  Thankfully, awesome Aussie broadcaster Nic Douglass picked up the torch in Auckland, and her 40-minute dock walk gives you 'the real feel' of being an insider in a race like this as well as some shit you'd just never see otherwise.  It's long, it's rambling, and it's real – and quite a bit more interesting than the pretty but incredibly dull leg start…
Big thanks to Nic for sacrificing her spot on a start boat for this piece, and to photographer Jen Edney for making it all look good.  Two sailor chicks of the week?  Hell yes.
March 18th, 2015
How did these two end up without rigs? Click here and read all about it.
March 17th, 2015
Designer Robert Perry has been one of best friends and great contributors here at SA. When he sends us things like this, it makes us know that what we have been doing for 15 years has been worthwhile.
I posted a simple question about vangs for my new four Betts boat project on SA this morning. The response has been amazing. SA continues to be the very best resource anywhere at any time for data, ideas and info on sailing. It's like I have staff of 50 experts crowding my office. The WLYDO ( World's Largest Yacht Design Office we call it over on Cruising Anarchy).
Thanks for the effort it takes to keep this rambling on. I'd be sunk without it!
March 17th, 2015