With 3 weeks left to go until the insanity begins, the bookmakers have done their work, and the Olympic Sailing odds are in! For non-wagerers, numbers following names are how much you'd earn if you bet a dollar on the team.
We dig the guys and gals US 470 shot; 7 to 1 on both McNay/Hughes and Haegar/Provencha is solid odds; drop a few hundred and give yourself a reason to give a fuck!  No other American even made the odds list from Sportsbet; comment in the thread started by Gantt.
Top 5 for each class:
July 17th, 2016
Petey picks up another trophy crewing for Dan Cheresh in the growing C&C 30 fleet at their first North Americans this past weekend, and we dig the low (no)-budget video edit put together by old pal Alden.  Results.
July 17th, 2016
The Sun Fast 3600 Lit up on Saturday in the RNZYS winter series. Loving this boat!
Thanks to Paul Stubbs for the video. – Anarchist BooBoo.
July 17th, 2016
Rick Warner's ORMA 60 Arete (ex-Sopra) shattered her 2015 BYC-Mack record by more than an hour, beating in everything by a long, long way (as she should).  With the speedy old Windquest mothballed for the race (some of the DeVos clan will be racing cats in Harbor Springs next week), Arete was in another time zone from the rest of the fleet. Results are here.
We'd send you to the tracker, but we're boycotting it.  Hey Bayview, is it really necessary to require us to avow that we're 21 years old to watch a tracker?  Listen – we get that Bell's wants to get the exposure, and we think it's very cool that you have a brewery – an ex
cellent brewery – sponsoring your marquee race.  But consider the message you're sending to the public and your own aging membership: It says, "Hey Kids: Either lie on the form, or you're shit out of luck."
Keep an eye on SA's Facebook Page, we're we'll be doing some live stuff from the deck of the mighty trimaran during the Round Mackinac Island Race after the CYC Mack.
July 17th, 2016
Given that the Rio Olympics are just around the corner, we thought we'd take you to the greatest Olympic moment ever!
July 15th, 2016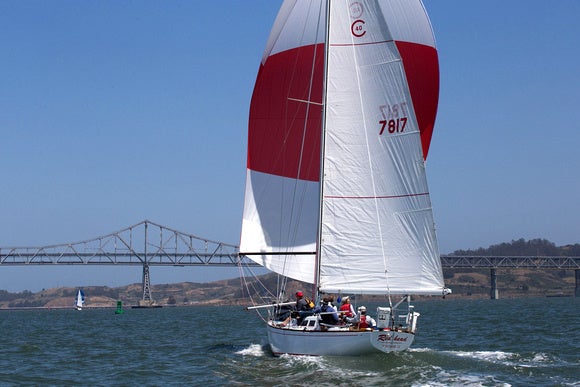 And they always have. Nice to see one  - Redhead – out front in the staggered start Pac Cup to Hawaii.
It's early days, but we are disappointed to see the Melges 32 Rufless get out of the blocks poorly. They had better hope that they start to get their conditions because if they do, they will shred.
Speaking of shredding, the 100′ Rio is looking at a weather window that could result in a sub 6 day passage. Believe it. And for the Moore 24 believers, belive in Mas as they lead in every handicap category! They will be ones to watch.
The usual assortment of marginal sailors and marginal boats are dropping out of the race, but what do you expect with a "run what ya brung" race to Hawaii?
Speaking of watching, watch 'em here. Know that the Pac Cup organizers (never the most progressive group) still think it is smart to have a 6y hour delay on the tracker. So lame.
July 15th, 2016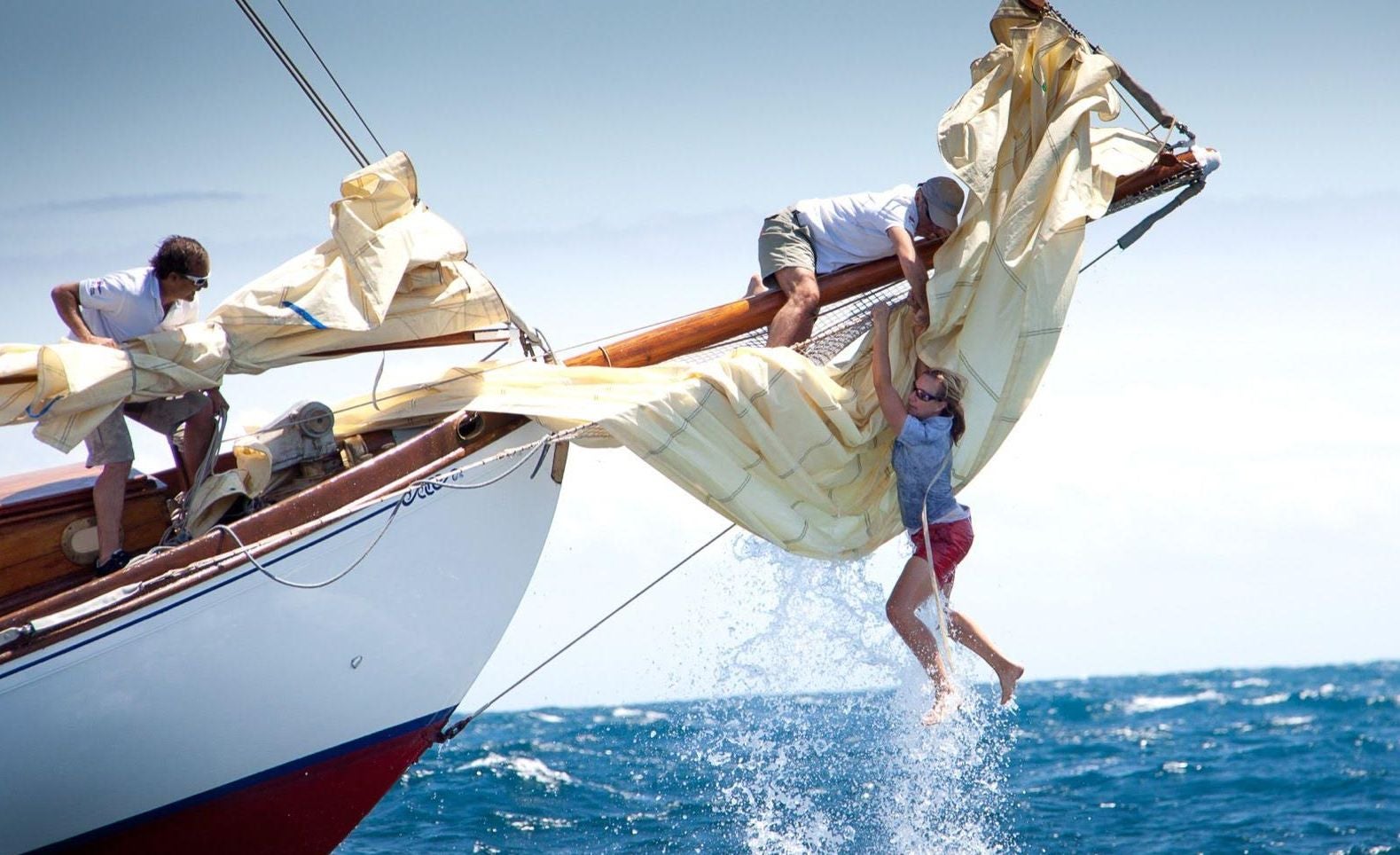 It would seem there are about a million ways to go here, and we suspect y'all will. Have fun! And thanks to Luis Fernandez for the great shot!
July 14th, 2016
It doesn't have to be this hard people. You can run an event that doesn't produce mountains of waste. You can have fun without destroying the environment. Do you like sailing in clean waters or do you want them to be filled with trash and shit?
Well guess what? You have to do something about it and its not that hard. For the 2016 Vineyard Cup we had over 1,000 Sailors walk through the tent over three days and we produced less than 4 pounds of trash.
Here's how it broke down:
5 32 gallon tubs of recyclables – All you need are separate LABELED bins and some kids to help point the old people in the right direction.
60 Gallons of Compost -TALK to your local Farms, they want and need this to produce great food. A lot of them will even take meat and seafood scraps as it increases nitrogen in the soil.
75 Cases (24) of returnable Bottles – The money from the returnables went to the High School kids who were happy to pick it up and take it.
17 Green Team program kids – Little Kids want to get involved and are easier to train than most adults.
7 Green Team program parents – Ok someone has to make sure the kid with the boogers isn't taking sips of the half empty beer bottles.
<4 Pounds of waste taken to the dump (mostly plastic bags that held ice cubes)nWe could have done better with this if the ice machine works
0 Paper products – Yes we used a rental company who does weddings, they gave us a deep discount to support our event…use partnerships.
0 Single serve water plastic bottles – Just ban them in your sailing instructions
100% locally sourced food (over 1,000 meals served) – Local Farms want to work with you. They would rather partner with a local organization than sell to a distributor.
87 Boats – So are you coming next year? www.vineyardcup.com
July 14th, 2016
Big Pimpin'
We are super stoked to have CST Composites back on board the World Famous Sailing Anarchy! Look for some fun carbon giveaways real soon!
CST Composites is looking forward to the 2016 Rio Olympics with a keen eye on the sailing events. Numerous sailors from different countries, across a number of different classes, are hoping to win gold in Rio, using CST Composite's latest tiller extension products. The tiller extensions are critical in steering the yachts through the course.
Australia's Olympic Gold medalists Nathan Outteridge and Iain Jensen racing in the lead-up to the Rio Olympics. Image courtesy Australian Sailing Team/Beau Outteridge.
Australia's Olympic Gold medalists Nathan Outteridge and Iain Jensen racing in the lead-up to the Rio Olympics. Image courtesy Australian Sailing Team/Beau Outteridge.using CST Composite's latest tiller extension products. The tiller extensions are critical in steering the yachts through the course.
They are the result of years of development by the Sydney-based carbon fiber and composite tubing, profiles and components manufacturer that had its beginnings in high performance sailing masts.
Founder and CEO Clive Watts, a keen sailor working for Hawker de Havilland on advanced aerospace composite components for Boeing in 1995, identified an opportunity in the high performance sailing market for filament wound masts. He set to work and built his own filament winding machine and software from first principles.
After winning several world titles CST Composites' filament wound sailing masts quickly became popular and remain the most technology advanced sailing filament wound masts on the market. Continued development of filament winding technology has enabled CST Composites to diversify into new niche markets and continue to develop its sailing products. Read on.
July 14th, 2016
It appears Pokemon Go is everywhere, as evidenced by these nerds in their nerd boats…
(Not really, this is the official opening of the Monaco Solar Boat Challenge. Organised by the Yacht Club de Monaco in collaboration with the UIM (Union Internationale Motonautique), it is a unique event as it is the first and only competition in the world for solar-powered boats on the open sea. The boats competing have not only been designed but are also being driven by students from international universities. More here.)
July 14th, 2016