Reader Rant
I see this SA front-page famousness again applied to a big fast catamaran. But from the dim and distant past, we remember that Nathanael Herreshoff began to build catamaran boats of his own design in 1877 such as Amaryllis (US Pat. No. 189,459). Both his design and his vision were roundly and permanently rejected by the mighty establishment.
Yet today, here on SA, we see a paean to the modern catamaran, labeled a Gunboat 55 no less, sailed by Brian Cohen, certainly a member of the establishment. Seeing this, perhaps a newly reincarnated Nathan H. could smile, and say "Shucks, fellas, ya just gotta believe in your vision".
Even 10 years ago I would have been a bit surprised at such a sentiment.
I once met such a properly dressed sailorman at the famous Jones IceCream store on US 131 in Baldwin, Michigan. This is a required stop when driving south to Chicago just after the Chi-Mac race.  Being friendly, I asked him about the most recent results, and was regaled with stories of the huge monohulls which had taken only a record 32 hours to win the 330 mile contest.  I responded that Stars and Stripes had done it in 22 hours and change several years before, but I got the famed Hawaiian "stink eye" from my new friend. "That's not a sailboat", growled he. "It's a God-damned catamaran". – Anarchist Dave.
July 9th, 2014
New York Angels founder Brian Cohen has made his mark on the business world by investing in over 200 disruptive start-up companies, though he is perhaps best known for being the original investor in Pinterest. So when it came time for Cohen to replace his Swan, the investment legend knew it was time for something a little more… disruptive.  Even Anarchist.  Very little in today's sailing market intrigued Brian until he discovered Gunboat, and the excellent new Gunboat 55.  We rarely publish gushing reports, but given the stature of this author and our love for all things Gunboat, we thought we'd share some glowing positive sentiments from a happy new boat owner. And to Brian: Keep disrupting, bro.  And for you grommets who don't know what we're referring to in the title of this piece, get educated, and don't forget to watch the video below Brian's thoughts.

My life has always involved technology disrupters. Little wonder that meant my sailing life would also be disrupted by the extraordinary vision of Peter Johnstone and my new Gunboat family of 100 artisan boat builders in North Carolina. From the moment RAINMAKER left the dock in Wanchese, headed for NYC, I knew my life would never be the same. Being the honored owner of the very first GUNBOAT 55 comes with the great responsibility of sharing its luxury, speed and grace with whomever I could. The sailing world has forever changed!
On Father's Day I took the first sail with my family on Long Island Sound and anchored in Huntington Harbor. If a sailing experience can be magical, this one was, and we all shared it together. We toasted the moment and then took turns at the wheel, sailing past every one, countless wide-eyed faces trying to figure out just exactly what it was that they were seeing.
On board we shared the exhilaration as RAINMAKER's speed dramatically accelerated, 12 knots, 13 knots, 14 knots, and screamed in harmony as she hit her stride at 18 knots. Screams gave way to giggles, everyone thoroughly enjoying the rush of fear and excitement of such an unknown experience. The boat's ease of use and power have created a new level of quality and performance expectation in the sailing universe.
My urge to sail RAINMAKER is very intense. I live in the West Village and have reserved a slip just 15 minutes away via the PATH train at the beautiful Newport Marina. Against the backdrop of the Manhattan skyline, and amongst the many 100'+ motor yachts, RAINMAKER's sailing power and luxury feel right at home.
We are fortunate to have the young but very experienced chief Gunboat skipper Chris Bailet onboard, who is quickly connecting with RAINMAKER's mind, as I become its soul. This past weekend with winds nearing 25 knots, we seamlessly climbed through speeds in the high teens and into the twenties, eventually flying faster than the wind!
I'm looking forward to getting RAINMAKER out on the racing circuit as soon as possible, our first test being the ALIR in late July, a race I won in 2002 aboard my Swan 40. If our early experiences are an indication of our potential, RAINMAKER will become a regular sight on the race course.
In the meantime, we'll be enjoying evening and weekend sails on the Hudson. If you happen to be in the New York Harbor, please come by and say hello.
-Brian
July 9th, 2014
One of Chicago's top sailors takes his shot at explaining why The Windy City was dropped in favor of The Windless City.  And then, of course, there's Bermuda…
I have been asked by many people about the AC being in Chicago and I could not ever see how it was ever a real or even potential possibility. I'm guessing by the lack of any real information about the "Chicago Bid," the team here never saw it as a real possibility either, but they did see a real potential for something. More on that later. Don't get me wrong: Chicago is an awesome place to sail part of the time, and frankly I saw that as the biggest hurdle.  Here's my list of 'issues' with the Chicago AC:
1) Think about it…In almost every real AC with a Louis Vuitton Series, teams were setting up at the venue site 15+ Months in advance! It has been rumored they want to hold the Cup races in July..Do you really see AC-62's or whatever they are sailing around Chicago during Strictly Sail Chicago? If you were here this year, you would have noticed one small issue with that…a foot-deep coating of glistening ice on the course.
2) Also, they have mentioned that Chicago has the facilities for teams and boats? I would like to know where that was going to be.  The lakefront is pretty jammed up with harbors, beaches and Navy Pier, and I can't see how there is room for these big beasts and their wings on the pier…go down there and check it out if you don't believe me.  Northerly Island? Well good luck with that…Either place would essentially have to be shut down and wow, would you need some very radical political support from the City, Mayor, Alderman, every tenant and business at Navy Pier etc…If someone was paying Chicago to host it would probably cost as much to fund both team NZL and Prada – and then some.
3) And what about the Race Area; is a 1.2 mile leg long enough for an AC62?  For a 45 sure, but for the new AC boat that sails at 45 knots…I doubt it. What if the breeze is out of the west or out of the east as it has been for so much of this summer? Anyone feel like watching 300 yard upwind legs?  Frankly, Oak Street Beach would be better.
4) $$$$$$….Where the hell is Chicago going to get the $ to host the Cup? We are maybe doing ok, but just barely…Frankly the money would have to come from the State and private backers and we know how that went in San Francisco.  Not well.
5) No matter what they say about Chicago being a very serious consideration, I'm guessing that was all lip service and never was for the actual Cup. They released the three candidate Cities' names and eliminated one pretty quickly – the ink had barely dried from the San Francisco elimination press release to the Chicago one.   If you asked was Chicago a serious consideration for an AC-45 event…for sure!  And in fact that would be a perfect fit without doubt, and I'm sure that is why Russell was here.
6) It makes perfect sense is for Chicago to host a AC-45 Event…Every reason above would not apply and frankly the 45, regatta is about a perfect fit, and that is not only doable, it would be simple and not cause too much disruption. It's a two to three week deal. I have always said an AC-45 will be the consolation prize and frankly one that makes good and frankly the best commercial sense for all involved.
Going forward to Bermuda vs SD….Well for sure, SD will get it. Bermuda will get an AC45 event. The one thing Bermuda has going for it is government backing (they can do that since they are Bermuda), and no doubt it would be great boost for the economy, but logistically for the teams it will be a nightmare! The only local draw will be that of the locals.
The thing with SD is its "local to the rest of CA" and easy to get to from the rest of the US, and world for that matter, though Europe becomes a bit more problematic.. If it did go to Bermuda it would be a real first and make for a very different Cup that is for sure…Would that be bad? It's a pretty nice place.
But if you think Coutts doesn't know exactly where the next AC will be held, you're crazy.  It's called 'getting a jump on the design game'…SD and Bermuda…Think they have similar conditions? Not liklely.
It's the same game that has been played for decades now. Not selecting a venue causes teams difficulty in raising money, putting challengers on their back foot…They now have another 5 months to keep people and syndicates guessing and losing time they need to study the conditions of the venue, to design and build the new boat. The guys at OR are not stupid, and they undoubtedly have confidentiality agreements with both locations to not leak anything.
Its all just logic…lets see how it all turns out, but not expecting any surprises nor should anybody else. The AC-45 is the real marketing deal from a global level, as the AC is a 'one and done' event rather than something that endures on an annual basis.
July 9th, 2014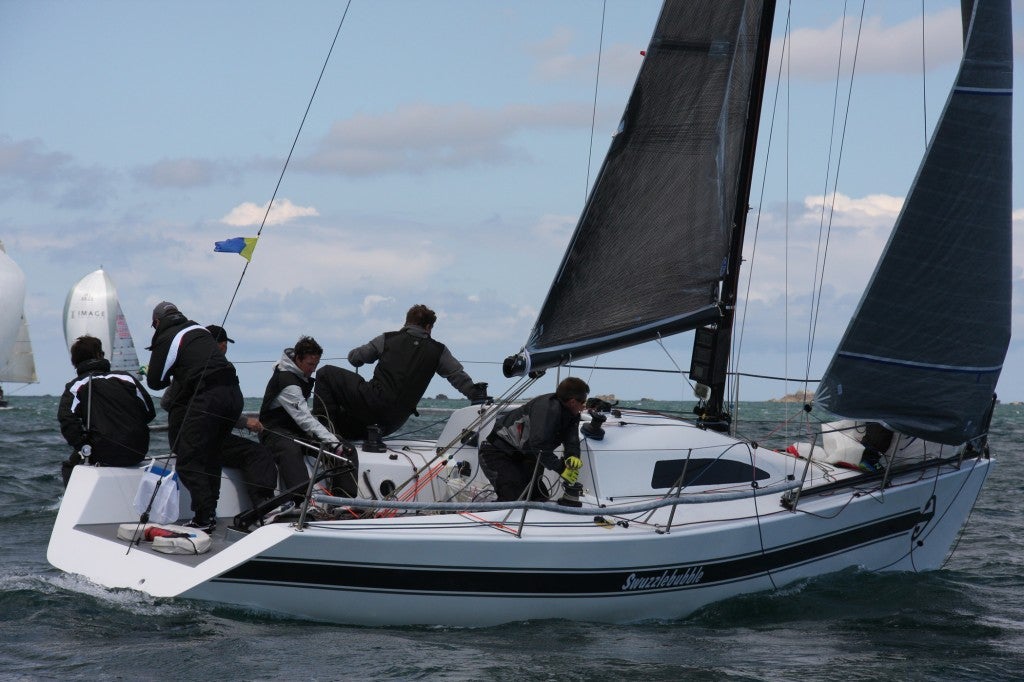 Maybe our all-time favorite boats ever is the legendary Farr half tonner Swuzzlebubble. So it is very cool to see it (albeit greatly modified) atop the leaderboard at the Half Ton  Classics Cup. More here. Photo thanks to Fiona Brown.
July 8th, 2014
AC Breaking
UPDATE: We were clearly dead wrong about San Diego losing their AC bid.  It was in fact Chicago that went down.  Our apologies for getting it wrong, and y'all can read the full press release here; it says that San Diego and Bermuda remain as the possible targets for Coutts and Ellison's "goal of hosting an exciting and successful America's Cup built on a strong commercial foundation."  We'll leave the text below as a lesson to ourselves…
Rest assured, San Diegans: You won't have to deal with any America's Cup crowds in 2017! Or is it?
With Anarchists reporting Russell Coutts traipsing around Navy Pier last weekend and an independent confirmation from Vsail's Pierre O, we can safely report that San Diego looks to be knocked out of the running to host the next America's Cup, and we expect a press release on Wednesday announcing just that.
Remaining will be Bermuda and Chicago, though we are nearly certain that Coutts is only keeping Bermuda on the hook as a negotiating tool.  At the end of the day, the months of national and international outrage that will erupt if  Coutts and Ellison carpetbag the Cup offshore will make Kingpost-gate look like a Sunday cartoon, creating the kind of unpredictable obstacle that can be near-impossible to overcome.  In other words, if Coutts wants to guarantee his vision fails and his wallet swells, he will choose Bermuda. If he wants a remote chance at commercial success, longevity, and a positive impact for sailing, Chicago's the only place left.
July 8th, 2014
What do you get when you mix the world's best sailing photographer, the world's best foiling sailor, and the world's prettiest boat graphics?  A damned nice screensaver, that's what!
You're looking at Moth World Champ and Luna Rossa sailor Bora Gulari (seated on hull, aft) surveying some of his full-foiling handiwork while the boys wait for the Cagliari sea breeze to kick in for some practice; go here to see some Borlenghi pics of the beast flying late last week, and here's some video. Check the Luna Rossa thread starting around here for loads more.
While Bora and the boys played at mach 1, Luna Rossa helmsman Francesco Bruni was taken apart by the boys in US blue in the Petit Finals of the WMRT stop in Sweden; Bruni sailed like a man possessed until that point, when Canfield made him look positively pedestrian.  Canfield took the final spot, while Swedish native Bjorn Hansen won his third-straight Swedish Match Cup, beating Ian Williams in the final.  Watch the final day action from Marstrand here (and watch for Gulari in this weekend's Mackinac race, navigating for Phil O'Niel's TP52 Natalie J).
July 8th, 2014
UPDATE: STATEMENT FROM J/BOATS:
"J/Boats have been in contact with the owner Andy Reid since the incident happened, in fact he will be in Newport soon on a scheduled trip already.  We're sorry to hear about the breakage and have already commenced our own internal review on the circumstances that may have led to the rudder post failure, working with our team of engineers, builders and materials specialists.  In the meantime, our condolences to the delivery crew and hope that all are well and in good health and spirits despite the circumstances."
We got news late last night that our most awesome Kiwi pal AJ Reid lost his new-last-year J/111 Django while on delivery back from Fiji.  You'll probably remember Django as the boat that won its first-ever race while handicapped by our own Mr. Clean aboard, and then went on to some great results in New Zealand and then last week's reported finish from the Fiji Race.  Here's a note we got from crew coordinator and Doyle NZ sailmaker Andy Pilcher late last night, and you can discuss the J/111 over in the thread:
For those that haven't heard, I'm sorry to announce that Django Racing has been abandoned about 300 miles North of Auckland, on her way home from Fiji.  At approx 11:00am NZ Time this morning, in winds averaging over 50 knots and seas over 5 meters, the rudder stock snapped between the two bearings, leaving the rudder swinging underneath the boat, trying to rip itself free.
The delivery crew sent out a request for assistance and set the liferaft up for immediate deployment, keeping in touch with Maritime Operations throughout the day via Satellite phone.  An Airforce P-3 Orion came by the boat to do a flyover, and fortunately,  NZ Navy Frigate Otago was in the region.  The Navy reached Django around 6 PM on Monday evening, when the crew made a hairy but successful transfer via lifeboat onto the Frigate.
We have spoken to the crew and they're safe and well, albeit very relieved and a bit shaken.   I suspect that the reality of the situation may not have set it yet for them.  Delivery skipper Ben Costello along with Bex Heilkema and Andrew Cooke  all responded exceptionally well, and did everything they could have done in the most seamanlike manner.   The boat was still floating when they transferred onto the frigate, and the rudder had not yet sheared off.  But with large cracks appearing around the area of the bottom bearings at the time of rescue and more gales and big seas forecast, we don't know how long she will last.
Otago is heading directly back to Auckland and we expect the crew to be safely back on land shortly.  That's all we know for now, we just wanted to let everyone know the facts as they currently stand.
Thanks for your thoughts and wishes,
Andy
July 8th, 2014
We wouldn't usually burn the majority of our readers' eyes with a photo of a naked dude and like 99% of the folks born after color TV was invented, we'd never heard of ESPN THE MAGAZINE until they put a nude sailor in their pages 2 years ago.  But we've gotta give some love to sailing's King of all Redheads and share him with our tens of thousands of female readers…right?  Jimmy appears in this month's 'Body Issue', and while he doesn't do the same justice to the genre that fellow Cross-Fitter Anna T did, the dude's got some seriously scary big deltoids.  Fittest male sailor in the sport?  Based on these pics, pretty close.  And he doesn't even have to grind!  Pic from Jimmy's Facebook Page, and a peek at the magazine (since we know you're not actually going to buy dead trees, right?) over here.  Don't get the title reference?  Get urban.
July 8th, 2014
We wonder if maybe folks should spend a little less time irritating the gods of the sea?  Check out this clip (and see the original here) of racing in the Transquadra aboard an Archambault 31, with subtitles from our own Mr. Clean.  The boat's name?  The White Whale.
And how about this one for a bit more whale fuck you?
July 7th, 2014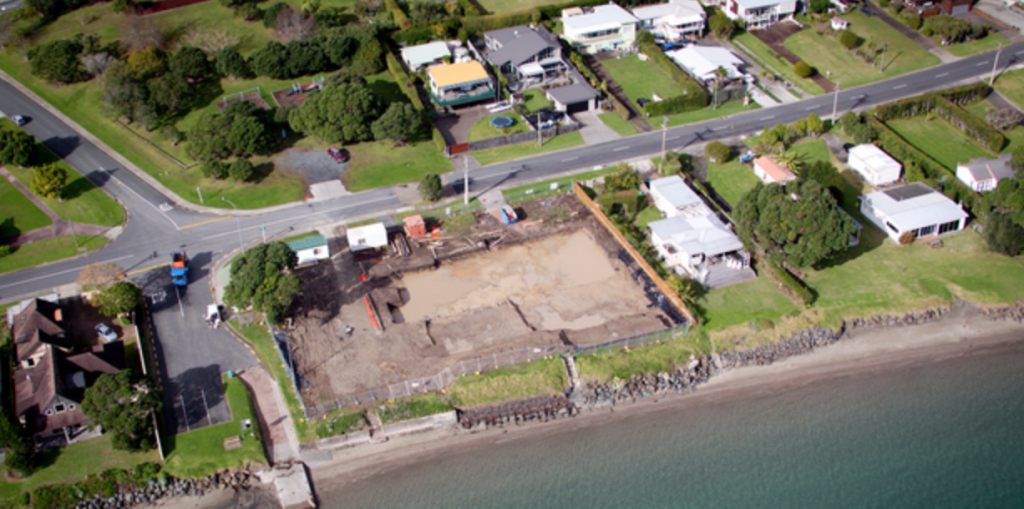 Any of you kids thinking about going into professional sailing after college?  Do it well, and you just might be able to build a $10M beachside mansion like Sir Russell Coutts!  Check it out; according to the NZ Herald, Coutts' contractors have just finished their demolition of the three houses on Tindall Beach in North Auckland to make the property ready for Sir Russell's 5-bedroom, 6-bath, 667 square meter (7200 s.f.) home.  This goes into a Coutts' real estate portfolio that includes apartments in Auckland and homes and farmland in Otago; he ain't Larry Ellison, but not too bad for a 52 year old sailor…
July 7th, 2014
Brian Hancock tells us the offshore SpeedDream is on hold for the moment, though they're still busy over in SpeedDreamland; Here's a look at something entirely different from outside-the-box designer Vlad Murnikov – the mxNova.  From Brian:
SpeedDream is about innovation. It's our touchstone yet it doesn't have to be as radical as a Flying Keel or a wave piercing bow and stepped hull. In fact, we have been working for a while on a classic racing keel boat, something that nobody has taken a fresh look at for a very, very long time. We are calling the project mxNova.
The iconic Star is well over 100 years old, and the Dragon is not much younger. More recent designs, the Etchell and Soling, are closing in on a half century since they were introduced. All of them have provided decades of glorious competition and spawned some of the world's best and best known sailors; guys like Dennis Conner, Russell Coutts, and Lowell North, to name just a few. In no way do we think that mxNova is going to take away any of the illustrious accomplishments of these classes, but we do think that it's time to take a new look at keel boats and bring in some fresh ideas.
Most recent keelboat designs are more ballasted dinghy than they are classic keelboat, intended to sail flat and relying on the crew for righting moment. We became curious as to whether there was room in sailing for a truly modern keel boat, a boat that is long, gracious and narrow and intended to sailed heeled with the ballast keel providing the power rather than bodies dangling over a lifeline.  The result is the mxNova prototype.
Naturally, the boat features SpeedDream's signature wave-piercing bow which gives way to a pleasantly narrow hull. There is nothing extraordinary about the design other than it's thoroughly modern, even slightly futuristic. There is ample sail area with a square top mainsail that can be easily twisted off to depower in the puffs. The rig is simple and does not require complicated running backstays. All in all you have a powerful boat that is easily driven, which is in itself is not revolutionary, but that's until you look below the waterline.
mxNova does not have SpeedDream's Flying Keel; instead she has a keel that can make the boat fly – or at least, change its displacement substantially.
Attached to the bulb of a normal looking fin keel are two transverse wings. On the trailing edge of each wing are adjustable flaps similar to a trim tab sometimes found on the aft end of a keel or rudder. Their purpose is to turn a symmetric foil into an asymmetric one thereby creating either down force, or lift when the boat sails upwind or downwind respectfully.
In the upwind configuration the flaps are up which creates a downwind force. This force 'sinks' the boat, providing 'virtual displacement', more stability and, by extension, more sail carrying capability. The opposite is needed when sailing downwind. With a control similar to one found on the Moth dinghy you adjust the angle of the keel flap to make it point down. The effect provides lift which in turn reduces displacement just when you need it. This minimizes drag and increases the boat's ability to plane. This simple mxNova feature brings the classic keel boat into the 21st century and provides a great tool for competitive sailors to maximize its performance.
That's the theory, but to make it work would require a lot of work – and money – and before committing to developing the new design we would like to hear back from the sailors of all stripes whether it's worth it or not. The attached renderings are here to inspire conversation.  What do you think?
July 7th, 2014
Anyone who spent last summer wincing at the sound of "Oracle Team USA" when referring to a 12-man team with 1.5 Americans aboard will be slightly happier to learn that the Team Alvimedica Volvo 65 will include at least 4 US-based sailors in its Newport-based boat.  Skippers Charlie Enright and Mark Towill officially named Newport badass Nick Dana to the crew, while Amory Ross will reprise his role as On-Board Reporter, though this time with far more freedom than he had during the PUMA days.  That's four Americans out of 9 total spots (including the media guy), and we understand that Enright is working hard to reach agreement with another US sailor, who we hear is San Fran skiff legend Matt Noble, though that remains unconfirmed.
We can't hide our disappointment that the kids behind who created the All-American Offshore Team decided they couldn't perform in the VOR with a young, fully US crew, especially given the non-Americans they named for their official roster: Inshore one-design racer Alberto Bolzan (ITA), 50 year-old navigator Will Oxley (AUS), and Kiwi Volvo Ocean Race backmarkers Ryan Houston (Delta Lloyd, Sanya) and Dave Swete (Sanya).  Could they really find no US offshore and inshore one-design performers with back-of-pack VOR experience like Housty and Swetey?
We admit that we know very little about the constraints the Alvi team is operating under, and we're happy to see that they are clearly serious about putting together a team with a chance.  But we're still sad to see the final nail in the coffin of the Morning Light/King's Point/All-American Offshore Team; a great bunch of kids that we've been following since we met the Disneys and the kids at the Morning Light premier about a decade ago.
Head over to the Team Alvi Facebook Page here for the full story, and re-live Mark and Charlie's first VOR interview with SA from all the way back in February.
July 7th, 2014
Fifty-Fifty, the 2 masted carbon catamaran training for 46th "Blue Ribbon" regatta on the Lake Balaton, Hungary from Gabor Tursci.
July 5th, 2014
Seems a perfect video for the Fourth of July. Enjoy.
Wayne Roberts built his own beautiful cruising boat and sailed his young family through the South Pacific for several years on a meager budget. Filmmakers from OffCenterHarbor.com captured these thoughts from Wayne on how to find pure bliss in your own boat.
You can click here to get 10 more of OffCenterHarbor.com's best videos.
July 4th, 2014
Come again some other day. Jesus Renedo rules. So does NIN. From the European ORC Championships in Valencia.
July 3rd, 2014
With all of the racing news that SA has published in the past 24 hours, we'd be off our game to not give Maitre Coq skipper Jeremie Beyou some love. The 38-year old has just claimed overall victory in the 45th edition of La Solitaire du Figaro for the third time, writing his name into the history books alongside the likes of Mich Desj and Jean Le Cam. After four stages and nearly 2,000 miles of sailing In virtually every type of wind and sea state, Beyou stuck to a long-term game plan and finished on the podium of all four legs. En route to winning the final leg and securing his own fate, Beyou methodically covered second-placed Corentin Horeau like butter plays toast to win the overall by 18 minutes. Looks like young Corentin may have learned a few things from the master himself, Desjoyeaux, after sailing with him in this spring's Transat AG2R.
The race was riddled with drama as leaders faltered, not once but twice with rigging failure and dismasting; a pressing issue within the class. Again providing the closest ocean racing you'll find, the Figaro class is seeing explosive growth and investment in young English talent, mostly supported by Artemis, and the English talent pool runs deep. A hard-charging and relentless Sam Matson barely got beat for top rookie honors by former Mini champ Gwenolé Gahinet to finish 15th while a humbled Sam Goodchild was next best Brit, finishing 22nd overall after a stellar performance last year. With a quarter of the Figaro fleet now British, and with Artemis graduates getting their hands on GAC Pindar money, regional based sponsorships and more, it's only a matter of time before we see some fresh, young, built-from-the-ground-up English Figaro talent come up through the ranks to find the necessary resources to move into the IMOCA class.
As for Beyou, the man continues to prove why his long-term sponsor Maitre Coq, a frozen-chicken producer, happily backs him and why he has Armel's old Banque Pop Open 60. With another year of practice and training and a TJV podium-finish under his belt on the new steed, we can't wait to see Jeremie face off head to head against Francois Gabart, Vincent Riou and the rest of the IMOCA regulars in a star-studded Route du Rhum race this November where SA will, of course, be live at the start. – Ronnie Simpson.
July 3rd, 2014
We're actually surprised this doesn't happen more often. Max Ranchi's photographic timing couldn't have been better as he caught these two unfortunate crew members hitting the drink after a lifeline failed at the ORC Euros. At least they got picked up!
July 3rd, 2014
As the summer season kicks into full swing, so do the cameras, and man, have we got a lot of video for you to check out this week!
Modern Classic
The sexy Arbor 26, a wooden performance yacht, designed by Simon Rodgers. We like!
Game Changers 
On the VOR front, We are warming up rapidly to the Franco-Swiss-Sino Team Dongfeng vibe. For the first time in modern memory, a major race entry from a nontraditional sailing nation (though China would argue that one) has more than one or two crew from the home nation, and in fact Wolf, Leo, Horace and Kit epitomize the Wechat/Facebook generation of young Chinese. They're incredible ambassadors, capable of blowing away a lot of stereotypes, and if the team can do decently well, they will undoubtedly have hundreds of millions of rabid fans. And with four Chinese under 30 aboard, their power and speed might just make up for a lot of experience, especially with a couple of Groupama 70 vets, several Figaro masters, and even some RTW multihull record holders aboard.
Will they win? We have no idea, and we don't think it likely. Might they finally nail that holy grail that the VOR, WMRT, America's Cup, and every other sailing series has failed miserably at over the past decade – the fan-ization and opening up of sailing to the world's largest population? They have the best chance yet. Another great piece of work from Sam Greenfield – if you only watch one of these, watch this one.
Night Moves
Here's something you don't see every day: A nighttime delivery of the ETNZ Extreme 40 through the heart of St. Petersburg in advance of the first-ever ESS in Mother Russia.  Blair Tuke helmed ETNZ to the final podium spot (with Glenn Ashby replaced by Ray Davies, while Gash was off winning his 4,000th A-Cat Worlds),  just ahead of Big Ben and Pals, while the sole American at the event, Morgan Larson, continued to show his skills off, beating two-time ESS champion Leigh Macmillian again and cementing Alinghi's lead over the fleet.  The racing on the final day was some of the most bizarre we've seen; legs of less than a quarter mile – about a minute – with breeze to 20 knots made things well worth watching.  Is it similar to your racing? Probably not. But it ain't bad. Watch thefinal day of racing at this link.
The Big One
2014′s biggest event for ultra-performane sailing happens in just a couple of weeks, and with nearly 130 Moths registered for the Hayling Island Moth Worlds, there's plenty of spectating ahead in what will undoubtedly be the biggest Moth World Championship in the 80+ year history of the class.  Current World Champ Bora Gulari has been tight-lipped about whether he can get away from the drawing board at Luna Rossa Challenge and still hasn't registered for the event, though LR stablemate Chris Draper is on the list, and should be a factor if the South Coast breeze is off.   And with the emergence of the Exocet Moth as a very quick alternative to the long-dominant Mach 2, we may yet see someone fast enough to beat Nathan Outerridge, the cream of the current Mach 2 crop.   A nice promo from Beau "Bangin The Corner" Outerridge is above; the smack talking is over here.
Big Ben's Neighborhood 
As exciting as it is to see China's possibilities in the biggest crewed offshore race in the world, it's just as cool that Ben Ainslie is leading the UK back to the America's Cup.  No nation has a more important history with the AC, no nation cares more about its yacht racing, and if you're looking for rabid, knowledgable fans and a great pool of national sailing resources, Britain is the place for it.  We're stoked for Ben, stoked for his team, and stoked for Portsmouth, which announced around US$ 13 Million in funding and a site plan approval for Ben's ambitious new America's Cup base.  Here's a quick animation of how it'll look; hit the announcement for all the details (and chat about Team UK in the thread here.)
Morning Wood
What's prettier than a perfectly restored wooden boat?  Not much.  This slideshow comes from last weekend's Master Mariners Wooden Boat Show at Corithian YC in Tiburon, California this past weekend. Thanks to Anarchist Black Jack for the tip, and there's a thread here.
Commonly Uncommon
Anyone who's done a few ocean miles has come into contact with a big ship offshore; a usually quite cool and occasionally terrifying experience.  In this video, Ian Walker's Abu Dhabi team gets buzzed by a yachting captain aboard the Queen Mary 2 in the middle of the Atlantic.  Bonus fact: Walker's great-grandfather was a tugboat captain for the original Queen Mary.
July 2nd, 2014
Local Knowledge
The sun starting to drop at 10:30 pm during Bohusracet. Ahead are the two leading boats, behind 180 chasing ones.
Bohusracet is Sweden's largest doublehanded race with almost 200 boats starting. 170 miles of sailing through the beautiful archipelago of Bohuslän on the Swedish West coast. Starting Friday with 40 miles inshore, continuing through the night offshore and during sunrise going inshore again before finishing Saturday night keeps you awake and constantly concentrated.
Tactics, strategy, serious navigation and constant competition during thirty hours makes this one of the greatest races you can find on earth. – Anarchist Sam.
July 2nd, 2014
What about a shot of the boat that transformed it all, the Farr 727 quarter tonner "45 South", with the man himself at the helm of his first IOR winner. No IOR boats planed etc. till then. 727s are still going strong in NZ. – Anarchist Charles.
July 2nd, 2014