Here lies the once mighty Anarchy, rendered impotent by it's awful owner. Good news, we hope to be sailing January 28 in the CRA "Winter is Coming Regatta", sponsored by Sailing Anarchy!
December 29th, 2016
The 2016 Rolex Sydney Hobart Yacht Race was rather more benign than usual if blasting along at over 20 knots of boat speed in 30 kts of breeze is classed as benign.
It was not without its challenges however with the River Derwent playing some of her usual tricks on the sailors with some reporting having to spend significant time at anchor with the wind disappearing coupled to an adverse ebb tide.
None of these factors seemed to have a bad effect on Perpetual Loyal who benefitted from the north easterly breeze suiting her mode and she literally smoked the existing record set by Wild Oats XI by around 5 hours arriving in the pouring rain in the early hours of this morning. Two other boats also relegated Wild Oats XI down the "fastest ever"standings with Giacomo, the former Groupama from two Volvo Ocean Races back and the much fancied Scallywag both beating the previous race record but it was Giacomo's pace that most deserved of mention which resulted in her winning the battle in IRC from Loyal, Ichi Ban, last year's winner Balance and what was the surprise package, UBox.
At some point in the race each of these contenders filled each of the places at the top of the leaderboard but it was Giacomo's extra pace, getting her in before the wind in the Derwent went light for the night that won the day.
At one point, as Matt Allen's wife boarded the plane for Hobart, Ichi Ban was ahead of UBox and as she sat down on the aircraft, who should be next to her but Wang Bin, owner of the Chinese entry. On comparing smart phones it could be seen UBox had slipped behind Ichi Ban. By the time those phones were switched again in Hobart, places had been reversed – it was that kind of race.
Throughout the third day, and as they entered what was to prove to be a relatively windless Derwent River, many of the main contenders were almost in sight of each other with Balance, Ichi Ban, Varuna 6 and UBox all in the same wind pattern 0-5 knots. While this was happening Alive, a local Hobart boat came round the corner and sailed strait past all of them and outside Storm Bay a second Cookson 50, and previous winner, Victoire was charging down the coast at a speed that was multiples of the four in the Derwent's steely grip.
Initial estimates of ETAs were continually being stretched but the four crossed the line in relatively close proximity with the last member of the quartet being UBox around 1845.
In the meantime CQS arrived and did the customary parade along the wharfs. It was quite extraordinary watching her using her canting keel to "bow" to the assembled crowds as she paraded along the jetty before entering Constitution Dock. It has to be said that without exception each boat received a huge reception from the spectators, hospitality on arrival which, although in much smaller numbers, those gathered clearly matched the enthusiasm shown by the people of Sydney at the start just a couple of days earlier.
Ichi Ban and Varuna were followed up the river by Balance and, close behind, UBox who received one of the loudest welcomes, not least from the 50 or so Chinese who had flown in just to watch their friend's team's first entry in the Sidney Hobart.
For UBox skipper Charles Caudrelier, it must have been a love/hate moment as Giacomo, the boat that sat at the top of the leaderboard in IRC had been, as Groupama, his ride in the Volvo Ocean Race and of course as Franck Cammas' Watch Captain did him proud. Now it was one of two boats sitting above him in the 2016 Rolex Sydney Hobart race.
As this report was started, in IRC it was Giacomo was 1st overall with Perpetual Loyal 2nd and UBox filling the podium in 3rd  while over in ORCi it was UBox that filled the top spot.
These positions looked pretty safe but it was not until the next day dawned after a night of little wind did these early arrivals start to breathe more easily as the majority of the racers still at sea had not had the opportunity to overhaul them with fresher breeze but it was very interesting to see some of the slower boats, including the oldest boat in the fleet being projected as filling the top ten.
However by lunch time on day 3 there had been no shocks to any of the already finished leaders and right now it is not exactly blowing dogs off chains here in Hobart.
- Shanghai Sailor
December 29th, 2016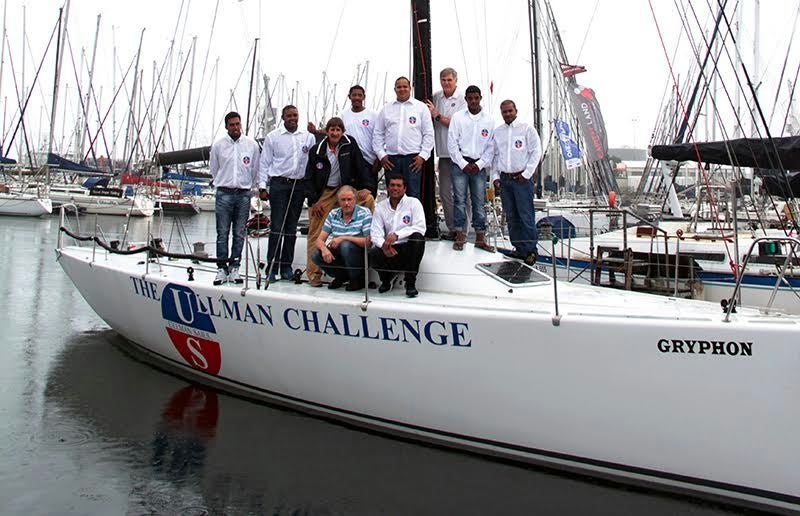 Ok this one is personal. I grew up sailing on a small inland lake in South Africa. We belonged to a blue collar yacht club and traveled all over the country sailing regattas. This was during apartheid and it never occurred to me, or any of the others I was racing against, that there were only white people sailing. We just assumed that black people were not interested in sailing. How absurd, but that was how things were back then.
Fast forward three decades and some of the best sailors in South Africa are black or colored and this story is about one particular team of sailors who will take to the start line on New Years day for the 44th edition of the iconic Cape to Rio Yacht Race. It's an extraordinary story of having a dream and sticking with it until the dream came true.
 In the small town of Hout Bay on the back side of Table Mountain there is a non-profit, the Hout Bay Youth Sailing Development Trust (HBYSDT), set up, in their words, "to make sailing more accessible to previously disadvantaged communities and use sailing and the love for sport as a tool to transcend social barriers." They have encouraged youth from really impoverished areas around Cape Town to try sailing as a way to expand their horizons and possibly as a way out of their not-so-ideal circumstances. And it's worked and here is just one story of how it has worked.
A number of non-white sailors had already enjoyed some success out on the race course and some had done the Rio Race in the past, but they wanted to put together a team of youth sailors from impoverished backgrounds to compete with the idea of winning the Rio Race. There are many government programs in South Africa that provide money for sports but these sailors did not want a handout. They reasoned that if they were going to compete on an even footing with the rest of the fleet they were going to have to get the start line the same way as all the others. They were going to have to buy a boat and find sponsorship and so with life savings pooled they were able to scrape together enough money to buy a fairly tricked out ILC 40. Step 1 accomplished.
It was a bold move but it showed that they meant business. Now that they had their boat they needed a slogan and the one that made the most sense and epitomized their campaign was "Following a Dream." Yes I know to some that can sound a bit corny, but remember these are people who grew up in immense poverty where the idea of chasing a dream was as absurd as the idea of racing across the ocean to Brazil. Slogans can be powerful and with determination they knocked on doors looking for sponsorship. They had a good story but sponsorship dollars can be elusive and the clock was quickly ticking toward the start of the race.
The project leader is a man by the same of Andre Julius. Andre is the manager of the membrane plant at Jannie Reuvers Sails in Cape Town and over the last few decades has helped build the company into one of the biggest and most successful sailmaking companies in the world. Despite being well connected in the sailing and business scene in Cape Town, Andre and his team were finding it difficult to land a sponsor. That was when Ullman Sails decided to step in and help. They found it a compelling story not only because of the background of the sailors, but because they had made a decision to do this on their own without any government support.
Jan Reuvers first come to Cape Town almost 40 years ago also looking to follow his own dream of starting a sail loft. With no money, just an idea, Jan was able build a very successful company. He did so against the odds but with enthusiasm and hard work. Sitting with Andre in his office it struck him that the story of this team of sailors "Following a Dream" was very reminiscent of his own life story and that was how the Ullman Challenge came to be.
Skip Novak, one of the most accomplished sailors in the world, is Brand Ambassador for Ullman Sails and has taken on the role of mentoring the team. Skip has faced his own difficulties with sailing projects (the keel breaking off the maxi-boat Drum just weeks before the start of the 85/86 Whitbread is one example). He recently took a group of Israeli's and Palestinian's on an expedition to Antarctica as a way to build dialog between the two disparate groups. And it worked. Skip has encouraged the young crew to embrace the challenge and deal with adversity as it comes their way because for sure they will have plenty of challenges to face on the way to Rio.
I am looking back on this project from the privileged position of being a 20 year old white kid that got his first offshore break racing in the 1979 Cape to Uruguay race (sanctions prevented the race from going to Rio). That single opportunity opened up an extraordinary life for me for which I am truly grateful. I can't wait to see what this crew, led by their 27 year old skipper Theo Yon, does with their lives once the race is over. I am sure that they will not only find success for themselves, but their bold move to tackle the race without any support; just a dream and enthusiasm, will be an inspiration for others to work their way out of poverty and use sailing as a tool for a better life.
-Brian Hancock
December 29th, 2016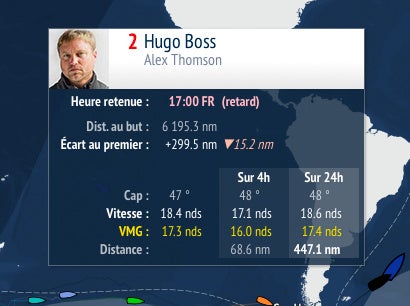 Does second place make you a retard? Props to Anarchist Vince for spying this one!
December 28th, 2016
Big Pimpin'
The coming year is a big one for round-the-world racing, with the Vendée Globe reaching its climax at the start of 2017 and the Volvo Ocean Race kicking off at the end of the year. Musto is closely involved in both events, with three of the big Vendée names opting to partner with Musto for their three-month solo circumnavigation. Musto is also the official clothing partner for the Volvo, with a number of crews choosing to wear Musto for their own nine-month adventure around the planet.
One man who knows both events better than most is new CEO of the Volvo Ocean Race, Mark Turner. It was Turner who ran Ellen MacArthur's Vendée Globe campaign in 2000 when the diminutive 24-year-old finished runner-up at her first attempt on the solo classic. MacArthur was wearing Musto then and Turner has worked closely with the British brand ever since.
'I think from a technical perspective Musto has been the most consistent performer,' says Turner. 'If you want to know you're going to be protected in the best possible way in an offshore environment, you will never go wrong with Musto. And I think any sailor would agree with that. There are plenty of other products, obviously, so there are choices, but the one brand that you know from an offshore perspective that is going to give you at least as good, if not better, than anything else, is going to be Musto.' Read on.
December 28th, 2016
Scientific wing Analysis By Alessandro Fiumara – Assystem France and ISAE-Supaéro; Julien Senter – Assystem France; Nicolas Gourdain & Vincent Chapin – ISAE-Supaéro; and Prashanth Shankara – Siemens PLM Software
The America's Cup, affectionately known as the "Auld Mug," is the oldest sporting trophy in the world dating back to 1851. Pushing the limits of sailing and sailors alike, the prestigious competition has seen a surge of interest in recent years riding on the coattails of fast yachts, technological innovations, high profile athletes and teams backed by billionaires.
Catamarans introduced in the 2013 America's Cup were faster than the wind, thanks to the introduction of hydrofoils and of solid two elements wingsails, which share similarities with high-lift aircraft wings. The wingsails were based on rules and guidelines outlined in the AC72 class, used in the main race, and the AC45 class, used for preliminary races and training.
The newer class catamarans are unlike any other previous catamarans, reaching twice the wind speed and hydrofoiling on water, leading to a surge in spectator interest. The 35th America's Cup will be held in June 2017 on the Great Sound of Bermuda and will be raced in the new AC50 class, a wing sail powered, fast, foiling catamaran smaller than the AC 72, manned by a six member crew.
Compared to conventional "soft" sails, a wingsail is much more complex, providing lift with variable camber, controlled by a flexible or jointed structure. The wingsails offer greater aerodynamic efficiency compared to the canonical sails and better performance, as seen by top speeds of around 47 knots (87 km/h) in the races. While this has made the races faster and more exciting to the viewing public, the challenges lie – as always – in handling these wingsails and managing their aeroelastic behavior to achieve the highest performance during navigation.
These wing sails are difficult to control and the research on their stability in multiple scenarios is still evolving. Finding a stable setting in all navigation conditions for these wing sails is challenging and there have already been a couple of instances of catamarans "flipping" or "falling over" due to this instability. As in the aerodynamic stall of an airplane wing, these wing sails can stall during operation and it is crucial for designers to understand their stall behavior under different wind conditions.
To further the understanding of wing sail behavior, a PhD research project was initiated by Assystem France, an international engineering and innovation consultancy, and the Department of Aerodynamics, Energetics and Propulsion (DAEP) at ISAE-Supaéro, the renowned French Aerospace Engineering School.
Read on, courtesy of our friends at The Maritime Executive.
December 27th, 2016
It goes without saying that President King Orange Hitler and his oil loving, environment hating cabal of jackals are all in favor of fracking everywhere and anywhere they want.  And exactly who in the fuck is going to stop them?
Attorney General Kamala D. Harris and the California Coastal Commission have filed a lawsuit challenging the U.S. Department of the Interior's final environmental assessment, which clears the way for hydraulic fracturing (fracking), acidizing, and other advanced well treatments on the Pacific Outer Continental Shelf off the coast of California. The suit was filed on December 19.
In addition to extending our reliance on fossil fuels, research links these types of well stimulation treatments with increased water and air pollution, as well as the potential to harm marine life, says Harris.
"We must take every possible step to protect our precious coastline and ocean," she said. "The U.S. Department of Interior's inadequate environmental assessment would open the door to practices like fracking that may pose a threat to the health and well-being of California communities. We must balance our energy needs with our longstanding commitment to protecting our natural resources and public health."
In 2013, it came to light that advanced well treatments were being used off California's coastline, prompting two environmental organizations to file lawsuits challenging the use of fracking and acidizing offshore without adequate environmental review. – Read on.
December 27th, 2016
This is a Kiwi 35. Or, at least it used to be. From the owner: "I started to modify the KIWI 35, the  infamous light flyer with wings from the 80′s. It took 6 years  from original to present performance with new keel, bulb, carbon spars from a Farr 30, new rudder, bow , wings taken off, reinforce hull and many many others list too long…this year we achieved the top of Everest by winning the prestigious Heineken Regatta in St.Maarten, and whole season showed top performance."
See the rest of the boat here, thanks to Laurens Morel.
December 27th, 2016
We have two SA Forum exclusive title sponsorships available for companies that trade in these areas: Dinghy Anarchy and Gear Anarchy. We have nearly 70,000 registered forum members who have posted over 5 million threads, making our forums a great place to advertise.
The titles of the two avails are fairly self explanatory, but if anyone would like to know more about the details of the offer, hit us up straight away as these two are not likely to be available for long!
December 27th, 2016
Environment
Rochester Institute of Technology (RIT) researchers have found alarmingly high concentrations of plastic debris in the Great Lakes. According to their latest inventory estimates, nearly 10,000 metric tons (22 million pounds) of plastic debris enter the Great Lakes every year from the United States and Canada.
Earlier studies estimated that 40,000 to 110,000 metric tons of plastics enter the oceans along the U.S. coastline. And other studies have estimated that roughly four million to 12 million tons of plastic enter the oceans annually.
We may know a lot about plastics entering the oceans, but according to a 2015 University of Waterloo report, very little is known about plastic entering the Great Lakes.
(Not to worry. Under King Orange Hitler, not only will absolutely nothing be done about this, how long until it is illegal to even report on such issues?  All hail the new King. – ed)
December 27th, 2016