An absolutely gorgeous shot from Sweden, but one that also says no racing for the Lysekil Women's Match.
August 9th, 2016
On the day the Olympics begin, World Sailing CEO Andy Hunt sends an email outlining the plans for addressing the classes for the 2020 Olympics. As is typical of any organization who wants to hide bad news, you do so at a time when many are otherwise distracted. Like Christmas morning. What better day to do this than the day the Olympics begins, otherwise known as Christmas morning for Olympic sailors?
Forget the fact that as of the time this is written, Tuesday morning, the World Sailing website still does not have the results of yesterday's racing tabulated, sailors are listed alphabetically, not according to low point totals. Worse, Lijia Xu the defending Laser Radial Gold medalist from China was tossed out of the second race, but the News section of the World Sailing site still has no mention of this fact.
Not only is World Sailing sending out an email about classes for 2020 on the day the Olympics begin, they also artificially compress the timeline for a response by the classes. Worse, they are hiring a consultant, PWC, to tell them what they want to hear, who just happens to be Swiss based. Where is the IOC based? Switzerland. Coincidence? You decide.
Of course, there is no real solid reason given for any of this, just lots of pithy corporate-speak. Speculation by more than a few informed sources suggests it is the 470 and Finn which are in danger of being flicked, and being replaced by some version of kites/foilers. Maybe mens and women kites and the Moth to replace them.
There's really nothing wrong with having a discussion about what classes should be in the Olympics, but to do so under the cover of a baseline set by a consulting firm whose motives are different than the culture of the sport that will have to support their conclusions is just wrong, and likely counterproductive to the best interest of the health of the sport overall.
But then consider World Sailing can't even tabulate results or update an important news story for the event that pays their bills. If the CEO World Sailing can't insure the timely and proper reporting of results for the regatta that gives the organization their reason for being, how can anyone assume he can be replied upon for anything else of importance to the greater good of the sport? – Peter Huston.
August 9th, 2016
We couldn't think of a better Ricky Bobby quote to afix to the extended sprit of our Laser SB3 Shake & Bake! We wanna go fast at PCYC in Mississauga, Ontario.  - Brian and Matt W.
August 8th, 2016
Cruising Anarchy
Heeding the coast guard and race committees advice, approximately one third of the 2016 Pacific Cup fleet chose to wait offshore for tropical storm Darby to pass the Hawaiian islands before heading to the finish line at the Kaneohe YC in Oahu.
Being in the cruising division, the crew of "Bear Boat" a Jeanneau 40.3 passed their time swimming, fishing and, as shown in the photo and video, hitting USCG approved biodegradable "Eco" golf balls into the Pacific. Now that's a large water hazard! Photo thanks to Dwayne Sullivan.
August 8th, 2016
Brad Funk really is the definition of an Anarchist, marching to a completely different beat, restrained only by his own ethical compass, a love of nature, and occasional commands from the Martian overlords and vapor trail creators.  And while the Funkster may have missed out (again) on the Olympics, he made it down to Rio and already is making a bigger splash than any of the sailors.  Here's an inspiring Olympic story that hit about a thousand international publications thanks to a pickup from Reuters…
There's something in the water at the Rio Olympics. In fact, there are a lot of things — condoms, cans, shoes, diapers, plastic bags, rotaviruses, superbacteria, raw sewage and the occasional corpse.

Best not to touch, smell or swallow. If you're an Olympic sailor, best not to capsize. If you're an Olympic open-water swimmer, best to have a cast-iron stomach.

Guanabara Bay is spectacularly challenging and notoriously polluted. Sailors have a love-hate relationship with the venue of powerful currents, shifting breezes and hazardous levels of e coli. One lousy piece of debris that catches on a centerboard or wraps around a rudder can ruin a race.

But a brave and selfless man — Fort Lauderdale's Brad Funk — made it his mission to clean up the contaminated bay on behalf of his fellow sailors. It was a Sisyphean task — akin to one gardener irrigating the Sahara desert — but Funk tried. Wearing two pairs of gloves, wielding nets and baskets, Funk scooped nearly 800 pounds of junk out of the bay where his friends will compete starting Monday.

"No Olympic medal should be won or lost because of trash in the water," he said. "Rio is my favorite place in the world to sail and it would be a shame if the regatta was compromised by pollution."

Funk made his garbage-collecting forays on a boat named Ulysses. He did not encounter Cyclops or Circe. But he did have to navigate through a fetid stew of dead fish, floating furniture and submerged TVs.
August 8th, 2016
We couldn't resist.  Got PIB (Pussy On Board) stories?  Here's the thread.
August 8th, 2016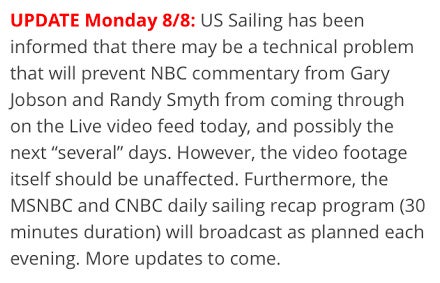 While overall US ratings are down an astonishing 32% from London, it's amazing how every other sport has superb coverage, yet sailing always seems to have some sort of fuckery associated with it. Not hearing Jobson, however, is hardly a loss at all, but let's face it – while a few hardcore watchers are happy with pretty pictures alone, sailing video without informed commentary will struggle to hang on to real fans, much less earn one new interested observer.  The production team's fuckup reaches monumental proportions against the political backdrop: After London's production of the sailing events ranked almost at the bottom of all Olympic sports in total viewership, the IOC told World Sailing they needed to figure out how to pull their weight or risk consequences, and their solution; hire the same producer who pulled those shit ratings, and hope he doesn't fuck anything up…
From Anarchist Bill: Olympic streaming commentary: just watched the RS:X race. Really outstanding video, and wonderful without commentary. I don't need someone telling me what's going on, particularly as their occasional graphics were excellent. Gary and Randy may be great, but sailing is so much better without talking heads.
Americans with cable can watch the coverage, for what it's worth, over here.  Those without can find legal, free streams through one of these links.  Sketchier stuff for our visitors from far-off lands with good anti-spoofing software and smart clicking, you can brave these spam-filled feeds for live sailing.
August 8th, 2016
The Hydrofoil Pro Tour combines with the San Francisco Bay Challenge today. The racing starts in front of Crissy Field, rounds a weather mark near the Golden Gate Bridge and then becomes an open course downwind to Berkeley Marina and back. The SF Bay Challenge has been one of the longest running races in the bay. Tactics become critical based on navigation, obstructions, boat traffic, and pressure zones. Planning properly for wind conditions throughout the entire bay is always a mild guessing game. Looking for the leeward buoy and the Berkeley pier becomes a landmark guessing game for the racers, especially the first timers.
Today also provided some entertainment with the local outrigger paddle boats racing along the shoreline of Crissy Field and sharing the National Park with other watermen. Both kiters and windsurfers raced the course with Johnny Heineken finishing in just over 45 minutes and Nico Parlier a mere 19 seconds behind. You can not drive to Berkeley and back in that time! The bullet finisher for the windsurfers finished in just over 88 minutes. That is on a formula board meant for speed. The hydrofoil kite racing is truly amazing in terms of speed. More here.
August 7th, 2016
In under two years the Fast40+ fleet has grown from a nucleus of three boats to 14 competing in September's 2016 One Ton Cup. More new builds and uprated existing boats are set to join the circuit from the UK, Sweden and Germany with 15-20 entries expected in 2017.
The Fast40+ is an owner-driver class of very high-performing boats with a maximum crew of 11 including five professional Cat3 sailors. The 2016 circuit consists of six rounds, all to count, the highlight being the One Ton Cup. The awarding of the One Ton Cup was made possible through the support of the Cercle de la Voile de Paris (Paris Yacht Club), recognising the profile of a growing class that they consider worthy of such a trophy. Hamble Yacht Services are the presenting partner for the event.
That the Fast40+ Class is growing has a lot to do with the tremendous support from the boat owners and supporting marine companies and regatta organisers. There has been a huge effort, which has resulted in the class expanding so quickly. Fast40+ owners have a substantial appetite to compete in these very quick boats, sailing faster courses in boats with more dynamic systems than traditional fleets. That said, it is not just about the boats, we have a very capable team of professionals running our programme. Former Olympian Stuart Childerley, race director and Andrew Yates, class measurer, are both highly respected within international racing circles. Read on.
August 7th, 2016
Mr. Clean looking like he knows he's gonna get his ass whupped at the Sunfish Masters US Nationals. See Sunny Side Up, below for more.
August 5th, 2016