Here's a couple hints: It is new and it is sailing. Now complete the equation, please!
September 22nd, 2014
A little community update from the Parkstone Yacht Club 'Barts' Bash 21st September 2014
What a day and what a race! Bright sun, 10 to 18 knots of northerly breeze, and a rather astonishing entry of over 200 boats, and 600 competitors gathered to celebrate Barts Bash at Parkstone Yacht Club. Competitors raced in four fleets, two youth starts and two adult starts, with the adult dinghy start of ninety-two boats hitting the line within a few seconds of each other. The sight of this fleet powering their way down the harbour was something the helpers and independent observers for the Guinness book of records will remember for a long time. The fleet was led away by the eventual first boat to finish, a Dart, closely followed by a 49 er and a junk rigged day boat. The course was a tour of the harbour, over 10 km in length and with several challenging legs, tacking between islands and shallows. The youth fleets raced on a smaller circuit near the Club, with a mass of Toppers, Optimists and unique to Poole, the tiny AB dinghy.
The presentation after the event was on the balcony, by Barts friend and ex Olympian, and now team SCA sailor, Annie Lush. Annie told the audience of Barts generous character, and how he supported the Match race Girls during the 2012 Olympics, by staying behind after winning his medal, and working with the team everyday, a truly kind and generous spirit.
Bart sailed a J 24 at Parkstone with Annie and current Olympian Ally Young, so he would have been immensely proud of his legacy at Parkstone Yacht Club. Annie presented prizes to the first overall in most fleets, but the best applause was for the youngest competitor, a one year old in a J 24 and the oldest combined crew of a Poole Dolphin, where the three crew averaged over eighty.
Parkstone Yacht Club are delighted to have supported Barts charity and we hope that this event will become an annual part of our calendar, it was a brilliant gathering of old and young, racers and cruisers, and a great legacy for Bart. – Anarchist David.
September 22nd, 2014
We wanna be 19. This is U of M and Hope college having a little fun at an Ohio State Regatta. Props to Anarchist Jeff.
September 22nd, 2014
Webb Chiles checks in from his office….
Yesterday morning I was hand steering GANNET in forty knot winds and big seas that were coming from my blind side—I've been blind in my right eye for three years—and so slamming into GANNET and me unexpectedly. Heavy blows, a couple of which knocked me off my seat on a flotation cushion. I couldn't leave the tiller long enough to duck below and get the safety harness, so while steering with one knee I tied a bowline into a sail tie and looped it through the slotted toe rail as a wrist strap.
When I did see those waves coming, I turned and we surfed at ten and twelve knots, Maybe more. I wasn't always looking at the Velocitek.
I was pushing hard to complete this passage from Neiafu, Tonga, before winds of gale force on the beam became gale force head winds. I was hand steering because all four of my tiller pilots had died. One had been repaired and died twice, so that really makes five. It wouldn't have mattered. They couldn't have handled those breaking seas.
I made it, reaching the Quarantine Dock at Opua Marina just before sunset, at the tiller except for briefest of intervals to get a drink of water, eat a protein bar, and use the piss pot, from 9 a.m. to 5 p.m.
I based my last boat, THE HAWKE OF TUONELA, here and love the place. I named GANNET after handsome gold headed birds that I enjoyed watching with my sunset drink hunt above HAWKE. They are big birds and hit the water like cannon balls, As GANNET and I sailed across the bay yesterday two gannets flew across our bow.
I've liked New Zealand ever since I first sailed in almost forty years ago, but it is not a good place to dry out a wet boat, and GANNET was, and still mostly is, epic wet. CHIDIOCK TICHBORNE wet; and CHIDIOCK TICHBORNE didn't have a deck.
So a Moore 24 has crossed the Pacific Ocean in four months. Actually a day less, I left San Diego on May 20 and arrived in Opua on September 20, but it was still September 19 in San Diego.
By straight line noon to noon positions we sailed 6408 miles
My year's work is done. I have a great office.
September 22nd, 2014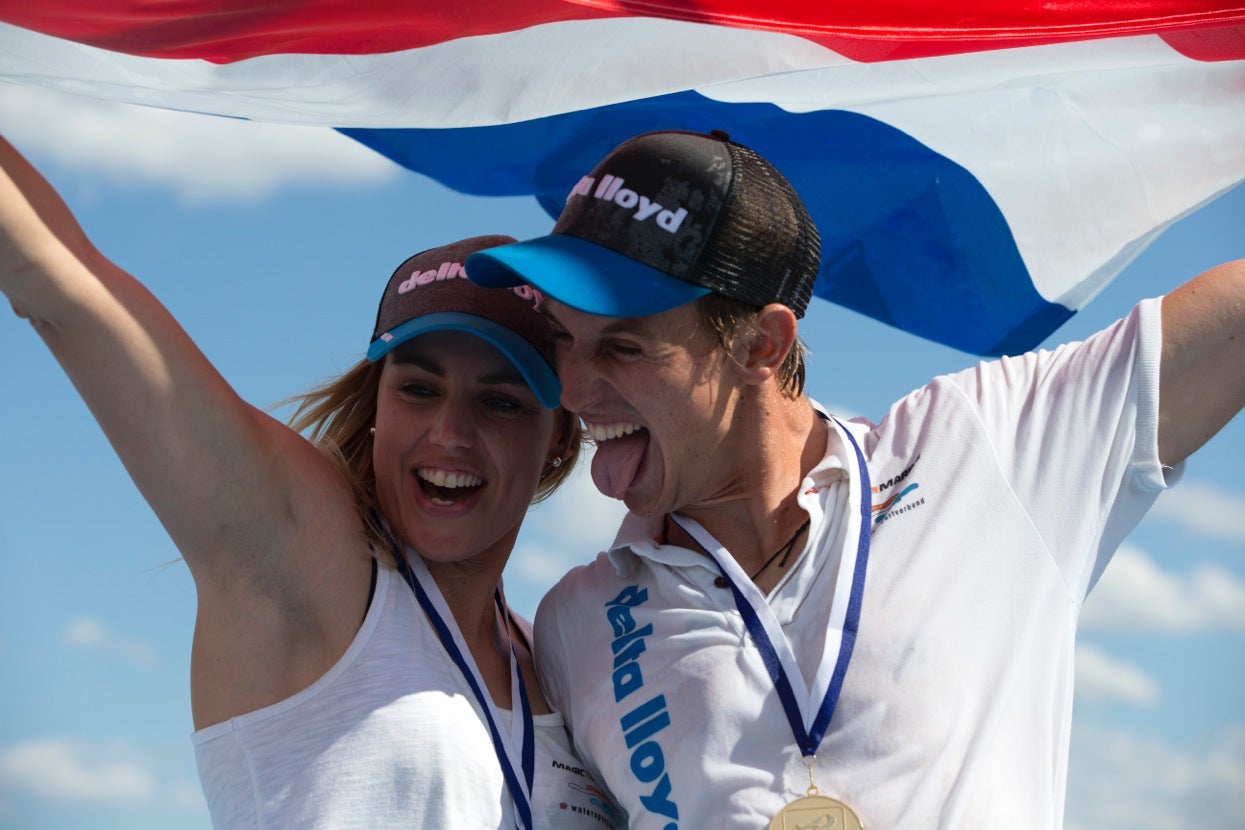 Holland hit well above its weight at the Santander World Cup Champs with former SCOTW Merit B taking gold in Laser Radial and Nicholas Heiner doing the same in full rig.  No medals (again) for the US team, though solid top tens in 4 classes and some awesome racing from another past SCOTW – Erika Reineke – bode well for the future.  We hope.  Beautiful work from R&R at Ocean Images, and title inspiration goes to a truly badass song from one of the punk-chick greats.
September 22nd, 2014
Bulgarian native Rossi Milev is a maple-waving Canadian in everything but his accent, and he's been at the very top of the boatbuilding game for a long time.  Responsible in part for the Canadian C-Class team's success as one of its lead boatbuilders throughout the 2000s as well as the 'babysitter' for the BMW/Oracle 90 DoGzilla at anchor in Valencia, Rossi's first love is far less technologically advanced: It's the J/24.  Rossi's been sailing 24s since television was invented, and he's been tantalizingly close to taking a Worlds more than once.  Now that he doesn't have to worry about Italian or Brazilian juries, he's making a run for this week's J/24 Worlds in Newport with full support from Sailing Anarchy and team sponsor Lavalife.com.  Here's our first of a full week's worth of reports from Rossi, previewing the fleet for the SA'ers.
It's thirty-six years later and the boat everyone loves to hate, yet produced many of the top sailors in the world, has returned home to Newport for the 2014 J24 World Championships.  Worlds brings 71 boats representing 13 nations and some of the best and most talented sailors in the world, proving for yet another year that the class will keep on trucking long after most of us are too broken to sail it.
Focusing on improving one of the toughest parts of a J/24 Worlds, the Class has made a major effort to simplify the measurement process, without sacrificing the strict one design class rules. Tim and Marie Winger, with the help of many local and international volunteers, have done a great job and after just 1 day of measurement, many boats hit the water.
One can feel the excitement and anticipation in the air, as day one of racing quickly approaches and teams are out on the water practicing. It's clear there is no lack of talent among the group, with former world champions and talented new teams here to compete, narrowing the top boats is almost impossible, but let's give it a try.
Team Helly Hanson, the reigning World Champion, with John Mollicone, 2013′s North American Champion, at the helm, is going to be tough to beat in their home waters. Especially coming only weeks after Team HH with skipper, Tim Healy, soundly took the first ever J/70 World Title here in the same waters.
Four time World Champion Mauricio Santa Cruz of Brazil returns with his team Bruschetta and a brand new Waterline Systems built J24; if he takes this one, he matches Ken Read for the most J/24 World titles.
Will Welles is on fire having just won the US National Championship a few weeks ago; if they can keep up the momentum, they'll be tough to beat.
Mike Ingham is another 'always a bridesmaid' skipper at J/24 Worlds;  the new European Champion and current North American Champion returns with his same international team, looking for the big one.
Tony Parker, with his boat Bangor Packet, has been in the class since he bought his first J24 in 1979. He has competed in many Worlds and placed in the top three before. He is bringing his very experienced team and is ready to win.
Longtime Class supporter and top performer Mark Hillman was set to compete in collaboration with Japan's Sumio Shimyama sharing the helm 50/50, but an injury forced Sumio out and brought longtime SA friend George Peet into the fray.  With the consistently strong Hillman at the helm, this team will definitely be in contention.
Travis Odenbach placed third at the 2013 Worlds and is a past North American Champion. He has worked very hard in the class and has put together a talented young team, making it very likely Team Honey Badger will be in the hunt.
With such a deep and talented fleet, there are far more boats to look out for than just the above.  Here are a couple of potential spoilers:
A young and talented skipper from fleet 50, Mike Marshall "aka Maverick" on Pipe Dream is a local favorite and won a 5-leg practice race that the fleet abandoned after four.   Frithjof Schade of Germany placed in the top 5 at last years Worlds and is among one of the top competitors in the vibrant European fleet.  Greg Griffin's Team Tarheel  has an extremely experienced crew and will likely have some top finishes.
As in any championship there are sure to be a few wild cards and this regatta will be no exception, with many local Fleet 50 sailors and former J/24 World Champions like Anthony Kotoun and Jens Hookanson spread through the fleet, their performance is anyone's guess.  With big tides and moderate to strong Southerlies set to begin the week, the next J/24 World Champion is anyone's guess.
Thanks to my sponsors Lavalife.com and Sailing Anarchy, my Canadian/US team Clear Air hopes to be strong contenders.  Look for our daily reports right here all week with photos like these from Chris Howell, with full galleries here.  You can follow the action right on the J/24 Facebook Page.
-Rossi Milev, CAN 5483
September 22nd, 2014
In 2006, the Pindar team launched the most powerful Open 60 ever built – a title the boat would never relinquish.  Unfortunately for Mike Sanderson (for whom the boat was designed and built) and later Alex Thomson, the boat was never a contender.  Too powerful and draggy, too hard to sail, and too physically demanding for even the strongest IMOCA men, Pindar was plagued by drama, failure, and weak results.  
Even in the hands of Alex Thomson, the JuanK boat was a dog (imagine that, a JuanK boat being a dog), relegated to corporate and PR sailing duty while Alex and his team sourced other boats for his racing.  And while losing a racing boat is never a good thing, we have to say that the world may be a better place without more JuanK grand prix boats around.  The embattled Argentine has to be relatively happy with this calamity; at least this one didn't break in half, lose a keel, or kill anyone.  More on the wreck from Alex Thomson management team 5West boss and long time Anarchist Stew Hosford:
The boat had been laid up in LA since the end of a tour last year for our sponsor, and we chartered the boat to a new IMOCA team in Europe to who were going to enter this winter's Barcelona World Race. Our team were bringing her back to Europe via Panama for a re-fit when TS Odile started to appear in the Pacific. We had worked out a number of stopping-off points in case of hurricanes with the team securing her in Cabo San Lucas well in advance of the hurricane strike, and given the forecasts, it was a massive shock to the team, city, and nation when the storm intensified into a hurricane and bore straight down on Cabo.
By all accounts, the storm was brutal; "The End of the Earth", as locals called it, shocked the entire region, and the morning after the storm hit, the picture you see above is what greeted our delivery team.  The boat was remarkably still in her berth, but took serious damage from flying debris and boats that had come loose, floating around while still attached to big chunks of dock and pontoon.
For the first few days, the team used what they could salvage – freeze dried food, water, diesel, and satphones – to help locals near the marina.  But without comms, electricity, or any way to get off the peninsula, the situation began to deteriorate badly into the looting and later, military response that's been widely reported.   It rapidly became a crisis situation for us, and the guys on the ground somehow managed to get a small plane out of Cabo and return safely to the states.
So now what?  To be honest, it is not clear; while we are used to dealing with crisis at sea, this is something of a new problem for us.  The boat is most definitely not seaworthy and remains tied to her slip, but until the local government gets control over security and infrastructure, there's not much we can do besides work on a plan for what happens next.  Given the intensity of the hurricane, the loss of life and property, and the fact that there are many people still trapped there, it is a stark reminder of what can quickly go wrong.  Everyone here has great hopes for the people still on the ground, and we wish them all the best of luck.
September 21st, 2014
Two time AC winning skipper Jimmy Spithill takes to the waters of Pewaukee, WI this weekend as the Mystery Guest for the long running Blue Chip.  No surprise that Scowbilly Video is on hand in the form of Petey Crawford.  Here's a short report from our videographer extraordinaire:
While the direction wasn't that desirable for this small lake, the velocity built all day, with major carnage rolling in with puffs well into the 30s when all was said and done.  31 legs in 3 races created lots of opportunity for spills and thrills and I was stoked that we were on hand to capture it. With aerial footage from Sean and Tiffany Fidler and our cameras rolling at deck level, we got just about all of the action I could fit on a barrel full of SD cards. This year's mystery guest Jimmy Spithill had a blast "launching around the lake" and seemed to pick up on racing E scows pretty quickly. He laughed later about the time he was looking for a grinder for the main.  "TRIM!…wait…that's my job…oh, never mind…EASE!" was how we heard it went down.
Despite the rockstar talent on hand, the day belonged to a 13 year old with a pretty good name of his own; Harry Melges IV (a/k/a "H4″) ended the day with just 3 points.  I told you after Nationals that we'd be seeing H4 kicking our asses for many years to come…I just didn't expect it to be this soon, and in this much breeze.  Watch this space for more on young H4 and of course another breezy day in Pewaukee on the penultimate day of summer 2014.
September 21st, 2014
Olson 30′s rule, but we swear to fuck we don't why the hell people steer from the low side…. More coming on this from Anarchist Scot.
September 19th, 2014
Next time you hear someone complain about poor participation in their local fleet or the lack of new sailors, tell them to think outside the box the way the Columbia Yacht Club does.  Story from ColYC Membership Manager Morgan Kinney.
It all started with a text message. "So I have an idea for a race," wrote Russell Woelfel, a National Brand Ambassador from Goose Island Beer Company.  Russell has been educating racers about beer at sailing events at Columbia Yacht Club [and at the annual Winter Anarchy party -ed] for 2 years now, and a month and a half ago, he pitched an idea that would becomee the largest single day buoy race in the city.
Russell envisioned a fun night of racing and introducing Goose Island employees to a sport that their company sponsors. As soon as the conversation was over, I ran with the idea – a free race with free post-race beer, free 12-packs for all registered boats, and guest crew members. The low cost was possible thanks to the use of a crappy free scoring program, registering via Google Docs, and, of course, all libations provided by Goose.
A Wednesday night race the week after the Beer Can Series ended seemed like an optimal date; no conflicting races, but plenty of boats still willing to go play in the lake.  We were shooting for 15 boats in August when I met with Russell and Jack Blake, Goose Island's Field Activation Coordinator. Another Goose and local racer Jason Gilbert and I tag-teamed hassling boats to enter with little luck at first, but by the end of the month, we reached our goal at 20 boats. A week later, we doubled it​​. By 5PM on race day, we were hosting a Wednesday night race with 54 boats on the line.
There weren't even enough Geese to go around, and several boats were mildly insulted that they didn't have a guest crew member – anyone from a sales rep to a head brewer. Herding the Geese to their boats was a bit like herding geese, but they all made their boat call, which was quite impressive in and of itself. They boarded everything from the Andrews 77 Ocean to one-designs like the J/105 and T-10s.
We could have hardly asked for better weather – a steady 10 knots in cool, fall breeze. I paced aboard the club ship drinking stress relief tea, hoping that the breeze didn't die, praying that the Geese were having a good time and swearing up and down that boats would mind their manners. At a few miles offshore all I could see were tiny twinklings of lights on the horizon. At 8:30 P.M., all I could think was, "Fuck, it's dark. I should've started the race an hour earlier. Wait; it's a night race – darkness is fine." But finally those twinkling lights got brighter and the boats started packing onto the dock.
If the Geese wanted to be put to work, they were put to work. "I was doing it! Down there squirreling the kite and pulling it up," Jack acted out the tasks he accomplished once ashore. Another couple of women were awestruck after sailing on a Beneteau 36.7, "This was the best time I've had all year!"
More than 350 people from 54 boats returned to the club to go through three kegs and devour 1,200 tacos on a Wednesday night in mid-September.
September 19th, 2014
 It's not like Larry Ellison's job as CEO of Oracle Software has had a negative impact on his quality of life over the past decade, but as of yesterday, the ultra-fit 70 year old and world's highest-paid executive is going to have a bunch more free time to engage in his hobbies: Basketball, tennis, motorboats, yacht racing, botox, marriages, and of course crushing his enemies, seeing them driven before him, and hearing the lamentation of their women…  Ellison leaves longtime executives Safra Catz and Mark Hurd as co-CEOs, while Larry will stay on top of things as Chief Technology Officer.
Big thanks to the 80s for the extremely appropriate title.
September 19th, 2014
Jesus Renedo's collegue Barbara nailed it today with this shot of the ISAF 49er leaders, the Kiwis Peter Burling and Blair Tuke. Wow!
September 18th, 2014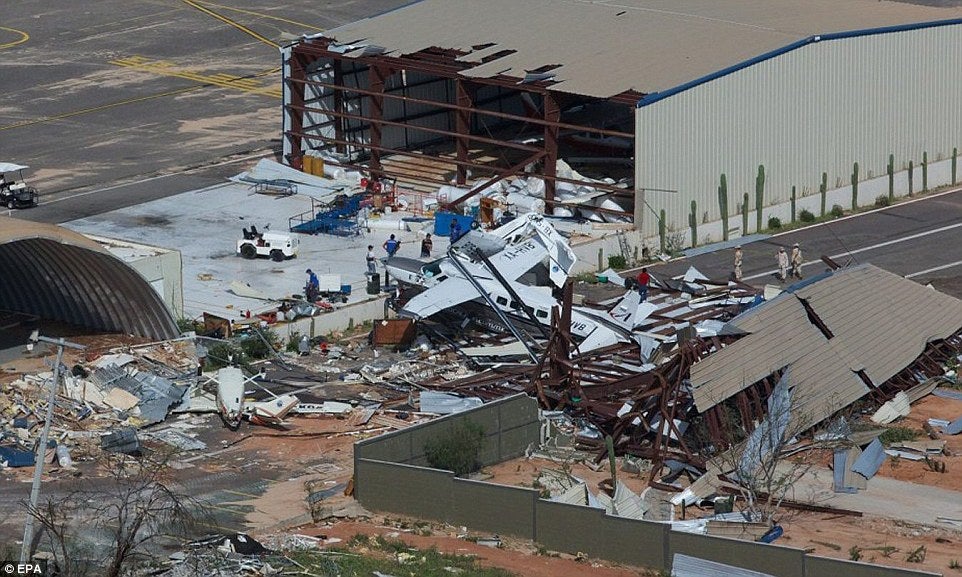 Missing cruisers, busted boats, widespread looting, stranded tourists and destroyed infrastructure (including big parts of the Cabo airport, left) are Hurricane Odile's legacy for much of the coastal Baja Peninsula; our thoughts and hopes for a quick recovery go out to everyone affected by the storm. For reports and photos of the chaos, hit the Odile thread here.
Megayacht humanitarian aid worker Mark Drewelow pleaded with yachties for help.  "Every yacht big or small that intends to head south to Cabo needs to bring aid," Drewelow said. "Recovery will take months. YachtAid Global is coordinating some efforts with Marine Group Boat Works, which also has a facility in Cabo San Lucas. The Marine Group Boat Works yard in Chula Vista is collecting items that are of critical immediate need: drinking water, basic first-aid stuff, food with a long shelf life, temporary shelters, small line. If you want to help, contact Leah Yam, Cabo Relief, at Marine Group Boat Works in Chula Vista at (619) 427-6767."
Donate via YachtAid here.
September 18th, 2014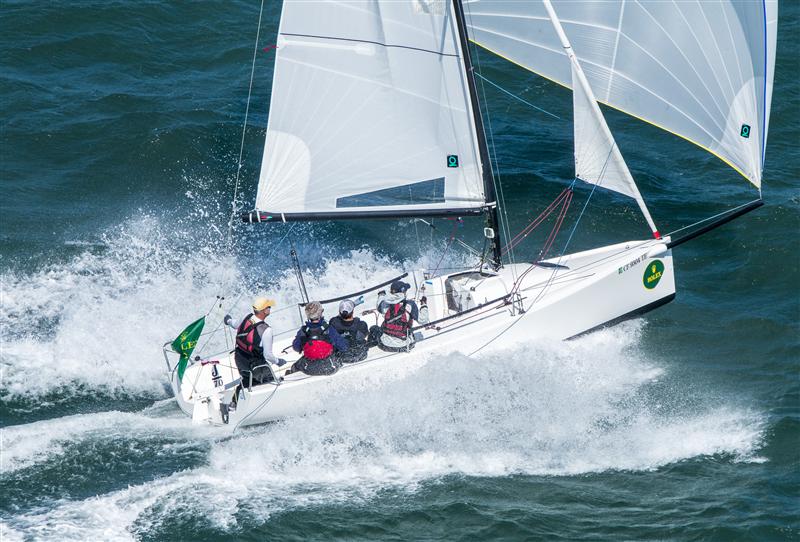 Some of the more entitled folks on San Francisco Bay continue to bitch and moan about our Big Boat Series criticism with the same fervor they have been peppering the America's Cup with since the AC deserted them; this despite the undeniable evidence of the RC's incompetence last week and the fact that the 'new, inclusive' BBS still can't manage a hundred boats on the line despite the average size of the boats dropping by 50% in the past 5 years and despite the draw of their 50th anniversary.  
How is it that Charleston can pull almost 300 boats and Detroit can pull over 200 to their marquee events?  Our issue is not with San Francisco Bay, which, despite the cold and fog, is still one of the world's best sailing venues; our issue is the fact that the folks running the BBS came to their new 'inclusivity' about a decade late, and only because they were forced into it by a nearly dead event.  Like the other 'Tier 1′ clubs, the StFYC is, by its very nature, always behind the times (not to mention incredibly snooty) ; that inability to respond to change is yet another reason why the stewardship of the sport cannot be left in the hands of elite yacht clubs without suffering the same calamitous drop in racing interest we've had in the period from 1980 to the present.
All that being said, we've always promised to offer opposing views here on the sport's most-read page; below is one from a J/70 team.  One quick tip to all of our SF-based haters?  Keep hating on us and we'll keep beating on you.  Be productive rather than bitchy, send us reports, and you'll make your sailing community look far less entitled than it currently does. Daniel Forster/Rolex photos.
The 2014 Rolex Big Boat Series was a fairly different experience for me this year.  I've done more BBS's than I can can count now, but none like this.
First off, we didn't sail a big boat.   BBS has, over the years, grown more inclusive to the point where this year they included the not-quite-23 foot J/70s.   Thirteen teams plied the waters of San Francisco Bay, a pretty good turnout considering it was mostly local boats and the event was concurrent with the massively attended J70 Worlds.
Secondly, I sailed with an infant team.  It flies against my instincts to compete in a high level event without significant practice and preparation.  I like to be competitive, and a lack of preparation is a recipe for frustration.  As I said, however, this was a different Big Boat Series.
You see, we had a J/Would alumni who just a month ago bought a J70.  It's his first boat.  He's been a great client and his enthusiasm for all things sailing is a real pleasure to be around, so when he expressed interest in jumping right into the 'deep end of the pool' and taking a shot at BBS, I couldn't say no.  If I had really thought about it and considered the fact that he had never driven a boat in a real race (outside of J/World Racing Clinics), or if I had thought about the fact that we had precisely one, and only one, weekend regatta to prepare, maybe I would have passed on the opportunity.  But then I would have missed out on a remarkable experience.
What the fleet lacked in LOA was more than made up for in sheer talent.  Paul Cayard was trimming main and calling tactics for Andy Costello (also owner of the J/125 Double Trouble).  There were at least three sail-makers racing on different boats, and a huge host of talented skippers and crews.  The regatta was seven races over four days.  Each morning, our initial daily race was on a windward/leeward course up the SF city front.  Morning breezes were light (10-12 knots generally) and building, and a good flood tide kept the boats tight up against the shoreline for current relief.  For the afternoon race each day, the fleet over to the Alcatraz course.  Breezes each day had built to 20-26 knots and the current had only built.  The afternoon races were marathons, some 16  miles long, including legs from the Golden Gate all the way down to the Berkeley Circle….  and back!
So all of that is pretty standard BBS.  So what was different about this one?  We showed up at a the premier sailing event on the West Coast with a new boat, a new skipper, and a new team, and we felt like we were racing sailboats.  We didn't break anything, didn't crash-and-burn (well, ok, there were maybe two good solid broaches!), and didn't get flushed out the back. And we had an absolute hoot.  Our skipper, so new to the sport, was out there with some of the top sailors in the country…  and in the world!…  and we could taste the competition, sailing many of the courses and races right in the thick of the pack.  In what other sport could you possibly do that?  And in what other boat?
The J/70 is easy to setup, straightforward to dial in, and fun to sail.  In the big breeze, they get pretty physical,  and while my muscles are still aching after five long days of sailing, it all made sense when we would turn the boat downwind and take off on a screaming plane the full length of SF Bay!  Seriously, we were outrunning the Farr 40 World's fleet and other boats with twice the length and four times the crew!  Now if the Race Committee can just comply with our request to have shorter beats and longer runs…
Anyhow, congratulations to Andy Costello for the overall win, and thanks to Dan for a great effort, and a great event.  It really is a ton of fun sailing with him, and he puts up with our antics pretty well.  His progress has been remarkable (a testament to J/World training programs and coaching, if I do say so myself), and we expect great things from him!
Wayne Zittel
J/World Performance Sailing
September 18th, 2014
Thanks to income inequality and the booming markets, the maxi class continues to roll; Fresh off a huge acquittal in one of the biggest insider trading trials in years, Flash memory tycoon Manouch Moshayedi bought a motherfuckin' boat, then made her a Transpac weapon.  Here's the story from our friends at Doyle NZ.  Back to Eddie Murphy's "Raw" for the title shout.
Following her major refit at Cookson's, Rio 100 (ex. Zana/Konica Minolta/Lahana) is back on the water this week and she is raring to go. Purchased in 2014, the yacht has been redesigned and reconfigured by her Kiwi designer Brett Bakewell-White for use on the West Coast of the USA. "As part of her refit, Doyle Sails supplied her with a new set of Stratis carbon ICE sails, including a mainsail, two jibs, two reaching sails and two spinnakers," says Mike Sanderson, Head of Sales at Doyle Sails NZ. "This was an exciting project for the Doyle team, particularly since Doyle NZ built so many sails for this boat during her previous life."
Choosing a sailmaker was a key consideration for the refit. "Between the top sailmakers, there is really very little between the products, so we also looked closely at the customer service side in making our choice," said Keith Kilpatrick, captain and project manager for the Rio refit. "I was very impressed with the Doyle operation. Just seeing it in action, and the hands on approach, reassured me that we would get the attention we needed for a programme like this; we felt that with other big sailmakers we would be just another customer. We are looking forward to seeing the sails in action in sail trials."
Sail trials are scheduled for this week, with the upcoming Coastal Classic the yacht's first official outing. The yacht will then be gearing up for the 2015 Transpac race, where the Barn Door Trophy is firmly in her sights.
September 18th, 2014
Big Pimpin'
Bob Hillier and the folks at Line Honors Yacht Racing Outfitters continue to provide one of the most complete lines of racing apparel and accessories anywhere, and now you can try it all before you buy at the new Line Honors shop!  Support Line Honors just as they support so many teams and events around the world – stop into their brand new store on downtown Lake Geneva, WI for the Grand Opening on October 3.
September 18th, 2014
Announcing our new Sailor Dude of the Week feature!  Pic thanks to Christophe Launay! Got a SDOTW? Send it on in!
September 17th, 2014
Big Pimpin'
Last few weeks to win a Trip to any of the Round the World Race Stopovers in 2015 – with ECsix Carbon Rigging.
Do you want to win a trip of a life time to any port of call along the Round the World Race in 2015? Great, because it is simple! All you have to do is design, scribble, write or draw a T-Shirt design and submit it online at www.ecsix.com/contest
"The beauty about this competition is that everyone and anyone have a chance to win an expense paid "trip for two" to one of seven ports-of-call along the Round the World Race. You don't have to be a designer to win, we are after the best creative idea that fits our brand" says ECsix's Scott Vogel.
"Our entries so far have been drawn up and submitted on a range of things, from napkins at restaurants through to fully computer generated designs, some humorous and some not quite so much."
The winner can take a guest to either Sanya, Auckland, Itajai, Newport, Lisbon, Lorient or Gothenburg. "This is an opportunity of a lifetime." Entries must be received before October 15th. The winner will be announced at the METS trade show in Amsterdam on the 20th of November 2014. www.ecsix.com.
September 17th, 2014
Clean Report
The B-Squared Racing/Sailing Anarchy J/70 nestles into her mobile 34-foot barn as the inaugural J/70 Worlds ends, along with any notion I had of being a world-class tactician.  The team of Brian Elliott, Bryan Cameron, Whitney Prossner and me managed a 33rd out of 86 boats and 6th of 38 amateur teams.  I'm still licking my wounds as I head north along the Maine coast to check out the new VPLP 100′ canter Comanche at Hodgdon Yachts today, and when I can find some time tonight or tomorrow along the highway back to Detroit, I'll get my full regatta download online for you to read.  The first J/70 Worlds had a bit of everything, and I'm damned glad I made it, even if I left unsatisfied on a number of fronts – especially my own performance.
Read the full event press release here in the meantime.
September 15th, 2014
We are frequently frustrated by the low-quality videos put out by ostensibly 'world-class' organizations (see the link in the BBS BS story below for a great example), so when someone does it 'just right', we notice.  And that's what this is – a short but intense look at the people of the Melges 20 Class from their recent Lake Garda Worlds.  Doesn't it make you want some?
September 15th, 2014