Whitbread vet Brian Hancock's piece last month celebrated the 50th anniversary of Chichester's groundbreaking voyage, but Brian's love affair with Chichester may have blinded him a bit.  From Buenos Aires-based SA'er 'plenamar': Vito Dumas rounding of Cape Horn preceded Chichester by more than two decades.
RKock adds that Marcel Bardiaux in Les 4 Vents sailed westbound around Cape Horn in the early 50s.
Bill Nance sailed westbound around Cape Horn in Cardinal Vertue about 1960, on his way to Australia from England.
And "Cisco" wraps it all up: Vito's voyage was and indeed still is little known in the anglosphere as his book wasn't published in English until the mid/late 50′s long after the event. He was probably far better known on the other side of the Atlantic, and he made his trip in the middle of WW2 with a minimum of fuss.  The reason Chichester became so well known was the mass of publicity in the popular British papers.  And also…. some will say 'but, but… Dumas did his circumnav completely in the southern hemisphere!!'
 
He had pre-WW2 singlehanded from France to Argentina and post war had single handed from Argentina to the US and back a few times.  Even so, he was not the first single hander around the Horn…before him the Norwegian Larsen singlehanded east to west…but he didn't live to tell the tale…having sailed from Argentina wreckage of his yacht was found on the coast of Isla Chiloe.
Got anything to add?  Here.
September 8th, 2016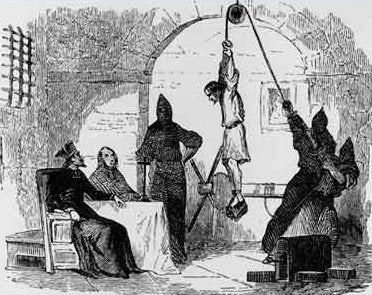 You may remember the America's Cup Disciplinary Panel that was assembled hastily in response to King Post-gate;  the haphazard hearings and rulings they produced led to lawsuits and CAS hearings that cost hundreds of thousands of dollars to litigate.  Meanwhile, the resulting media exposure (along with the Rio sewer and security issues) continued to push ISAF World Sailing's reputation into the same steaming pile of shit occupied by FIFA and the Russian Anti-Doping Authority.
With most of the AC34 cases have been settled or dismissed, we've just learned that World Sailing's response to the disciplinary chaos was to quietly sneak through the completely new Discplinary, Appeals, and Review Code sometime in June, and it is quite possibly the most lopsided, authoritarian, and opaque set of disciplinary rules we've ever come across.
We say 'sneak through' because we cannot find a single reference to passing the new code in any of ISAF World Sailing's official documents.  Even more curiously, ISAF says the new rules were passed in June 2016 but are backdated to have an effective date of January 2016, and the only June ISAF Minutes available anywhere make zero mention of the new Rule 35.  Now, it may be hidden inside the giant, disorganized clusterfuck that is World Sailing's website, but we've asked every major MNA official and judge we could find - including several national presidents and IJs – if they've heard of it -, and all of them learned of the new Code from us.  It's not some kind of a minor change either – the new section of the Rules allows autonomous, unappealable panels to decide who will be banned from the sport using incredibly low standards of proof, offers next to no standards on the admissibility of evidence, and allows any decision to be hidden in secrecy based solely on the discretion of one of these 'secret panels'.  In other words, ISAF has said 'fuck you' to the entire notion of a Fair Hearing under the jurisprudence of any modern nation.
Never mind that much of the new Code would be void and unenforceable under the employment laws of the EU and numerous states and countries, and never mind that ISAF can't even be bothered to use a pronoun other than 'him' in their code.  There are ample things to pick apart with this unconscionable piece of regulation, and we'll leave it to the lawyers and sea lawyers in the Forums.
But we do consider it our public duty to let you know that from now on, your entry in any sailing event is your acquiescence in a set of rules that would be more appropriate under Torquemada than of a 21st century international sport.  We also consider it our duty to let you know that Carlo Croce, who is not only President of the ISAF but also President of the Italian Sailing Federation and Italy's most prestigious Yacht Club, is going to run for another term leading our sport.  This despite his tenure providing an almost unending series of gaffes and missteps that's seen ISAF World Sailing's reputation go from exlusionary and obsolete to incompetent and corrupt.  Croce said in the mid-year meeting that "Much has been achieved but he has a sense of 'unfinished business…"
We're not sure our sport can survive Croce's 'unfinished business.'  World Sailing's reputation sure can't.  Title shout to Mel Brooks...
September 8th, 2016
Back last winter when we first planned this adventure, we knew exploring the ICW in August/September could also be an exercise in avoiding hurricanes, but I never expected we'd get quite so close! Hurricane Hermine brought us a few days of nasty weather that put a stop to our southerly progress, but as Captain Ron once said "they come on you fast, and they leave you fast."
During these rainy days we trekked out on foot to Hunting Island to see its infamous beach erosion first hand. Over the past few years, an entire row of beach houses here, and the surrounding forest, have been reclaimed by the Atlantic.
One house left behind, "little blue" is scheduled to be taken down by the end of the year and is a sobering reminder of the power of the sea! – Team Waterlust.
September 7th, 2016
The 'Cave Man' post on the SA front page reminded me of something I did with my 26ft boat about 7 years ago. Delivering the boat 120nm back down the coast after a successful clean sweep win of the bay of islands race week we decided to take the boat through the 'hole in the rock' at Percy Island Cape Brett.
We had no idea if we could actually fit (and had a screaming hangover after 5 days of epic yachting and partying) and although there were rumours of a yacht going through there in the past we could not find anyone who could confirm this.
Anyway we did fit- just… Anarchist BooBoo..
September 6th, 2016
I was driving my yacht's tender into a cave with the guests in Isla de Cabrera in the Balearic's last week when this beautiful classic sailed past at the perfect distance for this shot and I thought you might like to post it!
Credit to James Basire for touching it up!  - Anarchist Sefton.
September 6th, 2016
We have huge respect and admiration for the Extreme 2 team. The other douche, not so much. 
I'm not sure if anyone has read the article in this months Sailing World, but, if you have or if you do, you'll see an article written by someone that isn't worthy of mention.. The article's subject had to do with the NYYC Annual which was held in Newport this past June. In that article the author, who's not worthy of mention, addressed the collision that took place between Courageous, a J88 and a C&C 30 OD (Extreme2).
I've been sailing a long time, but, rarely have I seen anything as disingenuous as the suggestion that fault lies with anyone other than Courageous. They came from clear astern, their boom careened across my head, continued to crunch the starboard side of Extreme2 and then not only lost the protest, but, had their appeal denied without prejudice. The suggestion that it was anyone's fault but their own is a complete distortion of the facts and his self serving article is unbecoming to this sport…
To make matters worse, they have stalled and hidden from owning up to their responsibility for repairs and as a result, I've had to get attorneys involved.
Honestly, I don't care who he is, how great he thinks he might be or what regatta's he's won in the past. This is about what's right and wrong and it's about principle….
Accidents occur in sailing and there's no doubt about that, but, it's absolutely the responsibility of the boat that caused the incident make sure that they resolve the matter and repair the damage!!! I've been dealing with this since June and they are still playing games… It's shameful !!
I hope you all read the article and hold the author accountable for his actions !!!
As always, thank you for following Extreme2 !!! Everyone on the team appreciates it. We read your comments and are thankful for your support.
dc
This is from their FB page, jump in and comment if you wish…
September 6th, 2016
Brian Hancock wants the VOR to get with it...
There has been a lot of coverage of the new generation IMOCA 60's leading up to the start of the Vendée Globe which gets underway in a couple of months, and there is just no doubt about it that those boats are among the most sophisticated pieces of machinery ever devised for a single purpose. The new Dali foils are some of the sexiest pieces of equipment to be added to a boat in years and believe me sailing can use more sex appeal.
Now, I know that I need to tread carefully here, but as far as I am concerned the IMOCA boats far outstrip the VOR 65's in just about all areas. Put the two boats side by side and VOR 65's look dated. There is nothing really that innovative about them and take account of this; in the last Volvo Ocean Race Abu Dhabi Ocean Racing set (I think I am correct here) the longest 24-hour run of 551 nautical miles whereas in the Vendée Globe François Gabart, sailing single-handed on a smaller boat, logged an impressive 545 nautical miles. Just six fewer miles, all alone and on a boat that is five feet shorter in length. An extraordinary performance to be sure and Gabart is an awesome sailor, but the IMOCA boats are just that much more impressive than the VOR 65's.
Let me quickly add, before my inbox gets jammed with hate mail,  that I am a huge fan of the Volvo Ocean Race and have participated in three of them back when it was called the Whitbread Round-the-World-Race. And I also understand the argument made by the VOR brass about keeping costs down and going One Design, but if the Volvo Ocean Race wants to remain at the pinnacle of offshore ocean racing they need to take a tack and do something different and that different thing should be, in my opinion, switching to multihulls.
I know that I am not the first to suggest this but it's time for a big change if the VOR is to reclaim the title as the Premier Offshore Ocean Race. I believe the Vendee  Globe is a way more impressive event. Here are a number of reasons why I propose switching to multihulls. I am told that you can build an 80-foot trimaran for less than a VOR 65 and you don't need as many crew to sail a multihull as you do to sail a highly strung monohull and the VOR 65's are highly strung. You get a much more impressive boat and some cost savings on crew salaries. An 80 or even 90 foot trimaran will be vastly faster than a VOR 65 making the total amount of days racing a lot less, another big cost savings.
The legs will be quicker and will hold the attention of those following the race. Fans lose interest on the really long legs. Just imagine how spectacular the in-port racing will be if a fleet of massive trimarans are racing an inshore course in full view of the public. And lastly as a platform for corporate entertaining, and isn't this all about corporate entertaining, a multihull is  just way better. There is a lot more space to fit guests and the boats do not heel like a monohull. All good reasons.
In the past there was the fear of capsize with a multihull and that was a legitimate concern, but we have come a long way with their design. One only has to remember that the aforementioned Gabart sailed his 30-meter trimaran solo across the Atlantic this past summer and the French have been sailing large multihulls through the Southern Ocean for years without incident. With some stringent righting moment requirements a new generation multihull can be a very safe boat.
The Whitbread, now VOR, used to be a spectacular event; maxi-yachts like Steinlager were so impressive to watch and there were big fleets and lots of big personalities. Sure some of the onboard video footage from the last VOR is awesome but how many times can you watch a boat bury its bow and the deck get swamped in three feet of water?
Take my word for it, a fleet of big trimarans will be awesome, it will be a bold move on behalf of the race organizers, and you will engage a whole new fan base putting the VOR back on top as the top offshore race.
Brian also has a great way for you to get new sails at substantially reduced prices. Find out how. 
September 6th, 2016
The Norwegian expedition vessel Barba heads October 1 st, to spend the winter documenting whales in northern Norway.
The expedition is lead by Marine biologist and Adventurer Andreas B. Heide, who is born and raised next to the ocean in the former Viking realm of Stavanger Norway.
He has led expeditions to Greenland, Jan Mayen and Svalbard in the past, and is heading back to his chubby friends for a third season in a row.
He will be joined by yet another aspiring Viking, Kari Schibevaag, world champion in kiting on both water and snow.
They are currently looking for voluntary competent sailors with the following skills:
Happy, even when wet, cold and tired.
Adventurous mindset.
Fluent in English.
Does not have Cetaphobia (a word that has its origins in Latin Cetus meaning large fish and phobos which is the Greek God of fear).
Additionally, they are looking for a film photographer with similar skills, as well as people who sees themselves fit into the mix.
For footage from the previous season, as well as information on how to apply via their webpage.
Photo by Thomas Kleiven.jpg: One of many rewards from working with Barba. Here from swimming with an Orca.
September 6th, 2016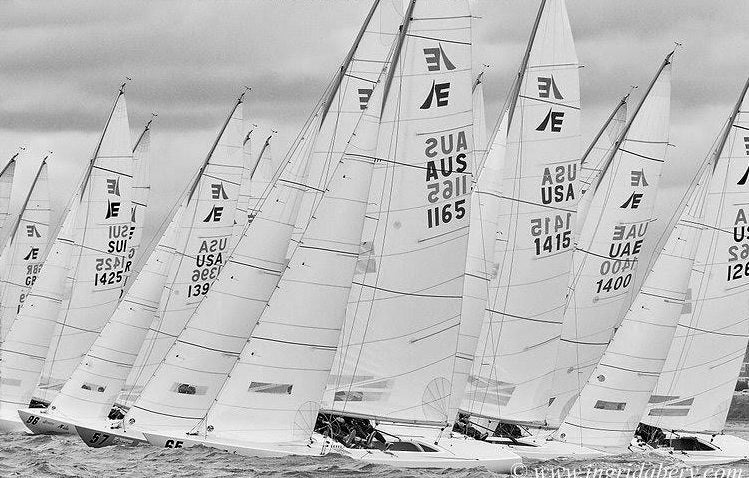 Sailing Anarchy posts a picture of Etchells 22′s, with nary a snarky comment to be found! Photo from the E 22 Worlds, thanks to our friend Ingrid Abery. John Bertrand holds the early lead…
September 5th, 2016
Big Pimpin'
Once the most convivial of holiday racing destinations, the Caribbean circuit is now a little more serious than that. But it's still just about bearable… as former Alinghi America's Cup helmsman and local Caribbean resident Peter Holmberg confirms
From what was once a very enjoyable and desirable, if casual, diversion from mainstream racing, or simply a warmer alternative to that annual skiing vacation, the Caribbean regatta circuit has evolved and matured into a serious gathering of top race yachts and their crews.
Flowing seamlessly on from the Florida regattas at the start of each year, an ever increasing number of the best-known raceboats – large and small – now make the short journey south… postponing for as long as possible their return to less balmy northern racing climes.
Long gone are the days of Caribbean events predominantly being run for the region's charter fleets, plus enthusiastic locals with lovingly preserved and maintained 'older' racers. Today the harbours of the Caribbean are filled to overflowing with some of the best racing machinery and best racing sailors on the planet. Sailors are still extremely fortunate to find themselves racing in this part of the world every year… but each year it also gets a little harder to take home the silver.
September 5th, 2016