If you're a parent, a grandparent, or a junior sailor, the Secor Volvo Fishers Island Sound Race has got to make you smile.  100 kids from all over the Northeast, racing their 420s on oddball point-to-point courses and having the time of their lives.  Past winner of the event Peter Cronin (with crew Zach Champney) is leading after 3 legs, and he's also going for the On-Board Reporter award (more on that later) with some excellent storytelling in this short clip of the pre-race buildup.
July 14th, 2017
These Anarchists from Portugal figured their country would never win the America's Cup, so they staged their own version. The crowds were about the same, but the racing was significantly closer. The guy with the bigger, um, rig won!
July 13th, 2017
RIP Graeme "Frizzle" Freeman
Graeme Freeman, known in the sailing world as "Frizzle", has died in Hobart after battling pancreatic cancer. He was one of Australia's most respected offshore sailors, boat maintenance professional and yacht-building project manager through local and overseas campaigns including three American Cup campaigns and the Admiral's Cup international teams racing championships.
This article by Bob Ross first appeared on www.mysailing.com.au:
He was a gruff sailing companion who demanded the best from his crew while being an equally convivial social companion ashore. Frizzle launched his offshore career on Des Cooper's 36ft S&S One Tonner Maria in a memorable 1970 Sydney-Hobart race, when a southerly gale lasting 50 hours with winds to 60 knots hit the fleet.
Maria was knocked down to 30 degrees beyond horizontal and broke the boom. Skipper Cooper, on the helm, was saved by his lifeline from going overboard but cut his head open badly. There were two doctors on board and they stitched the wound.
July 13th, 2017
The man. The boat. And what a fucking boat that is!
July 13th, 2017
Big Pimpin'
A key element of The Schmidt Family Foundation strategy is to provide the resources for grantees to be successful at what they do. At 11th Hour Racing we leverage the platform of sport to broaden the connections between grantees, sponsorship and ambassadors, and we broadcast these inspiring stories to a larger, more diverse audience,' says Todd McGuire, programme director of Newport based 11th Hour Racing.
In the summer of 2016 11th Hour Racing grantee Rozalia Project sailed research vessel American Promise up the Hudson River to conduct the Hudson River Microfibre Sampling Expedition. This famous stretch of fresh and brackish water was a perfect laboratory: a giant river running through one of the most densely populated regions in the world.
Onboard American Promise particles were captured through 'grab samples', water samples passed through vacuum filters. Fibres from manmade sources, plastic and non-plastic, such as cotton textiles, were painstakingly counted under a microscope to measure microfibre contamination up and down the river – from the remote alpine regions to New York Harbour. These fibres easily enter the food chain and can ultimately end up on our plates.
Rozalia Project's team knew from previous research that the logical source of the pollution was grey water from millions of washing machines throughout the Hudson River estuary. 'We knew that washing machine effluent is a big source,' says Rozalia Project's director Rachael Miller, 'but our research also pointed to air pollution, possibly from dryers and garment abrasion.'
Miller is also very careful to emphasise the context of this research. 'This is more than just food wrappers,' she says . 'This fundamentally is less obvious and more complex. – Read on.
July 13th, 2017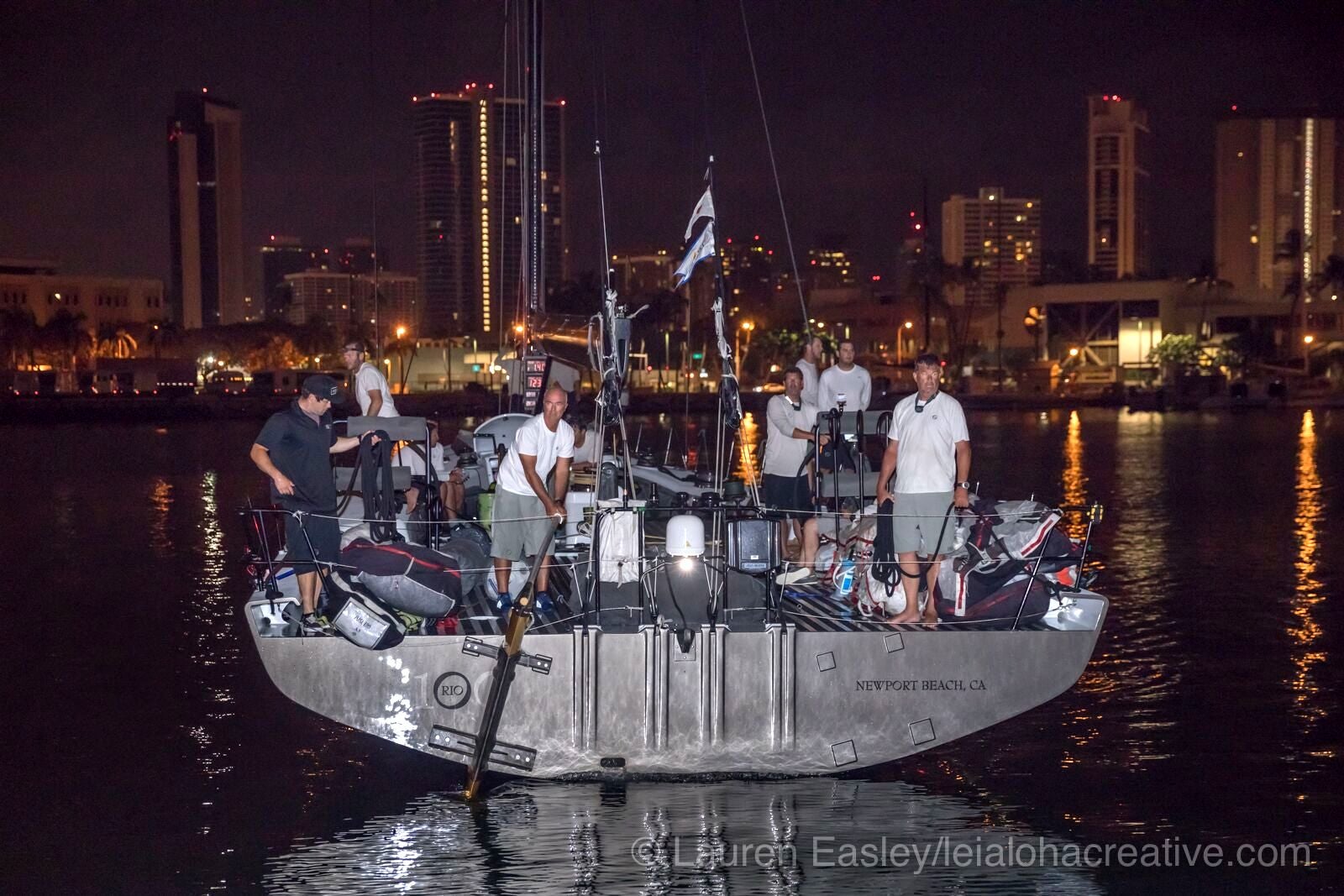 Rio 100' backed their way into first to finish for non-powered monohulls! (They broke their port rudder and this is their emergency rudder bolted on to the back). Yet another fabulous picture from our pretend girlfriend, Lauren Easley and leialohacreative.com
July 13th, 2017
Being There
More than a week into Transpac, the Santa Cruz 50 and 52 division is spread out by mere miles with most of the fleet having taken their first long hitches onto a port pole and beginning to consolidate on the initial approach to Hawaii. Here on the good ship Prevail we're consistently sailing in the top two or three positions in this ten-boat fleet, gybing on the shifts, covering our rivals and eking out every hundredth of a knot of boat speed that we can.
Since the start in Long Beach last Wednesday, it's been a glamour run with a quick exit from the California coast and reliable, moderate tradewinds that have kept us moving well at almost all times. This late in the race with the fleet entering the home stretch – the last 500 miles – gear failure and stress on the boat is beginning to rear it's ugly head. For us, it was unfortunate issues with two spinnakers, which forced us to spend most of one night running under slightly reduced sail. We still managed a good night and re-hoisted the preferred kite at 1 am before completing repairs of a luff-to-leech tear on the other one and getting it back in the arsenal less than a day later.
In between repairing and managing the small type of systems issues that happen when ocean racing, we're fighting the good fight and having a hell of a time out here on the vast blue Pacific. Our skipper Bill Guilfoyle named his gorgeous blue SC 52 "Prevail", based on his life ethos that no matter what obstacle stands in his way, he'll figure out a way to prevail. We've taken that motto to heart and are ultra stoked to be out here doing what we can to achieve a good result.
Just today we have sailed into sunny blue skies; a welcome change from the overcast, cloudy conditions that created "fun-house dark" driving conditions and concealed the glow of this full moon. While visibility will surely increase a bit this evening, so too will the likelihood and intensity of squalls, which we just began to encounter last night. The food's been good, the sailing's been great and the group of blokes i'm surrounded by has been even better.
When I wrote SA's Transpac form guide in Long Beach, I predicted that this big fleet of very similar boats would be ultra close, and thus far we're all getting our money's worth. A couple days away from some frosty mai tai's and it's all coming down to the wire; this is what this all-corinthian crew lives for.
Aloha
Ronnie Simpson
July 13th, 2017
Artie Means (second from left) navigated the Mighty Merloe to am all-time elapsed time record in this year's Transpac. We caught up him for a brief interview. 
SA: Tell people a little about yourself and what you do.
AM: I split my time with my business, Waypoint Racing, between wiring & navigating race boats. I've been lucky enough to grow up around SDYC and sail with D.C, Isler (who taught me to navigate), Rudiger amongst the other California legends. Our company sells what we use onboard, so it's a good mix of sailing and real work.
SA: Going into this Transpac, did you guys feel you had a speed advantage over the MOD 70's in any particular condition?
AM: The Mighty Merloe is definitely strong in the light winds, but Transpac often isn't a light air race; so we knew that it would be tough to pace with the MOD's on this course.
SA: How is sailing with the owner?:
AM: First of all, Enloe deserves huge props for this win. 81 years young and loves multihull sailing; I actually think he has never sailed a monohull. He (& longtime advisor Nat Iyengar) had the vision to buy the most extreme Orma 60 ever built and assemble the best team I've ever raced with: Enloe, Loick, Franck, Jacques, Steve, Will, Jay & myself.
SA: How intense was the racing for 4 days?
AM: Intense is an understatement. Although half as long as a normal/monohull transpac, sending it through the open ocean at these speeds is thoroughly crazy! I think Franck maxed us out at 37 knots.
SA: Was there one thing – besides everything, of course – that you felt could have been a huge problem for you guys?
AM: There are a thousand unknowns for this race, and especially fragile multihulls. Being light is key, so what we carry for spares was a big discussion. Jay Davis & Will Suto did an epic job prepping the boat. We were super light and had zero failures. The tool bag was never opened, which is rare for a 2200 mile race!
SA: How was the trash/garbage situation for you guys?
AM: Definitely too much trash in the ocean. Fortunately the weather and routing this year had us south of the major pacific garbage zone. But the combination of 3 rudders, 3 foils & 60 feet wide makes us a big rake for anything out there. We caught a big net on Saturday which stopped the boat (30 knots to <10) but luckily no real damage. A few other polypropylene fishing lines but nothing hard.
SA: Did you break anything?
AM: Nothing. After 2500 miles of hard sailing, all she needs is a good bath! Jay & Will (again) keep the boat in really good shape..
SA: What makes Loick the maestro?
AM: Hard to quantify, but he is a magician! Supported by our other Frenchmen: Jacques Vincent & Franck Proffit, the three pushed MM harder than we had ever done before.
SA: Tell us about your navigational plan. Did you modify it as you went?
AM: A very tricky year as the typical pacific high was disturbed by a upper low, so we actually had 2 high pressures to work with and transition through. 1000 miles offshore with 40 degree shifts kept things dynamic.
SA: What is your single most important instrument that you use to sail this boat effectively?
AM: Hard to name just one, but Expedition software is on the top of the list. Nick White (the name behind Expedition) is always refining the program & a navigator by trade. It's impossible to race offshore without Expedition.
SA: It looked like Phaedo sliced into your lead towards the end. Nervous?
AM: VERY! The Phaedo team sets the bar. They are a great team, know their boat, and push it harder than anyone. I think we setup a nicer line for the last 400 miles, had a bit of good luck, and of course the 3 Frenchmen (Loick, jac, Franck)!
SA: What's next for Mighty Merloe?
AM: A few local races & then the SDYC Vallarta race. Hopefully we can get a few trimarans for PV, as it's a great race.
SA: Besides getting the Mighty Anarchy up to speed (!), what's next for you?
AM: A few days off! Then get the new Anarchy wired up. We are working on a new 100+ footer electronic's package, and then the SF Pac-52 series with Bad Pak
SA: Thanks mate. We'll see you back in Dago soon!
AM: Thanks Scot.
July 12th, 2017
Okay, this was going to be incredibly lame: The National Anthem at a skipper's meeting?? Well, it is Fresno Yacht Club after all. Btw, have they heard of HD up there? But then, like always, rock guitars came to the rescue! A bit more feedback and distortion would have nailed it. Flea did an awesome job with his bass guitar at a Laker game…
This video is from the first week of the High Sierra Regatta, with weekend two coming up:
The first weekend of the High Sierra Regatta included 133 boats, huge shifts, lulls and puffs and a great Saturday dinner & party. We look forward to the coming weekend and some more exciting racing.
Registration
The registration tent will be open from 4 pm until 7 pm.
Friday evening chalk talk
Brian Janney from North Sails will give a presentation starting at 6 pm at the Lakeshore Resort Dance Hall. The Dance Hall bar will be open from 5 pm.
Anchoring
We will operate a water taxi service to Bear Cove and use VHF channel 68 for pick ups.
Sport Boat Fleet
Several of the invited classes failed to meet the 5 boat minimum for a one-design start, so we are creating a Sport Boat fleet which will use the Northern California PHRF base rates. The Sport Boat fleet will start after PHRF A and the Moore 24s. We will also give a trophy to the 1st U20 and Viper as these fleets had 4 boats sign up, which is just darn close to the 5 boat minimum.
July 12th, 2017
Brian Hancock opines on records, good ones, great ones, indifferent ones.
Before I launch into today's blog let me correct a mistake I made in the  piece I wrote yesterday about Mighty Merloe and the Transpac. In the blog I mentioned that Phaedo3 might well have beaten Mighty Merloe had Crew Boss Brian Thompson not been sidelined with an injury. Brian is an incredibly talented sailor and they may indeed have won, but they didn't. I then went on to state that Brian Thompson would have to wait to add Transpac Record Holder to his resume.
Well I was wrong. Pete Melvin from Melvin and Morelli Design and Engineering kindly pointed out that Brian was one of the crew on Steve Fossett's Lakota, an ORMA 60 trimaran that set a new Transpac race and outright course World Record in 1995. I stand corrected and wonder, is there anything Brian hasn't won?
There were two major sailing related happenings overnight. One I am having a hard time mustering the energy to get excited about and the other is simply awesome and stunning. Comanche set a new monohull record in the Transpac finishing yesterday in a time of 5 days, 1 hour, 55 minutes and 26 seconds. Why am I not excited about this? I don't know. I have absolutely nothing against skipper Ken Read and the boat and crew but it's just such a yawn. They came in just under a day after a boat almost half their size set the multihull record with half the number of crew on board. Yes I was excited about Mighty Merloe. Let me just acknowledge Comanche's record and congratulate the crew.
Now let me tell you about the other record that was set and you may get some idea of why I am not gushing about Comanche. French sailor Francis Joyon smashed his own singlehanded transatlantic record sailing from Sandy Hook, New Jersey to Lizard Point on the west coast of England. I guess smashed may be a bit of an exaggeration.
He knocked 49 minutes off the existing record, his record, to finish in a time of 5 days, 2 hours and 7 minutes. Just think about this. One person, alone, on a 100-foot trimaran, ripped it up across the Atlantic making is seem almost effortless setting a new world record along the way. Now that is newsworthy. And best yet he was not trying to set a record. If he was he would have waited until a perfect weather window occurred. No, he simply wanted to beat the Cruise Liner Queen Mary 2 and took off at the same time as the QM2 left New York. The Queen Mary 2, by the way, is still out there and not expected to arrive in England until Thursday morning.
I dunno. I have taken some heat in the past for calling Comanche an unimaginative, slab sided design so I am not going to say anything this time…:)  I appreciate that people like Jim Clark pour money into sailing and I am very happy that he does. His money keeps many in the industry employed. But seriously, Joyon, alone, on a boat that big, without any fanfare romps across the pond as if he was out for an afternoon cruise. Now that is simply spectacular, at least I think it is.
July 12th, 2017