Per, of all people, Richard Branson's kid Sam. He's written a solid damage report for the BVIs that's frightening, though perhaps most frightening is that we cannot find a single current report or photo from all of Anegada, which would have taken some of the worst conditions of all.  Branson writes:
I'm just updating as we learn more…No cell, power or wifi coverage in Virgin Gorda. East End of Tortola without power.  [Cell providers] LIME, CCT, and Digicel partially up on Tortola.  Road Town is flooded with many roofs ripped off.  Moorings looks bad from pics I've seen, and Paraquita Bay is really bad.  Heard Marina Cay is bad too, but people starting to mill around. Lots of debris, so with the wind everyone needs to still be careful.  Even Scotial Bank and Pusser's in Road Town are destroyed.  Branson is OK on necker, but lots of damage to the island.  Ivan's on Jost Van Dyke is destroyed, as are adjacent buildings it appears.  Trellis bay damaged but people are safe.  Sugar Mill Beach Bar is gone, and the hotel roof is off, but thankfully bpeople are safe.  Tamarind Club people are safe at Josiah's Bay.  Virgin Gorda has no power, wifi, or cell, but Oil Nut Bay has a bunker of people that are safe.  Peter Island peeps are OK but island is wrecked.  All at Scrub Island are safe.  Everyone evacuated to police station during the eye [not sure where he is referring here].  Roof is off Myett's and Quito's is gone.  Carrot Bay is flooded.  Nanny Cay has boats piled atop each other.  Leverick Bay dock in VG is gone.  Eustacia Island [wrecked, but peeps safe].
September 7th, 2017
Damn these maxis sure can look frigging awesome! Photo from the Maxi Rolex thanks to Max Ranchi.
September 6th, 2017
Tucked away through saloon style doors on Front St. in Lahaina, Maui is the Lahaina Yacht Club. This is where, at the turn of the millennium, a struggling junior sailing program was fumbling through the motions in an environment that was more receptive to fishing tournaments than kids on sailboats. In 2002 that all changed when Keith Dinsmoor joined the Lahaina Yacht Club. He was experienced in organizing and teaching sailing on the West Coast, so the Fleet Captain at the time, Bruce Baum, recruited him to assist in revamping the junior program. They started off with only eight barely floating Sabbots teaching sixteen kids at a time.
Now, that same program has grown into a fleet of twenty Open Bics (single-man, single-sail) and six RS Feva XLs (two-man, triple-sail) boats. The program runs six weeks of sailing camps throughout the summer, and year round clinics which are one week in length. These clinics are open to any school on Maui interested in providing that experience to their students. Out of these classes, a competitive junior sailing team has grown, and now there are two regattas each year where Maui and Oahu children come together in friendly competition. One of those regattas recently took place off the shores of Lahaina on Aug. 12th and 13th and had over 30 young sailors on the line ages 8-18 years old. This was the 5th consecutive year holding the event which is named after the man who helped rebuild youth sailing into the Maui community…Keith Dinsmoor.
The Dinsmoor Regatta was born when Todd Carle of Oahu's Hawaii Kai Boat Club saw an opportunity to offer a challenge. The two clubs were utilizing the same boats for training and it seemed only right to bring the kids together. There was only one problem… how in the world were the boats and equipment going to be transported between the islands? It's not like 30 kids were going to sail across some of the roughest channels in the world on 9' boats!!  That's where Matson came to the rescue. The shipping company agreed to sponsor the event by providing a container, and now, with the 5th annual Dinsmoor Regatta under our belt, we continue to be grateful for their support. Our sincere thanks to such a giving company who supports the local community and continues to do so year after year! Without Matson there would be no Dinsmoor Regatta!
Youth sailing programs often run into obstacles such as lack of manpower or infrastructure, and Lahaina Yacht Club is no exception. Because this community caters to tourism and commercial boating, there is very little in terms of private boating resources. The program only survives thanks to the parents and volunteers who continue to take two steps forward in spite of the one step back, and find solutions when the problems seem unsolvable.
Youth sailing programs around the world continue to work at creating a safe and challenging environment for young sailors to learn, grow and enjoy the art of sailing. There is no greater reward in life than to witness a child transform from an apprehensive youngster harboring uncertainty and hesitation into a confident young adult who is daring and competent. These programs often affect a child more than any adult might realize. Teaching a child to sail guides youngsters through lessons which will be applicable throughout their lifetimes.  It offers so much more than physics and trigonometry…
Teach a child to sail and you teach them courage and confidence…optimism and perspective. You teach them determination and stamina…independence and resourcefulness. When you teach a child to sail you give them the gifts of pride and humility…they learn honor and accountability. When you teach a child to sail they learn to look within to construct their own reality and grow their personality…they learn to reflect upon themselves in their triumphs and disappointments…and their lives are guided by those tiny moments.
Please support your local youth sailing program!
The kids of Maui and O'ahu could not have this experience without the generous sponsorship of Hawaii businesses, most notably, Matson. Other generous sponsors for the 2017 Dinsmoor Regatta included CJ's Deli, Harmony Reef, HFM Food Service, The Pioneer Inn, West Coast Sailing, Maui Printing Co., First Hawaiian Mortgage, Murrays Marine, Mountain Slope Water, Kit K. Okazaki's State Farm of Makawao, Fidelity National Title, Maui Solar Project, and Robert J. Cartwright and Susan C. DeLoria of Whalers Associates-KW Island Living.  Thank you all!!
Lashawna Garnier
Lahaina Yacht Club Junior Sailing Coach
September 6th, 2017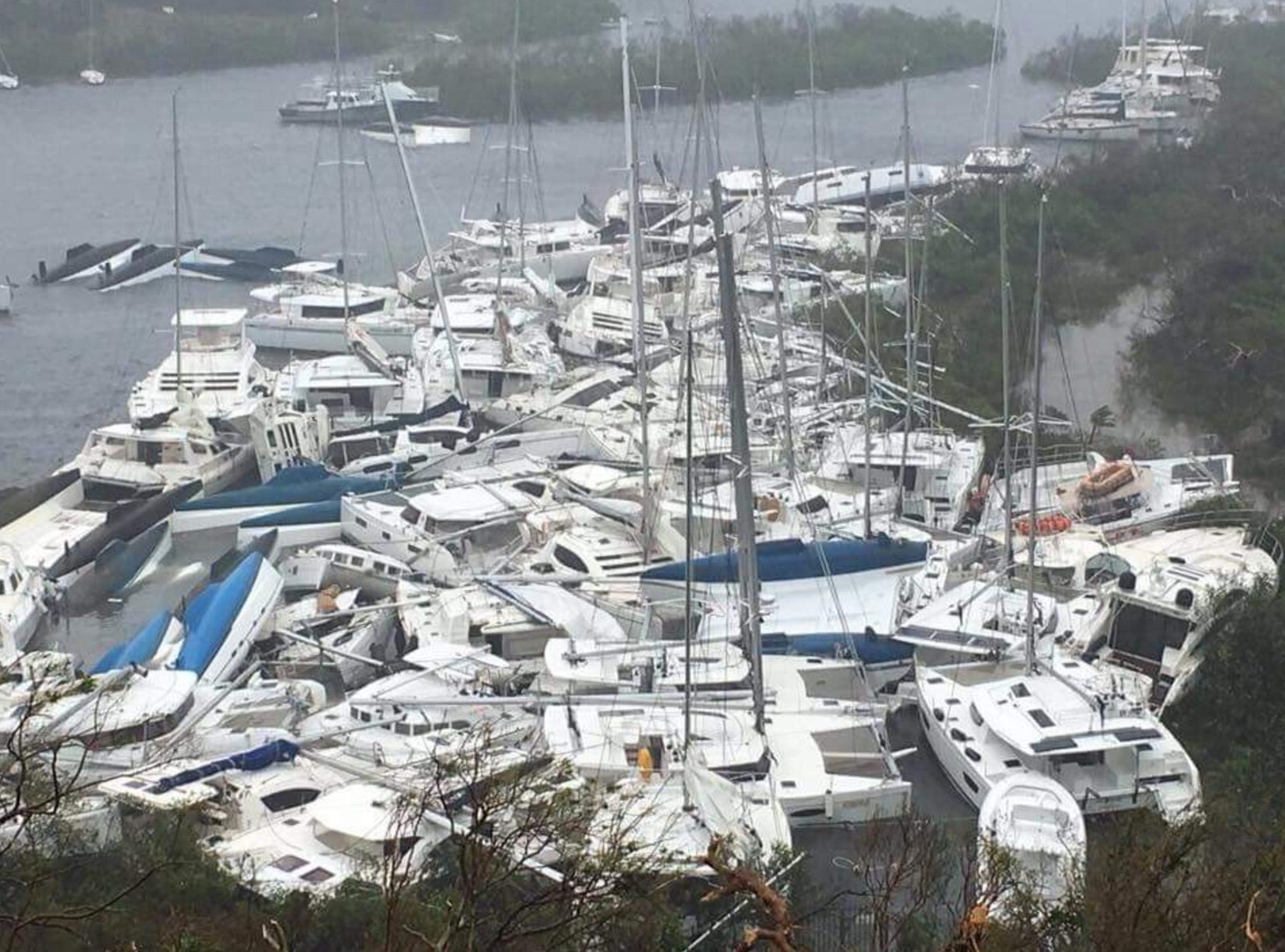 The BVI charter companies loaded up well-known Tortola hurricane hole Paraquita Bay over the past few days, and here's how it looked this morning.  Goddamn.
September 6th, 2017
With Antigua and Barbuda getting a glancing blow, St. Maarten and St. Barts taking direct eyewall hit, and the BVIs, St. Thomas and Puerto Rico all sitting inside the 100+ knot zone right now, it's almost like Hurricane Irma hates Caribbean yachting and is teaching it a lesson.  It's a sad day for St. Barts (seen in the photo to the left), which local officials called 'apocalyptic' and SXM, where locals
said most of the boats are 'just gone.'  We've had reports from the East side of Puerto Rico, where winds are just starting to get serious, and St. Thomas, where the worst is now overhead, and locals are less worried about boats and marinas than they are about how to deal without water and power for the days or weeks it may be gone.
South Florida is also a chaotic mess, with precisely zero outbound plane tickets left from MIA and FLL for any location, and all interstates loaded up with outbound traffic.  We send our thoughts to all of you in the shit – or about to be – and encourage you to post in the SA forums to share your experiences with the others dealing with it.
September 6th, 2017
This is but a snapshot of the damage inflicted on St. Martin by Hurricane Irma…
The only good news so far is that Dolt 45's mansion in St. Martin has apparently been severely damaged, and now heading for fucking moron-a-lago, where Twitler routinely spends way too much time, bilking taxpayers out of millions of dollars in travel and security costs…
September 6th, 2017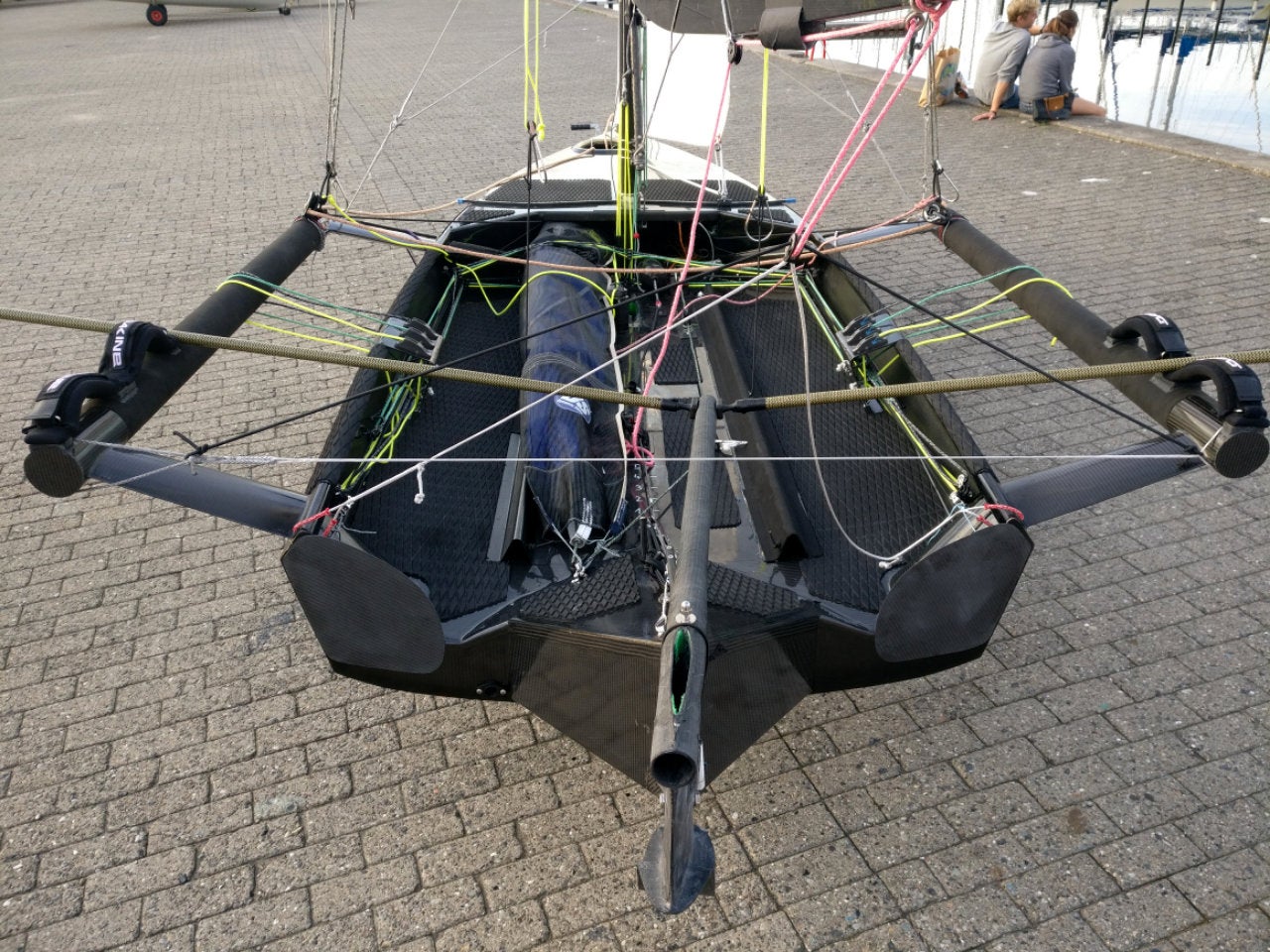 Oliver Voss's new I 14, Prime.
September 5th, 2017
Big Pimpin'
Carbon fibre standing rigging is fast becoming commonplace, not just with grand prix-level designs, but also among the world's ocean record-breakers and increasingly superyachts as well. Advantages in strength, light weight and increased performance are merging now with improved longevity and reliability and therefore long term costs.
As a manufacturer of both solid and bundled carbon rigging, Future Fibres are always diligent in making sure that customers are best informed on the correct choice to match their particular balance of performance and reliability. Future Fibres' ECsix continues to offer the best-proven and most durable composite shroud solution. With use across an enormous variety of platforms, widespread acceptance of ECsix has made it today's de facto choice in carbon rigging. Over 10 years there has not been a single ECsix failure due to age, wear or sailing conditions…
It is the fundamental technology of ECsix that makes it an excellent choice in most applications: Read on.
September 5th, 2017
September 5th, 2017
We knew the Brazilian-held Olympics were a sham, and we were by far the earliest and most outspoken critics of  almost all of the Olympic Sailing. And now here's how and where the sham began….
Brazilian investigators said on Tuesday that politicians and the head of the national Olympic committee arranged a $2 million bribe to bring the 2016 games to Rio de Janeiro, despite the city having the worst conditions to host the event.
Police in Rio raided the home of Brazil's Olympics chief, Carlos Arthur Nuzman, after prosecutors accused him of conspiring with former state Governor Sergio Cabral, already convicted in a separate corruption case, to buy the games.
Nuzman's lawyer, Sergio Mazzillo, said his client was innocent. Calls to Cabral's attorney were not returned. The legacy of South America's first Olympics, which ended just over a year ago, has been muddied by allegations of graft.
Nearly every infrastructure project connected to the games is under investigation. Prosecutors allege that major construction firms bribed politicians and others to win contracts worth billions of dollars for the event.
Tuesday's development drove home the stunning fall from grace of officials who sold the idea that Rio's Olympics would transform a developing-world city through giant strides in security, infrastructure and environmental improvements.
Prosecutor Fabiana Schneider said at a news conference that what was striking about Rio winning the games was it did so despite being "the worst candidate."
"The Olympics were used as an enormous trampoline for corruption," Schneider said, citing billions of dollars spent on construction projects.
Most of the building was done by large construction firms now ensnared in Brazil's sweeping "Car Wash" anti-corruption investigation. The firms have admitted paying massive bribes to politicians and former executives at state-run companies in return for contracts. Article thanks to Reuters.
September 5th, 2017