Big Boat Breaking News
We're sad to report that Niklas Zennstrom has pulled the plug on one of the most successful offshore racing teams of the past decade.  Both of Zennstrom's new Rán boats - the mini-maxi and the 52 – will go into the shed for a couple of years.
The good news is that it ain't permanent, and we understand that it's not a healthy, family, or judicial issue…in fact, it's all about opportunities.  Our sources tell us Niklas's extremely active tech startup investment company requires a lot of his time right now, and that means getting off the sailing circuit and into the board room.   Judging on Zennstrom's past business performances, we imagine he'll be back soon…and with even more money to blow on his hobby.  And judging on his team's success, most recently winning class in the Middle Sea Race last month, ex-Rán sailors won't have a tough time finding work…
Tell Rán to come back to racing on their Facebook Page.
November 18th, 2014
Big puff  at our local club y.c.Orsan regatta! -Anarchist Ivo.
November 17th, 2014
The final conclusion to my 2014 Route du Rhum race was played out over the weekend when the international jury heard my protest against the boat that was involved in the collision with me during the first night of the race, 142 La Conservateur. In the collision spreaders were pulled sideways through the mast creating a crack 3/4 of the way around the circumference of the mast, even though I managed to get boat back to Roscoff in Northern France without the mast falling down there saving further damage to the boat or my new sails! However the mast did break in half later when it was removed from the boat.
There is never a happy conclusion for all parties when the incident is decided by a protest committee. Initially I was hesitant to protest Yannick as although I felt sure he was in the wrong, I knew how hard it is to get to the start of races like this. After a long debate I filed a protest against Yannick for the collision. On Saturday the 15th the Jury claimed the protest invalid. Then the Jury filed a protest against Yannick on 142 and me on 52. On Saturday evening we had a conference call to hear the protest. The Juries conclusion is that Yannick has a time penalty of 24 hours once he has finished the race.
I am very happy that Yannick is still racing and doing so well. He is currently in 4th place with only 770nm to go to the finish in Guadeloupe. I hope that maybe we will be at the start and finish of 2018.
Now I will put the disappointment of my 2014 RDR that only lasted for 12 hours behind me. On the plus side I have learnt so much during the build up of this campaign and had fantastic group of people helping me, I know it will be a struggle again to raise money but the RDR is a fantastic race. I now plan to be on the start line of 2018 RDR but more importantly to be at the Finish!!! - Phillippa Hutton-Squire.
November 17th, 2014
Remember Kiwi skipper AJ Reid, skipper of the ill-fated and now very waterlogged J/111 Django, which sank on delivery after the Auckland-Fiji Race?  As we mentioned in September, Reid is building a brand new Bakewell-White rocket ship at Yachting Developments, and he sent us a note this morning about her progress.
"Hiya Clean, you'll be amused to know that the new boat is called Anarchy!  Check out our Facebook Page for updates on the build, and yes, you're welcome aboard even though you're clearly bad luck!"
Big thanks to sailing/adventure photojourno Jen Edney for a little last second photoshop work, and head over here to see her latest work from the VOR in Cape Town.
November 17th, 2014
Acapulco is where the rich and famous used to go play with yachts, and there's even still a little racing in the once-great venue.  But if we see more ultra-violent protests like the one that shut down almost the entire town last week, the once-great resort will definitely join the 'no-sail' list for cruisers and racers up and down the Pacific Coast.
The protests are an emotional response to a horrible, government-involved mass murder of students in one of the world's most corrupt countries, and anyone who misses the wonderful place Acapulco once was may shed a nostalgic tear when reading about the horrible situation – read about it here.
November 17th, 2014
The same godawful arctic hell that led to the second-coldest winter in recorded history and the longest iced-over period ever for the Great Lakes is back, and with an icy skin making its debut on Lake Superior a full ten days earlier than last year, we could be seeing a historic winter for much of the Midwest.  Stay warm, and check this piece from ABC News for some infographics on the solidifying situation.
November 17th, 2014
Mr. Clean will surely give us the blow by blow report of the VOR Pro Am race from today as soon as he posts bail, but in the meantime, here's s great shot of the start from Trevor Wilkins, with more here. Race was won by Team SCA.
November 16th, 2014

Will Ian Walker get back on form and run away with the Cape Town In-Port Race? When Bouwe told the press that he didn't take the in-port seriously, was he serious? Will the girls start showing their talent? What happens when you sail a VO65 with just 7 crew? And most importantly, will Knut Frostad throw Mr. Clean in the water during their on-water commentary together?
Find all this out and more with a couple of hours of beautiful racing in the shadow of Table Mountain.  And don't forget about the Leg 2 Start this coming Wednesday, when you can listen to Clean and the team once again as the fleet heads off for some Soouthern Ocean fun. That's 19 November at 1750 local/1550 GMT/1050 EST/0750 PST.
UPDATE: Thanks for your patience. We're not happy with this delay at all and we can say confidently it'll be a lot faster next time. I'll have my thoughts on the race and some more inside news and gossip over the next few days as the Leg 2 Start approaches. Thread or Facebook for it.
November 15th, 2014
Seascapes 27 flocked south to join Croatian Offshore classics The Jabuka race. Racing in their own class for the second year gathered 7 crews from around the Europe. Probably the craziest is the Norwegian crew of Tor Hove and Lars Peter Karlsen which drove 2500 km from Oslo to Zadar on Wednsday, will do the race today and drive back with their boat on Saturday! This pic is from the nightime start!
Online updates of the race progress and preparation are here.
November 14th, 2014
Clean Report
It was nearly ten years ago when I did my first on-assignment interview for Sailing Anarchy; an interview with then-skipper of Movistar, Bouwe Bekking.  Three weeks later, Movistar sank, but Bouwe is brave and I'm going aboard Brunel with him today for the practice race, but not before posting this interview with the Dutch ocean racer.  Check out this link for ten minutes with another bald icon, Ian Walker, and be sure to hit the Leg 2  thread with any questions you have for me.
And be sure to watch the In-Port Race tomorrow starting at 1350 local time/1150 GMT/0650 EST.
November 14th, 2014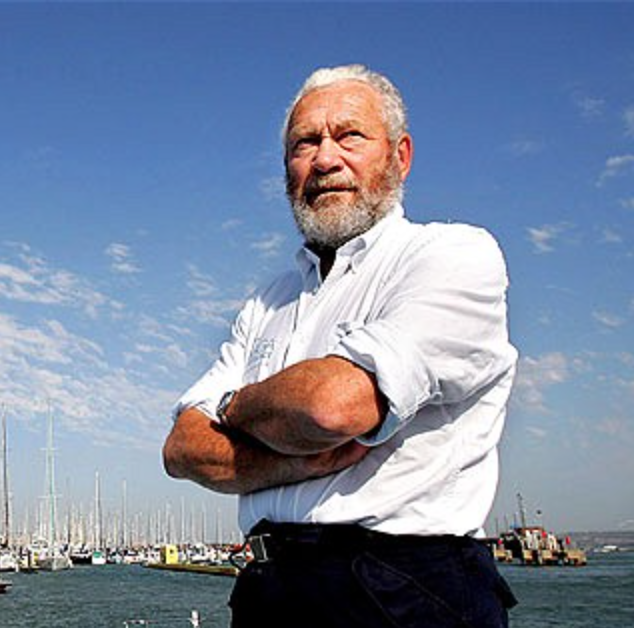 When Sir Robin Knox-Johnson crosses the Route Du Rhum finish line in Gaudeloupe in a little less than a week, he'll get some spectacular news; the lawsuit filed by English bottom-feeder lawyer Ruth Harvey against his Clipper Race was tossed out by a Havant judge earlier this week.  Harvey claimed she suffered sexual harassment and discrimination aboard Jamaica Get All Right (irie?), and sought protection as an employee of the Clipper despite having paid a shit ton of money to sail the race.  The judge disagreed.
Harvey dropped out after two legs and sued earlier in the year, and now that she's been dispatched, we encourage anyone seeing her on a boat to heckle her mercilessly.  Head over to the thread for pics and more information.
November 14th, 2014
Our apologies for missing Veterans' Day by a few, but big props to Ben Poucher and the USMMA Sailing Foundation for continuing to do great things with sailboats for our American servicemen.  Pooch checks in below.
The Warrior Sailing program was created in 2013 through a partnership between US Sailing and The USMMA Sailing Foundation.  Additional support has come from the adaptive sailing community and local sailing clubs like St. Pete Sailing Center, Chicago Yacht Club, and Texas Corinthian Yacht Club (to name a few).  All of these groups working together have successfully provided opportunities to veterans to learn the sport of sailing.  Warrior Sailing has organized multiple 3-day intense camps, where veterans learn from professional coaches the basics of sailing and racing.  From these camps individuals that want to pursue the sport have come forward and asked us to keep coaching them and the natural progression was to develop a 'core team'.  With additional support from the Foundation and continuing hard work from the 'core team', we attended the National Disabled Championships in Galveston in late October.  Our two military rookie teams showed tremendous amounts of dedication to training and learning the sport throughout the summer and fall seasons.  With the help of legendary coach and program co-director Lee Icyda, this group won Nationals with one entry, our second entry taking 5th.  Pretty amazing for only having 7 months of sailing experience! It was a humbling experience for the coaches and all of the support staff.
We're happy to announce that we have been granted an adaptive sports grant from the Veterans Administration for 2015 – the first such grant awarded to the famous USMMA Sailing foundation run by everyone's favorite smiling German, Ralfie Steitz. This grant sets a solid base of monetary support for 2015, but we are still in need of additional support!
Our team of directors, coaches, advisors, and strategic partners look forward to the furthering development of The Warrior Sailing Program 3-day open camps for 2015.  We are also excited about the upcoming traveling 'core team' of wounded vets coming to a sailing venue near you!  If you like this kind of thing, please head over to our Facebook Page and like us, and stay tuned for schedules and planning for the upcoming season!
If you are interested in helping support these deserving individuals, or you are a veteran that wants to get involved, please go to our website and send me an inquiry.  If you are feeling particularly generous and want to donate directly to our cause, please go to this link and donate a gift to the warrior sailing program though the USMMA sailing foundation website. www.usmmasailingfoundation.org
-Pooch/Poocher/Pouche'/Ben
November 13th, 2014
Looking to plan the next major championship for your class?   Look no further America's new 'Green Coast', and we're not talking about conservation.  Nope – we're talking about the new American West – a place where, thanks to the continuing voter revolution,  smoking weed is now legal from the Mexican to Canadian border – and beyond.  Add to that some of the best sailing spots in the World, and your class should never need to go to some windless, smokeless bay again.
This applies even to the cream of the crop, too, thanks to WADA's ten-fold increase in the amount of allowed THC in your blood. It's now legal to smoke even for Olympian and America's Cup racers (as long as you don't toke ten minutes before your test).
And it ain't just the California-to-Alaska pipeline – roughly half of US states now allow 'kind buds' to either treat what ails you, or just your need for the munchies, with another 10 dominoes likely to fall over the next few years.  Considering the massively positive effect that legal weed has had on Colorado's $3 billion/year ski industry, those who can capitalize on this new development will be way ahead of the curve, and we think sailors should be right on top of it.
Just imagine it:  Green medibles and vapor pens alongside Mount Gay and Coke, new sponsors, great T-shirt design ideas, and something to finally make that regatta food palatable.  We're in!  Is your class?
November 12th, 2014
It doesn't look good, does it? Trevor Wilkins shows you more.
November 12th, 2014
The 10th China Club Challenge Match finals, China's oldest annual sailing regatta, and the only fully umpired match race event in China took place over the three days of 7-9th November on the waters off Xiamen, China.
The top 8 teams from the fleet racing qualifier held a few weeks earlier were invited back and seeded according to their positions in the fleet racing.
To put the previous month's event in perspective, there were 28 teams in provided boats (a local version of the Flying Tiger 7.5) and some of those teams had come through a regional qualifier to be in the qualifier with a 10 race series determining the results. These races were run under ISAF RRS Addendum Q enabling on the water decisions with reduced risk 'Room Time' and DSQs.
The racing in both parts of the event, qualifiers and finals, was under the watchful eyes of two Nw Zealand International Umpires, John Rountree and Wayne Boberg assisted by Alistair Skinner & Belle Xing, a local Optimist coach.
Days one and three of the finals were held in the confines of the Wu Wuan Bay, and almost land-locked area of water with spectator areas all round and a small but noticeable swirl of a current  with the start line a little over 100m off the steeply shelving beach giving spectators a good view of the racing. So close in fact that one of the competitors wandered a little too far from the pre-start area and ended needing a tow off the putty – luckily he was not in a sequence at the time.
Day one saw 16 matches across 8 flights as the quarter finals halved the competitor numbers ready for day two. Efficient race management, a couple of score-lines "to love" and a breeze that largely stayed steady in strength and direction meant all were off the water nice and early, ready for the semis to follow on day two when the remaining teams were likely to take the tempo up a notch.
While flags were frequently up in the air on day one, Yankees from the boats and primarily greens from the umpires, the racing was often tight but always in good spirits with competitors taking their 'medicine' without argument.
This set the tone for the whole event and in the evening the umpires held a teach-in and debrief, which one or two non-attendees were to rue not attending during the following day's racing. The focus of the teach-in being the two seemingly simple – but fundamental – definitions of 'Room" and 'Keep Clear' and many of the following days green flags were to be a result of these two basic concepts.
The weather gods were not in such a smiley mood on day two and after being able to run a couple of flights within the bay the pressure gradually diminished forcing a switch out into the main channel where initially there was more breeze but, being the time of the month, a strong tide (2-3 days after springs) meant the race management team were ultimately defeated in their attempts to complete the program with one match ending further below the bottom mark than the top mark was above it.
This potentially  led to pressure on the organisers on the last day and on arriving at the dock to limp flags and glassy water it looked like, for the first time, the Club Cup as it is sometimes known might have trouble completing its scheduled races.
Patience favours the brave however and as the day progressed so did the wind AND it steadied up too requiring few delays between racing for course resetting. The first to three finals went to the full five races with Beijing China Yachting sponsored by the leading Chinese sailing magazine winning the right to challenge the holders and defenders, Xiamen Blue Sea, a team made up largely of Xiamen University students.
Sadly for the defenders, they had no answer to the Beijing team's now match prepared sharpness and their 'wild aggression', as one spectator described it, seemed to get them into more trouble than it got them out of. The 'Y' flag was much in evidence, mostly with a green response from Chief Umpire Rountree and after the umpires prematurely stating 'we haven't seen a single black flag in the whole event', a delay in taking a second penalty by the Xiamen students resulted in two blues and a black fluttering above the umpire boat for the only time in the regatta.
That said, all umpire decisions were met with good spirit (a few top match racers might take a lesson from that) and the 3-0 victory by the challengers was a convincing victory for the Beijing team which completed a four year journey for their skipper, Shen Sheng who first competed in the China Club Challenge Match in 2010.
The prizegiving was held on the main stage of the Xiamen Boat Show, and then on to the after regatta party and Xiamen IronRock Sailing Club should be congratulated for growing this event over the years from a 2 club head to head in old J-24s to what is recognized as one of the 'must do' events for keen racing sailors in China.
These events don't happen overnight and the 2015 event is already in the calendar, the post mortem of what was good and what could be better is in progress and with this attitude, this regatta can only continue to grow in its size and stature.
One foreigner asked "Are there enough sailors in China for an event like this? – You better believe it!
Shanghai Sailor
November 11th, 2014
In this battle of the latecomers from an angle we may be the first to have, the two final entries in the VOR fight it out mid-Atlantic, with Chris Nicholson luffing the Spanish a couple of weeks into Leg 1.  Did MAPFRE foul Vestas?  You make the call.
Meanwhile, MAPFRE's DFL has already produced some major casualties, including the world's most successful solo ocean RTW'er.  You heard that right, Michel Desjoyeaux gets the flick from MAPFRE along with French navigator Nico Lunven, and Spanish sailing journo Pedro Sardinia says there was plenty of drama between the French star and Spanish skipper, and q quite unbearable atmosphere on boad according to Sardina.  Thanks to Geronimoll for the translation of the original Spanish piece here.
You should already be on the Leg 2 thread here if you're looking for the latest news.  Want to know something special about any of the teams or this edition of the VOR?  Post up and Mr. Clean will get the answer for you on the ground in Cape Town – he arrives on Wednesday.
November 11th, 2014
Mark Chisnell is having a week off, so throughout this week at the B&G Blog, we will be featuring feedback from the Navigators themselves which relates to the B&G Navigators' Prize for the Volvo Ocean Race.Here's a short précis of today's content:
The B&G Navigators' Prize for the Volvo Ocean Race 2014-15 will be awarded to the Navigator who has made the most effective use of meteorological, oceanographic and geographical information to gain distance on the majority of the fleet, as voted for by the seven competing Navigators themselves. Here's a revealing (and somewhat poignant) little taster of opinion so far from Nicolas Lunven and Wouter Verbraak.
Read more here.
November 11th, 2014
Something old, something new? Tell us.
November 11th, 2014
Big Pimpin'
Mauri Pro Sailing has some pretty frigging good deals on some of the very best wet weather gear – Henri Lloyd.
They are bundling gear packages to fit any type of sailing, from Elite Race to Elite Offshore and everything in between. Check it out!
November 11th, 2014
Sam Greenfield gives you something really awesome…
Ronaldo and Bradley are students at the Lawhill Maritime Centre in Cape Town, South Africa. Today their class visited Nick Bice at the boatyard and set a goal for the future: to be the first South African team in the Volvo Ocean Race.
November 10th, 2014