It has been a long time since we've seen this much excitement around a new boat launch, but we reckon if ever a boat deserved it, it's the world's first fully foiling cruiser/racer.  Sick work from all the Gunboat G4 build/design team, and we're proud to host this World Premier of the beautiful film of Timbalero 3′s sea trials earlier this week (thanks to Richard and Rachel).
Mr. Clean heads down to Antigua at the end of the month for his in-depth, Anarchy look at the G4; in the meantime, head to the thread for all the news and analysis here.
April 11th, 2015
Pretty cool, we reckon. Do you know?
April 9th, 2015
When we were putting our new GP 26 together, we wanted to look for a sailmaker on the march, and we started and ended with Doyle. We really liked how they approached the program, so we thought putting a series of articles together outlining their sailmaking process. – Ed.
SA: I'd like to start with a first article about the things that you guys did in terms of rig analysis, sail design, etc. that I thought were so impressive, and I think anybody looking for sails will find that compelling. I will rely on you guys to provide the substance of that article – tech, renderings, etc.
Doyle: Back in mid-2014 Sailing Anarchy's editor Scot Tempesta approached Doyle Sails NZ about designing and building a sail inventory for his new Jim Donovan-designed GP 26. Were we up for the challenge? Damn straight we were.
At Doyle, working with the customer directly in the design stages and ensuring an end result that works for their boat is key. The sail design software that we use is highly advanced and allows us to accurately design sails on accurate boat models, and customize accordingly. Richard Bouzaid, Head of Design at Doyle Sails NZ, led the charge on the design process of the sail inventory for Scot's GP 26 and he gives his insight into the process here:
"This is the first GP 26 to carry a Doyle inventory and our initial steps were to work directly with Jim [Donovan] on how we could best tailor sails to the design. A lot of discussion between us, Jim and Scot took place around the existing GP 26 fleet, how they were being used and how Scot's boat would be used by comparison. The end goal was to produce a configuration that would be practical for the sailing the boat would do; being based in San Diego the inventory would need to suit typically light winds.
Early on we decided on a square top mainsail. None of the other GP 26s has this type of sail and at this time the rig design is not configured for this type of sail – a job that will come after the launch, when running topmast backstays will be added. In addition, we also designed two headsails and two gennakers, which is a fairly simple and cost effective sail inventory. The plan is also to add a Code O later down the line, once the boat has been out sailing and we have a better idea of how she sails and see if the rig can handle this type of sail.
Jim supplied our design team with a model of the hull and details of the mast tube section. We then modeled this in our software to establish a base tuning configuration that Scot could start with and to have a good idea of the rigging and sail trim adjustments that he should use through wind ranges.
This will allow Scot and his crew to get straight into sailing at high efficiency, with defined rig adjustments for different wind speeds, and to set the sails to suit all conditions. As the yacht has the ability to do a lot with the mast, this insight into accurate tunings should prove a real advantage. While we would not undertake this detail for all of the sails we design and manufacture, this level of tuning detail is a good exercise to demonstrate the kinds of information that our very advanced design software can provide when required, and much of this information is transferable to other projects of similar style.
After undertaking our initial analysis, modelling the rig and creating the rig tuning and sail trim tables, we then optimized the sails to match these rig setups. This is where we do adjustments to the luff curves to match the mast bend and forestay sag to get the best match to the mast/forestay and we can see the effect through the mastbend/forestay sag range on the sail and gauge the relative performance differences.
This is the same sort of thing that can be achieved with hours of sailing, and tweaking luff curves on the sails, but before the boat actually sails and before the sails are built. All of this analysis is done with the structure that we are intending to build the sail from, and through this process we can establish if the sail structure is working as we want it to, and within the structural safety limits, and make any necessary adjustments."
With design work complete it was over the floor for the sails to be built in the dedicated Stratis plant and 7,000 sqm Doyle loft. Next, we'll see how the things look!
April 9th, 2015
Big Pimpin'
Strictly Sail Pacific is on in Oakland! Whitecaps Marine will be exhibiting at the Show, but if you can't make it, that's no reason to miss out on some of our great deals.  For ONE WEEK ONLY we will have 15% OFF Gill, Henri Lloyd and Zhik and even more savings on select gear packages (15% off excludes items marked as clearance and already discounted team gear packages).
Sale runs from April 9 – April 15.
As always, we offer FREE SHIPPING on all US orders. No minimums, no coupons – just simple, free ground shipping.
Follow us to stay up to date with special offers:
Twitter: @whitecapsmarine and Facebook: www.facebook.com/WhitecapsMarine
April 9th, 2015
Tweet your questions here!
April 9th, 2015
Well, that didn't take long!  Lending Club CEO Reynaud LaPlanche has only had his VPLP trimaran Lending Club for a few weeks, and he's already set his first passage record.  Look for some serious records to fall over the next 6 months thanks to this youthful and enthusiastic Franco-American billionaire.  Project Manager and skipper Ryan Breymaier tells the story exclusively for you Anarchists…Mark Lloyd photos (except the last one, credit Quin Bisset) with galleries over here, and be ready for the LC's next assault – the ages old Newport-Bermuda passage record – coming far sooner than you think.
About 15 minutes after our start in 20 knots of breeze upwind, JB Le Vaillant looked at me and said "We should turn around, go back and put all the sails up and start over!"  I was tempted to agree with him as we found ourselves with the J2 and 2 reefs in the main upwind in 12 knots, tacking towards the Needles.
NOT ideal, especially for breaking a record Brian Thompson and his crew set on Maiden 2 after waiting for weeks for ideal conditions; ENE breeze, super flat water, sunshine sailing.  Brian and his team (which included SCOTW Adrienne Calahan and C-Class hottie Helena Darvelid -ed) did the record back in 2002 with the full main and big gennaker.   Lending Club crew Stan Delbarre was with them on their record run, and he's been warning me in quiet tones for weeks.  "Ryan, this will not be as easy as you think."
Those words were ringing in my ears as I looked back to see a glassed off Solent arriving with the rising sun.  We'd pinned our hopes on the NW breeze coming after the frontal passage with a shitty (but improving) sea state and plenty of breeze to power across; our window before leaving for the States was short, and it isn't the right time of year for Easterlies…
In the end, after hurried discussion with JB, Boris Hermann who was navigating, and Renaud who was driving,  we decided to take our chances.  Just tacking back and setting the right sails and then restarting with full main and J1 would have taken forever…besides, in front of us at Hurst Castle we could see breeze on the water, and the buoy observations showed 25 at Portland Bill and 28 mid Channel.
It was as if the helicopter taking video had put a line on our bows; our nose poked out into the pressure, we bore away to 195 true, our course across the channel, and then the wisdom of our 2 reefs J2 sail plan made sense, as the boat leapt to full potential, daggerboard up, foil down, traveler down, and a hand on the sheets, flying 2 hulls full time across the channel, touching 37 knots several times…
IT is amazing how quickly the decisions are made at those speeds, Boris says to me "don't freak out, there is a cargo ship 4 miles ahead, it will pass 1/2 a mile behind us in a minute or so, come up 3 degrees on average to be sure they pass", which means a corresponding retrim of the traveller so as not to fly too high; no swimming for this crew today, thanks very much.  Thank God most boats have AIS these days; without it, we would never have even seen the little fishing boats in the waves until almost too late.
As we got into the lee of Jersey, the sea flattened out completely, and breeze went aft another 15 degrees.  Sailplan management is key in general on such a big boat, but here it was just 15 minutes of hard work.  First shake out the reef.  6 minutes with 7 guys rotating on and off the handles, including two on a top handle in the halyard winch, 4 on the pedestals, and one resting, with just the driver with one hand on the traveller keeping us going quickly.  Then comes sheeting back in, and getting the traveller back up, another 3 minutes for each with 4 grinding on the pedestals.
Next, bear away and unroll the J1, 2 minutes grinding with the boat dead downwind to unload the sail, even with it in the lee of the J2, which is on hanks, so as soon as the J1 is sheeted, is just dumped completely, halyard runs, and the sail falls onto the net (thank god for not having to pull it over lifelines out of the water) to have 2 sail-ties hastily thrown around it so the two bow guys can come back and start grinding again, as the call has been made to get to full hoist on the mainsail!
Another 12 minutes or so, 7 crew over their aerobic threshold, with dead arms, and we still cannot let up for a second, as we are now flying two hulls full time on flat water, which means a 30 second grinding effort every minute or so for 4 guys in low gear to keep the traveller just where it has to be, central hull just kissing.  If it goes in, the boat-speed drops 2 knots, which is unthinkable, as Boris has informed us that we have 55 minutes left, and 25 miles to go.
I remember telling the grinder in front that we were literally lifting the hull out of the water with our backs, and it's truly amazing to see the immediate effect of each turn of the handles.  The central hull literally lifts centimeter by centimeter with each millimeter the traveller goes up the track.
In the end, we were 9 completely exhausted but extremely happy guys crossing the finish line with 8 minutes to spare in Dinard.  For next time, we'd like to order up a 10 degree righty in the Solent, and we will shave another 30 minutes off the record!  It's never finished, is it?  On this boat, it really isn't.  You sheet in, the speedo hits 30, and then you keep grinding.  Everything is easy, except the grinding.
We all owe a huge thanks to Renaud for making this possible.  Sure, the company he founded is on the sails, but he is personally financing this project, and without his vision and energy we wouldn't be here. Also thanks to our technical partners; Guy Cotton foul weather gear, Marlow ropes, Great Circle weather date analysis, Switlik Survival Equipment and Underwater Kinetics technical equipment, who have made our lives much easier onboard this beast!
April 9th, 2015
Who in their right mind could argue with this statement? Certainly not us, although we bet there will be a few angry females who can't wait to bitch about it!
April 8th, 2015
Anarchist Josef Andresen takes us into his world of the Moth…
Just 12 months ago I flew to Miami and spent 3 days on Biscayne Bay, jumping into the world of Moth sailing.  My initiation was much more swimming than sailing, ending up bruised and exhausted yet wanting more.  However on the 3rd day, just hours before heading home, I found myself foiling (flying) over the water for mere seconds in what seemed like an eternity.
I was hooked on this new sailing challenge and purchased a used boat several months later.   With a busy work schedule and little experience or confidence, I found limited opportunity to get on the water except on a couple of occasions with a small cadre of devoted local Moth sailors who are now growing in number.
Was it time to head back to Miami for a jumpstart?   March weather forecast: air temperature, 86 degrees, water temperature 77 degrees.  Lets go!  After an email to Anthony Kotoun, U.S. Moth Nationals champion and East Coast Moth Mach 2 sales agent, I got a heads up that Victor Diaz-de-Leon would be happy to spend some time on the water with me.
Victor has an interesting story: Venezuelan born, sailing since age 6, he immigrated to the US as a teenager and attended St. Mary's College, majoring in economics.  Sailing is his passion and he is an up and coming rock star in the sailing world who if you haven't heard about yet, you soon will.    Sailing on "Catapult", second place boat at the J70 worlds in Newport, Rhode Island this past Fall, calling tactics for 2nd place finisher, 12y/o Gannon Troutman in the J70 fleet at Quantum Key West Race Week 2015 and sailing regularly in San Diego in the Etchells fleet, Victor has a busy schedule.   He was in San Diego but had 2 days free and agreed to meet me in Florida.
 We met up at the Miami Rowing Club beach.  Short in stature, with a bigger than life smile, piercing green eyes and a full beard hiding his 23 youthful years, Victor gave me an enthusiastic hand shake and hug, "Welcome to Miami!  You should have a great time with Thomas, Ainsley and Tyler.  They are all learning and are here to sail their Moths!"    His boat was just 3 months old so I brought my own foils to use since this is one of the more expensive things that can break.  Like setting up a Formula One race car, I watched closely as Victor carefully assembled the foils and fine-tuned the rig.   "Let's tighten up the rig and reinforce everything since I know there will be a few crashes", he said, smiling.
To keep things simple, Victor launched the Moth off the beach and I jumped in the VSR RIB and followed him out to the central bay, dodging anchored boats along the way.  It was a beautiful, sunny afternoon with a southwesterly blowing at about 12 to 15 mph.  I watched in awe as he foiled across the water effortlessly.  Now it was my turn.  I came up along side and caught the Moth's wing on her port side.
"Ready?"  I nodded and jumped over the wing and landed in the center cockpit, grabbing the mainsheet quickly.  The boat came to life, powering up immediately with a rush of water underneath.   Suddenly I felt weightless as the boat rose up out of the water and I was foiling quickly away from our transfer point.
As quickly as this all happened, I found myself falling to windward and splashing into the warm water of Biscayne Bay.  I hung on to the windward wing and grabbed for the mainsheet, pulling myself back into the cockpit.  Like a horse out of the starting gate, the boat lurched forward again and I was foiling forward 50 to 100 feet at a time.
Four hours passed since we left the beach and the sun was beginning to set behind the western Miami cityscape.  After each capsize, it was getting a bit harder to climb back aboard.  Victor appreciated my enthusiasm but saw that it was time to call it a day.  We traded places and headed for shore.   "Let's meet up tomorrow with everyone and review the video and have a debriefing", he suggested.  "Sounds good" I replied.
The next morning we all gathered around the TV monitor and watched replays of the previous day.  Time after time, I was rising up out of the water, foiling forward and then quickly falling to windward, back into the water.  "Let's look at what happens to your righting moment when you start foiling", Victor said.  He pulled out a series of sketches showing that the center of gravity and righting moment dramatically shifts from low riding to foiling resulting in increasing windward heel.  "As your speed increases, the apparent wind moves forward and you need to trim in quickly to compensate", Victor summarized.  Now I had a better idea and visual of what was happening and how to respond.
We headed out on to Biscayne Bay mid afternoon as the wind picked up; another day of perfect conditions.  Now it was my turn to take the tiller.    Balance, trim in, hike out and I immediately felt the quick acceleration, elevation and then silence.  The only sound is the wind and a faint tapping sound of the wand hitting the surface of water, instantly adjusting the main foil flap angle of attack.   I start to fall to windward.   "TRIM, TRIM!" I hear shouted behind me.  This quickly jolts my attention to our "sailing 101" discussion a few hours earlier.  I pull in on the mainsheet, the boat immediately rebalances and locks into its trajectory.  I look back over my shoulder.  Victor and the blue RIB is suddenly several hundred yards behind and I start laughing realizing that I've just stumbled forward in my learning curve.   "Nice Job" Victor shouts as he finally catches up as I let the boat settle back down on the water surface, low riding again.   Before he can say another word, I'm gone.  Foiling 300, 400, then 500 yards at a time!
Hours pass and the sun is low in the sky.  I'm exhausted but elated at the same time. I can't wait another 12 months for more of this.  The fleet moves North in the next few months.  Newport, Rhode Island here I come!
April 8th, 2015
New York Times correspondent Chris Museler was so inspired by our coverage of foiling boats over the past year that he's doing something really interesting with it, and he wants you to all be part of it – live, online, or via Twitter; your choice.
Tomorrow, Thursday April 9th, Chris will run a live, webstreamed talk called 'Foiling In The USA", where he will talk to some of the most interesting folks in foiling and answer your Tweeted questions about the foiling landscape. It all starts at 1900 (7 PM) EST, 1600 PST, 2300 GMT.  If you want to ask your question in person, head over to the Doyle Long Island loft for free pizza – everyone's invited.
This is all about having an open discussion on how the rapid development of hydrofoil technology is going to change the way we enjoy sailing!! Will we all be cruising on hydrofoils in the future? Will kids be flying out of the water on mass-produced plastic foilers at their learn-to-sail camps? Here's the line-up to answer those questions:
-New York Times correspondent CHRIS MUSELER makes sense of the latest developments
-GunBoat founder PETER JOHNSTONE on live SkypeVideo chat about the foiling G4 cruiser/racer catamaran in trials THIS WEEK!
-The Foiling Week founder Luca Rizzotti will chime in from Lake Garda to explain the vibe when the world's top foil designers get together to create the future of the sport
-AND contributions from other influential visionaries including radical kite foiler Bryan Lake, Waterlust Project filmmaker Patrick Rynne, US Sailing Executive Director Jack Gierhart and more!!!
Big thanks to Mark Washiem from Doyle Sailmakers Long Island for the space (and Pizza!) to share cool ideas with Strong Island sailors.  And a huge thanks to US Sailing for stepping up to support foiling in the sport by Sponsoring the LiveStream broadcast.
Finally, Tweet your questions to @OakcliffSail, and thank them for sponsoring and running the Twitter feed.
April 8th, 2015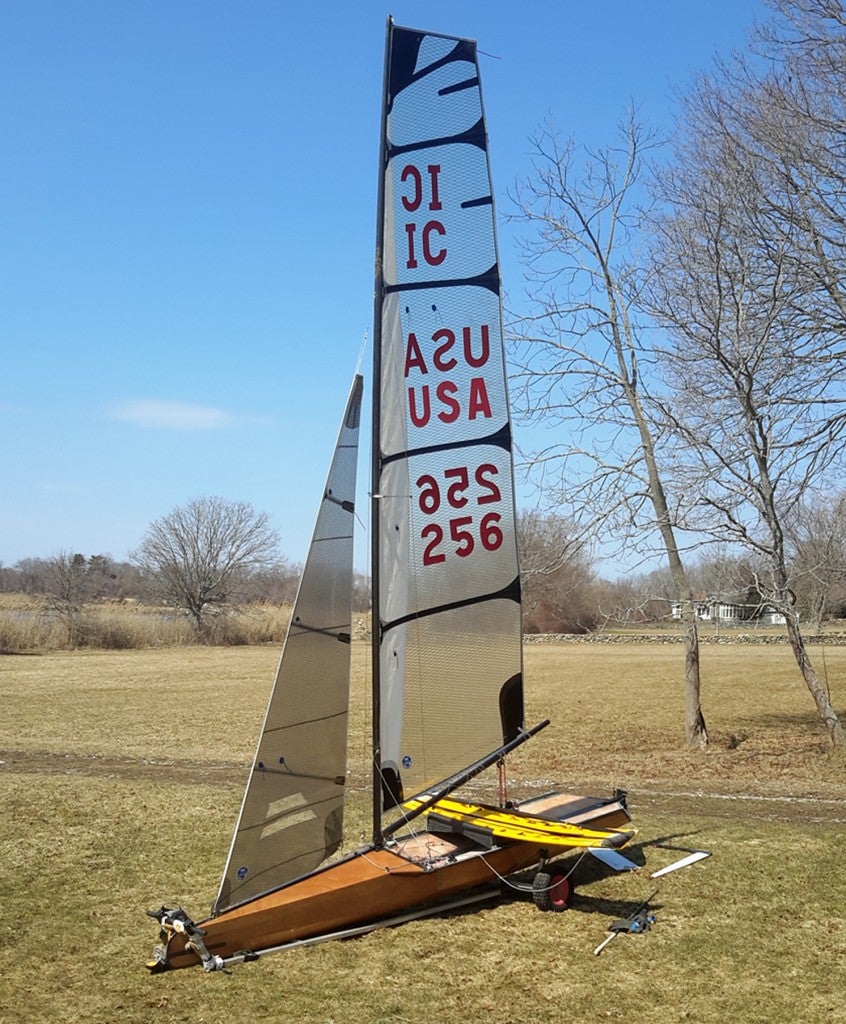 The 20 knot home build canoe from our friends at Wooden Boat magazine…
I started out looking at high performance sailing and feeling horrible about exhorting my friends to blow the cost of a new Subaru on a new IC. It just wasn't right. There had to be a better way to grow the sport. So I went after the cost and built a tortured plywood IC in a jig with a host of CNC cut bulkheads inside and thought about making the final product more affordable that way. I named her Dance Commander and got fifth overall at world's in her. I was in position to snag the bronze by the last race when my halyard blew up. The boat went like a bat out of hell and held up to 20+ knots in San Francisco bay for two weeks of total war without complaint. As I was driving back across the country, though, I realized that what I had really proven was the ongoing relevance of wood. With cheap okume and white pine, I'd built myself a weapon that could lead a fleet almost entirely dominated by carbon boats. It's important to note at this point that I'm no genius builder. My dad is a great designer and I did an acceptable job of assembling the boat. So with the right design anybody could do what I did. "Awesome!" I thought "Let's make it happen".
When I got back East, my dad went back to the drawing board and I got back to peering over his shoulder urging "Pointier! Scarier! Meaner! Sharper!" There were two criteria: fast to sail, easy of build. I was very wary in protecting ease of build. It's common for a career boatbuilder to begin sentences with "It's not that hard to…." and that's a dangerous path to tread in kit building. What came out the other end is Machete, the most aggressive looking canoe I've ever sailed and by far the easiest build. I constructed the hull in a shed in Ithaca over the winter, using nothing but hand tools. It went together like cookies and milk. It's a miracle of CNC cutting and good designers how these complex shapes break down into a set of tinker toys for grown-ups. I really have to thank my dad for designing such a beautiful and intricate craft. It was an indescribable pleasure bringing it from a box of cut-outs to a three dimensional real hull.
Part of the Machete kit concept is the notion that the truly rewarding part of building a boat is building the hull. The hull is the true "boat" part of the boat. It's the part you name, paint, fare, talk to. The other stuff just gets in the way of getting on the water and sailing the wonderful boat you've just built. With that in mind, all the other parts can come prefab, enabling you to stick to the good part and not be driven up the wall making foils while your beautiful hull sits in your shop looking on expectantly. So, I came back to Rhode Island with my finished hull and took the foils, seat carriage and seat etc, for which we have good reliable tooling, out of stock and rigged her up. Great. Hull done. Time to sail.
Machete weighed in finished at 50kg all up, the minimum weight for the class. We've been doing sea trials in the last week and the thing goes like a missile. She will go up against a good group of other IC's in Oriental, NC this coming weekend and I'm certain that she will do nicely. In many ways its feels like a vindication of a hunch my dad and I have had for years; that you can get to the front of a high performance development class with wood and clever geometry as opposed to the wholesale application of exotics. For me, the machete project has been one of the most rewarding things I've ever done, and I am preparing kits with the hope that other people can have that experience too."
Read the full article here and title inspiration thanks to Peter Murphy.
April 8th, 2015
The new TP 52 Quantum  Racing. New boat, new look. Like it?
April 8th, 2015
Big Pimpin'
One of the most competitive and extreme one-design fleets of the past decade has gotten the message from its owners, and we're excited to share the news that the Melges 32 Class is rolling out a new Winter Series for the 2015/16 season.  Hosting all three events from the same yacht club will cut down significantly on logistics costs, and the Fort Lauderdale venue will prove far more affordable than some of the over-the-top locations of recent years.  With used boats available at great prices, it's a perfect time to get into the exciting Melges 32 fleet.
Joy Dunigan photo, and check out the full schedule over here.
April 7th, 2015
Our new product spotlight turns today on a couple of cute sailor chicks from Hamburg – they've invented a new and foolproof way to keep liquids ready on your dinghy or sportboat.  It's called the Buddel Slauch (don't ask), and if you want to check it out and get yours early (and ensure it's actually produced), head over to their StartNext page and feed the crowdfund – they only need another grand or so to make it happen.
Apparently the girls do some pretty cool regatta awards too – lookie here.
April 7th, 2015
We're all about equal opportunity here at SA, and we don't care how far behind they finish – we still want to watch Team SCA cross the line. If you do too, click above – this was recorded just an hour ago from Itajai.
The girls grab fifth place – their highest finish yet in a leg thanks to Dong's dismasting, and it's a nod to all the teams and the VO65 that even Team SCA beat the last race's fastest Leg 5 finish by almost two days.
April 7th, 2015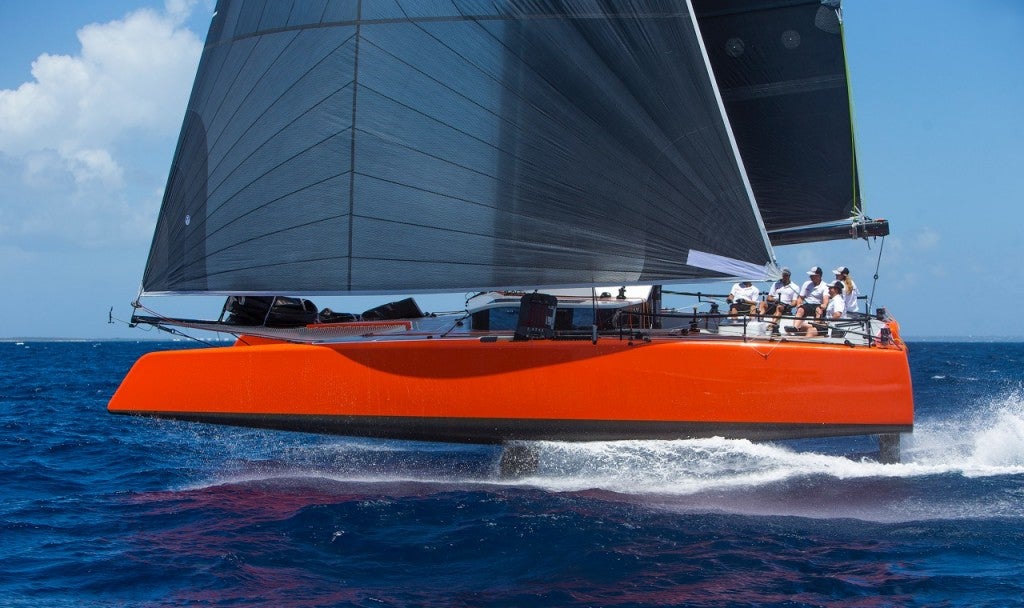 A stoked Peter Johnstone reports that the hard-working design and build team at Gunboat have done it!  The full-foiling G4 cruiser/racer is ticking all the test boxes during her St. Martin sea trials, and here's today's sailing report directly from test pilot and mast builder Ben Hall:
"An epic day of sailing the new Gunboat G4!  The orange rocket handled the 18-20 kt breezes off St Maarten with ease.  Foiling was fast and steady. I got to drive upwind and hit 15.4 kts…incredible!
Downwind with R1 we peaked out at 25.7. On the foils we had really good VMG with TWA of about 160. On the final burn into the harbor with the solent and full main the top speed was 29.7.
Probably one of the best days of sailing ever for me…all on a boat with a cruising interior, a nice fridge and stove, electric sail drive and cockpit for the best of parties.
Truly remarkable!"
Screw the AC48 – they should just do the America's Cup in these things.
Watch the G4 thread in Multihull Anarchy and Gunboat's Facebook Page for the latest photos and reports, and check back here later in the week for the full video.  Photo courtesy of Rachel Jaspersen/Ocean Images.
April 6th, 2015
Language boffins have complained for years that the 3-day Sperry Charleston Race Week is woefully misnamed.  But the wild success of the hemisphere's biggest regatta has allowed the event to leapfrog right over the 'week' part of its name, because this year, April is Charleston Race Month.  And thanks to our friends at Sperry and their Odysseys Await promotion, Sailing Anarchy is bringing you its biggest coverage of Charleston action ever – just when conditions in the South's sailing capital are a sailor's paradise.  For more, we go to For2Battery Race founder Tim Fitzgerald:
All the Charleston action begins on April 11th, when the second annual Fort2Battery sprint turns Charleston Harbor into "Caddy Day" at Bushwood.  This hot event reached its entry cap weeks ago, and some 75 high-speed kites, boards, catamarans and moths will be racing down the harbor at speeds touching 40mph, competing for some $20,000 in prizes including a brand new bike, and one of the largest single cash prizes in all of American sailing!
One notable absence is the inaugural Champion, "King of the Harbor" Bora Gulari, who's giving someone else a chance to win this year.  Will the sailors still be able to hold off the kites in 2015?  You can tune in right here on the front page for a live hour-long morning show from the beach, and the entire 9-minute race, streamed by the original troublemakers who called last year to tell us "DUDE! this race needs to happen, how can we help?!" at Sailing Anarchy. And we've got a pro photographer going up in a Holy City Helicopter to shoot the event – it will be awesome!  Head over to our Facebook Page to find out how you can enter to win a brand new Liquid Force Kite or Kiteboard, and please join us at the huge post-race party and awards at the awesome Palmetto Brewery at 7 pm. 
The nearly 300 teams entered in Sperry Charleston Race Week in about a hundred classes on 5 circles will begin arriving in Charleston immediately after the sprint, and we've got a full program of live, recorded, photo, and social content for everyone stuck at home.  For the 2500-odd sailors, shore crew, and support staff in the Holy City, we've got all sorts of goodies, including giveaways, contests, and a VIP after party with tons more giveaways, and a Karaoke contest where we'll award a year-long Sperry footwear sponsorship to one lucky crew!
While the multi-media fun ends on 4/20, the month ain't over for sailors until the next weekend, when 15-20 high-speed E-Scows (including one helmed by the aforementioned Gulari) will take advantage of the perfect SE seabreeze to race in the CYC E Regatta.  We've also heard rumors that several high-performance one-design and box rule classes are looking to join the late April fun in 2016; is there another 200+ boat Charleston regatta on the horizon?  We think there should be.
Check out the full webcast schedule here, and let us know about you and your crew in the Charleston Race Week thread.
April 6th, 2015
It's taken less than two years to go from the fantastic AC72 to the ghost of an AC62 to an AC48 – the smallest boat conceived to sail in an America's Cup in the 165 year-history of the event.  The 48 will clearly be cheaper in every way, but is it the America's Cup?
One might well doubt it in view of AC48 Rule version 1.0 dated March 31st – this is a one-design rule, and one that the Defender – Oracle Racing – has been thinking about for some time.  Master illustrator and yacht designer François Chevalier and partner/historian/analyst Jacques Taglang analyzed the rule this morning, and their drawings give us a good comparison view of the new AC48 – and surprisingly, it looks like it won't even be as big visually as the AC45 (and the proportional drawing shows even more that the AC48 looks like a 'special' brother to the 45).  Here's a comment from the team.
What we have is a boat whose wing, sails, hulls, platform/crossbeams are standardised!  Same engine, same body, all engineered by Oracle's designer.
To reassure the world that the America's Cup still means something, the Rule throws the engineers and computer scientists a bone; they have a small amount of freedom to design the daggerboard/lifting foils, the rudders, non-structural aero fairings, and some parts of the wing and board control systems.
In other words, history showed us what the America's Cup is, and we all know of the Little America's Cup, so then this new AC-1D-48 should probably be called the Medium America's Cup.  Looking at the design drawings, you will see that the new boat is no longer visually special, and will probably be overlooked amongst the already large and growing number of multihull racing events.  Only the name of the trophy will maintain whatever legend remains.  Hence the Medium Cup!
Little Is Bigger

As a result of AC organisers' wholesale changes, the Little America's Cup (now called the Little Cup thanks to trademark claims by the AC organizers) raced with C-Class cats becomes the sole remaining event in which the inventiveness of yacht designers is still free.  The sole constraints in the C-Class: Length, width and sail area.
Let us say straight away: Vive the Little Cup!
April 6th, 2015
The influx of knowledge and skill pouring into the Gunboat fleet over the past five years was blatantly apparent during a picture-perfect week in Sint Maarten for the 2015 Heineken Regatta, and Richard and Rachel captured the feel of the Caribbean's most picturesque regatta well.  Two-time Melges 32 World Champ Jason Carroll barely held off professional A-Cat World Champ and multiple F-18 champ Mischa Heemskerk with both skippers sailing to the limits of the multi-million dollar cruisers, and both teams already thinking about next year's rematch.
They (thankfully) didn't shoot what we love most about SXM – the insanely hot French and Dutch girls, the cheapest and best wine and alcohol in the Caribbean, and drug-addled all-night parties from one end of the island to the other.  Nope – you've gotta come racing for all that.  If you don't have a boat, give this chick a call.  She'll get you some silverware and her crews are no strangers to debauchery.
April 6th, 2015
It took less than a decade for the world's big charter fleets to go almost entirely multihull, and why not? For the same length and weight, they're bigger, more comfortable, more open, and just plain better for cruising regardless of experience level.  When we saw this wholesale defection underway, it made us happy – tens of thousands of know-nothing once-a-decade charterers would learn that sailboats could go faster than the 5.7 knot top speed of a Moorings 390 shitbox, and who knows – maybe some fraction of them would be inspired to go racing once they got back to Duluth or Green Bay or Chillicothe?
One problem with our wishful thinking – the charter companies ordered overweight Fontaine-Pajot/Leopard/Lagoons by the shipload, with tiny rigs, diaper-cut sails, and no downwind sail inventory at all, ensuring that the boats are almost never used for sailing.
And this one, stuck under a Sint Maarten crane last week, looks far better than the usual.  Fortunately, there are a few companies doing real performance – check SA's preferred one here.
April 6th, 2015
Late afternoon sun welcomes Ian Walker and Abu Dhabi Ocean Racing to the top of the podium in Itajai, live right now with Genny and Covell.  Don't go away for long – the rest are not far behind.  Except for Team SCA, who just took out one of their rudders on a UFO…watch and learn.
April 5th, 2015