We may not have come down to Brazil specifically to investigate the water pollution problems, but the situation is inescapable, and yesterday's discovery of an open sewage outfall less than 50 feet from the main Olympic Sailing Center launch ramp was, well, shocking.  Local authorities panicked and sent over an oil containment crew with a floating boom…but that ain't oil, and the inside of the Olympic harbor is now half water, half poo.  It's one thing for a huge 3rd world city to have sewage problems, and our final report from Brazil will get deep into a situation which is neither uncommon nor surprising in a Latin American metropolis, but the level of incompetence required to have thousands of gallons of untreated waste flowing in the one place that every sailor touches every day, and that every reporter sees every morning?  It simply defies belief.
And the hits keep on coming; a 5-man media team was held at gunpoint and robbed of cameras and phones while covering the cycing test event yesterday, the same day hundreds of thousands of protestors – including tens of thousands on Copacabana and Ipanema – blocked major roads across Brazil while calling for the impeachment or military ouster of recently elected president Dilma Roussef.  Think American politics are messy?  She's got an 8% approval rating…
On a much more positive note, the US Sailing Team Sperry seems to be continually improving, with a good start in the Laser and Radial, and a great start in the 470 (and a seemingly healthy team, barring a few bruises).  The US currently holds second place in three classes, in fleets that are largely the same as they'll be next year.  Peaking early, or a sign of great things to come?  We're on the ground to find the answer.  Listen to yesterday's interview with 470 chicks Bri and Annie here, and watch these pages for more.  Test Event Results here.
Onne Van Der Wal photo of new dad Stu McNay and Dave Hughes.
August 17th, 2015
In the series that's quickly become a dry run for next year's introduction of the multihull World Match Race Tour and the million dollar grand prize, Taylor Canfield's US-One once again dominated the fleet in Copenhagen.  With just a few months left until the 2016 Tour, it's looking like young Tay-Tay is on the road to millionaire-dom .  And despite the rout, the racing is getting more and more fun to watch. Here's the highlights package from our friends at RedhandedTV.
August 17th, 2015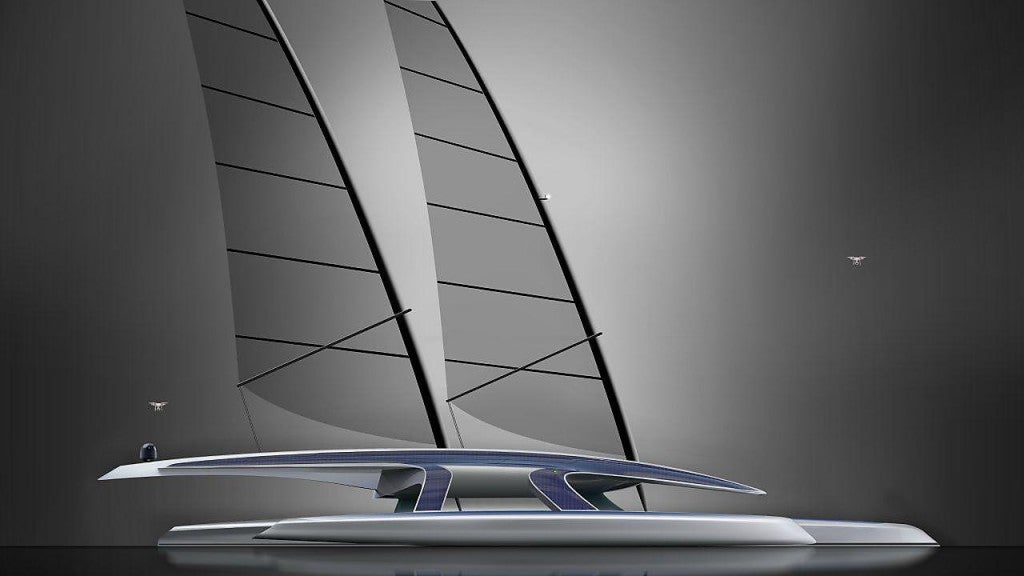 From Plymouth, England to Plymouth Rock on the 400th anniversary of the trip that colonized the New World, the 106-foot Mayflower Autonomous Research Ship (MARS) might make history in 2020 if the right commercial partner can be found by MSubs, Plymouth University, and Shuttleworth Design.  It's the latest (and maybe the prettiest) in a long line of vaporware sailing UAVs, and with a new bag of tricks: Sailing at 20 knots, motoring in light airs with near unlimited range at a quarter of that, and launching and recovering its own aerial drones.  We likey.  More from Giz, and chatter over here.
August 17th, 2015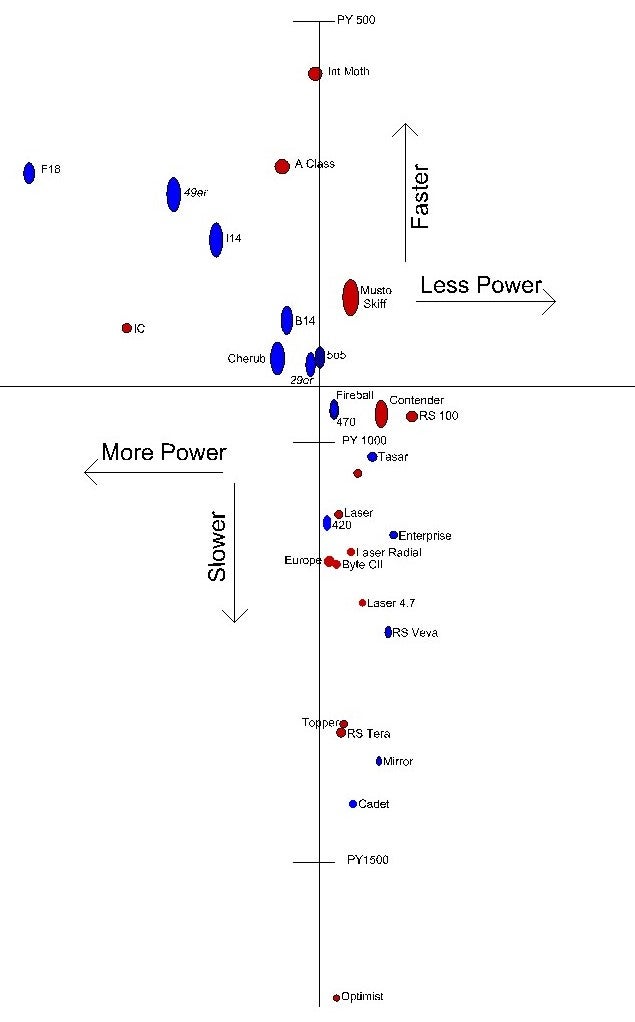 We're always happy to hear from longtime SA'er and high performance guru Julian Bethwaite.  He checked in with this interesting infographic, and here's why.
For the umpteenth time, I was asked 2 weeks ago what boats should a 12 year old Opie kid sail to best place him in a 49er when he gets into his late teens, early 20′s.  This mum was very smart, with a far greater grasp of numbers than I, spreadsheets, etc., but I still struggled to get the flow across, so I generated the following graphical representation, and she has come back and said, and I quote  "Thanks for following up. Interesting graphical depiction of the relative properties of these classes of boats, brings the stats to life."
So, what I am seeking from you guys/gals is a peer review!
I could give you all my figures, but I think that would predispose a bias, which I have little doubt I will be accused of.   Instead, I plan to explain my rationale, and asked others to have a go at there own interpretation and maybe we can blend them and end up with something meaning full.
So what I have done is go to the RYA site and dig out the relevant PY [Porthsmouth Yardstick] numbers.  I have picked the boats mostly on simplicity, firstly if I did not know them, then I could not represent them.  I then went into the ISAF site and looked up the technical data.
So I have exclusively used that information unless the RYA/ ISAF data was simply wrong, in which case I went into that class's rules and gleaned it from there.
An example, 470 appears not to have a PY number, so I worked out approx where it should be.  I included the IC because its too interesting not to.  And we all know a moth sails heeled to windward and greatly increases its RM by doing so, where as a Laser, when sailed "flat" is actually heeled about 6° to leeward.  I have not imputed these shifts in CoB, I have assume the boats are all bolt upright as per their numbers.
Finally I have used the ISAF high performance definition about sailing faster than the wind, downwind, most of the time, to draw the red line. Not sure why a 470 does not do it more often (Tack down wind), but we also know a 29er does, most of the time, (and yes, I know why).
What is irrefutable is that a 5o5 and to a lesser extent a I14, spend a lot of money and effort setting their boats up so they can quite deliberately switch to HP modes both upwind and downwind, so, from my POV I consider the 5o5 to be the tipping point boat. It has has a foot in both camps, one could say the best of both worlds.
Get the full explanation from JB here in the thread.
August 17th, 2015
World class sailing photog Sander Van Der Borch took a month off from his busy schedule for a cruise with his family, and like most people who live their passion, he just can't stop working.  Sander had the camera ready when a summer squall came overhead, and grabbed one of the prettiest sailing/lightning shots we've ever seen.  Time for new desktop background…
August 17th, 2015
No Ms. Bossy Pants here.  Zoe is handling driving quite nicely at 9 years old.  And let this be a lesson to y'all – let the chicks steer, would ya!? Afraid they're gonna be better than you?
Huge props to Anarchist Augie.
August 16th, 2015
Local Knowledge
The 3rd Annual Keith Dinsmoor Trophy Regatta will be held in the waters off Mala Wharf over the weekend of August 22 and 23. Over 36 boats and over forty sailors will be competing in O'pen Bic (single man, single sail) and RS Feva XL (two-man, triple sail) boats. Sailors range in age between 8–17 years old and are comprised of members of the Lahaina Yacht Club Junior Sailing Team from Maui and the Hawaii Kai Boat Club Junior Sailing Team from Oahu. This will be the largest junior sailing regatta ever to be held in Maui waters and reflects the growth of junior sailing in Hawaii.
Six races will be held each day, with three separate classes: Bic under 13 yrs old, Bic 13-15 yrs old, and RS Feva. The fleets will be started separately to spread the boats out on the course, and the racing is expected to be close in these one design sailboats. Both teams have been training and making improvements on their technical abilities and boat handling skills.
Junior sailing is growing by leaps and bounds on Maui, the boats are exciting to sail, and there are motivated sailors and coaches. Although the competition will be heated at the top of the fleet, the emphasis is on sportsmanship, good clean fun, and instilling the joy of sailing in a new generation of children here in the Islands. The kids are developing skills that will last for their entire lifetimes.
The event is being hosted by the Lahaina Yacht Club with support from Matson, West Coast Sailing, RS Sailing, Open BIC, 2015 Trilogy, Bluesmiths, Neil Pryde Sailing, Pioneer Inn, Sheraton Maui, CJ's Catering, Starbucks, HFM Foodservice, VIP Foodservice, Tropic Water, Maui Soda & Ice Works, and the tireless volunteers and coaching staff of the LYC Junior Sailing program. At the end of the day it is about the kids having fun!
August 16th, 2015
Pretty bitchin when something that looks this good from this angle, can look this good from this angle. It is the Vismara62, designed by Mark Mills.
August 16th, 2015
As the Fastnet fleet parks up in not much wind, nobody did a better job of parking up than the most unfortunately named Lucky, an R/P 63 owned by Bryon Ehrhart which hit the bricks between Hurst Castle and the Needles on its passage out of the Solent earlier today. That was the end of their race.  They had to know that name would come to bite them, didn't they?
Update: There still isn't any wind, but you really should take a look at the front of the fleet as there is one hell of a battle going on between five trimarans. Track the fleet here. Photo thanks to Ingid Abery.
August 16th, 2015
We find nearly every "official" comment from the Olympic authorities regarding the Rio water pollution issue to be disingenuous, distorted or false. Here is a perfect example:
The World Health Organization's top water expert said Friday the body "never advised against viral testing" for Rio de Janeiro's polluted waterways where about 1,400 athletes will compete in Olympic events next year.
Bruce Gordon, the WHO's coordinator of water, sanitation, hygiene and health, told The Associated Press in a phone interview from Geneva that testing for viruses "would be advisable" given it's known that human sewage pollution is rife in Rio's waters.
"WHO would support additional viral testing to further inform the risk assessment by authorities and to verify and address concerns raised by independent testing," Gordon said, indicating it was WHO's official stance. "In this case, measuring coliphages and enteric viruses would be advisable."
The comments come after Olympic Games Executive Director Christophe Dubi said earlier this week at a press conference in Rio that the International Olympic Committee ruled out viral testing because the WHO made it "very clear that bacterial testing is what should be followed." Read on.
August 16th, 2015