Big Pimpin'
PredictWind's easy to use weather routing tool with intuitive drag and drop interface is the best way to find the safest or fastest route, and the forecasted conditions for your passage. PredictWind Weather Routing total downloads are approximately 1% of the equivalent GRIB files. A 'game changer' for Satellite & SSB communications. Simply set your start time, drag and drop your route waypoints, then PredictWind calculates the best route for your passage.
Instantly compare 4 forecast models, compared with traditional weather routing tools which rely on a single forecast model. Weather routing is available on the forecast website, iOS and Android apps and the PredictWind Offshore App. Try Weather Routing today with a 3 month money back guarantee. Check the video.
June 23rd, 2015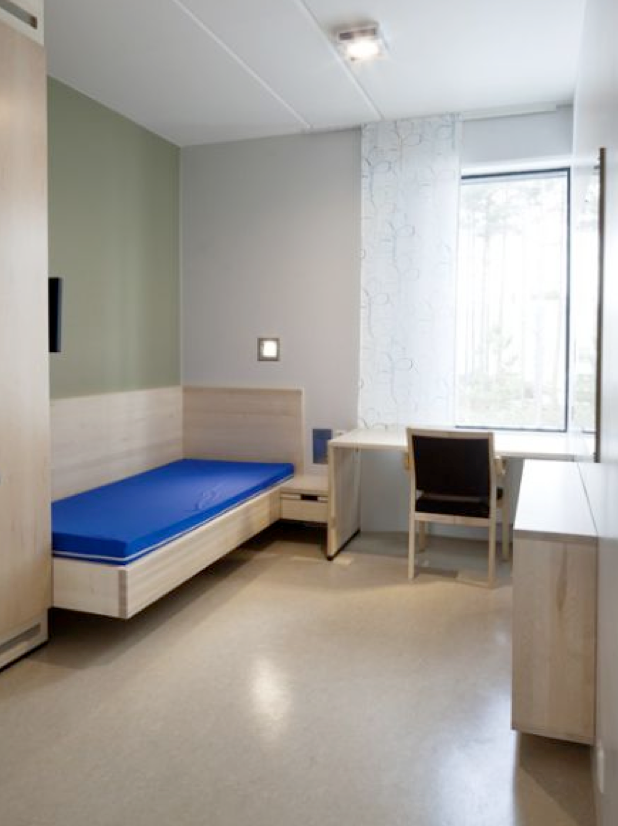 No, this is not a new micro-room in your local IKEA – it's actually a real, live Swedish jail, perhaps similar to the view of two Volvo Ocean Race sailors who were allegedly arrested last night for assault.
In a story that reminds us that the race is still (thankfully) made up of living and breathing sailors, Gothenburg broadcaster SVT Väst reported that two racers allegedly got into a good one last night with several security guards and police officers, and ended up in the pokey, where they remain.
Our own inquiries revealed that a couple of overzealous security guards decided to show how tough they were when the possibly overserved racers asked for more drinks in the exclusive Ocean Race Club.  According to SVT, two guards were taken to the hospital, one after being kicked in the head and chest, the other after having a chunk taken out of his thumb.
When local police showed up, one of the sailors allegedly resisted arrest, assaulting an officer and guaranteeing it wouldn't be just an overnight cool-off in the drunk tank.
Several witnesses told Sailing Anarchy that both sailors were from MAPFRE. There's just something about those (allegedly) fiery latinos.
VOR's official word is typically sparse: "Two men, who suffered minor injuries, have been released from hospital after being examined as a precaution.  We will follow the Swedish police procedure in not naming those involved. We are working with the authorities to establish the facts. It would be inappropriate for us to comment further while the investigation is continuing."
This and everything else we can find is in the thread, and stay tuned for interviews, a live talk show, and more during our Sperry supported coverage of everything Gothenburg this week.
June 23rd, 2015
Pretty impressive rig, at least one very impressive sailor onboard. Will L'Hydroptere crush it or be crushed? Follow their journey…Photo thanks to Anarchist John.
June 22nd, 2015
We have no fucking idea what they are selling, but we like it, in that weird fringey SA kinda way…Props to Anarchist Jason..
June 22nd, 2015
The Volvo Ocean Race concluded on Monday 22nd June 2015 with a little bit of glory for almost everyone. It was a triumph for Abu Dhabi Ocean Racing, who wrapped up the overall win with a fifth place into Gothenburg.
The plaudits for Leg 9 must go to the young team on Team Alvimedica though, with a sensational victory that means that every boat that completed the course, also won at least one leg. Mark Chisnell looks at how they did it." Read on.
June 22nd, 2015
It's your final chance to catch Genny Tulloch and the VOR Live Arrivals team as they welcome in leg winner Alvimedica and VOR winner Abu Dhabi!  We'll be out on a RIB to bring in the fleet; go to SA's Facebook Page for our own take on the finish, and be sure to check back in this week for a live talk show with the winning team, some great interviews, and maybe a hard-hitting question or three.
June 22nd, 2015
The first spectator video is up from the nasty amputating accident in Lorient, and while the foreshortening of a long lens makes it less than ideal for unraveling exactly what happened, it's obvious that neither Spindrift 2 nor the AFP photographer were accurate in their accounts of what happened.  Reality is, as usual, somewhere in between.  What do you see?
Spindrift was somewhere they shouldn't have been, and the RIB driver appears to have been engaged with other traffic when the world's fastest ocean racing boat came screaming in at about 20 knots.  And the VOR's exclusion zone is about to get a lot more exclusive…
June 22nd, 2015
One of the well-proven adages in business is to spend, spend, spend during a recession.  Marketing hard and growing fast when the markets are down is a great way to build market share, and it seems that the big names in the United Kingdom sailboat racing business are doing just that, despite all kinds of fears about austerity measures and deficit problems.  Here are three quick bits to illustrate.
The Great Contender
Russell Coutts chased off the most serious challenger for the next America's Cup.  Then he pulled the rug out from both his own hometown and the team that came a couple of minutes away from ending his run at AC34.  Just one of those is fully funded by a billionaire, but it's the less well-funded one – Ben Ainslie Racing – who currently has the best chance of ending Larry Ellison's reign of bullshit and the constantly waffling hypocrisy from the Russell Coutts Flying Circus.
Why, you ask?
Because Ben and his team are genuinely not in it for cash, but for nation, for country, for all those things that the rest of the world finds quaint and anachronistic.  Their hashtag is #BringTheCupHome, and that resonates like a motherf&%*ker.
That's how he got longtime Mclaren Formula 1 team boss Martin Whitmarsh involved, and that's where Red Bull Formula 1 designer and aerodynamic wunderkind Adrian Newey came in.
And perhaps most importantly, Ben will have home field advantage, as we'll see during next month's ACWS event in Portsmouth.  Bermuda is unfailingly British, and there are we cannot find anyone from the United States who wants to see the betrayal of Ellison and Coutts go unpunished.
Don't underestimate the power of the crowd; unlike the almost entirely mercenary teams (and Oracle Team NOT-USA just added yet another non-american to the mix), Ben can get talent like Whitmarsh and Newey to help him despite being unable to pay them what they made when they worked for the F1 juggernaut.  And the more one-design the boat, the more cerebral the game becomes – and the more morale and confidence come into the mix.  If you don't know what we mean, head over to Portsmouth and listen to what an estimated half a million people sound like when they are cheering.  The biggest questions remain about Ben himself; is he a fast enough driver in foiling boats?
Longtime pommie sailing boffin Matt Sheahan wrote a solid profile of the team and its obstacles over at howtospendit.  Check it out here.
Long Overdue
The Extreme 40 has been long in the tooth for the better part of 5 years, but much of that time was devoted to ensuring the Extreme Sailing Series survival and OC Events future cash flow.  As the rest of the world's catamarans innovated, the Extreme Sailing Series looked more every season like a race for lorries in a downtown parking lot.  But Mark Turner's stature as one of the sport's best organizers doesn't come from his generosity; he is a master of spending only when necessary.  Thanks to a few years of downturn and the ineptitude of his ostensible competitors, the X40 got a bit of breathing room – but not anymore.
And while Turner has been saying for years that 'foiling is not for them,' on Wednesday the ESS announced just the opposite; 2016 and beyond will likely see the new Extreme boat flying.  Turner says they have 'four options' that they haven't distilled down yet, but the clock is a-ticking.  The X40 hulls are a mess, with dozens of repairs adding weight and reducing stiffness throughout the fleet, and one-design something of a joke.  The design itself is as dated as you'll see in a modern event, as you'd expect from a boat created more than a decade ago for the 2005 Volvo Ocean Race; the event that re-launched stadium sailing (though not a new concept; cf. the Formula 40 series in the 90s, the wildly successful 150,000-person Match Cup Sweden in the late 90s and early 2000s, the One-Design Grand Prix circuit, the…well, you get the point).
So there are a lot of reasons for a new boat and it's almost imperative for it to happen quickly, but it is already pretty late for one of the brand new designs being evaluated by OC to impact the 2016 season.  Enter the GC32, currently the front-runner for the Extreme series next year.  It's a bit small for much of the corporate PR and VIP work that's the bread and butter for Turner, but Martin Fischer's flying boat is furious and exciting in anything over 8 knots of breeze.  Perhaps more importantly, two years of now-solved foil issues has taken much of the value out of the GC32, and having spent millions on the creation of his dream boat and a relatively low-budget series, GC32 creator Laurent Lenne is ready to get back to racing instead of running a sailboat marketing company.  That could mean 'bargain' to the famously cost-conscious Turner, solving all his problems for 2016.  The only other option for next year is to modify the truck-like X40 for foils, but that's crazy talk.
And for 2017, look for an all-new X36/X37/X38 – a straight or foiling daggered monster that looks as modern as possible.  Whether you are talking about markets, boat types, or formats, the world is a-changing, and Mark Turner and his group will continue to be one of the most important drivers of those changes.
Watch the final day of ESS racing from Cardiff today.
He's Got The Look
Since we couldn't get a new rendering from the Alex Thomson Racing team, we'll keep this one short, but a monster piece of sailing sponsorship news hit the wire this week providing further evidence that a good look, a strong marketing team, and a few successful PR stunts are far more important than performance when it comes to finding big money for sailing.  Thomson's team announced on Thursday that Mercedes-Benz had joined the Hugo Boss/ATR racing program as a 'Core Sponsor' in advance of this summer's launch of Thomson's brand new VPLP/Verdier Open 60 HUGO BOSS.  The move comes on the heels of last years defection of Hugo Boss from the McLaren F1 team to the all-conquering Mercedes Silver Arrows, marking the end of F-1′s longest team sponsorship deal.  The best part about it?  Thomson doesn't even need to change his color scheme.
With Alex scoring a 3rd in the last Vendee in a last gen boat, and telling us numerous times that he's getting a bit old for all this noise, and with golden boy Francois Gabart sitting this one out in favor of a much faster singlehander, 2016 will mark Thomson's best chance ever at the biggest win ever for an Englishman since Sir Robin beat Moitessier in 1969, nearly 50 years ago.  That is, if he can finish, unlike the last BWR, or the one before that, or…
June 21st, 2015
Charlie and Mark's Team Alvimedica have a nice buffer for the Hague restart to the final leg of the 2015 Volvo Ocean Race, which means the live coverage is unlikely to be all that interesting, especially if the VOR production team continues to rely on piss-poor phone-call-level sound and the thick Norwegian accent of Knut Frostad (what's up with that?). But Mark Covell's back on the microphone and the atmosphere on the ground is electric, with spectators coming out in massive numbers to support Brunel and Bouwe and the kind of racing that fits the steel-headed Dutch mentality to a T.
Mr. Clean got some local flavor during a quick check-in with the Lemster aak (bilge-board racing barges) fleet just before the VO 65s got in the other day, a prelude to hours of Sailing Anarchy live and video coverage from he and Petey Crawford over the next week from Sweden, including a full hour of live chat with ADOR's Ian Walker and Jamie Boag, the guys behind three long campaigns that finally resulted in the long-cherished VOR win.  In the meantime, enjoy Genny and friends from the studio and the water.
INJURY UPDATE: The French site 20 Minutes writes that the woman injured in the horrific accident between a VOR Lorient marshal RIB and the maxi-trimaran Spindrift 2 has indeed had her leg amputated.  She lost a tremendous amount of blood, but thanks to emergency services, is apparently stable.  The Spindrift team have suspended training and pulled out of the GC32 Cowes Cup 'out of respect for the victim and those close to her'.   It brings the GC32 Cowes fleet back down to 5, marking yet another bit of bad luck for a Class that just can't seem to escape it – though they are being considered as one option for the 2016 Extreme Sailing Series fleet, so there's that.

June 20th, 2015
Local Knowledge
Hello everyone, my name is Nicola Pirani from Italy but everyone calls me Mayo. After spending years running on the boats of others, I wanted to have my own boat, simple, fast, economic and transportable by car. I always wanted to build it myself, and so I started to think of a simple boat kit and Paolo Bua designed to me this boat to be built in a garage, on weekends, in my spare time, with a few friends and many beers …
It is made of marine plywood, carbon mast, carbon bowsprit and it's going to be light … very light! I started building it beginning of May and I plan to finish it by the end of June. Follow my progress on Facebook
June 19th, 2015