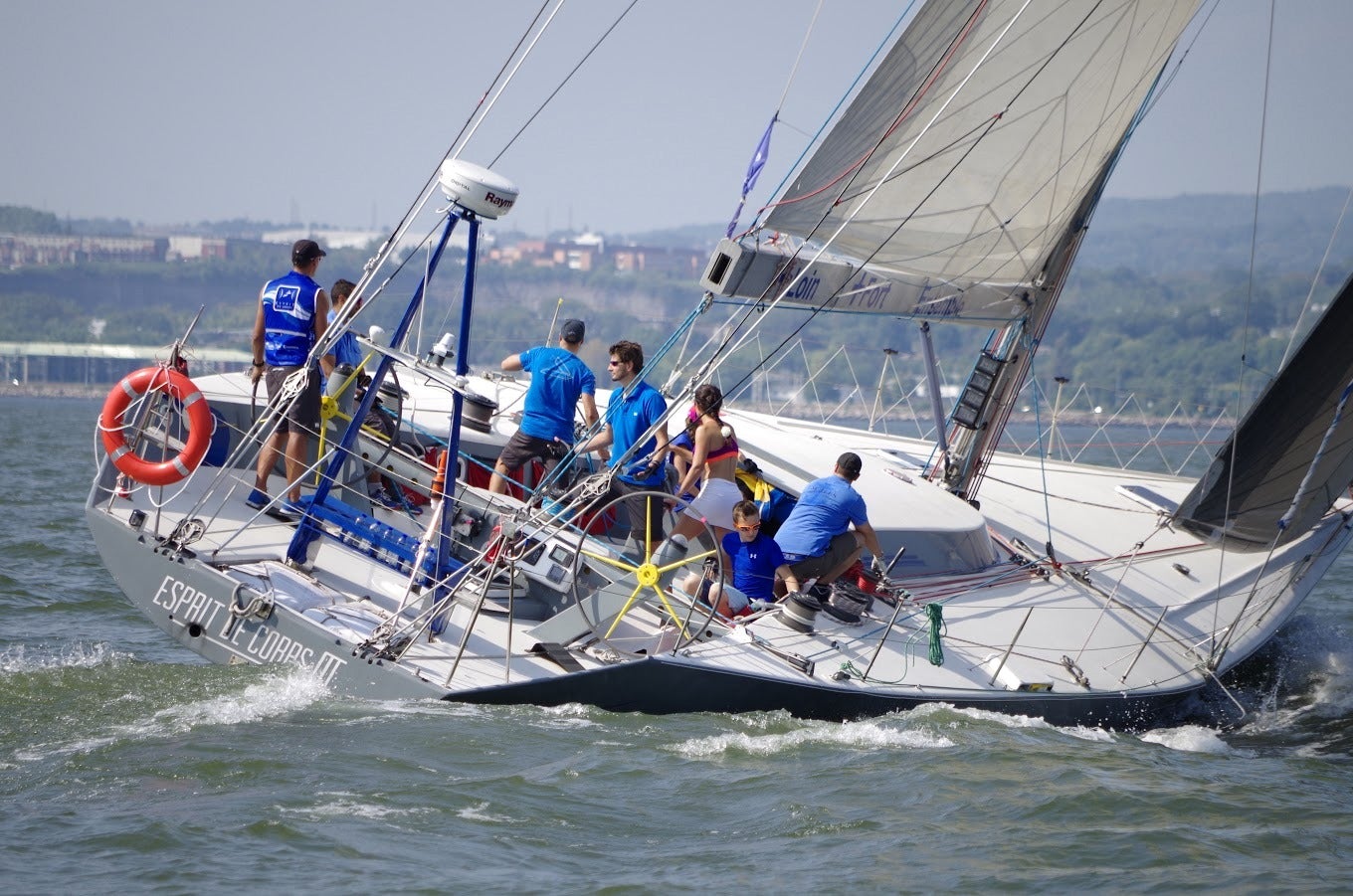 Atlas Ocean Racing was created in 2013 by three passionate sailors: George Leblanc, Gilles Barbot and Maxime Grimard. A major figure in the Quebec sailing world, Leblanc has extensive experience competing in international races including "La Route du Rhum" and "Transat Jacques Vabre. Passionate sailors, Barbot is the President founder of Groupe Esprit de Corps Inc. then Grimard a business executive and president of the team.
The team sails on three Volvo Ocean 60, acquired between 2013 and 2016: Esprit de Corps II, III and IV. Historic sailboats, Esprit de Corps II and III participated in the 1997-98 Whitbread Round the World Race respectively for a Swedish team (Swedish Match) and a Dutch team (BrunelSunergy). In 2016, Atlas Ocean Racing obtained Spirit of Adventure, renamed Esprit de Corps IV. The sailboat, formerly Amer Sports One, reached the third place during the 2002 Volvo Ocean Race just before being the property of Canadian skipper Derek Hatfield. After Hatfield passed away in August 2016, the team wants to continue his legacy as a tremendous ambassador for the Canadian sailing world.
In the past few years, the team sailed across the Saint Laurent Gulf, trained during 3 weeks on Lake Ontario, set a record in the waters of the Anticosti Island and won the Route Halifax Saint Pierre in 2016. It is the team's passion for challenges and competition that stimulates its desire to undertake such audacious projects. Driven by the same desire to dare, the team is now about to undertake another ambitious challenge…
This year, Atlas will sail to the Caribbean with its Volvo 60s. It will compete in five international races between the months of February and May: the RORC Caribbean 600, the Heineken Regatta, les Voiles de St Barth, the Antigua Sailing Week and the Antigua-Bermuda. This project is a first for the Atlas Ocean Racing Team and a significant step for the Quebec sailing world. Since its creation, Atlas has continuously promoted sailing in Quebec and strives to prove to the international sailing world that Quebec has the talent and ambition to compete against the best.
As part of its expansion, Atlas is still looking for member to take part in its Caribbean campaign. For more information, you can contact us at [email protected].
 You can also get more information about the team on Facebook and Website.
October 5th, 2016
When boats don't have enough head room it is standard practice to raise the freeboard or extend the overall length. However when you have bought a record breaking trimaran it is perhaps a little expensive to do either.
Simple solution on Guo Chuan's tri – the former IDEC – just stick it on deck – no one will see you mid ocean anyway!
They currently sit in San Francisco waiting to set off shortly to set a reference cross Pacific time. We have difficulty in calling it a record when no one else has done it before. A bit like the North East Passage "Record" they set not so long ago. Not so sure their head will do too much for efficient windage although an interesting design solution to an age old problem on racing yachts.
October 4th, 2016
The Pineapple Cup is Back!
It's tropical sailing at its best, sun, warm water, solid wind and tropical locations. The 33rd Edition of Pineapple Cup returns this February 3rd and if it's not on your sailing calendar, get to it. This is a race you aren't going to want to miss.
There have been some changes to make it more enticing…first the start of the race has been moved up to fit in better with the RORC 600. It's also returning to its historic roots and will depart from Miami. We have the fine folks at the Biscayne Bay Yacht Club ready to welcome all of the teams for a great Kick Off Party on February 2nd.
Also Brand new for 2017 in the first edition of the Cuba Cup, a 642nm race from Montego Bay to Havana. Why deliver home when you can race to Havana?
From personal experience, what's great about Pineapple Cup is the tactical challenge of the 811nm course. The first 60 miles is often the hardest sailing, crossing the gulf stream at tight wind angles to make Great Issac Island where you start the gradual 750nm turn south. Pretty soon and without even realizing it, you have been through the reaching inventory, are into the kites and are on a classic downwind slide in warm tropical waters.  At some stage having made the foreboding eastern tip of Cuba, you'll have to pick a side for the last 200nm run to Montego Bay, but don't underestimate it, this decision has been pivotal in the outcome of many previous races, you will have to choose wisely.
Now having arrived in Montego Bay, the welcome at the Montego Bay Yacht Club is one of the best I have experienced in international sailboat racing. From the crate of refreshments delivered to the boat before the dock lines are even on, to the genuine hospitality offered by the MBYC member assigned to assist each yacht, to the fantastic shore side parties, all these factors combine into one of the classic offshore yacht races both in history and experience!
And for those of us the USA, it starts on our doorstep and ends an easy hop from many major US airports, no massive deliveries or logistics to deal with.  When the north is dealing with the February snow, I know where I want be. Right here!
For the OA, Hugh Piggin Race Director
October 4th, 2016
Jesus, she's a dog! Thanks to Anarchist Scott.
October 4th, 2016
Listening to the news this morning about the fraud at Wells Fargo bank reminded me of a similar incident that took place 35 years ago.  I had just arrived in the US and was working at Hood Sailmakers. We had chosen Hood to be the sailmaker for our Whitbread Round the World campaign. This was early 1981 and my friend Skip Novak and I had found a German banker to fund the build of a brand new Frers maxi for the race. The boat was being built at Palmer Johnson in Wisconsin and Skip was there overseeing things while I was in Marblehead overseeing the build of the sails. It was all good; until it wasn't.
The boat was a sister-ship to Flyer, the boat that eventually won the Whitbread that year. It was 80-feet long and we planned to paint it black and call it World Navigator (long story where the name came from – probably best saved for another blog). I spent some time at the yard and could visualize this massive boat careening through the Southern Ocean and it was a thrilling thought. Back in Marblehead 22 new sails were being built. Yup that's how it was back then, a sailmakers dream.
We were about a month from launching when Skip called. "Not sure what's going on," he told me. "But see if you can slow things down a bit there. We might not be needing the sails just yet." Apparently the accountants at Palmer Johnson were not getting any response from the owner when looking for the final payment on the boat and there was panic in the land. I was told later that it was a substantial amount of money but in the end they never got paid and neither did Hood Sails. For that matter neither did Skip and neither did I.
Here is the story. The German banker was an executive at Deutsche Bank in Frankfurt, very high up, in fact if I remember correctly he was one or two levels below Chairman. It seems that our German banker benefactor was issuing loans to customers of the bank who had not requested them and who had no idea that they had loans in their name. The banker was issuing new loans to pay off the old ones and the scheme had been going on for a number of years. Then one day someone that worked at the bank noticed that their mother had taken out a substantial loan and innocently asked her why she had not come to him as he could have helped get a better interest rate. Of course the mother denied having taken out any loan which puzzled the son who could see on the banks books that her name was on the loan and that she had been paying it back for a number of years. At first the banker thought that his mother was just embarrassed to have taken on such debt and was keeping it a secret from him. That was until the son noticed that his brother also had a substantial loan from the bank and he too denied taking out the loan. Both loans had been issued by the same banker and yes you guessed it, the same banker that was the person that was funding our Whitbread campaign.
The banker was such a respected person within the bank that instead of confronting him about the loans, Deutsche Bank executives called a Board Meeting to discuss how things might have gone wrong. The story I was told was this. Our banker benefactor was on the Board and he was told the reason for the meeting, but he was no fool. He knew that the gig was up and before lunch, and before anyone could ask him a direct question, he and his family were on to their new life in Brazil. They hit the runway in Rio before anyone at the bank knew that he was gone and as far as I know he lived out the rest of his life listening to samba music and spending those millions that he had been squirreling away there for decades.
World Navigator was eventually sold to a Greek tycoon and the sails that Hood had put on hold were finished and delivered. Skip and I joined an American Whitbread effort and raced one of the slowest boats around the world. The boat was called Alaska Eagle but it was dubbed Alaska Beagle by the rest of the fleet because it was a dog. Such is life…
-Brian Hancock. (take a look at how Brian can help you with new sails of your own – ed)
October 4th, 2016
Anyone who spends any time pulling trailers really needs to see this video.  Props to SA'er 'terrorvision' for the find.
October 4th, 2016
Still reeling from the 2010 earthquake that displaced hundreds of thousands, Haiti is now underneath the first Cat 4 hurricane to make landfall on the unlucky island since 1963.  Matthew roared ashore early today with winds near 150 mph, and he's laying waste to a piece of coastline already facing a cholera epidemic, zika, and some of the worst poverty in the entire world.
Cuba's next in the crosshairs, and our thoughts go out to another island nation that can ill afford the nastiness they are about to see.  For a really excellent daily forecast on these storms, head over to Tropical Tidbits.  For more forecast, read on.
The Show Must Go On?
Our own resident 'cane 'caster, Mark "DryArmour" Michaelsen writes, "the 11AMs are in and at the top of the track there has been another adjustment to the left. At this time NHC has Wilmington, NC as ground zero. The trend at the top has been to the left the last few runs. That trend may continue and put Myrtle Beach, SC on the hit parade.  This has major implications for the US Sailboat Show this weekend in Annapolis, MD."
This latest 'up the coast' forecast also has major implications for the thousands of sailors making the annual run down the Intracoastal Waterway.  Whether you're headed to the show or planning on being on the water anywhere on the US Atlantic coast, be safe and ask Mark or the community for help in the Matthew thread.
October 4th, 2016
Love this shot from the Grand Pavois La Rochelle, recognised as being one of the top five in-water boat shows, thanks to our friend Christophe Launay. More here.
October 3rd, 2016
WS. Initially thought it was new text speech when it started appearing in my mail, maybe youth's are using it to say 'WazSup' in an even shorter format. I just put it down to my age not able to keep up with all of these words that mean nothing.
Restricted by international borders they are not. In fact a plethora of three letter agencies who, as we all know, should you find yourself having to deal with one appreciate we could well be in trouble. MI5, CIA, FBI, FSB, BVD spring to mind, you know, scary if you see it on a letterhead or worse still, on the badge of the guy stood in front of you. Those three letters have power and command respect.
Other agencies are there for the sake of humanity, these get four letters abbreviations, it makes us feel like these guys know what they are doing and can be trusted, that extra letter takes away our fears and lets us know their motivations are truly altruistic. NATO..NASA.. Get the picture?.
In fact there is one I can think of with 5 letters. Anytime they make an announcement I certainly pay attention and trust that with the long abbreviation the information is verified and correct. 5 Stars to WSSRC. (World Sailing Speed Records Council)
I am sure that after a prolonged consultation with an expensive London based PR firm who were no doubt rewarded handsomely the same logic was used when they dreamt up ISAF.
At the time this change didn't receive my support. Federation sounds authoritarian, where as the word Union implies the power lays within the membership.
Now ISAF seemed stupid when it first came around, everyone I thought knew that ISAF stood for ISrael Air Force. In fact ISAF can be mistaken for nine other organisations or meanings. Still the name was diluted further when in 2001 ISAF the International Security Assistance Force was formed. What did ISAF (sailing) do? Send out a legal challenge? Change their name as soon as possible? No they waited it out until 2014 when ISAF the International Security Assistance Force was disbanded. Then instead of calling the PR firm to set about taking back ownership through branding of ISAF, they came to the conclusion that if the abbreviation is not good enough for NATO then it is no good for sailing either. The PR firm was called.
So what just happened to ISAF?. Perhaps the ratings agencies have, based on future possibilities have had no choice but to downgrade them, maybe not based on the futures market at all though. The recent past could have something to do with it.
Lately, if you follow the other news you may have noticed that to gain total world domination you must go for a two letter abbreviation. They stand out. Say don't mess with us, we set the rules. You know them…UN… US…EU. Evil empires lately seem to be changing their acronym's too. USSR got in on the act going to RU. Now the biggest threat to humanity, according the same news outlets, even ISIL & ISIS and have seen to have a real evil empire you have to go for two. IS.
It wouldn't surprise me to find out that the same London based PR company were now instructed to complete a corporate re-branding and have the intern with the kid on work experience from college come up with this utter piece of brilliance.
Maybe there is a perfectly innocent explanation, like four letters is a lot of ink and we are saving 50% on printing costs now.
So why the latest downgrade?
Our American friends know all about BLM and the issues with WS.
Oh! Not white supremacy? Oh?
WS. Williams Syndrome. an abnormality in the genes, resulting in mental retardation. Harsh.
WS. Waardenburg Syndrome. A hereditary syndrome characterized by varying degrees of deafness. Yes that one seems to fit.
WS. Well there are 114 meanings for this abbreviation so what do you expect. Nicely diluted ISAF if you are trying to hide in google searches.
Even Islamic State's new identity is backed by a worldwide marketing campaign to get the two letters into our daily vocabulary.
What are World Sailing doing with WS?
In fact what have ISAF done period? That is another blog coming soon.
I though World Sailing's role was to grow sailing around the world and look after primarily the sailors interests. So here is an idea, Southampton, from where you sit in luxury offices quaffing quail and glugging copious amounts of champagne, no doubt blagged free is the capital of the sailing world, apparently.
So why not relocate to where you can change things? Western Samoa, who I am sure have desperate funding requirements for sailing programs and will be happy to share the .ws abbreviation for a small copyright license fee which you can save from the rent money.
IYRU stands for International Yacht Racing Union
Guess what else the abbreviation can be mistook for … ? go on… I'll give you another 5 seconds.. no? Well, that is because no another organisation exists that shares it. Amazing isn't it.
You would think that with diluting you ability to be found an organisation like this must not be proud to stand out with it's unique four letter abbreviation. Like a Four Star General. Chest out. I'm responsible for the safety and security of many. And proud of it.
WS? I smell BS. Do you? Let us have a poll. – Anarchist Jeff
October 3rd, 2016
Perhaps the most likely foiling candidate for Tokyo 2020 is already doing her thang on the water; go here for some good video of the Nacra 17 flying her ass off, and ask Nacra about it in the thread.
October 2nd, 2016