Brian Hancock takes you around the horn. Click on the graphic below for something else good…
I have been lucky enough to round Cape Horn twice under sail. The first time was in a full gale and we actually ended up capsizing right at Cape Horn. We were about a quarter mile off the famous landmark when the helmsman turned the wheel the wrong way and over we went. It's a long story. The second time; light headwinds… Cape Horn has been a huge part of my life from when I was a kid reading all the stories about famous sailors getting pounded by gale force winds to the whole lure of Tierra del Fuego, the land of fire and the voyage of Darwin aboard the HMS Beagle.
So it was interesting to read that the French sailor Frank Cammas is going to attempt to round Cape Horn, foiling, on a Nacra 20 catamaran. Wow, an undertaking as extraordinary and ambitious in its audacity that it could only have been thought up by a Frenchman. Cammas is no stranger to the worldwide sailing community. As skipper of Groupama he won the 2011/12 Volvo Ocean Race and on the massive Trimaran Groupama 3 he set a new Jules Verne record for the fastest non-stop circumnavigation. Those are just two of the many victories that Cammas has on his resume. But this trip will be different. This will require, skill, luck and most of all, patience.
A number of years ago I spent some time cruising Tierra del Fuego. It's stunning territory and contrary to what you would think it's not always blowing a gale. In fact it's often flat calm or there are very light winds. Cammas and his crew mate Johannes Wiebel will just need to be very patient and pick a weather window that allows them to successfully make the trip. They will start from Ushuaia in southern Argentina and sail through the strait that separates Isla Picton from Isla Navarino. Once past those islands it's a straight shot to Cape Horn, a total distance of around 100 miles. The tricky thing is going to be finding enough wind to keep them going in the wind shadow of Isla Navarino and hoping that once they are clear of the mountains that the wind is not blowing too hard. Isla Navarino stands at almost 4,000 feet above the Beagle Channel. I know this for sure because I have stood atop the mountain. It casts a very long wind shadow.
The plan is for the crew to actually make landfall on Cape Horn and pay a visit to the lighthouse keeper, something that is on my bucket list. I heard that you can actually buy a postcard there and mail it from there. Pretty cool. So it's going to be interesting to watch how they make out. There, are the bottom of the world in a teacup sized boat will be one Frenchman trying to set a new world record, while far to the north his fellow Frenchmen will also be waiting for a weather window to set off to try and break the Jules Verne record. Currently both Spindrift Racing and IDEC are on stand-by for the perfect weather conditions to sling them down to the equator.
I guess at the end of the day it's all about ambition and patience if you want to set records and break barriers.
November 15th, 2015
We stand with our brothers and sisters across the ocean, and we cry for you.  At this time, we needn't say much more. If you are not yet aware, Paris has been attacked by gun and bomb-wielding terrorists on Friday night, with several gunmen possibly still on the run.  Facebook has a a 'safety check' feature to check on your friends and family if you're worried.  Love, and strength, from the entire Sailing Anarchy community.
November 13th, 2015
The latest bit of beauty and a stark reminder about what is happening to our water world, thanks to Patrick Rynne and Waterlust. Jump to his FB page for the latest on his wonderful gf Fiona…
November 13th, 2015
Big Pimpin'
One of the things we're excited to check out at the METS show is Oceanvolt's new smartphone app to go along with their very sexy electric motor and management systems.  We've got a treehugging streak, but even for the environmentally apathetic, these things have some phenomenal benefits over traditional diesel systems. More from our pals in Finland:
Oceanvolt's award-winning electric motors and energy management systems for sailboats and catamarans are silent, lightweight and maintenance free. Oceanvolt offers both sail drive and shaft drive motor models.  The Oceanvolt SD system has a patented, flexible mounting to attach the motor to the sailboat hull to absorb vibrations. This feature also makes it possible to refit or install the electric motor system on any boat between 20-80ft.
Oceanvolt systems create energy while sailing – up to 4000W per motor, monohull or catamaran. This will recharge the batteries quickly. Complemented with solar power and shore power, there is rarely any need to use a generator while sailing.  Compared
to traditional diesel motors, Oceanvolt electric motors have no gears or components that wear out or parts that need to be replaced in yearly service.
Oceanvolt has also developed a smartphone app that will show you the system's state of charge and status, as well as the location of your boat and other useful info, anywhere in the world. This same system is also used by Oceanvolt's service team to monitor, diagnose and remotely service customer boats. It is called Oceanvolt RSI- Remote Service Interface.
Learn more the Oceanvolt website, and like them on Facebook here.
November 13th, 2015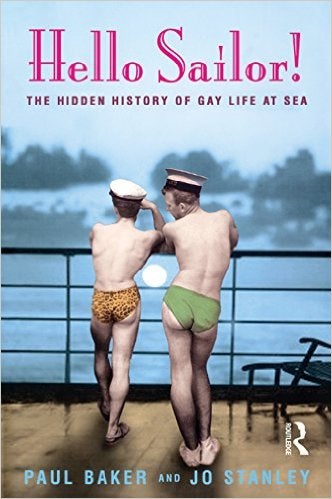 You'll have to wait until next week to find our picks for the season's top sailing gifts, but this book is an old standby that just keeps on giving.  Whether you're a homophobe looking for gag gifts for your crew or a history buff looking to understand the long association of seamen with seamen, this book is the real deal.
Meticulously researched and a scholarly addition to gay history as well as extremely entertaining and engrossing, it'll give you plenty to think about, and plenty of stories to tell your sailing friends over the long winter.
Amazon's got it here.
November 13th, 2015
Clean Report
"A dame that knows the ropes isn't likely to get tied up" -Mae West
It's been a couple of years since I joined the sailing industry's annual pilgrimage at the METS show in Amsterdam, and I have sorely missed it – and I'm not (only) talking about the 'coffee' shops.  Despite my general loathing for most boat shows, this one is as different as they come, thanks to a combo of its awesome location (who doesn't love Amsterdam?) and its reputation as the annual font of innovation in everything sailing. It also ignores the general population, catering entirely to well over a thousand exhibitors and the buyers scouring the RAI for the next big thing.  If you want to see anyone in the sport, you go to the METS.
For this year, the innovation has stepped up, mostly because its the 25th anniversary of the DAME award, a fully legit (if still subject to intense lobbying) set of awards for the best new products in the game.  And even outside the DAME, there are plenty of sweet and slick toys to play with, so we couldn't miss it.  Starting on the 17th, we'll be doing video breakdowns from inside the show on the SA Facebook Page – we'll grab all the good stuff we see (and no, you don't need to be a FB member to see them – and some products that just make us laugh. And of course, there will be plenty of coffee shop time…
So if your company has something interesting to show the SA community, let us know! Post up in the thread (so everyone can see) or send me an email here and we'll come have a look.
Title shout to anyone who doesn't hate the idea of Jessica Alba stripping as a cowgirl.
November 13th, 2015
For just 1.35 million Euro, you too can be a major part of the Ben Ainslie Racing campaign – by buying his cruising boat! And you'll own the boat that Richard Branson rescued when Sir Ben and superhot wife Georgie had a 'furler malfunctioned' on their Caribbean honeymoon.  If those berths could speak…
Chat about Team UK/BAR in the marathon thread here.  As for the Hoek Truly Classic 65 Rita, you can buy her ass right now! Don't worry about Big Ben – he's got plenty on his hands.
November 13th, 2015
When the Grael family started their project to bring kids from the Brazilian favelas [translation: crime-ridden slums/ghettos] into sailing, Rio's biggest yacht club boards bristled, wondering if the poor would soon be invading the club's hallowed halls.  Instead of destroying the social fabric of yachting, the project became a pioneer in the now-accepted pursuit of at-risk youth sailing and a feather in the cap of Brazilian sailing. And with Lars Grael and favela-born program graduate Samuel Goncalves winning one of keelboat sailing's most prestigious titles last week, the pioneering continues. Oh, and by the way, skipper Lars Grael?  He's only got one leg.  Hear that, Dee Smith?
Check out the piece by rock star Brazilian sports journalist Eduardo Ohato on the victory, with thanks to Matias Cappizano for this great shot and the absolutely breathtaking galleries over here.
And keep your eyes out right here on the SA front page, where we'll be bringing you every minute of live action with Lars, Samuel, and a couple dozen of the best traditional keelboat sailors in the world at the Star Sailors League finale in Nassau, with our own Mr. Clean helping to inject some fun into the broadcast team…
November 13th, 2015
An old, wise (and possibly slightly inebriated) sailor once mumbled out of the side of his mouth the classic phrase – "If the wind speed is approaching the temperature it may not be the best time to head out for a sail."
Temperatures hovered around 44 degrees as the 114 boats entered in the 2015 Round the County race zipped up their lifejackets, fired up their motors and snuck out of the harbor under the morning darkness Saturday, November 7th. The forecasts Gale warning had been extended into the early afternoon and with the darkness giving way to that wonderful PNW fall twilight the fleet converged on the starting area off Lydia Shoal in the Rosario Strait for the 8:35am starting gun.
Winds weren't into a gale yet as the first 3 classes reached off the downwind starting line, but with the winds out of the Southeast and rushing over the islands the wind quickly built up as the boats worked northward down the course through everyone's favorite little rock islands (the Peapods). All the boats in the first start left the Peapods to port, all except that little yellow fast is fun Santa Cruz 27 Wild Rumpus and they were followed in the second start by the J/120 Time Bandit slamming the hammer down with their chute up and pulling hard towards Orcas.
Wild Rumpus took things a bit conservative and didn't put up their spinnaker right away, but that J/120 whipped it out and sent it. They struggled up around the headland at Orcas with a bit of flogging and round ups but as soon as they could put their bow down they were lit up! That big J/120 was launched and kept the throttle down all the way around the course, correcting into the overall PHRF finish for Saturday. For the rest of the fleet the chutes began popping up as the J/120 turned down around Orcas Island and everyone had room to run out under spinnaker – that is when the real fun began for those that put up their colorful sails.
The winds began pushing over 30 near Clark Island, the waves built up with the current and as sterns lifted at just the wrong moment or at just the wrong angle the wipeouts began. The little SC27's began flashing their keels at the fleet, some of the bigger boats ended up flying pendants off their mast tops that looked distinctly like the top few feet of their spinnakers and the real big monster trucks, those flashy boats in the IRC fleet motored through the fleet with their A4's pulling rock hard and their helmsmen with eyes as wide as their leg stance, 25 knots of boat speed was a common number laughed about after the race.
This is where things got exiting for those who chose to push their boats hard and the solid and fast formula 40 Dragonfly pushed it just that little bit too hard in the big wind and waves, stuffed their bows and ended up ass over tea kettle, pitch-poled, and lying upside down in the deep cold waters east of Matia. Neptune smiled on those crazy pickle fork sailors Saturday morning and all aboard were seen standing on the bottom side of the boat, unharmed and waving as the fleet sailed by, astounded. The big schooner Martha was standing by to render assistance if needed but it was soon apparent everyone was ok and the fleets wonderful photo boats were there to help the stricken crew, right the multihull again and get them off to safety, so Martha rejoined the race.
Read the story and see tons of great shots by Sean Trew and others here.
November 11th, 2015
On this Veteran's Day, Sailing Anarchy salutes every vet for their service and bravery.  A single look at the world news tells us that freedom ain't free, and it's often paid for in blood.  To thank and honor all vets, we turn it over to longtime SA'er Ben Poucher, Program Director for Warrior Sailing.  
Hey SAers!
We're happy to bring Sailing Anarchists a Veteran's Day update for the Warrior Sailing Program, where we graduated 27 new sailors from another successful Basic Training camp in St. Pete just this past week!
Lifelong sailing cheerleader Ralf Steitz and the USMMA Sailing Foundation are once again leading the charge in the introduction and continuing development of new sailors in the United States.  The foundation's newest program, Warrior Sailing, is introducing visibly and non-visibly injured men and women of the armed services to the sport of sailing.  Including last week's Basic Training Camp hosted by the St. Pete Sailing Center, The Warrior Sailing Program has graduated over 165 wounded warrior sailors since starting in 2013!
The WSP consists of a staged developmental progress that begins with Basic Training.
1. The Basic Training camp is a 3-day learn-to-sail and race opportunity. The camps provide professional coaches onboard each boat, adaptive sailing equipment, sails, accommodations, travel expenses, meals, and FUN!
2. The next level is Advanced Training camp for graduates of the BTC.  These camps will begin in 2016 at various locations throughout the US (TBD).  The Advanced camps will develop advanced racing techniques and sailing skills.  Please let us know if your club is interested in hosting an Advanced Camp and helping us raise funds for a sustainable future. 
3. The final level is to qualify for a spot on the Warrior Sailing Team.  The team travels to regattas throughout the United States to compete under the Warrior Sailing flag.  These individuals compete in both adaptive sailing and open sailing regattas like Charleston Race Week.
If you are a wounded, ill, or injured veteran or active military person that wants to get involved, go to our website and sign up for Basic Training!
Keep up with our team and program at our Facebook page.
-Ben Poucher
November 11th, 2015