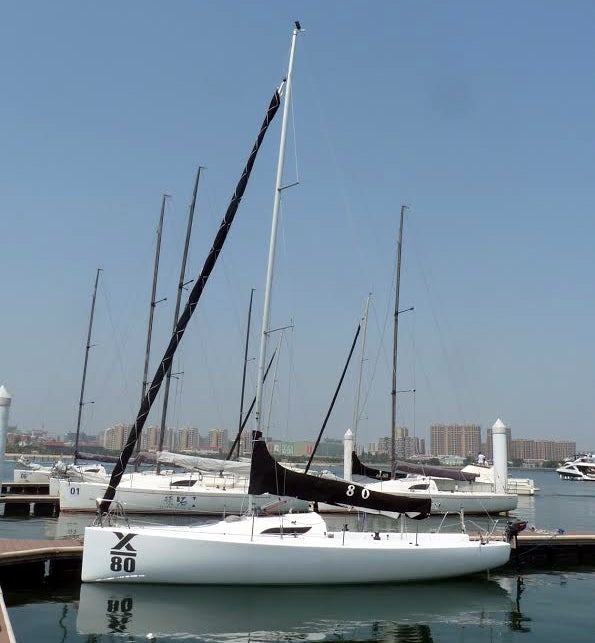 Take a J-80, add a plumb bow, open the transon a bit more, switch square hatch for circular, give it an 'Eastern' window, and before you know it you have an X-80, or should that be an Ex J-80? Even the rig is virtually identical. The keel is however is over 50kg lighter according to figures posted on the respective companies' websites so expect the X to be a lot less likely to stand up to her canvas in a breeze than the J. As one person commented "it will just fall over when it blows" and it certainly can blow in Xiamen.
For a while Hudson Yachts, a Taiwanese builder with a factory in Xiamen on the mainland was OEM builder for the  J-80. For whatever reason that relationship ended so Hudson yachts, having seen lots of J-80s being sold decided to do more of the same – well similar at least. And before anyone starts shouting 'bloody mainland Chinese again' just remember this company is from good old USA's main ally in the region, Taiwan! – Shanghai Sailor.
August 11th, 2014
Local Knowledge
Hey you, yeah you… You remember the days when fun involved racing a cheap boat with no crew? Those days are back courtesy of the good people at the dinghy shop in Amityville. That's New York, bitch!
That's right, dig out that sunfish behind the shed, in the garage or even the one you use as a pool toy and bring it down to the dinghy shop every Tuesday for some good, clean fun.
"Shop" starts are at 6pm on Tuesday evenings. No trophies, flash bulbs or flowers, these races are all about everything that makes sailing fun. There is no entry fee, HOWEVER monetary donations for the RC are greatly appreciated as they are shop staff volunteering their time for us. We've had on average 5-7 boats out in various conditions over the past three weeks, getting in about 7 races a day and are welcoming anyone else who'd like to get back to their roots. The racing could be weather sensitive so feel free to give the shop a call ahead of time at 631 264 0005.
WHAT: Fresh fish summer series
WHEN: Every Tuesday evening throughout the summer until further notice
WHERE: The Dinghy Shop
334 south bayview ave
Amityville, NY 11701
631 264 0005
The fleet generally heads out around 6pm. Since this is a free event, it is also BYOB so feel free to bring your post race libation of choice. The wonderful shop staff usually makes some food for post race so if you plan on attending please give the shop a call so they can plan accordingly.
Sail fast and keep the smooth side down. Cheers, Anarchist Jim.
August 11th, 2014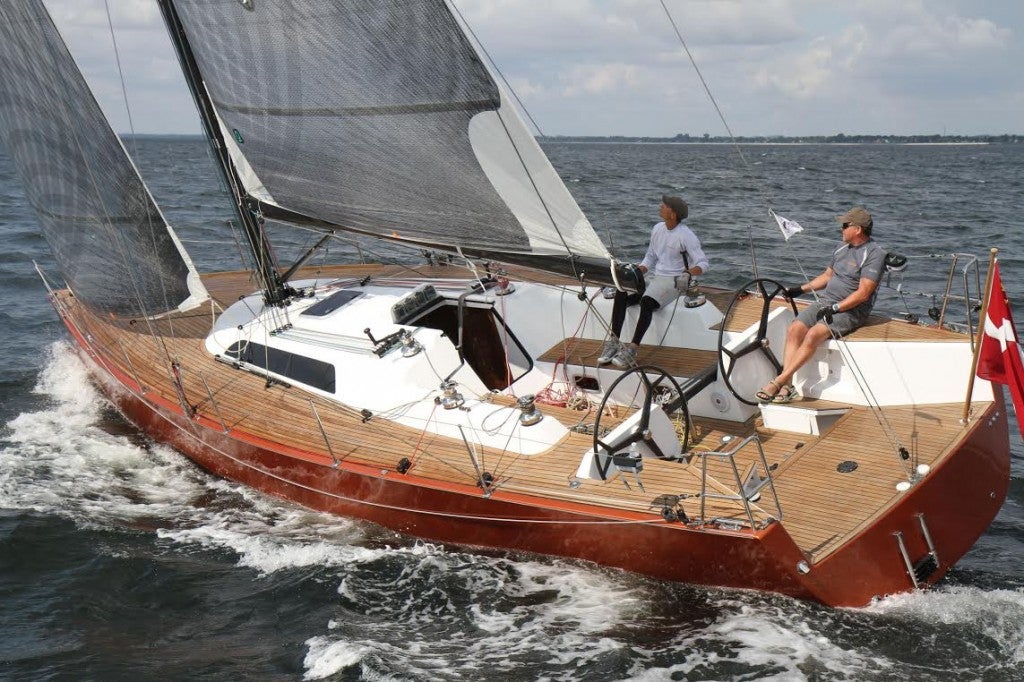 A pretty slick new carbon Danish 40′. Vid here, pics here.
August 11th, 2014
Big Pimpin'
As sailing technology gets cheaper and becomes easier to use, club level racers can evaluate their sailing performance in ways that we could only dream of a few years ago. One new tool that is becoming more popular is uploading your GPS tracks to create 3D replays of your sailboat race, or trip. There are lots of ways to do this, and you can learn a lot about your performance from replaying it in 3D. Creating a replay is simple if you avoid buying fancy equipment or trying to do time consuming manual uploads by simply recording your race with a smart phone app.
A new startup, raceQs, has created a free, powerful phone app that records your race with just the push of the button and creates 3D race replays that you can share online. The app uses the built-in capabilities of your smart phone to record advanced motion data, detect mark roundings, and even calculate the wind direction. You can choose to broadcast your race replay to raceQs website while you sail, or upload the track for review later. It's exciting to make your own 3D replay, but the software really excels when you get the whole fleet involved. The raceQs' 3D fleet replays include match racing comparisons, VMG tools, and tacking statistics. The raceQs' replays are stored online, in a shareable online journal that can be made public, or kept private. Get Started with your free raceQs account by using your phone to create a 3D replay this weekend.
August 11th, 2014
Fresno Rules
Ever since the dopes at Fresno Yacht Club made the somewhat short-sighted, petty decision to accept, then reject our entry to their now-deceased High Sierra Regatta, we have been fascinated by all things Fresno, and have been only too happy to share them. Here's today's…
A Fresno man was arrested after he fired a shotgun into his neighbor's first-floor apartment, then discarded methamphetamine at nearby Lowell Elementary School as he attempted to evade officers, police said.
The incident began shortly after 6 p.m. Sunday when the suspect, Anthony Michael Garcia, 25, fired the shotgun through the floor of his own apartment into his neighbor's downstairs apartment, Lt. Joe Gomez said. No one was injured.
Arriving officers saw Garcia fleeing down an alley behind his apartment in the 200 block of North Glenn Avenue. Garcia ran to Lowell Elementary School, about two blocks away, where he attempted to discard methamphetamine before his arrest, Gomez said. Read more here.
August 11th, 2014
The team at Waterlust gladly accepts the Ice Bucket Challenge to #StrikeOutALS in support of Pete Frates (petefrates.com) and everybody battling Lou Gehrig's Disease and passes the challenge along to the rad teams at GoPro and Sperry/Topsider. Pete has inspired us and the world through social media, and we're passing the message along.
August 11th, 2014
The U.S. Coast guard reported Sunday a 42 foot sailboat has been caught in the midst of Hurricane Julio and is taking on water 414 miles NE of Oahu.
At 7:15 a.m. local time on Sunday, watchstanders at the Joint Rescue Coordination Center (JRCC) in Honolulu received notification from the International Emergency Response Coordination Center in Texas of a distress call from the sailboat Walkbout with three souls on board.
Conditions at the time of the call were 92 to 115 mph winds with 30-foot seas. One of the hatches has blown away and onboard bilge pumps are unable to keep up with the flooding, according to the report received by the Coast Guard. The vessel's life raft has also been blown overboard. Read more.
August 11th, 2014
As the Brazil 'pre-pre-test event' wraps up, one of our deep cover Olympic hopefuls tells us things are nowhere near as rosy in Rio as we've been led to believe.  Neither we nor our source is looking to screw over the Olympic dream, but we're not going to stand by while people get sick, either, and we don't want anyone to forget that Rio's Mayor has already said that plans to permanently reduce the shit levels in the Bay – currently some 200 times worse than US water quality levels – billed as a major legacy of the Games, would not happen.  Like Russia and China, the Brazil games look to once again expose the IOC as a body that cares only about one thing: Cash.
Photo of a 49er crew taking an accidental and potentially dangerous swim in a feces-filled stretch of water near the Rio airport, and here's our inside report:
This place IS NOT CLEAN, and after a bit of rain hit town, we saw some seriously horrendous shit in the water.  The smell of poo as you sail into the harbor every day is revolting and like nothing any of us have experienced – but no one is allowed to talk about it, and we're getting annoyed with a bunch of recent media that says how nice the water is.  We have been told specifically NOT to talk to anyone about the pollution, and always to refer the matter to a higher authority. Even coaches are not allowed to have cameras aboard for fear they will capture dead animals or some of the other shocking stuff we've seen.
What is really happening is that people are getting sick.  There are few things worse than knowing you ingested fecal matter -and all that might come along with it – on the race course.  I've had the Rio Runs since day two.  Does being an Olympian really mean you need to eat shit – literally?
This place is really beautiful, but I don't think it's right for all these people to be jumping on some kind of "Rio Is Clean" bandwagon when it's the sailors and on-water staff who will suffer the consequences.  While Organizers are making some effort, they must be spurred into action to do more than temporary fixes.  Two of the main rivers that flow into Guanabara Bay – the ones that carry ALL the shit from all the hillside favelas – have been dammed up ust for our event.  A few days after everyone is gone, they will open them back up, and locals expect the bay to become as bad as it has ever been – so bad that the government will shut down the beaches for days.
August 11th, 2014
Question Of The Week
SA'er 'Allen' asks the community to weigh in on his tacking calculations.  
I have been trying to figure out not how long it takes to tack but rather how much time it costs to tack.  My boat is probably not typical as it is old and wood and has a long fin keel with the rudder hung on the end of the keel.  I know it takes about 15 seconds to tack but part of that time is spent going directly up wind, which is the direction I would really prefer to go so there has to be some benefit to that.
I took a GPS track of a tack from our last race in which we did a lot of tacks, mostly on wind shifts, but this particular tack was not on wind shifts so I had a constant bearing before and after the tack.  I then calculated the speed at each second toward a point a long way away. I adjusted the location of that point until the average speed before the tack and well after the boat settled down after the tack was the same.  Next I compared the average speed of the entire sample, which was 200 seconds, to the steady state speed.
The conclusion was that while it took about 15 seconds to tack and my speed dropped from 6 knots to below 4 at the worst point, my average speed to windward only went from 3.9 knots to 3.6 knots.  The net loss was just under 5 seconds or 9 meters to windward.  Clearly the loss of speed was compensated by the almost full 6 knots toward the far off point as I turned the boat before it slowed down.
Has anyone done or seen this kind of analysis? Does my technique seem correct?  How much time do other boats lose when tacking?
For reference, my boat is 36 feet long, 12,000 lbs.
Follow the discussion or weigh in with your own ideas here.
August 11th, 2014
Update: There are few dropouts. Check it!
There's only one multihull on the punishing 1800 NM course for the Sevenstar Round Britain and Ireland Race, and as you can see from this Lloydie pic, she is on a rampage!  Sydney Gavignet and a mixed pro-racer/Omani learner crew have averaged over 30 knots for the first few hours of the race in 30+ knots of SE'ly breeze that make up the remnant low of Hurricane Bertha. Sydney had already decided to postpone his MOD 70′s start to wait for the worst the breeze when organizers postponed the entire start by a day to keep the big boats from smashing into 50+ knots as they passed the tip of Scotland; as it is, the little boats mostly get screwed; good thing there are only a couple of those!  The change in official start time means that the RBI course record will most definitely fall; it's one of very few outright benchmarks still owned by a monohull; in this case, Franck Cammas' Groupama 70.  And if Gavignet can't beat a Volvo 70′s time with a MOD 70 on any course in any ocean in any breeze, he needs a replacement!  (We kid…if Oman holds together, Syd should easily shave a day or more off Cammas' 5d21h time).
In the highly anticipated Volvo on Volvo on Volvo on Volvo on Volvo matchup, every boat except Alvimedica has held the lead in the early hours.  
The girls on SCA showed they're going for it all the time, taking a solid lead at the start, only to be rolled by Team Dongfeng and later, the rest of the fleet.  Now it's a neck-and-neck battle between Abu Dhabi and Team Campos with Dongfeng just behind, while Alvimedica and SCA have fallen well behind.
 Talk smack in the RBI thread here, and track 'em all over here. Hit up Lloydie's Facebook Page to see what else he comes up with in an assortment of helicopters and RIBs as he chases them around the foggy isles for the next week.
August 11th, 2014
I would like to propose the two courageous young ladies in the attached photo for Sailing Chicks Of The Week on Sailing Anarchy. Both are aboard the 67ft "Oceans of Hope" currently en route from Lisbon, Portugal to Boston, USA along with other MS crew members all of whom are undertaking their first ever ocean crossing under sail.
Luisa Matias, left, is 36 years old from Portugal and was diagnosed with MS 10 years ago on the same day that she had booked her first ever wind-surfing lesson. Tine Perlt, right, is 38 years old from Denmark – also diagnosed with MS 10 years ago. These ladies live with MS but still do all they can to live their lives to the full – totally inspiring………hats off to them!
Cheers,
Josh Hall
Project Manager
Oceans of Hope
August 10th, 2014
Their title, not ours, surprisingly. Gotta  love the vid! Thanks to anarchist Darren.
August 9th, 2014
Let's just file this under Worst Press Release Ever. Seriously America's Cup, why even bother with this?  List the teams, explain the "second stage of entry process", etc. Say something for christ's sake.
San Francisco, 08/09/2014
A strong line-up of teams has submitted entries to race in the 35th America's Cup ahead of the initial deadline of midnight on August 8th.
America's Cup organizers are now working through the second stage of the entry process with each of these teams. This is expected to finish by August 20th.
Following the confirmation of entries there will be a press conference to introduce the teams and their skippers in London on September 9th.
August 9th, 2014
What, you thought we were going to say something different? Nice shot from Max Ranchi at the Copa Del Rey. The boat is Jethou, expertly directed into last place by Dan Meyer's  friend Brad Butterworth.  (speaking of Butterworth, do you know that he sat in on a meeting we had with Meyers a couple of years ago, doing nothing other than throwing stink eye at me and typing into some device for hours? What a bizarre and weird fucking universe these unlikable cretins live in).
Speaking of over-rated, we hear Pope Paul nicely choked a win away on the last race. When are these owners going to stop paying way too much money for these over-the-hill "rock stars" who clearly can no longer deliver the goods?
August 8th, 2014
We love Hutch, but there is no way sailing will ever be the next F1. Period. Take a read of this good Maxim Interview…
Terry Hutchinson is a sailing legend. The 46-year-old America's Cup vet has been at the tiller since he was a kid and on the circuit since he was 13. But the former helmsman turned Executive Vice President at Quantum Sail Design Group is currently landlocked. He will not compete for Oracle Team USA in 2017 or for his previous team, Artemis Racing, which represents Sweden. The reason is simple: Hutchinson doesn't think the boats are safe. He said as much during the last Cup campaign and lost his job over it.
"I had a massive falling out with the owner of the team and the CEO about the safety of our yacht so they decided to terminate me. Ten weeks after my argument with the owner about the safety of the Artemis boat, the boat capsized in the San Francisco bay and one of the sailors was killed. It was a known thing that the boat was not safe. It was a tragedy. The guy that was killed was a good person and a father."
Read on. And jump in the discussion thread here.
August 8th, 2014
James Cameron's stupidly-named Deepsea Challenge 3D movie comes out today across the US, and while it hasn't garnered the best reviews, we suspect that water people like us will probably like it just fine.  The world's most successful movie maker is certainly impressive man and he spent some serious coin to fulfill a lifelong dream, and whether his pet project's film makes any money at all (or whether it is anything more than a shallow vanity project) is besides the point for us.  We just want to get a little irie, have a tub of popcorn, and see the bottom of the ocean in huge, glorious 3D with an ear-splitting soundtrack.  And not just because advertiser McConaghy Boats built Cameron's record-breaking sub, either!
August 8th, 2014
The Hit and Run story generated plenty of responses, and amazingly (for this place), most of them weren't far off.  But to our eye, longtime Anarchist Maggie40738 got it in one. Before the pitchforks get too deep, does anyone know what the skipper of the offending Beneteau actually did when they got to the dock?  If so, send us an anonymous note or, if you've got your big boy pants on, post it in the thread.
It's hard to imagine that rule 15 applies here as I can't imagine that the Cal had just established a right-of-way position. Unless the Cal has just broken the overlap from a weather position or has just completed a gybe the Cal has had the right-of-way for some time.
If the Cal has been clear ahead for some time, which is likely, the only restriction she has in maneuvering until an overlap is established are rules 14 and 16. Since it was a bow-stern collision I struggle to see how the Cal's move was a violation of rule 14, but, as others have written, there is much we don't know because we don't have footage from earlier in the incident. A case might be made that the Cal violated rule 16 by making a sharp move to weather, from the footage I think the Bene could have avoided the Cal's luff by luffing hard to weather, which she chose not to do. To avoid violating rule 16 the Cal needed to manuever in a manner that gave the Bene an out (which I think she did, the out being a luff to weather); the Cal does not need to maneuver in a manner to give the Bene her preferred out (a sudden duck). From the video it seems like the Bene made two wrong calls, (1) attempting to pass way to close to a boat clear ahead, which placed her in a vulnerable position and (2) attempting to duck when her only out was to luff hard to avoid the Cal. If you are an overtaking boat on the same tack you need to maintain sufficient distance (both fore-aft and port-stbd) to assure that you can safely respond to any and all maneuvers the boat ahead might make. The boat ahead is not required to restrict her maneuvers in anticipation of your overlap.
In a related rant, I take issue with the notion that "It's a PHRF race, defending your air from a faster boat is a dick move". Unless there's a an active Cal40 One design fleet I'm unaware of, PHRF racing is the best racing the Cal owner can get; and getting rolled close aboard by a faster boat will assuredly cost the Cal owner time and diminish (albeit slightly) his chances of winning the race. The Cal owner has every right to defend his air from the Bene and doing so is decidedly NOT a dick move, it's sailboat racing. If you're in a faster boat and you don't want the slower boat to luff you, then either duck them or pass them well to windward.
August 8th, 2014
As the 35th America's Cup "Deadline Day" hit us here in the US,  The Royal NZ Yacht Squadron became the first team to formally announce that it ponied up the millions required for a challenge to Golden Gate Yacht Club, and that Emirates Team NZ would be their representatives. "We look forward to working with the other teams to create a great event. [emphasis ours]".  
The solo Kiwi news release, along with Dalton's emphasis on 'working with the other teams' tells us that Russell and Grant definitely haven't kissed and made up; you can expect a more coordinated flurry of news today as 'Russell's Four" – the teams that pledged their lukewarm support to Coutts and the Cup a couple of weeks ago – are likely to have worked with AC AlphaWhat on a distribution schedule.  In other words, when the Cup is ready to tell you who challenged and who is the new Challenger of Record, they'll fucking tell you, you impatient twat!
Meanwhile, RadioSport NZ's D'arcy Waldegrave grabbed Mr. Clean for a morning drive time chat about the challenges the Kiwis face on "The Sauce", also known as "New Zealand's Loosest Sports Radio Show".  Listen to it above.
August 8th, 2014
That's boat builder John Corby on Starboard. Were his skills required?
August 8th, 2014
While many of the world's economies continue to stagger in various states of recession and stagnation, the rich just keep on getting richer.  And how do we know?  Because it sure didn't take long for the super/mega/giga-yacht market to rebound from the lows it's been suffering since '09. More from the Daily Times:
There were 221 sales of superyachts in the first half of 2014, a rise of almost a third from the same period a year ago, according to figures from Boat International Media. That represents a 66 per cent rise from the 74 yachts sold in the first half of 2009, the bottom of the market.

Separate figures show the new-build superyacht market is also picking up. According to Superyacht Intelligence, there are 360 yachts being built this year, a number which is expected to rise to 411 – the same level as in 2013. That is still well below the 2008 peak, when there was an order book of 587 yachts. 
And that's not even all the good news.  While the re-emergence of wealthy American buyers, who have traditionally been the biggest nationality of buyers, has helped boost the market, the founder of a luxury yacht builder says that European buyers have yet to return to the market, and that many Russian buyers have disappeared while the Ukraine crisis persists.  And that the Chinese market remains barely tapped thanks to a lack of infrastructure for yachting in China.
In other words, if you're looking for your next Megayacht over the next few years, you'd better order it soon!
Full article here.
August 7th, 2014