Was sitting on the bog in Kuwait looking for some inspiration, as you do, and look what happened! This was during their boat show as well… – Anarchist Marcos.
February 8th, 2015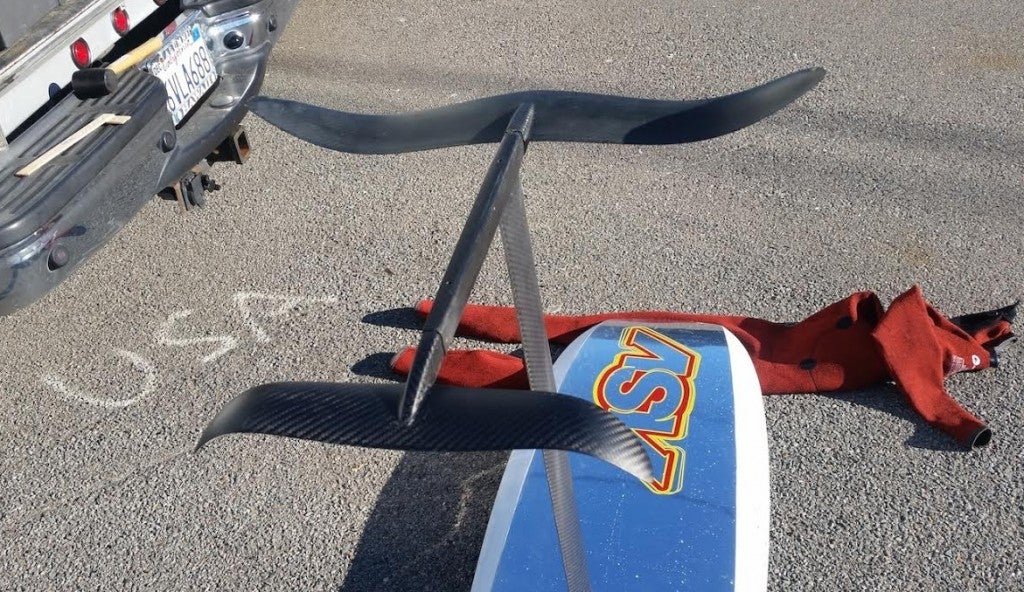 This is a picture of the best kite racing foil today! It is made by SPOTZ which is a french company that has been pushing the leading designs and technologies of kite foil racing since the start.
I am writing this article to point out how different they look from a Moth foil.
I have tested a lot of different shapes, sizes and curves and have found that, the more curve that we add to our kite racing foils, the more stable it becomes with pitch and roll. A moth foil is very flat without much curve if any and I think this could be a major reason for even best sailors having a hard time in over 20 knots with big chop, for example; in Sorrento.
I am definitely not an expert on foil design, nor am I an engineer, but I ride a hydrofoil almost everyday in San Francisco Bay and a flat foil wouldn't work in over 10 knots for me!!?? – Anarchist Joeey.
February 8th, 2015
Big Pimpin'
Here's how they do it on the big rigs! Nice stuff from C-Tech.
February 8th, 2015
Local Knowledge
Although having had lots of memorable moments in the  X412, there still was something inside me which brought a kind of nostalgic feeling. The 41′ yacht is probably the best sized alternative to combine cruising and some club racing from time to time. On the other hand, a 41′ racing yacht is a "big boat" when it comes to crew management, training and running costs.
It becomes an art to keep the crew complete year round and handling the boat in a breeze can become quite a challenge if no training is done. It was the moments of worry-free sailing on small yachts like the J24  that really made me enjoy the round the cans whether it was on a race like Cowes week or on the local sunday-afternoon-race.
It was an idea which I kept thinking about, but the cruises with the now 5 year old daughter, giving her the passion for sailing is one of the great things in life. When I spoke with Jan Vandamme, owner of a shipyard in Belgium things changed. Plans were there to build a new 24 yacht designed by Frans Maas, a veteran sailor and highly experienced designer. The concept was unique!
An all carbon built 24 foot yacht with standing headroom, an inboard diesel and all comfort you need on a short cruise. At only 1050 kg the boat can be easily trailed by a family car. For sailing pleasure more than 55% of this weight is in the keel. Carbon mast, boom and vang complete the package and keep it easy to rig.
But what it makes the most unique is probably the classic look and it being double-ender. In this decade where wide open transoms and double steering wheels are common it was a pleasure to see the elegance of the past. This double-end concept is the reason for the design type being called "Booty 24". Because elegance is one but performance is also a major concern, the underwater design is up to date with modern appendages and designed for speed and sailing pleasure.
The boat is now in it's final stage of completion and will be in premier on the Belgian Boat Show next month. We can't wait to set sail and go for a great race season! - W.D.
February 8th, 2015
Need somewhere cool to park your 100′ supermaxi for a couple months?  Come on down to South Carolina, where the men are men and the girls outnumber them…heavily.  We're not saying that's why Comanche just splashed in Savannah, but we're not saying it ain't, either!
Jim Clark's monster maxi (and the most 'American' of any major team in yachting) is just now motoring her way from Savannah up to Charleston, where she'll hang out at SeaBreeze marina until late March, when she'll head down to St. Bart's for Les Voiles and a fleet of boats she should crush.
Huge thanks for this shot and three more we've stuck in the Comanche thread to our old Charleston pal Kurt Oberle,  founder of High and Dry Boatworks, the best carbon/fiberglass fixit guys in the Charleston area.
February 8th, 2015
Ted Irwin was both an innovator and an icon in the heyday of the fiberglass yacht Ted Irwin passed away yesterday. He was a true innovator as a designer and an industry icon.  Here's a little about Irwin from the Irwin Yachts support website; read the full story to appreciate just how much impact Irwin had on sailing.
At fifteen, Ted started building boats of his own design in his backyard. From this self-taught experience came the knowledge that was to later enable him to design a "moth". In that boat he won the North American and the world championships in its class.
After several years of formal education, painting, and backyard boat building, Ted landed a job as a draftsman, illustrator and part-time builder with Charlie Morgan. Ted was twenty-one. By 1963, Ted had served a stint in the Coast Guard, done some more studying and decided that it was time to go out on his own.
Ted rented a small Quonset hut on St. Petersburg Beach for $75 a month. There he built his first commercial sailboat. It took an arduous six months to build his first 31 footer, but it was an effort well spent. That boat, named Voodoo, was to launch Ted's career by logging an astounding racing record.
Voodoo raced for two years in the Florida Ocean Racing Association, 1964 to 1966, and swept all honors. Ted, sailing Voodoo, won twenty-four out of twenty-eight races during that period. Voodoo and her crew did so well that a sailing editor said, "All the other boats were racing only for second place". Other successes followed. Some of his famous racing yachts with names known the world over include: Voodoo, Black Magic, La Pantera, Razzle Dazzle and R2D2.
Read on, and thanks to Frank McCarthy for the heads up.  Top pic from the Irwin site, let us know if you are the author of the pretty one.
February 8th, 2015

The Franco/Chinese team aboard Dongfeng can't seem to put a leg wrong, stringing together a brilliant day to win yesterday's Sanya In-Port Race in front of their home crowd.  And now, the real race begins yet again with the Sanya to NZ leg ready to go.
Watch yesterday's full replay below (or here), and get ready for more tight action with Chris Nicholson guest-commentating and our old pal (and 5-time RTW'er) Mase helping call the shots from the booth.
February 7th, 2015
At this point, former Oracle Team USA grinder and 5-time AC sailor Matty Mitchell's allegations against the AC34 jury and fellow competitor Simeon Tienpont are all he said/she said at the moment, but take a few minutes and listen to what the Kiwi has to offer in this excellent interview with NZ Channel 3.  He's believable as hell, and his story is frightening.  Railroaded by ISAF, burned at the altar by his team, and stabbed in the back by a lying crew mate – and now he's fighting back.  Collusion, blackmail, all sorts of nasty shit – given the way ISAF has been conducting itself lately, anyone surprised out there?  And then there's the part Oracle played…but that's another story.
It's great to see an honest discussion rather than the media-trained corporate speak we've gotten used to from Cuppers; we're hoping to speak to Matty soon, but we're not sure we need to after this comprehensive chat! Want to know more or share your view?  Hit the thread in America's Cup Anarchy.
February 6th, 2015
Nestled in the rocks of Friuli, the pilot house, built in 1950, to the sea looks like a ship ready to emerge. The Pilot Port of Marseille have always camped on the island of Ratonneau, waiting for the vessels bound for the southern entrance of the port of Marseille, before control passes to the city of Marseille.
Check out the diary here. – Christophe Launay
February 6th, 2015
Brock Callen sent this little snippet of the life you are not living!
February 5th, 2015
Big Pimpin'
After winning Charleston Race Week 2014, several ORC European Championships, the Storm Trysail Club's Annapolis Fall HPR Regatta, and being named Boat of the Year, four Farr 280's took on Key West Race Week. This one design class is on a roll with Joe Woods' "Red" dominating the PHRF 1 fleet and taking honors winning the Farr 280 subclass.
Impressive showing with all four Farr 280's beating the C&C competition overall and boat for boat! Check out www.farr280.com.
February 5th, 2015
The anonymous piece We Suck published earlier this week contained a little tidbit you might have glossed over; the end of Paralympic sailing.
On 31 January, the International Paralympic Committee announced that Sailing got the boot from the 2020 Tokyo Olympics.  The RYA immediately posted a statement decrying the decision and announcing their willingness to help try to reverse it.  US Sailing published President Tom Hubbell's willingness to do the same.  Yet the reasons behind this big move remained largely secret – until ISAF published their own response nearly a week after the fact.  As usual, 'getting ahead of the story' to ISAF means something different to ISAF than the rest of the world.
For those who delight in ISAF's lunacy (and it's been getting almost laughably dysfunctional lately), have a look at the ISAF statement.  ISAF takes over the IFDS in November, and two months later, the IPC gives sailing the ease.  Coincidence, or yet another example of ISAF's 'reverse midas touch'?  You know how it works: Everything they touch turns to shit!
The ISAF Disabled Sailing Committee (IFDS) is profoundly disappointed by the decision of the International Paralympic Committee (IPC) to exclude sailing from the Tokyo 2020 Paralympic Games.

IFDS responded in a timely and comprehensive manner to queries from IPC, with details of sailors that participate regularly in international regattas or national championships, on Paralympic boats. IFDS ensures an extensive quadrennial program of international competitions replicating the Olympic Program organized by the International Sailing Federation (ISAF), including ISAF Sailing World Cup. IFDS sanctions and organizes yearly Combined World Championships in the Paralympic classes.

Development has resulted in the regular addition of new countries to competitive sailing. The process of merging with ISAF (with a membership of 139 Member National Authorities) was completed in November of 2014, with the main aim of opening a whole new field for the development of disabled sailing. During the period of pre-merging, ISAF always respected the independence of IFDS decisions. Through ISAF's development programmes, worldwide participation initiatives and event structure, the opportunities for disabled sailing are better than ever before.
February 5th, 2015
First, young Sam Greenfield parlays his video talents into a dog-day internship at the Volvo Ocean Race last year.  Then, he turns that into a full-time job editing video for the race.  Then, he does a last-minute Safety At Sea course and becomes the substitute OBR aboard Dongfeng Race Team.  He sets sail from Abu Dhabi with a drone and a big dose of youthful exhuberance, immediately branding his own feel on the VOR media effort.  Next, he wins the leg into China, having been a very important part of the team (according to the sailors).  And then this morning, he escorts the South African Miss World to the top of the DFRT mast for a video and selfie shot.
Note to Sam: FUCK YOU (yes, we love you).
Note to young videographers: This is where some Sailing Anarchy exposure, combined with talent and a shitload of hard work can lead you.
Note to World: This is NOT A SELFIE, no matter how hard Sam (behind the camera) is trying to make it look like one.  You can perv on some real selfies of Rolene Strauss over on Instragram.
February 5th, 2015
The Mumm 36 was a bitchin' boat for it's time, and it is very cool to see the boys at Carbon Yachting bring one up to what's happening today - a revamped deck layout, swept back Hall Spars Rig, 3Di sails etc. It looks good and no doubt goes along just fine. There would be way worse boats to own…
February 4th, 2015
Just a nice little reminder about the nearly complete and total shit show that the America's Cup has devolved into. Oh, they must be so proud!
New Zealand sailor Matt Mitchell has filed complaints of gross misconduct against the five members of an international jury that assessed the harshest penalties in America's Cup history, alleging "a trail of conspiratorial ineptitude that is hard to refute."
Mitchell's filing Wednesday with the International Sailing Federation (ISAF) is the latest fallout from one of the biggest scandals in the cup's 164-year history.
It comes less than two weeks after Mitchell asked ISAF to investigate former Oracle Team USA teammate Simeon Tienpont for breaking a racing rule and lying during a hearing prior to the 2013 America's Cup on San Francisco Bay.
After investigating the illegal modifying of catamarans Oracle sailed in warmup regattas, the jury docked the syndicate two points in the match against Emirates Team New Zealand, tossed sailor Dirk de Ridder from the regatta and suspended Mitchell, a backup grinder, for the first four races. Oracle rallied from an 8-1 deficit to win the final eight races and retain the Auld Mug.
Mitchell says he was punished because Tienpont lied to the jury.
Now Mitchell is going after the jury, saying the investigation and hearings were conducted in a clandestine manner. Jury member Graham McKenzie of New Zealand faces a further allegation of witness tampering by acting in an intimidating and-or threatening manner. Read on.
February 4th, 2015
Do not ask ISAF to do anything about our sport, or you certainly wouldn't if you read the job application for the ISAF CEO (to replace Jerome Pels).
In the essential requirements, it states that the successful candidate will possess the following attributes:
1) A proven ability to thrive in a complex multi-stakeholder environment
2) A strategic thinker and implementer
3) Politically adept
4) Commercially and financially astute
5) A clear understanding of the breadth of the sport and its events, coupled with a pragmatic approach to the balance of elite vs participation
6) A strong and inspirational manager and team leader, instilling a high performance culture across the entire organisation
7) A communicator and influencer with genuinely global impact and reach
8) A consensus builder with the courage of their convictions
9) A track record of promoting and commercialising sport
10) Integrity and vision, allied to affinity and passion for the sport of sailing
11) Calm but firm in terms of communication style and general demeanour
12) Fluent in English. Any additional language would be advantageous
13) Knowledge of sailing will be a distinct advantage.
Notice what is last of the thirteen requirements! Doesn't that say it all?
February 4th, 2015
I took a photograph of a drawing on a rock in Horta in The Azores. The picture has become my standard expression. I noticed that the "A" in your web page was in the picture that we saw on the island. I was wondering if it had anything to do with you or if anyone can tell us who did the picture? – Anarchist Jef. (Anybody know anything about it?- ed)?
February 3rd, 2015
Most of you have heard something about this story (we've been working on it for quite awhile and will have it to you tomorrow), but here is at least an official verdict against the guilty party. This dude has a bit of a reputation and  is no friend of SA, so all we'll say is "nice job, bro."
The US and International J70 Class Associations have suspended the Class membership of Bennet Greenwald effective immediately. Mr. Greenwald has accepted this suspension in lieu of a suspension hearing as described in the International Class Constitution Section 6. This suspension was precipitated by a series of events that included, most recently, a measurement protest and disqualification from 5 races at the 2015 J70 Midwinter Championship at Key West Race Week. Mr. Greenwald will be eligible for J70 Class membership in May of 2016.
In addition, the Class Registration for the two boats owned by Mr. Greenwald (hulls 34 and 206) have been revoked, and the boats must be inspected by a Class measurer under the supervision of the International Technical Committee before they can be sailed again in a J70 Class event.
February 3rd, 2015
Local Knowledge
For those of you unfamiliar with Oppie Team Racing, it is an integral part of Optimist sailing with teams consisting of 4 boats, not the more usual University (UK) or Collegiate (US) team racing of 3 boats per team.
Not only does it sharpen up the youngsters rule knowledge, it makes them think more tactically and certainly doesn't do their arithmetic any harm – Now does 1,3,6,7 beat 2,4,5,8? Actually yes but I bet you had to add them up. OK it's not racing around the world – far from it and the kids taking part over the weekend are not nautical giants – far from it but when a bunch of young sailors – most under 10 – have to be pulled off the water because of 28 kt gusts it's worth commenting on.
We watched as one young girl was hiking hard OFF THE TRANSOM as the bow of her Oppie attempted a submarine impersonation. She survived that, luffed the boat, bailed it out and sailed on to complete the race because she knew just as well as we did that to fail to do so could have cost her team significant extra points.
Another kid, who perhaps needs a little more rulebook study did so many turns WE were dizzy. Did it stop him? You bet it didn't, he too finished his race.
February 3rd, 2015
VOR Musings
I haven't specifically asked questions about the Vestas potential Phoenix but one or two unguarded comments suggest the challenge has a few 'edges' that haven't been given prominence.
Firstly it appears that the starboard side is non-existent / damaged forward as far as the keel area so any rebuild would have to involve the keel area – very complicated.
Add to that new bulkheads, fairing the whole job, Deck is damaged perhaps all the way forward towards the companionways. The keel mechanism survived but imagine the energy of 12 tons at 19 knots all being transmitted through the keel root. Fortunately, as it was canted this spun the boat rather than bringing it to a dead stop and standing it on its nose.
Massive scarfing required, additional weight, OD principle means all other boats will require correctors. Would you buy a boat that had hit a reef at 19 knots? Therefore it would have virtually nil re-sale value once repaired because make no mistake it will ALWAYS be a rebuilt wreck. I can take no blame or credit for the above comments, they have all come from the skeptics over the ability to rebuild the Vestas boat but all within the Volvo Ocean Race circle.
On the other hand Vestas and the Volvo Ocean Race have had the boat examined by experts/specialists in boat construction/salvage/repair and tell us it will be fine. I apologise if this sounds biased towards the naysayers but what else would you need VOR to say other than 'no-problem, it will be fine – there is no need. It is acknowledged that it will be challenging but IT IS possible but as the Vestas CEO declared at the Abu Dhabi prize-giving they are going for it.
The best way to refute those with doubts or concerns is to just get on with it and get the boat rebuilt and let's see the process. If nothing else, the interest it is bound to generate may help get a little bit more of the required ROI for Vestas Wind.But make no mistake, VOR is NOT going to put a boat back on the water that will put people at risk in any way, shape or form.
It is a race against time but let's hope this, at least, is one race Team Vestas wins.
- Shanghai Sailor
February 3rd, 2015