Big Pimpin'
Here's a throwback video of the breathtaking Gunboat 90. She has just splashed after a comprehensive aesthetic and mechanical refit in New England and is Caribbean-bound for the winter. It's not too late for a belated Xmas present for that special someone.
For more photos and pricing check out the Gunboat 90 listing or contact Gunboat directly for more information.
Title borrowed heavily from Sublime!
January 4th, 2017
While you lazy-asses were laying around nursing a splitting headache and trying to remember how you got home, thousands of racers around the world were getting on with the sport they love.  What's your area's New Year's Day racing tradition?  Here are a few from the new thread, including the frostbiting shot above from "Student Driver" in Riverside, CT.
From "Gouvernail" (Austin, TX):
Austin Yacht Ckub has a mighty fun annual Redeye Regatta.  It started forty years ago when people partied then slept on their boats. Hap McCollum made up a big breakfast and bloody Mary's and then went down and beat on all the boats to announce he had done so.   While they were eating he held the competitors meeting and went out to set up a course.  Hap died ten years ago but his regatta is still huge.
From "HHN92″ (Somewhere in FL)
We have our annual Hangover Regatta. small boats from Sunfish/Lasers up to 24′, staggered length w/l course to 'handicap' the boats, various 'rules' issued by the R/C along the way. One race you have to cross the line going backwards, another you have to go by the R/C boat and grab a beer while going to the leeward mark and back before another lap and finish.
 
The trophy is a toilet bowl, which has been residing at my house for the past year. Winners names & year inscribed with a sharpie on the inside of the lid. Along with various beers and liquors as prizes.
From "Ryley" (Boston)
We have the Jack Roberts Memorial NYD Regatta. This year we had 42 degrees, W16 gusting to 28, and 8 boats. Good turnout for a city where nearly every boat is asleep right now.
What's your racing tradition for the most painful day of the year? 
January 4th, 2017
With the dead-tree media continuing its slide towards anonymity, one of our 2017 New Year's Resolutions is to shine a bigger light on some of the many independent content producers picking up the slack.  One of those is Seattle-area safety instructor and licensed master Mike Brough, who's been putting together stories on the web since 2009.  Mike's excellent "Boating Safety Tips, Tricks, and Thoughts" blog is full of hundreds of interesting, helpful, and entertaining stories from the PNW and beyond, and we discovered Mike through – of all things – a book review.
While the vast majority of the subscription mags are basically recycling factories (they recycle paper, they recycle 'how-to' stories, and they recycle sailing news that happened months ago), print books – especially hardcover versions – are much more likely to be cherished by their owners and retained for years. Longtime SA pal Barry Picthall published one such book earlier this year (buy it here), and Captain Mike wrote a solid review, which we reprint here in its entirety with his permission. Show your appreciation by leaving a comment on his site.
Have you ever wondered about the history of sailing equipment that we use every time we go sailing?

Well fear not, "A History of Sailing in 100 Objects" by Barry Pickthall will fill in some of the gaps, starting with the earliest known picture of a sail from about 3,500 BC on the Naqada II Pot to the GoPro camera in 2006.

Yes a bit eclectic in many ways but a nice read.  The book has the object explained with text on the left side and a picture of the object on the right side.  This bite size method makes the book easy to read and digest in short bits.

I found the objects to all be interesting, many I was aware of but a bit of review never hurt anyone.  From the Cross Staff for navigation, Lemons to help prevent scurvy, the Portsmouth Block Mills in 1802 which made 130,000 wooden blocks a year for the Royal Navy using early automation (which remained in operation until the mid 1960's).  The Fresnel Lens in 1823 which is still used today in Lighthouses and probably most aids to navigation with a light as well as navigation lights on vessels and the tail lights on many cars.

Navigation lights were recommended in 1836 by a British Royal Commission that recommended that every steamship should carry lanterns visible in all directions, but it took two decades for the issue of Navigation Lights to be taken seriously, by then there were 3,064d collisions involving just British ships.  It took until 1889 for international standards to be adopted.

All in all a nice read for anyone interested in the history of sailing and the object we use and take for granted in many cases.

The Seattle Public Library has several copies (that is where I borrowed my copy from), Seattle has branch libraries all over the city so you should have a branch close to where you live or work, visit your local branch and have a copy sent to your local branch if they don't have a copy on their shelves, just takes a couple of four days depending on when you ask for the book,  the book is delivered to your local branch and an email sent to you telling of the books arrival.  If you have a library card you can log into the library web site and reserve the book to be held for you or sent to your local branch for you to pick up.

 – c / m
January 4th, 2017
With Rogue One death-starring its way to a billion dollars in revenue, sci-fi sailors around the world are wondering just why the Rebellion's ship designers made the choices they did.  SA'er A3A asks your opinion:
It seems the rebel fleet is an unlikely match for the Imperial Fleet. The rebel ships all seem to be moderate to heavy displacement keelboats, At least some have bulb keels, but I didn't see any canters. By virtue of the massive wealth of the emperor, the Imperial fleet seems to be large light displacement skiffs and lots of small foilers with variable wings. It's plain to see whose going to win this race.
 
Seems vaguely familiar to me………
We've since learned that the Mon Calamari (yes, that's really what Lucas called 'em) ships are actually weaponized buildings from their cities, but that doesn't clear the rest of the ship choices…got more info, geeks?  Post it.
January 4th, 2017
These kids flat out ripped it up! Title thanks to David Bowie and Trent Reznor. We were going to go with Young Americans but it just wasn't edgy enough for us!
January 3rd, 2017
Over the past few days there has been an absolutely amazing show of seamanship and blinding boat speed as Francis Joyon and his crew on IDEC have shredded the Southern Ocean setting a new record from Ushant (the start line for the Jules Verne Trophy) to Cape Leeuwin on Australia's southwest coast. Their time of 17 days and a shade under 7 hours knocks almost 17 hours off the previous record held by fellow Frenchman Loïck Peyron and his team on Banque Populaire V. It's almost as if Joyon is retaliating for having his record of the fastest solo lap of the planet smashed last week by Thomas Coville on Sodebo.
But those who know Joyon know very well that retaliation is not the way he sails. Retaliation leads to stupidity; instead he and his crew have found a favorable wind lane and have been riding it like men hell bent on smashing the Jules Verne record to smithereens. Let me put this into perspective.  For seven days they covered more than 800 miles a day with peaks from 28th to 31st December of 876, 871 and 869 miles respectively. That's an average speed of more than 36 knots. Average. You have to know that there must have been times when the boats speed dropped into the 20s. I guess to compensate for the slower speed they would have to push up into the low to mid 40-knot range. Incroyable. Unbelievable.
What's more unbelievable is this: They also set a new record for the fastest time from the Cape of Good Hope (Cape Town) to Cape Leeuwin. They covered this gap between these two major capes in just 4 days, 9 hours and 37 minutes, a full 1 hour and 46 minutes ahead of the reference time which was coincidentally held by Joyon on a previous record attempt.
I usually have a point of reference that allows me to articulate the enormity of what they just accomplished but this time I don't. This kind of sailing is in new territory. Let me just say this. I have sailed at speeds in the mid 30s, but only for short bursts, and I can tell you it's terrifying. The noise, both above and below decks, is like something out of a third rate horror movie. It's like the boat is being wrenched apart while the wind whistling in the rigging reaches a high pitched tone that is so unnerving it's hard to understand how anyone can get used to it. Imagine this going on for seven straight days and nights without letup. Imagine trying to sleep, eat, take a pee or even stand on deck taking washing machine sized waves straight in the face. If Joyon and IDEC do indeed set a new Jules Verne record no one will be able to say that they didn't earn it.
With this latest push IDEC now leads the reference time set by Loïck Peyron on Banque Populaire V by 855 nautical miles. Let's call it a day at those speeds and while there is still a long way to go, 12,000 odd miles to be exact, they are looking good for now. The weather for the next few days looks reasonable. The wind is going to ease up a little but that just means that they can pile on canvas to keep the averages up. They still need to sail under Australia, across the South Pacific to Cape Horn and then dodge a myriad minefields of weather obstacles as they sail up the Atlantic, but one thing is clear. Joyon and his crew have their sights set on breaking this almost unbreakable record. It's going to be fun watching how they make out. – Brian Hancock.
January 3rd, 2017
We suspect this little nugget is simply yet another example of the mess that is the Vendee Globe's official English coverage, but maybe – just maybe – there's more to the lower/thirds title slip up caught by an observant Anarchist watching the 28 Dec "Vendee Live" show on Facebook.
Look carefully under Alex Thomson team member "Neal McDonald" and you'll note it says "Alex Thomson Racing Volvo Race Skipper", and we're not quite sure why.  Did the VG producer simply forget to put Mac's 'title' on another line, or did someone sending over title graphics make a freudian slip because they know too much?  Could it be possible that Alex – and Hugo Boss's – next big challenge will be a crewed one?  VOR boss Mark Turner and Thomson go way back and there's precious little going on in IMOCA world for quite some time…and of course, much stranger things have happened.  What do you think?
January 2nd, 2017
It took Stephane LeDiraison nearly two weeks of jury-rig motor sailing - including a seaborne refueling – to get to Melbourne Australia after his dismasting, and SA'er Andy Roche was part of a group of local marine-response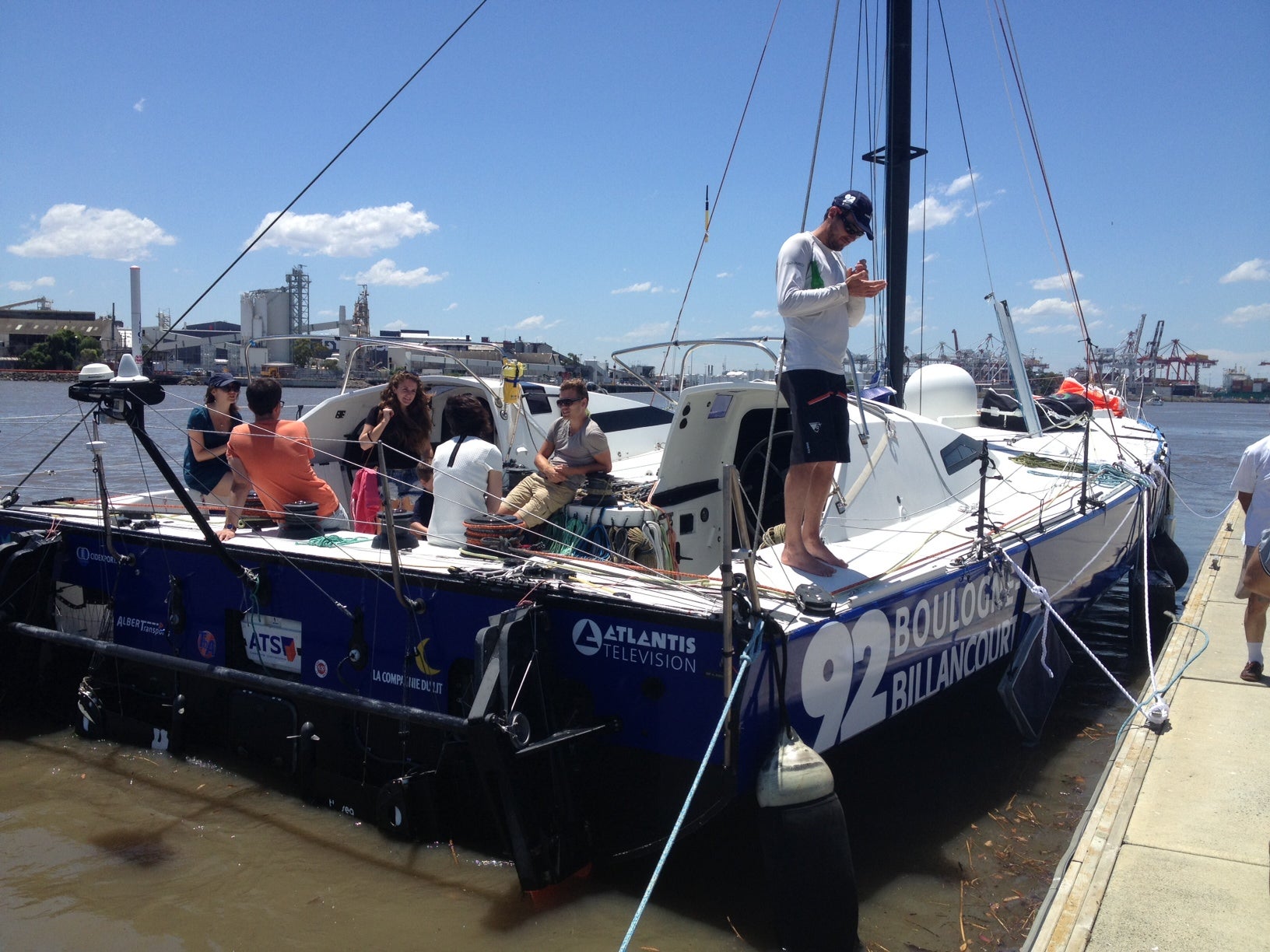 firefighters who went out to greet Boulogne-Billancourte on her arrival.  Big props to Andy for the snaps, and for the Melbourne community of both French-speakers and Aussie sailors for offering assistance and such a warm welcome for the Breton.
In other news, this Vendee Globe's constant source of jokes, tea, whisky, and Irish folks songs dropped his rig on New Year's Day about 200 miles SE of New Zealand; Enda O'Coineen will retire from his 15th place position and head for Dunedin to regroup.  Discuss it all in the thread.
January 2nd, 2017
The fun coldweather cruisers at A Life Aboard put together a decent list of must-read websites for the sailing obsessed in 2017.  We reprint it in full below, and encourage you to check out Matt Garand's Maine-based blog for some of the most interesting maritime winter content around. 
1: S/V Delos: Slip away from your winter cocoon and follow along through inspiring videos and blogs as the crew of Delos sails around the world.

2: Sailing La Vagabonde: A young Australian couple films their adventures around the world sailing, fishing, and playing music.

3: Skip Novak's Storm Sailing Techniques: This is a fantastic multi-part series explaining the techniques and tools needed for exploratory cruising in rough weather.

4: Cruising World: The go-to magazine for cruising destinations, gear reviews, and fascinating stories.

5: Cruiser's Forum: A useful forum for everything from DIY projects to classifieds and gear reviews. An excellent peer-to-peer resource.

6: Sailing Anarchy: An alternative sailing site for all types of sailing, geared towards the fun, the different, and the exciting.

7: Sailing Totem: A family of 5 sailing around the world. They literally wrote the book on Voyaging with Kids!

8: Sailing Simplicity is a fantastic and popular blog by voyagers, liveaboards, and offshore sailing instructors Teresa and Benjamin Carey. For a glimpse into the voyaging world I highly recommend their movie One Simple Question!

9: Chasing Bubbles: "A documentary about the journey and spirit of Alex Rust, a farm boy turned day trader from Indiana who, at 25, abandoned his yuppie life in Chicago, bought a modest sailboat and set out to sail around the world, learning as he journeyed."

10:  Turf to Surf: Meet Tasha, a writer, sailor, adventurer, and filmmaker sharing stories from around the world.

11:  Marine How-To: A basic website with thoroughly detailed descriptions of projects for the DIY sailor.

12:  gCaptain: The go-to source for all marine news. Oriented to the commercial sector.

13:  Tall Ships America: Check here often for job postings and volunteer opportunities on tall ships!

14: Yacht World: This is where you go to dream about your next boat. I visit here way too often.

15: The Boat Galley: What started as a resource for cooking on a sailboat has grown into so much more. Excellent resource for DIY boaters, liveaboards, and cooks at sea.

16: Maine Boats, Homes, and Harbors: A Magazine and online resource for boating and coastal living in Maine.

17: Around Cape Horn: The tall ship Peking sails around Cape Horn in 1929 in this documentary narrated by Irving Johnson. A must see.
January 2nd, 2017
Big ups to the volunteers that keep Jr. regattas from turning into total chaos!
January 1st, 2017