Everybody knows Finn sailors are crazy. Here's your proof!
November 28th, 2016
The boats are splashed and the bomb is about to drop in Miami as a massive gathering of Melges 24s are on hand in South Florida for the 19th running of the World Championship. Five days of racing are planned starting Tuesday, November 29 and ending on Saturday, December 3. Already teams have enjoyed a couple of nice preparatory days of sailing, practicing and fine tuning their racing machines.
Truth of the matter is there is something of interest here for everyone. From a fully-fledged squadron of youth-based teams and aspiring junior sailors, to a multitude of women drivers and crew; from what is predicted to be a knock-down drag out amongst the fleets best all-amateur teams, to watching some of the biggest and brightest rock stars of the sailing industry duke it out for what is one of the most coveted titles in the world, one thing is for sure, there is not a moment to be missed.
There are many ways to keep up with all that is happening in Miami:
TRACTRAC
Follow the racing every day by checking out live tracking of the Melges 24 Worlds here.
FACEBOOK
Make sure you have LIKED the Official Facebook for the event: 2016 Melges 24 World Championship. Also, LIKE the International Melges 24 Class, and the U.S. Melges 24 Class. These channels are loaded full of photos, daily interviews, video highlights and race updates from the course as the days unfold.
Those are the big ones. But, there are more ways to keep your finger on the pulse of the Melges 24 Worlds. You can also find the event and updates via Twitter, Flickr, Instagram and YouTube as well as the Classes websites: melges24.com and usmelges24.com.
#2016Melges24WorldChampionship #Melges24 #USMelges24
November 28th, 2016
Legendary boatbuilder, Harry Bryan, passes along timeless wisdom about being successful in this new short film by OffCenterHarbor.com.  You can click here to watch it in full, and we've asked OCH to let you opt-in to see two more of their best films about this profoundly wise man. Check it out here.
November 28th, 2016
Big Pimpin'
Zhik R&D manager Tom Hussey says there's no tougher a sport for testing the waterproofness and durability of modern technical clothing than offshore racing
In the past decade Zhik has listened carefully to the wants and needs of the world's best smallboat sailors, with Zhik the gear of choice for many of the sailors at Rio 2016 including all the team members of three of the most successful nations: Great Britain, New Zealand and Australia. The gold and silver medallists in the dynamic 49er class – Pete Burling and Blair Tuke (NZL) and Nathan Outteridge and Iain Jensen (AUS) respectively – are among the better-known names who have been wearing Zhik for many years now.
Test fabrics are made into pockets that contain a control 'test ball'. These fabric pockets are then placed in a rotating drum that simulates impacts against hard edges and also flat surfaces covered with non-slip grip. Test balls are shaped to simulate the parts of the body and other hard objects that impact a boat through the fabric
R&D manager Tom Hussey says, 'When we started making neoprene garments back in the early days of the company, it was amazing what sailors were prepared to put up with. Or rather, they didn't have much choice because most of the wetsuits available had been developed for surfers or athletes from other sports. For sailing they were pretty clunky, heavy and inflexible. Since then we've listened carefully to the world's best and most demanding sailors to give them what they need, to create garments that are warmer, drier, lighter and more durable than what had previously been available.'
Recently Hussey and the team at Zhik have started to ask the same searching questions about offshore gear. 'The goal was to produce the toughest, most durable kit that we could; it needed to outperform existing kit from rival brands. Read on.
November 28th, 2016
As many US Sailing Team fans will already have noted, Managing Director Josh Adams has left for greener pastures, (though he is assisting with the transition to new leadership) while today,  two-time Aussie gold medal crew Malcolm Page was named new US Sailing Team Director.
A college dinghy and team racer who came to the team after years as a magazine publisher, Adams was charged with what may have been an impossible task for someone with his experience level; to bring the US Team back from its dismal, zero-medal performance in London and make a real impression in Rio.  Despite what seemed like a good plan for Brazil, the team's 2016 performance was only tolerable in comparison to the 2012 debacle, and something had to change for the next quad.
Fortunately, US Sailing finally did what we've been begging them for a decade -  quit hiring your management consultant and magazine publishing pals from New England for this essential job, and find someone with a proven history of winning – even if you have to headhunt them from somewhere else.
Enter Mal Page, who aside from being the most decorated dinghy sailor in Aussie history, may be the only sailor to ever win a gold medal with two different skippers.  Page walks away from one of the toughest jobs in sailing – Marketing Director for ISAF – to take on another extremely tough job, but one he's uniquely prepared for.  We say this not because Page has led a big team to success; we say it because he was part of one of the winningest Olympic sailing teams in modern history, and a very clever lad.
Perhaps more importantly, he comes from a decade worth of training under the world's best olympic sailing coach – Victor "The Medal Maker" Kovalenko (pictured with Page, above).  While it's too much to hope that Victor will defect to the USA as part of the deal (Kovalenko has famously turned down some huge international paydays to stick with his adopted homeland downunder), Page should have all the tools he needs to recreate the winning culture enjoyed by the US Sailing Team up until the past decade.
You guys always come up with the best questions, and I'll be speaking to Mal tomorrow morning for this week's SA Podcast.  What do you want to know about the 2016 performance, the plans for Tokyo 2020 and the team, about Malcolm in general, or whatever?
This post has been edited to reflect the fact that Josh Adams was not fired, but resigned instead.  We note, however, that numerous sources inside both the governing body and the team were extremely dissatisfied with the team's performance and in our opinion, Adams was not long for the job.
November 28th, 2016
Tanguy LaMotte's charity-funded Initiatives Coeur may have officially abandoned the Vendee Globe after a masthead malfunction, but he can rest a bit easier knowing his boat has already made it around the world in record time.  Or at least, a cardboard version has! This pic from astronaut Thomas Pesquet from aboard the International Space Station.  For real.
And to see the French skipper 'keeping it 100′ as his charity sponsor rescues poor kids from heart disease, check out  the track Tanguy's traced in the ocean on the way back to France.  Have a heart, indeed.
November 28th, 2016
Clean Report
Finally, we get the answer to the all-consuming question of whether or not Hugo Boss is carrying a spare foil.  If so, how will he fit it and when?  If not, how will he deal with 'ol' stumpy'? How does Alex feel about getting passed by Armel Le Cle'ach for the lead (while we speak to him live)?  How did he hold him off for so long?  All that and much more in this half hour more worth of questions from the Anarchists and Clean. It's Hugo Boss skipper Alex Thomson, live from the Southern Ocean!
EDIT: We've brought up Alex's audio for those of you who had issues with the Facebook Live vid or those who just can't stand Clean's face – you can listen in loud stereo over here.
Title shout to the bubblegum punk that is Eve6.
November 27th, 2016
Our own Mr. Clean and RailMeat get bylines in an excellent short vid that gives you a real taste of the Vendee Globe from the perspective of New York Times sailing editor Chris Museler.  Watch it in the original spot here.
November 26th, 2016
We're not sure how it would do in the UK's hit new 'Fast 40′ class, but Melges 40 depositors who want warp speed one-design racing can rejoice: This thing looks like a weapon of war!  Spy shot from the dock in Dubai this morning as the brand new Botin/Premier product gets ready for sea trials.  Faster than a TP52?  We believe…
Thanks to JeffB for the snaps with more in the forums, and go here for videos and all sorts of fun from Federico and the Melges team.
November 26th, 2016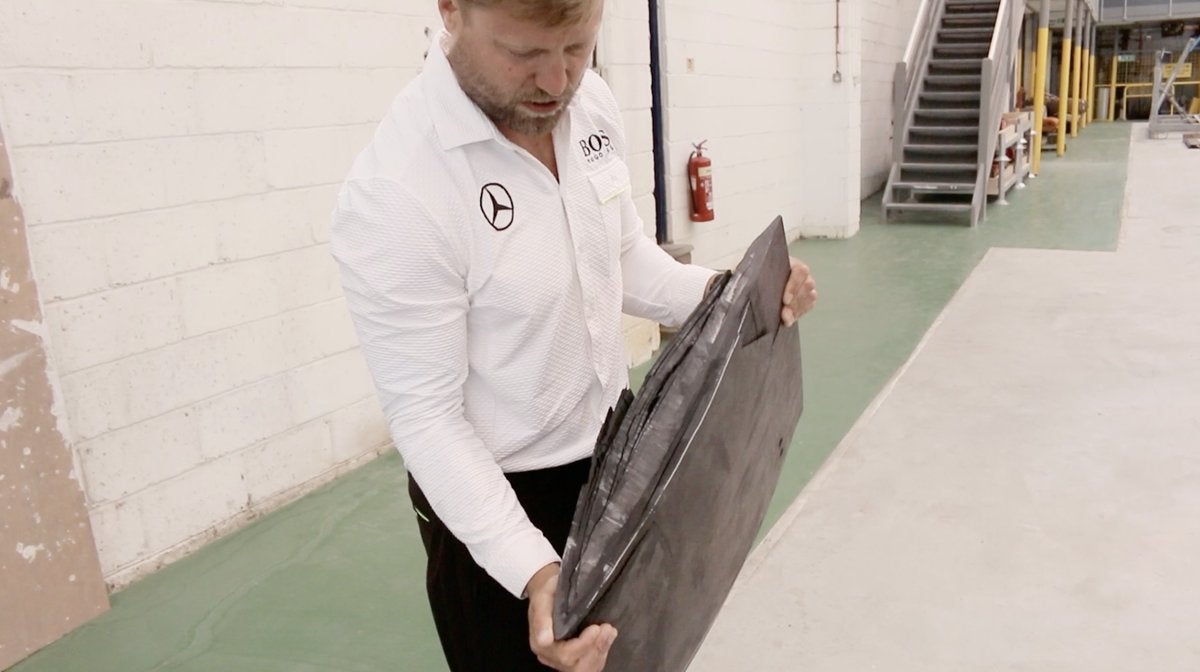 Our exclusive comment from the Hugo Boss team regarding Alex Thomson's replacement foil has lit a fire of speculation from all over the world, and we have to emphasize that we do not have any first-hand knowledge of a spare foil aboard the boat – it's all just words from an ATR source for now.  But a sharp-eyed Anarchist caught some of those words before they were deleted from the VG website; the conversation was between VG headquarters and Alex via satphone, and here is the text that's since been scrubbed:
VG: Do you have a spare foil?
AT: "It's an interesting question. One of the benefits of going for the design that we went for is that you have the ability to be able to push out what was there, and we'd be the only boat in the fleet that could put a foil in through the deck. It was certainly part of our consideration when we chose to go for this foil.
VG: Do you have a spare foil onboard?
AT: "One of the major problems with these foils is that they're very heavy. They're north of 100kgs each so the reality of being able to put another one in – getting it up on deck, and jiggling around with it – is that it would be very, very difficult. It's not an easy thing to try to do – I guess you'd have to have perfect conditions for it.
VG: Do you have a spare foil onboard?
AT: "Do I have a spare foil onboard? That would be telling, wouldn't it."
VG: Do you have a spare foil onboard?
AT: "No comment."
It may all be academic anyway, as Armel Le Cle'ach is just 12 miles from rolling Thomson as we speak.  It's head to head in the Southern Ocean for now in a race where anything can – and does – happen.  Anyone bored yet?
We're speaking to Alex tomorrow via satphone; we just put up a thread to ask your questions directly – post yours and if they're good, we'll get the answer straight from the leader of the Vendee Globe.
BONUS: For a crazy amount of data on the distances, speeds, and much more from the fleet, check out this cool page.
November 26th, 2016