Gougeon Brothers, Inc. is sponsoring the thirteenth annual 2016 Great Lakes Multihull Championship Regatta, which will happen August 26-28. This regatta has been known to bring in some of the Midwest's greatest multihull sailors, and even national competitors.
This exciting championship is limited to offshore multihulls with a minimum length of 24′ and a maximum length of 45′. Hosted by the Bay City Yacht Club, the race will take place on the Saginaw Bay near the mouth of the Saginaw River in Bay City, Michigan. There will be buoy races on Friday, August 26, a long-distance race on Saturday, August 27, and more buoy races on Sunday, August 28. No races will start after 5:00 PM on Friday or 1:30 PM on Sunday.
The racing will be conducted in accordance with ISF Racing Rules of Sailing (RRS) and the prescriptions of US Sailing as modified by the Sailing Instructions.
The Great Lakes Multihull Racing Association (GLMRA)'s Time-on-Time handicap will be used. A copy of the participant's GLMRA certificate must be sent with the registration information. Participants who fail to provide their current rating information with the registration form must accept the rating assignment from the local committee with no opportunity to appeal. There are no minimum or maximum crew requirements. The fleet may be divided according to GLMRA ratings. Any division of the fleet will be announced at the competitors' meeting.
Awards will be presented to the top three finishers overall with additional fleet awards if there is more than one fleet.
Owners or skippers are required to complete and sign a registration form, pay the required fees and abide by the rules and stipulations of the race. The Entry Fee is $110.00 per boat.  The additional Skipper/Crew Fee is $50.00 per person if the registration is postmarked on or before August 6, 2016.  The fee provides a lunch and two breakfasts at the Bay City Yacht Club, a dinner at the famed Gougeon Brothers Boat Shop, and a custom designed, high tech regatta shirt.  The fee increases to $130 per boat and the Skipper/Crew fee increases to $60 per person for registrations postmarked after August 6 but on or before August 18. Registrations will not be accepted later than August 18.
For more information, visit www.baycityyachtclub.com or contact Bob Nelb, 989-631-8080, [email protected] or Greg Bull, 888-377-6738, [email protected].
June 13th, 2016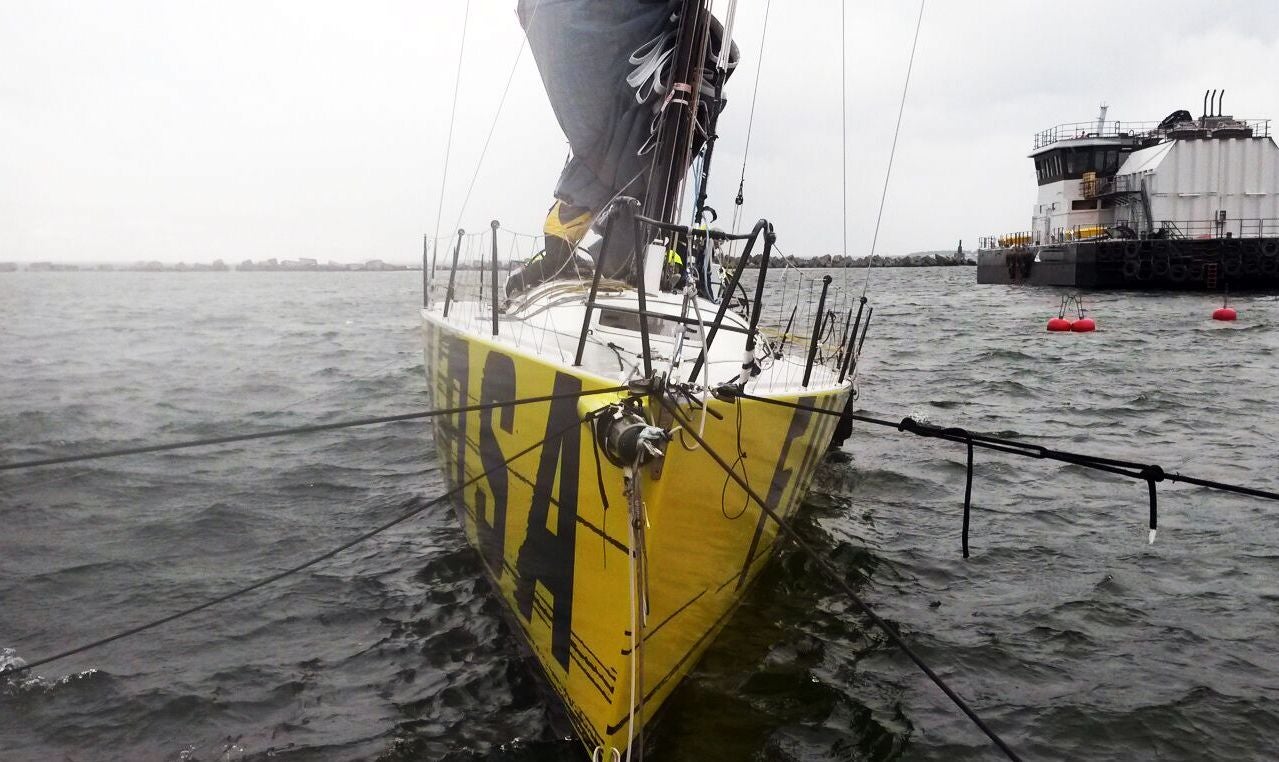 What happens when the Canting keel on a Cookson 50 gets stuck in the wrong position?
Alandia Suursaari race is the biggest offshore race that goes from Espoo around the Russian oon Suursaari and back. This year there were about  100 boats. Full night beating towards Kotka, but had to abort the race being 2:nd just after the trimaran Trou Noir. We suffered from electrical problems and where unable to move our keel, and it would have been unsafe to continue.
From Kotka Portti we sighted against Estonia, the keel bordered on the wrong side, surf the waves and balance all the way. Constantly having 17kn and top speed of 25 knots! Local SAR assisted us to home port.
Thinking ahead, furious showed us what she can accomplish what force .. .. fantastic boat!  Video here.
#alandiasuursaarirace #furiosasailingteam #cookson50
June 13th, 2016
We Get Letters
A peruse through SA is a must part of my morning routine. That being said, I am not an Ellison fan either.  But I did make the trek to the Chicago Navy Pier this weekend with 5 of my closest friends and was thoroughly pleased with the racing, the spectacle and these 45′ foiling thoroughbreds.
Yeah, it was pricey.  Yeah, it wasn't pure.
But the skill of the performers was exceptional, and the excitement was real.  On the downside there was a fucking motoryacht full of VIPs smack dab in the middle of the course which was allowed to impact the race, and yes Spithill drove like he'd consumed the entire 1/2 gallon of Pussers.
But a great time was had by all.  After all, when do you get to watch not one, but two Million Dollar cats bite the big one and send more millions of dollars worth of paid help into Lake Michigan.  My point is that it's not hurting the sport, and it's bringing new eyes to our passion.  Cut them some slack. – Anarchist Dave.
June 13th, 2016
Now that rocks. From Doyle: Thought you maybe interested an a not so boring spinnaker. Most spinnakers these days are all white so we had a little design competition in our office. The results were very good and it was the most photographed and talked about spinnaker at the regatta. Credit to the Chinese Drone/cameraman.
June 12th, 2016
Big Pimpin'
With warm weather upon us it's time to mop the deck and get those boats back in the water! For years, boaters have used long, green and heavy hoses that provide inconvenient rips and leaks. Now, there's the new, space saving Pocket Hose Top Brass II, a collapsible, light-weight hose.
Pocket Hose II is made from revolutionary DURA-RIB tubing which prevents bursting under pressure, while the new and improved outer lining can endure extreme weather.
Equipped with a heavy duty brass tip to withstand aggressive use and erosion, Pocket Hose also features tight seal technology which guarantees no more leaks or tangles and new brass connectors that are built like fire hoseconnectors and are three times more durable than the original fittings. In addition, a new "Solar Stripe Shield" that protects the hose from damaging UV rays and extends its life outdoors has been added.
Pocket Hose Top Brass II is available in 50 and 75 feet, starting at $29.99 at major retailers nationwide as well as www.PocketHoseTopBrass.com. (these things are really the best hose we've used. that's bow god Rodrigo Doll loving it. -ed.)
June 12th, 2016
From Anarchist Reto.
June 12th, 2016
Press release: The last person known to be following the America's Cup, Howard Grimby II, a member of Arizona Yacht Club, today announced that he's finally calling it quits.  Both a long time follower and the last member of a dying breed, Mr. Grimby expressed: "I held as long as I could, but finally my second favorite hobby, watching saguaro cacti grow, proved to be more exciting and rewarding."
The authorities governing the Trophy-previously-known-as-the-America's-Cup announced changes to make the event more exciting, racing in covered stadiums in trimarans with blindfolded crewmembers, powered by the downdraft of helicopters while being strafed by A-10 Warthogs.
While the above is a fabrication by SA'er 'MacGyver', it sums up yet another lost day of ACWS racing, this time in Chicago.  It also points to the silliness that America's Cup officials continue to cling to when trying to justify the two-day format of the Series, and how ridiculous it is to marry yourself to ironclad live broadcast schedules dictated by NBC and other major networks.
Warts and all (and gold-plated app prices) notwithstanding, Sunday's forecast looks to be about the best of all possible worlds.  15+ knots from the open Northeast should make for the best racing in the series thus far, with live coverage on the local NBC station, non-geoblocked app watching, and a live experience that our moles have told us is 'just awesome.'
While we do not recommend the overpriced, awfully-rated app you can download it here if you want.  And while we'd never condone piracy of any kind, that doesn't mean the Anarchists have a problem with it.  Read the thread for information on watching the show without dropping any cash.
Here's an interesting piece from Chicago Business about Don Wilson, the man behind the Chicago Match Race Center and the ACWS stopover, and the guy we most hope will take over when Larry Ellison steps away from the scene.
June 12th, 2016
Question of the Week
SA'er Lorax asks: "On a hypothetical vessel returning from Figawi today, let's say there was, unbeknownst to the skipper, a young lady sleeping in the v berth with his bowman.
When she awakes 50 miles from Nantucket, halfway to Boston, and realizes her possessions are still on the island and she is looking at an epic walk of shame. Say she wanted off the boat NOW, but a detour to somewhere on Buzzards Bay would miss us the tide at the canal. I [hypothetically -Ed] felt a drop off at the bus station in the Cape Cod Canal with bus and ferry fare, along with breakfast and coffee were appropriate. There was other talk if our actions would constitute kidnapping or false imprisonment.
Thoughts?
June 12th, 2016
Spotty management and bizarre decisionmaking may have marred the history of the Volvo Ocean Race's On-Board Reporter (née MCM) program, but there's no disputing that the decision to bring specialist media crews on board for the world's biggest ocean race was a landmark one.  Everything from the Vendee Globe to the Sydney Hobart Race to the America's Cup has felt the influence of the program, especially as guys like Matt Knighton, Amory Ross, Brian Carlin, and Sam Greenfield have brought their training and experiences from the VOR into other forms of racing.
After three mistake-filled editions of the program, the 2017 version looks to finally reach maturity under the umbrella of progressive new CEO Mark Turner , especially if the VOR hangs onto some of the more crucial management players in the last race – guys like the indomitable Mark Covell and TV boss Leon Sefton – and embraces the vast changes to the media landscape over the past five years.  The next edition will mark great leaps forward in both the distribution of content from on board and the technology employed to capture it, and you have a chance to shape it.
We like the campaign the VOR just launched to get new blood into the OBR spot – called #ifyoudiedtomorrow, it's pretty compelling shit.  Given the dominance of SA'ers in OBR spots during the past couple of editions, you guys have a great shot at getting in, so watch the video and get your CV together, and let us know if you do put together something awesome for the VOR choosers.
June 12th, 2016
When venture capitalist and tech wizard Tom Perkins wished "Doom and unmitigated failure" on our Editor back in 2006 for calling out the obscene level of money spent on the bizarre Maltese Falcon square rigger, little did anyone know it would become one of the most well-known phrases in the meme-filled history of Sailing Anarchy.  Over the years, as we got to know Tom and his projects better, the relationship softened considerably.  Did we all become great friends?  No way, but just as Tom became a fairly frequent reader of SA, our staff gained respect for the 'fuck it' attitude Perkins brought to all things as well as his innovations in and passion for sailing and the sea.
Perkins died two days ago in his home in Belvedere, California, and we salute his life as one that was particularly well lived.  It's not our place to say whether he was a wonderful human, but one cannot argue with the mark he left on the entire planet.  Through his VC firm – Kleiner Perkins – Tom's investments and deep involvement in hundreds of companies was one of the largest forces behind the creation of Silicon Valley.  Firms like Netscape, Genentech, Google, and Amazon owe their existence to Tom's funding and mentoring chops. His resignation from the Hewlett-Packard board triggered the revelation of a spying scandal that dominated the front pages, and he somehow managed to get himself convicted of manslaughter in France and become Danielle Steel's Husband No. 5.
In the maritime world, the Falcon was only one of Tom's big boats; he expressed his love of classic yachts through his restoration and loving ownership of two true legends: Atlantide and Mariette.  Perkins also showed he could exhibit remarkably bad taste as the owner of ugly Perinis – Adromeda de Dea and then the hand-me-down hull that became the Falcon.  
Two things turned us into Perkins fans more than anything else.  First, MF's 'sparmaster' – an old friend of SA's staff – told us why Perkins spent thousands of hours creating the software and hardware for the square rig 'Dynarig' concept: Because he hated motoring his big yachts unless he had to.  The rig allowed the massive, gold-and-granite laden Falcon to sail nearly 90% of her miles at sea.  And then when he commissioned the refit of an oil rig tender to become Dr. No, the mothership for the ultra-advanced Super Falcon submarine – a two-man underwater fighter jet designed to explore and record the world's endangered reefs and underwater habitats.
Perkins story is a fascinating one, with countless articles and several excellent biographies available if you're interested.  Start with Newsweek's David Kaplan and Mine's Bigger, and move on from there.  Head over to the Falcon's charter site, where the current owners have eulogized Perkins well.  And if you've got the cash, Dr. No and her toys are on sale at a tiny fraction of her refit cost.
June 12th, 2016