The first edition of Charleston's Fort 2 Battery looked more like a back-alley drug deal than a sailing race. Last-second registrations, lots of confusion, and competitors being distributed "race packs" in overstuffed brown paper bags late at night in the alley behind a downtown Charleston building…
In just three years since the race became the biggest of its type in the hemisphere; it was the first to use chip timing (which captured a .005 second split between the 2nd and 3rd place finishers in 2016), it was the first to provide prize money for the winner, and it led to the spinoff Foil Mania regatta – the first ever to pit foiling kites vs. moths, course racing from the same starting line.  And of course, it's the first to offer a genuine Professional Wrestling Championship Belt as the overall prize! James Island Yacht Club has come along and helped class-up the operation, but fortunately not beyond a 'weekend at the motorcycle track' vibe.  Their welcoming atmosphere is more  'go'n getcha brother a corn dog!' than anything remotely yachtie.
The best Sailing Club in Charleston has stepped it up once again for 2017. On April 29 the college bowl atmosphere among the spectators will be bigger than ever; the competition ain't just on the water – it's at the club, and anyone coming down will be treated to a perfect front-row seat to the mayhem on the Harbor and at the JIYC Barbecue Championship1.  If you think you've seen a "Race back to the dock" before, just wait until these foiling craft pick up the scent of that sweet, sweet swine.  Just like 2016, you can watch Mr. Clean's pre-race beach walk and the whole race LIVE on Sailing Anarchy from around 1pm, with the race start targeted for 2:00.
Last year saw slalom racing on Friday which continues again, and the Intercontinental FOIL MANIA Championship Belt will be on the line through the weekend as the Foiling craft slug it out in a more traditional regatta format. Registration is on pace for another record attendance, and this year could even see an E-Scow or two looking for glory in the "floating boat" grouping. We've seen the Mighty Hobie 20's smoke the E's on a circle track, but it will be interesting should it become a VMG downwind race. Will they show? Or are they allergic to corn dogs?  Find out on April 29 right here on Anarchy.
Gill North America and Charleston's Holy City Helicopters who have both been on board since day 1 will be on hand to keep Fort 2 Battery racers looking sharp. The new Kite-Foil One Design Class CR:X will even be there which allows racers to fly in with a backpack, charter gear and be part of the big weekend! April sure delivers in Charleston with the biggest regatta- Sperry's Charleston Race Week just the weekend before.
With Foil Mania, Fort 2 Battery and a BBQ contest, you can bet this version of Charleston's most exciting race will be "Good enough to slap yo' mamma!"
Relive last year's excitement with the Rev's Penalty Box edit of the 2016 Fort 2 Battery.  Register Here. And if you like our promo poster, there's more pics of that photo shoot over here.
-Tim Fitz, Founder, F2B
April 15th, 2017
Big Pimpin'
Those legendary Gunboat regatta-and-party reports may have disappeared for a couple of years, but with this video about the luxury multihull class at the BVI Spring Regatta (and their takeover of the legendary Willy T for some all-day Gunboat debauchery), it looks like they're back with a vengeance.  Full race report coming next week, and pics and words over at Facebook.
April 15th, 2017
It was great to get an update from Phil Sharp on Imerys and his drive to win the Classe 40 Championship, but what about the future for the charismatic Brit?  Hit this 17-minute audio interview on Soundcloud about Sharp's Vendee Globe aspirations, the pros and cons of hydrogen/fuel cell technology, which historical figure he'd most like to sail around the world with, and more.
One issue with Sharp's claimed goal to be the first to race around the world with zero carbon fuels: Didn't Conrad already win that battle?
April 15th, 2017
Arena sailing comes to the AC? Not quite as lame as that, but this is close. And it sure ain't F1, is it? And do you think security is going to let those ne'er do wells loiter in front for free? The suckers in the stands ponying up the $70 bucks per won't think that's so cool.
But speaking of cool, according to the PR accompanying this rendering; The racing that will take place in front of the Grandstand will feature the fastest boats in America's Cup history, raced by supreme athletes, battling it out for the oldest trophy in international sport.
Fastest in history? Did they forget these?
April 14th, 2017
World Sailing – which is the governing body for all competitors in our sport, whether we like it or not has 5 "special" events.
Those are the America's Cup, Extreme Sailing Series, the World Match Race Tour, the Volvo Ocean Race and some Windsurfing event. Sorry, I don't know what that event is as it holds no interest for me.
So, bearing that in mind, and with AC, ESS & WMRT already on 2 hulls, if the Volvo Ocean Race selects a multihull for 2020 then the closest World Sailing special event to what the majority of sailors do (sail monohulls) will be an air-rowing, sorry –  windsurfing event which many sailors don't even consider sailing anyway.
At least in Formula One Grand Prix the race cars and road cars have the same number of wheels. – Shanghai Sailor.
April 14th, 2017
We have always admired Phil Sharp's adventures. Here is his latest update:
On the performance side we have made some fairly major changes to rigging configuration for this year. We have changed the furling J1 and J2 to hanks, i.e. for both stays. Lots of people think I'm mad, and yes it is going to be a lot more work, but I like the idea of being able to stack the J1 at the back of the boat for a long downwind race like the TJV. Particularly as this season is double-handed so there will be another pair of hands. Also, if you damage the jib, you can actually take it down and repair it. Big plus point for ocean racing! For a hanked J2, there is the advantage of being able to reef it rather than go straight to the storm jib.
Lastly, we changed quite a few of the deck fittings to reduce friction, as putting a reef in was a full-on workout, and took twice as long as it should have. That should mean we can be more adaptable to the wind changes and reef / unreef sooner.
2017 Class 40 Championship races we'll be entering:
29 April – 2 May 2017 : Grand Prix Guyader
14 – 21 May 2017 : Normandy Channel Race (Caen-Fastnet-Caen)
2 – 24 Juy 2017 : Les Sables – Horta – Les Sables
6 – 11 August 2017 : Rolex Fastnet Race
5 – 30 November 2017 : Transat Jacques Vabre
April 14th, 2017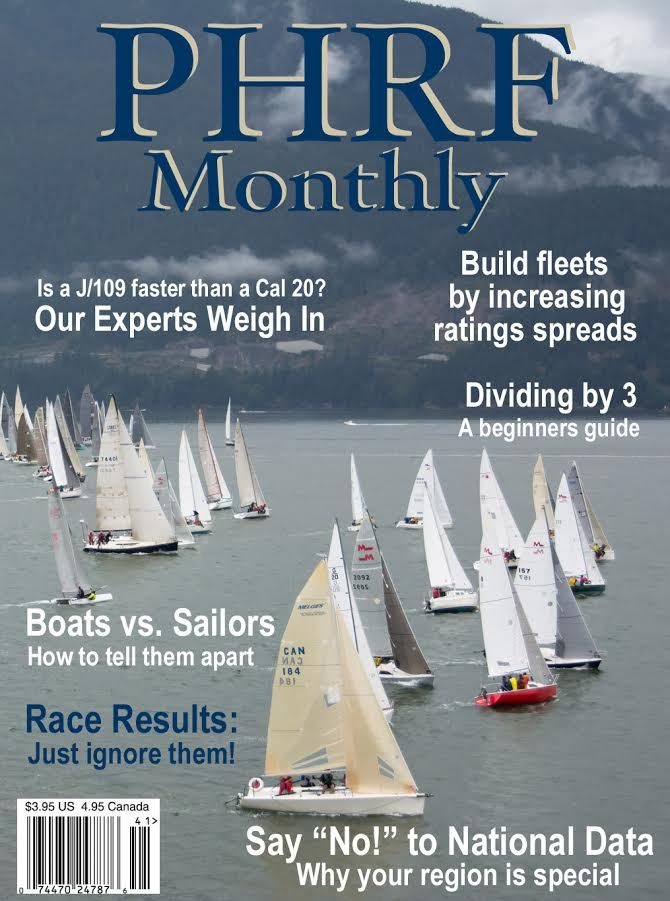 We know that you know just how much we loathe PHRF. We also know that almost all of you who sail it hate it too. We love this idea but need article headlines like "How to get even on a better sailor: Join the handicap board!" Or, "Know that you suck? Just whine about your rating!" Jump in here with yours!
April 13th, 2017
We love these series of design/build/engineering articles from our friends at StephensWaring….
What is it with interiors? Those inner, untalked-about bits of boats that never seem to see the light of nautical-chat day. Does anybody, anywhere brag about the size of their cabin sole? Or compare the space-age materials in their staterooms or galleys? Has anybody ever said "High-performance head" on any boat in any century, ever? We doubt it.
"Interior denial" is a sort of sad fact of boat-design life. That's too bad because what's going on inside your boat is a driving factor for what's going on outside your boat: How long she is; how beamy; how big the sails and engine, all are subject to the volume and demands of a floating vessel's interior. And when it comes time to build that boat, watch out! Interior construction is probably the major factor in how a boat gets made. What interior parts are built into the hull? What parts are prefab-ed and dropped in later? A big part of the yard's job is to machine, massage and mechanize the construction of interior detail and features. Yet, so little is known as to why an interior is built the way it is.
What fortune then, that we are in the final interior-details push done on our latest: the 66-foot Anna. She's just coming together nicely over at Lyman-Morse Boatbuilding, in Thomaston, ME. And as we're cranking the interior drawings out, the production design staff at LM are turning our interior into reality. This is quite a process worth going into further, later, yet we're realizing now it's a great — and rare — opportunity to open up the inner details of interior construction to the outer boat world.
If you've ever wanted to take a fantastic voyage down through what keeps what's inside your boat, inside your boat, buckle on up:
Here's why what's below is what it is.
April 13th, 2017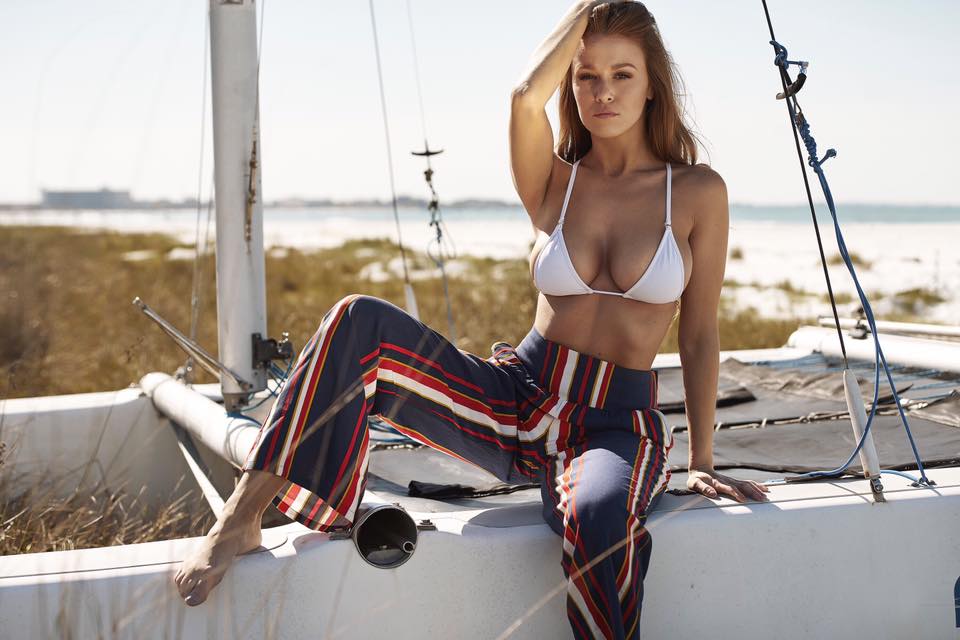 She probably doesn't sail, but one can dream (or fantasize!).  Pic of Vegas-based model Leanna Decker from her FB page, with thanks to "Les Behan" for the find of this week's long overdue SCOTW!.
April 12th, 2017
Those of us lucky enough to cross an ocean or race offshore for any length of time will have an innate sense of appreciation and wonder at the beauty and power of the sea – it's this very primal urge within us that binds us all together as sailors. And yet, as we know, some of the most important features of the sea and its ecosystems are under threat from human interference – most likely for the first time in the planet's history. Consequences now include measurable effects and influence on not just our aesthetic values as sailors but also the lives and well-being of those who depend on being on and around the sea.
The Mirpuri Foundation is a non-profit organisation set up by businessman and philanthropist Paulo Mirpuri as a vehicle to support specific projects in many diverse but interrelated fields, including marine conservation, wildlife conservation and general social responsibility.
In marine conservation the foundation is promoting a number of projects and initiatives relating to ocean conservation and events to consolidate and reinforce these objectives moving forward into the future. Besides specific projects such as the Save the Ocean campaign, the Mirpuri Foundation also works to spread a message of increasing awareness among global authorities of the importance of protecting oceans and of the wider dangers faced by the whole planet due to pollution and the effects of the human contribution to climate change – over which we do have power to control. – Read on.
April 12th, 2017