We like Brian and usually agree with his opinion, but we saw the video. It didn't move the needle for us. How about you? – ed
Millions of us watched enthralled as the boats in this current Volvo Ocean Race hurtled down the Atlantic from Portugal to South Africa. The racing was intense and  extremely close and we were able to follow the onboard action daily though a stream of excellent reports from the onboard reporters. Much of it was of water cascading down the deck, crew hanging on despite being pummeled, and occasionally there was the stunning sunset.
There was also a video that disturbed not only me, but many who saw it. That video was shot on board the Hong Kong entry Sun Hung Kai Scallywag. In that video, and yes I am sure that you know which one I am referring to, Skipper David Witt narrates a segment that includes Annemieke Bes, the sole female onboard. I appreciate that Witt was trying to be funny and the rest of the crew seemed to be going along with him, although it appeared as if they were a tad uncomfortable about it, but it was more than just a little inappropriate. What was even more inappropriate was that it was uploaded to the Volvo Ocean Race website and stayed there for an inordinate amount of time before being taken down.
I am not going to go into the gross details of Witt's commentary, but it's suffice to say that it was at best downright rude and disgusting, and at worst sexual harassment. I have raced in three of these races back when it was called the Whitbread and feel that I have a right, if not a duty, to call this out. I am not really calling Witt out; apparently he prides himself on his Neanderthal view of the world and he regards this just as boys being boys. I am sure that he found President Trump's comments about grabbing women inappropriately just "locker room" talk and probably dismisses the numerous scandals surrounding movie stars and politicians as a witch hunt. So be it, some people still need to come out from under their rock. No, this open letter it to call out the Volvo Ocean Race and their sponsor Volvo AB.

I understand that there is a way for the onboard reporters to upload video direct to the VOR website and I think that's a great idea. You get the immediacy that brings the race to life. This video was probably uploaded directly without any oversight from either the VOR media team or the people at Volvo AB, but here's where it goes off the rails. That video, which offended many people and not only women, was allowed to stay up there and be viewed for an extended length of time.
Let's look at this another way; imagine the corporate environment at Volvo AB. Some employees are shooting a video showing how much fun the working environment at the company is. Maybe it would go viral and gain Volvo some very inexpensive publicity. Imagine the video was about a group of male employees discussing their rashes in very sensitive areas and then inviting the lone female employee in and asking her how best to deal with the problem. Are you now starting to see my issue with this?
Clare Francis was, to the best of my knowledge, one of the first women to compete in this race, at least for sure she was the first female skipper. She was a pioneer. She was followed by many pioneering women. Tracy Edwards skippered the first-ever all-female entry in the race and with great distinction. Dawn Riley took over the helm of Heineken and they sailed a great race.
Christine Guillou aboard EF Language did yeoman work to further the notion that women could compete side by side with their male counterparts as did Lisa Mc Donald as skipper of Amer Sports One. Three years ago, the ladies aboard Team SCA with the great Sam Davies at the helm managed a terrific campaign and sent back powerful video and images of women excelling in this sport. How can it be that despite these herculean efforts, it appears that this iconic event has let itself go back to the dark ages?
Some digging around leads me to believe that most of the crew on Sun Hung Kai Scallywag had no idea that this would be uploaded and are mortified to know that it's out there in Cyberland. But Volvo, you knew, and you did nothing about it. Have you not been reading the papers or watching TV? Men sexually harassing women is not only not cool, it's downright distasteful bordering on disgusting. I appreciate that encouraging mixed gender crews is new territory, and territory that I fully support, but this?
So here is the reason for this open letter. What to do about it? I am probably not the right person to answer that question. Let's leave it for people better trained in these issues. I am just the father of a daughter, brother of a sister and fiancée of a lovely woman and I never want to see this kind of crap on the airwaves of this awesome event ever again.
– Brian Hancock.
November 29th, 2017
Tasha and Jennifer have agreed to sit down with Mr. Clean for a long SA Podcast interview today.  Got questions for them?  Ask now!
November 29th, 2017
Michele Zampelli  was doing the OSTAR this last summer on a class 950, the fleet got a thorough pasting mid-way across. boats sunk, rigs down, boats abandoned A mess. This one got abandoned and washed up in the last few days in Ireland. Wow. Props to Anarchist Chris.
November 28th, 2017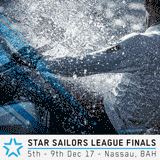 25 high quality Star teams are set to beat each other about the head and shoulders for 5 days in Nassau as the Star Sailors League Finals determine a worthy winner. We will be carrying the live broadcast on SA daily, and we thought it would be good to share a little inside look at one of the more accomplished US sailor, Mark Mendenblatt.
Such is the depth of quality in the fleet for the Star Sailors League (SSL) Finals coming up in a week's time in the Bahamas, predicting a winner would be a fool's game. Especially in such a sudden-death format as used in the SSL. But among the favourites must surely be the American pair of Mark Mendelblatt and Brian Fatih who somehow have won two of the past four years of the SSL Finals.
Such is the depth of quality in the fleet for the Star Sailors League (SSL) Finals coming up in a week's time in the Bahamas, predicting a winner would be a fool's game. Especially in such a sudden-death format as used in the SSL. But among the favourites must surely be the American pair of Mark Mendelblatt and Brian Fatih who somehow have won two of the past four years of the SSL Finals.
It's a very different style of competition to a standard week-long fleet race, so what tips does Mendelblatt have for his rivals, especially the VIP guests to the Star fleet such as round-the-world icons from France, Loick Peyron and Franck Cammas? Or Olympic Champion in the Laser and winner of the past two Moth World Championships, Great Britain's Paul Goodison?
November 28th, 2017
It is wood. Does that help? Hahahaha.
November 28th, 2017
The two most ridiculed mariners of the year are back at it, this time begging for money via a GoFundMe in order to go after the reporters and publications they say 'omitted and obfuscated the facts' surrounding their rescue at sea.  We are of course talking about Jennifer Appel and Tasha Fuiava, and we take you to their entreaty because you just have to read it for yourself.  Talk about it in the marathon thread, and read the avalanche of comments on the GFM page here.
Please help us fund an immediate campaign to pursue the media who omitted and obfuscated the facts surrounding our excursion in the Pacific Ocean. They were given a more complete story and chose not to publish it preferring to spin a tale of ocean fearful bungling yachtswomen adrift and not smart enough to call for help until some happenstance fishermen came to save them.   Assist us to nudge the media to play more fairly because the next person they might drag through the mud after a personal disaster by only telling selective pieces of a story could be you.
"Fake News" was already a subject of much conjecture prior to our leaving on May 3, 2017. Nearly six months is a considerable amount of time to compress into a few inches of copy or soundbites; however, they were given a more complete picture than what they chose to publish. At present, there are 157,000 different results in google search about our trip and not one that I have seen has provided an accurate account.
From Quarantine in Japan, I sent out clarifications when the first negative media spin occurred and yet most media outlets largely ignored those provable facts that did not agree with their spin. They did not apply the outdated Fairness Doctrine rules, Truth in Media or Fact Checking to their bias, nor offer apologies or retractions when they had clarifications from me to refute erroneous statements. The facts that were omitted, misquoted or misleading led to defamation of character. There was no hoax. There is no coast guard investigation because the gps information and more than 90 videos from the trip prove our planned multi-island blue water trip was no stunt for media attention. We debriefed with the US Coast Guard while on the USS Ashland, before the media torrent began.
Any sailor, knew to quit reading or listening to the press accounts as soon as they heard "the mast was damaged" when the footage from the US Navy during the rescue clearly showed no damage to the mast. It was the spreader that was improperly installed by the rigger that failed first. (A failed spreader would be like the axle breaking on your car.)
Before we went on NBC's Today Show, the producers were given a thumb drive of information that they chose not to use that supported the claims to be discussed during the three minute interview. Apparently, that information was not passed on to the interviewer, because I was shaking my head as he asked the question about calling for help. I don't know about you, but I don't think anybody is going to see me waving my hand at night more than 50 miles from shore when the first raindrops hit us in the first night's storm.
AP claimed there were "no organized storms", some accounts go so far as to say "no storms" in the Hawaiian Islands. Within minutes only the by-line and article title changed but the texts printed around the globe were verbatim copies of an untruthful weather account pushed on the unsuspecting public as truth serving no positive purpose except from an attorney's perspective for possible litigation. Two satellites from NOAA GOES-R show the back to back storm cells we encountered and the US Coast Guard furnished a written copy of the National Weather Service issued Maritime Advisory from earlier in the day. While I have never received the requested hardcopy of the evening broadcast, leave it to Inside Edition to find a view of the first storm cell we encountered and cobble a midnight phone call into a seemingly live daytime interview.
In the CNN article there is a speed loop for approximately 24 hours of the weather pattern we experienced off the southwest edge of the Big Island. It may seem small and fast from your chair, but still shots of the offshore weather pattern show it was more than three times the size of the Big Island. The boat is only 50' from tip to tip and we were travelling west to east past the South Point of Big Island, Hawai'i in that.
I understand the near shore shark experts factual representation of near shore shark size and behavior. It is doubtful the media would have been able to find a shark expert that had been through the Dragon's Triangle. It is my understanding that only two fiberglass or wood sail boats with people have entered and exited the area in the past twenty years. The other guy said he "only saw birds". Not only have I not been able to locate a single expert that can speak to the Dragon's Triangle ocean life, I believe there are no other boaters from wooden or fiberglass boats, just sunken hulls without a voice.
In many cases, ie: the tabloid Daily Mail.uk, neither Tasha nor I gave any statement to them. Linus Wilson, the first espoused 'sailor' to stand up and note "holes" in my story should have been more accurate and stated "holes in the media's story".
The Guardian, we talked with at length, believing they were doing a piece about the trip to rectify facts and yet, not only did they re-hash statements that had no bearing on the sea voyage, they didn't even state the ocean facts correctly.
We were never LOST AT SEA just "lost" to land people because the required 4' antenna was not on top of the mast, which was another hired-out rigging failure. (Without an antenna to provide signal, your cell phone will not work.)
We were not 'adrift'. 'Adrift' denotes that we had no ability to steer, which fails to account for our ability to circle Christmas Island, leave the Dragon's Triangle, almost return to Hawaii or navigate over 2000 miles from our failed attempt to return to Hawaii to reach 7.4km Wake Island.
It was amazing to see people with zero ocean experience talk about whether or not I should have used the EPIRB. Do they know the use of an EPIRB without a sinking boat will most likely get you a fine, jail time and the guaranteed loss of the vessel? People I know have been put in jail, been fined and lost their boat for EPIRB calls that were not deemed true emergencies. Floating boats with food, water and limited navigational capacity are not maritime emergencies.
Another failure to disclose accurate information were the distinctions for the three different types of distress calls, (we only did ONE MAYDAY call – after meeting the fishing vessel – which the US Navy responded to).
The fishing vessel experience was completely obfuscated. When I talked with USCG Sector Guam initially, before I was off the phone with them they had rerouted a Navy War ship to assist us. I don't expect land people to understand, but female ocean voyagers most certainly know the imminent danger we were in. The ordeal with the fishermen was far more terrifying than anything the ocean threw at us.
These are just a sample of the failures eschewed by the media to paint an inaccurate picture of our experience.
While you may be wondering if the monies requested will go towards a new vessel, it would not even begin to cover the cost to replace the duplicate sets of rigging, motor, two watermakers, sails and gps inside the boat or replace our SV Sea Nymph.
Please help us fund a campaign to nudge the media to play more fairly because the next person they might drag through the mud after a personal disaster by only telling selective pieces of a story could be you.
Thank you for your assistance and consideration.
Valentine, Zeus, Tasha and Jennifer
November 28th, 2017
This, without question, is the very essence of what this sport is all about! Fun, family, perhaps some adult libations (okay, a lot of those), and just getting out there and doing in you're own way. Heyell yes!
November 27th, 2017
From the concept of an inexpensive catamaran t-foiler to the UFO dinghy's unique sail solution to the kid running the company, everything about Fulcrum Speedworks screams 'disruptive.' That's why we're sharing this cheeky and disruptive Cyber Monday special from Dave and the UFO boys – 'cause at least someone in this fucking sport is marketing like it's 2017!
Hurry though – just four hours left on this excellent special…
SURPRISE Cyber Monday UFO sale! Five individual build slots will be sold today at 10% off between 12pm Eastern time to 8pm Eastern Time today. Build slots sold today are for delivery in the spring of 2018. Contact [email protected] to redeem this crazy offer! 
That's $6840 for a complete NEW UFO!  WAIT WHAT??? Aren't Cyber Monday sales just for accessories and gear??! Why are you doing this with whole boats??
November 27th, 2017
Yes, we're suckers for a new pretty face, and like the looks of the brand new NEO 400+. The fast racer/cruiser direction is one that we think will give buyers something that they can truly enjoy all the time. What's really different about this one is the interior.
One question; where do the sails get stored? Check it out here.
November 26th, 2017
Big Pimpin'
If one was to play in one of the best GP series anywhere, the Fast 40 class would be it. Here, one of the best boats is now for sale, and yes, it's going to be very quick no matter where you sail it. Built in 2015 by McConaghy Invictus has competed over 3 seasons in The Solent and has an impressive track record. Continually modified over the last 3 years, Invictus is one of the most competitive boats in the fleet.
Modifications include: fabricated steel keel fin, heavier bulb, foam bow modification, lightweight engine and a number of other tweaks. Offered with a large wardrobe of sails, many of which are still in good race condition. Further mods have been suggested by Jason Ker to further improve performance, but sure to compete for podiums in 2018 with no further modifications. Full inventory can be supplied on request.
Notable Results:
Winner 2017 Fast 40+ UK Series
Second 2016 Fast 40+ UK Series
Round the Island Race – 2015 IRC 0 Winner
2016 Fast 40 Class Winner/2nd Overall IRC,
2017 Fast 40+ Class Winner
November 26th, 2017