Looks like something familiar. But is it?
November 25th, 2014
On Nov 15th at 14:34 AST Stanley Paris, aged 77 rounded St. David's Lighthouse in his second attempt at Dodge Morgan's 150 day Bermuda to Bermuda record to circumnavigate single handed, non stop and in this case without the use of fossil fuels, via the great capes. His vessel, Kiwi Spirit a 63′ Farr Yacht Design experienced a number of mechanical and rigging issues during an attempt 12 months ago that collectively had the shore team encourage him to pull the plug at Cape Town after 50 days at sea.
Stanley Paris is a determined individual who does not let failure dissuade him from trying again. As an previous 70,000nm circumnavigator ( with crew ), Hawaii Ironman finisher and having swum the English on two occasions out of five attempts he was not going to give up after last years effort now viewed as an excellent shake down cruise. Previous multiple solo circumnavigator Steve Pettengill was hired as project manager at the end of last years attempt and has added the necessary refinements to both sailor and yacht to give Stanley Paris the best opportunity to complete the journey.
Follow Stanley Paris and Kiwi Spirit via www.stanleyparis.com
November 25th, 2014
Are you getting stoked for the Sydney Hobart Race?  We sure as shit are, and judging from longtime Sydney-Hobart photographer Andrea Francolini's Facebook Page, he is too (and thanks AF for sending over a higher-res shot of this 2006 dunking for the SA'ers).  It's not just the long-awaited US vs. AUS showdown between the wily, old, rarely-defeated veteran Wild Oats XI (going for her record-breaking eighth overall win) and the bleeding edge Kenny Read-led star-spangled Comanche.  Even better than this tête-a-tête is a big upswing in the typical fleet size (up to 117 boats for this year) thanks to the extra buzz of the race's 70th anniversary.  Relive some of the great shots of the past with Andrea as well as some non-sailing Sydney vistas over here. The CYCA is on board with the nostalgia too – how about a movie from the 1974 race?
And for some classic SA shit talking between the Aussie fanboys and the yank shit-stirrers anxious to prove their maxi is bigger than yours, start here.
November 24th, 2014
Clean Report
The last time the supremely badass RTW'er Dee Caffari and I shared an on-screen moment was during the 2012 Vendee Globe, when we sat in a TV studio together for about six hours commentating on the start of the race.  I fell in love with her incisive wit, open nature, and vast knowledge then, and knowing how much she longed for the sea when we were sat in our booth, it's great to see her joining Team SCA for Leg 2 of the Volvo Ocean Race.  I grabbed Dee yesterday on the satellite camera for 17 minutes of open discussion about her training for the leg, the dynamics aboard the boat, what it's like to come through the same spot she has multiple times – but with a crew this time – and most importantly to their fans, just where the girls are bleeding miles and where they're strong.  Worth a listen for any fan of ocean racing, and required for anyone already as absorbed with the one-design VOR as we are.
November 24th, 2014
Big Pimpin'
Veilmail is a solution for those who don't like having their email, attachments and files snooped on by anyone. An instant down load of a user file then enables you to bypass your ISP and store your information so you and only you have access to it. Hacker free backed authenticated by independent assessment and backed by an Insurance guarantee.
Veilmail contains a variety of features not available from any other product on the market, for full details click here and try a free trial version.
November 24th, 2014
We don't hear much from the Caribbean's 'deep south', but this pic piqued our curiosity about Grenada Sailing Week.  One of the earliest Caribbean regattas, GSW has great racing in a reasonably priced and beautiful setting, is as laid back as you like, and has chicks-to-dicks ratio hire than anything on the winter circuit.  Check it out here, and thanks to Derek Pickell and the Hot Stuff chicks for the great look from early 2014.
November 24th, 2014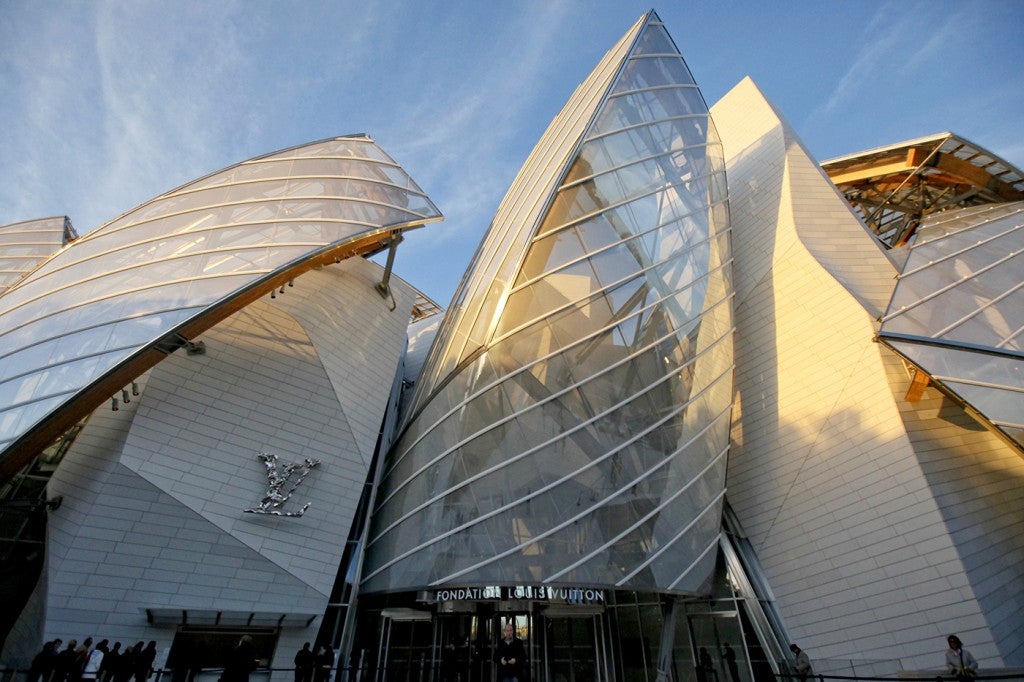 Better known for its late night ladyboy whores, Paris's Bois-Du-Boulogne is also one of the city's biggest and prettiest parks and gardens – at least during the day.  And now, after a nearly decade-long saga, it's also the home of one of the world's most interesting 'sailboats'.
Meet the Louis Vuitton Foundation's brand new art museum and cultural center, a $150-million building that's a piece of art in itself.  Designed by Frank Gehry and created to look like a stylized tall ship with dozens of flowing sails, the museum's facade features some 3,600 glass and 19,000 concrete panels, which were simulated and then molded by industrial robots.
See what you can do when you keep that America's Cup sponsorship money in your pocket?  Gorgeous work from Christophe Launay, with a big gallery here.  Video here.
November 24th, 2014
The competition amongst Volvo On-Board Reporters (OBR) is easily as heated as it is between the skippers, at least at this early stage, because there is an immediate payoff for those who excel.  The best of each leg gets a cool 1,000 euro, and anyone who really hits it out of the viral park will have some very happy sponsors and decades of solid work ahead of them.  Given the importance of the OBR role, the commitment that VOR have thrown behind them, and the likelihood that the next 8 months will be – let's say 'instructive' for the future of sailing and the media – we're paying close attention.  And so should you.
Today's VOR piece comes from the 2 meter tall, slightly insane cameraman Stefan Coppers (Team Brunel).  We had fun with the gangly, wild-maned Dutchman in Cape Town, and he promised to give us something we saw precious little of in Leg 1: Humor.  So for our OBR video of the week, we've got a little giggle for ya – click on it above.  There's more good news today as well; over here is a gyro/steadicam look at a full gybe as requested by many of you and answered by the poet of the bunch, Dongfeng OBR Yann Riou.  We also note that Team Alvimedica is (thankfully) back to releasing a raw, daily 'Boatfeed' especially for the more educated fan; check out today's here.  Also, there are now TWO teams who have their own apps.  Team SCA's is here, while Brunel's just got launched this morning over here.
Tabulated

You all may not know that the Volvo folks only run a portion of the videos coming off the boats; in order to really stay on top of what's happening in the Indian Ocean, you need to follow the teams as well.  We've found our VOR mornings to be best served by opening a window with the following tabs in it.
November 24th, 2014
Like pretty much everything in sailing, it took three years of good management from the Star Winter Series  to go from nonexistent to nearly 100% growth, thanks to series founder Stu Hebb's hard work and an early partnership with Sailing Anarchy, EFG International, and Blocksail.  Stu's embrace of the modern era for his website, social media, and scoring helped move this sometimes-ancient class into the 21st century with predictable results: It's now got a 24-year old champion for the first event of the season and more buzz than quite a few more modern classes.  Not something you hear often in the Star!
Fresh off one standout performance after the next, 2014 J/24 World Champ tactician Luke Lawrence was stoked to take this one.  "After a really fortunate year as crew, it's great to get one as a driver, especially in such wildly varying and hairy conditions.  Huge credit to my crew Josh Revkin, who will hopefully help get me around the course in good fashion again in a weeks' time in Nassau.
Wind from 8 to 28 knots meant a rig or two went for a swim, but the rest had a blast.  Marco Oquendo photo with loads more here.
November 23rd, 2014
November 22nd, 2014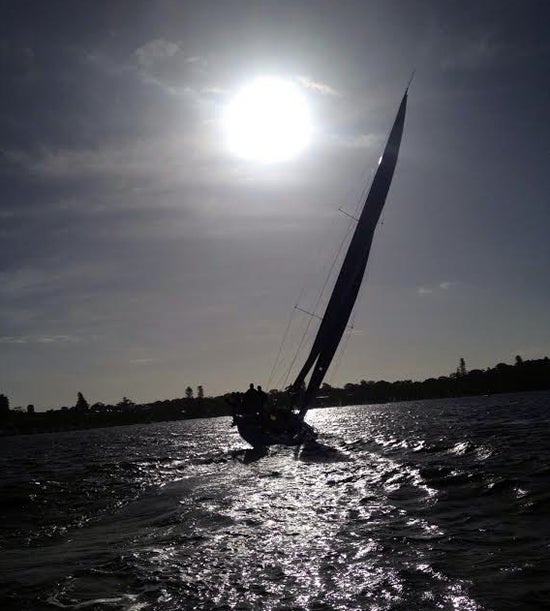 Local Knowledge
This pic from talented club photog Kaz Parker. Big boat club WWLW racing in front of Perth's best racing venue, the RFBYC headland. Featuring GP42 Black Betty, Ker 39 MEII, Long time winner Farr 40 Next Factor and Foundo's. – Anarchist Possible Pete.
November 21st, 2014
Well, well, well, take a look at the state of Sailing Anarchy's favorite yc, Fresno Yacht Club. We actually feel sorry for them. Despite the void of brain power at the top, much of this has nothing to do with their country bumpkin ways of doing things. While we truly do appreciate this, wouldn't they have been much smarter to reach out to us long ago? We would have had some suggestions that might have helped.  But, we're happy to work with them however we can. Sailing shouldn't die, even in a god forsaken piece of dirt called Fresno…
Not having the High Sierra Regatta last year may end up being a blessing in disguise. We are re-imagining that regatta from the ground up. Not that it hasn't been a great regatta for the past 60 years, the problem has been that we are both aging and shrinking (not unlike my 91 year old father). We have to re-think how we administer regatta because we are getting close to lacking the critical mass to pull it off.
We are a land locked club with no facility and we have experienced the same 75% loss in membership that sailing in general has experienced (see book "Saving Sailing").
The catamaran based regatta that precedes High Sierra each year (called the Commodore's regatta and hosted by the nearly extinct h16 fleet) has been run by 2 guys for the past 10 years and they are about to hang it up. Since the FYC has supported them in their efforts we are in conversation with them about us adding the weekend and making it a "multihull" focused regatta again.
We are also discussing how we can reduce the number of boats that show up on the first of our regular 2 weekends. We are limited to 150 boats per weekend by the forest service. In the past few years we have 'misplaced" the count but we think we just might be pushing that limit.
It is now further complicated by the simple fact that we no longer have the guarantee of a full lake. The launch ramp only goes down about 15 feet which makes it unusable if the lake is not at least 90% full.
There is a lot on the line, but there are no big guns to tell Southern California Edison that they have to leave the lake full all summer.  We certainly have no leverage…we only have 60 members and 15 of those are life members we never see because they are in nursing homes.
The 4 small businesses up there have no leverage. SCE doesn't care if they survive and the forest service would like the area abandoned to fishermen.
Jim Costa (congressman from the area who almost lost his seat) does sail with us and that might help…we are reaching out to him….but he has not been helpful to the farm interests when it comes to water issues either.
The only group that seems to have leverage is the group who manage the campgrounds. They are very connected politically and they just had a "shithouse" year. Hopefully they will pull out all stops and pressure SCE for commitment.
Well…I told you all that so I could suggest this.
You should try to join us in this marvelous venue (again that is). Yeah…I have heard that you were unhappy with the regatta management in the past, but that was some time ago and you have got to be getting tired of giving us all this free advertising.
If you're interested, I'll keep you posted as things develop.
Fresno may be the city hooked on meth…but Huntington Lake is sailor heaven.  - Daniel Irwin Commodore FYC.
November 21st, 2014
We won't even try to tell you that this isn't some straight-up pimpin', but we love the work from Petey Crawford…
A few weeks back Clean and I road tripped out to Annapolis for the boat show, part of our plan was to go for a sail on the new GUNBOAT 55. Frankly that was pretty much the carrot that lured me there. I have spent many hours on the GUNBOAT Elvis and really dig what PJ is doing with these boats. The new 55 looked sick and I was ready to see what she could do. Well, post boat show there was squat for breeze and we were boned on anything more than a cocktail cruise and a quick interview with waiting GB 55 owner Carolyn Groobey. It was then that I decided I should do the delivery back on the RAINMAKER. I got home, packed my bags and hopped a flight back to get on the boat for the trip.
We left at 6:30 am with boat captain Chris Bailet, GB Marketing Manager Lauren Battaile, and the ultra stoked owners of hull number 3 Chris and Carolyn Groobey. The weather couldn't have been better for a delivery, and after a quick dawn patrol photo sesh with Billy Black we were on our way South. The breeze was on our hip, the sun was shining and we were ripping along seeing 18 knots pretty steadily. I was snapping pics and rolling video the whole time, and even though I was trying not to over shoot, I just couldn't put the camera down.
We pulled into Norfolk after 13 hours of and some of the best bacon wrapped meatloaf I have ever had, courtesy of Carolyn. Eating 5 star meals in comfort at 20 kts is what helps make these boats so badass. And yes this meatloaf was 5 stars. We waited out the 45 kt breeze that evening and planned on resuming the trip when the breeze settled a bit. At about 1 pm we decided it was good enough to go and joined in with the GB 60 Fault Tolerant and left Norfolk. As we were heading out in comfort, the Coast Guard was towing in some 5kt shit box with a broken rig in some fairly rough seas. We weren't fazed, we were stoked for a head to head race with the 60 and to finally see what this yacht can do in these conditions.
We were absolutely ripping, and easily surfing in some pretty big swell, with all of us hooting and hollering the whole time. As the afternoon wore on the breeze started to fade slowly and we were blessed with yet another amazing sunset. 2 little birds thought we were having enough fun and decided to join us. Although one of them croaked during the night (I though he was just a heavy sleeper) the other one awoke, had some bread and water and peaced out at sunrise. I can't imagine a better trip south for a bird.
The rest of the trip unfortunately was under power as the fan totally turned off during the night. However the calm provided the backdrop for some gorgeous footage as we motored through the Outer Banks. Upon arrival in Wanchese we were greeted with a dock load full of friends and GUNBOAT staff, it was truly a family vibe. You could just feel it, and it just felt good.
The RAINMAKER crew was blessed with absolutely glamour conditions and we all had a blast on this boat. The Groobey's may have been the most stoked as they got to see just what they have in store for them when they take delivery of GB-5503 Toccata.
Enough reminiscing, I've got to get back to editing.
Petey Out.
November 21st, 2014
…is a catamaran! Well, not technically the worlds largest, and surely not the kind of catamaran you were hoping, but it is still an interesting story.
The world's largest crane ship, which is capable of lifting oil rigs, has set sail from its shipyard in South Korea for Rotterdam Port in the Netherlands.
The Pieter Schelte, which left South Korea on Wednesday, is due to arrive at the port for completion in December. The vessel is 124m (407ft) wide and 382m (1,253ft) long – as long as the Empire State Building is high.
Designed to assist offshore oil rigs, it reportedly cost around £1.9bn ($2.97bn) to build. More here.
November 21st, 2014
We really like this documentary about Ryan Breymeir from the New York Times.
Ryan Breymaier is hardly known outside the national sailing community. In the port cities Barcelona and Les Sables-d'Olonne, France, he is recognized as a skipper of some of the most challenging racing sailboats in the world.
Breymaier's training and ambitions are aimed at the Vendée Globe, a solo, nonstop, round-the-world race held every four years. He is the first American in a generation to be considered a threat to the French stranglehold on that race and on the Barcelona World Race, the nonstop double-handed race on the same track.
Pepe Ribes of Spain, a decorated America's Cup and ocean-racing sailor, shares Breymaier's ambitions.
In June, Breymaier and Ribes took major steps toward fulfilling their solo sailing hopes by winning the International Monohull Open Class Association Ocean Masters New York to Barcelona Race.
An unlikely match, the two were thrown together on a boat that was purchased only months before. On the delivery to New York from Europe, the mast broke; the two sailors wound up waiting until the start of the race to work together as a double-handed team.
They proceeded to cross the Atlantic Ocean on a 60-foot monohull, one of five boats in the competition. "We wound up racing hundreds of 15-minute races all the way across, with each one putting more pressure on us," Ribes said.  Click here to watch the video.
November 21st, 2014
This is what we're talkin' 'bout!
November 20th, 2014
Proving just what a 3-ring circus this thing called the America's Cup has turned into, get a load of this.  And Gawd, do we hope it's true. How great it will be to see the SD Gestapo crying in their beer, wondering where it all went wrong. We'll tell you: You cannot hold a modern AC in a tiny bay with no wind. Well you can, but it will suck. Shoulda just asked in the first place…
A person with knowledge of the situation says the tax haven of Bermuda has been picked over San Diego to host the 2017 America's Cup. The person spoke with The Associated Press on condition of anonymity because defending champion Oracle Team USA, based in San Francisco, hasn't made the decision public.
The person said software billionaire Larry Ellison of Oracle Corp. made the decision after consulting with the CEO of his sailing team, Russell Coutts, a New Zealander who also is director of the America's Cup Event Authority. Read on.
November 20th, 2014
Well I do! You know I am talking about the awesome SA hat, right? I mean, what else could there be in that picture that is more awesome that the hat? SCOTW Aly Di Nas seen here looking, um, awesome thanks to Laura Purschke Photography.
Weren't we talking about hats? Get 'em here. – Ed.
November 20th, 2014
What a cool idea!
Everybody has some old foulies hanging in their closet or in their hanging locker on the boat, maybe some boxed up in the attic or garage.  Those old sets of foul weather gear that just don't seem to keep the elements out any longer.  You've had them for years, they are worn out for sailing and not good enough to sell.
Don't take them to a for profit charity location, bring them to Sail Northwest and we'll put together a huge box of old gear to take over to The Bridge Care Center were they will be lovingly given out to the homeless.
The exact people that need this type of clothing, the people in your neighborhood that need your help and without anyone making money off your old foul weather gear.  In 2013 local sailors helped put together 6 huge boxes of gear and warm items for the homeless – Thank you for your generosity. Jump in the thread here.
November 20th, 2014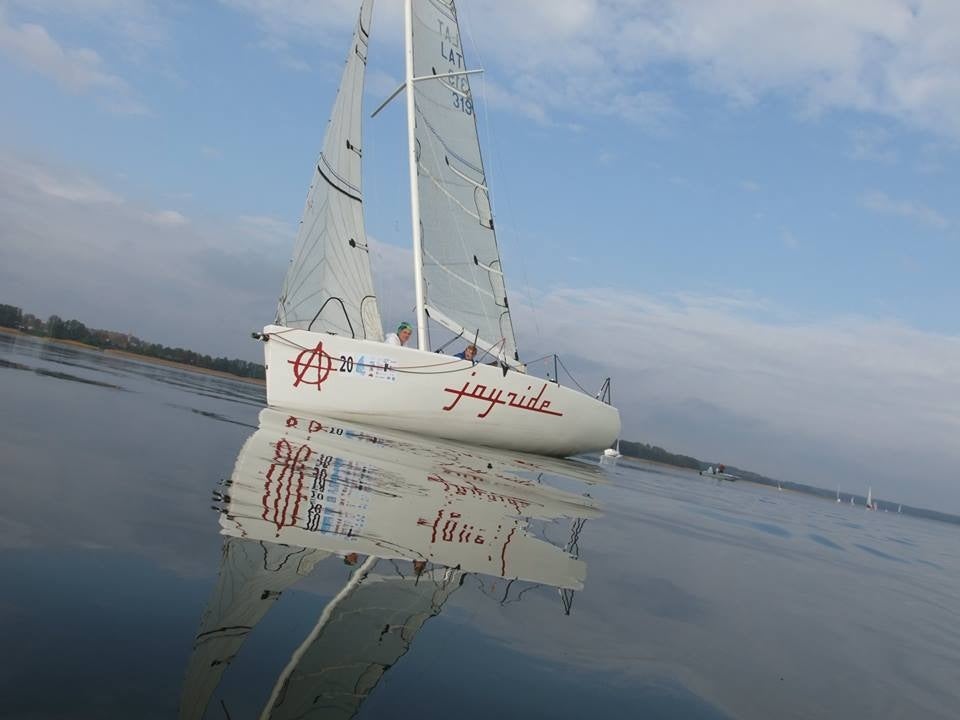 In a little country close to the Baltic Sea – Latvia, we are sailing too. In case you struggling with next headline photo for next release – here it is.. absolutely off wind regatta, naming "autumn winds at Usma Lake".
Best regards.
Usma, Latvia, Sailing Anarchy and porn obsessed!
(that describes our entire male readership. – ed)
November 19th, 2014