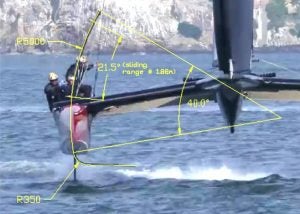 As the world awaits the big decision on what the AC75 monohull will look like, the man at the center of it all talks about the potential concepts and the details on how Emirates Team New Zealand crushed the world in Bermuda.  Here's 10 minutes with ETNZ Design Coordinator and former Formula 1 Vehicle Dynamics Engineer (McLaren) Dan Bernasconi from Radio NZ.
Concept 1 "…a fairly conventional but high performance monohull…"
Concept 2 "…a semi-foiling monohull…"
Concept 3 "…is it possible to get a really big yacht fully foiling. The sailors who are listening will know about foiling Moths which are single-handed fully foiling boats which are great. But on those you use a lot of your body weight to balance, and that is something which is really difficult to scale up."
Discuss the three options for the next Cup in the thread. 
October 11th, 2017
Not exactly of the sailboat persuasion, but badass, without question. Thanks to Anarchist Steven. Did you find  a yacht on Craigslist of some note? Send it on in!
October 10th, 2017
Q: How do you make a million dollars in the boating industry?
A: Start with two million.
Power Boat and Sailboat Lines along with Intellectual Property to be sold November 9. Sailboats, Travel Lifts, Marina Equipment, Woodworking Equipment, Machine Shop Equipment and all
assets of US Watercraft LLC to be sold November 11.
The Receiver of the bankrupt US Watercraft, LLC has authorized Salvadore Auctions, Inc. of Narragansett, RI to liquidate the assets of the company at public auction. Michael Salvadore Jr., President of Salvadore Auctions will lead two separate auctions for the assets of the company. The first auction will held November 9 for the molds, plugs, intellectual property of True North line of power boats, North Rip line of center console boats, Alerion Sailboats and certain license of J Boat designs. Prospective bidders can conduct their due diligence online as well as tour the site with the auctioneer.
The second auction will follow on November 11 and will include the inventory of Farr and J Boat sailboats, Acme H30 travel Lift, Heavy Duty Forklifts, large inventory of Woodworking Equipment, Welders and Machine Shop equipment including Swagging Machines along with Keel Molds, Boat Stands, Stainless Steel Nuts and Bolts, Boat and Marine Parts and Supplies will be sold to the highest bidder. The inventory of various weights of Fiberglass, Balsa, Foam, Fabrication Equipment and, according to Salvadore "everything that isn't securely bolted to the floor or building. Everything goes to the highest bidder, regardless of the price, including the boats. As this is a Receiver's sale, the highest bid is the winner. Winning bidders are going to go home very happy."
Bidders will be able to bid both live onsite at the Saturday November 11 auction or they can bid online from their smart phone, tablet or PC simultaneously with the live bidders. Salvadore Auctions, Inc. provides bidders with complete flexibility for bidding. Bidders can inspect the bots and equipment Friday November 10 and Saturday November 11 at the auction site 373 Market Street, Warren RI.
"Now is the time to get prepared for next year's boating season and do it at auction prices" say Salvadore. Salvadore's motto is "Buy Right! Buy at AUCITON!" and why not?" says Salvadore "this will be the opportunity for the marina operator, boat owner, woodworker to get top quality equipment at auction prices, so come and get it."
Information on the auction can be found online at www.siaai.com or on Facebook "Salvadore Auctions"
For additional information contact Michael A. Salvadore Jr., SPA, MPPA, President at 401.792.4300 or via email at [email protected]
Title inspiration is one of our best – ed.
October 10th, 2017
Here's your chance to jump into a couple of super-bad 40′ cats, claws out!  Check them out right here.
October 10th, 2017
Best caption wins…a new (to you) rudder.
No, seriously – Anarchist 'hockle' picked this carbon fiber rudder up diving off Boynton Beach, FL over the weekend.  It's still down there but he can tell you where it is…maybe?
Post in the thread.
October 10th, 2017
Also on the advertising front, we are really pleased to note that Sage Marine, builders of very cool little 'pocket cruisers' has signed on for another stint as the title sponsor of our Cruising Anarchy forum.
Built right here in the U.S.A, they offer a sweet line of proper little yachts that won't break the bank.
Check 'em out and if you get in touch with them, tell them you are an Anarchist – it'll get you thrown right out the door!
October 10th, 2017
Whenever we go sailing on our 5ksb, we keep a hearty supply of Canoe to attract whatever is left at the bar by the time we get there.
October 10th, 2017
Super stoked to have Ropeye onboard with us! Those who use their very trick gear know exactly what we're talking about, but for those of you looking for superlight, superstrong block and pad eye solutions, you absolutely need to check 'em out.
We like their gear so much, we ordered up and are installing some on the Anarchy III this week. Will post pictures of how they work for us.
Oh, and they have some stunning new products coming online next month at METS – click here to see what we mean!
October 10th, 2017
We don't know wether to be impressed or vomit. Perhaps we'll simply vomit impressively…
Title inspiration here. And of course here for our music fans.
October 9th, 2017
Big Pimpin'
Four years ago this week, our factory way over made our UPF 50+ Pro-Tech shirts and then helped us get the price down under $25 INCLUDING YOUR TEAM LOGO*. Hundreds of teams took advantage of the more than 60% discount and treated their team to the best shirt on the market and saved a ton of money at the same time.
As a thank you to all of you here on SailingAnarchy.com we are making the same offer available again so you can hook your crew up at the yearend party or just a great gift for the holidays to say thank you for helping make this year a great year on the water. Don't have a logo? No sweat, we will make one for you for free.
This deal also applies to our AWESOME UPF 50+ Hoodies at more than 60% off including your logo ($35). Just click here and then use coupon code "BEST CREW" at checkout. Limited time offer*. Back and sleeve prints also available at a very reasonable cost.
Photo: Howard Enloe and the Mighty Merloe Team Smash the TransPac record wearing the FASTEST SHIRTS AVAILABLE (UPF 50+ Pro-Tech).
PS – We are having all new Anarchy II shirts and Hoodies made by Dry UV. Mark and crew do a hell of a job. Get some! – ed
October 9th, 2017