It's pitch-dark. The bow of Team Brunel cuts silently through the water. On our starboard side lies Gibraltar. Behind us we see the outlines of the famous rock formation. The only sign of life is the so called shipping lane on our port side. Here dozens of seagoing vessels are thundering through the Strait of Gibraltar. In the distance we hear their heavy marine engines roar. You smell the fumes from their fuel oil. Due to the strong currents Team Brunel is trying to avoid this busy sea lane. We are now in second place. The ladies of SCA are in front.
"Welcome to the world of offshore sailing," whispers Jens Dolmer while he sits on the foredeck. For the optimal boat speed in these light conditions all the weight is placed forward… More.
October 14th, 2014
Admit it, of course this is what you'd do – build a balls out maxi, spend gobs of that not so hard earned intraweb money, and go globe crushing, Deny it all you want, but you would. Of course you would. Photos of the big, bad Comanche are thanks to mstrsail.
October 13th, 2014
The University of Toledo Sailing Club bested 51 other collegiate sailing teams winning the prestigious Intercollegiate Offshore Regatta and was awarded The Paul Hoffman Perpetual Trophy as overall winning team of the regatta. The Intercollegiate Offshore Regatta is one of the largest collegiate sailing events  held in the country and boasts an entry list of the who's who of collegiate sailing.
Teams from the United States, Canada and France included the US Naval Academy, The Ohio State University, Michigan, Michigan State University, College of  Charleston, US Coast Guard Academy, Queen's University, Arts et Metiers Paris  Tech to name only a few.
The University of Toledo sailing team consisted of eight students, team members were; Garrett Altenberger, Drew Blackburn, Evon DePrey, Deborah Dollard, Luke Gossman, Hans Guentert, Andrew Logan and Colin Mackay. The UT Sailing Club team was sailing for the first time ever in this event. They competed in the PHRF Division scoring 1,1,1,2,2 in five races held over two days, winning their class and being awarded the First Overall Team Trophy.
As a result of their overall victory the team has also been chosen to participate in the "crew exchange" program between the Intercollegiate Offshore Regatta and the EDHEC Sailing Cup being held April 24 to May 2 2015 in La Rochelle. The EDHEC Sailing Cup is the largest student offshore regatta in the world.
Congratulations goes out to The University of Toledo Sailing Club team for a job well done as representatives of The University of Toledo and the City of Toledo.
October 13th, 2014
More busy times in the land of the video editor, and we've got 5 good ones for you to start your week off right.
Getting To Know You
It's gratifying to see so many sailing videographers finally focusing on individual people; it's the kind of character-building we've felt has been missing from the landscape for the better part of a decade.  The characters are there – the sport's full of 'em – and this video from Ben Hartnett is an absolutely gorgeous and innovative way to get to know UK-born Aussie Olympic Finn sailor Oli Tweddell.  Watch closely – it might make you a better sailor, too.
Show and Show
Olympic 470 Dutchie and longtime SA devotee Kalle Coster showed off possibly the hottest racing product at the Annapolis Boat Show to Mr. Clean and Petey; here's a 6 minute look inside the best-looking race display on the market.  Keep an eye on Penalty Box Productions' Vimeo page for more videos from the show dropping on Tuesday morning, including our first-sail on both the Gunboat 55 and 60.
Humbled
It's easy to get caught up in the excitement of the awesomely close one-design racing we're already seeing in the Volvo Ocean Race, but we ought never forget that they are competing on a forbidding and potentially deadly field.  If there's one thread running across all of Waterlust's videos, it's humility, and this VOR vid from the Waterlust team is a beautiful look at that humbling ocean.  As an aside,  we thank VOR TV for fixing many of the problems that plagued the in-port race during their much better race start coverage.
What A Long Strange Chip It's Been
Petey Crawford takes a soup-to-nuts look at the breezy E-Scow Blue Chip Regatta last month on Lake Pewaukee Lake.  It's got carnage, kids, drones, and Jimmy Spithill helming one of these classic surfboards; a strong buildup to next year's 50th anniversary Blue Chip.  If you've been a Mystery Guest before, mark your calendars – they'll be inviting every one of you to come along for the fun in September 2015.
Back Of The Pack
While the top boats get the prettiest videos, we love to check in with the rest of the fleet, and this video from 30th place Hyper Viper at the 34-boat Viper 640 North Americans has plenty to make you smile.  Congrats to Brad Boston, Curtis Florence, and Chad Corning for the win.
October 13th, 2014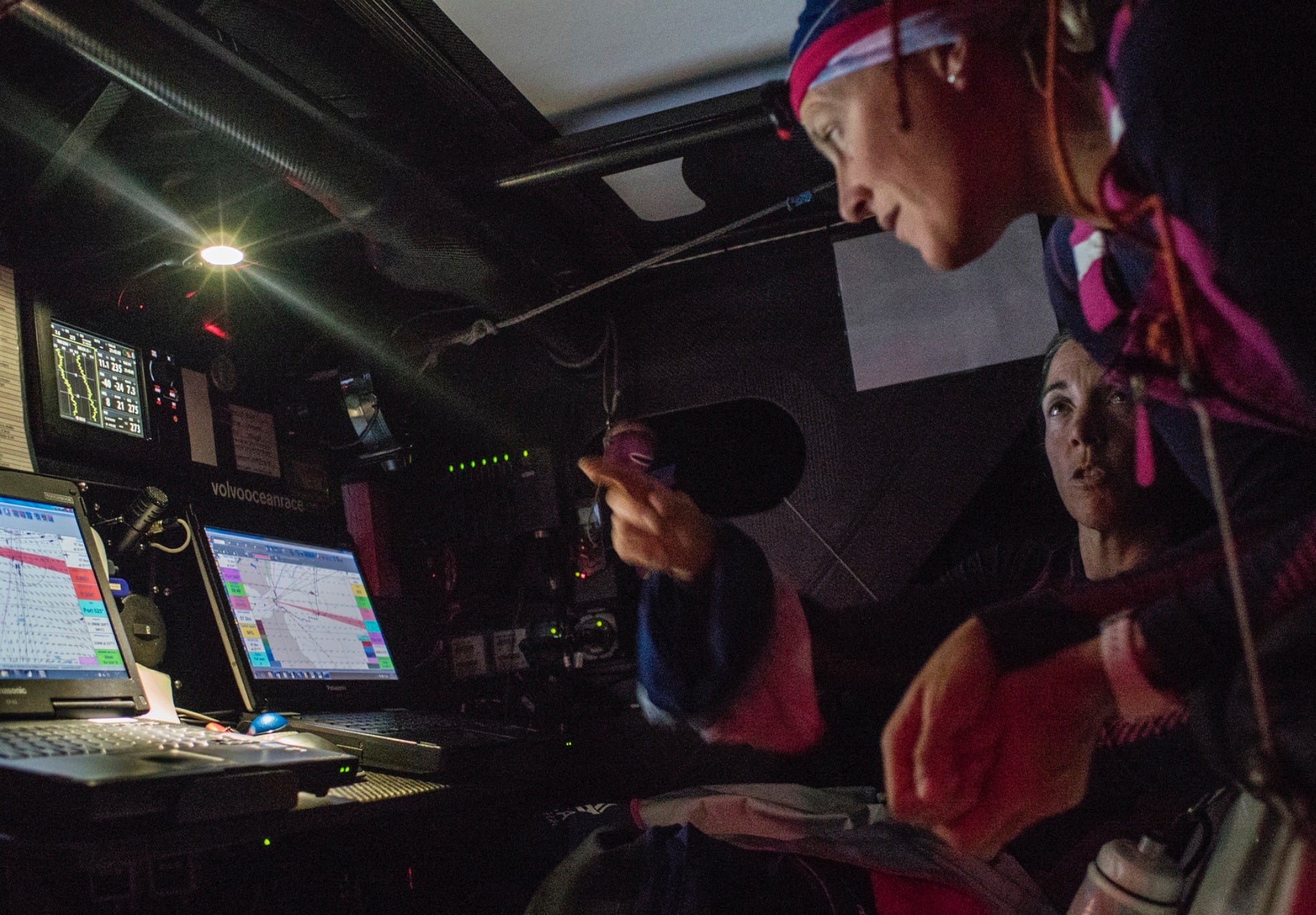 While it's a little early to burn your bras in support of Team SCA, the pink ladies have most certainly answered any questions the world may have had about their ability to hang with the men of the VOR.  That's thanks to a brave call from Libby G to split from the fleet toward the Spanish shore, where shift and velocity launched the girls clear into the lead at the last real geographical constraint until they get into the islands.  Will the Northerly position pay as the fleet heads out into the Atlantic?  Discuss it in the Leg 1 thread.  And check out the girls Flickr page for more great shots from Corinna.  Track the fleet here.
October 13th, 2014
Bob Perry may be best known for his design work, but we've always been most impressed by his writing. For the past decade his design articles have been the only thing worth reading in the 'dead tree' press, and his Perry Design blog has become required reading for students of yachting history.  His latest piece is Part One of a look back at the beautiful and historic Perry-designed PNW racer Night Runner; the story reinforces our view of Bob as the Steinbeck of yacht writing – and we're lucky to have him as a permanent part of the SA community.  Got questions for Bob about the Runner?  Ask here.
-First to finish (in division) – 1984, 1986, 2000 and 2006 Victoria to Maui International Yacht Race
-First in Division – 1989, 1998, 2000, 2004 and first overall 1998, 2011 and 2013 Swiftsure International Yacht Race
-Cape Horn Passage 1996
-First in Division 2009 and 2011 Van Isle 360 International Yacht Race
(And so many more PNW races that I don't have the space or time to list them here)
Seeds Are Sown
The NIGHT RUNNER story begins when I was 16 years old. I would drive down to Shilshole Bay Marina on Sundays for the winter racing series on Sundays. I'd get there early and treat myself to a breakfast at THE LITTLE PEBBLE restaurant. My favorite breakfast was called the Fisherman's Breakfast and took two plates to hold all the food and it was expensive, $3.50. But I would have been paid Saturday night for working at the meat market so I was flush and $3.50 was not going to break me. I was working on my breakfast one Sunday morning when I saw a low freeboard, white, very traditional cutter sail down the waterway. I watched the skipper dock the boat under sail with apparent ease. I was impressed.
I finished eating and walked down to the dock hoping to have a chat with the owner of the cutter. The boat was the AFRICAN STAR, a Bill Atkin design. I think the design is designated TALLY HO in the Atkin archives. This was a very salty boat with a very salty owner. His name was Frank Paine. He was gruff and taciturn. We sort of chatted. He said he was going to do a circumnavigation in the boat. I asked if I could come along. He said he didn't want any crew "That way the cook and crew will get along". I remember him saying exactly that. Then he said, "I'll take you as far as Hawaii." Wow! He suggested we do a "test cruise" together to see if we could get along. I was totally up for that. We arranged to meet on the following Friday night at the boat.
My Dad drove me to Shilshole that rainy Friday night. I had some clothes and a sleeping bag in a black plastic garbage bag. This was back in the day before the docks were locked so I walked down to AFRCAN STAR. No one was aboard and the boat was locked. I sat in the cockpit in the rain. A dodger would have been nice but I had my foul weather gear and boots on so I was a bit cold but ok. After two hours sitting in the rain the novelty of the whole idea was beginning to wear off and I was getting wet. Reluctantly, kind of, I went up to the phone booth and called my dad and asked him to please come and get me. It was a humiliating phone call. My parents were skeptical of everything I did and I was tiring of having my nose rubbed in my failures. But Dad loved me and he drove the hour round trip to get me home and out of the rain. Can't recall the conversation on the ride home.
I never saw Frank Paine again. I made an attempt to get a hold of him but I could not. AFRICAN STAR faded from my imagination. Years later, not sure exactly when, AFRICAN STAR showed up on the PNW racing scene. "I know that boat!" The owner was then Doug Fryer, a Seattle Maritime attorney of some renown. Doug raced AS in just about every race there was. The boat being so traditional, with big, full keel and outboard barn door rudder was slow but it had a generous rating and the word was that if you could see AS the finish, they had beaten you. Doug raced the boat hard and attracted a very loyal crew. Doug's ability to keep a crew together is a function of how much fun he is to sail with. He can be last or he can be first but he is always enjoying the race. Races are finished at the dock with "ritual rums" with 150 proof rum. Doug would explain, "150 proof rum is lighter." I wave wobbled my way down the dock several times after racing with Doug. AFRICAN STAR was a fixture in the PNW racing scene. Doug would later explain to me that Frank Paine had lost AFRICAN STAR in a divorce settlement. I felt bad for the guy. But Doug was happy.
Getting Started
I didn't really know Doug. Of course you tend to meet sailors in the club after the race so I wasn't a stranger to Doug. When the phone rang in the office Sally answered it and said, "It's Doug Fryer Bob". Great. Doug let me know he was considering a new boat, a custom build. More great. Then he went on to tell me just how much he loved Brice King's UNICORN ketch, Not so great. Actually it was a "shitski" moment. But Doug was concerned about the hull shape of UNICORN. UNICORN had a very pronounce bustle aft much like the Ericson 39. Doug has heard the Ericson 39 handled very poorly off the wind and he wondered if I would be interested in redesigning the stern of UNICORN to cure this handling issue. By this point in the conversation I am really depressed. " You want me to "fix" a Bruce King design? No, not interested." "Besides why would you custom build another guy's custom design? That's like using his toothbrush!" Doug's a bit laconic so I suppose there was some dead air on the phone at that point. Then Doug said, "What would you ;propose?" I suggested he give me a few days and I would do a preliminary design for him. Doug agreed and said he'd be by on Tuesday afternoon, as I recall. I had about 4 days to come up with an idea for a custom 40′ boat for Doug Fryer. No problem.
I remember staring at the big sheet of vellum, most probably striking a confident pose to impress the rest of the office. Damn! What to draw? BINGO! Doug loves AFICAN STAR. He should, it's a great looking boat. I'll just draw a 41′ version of AFRICAN STAR and put a modern underbody and keel on it. Piece of cake. I think I still have that very first drawing. It was just a sailplan, a "picture" of the boat. Doug showed up mid afternoon on Tuesday. Doug is kind of imposing. He's not tall but he's built like a running back. He has a shiny bald head and a deep baritone voice. He says serious things. He smiles when he talks about boats. He stood there, silently, looking at my sailplan. Finally he looked up, smiled and said, "I like it." I had given him a look that he was very familiar with. It was a smart design move on my part.
The Design
Of course, as mentioned, the overall look for NIGHT RUNNER came directly from AFRICAN STAR. But that's just the part you see above the water. I wanted the new NR to be a wolf in sheep's clothing. At the time, 1980, I was pretty full of myself, imagine that. My two tonner HEATHER had been dominant to the point that YACHING magazine credited or blamed HEATHER with 'destroying Class A racing in the PNW". UNION JACK my quarter tonner "mini HEATHER" was unbeatable above and below the border. I was pretty sure then as now that I know how to draw a fast hull. But NR would not be an IOR boat. The gloves were off for this one. For inspiration I looked to the old Uffa Fox International 14 One Design Class. I knew these boats well from my own early dinghy racing days on Lake Washington. I'm not sure why that particular hull came to mind but it did. I think if you squint a bit you may see some similarities.
The bow is on the full side. I needed a full line to the deck in plan view to get the character I wanted of an old cutter type. The half angle of entry is 22 degrees. That's two degree finer than a Valiant 40. A modern high performance boat might have a half angle of entry of almost half that. The forward sections ate U shaped but there is some deadrise forward. From this deadrise forward I faired into a midsection with no deadrise. I wanted a midsection that was tangent across the centerline, like an old I-14. My reason for this was I wanted to run the wood veneers unbroken across the centerline. Like the old I-14′s. We will talk about this feature more later. Bottom line is that NR has a very dinghy like mid section. Once I got to around station 6 I re introduced the deadrise. I have ten degrees of deadrise at the "buttwater" ( opposite of cutwater?) I wanted deadrise aft even if it wasn't the fastest shape. I hate those "suppository" shape transoms and with some deadrise aft I could add a hint of reverse in the transom to give it a pleasant shape. NR's transom is very pretty. This hull was quite a change to the IOR shapes I had been drawing. Funny thing is that I noticed yesterday, looking at the old, original line plan, that I had laid out fwd and aft girth curves. So at some point I must have worked out an IOR rating for NR. Not sure what it was. NR never raced IOR so it doesn't matter. In 2006 NR had a PHRF rating of 76.
I received a note from my buddy Matt who has sailed many ocean and PNW miles on NIGHT RUNNER:
Bob, I found an IOR certificate for Night Runner. Back in the day the Vic-Maui required everyone to race under IOR. Doug raced locally under PHRF, she just wouldn't be competitive in IOR. When she raced to Maui she was giving time to boats much larger.
IOR L is 39.5 feet.
She's a great all around boat, pretty much the same performance as a J-35 upwind (speed and point). She's really good in light air, and trucks downwind, so light on the helm and stable. When we crossed line on the Vic-Maui in 2000, we were in flat water (no help from the waves), wind in the mid 20′s and speed around 12. There was quite a trough . But we were pretty happy drinking our rituals from the dog bowls.
E-Mail from Matt – Just received 10/4/14
I think the thing about Night Runner that makes her truly exceptional is she really doesn't have any vices. She stays balanced with a light easy helm in every condition I've experienced. When close hauled and the wind builds, first start out with a little more cunningham and then a flattening reef when you start feeling just a little too much tension in the wheel. Even when there's tension it's not overwhelming, but it's easy to dial out, fast, and feels so nice to have her perfectly balanced again. I mentioned she's about the same speed as a J-35 upwind in breeze, we've dragged raced those guys (back when they were a strong class) and we have essentially the same speed and point. That's not bad company for an old cruising boat.

Downwind she is a dream. We've had her out in blue water with full sized ounce and a half with winds in the low 30′s and there's still no crankiness (note: this still doesn't eliminate anxiety in the helmsman). You can get some cross swell that would make other boats squirt off in different directions and Night Runner will just roll it off and continue straight. If you don't want to sail on the edge in these conditions or if it's a little reachy, the reaching chute is the ticket.

She's not the type of boat that's going to roll into the mid teens off a swell or squall. But she keeps a high average speed, not slowing down too much. You know as sailors we are always trying to compare ourselves to the other boats. For the Vic-Maui in 2000 I was talking to one of the other boats about the first nights conditions and they were bragging about how they got the boat up to 19 knots! Hmm, I thought to myself we never touched 13 but we still put 20 miles on you guys the first day (cue smug smile).

That nicely balanced, forgiving boat gives you the confidence to drive hard at night on these ocean races, when there are big gains to be made. She's really stiff too, what with 11000 pounds of lead 8 feet below the boat. I think her RM at one degree is pretty close to 2000 foot pounds.

She's really a blistering boat in light air. I know people aren't going to believe a big heavy boat can do it but she really creates her own wind. I think a lot of it has to do with the big foretriangle and the area that allows, tall rig, momentum to carry through the lulls, and a slippery hull. Our rivalry with Jim Marta was fun, he ended up nicknaming us Lazarus because every time he thought he had us put away we would come clawing back. "Here comes Lazarus" he'd grumble.

Case in point, we were doing my favorite race, Protection Island which is about 90 miles starting from Seattle, heading out past Port Townsend and around Protection Island and home, typically on one of the longest days of the year in June. We had decided to head out into the Straits as night fell to pick up a more consistent breeze. Right next to us was Bandito, a C&C 44. The boats are pretty similar sizewise, the rig heights within a few inches, waterline within a foot, the C&C having an advantage in weight by about 3000 pounds and Night Runner having a longer J dimension. So the breeze is fading fast on a nice sunny evening, we both have our half ounce chutes up reaching as close to the wind as we dare. Unfortunately for Bandito they let their spinnaker collapse and it was game over for them. Last we saw they had a baggy drifter, mast straight up. Doug told Frank Shriver (who was driving) to hold course and nobody trim the sails. We were just dialed in and left them at the whim of the current. We managed to cut Protection Island a little too fine and ran aground. After about 45 minutes of trying to use the spin pole to pry us off and failing at that, we got the boat spun around enough that we could hoist a chute to heel us over and get us off. We got around the island finally and headed home, about two hours later we saw the second place boat, I think it was a Santa Cruz 50, still heading out to the Island. That was a pretty epic race, I think we finished about three or fours ahead of everybody else despite the reef detour, and all on account of her light air performance.

Don't believe me about the light air performance? How about Swiftsure, Sunday morning in the light air coming home. We walked past a Cookson 12 meter by at least a knot that morning. Light air performance is pretty nice in the open ocean too, you'll never see jerry jugs lashed to the rail on Night Runner when she's out passage making. That's for candy asses as Doug would say.

I know Doug and Bob go back and forth about Night Runners forward sections, I think they had some pretty animated discussions during the design. Bob thinks they could have been fined up. It would sure help reduce the upwind resistance. But Doug points to the dry foredeck when we've got the full sized spinnaker in 30 knots and there's no worry about going down the mineshaft and thinks he's right. Where do I land on this? I think of Vic-Maui 2000, when I actually drove the boat hard enough that about a whole bucketful of water came over the stem. Once. In a 2300 mile race. And the crew commented on it like it was some incredulous thing. So I say yes a little finer. But not too much Bob, it's nice to have some margin when it's dark and windy and you're cold and beat and not on your best game.

So I've been waxing about Night Runner's wonderful sailing characteristics but I would be remiss not to mention that the few times when something has gone wrong, any of the crew turned from atheists to believers in short order. We broached during a Smith Island race once (when the replacement skeg, which wasn't faired very well, stalled). It was a nasty broach, we were in the midst of starting to gybe and Doug called to release the sheets. Well since we had both sheets and guys loaded for the gybe, we had about a 50% chance of releasing the wrong one and we did. The sheets flew and wrapped around the shrouds at the first spreader so we were kind of stuck. I was holding onto the shrouds and standing on the mast, the spin pole came down the track at about 100 miles an hour and pieces of hardware went flying everywhere. The mast end of the pole started back up, spinnaker collapsing and refilling, pole slamming on the end stop again and again. Helm unresponsive and we're going deck first through the water at about three knots (that's hull speed when oriented that direction). Now that 2000 foot pounds at one degree of heel gets to a be a little more when you're at 90 degrees, the boat is totally loaded up. I got a little nervous when it occurred to me that if the shroud broke it could be bad for my survival, so I decided to drop down to the lee side (underneath the angry spinnaker pole) and haul the number 3 back onboard. I don't remember how long we spent that way until we came back up, but we were a little sheepish the rest of the way. I have a lot of respect for boats with lots of righting moment as a result.

I'll leave with one last vision of Night Runner sailing, the first couple days of Vic_Maui 2000. We have a moderate westerly, slight haze in the air, close reaching SSW on the rhumb line with a jibtop and genoa staysail underneath. Three to four foot swells nicely spaced, she's totally dialed in doing 7.5 to 8 knots, two finger helm pressure and just sliding over the seas for about a day and half. That was fourteen years ago and I relive it like it happened yesterday. Pretty much a perfect sail in a perfect boat.
Yes, I did give NR a skeg hung rudder. I was still big on skegs back then. I also think that considering Doug was coming off the mother of all full keelers, AFRICAN STAR, a spade rudder would have been a hard sell. I honestly don't remember discussing it. When, many years later cruising up the coast of Mexico the skeg feel off Doug called me and asked for some drawings so they could get it rebuilt. I asked him how the boat handled without the skeg. He said, "Better."
NIGHT RUNNER has gone through three keel mods. Originally the boat drew 7′. A couple years later we added a 12″ deep timber shoe to increase the draft. A couple years after that the wooden keel shoe was replaced with the same volume of lead and that amount of lead was removed from the top of the keel and a timber spacer was put in place. The fin is a NACA A010-12 foil in the middle of the span tapering down with the same half breadths towards the root and tapering up with the same half breadths towards the tip. In other words at any waterline, at any chord location, say 40%, the thickness of the foil would be the same. This had worked well on HEATHER and UNION JACK. My thinking was that a fin stalls first at the tip so why not have a fatter foil there. And, with the hull providing an end plate of sorts at the root why not have a thinner foil there? I was very scientific.
The rig was designed to have that old cutter look with a big foretriangle for carrying genoa and staysail. The J of 22′ is a bit excessive and I probably should have moved the mast forward or shortened the bowsprit but the resultant look might have been a bit odd. Short tacking NR with that huge 150%+ genoa was a bit of a chore. But the boat went to weather fine and loved a good power reach.
The interior layout was based on Doug's requirements and has port and starboard pilot berths and a nice galley. I used an indented, offset companionway to open up some room in the aft cabin where I tucked in a double berth for Doug. This worked very well but with that companionway moved forward of the aft end of the cabin trunk a dodger is impossible. At the 30 year anniversary party for NR I talked to Doug's wife and she complained about not having a dodger. I told her that I could fix that easily with a nice new 50′ version of NR. She said she had suggested that to Doug but his response had been, " They will have to carry my dead and lifeless body off NR before I get rid of it," Damn! I always dreamed of a 50′ ULDB version of NR.
J.J. Cale sang:
"After midnight we're going to let it all hang out."
Well, it' 12.02am so I'm going to "let it all hang out".
He also sang.:
"After midnight, all's going to be peaches and cream."
I have to tell you that it wasn't peaches and cream when I had to deal with Cecil Lange, the builder of NR. Not sure what the problem was. Probably it was a case of the old smart ass versus the young smart ass. I didn't even like the way Cecil shook hands. I'm a guitar player and I have an intimate relationship with my fingers but Cecil's hand shake could leave indentations on a yellow cedar 2 by 6. I like a firm hand shake but really? The good news was that while the old Kiwi Cecil ran the yard it was his son Bob Lange who did the actual building and Bob for sure is a peach.
My first trip to the yard during the actual build process was to check the lofting. This was 1980 and computer produced and faired lines were still a ways off. NR's lines were drawn by hand at ¾" tom the foot scale. To get this to full size for pattern making required the age old skill of lofting, i.e. drawing the full lines plan on the floor full size. This is necessary because at ¾" to the foot even a highly skilled draftsman is going to have some error. I learned lines drawing from a true master of the arty, Yves-Marie Tanton, when I was at the Carter office. I knew my lines were as fair as any but full sized lofting was still required.
I pulled my big Mercedes into Cecil's parking lot and even before I could get out Cecil walked over to me and said, through the window, in his Kiwi accent, "Now don't get excited Bob but your wife just called and she thinks she's going into labor." Great. There I was in Port Townsend and my wife is going into labor in Seattle with our first child. I went in to check the lofting. Years later when Chuck Schiff was lofting MERIDIAN he called me and asked, "What's the tolerance for lofting?" Tolerance? Tolerance? There's not tolerance in lofting! You are either spot on or you are off and you must correct so that all intersections agree, in all views, plan, profile and sections. Cecil's lofting of NR was a mess. It was clear that while he had drawn all three views full size he had not bothered to resolve the small intersection differences required to produce a fair hull. I carefully explained to Cecil exactly what I wanted to see and how to go about it. Cecil nodded. When I got in the car to drive home Cecil walked over to the car and said, through the window, "I'm not going to draw more lines on the floor just to be drawing lines on the floor. I'll fair the hull with battens after I have the mold frames up." I knew this was one way to do it but I also knew it gave Cecil some license that I did not want him to have. I wanted all the control over the shape of the hull. But I lost that argument. To his credit Cecil produced a very fair hull faithful to my lines as far as I could tell.
A kind of funny moment, kind of occurred when Cecil was interviewed for a magazine article. The article was highlighting his New Zealand origins and his "old world" approach to boat building. NR was under construction at the yard at that time so Cecil took the reporter out to the yard and commenced to show her the "old school" way of establishing the centerline of the cabin trunk top. Cecil would have to do it the old way because he "did not have enough details from the designer". I read this and went bat shit. I called Cecil up and said, "What the hell are you talking about. I sent you a drawing, deck lines, with dimensions all over it for the cabin trunk." Cecil responded,' "I know Bob but I had to do something to show her my boatbuilding skills." Something like that. And that is why to this day the cabin trunk on NR has never looked right to my eye.
The next head butting episode was over the number and thickness of veneers in the hull. I wanted eight thin veneers. Cecil wanted four thicker veneers. His was saved labor. He won that argument. The Cecil announced that he would not wrap the veneers across the hull as I had spec'd. Too much labor spiling both sides of the boat separately. His way you only needed to spile ( shape) the veneers on one side and duplicate that spiling on the other. I lost that argument too. Many years later Doug would tell me that my way was probably the better way.
But these minor hiccups faded away as the beautiful NR took shape. The boat was launched and it floated right on it's designed lines. Everyone was happy, especially Doug. If memory serves I think the build cost of NR was a bit over $150,000. Times have changed.
I just got this email from Doug:
Yes I got it. I've actually been out on NR since last Thursday. The earlier race history has pretty well faded into the past. I know we won our class in Tri island several times and in Center Sound did well. One first in class Grand Prix. Probably the best is Swiftsure 1st overall 1998, 2011 and 2013. 1st in class 5 times, a 2d overall in 2000, 3d overall 2004. 1st div II Van Isle 360 in 2009. 1st to finish in division Victoria Maui 1984, 1986, 2000 and 2006.

Her sailing qualities are best illustrated by a delivery trip, not a race. In 1986 four of us sailed her back from Hanalei Bay, Kauai, in the Hawaiian Islands to Port Townsend Washington a distance of about 2500 nautical miles in 12 days, 17 hours at an average speed of 8 knots. We had five day runs of 200 miles or better. The best day was reaching with a double head rig and two reefs in the main and we averaged better than 9 knots for 24 hours. . The bow hawse pipes were whistling. She is easily driven and has the most responsive yet gentle feel at the helm of any vessel I have sailed. If I were to build another boat I cannot think of anything I would change.
In my next blog entry I'll talk about sailing and racing NIGHT RUNNER.  Please visit my website for more stories about design.
October 13th, 2014
Post of the Week
Should SA'er "Black Jack" throw himself on his sword for cleaning sails in a community pool?  You decide.  
I have been now called a man of no honor, something I may have to learn to live with.
I woke up early this morning, took my two largest headsails to my community pool around 6:30am. I rinsed them off first, then put them in the large lap pool before anyone arrived. They soaked for 45 mins until the swimmers arrive (they do not live in my complex). I withdrew them from the pool and set them on the side to dry. I waited till the sun came out to dry them and roll them back with the help of my 14 year old son.
As I finished rolling them up at 10. An shirtless Asian man comes running up with a puffed chest began to yell at me for doing my "laundry" in the pool. He then said he had called the security officer on duty and I was in trouble. I said they were just clean sails which I was working to get the rust and inter stitch stains out. I told him to relax otherwise he might have a heart attack. He got furious and stated, "You have no honor",  to which I said, "that may be true, but I do have clean sails." As I left, the security officer rolled up, seeing me, my boy and the two sails leaving the pool.  He nodded and cracked a smile at me, knowing his trouble was handled with my departure.
I went home immediately to search on line for an expensive Seppuku blade to terminate my worthless life and restore my family honor. But since I have ADD, I got sidetracked and began to ordered a proper Dacron blade to restore my sailing honor.
Oh yeah, the pool made my sails look great, whiter than it has been in years and feels quite crisp (crisper). the pool technique really does work. Just don't let non-sailor folks see you doing your "laundry" there.
October 13th, 2014
Not sure there is a finer moment for the Dad than days like this……ah, how I remember the hours and hours spent doing the very same thing with my fellas….. – Ed. Props to Scott for the vid.
October 13th, 2014
This might be the greatest, most effective coaching video we've ever seen in our lives. No way you won't agree.
Hi y'all! So I was forced to put together these clips of me coaching this summer. They were a big hit and I guess still are, so I posted them to youtube. I figured I'd send them in to see what you think. I am currently a Junior on the Varsity Sailing Team, at the College of Charleston. Thanks!! – Anarchist Stefan.
October 13th, 2014
Sure, that's what the helmsman is thinking, but with a crew of only 8 on the VOR 65′s, there aren't many bitches to hike – especially when half of them are down below… Cool shot, and more on his site from Christophe Favreau.
October 12th, 2014
We were commissioned by Volvo Cars Sailing to cover the Virgin Kitesurfing Armada 2014, a record breaking attempt on a kiting Guiness World record. On the previous day we had a day filming Steph Bridge, five times kitesurfing World Champion and very much the head of the Bridge family of super skilled kitesurfers.
Partnered by chilled husband Eric, they preside over their three boys, two of whom ripped around Hayling Bay on foiling boards and making it look ridiculously easy! Guy (the middle son) even popped a few jumps over our RIB commenting afterwards that one was a little sketchy!!
But whilst we had met a great family who genuinely enjoyed "family time" kiting, Hayling Island also welcomed kitesurfers from all corners of the UK and beyond to help attempt to beat the world record for the number of GPS tracked kitesurfers riding downwind in a mass downwinder and support the chosen charities. All backgrounds and ages turned up. From Nick Dempsey, Olympic windsurfing medallist, a kid of 12 to a lady of 72. We enjoyed hanging out (and working) with a great mix of people all enjoying the same sport
Alas the record didn't tumble (enough entered over 340,… but there was about 20 lost sheep who didn't make the finish)……but as long as everyone had fun, and the charities got something out of it, then I guess it doesn't really matter!! – Rachel Jaspersen. Photo Ocean Images.
October 12th, 2014
We dig this shot as the 18ft Skiff Racing was back on Sydney Harbour today when the Australian 18 Footers League staged the R. Watt Memorial Trophy 3-Buoys race as the opening event of its 2014-2015 Season.
October 12th, 2014
We've got some pretty cool Sailing Anarchy branded swag for you to upgrade your look with, and now is the time to order up. Why? Because we said so! Actually we have a couple of good deals – buy one of our slick SA licence plates frames and we'll give you two for the price of one. And with any order, you'll get one of our new SA bumper stickers.
And let us close by being the first a-holes to say "Christmas is right around the corner" Hahahaha!
October 12th, 2014
First one-design race around the world? Yeah, we'd say it's pretty momentous.  Enjoy the start of the 2014-15 Volvo Ocean Race, and good luck to the teams!  For a little pre-start weather forecast for Leg 1, check in with our old friend Genny. And track the fleet here – they are really mixed up!
October 11th, 2014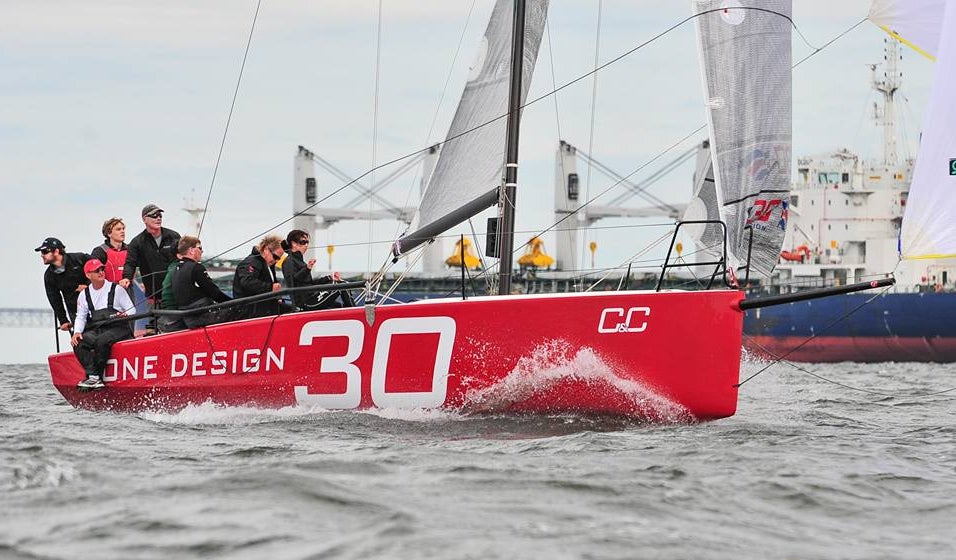 The new C&C 30 with Hutch cracking the whip. Nice to see some good sails on the thing! Photo thanks to Dan Phelps/ Spin Sheet.
October 10th, 2014
Clean Report
Two big events for the US kick off this weekend – the first is the US Sailboat Show in Annapolis, and the second is the Volvo Ocean Race.  And as usual, SA's the place to go for the best info.
After 6 years of economic mayhem and dying boat shows, the US economy has (maybe? hopefully?) finally begun the broad-based recovery we've all been waiting for, and our luxurious hobby is responding at last.  Sales are flat or increasing throughout the industry with both small and large boats selling, and, at Annapolis at least, it appears the exhibitor list is finally growing again.  For our part, we're excited to see a new 'Racing' section at America's most important sailboat show, and we're especially stoked to see sexy new offerings from our pals at C&C and Gunboat hit the water.  And we timed our visit to hit what might be the most fun couple of hours at the show: Saturday morning's start of the Volvo Ocean Race – live and loud – on the 70″ flat screen at the Musto booth.  With mimosa and bloody mary accompaniment.
We're toting along The Goddamned Reverend Petey so we can get some high quality video interviews, new product showcases, and 'first sail' reports from the deck of the new boats, and we encourage you to send us an email with your booth location and product description if you've got something cool to show our team.  If you want to shoot the shit and just buy us drinks, you can e-mail us too.  For a decent bit of enthusiast info on the show (and the spot we ripped this photo from), check out this blog.
October 10th, 2014
Looking closely at the picture will only further confuse you…
October 10th, 2014
Big Pimpin'
Stoked to finally welcome Helly Hansen on board with us at Sailing Anarchy. Long makes of exquisite sailing apparel, foul weather gear and a whole host of other lifestyle product,
Helly can be found on our front page and as the new title sponsors of our Gear Anarchy forum. Makes sense to us!
October 10th, 2014
Face of a fashion star, kiteboarding ability of a superstar, body of a porn star.  An unabashed self-promoter and a fan of Sailing Anarchy.  Could this be the perfect woman?  Maybe not, but she's certainly our Sailor Chick of the Week; watch the video to see why.
And head over to Hannah Whiteley's Facebook Page for much, much more.
October 9th, 2014
Police corruption and malfeasance has forced many departments to run cameras all the time now, and the litany of cases where the recorders were 'nonfunctional' is beyond belief.  Add that to the ubiquitous incompetence of the typical governmental body's Marine Police and you literally have people getting away with murder.  Here's one such story from the Missouri Highway Patrol, and if it doesn't make you shudder, you have no heart.  And if you don't get over and sign the petition for a little justice amongst a sea of corruption and bad actors RIGHT NOW, you have no soul.  Check out a memorial video here, but bring your Kleenex.
I was so proud of my son, Brandon. He was going into his junior year of Business College at Arizona State University and he was planning to join our family business when he graduated. But on the night of May 31, Brandon drowned while in the custody of the Missouri Highway/Water Patrol. Now all I can think, over and over, is how did this happen? Who let this happen?
On that day, Brandon was out with his friends, boating at The Lake of the Ozarks in Missouri. He was arrested for suspicion of boating while intoxicated. By taped accounts of the arresting officer himself, Brandon was respectful and compliant while he was taken into custody, placed in handcuffs, donned with an ill-fitting and inappropriate life vest, and driven away at extremely high speeds. Brandon was ejected from the boat when it hit a large wave at 43 MPH and when he hit the water, the life jacket floated away from him.  With his hands tied behind his back, Brandon struggled to stay above the water for many minutes.  It wasn't until a woman in a passing boat yelled for the officer to jump in and save him that he finally jumped in the water, but by then it was too late. While the patrol's boat was equipped with three audio-visual cameras, the memory cards were not in place and the atrocious events of the day were not recorded. Brandon's body was recovered from the water the next day in 70 feet of water.
Rather than bring in a person outside of the Missouri Highway Patrol to investigate the death of a civilian in their custody, they conducted their own internal investigation.  Then they had a coroner's inquest with a hand picked jury; crucial witnesses and evidence were left out and no cross-examination was allowed. Jurors deliberated for less than 8 minutes before determining Brandon's death to be accidental.  Four days later, the prosecutor said she would accept the jury's decision, and no charges would be filed against the officer.
I'm not the only person who thinks the circumstances of my son's death are suspicious and outrageous. The Missouri State House speaker has created a committee to investigate safety on the lake and my son's story has been reported in news outlets like The Kansas City Star and USA Today. The person responsible for Brandon's death needs to be held accountable, so that nothing like this ever happens again.  The people that helped cover-up and whitewash his death as a tragic accident need to be held responsible, as well.
Brandon was a really special person. He had an infectious laugh and a love of life, and no matter who you were he made you feel like you were his best friend. When Brandon was in high school, our home was a gathering place for all kinds of kids — older, younger, different schools, different sports. They all came to hang out with Brandon. That's who he was. He brought people together.
And now, people are coming together for Brandon again. We're coming together to demand that the Department of Justice hold those people responsible for taking the life of a bright, promising young man and all those covering up the facts. It's time to shine a light on what really happened to my son.  Please join me in demanding the Department of Justice investigate the Missouri Highway Patrol, specifically in regards to the death investigation of Brandon Ellingson, while in their custody. For updates on our progress, please visit our Justice For Brandon site.
October 9th, 2014