You sorta knew this was coming, right? After we showed you how to Rock the Cradle, now we show you how to rock the final After Regatta Party. Tip o' the hat to Anarchist David.
July 11th, 2014
Clean Report
After a five-year hiatus from covering the Midwest's second-biggest freshwater distance race, we're heading up to Port Huron, Michigan for the start of the Bayview Mackinac Race tomorrow.  With Luna Rossa Challenge's Bora Gulari aboard the TP52 Natalie J, Annapolite-turned ocean racer Ryan Breymaier joining the F-31 Cheekee and a pile of fun boats including the old VO70 Il Mostro, there will be plenty to see, and you'll be able to watch all the action via Sailing Anarchy's Facebook Page starting around 10 AM EDT tomorrow.
LINE UP
Years of live coverage of the Chicago Mackinac and the 4 hours we'll be spending on the water tomorrow have reminded us of conversations we've had over the years about the start of the Mack races, and a basic question we still don't know the answer to: What is the purpose of starting each section separately, with the slow boats first?  Sure, we understand that the slow boats will get there a bit sooner compared to the fast boats, but that seems like a silly reason for expending all the extra resources to involved in banging off 15 starts rather than a single one.  Think about it; that's 15 starts at 10 minutes each, or nearly three hours of starting.   The format guarantees a weaker experience for spectators (who rarely want to sit around watching 6-10 boats sail off a line every ten minutes), a tougher day for the Race Committee, a long, long wait for the racers on the water, and perhaps most importantly, a poor spectacle for the TV, print, and online media so important to getting new interest and keeping sponsors happy.
Think about the incredible action at a Sydney-Hobart start, with simultaneous guns over just three lines and course boundaries for spectators for a mile or so up the course to guarantee tacking or gybing in close proximity to the fans; contrast this with the Macks, where the Coast Guard sets a cordon to keep powerboats half a mile from the starting lines…not that there is much to see anyway. Nearly no boats chase the Mack fleet…because it's already so diluted at each start that there's not much to chase.
Our suggestion for the BYC and Chicago Macks:  Four simultaneous starts:  One for racing fleets,  one for cruising fleets, one for multihull fleets, and one for shorthanded fleets.  Win, win.
Shot of Lucky Strike (ex-Lucretia) sporting the SA flag yesterday on the Black River, thanks to Anarchist "Geff".
July 11th, 2014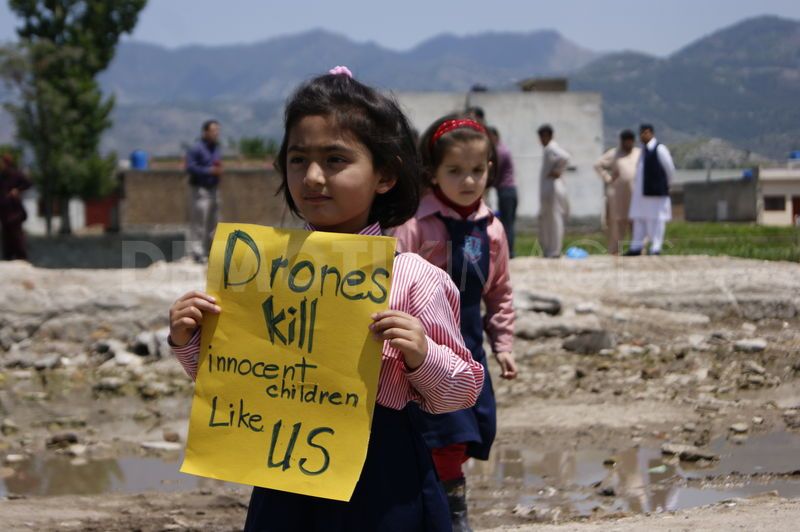 We love the innovation in coverage that we've seen from quadcopter/drone shooters over the past year, but it's time to inject a little common sense into the mix before we see the first inevitable fiery crash.  The problem comes not from your little Phantom crashing into a boat, after which you might need to pay for a sail repair – no, the big issue is something that any drone operator should realize is a REALLY BIG DEAL: Other aircraft.  So here's our Public Safety Announcement:  DO NOT DLY YOUR DRONE ANYWHERE NEAR HELICOPTERS OR SMALL PLANES.  If a bird can take down a jet and a sparrow fart can take down a helicopter, what do you think your quadcopter can do?  It can kill, and if it does, you will end up either in jail or bankruptcy court when they sue you for tens of millions for wrongful death.  Plus, you'll have fucking killed someone!  Don't believe us? Here's a note from a well-known videographer.
Want to know the sketchiest thing that's ever happened to me when shooting from a helicopter?  It happened yesterday, just off Fort Adams, while I was shooting the Alvimedica and Abu Dhabi teams as they set out from Newport for Europe.
While we were flying along chasing boats, the pilot suddenly yelled "FUCKING DRONE!" and threw in a huge turn and began climbing hard.  Suddenly, looking out the open door, I'm staring at a toy that could eviscerate our tail rotor and kill us all.  It passes 50 feet below us in the opposite direction; so close that I can easily see that it is a Phantom 2 with a GoPro Hero aboard.
I'm sure I love my drone just as much as the guy who shot this video, but when helicopters are in the air, all drones should be grounded.
-Near-Miss in Newport
July 11th, 2014
Our non-Swiss readers may not know that the HYDROS team up in Lake Geneva isn't just a bunch of sailboat racers – it's a big partnership between commercial players in the energy market, a major bank, one of the Europe's top universities, and a pile of really bright sailors and engineers thinking up ways to push the boundaries of energy efficiency within a spirit of environmental responsibility.  As the closet tree-huggers most sailors are, we love what Jeremie and the team are doing – and not just with foiling sailboats.
Enter the bit of news we got today about the HYDROcontest, where in just 10 days, 14 student teams from 7 nations will come to Lausanne with the 20 or so  electric-powered boats they've been working on for the better part of a year.  The goal?  The fastest boat, using the least amount of energy; the winner may have the potential to revolutionize powerboats and shipping.  Check out the first episode of the HYROcontest series on Youtube here, and subscribe to their channel for frequent features showing off the new concepts they've found.  Note: The pic to the left is NOT one of their concepts – just a cool pic we found!
July 11th, 2014
With no one dying, no boats breaking of late, and nothing really special in their media output, we can be forgiven for forgetting the pay-as-you-go Clipper Race has been 'raging' for months, and as we speak, beginning its final points scoring leg.  Sir Robin's pay-as-you-go crew are quietly getting their work done, training newbies whilst racing 'round the world on their heavy 70′ racer/cruisers.  The boat's size and stability are two reasons we were a bit shocked by this knockdown-plus video from two days ago.
Very, very few sailors will ever find themselves actually inside a waterspout, and a huge thanks to Team GBR for sharing it with all of us.  Show up tomorrow (the 12th) in St. Katherine's to check out the fleet.
July 11th, 2014
California Anarchist 'Point Break' shows us that there are much, much better uses for a pram than putting the silly thing into water.  He writes "done in time for #6 grandchild. Pattern/Plans from Jordan Boat Works. Fun Build. Wood is maple with oak trim. Finish is a minwax conditioner, followed by a natural stain, finished with 3 coats of miniwax low VOC polycrylic. Mrs PB made the custom fitted mattress and sheets."  Wanna know more?  Hit him up in the thread.
July 10th, 2014
Get your minds out of the gutter: No matter how much it looks like it, that's not a vagina seeking out its owner!  It's actually something far more serious, if you believe the Swedish Swedish Oresund blog, which claims the Finnish Next 37 Audi Quattro discovered a lump of epoxy and remnants from a second stuck to their hull when they hauled out at the end of the Valencia ORC Champs.
We were very surprised after lifting the Audi Quattro up. We found a strange object in the bottom of the boat near the rudder. It looked like plastic or epoxy and was attached with glue to the bottom…This is a clear sabotage. This kind of items can not exist in the bottom by accident. Somebody must have put it there!   Also TP 52 Hurakan, the World Champion in 2013, had beed sabotaged in Valencia. Really fair racing in Spain!?!
If accurate, this is some seriously ugly crap.  But we're awfully curious why they didn't find it sooner; what serious team doesn't scrub their bottom each morning?
July 10th, 2014
If you ask people why they make a life or career out of sailing, you'll get a host of answers.  Rather than doing that, just watch this video.  It's not important who made it or why; just watch it for what it is – a great example of why we do it.  And if you must know where this video comes from, go here - but don't say we didn't warn you.
July 10th, 2014
Past Moth World Champ (and Zhik Europe Manager) Simon Payne's annual 'form guide' has become something of a tradition in the history-rich class, and we're privileged to be able to share yet another one with you on the eve of the 2014 Worlds in England.  Enjoy this SA exclusive, and talk trash over here in the Moth Worlds thread.  Photo clipped from a Thierry Martinez/Sea&Co shot.
2014 sees the event come back to Hayling island for the first time since 1977, a year well known for the amount of splintered plywood floating freely in the bay…
Firstly and before you read this, let's just state something: Last year we humorously got 9 out of the top ten right, so those of you reading this and feeling a bit indignant about not being in the mix? Well, you can prove us wrong in two weeks' time.
So, the bay. Well, it's not that bad.  Really.   I've spent most of my life sailing here and the race area is truly one of the best on the planet…but the bar – the one you must cross to get to the race area? It's easy on the way out, but on the way in, you encounter steep, wall-like waves. And then it's about as hard as getting over a fence that's leaning towards you, or to use an analogy probably better understood by the Moth fleet, as hard as kissing a woman who is leaning away from you.  Carnage will no doubt ensue.
So without further ado, here is our top ten. Effectively you've just gone forward three weeks in time…maybe.
1st: Nathan Outteridge (AUS)
Amazing sailor. We watched him deliberately start late in Hawaii, so he was sure to be foiling at the start. Brilliance doesn't always win, but he came close. In Hawaii he was also tired after a long hard summer. Moths aren't his main focus at the moment either… but we suspect that as long as he's taking his potassium, he will have be a fist full of power, a rusty fist but still a fist. Favourite for no other reason than he's all round good, with no real weakness to his game.
2nd: Josh McKnight (AUS)
Got a winner's nose, nailed the Worlds in Garda and rumoured to be smoking on Lake Garda again as we write this. It could be two times for the 2012 Moth World Champion. Josh sails hard and plays hard too. In fact we suspect that he'll be a regular at quiz night in the Lifeboat inn by the end of the Worlds. Believes only in 1st place and is regularly hitting 18 knots upwind. Rumoured to be using solid carbon tramps, which will be good to review once he's out of A&E.
2nd: Bora Gulari (USA)
When Bora won the Worlds last year he won the Worlds for the second time. The brilliance of his win cannot be overlooked. It was the lightest foiling Worlds, and Bora being one of the heavier sailors did supremely well. He isn't known for being flash in waves, in fact he is more known for swimming in them, but in Hawaii he was arguably one of the heaviest sailors, and still nailed it. Popular too. In fact, as ghosted crossed the line in the last race in Kaneohe bay to win his second title, all the whales in the sea were singing "We are family". Note: now not coming in order to sail a handicap race in the US Midwest. Oh, the life of an AC sailor [-ed]
3rd: Rob Gough (AUS)
When we were younger, a guy invented a fighter plane that wasn't the fastest or the most manoeuvrable, but it was armour plated. The idea was that you couldn't knock the fucker out of the sky. God knows what it was like as the pilot, but enter Rob Gough. Bulletproof in waves. We really do think if Hayling kicks off this will be a "walk in the park" for the boy with the Southern Ocean on his doorstep. Fit, young enough to cope, and old enough to handle it. If Hayling is as Hayling does, then the trophy is Hobart bound. Guaranteed.
4th: Scott Babbage (AUS)
"We didn't start the fire; it was always burning since the world's been turning" Is it though? El Presidente is one of the fastest moth sailors on the planet. Close a few times and maybe now time is running out…. We are looking for that "back to the wall "I don't care what you got, I'm still going to beat you" attitude that comes from being edged out a couple of times too many, or from not enough fibre, freely associated with the obligatory Hayling Island Sailing Club Full English Breakfast.
5th: Rob Greenhalgh (UK)
Largely responsible for ending the global financial crisis, Rob is the majority shareholder in the European foil mountain that can be seen on Google Earth just north of Hamble. Clearly the best UK sailor at present, Rob has seemingly covered every base. Arguably you could put him favourite, but nothing is a cert; he wasn't the top UK sailor in Hawaii though, just letting a podium finish get away from him in the last couple of days. He will either be biting at the heels of the leaders, or clear in front, winning with a race to spare.
6th: Brad Funk (USA) 
Already with a couple of wild-eyed days in the Bay under his belt, Brad means business. Loaded with talent and endlessly fit, he exhibited remarkable control in practice over the bar, and he looks faaast! Whilst competent at boat work, a couple of times I have caught him looking at his adjustable wand with the same suspicion that an old person looks at a microwave… Anyway, if nothing breaks, and he's not trying to frantically rethread a control line through a cascade midrace, he will be with the leaders.
7th: Chris Rashley (UK)
European Champ. All round good. Rumoured to be a tenth off Rob Greenhalgh with very similar equipment. Trends are hard to stop in sailing and sometimes you have to break them by doing something different. Does he have anything up his (knitted) jumper? We will have to see, but super consistent at the two Worlds he's competed in, with two top ten finishes.
8th: Paul Goodison (UK)
The 2004 Laser Olympic Gold medalist has been working hard at his Moth sailing. A bit of an unknown quantity and not really raced yet, but history would suggest that Olympic medalists immediately impress, if, albeit at the first go they don't take the trophy home. If it's consistent – say 15 knots all week – Paul will be going fast. Importantly, and often overlooked in tuning runs, he'll probably be doing the same speed on the last beat too. He's fit, very fit. It's unnatural, but still… However, if it's up and down and you need to change gears a lot, he may not quite have the Moth experience yet.
9th: Chris Draper (UK)
May come dressed as the silver surfer and consequently would have been guaranteed to win at least the Mothapalooza – if it was still running… Still, the devil wears Prada and Chris has to be in the mix, yet our 49er bronze medallist is a little quiet of late. We think he will definitely have some major bling on his boat, perhaps from the "Sardinian Silver Skunkworks" occupied by the '09 and '13 world champ…We imagine that the process of creating foils to a time line is good practice for the AC teams! Top tip though mate, you will still need a roll of gaffer tape (which now comes in silver).
10th: Ben Paton (UK)
An amazing result in Hawaii '13 and thoroughly deserved. Ben spent some years sailing around without an adjustable rudder, and that, in British waters, identifies him as a man packing the kind of tackle that you'd normally expect to find swinging about between the hind legs of a Grand National winner. He's fearless, albeit in a "Stop, Forrest, Stop" kind of way. Not sure how much he's done of late and doesn't really seem to care about open meetings, fair enough.
Best of the Rest
Arnaud Psarofaghis (SUI) 
Well. Provided he's fast, expect the helmsman of the successful Realteam Extreme 40 to be up there. Former European champ and former top 5 in the Worlds. Arnaud's focus has been on other things lately. Provided his boat speed is there, he will be good (He was so slow in Hawaii that one night, the Claudicatis Cancri award turned up on his boat in the same way a Banksy mural suddenly turns up on a wall) Claudicatis Cancri? That will be the "Limping Crab" award. Awarded by an anonymous group in the dead of night. A group more commonly known as all the bastards who flew past you the day before.
Andrew "Amac" McDougal (AUS)
Sails from Black Rock, Melbourne with their big, but long rolling waves…But it's different here. The short sharp Solent waves don't have backs. For example, when you are sailing downwind, the wand goes forward so fast that whilst it maybe your Sunday, the wand is in Monday. It's hard work and we are mindful that if you get it wrong you are up the beach! Having recently featured in the TV programme Coast Australia, Andrew could actually feature unintentionally on Coast England.
So there we go. One thing is sure: There WILL be a new World Champion this year. Good luck to all and safe sailing.
-Si
July 10th, 2014
Take a close look. What, exactly, do you think is going on here?
July 9th, 2014
Reader Rant
I see this SA front-page famousness again applied to a big fast catamaran. But from the dim and distant past, we remember that Nathanael Herreshoff began to build catamaran boats of his own design in 1877 such as Amaryllis (US Pat. No. 189,459). Both his design and his vision were roundly and permanently rejected by the mighty establishment.
Yet today, here on SA, we see a paean to the modern catamaran, labeled a Gunboat 55 no less, sailed by Brian Cohen, certainly a member of the establishment. Seeing this, perhaps a newly reincarnated Nathan H. could smile, and say "Shucks, fellas, ya just gotta believe in your vision".
Even 10 years ago I would have been a bit surprised at such a sentiment.
I once met such a properly dressed sailorman at the famous Jones IceCream store on US 131 in Baldwin, Michigan. This is a required stop when driving south to Chicago just after the Chi-Mac race.  Being friendly, I asked him about the most recent results, and was regaled with stories of the huge monohulls which had taken only a record 32 hours to win the 330 mile contest.  I responded that Stars and Stripes had done it in 22 hours and change several years before, but I got the famed Hawaiian "stink eye" from my new friend. "That's not a sailboat", growled he. "It's a God-damned catamaran". – Anarchist Dave.
July 9th, 2014
New York Angels founder Brian Cohen has made his mark on the business world by investing in over 200 disruptive start-up companies, though he is perhaps best known for being the original investor in Pinterest. So when it came time for Cohen to replace his Swan, the investment legend knew it was time for something a little more… disruptive.  Even Anarchist.  Very little in today's sailing market intrigued Brian until he discovered Gunboat, and the excellent new Gunboat 55.  We rarely publish gushing reports, but given the stature of this author and our love for all things Gunboat, we thought we'd share some glowing positive sentiments from a happy new boat owner. And to Brian: Keep disrupting, bro.  And for you grommets who don't know what we're referring to in the title of this piece, get educated, and don't forget to watch the video below Brian's thoughts.

My life has always involved technology disrupters. Little wonder that meant my sailing life would also be disrupted by the extraordinary vision of Peter Johnstone and my new Gunboat family of 100 artisan boat builders in North Carolina. From the moment RAINMAKER left the dock in Wanchese, headed for NYC, I knew my life would never be the same. Being the honored owner of the very first GUNBOAT 55 comes with the great responsibility of sharing its luxury, speed and grace with whomever I could. The sailing world has forever changed!
On Father's Day I took the first sail with my family on Long Island Sound and anchored in Huntington Harbor. If a sailing experience can be magical, this one was, and we all shared it together. We toasted the moment and then took turns at the wheel, sailing past every one, countless wide-eyed faces trying to figure out just exactly what it was that they were seeing.
On board we shared the exhilaration as RAINMAKER's speed dramatically accelerated, 12 knots, 13 knots, 14 knots, and screamed in harmony as she hit her stride at 18 knots. Screams gave way to giggles, everyone thoroughly enjoying the rush of fear and excitement of such an unknown experience. The boat's ease of use and power have created a new level of quality and performance expectation in the sailing universe.
My urge to sail RAINMAKER is very intense. I live in the West Village and have reserved a slip just 15 minutes away via the PATH train at the beautiful Newport Marina. Against the backdrop of the Manhattan skyline, and amongst the many 100'+ motor yachts, RAINMAKER's sailing power and luxury feel right at home.
We are fortunate to have the young but very experienced chief Gunboat skipper Chris Bailet onboard, who is quickly connecting with RAINMAKER's mind, as I become its soul. This past weekend with winds nearing 25 knots, we seamlessly climbed through speeds in the high teens and into the twenties, eventually flying faster than the wind!
I'm looking forward to getting RAINMAKER out on the racing circuit as soon as possible, our first test being the ALIR in late July, a race I won in 2002 aboard my Swan 40. If our early experiences are an indication of our potential, RAINMAKER will become a regular sight on the race course.
In the meantime, we'll be enjoying evening and weekend sails on the Hudson. If you happen to be in the New York Harbor, please come by and say hello.
-Brian
July 9th, 2014
One of Chicago's top sailors takes his shot at explaining why The Windy City was dropped in favor of The Windless City.  And then, of course, there's Bermuda…
I have been asked by many people about the AC being in Chicago and I could not ever see how it was ever a real or even potential possibility. I'm guessing by the lack of any real information about the "Chicago Bid," the team here never saw it as a real possibility either, but they did see a real potential for something. More on that later. Don't get me wrong: Chicago is an awesome place to sail part of the time, and frankly I saw that as the biggest hurdle.  Here's my list of 'issues' with the Chicago AC:
1) Think about it…In almost every real AC with a Louis Vuitton Series, teams were setting up at the venue site 15+ Months in advance! It has been rumored they want to hold the Cup races in July..Do you really see AC-62's or whatever they are sailing around Chicago during Strictly Sail Chicago? If you were here this year, you would have noticed one small issue with that…a foot-deep coating of glistening ice on the course.
2) Also, they have mentioned that Chicago has the facilities for teams and boats? I would like to know where that was going to be.  The lakefront is pretty jammed up with harbors, beaches and Navy Pier, and I can't see how there is room for these big beasts and their wings on the pier…go down there and check it out if you don't believe me.  Northerly Island? Well good luck with that…Either place would essentially have to be shut down and wow, would you need some very radical political support from the City, Mayor, Alderman, every tenant and business at Navy Pier etc…If someone was paying Chicago to host it would probably cost as much to fund both team NZL and Prada – and then some.
3) And what about the Race Area; is a 1.2 mile leg long enough for an AC62?  For a 45 sure, but for the new AC boat that sails at 45 knots…I doubt it. What if the breeze is out of the west or out of the east as it has been for so much of this summer? Anyone feel like watching 300 yard upwind legs?  Frankly, Oak Street Beach would be better.
4) $$$$$$….Where the hell is Chicago going to get the $ to host the Cup? We are maybe doing ok, but just barely…Frankly the money would have to come from the State and private backers and we know how that went in San Francisco.  Not well.
5) No matter what they say about Chicago being a very serious consideration, I'm guessing that was all lip service and never was for the actual Cup. They released the three candidate Cities' names and eliminated one pretty quickly – the ink had barely dried from the San Francisco elimination press release to the Chicago one.   If you asked was Chicago a serious consideration for an AC-45 event…for sure!  And in fact that would be a perfect fit without doubt, and I'm sure that is why Russell was here.
6) It makes perfect sense is for Chicago to host a AC-45 Event…Every reason above would not apply and frankly the 45, regatta is about a perfect fit, and that is not only doable, it would be simple and not cause too much disruption. It's a two to three week deal. I have always said an AC-45 will be the consolation prize and frankly one that makes good and frankly the best commercial sense for all involved.
Going forward to Bermuda vs SD….Well for sure, SD will get it. Bermuda will get an AC45 event. The one thing Bermuda has going for it is government backing (they can do that since they are Bermuda), and no doubt it would be great boost for the economy, but logistically for the teams it will be a nightmare! The only local draw will be that of the locals.
The thing with SD is its "local to the rest of CA" and easy to get to from the rest of the US, and world for that matter, though Europe becomes a bit more problematic.. If it did go to Bermuda it would be a real first and make for a very different Cup that is for sure…Would that be bad? It's a pretty nice place.
But if you think Coutts doesn't know exactly where the next AC will be held, you're crazy.  It's called 'getting a jump on the design game'…SD and Bermuda…Think they have similar conditions? Not liklely.
It's the same game that has been played for decades now. Not selecting a venue causes teams difficulty in raising money, putting challengers on their back foot…They now have another 5 months to keep people and syndicates guessing and losing time they need to study the conditions of the venue, to design and build the new boat. The guys at OR are not stupid, and they undoubtedly have confidentiality agreements with both locations to not leak anything.
Its all just logic…lets see how it all turns out, but not expecting any surprises nor should anybody else. The AC-45 is the real marketing deal from a global level, as the AC is a 'one and done' event rather than something that endures on an annual basis.
July 9th, 2014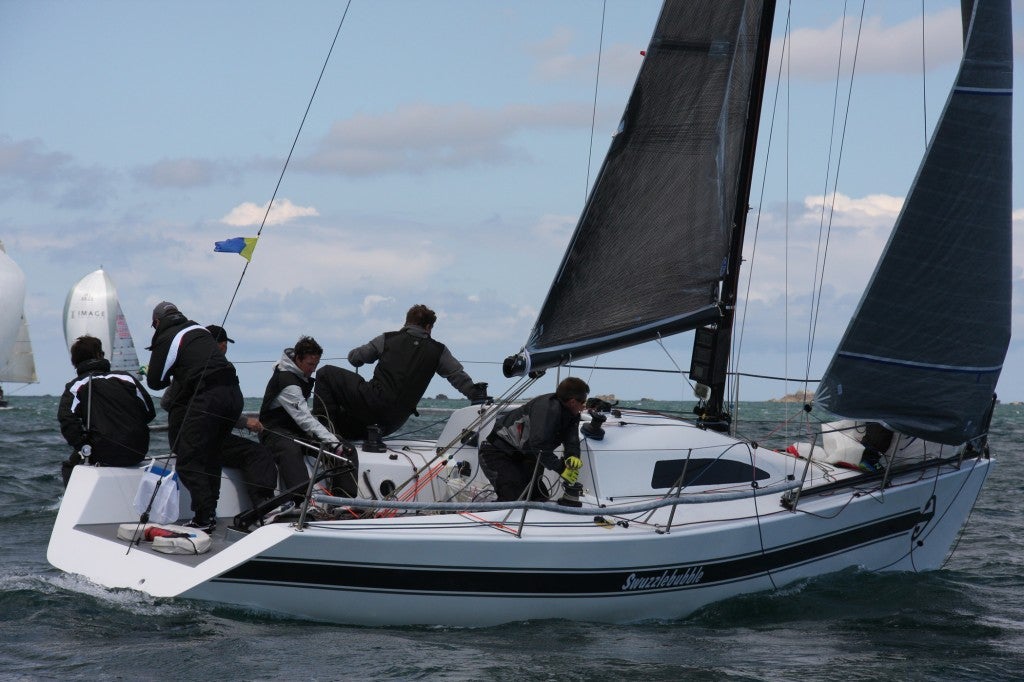 Maybe our all-time favorite boats ever is the legendary Farr half tonner Swuzzlebubble. So it is very cool to see it (albeit greatly modified) atop the leaderboard at the Half Ton  Classics Cup. More here. Photo thanks to Fiona Brown.
July 8th, 2014
AC Breaking
UPDATE: We were clearly dead wrong about San Diego losing their AC bid.  It was in fact Chicago that went down.  Our apologies for getting it wrong, and y'all can read the full press release here; it says that San Diego and Bermuda remain as the possible targets for Coutts and Ellison's "goal of hosting an exciting and successful America's Cup built on a strong commercial foundation."  We'll leave the text below as a lesson to ourselves…
Rest assured, San Diegans: You won't have to deal with any America's Cup crowds in 2017! Or is it?
With Anarchists reporting Russell Coutts traipsing around Navy Pier last weekend and an independent confirmation from Vsail's Pierre O, we can safely report that San Diego looks to be knocked out of the running to host the next America's Cup, and we expect a press release on Wednesday announcing just that.
Remaining will be Bermuda and Chicago, though we are nearly certain that Coutts is only keeping Bermuda on the hook as a negotiating tool.  At the end of the day, the months of national and international outrage that will erupt if  Coutts and Ellison carpetbag the Cup offshore will make Kingpost-gate look like a Sunday cartoon, creating the kind of unpredictable obstacle that can be near-impossible to overcome.  In other words, if Coutts wants to guarantee his vision fails and his wallet swells, he will choose Bermuda. If he wants a remote chance at commercial success, longevity, and a positive impact for sailing, Chicago's the only place left.
July 8th, 2014
What do you get when you mix the world's best sailing photographer, the world's best foiling sailor, and the world's prettiest boat graphics?  A damned nice screensaver, that's what!
You're looking at Moth World Champ and Luna Rossa sailor Bora Gulari (seated on hull, aft) surveying some of his full-foiling handiwork while the boys wait for the Cagliari sea breeze to kick in for some practice; go here to see some Borlenghi pics of the beast flying late last week, and here's some video. Check the Luna Rossa thread starting around here for loads more.
While Bora and the boys played at mach 1, Luna Rossa helmsman Francesco Bruni was taken apart by the boys in US blue in the Petit Finals of the WMRT stop in Sweden; Bruni sailed like a man possessed until that point, when Canfield made him look positively pedestrian.  Canfield took the final spot, while Swedish native Bjorn Hansen won his third-straight Swedish Match Cup, beating Ian Williams in the final.  Watch the final day action from Marstrand here (and watch for Gulari in this weekend's Mackinac race, navigating for Phil O'Niel's TP52 Natalie J).
July 8th, 2014
UPDATE: STATEMENT FROM J/BOATS:
"J/Boats have been in contact with the owner Andy Reid since the incident happened, in fact he will be in Newport soon on a scheduled trip already.  We're sorry to hear about the breakage and have already commenced our own internal review on the circumstances that may have led to the rudder post failure, working with our team of engineers, builders and materials specialists.  In the meantime, our condolences to the delivery crew and hope that all are well and in good health and spirits despite the circumstances."
We got news late last night that our most awesome Kiwi pal AJ Reid lost his new-last-year J/111 Django while on delivery back from Fiji.  You'll probably remember Django as the boat that won its first-ever race while handicapped by our own Mr. Clean aboard, and then went on to some great results in New Zealand and then last week's reported finish from the Fiji Race.  Here's a note we got from crew coordinator and Doyle NZ sailmaker Andy Pilcher late last night, and you can discuss the J/111 over in the thread:
For those that haven't heard, I'm sorry to announce that Django Racing has been abandoned about 300 miles North of Auckland, on her way home from Fiji.  At approx 11:00am NZ Time this morning, in winds averaging over 50 knots and seas over 5 meters, the rudder stock snapped between the two bearings, leaving the rudder swinging underneath the boat, trying to rip itself free.
The delivery crew sent out a request for assistance and set the liferaft up for immediate deployment, keeping in touch with Maritime Operations throughout the day via Satellite phone.  An Airforce P-3 Orion came by the boat to do a flyover, and fortunately,  NZ Navy Frigate Otago was in the region.  The Navy reached Django around 6 PM on Monday evening, when the crew made a hairy but successful transfer via lifeboat onto the Frigate.
We have spoken to the crew and they're safe and well, albeit very relieved and a bit shaken.   I suspect that the reality of the situation may not have set it yet for them.  Delivery skipper Ben Costello along with Bex Heilkema and Andrew Cooke  all responded exceptionally well, and did everything they could have done in the most seamanlike manner.   The boat was still floating when they transferred onto the frigate, and the rudder had not yet sheared off.  But with large cracks appearing around the area of the bottom bearings at the time of rescue and more gales and big seas forecast, we don't know how long she will last.
Otago is heading directly back to Auckland and we expect the crew to be safely back on land shortly.  That's all we know for now, we just wanted to let everyone know the facts as they currently stand.
Thanks for your thoughts and wishes,
Andy
July 8th, 2014
We wouldn't usually burn the majority of our readers' eyes with a photo of a naked dude and like 99% of the folks born after color TV was invented, we'd never heard of ESPN THE MAGAZINE until they put a nude sailor in their pages 2 years ago.  But we've gotta give some love to sailing's King of all Redheads and share him with our tens of thousands of female readers…right?  Jimmy appears in this month's 'Body Issue', and while he doesn't do the same justice to the genre that fellow Cross-Fitter Anna T did, the dude's got some seriously scary big deltoids.  Fittest male sailor in the sport?  Based on these pics, pretty close.  And he doesn't even have to grind!  Pic from Jimmy's Facebook Page, and a peek at the magazine (since we know you're not actually going to buy dead trees, right?) over here.  Don't get the title reference?  Get urban.
July 8th, 2014
We wonder if maybe folks should spend a little less time irritating the gods of the sea?  Check out this clip (and see the original here) of racing in the Transquadra aboard an Archambault 31, with subtitles from our own Mr. Clean.  The boat's name?  The White Whale.
And how about this one for a bit more whale fuck you?
July 7th, 2014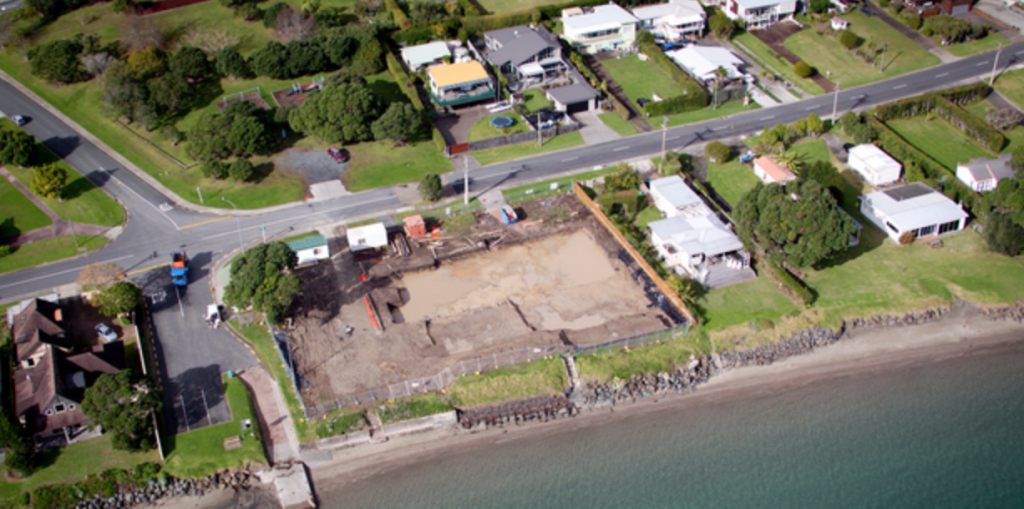 Any of you kids thinking about going into professional sailing after college?  Do it well, and you just might be able to build a $10M beachside mansion like Sir Russell Coutts!  Check it out; according to the NZ Herald, Coutts' contractors have just finished their demolition of the three houses on Tindall Beach in North Auckland to make the property ready for Sir Russell's 5-bedroom, 6-bath, 667 square meter (7200 s.f.) home.  This goes into a Coutts' real estate portfolio that includes apartments in Auckland and homes and farmland in Otago; he ain't Larry Ellison, but not too bad for a 52 year old sailor…
July 7th, 2014