Yes it it. You got a problem with that?
February 13th, 2015
We dug this post on the Hinckley Yachts Facebook Page; now that's how to make lemonade out of lemons, and we hope you forward that one to your PR team's Crisis Management Specialist.
We're not sure just yet how Hinckley plans to snark their way through the loss of their brand new T34, which burned to the waterline and sank while at the dock after a day of sea trials in Maine on Monday.  We do have an idea though; get a nice shot of that burning boat on Instragram with the hashtag #HinckleysAreSoooHawt.
More chat about this one inside.
February 12th, 2015
Sailors and surfers have a unique relationship with waves, and we've never seen anyone capture that relationship the way Paris-born St. Bart resident Pierre Carreau did with this recent series of photos from his AquaViva project.  Here's a short excerpt of Carreau's perspective, and you can see a lot more at his beautiful site or Facebook page.
Carreau observes that the photographic images of AquaViva may sometimes be perceived as objects rather than as two-dimensional representations. The play of light off the multitude of facets and curves on the water's surface gives the image a sculptural quality that enhances the sense of stillness and power. This simultaneous depiction of roiling movement and suspended kinetic energy parallels the dual nature of the oceans and of water itself: life-giving and yet dangerous, inviting and yet fearsome, primordial and yet ever-changing and always renewed. This sculptural effect of dynamism in static suspension is at once conscious and haphazard, a function of the rapid genesis of these images and the evident fact that the artist cannot possibly see the final work at the very moment of its birth.
February 12th, 2015
It's almost halfway through the race and we still have seen precious few moments in big Volvo Ocean Race conditions; Sam G does his best to share some of them with us from aboard Dongfeng, and once again, we comment the Franco/Chinese team for keepin' it real with Charles Caudrelier's 'oops' here.
Meanwhile, Team Brunel and the SCA girls have split off to the North and with the wind freeing up, both are advancing rapidly on the Southerly group.  The girls were first to tack to starboard on what looked like a flier, and though Brunel are ahead of them, could this be the first big break for the pink boat?
With the race getting interesting, SA is the place to be.  Check SA'er 'Campbell's' latest weather routing, analysis, and more finish time calculations (like the one to the left) here, and get in on the discussion in the Ocean Racing Anarchy thread.
February 12th, 2015
Extinct.  Ancient.  Deadly. From pre-historic times.  Once-feared, but presumed dead.  Defeated by modern technology.    Whatever we're talking about, it's back, and it's already in Bermuda, the next America's Cup venue.
Are we talking about the return of the measles, last seen in BDA more than 25 years ago?
Or is it something  far more frightening?
February 12th, 2015
Design 101
We get lottsa questions and sometimes we actually respond. In this case we got the people who actually know something to do it! Britton Ward, from the Farr Design office enlightens us…
Q: Wondering if you think or what you have heard of the new VOR65′s are they faster than the VOR 70′s. Either Max speed and/or overall in most points of sail. I would suspect that the 70′s are faster in big sea state off of the wind.
A: The VO70's are very impressive machines and we knew from the outset that it would be incredibly difficult to get the VO65's close in performance given the challenging set of requirements that had to be met.  The short story: make them cheaper, build them faster, and make them significantly stronger and more reliable.  Also make sure they are more identical than any one design ever created and did we mention we would really like them to be able to knock out 500 + nautical mile runs in 24 hours?
Some quick numbers for comparison:
So the VO65 is almost 5' [1.5m] shorter on the waterline than the 70 and weighs 7% less but has 20% less stability at 25 degrees of heel.  Based on these numbers alone you can see that we should be slower in a lot of conditions and that bears up in real life.  Remember we've also got less crew, fewer sails, non-overlapping genoas, rig lifted daggerboards and a host of other details that needed to be juggled to balance construction and maintenance costs and a tight build schedule against performance potential.
As you'd expect with 20% less stability, in righting moment dominated sailing conditions the VO65 suffers being as much as 6 –8% slower upwind.  As you free up things get closer and we are seeing similar speeds at deep reaching and running angles in moderate to strong breezes – where stability is a bit less important and the inclined keel pin and off-center water ballast tanks of the VO65 start to light things up. These are the conditions where the big miles are put on the board and we have already seen 24 hour runs of 541 nautical miles and average 1hr speeds of 24 – 27 knots.
So why not just up the stability to close the gap? This is a question we get a lot and it is a critical piece of the design puzzle.  First off, the boat's righting moment is one of the key cost drivers as it dictates directly how much load the structure must handle, loads on the mast and rigging and even deck hardware sizing which all can quickly drive the cost up and up.  We had a tight stability and cost window to shoot for and we wanted to produce the best performing boat we could in that window.
Because of the emphasis on robustness and reliability the boats have significantly more internal structure than the VO70's [more bulkheads and longitudinals and a significantly more robust laminate adapted for series manufacturing] all of which means the hull and its structure are quite a bit heavier than a VO70's.  Keeping displacement down is still the key to achieving the big mileage runs in these offshore races so we grabbed a bit of extra draft to lower the VCG and set about making sure we could satisfy the ultimate stability requirements [knockdowns with keel on wrong side etc.]  while trying to keep the overall displacement as low as possible. We got rid of the auxiliary engine to save weight and cost, added in the wing waterballast tanks to give us a sailing stability boost and tried to grab every performance improving thing we could within the constraints.
The upshot? The VO65 is not just a scaled down updated VO70. They are sensitive to sail trim and selection, weight positioning and ballast placement. They power up quickly and like to heel over both because of the lower stability and the inclined keel axis. Higher heel angles maximize their form stability and the effect of the canting keel and waterballast. (It's worth noting that even the VO70's sailed with heel angles in the mid – high 20's a lot of the time).  The good news? They have survived plenty of gnarly conditions and come through in remarkably good condition.  The racing is incredible close and to top it off, in the right conditions the VO65's could well get close to challenging the mono-hull 24 hour record.
February 11th, 2015
It seems the search for a fast, sexy, fun and affordable sport boat is a very difficult one. Or is it?  We'd say no, based on this from WraceBoats, the builder of the Jim Donovan designed GP 26:
We will be displaying Hull5 at Miami Strictly Sail Feb 12-16 and have a Special Offer WraceBoats GP26 for Clients from USA and Canada Before and During the Show.
+ USA local flight expense will be credited upto max750 USD with signed contract and proof of flight expense
+ Offer Good until Feb 28 2015
+ Offer will be valid only if minimum of 6 boats are reserved.
+ Offer is good for maximum number of 10 boats
+ Refundable USD 1,000 payment must be received by Feb 28 2015 to reserve your boat
+ If there are minimum of 6 reservations and deposits received, by Feb 28, We will go into production stage.
+ If the minimum 6 deposits are not received by Feb 28th, We will refund your deposit cancel your reservation.
SPECIAL PRICE OFFER IS 55,000USD, Standard Boat delivered to Your Local Port. Jump in the thread here.
February 11th, 2015
Half aerial-yoga, half acrobatic kiting, the latest exposition of slow-motion sailing from Pat Rynne and Waterlust. For something entirely different and ten times trippier from WL, clicky. Oh and thanks to Sperry for making this shit real.
February 11th, 2015
We get letters…
Dear sir or madam,
I wish to apply for the post of able sea man in your company, I have a lot of experience as AB, my names are Ogbodo Sunday chukwuma from Nigeria, am a very hard working young man with great sense of humor, I promise to do my best for the company if you consider my humble application, I have worked with various shipping company in my country such as japaul oil service nigeria limited from 2009 to 2010, century energy oil and services nigeria limited from 2012 till now without any problem.
my positive side is to make sure that I deliver my work without any problem. Am a motivator in the sense I apply safety first in whatever am doing so that they will be no problem at the end of any job, I must wear my PPE which is personal protective equipment before I start any job which will be given to me from my superior . I hope and wish you will honor my humble application.
Yours faithfully,
Ogbodo Sunday chukwuma
February 11th, 2015

Besides black. Clicky.
February 10th, 2015
AC Dope
The Parliamentary Standing Committee on the Public Accounts in Bermuda will conduct a Public Hearing on Thursday, 12th February 2015 at 2:30p.m. in the Senate Chamber at the Cabinet Building.
"It is expected that the Standing Committee will deliberate on matters relating to public funding for the America's Cup, and hear testimony from the Permanent Secretary for Economic Development," a spokesperson said. "The Public Accounts Committee is comprised of Members of Parliament and is authorized by the House of Assembly to closely examine and report on matters relating to the accounts showing the appropriation of the sums granted by the Legislature to meet the public expenditure of Bermuda. Read on.
February 10th, 2015
From dinghy sailor to america's cupper, you've been waiting for this one for weeks!  It's the final Moth Worlds 'Real Reel' from Sorrento, Australia.  Now you can finally hear from Bora Gulari's mouth just how CNN destroyed the top US foiler's Worlds hopes, see what's fun, exciting, and hilarious about southeast Oz, and learn about the natural habitat of the eastern longhaired bogan.  Meet 'roos, kiwis, and even a brit or two.  Laugh, cry, and laugh again with the best 20 minutes we've ever seen on dinghy racing…all thanks to Petey Crawford with support from Sperry.
And if that's not enough, here's the Sailing Anarchy Ultimate Guide to the Moth Worlds: Your index to 50-odd videos, 6 days of live coverage, 7 gorgeous photo galleries, and plenty more.  Go.  Now.
February 10th, 2015
We promised Larry back in December that we'd closed the chapter on our excessive whinging and criticism of the America's Cup.  And in that new light, we analyze yesterday's big TV announcement from Cup Commercial Commissioner Dr. Harvey Schiller.
The America's Cup has selected NBC Sports Group as its partner for the upcoming edition of the America's Cup – including the America's Cup World Series events (2015-16), and the America's Cup Qualifiers, Playoffs and America's Cup Finals (2017).
So far, so good.  As long as you don't claim you were shot down by RPG fire in a Chinook, there's nothing wrong with NBC at all! Given the network's recent efforts to move to a more international audience with a focus on Premier League Football and Formula 1 , it's probably the best mainstream choice for American sailing. For context, and in case you don't remember, NBC and its regional cable stepchild the NBC Sports Network showed the Cup the last time around, drawing a million or so viewers during the first weekend on the national network, and then around 100-200,000 viewers when it moved to the cable channel.  You might also remember that the main network NBC chose not exercise their option to broadcast the final two races of the biggest comeback in the history of sport – apparently, there was some regional golf tournament that was far more important to all of the US – and relegated the comeback to cable.
"We are delighted to announce this agreement with NBC Sports Group," said Harvey Schiller, the Commercial Commissioner of the America's Cup. "This is a great deal for the America's Cup, our teams and our partners. NBC Sports Group's continued interest reflects the growing popularity, as well as potential additional growth, of the America's Cup as a major television sport."
It's really, really early for anyone to be talking about 'growing popularity' of the America's Cup, and we're hoping Dr. Harvey steps well back from the same overpromising cliff that shat out former ACEA boss Richard Worth and made Russell Coutts' name synonymous with 'sports media failure'.
NBC and NBCSN were the US television home for the last America's Cup, in which ORACLE TEAM USA staged one of the greatest comebacks in sport to retain the trophy for the United States. The television coverage was widely acclaimed and saw the development of the Emmy Award-winning on screen graphics package, AC LiveLine, which enhanced the viewing experience by making the sport more engaging and more easily understood, especially for new fans.
Damned straight – Stan Honey's Liveline was awesome.  It's unfortunate that it was not enough to turn AC34 into an audience success, as the costs of developing Liveline helped transform AC34 into one of the most expensive sporting events in the history of the world, on a per-viewer basis.
"We are excited to once again showcase the best sailing in the world to a national audience," said Jon Miller, President, Programming, NBC and NBCSN. "The 2013 America's Cup served as the setting for one of the greatest comebacks in recent sports history, and we will again leverage the full collection of broadcast, cable and online platforms of the NBC Sports Group to present the race for the oldest trophy in international sports."
We told you we'd closed the chapter on our unnecessary critiques of the America's Cup, but we can't let this corporate douchebag get away with this one: Does Miller not know that NBC turned down the opportunity to broadcast that that 'greatest comeback' to a real American audience?  Apparently, he thinks that NBC 'leveraged the full collection of…' oh, forget it – reading these quotes is like going to the dentist.  Mark our words: Whether it's by pre-empting Youtube, failing to promote, or relegating the sailing to cable, NBC will almost assuredly fuck the sailing public.
Highlights of the agreement between NBC Sports Group and the America's Cup include:
  * Live coverage on NBC on both weekends of the America's Cup Finals 2017
  * Extensive live coverage of the America's Cup Playoffs (and additional America's Cup Finals racing) on NBC and NBCSN
  * Coverage of all America's Cup World Series events in 2015 and 2016 on NBCSN
  * Live-streaming of all NBC and NBCSN telecasts on NBC Sports Live Extra
What about the qualifiers?  We understand they are to be held in Auckland, but why aren't they listed here?  Oversight?
"It's encouraging to have a partner like NBC who is highly motivated to return and help build and promote the event and increase the profile of our athletes and our teams. I have no doubt that over the next three years we will touch more viewers, in more ways, through the reach of NBC Sports Group's platforms." Schiller concluded.
Doctor H may have no doubts, but we sure do.  Still, he has a point in welcoming NBC back to the fold.  You probably remember that the AC actually paid NBC a massive fee just to get the US network to broadcast the last Cup (not to mention the tens of millions that AC spent to actually produce the broadcast), and a little bit of morning research tells us that this time is indeed quite different.  Schiller told Sportcal that he "received other offers, but we really appreciated NBC's support," which he wouldn't quantify other than to call it "financially a very pleasing deal."  Knowing how little American networks care about yachting, we translate that as follows: "Last time, we spent 8 figures to get NBC to run the shows we provided to them at our cost.  This time, other network's asked us for money, but not NBC, who we are not paying at all.  In other words, I'm financially very pleased!"
We're pleased too, and other than the fact that another NBC deal probably means we'll still have to listen to Gary Jobson drone on for another two years like a deranged granddad about his 1776 AC victory, this is about as good a TV deal as sailing in America could get right now.  It means a few more million people will be exposed to the Bermuda Cup (and NZ qualifiers) than would be otherwise, and there remains an almost infinitesimally but real chance that NBC will actually put in the kind of effort and marketing to make AC35 a real TV success in the US.
Unfortunately for everyone involved, the smart money says the Bermuda AC will draw even smaller US television numbers than San Francisco did, and NBC's deal – specifically the presumably exclusive 'NBC Sports Live Extra" online portion of it – may mean that overall online distribution and viewership suffer.
Either way, we won't mind, because we've found the key to satisfaction in the America's Cup world: Low expectations.  It's liberating!
February 10th, 2015
Was sitting on the bog in Kuwait looking for some inspiration, as you do, and look what happened! This was during their boat show as well… – Anarchist Marcos.
February 8th, 2015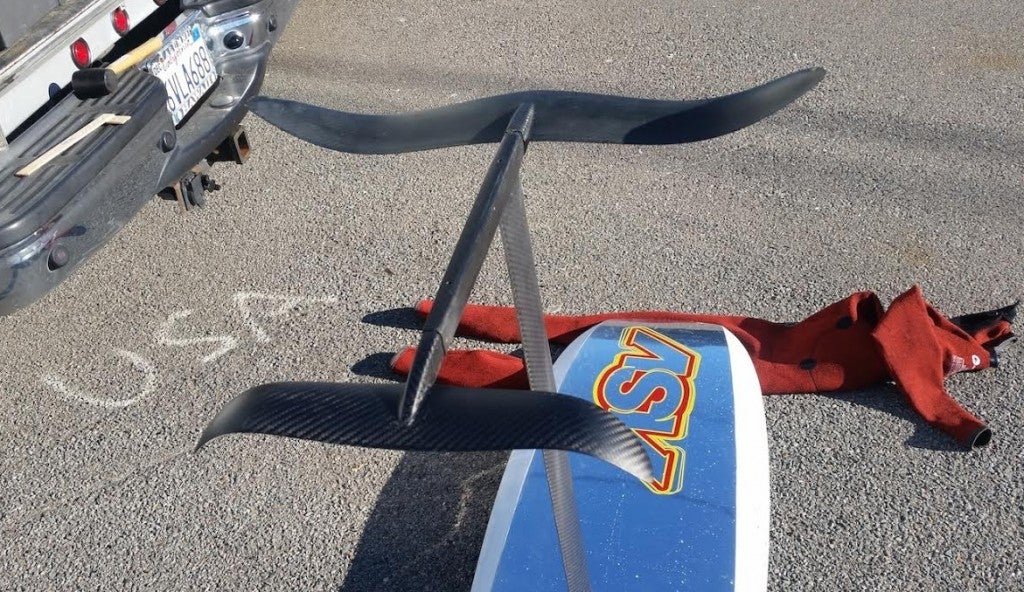 This is a picture of the best kite racing foil today! It is made by SPOTZ which is a french company that has been pushing the leading designs and technologies of kite foil racing since the start.
I am writing this article to point out how different they look from a Moth foil.
I have tested a lot of different shapes, sizes and curves and have found that, the more curve that we add to our kite racing foils, the more stable it becomes with pitch and roll. A moth foil is very flat without much curve if any and I think this could be a major reason for even best sailors having a hard time in over 20 knots with big chop, for example; in Sorrento.
I am definitely not an expert on foil design, nor am I an engineer, but I ride a hydrofoil almost everyday in San Francisco Bay and a flat foil wouldn't work in over 10 knots for me!!?? – Anarchist Joeey.
February 8th, 2015
Big Pimpin'
Here's how they do it on the big rigs! Nice stuff from C-Tech.
February 8th, 2015
Local Knowledge
Although having had lots of memorable moments in the  X412, there still was something inside me which brought a kind of nostalgic feeling. The 41′ yacht is probably the best sized alternative to combine cruising and some club racing from time to time. On the other hand, a 41′ racing yacht is a "big boat" when it comes to crew management, training and running costs.
It becomes an art to keep the crew complete year round and handling the boat in a breeze can become quite a challenge if no training is done. It was the moments of worry-free sailing on small yachts like the J24  that really made me enjoy the round the cans whether it was on a race like Cowes week or on the local sunday-afternoon-race.
It was an idea which I kept thinking about, but the cruises with the now 5 year old daughter, giving her the passion for sailing is one of the great things in life. When I spoke with Jan Vandamme, owner of a shipyard in Belgium things changed. Plans were there to build a new 24 yacht designed by Frans Maas, a veteran sailor and highly experienced designer. The concept was unique!
An all carbon built 24 foot yacht with standing headroom, an inboard diesel and all comfort you need on a short cruise. At only 1050 kg the boat can be easily trailed by a family car. For sailing pleasure more than 55% of this weight is in the keel. Carbon mast, boom and vang complete the package and keep it easy to rig.
But what it makes the most unique is probably the classic look and it being double-ender. In this decade where wide open transoms and double steering wheels are common it was a pleasure to see the elegance of the past. This double-end concept is the reason for the design type being called "Booty 24". Because elegance is one but performance is also a major concern, the underwater design is up to date with modern appendages and designed for speed and sailing pleasure.
The boat is now in it's final stage of completion and will be in premier on the Belgian Boat Show next month. We can't wait to set sail and go for a great race season! - W.D.
February 8th, 2015
Need somewhere cool to park your 100′ supermaxi for a couple months?  Come on down to South Carolina, where the men are men and the girls outnumber them…heavily.  We're not saying that's why Comanche just splashed in Savannah, but we're not saying it ain't, either!
Jim Clark's monster maxi (and the most 'American' of any major team in yachting) is just now motoring her way from Savannah up to Charleston, where she'll hang out at SeaBreeze marina until late March, when she'll head down to St. Bart's for Les Voiles and a fleet of boats she should crush.
Huge thanks for this shot and three more we've stuck in the Comanche thread to our old Charleston pal Kurt Oberle,  founder of High and Dry Boatworks, the best carbon/fiberglass fixit guys in the Charleston area.
February 8th, 2015
Ted Irwin was both an innovator and an icon in the heyday of the fiberglass yacht Ted Irwin passed away yesterday. He was a true innovator as a designer and an industry icon.  Here's a little about Irwin from the Irwin Yachts support website; read the full story to appreciate just how much impact Irwin had on sailing.
At fifteen, Ted started building boats of his own design in his backyard. From this self-taught experience came the knowledge that was to later enable him to design a "moth". In that boat he won the North American and the world championships in its class.
After several years of formal education, painting, and backyard boat building, Ted landed a job as a draftsman, illustrator and part-time builder with Charlie Morgan. Ted was twenty-one. By 1963, Ted had served a stint in the Coast Guard, done some more studying and decided that it was time to go out on his own.
Ted rented a small Quonset hut on St. Petersburg Beach for $75 a month. There he built his first commercial sailboat. It took an arduous six months to build his first 31 footer, but it was an effort well spent. That boat, named Voodoo, was to launch Ted's career by logging an astounding racing record.
Voodoo raced for two years in the Florida Ocean Racing Association, 1964 to 1966, and swept all honors. Ted, sailing Voodoo, won twenty-four out of twenty-eight races during that period. Voodoo and her crew did so well that a sailing editor said, "All the other boats were racing only for second place". Other successes followed. Some of his famous racing yachts with names known the world over include: Voodoo, Black Magic, La Pantera, Razzle Dazzle and R2D2.
Read on, and thanks to Frank McCarthy for the heads up.  Top pic from the Irwin site, let us know if you are the author of the pretty one.
February 8th, 2015

The Franco/Chinese team aboard Dongfeng can't seem to put a leg wrong, stringing together a brilliant day to win yesterday's Sanya In-Port Race in front of their home crowd.  And now, the real race begins yet again with the Sanya to NZ leg ready to go.
Watch yesterday's full replay below (or here), and get ready for more tight action with Chris Nicholson guest-commentating and our old pal (and 5-time RTW'er) Mase helping call the shots from the booth.
February 7th, 2015