Crowley's Yacht Yard's spring open house, Yachtapalooza, is upon us. The annual event is sure to be fun this year. We're bringing back Bloody Mary drinks and Mimosas in the morning for yard customers and when we mix in the flare demo it should be a great combo! There will be seminars and demonstrations on sail trim, single handed sailing, teak care, top-down furlers, fire fighting (we love the smell of diesel in the morning) and more.
In the store we have lots of specials. We are blowing out Ronstan, all Spinlock gear will be 15% off, cordage is 10% off, and our closeout tent will be full of killer deals. The biggest deal of the event is the price on VC17 bottom paint. A case of VC is $227.50! The per-can price is $47.50. You should buy a case. If you're not around but have sailing friends in the Chicago area that use VC17, it'll be worth the drive to get some.
This year we are offering our Anarchist friends a special deal. If you're not in the Chicago area to enjoy our many in-store specials, seminars, drinks, food, and all the glory that Yachtapalooza has to offer, SA members can take advantage of 25% off retail pricing on all Kaenon Sunglasses when you shop online. The sale is good for one day only just like the event. Click here  for the Kaenon page. Use promo code SANARCHIST for the extra discount. If you're in the area, we will see you on March 29th between 8am and 4pm. If not, be sure to get some Kaenon specs online.
Be sure to check out "Aftapalooza" at one of our favorite local yacht clubs for ½ price drink specials at the bar from 6-9pm. Have questions? Go to the Yachta page for more info.
March 27th, 2014
While they tend to have a national culture that's reserved and restrained, few can outdo the typical British sailor's ability to talk smack.  Most of the real junkies will remember when Rob Greenhalgh and team went down to Sydney to deliver the "Smack down down under", returning home with their tails between their legs (you can still buy this awesome movie!); well it seems from the above video that Robbie and friends haven't learned their lesson…
Have a look at this UK Mothies video throwdown to our favorite Turkish American foiling master, almost daring Bora Gulari to become the first back-to-back Moth World Champion since the foiling began.  Let the games begin – and with an all-time record field at the Hayling Worlds, they've already started.  Title shout very appropriately to Ohioan metalcore band Like Moths To Flames. 
March 27th, 2014
Past Sailor Chick of the Week Stephanie Roble has been busy over the past year, working her way up to the 6th ranked spot in ISAF's Women's Match Racing standings and 54th in the Open list in her run to try to conquer the WIMRS; all this as she finished up a multi-year stint helping to run the Chicago Match Racer.  She's an all-around badass, one of very few pro sailor chicks in the game, and this week, she's sailing with her man Taylor in the St. Thomas International Regatta.  Steph gave us a few minutes of her time – you can give her a few minutes of yours by checking out the Epic Racing newsletter and her team's Facebook Page.
SA: After a season of Grade 1 and 2 match racing, you just rocked up to St. Thomas regatta to sail on a chartered IC-24 boat in a crazy local 1-design class.  What made you do that, and what are your expectations?
SR: I came down here for the free rum, some fun in the sun, to get rid of my tan lines and the dance party (just kidding…though that is definitely a bonus).  Actually it just so happened that my boyfriend and reigning World Match Racing World Champion, chartered an IC 24 and signed me up to sail with him. It was a great excuse for him to come home to roots and see his family [dad Bill Canfield runs the event -ed].  Taylor's been doing a lot of coaching and pro crewing and hasn't really steered since the Monsoon Cup, so he wanted some tiller time – I just wanted to sail! We recruited good friends to join Team Line Honors: Mike Rehe, Matt Clark & Taylor Ladd (see crew positions here).  Basically, it's awesome to sail with good friends, and the regatta and class are major fun on and off the water.
SA: What makes St. Thomas stand out as a racing venue?
SR:  Obviously, being in the islands in the middle of winter isn't bad!  It's 85 degrees everyday and the trade winds are in full force right now. Our forecast for the week is 15-20 knots every day and some possible rain showers. Can you really beat that? Well, St. Thomas does, because in addition to the great sailing, the STYC is just so chill.  You come in from the water to a huge beach covered with palm trees, sponsor flags, and a stage for the band right on the water, the breeze blowing right on the club from the topaz water…have I painted the picture yet? All around, a fantastic vibe.
SA: Lots of folks find racing with their significant otherwise difficult, and knowing both of your personalities, it can't be easy for you two.  How do you guys do it?  Have any tips for other guys and gals to make it fun, and positive?
SR: It's definitely a unique situation; people always ask how we make it happen. We've sailed 3 US Match Race Championships together, he coached me in match racing and we do a lot of pro sailing together. I'm a very competitive person, so when I'm on a boat or team, I treat every person the same. It's definitely easy to get more annoyed or sensitive with someone who is that close to you, but it's important to understand the competitive atmosphere. It's important to leave whatever happens (good or bad) on the water and when you get back to shore you can go back to normal. It's also cool learning from your significant other; I ask questions and become a better sailor because of that, it's definitely a win-win situation. Bottom line is that we both love to have fun and being on the water with our close friends is, well, fun.
SA: You're America's top-ranked women's match racer and 6th in the world, what does that really mean for you?  Where do you go with that now that the MR Olympics are gone?
SR: I fell in love with match racing back in college and it was a bonus that it was in the Olympics. I did a short campaign with Maggie Shea and Darby Smith afterwards, and fell even more in love with the fast paced, tactical and athletic game. It's definitely a bummer that it's not in the Olympics anymore but that hasn't stopped me yet! I was also fortunate enough to have a job at Chicago Match Race Center where I could focus on improving as a skipper and crew.
Now we have a professional women's match race series (WIM Series) that is set up similar to the World Match Race Tour and my team, Epic Racing (follow us on Facebook please!), will sail all 5 Series this year.  The WIMRS is a huge step towards developing women's professional sailing but also giving girls something to look forward to besides the Olympics. As for the ranking, it's really cool to be ranked so high in the women's, but as my college coach, Mitch Brindley, always said, rankings only mean so much. We believe we are the top team at every event, and we will continue working our hardest no matter what the ranking says. We are also proud of our work in the open match race events we have done. Training and racing against the guys has been great for our development as a team.
SA: You're young, super fit, massively competitive and great at marketing yourself; all the things that make a great Olympic competitor.   Why didn't you dive into the Olympic stuff this cycle?
SR: That's a tough call.   I have a lot of friends in the Olympic circuit now and I really admire their drive. I sailed the Nacra 17 a good bit this winter with the US Sailing Team and absolutely loved racing a multihull.  But you have to be honest with yourself, and I honestly want to focus 100% on Epic Racing's match race campaign and developing my skills as a professional sailor.  It is not an easy course; how many female pro sailors do you really see out there on any circuit?   I also want to prove (to myself and other girls) that this is a path you can take. It can definitely be hard but I love sailing so much and this feel like the right path for me right now. I definitely see the Olympics in my future.  I received some great advice lately that it's important to set specific goals and to make sure you focus only on those goals, otherwise if you have too much going on you will only be overwhelmed and exhausted rather than fresh and competitive at your goals.
SA: Now that 6 of the VOR teams are more or less announced, tell us how you see the SCA team faring against the others?  Did you have any interest in being part of the VOR?  What happened?
SR: I think the girls are ready to kick ass! They have been working extremely hard and are the only team right now with a lot of training time under their belts. I may be a little biased, but you guys all know its true. SCA has picked the top sailors in the world who are mentally and physically strong and are going to work the hardest to crush the race and the guys. Again, I could definitely see myself being apart of the VOR but it wasn't the right time. I'm only 24: I have a lot to learn and a lot of time left to set goals like the Olympics and the VOR.
SA: Tell us the format of the STIR IC 24 class racing, and will you send us daily reports?
SR: The racing is going to be Epic!!! There are 16 boats in our class with the top guys from all over the Caribbean. On Friday, we have a distance race to downtown Charlotte Amalie and back to the Club. Saturday & Sunday is all short course W/L bouy racing. Again, the forecast looks fresh the entire time and Team Line Honors is pumped to get on the water. And yes – I will send you daily reports along with color from Bill & Taylor Canfield, and we'll do our best not to have too much rum before we send them out!
March 27th, 2014
No one would ever accuse us of being warmongers or motorboat lovers, but there's something undeniably awesome about watching two military bases, each the size of a small city and complete with nuclear power plants and airports, moving over the water.  This from the Arabian Sea; U.S. Navy photo by Lt. Juan David Guerra.  We're not sure why it took so long to stumble on the US Navy's Flickr page, but it's worth a look, too.  We'll be paying for these toys for a century – might as well enjoy them!
March 27th, 2014
One 49 Olympic Gold medalist and one 49 Olympic bronze medalist … going for the gold in Brazil.
March 25th, 2014
It's officially spring, although you wouldn't know it in the northeast United States. Despite today's forecast of snow, the Lloyd Harbor Yacht Club is already in race mode. Enrollment is open for the 2014 Race for the Case! The race will be held May 17 & 18, 2014 in central Long Island Sound. Find the NOR here and sign up here.
Race for the Case offers, per tradition, one-design and PHRF racing, with a case of rum to be awarded to our overall winner!
Sailing photographers 42Degrees will be on the course taking photos and videos of the action. LHYC will be hosting a post-race party, featuring your fellow anarchist DJ Aly and live video mixing of the day's video footage from 42Degrees, raffle prizes and of course, rum. The first prize case will be awarded following the conclusion of scoring on May 18th.
While you're thawing out, check out a little teaser by 42Degrees  and like our Facebook page  for updates!
March 25th, 2014
Whatever it is, it is close to being done. How close are you?
March 25th, 2014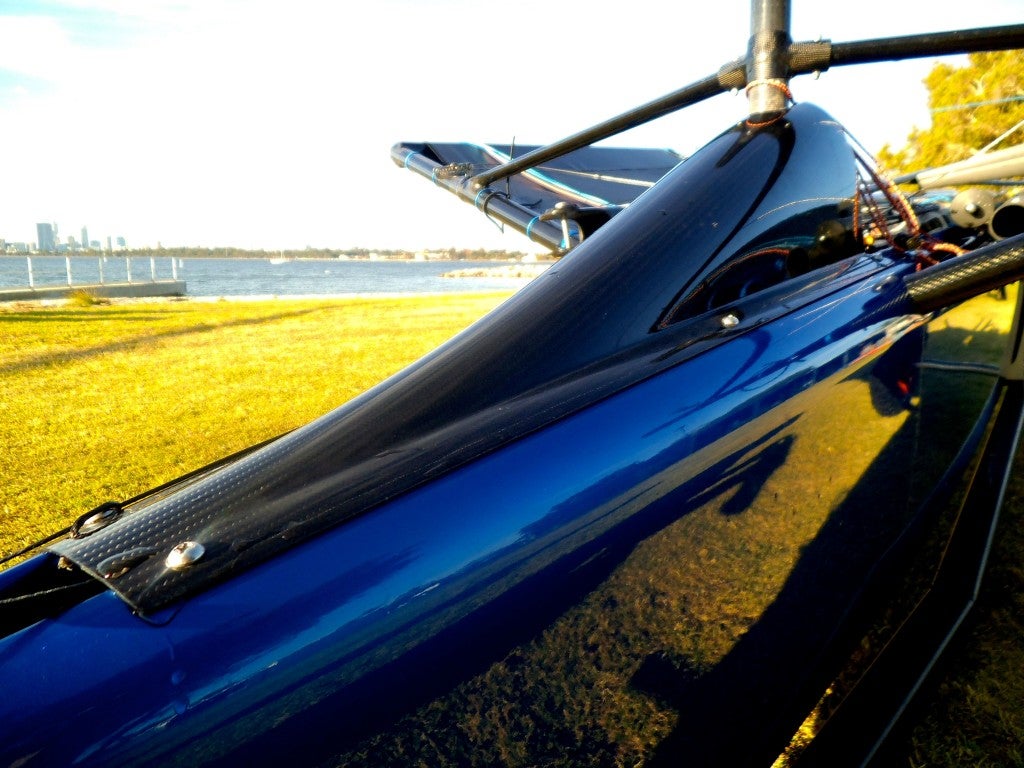 Despite inventing and perfecting the most wand-controlled t-foil flying system used by every Moth and plenty of imitators, John Ilett and his Fastacraft-built Moths were simply out-developed by Andrew McDougall and McConaghy China's Mach 2 Moth in the supremacy of the world's fastest dinghy.  Launched back in 2009, the Mach 2 has dominated every major event for half a decade, with the first real contender – the Exocet in England – getting a couple of top ten finishes at Worlds just this past fall and likely to get on or near the podium this summer at the Hayling Island Worlds.
Meanwhile, many have wondered what the Ilett boys have been up to over in Perth, Australia;  wonder no more; John's been working on this beauty.  It's the new Fastacraft Moth,  and it looks slick, sleek, and aero as hell.  John sent us a note:
March 25th, 2014
The Marstrom 32 has had an incredibly tumultuous year, yet somehow, the Class has overcome multiple dismastings as well as a management/ownership war over the molds and name of the boat, and the final result is that M32 owners and crew have had an excellent little series in Miami this winter and there are good omens for the future of the beach-cat-on-steroids.  Former Berg Composites chief Hakan Svensson helped preside over a huge sale of his former company to Caterpillar, and now the passionate sailor is on to greener pastures – in this case, running a racing catamaran company and class, and possibly even building a stand-alone beach cat racing center out of the Rowing Club in Miami.  He's a very smart cookie, and having someone as bright as Svensson at the helm bodes well not just for the Class, but for beach cat sailing in Biscayne Bay, the new "Lake Garda of the USA."
Above is a nice look at the series if you are obsessed with slow motion; otherwise, it's a good example of 'too much of a good thing' – but still pretty!  There's a good thread on the M32 Winter Series here.
March 25th, 2014
Photo from our buddy Nick Cherry a long time UK Anarchist. Taken this week at the UK team racing nationals at Spinnaker Sailing Club in the New Forest, UK. A fun event and part of a small but super healthy team racing scene in the UK at the moment. It really is too bad they don't have a sense of humor.
March 24th, 2014
What better use to make of a shot like this than in a caption contest? Go ahead, be a dick!
March 23rd, 2014
Pretty much sums it up, don't it?
March 23rd, 2014
We'd name rocking Swede Emma Aspington as our SCOTW this week but we already did back in Dubai 2010…so we'll give this one to the latest chick to continue the Moth class tradition of super hot sailor chicks jumping into boats in between races (we all remember SA's most-downloaded pic in history, don't we?).
You're looking at college athlete Nikki Medley sailing on 18-year-old Tyson's purple dinosaur…she got it going better than most of the boys today in a light air day at Nationals.  Anthony Kotoun leads by a long way, with the aforementioned Emma taking a win and 8th place overall…plenty more news, pics, and videos on the Class's Facebook Page here.  Meredith Block photos with a gallery here.

March 22nd, 2014
Nicky, Hillary, Emma, & Lindsay show off their eco-warrior 11th Hour Racing colors during an all-day postponement at the Moth Nationals.  This mix of wags, volunteers, and moth racers shows us the way to more sustainable regattas – more pics and news on the US Moth Facebook Page.  Meredith Block photo.
March 22nd, 2014
Another light air regatta gives way to an early breeze for today's final at the Extreme Sailing Series in Oman – the first real breeze we've seen all season.  Morgan Larson continues to lead but But Ainslie, McMillian, ETNZ, and SAP are on the move and any one of them can take this one with just a couple of hours of racing left in Act 2 of the 2014 season.  It's all on, live, above, and worth watching.
March 22nd, 2014
AC34 Challenger of Record Artemis Racing has had a rough year of it; first losing Bart Simpson, then blowing some $100M of team owner Torborn Tornquist's cash in what turned out to be the a completely uncompetitive bid for the America's Cup and the weakest in the fleet.
Artemis boss Iain Percy has been busy building Tornquist's team for AC35, with helmsman Nathan Outteridge signing up again and a design team rapidly coming together, but Russia's military action in Ukraine may throw a wrench in Tornquist's money machine if a Reuters report yesterday is a sign of things to come.
Reuters (via BusinessInsider) says that the US Government's latest round of economic and travel sanctions names Gennady Timchenko (on the right in the image above), Tornquist's partner and the co-founder of oil and gas business giant Gunvor, writing that "Timchenko's activities in the energy sector have been directly linked to Putin" and that the Russian President "has investments in Gunvor and may have access to Gunvor funds."  Timchenko's US holdings are immediately subject to an asset freeze and the oligarch can no longer travel to the US or its territories, and he 'sold' his 44% stake in Gunvor yesterday to Tornquist to prevent the turmoil from effecting the monster company he built.
With Europe in strong solidarity with the US and Russia showing no signs of backing down from its occupation and annexation of Crimea (and making strong moves now in Latin America), could Tornquist be next, potentially losing the ability to sponsor his Cup team or even attend any US-based events?  Almost as importantly, the Russian annexation and its consequences certainly crush any hopes that Russian gas giant Gazprom had for getting their own Cup team off the ground this year.  That could kill two well-funded AC teams off before the Protocol for AC35 even hits the mailbox, and the rumored Russian ACWS venue negotiations are not going to go well.
Nice work, Vlad!
March 21st, 2014
Anarchist BooBoo brings it like few others!
This pretty much sums up our Round North island 2 handed race on the PEPE. We cleaned up our division on both line and handicap with 3 doubles out of the 4 legs. Managed 5th overall but any hope of an overall podium finish was dismissed when the last 700nm of the race was upwind and it turned into a big boat race…. So we decided to hit the bottle and put the fishing lines out to go for the fishing trophy which is as big as the overall race win trophy!
The only downwind in the whole race was a short 10hr stint and we made the most of it sending it HARD and smoking the fleet.
March 20th, 2014
This story could only come from two places – Fresno or Florida. Florida wins this round, but Fresno is never far behind.
You may have heard about meth labs being busted inside homes, trailers and apartments, but on Thursday, Volusia County deputies said they dismantled a meth lab in a sailboat.
Investigators said the boat was moored in the Intracoastal Waterway near Daytona Beach. A Volusia County task force and Daytona Beach police were tipped off about illegal activity taking place on boats in the area, investigators said.
Based on those leads, agents investigated a sailboat belonging to 50-year-old James Smith. Inside, they found a homemade generator used in making methamphetamine, along with other supplies. Smith was arrested and booked into the Volusia County Branch Jail on charges of manufacturing methamphetamine. A woman on the boat was also arrested on an outstanding warrant, deputies said. More at Mynews13.
March 20th, 2014
A close look at the Chinese VO65 Dongfeng, thanks to Shanghai Sailor
I know many words have been written already about the VO65 but I was lucky enough to spend a week with Dongfeng Race Team at their training base at Serenity Marina in Sanya, China.Although 5 feet shorter than the 70 and with less righting moment (referred to as tippy by at least one who has sailed her) the boat has already proven herself with a 500+ mile day on a delivery trip It has to be remembered that – in the words of the VOR CEO Knut Frostad when referring to the breakages of the last edition of the race " thank god we had some drama…     …but masts shouldn't fall down" so this boat is engineered to get round the course.
The oldest cliché in sport is perhaps that 'to finish first, first you have to finish' and that applies to both boat AND crew and some of those principles are evident in the design of the boat.
Starting at the back, and with apologies to Queen, she is a Fat Bottomed Girl  with powerful (and I am not being rude) buttock lines running to the stern. The rather slab sides sit on top of a chine that runs all the way to the bow  and she does appear to have a relatively narrow static waterline forward.
Looking round the cockpit there are several differences from her predecessor. The cockpit sides appear subtly higher than on many of the previous version boats but looking forward the most obvious change is the height and size of the coachroof designed to throw the water off to the sides to try and prevent the swimming pool effect that was so evident with the previous generation Volvo racers.
Above the pit area is a little blister which doesn't only afford the pit man a bit more protection but also houses – or will house – a specially developed camera that will literally be right in the face of the crew as they go about their duties for it must never be forgotten that the VOR is a professional/commercial event and media coverage, even from the depths of the ocean is vital to ensure the sponsors Return on Investment (ROI). Nothing cynical in this statement, without the skills of the sports marketers the likes of the Volvo Ocean Race – and many other events in the sailing world – just wouldn't happen.
The pit itself is split into 3 areas each with their own winch, central, port & starboard with so many control lines it would keep Rick Wakeman happy and in the shot of the port winch you can see the rather simple solution to SCA's criticism that water rushes down the line tunnels and disappears straight down below to the cabin.  The addition of simple piece of sailcloth velcro'd in position solves the problem.
Moving back aft from the pit there are 3 grinders which, ladies team apart, are unlikely to see them all used at once other than the in-port races. This girl does not lack power. These couple to the winches of which there are just 8 on board. 3 for the pit area,  2 primaries, the main sheet – which is fed through a nicely engineered and molded guard which still allows a degree of access should the line twist(8) – and of course the all important runners to keep the mast pointing skywards.
The wheels are protected by almost agricultural looking crash guards/grab rails  which if the coachroof does its job as intended should just be something to hang on to but such is the attention to safety which takes us aft to the communications "tower" (10) enabling not only race communications but the by now well known ability to provide images – as they happen – from anywhere on the ocean. This structure also houses is a reverse angle camera with light and the (hopefully) never to be opened liferafts.
Moving forward to the mast which in the shot has yet to have the radar fitted, you can see the multi-configurations that can be used on the two sets of running backstays each with a set of deflectors to keep the stick in the air. The two appendages on the lower spreaders are 2 more cameras that can be panned and tilted which along with the others (including the one in the hands of the On Board Reporter) (OBR) will bring almost superbowl type coverage to the boat from even the deepest ocean.
Unusually for a race boat of the this size, the mast is deck stepped keeping the boat much drier down below as all the halyards exit above the deck,  into the tunnels and down to the pit. Also should a rig tumble down reducing the chance of damaging the integrity of the deck should such an event occur.
Moving onto the foredeck the first thing that strikes you are the two – what look almost like girders running the length of the foredeck.
I understand they do help the strength of the structure and also give a very secure foothold to the bow and mid bow people on a heeled boat but they primarily house the likes of the tack lines from the bowsprit taking away one more thing for someone to trip over on a dark Southern Ocean (or any ocean) night. Hydronamically, (and I am guessing here) I would imagine they also start the process of directing water away from – ultimately – the crew in the cockpit.
That brings us to a busy bowsprit  and while I must admit I wouldn't like to have to climb over that central pulpit bar on a dark night if I had to get out onto the bowsprit but that is certainly preferable to falling through a space if there wasn't a bar there and if the designed reliability of these boats is as reported (and intended) it is not a trip a bowman is likely to have to make.
Moving down below, the unpainted carbon makes her very dark with all the accommodation  aft of the main bulkhead. All there appears to be is the spare rudder clamped to a beam. But turn the corner and there lies the beautiful clearcoat carbon head (if ever a head could be beautiful)  and it proves the keel isn't the only thing that cants on a VO65. At least there is somewhere you can be comfortable on one of these things.
Moving back into the main area – saloon I suppose – there is a rudimentary galley but when the required catering is just as rudimentary, more than adequate for the job. One surprising thing missing is virtually any form of grab handle or even rope and as more than one person has proved it is more than possible to fall all the way from the high side while down below. This has already been raised with VOR and when I was on the boat such a modification was awaiting approval.
Moving aft, (and thanks to VOR for this shot) is the nav station and OBR hangout where the motion of the boat should be gentler and although there are some nice touches like the whole nav table that effectively tacks by swiveling round. In this shot you can just see the luxury padded chair (not) for the OBR when they are busy editing together the latest images that will be bounced off the satellite using  the dome a few feet above his head. Apparently being part of the brains trust doesn't bring much in the way of comforts on a VO65.
One final element is the 4.7m deep canting keel, the keelbox for which you can see at the bottom of the picture of the galley above. Sanya Serenity marina not quite clear enough to see the whole keel but the top of the bulb is just visible.
So that's the VO65 inside and out- top to bottom. A brute rather than beautiful perhaps but she appears extremely well thought out and well up to the task ahead.
About the time that you are reading this the guys from Dongfeng Race Team will be on their way to Auckland, perhaps the toughest and certainly longest test yet of this new design – what feedback I get, I hope to share.
I would just like to thank skipper Charles and Team Director Bruno for letting me wander (and wonder) at will around and over their lovely lady and I would wish them luck in the challenges ahead.
These are potentially greater than some other teams with Chinese sailor selection to be completed – these guys are good but lack deep ocean experience which the Auckland run will start to address; getting the crew to a required level of communication – not necessarily easy with French, English and Chinese being the natural team members' languages but I am sure they will succeed, there is a determination about the team.
On the other side of the coin, the western sailors – and I await the green light from the team to reveal who they are – are all "high mileage" ocean racers with more than their fair share of ocean crossings and circumnavigations to their credit and with comments already having been made that these boats are big planning dinghies on steroids who's to say that being a dinghy sailor on one of these is nothing but an advantage rather than the other way round.
Would I want a go on one of these? Well let me tell you – you wouldn't have to ask twice! – Shanghai Sailor
March 20th, 2014
It took us longer than we thought to get this up and we thank you for your patience, but it's worth it; this hour-long Sailing Anarchy Innerview with Hugo Boss skipper Alex Thomson tells the secrets behind his mast walk stunt (and whether it was a stuntman who did the big dive) and gets into dozens of other subjects thanks to your excellent questions; Alex shares his plans for 2014 and the next Vendee Globe, tells us who has new boats coming in the IMOCA world, and gives us the low down on his Caribbean 600 race on a Beneteau 40.  You can grab audio only via your smartphone or browser here on the Mixcloud, or download an MP3 file for later listening here.
We highly recommend you check out the "Behind the Mastwalk" video here as well; it's even better than the other one.
March 20th, 2014