With many Rio 2016 teams now on the ground for their final six weeks of training and practice, shit is getting real – too real.  Worse yet, there's really no help available when it all goes down.  Consider this report from last week, sent in by a longtime Anarchist on the ground in Brazil (and remember, piracy ain't nothing new in Brazil).

Two Team GBR Ribs were stolen overnight from Torben Grael's Rio Yacht Club in Niteroi – the same club hit by stray bullets from a nearby gunfight a few weeks back.  They were dragged to a beach in Jurujuba, not far from the US Team's launching location.
The two British team coaches who lost the RIBs found them the next morning as they were being stripped.  Already VHFs, fuel hoses, tanks, and wiring were already gone, with outboards next to go.  The law-abiding GBR coaches' immediate reaction was to threaten the thieves with calling the police.
"You think that will help you?" the head pirate said, with a big laugh.  Considering the level of police corruption in Brazil, the British coaches were inclined to come up with another solution, which meant giving the pirates every dollar, pound, and real they had in both their wallets and backpacks.
One of the coaches surreptitiously snapped a pic of the pirates, and the Rio Yacht Club staff identified one of them as a top drug dealer in the nearby Jurujuba favela, and told the coach he was very, very lucky.  If the Olympic fleets get away without losing any lives over the next two months, they'll be very lucky indeed.
Title from a great band in a kinder, gentler world.
June 20th, 2016
In perhaps the most ironic piece of America's Cup news in the history of the billionaire-attracting silver bauble, Oracle Team USA's former base on Pier 80 in San Francisco has been turned into a massive shelter for the homeless.  If you're homeless in Bermuda and Oracle stays true to form, just sit tight: You might just get an awesome, free new oceanfront address in just 15 months' time! Here's more, from KQED's story a couple of months ago:
I had to backtrack to Illinois Street to find the shelter, a cavernous warehouse once occupied by billionaire Larry Ellison's America's Cup yacht-racing team that now serves as a refuge for some of the city's most destitute residents.

Located in a desolate part of the city's southeast waterfront, the facility is surrounded by chainlink fences topped by razor wire and acres of empty asphalt crisscrossed by defunct railroad tracks. Just outside the fence, a man lies behind some bushes, apparently searching for a vein.

Initially designated by the city as a temporary shelter from expected El Niño rains, Pier 80 has been pressed into service as a destination for some of those recently forced to disband tent camps in the South of Market and Mission districts. The center has grown from 100 to 120 to 150 and now to 180 "beds" — foam mats laid in rows on the floor of a giant tent inside the warehouse.
June 20th, 2016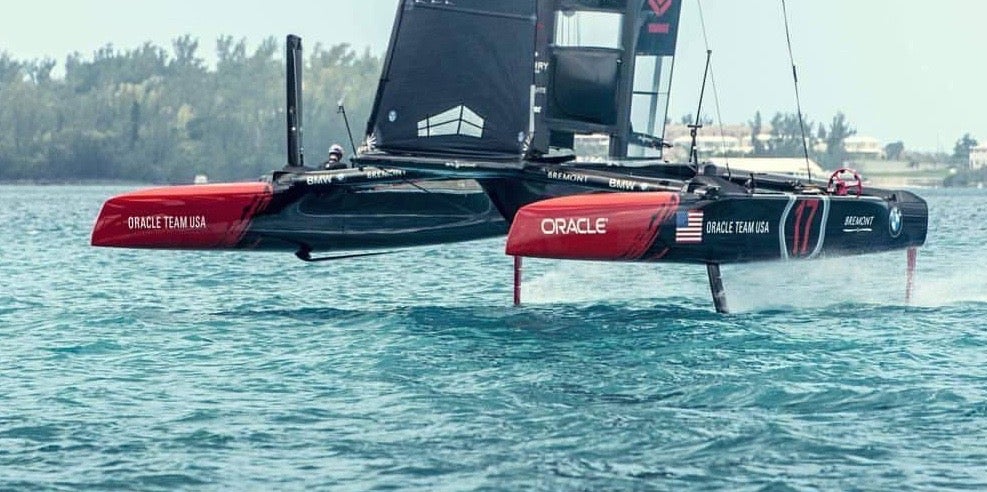 If the America's Cup were a one-design battle, we'd likely see the awesomely talented Pete Burling and his ETNZ boys run away with it, just as Pete has done against largely the same competitors in the past few years of Moth and 49er racing.  But even the highly restricted AC50 box rule allows enough design differences to likely take the ultimate prize out of the hands of the skippers, and the likeliest winner will be the team that can figure out how to get the most out of their foils, aero, and wing controls.
With variable ride control (à la the Moth) and changing foil shapes banned, designers tell us that variable foil bend characteristics may prove the key to the top speed puzzle.  You can see just how much bend the Oracle Team USA trial horse is putting into their foils, as seen above and shot the other day in Bermuda.  There's plenty of carbon bending knowledge inside the sport – see Moth, Finn masts, for example – but could the importance of flexi-foils mean the F-1 connected design team at BAR have a real head start?  After all, Formula One has been playing around with variable bend issues for a long time, most recently earlier this year.
Iron pumpers will recognize from whence comes our story title.  For the rest of you, clicky.
June 20th, 2016
As if the insanely polluted and disease ridden waters weren't enough, as if the god damn Zika virus wasn't enough, as if the abject poverty, violence and social unrest weren't enough, let us introduce you to yet another bright spot for the upcoming Rio Olympics… And ya gotta love the statement from the Mayor…
Rio de Janeiro's governor declared a state of financial emergency Friday and requested federal funds to help fulfill obligations for public services during the Olympics that start Aug. 5. Emergency measures are needed to avoid "a total collapse in public security, health, education, transport and environmental management," a decree in the state's Official Gazette said.
The state's revenue, largely tied to the petroleum industry, slumped in the last two years as global oil prices collapsed. The announcement followed this week's visit to Rio by Brazil's Interim President Michel Temer, who said the federal government would ensure all obligations are met for a successful Games.
Rio is expecting about 500,000 foreign visitors during the Olympics, which has coincided with Brazil's worst recession since the 1930s and a political crisis that last month led to the suspension of President Dilma Rousseff. "The state's financial emergency in no way delays the delivery of Olympic projects and the promises assumed by the city of Rio," Mayor Eduardo Paes said on Twitter.
June 17th, 2016
Or are you too already bored with one 100′ sailing around by themselves? It's pretty awesome, but….
June 17th, 2016
Big Pimpin'
How often do you have to change the pumps on your boat? If you purchased a "name brand" pump in the last 10 years, your answer is probably: "Too damn often".
We constantly hear from customers fed up with dealing with the establishment brands. Year after year, these companies raise their prices and year after year their quality diminishes. The big guys have had a stranglehold on the pump market for too long. They have become comfortable with the status quo. Are you?
Enter SEAFLO. Although we have been around for over 10 years in foreign markets, SEAFLO considers ourselves the "new kids on the block" in the United States marine market. We try to focus on our customers and what they want, rather than primarily on our financial statement.
We strive to be everything that our competitors are not. After experiencing firsthand the deteriorating quality of "name brand" pumps, the recipe for SEAFLO's success was pretty easy. Develop superior quality products, at an affordable price, with unbeatable customer service, and a 4 Year Warranty to back everything we make.
This recipe seems to be working as everyday more and more people are switching over to SEAFLO from the old, tired brands. With an Industry-Leading 4 Year Warranty standard on all products, what is there to lose?
Bilge Pumps, Washdown Kits, Water Pressure Pumps, Hand Pumps, Shower Sump Systems, Access Hatches, Marine Switches and Blower Fans are our main focuses.
June 17th, 2016
We won't bitch about the AC here, but will congratulate Sam Greenfield on a superbly done promo video.
June 17th, 2016
He is quite possibly America's most influential sailor over the past decade, quite definitely the smartest man in the sport, and one of our all-time favorite people, and we're stoked to share the news that Stan Honey been named the recipient of the 2016 Magnus Olsson Prize.  Honey is just the third recipient of the prize named for one of sailing's most beloved characters; he joins Torben Grael and Ben Ainslie in the honor.
Stan talks about what it means to him to join their company in the name of 'Mange' in a characteristically humble piece on the Mange Foundation's site here.  Congratulations to a true gem of a sailor and a lion of a man.
June 16th, 2016
If the god damn IOR rule hadn't liked boats to be trimmed bow down so much, these poor folks wouldn't have to be stacked in the back of the bus. From the Coutts Quarter Ton Cup.
June 16th, 2016
Big Pimpin'
Sailing weeks are now a common format for regattas held all over the world, thanks in part to the continued success of the largest and the oldest one of them all: Kiel Week. Started in 1882, this annual event held in the last full week of June is in its 134th edition this year and has grown to attract thousands of sailors from dozens of nations to celebrate the spirit of competition in an energetic setting that also offers the best of German hospitality and culture.
This year over 4,000 sailors from 50 countries are expected to participate in 28 classes at Kiel Week, ranging from one-design boat-for-boat racing in the smallest dinghies to racing both inshore and offshore under handicap in offshore racing yachts. For nine days there are boats of all types sailing and racing in and around Kiel, making this truly a festival of sail: no other competitive event in the sport enjoys this level of attraction.
June 16th, 2016