Kevin Hall concludes his column with us with this look at coaching. Huge thanks to Kevin and Mauri Pro Sailing
The loud team of young American sailors and their coaches wound their way through the cobblestone backstreets of Tavira, Portugal. Navigation duties were passed from the 420 class to the Laser class with appropriate taunting. The best clue we found that we were in the right place for dinner was the table set for fifteen. We sat next to the old town square.
 A new coach brings risk of disruption to an athlete. I thought about exactly that on the way to dinner. The one thing which is almost always a positive, whether at the world championships of youth sailing, or dark lonely nights in a hospital, is humor. (Robin Williams gave the world so much).
The icebreaker with the young athletes I would be coaching in the following days at the ISAF Youth World Championships was taken care of for me. One place remained empty at the table a few minutes after the team had been seated. As the mother of one of the sailors arrived, her eyes lit up when she saw me.
"Oh! I'm so glad I'm not the only parent!" she said.
The group's laugh echoed through the square. I scrambled for the right response. Fortunately the kids stepped in.
"Mom! Jesus mom! He's a coach!"
I think I mumbled something to the effect of, "Well, I am a parent but my kids aren't quite this old yet…."
 The 2014 ISAF Youth World Championship last month was the largest in history. 367 sailors from 67 nations competed.  I coached on the 420 and SL16 (mixed Cat) course. Each team had a maximum of three coaches for the eight classes. One for each course. Just after the sailors left the ramp, we were shuttled out to various coach boats, from Beneteau 32s to a large utility tug. Many thanks to all the volunteers who made our days on the race course possible.
It was moving for me to see old friends, and to be sharing a different involvement in the sport to the one we used to share as competitors. I first met one of the other coaches, Alessandra Sensini, in 1986 at the Youth Worlds in Greece. She went on to win four Olympic medals in as many Olympics. Here she was in Portugal at the Youth Worlds as Team Leader. Belinda Stowell was another Team Leader and Olympic gold medalist. We became friends in 1996, when I was racing on the circuit in the last year of the Grand Prix Aussie 18s in Sydney and she was training there. Far more important than the medals now, at least to the young athletes competing in Portugal, both women are great coaches: extremely knowledgeable and battle hardened, but also attentive to striking a balance between being the water bottle manager and a tyrannical director of tuning and strategy.
 As a US team we had a strong performance. Haddon Hughes sailed very well and lead the regatta at times, finishing with the silver in the Girl's Radial. Quinn Wilson and Riley Gibbs were tied for the lead in the 29er going into the final race and also won silver.  On my course with the 420s and the SL16, we missed the open catamaran bronze by a general recall. Had the penultimate start been the actual race, Ravi Parent and Nicolas Schultz would have won the bronze by forcing their competitors into an O-flag DSQ. They handled the disappointment in a manner well beyond their years. Our Team Leader was Leandro Spina. Look for his dedication and enthusiasm to lift the US Youth Development program dramatically over the next few years.
 My own sailing, and my life, have benefited from a tremendous amount of magnificent coaching. I'd like to recognize and thank them here. My first CISA clinic with Dave Perry in 1983 opened my eyes to more than I can describe in a quick article. His passionate dedication to the US Youth Champs has left a clear legacy.
Charlie McKee was my coach at the Youth Worlds I won in 1986. I got off to a tough start. Whatever he did at that regatta, he did it just right. Fourteen years later we went head to head at the US 49er trials, as fierce competitors and even stronger friends. Charlie also coached me at the 2004 Olympic Trials in the Finn, one of the best regattas I have ever sailed and maybe ever will.
I also met Tom Kinney at the 1983 CISA clinic. His college-sailing approach to learning and discipline was another eye-opener for me, then aged 13. We gave the 470 a good effort together in 1989 and 1990.
I first met Brad Dellenbaugh when he was coaching the IYRU Women's World Championship in La Rochelle, France in 1985, where I was living as a foreign exchange student for a year. He successfully recruited me to Brown University, and I learned a lot from him. I wish I had learned to be coachable by then, as I would have learned so much more. Alas, youthful arrogance is a double-edged sword. My tongue was sharp and he must have cringed more than once at my complicated efforts to not hear.
Zack Leonard came to coach at Brown when Brad moved on. In addition to dedicated on the water feedback, he helped me see that there was more to life than sailing. Which was what I desperately needed at the time. My sailing improved when I emerged from this challenge to my existing world view.
Luther Carpenter is one of a kind. Technically, in multiple classes, he has few peers. As a regatta coach, he is a wizard at tailoring his approach to the athlete, often with well-timed wit. On shore, he is just plain fun.
Finally, Rod Davis negotiated the minefield of coaching the afterguard at Team New Zealand between 2004 and 2009 with me, and for a number of years after that. He made a difference for which there is no data but of which I am certain.
What all of my coaches shared was a philosophy which had far more in common with the "teaching a man to fish" side of the old saying than the "give a boy a fish/side of the course/exact tuning setting" side. When they did have strong feelings, they would try to gently lead me to their way of thinking, not tell me what to do. I hope they know I was always listening, even if it didn't seem like it at the time.
August 18th, 2014
When you don't yet have a boat to show, you show the next best thing!
August 18th, 2014
If the sun, tropical racing, posh digs, and sexy aussie girls wasn't enough to get you jonesin' to sail Hammo Island Race Week, the wildlife might.  Incredible right-place-right-timing for the yacht Synergy as well as the Hammo TV crew that caught it; check the whale breach video here.
August 18th, 2014
In the audio player above, Our favorite sailor chick/radio host digs deep into Hamilton Island Race Week as Day 2 of the tropical regatta wraps.  Nic's got Seve and Ricko from Wild Oats XI, Gavin Brady from the TP52 Beau Geste, David Chapman from the big MC38 fleet on Ginger and much more, including her own adventures aboard and ashore at a regatta that's gotta be on everyones 's bucket list.  Results are here.
August 18th, 2014
No TV news organization has fallen further than CNN over the past decade (Fox cannot fall any further, they started as low-brow, race-bating, right-wing shills, and have remained there) with the cable news giant hitting historic lows in almost every category of viewership this year.  For our non-American readers we suggest a trip over to Jon Stewart's hilarious explanation of everything wrong with CNN (and check out his tongue-in-cheek Kickstarter campaign to buy it out), but for the rest of you, we've got a spectacularly dramatic sailing video to prove all of Stewart's points – and you just have to watch it.
Yes, we understand that CNN has 'content partners' like the WFRV 'reporter' who narrates the piece, but maybe, just maybe, they shouldn't?  This ain't a joke or an Onion story, folks.  Share your thoughts on the sheer genius of the piece here.
Meanwhile, CNN does have the only mainstream english-language sailing news show out there, and while Mainsail's quality has been slipping over the past couple of years and the CNN audience is nearly gone, it's still some of the best-produced conventional stuff out there.  Here's Scottish Shirley and Part 1, Part 2, and Part 3 of the Land Sailing Worlds we reported on last month.
August 18th, 2014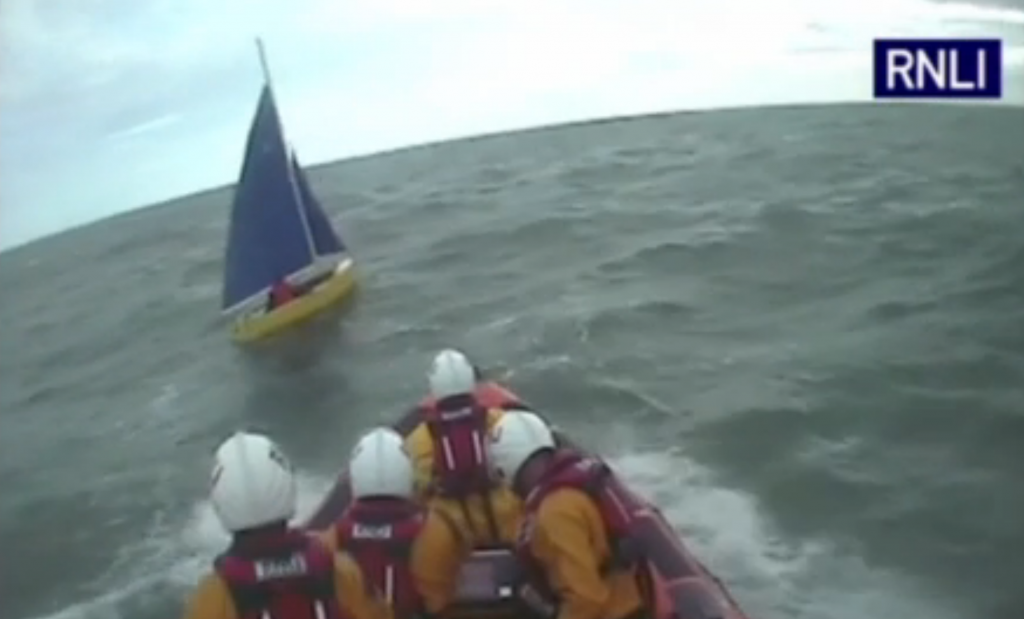 "The man bought the 14-foot dinghy on Saturday and then set off on his 3,500 mile voyage across the Atlantic…not wearing a life jacket, his boat had no lights and his only navigational aid was a street map of Southampton."
Seems like a good kit bag for most major voyages, right?  But wait – that's not all.  "He had a passport containing a US visa, hot dogs, beans and a bag of biscuits." Hot dogs?  Beans and biscuits?  Sounds like a fine transatlantic menu, as long as he's alone!
The Bulgarian man was not interesting in whatever the RNLI was selling. "When we reached the gentleman he didn't want us there, he wanted to carry on his way," refusing assistance for 45 minutes, after which "the crew dragged him on to their boat and took him to shore."
We can't be the only ones who really, really wanted to see how far he could get.  If anyone runs into this guy, let him know that next time, Sailing Anarchy fund your YellowBrick tracker, an EPIRB, and some extra provisions…
Watch the video for the full 'rescue' and thanks to Brad T for the heads up.
August 18th, 2014
Whatever it is, it's nothing that a big ol' sledgehammer won't fix! Right?
August 17th, 2014
Class Action
The Ultimate 20 class returned to Racine, Wisconsin for their 2014 North American Championship. 22 boats competed for the classes' top prize. Most teams arrived Thursday to set up and practice out on the lake. The conditions were consistently 7 to 10 knots which generated a short chop which tested the skippers and crews.
We are stoked this class continues to stay strong and props to Mark Allen and the team on Junta for their win. Story here.
August 17th, 2014
One of the most interesting things to come out of an otherwise uneventful Moth Worlds was their sharing of this poignant story about Hayling Rescue's Frank Dunster.  For an explanation of this enigmatic subject, we go to the film's co-creator, Jack Pollington.  If you're motivated to contribute to such a wonderful effort, hit up Hayling Rescue on Facebook, and for more on the producers, go here.
This was a short documentary created by Alex Forbes and me as part of coursework for Farnham Film School.  Frank runs a completely voluntary, non-profit life saving operation from Hayling Island Sailing Club.  He is a vital part of what keeps that very busy and active club safe and running,  year by year, and in thanks for that, the members of the club contribute to Hayling Rescue's upkeep in an annual fundraiser.
August 15th, 2014
The annual New York Yacht Club Cruise is back, and as usual, there's plenty of drama, and yet more reasons to watch it when you see the burgees coming through your piece of water.  This time, the drama is in limerick form, thanks to SA'er 'Left Hook'.  To add your own limerick (and there are already several good ones) or for the full story of the sinking of Concordia 40 #11, hit the thread hard.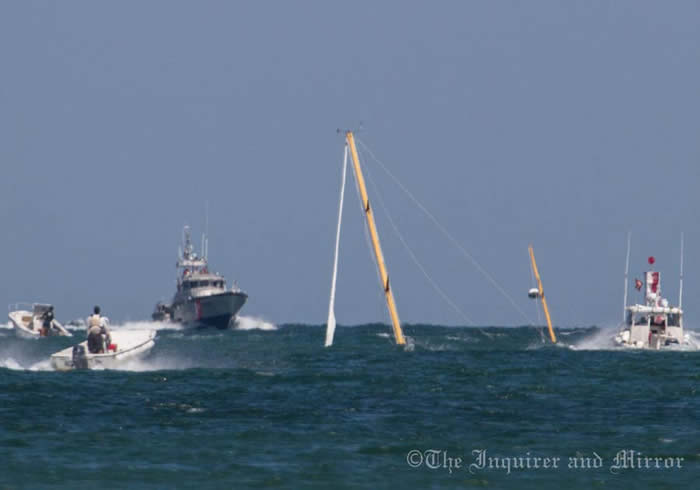 Title is more about Dice than limericks, but hey – fuck it.
There once was a man on Nantucket
Whose Swan was so big he said "fuck it!"
So he went down the line,
spied Winnie so fine,
and said "crap, we're on port, we should duck it!"
August 15th, 2014
With Team Australia flaming out of the America's Cup with a whimper, the Oatley family needed a new look for the winged AC45 they picked up along the way.  And once they painted it up right, they realized they'd finally gotten a Wild Oats that's significantly faster than the R/P 100 that's been winning the Hobart for a decade…and for about 5% of what they've spent on the big one!
Pic thanks to SA'er 'wildboats' from the 45s launch at the upscale Hamilton Island Race Week.  Not the latest or greatest tech or the fastest cat out there, but it's certainly got sex appeal…
August 15th, 2014
Sydney Gavignet's Oman Sail Musandem took line honors in the Round Britain and Ireland Race just past noon today, with a final time of 3 days, 3 hours, and 33 minutes (rounding up a touch).  This breaks the existing race record of the Volvo 70 Groupama by days, and beats the nearly twice-as-long Banque Populaire V's absolute course record by around 16 minutes.  While technically it seems the RBI course may not comport with the WSSRC's rules on a RBI record, we hope it stands; this is a giant-killing effort that saw a top speed of an incredible 43 knots…just fucking stellar!
One Design Spread
Meanwhile, the Volvo 65s are busting some big misconceptions; the first is that 'One Design' always means 'close racing'; as you can see from the tracker, it doesn't mean that at all – unless you are one of the three boats bringing up the rear.  Ian Walker is running away aboard Abu Dhabi with Iker and Mich Dej well behind, and the final trio in another time zone.  While generalizing from a single race is silly, it's interesting to us that two boats at the opposite end of the preparation curve – Azzam with more than a year of prep time and Campos with around a month – are leading, while the boat with the most time on the water (SCA) is fighting for DFL with two other new entries.
The second misconception is about their speed, long thought to be significantly slower than a Volvo 70.  Sure, they've got perfect angle/gale force conditions unlikely to revisit this race for decades, but either Walker or Martinez is going to break Franck Cammas' monohull record.  That ain't slow.  Neither is the Volvo 70 Monster Project, nearly 100 miles behind the back marker VOD 65s, nor is Brian Thompson's Open 60 Artemis, which is nearly 200 miles back.
Not Your Daddy's Class 40
Remember when the Class 40 was designed to sail around the world as a cruiser or racer?  Tough as nails, cost-controlled, and bulletproof, right?  They've come a long way, baby – both in speed and in frailty.  Four of the five Class 40s are out, including the brand new Mach 2 Stella Nova and the slightly older but hells-quick Concise, which were both crushing the 50-footers until they bowed out with damage.  Get your shit together, Class 40 designers/builders!
Great shot from Mark Lloyd/www.lloydimages.com
August 14th, 2014
Whenever we get videos piling up in the back rooms of Sailing Anarchy , we purge them with an installment of Video Anarchy, and this one is a doozie.  Check it.
Sneaky Peaky
Though the work list is massive for the September launch of the first new Supermaxi the world has seen since Alex Jackson's Speedboat, we're told things are more or less on schedule for Jim Clark's Comanche (née New Cubed).  The fact that photog-to-the-NPT-mafia Onne Van Der Wahl is already making videos of the boat tells us Ken Read and friends are confident that the VPLP/Verdier monster will be ready for her trip to Sydney with (a tiny amount of) time to spare.  This little sneak peak, which shows virtually nothing, is courtesy not of Onne but of his editing team at Death Cookie, and it sort of reveals a boat that's fairly conventional in thinking; evolutionary rather than revolutionary, and perfect to go up against 10+ year old designs that have had it all to themselves for the past decade.
Satan's Regatta
Named for the French sailor known to the British Navy as "Admiral Satan", the Trophée Bailli de Suffren is the only event of its kind; a 600 NM race/rally from one beautiful Mediterranean port to another, for Classics only.  And while they invariably sail like the ancient pigs they are, they sure are pretty, as this very beautifully produced movie shows off quite well.
Youth of Today?
You've got billionaire-funded kids teams, 44-foot carbon yachts, Russian oligarchs, feuding ex-America's Cup teammates; as much drama as you can handle.  And with all that, they still can't make an RC44 look cooler than what it is – a tiny version of the piggy IACC yachts.  Hey – at least they have live blogging at their Worlds!  Here's a look at the Gazprom Youth team, who we assume won't be sailing any US regattas for a while…
Youth of Tomorrow
It's not often that a kids' regatta gets video production by someone as good as our own "The Rev Petey", but he was on hand last month for the light-air ILYA X Scow regatta in Gull Lake, MN.  It's long, but watching the smiles on these kids' faces should give you smiles of your own, and even some optimism about the future of the sport in the Midwest.
Heavy Air Wizards
While the British media were freaking out over a storm-swept dinghy regatta in Ireland, 60 of the world's prettiest classic dinghies were battling for their UK National Champs (and still are).  Check out the Merlin Rockets sailing in 10-35 knots of Hurricane Bertha remnants…though with storms, rain, sun, breeze, and a near gale, it looks like a typical day in Cornwall to us.  But hey – no fog!
Video Fail
While we love TP52s and think they are the best thing to happen to big boats over the past decade, we've been unimpressed by the 52SuperSeries – the group that's been trying (and failing) to regain the glory of the Audi MedCup days for a couple of years now.  They seem to have some sponsors, but let's be frank:  It's become yet another ultra-wealthy fun-fest for owner/drivers; like the RC44, but for boats that aren't nearly so dumb.  So why have they had to work so incredibly hard just to get 5-7 boats on their starting lines?  Maybe it's because the people behind the PR and marketing wheel suck at it?
Above is an example from last week; it's clearly an introduction to a contest to sail aboard a TP52 during a SuperSeries event, and it's clear the SuperSeries folks are trying to run the contest, even though they are using Ed Baird as a spokesman, and Quantum's video footage. But what's not clear since the video went up is what the contest is, how you enter it, or who it's for, other than that it says "Facebook" on the title, along with the word "Competion", whatever the hell that means.  A long search through the lonely SuperSeries' Facebook Page reveals that "Closing date for entries is 31 August, 2014 get your entries in!", but that's about it, and our e-mails to the Series' PR people went unanswered.  So good luck winning the contest, and don't be surprised to see SuperSeries sponsors walk away at the the end of the year just as Audi did when the organizers fucked that one up.  Why is it so hard to be even a little bit competent at this shit?
August 14th, 2014
Work gets me to the Galapagos Islands a couple of times a year, and during my recent trip (July) this beautiful cat was in Puerto Ayora/Academy Bay.  After lots of searching on the web, I am pretty sure that it is the former Orange II. Or is it? – Anarchist Richard.
We know one thing for sure, the Pelican doesn't give a shit, one way or another…
August 13th, 2014
Like Webb Chiles, SA's favorite war veteran/solo ocean racer/disaster magnet Ronnie Simpson does shit you never will, and he takes us along for a ride, just around the corner from Chiles, in Fiji.  Check out Ronnie's full story at his blog over here.  Photos are all Ronnie's.
Despite having racked up quite a few miles on fast offshore racing yachts, ocean sailing has never been quite as much of an adventure as it has been this season for me, cruising the wide Pacific on an engineless Cal 2-27 that I bought in Seattle for 4 grand. In yacht racing, when you set off on an offshore race, you generally have an idea of the outcome (to some reasonable degree): you'll sail hard with the boys (or girls, or solo), maybe blow up a kite or two and then you'll get to the club and get on the piss, regardless of your result. It's a good time.
When you set sail solo in a small engineless 4-knot shitbox to remote parts of the globe, without an organized event, the uncertainty and danger factor goes up just a tick, but it's a surprisingly good time. Cruising MONGO is the sailing equivalent of cooking meth: It's cheap, uniquely white trash, and highly addictive, and has the potential to leave me equally fucked in the end. Four months after dismasting near a lee shore on the island of Maui, i've slapped a new rig in MONGO and sailed 1-stop to Fiji, some 3,000 reaching miles away. Rocked up to paradise and moored out amongst the blue-water cruisers and mega yachts, it is Sailing Anarchy at it's finest.
Jokes aside, I take seamanship pretty seriously, and have made every effort to remain safe and self-sufficient during this voyage, which has now reached about 8,000 miles (having started in Seattle, WA). After a picture-perfect early-season passage from San Diego to the big island of Hawai'i and a windy passage to Maui, MONGO lost her rig while sailing out of Kahului Harbor, Maui on April 1 when a 5-month old lower shroud toggle failed. Anchoring in 50 feet of water on a lee shore, I was towed back into port by the Coast Guard an hour later sans rig, fortunate to still own a boat. I wrote a lengthy first-hand account of the ordeal in these very pages, and then the Ed pimped my plight on the Front Page and my PayPal account got hit up to the tune of $1,600 over the following two weeks. A sincere thank you to the SA community for helping me to continue my voyage.
With MONGO docked in a commercial harbor with no rig on Maui's windward side, I ended up finding a new mast on Maui's leeward side the very day after dismasting. 4 days after dropping the rig, the trades went light and with a boom-jury rig and borrowed outboard engine bracket and 4-horsepower short-shaft outboard, MONGO made the voyage over the top of Maui two-handed and with a cruising boat escort to Lahaina. With the boat on a mooring, I went to work for two months; working on the new mast, prepping the boat, freelancing as a sailing writer and helping with odd jobs in exchange for welding on the mast. In late May, I moved the boat into the harbor and myself and a hearty crew stepped my new turbo Morgan 27 rig using the rig of a 35-foot race boat. With a thoroughly prepped spar, all new rigging and hardware and a sprayed-on AwlGrip paint job, I managed to get going again for about $6,000. A bargain and one of my proudest sailing memories. On a larger boat, this would have been a game-ending dismasting for me. On the 27-footer, and thanks to the SA'ers, it was merely a speed bump. A local welder and sailor named Bob and the rest of the Lahaina sailing community taught me the meaning of 'aloha'. I would not have been sailing again so soon without the help of others. Thank you.
After shaking the boat down for 300 miles in Maui, Oahu and Kauai and 3 beer can races in Honolulu, I set off solo for American Samoa. After 9 days of windy easterly trades, the American nature preserve of Palmyra Atoll was 5 miles on the beam and it was mid-day, so I sailed towards the pass where I was met by the G-Men. After a Mexican standoff with Uncle Sam in the Northern Line Islands of the central Pacific, I was granted permission to anchor in the lagoon and work on my boat, but having not jumped through the hoops of an intense bureaucracy in Hawaii, I was not allowed to go ashore. Just like they did with firing rockets when I was in the Marines, the government somehow figured out how to make sailing to a remote central-pacific atoll totally un-cool. The silver lining was the 3/4 mile long, 50-meter wide dead-upwind coral reef pass that I had to negotiate before entering the deep-water, protected lagoon.  Another cheap hit of my meth.
In an ITCZ where I was becalmed for less than 8 hours total, MONGO sailed through the most intense squalls that i've ever witnessed, both during the night, at 8 North and 3 North latitudes. Bare ass naked with a safety harness on, I helmed MONGO through the constantly changing, still mostly easterly breeze, with a warm beer in hand and stereo pumping as I was treated to one of nature's most brilliant displays with intense wind, black clouds, an opening of the heavens and lightning strikes in every direction.
From 2 North to 5 South, MONGO sailed a close-reach to close-hauled course in 25 knots from the south-southeast and big seas, with multiple swells in the water. When the beating stopped, I found that we had sustained mast damage, which had not been there in Palmyra. In what was a stomach-in-your-throat, heart-beating-a-million-miles-per-hour discovery, I discovered two vertical cracks at the base of the mast and that the rig was now moving on the step. The damage occurred precisely in the middle of nowhere. Banding the rig with large hose clamps and sailing the boat more conservatively, I continued towards American Samoa. 200 miles out, I was expecting the breeze to go light and lift to an easterly beam reach. Instead, the wind died died while the barometer steadily declined before I met 15 knots out of the southwest which gradually shifted and built to a sustained 30-35 southeasterly for two days, with 40 knots for 8 hours. On a recently dismasted piece-of-shit boat with more rig damage and a low-grade gale blowing with Samoa upwind, it was clear that  I would not reach my destination. I cracked off and endured a stressful but exhilarating sail to Fiji in 25-30 knots almost the entire way.
MONGO is currently moored out in a surfing/ kite boarding mecca near the famed Cloud Break and conveniently has 4 surfboards and a kiteboard in the engine compartment. If I can manage to not get thumped off the reef too badly, it should be good fun.  And cheap.
Now to pull and repair the mast, Anarchy style, side-tied next to another boat on a mooring, to prepare for the next blue water crossing. I'm 'Straya bound next month with the hope of sailing in another Sydney- Hobart. Any Anarchists out there need experienced crew for Sydney- Hobart? I'm keen.  drop me a line at ronnie@ronniesimpsonracing.com.
Bula from Fiji,
-Ronnie Simpson, s/v MONGO
August 13th, 2014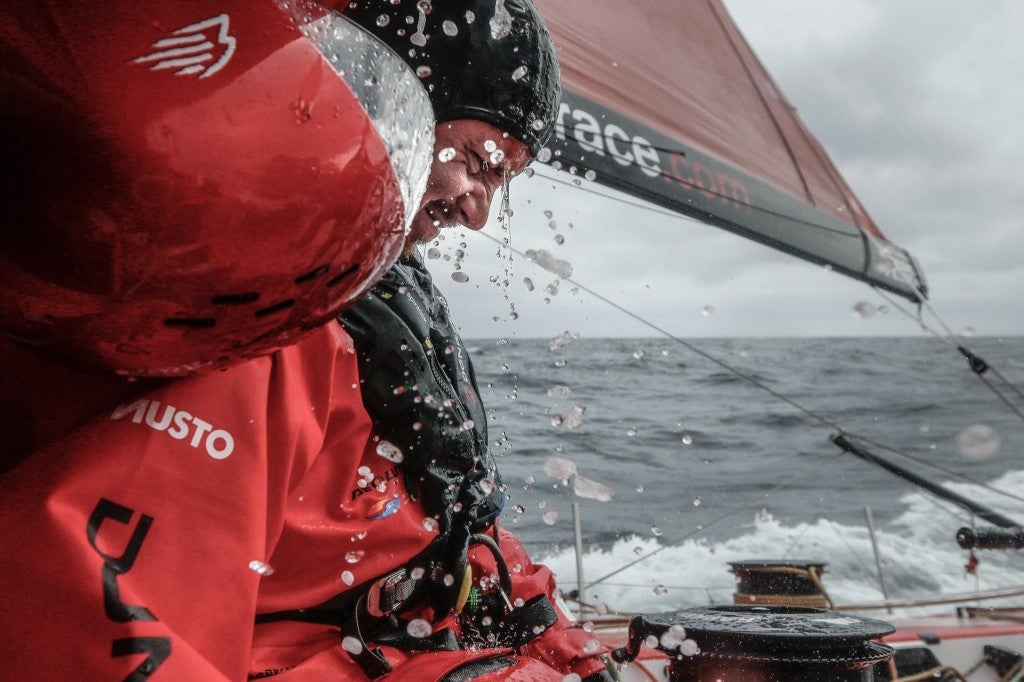 Unlike the vast majority of the world's sailing editors, we stay away from re-printing press releases and mass e-mails.  After all, we're not lazy piles of crap.  But on a rare occasion, one of 'em is so good that we have no choice.  Such is the report we got from Team Dongfeng yesterday from the Round Britain & Ireland Race; rather than the wooden and self-serving PR we got used to over the course of the last race, this thing is honest, painful, and brings the fans to the boat, rather than the boat to the fans.  Check it, and watch 'em on Facebook.  Ironic title from one of the last real storytellers of rap.
Today we broke a sail.
Today our entire comms system went down.
Today we were in 3rd place and dropped to 4th.
Today we have decided that life onboard is not always easy.
In fact, today, it is really quite complicated.
First email from the Volvo Ocean 65 'Dongfeng' boat early this morning reported:
"Difficult conditions last night and this morning. 30 knots. Life onboard complicated. Problems with onboard media system. Difficult conditions to troubleshoot, chances of success no more than 50%."
Followed by an email from Team Director, Bruno Dubois:
"Just got a call from the boat. We've broken a sail, it's split and completely unusable. Probably doesn't make any difference in terms of sailing tactics, but not ideal. The media system doesn't work anymore – they're fighting to get it back to send pictures and videos. The boat is full of water in the back… One of our Chinese guys is not really in good shape. Team, I'm sure you realise this but it's quite rough for the people and the equipment out there."
Twenty-four hours into the 1,800 mile Round Britain & Ireland Race and the pace has been fast and furious. Starting from The Solent in the south, Dongfeng was parallel with Aberdeen in the north of Scotland covering 500 miles by 0900 BST this morning. But with speed, and the weather systems that deliver the strength to propel the boats fast, so comes the potential for damage; and the North Sea delivered boat breaking conditions last night in strong winds and steep seas forcing three competitors to retire, including sailing legend Sir Robin Knox-Johnston who is living proof age has no limits! [other than the limit that he got his ass kicked and retired -ed]. In the early hours of this morning the team's Fractional Code 0 ripped, rendering it unusable forcing the team to switch to the large jib – not the optimum sail for the conditions.
A brief phone call with Dubois, Skipper Charles Caudrelier elaborated further on the difficulties onboard. "We are on J1 and, for sure, losing some ground against the others. We are missing Pascal [Bidegorry, who got his finger sliced open and took stitches aboard] for the manoeuvres and with a reduced team we are a little bit slow in the transitions. We made a small mistake while sailing along the coast yesterday and we lost touch with the two leaders. Good news is team spirit is still in tact despite difficulties."
Dongfeng Race Team is one of the five Volvo Ocean 65s currently flying around Britain and Ireland at a speed of 23 knots [45/KPH]. Ian Walker's Abu Dhabi Ocean Racing is leading ahead of Team Campos who have pulled out a 20-mile lead over Dongfeng and Alvimedica. Tiredness will be kicking in now after such a rough, opening ride and the rookie Chinese sailors onboard will have to dig even deeper. But this is ocean racing and with three days left anything can still happen.
August 13th, 2014
So this is a double. What is it and what anarchist just bought it? Oh yeah, and where? That would make it a triple, wouldn't it?
August 12th, 2014
Cruising Anarchy
Webb Chiles does things you will never, ever do.
A distressing trend has emerged from my immediate post-passage entries. Instead of reporting how great the sail, I report how hard. I regret to do so again; but in some ways the sail from Apia was the hardest.
Much of this is due to my decision to sail first to Hawaii. Had I not done so I wouldn't have met a couple of good guys named Dave, been called 'a beast' and 'the hard core guy', and enjoyed the hospitality of the Waikiki Yacht Club. But it did have an unfortunate subsequent effect on wind angles. Had I been sailing from Bora-Bora to Tonga in the same conditions I experienced from Apia to Tonga, the wind would have been well aft and GANNET sailing splendidly and stresslessly fast.
I have never believed much in weather windows. I don't want to leave with a bad forecast, but I have observed that you never get any closer to your destination if you remain tied to the dock. (That reminded me of how I knew of Admiral Grace Hopper, after whom the U.S. Navy vessel which approached me out of Honolulu was named. I quoted her in the front of one of my books. "A ship in port is safe, but that is not what ships are built for." An admirable Admiral.) I have deliberately left in a gale when the wind was likely to remain under forty knots and behind me. That on RESURGAM and THE HAWKE OF TUONELA was just good sailing. However this time I did leave in a 'weather window'. Twenty to twenty-five knots between Samoa and Tonga were forecast to decrease to fifteen. Except it didn't.
Title thanks to Missy Elliott.
August 12th, 2014
Local Knowledge
Youth racing is still alive at the Bellingham Yacht Club (byc.org) with the annual Bellingham Youth Regatta, a Northwest Youth Racing Circuit Series Event. It was a great turnout for this small town sandwiched between the metropolis of Seattle WA and Vancouver BC with nearly 60 youth sailors from ages 8 -18, sailing in Flying Juniors, Laser Full, Laser Radio and Optimist.
Photos sequence show Staci Burzycki #178866 attempting to thread his way back to the start line after being called over early. Eventually Burzycki could not control his pitch poling and capsized in front of Liam Sherry #160254 whose boat came to a complete stop at the starting line.
Laser Radial Class was won by up and coming star Eliza Dawson #169497 of Port Townsend, WA with 8 bullets in 10 races. Comrade and Sportsmanship reined as all these fine young sailors did their penalty turns and kept it a protest free regatta. – Anarchist Jonathon.
August 12th, 2014
From our Ask Ullman feature. You know you have a question for Dave Ullman, so send it in!
Q. Winning World Championships and Olympics has always been difficult. You have won multiple World Championships and have been coaching the US Olympic Team for a while, including the current women's 470 Olympic team. What are the differences or the connections between the two?
A. Coaching is more difficult. Sailing is an instinctive sport and it's hard to explain instincts to someone that may not naturally have them. As a coach you can teach technique. Things like course management, sail trim and sail handling, but to try and get someone to understand your philosophy of how to win a race is much more challenging. You can do it over time, but it takes a lot of time and doesn't necessarily come easy.
Q. Given your experience coaching, if a team has limited resources and time, what would you focus on if you had only one day?
A. If I only have a day, the only thing we can get into is technique. Things like spinnaker drops, tacking, and gybing. I would take the team out on the water and videotape them doing all sorts of maneuvers, and then review the tape with the crew. We would discuss what went right and how things could be done better, and then have them go out and do it all again, videotaping them a second time. We would then review the video and match it against the earlier footage to see how they had improved. A crew can learn a lot from watching themselves on tape.
Q. Are there any mistakes that you see high-level sailors are more likely to make than casual racers?
A. High-level sailors make less mistakes than casual racers. The thing that sets them apart is that they are able to accept that they have made a mistake and immediately start to do something to correct it. Casual sailors will stick with their mistake hoping that things will get better, but that rarely happens.
Q. During the years before we had accurate instruments, one way to figure out which end of the start line was favored was to sail down the line from the committee boat to the pin with the mainsail just luffing. Then turn around and sail back to the committee boat keeping the main sheeted in the exact same place. On the way back if the mainsail was luffing even more, the committee-boat end was favored. If you had to ease the mainsail out to get it to luff, then the pin end was favored. Do you still use tricks like this that give you a gut feel, or do you rely totally on your instruments?
A. I rely entirely on my instruments and I count a compass as an instrument. Those old techniques worked when you needed them, but these days it's so much easier with wind instruments. I always run the line before the start and get a bearing to decide which end is favored. And then it's a matter of going head-to-wind to see if the wind is shifting. I usually go head-to-wind at 5 minutes before the start and then again with 2 minutes to go. That tells me where to start – not my gut.
August 12th, 2014