The idea came after a freak rain storm flooding the field at the National Stadium in Warsaw, Poland just before a major game in the Football World Cup Eliminations. They could not close the roof in time causing the match being called off. A couple of guys cheered the crowed up by jumping onto the field, running and sliding in the water.  The Joke was the largest swimming pool in Europe!
Enter the PWA and 34 industrial sized fans.
With the wind limited to just 2m above the water and 30k at the windward side of the pool and 5k at the leeward side, sailors struggled to complete jumps off the ramp- stalling at mid height and barley able to complete the most basic of freestyle moves at the far end of the pool.  Slalom, freestyle and jump competitions were tried with the wind, ironically being the biggest limitation.
The joke now- Sometimes, there's nothing like the real thing! More here. – Steve Bodner.
September 12th, 2014
Local Knowledge
The International Moth is an exceptional class, comprised of some of the most talented sailors with a camaraderie that is unparalleled.  As I found out this past Spring in Florida, sailing the boat for the first time, there is a very steep and humbling learning curve.  However once you are foiling (flying) over the water at more than 25 mph, in complete silence, there is nothing else quite like it.  But the learning curve continues both on the water and getting in and out of the water.
On my maiden voyage while bringing the boat back to the beach for some minor adjustments, an onshore gust lifted the sail up and before I could react dropped the transom down firmly on the rear rudder foil.  I didn't think much of it until we pulled the boat up on the grass nearby and my friend, Paul looked more closely:  "Joe, I think your rear foil is done", he said sadly.  Sure enough, there was a fracture line across the once beautifully sculpted carbon fiber artwork of a foil.  "How much is a new foil?", I asked, nervously?  "About $1300″, was the reply.   "Bummer", I replied trying to think of how I was going to explain this to my wife who was skeptical of my move to a one person foiling dinghy.
Fortunately Paul had one bit of resourceful and wise advice:  "Call Larry Tuttle at Waterat in Watsonville.  He's a master of carbon fiber repairs, in demand by AC teams and if anyone can fix it, he can".   Sure enough, after a couple of weeks, I got a call from Larry.  "You're foil is ready.  No guarantees on how it will hold up but hopefully it still has some good life left in it".
I drove down the coast that afternoon and picked up it up and was amazed!  Thanks Paul for your great advice and thanks Larry for your genius and technical expertise! – Joseph Andresen.
September 11th, 2014
Jesus these guys are good.
September 11th, 2014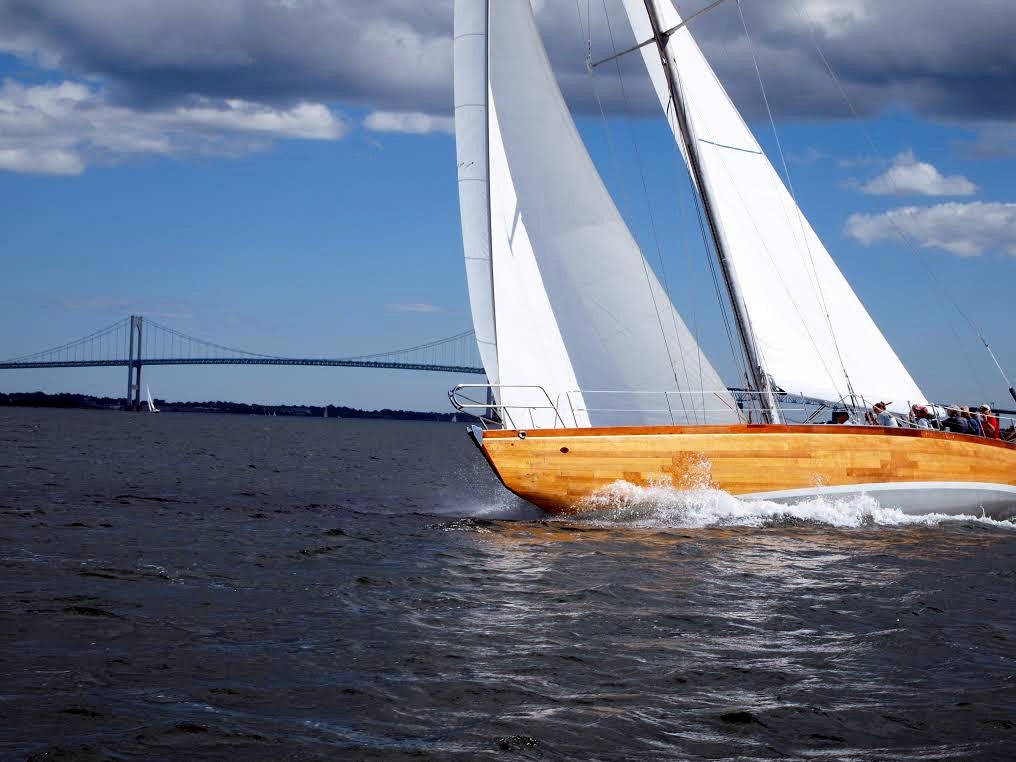 12 Meter Charters is thrilled to announce that Charley Morgan will be skippering his greatest creation, the bright-hulled 12 Meter Yacht, Heritage, for 2 charity sails during the Newport Boat Show, this Saturday, September 13.
Charley is the last living designer from the wooden 12 Meter Yacht era. His trip to Newport is in support of his favorite charity, the Tampa Bay Hospice Cup, held in April of each year.
Here in Newport, he will be returning to his 1970 position behind the wheel of Heritage on behalf of the winners of the 2014 Tampa Bay Hospice Cup live auction. Along with the professional crew from 12 Meter Charters, Charley will lead the guests on a sailing tour of Narragansett Bay and Newport Harbor.
Charley Morgan is the only person to ever singlehandedly design, build, and skipper his own 12 Meter in the America's Cup. Prior to and since Charley's 1970 Cup attempt, all campaigns were made by large syndicates.
While Charley is one of the last living original pioneers of the fiberglass sailboat industry, his 1970 America's Cup entrant, Heritage, is the last wooden 12 Meter yacht built for the United States. To this day, she maintains the bright hull and blue decks that she showed off in her 1970 duel with Intrepid and her storied and successful racing career in the Great Lakes during Don Wildman's ownership.
The 12 Meter era is over, but, in the town that proudly exhibits that history, two of its more storied competitors are reuniting for a noble cause, and we hope to help share that with the sailing public. – Eli Massar.
September 11th, 2014
We're stoked to see so many long time SA contributors rounding out both the in-house and on-board media spots for the upcoming Volvo; here's a spectacular look at Rob Salthouse at the helm of the Vestas Wind during their qualifier from Irish photographer and OBR Brian Carlin, who's got more in-board reporting miles than anyone on the planet over the past year.  Great work and a nice taste of things to come.
September 11th, 2014
Clean Report
After two days of qualifiers, we've downgraded our expectations at the J/70 Worlds from top ten to top 25, and we're not even sure that's enough!  My tactical shortcomings have become obvious, as has the absolutely ridiculous level of competition we're up against.  We take some solace that we are well ahead of all sorts of world champions and olympic talent, but we'll keep grinding on the B-Squared so keep an eye out for us.
We'll be trying to hurt the livers of some of our competitors tonight with beer provided by Torqeedo motors and rum, vodka, hot dogs and burgers and a couple of t-shirt giveaways sponsored by Eelsnot hull coatings and Sailing Anarchy.  If you're in the Newport Area, come by the big red trailer in the Fort Adams parking lot and share a drink and a story or two.  6′o clock or earlier depending on the racing.
As for "ruddergate" – we heard there is a protest, even though the rudder was not used during a race.  Stay tuned.
Results here.  More great Paul Todd pics here.
September 11th, 2014
We know you do, Loick, but how many of us would? Not too many…. Mr. peyron just completed his 1,000 mile qualification for the Route du Rhum 2014 onboard images on the Maxi Trimaran Solo Banque Populaire VII.
Christophe Launay was onboard. Check out his images….
September 11th, 2014
While its effect was not as huge as many expected, the America's Cup gave lots of mainstream credibility to ultra-high performance cat racing, and the speed with which everyone from monohull match racers to AC72 skippers have jumped into the various cat classes slowly clawing their way to success. The excitement of foilers and innovative video coverage have brought in millions of eyeballs on a part of our sport that is a intense, exciting, fascinating, and just a little foreign to sailors and non-sailors alike.  And this weekend, there are three major cat races going on at the same time – all with some level of live video coverage, and all with a unique and beautiful backdrop.
Mark Turner's Extreme Sailing Series continues to provide reliable if not inspiring entertainment, solid return on investment, and a great platform to keep your AC team sharp.  They also serve as a bit of a AAA league for America's Cup recruits, though with the 10 year-old Extreme 40 looking positively dinosaurish against newer boats and foiling skill becoming more important than the short-course mayhem management that is most EXSS races, the fleet's relevance may fade.  In any event, US 49er/skiff/kite sailor Morgan Larson at the helm of Alinghi has been battling multiple series champ and Olympic Tornado skipper Leigh Macmillan from the start of the series with both pulling away from the Swiss Realteam and Emirates Team NZ, with Ben Ainslie back still further, and it's setting up a nice battle through the final three events of the year; this weekend is in Istanbul, and as you can see from the screenshot above from a much nicer Mark Lloyd photo, it's gorgeous.
Anyway, you can find everything you need to know about this weekend's webcast right over here.
Foiling Forward
After a painfully long development, re-engineer, and foilifying process, the never launched but very new and improved GC32 came on the scene earlier this summer with great fanfare and a hell of a product at the Austria Cup, the full flying boats attracting the Luna Rossa boys as well as Oracle cat racer Tom Slingsby, Luna Rossa and EX40 helm Paul Campbell-James, french match racer Seb Col and a fleet of pros and amateur owner/drivers to mountainous Lake Traunsee.  Their circuit is called the "Great Cup" (hence, the name GC32) – and the concept has received massive interest from the full spectrum of racers and teams, though a longer-than-expected repair/re-engineer of the foil junction meant the abandonment of the planned event near Rome in August and a slow start to the series.  The organization of a proper Class Association has taken some time as well, and the fleet is back in action this weekend in Southern France this weekend, with French pros like Seb Rogues and Seb Col (on different boats) up against perennial small-cat champ Mischa Heemskerk as well as many of the same players from Austria.  Meanwhile, one boat is headed to the US for a speed-addicted US owner, two more are going to high level sportboat teams,  we'll have more news about the Class very soon.
Check out schedules for three days of racing on the site. 
M is for Media
The sub-1000 lb. jib-less M32 has also had a slow growth curve; plagued by rig issues and what we understood as a management disagreement amongst two Marstrom affiliates. We know of only two solid fleets: One that summers at Sail Newport and winters in Miami, and one that summers in Scandinavia and winters also in Miami,   Both fleets are solid, providing great racing in beautiful locales.  This weekend, the M32 takes another step forward, this time with the media package; they've got WMRT and longtime sports video producer Sam Usher to show off what the European fleet has accomplished with a seven-boat starting line and the stunning backdrop of the Stockholm coast.
We'll have more news from the M-32 fleet right here; check out the M32Cup website for more details.
September 11th, 2014
If this isn't one of the funniest sailing videos, then we don't know what is! Props to Anarchist Maciej. And title inspiration thanks to Elvis Costello.
September 10th, 2014
Update: This rudder is on the J/70 skippered by Bennett Greenwald with tactician Jeff Madragali. We hear there are claims that this was their "practice rudder". Really? Practice for what, cheating? Who in the hell is going to fall for that?
Among other questions, who ordered it, who built it, why was it ordered and built, and how many others have one? This is going to be a beauty. Stay tuned….
When a boat broke their rudder practicing a couple weeks before J/70 Worlds, it revealed something slightly outside Class Rules – carbon fiber!  Wanna know who it was?  Check in tomorrow morning for that juicy tidbit and the full breakdown of the regatta after two days from our own Mr. Clean, currently lying 19th out of 86 boats after 3 aboard B Squared.   Paul Todd's shooting some of his best small-boat work yet (though clearly he didn't shoot this rudder) – galleries here.  NOTE: This article corrects the previous version, which stated that the rudder broke a week before Worlds rather than more than two weeks before worlds.
September 10th, 2014
Points for originality, right?
September 9th, 2014
We have always thought that Team SCA was a bit removed from transparency – an oddly closed team that doesn't say too much, but maybe, based on their statement below,  we can see why. No clear, established skipper/leader is not how you win, and only one reason why they won't…
Team SCA has, from the start, eschewed the normal well-worn path of establishing a team behind the figure of a skipper.  For them, each member of the 14-strong squad is as important in the team.  In complying with tradition, Sam Davies (GBR) was formally named as the Person in Charge (skipper).  However, the reality is that it will take a crew of eleven women to sail a Volvo Ocean 65, not just one as each of them is an essential part of the team – whether they are trimming, helming, on the bow, in the pit or navigating. 
September 9th, 2014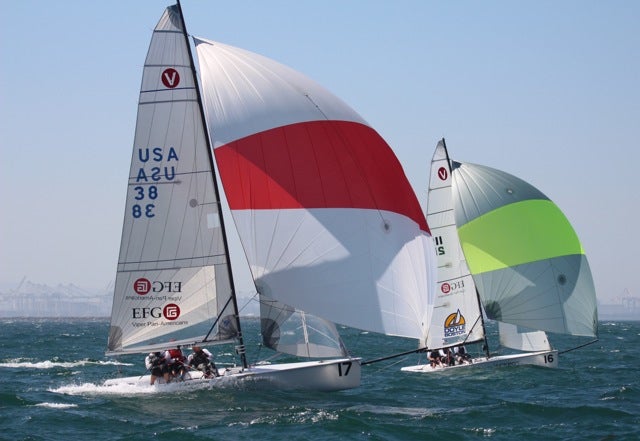 Pistols at dawn.  Chevys at Daytona. Vipers off Long Beach.  Pick your dueling weapons carefully, and watch out for the quick draw artists, a/k/a wily class veterans.  Heading into the final day of the Viper 640 North Americans at Alamitos Bay Yacht Club, the title looked to be class newcomer Jeff Grange's for the taking.  The yellow boat from Santa Barbara had led wire-to-wire through the first 11 races of the windy event, showing particular speed when the breeze came up after high noon.  However, the standings were close, with local Kevin Taugher and three-time champ Brad Boston narrowing the gap each day to trail by only four points.  The past champ from Sarnia, Ontario threw down the gauntlet in the day's first race.
Despite being over early in Race 12, Boston with ace crews Curtis Florence and Chad Corning were able to restart and get to the favored right side, grinding through the fleet to win the race.  When Grange and crew Tedd White and Chris Parker had spinnaker trouble that dropped them to ninth, Boston grabbed the lead.  With two races to go, a building southwester, and building swell in the face of Hurricane Norbert coming up the coast, the final two races saw the leaders eye to eye, with none of the three teams blinking.  Boston took no prisoners in Race 13, taking another bullet while putting one in the chances of the two Californians to keep the class title on the west coast for the first time.
Needing only a fifth in the 14th and final race, Boston and crew felt the heat, rounding the windward mark in that position with the Californians planing away at 15+ knots.  The champs slowly ground it back to a podium spot, and when Taugher nipped Grange at the finish line, the team aboard Hot Mess clinched second by a single point.  Final results at  and more photos from Bronny Daniels.
September 9th, 2014
We're fortunate to have made some very intelligent friends over the decade or so we've been working for Sailing Anarchy, and when they ask us serious questions about our reporting, we listen.  So when we  got an email a couple of months ago about the tone of some of our America's Cup editorials from one of the top people at a highly respected team, our ears perked up – partly because this dude is almost frighteningly smart and extremely respectful, and partly because his questions were reasonable and not defensive.  He agreed that much of our criticism of the ridiculous delays and the lack of transparency in the AC was accurate, but asked me if 'killing the event with negativity is really a step forward?'  He also challenged me to 'explain what changes in the AC would encourage us that things are changing?'
With the full competitor lineup about to be released during today's dog-and-pony in London, it's time for me to answer his questions.
Q) Is negative criticism or 'killing the event with negativity' a step forward?
A) Whether criticism is a 'step forward' is irrelevant; we don't work for the America's Cup and we have no duty to 'move the AC forward'; this is similar to the criticism we've gotten for writing about regattas that allow littering in the sea and for writing about classes that are being run into the ground, and our answer is always the same:  We are firm believers in transparency, and to us, letting the sailing public know what is really going on behind the scenes is always a step forward, especially over the long term, and even more especially when reality is shrouded in secrecy and bullshit.
We advocated for and applauded the move to catamarans when the majority of the world's sailing publications were shrieking tradition and sacrilege – actually, we've been asking for it since about 2003.  We approved of the format for AC34 and prayed for a great venue like San Francisco.  And we lauded the beautifully sorted and widely available coverage for the most exciting regatta in sailing history.  But we could not remain quiet in the face of the mounting fuckups while ACAlphabet paraded their stunning incompetence in front of the world.  That's what the other publications did, and if no one questions the bullshit, it will always be repeated.  We'd prefer not to see an AC35 with the same problems as AC34: Woefully low North American ratings and broadcast pickup, failure to meet any of the in-person audience/SF occupancy/ACOC sponsorship raising goals,  a fatal accident whose cause has – until today – still not been properly reported on, safety rules that changed the outcome of the event, and a venue that feels lied to and abused by the sport of sailing.
What my friend was really asking was "do we understand that our negativism is actually hurting the America's Cup?"  My answer is very simple: That's not our problem.  We didn't cheat.  We didn't fuck up the broadcast deal.  We didn't cut the promotional budget to pieces halfway through the cycle.  We didn't make up a bunch of ridiculous projections for the SF government and fail to get close to them..  And we certainly didn't cover up the cause of death of a famous sailor.  So quit blaming us.
Q) What moves would encourage you that things are changing?
A) As we've said ten million times, lack of transparency is one of the sport's biggest problems.  It's got its own language, complicated and esoteric rules, centuries of history and tradition, and is mostly run – at least in America – by a cultish bunch of odd rich people in archaic clothing.  AC33 had the potential to change all that in huge ways, yet it failed spectacularly, and somehow, the guy responsible has never even acknowledged his abject failure or explained how he will prevent the exact same failures from happening again.  That's what we would need to see in order to think about getting behind the next AC – a little openness and honesty instead of the same old back room deals that have governed the America's Cup for a century.  So when you are watching the press conference today, consider the following questions that we'd like answered; get us that, and we'll believe that times are changing.  And consider the fact that, for four years, Russell Coutts has consistently refused to sit down for an interview with the world's most widely read sailing website.  There's only one explanation for that: Fear.
WHY DID BART DIE?
As we've said over and over, we're not at all happy that there still has not been a single official comment on the cause of the accident that led to Andrew Simpson's death, and we frankly don't understand it.  We remember Formula 1 legend Ayrton Senna's death all too well, and while the public investigation process was not an easy one, it's amazing to us that AC organizers did not insist on even the most basic investigation or transparency for Andrew Simpson's cause of death.  The Senna case resulted in a finding against Williams co-founder Patrick Head after a massive investigation that included a 600-page analysis of the crash; while Head would never go to jail for his 'omitted control' culpability, at least the Italian courts provided closure for hundreds of millions of Senna fans around the world.
We know that Artemis Racing conducted their own investigation into Simpson's death, yet no one we've met will admit to seeing it.  We know the Coast Guard had a think about it too.  And we know that the San Francisco police are required to investigate any death.  Yet when we asked the America's Cup where those documents were, they had no answer, and that's ridiculous.  These reports should have been required by ACRM to be released to the public, and an open inquiry into the design, build, and management of Big Red – and the responsibility for her failure – should have been undergone immediately after the accident.  We don't blame Artemis for the silence – they have good reason to be quiet.  But the event's organizers have a duty to do more if they want to be considered anything but a failure and a joke.
We hate that we've had to, but we've done a pile of sleuthing ourselves, and thanks to Johntommy Rosas and the America's Cup Trust, we finally got our hands on the SFPD's official 86-page investigation into the Artemis accident, and for the first time today, we're sharing it with the world. We'll leave the conclusions to you guys, but it's not brain surgery; as we all knew when he loudly acted like he never said it, Nathan Outteridge's words to his dad were pretty accurate –  the boat 'folded like a taco' when it dug the hull in during a bearaway.  There wasn't a pitchpole – according to Artemis design coordinator Adam May's witness statement, the hull failed.  Why did it fail?  Is anyone responsible, as they were for Senna, or was it just a non-racing 'racing incident'?  We don't know, but if the America's Cup is to be the 'tier 1 sport' that Coutts, Ellison, and new AC Commercial Commissioner Dr. Harvey have repeatedly claimed is their goal, it's time to act like a tier 1 sport, where you investigate deaths and hold people accountable for them.
Until then, the only place in the world you can find the investigation report is right here.  Warning: It's not for the faint of heart.
Why Did AC34 Miss Every Media/Comms/Audience Target?
We're not going to re-hash this one – we've done it too many times.  The dismal ratings are public knowledge, as was NBC's refusal to pick up the final races for a national broadcast audience – even when the comeback was in full swing.  But Russell Coutts has somehow not been called to the carpet to explain this abject failure.  Were they the wrong targets?  Is it impossible to make sailing a mainstream sport in America?  We'd all like to know.
What Happened To Continuity?
Coutts told us a dozen times that one of the AC's big issues is continuity; that it's incredibly tough to run a commercially viable sports league when it isn't owned by a reliable group.  This is surely true, and Coutts' solution the last time around was a financial windfall of several million dollars for the winner of the AC if they maintained some part of the AC event management structure he planned in AC34.
Yet when Oracle won, there was no continuity.  Near as we can tell, there was no management; just Russell and a couple of trusted advisors secretly shopping venues around and trying to create a bit of a bidding war.  The incredible action we saw in San Francisco?  Forgotten.  The 'reliable pro-sports league'?  Gone.  Instead we have a year of silence while all the excitement fades into the background, and we're right back on the same old Coutts train.  And we'd like to get off it.
If you would too, start asking the AC folks the same questions we have, and don't let up. Hit them over here and over here.  If Russell Coutts or his new commercial chief are serious about what they claim, they'll answer.
But if all the talk is bullshit and smokescreen, designed to cover up the fact that Coutts' job is really to win the Cup and neither he nor Larry gives a shit about the rest of it, they'll continue to say nothing, admit nothing, and accomplish nothing – besides retaining the Cup, of course.
September 9th, 2014
SA supervideographer Petey Crawford dropped the video camera this weekend and picked up the tiller.  Here's his report along with some Tammy Sawyer photos.
The 2014 E Scow National Championship concluded Sunday with absolutely glamour conditions. I consider Crystal Lake one of the most beautiful locations in the US, as well as one of the best sailing venues anywhere.  Crystal is Michigan's Lake Garda and it rarely disappoints. In a world of declining participation in fleets around the globe, the E Scow National Class has seemingly flexed its muscles for 2 years in a row by luring 75+ boats to the line (84 and 78 respectively). Unlike another class that is experiencing a good turnout this, week the E scow has been doing it since 1959, and the depth of the talent at every one of these regattas is incomparable. Just look at the names of the champions on this list –  Now imagine the names of the others on the podium next to them. This years event was no different.  Porter, Melges, Jewett, Rogers, Burton out of the ILYA, East Coast names like Johnson, Hillyer, Lucas and Michigan locals like Price, Hatton, Kimball, Dow and Terry. Each and every one of these names was capable of getting in the mix and winning races and perhaps the whole thing.
Day 1 was bit frustrating as we spent the entire day on the water with only a single race to show for it due to extremely shifty conditions and velocity changes. Day 2 started out with a much better forecast and surely we could get back on track with 3 races. That was what PRO Bruce Golison and his team served us up. Classic Crystal Lake conditions with sunny skies made for a great day of racing, and we finally got to see the Tahiti-clear aqua blue water which is a big part of what makes this place so special. With 4 races completed and 2 more scheduled for Sunday, the stage was set for some great action.
Day 3 looked light to start but Bruce brought us all out so we could get going as soon as the sea breeze filled. With a short postponement we were back at it. Jeff Bonanni made it clear that it was moving day, and won race 5 to climb the ladder into the 3 spot. Harry had a tough 21st, Sammy sailed to a 6th, Chris Jewett got a 19, Burton scored a 9th and Peter Strothman made away with a 15th. So needless to say, the top 5 shuffled around a bit and the 6-10 group inched even closer into the mix. After 5 races completed and with a 6th race allowing a discard it was still wide open and with 78 boats anything could happen.
Jeff Bonanni, clearly liked the leap up the ladder and decided to win yet another race and pretty much showed us all how to close out an event and beat the rush to the crane. Little Harry Melges made his run back at the top with a 3rd, Strothman got a 4th and Burton took 14th. Sammy sailed just well enough to get a 12th. That meant that Sam "Big Daddy/Rasheed" Rogers and his crew of Chrisy Hughes, Tony and Lynn Jewett were the new E National Champions by a single point over Harry Melges IV and his crew of Monroe Melges, Mya Burdick (with Harry Melges III and Andy Burdick as their chaperones). I am so stoked for Sammy and the team to get this Championship, and to have it come down to a single point was even cooler! Having 13 year old Harry Melges kicking our asses already is a clear sign of what's to come, but I think we all were totally pumped to have him in there, especially with Monroe and Mya!
The E scow class continues to deliver and is filled with some of the best people I have met in my entire life let alone my sailing career. I got back into the driver seat of an E scow this year at Charleston and knew I had to be at Crystal. I found a boat and sails made it happen and although I fell short of my goal for the event, it really didn't matter; I had a ripping time with close friends and made some new ones. I even dragged a long lost friend out of sailing retirement and made him sail more races in 3 days than he had in the last 3 years, and despite his huffing and puffing and me "encouraging" him around the course we have decided that it's officially time to get back to racing E scows full time. Our personal hero moment was winning the pin end in race 3 and rounding in 3rd. Despite some mental errors in the race we still mixed it up with some of the best in the country and held on to a 15th, and we will always remember that start.
Big thanks to my crew on the II-1 Team Honor The Box –  Chris Eggert, Thorn Turner, Jess Haverstock and Nina McKeough and a huge thanks to Russ Lucas for letting me commandeer his old boat.
Side note – The last time I drove in an E Nationals I had dreadlocks down to the middle of my back and the regatta was hosted by Little Egg Harbor YC. Well, next year it's at Little Egg again and we will be there, but chances are I wont be rocking the dreads.
-The Rev. Petey
September 9th, 2014
For sure it has more than one hull. Got anything else?
September 8th, 2014
This weekend an amazing feat was accomplished by a brave 17 year old sailor. In effort to raise money for the Women's Place of South Niagara, young Bryce Barlow sailed a Bombardier 3.8 sailboat single handed across lake Ontario. He left Port Dalhousie at 11 am on September 6, and arrived at Ashbridges Bay Yacht Club (near Toronto) in the early evening. Conditions were not easy, as a major storm had passed the night before, leaving a tough sea state for such a small boat.
The Bombardier 3.8 is like a Laser, but much smaller, only 12.5 ft long. No doubt Bryce is now stiff, sore and tired.
His story is told in more detail here.  I ask all anarchists to dig deep into their wallets and support this amazing effort from a modest and inspirational young fellow. – Anarchist Randy.
September 8th, 2014
Local Knowledge
Last weekend was the Prince of Wales race out of the Royal Nova Scotian Yacht Squadron, Halifax, Nova Scotia. The race was started in 1860 and the cup was actually made by the same person that made the Americas Cup. This one is better!
It blew like stink. For most of the day the wind was floating around the mid to high 20′s but towards the end of the 25NM race our instruments had sustaining winds into the mid 30′s. Also in the gusts you would see spray getting blown off the top of waves. (Another boat said that they saw 38 knots true)
12 boats started and only 4 finished due to people dropping out. The fleet included a variety of boats with everything from a soto 40 to a C&C 37.  This us on our 1D 35 Climax. Also at 2:45 you can see the crew's new boat speed record of 18.5 knots, confirmed by our Velocitek pro start and Navionics on the iPad.
September 8th, 2014
Reader Rant
Reading your "sailing the dream" news, I see you do care of our beloved Route du Rhum. Considering the 80 and more entries, you might guess that there will be some true anarchists in there. So you'd better keep an eye on Vincent LANTIN. No chance to win with his old Class40, but he'll be in the action for sure. Want a clue? Master Sealaunay took the time to get onboard with him.
Vincent is actually doing is qualification for the race and is riding somewhere between the Fastnet and France tonight. Here is his FB page. – Anarchist Yves.
September 8th, 2014
Community
The Nyack Boat Club, located in the picturesque river-front village of Nyack, New York, currently leads in the number of participants registered for Bart's Bash with 122 members and 58 boats signed up for the September 21st race.
Bart's Bash, named for famed Olympic and America's Cup racing sailor Andrew "Bart" Simpson, is organized by the Andrew Simpson Sailing Foundation (ASSF) and is set to be the largest sailing race in the world. With over 5,000 sailors registered to race in almost 700 venues across the globe, this event is raising funds to support the ASSF. Through sailing, the Foundation's goal is to help young people develop life skills that will improve their ability to succeed in life and provide access to jobs and careers within the maritime sector.
September 8th, 2014