It may still be a 'toilet' full of untreated sewage, but many believe Rio will be able to pull it all together before Summer 2016.  This week, around 300 sailors (including the US Sailing Team) will compete at the first Rio event – the 'test event" before next year's Test Event – despite the water still containing dead dogs, dead cats, floating TVs, and entirely new reasons not to capsize.  
Frequent SA photo contributor Juerg Kaufman was on hand for a presentation on water quality given by Olympic organizers last week; you can read the full PDF of the presentation here to see exactly what Rio is doing to fix their waterways, and here's Juerg's more personal report (with the beautiful photo to the left thanks to US Olympic Communications Manager Will Ricketson):
After one week in Rio there are three points I can make about the water quality.
First, the water is still dirty, and it smells bad in some places.  Most of the day though, especially with the current running, it's not so bad.  The race course that will be near the bridge still has lots of plastic bags and floating debris around; those seem to be the major risk for sailors at the moment.
Second is the water quality: Days ago, our head coach took some samples and sent to an independent lab for review.  We will have final results in a couple of days, but (and this is incredible), the water quality is within normal limits!  For sure, the water quality is far, far from what I'm used to on our alpine lakes in Switzerland, but still, we saw a turtle today and some of our sailors saw dolphins, so that's good news.
Third, I remember the Star Worlds here 4 years ago here in Rio, and since then, the water quality has improved A LOT.  We had a race on the future medal course back then, and the water was so horribly brown and even black at times that I couldn't use a single photo from that race.
We can complain about the water quality, but the reality is that we are seeing a major ecological change here on Brazil's shore.  Being an outsider it is hard to predict what will happen come 2016, but if the Chinese could solve hundreds of tons worth of algae, it's not hard to hope that the Brazilians will solve their water management issues.
Best regards
Jurg
August 4th, 2014
Hurricane Iselle's forecast strength has increased over the past 12 hours to over 100 knots currently, and she looks set to roll straight through the Hawaiian islands in the middle of the week.  Now's the time to pull boats from the water and batten down everything, though it might not be as bad as it looks.  We go to SA Hurricanologist "DryArmour" for the morning update (and stay on the "Boiling Pacific" thread for the latest):
Overnight Iselle has improved her structure and cloud tops have cooled.  There is still some debate over whether Iselle has formed into an annular hurricane but in my mind there really isn't much to debate. The shape is symmetrical, there is no real banding outside of the tightly wrapped core of cold cloud tops and dry air does not appear to be making much of a difference to this storm as it pushes through the dry environment surrounding it.
The new shift to the north in the model consensus is good news for Hawaii as there is  a finger of significantly cooler water in the path as the system approaches the Big Island of Hawaii. A forecast of increased shear should also impact the tenacity of this hurricane but as mentioned before, annular storms can often defy the models and maintain a robust internal structure despite environmental conditions that might normal cause weakening or dramatic weakening on a traditional hurricane. My fingers are crossed that once again Pele is watching over the islands and her people and will cause the system to substantially unwind before going over the islands later this week.
-DryArmour
August 4th, 2014
It's the rare mainstream interview that gets deep into what sailing is all about, and this CBC piece does exactly that.  It's a nearly-hour-long conversation about the Deep South between the presenter and a diverse group of folks, including RTW racers Dee Caffari and Derek Hatfield as well as solo circumnavicruiser Glenn Wakefield and Vendee Globe historian and author Derek Lundy (<a href="http://www.dereklundy.com/Godforsaken_Sea.html">The Godforsaken Sea</a>).
Thanks to SA'er 'QBF' for the tip.
August 4th, 2014
Volvo Ocean Race Breaking News
We're extremely stoked to be able to report to you with 100% confidence that Chris Nicholson will get another shot at winning the Volvo Ocean Race this coming October!  VOR fans will remember the affable Aussie sailing to a runner-up spot in the last two editions of the race, including an incredible run from the back to nearly a win in the previous race as skipper of Camper.  
Multiple sources have told us the the former 49er standout is the guy with the helm for the final Volvo 65, and the fact that we haven't been able to reach him despite blowing up a dozen connections over the past two days might even provide a little confirmation in itself (we're told he is 'out of internet range').  This confirms what we reported hearing back in June, but there's a new twist; rather than Russian sponsorship as we opined, it now appears that one of a select few Danish corporate giants will be footing the bill as title sponsor for a Danish-flagged Volvo 65.
It isn't hard to name the Danish companies with deep involvement in the Volvo; Satcomm giant Thrane & Thrane and shipping behemoth Maersk have been major corporate partners and sponsors for the race for years, and if the VOR allowed them, either would probably be happy to be a title sponsor for a team put together by a two-time runner-up in the race.  But our favorite rumor, and one that we think may be the real deal, is that monster windpower manufacturer and installer Vestas will be behind the effort.
The name Vestas is probably better-known to our readers than many sailing sponsors thanks to an extremely effective branding campaign with Paul Larsen's wildly successful  Sailrocket world speed record program, and a Volvo team makes some sense for them; while they still are at the top of their field, significant competition has seen their market share erode since the mid 2000s despite their growth throughout the world.  A major international effort in a green sport like sailing could help drive the Vestas name to a wider audience, while the hospitality part should be easy; Volvo has been accommodating the folks at Maersk and Thrane for years.
While we're not as sure of the Vestas connection as we are of Nicho's appearance, allow us some wishful thinking; how cool would it be to have a giant windpower sponsor – one we already dig because of their support of the batshit-crazy overachiever Paul Larsen –  in the sport's most visible ocean racing challenge?  And with one of the sport's coolest customers and best racers at the stick?
We love it, and fans of great racing should love it, too.  While it is indeed the 11th hour, with just 8 weeks left until the gun sounds in Alicante, we have zero doubt that Nicho can put together a shit-kicking team, and with Neil Cox back in his role as one of the world's most highly regarded shore/team managers in the game, we expect the Vestas boys to be damned fast, out of the box.  Bouwe, Ian, Iker, and Nicho all have some seriously unfinished business ahead of them, and it just got a lot tougher to win.
This is going to be war…and we just got a new favorite for the win.
MORE BREAKING NEWS
In another bit of somewhat astonishing news that continues to throw the early form guide into disarray, we have also recently learned that France's most famous and legendary living sailor, Michel Desjoyeaux, will indeed race aboard the Spanish Team Campos, as a Watch Captain, filling in for Iker as skipper during the two or three legs when he'll be off on Olympic duty in the Nacra 17.  Not many people can say they've got MichDej sailing for them as a watch captain.
Want more?  Hit the thread.
August 2nd, 2014
Community
The Buffalo Yacht Club is hosting their first Leukemia Cup this weekend.  To kick off the regatta the 420 FunFest was held Friday night, with a special purpose in mind.  Maybe you remember our PatStrong post back in April.  Unfortunately, Patrick lost that battle in May, but the fight to end Leukemia and Lymphoma lives on through the support of many of his friends who sailed in his honor.
With very little wind, some exceptionally talented young sailors showed how to have fun in no wind with virtually no rules, other than one – have fun.  There was ample skulling, shoving off, boarding, swimming, and excessing roll tacking.  The winner is the Leukemia & Lymphoma Society as everyone who entered had to make a donation to Maddie Waldron's donation page.
August 2nd, 2014
Here is a photo taken on a "équipe" in Calvados, France on a hot Summer day from Anarchist Attwell. Title thanks to Sublime.
August 1st, 2014
Community
We are circumnavigating the world in a sailboat crewed by people with MS. We are changing the perceptions of MS and showing what is possible, even with a chronic and disabling disease, if we challenge ourselves and work together.
My name is Mikkel Anthonisen. I am a father, husband, sailor and a medical doctor who specialises in Multiple Sclerosis (MS) working at Copenhagen University Hospital in Denmark, my home.
MS can strike at any age and quickly changes the lives, dreams and aspirations of people. As of yet there is no cure, but disease modifying treatments are evolving rapidly  giving hope that we will one day be able to stop the devastating effect of this feared disease. When MS attacks , symptoms from the central nervous system develop  within hours or days – paralysis, balance disturbance, sensory and vision disturbances, pain and/or mental fatigue. These symptoms will, after weeks or months in many cases, remit but often leaving some disability plus  the uncertainty of not knowing when the next attack will strike.
This uncertainty and fear is actually sometimes even worse than the disease itself, especially at the time of diagnosis and the first years thereafter. As a doctor, I too often see how strong men and women end up in hopelessness, despair and depression with a loss of identity and self-confidence.
One day at the clinic a 52-year old man entered my office. He was contracted with MS some three years earlier, had difficulties walking for long distances and had some balance issues. He was depressed, bitter and angry. As a former blacksmith he had built a replica of the famous Joshua Slocum´s vessel "Spray" with the purpose of sailing her around the world. But now his dream was scattered and, in his view, all hope for the future was lost. Seeing this proud, strong man giving up to the disease was unbearable. It just burst out of me: You have to go sailing again! And that is how the idea came to me: I´m going to sail around the world in a sailboat crewed by people with MS. This was two years ago and since then I have founded Sailing Sclerosis Foundation and arranged a lot of sailing activities in Denmark, creating network between the yachting world and the MS world with great success. As one of the MS crew has said: It is as if MS stays ashore when we go out sailing. Everybody has to hold on to something – MS or not. And being at sea working together inspires everybody to start dreaming again with a feeling of: Yes, we can still do it!
This concept is now being brought to the world with the project vessel "Oceans of Hope" – a 67 feet steel boat build for the famous Challenge round the world races. We are very fortunate to have the Biotech company Biogen Idec as our main sponsor and have a number of additional supporters helping us to realise the project.
Oceans of Hope is the torch lighting the message that we must never stop dreaming and never stop living our lives. That we must focus on what is important and create human value and quality of life. No-one knows what tomorrow brings – whether you have MS or not.
Forty tons of steel in the form of a highly capable, safe world-girdling yacht is now five weeks into its circumnavigation. A small professional crew, including myself or another doctor, are helping an ever-changing crew of MS patients on each leg of the voyage and the experience is truly changing the lives of those aboard and the perceptions of those ashore wherever we stop.
On the shorter, coastal legs we often have MS crew who have only little sailing experience, for the oceanic legs we are signing up MS crew who have good sailing experience, with crews already lining up from every corner of the world.
Since leaving our home port of Copenhagen, scheduled stops have already been made in Kiel, Amsterdam, Portsmouth UK, La Rochelle France and "Oceans of Hope" is currently en route to Lisbon, Portugal.
In each stopover we organise Open Sailing Days in collaboration with the local yacht club and MS society plus visits to "Oceans of Hope" for local MS patients with the objective of creating a lasting network between the yachting world and the MS world, so that people will continue sailing as part of their daily life even after we have left the port. This concept of creating a leave behind is already proving to be hugely successful.
We say NO to MS blocking people from adventures and new experiences. We say YES to sailing being the perfect vehicle for proving our beliefs. Being diagnosed with MS is extremely uncool, but the spirit with which patients live with it is incredibly cool and we are inspired hourly by our MS crew members as to what they can achieve and how they achieve it. Being part of Sailing Sclerosis and Oceans of Hope is a life changing experience giving back pride, self-esteem and the feeling of self-efficacy. It is truly empowering.
Our first ocean passage is looming – on the 2nd of August we sail from Lisbon bound for the USA. Our first port of call is Boston, MA on the 7th of September for the world's largest MS conference – ACTRIMS/ECTRIMS. From September until the beginning of December, we will sail down the Eastcoast of the US with further scheduled stops and events in New York and Fort Lauderdale, before heading to the Panama Canal and destinations beyond around the world. Our circumnavigation will be completed by the end of 2015.
We are very keen to find some American MS crew to sail on board down the Eastern Seaboard – applications can be made and more information found via our website and Facebook pages www.sailing-sclerosis .com
We are also seeking sea-going Doctors to be on board for each of these US legs and we would love to hear from any American Doctors who could help us out – we can guarantee them a truly inspirational journey! Check out the blogs of our MS crew on our website which I think say it all…
August 1st, 2014
Big Pimpin'
The 2015 Weta trimaran is new for 2015 and the changes seem to make sense. Jump in this thread for more…
August 1st, 2014
The never-ending J/Boats celebrity bounty from the keyboard of StuJ continues to roll, with today's installment focusing on the talented and ubiquitous actor Kevin Bacon and his lesser-known brother Michael.  With this news, every American sailor can say they are now just a degree or two separated…
Ever since learning how to sail on Sunfish at Red Cross summer camp in upstate New York as little kids, Michael Bacon and his younger brother Kevin always loved to head down to the lake for a swim and a sail, often doing both at the same time.  Having spent summers at their family's Adirondack camp, the sporting challenge for the day was often nothing more than hopping into a cedar sailing canoe that their Mother gave to their Father as a wedding present.  Using a simple leeboard and a paddle to steer, the boys would have fun trimming the sail on the little lateen rig, going for adventures across the lake like one of their childhood folk heroes, Huck Finn.
After growing up in Philadelphia, the boys went their separate ways, but they retained two great bonds: Boating with friends, and a love for music.  While Kevin went off to greater fame and fortune as a Hollywood movie star, Michael stayed in the New York area and ultimately grew his business in the music industry, both as a song writer and performer.  Having played in various groups in the past, the two brothers joined together in 1995 to create The Bacon Brothers.  That re-connection also fueled their passion for going sailing and having fun anywhere they had a gig near water.
Michael became a happy J/22 owner recently, having bought his boat from the Commodore of the Corinthian YC, a beautiful little club on the Delaware River not far from Philadelphia, PA.  With the help of the Commodore himself and friends at the club, Michael not only became a proficient sailor on his J/22, but also managed to squeeze in an ASA Coastal Navigation course at Manhattan YC, practicing on J/24s and J/105s.  His dream is to bareboat charter in the Caribbean and is already charter certified…and a trip this coming winter to J/World Sailing School in Key West won't hurt.
The Bacon Brothers' latest road trip to Annapolis was for their annual appearance at the famous Ram's Head, where they had four sold-out shows booked.  What to do with a weekend full of working nights and lots of playtime during the day?  Of course, find some Napolitan locals and go sailing!
Each of the past few years, Harry Legum of Annapolis Sailing Fitness has urged the brothers to go sailing on the Chesapeake Bay with friends.  Last year they sailed a J/105 and took a tour of the Bay.  This year Harry wanted to dial-up the sailing experience a notch and tap into brothers' competitive side.  He enlisted the current J/80 North American champs Will & Marie Crump to host a little match-racing on two identical J/80s.
With cool weather and steady easterly breeze that seemed to defy the standard July conditions with "less than zero" winds on the Bay, the group gathered at the Annapolis YC dry-sail area for a brief white-boarding session from Marie . Shortly after, teams were divvied up first by driver, Will on one and Marie on the other; then sorted by Bacon Brother, Michael with Will and Kevin with Marie and then on to the rest of the group that included Michael's wife Betsy and twin sister Pat along with other close friends Hilary and Andrew Armstrong.
The morning plan was to perform 4 practice starts before moving on to actual races. Once off the dock, the Bacons were introduced to close-quarter trimming techniques on the J/80 and then a few practice maneuvers, including start-stops and penalty turns. When the first sequence began the teams wasted no time showing that bragging rights were important. From the first dial-up, the Bacon's were into it with a little shock, some excitement and smiles all around.
Race by race, the teams sailed matches that included penalties, changes in lead and overall tight racing with some extremely close calls. Neither team was out to make any concessions in this friendly outing. By the end, older brother Michael was happily taunting younger brother Kevin over the race record and challenging for more— seemingly the old "playground rules" when they were kids haven't been forgotten!
Later that evening, the Crumps, friends and fellow Napolitans, enjoyed the Bacon Brothers' show at Rams Head Tavern. Kevin, in particular, was gracious enough to talk on stage about their interest in the town and the sailing it offered, with a special "Thanks" to all their hosts.
August 1st, 2014
Here's a look at a Vessel Assist 'rescue' from Seattle, with some details from local rigger Chris Tutmark.  Plenty of chat about it here.
Note that the masthead was lodged into one of the small trussed boxes along the bridge edge. One of these can be seen in the black and white pic in the link below as one of the vertical members of the bridge. If they had gotten the boat free quickly when things first got stuck, the mast "may" have survived. As it was, the only question was how many pieces it was going to be in once the boat was freed. And it was a keel stepped mast, so dropping shrouds would have only changed where it broke, not whether it broke. 
For this spot, the surface water almost always runs to the west (going left) as it is fresh water coming from the Locks and the spillway.  For those who do not live near the bridge, here is some history.  
August 1st, 2014
How to lose the Seascape 18 UK Nationals in a single and spectacular move. Guys were leading to the finish of the last flight hiking hard and would have won the championship if they simply stayed on the boat. Like that they finished 3rd.
July 31st, 2014
Stu Johnstone goes for another boat ride with Dr. Laura, and lives to tell the tale…
The forecast for this year's Santa Barbara to King Harbor 80nm race was a bit challenging, if not forbidding, for the 93 entries in this year's race.  In fact, the weather forecast created a somewhat gloomy outlook on what is regarded as one of the best mid-summer offshore races all year long on the Southern California sailing calendar.  There was talk amongst a number of crews on the smaller boats that if Anacapa Island was not reached by sunset, it was perhaps time to consider the "iron genny" option and simply head for home.  For veterans of 20+ SB-KH races, the prospect of rounding in the lee of Anacapa at night (which can be either a 30 minute scenic tour or 3 1/2 hours of drifting hell) was not to be taken lightly.
What this scenario could lead to was sailing's version of torture- a mind-numbing exercise of staring at sails and red-lit instruments far too long, fueled by too much Red Bull, leading to hallucinations of "heffalumps & woozles" (pink & green Dr Seuss elephants) crossing the horizon in front of you due to lack of sleep for 24+ hours.  In other words, drifting across Santa Barbara Channel to Point Dume that would lead to drifting across Santa Monica Bay in 0-3 kt whispers of wind towards the towering cape of Palos Verdes that might take until noon the next day!  Sailing a proverbial "glass out" all night long was not appealing to many.
While most years the starts can often have light airs for the first few miles headed to Anacapa Island about 25nm offshore at a 140 degree course, the breeze often picks up quickly and with 15nm or so to go to that first turning mark, winds seem to have a habit of whistling down the northern side of Santa Cruz Island and blow from  15 to 20 kts and, in some instances, 20-30 kts!  Conventional wisdom for the race seems to be sail rhumbline to Anacapa, then choose an "inshore" course in the island's lee if light or an "offshore" course (1-2nm) if breezy.
Once clear of the island, shoot straight across to Pt Dume on port tack for 32nm at 80 degrees, gybe once onto starboard, then head straight for King Harbor for 22nm at 100 degrees.  There are some variations on the strategies, of course, like head right towards KH after rounding Anacapa, or gybe back in under Pt Dume to Malibu for localized "point acceleration" of the breeze, or simply gybe on the lifts from Pt Dume to KH for 22nm and hope no one in either corner (LAX Airport beach to the East or Catalina Island wind bend to the South) blows past you.
This year's sleigh-ride was on-board Dr Laura's latest, the J/88 she named "CRAZY 88".  For many of you not "in the know" about some of SoCal's cast of characters that sail offshore, Dr Laura may be one of the most interesting and enigmatic personalities of the California offshore fraternity.  While renowned on public talk-show radio (right-wing, homophobic, anti-choice, Schlessinger is an out-of-touch relic of an era that is thankfully rapidly fading into the past. – ed) to her fans across America as simply "Dr Laura"  sailors in SoCal simply know her as "Doc".
Doc has learned to love sailing as an outlet for her competitive drive- for her it's therapy.  It's the thrill of sailing as a team member with a good crew and her passion to succeed combined with her fierce determination enables her to drive for hours on end at a remarkably high level.
Given the fact that her offshore skills have been strongly tested in big boats (J/145, J/125, Kernan 47, etc), Doc was looking forward to sailing her tiller-steered J/88 in its first SB-KH Race.  Amazingly enough, she was worried that the boat might not be big enough, and fast enough, to finish by midnight (I think she was worried she might turn into a pumpkin and have to go to sleep!).  Nevertheless, as her crew assembled before the start of the race (Wendell Liljedahl, Sam Solhaug, Julia Langford & Stu J) on the Santa Barbara YC docks, it was apparent the various weather models might be a bit "off".
Prior to the start, every forecast (NOAA NAM/GFS, Sailflow's proprietary models, Europe's ECMWF, and even Clearpoint Weather's highly accurate 1nm/ 5nm models  was showing a "micro-Low" forming over the Channel Islands early Friday Am and moving south-southeast and consuming all winds in the area like a giant vacuum cleaner (despite showing very strong offshore flows from the Pacific High just 15-20nm offshore).  Based on those forecasts, some boats even dropped out beforehand.  Nevertheless, the majority of the fleet headed off into the unknown, prepared to sail like lemmings into the abyss (the starting line) towards Anacapa and into the proverbial Twilight Zone (the gap in the Channel Islands formed between the enormous Santa Cruz Island and Anacapa Island itself).
By the time that Doc's J/88 CRAZY 88 took off at 12:15 pm, the winds had not changed much, necessitating the use of the LM1 jib for maneuvering at the start with a Code Zero ready to roll.  A Beneteau 40.7 was in our midst on the wrong side of the starting line yelling "starboard" at everyone (they were supposed to be on the "left" side).  Such is life sailing PHRF.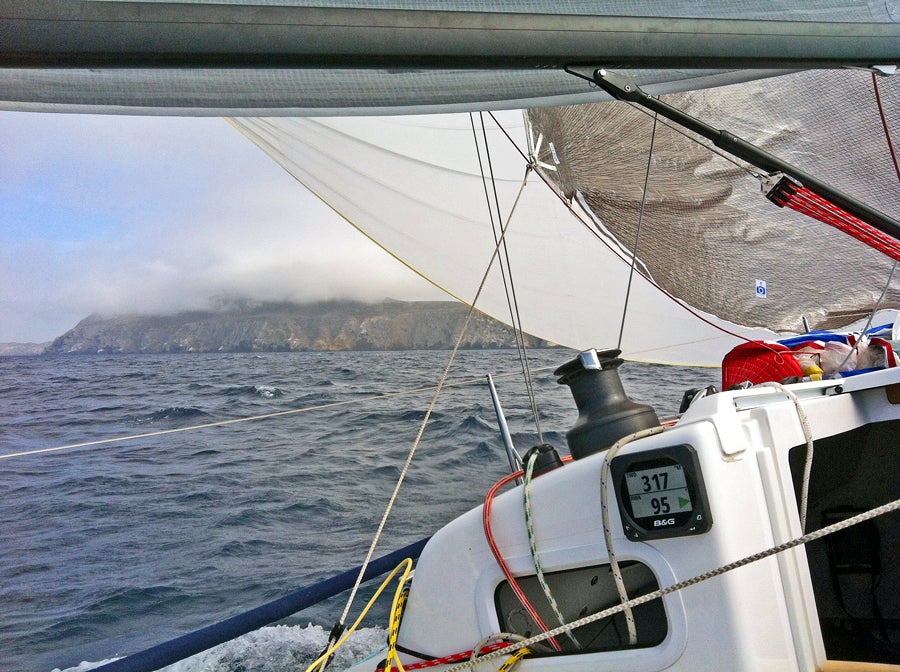 With a great start near the starboard pin, Doc focused hard to sail fast and maintain clear air.  Less than 5nm after the start, the breeze kept accelerating in velocity from the WSW and we managed to lead our class boat-for-boat for about an hour.  Soon, one of the primary competitors that was clawing well to windward of rhumbline, a Tartan 101 called Mistral, set their Code Zero and rolled over us before we set our own C0 flying.  Nevertheless, after another hour of sailing in a very slowly building westerly, they faded off into seeming oblivion to leeward, at one point bearing 90 degrees to leeward of us while we sailed with a C0 and staysail at 110 TWA doing 6.5kts in just 7.0kts TWS— an apparent wind machine the J/88 is!
Fast forward to the approach into the Anacapa turning point, and so far, so good on relative fleet position.  All things were good on crew comfort, especially Doc's home-made PB&J's (peanut butter and jelly sandwiches for the uninitiated) using potato bread— the best combo ever!
Meanwhile, the Mistral boys way off to leeward practicing the "zero-to-hero" strategy looked like their gamble might pay off.  Unusually, the breeze did not keep accelerating on the approaches to the Anacapa turning point, puffs never seemed to climb above 15 kts TWS.  It was fantastic conditions for the J/88 as with our A1 chute and staysail flying we were surfing off wavetops at up to 10-12 kts consistently and giving the J/120 headaches just in front of us.  The "high road" fleet of boats that included the J/105s, J/109s and a host of others in class were feeling the effects of having to bear off using A1/ A2 kites with lower AWS/ AWA and, therefore, much lower relative boatspeeds.
By the time CRAZY 88 hit the Anacapa left turn, Mistral planed across in front of us and was ahead by at least a mile and we were still in the hunt, we hoped, for a top three position in class.  While a number of boats around us turned left in under the lee of the island fairly quickly, we rode a long 13-15 kt wind streak about a half mile past the island before gybing.  We'd set the A2 "whomper", a giant PHRF maxi-size chute, and were flying downwind on a favorable headed starboard shift.  Once on the other side of the streak, we gybed in the lift and rode it for at least 2-3nm down the backside of the spectacular cliffs of Anacapa before having to head up and maintain speed to "shoot the gap" between the two massive rocks that form Anacapa island.  By this stage, we caught the J/120 POLE DANCER and the 1D35 DEJA VU, both inshore under the island in no wind.
As the breeze filled beneath the gap in the island, those two took off.  Since we were outside of them, we then settled into a pure VMC/ VMG course scenario keeping the big A2 Max full with staysail flying at around 145 TWA and steadily flying down the large Pacific swells at 8-9.5 kts in a wind that varied from 8-13 kts TWS.  We basically felt like we were on a skateboard zipping down the swells and placing the bow where it felt best and fastest.
And so it went for the next 30 odd miles to Pt Dume.  The J/120 ultimately pulled away and a bit to leeward by a mile or so.  So did the 1D35.  That was our world until the fog settled in near Pt Dume.  Approaching Pt Dume at dusk, we took one gybe onto starboard and headed back across Santa Monica Bay.  We lost track of the blue chute flying on Mistral, we last saw them going left into Malibu and perhaps the beaches of Santa Monica.
The fog was dense enough that all forms of reference from a steering perspective were literally gone.  Toss in a quartering swell.  No horizon.  No sky.  No moon.  No stars.  Yes, a "detox, de-sense chamber" in real life— better than anything imagined by any NSA/ CIA interrogation unit!  Just a blanket of darkness enshrouding the boat and only the gloom of the bow lights on the chute and the glow of the red-lit instruments guiding you.  Disorientation was easy, next step was a descent into the darkness of Dostoyevskyian madness.
To say that Doc had never been "instrument-rated" may be a bit of an understatement, she had done little steering at night offshore despite years of sailing (remember?  Her M.O. was sunrise-to-sunset).  Many of you that have done offshore races know that feeling of "hallucinatory tricks" that both your eyes and mind can play on you— a result of physical fatigue as well as intense concentration.  Mental relaxation can often help you overcome such situations.  Focusing on just steering a basic compass course, Doc managed to lock into a "fast, comfort" mode that was loosely based on the fastest TWA of around 135-145.
The further we clawed our way down towards the finish line at KH, the more the wind kept dropping and the more we kept passing boats that simply lost all ability to keep sailing good VMC/ VMG angles with their spinnakers (many twice our size).  Throwing in five gybes in the last two miles, we finally clawed our way around the white flashing light at the harbor entrance, doused the A1 and finished under the LM1 jib not having any idea of how we did.  We presumed the worst, of course, because there was no way to track what happened to anyone else.
Doc was elated but somewhat subdued.  Glad to have finished the race around 2am, but clearly exhausted. So were the rest of the crew.  Wendell having trimmed the chute for most of the 14 hours.  Sam and Julia for having executed about 40 gybes nearly flawlessly (no joke, we lost count after 25 gybes) and Stu for frying a few thousand tactical brain circuits along the way. It was an amazing effort.  And, it's fair to say that Doc quickly achieved her "IFR" (instrument-rating) certification in offshore racing!
As we departed KHYC around 2:30am Saturday morning, we discovered that we'd won our class, boat-for-boat and on handicap.  Doc's response?  "Thank God, Lew (her husband) won't kill me now!", she said cracking a smile.  Though her husband Lew doesn't sail, he supports her passion for sailing with friends and is always happy to know the effort was worthwhile and the crew made it home safely.
The post-mortem?  Wow, having buried the 1D35 and the J/120 with less than 12nm to go, why didn't we simply go for the "zero-to-hero" move and go way south for a "one gybe & in" approach?  If only we knew what was happening for breeze just south of us.  With no wind sensors in the area, it was a tough gamble to make.  We knew at least 90% of the fleet was to our left towards the LA beaches, not offshore.  When we saw those two boats disappear behind us going south on starboard tack downwind, it was hard to imagine that more breeze lay south and to leeward of our position.  So, we persevered and played every shift we encountered.  In the end, the crew of Doc's J/88 CRAZY 88 were proud of their hard work.  But, how did those other two boats beat us in by an hour?  The mystery remains and the story to be told another day.
- Stu Johnstone.
July 31st, 2014
The Biz
Hey nice work, Garmin. Of course the big business boot-lickers on the right will fellate anything that they do, but this is just such a blatant tax rip off. Yet somehow, we will be called socialist America haters for daring to even bring this up…
Two marine companies with direct or indirect links to the luxury yacht market have been identified by Fortune magazine as being among the top 10 American corporate tax avoiders. Garmin is one of them. Read the article here.
July 31st, 2014
Big Pimpin'
UK orders alone for the remarkable new RS Aero have now reached one hundred boats, with more than two hundred ordered overall internationally. The one hundred UK boats are destined for clubs right across the British Isles, with fleets already coming together in many places.
RS Sailing's UK Sales Manager, Charlie Merchant, reports "Looking at our schedule, Avon, Bewl, Bowmoor, Chelmarsh, Chew, Emsworth, Grafham, Gurnard, Lymington and Yorkshire Dales all have between three and twelve boats ordered – and of course many others have just one or two so far. I've also got more clubs waiting for their demo days before getting their fleet started."
RS Sailing has encouraged fleet growth from the outset, with attractive fleet price levels for clubs that have 3+ or 5+ boats at the end of the year. Anyone who buys before a fleet price level has been reached can reclaim the difference, so there are only advantages to leading the way and being first onto the water.
July 31st, 2014
Our resident Scowbilly sailor and media maker Peter Crawford checks in with another deserving Sailor Chick of the Week. White Bear Lake's Kate Cox and crew Izzi Boo sailed their way to a 12-point victory over the rest of the 34-boat fleet and won the 2014 ILYA Senior Fleet X Championship in a commanding fashion. Kate won race 5 by well over a minute to capture the title that had previously eluded her as she finished second last year. With that bullet, Kate and Izzi did didn't need to sail in the final race of the 8 race series.  Flashback to 2009 – the last time Gull Lake hosted this regatta – Kate's brother Eddie sailed a great regatta only to lose by a single point in the final race. With Eddie coaching her this time around, Kate wasn't about to let that happen to her, and took matters into her own hands; the entire Cox family let out an emotional sigh of relief when Kate crossed the finish line with the championship secured.
I was filming in 2009 and remember being really bummed for Eddie and how things ended up for him, so it was especially cool to see Kate totally crush this event. Filming mom and dad motoring by our photo boat holding back the tears, and Eddie hopping on his little sisters boat to give her a huge hug even got me a little caught up in the emotions of it all. It's really good to see lifelong friends and catch up; it's even better to see them celebrating their children's victories. We'll have video for you soon.
-Petey Crawford, Penalty Box Productions
July 30th, 2014
It's another installment of Video Anarchy, brought to you by our foiling friends at The Great Cup.
Vamos A La Playa
As US772 told you last week in his report from the Dirtboat Worlds, Nevada's stark desert is one of the most visually impressive places to sail imaginable, and the unique piece of American geography provides a gorgeous backdrop to this video showing just what landsailing is all about.  Shots of the Smith Creek Playa are best in HD on a big screen, and hit this link for some drone aerials during one of the event's crazy dust storms.  And if you want a look at just how scary Latino music was in 1983 (and the inspiration for the title), hit this link.
RORC To The Rescue
Yeah, there are a lot of idiotic looking blazers.  And yeah, maybe the pole-back, supper-table IRC boats are the antithesis of what Sailing Anarchy is all about.  But we're stoked to see an American with the quickest boat in the fleet help Team Ireland crush the rest of Europe, and we're even more glad to see historical events like the Comedy Cup saved from extinction.   With their biggest fleet in a while, it looks like the RORC is on the right track…check out more here.
Skidmarks
While Team Oracle's management continues to make the team, the country, and the sport look shady, the actual sailors seem to be having a blast.  Have a look at this hilarious short from OTUSA racers during their Moth Camp in Lake Macquarie about a naked Jimmy Spithill's hygiene during his Sports Illustrated photo shoot.  Thread here, and a slightly more serious Oracle moth training video here.
Back Then, Again
Your wildly approving clicks and comments from the '83 SORC inspired us to give you more, and thanks to the Aussie RB Sailing Blog, we've got it.   The hour-long video comes from the 1982 Hawaii Clipper Cup, and includes not only the historic Americans like Kialoa, but also the big Aussie names in SORC racing.  Enjoy it, and get over to the Video SORC thread to chat with other old bastards who remember it, too.  Big thanks to original SA'er "SPORTSCAR" for the heads-up.
Ashes To Ashes
Some odd decisions and shitty conditions meant that, despite the 2014 Moth Worlds pulling in the biggest fleet in the Class's history, the event went by somewhat unnoticed by the larger yachting community. We just couldn't get excited by the two-fleet format, racing peppered with abandonments and postponements and sail measurement issues, or the fact that, with the '13 World Champ, the majority of the expected 'AC Mothies', and nearly every US sailor opting to blow off a trip to the UK South Coast, the competition wasn't really what we've become used to.
Add to that the organizers' total fuckup with the media; they chose to use a UK sailing publication for all of their media work – something we normally applaud because it usually means good, professional content.  But in this case, that sailing publication branded everything from the Moth Worlds with their own magazine's logo, virtually guaranteeing the majority of the sailing media would ignore it.  It may be petty, but it's also the basic common sense: If you depend on the media to maximize exposure for the health of your class and the satisfaction of your sponsors, it's a good idea not to ostracize them with an exclusive publication partner – unless your media partner is bigger than everyone else, or writes you a huge check…neither of which happened last week in Hayling Island.
Fortunately, the English got their hands handed to them both by Nathan Outteridge, who wins his second Moth World title, and by the Aussies, who took the all-important Ashes trophy in the team competition between Ol' Blighty and Oz.
We congratulate Nathan, and above is a look at what the Ashes is all about from Beau Outteridge.  And mark your calendars for early 2015, when a massive fleet, including many of the names who sat out the '14 event, will descend on Sorrento, Australia to battle for perhaps the most important title in performance dinghy sailing.
July 30th, 2014
So go out to your garage and take that crappy car dealer-issued license plate frame off your mini van and replace it with this: The brand new Sailing Anarchy license plate frame. Black, plastic and awesome. Ya gotta have one for every vehicle! A mere $15.00 delivered to your door in the USA. $22.00 anywhere else. Do it!
Check out our new store page while you are at it.
July 29th, 2014
Most of you know – boy, do you – that we are being sued for defamation by Daniel Meyers, he of the First Marblehead Corp. It seems we are somehow being painted as the bad guys. Really?
Angela Smith, a mother from Chesapeake, Va., filed a petition on Change.org several years ago asking private loan provider First Marblehead Corp. to forgive the $40,000 in student loans that her husband had co-signed for their son Donte, who was shot to death in 2008.
"Shortly after Donte died, that's when the collection calls started. It was like a punch in the gut — we didn't know what hit us," Smith wrote in the petition. "All of a sudden we not only had to deal with the police and attorneys investigating his murder, but we also had to deal with collectors constantly calling and reminding us of our son's death in the worst way."
The petition received more than 150,000 signatures from sympathizers but no action from the lenders. First Marblehead didn't respond to a request for comment, and Smith says the loan was recently sold to another company. The full story can be found here.
July 29th, 2014
Pardon this unreal walk down video-memory lane. Those of us old enough to remember will find it amazing. Those of you who aren't will also find it amazing, but probably not for the same reasons as the old bastards!  Jump in the thread here! Props to Mike Jones for the title inspiration.
July 28th, 2014
Race Report
The OK Dinghy European title is heading back to the class homeland after Jørgen Svendsen of Denmark took the championship following six races on Steinhuder Meer in Germany in a huge fleet of 110 boats last week.
Denmark's Bo Petersen was the defending champion, but he could only finish third behind the host country's Andre Budzien, and Svendsen. It is perhaps no coincidence that Denmark is the fastest growing national fleet in the class with a spectacular resurgence of interest in the past five years. This has been spurred recently with the introduction of a new state of the art hull builder in Denmark which filled four places in the top 10 including second and third.
A former world no 1 Jorgen Svendsen took the Championship with a three point margin over some of the best OK Dinghy sailors in the world. He out-sailed the 109 other sailors in the largest ever European championship in the class and only ever slipped up once while winning four out of the six races sailed. In one of those he was beaten by was his own son Frederik, sailing at his first ever major OK Dinghy event.
Despite the fleet being unable to sail the final two days due to light winds, the six that were completed tested all aspects of the skill, character and perseverance of the sailors. The shifts were many and often immense, and the pressure differences over the lake were taxing. The first two days challenged the brain with multiple combinations of shift patterns littered across the course area like confetti. The third day tested endurance with winds of up to 26 knots and no less shifty. It was a complete championship in more ways than one.
In his acceptance speech Svendsen paid tribute to the other competitors. Citing many examples of good sportsmanship, hilarity, and intense competition during the week, he commended the fleet on a well fought and gentlemanly compeition. Even though he never raced against the defending champion Petersen, as the racing was in split fleets, Svendsen had mastered the conditions better than any other sailor and was a deserving winner.
But in an event of this nature, all the sailors were winners. It was an event unlike any other with all the stops pulls and all sailors receiving more than one prize. It was organised with an ambition to set a standard that couldn't be beaten and that goal was achieved in spectacular style. The attention to detail in everything was bordering on the obsessive, the surprises were never ending, the friendly banter and camaraderie among the sailors provided an electric atmosphere of fun, joviality and shared enthusiasm for a great class. The racing, as ever, was great fun and the sailors loved every second of it. Results here. Photo by Ania Pawlaczyk.
- Robert Deaves.
July 28th, 2014