We have a couple of SA 'Always Reppin' tech shirts made by Mark at DryUV for the best couple of captions. As always children, have fun!
Here's ours: Russell Coutts finally says adios to the "Facebook Generation" concept for the AC, and hello to the "Opti Generation".
April 14th, 2016
Indian Givers
We went straight to the horse's mouth on this one, and to his credit, Jim Clark was quick with a firm debunking of the rumors we posted of the end of the Comanche program.  The rumors are still coming fast and hard, but with no one willing to go on the record, it's a non-story and Clark ends the speculation for good.  Our apologies to the Comanche program – our bad.  Here's Clark's note:
I was told you have reported that the Comanche program is being discontinued. You have bad information.
Kristy and I are enjoying racing Comanche in St. Barts at the Voile de St Barts. Our next race is Bermuda, followed by a trans-Atlantic record attempt in August, then more racing through the end of the year — maybe even the Sydney-Hobart again this year. However, Kenny and the team are beginning to also focus on Hanuman and the J-class regatta in Bermuda in 2017 and the J-Class World Championships in Newport in late Summer. Following that, it's Comanche in 2017 for the Trans-pac and another Sydney-Hobart.
Ken Read has been and continues to be instrumental to both programs. Kristy and I consider Ken, his wife and his daughter to be great friends.
I hope this helps clarify the status of the program and our relationship with it and the team.
All the best,
Jim Clark
Flippin' Out
The "French Fried" piece about Nicholas Jarossay was out of date 24 hours after the start, when the French nutter capsized his paddle rig. News here, and thanks to SA'er "Volodiaja" for the heads up.
April 14th, 2016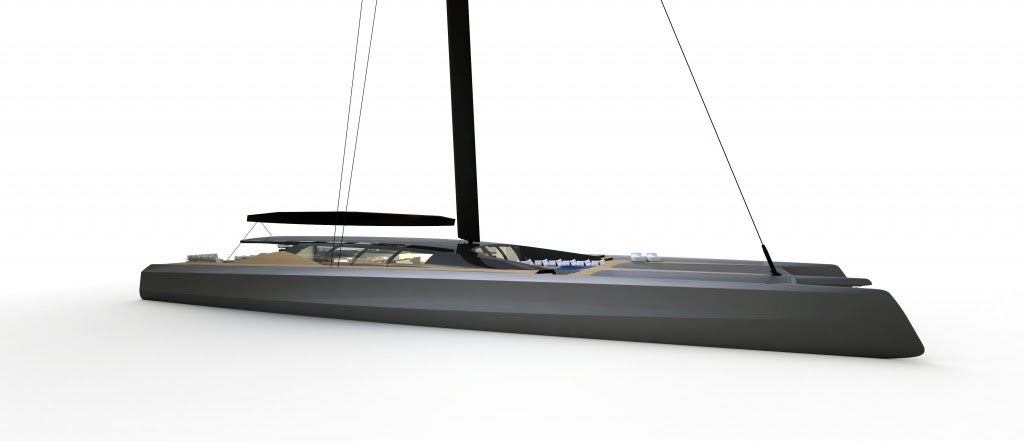 …a black cat just crossed my path.
Title inspiration thanks to Jeff Beck.
April 14th, 2016
PAC RIM Summary
The Pasha Hawaii 2016 International Fourteen Pacific Rim Championship Regatta was hosted at Kaneohe Yacht Club from April 2nd to 5th. The event had three sponsors, Pasha Hawaii a local community and environmentally aware ocean transportation company, Hawaiian Fine Furniture who provided beautiful hand carved Koa wood half-models for trophies, and the Global Sports Alliance (gsa.org) who sponsored the Ecoflag program that promotes clean air and clean water through sporting events worldwide, primarily aimed at young people doing sporting activities.
GSA has sponsored the event since 2006. This year's event included sailors from Japan, Australia, England, Italy, and Canada. Most of them chartered local boats to augment the two containers that Pasha Hawaii sponsored enabling boats from California to participate.
Youth Skiff Sail Training
PASHA Hawaii 2016 I-14 Pac Rim sailors collaborate with our sponsors to host a youth sail training component. This year it was bigger than ever.  Pasha Hawaii arranged for two television spots with youth interviews on KITV news. The first one was a week before the event and was a live TV interview with Kaneohe YC youth sailors Kiana and Kahea Heitzman. The second interview took place at KYC during the sail training with participants. There was also a half-page article in MidWeek prior to the regatta. This statewide exposure of youth sailing, and sailboat racing in general made it possible for the public to come out and see the competition as well as join in the training event.  Our sponsor Pasha Hawaii and Laurie Lagrange's efforts brought more interest to the sport of sailing.
The skiff training ashore and I-14 rides on the bay occurred on a beautiful Sunday morning. The wind was a steady 12 knots. Youth sailors from three Yacht Clubs across the island of Oahu participated.  Photographers took photos from the float boat as the young sailors switched in and out crewing with the racers aboard some of the newest I-14 boats competing in the world.
PAC RIM Racing
Clark Fremgen facilitated running the races over 3 days, in his usual flawless manner. This was his 7th time as Principal Race Officer (PRO) for the event.  His team of KYC volunteers did a tremendous job setting courses in a shifting breeze during the first two days of sailing. The racing started and finished as scheduled and all eight races were completed as planned. Volunteers included float boat drivers Mark Logan, Fuzz Foster, and Charlie Stone with KYC and visitor crews each day. Jenny Vickery from Australia and local boatman Rick Pelton supported "Clarky" on the RC boat.  Maureen Bates was the windward mark set boat with visitor, and former 14er Eric Arens. Thanks to the Judge team led by WYC sailor Joseph Shacat that included Michael Roth, Steve Thomas and Rich Macready.
Former World Champion Kris Bundy and his long time crew Fritz Lanzinger dominated this year's competitive fleet of 21 boats with three firsts, three seconds, and two fourths. There were no throw out races in this event. Terry Gleeson and Evan Sjostedt placed second. Terry is the current USA I-14 President and reigning National Champion. Long time 14ers Steve Goodson and Alan Diercks from Seattle were third, with only one point separating them from second place. They are the current North American champions. Joe Bercsh and Canadian Leith Shenstone were one point back in fourth place and Chris Rutz and Michael Radziejowski from the Bay Area placed fifth.  The racing was very close and one shift or dying breeze would change the results for places 2, 3, and 4. The racing at the top of this fleet was very close and competitive right up to the last run home in the last race.
Inside the racing fleet three separate competitions were taking place at the same time. Nine boats competed for the I-14 'Classic" trophy which is for boats designed prior to 2003. All of the local Hawaii fleet fits that category. Stewart Vickery, from Australia, sailing with his daughter Freya won the event convincingly in a Bieker 3 design.  Dominic Van Essen from England and Simona Saccani from Italy finished second. Local youth sailor Lars Von Sydow, sailing with his father Harold finished third.
In the female division there were seven competitors. Freya Vickery won with Simona Saccani second and local KYC and UH sailor Maddy Kennedy third. The final division was determined by age.
There were six sailors over 60 years of age still competitively racing the I-14 (they may need their heads examined).  This is known as the  "Old Farts" division.  Long time I-14 sailor from Santa Barbara, CA, Ron Boehm with crew JV Gilmour won this division. Stewart Vickery was second and local sailor Andy Bates was third. Special note: Alan Laflin returned after retiring last year to sail with Paul Disario who started sailing I14's in the early 1960's.  They are both in their 70's and finished all but one race!!!!
The awards banquet featured young fire dancers and Hula dancers from Palama Settlement's youth program. These young performers did an amazing job of "safely" entertaining the crowd. The performers ranged in age from 4 to 15 years old.
This year's entries from overseas competitors provided sufficient funds from charting local boats to support a full scholarship to the KYC Youth sailing program this summer. Mahalo to our competitors for their generosity.
Hawaii State Championships
An annual long distance race starting from the KYC bulkhead was held on the last day of the event with 16 boats.  The pursuit race starting sequence is based on the scores from the PAC RIM. It is not counted in the PAC RIM series. There is also an award for the fastest elapsed time for this race. The fleet started at 11:00AM, in a building 10-14 knot breeze from the north.
The course included club marks F, A, Coconut Island to port, F, Sampan Channel out to R2 to port, back through the Sampan gate and finish at the club line outside the harbor. The fleet got off without incident, the winners of the PAC RIM left the bulkhead at 11:26AM. Local sailors Tom Pochereva and Yovo Stefanov led for the first half of the race until they had a "swim" near R2.  Chris Rutz and Michael Radziejowski took the lead only to be passed half way down the channel leg by Steve Schumaker and Channing Hamlet who also capsized while jibing at the end of the channel. Rutz and Radziejowski regained the lead and held it the rest of the way back to the finish to win the race and finish 5th overall in elapsed time.  Goodson and Diercks were a close second finishing 2nd in elapsed time, and Ron (Old Fart) Boehm finished third sailing with JV Gilmour. Terry Gleeson sailing with Fritz Lanzinger were the fastest elapsed time sailing the entire course in 1hr:10 min:55 sec. Almost all of the fleet sailed the entire second half of the race from R2 to the Red and Green entrance marks with their kites up. It was a very fast and exciting race!
This was the ninth running of this unique sailing event that features youth advanced skiff training and environmental awareness. The entire KYC staff, caterers, club volunteers, youth from Palama Settlement, and sponsors made this the best PAC RIM ever. The Hawaii I-14 fleet "Thanks" all of you for being gracious, kind, and professional hosts in the Aloha spirit we cherish.
April 13th, 2016
It is cool, but still just seems a bit weird, doesn't it?
April 13th, 2016
You gotta love the French. If there is someone pushing the edges of sport you know it's going to be a frenchman, or frenchlady for that matter. A couple of months ago it was Volvo Ocean Race winner Frank Cammas foiling his Nacra 20 catamaran around Cape Horn. Before that there have been any number of extraordinary nautical feats carried out by someone French. But the latest exploit by a Frenchman just about takes the cake. This past Sunday Nicolas Jarossay set off on a 3,000-mile (5,000 kilometer) odyssey to become the first person to cross the Atlantic solo – on a stand-up paddleboard.
Jarossay is a former firefighter and by many accounts an endurance sports fanatic so a stand-up jaunt across the pond is probably right up his alley. He left from Praia, a region in the south of the island of Santiago in the Cape Verdes, and is heading for the French Caribbean island of Martinique. His paddleboard has of course been modified from the usual boards you see knocking around your local harbor. It has been extended to 23 feet long long (7 meters) and in order for Jarossay to be completely self-sufficient he has added a tiny cabin to his board. The cabin is just over six feet in length and when he is laying down there will be around 18 inches breathing space above him. He also shares the compartment with his food, most freeze dried, and all the other bits of equipment that he will need for a successful crossing. He plans to get all his power from solar panels. After a bad experience with a guide vessel that accompanied him on a previous trip he decided to do this voyage without one. Apparently he got into an argument with the crew of the guide vessel and they ditched mid-ocean and took off.
I admire anyone who has the guts to undertake such a crossing. The North Atlantic is a big place and there are plenty of rough conditions that he could encounter along the way say nothing of constant exposure to the tropical sun. Say what you like, and I am sure many people will say he is point-blank crazy, but I think we need more people like Jarossay. We need people who are not afraid to push the boundaries to show the rest of us just what's possible if we put our mind to it. If he is successful he should hit the shores of beautiful Martinique in around two months time. – Brian Hancock.
April 13th, 2016
Which payroll would you rather foot? The faster one! Photo thanks to the gf we can never have, Rachel Fallon-Langdon. Some girls are just untouchable, or at least they should be…
April 13th, 2016
The world's biggest sailboat pulled out of St. Barth's Bucket after just one day of racing, and we now hear that owner Jim Clark's other boat – the world's fastest monohull Comanche - is currently in second-to-last place at what we think may be her last regatta…ever.
Considering the ultra-high profile nature of the Comanche campaign run by North Sails President Kenny Read, and the fact that the big VPLP maxi is likely to be one of the last, if not the last purpose-designed record breaking monohull ever built, everyone in the sport seems interested in the reasons behind the sudden and mysterious end of an era barely begun. There are some rumors….
We've got emails out to the crew (some of whom are allegedly quite angry that they're out of a job) and will let you know when we get more info.  Know more about this multi-source rumor?  Send us a note or post up in the thread. Photo © RORC/Emma Louise Wyn Jones
April 13th, 2016
Charleston's Fort 2 Battery Race was bigger, badder, faster, and nastier than ever, though you wouldn't know it from the ballerina-like gybe in this great Penalty Box Productions teaser from the race.  Enjoy (and share!) the quick edit above, and keep an eye out for a feature from The Rev Petey next month.  For the full video of the morning Beach Walk, go here.  For the full shaky-cam video of the Fort2Battery Race, here.
Here's the after-action report from F2B founder and organizer Tim Fitzgerald. (and for more from Petey on the upcoming monster Melges 24 Worlds, check out Petey's third 'View From The Chair.'
"10 seconds to start…Here I go!"
"Uh-oh."
There's a couple catamarans hooked up and I can see we may be getting acquainted.  No thought on my part of Port and Starboard, just simply that at 25 knots, it'll be wise of me to miss them one way or another. I'm crossing, until I hit a hole in the offshore breeze…and now I'm trying to stay on the foil.
3 seconds to impact, and now its too late to stop before I'm in their path.. But it's my friend Jeff.  "He wouldn't run me over," I think.  On second thought, yes, he would.  He'd wear my kite on the top of his mast like a trophy animal pelt.
2 seconds to impact, and now I'm way too slow to cross.  so I cross the first cat, and it's an e-brake bail to explode the water and stop before T-boning the second boat. I look up through the spray to see two masts fly past either side of my kite lines.  "Holy shit."
Time to get going again. Over there I think I see a moth. It's hard to tell because he's far away. A few seconds pass and now we're not far away at all.  We're both lit up like a Christmas tree in a big puff, heading for a 40mph pileup.
And again…3 seconds to impact.
I heat up to go behind just before a huge blast hits me and takes me downwind toward my handshake with the mothie, who is also at vaporizing top speed and planning to cross ahead.  2 seconds…I'm heading right at him. If I bail in front, I'm fish food,  so I lean back and heat up, which makes me go FASTER. It's that awful feeling you get in a keelboat when it's too late to duck and you know it's going to get ugly.
I close my eyes a split second before my board makes contact with my good friend Pat's Mach 2 moth with both of us at over 25 knots – though it feels like Mach 2.  We clear each other by inches.
I had survived the first minute of my 2016 Fort 2 Battery. Let it be known that the good advice of "sail in clear air and open space" applies to Fort 2 Battery races also.
It began without warning.  The first attackers landed at Fort Sumter in under 6 minutes with reinforcements pouring ashore in under 8. In just 15 minutes they had taken the Fort. It was glorious and it changed everything.
The third running of the Charleston Fort 2 Battery was run in reverse because of the west wind coming off the city at a chilly 20-30 knots. With the sun out, this was the kiteboarder's version of a Chamber of Commerce day. Charleston's Holy City Helicopters team was in the air with Sammy Hodges and Mac Dickson hanging out of the bird with long lenses astutely affixed to the competitors.  From the air they witnessed a "reverse invasion" of Fort Sumter, when dozens of kite boarders landed on the beach near the Fort to wait for a ride home.  You know it's survival conditions when the competitors can't even sail home after the race!
With the big breeze and favorable current, the hard work was getting to the upwind start but the race was all down-hill. Mr. Clean threw down the challenge in the morning letting the live audience on Sailing Anarchy know that records could fall. He was spot on, and the overall course record was cut to 5:52 by Foilboarder Zack Marks, who broke his own record in winning the race. Local kite hotshot Davey Blair also cut 7 seconds from Tucker Mason's record to bring it to 7:12 which was even faster than the winning time in the first edition of the race. Victor Diaz de Leon cut the moth time to 6:41 while defeating George Peet by an insane five one-thousanths of a second to take second overall and win the Moth race.
When you talked to the racers, one theme was common. Among a bunch of adrenaline junkies who love to fly 40 feet in the air on a kite, and break speed records on flying boats, "I was pretty scared" could be heard over and over. The conditions were at the top end which kept the big cats on shore and ended some Moth Pilots' days early with cartwheeling wrecks.
The high-octane format of the Fort 2 Battery is as addictive as it is exciting, and with over 36,000 people watching the pre-race Beach Walk and F2B Sprint on SA's Facebook page, we think we've really stumbled on something the public loves!   At James Island YC, dozens of fishermen and motor-boat owners were tailgating like Clemson Tigers football fans, and the innovating club's only questions were "how do we make this even better?" Sweetwater Brewing and Charleston Distilling Co. helped, keeping things lively at the beach bonfire and dance party well into Saturday night.
The rest of the weekend featured more wacky stuff – three days of Kite vs. Moth free-for-all course racing – which had never been done in the world. The verdict seems to be 'it's everything you'd think it could be.'  Terrifying but exhilarating for the racers and spectators. Amazingly, despite the big, puffy breeze, we didn't see a single collision or even a tangled-up kite.
It is fitting that this super high performance everyman's revolution has grown quickly in Charleston, specifically at Fort Sumter, where our last domestic revolution started…let's hope that this one is less messy. See you next year!
Mack Dickson photos.
-Fitz
April 13th, 2016
When we heard about King Knut taking off for whiter pastures more than six months ago, we suggested this guy take over.  When our sources said he was in, we reported it as confirmed, even though he denied it.  And now that it's all been confirmed, we congratulate Mark Turner as the new CEO of the Volvo Ocean Race.  As we said more than half a year ago, we think he's the best choice for a job description that only a small handful of people could ever qualify for, and we're very excited to see where the VOR goes under his care.
In other news that we reported long before anyone else, Hong Kong is confirmed IN with both a team and a stopover.  We'll catch up with Turner when he's got his feet underneath him.  Until then, stay tuned to the latest VOR rumors in the thread.
And quit doubting us!
April 13th, 2016