We've got some pretty cool Sailing Anarchy branded swag for you to upgrade your look with, and now is the time to order up. Why? Because we said so! Actually we have a couple of good deals – buy one of our slick SA licence plates frames and we'll give you two for the price of one. And with any order, you'll get one of our new SA bumper stickers.
And let us close by being the first a-holes to say "Christmas is right around the corner" Hahahaha!
October 12th, 2014
First one-design race around the world? Yeah, we'd say it's pretty momentous.  Enjoy the start of the 2014-15 Volvo Ocean Race, and good luck to the teams!  For a little pre-start weather forecast for Leg 1, check in with our old friend Genny. And track the fleet here – they are really mixed up!
October 11th, 2014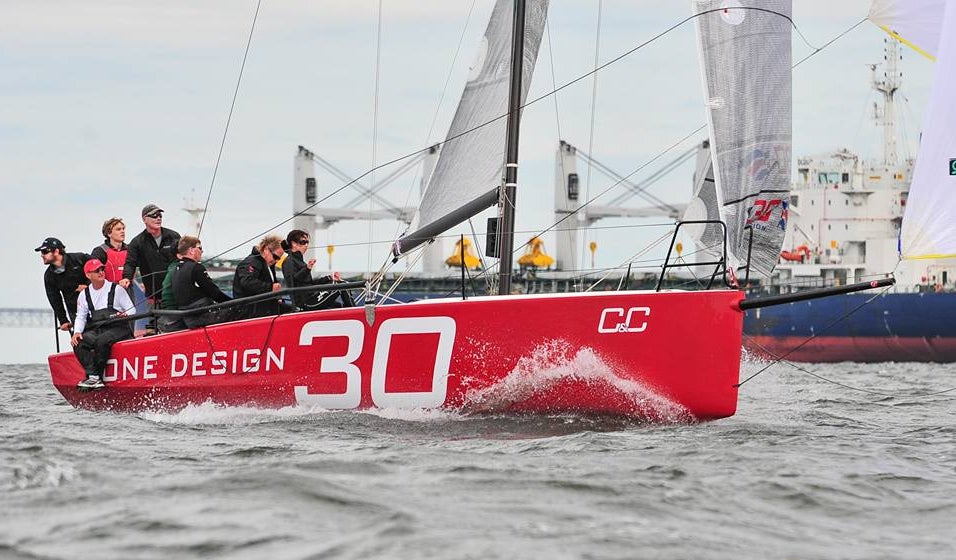 The new C&C 30 with Hutch cracking the whip. Nice to see some good sails on the thing! Photo thanks to Dan Phelps/ Spin Sheet.
October 10th, 2014
Clean Report
Two big events for the US kick off this weekend – the first is the US Sailboat Show in Annapolis, and the second is the Volvo Ocean Race.  And as usual, SA's the place to go for the best info.
After 6 years of economic mayhem and dying boat shows, the US economy has (maybe? hopefully?) finally begun the broad-based recovery we've all been waiting for, and our luxurious hobby is responding at last.  Sales are flat or increasing throughout the industry with both small and large boats selling, and, at Annapolis at least, it appears the exhibitor list is finally growing again.  For our part, we're excited to see a new 'Racing' section at America's most important sailboat show, and we're especially stoked to see sexy new offerings from our pals at C&C and Gunboat hit the water.  And we timed our visit to hit what might be the most fun couple of hours at the show: Saturday morning's start of the Volvo Ocean Race – live and loud – on the 70″ flat screen at the Musto booth.  With mimosa and bloody mary accompaniment.
We're toting along The Goddamned Reverend Petey so we can get some high quality video interviews, new product showcases, and 'first sail' reports from the deck of the new boats, and we encourage you to send us an email with your booth location and product description if you've got something cool to show our team.  If you want to shoot the shit and just buy us drinks, you can e-mail us too.  For a decent bit of enthusiast info on the show (and the spot we ripped this photo from), check out this blog.
October 10th, 2014
Looking closely at the picture will only further confuse you…
October 10th, 2014
Big Pimpin'
Stoked to finally welcome Helly Hansen on board with us at Sailing Anarchy. Long makes of exquisite sailing apparel, foul weather gear and a whole host of other lifestyle product,
Helly can be found on our front page and as the new title sponsors of our Gear Anarchy forum. Makes sense to us!
October 10th, 2014
Face of a fashion star, kiteboarding ability of a superstar, body of a porn star.  An unabashed self-promoter and a fan of Sailing Anarchy.  Could this be the perfect woman?  Maybe not, but she's certainly our Sailor Chick of the Week; watch the video to see why.
And head over to Hannah Whiteley's Facebook Page for much, much more.
October 9th, 2014
Police corruption and malfeasance has forced many departments to run cameras all the time now, and the litany of cases where the recorders were 'nonfunctional' is beyond belief.  Add that to the ubiquitous incompetence of the typical governmental body's Marine Police and you literally have people getting away with murder.  Here's one such story from the Missouri Highway Patrol, and if it doesn't make you shudder, you have no heart.  And if you don't get over and sign the petition for a little justice amongst a sea of corruption and bad actors RIGHT NOW, you have no soul.  Check out a memorial video here, but bring your Kleenex.
I was so proud of my son, Brandon. He was going into his junior year of Business College at Arizona State University and he was planning to join our family business when he graduated. But on the night of May 31, Brandon drowned while in the custody of the Missouri Highway/Water Patrol. Now all I can think, over and over, is how did this happen? Who let this happen?
On that day, Brandon was out with his friends, boating at The Lake of the Ozarks in Missouri. He was arrested for suspicion of boating while intoxicated. By taped accounts of the arresting officer himself, Brandon was respectful and compliant while he was taken into custody, placed in handcuffs, donned with an ill-fitting and inappropriate life vest, and driven away at extremely high speeds. Brandon was ejected from the boat when it hit a large wave at 43 MPH and when he hit the water, the life jacket floated away from him.  With his hands tied behind his back, Brandon struggled to stay above the water for many minutes.  It wasn't until a woman in a passing boat yelled for the officer to jump in and save him that he finally jumped in the water, but by then it was too late. While the patrol's boat was equipped with three audio-visual cameras, the memory cards were not in place and the atrocious events of the day were not recorded. Brandon's body was recovered from the water the next day in 70 feet of water.
Rather than bring in a person outside of the Missouri Highway Patrol to investigate the death of a civilian in their custody, they conducted their own internal investigation.  Then they had a coroner's inquest with a hand picked jury; crucial witnesses and evidence were left out and no cross-examination was allowed. Jurors deliberated for less than 8 minutes before determining Brandon's death to be accidental.  Four days later, the prosecutor said she would accept the jury's decision, and no charges would be filed against the officer.
I'm not the only person who thinks the circumstances of my son's death are suspicious and outrageous. The Missouri State House speaker has created a committee to investigate safety on the lake and my son's story has been reported in news outlets like The Kansas City Star and USA Today. The person responsible for Brandon's death needs to be held accountable, so that nothing like this ever happens again.  The people that helped cover-up and whitewash his death as a tragic accident need to be held responsible, as well.
Brandon was a really special person. He had an infectious laugh and a love of life, and no matter who you were he made you feel like you were his best friend. When Brandon was in high school, our home was a gathering place for all kinds of kids — older, younger, different schools, different sports. They all came to hang out with Brandon. That's who he was. He brought people together.
And now, people are coming together for Brandon again. We're coming together to demand that the Department of Justice hold those people responsible for taking the life of a bright, promising young man and all those covering up the facts. It's time to shine a light on what really happened to my son.  Please join me in demanding the Department of Justice investigate the Missouri Highway Patrol, specifically in regards to the death investigation of Brandon Ellingson, while in their custody. For updates on our progress, please visit our Justice For Brandon site.
October 9th, 2014
No one ever wants to be in the middle of a custody battle, but according to the FBI, 46 year-old Seattle sailor Jeffrey Hanson is about to have a lot of people right in the mix of his.  Accused of being a drug abuser with a volatile personality (which describes about half of our readers, and about half of our staff – ed)), he's apparently been gone for over a month with his 9 year old son. If you've seen the kid and aren't a fan of parental kidnapping, send the news to someone who can do something about it.  From the Honolulu Star:
The FBI is seeking information on a parental kidnapping case in which the suspect may have sailed to Hawaii from Seattle with a missing 9-year-old boy.
Jeffrey Ford Hanson, 46, set sail from Seattle Sept. 4 with his son, Billy Hanson, in a sailboat called "Draco," and neither have been seen since. 
Seattle FBI has consulted with the U.S. Coast Guard which said that, based on the boat and Hanson's sailing abilities, it is possible for him to have sailed to Hawaii,  American Samoa, Guam, the Northern Mariana Islands, and other Pacific Basin islands.  Hanson, a known drug abuser with a volatile personality, is the non-custodial parent and  is currently wanted by the FBI for international parental kidnapping.  
Honolulu FBI Special Agent Tom Simon said, "Our focus is helping the agents at the Seattle FBI recover Billy safely, so he can go back to his mom where he belongs.  Hawaii and the islands of the Pacific have a vibrant sailing and nautical community, and we are appealing to that community to be on the lookout for this sailboat and contact authorities with leads."
October 9th, 2014
Here is a pic of the big bad Comanche with the keel on. We I was told she will go in water either tonight or send it tomorrow at high tide. Thanks to mstrsail. Title inspiration thanks to XTC.
October 8th, 2014
Question Of The Week
I am in boat looking mode. Without getting specific, would you buy a boat if her owner was murdered on board?" -SA'er 'kidkodine.'
Best answer so far: "Is the killer still aboard?"
Supply your own response – a real one or yet another horribly morbid joke – here.
October 8th, 2014
Just had our Y88 owner driver nationals which ended up a 1 day affair after winds gusting 50kts kept the big boats off the water. Rather than admitting defeat, we staged a Wind Warrior Model yacht regatta from the bar at the Bucklands Beach Yacht club. It was an afternoon of beers, laughs, some intense model yachting and spectacular wipeouts!  - Anarchist BooBoo.
October 7th, 2014
Big Pimpin'
B&G has teamed up with renowned journalist and author Mark Chisnell to create a series of exclusive weekly blogs, providing insights into the tactics and results of the Volvo Ocean Race.
Starting this week with a preview of the first leg of the Volvo Ocean Race 2014-15, the former America's Cup Navigator, sailing journalist, marine electronics expert and author will be providing B&G with exclusive weekly, in-depth technical analysis of the action as it unfolds on the racecourse. During the 2008-09 Volvo Ocean Race, Mark wrote the daily '1000 Zulu' reports for Volvo, and B&G will be recapturing this unique and comprehensive insight for this current edition of the race. Stand by!
October 7th, 2014
The team of fifty fifty, the Hungarian 50 foot, twin rigged catamaran has built a second, smaller 35 foot foiling catamaran. The reason for this was to be able to compete in other European Lake races which have a LOA limit of 35 foot. They moved the riggs from the big one to the smaller one and test sailed it.
After initial towing tests they started with sailing just a few days ago. Yesterday during sailing the catamaran broke. Nobody was injured. The exact cause will have to be determined, the team is now on its way to Malta, to compete in the Middle Sea race with their mini maxi Wild Joe (former Wild Oats IX). Check it.
Title inspiration thanks to The English Beat.
October 7th, 2014
Today the party people of San Diego mourn as 28,000 pounds of their best friend passed away today…
Some might say this is nearly as sad, nay, much more sad, than the murder (as reported below)  of the San Diego to Ensenada race…
October 7th, 2014
You can tell your wife you just bought a brand new 100′ Maxi! Think of the look of love she will bestow upon you….when she finds out you bought the mini version….!
October 6th, 2014
Hey congratulations are in order to SWYC for the years of poor promotion, lack of energy and zero creativity that has led to the death of the once great San Diego to Ensenada Race. What?, you say, it's not dead! Oh yes it is, it just doesn't know it yet. Need some proof? Take a look at the results.
Take a pathetic entry list, stupid class breaks and a YC that is either too old, too out of touch, or just doesn't seem to give a shit and what you get is one of the better SoCal coastal races that has died a death from atrophy.
RIP
October 6th, 2014
The next generation of sailing studs is clearly taken with Charlie and Team Alvimedica, even if they can't say the name.  This is too damned cute, and thanks to Brandon for the heads up about our favorite Ratz of all.  And while we hate to give love to another idiotic use of the 'Everest of Sailing' tautology, it's good to see the young American getting some solid ink from the WSJ.
October 6th, 2014
2013 Melges 32 World Champion mast man and SA Staff Videographer Petey Crawford dusted off his sailing gloves for a little fall action this past weekend, and in our first piece of today's Midwest Madness, he reports from the 18-boat Lake Geneva Melges 24 Fall Champs, with great pics from LGYC's Michael Moore and a small gallery over here.
This past week I got a call from some friends in Western Michigan, and they asked if I wanted to go Melges 24 racing in Lake Geneva, Wisconsin.  After rescheduling a couple of things I jumped at the chance – I used to come to this even more than a decade ago when it was all J/24s, and Buddy Melges' home club is always a great time.  The lake's empty of powerboats, the fall colors are popping, the breeze is almost always on, and the blue-collar LGYC never disappoints.
Imagine my surprise to pull up to the parking lot and find the clubhouse gone, and replaced with a construction site as the new Buddy Melges Sailing Center takes shape. With no facilities available at LGYC, the event moved across the lake to Gage Marine in Williams Bay, with the Gage staff doing a great job hosting every one of the ten out-of-town teams making the trip.
The Saturday forecast was a little on the brutal side, with expected temps in the high 30s to low 40s, and a mix of rain and snow. You heard that right – SNOW. Despite the hard core forecast, all 18 teams piled on the layers and sailed out through the wall of steam rolling across the water. The RC cranked off 4 races with wind ranges in the 12-18 knots, and it really wasn't that bad once you got into it. My biggest problem was visibility; glasses on or glasses off, you couldn't see much  through the rain, but it was marginally better than getting the full wintery mix right into my eyeballs.  It was a really fun day of sailing with good friends, and we were off the water by 2pm. That opened up the afternoon for us, and we took full advantage to up the fun factor. We were staying at a Methodist church retreat, and along with our upstairs neighbors from Muskegon, we  probably broke just about every rule they had with all that time to kill before the 6 PM regatta party. We had about 3 hours of playtime on the shore of the lake with frisbees, volleyballs, wiffle balls, horseshoes, and even acorns flying through the air from all directions. It was pretty chaotic at times and I'm pretty sure we provided more than one topic of discussion for the group of college students who were staying there on an actual Methodist retreat.  But goddamn, did we had fun.
Sunday morning started out with a similar forecast but with less warmth and less wind, but with the sun shining, it felt a comparative heat wave.  The RC got us two more races to close out this year's event and again, like it was on Saturday, it was a great day of sailing. Brian Porter and the Full Throttle team fully throttled us all and won every race but 1, but we won the most important race of the week, getting to the hoist first after an early finish in the final race.
We had a brand new VHF radio that must have been on a half-price sale because it only half-worked; we could transmit but could not receive. That was a problem all event, but especially when we were OCS on the last race; by the time the windward boat rolled us and we could hear them telling us we were over we were pretty far back. We swung the bat hard on the first beat hoping to make a gain to get back in the race, but with the breeze cranking, the boats in front of us hooked up on the downwind and were gone, we didn't stand a chance of passing anyone and decided to take the extra point and get on the trailer first.
This is a great event and a beautiful time of the year to be racing sailboats, I have missed these events over the past few years with living in California and then Florida, and it was just perfect to be out there with friends, racing hard and having fun…even if it felt like we were inside a refrigerator.
-The God Damned Reverend, Out
October 6th, 2014
Rossi Milev's final report from last week's J/24 Worlds has reappeared from the hole it fell down, and here it is. Congrats to Rossi and the team on a solid 7th place, and a big thanks to all of them for contributing to 6 great reports from yet another strong J/24 WC.  Also a big congrats to winner Will Welles and his crew on their first J/24 Worlds victory, especially long time Anarchist and contributor Luke Lawrence, who becomes one of the year's super successful one-design sailors.  Luke adds the Worlds to a list of diverse overall wins including the Bacardi Cup (Viper), Charleston Race Week (Viper), Celebrity Pro-Am Nantucket (IOD), J/24 Nationals, and the Medal Race in the Finns at the Miami OCR, as well as 6th in the J/70 Worlds and 15th at the Jaguar Cup. Here's the report from our favorite Canadian Bulgarian.  Vote on your favorite photo from J/24 Worlds at the Class Facebook page.
Brad Read made the call at 830 AM – it's the Worlds, and that means we're going out to the ocean again.  And what an EPIC day it was!  Very windy on the way to the course, and we were thinking the jib was the call again.  Waves were 90 degrees to the wind and looked a lot like day one, but the wind was from the NNE.  I wished it was day one and I could start this regatta over again from the beginning…
We had a nice 30-minute tune up with Will, with our boat finally moving really well upwind.  We'd moved the mast butt forward a bit to get less forestay sag, and the boat felt lit up. It's always amazing when you find the sweet spot with the tune just right, and the boat just transforms herself into something beautiful.  Maybe she is called a 'she' for a reason!
In Race One, we again had a solid start just under the midline boat, burning boats off our hip until we looked good again.  The breeze was dying a bit since we tuned up and the shifts becoming bigger and more unpredictable.  We tack to port and look launched – until the next righty came in again and we can't cross.  A few more tacks back to the left and we've gotta win our side.  Some things never change.
A very tight fleet at the top with Mollicone rounding ahead by a length or two over Will, with Tar Heel following.  We rounded fifth, and with good right shifts on the downwind it was a drag race to the mark and the new course change.  Not much changed for the rest of the race, with the order at the finish mostly matching the order at that first rounding.  With Mauricio Santa Cruz out of the top ten, it was now a three boat regatta – not gonna be a lot of match racing in the last race!
As we grabbed another good start – five in a row now – I found myself wishing again that the regatta started on Monday.  We went straight again, looking good and playing the left, though the leg repeated the first race; right with more pressure and left shifts short but strong, making you put the bow just high enough to clear the waves and grab the lift.  Climbing up the ladder was tricky.
Mauricio was very patient on the left, surviving to round on Chile's Matias Seguel stern.  Welles in third again, and we were top ten.  With Helly Hanson in the twenties and not a lot of passing lanes, the race between Will and Mauricio was on – but the boats behind suffered in few-to-no-gybe drag race.  A big left shift on the second upwind inverted the fleet, and some corner bangers made huge gains on the left; we went middle right and lost twenty boats.  Not the way we wanted to finish!
On the other hand, we were overjoyed for our long time friend and tuning partner Will Welles and his crew for fighting right to the end and winning a title that's eluded Will for decades.  Well done, guys.
The awards ceremony was a class act and a great finishing touch to a Worlds that celebrated the 35th anniversary of the first one.  Can you imagine predicting that the J/24 would still provide some of the world's best keelboat racing a third of a century after its first Worlds?
Feel free to question that by coming to Germany next year and trying to win.  If you do, your name will be in some great company.
A huge thanks to Lavalife.com, Sailing Anarchy, and DryUV for their support of our Toronto-based team, which included Trimmer Chris Ball, Mast Mike McKeon, Bow Whitney Prossner and Tactician Chris Snow.  We hope you enjoyed our stories.
October 6th, 2014