Big Pimpin'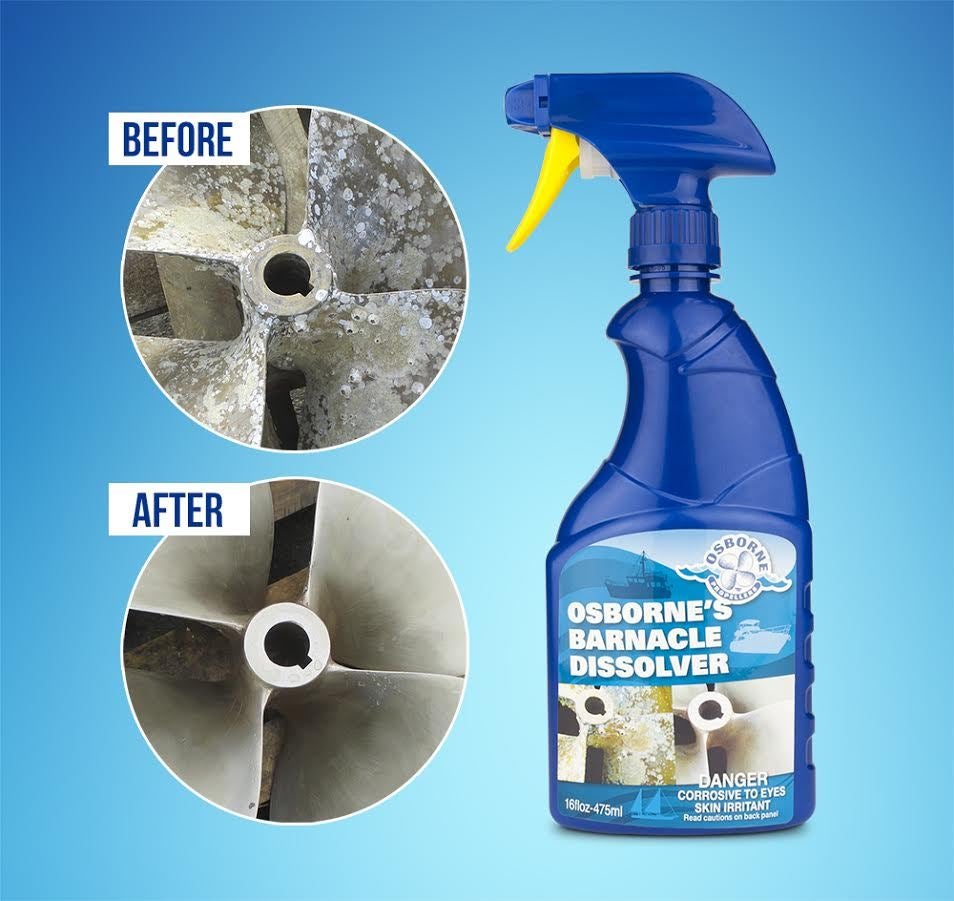 Barnacle Dissolver from PYI Inc. provides boaters with a DIY friendly solution for removing marine growth on their propellers and other running gear. Fouled running gear can negatively affect your boating experience through lower boat speeds as well as increased fuel consumption.
In the past, methods for growth removal have included the use of power tools and acids. With power tools you can run the risk of damaging the propeller by removing too much material, which could result in added vibration from an out of balance propeller. Acids, although they work very well, are not known to be very user or environmentally friendly.
With the introduction of Barnacle Dissolver, maintaining you running gear has never been easier. Barnacle Dissolver uses an organic salt compound to help release the grip of the barnacle or other growth making it easier to scrape and rinse away.
After the growth has been removed, with an additional coat of Barnacle Dissolver along with the use of an abrasive cloth (such as Scotch Brite) you will be left with a clean polished surface and very little mess to clean up.
January 11th, 2017
With Twin Peaks (one of the ultimate cult favorite TV shows) set to return this spring after something like a 50-year hiatus, our brains were already tuned to the word "Peak".  Fortunate that a sailing documentary popped up the other day with just one more peak…and a great cast of its own.
Dee Caffari stars as the celebrity with a target on her back in the Barmouth to Fort William Three Peaks Yacht Race – an event that includes both crewed racing and back country runs up some of the UK's biggest peaks.  Enjoy this rare gem of a sailing documentary that looks good, tells a great story, and helps us get to know the characters in a quirky place and a quirky race.  Sign up for the 2017 event here.
January 11th, 2017
20 M32 teams went through an entire high-pressure season of big wind sailing on the World Match Racing Tour without a single dismasting, but that didn't mean shit to mother nature in Miami as she took two rigs down in the space of 6 seconds; Petey Crawford got some good video and pics of the event here, and be sure to follow his FB page for coverage of everything Miami this winter.  Rick DeVos took M32 Miami Event # 1 over Don Wilson…
Title rip to one of the best NSFW songs ever for the racially challenged.
January 11th, 2017
Our Senior Editor and his new view on life found this carbon fiber construction irresistable. From the insanely artistic shop of Italy's Bruce Creations comes twin inlaid carbon pacifiers for a foil kiteboarder's twin babies.   Bruce spends most of their time making things that go fast (and check out this sexy custom Velocitek Speedpuck Case too), but if you're looking for something that's just black and beautiful for that special hi-performance guy or gal, he got that too.  Thanks to Rasputin22 for the find.
January 11th, 2017
Life on the bow is tough.  That's why you need the BowCouch™ for your racing yacht!  Sleek, aerodynamic, and guaranteed to help you secure the best bow talent in the business, the makers of the BowCouch™ know what's important to your foredeck crew – that's why the foam is closed-cell and the fabric is completely stainproof…
If you buy 3 BowCouches™ in the next hour, we'll throw in a 1973 Cal 27 sailboat – absolutely free!
(great find from SA'er wristtwister - thread here)
January 9th, 2017
Despite the title, we promise you that this is NOT a video of our Senior Editor being born.
It is a video of a tiny Allen Brothers Block being produced from scratch by the UK rigging company, but more importantly, it gives us an excuse to remember a passionate sailor whose death went unnoticed by us last year.  Here's a beautiful obit of Kim Allen from the folks at Burnham Week.
Kim was only eight years old when his father Glenn died. Glenn, together with brother Tony were the co-founders of Allen Brothers (Fittings) Ltd. After Glenn's untimely death, Kim's mother Vera remarried and Kim was sent to boarding school in Rutland, an experience he did not enjoy. Many of his formative years were spent with his Auntie Ann and Uncle Tony Allen, growing up with Elizabeth more as brother and sister rather than cousins. Kim completed his education at the local state school in Hornchurch, did a year's business course at Ardleigh Green where he met Lindsay, and they married in 1993. Their two sons, Edward and Richard were born in 1991 and 1993.

Robert Coyle met Kim in their Cadet days, along with Alistair and Stuart Munro, Mark Wade, David Shapiro, John Lewis and many more. Kim's boat was called Happy, in line with the family tradition of all boat names beginning with HA, although not a good name at the time! It was already clear that Kim not only loved competitive sailing but was good at it. His calls on the water became well known, most might use 'starboard' or 'water', but Kim normally preferred 'xxxx off' which seemed to work! After leaving Cadets Kim sailed 470s for a while, with other Corinthian members, especially the Wades.

Kim started working for the family business in the seventies, under Tony's guidance and also became his apprentice for the Endeavour Trophy Championship and Icicle events, watching and learning how it all worked. As his competitive dinghy sailing tailed off he became increasingly involved with his company's Soling, Dragons and Roller Coaster, a twin-masted ketch on which the whole Allen family spent many happy holidays.
January 9th, 2017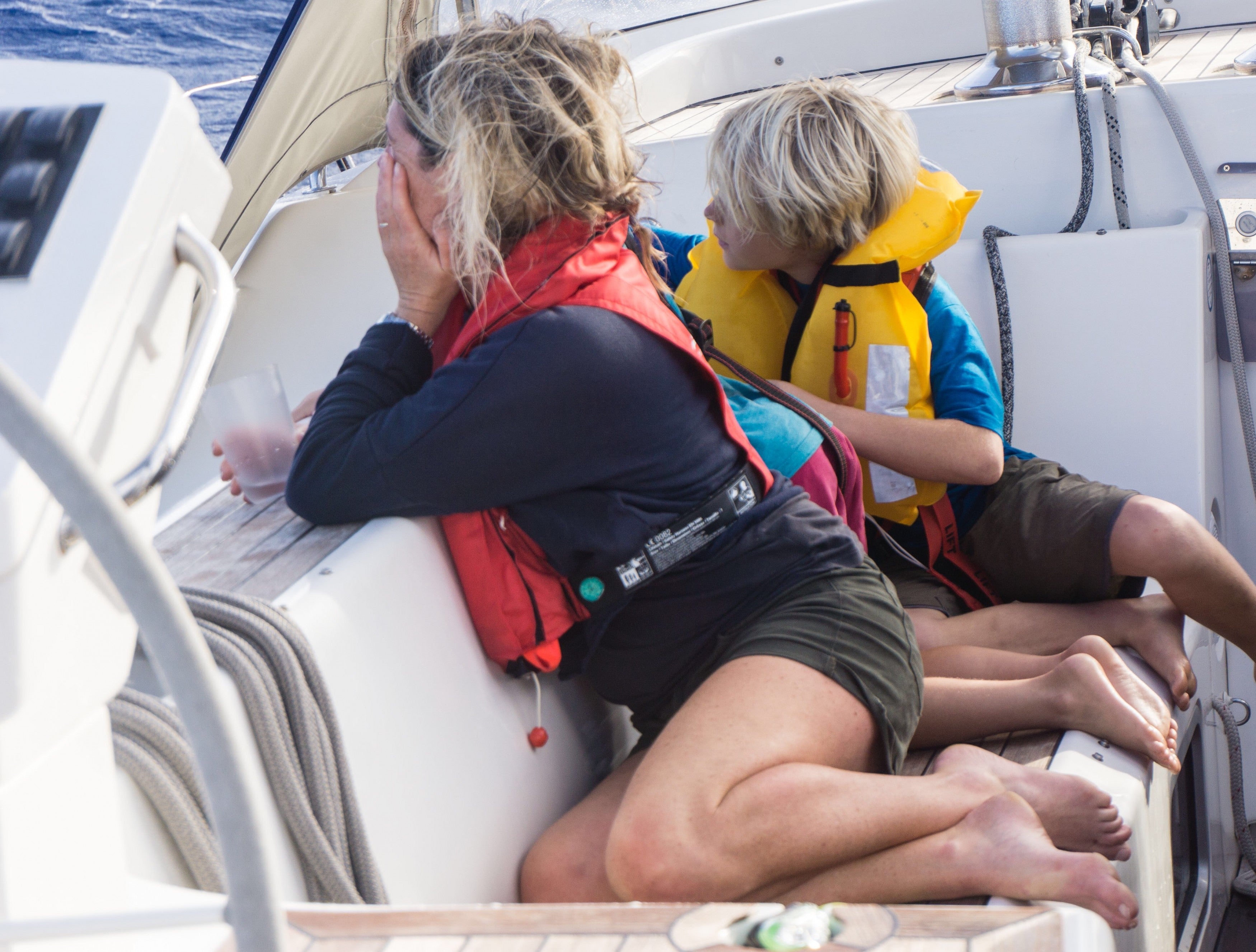 Looking for an extra $10,000 while you're lounging in the Caribbean? Read on.
A young English couple and their two adorable kids saw their cruising dream fall apart just before Christmas when they abandoned their disabled yacht Dove II in sporty conditions about 500 miles East of Antigua.  Two Chinese cargo ships couldn't make the rescue, but the lee they created while standing by helped the crew of the charter Discovery 67 Tilly Mint pull the crew of Dove to safety with a life raft.  Here's an excerpt of the rescue story from the rescuees, and head over to their blog for an extremely positive look at the aftermath of a decidedly non-positive experience.  The story begins with the disintegration of Dove's rudder, here. 
Around 5 o'clock a lot happened, Falmouth coastguard rang and advised James to leave the vessel, Fort de France followed and advised the same, Newseas Jade moved towards us, into a position to create a lee and Tilly Mint bounced around next to us looking gorgeous. When they'd radioed the night before they had sounded so professional, now we could see them and they looked professional.

We confirmed the plan on the radio and then it all happened so fast, Jim deployed the life raft off the back of the boat and then we had a moment, it was probably three seconds long but it was beautiful and broke my heart all in one and then I jumped, off the boat and fortunately into the life raft. Now I must pause here, when you think of life rafts you think I could do that, I could hang out in a life raft, drifting around, life would be fine and I'd survive. No, just no. This one was a six man raft, it was tiny and you feel incredibly exposed and open to the elements, it's sitting on a piece of plastic floating over 4000ft of sea? I got on my knees and James basically threw me Heath, he was so brave, I hadn't witnessed him and James's goodbye but he just sat where I told him, didn't scream, didn't cry, he just said "Mummy, I don't like this!"

Isla came down next and again she landed in my arms in the raft, she was very scared but she sat down next to Heath. I was saying things like " its like a paddling pool!" But as I looked at their faces they were just scared and in the end I just said repeatedly "you're fine, we're going to be ok" Tony appeared in the raft and James cut us free, we were off the boat, we were in a life raft in the middle of the Atlantic Ocean. This is a shit situation but we've got to get out of it and we unfortunately have to do that ourselves, so we all tried to stay calm.
Now, about that 10 grand: The patriarch of the Dove family posted this today: URGENT $10,000 REWARD FOR RECOVERY. Sadly we had to abandon our yacht DOVE II 460nm due east of Antigua on the 21/12/16. We are now trying to find out where it is with the hope of recovery and carrying on with our adventure.  It should now drifting towards the islands.  Could I ask people to keep a sharp lookout for it and report any sightings to myself or the coastguard. Many thanks, James.
You can read the full story of what actually went wrong on our blog.
Find out where the yacht is likely to drift by cruising the thread.  Photos from the Dove II blog.
January 9th, 2017
But the Rainmaker lives on…Check it. Title inspiration thanks to NiN.
January 8th, 2017
Ah yes, the good ol' America's Cup. Let us not forget what potential chaos awaits…
There are times when words come out of the mouth that as you speak them, and they become readily audible, you wish you could suck them back in and have a do-over. But hindsight doesn't work like that. There's no rewind switch — once it's out there, it's out there.
Chris Furbert experienced such a phenomenon on Tuesday when he proclaimed: "The America's Cup is in great threat of being derailed in June and July. The America's Cup will be in jeopardy. The membership is not going back to work until those two matters are resolved."
Even for someone of the Bermuda Industrial Union president's bent — ie, possessing the innate ability to pick a fight in an empty room — these were comments worthy of instant recall. Notwithstanding that he confused the dates for the greatest event ever to hit Bermuda's shores, exactly whose membership did he speak of, for "those two matters" relate to the airport redevelopment plan and the rejected work permit application of the Reverend Nicholas Tweed?
Neither is an issue that should concern the BIU and its membership — at least not until work is commenced in the vicinity of LF Wade International Airport involving unionised labourers. And the People's Campaign does not have an official membership; nor is it recognised by the Bermuda Government as a union of any distinction.
The opportunity to recant was resisted in the subsequent 48 hours but there can be no doubt now, given the public backlash, that Furbert has bitten off a bit more than he can chew when he dragged the America's Cup into the argument.
For, with that, he opened the door for the Government's bona fide big hitter to weigh in on the ludicrousness that an immigration issue could have an impact on a month-long smorgasbord of opportunity for Bermudians that has the potential to yield a $350 million windfall.
Anyone who caught even a whiff of the World Series event in October 2015 would have to appreciate the feel-good factor that swept the vicinity, if not immediately feeling returns in their pockets. That is for the naysayers and race baiters to emphasise while reminding of the worst in our characters.
So Grant Gibbons, chiefly responsible as Minister of Economic Development for bringing the "Auld Mug" to Bermuda, was right to chastise Furbert for wholly irresponsible statements that have already done the island reputational harm.
Read on, courtesy of The Royal Gazette.
January 7th, 2017
This is how they do it at the Irish National Sailing and Powerboat School. We'll politely ignore the powerboat part…!
January 7th, 2017