Next Friday is the 8th Annual Winter Anarchy party! With the demise of Strictly Sail Chicago, the party will be held on Friday, January 16 of the Chicago Boat, RV & Strictly Sail Show - a mouthful if you ask me.
The biggest midwinter party in the region has flocked to a new location - Goose Island, home of our favorite beer! Also new for 2015, Winter Anarchy has a beneficiary for the first time ever – The Skin Cancer Foundation – with a goal of raising $2,500 for a cause that affects all of us outdoorsmen. Just $20 will get you an open pour of Goose Island Beer and Mount Gay Rum from 9pm until it's gone.
And of course, we'll have our famous prize toss and raffle. Prizes include: $500 to Sea Hawk Paints, 2 crew school registrations at Chicago Corinthian Yacht Club, gifts from Line Honors and Sailing Anarchy softshells. We would also like to thank: Crowley's Yacht Yard, The Chicago Regatta, Pettit Paint and Skyway Yacht Works.
Title thanks to The Bangles.
January 9th, 2015
I wanted to bring your attention to a new cure for a common affliction that effects so many of us.
If you can rest a beer can on your Joe, if you are gaining pregnancy weight in solidarity with your wife, or if are just stuck in front of a goddam computer in the off-season like me, this Laser treatment is for you….
- Anarchist Rick.
January 9th, 2015
We've certainly said that before about JuanK, but there's no denying the new Rambler 88 is a work of art.  Will it perform?  Will it stay in one piece?  Who knows, but in this gorgeous shot of some rare sea smoke in Newport, she looks the business.  Big thanks to Alex Clegg for the shot.
January 8th, 2015
After most of my last month spent with the Volvo Ocean Race and Barcelona World Race, it seems the phrase "see you later!" has become quite the norm amongst friends and families.  This one, though, was a bit different; the BWR is a truly intimate affair amongst the crews and racers, with wives, brothers, sisters, children – even grandparents all chipping in to work, feed, or cheer on 'their' team.   I was so impressed with Lili Fa, daughter of Nandor and shore crew for Spirit of Hungary with her mature presence, calm nature and talking about how proud she is of her father. It touched my heart and reminded me why I love what I do. I'm excited to continue to follow the race and always my heart and mind are with the sailors to stay safe, have a great race and enjoy the ride.  Thanks for following it along with me, and be sure to follow the race at www.barcelonaworldrace.com.
-Jen Edney, Edney Adventure Photography
January 8th, 2015
With thanks to Sperry Top-Sider here's another look at the Moth Worlds fleet:
"Mate, you shoulda been here a few days ago" is the Aussie version of 'it's not usually like this,' and a walk along the beautiful beach in front of the Sorrento Sailing Couta Boat Club reveals a final registration of 160-odd boats; by far the largest fleet of foiling boats ever assembled, lying in waiting as a trough of low pressure between two formed highs has created hot, cloudy and calm conditions in this normally sunny and breeze-on venue.
With no racing completed on day one or two of a 2-day International Moth Australian Nationals, the anticipation amongst the fleet of competitors, not to mention the media and spectators, continues to grow ahead of the main event; the 2015 McDougall + McConaghy International Moth World Championship which begin on Saturday downunder/Friday evening stateside. Mother Nature should play ball then, but during the last two days, this massively stacked fleet of sailors has been constantly tweaking boats and trying to maintain focus and composure, attempting in vain to hide the frustration that bubbles beneath the surface.
Fortunately for us and for our readers, the postponement has provided us a chance to dig through just about every boat on the beach; We've seen about a hundred different ways to rig the same boat (Mach 2), had a good walk around the new Prowler and Exocet boats to learn what makes them tick, and have even found a handful of non-foiling antiques including a father/ son team battling for family bragging rights. Clean tried his best to run us into oncoming traffic a couple of times (did you know they drive on the opposite side of the road down here?  Clean seems not to), but we managed to pick up some new kit yesterday to enhance our live feed coverage, which begins sometime on Saturday afternoon local time (Friday evening for all you West Coasters).
The forecast looks good for a 1 pm Pre-Worlds practice race today in a forecast 12-15 knots from the south to southeast, and you might catch a glimpse of our own team's practice for On-The-Water Anarchy – LIVE if you check out the Youtube Page.
Die-hard spectators will want to stay tuned for our full-on Form Guide, and as always, check the thread for the latest news, and keep an eye on SA Facebook for a stream of awesome photos from Sander Van Der Borch.  These photos from Ronnie Simpson's point-and-shoot (as is most of this story).
January 8th, 2015
As far as we can tell, no one's every abandoned a World Championship race for sharks; until yesterday, that is, when Race Committee at the Tasar Worlds spotted a 5m (16.4 foot) Great White  prowling under the 122-boat fleet. With serious breeze on and plenty of capsizes, the RC sent the crews in quickly.  SA Moth Worlds co-commentator Nic Douglass lies in second overall with dad Rob; she'll miss the first day of our coverage in Sorrento and rock up on the Sunday for Day 2 – hopefully with a shiny new World Champ medal around her neck.  They've got limited coverage of the Tasars on Facebook over here.
We couldn't resist the title; click here for a good old belly laugh from a clip that will never get old.
January 8th, 2015
Most of you aren't old enough to appreciate the classic double head rig. We are! This from the Panerai Transat Classique 2015, the 2,800 mile race from Lanzarote (Canary Islands) to Fort-de-France (Martinique). Loads more here.
January 8th, 2015
VOR Exclusive
Five days on the way, all boats are still pretty close. Our Chinese friends leading the pack for the last couple of days. We got them back to 1.9 mile last night, but then the bungy sprang the wrong way for us, now over 7 miles behind them. It seems they like to sail on port tack, as all the gains they are making are done on that board. But said that, we extended against the Arabs. Sailing as lot in the cross over the masthead 0 and the A3 gennaker, and with a small chop accompanying us not an easy task for trimmers and helmsman. Lots of wording like : "lets change , it is a hold, ok change, hold!". At least we have learned not to wake everybody up until the sail goes into the sky. We are trying to pick the sail that gives us the best average, so that we don't get into a changing frenzy.
We got some new food onboard and actually these two brands can be the ticket for any SA reader who is going offshore. Boiling water is always a crime especially when it bumpy on a boats who's kitchen is not designed for cooking anyway. For shorter offshore races, it means as well sending a guy downstairs, losing valuable kilos of the rail. The two brands you must try if you can live without a hot meal are Adventure Food, the crunchy muesli and Ambronite. The muesli still needs a soak as it is freezedried, but the Ambronite is the real ticket in my opinion, as it is just adding water, shake and drink. Bonus: it is only having natural ingredients, very much like a fresh vegetable juice.
So why do I like the above? It takes me always a couple of days before I can force myself to eat warm freezedried, I have eaten it too much in my life and simply lost all appetite for it over the years. But by
eating/drinking the cold meals at least I get the calories I need. Maybe on day ten, I will have have my old time favorite, the USA Mountain House lasagne, which is impossible to buy in Europe due to regulations, but we got our hands on it:-)
3800 miles to go, it feels like this leg is going to take forever. But not complaining: we are moving, no water on deck, it is warm, hearing great stories, some of them again, but with different twist. Maybe an idea for our crazy OBR Stefan to make a movie about one of these stories, he likes that stuff.
Bouwe Bekking
TeamBrunel
January 8th, 2015
Future SCOTW Clare Bright grabbed a press spot with the inshore-blitzing Team SCA boat during the practice race in Abu Dhabi last week on the condition that she tell us their story; given how many fans Samantha and the team have here at SA, we were stoked when it hit the inbox the other day.  Track the girls, as they hang on for dear life at the back of the Leg 3 standings.  Photos from proud hubby Jeff Bright.

OK, this is me…I'm a Brit, grew up on the North Kent coast and crewed Condor Cats as a kid, found it all too cold in that part of the world and gave up for many years, then moved to Abu Dhabi and started again on keelboats.  That was just over 3 years ago and now I'm a mad sailing addict, race regularly in IRC and one-design fleets, sometimes against my better half (yes, I can beat him!) and could not believe it when I got the opportunity to go out on the TeamSCA Volvo boat thanks to Sailing Anarchy.  Here's my story:
Sailing with 'the girls' for the practice race was an amazing experience. The Volvo boats are stunning and the top end of the sport has gone too long without all-girls team. I run my own female team, albeit a much smaller one, on my SB20 and the dynamics are quite different to being out with a male crew.  We focus on a clean race, finding our own lane, clear air and smooth maneuvers to tack, gybe or set/drop sails.  There are no port tack starts on a busy start line just to look macho, or legs spent chasing other boats downwind to try and take them up and out (which usually results in the aggressor taking herself out) or other such testosterone-loaded tactics.  And the result? Very often we quietly and smoothly gain places and end up with a podium finish and smiles on our faces.  It works!
Back to the Volvo race, that's exactly what I saw with team SCA.  From the moment I stepped on board there was full focus on teamwork, the race, discussing tactics, practicing the starts, learning from every move and a subtle but firm, quiet and concentrated attitude.  With a couple of changes amongst the crew there was an air of needing to get back into a rhythm and it sure didn't take long.  The girls were a little early at the start, killing time to the line, then they played the course perfectly going left first, which often pays off in Abu Dhabi while the offshore wind is settling, and rounding the first mark in the lead.  From that point their tactics were about getting ready for every maneuver early and to keep things clean. Looking back, the guys were desperately trying to catch up and clearly not so calm. I was smiling as I watched spinnies with bad sets or late drops causing mark roundings that weren't so clean, the girls showed everyone how to do it that day.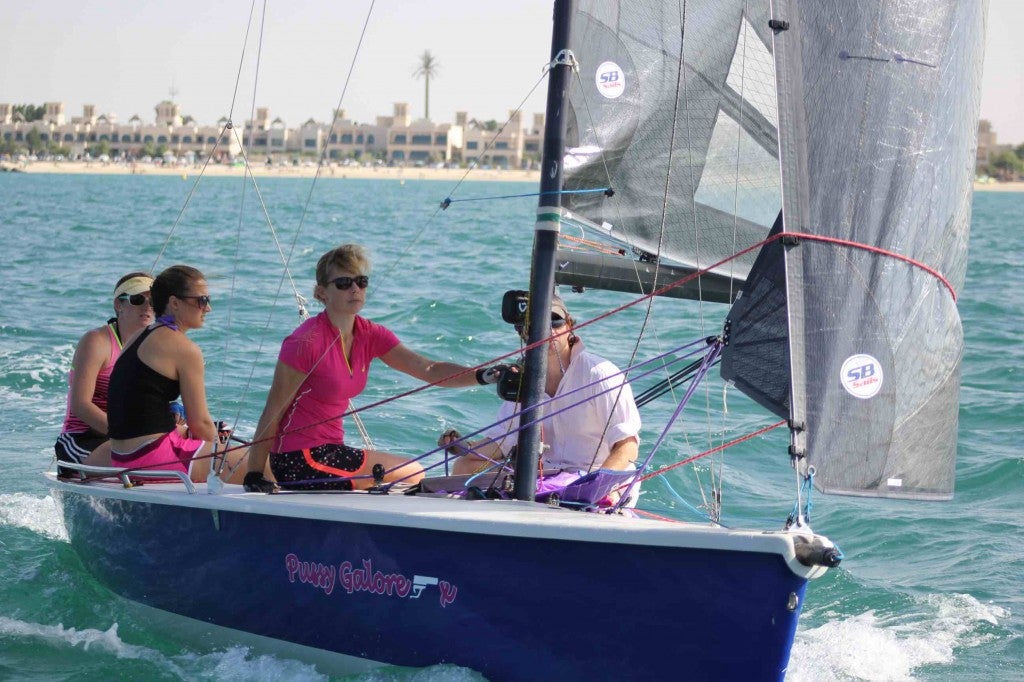 Plenty of people thought the team got lucky…until they did it in the In-Port Race.  This time watching from one of the media boats, we saw the girls peel off early and the general commentary out on the water was that they probably had no choice given their position after the start.  How wrong could they be! What the locals know is that there's a narrow channel running across the bay near the gate end of the course.  Going right early they took both an advantageous wind shift and current help, taking them around the top mark with a solid lead. They won on excellent tactics, navigation and skill – both times.
I'm sure you'll be wondering if any of the crew really stood out, but the truth is that they all did.  Pure teamwork is a joy to watch, with everyone playing an important and integral role. Libby as navigator called the lines perfectly, then Carolijn would add some fine tuning as she spotted a wind shift or wanted a better position while driving.  Up front, the foredeck team was incredibly smooth and there was great communication between them and the rest of the crew.
Foredeck is my favorite place to be on my SB20, and I would love to have been up there helping out!  Sadly, I had to stick to the guest role, watching from the back.  Next time, eh? The trimmers worked constantly, and everyone from mainsheet to bow made sure to always keep the boat tidy, never leaving a chance to mess up from a tangled sheet as they were all back in the bags when needed.   Even OBR Corinna Halloran played a fundamental role, looking out for the guests
and snapping great pics for all of us.  If there's one thing I noticed that possibly use improvement, it would be for the girls to make sure they always know who's in charge when it hits the fan.  A gentle inshore race in Abu Dhabi might be fun and the consultation amongst the girls is always going to be valuable, but the challenges on the next leg may need a fast, clear decisionmaker in the crew.
The Volvo Ocean Race Abu Dhabi stopover has been an incredible week!  Over a hundred thousand people checking out these awesome boats, some great racing for the participants, the VIPs, and the spectators.  The way the shore teams, Boatyard staff, and VOR HQ support the teams and public is outstanding, and I just hope that both Abu Dhabi and SCA sign up for another go, because we would love to have them back in three years.
January 7th, 2015
Christophe Launay put together this very cool collection of images from 2014 together for your viewing pleasure.
January 7th, 2015
What do you do with your old x-mas trees?  First, we use an old Ultimate 30 (Chattanooga Chew- Chew) to transport them across the sea, then we burn em!  -Anarchist Brett, Kaneohe Bay, Hawaii.
January 7th, 2015
A proper sizzle reel gets you excited for just about anything, and no one does it better than Petey Crawford.  Here's a taste of what you're in for.
January 6th, 2015
Ronnie Simpson, our resident writer, war/shipwreck vet, singlehanded racer, and now engineless cruiser landed in Melbourne just 3 hours ago, and he's already hit the ground running in SA's quest to bring every bit of the Moth Worlds to you.  If you're as stoked as we are to watch this epic event, go and thank our new mystery sponsor Sperry Top-Sider; who asked us a few months back: 'if you could cover any event, which would it be?'  Here's Ronnie to explain as only he can, and photo credit to Petey Crawford/Penalty Box Productions.

I feel a little like I've stepped into a Hunter S. Thompson novel. Clean's the lawyer, (no, seriously, the dude's passed the bar), I'm the wiry journalist nursing a tumbler full of Jim Beam behind a typewriter, and we're headed out West to cover a bunch of guys going really, really fast in a big, important race.  There'll be plenty of cocktails involved, loads of pranks and secrets and laughter, and someone may even get hurt. Only one thing's for sure; the next week and a half are going to be chock full of some of the most interesting, technical, and straight up insane boats and sailors, and the only place to see it all unfold live is right here on Sailing Anarchy.
Australia.  Originally settled by the English to house an overgrown convict population, it's a land so rugged that merely existing without dying proved a struggle for generations. An isolated island continent so full of land-and-water borne dangers that they've literally named a city after Darwin himself. A place where the average teenage girl can drink you under the table and the c-word can be a term of endearment, it's no wonder that Australians have earned a reputation as being a hearty bunch. Get in the water with the Aussies and engage in battle and they're nearly unstoppable, no matter the discipline. Home to professional surfing's first world champion, the first group of sailors outside the US to win the America's Cup and more foiling moths than anywhere else on the planet (including the defending world champion), it's only fitting that when the Moths decided to go off with their biggest Worlds ever, it would be held down under.
The Moth got its start more than eight decades ago in nearby Inverloch, based on the very ethos of being an open, box-rule 11-foot dinghy, and has since seen constant development across three different continents to become the foiling monsters that they are today, and the fastest dinghy in the world. With the America's Cup switching to foiling just two years ago and an unprecedented amount of resources being dumped into foiling-development, the class has surged in poularity to become the single most important dinghy class in the world, and as a result, everybody's here. Well, almost. Staying true to its roots of open development, we'll be seeing everything from beautiful homemade boats to bone-stock production moths to highly customized hulls, foils, control systems, aero, and rigs on the very cutting edge of technology.
With enough Olympic Gold present to fill Fort Knox, somewhere north of 160 entries and the deepest fleet of any moth race in history, the 2015 McDougall + McConaghy Moth Worlds are set to go off in a big way, and we're coming locked and loaded with video interviews, daily write-ups, sit-down talk shows, tech profiles, live racing feeds, kick-ass photos and more. Post your questions and feedback in the forums and we'll take it from there.  And don't forget about Sperry, where Odysseys Await.  Also a big thanks to Line Honors Yacht Racing Outfitters for supplying us with some last-minute shirts and hats – no one does it better and faster than Bobby, give 'em a call!
January 6th, 2015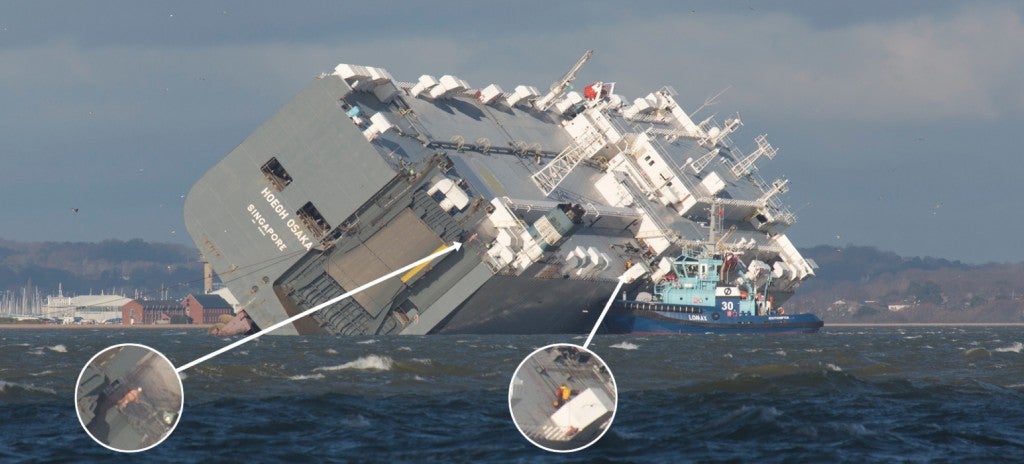 The car carrier Heogh Osaka enjoys a mechanically-induced holiday on Bramble Bank in the Solent, and it's even sailing related; Extreme Sailing Series and enthusiastic newish-to-sailing sponsor Jaguar Land Rover owns about 1200 of the vehicles aboard. (From Anarchist 'Peter Morton 1′: "My flat looks right on to The Brambles so saw the whole thing and then listened to VTS last night. I heard the tug boat captain asking to to be vectored to the Brambles to get it "out of deep water". It had a massive heel on to starboard before it went aground from what I could see so my guess is the big port turn at West Bramble caused a list. Went out in my RIB first light and my guess is it will be there for a while. Is certainly not coming off on the next HW as that has just past and its meters out of the water."
More firsthand accounts, video and more pics over here.  Sweet shot from this dude on Flickr.
January 6th, 2015
Wondering why the Ed hasn't been doing much sailing of late? We didn't think so, but in case you were, wonder no more. Here is the Jim Donovan designed Wrace built GP 26 hull #4 getting ready to be shipped to San Diego, to be raced by Tempesta and his band of misfits. Doyle is building a new set of what will be incredible sexy Stratis sails, Eric Rogers is going to commission the boat, and Jim  Donovan is going to come out to make sure we don't fuck the whole thing up! More soon…
January 5th, 2015
 750 MILES OF 50 DEGREE WATER 
You, a boat, a starting gun, $10,000 if you finish first, A set of steak knives if you're second, Cathartic elation if you can simply complete the course. Self-supported race: no supply drops, no safety net.
Any boat without an engine can enter.
The inside passage to Alaska has been paddled by native canoes since time immemorial, sailing craft for centuries, and after someone found gold in the Klondike the route was jammed with steamboats full of prospectors elbowing each other out of the way for the promise of fortune. It's in the spirit of tradition, exploration, and the lawless self-reliance of the gold rush that Race to Alaska was born. R2AK is the first of its kind and North America's longest human and wind powered race, and currently the largest cash prize.
It's like the Iditarod, on a boat, with a chance of drowning…being run down by a freighter, or eaten by a grizzly bear. There are squalls, killer whales, tidal currents that run upwards of 20 miles an hour, and some of the most beautiful scenery on god's green earth. What in the hell is this all about? Check it out.
January 5th, 2015
Big Pimpin'
The Holidays are a wonderful time for family, celebrations, as well as eating and drinking to excess.  In the back of my mind, I'm already thinking about racing in 2015.  After some warm up races in the first quarter, there is NOSA's Newport to Ensenada race to look forward to.  The biggest race of the year on the US West Coast.  An opportunity to thaw out in Mexico after our cold wet winter.  2015 will be the 68th running of the N2E race.  That's a lot of history for a sailboat race.  Some of the trophies read like a who's-who of sailboat racing.
One of the best things about a large sailboat race is lots of classes.  This means narrow class rating bands for the best possible handicap racing.  With a class for everybody.  From slow boats up to the fastest gran prix racers.  Even "cruiser classes" that can run their engines at night, ideal for the party animals who are most concerned about after-finish activities.  In addition to class trophies, sailboat racers compete for a number of special trophies including fastest elapsed time, overall on handicap, and a number of specialty categories including double handed and all female.  41 perpetual trophies by my count, with corresponding take-home mug trophies.
The 2015 N2E race continues the improvements of recent years.  Race HQ are at the Hotel Coral, an upscale location.  Classes start in reverse order, allowing slower classes to see the faster classes go by, and to get to Ensenada a bit sooner.  A Grand Prize will be raffled off to one of the class winners.  Parties and events before the start, parties and events in Ensenada.  Free beer waiting when you finish.
This is the first time N2E will offer a longer course as an official Transpac qualifier.  Out around San Clemente Island, before finishing in Ensenada.  A chance for us to see some of these long distance racers warming up.
Registration opened 1/1/15, with a $50 discount for registering in January.  The NOR is up at: www.newporttoensenada.com under Race Documents.
NOSA has a schedule of safety seminars to consider attending.  They are ready to assist anyone who needs info on the details of getting into Mexico, and back.
I hope you come out and help make 2015 the best N2E ever.
January 5th, 2015
After receiving thousands of applications for the On-Board Reporter program, and with a high likelihood that at least one of the seven OBRs would be knocked out of the race for one reason or another, you'd think that VOR headquarters would have a solid list of qualified replacements – but you'd be wrong.  And when doctors diagnosed Dong Feng OBR Yann Riou's wife with a life-threatening illness and he left the race two weeks ago, a mad scramble ensued in Alicante and Abu Dhabi to find someone to fill his brilliant shoes.
Thankfully, that lack of preparedness opened the door for a kid who we consider one of our own, and one of those talents who will help define the sport over the next decade: Longtime SA contributor Sam Greenfield was working in the video edit room for the VOR tv army – he was there, he was ready, and he was raring to go.
If you've read anything over the past few years here, you know we think Sam is sailing's version of a young Warren Miller, and his work has the same potential to revolutionize the perception of a sport just as Miller did for backcountry and extreme skiing.  Despite our hearty endorsement, there was a palpable fear from quite a few VOR and team staffers; Sam is undeniably talented, but he's never dealt with the specific pressure of on-board race coverage, with all the obstacles it brings.  We didn't doubt him for a second, and after watching his first dispatch from the now-leading Dongfeng Race Team, we're glad to see that, as usual, we were right.
This kid is money, as are the subjects in his first video – Kevin Escoffier and the hazards of fishing nets. Clicky the video above, and keep your eyes on the Leg 3 thread for upcoming interviews we did with all 6 OBRs just hours before the start, as well as everything else you need to know about the VOR.
January 4th, 2015
SA Special IberianCorrespondent Jen Edney gives us some great insight from the Barcelona World Race start.  Enjoy it, and check back towards the end of the week for our first look at what she can do with a video report. Track the fleet here, and get all the latest chatter in the thread.
"Bye Oscar!"
"Bye!"
"Bye, Oscar!"
"Bye, Dad!"
IT was one of the most touching scenes I've seen in my coverage of the sport; Alex Thomson and his 4-year old son Oscar, seeing who could shout the loudest as Hugo Boss team headed out to the race course for their third Barcelona World Race.  Boss is the only team to sail all three editions of the race, and that same young Oscar is a big reason they're the odds-on favorite for this one: They've got unfinished business.
Oscar was born just before the 2011 race, and then Alex developed apendicitis days before the start, sending him to hospital and the strong Hugo Boss team scrambling for a last-minute replacement skipper. Wouter Verbraak, there to help with last-minute weather routing, was recruited, and he and Andy Mikeljohn never were able to get on the pace. The HB team's high expectations for a strong second edition turned into a disappointing mid-fleet finish despite a faster boat and bigger budget than many of the boats ahead.  It was tough for the team to handle, and it's a big part of what motivated them to put everything they had into winning this race.
The long goodbye is an emotional and touching sight, and when combined with Boss's BWR saga, it's enough to give me goosebumps.  These sailors are waving goodbye to their family, friends and fans for the next 100-odd days, with all the dangers that entails.  So many nonsailors ask me 'why would they do something so crazy?' I'd never really thought about it, and it seemed like a great question to put to the racers.
We Are Water's Bruno Garcia:"I really don't know! I've never considered it a sport, it's something more…"  Garcia thought about it for a minute, then gave me a modified version of Everest trailblazer's answer about mountain climbing.  "Because the sea is there."
Bruno will be sailing with his brother Willy around the world, and their 'family affair' highlights one of the nice things about this edition of the race; the accessibility of communications between the boats and their families, friends, and fans. "I have two kids. One daughter, 12 yrs. old and a 10-year old son," said Bruno. " Four years ago, it was not that difficult. Now they are older, they ask you about the dangers of the race, and 'what will you do if you fall in the sea. You have to be quite clever to discuss with them what happens on the boat and what you will be doing. But I know they support me a lot and I can I count on them."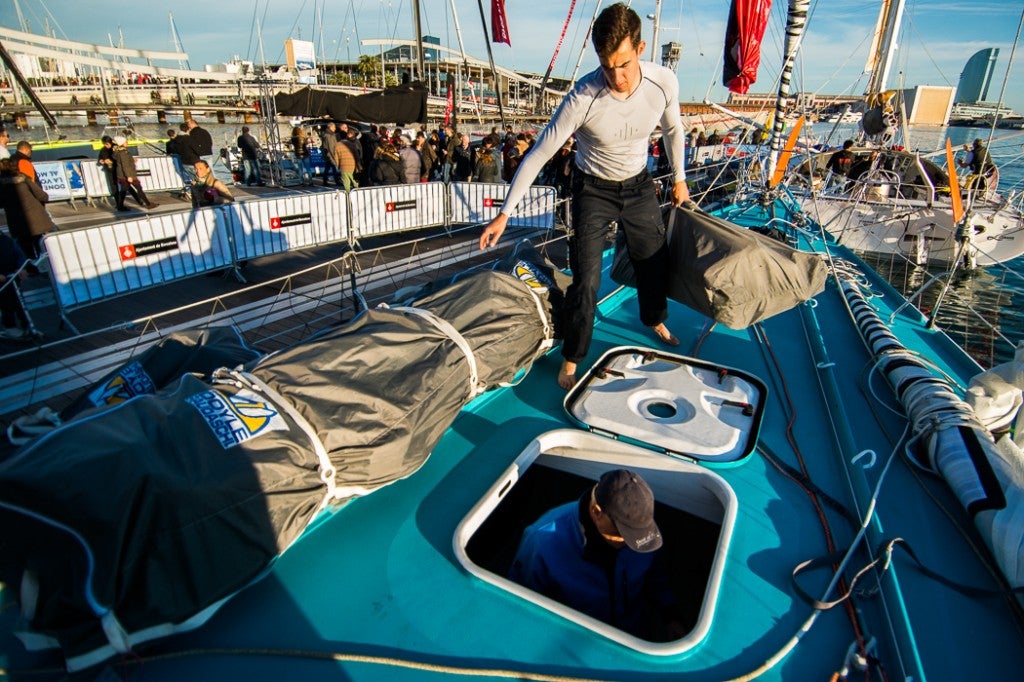 Sailing together is not new for the Garcia brothers, they grew up cruising with their parents and have been racing together since the 90s, but the world Barcelona World race is new for them. "My brother is one of the best gifts I've ever had in my life. He is a very good friend, a great brother and is also a great sailor. I trust him both on the sea and in the mountains. With him I have done many miles, many peaks, many courses..and trust we have is phenomenal…Since the last edition with Jean Le Cam I have learned that this type of racing is not just for those who go and sail but it is also for people like the shore crew and those who follow us. And there are many out there and my brother and I hope to reach out to them and have the public enjoy and share our adventure."
For some, like Nandor Fa's Spirit of Hungary, the entire team is a family affair, with his wife and daughter working full time for the project. "When I decided to return for racing, the family was the first I asked 'what do you think?' And they told me they supported me completely."  Nandor's wife is his media manager, and 22 year old Lili – a baby the last time he went racing – is now an adult and part of the support team.  Nandor's 'third daughter' is Spirit – the only home-built boat in the fleet. Lili says she is so busy that they have less time for worrying. "It is much better to be involved then watching from the outside, biting our nails!"  Lili has mixed emotions on his departure.  "I am going to miss him, but at the same time I am so happy for him because I know that this is his life, his passion and he's been stuck in Hungary for so long working hard and supporting his family…he really deserves to be at sea again."
Nandor is the oldest skipper in the fleet, and he's sailing with the youngest – Conrad Coleman, and they are already well in back of the fleet.  For them and many of the teams on the much slower Open 60s, winning isn't even a possibility; the journey, the challenge, the adventure – that's the victory for them.
For others, like Alex Thomson and Pepe Ribes on Hugo Boss, winning is everything.
And for me, watching and shooting and reporting on this human drama is winning too.  A huge thanks to all the teams for the unfettered access they provided, and an even bigger thanks to Isabel and Daniel and everyone at the FNOB for their constant support this week.
-Jen
January 4th, 2015
When you used to work for Gunboat, and then you introduce your new "luxury catamaran", try not to make it look like a near complete rip-off of the company you used to work for.
January 4th, 2015