Big Pimpin'
Speaking of Doyle, it is interesting to see that they are now building a lower cost product for boats under 15 meters. They look good, too bad you can't get them for your Melges IC 37…
D
oyle Sails is thrilled to introduce the latest addition to their performance cruising and racing range, DELTA.
Delta's high-quality fibre options and layouts offer a modern alternative to the traditional panelled sail construction. Utilizing the same plant and technology as their premier product Stratis, Delta customers will reap all the benefits of proven manufacturing processes.
Specifically developed for the local club racer and coastal cruiser under 15 metres (50 ft) – Doyle can customise each sail based on size of yacht and purpose of use. Creating a 3-dimensional model (as pictured below), helps to consider all of the accurate parameters of the boat, and is essential to the sail flying as intended.
The fibres used in Delta laminates will include Black Technora and Carbon as the primary load bearing yarns. Technora fibres are extremely durable and resistant to flex fatigue, whereas Carbon fibre's have the ability to resist stretch and maintain great shape retention over the life of the sail. With the option for white taffeta or clear UV films, both surfaces will have technora x-ply to counter act off axis loads. Doyle Sails.
September 13th, 2017

Bruno Pasquinelli's Stampede takes advantage of 30+ knots of Mediterranean action to practice for the massive Porto Cervo Audi J/70 Worlds in this shitty iphone shot of a sick moment.  Racing for the 170-boat fleet was called off for the second straight day a few minutes ago, meaning qualification will be ultra compressed tomorrow and UFD flags will be the order of the day as all those teams try to squeeze into Gold Fleet.
Who will lose the regatta before it's even begun?  Find out with our live coverage starting tomorrow at 0900 local time – updates will come via the Italian J/70 Class Facebook Page, and you can watch some live interviews and updates from today on that page.
Entry list here.  Official event page here.
September 13th, 2017
From our loyal advertisers, Front Street Shipyard. This cat looks pretty impressive!
September 13th, 2017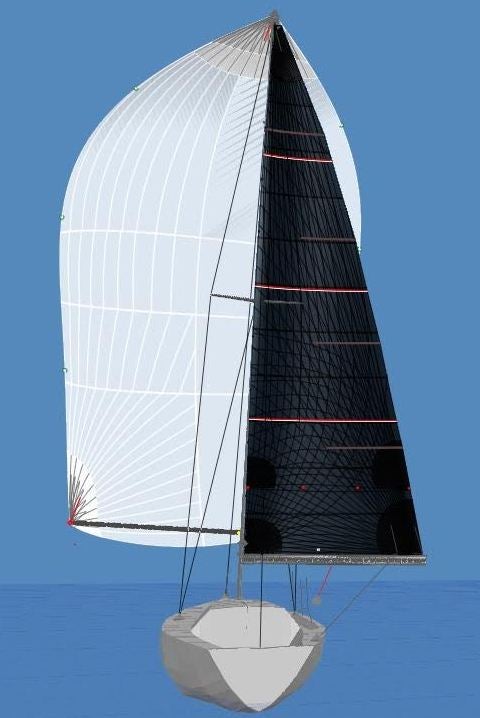 I honestly thought I'd never say those words again, but hell froze over when I bought the Santa Cruz 33! Here is the rendering of our  Airex 500 Runner (and main) from OneSails Australia,  who are building the entire new sail inventory for Anarchy III. We are getting the latest in their FORTE 4T  (full pre-preg and ultra high modulus) mainsail and upwind sails, and are looking forward to doing some spinnaker development, especially for reaching.
Those of you with older boats, or thinking about buying one, you really can give them a new life – and one for yourself as well! It is amazing what some new sails, gear and 'tude can do. We already like this boat the best of our others – we feel more attached because of the work we are putting into it, it's hang-out-ability, and just kinda going old skool racing – we dig the whole scene!
Oh and it is worth noting that there is one website editor in SD who has over the last decade owned and actively raced a FT 10, a Shaw 650, GP 26, Melges 32, and now a Santa Cruz 33. Gladly supporting tons of local folks, as well as national and international businesses, I have always put my money where my mouth is.
And then there is one cut and paste 'editor' who doesn't. Ever. – ed.
September 12th, 2017
Given how many mariners are run over by ships, will this be good or bad for ocean racing and sailing?
Given the media focus on autonomous cars, it might be expected that self-driving vehicles will be in use before autonomous ships. The reality is quite the reverse, according to a report on the future of autonomous maritime systems produced by Lloyd's Register, QinetiQ and the University of Southampton.
Applied artificial intelligence, low cost low size sensors, increased connectivity, improved cyber security and better energy management are all likely to drive rapid and disruptive change in the maritime industry.
Major initiatives by organizations, such as Rolls Royce, Japanese shipbuilders and Norway-based Kongsberg (in partnership with Yara, a Norwegian chemical company) have all revealed plans to develop all-electric and autonomous container ships by 2020. There is a fierce race to be first across the finish line, states the report.
September 12th, 2017
We have just about enough of these smart-ass kiteboarders! Vid thanks to Steve Bodner.
September 12th, 2017
Ah yes, the second punch of the 1/2 – 1/4 ton punch is just about here…
A fleet of 23 exquisitely prepared classic race boats – along with some of the world's best sailors – have gathered in Cowes for the 13th edition of the revived Coutts Quarter Ton Cup.
With four countries represented, plus visitors from Scotland and Jersey, it will again be an international affair. As ever, there's a diverse variety of sailors, ranging from members of Ben Ainslie's 2017 Land Rover BAR America's Cup team, through seasoned trans-Atlantic solo racers, to long-standing Solent gurus. However, parachuting in a team of hot-shot experts is no guarantee of winning this event – it's often the crews that have practiced and raced together over a longer period that have the consistency to come out on top.
Look for an interview right here with Louise Morton, who has won the event for the past three years in a row, very soon.
September 12th, 2017
We're not sure. What do you think?
September 11th, 2017
Granted this is from Friday, but very relevant and it shows how quickly society falls apart
Folks: the situation in Tortola, if you can believe it, is becoming even more dire. Fear and panic are setting in and friends on the ground are scared. Looting has begun. I have reached out to the Chicago Tribune to tell the story as BVI is getting little to no coverage. It is very unsafe on Tortola and hundreds and hundreds of people need evacuation. Another storm is coming and almost everyone is homeless and without adequate shelter.
Rumor has it St. Maarten is a war zone….Tortola will follow suit if WE DO NOT GET EVACUATION SERVICES AND A MILITARY PRESENCE IMMEDIATELY!!!! Anyone in this network who can help I appreciate it. Scott has landed in PR and I have warned them not to go to Road Town for fear of ambush.
So few working boats and cars people likely to storm them…We do not need more people going IN, we need to get people OUT. My friend just sent me this message after I asked him what supplies they need from PR: "Ok thanks. Barely time to think right now, is bad here. People are scared, been some looting, but community pulling together. It's just the start"
#irma #howthehelldoesitkeepgettingworse #bvi
More here.
September 11th, 2017
big pimpin'
There are few marine brands that simultaneously conjure up style, quality, comfort and performance like Nautor Swan. For over half a century Swan have in every sense been delivering value to their owners, whether it's racing, cruising or, most commonly, a combination of both, in ways that have made the dozens of designs built by this Finnish company symbolic of a timeless style of yachting.
Many of the world's best naval architects have contributed experience and expertise to Swan yachts, as they each work to capture a unique balance of style, grace and functionality rarely found in other production builders. Meanwhile, uncompromising attention to detail in build quality allows the yachts to be actively enjoyed for decades rather than years.
Another value to Swan ownership is a professionally managed schedule of racing and cruising events tailored to cater to the high standards expected from Swan customers. Located in some of the most beautiful sailing venues in the world, Swan regattas are rarely less than memorable events!
One of the most successful of current-generation Swans is the Swan 60 designed by Frers. Nautor's use of some of the best technology in carbon construction, with Sprint/pre-preg carbon fibre being carefully bonded to Corecell produces a combination of structural strength and light weight that gives the yacht the feel, sailing balance and performance of a race boat with the interior and exterior features needed to deliver Swan's signature standards of luxury.
September 11th, 2017