Local Knowledge
I think you might be interested in some of the photos on the Six Meter class web site . Since you just published photos of the 1/4 toners, Sixes might also get you worked up!
There are 35 boats on the West coast (mostly Seattle and Vancouver) with 4 modern boats freshly arriving this winter. The class is solid and the rule still produces reasonably fast 5 man race boats with no hiking required (actually, not much sitting either). The World Cup is held by the Canadian owned St. Francis IX skippered by Ross Mac Donald after winning it in Germany last year. The World Cup will be in Vancouver in 2017.
Used boats are mostly very affordable, a thirty year old design with the proper stuff attached can win at the top levels.
Almost all of the photos are shot by ex-Oregonian newspaper photographer and Six owner Dana Olsen. There is a photo section on the site, but many of the latest are under the individual race reports in the "new" section. I think you will agree there is some quality work here.
- Andy Parker, GBR 102 "Bear"
July 16th, 2014
We absolutely love this stuff – what racing is like for the rest of us. Hell yes.
Just put together this video of our trip up the lake on Notso EZ Money in the Bayview to Mac race. Good race, finished 3rd in PHRF C. Hopefully this video captures the phases of the race that we saw. – Anarchist Steve. Title inspiration thanks to Notso EZ Money and Nelly.
July 16th, 2014
Big Pimpin'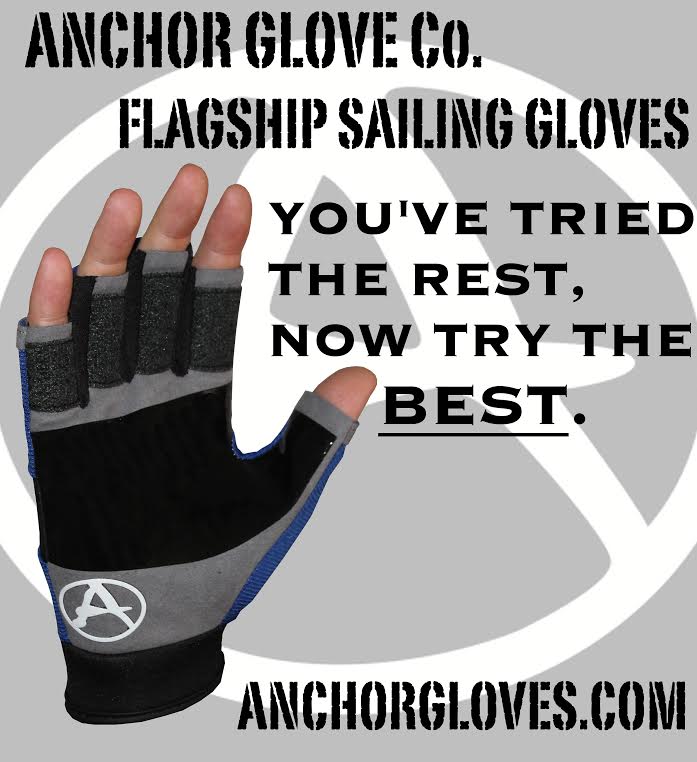 After 25 years of competitively racing sailboats and using gloves that cost upwards of $40 bucks, we at ANCHOR GLOVE Co. decided to create what our sport so desperately needed. The frustration with gloves that offered little protection and hampered grip while drying to a degree of stiffness and smell that is unforgettable served as our motivation to create a glove that actually works the way we all know it should.
After testing more materials and combinations than we can count, we dialed in a groundbreaking silicone palm design that provides grip gains unparalleled by any other glove on the market. Building from this foundation, we strategically placed a kevlar based material on the fingers that provides superior protection for easing sheets and saves you from the proverbial rope burn.
We built our machine washable yes, machine washable! Anchor Flagship Sailing Gloves to last as we have users well into their second season on the same pair. Visit ANCHORGLOVES.com and become a better, safer, stronger sailor by getting your 3/4 Finger, 3 Finger or Full Finger pair today.
Pretty sure you know where the title inspiration comes from.
July 16th, 2014
On Board
From onboard the SC 50 Hula Girl on their way to Hawaii. Track 'em here.
Well all right now.  It's straight up midnight, and it looks it.  Pitch black at the moment, even though we know there is a nearly full moon up there, somewhere.  Just a couple hours ago, we passed the halfway mark in the 2014 Pacific Cup.  At this point, we are farther from dry land than you can get anywhere else on the place of the planet.  California is over 1000 miles away on one side, and Hawaii more than 1000 miles on the other.  North and south of us there is a whole lot of nothing for a long ways.  But calling this 'nothing' out here would be a true error.  True, we are but a spec in the ocean, but the ocean is a great thing and (for the moment) our playground.
The breeze came up again around sunset, as it did last night.  We were a little better prepared for it this time, and shifted down to the heavier 4A spinnaker (last night we had the big/lighter 2A up the whole time, which caused yours truly undue stress).  Shifting down was definitely the right call.  We are seeing sustained 20-25 knots, and the lovely Hula Girl is in her element, scooting along at steady 12-14 knots.  The driving right now is difficult, to be sure.  But our team has been getting great practice in the past couple of days and I'm really pleased with how everyone is doing!
Our fall from 2nd to 6th in the standings two days ago was a bit disappointing, and after a great run yesterday we were sorry to see we hadn't picked up anyone by roll call this morning, but by our calculations we have narrowed the margin a good ways and we think that we are in a great lane to make some good moves.  We don;t think the boats way south of us will get good angles into the islands (plus, it could get a bit lighter down there).  We think the boat north of us have gotten more lift earlier on our way out towards the layline to Hawaii.  So we are pretty happy where we are.  The light planing boats are, as expected, untouchable in this stuff, so we are targeting a respectable finish amongst the displacement members of our fleet.  Now we just have to sail like rockstars!
Everyone has been behaving wonderfully.  Now, with the boat flatter, we did a bit of house-cleaning today.  Most of the crew have enjoyed showers in the cockpit, and things are remarkably civilized!  It's pretty warm now too…  hot in the sun during the days, and welcomely cool at night.
The crew also wants to thank Sue for the phenomenal batch of cookies…  I'm not sure what we did to deserve being recipients of her baked specialties (not only for the Pac Cup, but earlier in the year we received cookies and milk just before the SD to PV Race!), but boy we are are highly appreciative!   Especially me, as I have taken to using the treats as rewards to keep instructors inline.  Especially that Jasper character…   he has taken to making things up, just for attention, I think,  I mean dolphins sleeping with one eye closed and half a brain??  Really Jasper, where do you get this stuff?!?    I think he was in the sun too long today.  But seriously Sue, thank you from all of us.  Please let us know your shirt size so we can send you a Hula Girl team shirt!
That's it from me for now.  I'm going to go on deck to get some cool fresh air and take Hula Girl for a spin.  Enjoy your feather beds tonight, friends,  It's a bit more 'sporty' out here tonight, and that's working well for me at the moment!  Title inspiration thanks to Ice T.
Wayne Zittel and the J World Team
July 16th, 2014
The new A 13 looks pretty cool. We do like these big ass things, but thetycan't be good in light air…
July 15th, 2014
We absolutely dropped to our knees in admiration when the UK's Peter Morton won both the Coutts Quarter Ton Cup (with Bullit) and then backed that up with a win at the Half Ton Cup with Swuzzlebubble. It wasn't so much the victories, but rather the dedication to finding and then modernizing the boats, particularly the Farr designed Swuzzle. Accordingly, we wanted to know more about it all and Peter happily (we think) obliged!
July 15th, 2014
That's the look, junior. From the 2014 Optimist European Championships. Photo thanks to Gareth Craig/Fotosail.com.
July 15th, 2014
Longtime SA'ers will know of our love affair with Sailrocket's Paul Larsen, and our favorite ultra-high speed sailor, offshore racer, C-Class star, and Antarctic explorer is firing up the Sailrocket team for a new and extremely ambitious new project – a truly ocean-capable, highly stable, offshore foiler.  And whether he succeeds or fails might just depend on you. Here's an note from Paul just for you SAers:
I left some space in my life after the record (and Shackleton gig) on purpose to see what would fill it. I didn't want to go out and say "we will do this and that" just to satisfy the "what next" crowd. We had a lot of ideas and have run hot and cold on a few of them. Of course I was constantly reflecting on what had happened over the past 10-12 years with the Sailrocket project and was trying to work out in my own head what it was all about. It did humour me that people would often ask why I'm doing it or question its purpose, but if you asked the same people what's the purpose of professional ball sports (tennis for example), most people have never considered it and therefore don't have an answer. The truth is that they have never really thought about it; "just runnin' with the herd, man".
We all do it to some extent, but what I like about our little speed sailing corner of the sport is that not only do you get to compete and demonstrate sporting attributes, you also get to develop the sport technically – fiddling with the genetics to improve the breed.  Whether we can do it in a useful and meaningful way remains to be seen, but it is a big part of our motivation.
So here we were, as new custodians of this technology and know-how that just took our chosen passion – speed sailing – to a whole new level.  Something which was previously just a theory has proven itself to not only be real, but vastly superior.  Many people focused on the impractical aspects of the boat rather than what it was designed to showcase.  For us it's more a case of one thing at a time, and now we have shown the performance potential of the concepts, the next step should be to show how it can be applied in more useful ways.
I have spent a long time going over the new concept as I am pretty sceptical of new concepts myself, but the potential of this one keeps shining through that healthy scepticism. We're not going to release the numbers just yet, but the stuff coming out of our new concept's VPPs are pretty special, hard to fault and demand our ongoing interest.  Trying to apply our stability concepts to a practical offshore boat has lead to some interesting configurations, and once again, we have had to confront some big issues head on in order for it to be viable; exactly our process when overcoming cavitation en route to a new record.  VSR2 was a very efficient and effective 'tool' for developing and proving a point, and there was no 'fat' on the bone with that project. She did an astounding job, with almost decimal accuracy, with a small team on a tight budget. Once the job was done she was simply hosed off and put away in her 40′ container with barely a scratch. Whilst the end speed was great, our ability to accomplish a goal in this fashion is our real advantage.  There is the potential to do some pretty big stuff offshore at the moment for a fraction of the cost of an AC team; probably more around the price of a budget VOR campaign, and if you liked what we did before then you will probably love where we are going next.
The challenge now is to see if we have the credibility and ability to muster the required level of resources. If we can, well that little one-way freak that you think only lives in the rarefied flat waters off a sandy African town may be about to land square in the middle of your own 'pond' and start doing its freaky thing – in all directions, on any day.  If the numbers translate into reality as well as they did with VSR2 then, change will be upon us all.
The Sailrocket story isn't over and the road ahead beckons.  If you have some specific questions for some unique content then fire away in the thread.
July 15th, 2014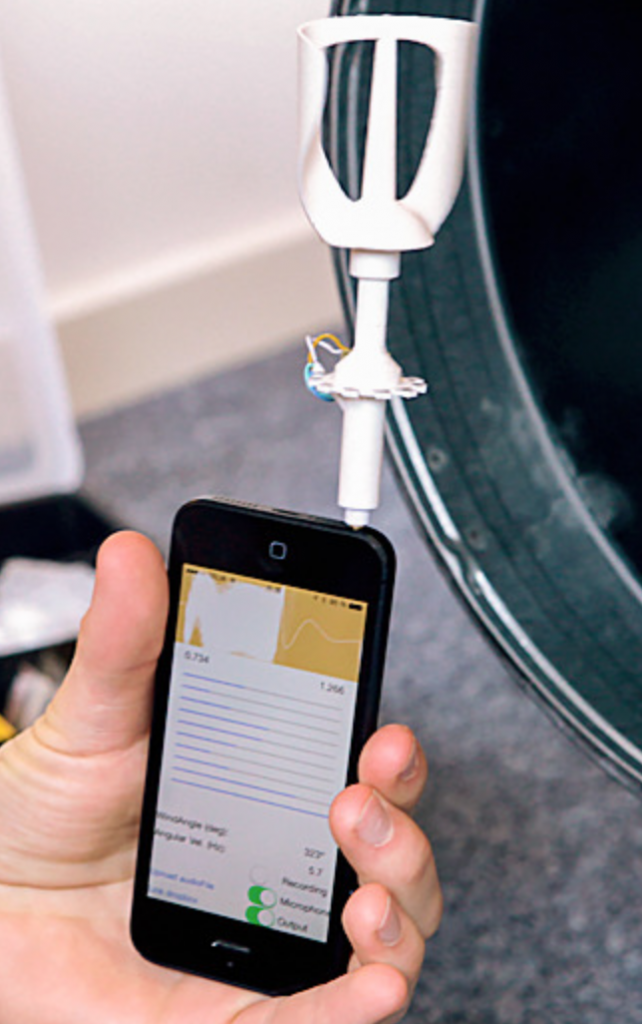 We've already told you how much we love the little Vaavud handheld/iPhone wind speed measurer that our friends from dealer Ronstan US dropped in the mail to us a few months ago; it's incredibly accurate, ultra-light, and has stood up to the Clean Travel Abuse Test as long as any device we've tested.  Equally important is the app that runs it – it's clear, good looking, and easy to use, and while it's early, the company's worldwide, crowdsourced wind map could have amazing implications for those who like watching and using the wind.
But like anything, it's got a big problem – a problem that Vaavud looks like they're about to fix, but only with your help.  So head over to Kickstarter and throw a couple of bucks at the new Vaavud Wind Meter 2.0 - with wind speed AND DIRECTION baked in.  If it is as good as the original Vaavud, these things are going to be everywhere – get in early like we did!
July 15th, 2014
Arctic sea ice may be thinning at an alarming rate (and the resultant water level rise is having plenty of effect).  For some, that means mo' money, while for others, more adventure.  And both of those will be subsidized to the tune of millions upon millions thanks to icebreakers and SAR rescues for the shipping and recreational concerns that choose to check out the Northwest Passage.  Here's a sample of one rescue over the weekend, with a short video on how to tow your ugly-ass arctic shitbox with an icebreaker.
The crew of the Coast Guard Cutter Healy, a polar icebreaker, rescued a man aboard a sailboat trapped in Arctic ice approximately 40 miles northeast of Barrow, Saturday.  The crew of the Healy broke a 12 mile path through the Arctic ice with the sailboat, Altan Girl, in tow and led it to open water. The Healy crew conducted a safety inspection of the mariner's vessel to ensure the vessel was seaworthy and that all the required safety equipment was on board. The mariner intends to sail to Barrow to resupply and await safer weather conditions before continuing his journey.  The crew of the Healy will return to their National Science Foundation-funded research mission. 
It isn't like this is a usual SAR effort from existing Coast Guard assets, or an unusual emergency or weather-related issue – this ship was diverted from other duties to rescue a clown who went sailing directly into the Arctic ice.  Shouldn't anyone undertaking a trip through the Arctic fucking Ocean be prepared to be iced in for long periods of time rather than getting a free tow through the ice at massive public expense?  You tell us.
More Rescues
The annual American Powerboat Idiot Crash Day festivities are long over, with predictably nasty consequences in many harbors – especially the three boat/four death/12 injury crash in Miami – but not all was tragic: in Annapolis, three were rescued after two boats crashed and partially sank near the Naval Academy.  In Newport Beach, CA on the 5th of July, a lifeguard rescued a struggling swimmer only to drown.  Here's an SA Notice to US Mariners:  Stay far, far away from any harbor or river between 7/3 and 7/5.  Talk about your July 4 experiences here.
Lightening The Mood
If you need a little laughter after all this tragedy, go over here to the funniest beach video we've seen in a while.
July 15th, 2014
We love to get nerdy, and few can get nerdier than former Air Force Lt. Col., Boeing military aerospace engineer, Oracle Racing designer, and Sailing Anarchist Tom Speer.  This guy has been foiling since Egyptian Cotton sails – that's why we can excuse the crappy sound and image quality from The Foiling Week's video of Speer's talk on the state-of-the-art in foiling, just last week.  It's embedded above, and here's the companion PDF to Speer's talk.
July 15th, 2014
ROBLE : noun \rō-blā\:
 1. Spanish - A non-standardized Spanish labeling term in the Spanish 'hierarchy' of wines, indicating that a wine has been aged in oaken barrels for a shorter time than required for the Crianzaa designation; Spanish wines commonly considered to be younger, fruitier, and spicier than the norm with a bit of added interest from the wood.
2. US -  A non-standardized American woman, and one of the only true full-time professional female racers in the hemisphere, if not the world (excluding olympic hopefuls and a boat prep/administrator 'pros'); Indicating a beautiful bouquet of brains, power, and talent that is considered younger, fruitier, and spicier than the norm.
3. US –  STEPHANIE ROBLE – Skipper of 2014 US Women's Match Racing Champion Epic Racing, crowned Sunday in Long Island Sound on her fifth attempt at the USWMR title.
Wanna help more women get into the sport while winning?  Then hire America's top female sailor and show your family, crew, and friends that you think girls can be pro sailors too. Trust us, there are so many reasons you want Steph sailing with your team; and top teams have noticed –  after more than a year at the top of the US Women's Match rankings (and 3rd worldwide) and lots of success in classes like the Melges 20 and J/70, Roble's calendar is getting seriously full a year or so into her decision to become a full-time race pro.  Get in touch with her via Epic Racing or chat with Stephanie at the 80-boat J/70 NAs starting on Thursday, and here's her report from the event (with photo from Larry Kennedy and a massive gallery here).
Epic Racing was crowned the U.S. Women's Match Racing National Champion this weekend at Oakcliff Sailing Center. It was a challenging weekend bringing a broad range of conditions in heavy, 40 foot boats called SM 40s. Our team of 6 girls did an amazing job working hard to make the boat go fast at all times, which is not an easy task. We are proud to be at the top of the 8 teams who competed, as each team gave us a run for our money! 

The first day was relatively light, shifty and very hot in the harbor right next to Oyster Bay. The focus was just to keep speed on and never let the boat stall on the foils or sails. This is much easier said than done while match racing and trying to take out your opponent! We finished the first day 5-0 and learned a lot about tactics and strategy (especially in the pre-start) that are specific to these big boats. 

We started day two excited about our momentum from the previous day, but knew we had our two hardest races of the first round robin left. Chantal Hearst, who has a lot of experience in these boats, beat us after we were over at the start and had some traffic issues on the course with some boats in other races. We then raced the next top ranked skipper, Nicole Breault, who had a great team onboard. We earned a penalty in the pre-start and managed to lead around the course. We set up perfectly to execute a penalty play at the windward mark but misjudged our layline back to the finish and killed the penalty too early, giving her an opportunity to pass us on the last run. We ended Round Robin one 5-2. 

As the day went on, the breeze built to a beautiful sea breeze and because of this, we felt much more comfortable in the boats. We were also hungry for more wins after our 2 silly losses in round robin 1. We ultimately finished round robin two 6-1. This meant that we won the double round robin and received honors of first pick for the semis.We chose the 4th place team, Sandy Hayes, and won the series 2-0. 

We started the finals on Sunday in 12-15 knots with jibs (instead of genoas) against Nicole Breault. We knew our boathandling and pre-starts would be our strengths but she was much faster. In race 1 we were in control most of the pre-start until the most important final 30 seconds when we stalled out after being head to wind. We trailed her off the line and around the course until the final run. From two boat lengths back, we matched her gybe to starboard, hit her breeze, gybed back to port, hit her breeze again, and gybed back to starboard right behind her. At this point we were holding her out from finishing but were restricted by rule 17, which means you have to sail your proper course (to the finish). We perfectly executed a double gybe later on so that we could continue to hold her out from the finish. It was a very exciting comeback and amped us up for race 2. 

Race 2, she had us tangled up in the dial up but after we broke free, we rallied for a "wide right" start in the breeze. This is very powerful as we were able to hold on her hip most of the beat until layline. We led downwind, but she passed us by getting to the right of us on the second upwind beat. On the last run, we were all set up to match her gybe to starboard and roll her to the finish. The girls perfectly executed the gybe and we had a very close, photo finish to take the series. 

It was an incredible weekend of sailing. Women's match racing in booming in the States right now and that was proved by the level of sailing at this event. Our boathandling was INCREDIBLE and the attitude was right on par. The girls worked so hard and gave it their all whether we were ahead or behind. A huge shout out to Janel Zarkowsky (main/tactics), Maggie Shea (trim), Holly Poole (pit/trim assist), Liz Shaw (mast/bow) and Martha Pitt (bow). They crushed it! 

A huge thank you to our only fan for the weekend, Mary Lou Scott for coming down to cheer us on. Thank you to Oakcliff, US Sailing and Darcy Cook for running an excellent event. Thank you to all of our fans and supporters who help us make these events happen. And last, thank you to Helly Hansen for our team swag and making us look good! 
July 15th, 2014
Jeez, when power boaters are foiling, you know it's played out. Actually, there is a pretty cool story behind this…
July 13th, 2014
Kevin Hall also jumps into the world of foiling. It is a deep pool. Brought to you by Mauri Pro Sailing.
Having a vision is one thing. Making it happen is quite another. The Edinburgh Festival in Scotland and Burning Man come to mind as gatherings which must have started as a vision. Kudos to Luca Rizzotti, Andrea Ratti, Domenico Boffi, and their many teammates for creating a world first: The Foiling Week.
The Foiling Week on Lake Garda could easily become the mecca of modern sailing and design.  The enthusiasm from organizers and participants matches the grandeur of the vision perfectly. I hope sponsors are already climbing over each other for next year's event. They should be.
A spectacular destination, perfect launching facilities, reliable wind (usually), cutting edge designers, and top sailors came together this week at the Malcesine Fraglia Vela. The passion in the air was so thick you could cut it with a foil.
The morning Symposium featured legends of the sport, past and present. Martin Fischer, Tom Speer, and Andrew McDougal are household names in foiling circles. Those circles are rapidly expanding.
Martin Fischer gave the keynote speech the first day. He talked about the 5 main things you need to sort out to foil consistently: Lift, Heave Stability, Pitch Stability, Sufficient Robustness for the conditions, and, well, money.
Tom Speer gave the keynote the second day. I will be re-watching it on the Foiling Week stream archives with a copy of the graphs as soon as I get a chance. He presented his investigation of the design space of A-cat foils. The primary assumption was that the windward foil will remain down. This means the tradeoffs are very different to those on the AC72. What interested me the most was his process of reaching the conclusions he reached. The conclusions themselves are pretty interesting too.
Andrew McDougall gave the keynote the third day. He took us through the development of the tools he has used to design cutting edge sailboard sails and moths for the last 30 years. He's out on the water in his moth as I write this. I'm certain he still has a trick or two up his sleve.
The history of foiling leads to James Grogono. "Grandfather of foiling", "legend", and the "wrote the foiler's bible" were bandied about the conference. It is less known that the US Navy achieved 30.6 knots in a boat called Monitor in 1956. James, ever the gentleman, opened his talk with this fact.
James designed and built Icarus. It was first launched in 1972. Get a tornado, bolt some outboard surface piercing foils on at a 45 degree angle, get 10 of your best friends to help you carry it into the water fully assembled, and off you go.
From 1972 to 1985 James improved the performance of Icarus from 21.6-28.15 knots. The resemblance of the configuration of the final iteration of Icarus to Hydroptere is uncanny. As I learned more about heave and pitch stability from Martin Fischer and Tom Speer, the Icarus/Hydroptere solution became less mysterious. No less wonderful.
In the boat park there were craft ranging from foil boards to GC32s. The important thing about the many different platforms is not how they were different. We were brought together by the common joys of flying above the water instead of sailing on it.
Foiling conversations very often end up in discussions of cavitation, ventilation, or both. I think I still mix them up if I haven't had enough beer.
Cavitation happens quickly, like the pain when the dentist first drills your tooth. The cavity is a little area of boiling water on the upper side of the foil where the pressure is lowest. It disturbs the flow and causes trouble.
Somewhere around forty five knots, give or take depending on the section shape of the foil, the same low pressure which makes the boat fly also causes the water to turn to vapor. A cavity of vapor forms there, and the next bit of water has to go around it. No good.
Ventilation is when air gets sucked down the foil from the surface and creates an air bubble which disturbs the flow. Think of a kid blowing bubbles in his milk with a straw. Those bubbles stick around for a while. The top of the milk is not a smooth surface. In the Bladerider moth this was especially bad gybing from port to starboard in cold water. The rudder would pass through the wake of the wand and could easily ventilate. It feels a lot like catching weed. The thing still works, it's just really draggy.
In this context, there are three categories of foils. Subcavitating foils, base-ventilated foils, and super-ventilated foils. The second two use the word "ventilated", but they're actually all about avoiding cavitation.
Subcavitating, or "wet" foils are what most of us are used to looking at. Like a regular airplane wing.
Base-ventilated foils are a big part of the solution which allowed the Vestas Sailrocket to reach speeds of 65 knots. They are shaped more like a wedge. The foil is designed so that air purposely becomes fed to the foil in just the right place. Cavitation can then either be mostly avoided, or the vapor pocket can be delayed until an area behind the foil. The second one is the fastest. The downside of this type of foil is it only works in a very narrow range of angle to the water. Not great in big waves. The other downside is the successful ones tend to be kept a secret. For good reason. Making it work is no small feat.
Super-ventilated foils are designed to keep themselves sheathed in air so that more air doesn't bother them. They have more drag than base-ventilated foils. They are the happiest of the three kinds of foil above water-boiling speeds or in rough conditions. Designers use the word robust.
The C-FLY project is a catamaran with diamond foils on the bows. It's a successful concept-proving boat. Their goal is to break ocean going records on foils. The sea-keeping characteristics of their design and the prototype here are notable. The idea for this design is consistent reliable lift through seaway, not top speed in flat water. It's important to remember that the goal is to keep the air attached. The water moves around the air. The most amazing thing about their super-cavitating foils is what they look like. They have 5 ten millimeter steps down along the top edge of the foil. It's rather counter-intuitive.
I understand another hat has been thrown in the ring of ocean-record foiling pursuits. Vestas Sailrocket 2 and Paul Larsen and his team have similar plans to sail across oceans above the water the whole way. Maybe one day we'll see them on the same course.
More familiar looking to fans of the AC72 is the GC32. Designed to fit in a trailer you can tow behind your car, and to be rigged and launched without a crane, and to easily take sponsors for rides, yesterday they hit 37.8 knots on the lake. The GC32 may also be evidence that the design space of practical foiling catamarans is converging. It has the same length to width ratio, and the same exact daggerfoil rake range, as the AC62 Class rule. I suspect it will be hard for a person such as a Melges 32 owner to go back after getting a ride on a GC32.
The best thing about The Foiling Week was being under one roof. The joy of investigation and discovery, the step-change in performance brought by foiling, and the passion which comes from sharing these things face to face.
July 13th, 2014
Inspired by my father, I've always had a love of the wind and water.  From that first sail, in a light summer breeze on an El Toro at our local reservoir to a bald headed jibe in 30 knots of breeze and ebb tide, racing on the SF Bay, a wealth of memories comes to mind.  Now reaching my seventh decade, I'm beginning to see life's horizon in the distance.    This certainly causes one to reflect on what you want to do when you grow up and what remains undone.
Said so eloquently, the essence of happiness is simplicity.
And kite boarding may be one of the most simple and intimate ways to connect with the wind and the waves.  The City Front spectacle of kite boarders skipping over the ebb chop sparked my imagination.  This would require a skilled and knowledgeable guide before venturing into this unknown water wilderness.   Nat Lincoln, Edge Kite boarding instructor became my trailblazer on this new journey, keeping me off the lee shore and always offering encouragement.  After hearing that his AC skipper client was up and riding independently on his very first day, I was determined to put my best foot forward!  However on day 4, I was mostly in the water rather than riding on top of it.
Anxiety increased with the wind speed and the kite size and I set a eject record of sorts, clumsily hitting the safety release with my board within the first few minutes of body dragging out to the launch site requiring a shore side untangle of lines and equipment.  But day five was a different story.  The wind was stronger, the kite bigger and suddenly I was in charge, skimming across the water not bothering to watch the kite, but taking in the texture of waves and water as my board carved through the ever changing seascape.  An epiphany of sorts, my journey has just begun.   – Anarchist Dr. Joe.
July 13th, 2014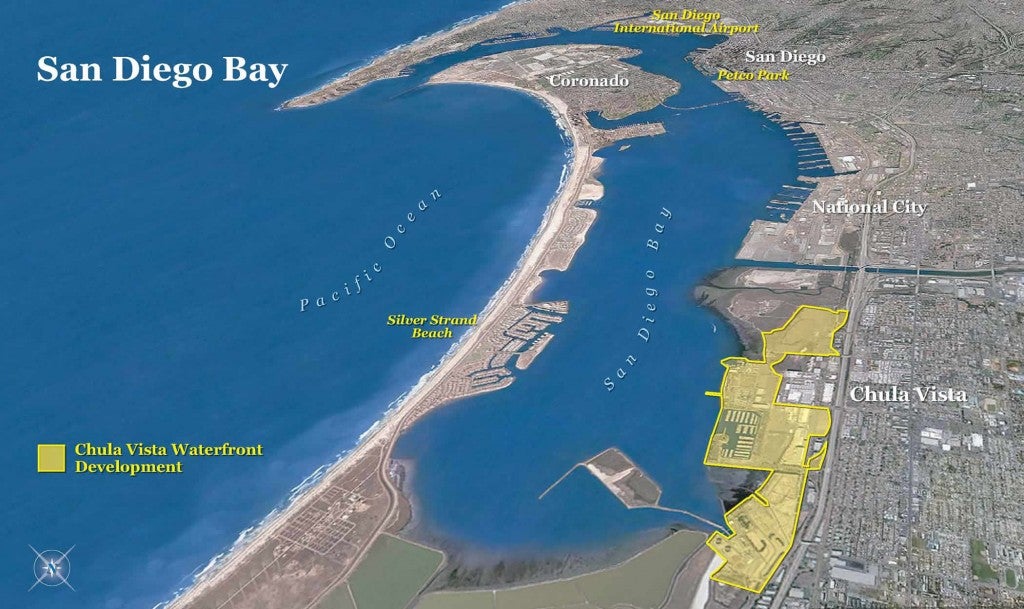 For the love of all that is not wrong, please don't hold the America's Cup in San Diego. It's bad enough that yet another round of poor decision-making by the powers that be took the AC out of the best venue ever – San Francisco, (or Frisco, as we like to call it) – it is something entirely different to drop it in Dago.
And yet, even that choice has been further butchered by the potential decision to hold the AC IN SAN DIEGO BAY!!!
What in the christ could they possibly be thinking?? First, it is tiny compared to the bay in Frisco. There is no way to race giant foiling catamarans in that space. Not even close. Never mind that there isn't any wind – the bay is a joke. They could move it to the South Bay – under and south of the Coronado Bridge, but there is incredibly limited access, sunken wrecks, shoal issues, with no viewing or infrastructure. Plenty of room, decent breeze, but between the cranks in Coronado, the military squawking, and the crystal meth in Venereal Beach, good luck getting that one through.
So it goes back to the narrow, constrained and incredibly limited "north" bay.  Add the gestapo-like Coast Guard and Harbor Patrol (little more than jackbooted SDPD with bad attitudes) for traffic enforcement that is particular to San Diego, the many self-important local Napoleons who will be climbing all over each other to get  their tiny piece of "management" (you know who you are – those of you who ruined the Hot Rum Series so that you could slavishly bow down to the SD AC 45 regatta.), San Diego is perhaps the worst possible choice for the AC.  The notion of foisting the America's Cup on this sport by picking a light air, cramped, boring venue is a sure way to impress nobody.
After the incredible racing venue that Frisco would easily repeat for the next Cup, to choose Dago would to essentially admit that the AC cares little about the actual racing, but sure seems to care about something else. That something else is money.
July 13th, 2014
No, not that First Marblehead, the failing student loan company that allegedly owes the IRS $300 million, is facing shareholder lawsuits, with a founder who acted in bad faith and was ruled to owe an investor $45 million, and of course is suing Sailing Anarchy as only someone like him would.
No this is Marblehead  is significantly skinnier, faster and a hell of a lot more fun. And the real First Marblehead  is Brad Gibson from GBR, winner of World  Chaamps held for the first time in the Netherlands. These things have gotten very trippy looking – check this video.
July 13th, 2014
Of course are forums are filled with some of the most interesting stories anywhere (what, are you new?). Here's a great example…
After spending some time in Taiwan  I met a man who owns a resort on an Island in Indonesia. He said he wanted to build a sailing boat that could carry 50 plus people, with a Bar n Grill , live reggae band, or DJ party boat that could do beach landings and eco tours. He wants it built from local wood carvel style. Also, the project is to be done on the beach with minimal power supply and manual hand tools and some very minor power tools.. Upon arriving at the site of a small fishing village near a small river inlet , I had my first glimps of whats to come. no road, no heavy equipment, just sand and water…
July 13th, 2014
An International 14 sailing at Shilshole Bay yesterday off Golden Gardens Beach in Seattle Washington by Andie deRoux.
July 12th, 2014
The diverse fleet of 18 veteran and virgin Singlehanded Transpac "buglighters" which set off from Frisco 13 days ago is approaching their finish at beautiful Hanalei Bay, the first of four Hawaii-bound fleets to reach the Islands this summer.
Racers have enjoyed overall good conditions after a blustery, stomach-churning start in this 19th edition of the longest singlehanded race in North America.
While the boats range in type from a Mini 6.50 to a 44′ Nauticat live-aboard ketch, SHTP fans ashore have followed a very close and exciting race since the start, with added drama from a catastrophic rudder failure, boom breakage,  autopilot woes, and the usual bags-full of shredded kites.
At this writing (Friday afternoon), the now-kiteless Islander 36 Frolic  is the guestimated overall winner (by 5 hours corrected), having passed Wyliecat 30 Bandicoot on the leaderboard.  Spinnakers?  We don't need no stinkin' spinnakers!
Barn door honors are up for grabs between the E-27 Archimedes and the PJ49 Scaramouche V, currently estimated to cross the line within minutes of each other ~1840hrs PDT Saturday. Add your comments to the thread here.  Thanks to Anarchist Pogen.
July 12th, 2014