It was quite a day on the waters off Rio today.
The Finn Gold was already firmly in Giles Scott's (GBR) hands but he still gave the Medal Race his full attention claiming 2nd to round off a perfect regatta and an incredible winning margin of 32 points. With the other medals still up for grabs and a perfect sail by Paine (USA) to win the race while Zbogar (SLO) managed a 6th giving the American sailor USA's first medal of the regatta with the Slovenian taking the Silver Medal. Already a huge improvement on the blank scored by America in Weymouth four years ago.
Over on the Nacra course it was drama all the way with Lange & Saroli (ARG) picking up an early penalty, the Argentinians made it hard work for themselves, even harder when they picked up a second penalty later in the racing. Behind them, Waterhouse & Darmain (AUS) and Zajac & Frank (AUT) took Gold and Silver with a 2nd and 3rd in the medal race but it took a countback to separate them. It was a remarkable victory for the Argentine pair as former Tornado World Champion, Santiago Lange celebrates his 55th birthday next month. He recently recovered from cancer and this was his 6th Olympics having first represented his country at the 1988 Seoul Olympics.
Over in the Lasers, Tom Burton (AUS) and   Tonci Stipanovic (CRO) engaged in a pre-start battle with Burton coming off best but with still a battle ahead to overhaul the Croatians points difference. However Burton finished the Medal Race in 3rd to claim Gold as Stipanovic returned to the start line late and never made it through the fleet to finish in 9th place. Consolation however in the knowledge he had secured the first sailing ever medal for Croatia. The podium was completed by another Antipodean, Sam Meech (NZL). Multi Olympic medal winner Robert Scheidt (BRA) – at the ae of 41 was just 4 points back (2 medal race places) in 4th overall. Quite an achievement.
Over to the Laser Radial Medal Race and Alison Young's victory in the race was not enough elevate her above 8th overall with the Gold Medal going to overnight leader Marit Bowmeester (NED) claiming the Gold Medal she lost out on to Xu Li Jia (CHN) in Weymouth 4 years ago. A silver medal for Analise Murphy (IRL) went some way to compensate for her 4th place at London 2012 which must have been particularly sweet if you remember her start to that regatta. The podium was completed by Rindom (DEN) who had sailed a consistent regatta with only one placing outside the top 10, such was the competitiveness of the top end of this fleet.
Off the medal course there were still 4 other classes fighting to decide who would sail on the last day of their regatta.
Worthy of note is Clark & Mills (GBR) who emulated their GBR team mate by securing the Gold Medal in the Women's 470 a day in advance and now stand 20 points clear at the top of their leaderboard. A remarkable recovery by Aleh & Powrie (NZL) who, if you remember were languishing down in 6th finds them in silver medal slot but just one point clear but if they find their form of the last 3 races again (1,1,4) should be able to secure that medal BUT just one point behind in bronze position are haeger & Provancha (USA) who I am sure would be delighted to go one better than their compatriot, Caleb Paine in the Finns. Could be quite a ding dong that race.
The men's 470 sees another chance for a Croatian Medal with Fantela & Marenic (CRO) holding top spot and 11 points clear of mantis & Cagialis (GRE) who will doubtless be sailing with one eye over their shoulders at Belcher & Ryan (AUS) who are just one place behind them in medal race terms (2 points). This silver/bronze battle may well play into the hands of the Croatian pairing giving them a cleared shot of going one better than their team mate in the Lasers.
Worthy of mention is the family rivalries that have been out there on the water this week.
When people talk about the Olympic family they are not usually being literal, however in the Olympic Regatta in Rio there have been some interesting, it not immediately obvious real family rivalries going on.
For example, Mr & Mrs Scheidt in the Lasers.
Obviously different classes but Robert Scheidt (BRA) met his Lithuanian wife, Gintare,(LTU) at, I understand, the Qingdao Olympics Test Event. Neither won a medal but Mr Scheidt finished 4th with Mrs Scheidt in 7th so, in the words of David Bowie  "He can be hero (well) just for one day".
Over in the 49erFX Martine Grael (BRA) who, along with her crew Kahina Kunze, has a real chance of emulating her father Torben's silver medal which he won in a Soling back in 1984 at the Los Angeles Games and with 3 teams on equal points, even a chance of going one better. This race could end up being a near repeat of the London Laser Radials with the finishing order matching the podium.
And spare a thought for brothers Yago & Klaus Lange (ARG) who are lying in 7th place in the 49er.
Not a  bad position for the young men you might think until you realise dear old dad, Santiago, who at 55 is the oldest sailor in the regatta by a long way (not 57 as reported on some sites) has just been crowned Olympic Champion in the Nacras.
A definite case of when father says 'You think you know better?' it might be best not to argue.
Just 4 more medal races to go and not a dead dog run into yet, it looks like IOC, World Sailing and Rio have pulled it off.
 - Shanghai Sailor
August 16th, 2016
Not only is that phrase a hackneyed meaningless platitude from the stooges on the right, it also applies to this "free" Formosa 41.
The thousands and thousands of dollars that it would take to make this thing even remotely seaworthy and operable would still result in one having a 4 knot shit box.
We feel for the woman, but man, we couldn't imagine getting anywhere near this thing…
August 16th, 2016
Guanabara Bay is now 'Caleb's House' after the 26 year old Caleb Paine's blinder of a Finn finale.  The SoCal native grabbed a right shift to horizon job the fleet from mark 1 to the finish, jumping over Max Salminen and knocking Croatian Ivan Gašpić out of the medals to claim the first US sailing medal in 8 years.  Ironically, it was Gaspic whose protest against Paine was thrown out after video evidence showed it was total bullshit – what goes around sometimes really comes does come around (and no, Gary Jobson had nothing to do with it; the team was reviewing the footage hours before Jobson's 'research' bore fruit).  Paine's win provides the all-important objective improvement the US team has been hoping for; with two more legitimate shots at medals in the 470s, we might even beat the oddsmakers.
It was amazing to watch Giles Scott reeling in Paine on the final run like he was in a different class of boat; the genetic freak of a man showed why he didn't even need the medal race to take the Gold, and he'll be back to defend his title for a long time to come.
In other Olympic news, Pete Burling clinched the 49er Gold two races before the qualis are even over.  If the 2017 America's Cup comes down to a helmsman vs. helmsman battle, you're all going to need to book tickets to Auckland for the 2020 Cup.
NBC coverage here.  Google for the rest of ya. Big thanks to Amory Ross and the US Sailing Team for getting this shot to us so fast.
August 16th, 2016
Clean Report
It may be disappointing to many Americans to see the US Sailing Team struggling to recover from their historic medal shutout in London, but by almost any standard, the team is already doing better than the 2012 debacle.  We will be analyzing their performance once the games are over, but for right now, if NBC doesn't completely fuck it up again, you might just get lucky enough to watch some double-points medal racing live tomorrow.  Three US teams will sail the finale; young Caleb Paine sits just outside the Finn medals in fourth, while Paige Railey will try to move up from 10th with no chance at the podium.  Bora and Louisa will see if they can jump a few spots from 9th, and if it all happens fast enough, we might see some 470 racing (or spot a severed leg).  Read the US Sailing update from Monday here.
 live broadcast hasn't done viewership numbers any favors, but at least US Sailing's media department is using their noggins; they landed a well-written and informative story on data and the US team on Nate Silver's news and data site 538.com.  Silver's celebrity stems from his uncannily accurate predictions of major events, elections, and the like, and he's getting YUGE traffic right now.  Here's an excerpt:
The U.S. sailing team left the 2012 London Olympics without any medals — it was the first time Americans had failed to place in an event since the 1936 Berlin games. They weren't even that close, either. Sixteen sailors, across 10 events, and the best anyone managed at the 2012 London Olympics was fifth place. They were disappointed with the result, one that brought the failure of U.S. sailing — one of those sports we only really hear about every four years — to the forefront…

…While the exact location of courses on Guanabara weren't finalized until the fall of 2015, test events in the two years prior gave Team USA a pretty good sense of where the races would be.

They dropped custom current buoys both inside and outside the bay, gathering data on how the water moves at various points throughout during the day. They tracked windspeed and direction, two factors that are critical to a sailor's ability to find the fastest lane, and which can shift quickly around the mountains that flank both sides of the bay.

The three years of gathering and analyzing data culminated in what U.S. Sailing calls their "Rio Weather Playbook," a body of critical information about each of the seven courses only available to the U.S. team. They're not calling it a silver bullet, but Adams says the playbook project was one of the most comprehensive data efforts that U.S. sailing has ever done. "This is a unique undertaking for U.S. sailing," he said. "In terms of the amount of time that we collected data, it's one of the most extensive projects."
Read the rest of the story here.
August 15th, 2016
We have no idea what exactly going on here, but figured y'all could make up something pretty good. Caption contest here!
August 15th, 2016
Big Pimpin'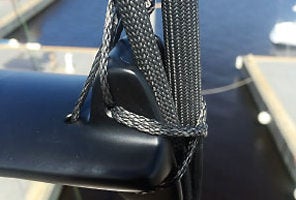 Previously, if you wanted lightweight rigging without compromising on safety, Future Fibres' ECsix was your main option. No longer – buyers of a new Southern Spars rig can now opt for ECthree, chosen as the new ClubSwan 50 class rigging, bringing the benefits of multi-strand carbon rigging to yachts that don't require the ultimate performance of ECsix.
Top: the first ClubSwan 50 uses ECthree standing rigging throughout. Above: early composite rigging used solid rods – brief attempts glueing these 'parallel' rods into tubular end fittings soon gave way to resin 'pots' inside a metal cone. With ECsix and ECthree, the use of much finer bundled carbon rods means that the 'potting' process becomes a great deal easier and more efficient since the numerous small rods are now themselves splayed out within the metal cone
Why ECthree?
Future Fibres, Southern Spars' rigging division, has been very successful with ECsix, which has become the world's favourite carbon rigging product. The benefits of the multi-strand carbon configuration are well documented – saving up to 70 per cent of weight compared with traditional Nitronic rod while extending the longevity and durability of composite standing rigging cables. But this high performance came at a price normally not suited to smaller yachts – so Future Fibres decided to take what it knew about carbon rigging and produce a system that better suited yachts with lower performance criteria. Read on.
August 15th, 2016
Perhaps that should be the other way round as, in Rio today, nothing happened for most sailors, most of the day and then just as the 49ers finished their racing for the day they got so much wind that for the 49ers bare poles were hard to keep in the air.
So no new medals of any colour today although Burling & Tuke (NZL) are now just a short step away from securing Gold without the medal race although with 3 races to go and a number of teams checking boats for damage from the storm that hit during the sail in from the course perhaps still an element of suspense while the women in the 49erFX see the pairing of DOmingez & Moro (ESP) leap to the top of the leaderboard with 2 bullets and the name Grael (BRA) – along with crew Kunze – continuing to grace an Olympic leaderboard 32 years after her father won Silver in the Soling Class in 1984.
This of course makes for a busy medal day tomorrow with all the singlehanders along with the Nacra 17 deciding who will wear what colour and which National Anthems will be heard. All except Giles Scott (GBR) of course, who is assured of the Gold.
That said Stipanovic (CRO) in the Laser should prevail, Boumeester (NED) in the Radial a slightly more challenging day and with Lange & Saroli (ARG) in the Nacra with 5 potential usurpers of their pole position perhaps having the toughest job of hanging on to the top spot. At almost 20 years older than any other helm in the fleet it will be interesting to see if experience triumphs over relative youth.
- Shanghai Sailor
August 15th, 2016
Well, Swuzzlebubble, the most famous Half Tonner ever is no longer under the expert ownership of Peter Morton, but the boat is still tied for first after Day One of the Half Ton Classic Cup. The Andrieu designed Miss Whiplash, above, is the boat challenging the reign of the Bubble and it will be fascinating to see how it plays out. Photo by Fiona Brown. More here.
August 15th, 2016
The SA Podcast returns with Episode 8, and it's a big one; over 3 hours of funny, interesting, and informative chat with some of the real characters in Midwest sailing.  First, we grabbed an hour via Skype with Bayview-Mackinac record-setting navigator Ron White from the ORMA 60 ARETE to find out about their Mack record, future plans for the fastest boat in the lakes, the likelihood of an ORMA/MOD trimaran freshwater series next year, and whether we'll soon see fleets of day-racing cats battling for the overall honors in the Chi-Mac.
After that we've got two hours of hilarity on the shores of Harbor Springs, MI with Melges 32 World Champion and longtime Anarchy videographer Petey Crawford and Detroit racer Blay Schoenherr on a multitude of subjects; the sordid details of the brutal crash between the 12-metre Courageous and a grip of boats (including Petey's) at the NYYC Round the Island race and Courageous navigator Gary Jobson's later attempt to deny responsibility for it, race reports from Blay on a 70-foot sled, the suicide of the nastiest bar owner in any sailing venue anywhere, the olympics, who drinks the most on the SA Podcast, and much, much more.
If you don't have a Podcast or can't play the episode above, head over here for the direct download link.
August 15th, 2016
Another month, another lawsuit, and this time, Michigan S2 7.9 midpacker Daniel O'Keefe is looking for a cool million bucks stemming from a crash at the 2104 S2 7.9 Class Championship in Macatawa Bay, Michigan.  Despite the fact that O'Keefe saw Todd Abrams Voom on port "15-20 boatlengths away," his lawyer claims Abrams shares no blame for the crash.  Abrams lawsuit says he suffered "multiple broken ribs, heart failure and a heart contusion and will require oxygen treatment for life."  O'Keefe's boat is called Kaboom; maybe it's time to stop naming boats after the noises a crash makes?
You all know how we feel about racing-related lawsuits, so we'll leave it to you to debate the finer points of this one…
August 15th, 2016