We have always admired Phil Sharp's adventures. Here is his latest update:
On the performance side we have made some fairly major changes to rigging configuration for this year. We have changed the furling J1 and J2 to hanks, i.e. for both stays. Lots of people think I'm mad, and yes it is going to be a lot more work, but I like the idea of being able to stack the J1 at the back of the boat for a long downwind race like the TJV. Particularly as this season is double-handed so there will be another pair of hands. Also, if you damage the jib, you can actually take it down and repair it. Big plus point for ocean racing! For a hanked J2, there is the advantage of being able to reef it rather than go straight to the storm jib.
Lastly, we changed quite a few of the deck fittings to reduce friction, as putting a reef in was a full-on workout, and took twice as long as it should have. That should mean we can be more adaptable to the wind changes and reef / unreef sooner.
2017 Class 40 Championship races we'll be entering:
29 April – 2 May 2017 : Grand Prix Guyader
14 – 21 May 2017 : Normandy Channel Race (Caen-Fastnet-Caen)
2 – 24 Juy 2017 : Les Sables – Horta – Les Sables
6 – 11 August 2017 : Rolex Fastnet Race
5 – 30 November 2017 : Transat Jacques Vabre
April 14th, 2017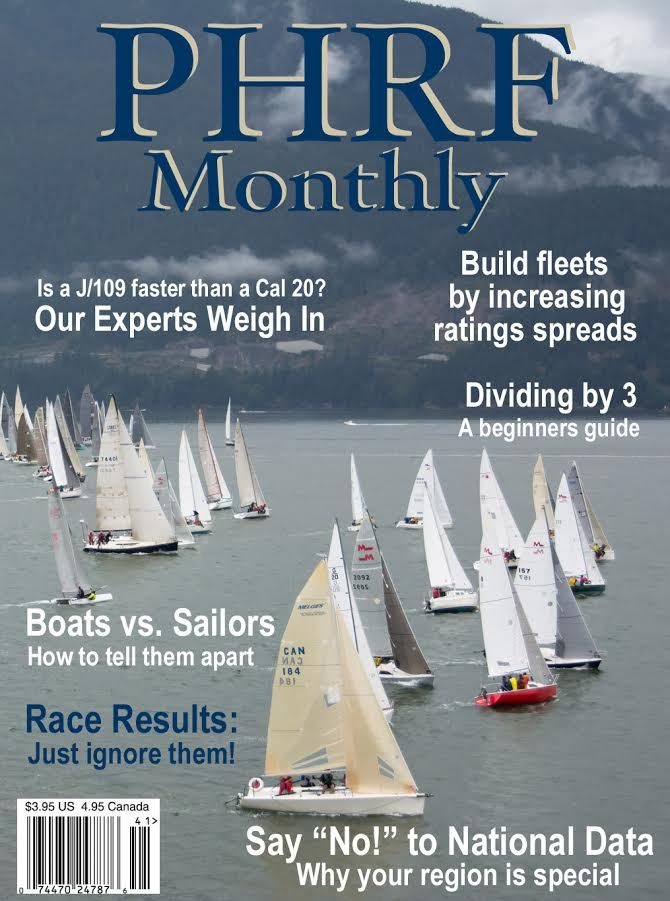 We know that you know just how much we loathe PHRF. We also know that almost all of you who sail it hate it too. We love this idea but need article headlines like "How to get even on a better sailor: Join the handicap board!" Or, "Know that you suck? Just whine about your rating!" Jump in here with yours!
April 13th, 2017
We love these series of design/build/engineering articles from our friends at StephensWaring….
What is it with interiors? Those inner, untalked-about bits of boats that never seem to see the light of nautical-chat day. Does anybody, anywhere brag about the size of their cabin sole? Or compare the space-age materials in their staterooms or galleys? Has anybody ever said "High-performance head" on any boat in any century, ever? We doubt it.
"Interior denial" is a sort of sad fact of boat-design life. That's too bad because what's going on inside your boat is a driving factor for what's going on outside your boat: How long she is; how beamy; how big the sails and engine, all are subject to the volume and demands of a floating vessel's interior. And when it comes time to build that boat, watch out! Interior construction is probably the major factor in how a boat gets made. What interior parts are built into the hull? What parts are prefab-ed and dropped in later? A big part of the yard's job is to machine, massage and mechanize the construction of interior detail and features. Yet, so little is known as to why an interior is built the way it is.
What fortune then, that we are in the final interior-details push done on our latest: the 66-foot Anna. She's just coming together nicely over at Lyman-Morse Boatbuilding, in Thomaston, ME. And as we're cranking the interior drawings out, the production design staff at LM are turning our interior into reality. This is quite a process worth going into further, later, yet we're realizing now it's a great — and rare — opportunity to open up the inner details of interior construction to the outer boat world.
If you've ever wanted to take a fantastic voyage down through what keeps what's inside your boat, inside your boat, buckle on up:
Here's why what's below is what it is.
April 13th, 2017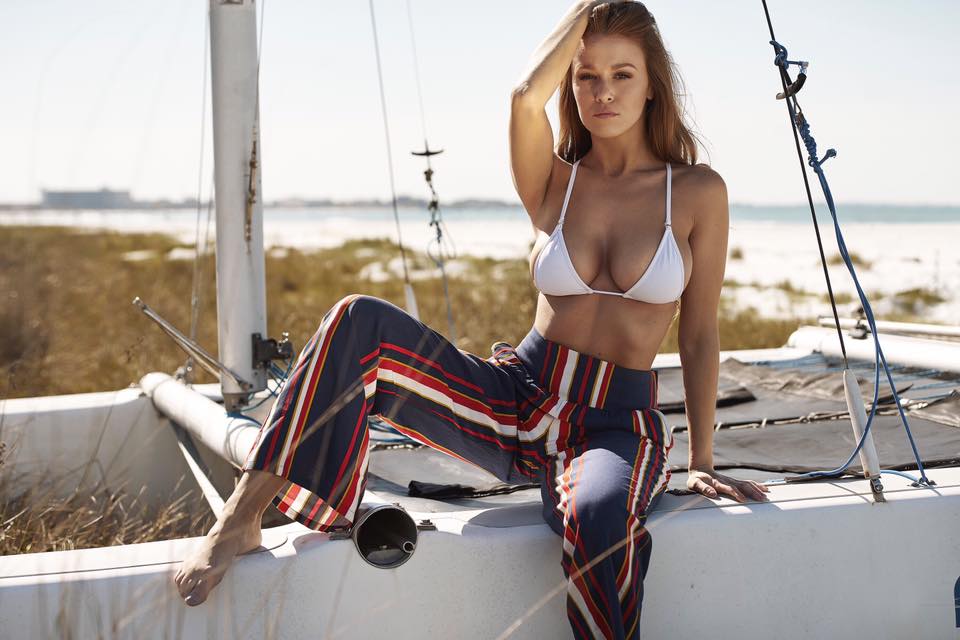 She probably doesn't sail, but one can dream (or fantasize!).  Pic of Vegas-based model Leanna Decker from her FB page, with thanks to "Les Behan" for the find of this week's long overdue SCOTW!.
April 12th, 2017
Those of us lucky enough to cross an ocean or race offshore for any length of time will have an innate sense of appreciation and wonder at the beauty and power of the sea – it's this very primal urge within us that binds us all together as sailors. And yet, as we know, some of the most important features of the sea and its ecosystems are under threat from human interference – most likely for the first time in the planet's history. Consequences now include measurable effects and influence on not just our aesthetic values as sailors but also the lives and well-being of those who depend on being on and around the sea.
The Mirpuri Foundation is a non-profit organisation set up by businessman and philanthropist Paulo Mirpuri as a vehicle to support specific projects in many diverse but interrelated fields, including marine conservation, wildlife conservation and general social responsibility.
In marine conservation the foundation is promoting a number of projects and initiatives relating to ocean conservation and events to consolidate and reinforce these objectives moving forward into the future. Besides specific projects such as the Save the Ocean campaign, the Mirpuri Foundation also works to spread a message of increasing awareness among global authorities of the importance of protecting oceans and of the wider dangers faced by the whole planet due to pollution and the effects of the human contribution to climate change – over which we do have power to control. – Read on.
April 12th, 2017
With the first of the new full-foiling Olympic Nacra 17 scheduled for delivery very soon and the ranking-essential Euros just around the corner, one of Team USA's best hopes for a medal was messing around in Holland, preparing for the coming battles above the water.
The Keith Brash video above (and there's another gorgeous one here) is of double Moth world champ Bora Gulari along with his new crew, 2016 FX competitor (and soon to be Stanford Masters grad) Helena Scutt.  And clearly, smart is fast – check out this video for the first-ever of a Nacra 17 nailing a foiling gybe.
Head over to Bora and Helena's Facebook Page here and like and share them.    Let the Olympic flying begin!
April 11th, 2017
Will the wrapped items prove to be the Great White Hope for Team New Zealand and anyone who wants to see the America's Cup go to a better steward than Coutts and Ellison?  Or will this be the most irrelevant 'unboxing' in yachting history?  Either way, they're ready to go; let the practice comparisons and "I Spy" games begin!
Only time will tell, and there ain't much left – and the recently tipped Oracle is already back on the water after just two days of downtime…
April 11th, 2017
Bravo to Groupama for maybe the best foiling tack we've seen yet from an AC cat, along with a pretty good dismount from what appears to be the wing trimmer getting clear from danger with style!
Go here for more from the local videographer who caught yet another AC oops, and stay up to date on Franck & Friends in the Team France thread.
April 11th, 2017
Billionaire Russians don't have the greatest reputation for honesty or general goodness, but we are still horrified with just how few fucks they give about – well, just about anything (except the Orange Menace whore-in-chief – ed).
Case in point?  The builder and timber supplier of banking and chemical oligarch Andrey Igorevich Melnichenko's hideous Sailing Yacht A are now under investigation by German criminal prosecutor Axel Bieler for using illegally sourced Burmese teak for the deck of the giant Dustbuster.  Bieler said analysis of teak used in the construction showed that the teak had not come from a legal plantation.  Instead, it allegedly came from rapidly disappearing forests in Myanmar (Burma) – where exporting teak is completely banned.
There's an even bigger reason than conservation and illegality to stay away from Burmese teak – proceeds from sales typically go straight to allegedly corrupt officials of Myanmar's newly elected government.  That new government was a ray of hope for a population that had grown used to death squads, slave labor and worse, but it appears it's 'business as usual' a year after the new government's establishment.
But hey – Igorevich wants teak, so Igorevich gets teak –  and he just don't give a fuck.
Read everything about the ugliest superyacht ever built in the thread.
April 11th, 2017
A great shot of the Carkeek 40 Fomo from Team Fomo.
April 10th, 2017