While the GC32 are discovering the bay of Marseille for the last event of the GC32 racing tour, the crew of the Gyptis is still testing to takeoff with a ship of more than 2600 years!  We are a group of young archaeologist-sailors. Even if we are more used to racing on a First 34.7 or IMX 45, we occasionally present this old square rigger on the starting line. This is the Gyptis which is the exact replica of a sewn boat from the 6th century BC. which was discovered in Marseilles in 1993 …
We have a facebook page for anyone interested:  - Anarchist Popov
September 29th, 2015
Counterpoint
What a tiresome rant from boat-snob grumbleguts Brian Hancock ("Bad moon rising"). First he doesn't like Comanche, and gloats that the "decade old" Wild Oats XI beat the new boat to Hobart by an hour last year. True, but what he doesn't mention is that WOXI has been constantly modified and updated over the past ten years, and that they only won through a dollop of luck and the vast Sydney-Hobart tactical experience of their crew. By contrast, this was Comanche's first ocean race, and they did remarkably well. (And by the way, the radical surgery currently underway for Wild Oats will see her emerge from the shed looking a lot more like Comanche.)
But the seedier aspect of Hancock's broadside is the gratuitous swipes he takes at Comanche's co-owner, Kristy Hinze-Clark, and the Sydney tabloid newspaper The Daily Telegraph. The news that the big black-and-red boat will be returning for another crack at Sydney-Hobart line honours is most welcome in local sailing circles. The Comanche team were wonderful and generous visitors during their time in Australia. Their head-to-head contest with Wild Oats was engrossing, and a boost for the sport.
It's an entirely legitimate newspaper story that Kristy Hinze-Clark, who is likely to be on board for this year's dash South, could be the first female owner to win line honours. "No win, no history", sneers Hancock, entirely misunderstanding the nature of journalism. By his reasoning, nobody should be covering Donald Trump's campaign because he might not be elected President.
Perhaps non-Australians don't understand what a big deal the Sydney-Hobart race is down here. There are daily reports on all the TV and radio networks for a fortnight and the newspapers publish colour liftouts before the event and put their extensive race coverage on the front page as well as in the sports sections.
I challenge Mr Hancock to nominate any American or European offshore event that attracts those levels of attention. Perhaps that's because the Northern Hemisphere media are sick of dealing with know-it-all sour-asses like him.
David Salter, Sydney, Australia
September 29th, 2015
With the sort-of opening of Cuba to US travel, not one but two different race organizers have planned regattas to the island that time forgot.  We don't know much about the Conch Republic Cup other than that it's from Key West to Cuba; frankly when we got to the silly entry fees of $1000 plus $200 per each crew member for a 90-mile race, we quit reading.
Meanwhile, there's a comparatively low-cost option ($500 entry fee) run by folks with a real track record, and we fully expect this one to attract well over 100 boats in its inaugural outing, and it's a more attractive course to boot; here's some info on the Miami-Havana Race from our friends over at SORC.  Organizers are answering questions in the threads here and here.
For the better part of several decades, the phrase "Miami to Havana" usually involved delivery of a less-than-congenial message or thought.  The sailors who compete in the Inaugural Miami to Havana Race  on February 10, 2016, will bring along the spirit of competition and friendship, seeking to re-establish ties that once allowed Cuban sailors to compete alongside Americans in the area's great ocean racing events on boats like Criollo, winner of the 1957 Southern Ocean Racing Conference.
The Coral Reef Yacht Club will host the pre-race festivities on February 9, with a Skipper's Meeting and Pre-race Party scheduled for that evening at the club.  The race will start the next day, just off of the Miami harbor entrance, proceeding to Marina Hemingway, leaving all marks of the Florida Keys to starboard, and providing a true navigator's challenge, to decide when to cross the Gulfstream. If you have ever raced across the Stream, you know that this will result in a healthy mix of "heroes and zeros", as boats pick whether to cross early or late, instead of playing follow-the-leader in a straight line drag race.  The "right" time to cross will never be in the same place twice.
The Hemingway International Yacht Club of Cuba will manage the finish and post-race festivities in Cuba, as well as a coastal race to Morro Castle and back, along Havana's famed Malecón, with members of a new generation of Cuban sailors assigned to each participating boat, on February 14.  An awards party will follow, that evening.  Race committee is provided by SORC Race Management, who is counting the race as the final score in its four-race Islands in the Stream Series.  Come south and enjoy the warm water and the warm welcome, along with the quality offshore racing you have come to expect from SORC.
September 28th, 2015
The boat that will soon start smashing records as the world's fastest ocean racing sailboat had a minor hiccup over the weekend when a fitting broke in the main hull of the VPLP trimaran Macif. The team's press release says it's no big deal, but is anything 'minor' in a 105-foot singlehanded foiling trimaran?  Stay on top of the Ultime Class in the thread.
Photo from MerConcept.
September 28th, 2015
Organizers of the E-Scow's Blue Chip Regatta wanted to make a splash for the 50th anniversary of the Midwest classic, so they rounded up as many of the past 'mystery guest' rockstars as they could and flew them to Pewaukee and gave them the helm and crews from 25 qualifying E boats.  Names like Reynolds, Alison, Lewis, Benjamin, McKee, Lovell and Cayard weren't a match for the Midwest's own Bora Gulari, who finished 5 points ahead of Peter Holmberg to take the win.
If you still watch television you might catch sight of a Gary Jobson documentary of the event at 3 AM on ESPN sometime later this year.  Those of you younger than 90 might want to check out some of the footage Petey Crawford and drone pilot Sean Fidler put together of the event.  A bit of it is above along with some action from the awards ceremony, and head over to the regatta playlist on Youtube for drone footage of most of the races, and a pile of interviews here.
September 28th, 2015
Fun rip on the @Nacra 20 FCS with Pete Melvin. If a 52 year old fat guy can do this (not Pete, me!), anyone can. Come join the revolution.  - Anarchist John. (And it just so happens that this little rocket is for sale. – ed).
September 28th, 2015
You don't know, and you're never going to know, unless we tell you. Or is that not true?
September 26th, 2015
The brand new Doyle Upwind Code Zero for the GP 26 Sleeve of Wizard. The boat is headed for the east coast, so look out for this big boy!
September 25th, 2015
Brian Hancock gets his crank on. We're down.

There has been a story circulating around the Internet lately that has really got my goat. I thought that I might just let it pass but then it popped up again on my Facebook page and I took that as a sign to say something. The story was published in Australia's Daily Telegraph. I am not sure if it was only online or in a print version, but it doesn't matter. The headline, in 75pt font, read: Sydney to Hobart: Former model Kristy Hinze-Clarke out to create race history with Comanche.
OK let me start again by saying I have nothing against the aforementioned model or her husband or the boat or the crew. It's not my intention to get people riled up. I have already stated before that I think Comanche is a slab-sided, unoriginal boat and the money could be better spend on something more innovative. My point is this: There have been, and there will be many more history-making moments in the Hobart Race, but the fact that the trophy wife of a rich American dude who may or may not be onboard for the Hobart race becomes headline news just gets to me.
I am a major supporter of women in sailing but this kind of journalism is plain and simple nonsense. The first paragraph reads:  "Seventy years after the first female sailed in a Sydney to Hobart, former model Kristy Hinze-Clarke is ready to become the first female owner to win the line honours race with Comanche now confirmed as an unexpected starter in this year's event."  Give me a break! In the third paragraph it states the Comanche skipper Ken Read has yet to speak to Jim Clark or his wife about whether or not Kristy will be on board, and to be honest, isn't it a bit presumptuous to have a headline that presumes that Comanche will win the race? No win, no history.
If memory serves me, in last year's race, the decade-old Wild Oats XI finished a full hour ahead of Comanche, easily taking line honours. OK there you have it. Anyone else out there bothered by that news headline or is it just the almost-full blood moon that is getting to me?
September 25th, 2015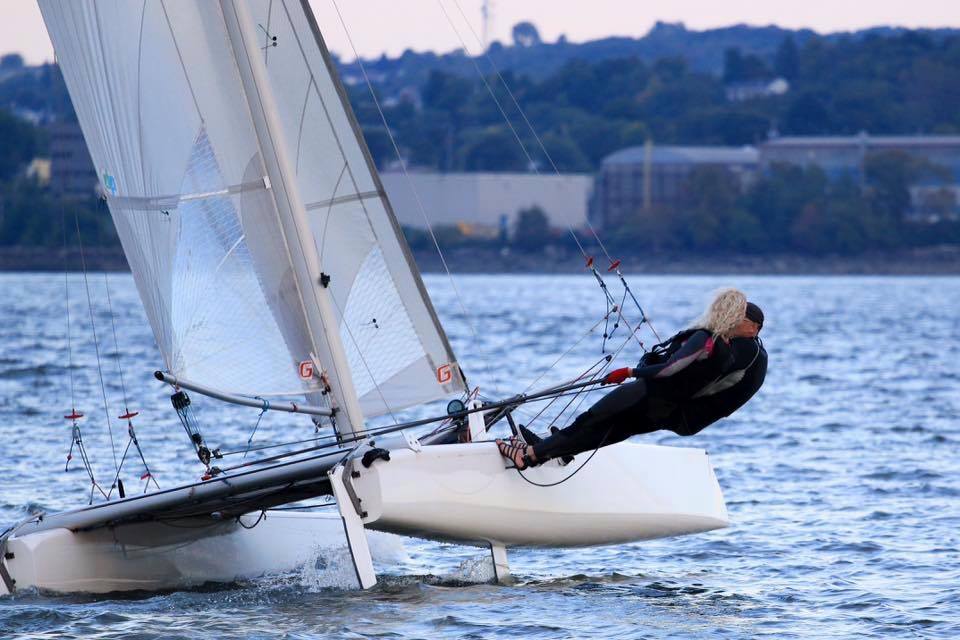 A lesson for all the ladies: doesn't matter what you are doing, you must have the right shoes!
September 24th, 2015