Wide, two hulls and blue. What else?
November 17th, 2015
Following up from "Mini Monster Garage", here's Fast Fibres first completed 20′ Cat. hull. The picture is my prototype which will be a home/kitset built foiling 20′er. All going well, the stb. hull will be complete around the Christmas/New Year period.
Big thanks to all Anarchists who emailed in response to our first mini monster garage post, I promised you more, I do hope you like the results of the hard work! Foil designs (by my self and Nat Shaver – ex Team NZ eng.) are complete and I'll build these after the second hull is complete.
Keep those emails of interest coming in!!! – Anarchist Bruce.
November 16th, 2015
Big Pimpin'
The Etchells Worlds continues to be one of the most hotly contested regattas in the world, pitting America's Cup sailors, Olympic Medalists and Volvo Ocean Race sailors against each other. This year, in Hong Kong, two American teams, Aretas and Scimitar, dominated the event. Aretas and Scimitar finished two points apart and were both Velocitek Shift equipped! The top two boats left a 21 point gap between 2nd and 3rd.
Skip Dieball, helmsman on World Champion Aretas, explains how and why he used the Shift at Worlds:
Q - Why did you choose the Shift?
A - We demo'd the Shift at Etchells Long Island Sound Championships and compared it to our existing compass. The ease of use and clarity of the readout made it a no-brainer. Compasses are incredibly valuable. The Shift is the best we've sailed with.
Q - Did you use the shift tracking feature?
A - Yes, we did use the shift tracking. We sailed upwind pre-race and got a feel for the range in the wind shifts. Then we picked a number that we felt was a good average. Going into the top mark it was really easy to know whether the breeze was right or left and whether to do a bear-away set or gybe set.
Q - Did you use the start timer?
A - Everyday. Having timer AND compass on display when in start mode is one thing I really like. No more paging through the modes to do last minute wind and line checks!
Q - How do you like the new anti-reflective / anti-glare lens?
A - We demo'd the original and then raced with the new AR/AG lens. Very nice!
Q - What type of sailor do you think would benefit the most from using the Shift?
A - All sailors. More experienced sailors will find it to be a useful tool. Newer sailors will learn the game and windshifts faster if they have a tool like this.
Title inspiration thanks to Dexter.
November 16th, 2015
Community 
Some call it "School Sailing." Kids call it "the best day of my life!" Whatever you call it, it's a fun-filled, action-packed, sailing extravaganza that gets every 5th grader out sailing on Lake Winnebago in Oshkosh, WI. Oh – and let's not forget teaching science, technology, engineering and math (STEM) through sailing, or using sailing to teach team-building and leadership skills to kids!
According to Steve Eliasen, Director of International Youth Sailing of Oshkosh and mastermind/magician of this three-ring circus, what began eight years ago with 60 charter school students has exploded to become the largest school sailing program in the US, exposing nearly 1500 school kids to sailing every year for the past several years!
What does it look like? 80 kids arrive at the beach on a yellow bus in the morning and learn to sail by lunch time. They leave, and another 80 arrive for the afternoon. Eat, sleep and repeat for roughly two weeks in both June and September. Some kids design and build sail rigs for O'pen Bics, some fabricate their own Hobie Wave sails and some create and pilot their own life-sized solar-powered boats.
Why Oshkosh – kind of your average city in the Midwest? According to Eliasen, three things:
Lake Winnebago, one of the largest inland lakes in the US that offers easy, inexpensive access and perfect sailing conditions
Bold school district leadership that sees the potential and helps make it happen. "This could happen anywhere," says Eliasen, "but it happens here in Oshkosh because our school district leadership and teachers embrace it fully and make it a defining component of being a student in Oshkosh public schools. If you are among the 10,000 public school student in Oshkosh, you sail. Period."
The incredible generosity of donors and volunteers who give everything they've got to get kids learning to sail and connecting with the remarkable, natural aquatic environment in their own back yard.
Says Eliasen, "We started this program because we believe what every sailor knows in their bones – sailing is a complete education. That everything you need to know about life, including academics, you can learn from sailing. As one of our supporters (who happens to be an MD) puts it, mastering sailing is no less an accomplishment than completing medical school." Check out their latest video!
November 15th, 2015
Big Pimpin'
Code 0's were developed for light air close reaching. However, because it is built from strong, laminated material I found it very useful for broad reaching in stronger winds as well. I am having a lot of fun with it in the SF Bay, and I might be the only boat sailing with one up here!
Here's the story! I purchased a 97 Beneteau First 300 (Grace) soon after moving to Socal from the SF Bay area, where I spent 20 years sailing and racing its infamous strong winds and currents. I began short handed ocean racing and found that she didn't perform well in the light winds common in southern California. Inspired by ocean racers, clearly I needed a Code 0 with a furler and bowsprit. I created my own Sprit, the Trogear A-Sprit, and together with the Code 0 and furler my boat performance improved significantly. It took some time to find the right crossover for the headsail and A2 but soon the race results started to speak for themselves. In addition to the increased light wind performance, the ease of deployment made a huge difference as it can quickly be furled or unfurled based on the wind. This proved to be very significant for coastal races (any sailing with a sea breeze) single handed at night when the winds are light and fluctuating in strength and direction.
Due to a job offer I couldn't refuse, I moved back to SF Bay area and this past summer sailed my boat up the coast to its new home in Brisbane. Since most of my sailing with Grace had been in light winds, I thought that her sweet spot was 8 -12 TWS where I could even keep up with light wind boats such as an Olson 30 or Santa Cruz 27. I was kind of worried that she would be too tender for the Bay and the Code 0 might get packed away.
Surprisingly, she actually does quite well in these conditions and the Code 0 sees more action than I thought it would. In light winds before the sea breeze kicks in, it helps to power up boat, and in the afternoon or evening, returning from the Central Bay to Brisbane, it is hoot reaching with Code 0 and maintaining 8kn speed. In these conditions, using an Asymmetrical spinnaker would overpower the boat. Sure, the hard-core racers with a full crew to help would fly an A3, but that's not my case.
Essentially, I found that the Code 0, due to ease of deployment and the ability to furl or unfurl it quickly and dependably makes all the difference between flying a reaching sail or struggling with the headsail. And, did I mention how much fun it is reaching with a Code 0 on a breezy day, short handed and passing other boats as if they are anchored?
If you do most of your sailing shorthanded, don't hesitate to spend your hard earned $$ for a Code O and Furler – and if your boat doesn't come with a bowsprit you just might want to invest in ours. With the ability to adjust the luff tension from the cockpit, you'll be in ultimate control.
Visit us at METS in Amsterdam Nov. 17-19 – Booth 11.211.
Henry Dokonal
www.trogear.com
November 15th, 2015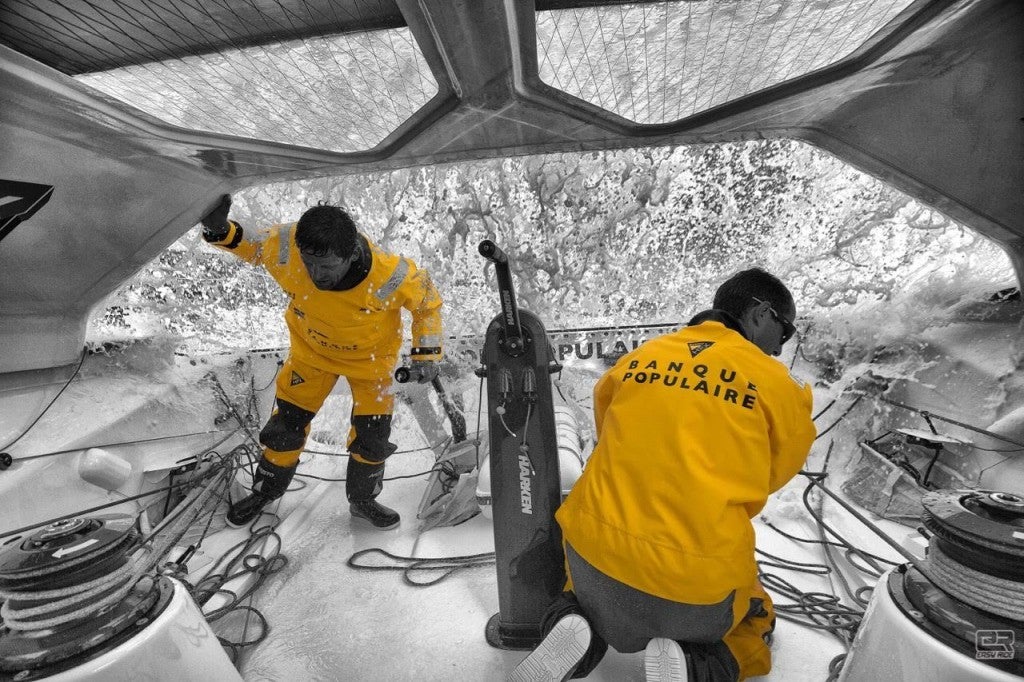 They arrived  2nd at the Transat Jacques Vabre,  but that is the only IMOCA boat on foils! – Manu, Easy Ride.
November 15th, 2015
Brian Hancock takes you around the horn. Click on the graphic below for something else good…
I have been lucky enough to round Cape Horn twice under sail. The first time was in a full gale and we actually ended up capsizing right at Cape Horn. We were about a quarter mile off the famous landmark when the helmsman turned the wheel the wrong way and over we went. It's a long story. The second time; light headwinds… Cape Horn has been a huge part of my life from when I was a kid reading all the stories about famous sailors getting pounded by gale force winds to the whole lure of Tierra del Fuego, the land of fire and the voyage of Darwin aboard the HMS Beagle.
So it was interesting to read that the French sailor Frank Cammas is going to attempt to round Cape Horn, foiling, on a Nacra 20 catamaran. Wow, an undertaking as extraordinary and ambitious in its audacity that it could only have been thought up by a Frenchman. Cammas is no stranger to the worldwide sailing community. As skipper of Groupama he won the 2011/12 Volvo Ocean Race and on the massive Trimaran Groupama 3 he set a new Jules Verne record for the fastest non-stop circumnavigation. Those are just two of the many victories that Cammas has on his resume. But this trip will be different. This will require, skill, luck and most of all, patience.
A number of years ago I spent some time cruising Tierra del Fuego. It's stunning territory and contrary to what you would think it's not always blowing a gale. In fact it's often flat calm or there are very light winds. Cammas and his crew mate Johannes Wiebel will just need to be very patient and pick a weather window that allows them to successfully make the trip. They will start from Ushuaia in southern Argentina and sail through the strait that separates Isla Picton from Isla Navarino. Once past those islands it's a straight shot to Cape Horn, a total distance of around 100 miles. The tricky thing is going to be finding enough wind to keep them going in the wind shadow of Isla Navarino and hoping that once they are clear of the mountains that the wind is not blowing too hard. Isla Navarino stands at almost 4,000 feet above the Beagle Channel. I know this for sure because I have stood atop the mountain. It casts a very long wind shadow.
The plan is for the crew to actually make landfall on Cape Horn and pay a visit to the lighthouse keeper, something that is on my bucket list. I heard that you can actually buy a postcard there and mail it from there. Pretty cool. So it's going to be interesting to watch how they make out. There, are the bottom of the world in a teacup sized boat will be one Frenchman trying to set a new world record, while far to the north his fellow Frenchmen will also be waiting for a weather window to set off to try and break the Jules Verne record. Currently both Spindrift Racing and IDEC are on stand-by for the perfect weather conditions to sling them down to the equator.
I guess at the end of the day it's all about ambition and patience if you want to set records and break barriers.
November 15th, 2015
We stand with our brothers and sisters across the ocean, and we cry for you.  At this time, we needn't say much more. If you are not yet aware, Paris has been attacked by gun and bomb-wielding terrorists on Friday night, with several gunmen possibly still on the run.  Facebook has a a 'safety check' feature to check on your friends and family if you're worried.  Love, and strength, from the entire Sailing Anarchy community.
November 13th, 2015
The latest bit of beauty and a stark reminder about what is happening to our water world, thanks to Patrick Rynne and Waterlust. Jump to his FB page for the latest on his wonderful gf Fiona…
November 13th, 2015
Big Pimpin'
One of the things we're excited to check out at the METS show is Oceanvolt's new smartphone app to go along with their very sexy electric motor and management systems.  We've got a treehugging streak, but even for the environmentally apathetic, these things have some phenomenal benefits over traditional diesel systems. More from our pals in Finland:
Oceanvolt's award-winning electric motors and energy management systems for sailboats and catamarans are silent, lightweight and maintenance free. Oceanvolt offers both sail drive and shaft drive motor models.  The Oceanvolt SD system has a patented, flexible mounting to attach the motor to the sailboat hull to absorb vibrations. This feature also makes it possible to refit or install the electric motor system on any boat between 20-80ft.
Oceanvolt systems create energy while sailing – up to 4000W per motor, monohull or catamaran. This will recharge the batteries quickly. Complemented with solar power and shore power, there is rarely any need to use a generator while sailing.  Compared
to traditional diesel motors, Oceanvolt electric motors have no gears or components that wear out or parts that need to be replaced in yearly service.
Oceanvolt has also developed a smartphone app that will show you the system's state of charge and status, as well as the location of your boat and other useful info, anywhere in the world. This same system is also used by Oceanvolt's service team to monitor, diagnose and remotely service customer boats. It is called Oceanvolt RSI- Remote Service Interface.
Learn more the Oceanvolt website, and like them on Facebook here.
November 13th, 2015