Who in their right mind could argue with this statement? Certainly not us, although we bet there will be a few angry females who can't wait to bitch about it!
April 8th, 2015
Anarchist Josef Andresen takes us into his world of the Moth…
Just 12 months ago I flew to Miami and spent 3 days on Biscayne Bay, jumping into the world of Moth sailing.  My initiation was much more swimming than sailing, ending up bruised and exhausted yet wanting more.  However on the 3rd day, just hours before heading home, I found myself foiling (flying) over the water for mere seconds in what seemed like an eternity.
I was hooked on this new sailing challenge and purchased a used boat several months later.   With a busy work schedule and little experience or confidence, I found limited opportunity to get on the water except on a couple of occasions with a small cadre of devoted local Moth sailors who are now growing in number.
Was it time to head back to Miami for a jumpstart?   March weather forecast: air temperature, 86 degrees, water temperature 77 degrees.  Lets go!  After an email to Anthony Kotoun, U.S. Moth Nationals champion and East Coast Moth Mach 2 sales agent, I got a heads up that Victor Diaz-de-Leon would be happy to spend some time on the water with me.
Victor has an interesting story: Venezuelan born, sailing since age 6, he immigrated to the US as a teenager and attended St. Mary's College, majoring in economics.  Sailing is his passion and he is an up and coming rock star in the sailing world who if you haven't heard about yet, you soon will.    Sailing on "Catapult", second place boat at the J70 worlds in Newport, Rhode Island this past Fall, calling tactics for 2nd place finisher, 12y/o Gannon Troutman in the J70 fleet at Quantum Key West Race Week 2015 and sailing regularly in San Diego in the Etchells fleet, Victor has a busy schedule.   He was in San Diego but had 2 days free and agreed to meet me in Florida.
 We met up at the Miami Rowing Club beach.  Short in stature, with a bigger than life smile, piercing green eyes and a full beard hiding his 23 youthful years, Victor gave me an enthusiastic hand shake and hug, "Welcome to Miami!  You should have a great time with Thomas, Ainsley and Tyler.  They are all learning and are here to sail their Moths!"    His boat was just 3 months old so I brought my own foils to use since this is one of the more expensive things that can break.  Like setting up a Formula One race car, I watched closely as Victor carefully assembled the foils and fine-tuned the rig.   "Let's tighten up the rig and reinforce everything since I know there will be a few crashes", he said, smiling.
To keep things simple, Victor launched the Moth off the beach and I jumped in the VSR RIB and followed him out to the central bay, dodging anchored boats along the way.  It was a beautiful, sunny afternoon with a southwesterly blowing at about 12 to 15 mph.  I watched in awe as he foiled across the water effortlessly.  Now it was my turn.  I came up along side and caught the Moth's wing on her port side.
"Ready?"  I nodded and jumped over the wing and landed in the center cockpit, grabbing the mainsheet quickly.  The boat came to life, powering up immediately with a rush of water underneath.   Suddenly I felt weightless as the boat rose up out of the water and I was foiling quickly away from our transfer point.
As quickly as this all happened, I found myself falling to windward and splashing into the warm water of Biscayne Bay.  I hung on to the windward wing and grabbed for the mainsheet, pulling myself back into the cockpit.  Like a horse out of the starting gate, the boat lurched forward again and I was foiling forward 50 to 100 feet at a time.
Four hours passed since we left the beach and the sun was beginning to set behind the western Miami cityscape.  After each capsize, it was getting a bit harder to climb back aboard.  Victor appreciated my enthusiasm but saw that it was time to call it a day.  We traded places and headed for shore.   "Let's meet up tomorrow with everyone and review the video and have a debriefing", he suggested.  "Sounds good" I replied.
The next morning we all gathered around the TV monitor and watched replays of the previous day.  Time after time, I was rising up out of the water, foiling forward and then quickly falling to windward, back into the water.  "Let's look at what happens to your righting moment when you start foiling", Victor said.  He pulled out a series of sketches showing that the center of gravity and righting moment dramatically shifts from low riding to foiling resulting in increasing windward heel.  "As your speed increases, the apparent wind moves forward and you need to trim in quickly to compensate", Victor summarized.  Now I had a better idea and visual of what was happening and how to respond.
We headed out on to Biscayne Bay mid afternoon as the wind picked up; another day of perfect conditions.  Now it was my turn to take the tiller.    Balance, trim in, hike out and I immediately felt the quick acceleration, elevation and then silence.  The only sound is the wind and a faint tapping sound of the wand hitting the surface of water, instantly adjusting the main foil flap angle of attack.   I start to fall to windward.   "TRIM, TRIM!" I hear shouted behind me.  This quickly jolts my attention to our "sailing 101" discussion a few hours earlier.  I pull in on the mainsheet, the boat immediately rebalances and locks into its trajectory.  I look back over my shoulder.  Victor and the blue RIB is suddenly several hundred yards behind and I start laughing realizing that I've just stumbled forward in my learning curve.   "Nice Job" Victor shouts as he finally catches up as I let the boat settle back down on the water surface, low riding again.   Before he can say another word, I'm gone.  Foiling 300, 400, then 500 yards at a time!
Hours pass and the sun is low in the sky.  I'm exhausted but elated at the same time. I can't wait another 12 months for more of this.  The fleet moves North in the next few months.  Newport, Rhode Island here I come!
April 8th, 2015
New York Times correspondent Chris Museler was so inspired by our coverage of foiling boats over the past year that he's doing something really interesting with it, and he wants you to all be part of it – live, online, or via Twitter; your choice.
Tomorrow, Thursday April 9th, Chris will run a live, webstreamed talk called 'Foiling In The USA", where he will talk to some of the most interesting folks in foiling and answer your Tweeted questions about the foiling landscape. It all starts at 1900 (7 PM) EST, 1600 PST, 2300 GMT.  If you want to ask your question in person, head over to the Doyle Long Island loft for free pizza – everyone's invited.
This is all about having an open discussion on how the rapid development of hydrofoil technology is going to change the way we enjoy sailing!! Will we all be cruising on hydrofoils in the future? Will kids be flying out of the water on mass-produced plastic foilers at their learn-to-sail camps? Here's the line-up to answer those questions:
-New York Times correspondent CHRIS MUSELER makes sense of the latest developments
-GunBoat founder PETER JOHNSTONE on live SkypeVideo chat about the foiling G4 cruiser/racer catamaran in trials THIS WEEK!
-The Foiling Week founder Luca Rizzotti will chime in from Lake Garda to explain the vibe when the world's top foil designers get together to create the future of the sport
-AND contributions from other influential visionaries including radical kite foiler Bryan Lake, Waterlust Project filmmaker Patrick Rynne, US Sailing Executive Director Jack Gierhart and more!!!
Big thanks to Mark Washiem from Doyle Sailmakers Long Island for the space (and Pizza!) to share cool ideas with Strong Island sailors.  And a huge thanks to US Sailing for stepping up to support foiling in the sport by Sponsoring the LiveStream broadcast.
Finally, Tweet your questions to @OakcliffSail, and thank them for sponsoring and running the Twitter feed.
April 8th, 2015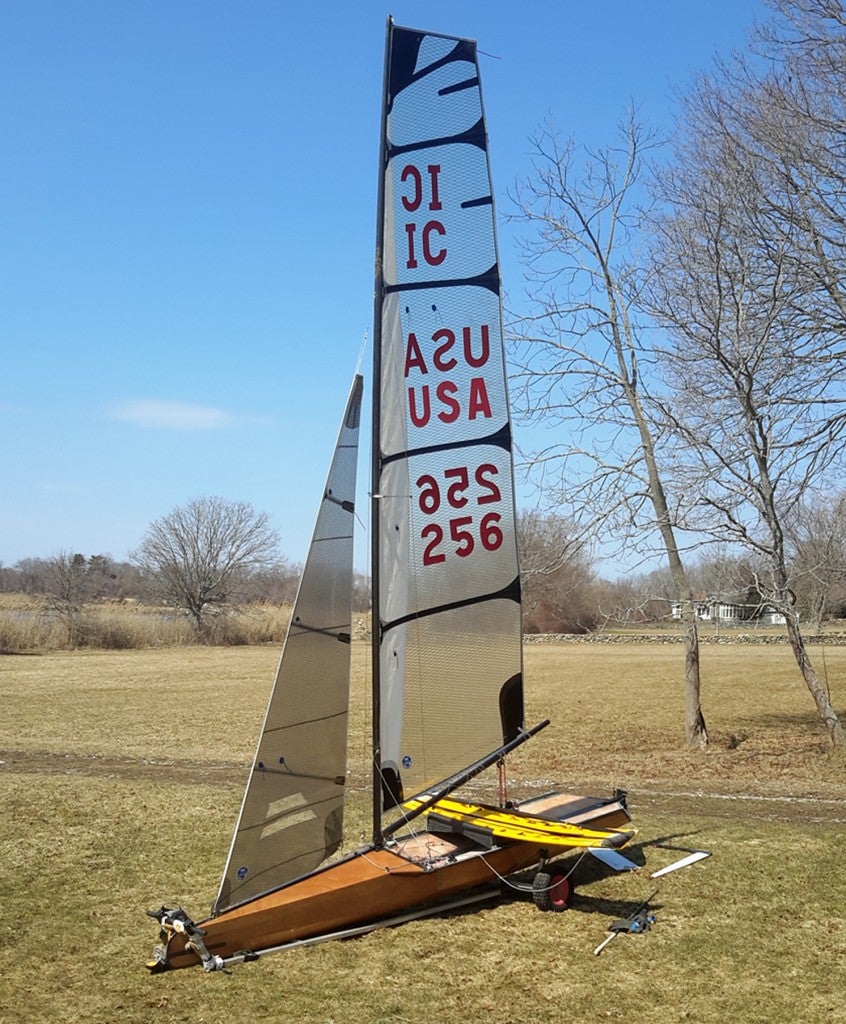 The 20 knot home build canoe from our friends at Wooden Boat magazine…
I started out looking at high performance sailing and feeling horrible about exhorting my friends to blow the cost of a new Subaru on a new IC. It just wasn't right. There had to be a better way to grow the sport. So I went after the cost and built a tortured plywood IC in a jig with a host of CNC cut bulkheads inside and thought about making the final product more affordable that way. I named her Dance Commander and got fifth overall at world's in her. I was in position to snag the bronze by the last race when my halyard blew up. The boat went like a bat out of hell and held up to 20+ knots in San Francisco bay for two weeks of total war without complaint. As I was driving back across the country, though, I realized that what I had really proven was the ongoing relevance of wood. With cheap okume and white pine, I'd built myself a weapon that could lead a fleet almost entirely dominated by carbon boats. It's important to note at this point that I'm no genius builder. My dad is a great designer and I did an acceptable job of assembling the boat. So with the right design anybody could do what I did. "Awesome!" I thought "Let's make it happen".
When I got back East, my dad went back to the drawing board and I got back to peering over his shoulder urging "Pointier! Scarier! Meaner! Sharper!" There were two criteria: fast to sail, easy of build. I was very wary in protecting ease of build. It's common for a career boatbuilder to begin sentences with "It's not that hard to…." and that's a dangerous path to tread in kit building. What came out the other end is Machete, the most aggressive looking canoe I've ever sailed and by far the easiest build. I constructed the hull in a shed in Ithaca over the winter, using nothing but hand tools. It went together like cookies and milk. It's a miracle of CNC cutting and good designers how these complex shapes break down into a set of tinker toys for grown-ups. I really have to thank my dad for designing such a beautiful and intricate craft. It was an indescribable pleasure bringing it from a box of cut-outs to a three dimensional real hull.
Part of the Machete kit concept is the notion that the truly rewarding part of building a boat is building the hull. The hull is the true "boat" part of the boat. It's the part you name, paint, fare, talk to. The other stuff just gets in the way of getting on the water and sailing the wonderful boat you've just built. With that in mind, all the other parts can come prefab, enabling you to stick to the good part and not be driven up the wall making foils while your beautiful hull sits in your shop looking on expectantly. So, I came back to Rhode Island with my finished hull and took the foils, seat carriage and seat etc, for which we have good reliable tooling, out of stock and rigged her up. Great. Hull done. Time to sail.
Machete weighed in finished at 50kg all up, the minimum weight for the class. We've been doing sea trials in the last week and the thing goes like a missile. She will go up against a good group of other IC's in Oriental, NC this coming weekend and I'm certain that she will do nicely. In many ways its feels like a vindication of a hunch my dad and I have had for years; that you can get to the front of a high performance development class with wood and clever geometry as opposed to the wholesale application of exotics. For me, the machete project has been one of the most rewarding things I've ever done, and I am preparing kits with the hope that other people can have that experience too."
Read the full article here and title inspiration thanks to Peter Murphy.
April 8th, 2015
The new TP 52 Quantum  Racing. New boat, new look. Like it?
April 8th, 2015
Big Pimpin'
One of the most competitive and extreme one-design fleets of the past decade has gotten the message from its owners, and we're excited to share the news that the Melges 32 Class is rolling out a new Winter Series for the 2015/16 season.  Hosting all three events from the same yacht club will cut down significantly on logistics costs, and the Fort Lauderdale venue will prove far more affordable than some of the over-the-top locations of recent years.  With used boats available at great prices, it's a perfect time to get into the exciting Melges 32 fleet.
Joy Dunigan photo, and check out the full schedule over here.
April 7th, 2015
Our new product spotlight turns today on a couple of cute sailor chicks from Hamburg – they've invented a new and foolproof way to keep liquids ready on your dinghy or sportboat.  It's called the Buddel Slauch (don't ask), and if you want to check it out and get yours early (and ensure it's actually produced), head over to their StartNext page and feed the crowdfund – they only need another grand or so to make it happen.
Apparently the girls do some pretty cool regatta awards too – lookie here.
April 7th, 2015
We're all about equal opportunity here at SA, and we don't care how far behind they finish – we still want to watch Team SCA cross the line. If you do too, click above – this was recorded just an hour ago from Itajai.
The girls grab fifth place – their highest finish yet in a leg thanks to Dong's dismasting, and it's a nod to all the teams and the VO65 that even Team SCA beat the last race's fastest Leg 5 finish by almost two days.
April 7th, 2015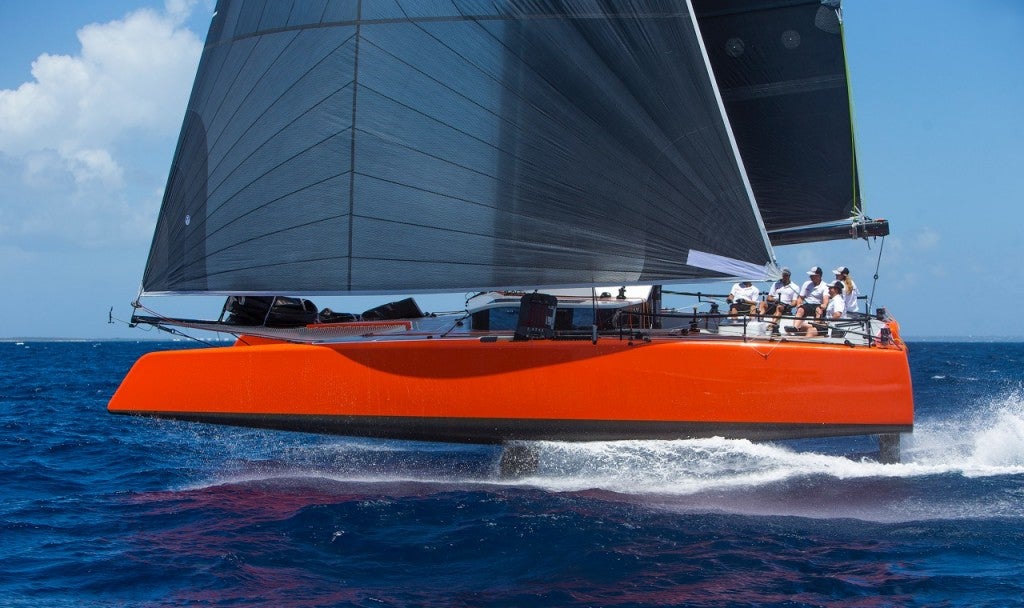 A stoked Peter Johnstone reports that the hard-working design and build team at Gunboat have done it!  The full-foiling G4 cruiser/racer is ticking all the test boxes during her St. Martin sea trials, and here's today's sailing report directly from test pilot and mast builder Ben Hall:
"An epic day of sailing the new Gunboat G4!  The orange rocket handled the 18-20 kt breezes off St Maarten with ease.  Foiling was fast and steady. I got to drive upwind and hit 15.4 kts…incredible!
Downwind with R1 we peaked out at 25.7. On the foils we had really good VMG with TWA of about 160. On the final burn into the harbor with the solent and full main the top speed was 29.7.
Probably one of the best days of sailing ever for me…all on a boat with a cruising interior, a nice fridge and stove, electric sail drive and cockpit for the best of parties.
Truly remarkable!"
Screw the AC48 – they should just do the America's Cup in these things.
Watch the G4 thread in Multihull Anarchy and Gunboat's Facebook Page for the latest photos and reports, and check back here later in the week for the full video.  Photo courtesy of Rachel Jaspersen/Ocean Images.
April 6th, 2015
Language boffins have complained for years that the 3-day Sperry Charleston Race Week is woefully misnamed.  But the wild success of the hemisphere's biggest regatta has allowed the event to leapfrog right over the 'week' part of its name, because this year, April is Charleston Race Month.  And thanks to our friends at Sperry and their Odysseys Await promotion, Sailing Anarchy is bringing you its biggest coverage of Charleston action ever – just when conditions in the South's sailing capital are a sailor's paradise.  For more, we go to For2Battery Race founder Tim Fitzgerald:
All the Charleston action begins on April 11th, when the second annual Fort2Battery sprint turns Charleston Harbor into "Caddy Day" at Bushwood.  This hot event reached its entry cap weeks ago, and some 75 high-speed kites, boards, catamarans and moths will be racing down the harbor at speeds touching 40mph, competing for some $20,000 in prizes including a brand new bike, and one of the largest single cash prizes in all of American sailing!
One notable absence is the inaugural Champion, "King of the Harbor" Bora Gulari, who's giving someone else a chance to win this year.  Will the sailors still be able to hold off the kites in 2015?  You can tune in right here on the front page for a live hour-long morning show from the beach, and the entire 9-minute race, streamed by the original troublemakers who called last year to tell us "DUDE! this race needs to happen, how can we help?!" at Sailing Anarchy. And we've got a pro photographer going up in a Holy City Helicopter to shoot the event – it will be awesome!  Head over to our Facebook Page to find out how you can enter to win a brand new Liquid Force Kite or Kiteboard, and please join us at the huge post-race party and awards at the awesome Palmetto Brewery at 7 pm. 
The nearly 300 teams entered in Sperry Charleston Race Week in about a hundred classes on 5 circles will begin arriving in Charleston immediately after the sprint, and we've got a full program of live, recorded, photo, and social content for everyone stuck at home.  For the 2500-odd sailors, shore crew, and support staff in the Holy City, we've got all sorts of goodies, including giveaways, contests, and a VIP after party with tons more giveaways, and a Karaoke contest where we'll award a year-long Sperry footwear sponsorship to one lucky crew!
While the multi-media fun ends on 4/20, the month ain't over for sailors until the next weekend, when 15-20 high-speed E-Scows (including one helmed by the aforementioned Gulari) will take advantage of the perfect SE seabreeze to race in the CYC E Regatta.  We've also heard rumors that several high-performance one-design and box rule classes are looking to join the late April fun in 2016; is there another 200+ boat Charleston regatta on the horizon?  We think there should be.
Check out the full webcast schedule here, and let us know about you and your crew in the Charleston Race Week thread.
April 6th, 2015
It's taken less than two years to go from the fantastic AC72 to the ghost of an AC62 to an AC48 – the smallest boat conceived to sail in an America's Cup in the 165 year-history of the event.  The 48 will clearly be cheaper in every way, but is it the America's Cup?
One might well doubt it in view of AC48 Rule version 1.0 dated March 31st – this is a one-design rule, and one that the Defender – Oracle Racing – has been thinking about for some time.  Master illustrator and yacht designer François Chevalier and partner/historian/analyst Jacques Taglang analyzed the rule this morning, and their drawings give us a good comparison view of the new AC48 – and surprisingly, it looks like it won't even be as big visually as the AC45 (and the proportional drawing shows even more that the AC48 looks like a 'special' brother to the 45).  Here's a comment from the team.
What we have is a boat whose wing, sails, hulls, platform/crossbeams are standardised!  Same engine, same body, all engineered by Oracle's designer.
To reassure the world that the America's Cup still means something, the Rule throws the engineers and computer scientists a bone; they have a small amount of freedom to design the daggerboard/lifting foils, the rudders, non-structural aero fairings, and some parts of the wing and board control systems.
In other words, history showed us what the America's Cup is, and we all know of the Little America's Cup, so then this new AC-1D-48 should probably be called the Medium America's Cup.  Looking at the design drawings, you will see that the new boat is no longer visually special, and will probably be overlooked amongst the already large and growing number of multihull racing events.  Only the name of the trophy will maintain whatever legend remains.  Hence the Medium Cup!
Little Is Bigger

As a result of AC organisers' wholesale changes, the Little America's Cup (now called the Little Cup thanks to trademark claims by the AC organizers) raced with C-Class cats becomes the sole remaining event in which the inventiveness of yacht designers is still free.  The sole constraints in the C-Class: Length, width and sail area.
Let us say straight away: Vive the Little Cup!
April 6th, 2015
The influx of knowledge and skill pouring into the Gunboat fleet over the past five years was blatantly apparent during a picture-perfect week in Sint Maarten for the 2015 Heineken Regatta, and Richard and Rachel captured the feel of the Caribbean's most picturesque regatta well.  Two-time Melges 32 World Champ Jason Carroll barely held off professional A-Cat World Champ and multiple F-18 champ Mischa Heemskerk with both skippers sailing to the limits of the multi-million dollar cruisers, and both teams already thinking about next year's rematch.
They (thankfully) didn't shoot what we love most about SXM – the insanely hot French and Dutch girls, the cheapest and best wine and alcohol in the Caribbean, and drug-addled all-night parties from one end of the island to the other.  Nope – you've gotta come racing for all that.  If you don't have a boat, give this chick a call.  She'll get you some silverware and her crews are no strangers to debauchery.
April 6th, 2015
It took less than a decade for the world's big charter fleets to go almost entirely multihull, and why not? For the same length and weight, they're bigger, more comfortable, more open, and just plain better for cruising regardless of experience level.  When we saw this wholesale defection underway, it made us happy – tens of thousands of know-nothing once-a-decade charterers would learn that sailboats could go faster than the 5.7 knot top speed of a Moorings 390 shitbox, and who knows – maybe some fraction of them would be inspired to go racing once they got back to Duluth or Green Bay or Chillicothe?
One problem with our wishful thinking – the charter companies ordered overweight Fontaine-Pajot/Leopard/Lagoons by the shipload, with tiny rigs, diaper-cut sails, and no downwind sail inventory at all, ensuring that the boats are almost never used for sailing.
And this one, stuck under a Sint Maarten crane last week, looks far better than the usual.  Fortunately, there are a few companies doing real performance – check SA's preferred one here.
April 6th, 2015
Late afternoon sun welcomes Ian Walker and Abu Dhabi Ocean Racing to the top of the podium in Itajai, live right now with Genny and Covell.  Don't go away for long – the rest are not far behind.  Except for Team SCA, who just took out one of their rudders on a UFO…watch and learn.
April 5th, 2015
…and almost go! The Ed's Jim Donovan designed, WRace built GP 26 Sleeve of Wizard is just about ready to go sailing. Stoked doesn't begin to describe it! Huge props to the multi talents of Brian Janney for doing some incredible work to get the boat together. We have a lot of sponsors to thank for being a part of this – Velocitek, New England Ropes, Sperry, Hobie Sunglasses, Camet, and Doyle Sails.
April 5th, 2015
Does your 7ksb with 8000 lbs of furniture in it need to shed some pounds?  Have you ever sat on the can and felt too much flex? We have your solution right here. Or do you love that J35 but there just aren't enough cup holders?  These carbon beauties were created by M Pietz designs! Props to Anarchist Brian W.
April 3rd, 2015
Scot Tempesta, Editor & Publisher
Sailing Anarchy
Mr. Tempesta,
I am a cruising sailor who frequents the PNW. I had hoped to become a member of SA, even though I don't quite swear as well or enjoy porn or dirty jokes. I enjoy taking my kids and grandkids sailing. I felt there was alot of good advice in SA, but I didn't know about the haising [sic] needed to join.
I put up a thread, explained that I was new, and willing to learn. I was meet [sic] with a insistence to look at smut, false accusations about my person and boat, and just foul anger from the team. I tried fighting back but there is [sic] just too many. My friends who knew me from sailing were forced to be silent.
So I am thinking about doing the following:
I am going to tell your sponsors of my treatment, and how myself, and friends cannot be users of their products when they condone such behavior. I will encourage my friends to do the same and offer them help and good logical reasons why they should boycott sponsors of SA.
I will look into starting a campaign to boycott SA- look for it on facebook.  My thread has been copied and will be turned over to the appropriate government agency which handles cyber bulling [sic], if I can work my way through the new regulations.
Now I realize I am just a small sailor with a medium sized boat and and a small community of friends, but every good cause needs a start and I am willing to go the distance.

And all because when I opened a thread and asked to join the community- And they said "show us your tits" I said no. Sounds a lot like rape does it?
I will look forward to your response, and this letter, along with your responses, may be made public.
Sincerely,
Mark Gillis
Public it is! We'd like you all to encourage Mr. Gillis to pursue his jihad against Sailing Anarchy by jumping in the thread here.  Because rape!
UPDATE: We received the following from Mr. Gillis after he sent us the above letter. We thanked him.
Mr. Tempesta,
As I was thinking how hurt I was at being rejected at SA, and how you just couldn't let it go, It occurred to me that I was the one being prideful, and I was wasting everyone's time.
You build SA the way you want it. Who am I to try and change it. I will not attack you or your company in any way. The world is too big for me to fight another sailor. May you have the best of success.
Mark Gillis
April 3rd, 2015
What a balls-up!
April 3rd, 2015
Part 2 of our UK Sailmakers' Make A Difference Series
UK Sailmakers focuses on making fast, durable sails; but we're also interested in making the sport of sailboat racing better…and more enjoyable. Here's something to consider:
The sport we love has a reputation for skippers (and sometimes others) raising their voices at other crewmembers in anger or frustration during a race. Yes, we're talking about sailors who scream. Now, like most stereotypes, these individuals are the few and not the many; however, they do color yacht racing.
Screaming at a crewmember, whether s/he did something wrong or not, just isn't good crew management regardless of the situation. Further, if I or any other good sailor was to get screamed at by a skipper, well, that would be the last time I stepped foot on that boat. Successful skippers rarely lose their tempers and only raise their voices in moments of extremes or to be heard at the pointy end. That's the point.
Follow this logic: Successful skippers don't scream at their crew. Successful skippers can attract good sailors to help them race the boat. Successful skippers take the time to train a crew and talk-through maneuvers before the you-know-what hits the fan. They plan, they anticipate, they communicate, and they don't raise their voices.
Even if you're not a top-notch skipper, you still want to have fun racing with whomever you're able to get to sail with you. Take a lesson from the best: plan, anticipate, attract and train a consistent crew, and keep your voice down.
Frankly, no one can keep their emotions bottled up 100% of the time. I've found that I've lost my cool at times and my "loud corrective instructions," accompanied by foot stomping, did not create an atmosphere conducive for corrective actions. In fact my crew still laughs at me years later for that performance. Since then I have learned to only raise my voice when someone is in danger of getting hurt. If there is a problem with the chute, I know that the bow team has the best set of eyes on the problem and will ask for help if they need it. Questioning what happened and how to prevent it from happening again is best handled in the post-race debrief with a cold beverage in hand.
By following this simple advice not only will your crew have more fun racing with you, but you'll get more enjoyment from the racing yourself. If you agree or disagree, or have something to share feel free to contact me at [email protected]
Adam Loory, General Manager, UK Sailmakers International
April 3rd, 2015
K Mag shares the thrill of certain victory, and the agony of unnecessary defeat…
Thanks to a website called Sailing Anarchy for putting me in a place where people ask me to write a story about my latest adventure.  It is sometimes daunting when you think about how many people actually read this website (yes the front page is still relevant haters).
The NHYC-Cabo San Lucas race concluded last week and thanks to a big swell I have spent my time surfing and not sailing or writing.  My arms are like jelly and I am finally back in the USA.  By now, most people who followed the race have heard many stories from many boats.  Perhaps we have all moved on to the next thing, but hey I am still coming down from my trip.
Once again the boat is the J-125 Timeshaver and once again I have the pleasure of sailing with good friends Viggo Torbensen, Blake Hamilton, Jack Maranto and Charlie Underwood.  Also in the mix was a hired hand from the Netherlands, land of the Orange, Amsterdam and the wonderful Dutch personality. Jochem came on board as the electronic, expedition expert and navigator.  How would he like the Timeshaver way of doing things?  Always fun to have new people on board.
Let's be brief about all this since most of us probably used Cliff notes to get through school, and quite frankly, most people want me to fast forward to the last 50 miles when we were first in class and second overall and beating our competition by hours.  Of course that is the part I want to forget.
Day One: Race starts in light air, we are a small mast and have a tough time getting away.  Flaca made the killer move by tacking and doing negative VMG for a while.  Our navigator made a comment on this but my thoughts were, "hey we almost won Ensenada doing that so I am sure it cannot be that bad."  Sure enough the wind filled on the outside and we watched Flaca march over us.  That hardly ever happens but nice job guys!
Night One: Simple to explain, light air and typical Southern California conditions.  Outside won for Lucky Duck but we managed good things with the new 1A and passed some boats.  All is well.
Day Two:  This is where it gets good!  I am sleeping on my off shift and we are pleasantly moving along when it happens.  The starting battery has been drained and we are no longer able to charge.  We are off Ensenada so time to make a decision.  We have power stored for running lights, VHF and a handheld GPS that is perfect for hiking in Laguna.  You know what Captain Ron says, "The only instrument Columbus had to get him to the New World was his compass!"
So we go and decide to send it.  No instruments, no boat speed, no Expedition (I don't mind that), no compass light and no mast head light for night.  No worries I know how to sail this boat and keep the dirt on the left.  We are near Flaca at this point and as the wind comes up we start to motor away.  In the space of the afternoon we put them on the horizon with the Horizon (SC-50) and my buddy's the Hippie and his son Erik Shampain.  Good.
Wind builds and builds.  We go 4A to 3A to reefed main to fully submerged submarine in the middle of the night.  Sending it boys!  No crashing, full control, but scary shit.  Some of the most legendary sailing I have done.  I asked someone if he wanted to drive and he said he could not see anything.  What did he think I was looking at?
Here is the lesson: Learn how to sail your boat with no instruments, no wind angles, no wind speed and no lights blinding you.  It is an amazing feeling especially when you nail it.  You know… Just Go And Sail people!
Day Three:  A little less wind but still we are ramped up.  4A up and we are still feeling good, just not knowing how we are doing.  We have Lucky Duck in our view and are pulling away.  They are deeper but we are faster.  Check out the tracker off Mag Bay.  We finally fire up the computer and get a report. 1st in Class 2nd overall.  Lucky Duck is second.  I am on shift with my boys Charlie and Blake and we basically stick to them like glue.  Why leave your wingman, Goose?
The End: Yes the end was rapidly approaching.  Shift change and a different philosophy comes into play.  I am told we are splitting.  State of shock?  Yes.  Now watch the tracker as we quickly go the wrong way.  Lucky Duck and Horizon held out in the wind and we did not.
If you have sailed with me you know how grumpy I can get when going the wrong way.  If you were on this trip you saw me at 99%.  It felt wrong, I watched Lucky Duck sail away, and it felt so wrong. Some good things happened (buy the book) and we finally got around the tip and flogged our main with the 2A up just to get up to the finish.  Epic!
Epic until we realize Horizon finished in front of us… that means the Lucky Duck crushed us! Congratulations to them.  At the dock I meet up with the Hippie and he has one thing to say, "You remember when New Zealand lost the America's Cup?  This might be worse."  Well maybe not, but we did beat him by 45 seconds, and if you know how our rivalry is then this is a good one to have in the bank until the next race.
The Aftermath:  Chilling in Cabo, sharing stories, hanging with my best friends and surfing for 5 days.  Overhead waves and some of the best rides ever.  Does it really matter that we did not win?  Do you even have to ask?
Man of the match: Bowman Jack Maranto for his good attitude, exceptional effort and putting up with everything that is thrown at him.  My favorite moment was wrangling in the 4A in 30kts of wind to put up the 5A.  Bow is gnarly at night with no lights, I will stick to the back of the boat please.
There is so much more to say at this point that was left out, but you will have to buy the book, or find me on the streets and ask me, that seems to be a popular thing to do these days.   – Keith Magnussen.
April 3rd, 2015