Brian Hancock, SA's resident grumpyguts, is at it again, desperate to exhibit his ignorance and prejudices in this article. Not long ago he was praising the late Alan Bond of Australia II fame without making any mention of Bond's time in jail for ripping off millions from his defenceless mum-and-dad shareholders, money they will never recover. Now he wants to death-ride David Witt, skipper of the Sun Hun Kai Scallywag entry in the Volvo Race for having the temerity to express an opinion about mixed-gender crews.
Witt is what we Australians call "fair dinkum" – a forthright bloke who doesn't hide behind glib phrases or pretend to support every new outbreak of political correctness. He has decided to contest the Volvo with an all-male crew. It was a tactical decision and the rules allow it. Witt's crime, according to Hancock, is to have been honest enough to give his reasons in public. Just for that, Hancock says he will be "happy" if Sun Hun Kai Scallywag does poorly in the race. Nice sportsmanship, Brian.
As to his bleat about the use of the word "hero" in relation to Peter Burling (as in "New Zealand sailing hero…"), I can only conclude that Hancock views the world from a very USA-centric standpoint. Be assured that in the eyes of most New Zealanders, Burling is indeed a hero. The dictionary meanings of the word include: "A man admired and venerated for his achievements". Burling is certainly that.
In any case, words do not have single, or fixed, meanings. They evolve. Take the simple word "prick". Originally it signified to puncture with a sharp object. Then it was used as a term for the male appendage. More recently a "prick" is a tiresome and negative person. I'm sure Hancock is aware of all three meanings, especially the last.
Anarchist David
August 11th, 2017
Uh oh. Brian Hancock is cranky again…
So this is one of my pet peeves and I debated whether I should use this forum to air it, but what the heck there is not much going on in the sailing world this week (joke). A couple of days ago I got a press release from the Volvo Ocean Race.  All of us in the media are prone to overuse superlatives and I am usually fine with it, indeed I am probably more guilty than most, but this I am not fine with. Here is the headline. "New Zealand sailing hero Peter Burling joins Team Brunel for Volvo Ocean Race." Anyone else see what I see?
To me a hero is someone who runs into a burning building to save a child or someone who plunges into a roaring river to rescue a dog. A hero is a marine taking fire and giving it back in spades. Those are heroic acts and the people involved are hero's. Now Pete Burling is a talented sailor for sure, but there is absolutely nothing heroic about sitting behind the wheel on an AC 45 in the turquoise waters of the Great Sound in Bermuda. Burling was born with some incredible sailing talent but that does not make him a hero.
For all I know he is probably embarrassed that the VOR media team framed the headline that way. If he wasn't embarrassed by that I am sure that he was less than pleased at the media continually referring to him as the 'young' Peter Burling. Enough already, the man is 26, hardly a kid anymore and now he has joined Team Brunel for the Volvo Ocean Race. If Brunel manages an overall win in the upcoming VOR Burling will be the first sailor to win the so-called Triple Crown. An Olympic gold medal, the America's Cup and the Volvo Ocean Race. That would be cool.
Speaking of Burling did anyone else notice that after he won the America's Cup – and presumable enjoyed the homecoming in New Zealand – that he took part in the Moth World Championships on lake Garda in Italy? There were more that 200 competitors buzzing around the lake foiling at high speeds with dozens of wipeouts and more than few near misses. Very exciting stuff to watch. Well Peter Burling didn't win the regatta, but he nearly did. He came second losing to Britain's Paul Goodison in a close battle all the way to the last race. Goodison repeated his victory from last year to make it two in a row.
Also, in other news, has anyone been watching the Volvo 65's in their Leg Zero battles? Leg Zero is a series of races that don't count toward overall points in the actual Volvo Ocean Race, but it does give the top boat some bragging rights. So far they have raced around the Isle of Wight, the Fastnet Race and this morning the first boats arrived in St Malo, France after racing from Plymouth on England's south coast. I am thrilled to see the Spanish entry Mapfre emerging as the dominant player. They were first in the Round the Island Race, second in the Fastnet and they dominated the race to St Malo. Let's see how they do on the next leg to Lisbon, Portugal.  
The reason I am thrilled to see Mapfre out front is because they were the first team to embrace the idea of having women on board. There are two women as part of the crew; Támara Echegoyen, an olympic gold medalist and Sophie Ciszek, one of the stars from the last Volvo Ocean Race where she was a key crew member aboard Team SCA.
There is another thing that is making me happy when looking at the results from Leg Zero. The one boat consistently near the bottom is Sun Hung Kai Scallywag skippered by Australian David Witt. The witless Witt boldly announced that he "would not participate in any kind of social experiment" and that he was going with a male-only crew, no ladies on his boat. What an age we live in where someone as prominent in the sport of sailing would have such a lack of self awareness that he would say something like that; out loud.
August 11th, 2017
The 45th edition of New England's traditional multiclass classic, Buzzards Bay Regatta, took place at New Bedford YC in South Dartmouth, MA over the August 4-6 weekend.  The event drew 140 entries in 13 classes, ranging in tech from the venerable Shields class to foil Kiteboards.  
Including the three Kiteboard classes (twin tip, open foil, and Neil Pryde's new convertible CR:X) was a tacit acknowledgement of the direction in which the sport is moving, as well as being the most obvious indication of organizers' efforts to freshen BBR and to re-establish it as the pinnacle of east coast mixed discipline regattas.  To ensure a smooth collation of kiting into the Buzzards Bay Regatta class roll, organizers partnered with Pryde Group North America's One Design Manager Brendan Healy to create a 'kiting module' that was seamlessly incorporated into the event.  "We were glad to be asked to participate," said current Viper World Champ and J/70 class stalwart Healy. "BBR is a true classic, and introducing kites to the event will no doubt go a long way to ensuring that the board shorts crowd and the red pants crowd get comfortable co-existing on the water at events and supporting all disciplines of this great sport we share."
Action in the classes that wallow in the water rather than soaring above it was equally exciting, with the J/70 class using the world famous Buzzards Bay Southwest seabreeze as the backdrop for their second annual Corinthian National Championship.  After a hard fought ten race series, Marion, MA's Brian Keane and his well-traveled SAVASANA team narrowly edged out Heather Gregg and Joe Bardenheir on MUSE, followed closely by the polished HOSS team, led by Glen Darden.
Other one design fleets included the Marshall Sandpiper, a 15-foot catboat built right in South Dartmouth for over 50 years, The venerable 505 ("Overbearing in Victory, Surly in Defeat", as their class motto read for many years) the VX Evo (a speedy singlehander with assymetric kite from the drawing board of Viper designer Brian Bennett), Laser Masters, and the original retractable sprit boat, the J/105.
Mother nature did not fail to deliver on her side of the bargain, with the fleets reveling in Chamber of Commerce conditions Friday, having storms pass both north and south Saturday, and ending the weekend with a stiff Sou'wester and flat water.  North Sails OD warlords Tim Healy and Will Welles ran a well-attended practice session on Thursday, with Welles lamenting the fact that pros were locked out of the event "Buzzards Bay is one the greatest places on earth to sail.  Truly God's country," he commented as the setting sun cast long golden streaks across the harbor, full of one designs, classic Concordia yawls, and sleek modern race boats.  Truer words have never been spoken.
– Forrest Williams, Event Chair, Buzzards Bay Regatta 2017
August 11th, 2017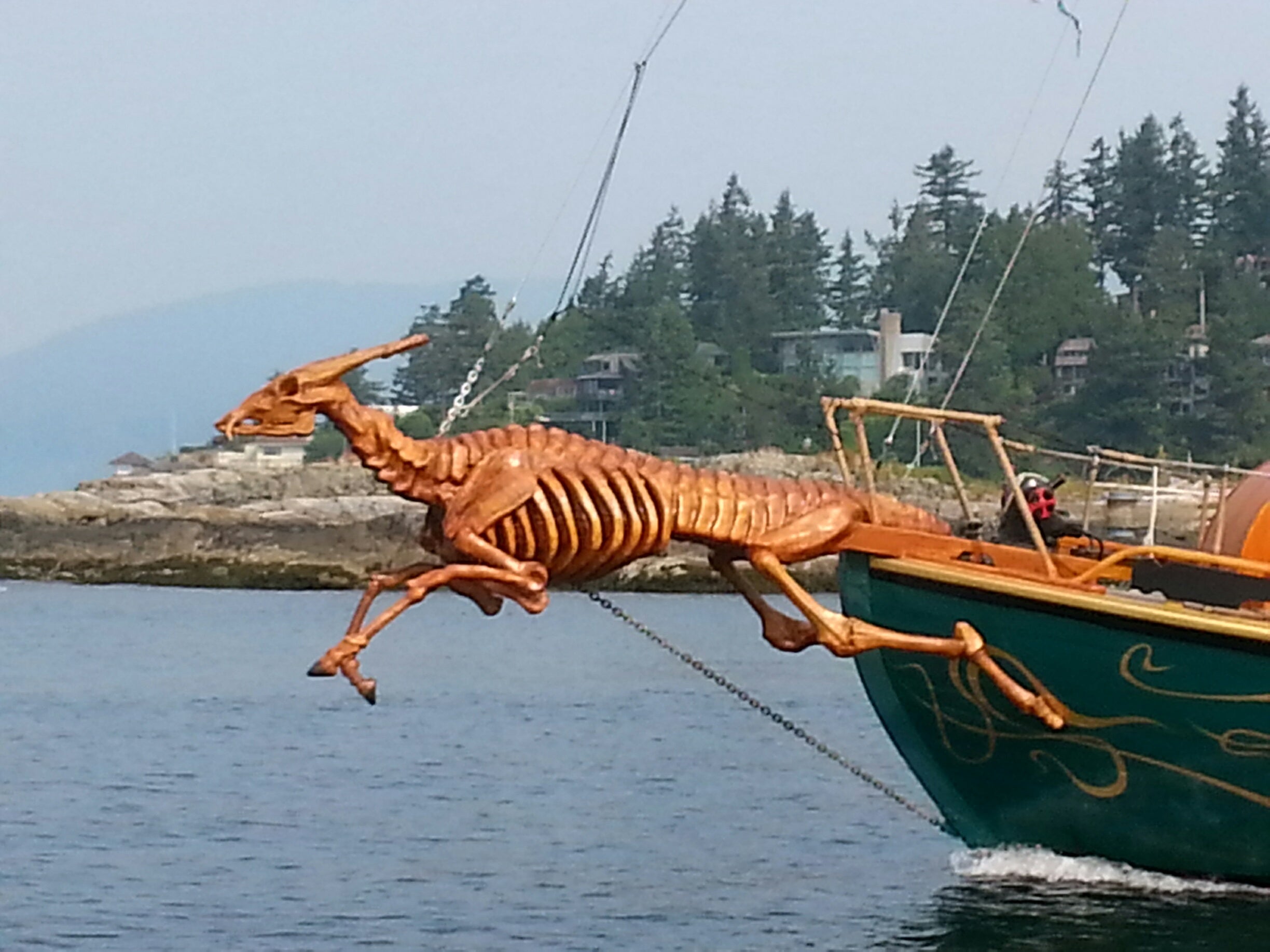 Besides completely bizarre, this just begs for a caption contest. Whatcha got? Bowsprit Anarchy!
August 10th, 2017
Inaugural U.S. J/70 Youth Championship Preview
The inaugural U.S. J/70 Youth Championship will be taking place this weekend from August 10th to 13th, hosted by the amazing team at SAIL NEWPORT at their extraordinary Fort Adams Sailing Facility in Newport, RI.
Nine teams are participating from across the country, including teams from California to Maine, and from northern Michigan down to southern Florida.  The teams qualified by sailing in major regattas across the country, including many of Sailing World's famous NOOD Regattas- San Diego, Annapolis, Chicago, and Marblehead.  What was notable about many of the youth teams were their remarkable performances against some of the top J/70 teams across America, many finishing in the top half of large "open" J/70 events that included some of the world's top professional sailors in the J/70 class (many of them Olympic Medallists and World Champions in various classes).
The teams qualified for their sailing clubs in the hopes of winning one of the most unique prizes in the world of sailing- FREE use of a J/70 for your sailing club for an entire twelve (12) months!  FREE to use for the youth keelboat program, for members to race in J/70 events, to introduce women sailors to the easy-to-sail J/70, and so forth- in other words, the only limitation for using the J/70 is your imagination!
From the West Coast, the sole representative is the Santa Barbara YC from Santa Barbara, CA.  From the Midwest is the Little Traverse YC from Harbor Springs, MI.  There are two teams from Florida, the St Petersburg YC in St Petersburg, FL and the Coral Reef YC from Miami, FL.  From the Chesapeake Bay are two teams, the Annapolis YC from Annapolis, MD and the Severn Sailing Association from Eastport, MD. Finally, from the northeast are three more teams, Eastern YC from Marblehead, MA, MudRatz Sailing Club from Stonington, CT, and Sail Newport from Newport, RI.
The teams are looking forward to a short-course, college-style racing format- "stadium sailing" at its best right off Newport Harbor, between Goat Island and Rose Island just south of Newport Bridge.  On-shore at Goat Island is an enormous, New England-style, open-air pavilion to watch the racing taking place in front on Narragansett Bay.  Up to 27 races are planned for the nine teams, so it will be "thrill-a-minute" racing, each one taking just 15-20 minutes each.
Today, Tim Healy and Will Welles from North Sails provided an on-the-water clinic for the J/70 Youth teams.  It was time well-spent for many, as the youth teams grilled both Tim and Will (each J/24 World Champions and Tim the first J/70 World Champion) about nuances in boat-handling and trimming.
The weather forecast is promising, with mostly southerly winds, sunny skies, and between 8-15 kt winds each day!  The Sail Newport PRO will be Kevin Dooley, the Offshore Racing Coach for the U.S. Coast Guard Academy.  Kevin is the principal PRO for all major USCGA events- like the famous Danmark Trophy, all J/70 events on the river, all team racing events (where 60+ races a weekend are not uncommon), and all offshore events for the big boats.
This event can only happen with the help of some amazing people and sponsors.  For starters, "thanks" to Bob Johnstone's MJM Yachts for providing the winning prize- the J/70 for FREE use by a sailing club for 12 months.  If some sailors might recall, Bob J. was responsible for starting the first U.S. Youth Championships in Wilmette, IL back in 1973 in both 470s and Lasers.  Many of the world's top sailors today were participants in those first three years in Wilmette- including Augie Diaz, Carl Buchan, and Peter Commette.  In addition, Peter and Olaf Harken from HARKEN in Pewaukee, WI are significant contributors to the "youth movement", promoting their "Blockheads" sailing program for youth teams.
Click here for more U.S. J/70 Youth Championship sailing information
August 10th, 2017
Like flies to honey, the chance to solve a big civil engineering problem always draws out the clueless creative types, and the 36th America's Cup is no exception.  Auckland's architects and thinkers are now flooding the media with ideas on where, exactly, to hold the AC in a town that's busting at the seams.
Ignoring the total lack of understanding of the scale of a race course is the above 'stadium sailing' proposal from this Noted article, and it's not the best or the worst – just the most fun.  The blurb for the stadium pitch is below, and 7 others are in the piece.
Herbst Architects  like the idea of the Cup being a catalyst for the development of infrastructure, and they've identified two key pieces that are missing from the city: a second harbour crossing for mass transit rail, and a stadium. Their cup proposal provides both, positioning a stadium as a feature in the Waitematā between the city and the North Shore, loosely aligned with Wynyard Wharf. The stadium would be designed with a playing field that can be dismantled to allow America's Cup races to be run between the grand-stands. Access to the stadium is via the mass-transit rail tunnel beneath.
August 10th, 2017
Clean Report
Surprise! Our world exclusive scoop was confirmed by the folks at VOR today when they announced Pete Burling has joined Bouwe Bekking for the Dutch skipper's 430th lap around the planet.  Maybe more importantly, this shot from the Sailor Girl's excellent Fastnet coverage shows supernav Andrew Cape aboard the bumblebee colored boat as well.  Bouwe adds Capey and a golden boy who will undoubtedly be the fastest downwind driver in the fleet, and for us, there are now three clear favorites for the final crown of the VOD65 era.  Yes, it's a bit early for form guides, but now's as good a time as any if you're looking to place your bets.  Our early call for the podium is below, in order.
BRUNEL:  Bouwe has finished in pretty much every position on the leaderboard except the one that counts, and his youth is far behind him.  With the Dutch presence in the race and all eyes on the senior Dutch team, Bouwe has everything to prove and has never been more motivated.  We may have discounted his chances thanks to history and a less-than-optimal budget, but nabbing the ETNZ driver and Olympic destroyer means his priorities are in the right place.  In other words, in a fleet this close, a driver with a clear speed advantage and lots of durability is going to be the most important crew aboard.
DONGFENG: They seemed likely to win the thing the last time around until losing the rig, and that was with n00b Chinese crew and a team more known for singlehanded prowess than good teamwork and communication. They've got one of the best navs (and solo skippers) in the world behind the nav station in Pascal Bidegorry, and almost everyone on the boat can drive the shit out of a boat.  Expect Caudrelier to work a bit more on conserving the boat, and rack up the podium finishes needed to win this race.
MAPFRE: Always a bridesmaid, but this time, without the bride.  Well, without the fiery Iker Martinez who's run the past couple of Spanish attempts at least, and with the more workmanlike, blue-collar Xabi at the reins and no Olympic distractions.  Tuke, Altadill, and Greenhalgh mean plenty of speed on the helm, with serious Spanish sailing and stacking  experience in big Pablo Arrarte and Antonio the boat captain.  Spain has something no one else has though: Joan Vila is one of the two best offshore navigators in the world, and few will argue that point.  Along with Stan Honey, this dude is pure money, and we'd expect MAPFRE to win quite a few legs – but probably not the race.
August 10th, 2017
Ummm…MacGregor for millionaires?  Maybe the best line is that it "resembles a high-performance sailing dinghy". Thread here.
Cruising speeds in excess of 20 knots under power have been achieved from the yacht's clean-lined underbody, moderately light displacement and twin diesels totaling 7000 bhp.

The hull form, developed by Pedrick Yacht Designs, resembles a high-performance sailing dinghy, scaled-up to 268 tons lightship. The dual mission of fast motoring and efficient sailing called for an innovative approach to appendage design and the propulsion system. To minimize ballast, a deep bulb keel extends to a 7.4m draft while sailing but swings up centerboard-style to just 2.5m for powering and harbor access, with the bulb housed entirely within the hull. When the keel is lowered for sailing, water ballast is added aft for trim balance.
August 10th, 2017
As the dust began to settle after what had been – and although it is much overused – the 'epic' battle all round the race track a few insights started to come out from the teams as they started to unwind.
A clearly exhausted and from the video right after the finish, an emotional Charles Caudrelier commented "It was a nice fight with Mapfre" also stating that it was "very difficult to be ahead and to stay ahead" and adding "What I know now is it is going to be a very difficult Volvo".
In the end, they had been helped to the win by a cloud that helped them come back. It also transpired through an interview with Carolijn Brouwer that Dongfeng were getting incomplete navigation information due to a fault with their on-board electronics which made it "feel a little like blind navigation and blind sailing" she also said it was a "team effort and everyone put in 100%, 200% and it really paid off".
This small squall was confirmed by an obviously disappointed Mapfre skipper, Xabi Fernandez.
With shades of the battle down the New Zealand coast between Peter Blake's Steinleger and Dalton's Fisher & Paykel when the 'Big Red' spotted a squall which 'Fish Pie' missed, Dongfeng were able to drop their masthead zero and pass while Mapfre were overpowered by not making the same sail reduction.
Crossing the line in 3rd, Bouwe Bekking's Brunel "had done extremely well" according to their skipper and has "all dug in 100%" and had "learnt a heck of a lot" which for a team that has been together a relatively short period of time perhaps the most important thing.
Simon Tienpont from Akzonobel, a long time leader in the earlier part of the race to The Rock thought the race was hard and every time you thought you had got away the back of the fleet came back at you.
Further down the fleet it was good to see a more circumspect and realistic David Witt who pretty accurately described the event as a "700 mile match race" (with perhaps a 5,000 match race to come.) Admitting to errors while also stating there were some promising signs for the team and that we "showed we are pretty good in the light". Good to see some humour from him as well while admitting there is still a lot of work to do. It will be interesting to see him and his team meeting the challenge in the months ahead, as I am sure they will.
Perhaps the most relieved after the Dongfeng crew was Ian Walker (skipper of Abu Dhabi) who tweeted that their 2011 Race Record was now safe for another couple of years at least.
No doubt that first or last, having been training for 6 months or more, just a few weeks or even with a team not yet fully confirmed it is hard for us armchair admirals to appreciate just how valuable these racing miles during the Leg 0 events are for all the teams, building skills, building relationships and building trust in each other.
I remember sailing an in port a few races back with Ken Read on Il Mostro and wondering at how quiet and 'automatic' the manoeuvres were – almost telepathic – that is a level that some of these teams are closer to, I am sure, than others.
There are 2 more Leg 0 races to polish the 'Magnificent 7'. (sorry couldn't resist that)
Only time on the water will help close that gap – as if 56 seconds wasn't close enough already.
Shanghai Sailor
August 9th, 2017
When I bought my Melges 32, I had few illusions that there would be a class in Dago. I bought it for the fun of racing it, knowing that PHRF was the only game, and it was a ball. We raced almost everything there was here for a year and half, won a lot and had a blast.
A few people saw how fast it was and started buying them. There ended up being four boats here with a couple people talking about getting one, but that never happened.
I sold my boat a few months ago, and we hear the M32 Precepts just got sold. Willem Van Way's M32 lives in Coronado and is rarely seen, and there are rumors that M2 has the same kind of water intrusion issues that we had. That isn't fun.
As for PHRF racing, there just aren't enough sportboats that actively race to form decent class sizes. It is far too common to see only 3 boats in a class. Blame the lazy owners who don't come out, and PHRF dago for ostracizing sport boats. The bias, self-interest and ineptness astounds.
So any thoughts of an OD class were dead on arrival and that sucks. One of the problems with owning and actively racing a 32 is the enormous pain in the ass it is to launch and pull the boat out of the water. It really is arduous and given that there is almost no dry storage available at SDYC, means having to keep the boat somewhere else and tow it to the hoist. That is why I kept mine in the water (with a Durepox epoxy bottom and weekly bottom wipe downs) – it was just so much easier to go sailing.
And the boats are pretty demanding, in a good way, but still it takes a lot to make it go and manage the beast. I have never loved a boat as much as the 32, but it is easy to see why they have a very limited appeal.
August 9th, 2017