Clean's been straight from Newport to Norway, and he's bringing you 3 hours a day of live racing action from the M32 Sailing Series starting in 30 minutes. Perfect for a lazy Thursday morning; tune in above.
May 21st, 2015
7 sexy M32 (née Marstrom 32) cats including Taylor Canfield's US-One are on the line in gorgeous Oslo this week for the first event in the  M32 Racing Series. With a mixed forecast of light air today and big air the rest of the week, there should be plenty of high-speed shenanigans amongst this america's cup, VOR, and olympic-laden fleet.  Our own Mr. Clean's on the microphone for 3 hours of live coverage each day from 1400-1700 local time (0800-1100 EST); check back on this page for the player as soon as we have it.
May 21st, 2015
The world's first outward-facing J/foil made its debut last week, and Morgan Lagraviere seems to have the Open 60 Safran going pretty well.  This little shot is a screen grab from the video here of the shakedown cruise, and be sure to check out the 2016 Vendee Globe thread to keep up with the very latest news.  For a bonus foiling story, check the Google Trans of a very comprehensive Voiles et Voiliers interview with Gitana's Seb Josse here.
May 21st, 2015
SA'er "WHK" brings us up to speed on this near-disaster aboard the J/130 Solarus.  From the thread.
Owner Noel Sterrett and I are safely back in Newport, RI after a potentially catastrophic sinking of J/130 Solarus in 4,000 feet of water approximately 90 miles from the closest point of land during a delivery from Charleston to Newport. Thanks to Eric Irwin, who we contacted via satellite phone to arrange for an emergency haul at Ocean City Sunset Marina, and to my wife who, on 1 hour notice, drove 9 hours to Ocean City Maryland to pick us up after a harrowing ordeal that occurred while delivering J/130 Solarus from Charleston to Newport.
We hit a submerged object approximately 4:30am Thursday 14 May resulting in a hole pictured in the stbd bow below the waterline that resulted in flooding in excess of the capacity of the bilge pumps. We had water in the bilge approximately 6 inches above the cabin sole. Emergency Mayday calls were made on VHF and Iridium phone to the USCG along with activating the EPIRB. The life raft was brought topside with the ditch bag and was ready to deploy if we needed to abandon ship.
Fortunately, within 30 minutes of our distress call we had excellent support from USNS William McLean (T-AKE12) approximately 3 miles west of our location. We were able to maneuver alongside USNS William McLean who launched a small boat with a crew with a high capacity pump to dewater the boat, Once the water was pumped it was determined where the flooding was coming from. There was a 15 inch crack in the bow on the stbd side of the v-berth. The crew from USNS McLean was able to prepare a temporary damage patch by wedging a 2×4 against a rubber mat across the crack that was held in place by nailing a strongback to the support in the v-berth. A USCG rescue helicopter air lifted an emergency pump to USNS McLean that was passed to us that we were able to have on board Solarus to dewater if needed. USNS McLean also provided additional diesel fuel so we could motor rather than sail to the nearest port in Ocean City, MD to be immediately hauled. USNS McLean provided a shield from wind and waves and escorted us 20 miles towards Ocean City where a USCG 47 foot boat from the USCG Station Ocean City met us. Two USCG Petty Officers were transferred to Solarus and remained onboard with Noel Sterrett and I as the 47 foot USCG boat escorted us back to Ocean City.
Immediately upon arrival in Ocean City we drove into the travel lift slings at Ocean City Sunset Marina and were hauled and met by a marine surveyor. It was there we were able to asses the true damage. A hole approximately 2 inches in diameter had been punctured in the outer skin on the stbd side about 6 inches below the waterline. Since we were sailing upwind in approximately 8 to 10 foot seas, there was significant "hull pounding". This resulted in a hydraulic jack hammer from the seawater against exposed balsa core and inner skin. The effect was it cracked the inner skin approximately 15 inches where it allowed sea water to flow in at a rate faster than the bilge pumps could dewater.
Noel and I can't thank the crews from USNS William McLean and the USCG enough for their rapid and complete response that resulted in the saving of Solarus and our lives. They were professionals who really helped us when needed.  Once we decompress there will be some more pictures posted.  Noel hopes to get the boat repaired in time for the Transatlantic race in June, followed by Fastnet race in August.
May 21st, 2015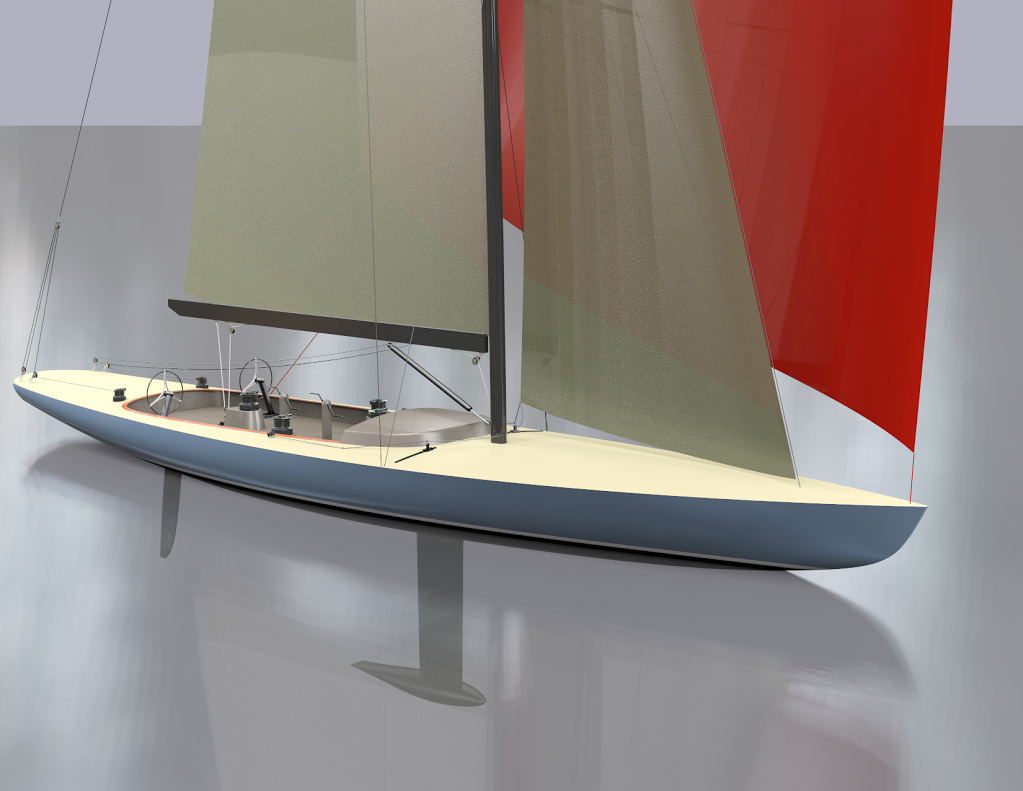 "Thanks for running that piece last week about Tom Ehman's idea for a 12-meter regatta on SF Bay. It got me thinking. While I can definitely see a demand for a racing series that isn't out on the ragged edge of foils and wing-sails—but it seems a huge shame to retreat to boats of a 30-year-old—wait,60-year-old—wait, over 100-year-old design! It's just throwing away huge gains in monohull yacht design and condemning us to watching giant quarter-waves and sluggish speeds.
I got thinking, what if we developed a boat that maintained that classic ambiance that the 12's brought to racing, but sailed more like 21-st century race boats? I couldn't help myself, I doodled up a 75-foot day racer based on our 50' daysailer Ginger. A lot lighter and beamier than an IACC boat, it would be much faster off the wind.  It'd be pretty cool to see a fleet of these screaming around San Francisco Bay—more lively than 12-meters!" – Stephen Waring, Stephens Waring Yacht Design.
May 19th, 2015
SCOTW Aly Di Nas tells us about her first time…
In these moments of sailing being a "dying sport", there's lots of discussion about how to get people who left the sport to come back to racing. I'm one of those people who came back, many years after fleeing quite possibly the worst junior sailing program ever. I've been through various positions on the boat, took up residence on the bow, and even became a boat owner (not yet holding title to a Wally, but I inherited a JY-15 for frostbiting).
Since I got the dinghy, many people have insisted that I should be driving. I've resisted because I like the front of the boat, and driving just seemed like it was meant for someone with more of a clue. This past weekend, I finally caved to pressure and chartered an Olson 30, which I entered in a favorite local regatta. I've driven in a few women skippers races, but this was my first time at the helm in the co-ed real deal.
And wouldn't ya know it… I managed to win a race! Sorta by a mile and kinda up in the fleet ahead of mine, because I'm awesome like that (or I just got really lucky. Probably really lucky). We ended up in third overall, but I think I'm over my helm phobia. For the benefit of others who may be returning late to the sailing game, a few things I learned the process:
*Tactics & Instinct: It takes a really long time, when you don't have the benefit of sailing instructors and daily debriefings on the white board, to learn rules and tactics and reach the point of trusting your own instincts. As learning to read the wind, predict shifts and make tactical calls was a gradual process, it has always been easier to defer to others' judgment on the boat. I was doubtful enough of my abilities that I actually passed on taking the helm in the first race.
I'm so used to assuming that someone else knows better, and the epiphany of "wait a second, I can probably do this" only came as I was on the bow in the first race. I watched two other boats tack around and make their way below us as we approached the boat, forcing us to bail out behind the boat and start late. As I stood on the bow, assessing defenses and signaling my helmsman in hopes we'd not let them get under us, it clicked with me that I had known exactly what to do in this situation and I could probably trust myself to have the right answers (even when I only had seconds to make a decision). Reaching this realization, though it came too late for race 1, was extremely gratifying.
*Getting the right experience can be very difficult without a structured program. Basically, the only way to learn once you've aged out of junior sailing eligibility is to go race on someone else's boat and learn by doing. You won't always get the opportunity to do what you want – I moved off a much beloved boat with a crew I adore because I really wanted to move up to foredeck and knew I'd never take that spot at expense of their existing, extremely talented rockstar bowman. If you want to learn to drive, options get even more limited. Few owners will pass the helm over to the crew, especially if you're a newer crew member. But, since the only way to learn is to do, I highly encourage creating your own opportunities. Find a boat to charter or borrow, or buy your own dinghy. Then you need….
*Good friends: I've been lucky to find several excellent mentors who have spent countless hours explaining sail trim and tactics and rigging to me, even answering frantic questions sent by text in the pre-start (that's right – I sent a text during the pre-start. Go ahead and scold me). Not only have these people been instrumental in filling in the "why" behind everything I was doing on the boat, but they're the ones who came through for me and made this whole weekend possible.
When I chartered this boat, it was on the hard under a tarp, mast down and hull rather stained, with a questionably winterized outboard in the cabin. One of my friends worked tirelessly for two days to get the boat launched and rigged while I remained trapped at work, and another drove several hours just to help me assess the boat and begin prep work. I owe Peter and Brook massively, and I can't believe they're still my friends. Even *I* would've told myself to go fly a kite by now.
*Shitters: You really do not need the newest, most awesome carbon fiber sled to be competitive in this sport. My little Olson was built in 1981 and has certain sails that sound a lot like rice krispies when they move, but she was still fantastically fast, and we were very competitive even with the newer boats. Don't be afraid to get out there in whatever it is you can afford. We'd all love to show up in a glittering new carkeek but I'd be willing to wager it's just as fun to win in a "shitter", as my pro sailor friends would call it, as it is in a newer boat. If I ever win on something new, I'll report back and confirm.
A special note of thanks: I obtained Mousse through the generosity of Oakcliff Sailing Center, and the staff there provided us with a metric ton of assistance from some truly wonderful, generous people who provided the boat and a very talented, motivated staff who provided priceless assistance with launching and rigging. In particular, thank you to Bill Simon, Ladi Oguntoyinbo, and Sean and Kilian Duclay, for all of your assistance. Massive thanks also to John McGrane and his Oyster Bay Marine Center for finding time to launch the boat and Sewanhaka Yacht Club for agreeing to donate their hoist. Above all, thank you to Peter Huston for being my mentor, tactician and glorified boat jig – I never would've had this much fun at the helm if it wasn't for all of you.
May 19th, 2015
A cool shot of the hot shot TP52 class in Valencia from Max Ranchi.
May 19th, 2015
Christophe Launay was onboard the Bélouga "Gwenva" during the " Semaine du Golfe du Morbihan", the "Semaine du Golfe" (Gulf's Week) in Morbihan (Brittany), the 8th "rendez-vous" for the sailing maritime heritage. Nice, and tons more shots here.
May 18th, 2015
Brian Hancock and Tracy Edwards rather thoroughly say what many of us are thinking…
There comes a time when it's time to say something and I am going to say what's been on the mind of many; why the heck are the women on Team SCA so far off the pace? Yes I know it's a touchy subject but people are talking about it (amongst themselves) and many want to say something but they are scared of offending. Well forgive me I don't want to offend either. I have been a major supporter of women in everything, not just sailing, for a very long time, but the performance by Team SCA has set women in sailing back decades. Before the barbs come out let me quickly interject that I think that the sailors on the boat have done an awesome job starting with the immensely talented Sam Davies who has led a great crew most of the way around the world. They are clearly a good team but unfortunately their results have been less than impressive, as I am sure they will agree.
There are a couple of things that account for this and none of it has to do with a woman's ability to compete on equal terms with men. Indeed there have been some women sailors whose skill far exceeds that of almost all men. Florence Arthaud, Ellen MacArthur and Isabelle Autissier come to mind. Amazing sailors all, so the argument that women are not as good simply goes out the window. The main problem is that over the last four decades men have convinced themselves that they are superior and have excluded women from sailing at a top level. Not all men and not all sailing, but most women simply never got the chance to hone their skills at the top of the game. The pool of women that have the capability to compete on equal terms against men in a race such as the Volvo Ocean Race is tiny. Someone else can do the math but I bet there are a couple dozen collective circumnavigations among the male teams. You simply can't compete when you don't have the depth of talent. At the risk of alienating even more myself let me pose this hypothetical. I bet that Team SCA would beat a team made up solely of black men. Same reason; very few people of color have competed at this level.
So that's one argument. The other is a bit trickier because none of the crew are willing to discuss it. SCA is a huge corporate entity that has carefully honed its message to maximize their exposure in the race, so much so that reading their press releases you would think that Team SCA was the first female team ever to compete. This is outrageous and is a complete disservice to others like Tracy Edwards and her all-female crew on Maiden (88/89), the women of Heineken (93/94), EF Education (97/98) and Amer Sports Two (01/02). Along with size comes politics and SCA as a corporate entity seem to be making decisions that would be best left to Sam Davies. Sam is the skipper and the buck stops with her but it's general knowledge that Sam does not have the authority to hire and fire. I once did a Whitbread where that was the case and it was a disaster beyond measure. Ask Skip Novak who was the skipper without authority. There have been some bad tactical decisions made yet no one has been held accountable and no heads have rolled.
It's time we get beyond this all-female and all-male nonsense. I agree with Skip in the article he wrote for Yachting World. If Volvo really wants to be progressive, and I assume that they do, then for future races let's mandate an equal number of men and women on each boat and once and for all shut up this ridiculous debate about who is better. Although I am quite certain that would open up a completely different can of worms.
Those are my thoughts but I think it's important to hear from someone whose entry in the 89/90 Whitbread had a huge impact on the event. Tracy Edwards skippered the first all-female crew to compete in a Whitbread, and with impressive results. Maiden won two legs of the race, finished second overall in class and 3rd in the Non-Maxi Division. I know that Tracy has been following this VOR with interest and probably with some dismay at how little recognition she and other all-women teams have received from corporate SCA. I think it's time we got her take on the Team SCA situation so take it away Tracy…
When Team SCA was first announced and I saw the level of money, time and effort going into what looked like a very professional campaign I was ecstatic! Finally it looked as though there was going to be an all-female entry that was not an afterthought addition to a male campaign. There are so many incredible female sailors out there who have been let down by previous Whitbread and Volvo campaigns. I was so excited to see what they could do with enough funding, time and expertise. I began following their progress and this really reignited my interest and excitement in the Volvo which I have to admit had tailed off over the years.
And then someone posted the SCA promotional launch video. The voiceover told me that they were the first all-female crew to attempt to sail around the world. I was stunned and then horrified as I realised that it was Volvo who had released and promoted the video along with Scuttlebutt – both of whom should have known better (to expect the idiot from scuttlebutthole to know anything is a stretch - ed.). After a lengthy battle fought online and via email to the CEO of SCA, by me and many, many others, it was finally changed. The apology from the CEO was begrudging and trite. At first I was upset and then I was furious that Maiden was being treated in this way. The SCA media team then proceeded to announce that the girls were the first all-female crew to do the Volvo (originally the WRTWR). And so it was Dawn Riley's turn to be forced to fight her corner and remind them that she skippered Heineken and that after Maiden, Heineken, EF Language and Amer Sports Two they were in fact the fifth all-female crew to sail to race around the world. Instead of apologizing profusely, the SCA media team announce on Twitter that SCA would be the BEST all-female crew to race around the world – to which someone replied that they needed to win then.
What was even more upsetting was that all of us who had so looked forward to supporting the women on SCA had been forced to defend our achievements instead of cheering our friends on. Two of the women on SCA actually emailed me to apologise and let me know how mortified they all were with the media.
Even so, with all that behind us, women sailors of the world looked forward to the start and watching SCA build upon our successes of the past 25 years. To say that we are all disappointed would be an understatement. But my disappointment is not with the women of the team who I know are all extraordinary sailors, much better than I ever was and definitely fitter! We all knew something was going terribly wrong, but we all kept quiet, afraid of being accused of being women bitching about other women. This could not be further from the truth for me and every woman I know who just wanted SCA to WIN! I gave Sam Davies her first break as a nipper on RSA when we attempted the Jules Verne and broke many world records, consequently we are good friends and I was desperate for her to do well. I have followed her career with pride and excitement.
I am gutted that they have not performed as we had all hoped, but on the plus side, they were building their knowledge and experience and that is what is needed for success next time. It is so difficult for women to gain experience of Ocean Racing so this could be used as a wonderful opportunity to build upon for the next event. What I have a real problem with is the media team and the way they are portraying the results as some sort of victory. It is toe curling. This is so damaging to women's sailing and it lowers the bar for excellence and expectation. When Maiden did really badly on Leg 4 we were devastated to lose our overall lead which we had held at the half way mark. Our press conference and consequent press releases talked about what we had got wrong (my navigation) and how we could improve – because that is what sports teams do. They do not portray coming last as a victory and make themselves into a joke team which is humiliating to women's sailing, dragging it back to the days before Maiden.
I know that the women have been uncomfortable about the way they are portrayed but cannot say so because it is not their campaign. And herein lies the problem I think. Team SCA is managed and run by Richard Brisius and Johan Salen of Atlant – not by the women themselves. Richard and Johan also ran the all-female EF Education which played second fiddle to Paul Cayard's EF Language so I am astonished that more lessons were not learned.
All of us on Maiden (the actual first all-female crew) did everything ourselves. We raised the funding, we found a wreck and turned her into Maiden, we decided what training we would do, I chose the crew and we did our own press releases. We sweated blood and tears to get Maiden to the start line and we fought with every fibre of our being, every every inch of the way to prove that women could be as good as men. I am so proud of our Maiden's performance and achievements, but when we crossed the finish line 25 years ago we all looked forward to the day when an all-female crew would win – and this discussion would no longer be necessary.
To think that even 15 years ago I put together and skippered Royal SunAlliance during which 11 women sailed one of the biggest, fastest multihuills in existence at the time and held broke a number of world records, including the fastest ocean record (Cowes to Dinard) for a number of years. And now we are cheering mediocrity.
There is no doubt in my mind that an all-female crew could win the Volvo but we have a whole generation of women sailors who were cut out of the Volvo when the Volvo 70s came into play. The men barely had the strength to control those ridiculous boats and so women were excluded. Until someone puts a campaign together which places the women at the centre and in charge at the very beginning I think we will fail. There are some amazing women out there such as Dawn Riley, Emma Westmacott and Adrianne Cahalan (to name a few) who could run an awesome campaign but none were approached by Atlant. Volvo have benefitted greatly from the SCA publicity which we, as women sailors, feel has all but wiped out our past achievements. No other sports team celebrates failure – why do they think its ok for women?
I am not sure I would want to see a mandate for equal men and women on each boat. That could cause its own problems. Maybe it would work. Whatever the outcome of this event; It's time Volvo made a concerted effort to encourage more women to enter and to assist them in every way possible. I also think that the best way for SCA to redeem themselves is to sponsor Sam Davies (if she wishes to take part) for the next event but WITHOUT Atlant. Let Sam or whoever, pick her team and run her own campaign using the many lessons learned from this one and the past 25 years of women's sailing. That would show that SCA are serious about supporting women's sailing.
I will leave the final word to a 16 year old future Olympic sailor whom I met whilst speaking at a Yacht Club. I am paraphrasing what she said but in essence this is it: "Watching the ridiculous flag waving of SCA Media Team every time a team of women manage to sail from one Port to another, is to watch a Corporation aided by Volvo take women's sailing back 25 years." She finished by telling me that the boys in the Youth Squad now make fun of the girls and offer to cheer if 'they make it from one side of the reservoir to the other'.
Well done Atlant.
May 18th, 2015
Big Pimpin'
NASA scientists report that it's been 800,000 years since the last magnetic pole switch took place and the earth is way overdue for such an event as reversals typically occur every 600,000 to 700,000 years.  As noted by NASA and UC Berkley, the last reversal happened over 780,000 years ago.  Analyzing this data shows a potential shift is right around the corner.
As the magnetic field weakens, the North and South Magnetic Poles will fracture appearing in several locations at once.  In the natural world, we won't see massive storms or increases in solar radiation; however, animals and insects (birds, bees, bacteria and sailors) that depend on magnetic fields for directions will become lost and disoriented.  But never fear! Nautalytics has you covered. Justin Coplan, technology partner of Nautalytics, said "We have a plan in place to recalibrate the new North back to the old North or whatever direction the people of earth decide is up."
Until then, the Alloy magnetic digital compass by Nautalytics will keep your life simple by giving you the information you need to make tactical decisions on the race course, big numbers, no buttons to push or batteries to change. Buy this month and receive a free pole switch recalibration coupon.  www.nautalytics.com
May 18th, 2015