Loick Peyron has launched his Walter Greene trimaran and headed out for his first sail preparing to take part in La Route du Rhum. Happy is the sister ship of Mike Birch's famous Olympus.
Said Petron: "First training session on "HAPPY", nothing but happiness. Small is beautiful! So far so good. and very impatient to start my 49th crossing of the Atlantic." Look at that: this is Happy in Christophe's eyes !!" Check out the awesome photo gallery right here.
July 20th, 2014
What a cool shot from Anarchist Jay. On their way to Bermuda, we think.
July 20th, 2014
So as I write this on Saturday afternoon, Team Hula girl are inside the 100 mile check in point to the finish of the Pacific Cup, about 75 miles from the finish line in Kaneohe Bay on the north side of Oahu, to be precise.  We should finish tonight, or – more specifically – early tomorrow morning,  having made the crossing from San Francisco to Hawaii in the 2014 Pacific Cup in about nine and a half days. Average speed over the 2070 mile course would be a bit over nine knots.  We are the third boat to Hawaii in our class (maybe the seventh or eighth boat overall), however (because of rating differences) a number of boats will 'correct' out in front of us, so we'll likely be 6th in class, and about 12th overall.
Those are the stats.  What they don't show, of course, is the human side of the experience.  As the Hawaiian Islands come into range on the distant horizon and Hula Girl charges along in the late afternoon sun, a whole range of emotions begin to take hold.  And when you cross that finish line, pull into the dock and step ashore after having traversed the Eastern Pacific Ocean, you can at once feel gratified, relieved, excited, exhausted. You have accomplished no small feat, and, most importantly, YOU have accomplished the feat.  This wasn't any cruise ship.  No one just took you for a sailboat ride. In the past 10 days, each of our team was on watch a total of 12 hours per day, and drove about 4 hours per day.  That means that over the course of the race, each driver drove for the equivalent of a 40 hour work week!
And I can tell you the level of improvement has been just fantastic.  At the start of the race, for plotting and routing purposes, I generally assume we'll be going about 85% of our target boatspeeds.  I'll modify this a bit one way of the other depending on a variety of things (experience of the crew, race conditions, etc.) but we were pretty close to that number.  By the time we got to the halfway point, I was using 90%.  The next day I bumped it up to 95%.  That's pretty impressive.  I can't really tell you how fun it is to see a team go from just 'hanging in there' sailing the boat (and sometimes not even able to do that in the darkness of night and shifty conditions) to full-on efficiency across the whole spectrum, day, night, squalls, and tradewinds.  And, of course, it's not just driving…  the trimming, the crew work, the understanding of the relationships between all the positions, etc. etc. just became stronger and stronger. and contributed to our increased efficiency day after day….
One of our team mentioned that it's really like having four coaches aboard:  not only are there three 'regular' coaches, but the group has been pro-active at working together, fostering a real sense of unified purpose and experience, and sharing with each other to improve as a whole.  I'll admit, I might have been premature in calling a group of diversified sailors who had never stepped on a boat together before a 'team', but that designation is certainly justified now.  I'm proud of all of them.  Marko, Joe, and Alix came aboard with extremely limited exposure to sailing, and I couldn't be more impressed with how they have progressed. Dale, Mike and Jimmy all brought more experience aboard and all rose to a high standard.  And, beyond them all just doing great, we had a fantastic time.  I have to say it was an extreme pleasure to sail with each and every one of them, for the first time or again.
So good on you all, team.  We were up against probably one of the toughest fleets I have ever raced to Hawaii against.  Each and every boat in our fleet was immaculately prepared, and the crew rosters read like a who's who of West Coast offshore racing.  This is the real McCoy, a true grand-prix offshore racing event.  The fact that our young team could even think of competing against these guys was cool.  The fact that we were able to be competitive against them was awesome.
An finally, a huge thank you to coaches Geoff and Jasper.  These guys did a great job.  It's no small feat to pull together a new crew and head off on a serious adventure like this, and the loin's share of the credit goes to the great oversight and instruction provided by these two.  I know I consider myself fortunate to have had them both aboard.  Thanks tremendously, guys.
Now I'm going to head out into the cockpit for the final evening and enjoy the warm weather, the trade winds, the good company.  I'm looking forward to getting to Hawaii, to be sure, but I am just as excited about the next couple hours.  Although I'd be lying if I didn't admit that a Mai Tai is sounding really, really good about now…
Have a good watch, friends.  And we'll try to post some pictures in the next couple days.
Wayne Zittel and the Huligans
July 20th, 2014
No, not every drone experience goes well. Ryan Breymaier needs some help. The string was the first clue!
July 19th, 2014
Forwarded to our legal department….
I am the owner of Lagoon hull 82 (Nipper), about whom Yann Masselot wrote when referring to the sinking of my boat.  (Masselot is the Lagoon Catamaran Director – ed).
My website is www.lagoonlitigation.com.
I have written to Masselot demanding that he withdraw comments made about me on your website. If he does not do so, I intend to sue him for defamation.
For the record, the boat was seized by Simpson Marine (the Singapore Lagoon dealer) and sold to satisfy the debt. I never left Singapore, and the debt was satisfied by the sale of the boat.
Regards
Tim Robins
July 19th, 2014
A hard dose of big-fleet reality was delivered to our own Mr. Clean today via the J/70 North Americans. After starting strong with a 7-1, the last 3 scores were a sober 19-25-26. They at least live to fight another day! The inside dope  from Clean coming soon…
July 19th, 2014
Oh sure, lottsa claims about who has the fastest yacht, but Anarchist Greg saw the actual fastest (and surely the most bitchin') at Schoonmakers Point Marina in Sausalito yesterday, but it was gone this morning. Time waits for no one. Especially the fastest boat in the world.
July 18th, 2014
AC Breaking
UPDATE: It is indeed official – for the second straight time, The Challenger of Record has pulled out of the contest they helped to create along with Coutts & Co, and with no entries yet approved by GGYC, there is a real question whether the existing protocol will be able to exist in its current form now that the most important of the AC45 Challengers is out.  Here's what happens when the CoR takes a walk; and we read the official release quote from Ben Ainslie to mean that BAR will be the likely replacement for the Oatleys. Anarchist 'the truth' called it last week in America's Cup Anarchy; share your thoughts there.  

It's understood the Australian Challenger of record, the Hamilton Island Yacht Club, is withdrawing from the 35th edition of the race. The syndicate says the new Protocols set by challengers Oracle are too hard to prepare for when no dates or venue have been confirmed for the event. While prospective challengers continue to wonder what the hell Coutts has been doing for a year, Russell amazingly still says he needs until October to make the final decision.  Really?
Nice work, America's Cup.
July 18th, 2014
What happens when you're an old, washed up douchebag? You get 87th place in a Sabot Race.  Perrrfect.
July 18th, 2014
Optis. Antarctic Expedition Boats. Big snowy Mountains. Sunshine. Slight breeze to move on the glass. Awesome work by Somira Sao.
July 18th, 2014
SCOTW
A new event was held this weekend in The Solent. A ladies two boat team racing event on J80s. The Royal Yacht Squadron V's the Royal Ocean Racing Club.
With four ladies to each boat, relatively light (and sunny) conditions and the civilized and extensive hosting from the RYS it really was the most perfect sailing event and conditions. Following a tow out to Osbourne Bay on Saturday morning, the inner tigers of Team RORC were revealed within the pre-start with much shouting and more red flags than in a Spanish Bull Ring. It all settled down though and some good quality team racing was had finishing after day one with a 4-2 lead to Team RORC.
After a very posh three course meal hosted by the Commodore Christopher Sharples of the RYS, Day 2 was much more restrained affair despite it being for double points and swopping of boats. More of a consistent 10—12 knot breeze made the racing much more settled and the event finished with Team RORC winning overall with another 4 wins.
The event is expected to be ran next year and other clubs will be encouraged to put forward 8 of their best ladies to represent. On boat #1; Laetitia Mason; helm and team captain, Marianthe Evangelidis; tactician/mainsheet, Carol O'Kelly, Sachi Sault/Ellie Aarons (crew changeover on Day2) on jib trim. On boat #2; Josie Glidden; helm, Mugs Gohl; mainsheet and Lizzie Chellew and Stephanie Hensley on jib trim.
July 18th, 2014
As the second Mac gets set to begin tomorrow, Our old pal Petey Crawford jammed together a video from the light air/downwind start of the earlier race, Bayview's Port Huron-Mackinac.  Bora Gulari returned from Sardinia for a couple weeks to give Phil and Sharon O'Niel's TP52 Natalie J her fourth straight overall (Cove Island Course) BYC-Mack win, and we've got an interview coming up with the rock star soon…for now, enjoy the stylings from Penalty Box.
UPDATE: Tim Lewin asked us to point out that, while Natalie J won four straight Cove Island overalls that she sailed, she actually didn't go macking in 2013 because she was on the Transpac.  Last year, Sledgehammer, a J/120 won the Overall for Cove Island.   
July 18th, 2014
One woman died and two others are in stable, but serious condition after a boating crash on Lake Washington late Wednesday night.
The Seattle Fire Department responded to reports at 10:39 p.m. that a 25-foot powerboat and a 21-foot sailboat had collided near Lake Washington Boulevard and East Jefferson Street, according to Kyle Moore of the Seattle Fire Department. The collision occurred about a half mile from shore, Moore said.
Seven people were on the sailboat and three of them fell into the water during the crash, according to Moore. Medics performed CPR on a woman in her mid-20s, but she died at the scene. The other two victims, a man is his early-40s and a woman in her early-30s, were taken to Harborview Medical Center with fractures and lacerations, Moore said.
The powerboat appears to have broadsided the sailboat, but details are not clear, according to Drew Fowler of the Seattle Police Department. More here.
July 18th, 2014
A bullet in race 2 of the 80-boat J/70 Class Association North American championship means a prize glass full of vodka for Mr. Clean, tactician for B-Squared Racing powered by Sailing Anarchy. Fourth overall after 3. And a decent looking rig on that bartender.
July 17th, 2014
Local Knowledge
July 17th, 2014
Race Report
Well the past couple days have been perfect 'chamber of commerce' sailing conditions out here on our way to Hawaii.   But, of course, the deep Pacific lacks any semblance of a marketing department (and the hotels are few and far between).  So here we are, just over a week into the 2014 Pacific Cup and we are ripping along, on port gybe finally, heading, more or less, straight for Oahu.
The last couple nights have been, shall we say, 'sporty.'  There is a big ol' moon out here, but it gets eclipsed by cloud cover and squalls pretty regularly so it gets dark dark, with the brightest things around being the fiery phosphorescence in the water.  Then the moon will punch thru, reflecting on the water like a silvery shimmering blanket.  After sunset, the breeze kicks up a couple clicks from the normal 18-20 knots….  until a squall comes thru, then all bets are off.  Top breeze we saw last night was a short spike to 34.  And Hula Girl has been just lighting it up.  The B&G instruments have been a bit 'wonky' so we have taken to tracking top speeds on GPS which doesn't show the quick spikes but gives a good and accurate representation of steady speeds.  Until 'Mr. Geoff's Wild Ride' in the aforementioned puff, Alix held the speed record of 17.7.  But with the extra horsepower, coach Geoff showed us how it's done and raised the bar to 18.8.  So Alix still leads the Amateur division, and Geoff is holding onto the newly formed Pro division.  I'm sure our momentary speeds were well above those numbers and into the 20s, but regardless, Hula Girl (and everyone on board) is having a hoot.
We were sorry to hear at roll call this morning that Tiburon, the SC37, had lost their rudder sometime yesterday.  Apparently the Passport 40 Cayenne was on scene with them and passing them extra water and supplies for what will become much longer trip to the Islands.  I'm sure they were tearing it up in the breeze, and we are sorry to hear of the problem but glad everyone aboard is safe.
We had a brief moment of excitement earlier today when the steering wheel almost came off.  It must have loosened up over the past 1500 miles and slipped just enough to let the key slide in the hub, so turning the wheel did not really turn the boat.  Uh oh.  Hula Girl rounded up in a civilized fashion and I, having identified the problem right away, ran below to grab the socket set.  I have to say that when I got on deck, pulled the wheel off and handed it to Jimmy saying "Here!  Hold this.  And don't drop it!" his look was priceless.  Wheel was re tightened momentarily, and we were on our way again shortly.  The socket is now living in the sheetbag near the wheel until we can get some loctite on that nut (the wheel, not Jimmy).
* The staff of J World and crew of Hula Girl would like to apologize for the immediately preceding pun.  It was obvious and gratuitous, and we are sorry to everyone….  except instructor Andrew in San Diego.  This is what you get.
Jimmy started trouble in the cockpit, again.  You think I'd be used to it by now.  Yesterday it was "Let's do the Tahiti Race on Hula Girl!" then today it was "So what food do you miss the most?"  There ensued a discussion as to all the fine things we are looking forward to in Hawaii.  Then a truly inspired lunch.  Alas, no ice cream!  Geoff is on watch with Marko driving at the moment.  Mike trimming, Alix grinding.  Dale is off watch but still out in the cockpit chatting.  Haven't seen Jasper in a while.  I assume he's sleeping, again.  He stayed up nearly all night last night, carrying on and partying away, then thinks he can just lie around snoozing all day.  Some people!
We passed close by a glass fishing ball yesterday.  Alas, in race mode there was nothing we could do except scoot by, leaving it to continue it's lonely and long voyage….
That's what I got for now.  561 miles to go.  Averaging about 11.5 knots.  With a bit of luck, we'll be in Saturday night.  Supposed to get a bit lighter for a stretch the next couple days, but our breeze has been higher than forecast recently, so we'll just have to wait and see.
Anyway, more soon…
Wayne Zittel and the Hula Girl Team
July 17th, 2014
On July 6th, the Tassie yacht Alive smashed the record for the 1885 nautical mile ocean race across the South Pacific from Melbourne to Port Vila, the port capital of the tropical islands of Vanuatu.  Here's what it looked like.

July 17th, 2014
Ask An Expert
A reader from Washington State asks "With Tesla Motors opening up its advanced battery patents to the world, will we see some major advancements in size/weight/capacity in the world of offshore power and storage?"  We turn to RTW racer and now energy guru Bruce Schwab from Bruce Schwab Energy Systems for an answer.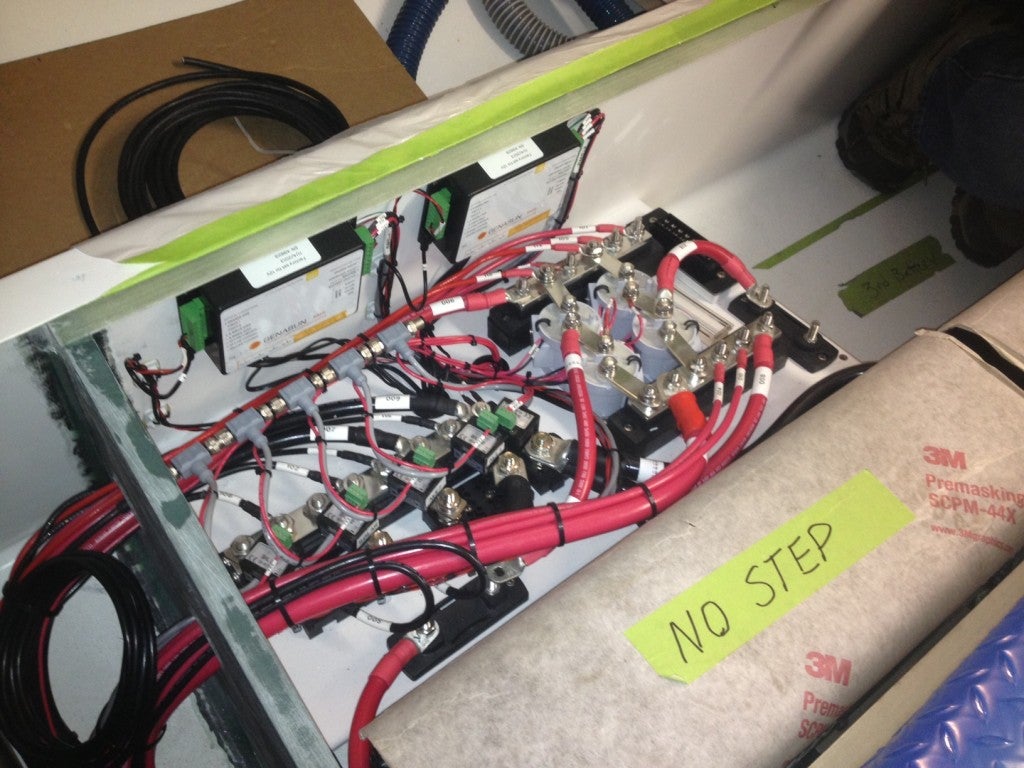 Thanks for the question, and I wish I had more exciting news, but the reality is that I don't think Tesla's move will have much effect on the marine market. Why? Because what makes Lithium (Li) battery systems expensive is not the "battery" cells themselves (usually four cells per 12V battery); rather, it is the application-specific "BMS" (Battery Management System) that makes the system useable and safe…and the lack of "scale" in the marine market to drive down costs. While the performance of lithium batteries is superior to Lead (Pb), if you run them flat or overcharge them that could cause them to fail prematurely. While it's not good to over/undercharge Pb, they typically will just lose capacity from such abuse and not necessarily become "finished".
The BMS in a car battery system has very different requirements than for a boat, first of all being much higher voltage. A boat typically has its own special issues, such as multiple charging sources (alternator, AC/DC charger from shore/genset, solar panels, hydrogenerator, wind generator, etc.) and multiple loads as well. So the system configurations are different, and even between top marine Li battery brands, the BMS philosophies differ.
For instance, Genasun marine battery system uses a dual positive bus, separating the charge sources from the loads. While this adds some work to an installation, in the long run it offers several advantages and protects both the battery investment and the boat. See attached pic of an very nice Genasun GLi installation in the IMOCA 60 Great American IV, by Steve Ecker of Maine Yachting Center here in Maine. Not the kind of thing a typical boat owner does on their own…;-) Of course, you can find and use an Li battery with a Pb-style physical format & terminals, and just plug it in. However the operation of such packs is far less graceful at the top and bottom ends of the charge/discharge cycles. Here is a diagram that partially explains a dual-bus configuration.
While Li battery performance is spectacular, they are not for everyone on the water. There are certainly many options and choices out there with Pb: AGM, gel, flooded, etc. each with their own attributes and disadvantages. and there are versions of AGM that the marine market has yet to discover. The primary weaknesses of Pb (aside from being so darn heavy) is the susceptibility to permanent internal sulfation (from undercharging) and corrosion (from overcharging), which usually spells the end of their useful life. Extended PSOC (Partial State Of Charge) operation…which is very common in marine use…leads to sulfation that is often impossible for the battery to recover from. However you will soon see Pb batts utilizing internal carbon grids/plates/etc. to help prevent this and/or allow complete recovery without high-voltage "Equalization" sessions. Equalization can help recover some capacity, however this must be carefully done or it can shorten cycle life as well.
Speaking of battery technology, and specifically Pb/AGM…the first to use a carbon foam grid internally (about seven years ago) in an AGM was Firefly batteries. These AGM's seem to have great resistance to permanent sulfating, making them good for the marine use. However for some reason, they never got any exposure in the marine market, despite burning through a lot of VC capital and a even going through bankruptcy way back in 2007. We are looking into offering a new version of the Firefly they are developing with input from us here at OceanPlanet Energy. Knowing that Lithium is great, but for the foreseeable future not for everyone, we want to have the next best thing as an option, and we'll be sure to share it with the Anarchists.
Ask a simple question….get a sales pitch in reply…sorry!
-Bruce Schwab
Ocean Planet Energy Systems
July 17th, 2014
Really, what a perfect picture for some fun, don't ya think?  Nice work by Chris Coad.
July 17th, 2014
While The Tour De France a la Voile has history, a great name, and a format that people understand, it's on the verge of death, with just nine boats competing in the edition running now and almost zero worldwide interest in the race.  There isn't one reason for the Tour's; there are several; add up the massive bungling of the selection process/transition from the beloved Farr/Mumm 30 to the unloved Archambault M34 with France's economic woes and a failure of the organizers to control cost and you have a recipe for failure.
Tour organizer ASO is looking to fix the problem, and Ouest France writes that they will announce an entirely new concept for the Tour on the 27th of July, speculating that the sexy, VPLP-designed DIAM 24 one-design trimaran might get the nod for a new inshore and coastal raid-style Tour format.  We've also heard rumors of a similar concept but driven by the GC-32 fouling cat; could these small racing cats really handle the huge variety of obstacles that coastal France, Britain, and Spain throw at them?  We'd like to find out.
You can find some video of the DIAM and a good discussion underway in the thread over here. 
July 17th, 2014