The America's Cup, oops, we mean the Extreme Sailing Series lines up in Cardiff Bay. You know how you can tell this isn't the AC?
A) There are more than 3 boats
B) They aren't asking for 10,000 free hotel rooms (see article)
Title inspiration thanks to Shriekback.
August 22nd, 2014
Here's what winning looks like. Not that we'd know… This is Varuna, the Ker 51, on her way to winning the Round Britain and Ireland race 2014.
August 22nd, 2014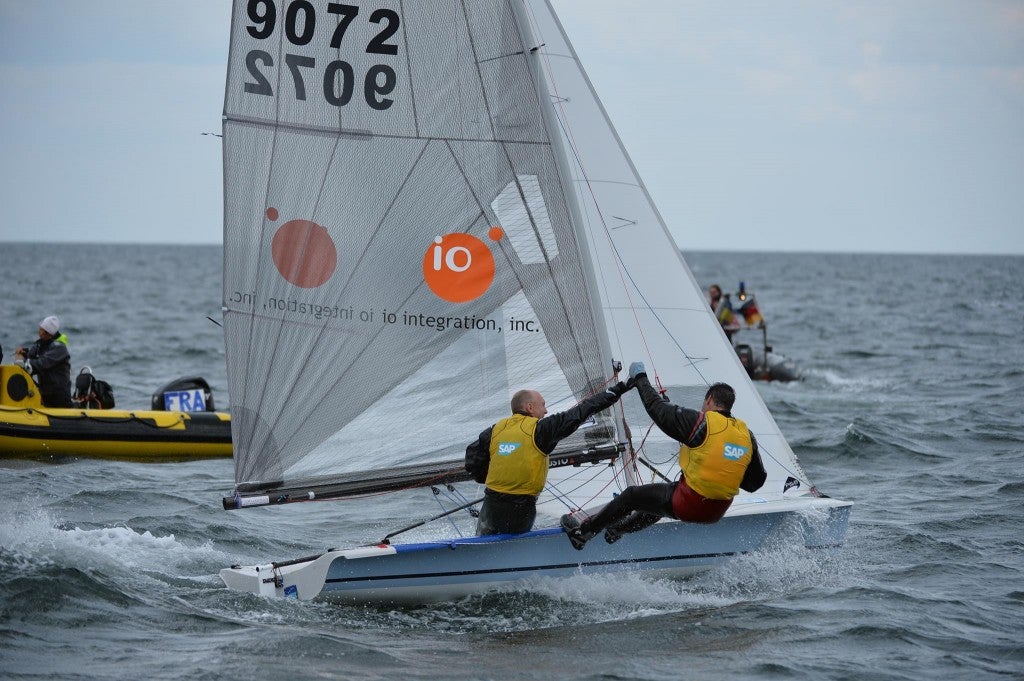 No Germans made it to the podium in their home 5O5 Worlds at Kiel this week, with 5-time world champ Dr. Wolfgang Hunger stuck in fourth.  Longtime SA'er Mike Holt has been close to winning a 5O5 Worlds for years, and a masterful performance with crew Rob Woelfel included taking the final bullet this morning to take their first World Championship by just two points.  Nice shot at the finish from Christophe Favreau, with a big gallery of pics here, and lots of video and replays at the event site.  UPDATE/EDIT:  The good Doctor Wolfgang has indeed squeaked into a final podium spot with a 3rd in the final race, making much of our report above wrong.  Our apologies for the false info; that's what happens when your communications staff thinks the whole world gets their news from Facebook and forgets to update the event site for half a day…
August 22nd, 2014
Fleets come and fleets go, but the Cal 25 remains forever.  At least that's how it is in Southeast Michigan, where the Cal 25 continues a long legacy of great racing, better partying, and lasting forever.  Here's the report from the Detroit gangstas who won last week's National Championship without winning a race, and our apologies for our almost magazine-like delay in getting it up.  Okay, not quite that bad.
The first weekend in August saw the Cal 25 fleet make its way to Port Huron, MI for the 2014 Cal 25 National Championship, some from as far away as Annapolis. Light winds all 3 days caused by a large high pressure system over the Midwest made for some delays with a final tally of 6 races going up on the board. 21 boats was the final headcount for the event, with over half of the fleet representing Detroit.
Target Practice had been awaiting this weekend for some time, and had done tons of boat and sail prep to ready for the event. Numerous jibs were looked at and the entire deck layout was reconfigured to try to give us more control over sail shape and eke out that hundredth of a knot from these 4KSB'es.
Day 1 saw light southerly breezes all day. Race 1 started in ~4knts of breeze, and saw a number of the top boats get off clean and flop onto port after a short while. Places remained relatively static around the course with Target Practice coming away with a deuce. The breeze died and we went under AP for ~90 min waiting for it to fill. When it did from a weak thermal, Race 2 saw a little more action on the line with some yelling and a couple of alleged fouls, but no flags. The rich got richer as clean air was king for the start of this race with the leaders extending, however on the 5 leg race the last downwind saw the breeze dying and things started to get mixed up with boats finding patches of wind that others simply didn't have and some boats were able to improve their lot on this and the ensuing upwind. We led the day with a 2,2 followed by Draco and Holmebrew.
Nerves ran high on Day 2 as it was moving day. It was again light southerlies but with the expectation that a northerly breeze would fill in at some point. Race 3 and 4 saw more of the same from Day 1 with slightly more breeze, we again went 2,2 however Never Alone found an upwind gear that was untouchable and took 2 bullets. Race 5 was started with an easterly thermal breeze of ~5 knots. We suffered from an unforced error and were called over early just off the boat, while Obscured by Clouds won the pin with clean air and was first around the top mark. The course however was hugely starboard tack favored, so after ducking the line we found some pressure right and still wound up rounding in the top 5. We had struggled with our downwind angles all weekend thus far, and were having trouble sailing as deep as some of the other boats. A quick gybe saw us move up to 3rd and Obscured, Never Alone and us all went around the left mark. Obscured finished first with Never Alone right on their heels, followed by us. This unfortunately ruined our up-till-that-point perfect scoreline of 2-2-2-2.
We went into the final day with a 5 point lead on Never Alone. We expected no more than 2 races, and so the gameplan was to continue to sail our regatta, but keep a loose cover on the competition. Dense fog greeted us on the racecourse, but brought relatively strong breeze with it. However, starting a race in the fog would have been difficult and as it burned off the wind died. At about 1 oclock the fog had lifted and we had sufficient wind to start. The line was pin favored
and so with a minute left we tacked away from Never Alone for a pin end start. We hit the line on time and with speed, only to look over our shoulder and see that Never Alone had done the same roughly midline. An early tack away saw us take some transoms to get to the favored board and pressure, and we were able to round in first. We held serve on the downwind and rounded the left mark again in first with Never Alone behind, coming with us out to the right. They reaped the gains of their high upwind mode and we were only able to round in front due to a header at the top mark that forced them to do 2 tacks. That header also saw Patriot squeeze in front coming in from the port layline, with Target Practice and Never Alone close behind. We finished in a dying breeze with our final deuce of the weekend and a 6 point lead on Never Alone.
Racing was very tight all weekend, and Port Huron Yacht Club and the Race Committee did an excellent job getting in 6 good races. Our thanks to Tyson Connelly and PHYC for running an awesome event! Target Practice was sailed by co-owners Erik Ryan and Adam Hollerbach, with me, Nathan Hollerbach, and RJ Wolney rounding out the crew.
Brad Terpstra
USA 632 – Target Practice
August 21st, 2014
Big Pimpin'
The father-and-son team behind the VX-One's steady growth can now move a mini-fleet all by themselves; their ability to transport 10 boats in their two rigs at a great price makes fleet-building that much easier.  Get up to date on one of the quickest and hottest new sportboats in this 8-minute Mr. Clean interview with Brian and Hayden Bennett this past Sunday from the shores of the newest VX-One home; Michigan's Macatawa Bay Yacht Club.
August 21st, 2014
Spotted by ace snapper Craig Greenhill. Looks like a hell of a lot of work that could go really wrong, really quick!
August 21st, 2014
AC Breaking
As the world waited for Le Roi Russell to announce his entry list for the LOCATION TBD America's Cup, we learned that the delay had nothing to do with whatever the AC spin said; our insider tells us that at least one team asked for a delay to shore up their finances and sponsorship scenario.  Meanwhile, the AC has announced this morning that there are indeed five challengers who fronted up several million in nonrefundable deposits and bank pledges for the LOCATION TBD America's Cup.  While we remain highly doubtful that all five will make it closer than Team Australia did to the starting line of the LOCATION AND TITLE SPONSOR TBD Challenger's Regatta in three years, we do hope they do; it would be great to see the UK and France do well, perhaps igniting some national fervor for the America's Cup, and perhaps (as unlikely as it may be) wresting it from Coutts' control to bring it to real international prominence.
Meanwhile, Sportbusiness.com today writes that Ben Ainslie has lost any chance at getting longtime BAR sponsor JP Morgan to foot the estimated $50-75M title sponsorship spot for his AC bid.
The Ben Ainslie Racing (BAR) sailing team will look for a new title sponsor for its inaugural 2017 America's Cup campaign after the incumbent, financial services company JP Morgan, decided not to continue past 2014.

The BAR team is the UK's entrant for the next America's Cup series. It is led by Sir Ben Ainslie, the most successful sailor in Olympic history and tactician for Team Oracle USA during its dramatic victory at the 2013 America's Cup.

It is understood that New York-based JP Morgan, which has been the title sponsor of Ainslie personally since 2007, and the main global partner of BAR since the team's launch in January 2012, feels an alignment with a British team against American competitors would not match its brand image.

The team is now looking for a title sponsor on a three-year contract, from 2015 to 2017.
A UK South Coast insider sent us another update this morning, possibly explaining the JPM departure from Team Sir Ben.
I wouldn't take this as a sign of anything other than regime change on the sponsorship front. When the team's AC effort was launched, one of the things I noticed was there are a couple of people on the Board of the team from Vitol, an oil trading firm (including Ian Taylor, its CEO). Vitol is not quite Torben Torquist's Gunvor, but that's mostly in the sense it's not largely owned, ultimately, by a tiger-petting Russian king.

Vitol is possibly not the most ethical of firms, and was only a few weeks ago exposed in engaging in UK Tax Avoidance on a massive scale, according to the Independent.  With figures like those in the above article, it's entirely concievable they have 50 million quids kicking around ready to drop on a Cup campaign.  Given some of the other rather, ahem, 'controversial' transations Vitol has been associated with, it could be that JPM didn't really want to be sharing signage space with them…..
And in a final piece of AC news, European sailing blog Farevela reported yesterday the completely terrifying news that Juan Kouyamdjian will be one of the designers of the underfunded Team France effort, perhaps built on the strength of Franck Cammas' relationship with the JuanKer during the successful Groupama 70 VOR program.   We'd humbly suggest our friends on the team get some extra life insurance…
Team France thread is over here.  BAR is here.
August 21st, 2014
It may look a bit like vaporware from a futuristic basketcase, (and it certainly isn't going to win any 'Prettiest Yacht Awards') but in fact this is nothing of the sort; it's a 53-footer from the desk of ultra-fast BMW/Oracle/Team USA alum Paul Bieker, it's already under construction at Gold Coast Yachts in the Virgin Islands, and it's a 'high-performance cruising cat' for the Seattle-based wners of the current J/125 Hamachi, though the new fish will begin her career racing in the Caribbean.
For more on the boat or to ask the new owners about it, head to the Bieker blog, and then over to the thread; or just read on.  Bob Perry's been doing design reviews in magazines for decades, so let's follow his lead; here's a review of the design from one of Sailing Anarchy's most verbose designers, Chris Ostlind.  
Personally, I like that Paul and Eric have pulled design cues from Polynesian boats while subtly mixing the forms with modern thinking. The raised Manu forms at the bow tips are very definitely Polynesian in execution and I feel that they serve both functionality, as well as providing a counter point to the same conformed styling we see in so many boats derived from "conventional wisdom" ideology.
There is a distinct, wave piercing capacity in the bow forms, while not giving away that precious interior volume that a cruising cat needs to provide the kinds of creature comforts that are the hallmark of a great cruising cat. The Manu shape at the bow gives a pronounced cutwater shape that parts oncoming seas and that philosophy holds down the length of the bow as it makes use of the beveled edge that gracefully submits to the need for a flat surface for going forward safely. That same shape enhances aero efficiency by allowing the wind and water to slide over the form rather than be forced to make abrupt changes of direction, which guarantee form drag losses. The shapes also enhance the strength of the bow through styling engineered geometry and that can ultimately save laminate weight in the build and potentially help with costs, while reducing weight in the ends of the boat. All kinds of thinking strata involved here.
The riskiest component of the design, to me, is the incorporation of C-boards to give foil assist. At typical cruising speeds and realities, these boards are maybe a nod to current fashionable ideas more than they serve as a real boost to sailing that most cruisers are not going to be doing while underway. That's another argument for another time, though. I get that the shapes of the boards can be incorporated into the hull shapes with a beneficial result on interior volume, so perhaps that is really what the creators are after here and the lifting foil aspect simply came along as an interesting side application. The T-foil rudder are definitely a good idea for a cruising boat as they allow for a more stable ride overall with little of the penalty issues that the forward boards entail.
The deck house is a nod towards the history of the Polynesian voyaging Cat, to be sure and I fid it refreshing in its approach and as a counter point to all the Space Station looking cats we see in huge numbers. I find the uniqueness of this take on a design to be a terrific statement in stepping away from the drudge of "me-too" cat design that tends to make all the boats in the marina look like Accords and Camry's… and it gets the sailors out into the elements a bit where they can enjoy much better forward vision and a sense of really being able to look around and take in what is happening to their boat in the environment. Yes, it's going to take a real special person to own and operate this boat, but I think that's exactly what the design team were shooting for. Something interactive, rather than simply another layer of structure that typically stands in the way of the experience of sailing in the weather, sun and wind. A lot of existing cats of this size are like tooling around in a medical waiting room, where this boat will be putting the owner, sailor directly back into the place where it all started several thousand years ago; definitely an attempt to reconcile our collective willingness to encounter a sterile sailing experience and call it good.
A pleasure to behold and contemplate.
August 21st, 2014
Yeah, it's a J/70, but this is a nicely produced video of a little on-board action from the GeloRevoice Sailing Team during training on their new boat. Love that music.
August 20th, 2014
Big Pimpin'
Confused? This is a shot of the very rare 'reverse mine' captured on Kiwi composite company C-Tech's 18ft skiff foredeck mounted camera during product testing of CT PlateBattens on Auckland's Hauraki Gulf.
This is all part of the R&D process for C-Tech that specialises in making performance battens. CEO and composites expert Alex Vallings is on a mission of continual development with the latest materials and technology to create the perfect product to stand up to the harsh reality of high-performance sailing. It is a little known fact that most boats on the water at the top of their game have some form of C-Tech product on board.
The product range includes masts, spars, sail-battens, sail hardware, spinnaker snuffers, carbon tube and numerous other sexy black things. These products are highly sought after in the skiff, dinghy, multihull, monohull, super yacht, America's Cup, Vendée Globe, and Volvo Ocean Race circles.
The company sets itself apart from competitors with its mastery of laminating prepreg carbon fibre around male mandrels to scarily accurate specifications. The result is ultra-durable products with the highest flexural strength-to-weight ratio available on the market. Having worked with many winning race teams, the experience and knowledge gained is passed on to every customer through C-Techs offerings. Everything from carbon tube to complete customised solutions can be catered for.
The recent addition of a 1.4m diameter x 15m long pressure and temperature controlled autoclave opens up a number of manufacturing possibilities – including projects outside of the marine industry.
And the result of that 'reverse mine' … thanks to all the R&D no boat damage but three broken lads!
August 20th, 2014
Good christ, you have just got to appreciate the beyond laughable attempt to build a "boat" here. Unless it was ton by 12-year olds, they should be put in a mental institution. Although we do like the window….
The best news? It is available for charter….in Egypt! Jump in the thread here
August 20th, 2014
Local Knowledge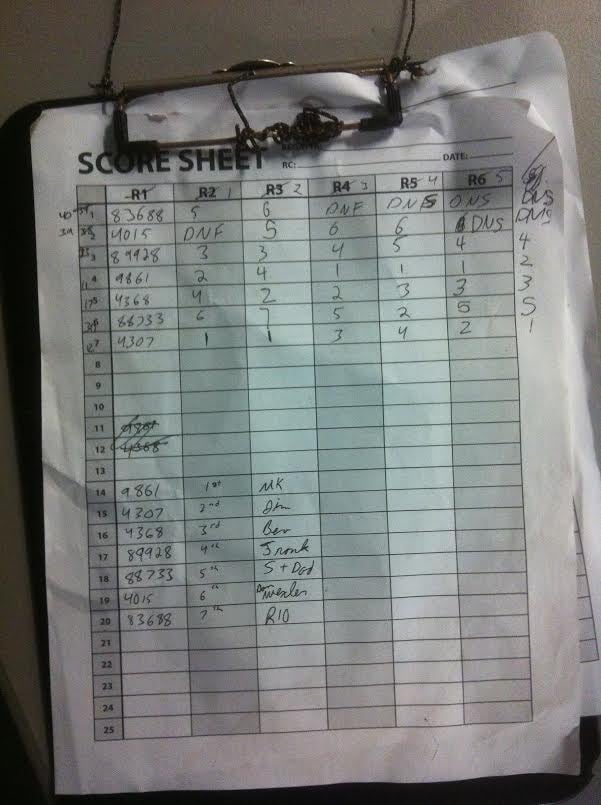 Another evening of most enjoyable racing in the books courtesy of the good people at the dinghy shop I'm amityville NY! Here's what went down:  6 races in a SE breeze 6-8kts and a strong west to east current. Seaweed avoidance was a key tactical decision.  Patrick White and Noah Scarpa were RC. Thanks guys!!
9861 – MK
4307 – Jim
4368 – Bev
89928 – Frank
88733 – Team Gallo (Stephen and Dad)
4015 – Dan Wexler
83688 – Ryo
Unfortunately, yours truly was stuck making movie magic, so no racing for this guy, this week. But next week I'm ordering the breeze!!
This is a free, for fun series that happens every Tuesday night out of the dinghy shop in amityville New York. Feel free to call 631 264 0005 for more information. Stop sitting on your hands, get up and sail!!
Sail fast and keep the smooth side down. Cheers!
August 20th, 2014
This, from our GpPro footage of the week files. There is nothing better than watching a finely tuned athlete doing what they do best. And of course, this is yet another nod, multiple nods really, to the female athletes.
August 20th, 2014
August 19th, 2014
Why hire an old monohull guy unless you are looking for as much San Diego local knowldge as possible?  Sadly, more and more roads are pointing to Dago as the destination for the next AC. Given how badly Coutts is tripping over his dick this go around, perhaps SD will be the final resting place for the final edition of the AC?  In both a weird and kind of fitting way, we kind of hope so…
Team New Zealand have suffered a blow with sailing coach Rod Davis joining Artemis Racing ahead of the next America's Cup. Davis has a storied history in sailing for New Zealand and will undertake his ninth campaign for the Auld Mug with the Swedish outfit.
Davis, 58 won Olympic gold for the US in the Soling class in Los Angeles in 1984 and silver for New Zealand in the Finn class (we think they mean Star – ed) in Barcelona in 1992. Artemis confirmed it is challenging for the America's Cup again and also announced that Swedish Olympic gold medalists Freddy Loof and Max Salminen have joined the sailing crew. The star-crossed syndicate announced its return today during a news conference at the Moderna Museet, with the America's Cup itself on hand. Read on.
August 19th, 2014
What the hell else do you think it is? Torpedo tube? Cocaine smuggling chamber. Props to Anarchist Ben for the pics of this beauty…
August 19th, 2014
AC Dope
It is pretty interesting to see sentiment turn against Oracle. Not surprising,  given the amount of fuckery that Coutts and company have embarked upon so far in this AC merry go round.
Yeah – as much as I wanted Oracle to win the last one so they'd stay with the big cats and foiling, I'm not a fan of the two venues offered, the lack of a defender series, or the minimal upwind race courses.  So, although American, I'll probably be backing whoever the challenger is…
Are you down with the home team?
August 19th, 2014
In the Swedish and Finnish archipelagos, a sailing yacht has a more than 50-70% risk of accidentally hitting rocks at cruising speeds at least one time during it's life. After the modern fin keels (bolted to a flat bottom) have become the norm, the costs and the difficulties to repair have sky-rocketed. The Linjett 43 attempt to construct a fin keel capable of surviving such mishaps should absolutely not be joked about but rather be applauded. – Anarchist Magnus.
August 19th, 2014
Big Pimpin'
Can a boat change the world? It depends on the boat…
Today saw some real international news taking place. Good news and we figured that we could all use a little good news these days. Before I elaborate let me tell you a story. There is a lot of power in a single idea. Two and a half decades ago, well behind the iron curtain, there was an idea to enter a Soviet Union boat in the Whitbread Round the World Race. It was an absurd notion on the face of it, but the boat, named Fazisi, was designed, built and raced around the world. This was at a time when the edges were just coming off the Soviet Union, the period of glasnost and perestroika, a time when most people in the west had never set eyes on a Russian person.
By the time Fazisi finished the race the Soviet Union had collapsed. No it was not the fact that there was a Soviet boat in the Whitbread that led to the collapse, but Fazisi, the first ever Russian private professional sport enterprise, perhaps did play a small part in it…
The bigger deal, however, was the role she played in the sailing industry, becoming a harbinger of things to come. Back in 1989 there were comparatively few sailboats in Russia. Look at the international market these days and the majority of super yachts are owned by Russians. Fazisi led the way and we almost ended up with world peace… Almost…
These days we have anything but world peace so it's time for another grand gesture.
Vlad Murnikov, the force behind Fazisi, is now an American citizen living in Massachusetts. With the mess in Ukraine once again straining relations between the West and Russia, it's time for some on-the-water diplomacy. Time for another sailing adventure. This morning we loaded a container packed with a dozen mxNext's mini-SpeedDream boats, half of them being shipped directly to Russia.
While politicians are bickering, escalating sanctions and countersanctions, Russian sailors are surfing the internet looking for the latest and coolest innovations and guess where they landed – right on the mxNext website. So once again sailing is reaching across international boarders in a person-to-person effort to change things – one boat at a time.
Better still, we have another half-shipment of boats going to another country in Europe. When you think of a country known for precision, quality and exquisite design you probably think of Switzerland. Well, to balance out our high level diplomacy with something more neutral, as in Switzerland neutral, we are also sending seven brand new mxNext's to Geneva. How about that? The place known for its top notch craftsmanship is buying high-tech carbon boats from America at times when the daily news tells us that we are shipping jobs overseas. Crazy isn't it?
So there you go. The first lot of mxNext's are off the production line are being sent out into the world to create a little world peace and to showcase the fact that great, new, innovative products are still being built in the good old US of A. Check some video action here.
August 19th, 2014
Sometimes you just have to wonder…. Thanks to Anarchist Jørgen.
August 18th, 2014