A boat building party! Four new converts to Mini Skeetering, all from other landsailers and iceboats, friends I sail with regularly. John is hosting this woodfest in his cabinet shop in Lakeside, MT, and is eminently prepared, with frames cut and coated, stringers milled, and skins epoxied. As a result, we have Phil's boat ready to pop off the jig when he arrives from Portland, in a snow storm, the first of the season. Feels like winter, an impetus to build with purpose, ice is coming! Bill Eisenlohr and Tom Schock show up to contribute expertise and raw labor, having built three of these craft between them. So far.
Internal parts go in, deck stringers are wrestled into place, glued and clamped. Leave to harden, build a few cambered, laminated planks. Lunch at Perks, the Bozeman boys roll in, in a snow storm, still! They arrive fully stocked with precut parts, and we immediately throw frames on jigs and the mayhem commences! We now have five boats in various stages of construction, and as many as nine dusty and determined wood workers scurrying about, back and forth from the chop saw, tablesaw, and bandsaw, fitting the bits, slathering with epoxy and tacking 'em into place.
Another couple boats to dry overnight, we retire to John and Laura's warm and welcoming home for a magnificent barbecue, happy chatter, and an early retirement, as we're wasted, and tomorrow promises more scurrying.
Saturday morning sees us popping two more hulls off the jigs, and the fury continues. We have now discovered out strengths, and we're perfecting our assumed tasks, and the speed at which the boats come together accelerates, with each boat taking shape faster than the last. Jim drives down from Somers, another early adopter of this lovely design, and offers his insights. Scott works determinedly in his metal shop next door, fabricating the metal parts for runner chocks, mast base tubes, and steering components, some of which will be installed before the strip planks are applied to the decks. By evening, the last boat is off the jig, with all deck structure in place.
We're back at the Eisenlohr's for pizza, beer and TWO Montana college football games. Split, one win, one loss. And desserts! Laura is hostess extraordinaire! Again ready for horizontal at an early hour,
Last morning has the wood shavings flying, with power planers and belt sanders movin' material, shaping all the deck framing, sculpting those graceful bows. Phil exits to catch a plane, and by noon Dave, Pat and Lance's boats are loading into the trailer, and they blast back east, in a snow storm. Hope they made it!
There's something special about building your own boat, in the company of like minded fellows who share this strange passion, to sail on hard surfaces. Fast! That grin I'm so fond never left my face for four days, thanks boys! Ice approaches! – Anarchist Dave.
December 10th, 2017
It is with a heavy heart that I tell you Ian Farrier passed away in San Francisco on his way back from the USA yesterday. We are in deep shock as we come to terms with the huge loss of our captain, and our focus is on Ian's immediate family and the Farrier Marine team.
Ian was a visionary, a multihull genius, an all-round nice guy who leaves behind a huge legacy to the sailing world.
Farrier Marine Limited is a strong business with a three year order book for the revolutionary F-22 sailboat. Despite dealing with our grief, it is very much 'business as usual' at the factory today. It is our job now to carry on the Farrier legacy and ensure his vision is carried out. – Rob Densem.

December 10th, 2017

We know you, captain, and one of your main goals is to sail on the cold waters of Cape Horn with your crew, and challenge amazing adventures. No? Well, if this is not a plan for 2018, you can start giving as a Christmas Gift, this amazing log book with a Kevlar sail insert,
There is a special sailing anarchy 20% off, so just click here and redeem your offer.
December 10th, 2017
Tired of the NFL?  Looking for something to replace 3 hours of Formula 1?  Or just looking for some sailing to share with your family?  Have we got a Sunday for you!
Goodi Again!

The softspoken ginger Brit smacked up the world's fastest sailors enroute to his Moth world title earlier this year, so how the hell does he go from that to a title in one of the slowest boats out there?  Watch Paul Goodison take his first Star Sailors League World Title in an exciting day of knockout racing from our friends at the SSL.
The Reviewers
Before watching any of today's Volvo action, get the full pro review of the Leg 2 on-board content from Matt Knighton and Mr. Clean along with a good discussion of the Scallywag controversy and 'Dial-A-Pro' with Sander Van Der Borch on Episode 2 of The Boatfeed.
Drivin' On 9
What makes a great driver below 40 degrees South?  Watch and learn.
Walk It Off
Not the best Dock Walk in the world, but we do get a little bit of Martine Grael, so we'll take it.
Send It Off
Short and sweet with gorgeous visuals, as the Cape Doctor sends the fleet off quick and live earlier this morning.  Track 'em here.
December 10th, 2017
There are a lotta dumb mf'ers out there. For example, who in the hell would pour way too much money into a piggy Santa Cruz 33? But this dope might be the dumbest. He turned a 4ksb into a 2ksb. Fer christ's sake, what are ya smokin', laddy?
From Craigslist; "36 ft Cascade Motor sailer Yanmar diesel 2 spool simplex gurides tuna puller.. packs 2000 lbs in 2 , foamed fiberglassed slush tanks."
Only $65,000. Buy it!
December 9th, 2017
Clean Report
In a decision that will sound alarm bells across dozens of international sport governing bodies, the European Commission yesterday ruled that the International Skating Union's rules preventing skaters from competing in 'unauthorized' events are illegal and must be abolished within 90 days.  What does this have to do with sailing?  If you really don't know, here's our last big story on this case, and the short version is this:
World Sailing's Eligibility Rules allow the body to revoke a sailor's eligibility to compete if they compete in a 'prohibited event', which is basically any major competition that doesn't pay World Sailing or seek its approval.  In other words, if you use the word "World Championship" in your fun regatta, World Sailing may ban every sailor in the event from racing in other competitions.  It's not theoretical, either – the IKA has been using this bullying tool in their battle with the IFKO, enlisting World Sailing CEO Andy Hunt to write threatening letters to those daring to compete in their own event, and back when we organized the tongue-in-cheek World Sportboat World Championship of the World, ISAF actually sent a letter to one of the hosting organizations and threatened them with all sorts of penalties.
With World Sailing's rules very similar to the ISA regs that were thrown out by the EC, Those days are over now, and World Sailing will now know that it's on notice.  So call your random event "Worlds" without worries now, and if you get a letter from Andy Hunt, submit it to the European Commission's confidential Whistleblower Tool and watch the sparks fly.  And now that there is a Commission directive, you can go for damages.
December 9th, 2017

It's an ad for DJI drones, but it's also a portfolio from one of our favorite filmmakers, so spend a minute with this sparkling aerial video shot during Oracle's Bermuda AC effort.  Sam Greenfield was the first guy to run a drone from an ocean racing boat and he's continued to innovate since. If you were wondering how his recent Volvo OBR drone work is so much better than anyone else's, look above – a year of fat budgeted training on the Great Sound helped Sam become sailing's standard in flying visuals.
December 9th, 2017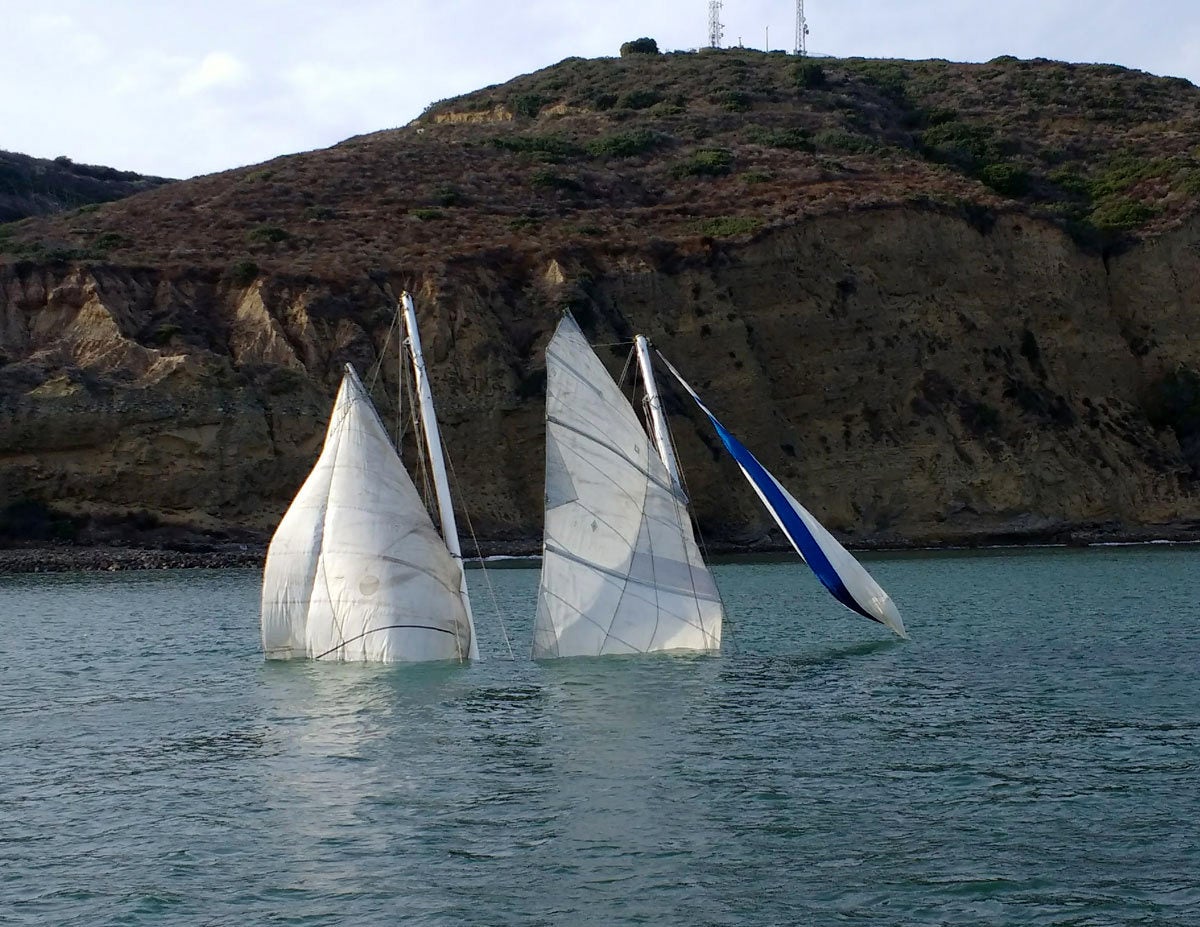 "With their new PHRF rating, the schooner Dawn, still expects to win the San Diego Hot Rum series after finishing 6 days after the last boat."
What's yours? Photo thanks to Anarchist Ralph.
December 9th, 2017
Big Pimpin'
The 52 Super Series 2018 is likely to have a lot in common with the 2015 season in which we saw nine new boats and three new teams on the starting line. For 2018 we again expect nine new boats and this time four or five new teams compared to 2017.
Pictured here: So the wheels turn… American Richard Cohen put together a strong team late in 2016 including Paul Cayard, Peter Holmberg and Marco Constant (above) to campaign the 2014 Botín design Phoenix. He began racing that autumn before a full 2017 campaign. In January 2017 he unexpectedly put his TP52 up for sale. Phoenix was sold to Hasso Plattner, who was aiming to race mainly in South Africa; in fact, at the 2017 Copa del Rey Plattner, racing with his daughter, found he was having so much fun that he ordered a new Botín design for 2018…
Building new at Persico to a Botín design will be Tina and Hasso Plattner, who are first-time TP52 class members. A daughter-and-father combination on the helm is a first; we've already had father and son twice!
With the Protocol of the 36th America's Cup specifically mentioning the TP52 as an exception to its 'Surrogate Yacht' rule one may expect the 52 Super Series to be a safe haven for AC teams aiming to practise monohull racing with a similar number of crew as on the future Cup boats.
The Protocol reads: 'No competitor shall acquire, sail or test any Surrogate Yacht as defined in this Protocol and the AC75 Class Rule.' And then describes a Surrogate Yacht as 'Any monohull exceeding 12m LOA which is capable of producing meaningful design or performance information for use either directly or indirectly in the design, construction or sailing of an AC75 yacht, but excluding existing class yachts such as TP52s used only for the participation in and preparation for their class or any other official regattas.' Quite special to see the TP52 singled out in the AC Protocol, thank you, Defender and Challenger of Record. Read on.
December 9th, 2017
And there's more snow coming…from the UFO thread.
December 8th, 2017