Extreme 2 continued her dominant ways in the C&C 30 class at the NYYC Annual last week, with mast man Petey Crawford continuing his ultra-high octane videography with this highlight reel from the regatta.  What isn't on camera was a stellar Round-The-Island Race crash when the 12M Courageous sailed headlong into the rocks at Fort Adams, but not before t-boning a J/88 and knocking Extreme 2 skipper Dan Cheresh to the dirt with its spinnaker pole.
Courageous retired from the race and didn't even bother showing up to the protest hearing despite being notified in person (and they lost, of course) but the old boat's tactician has now claimed it wasn't their fault.  We've invited said tactician and several crew and on-shore spectators to provide their view before sharpening up the pitchforks…
June 22nd, 2016
J/111 skipper Bill Smith very nearly became the first posthumous winner of a Continental Championship this past weekend after a massive heart attack took the hard-nosed Chicago sailor's life on Saturday morning.  His Wooton was leading after the first day of racing for the North American Championship, with light airs killing off Saturday and very nearly claiming Sunday until a late thermal allowed a couple of races that crowned Kashmir as the new champion.
Smith was a self-made man who started as a carpenter and loved Chicago; he ended his life as a highly respected developer and project builder after a career the Tribune called 'a towering achievement'.
Smith's crew took the Wooton out to spectate on Sunday, when competitor Spaceman Spiff hoisted Smith's spinnaker on the final run in tribute.  Thanks to Steve Kindra for the news and for sending the photos on.  Fair winds, BS.
June 22nd, 2016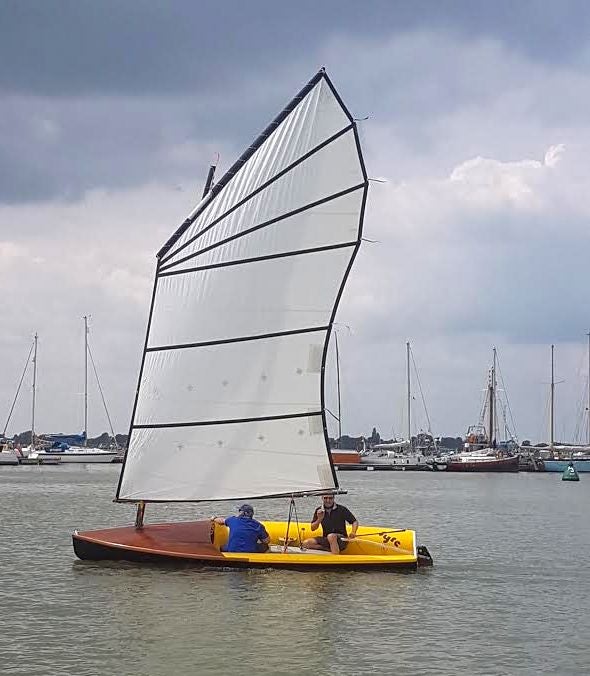 Spotted in the creek in brightlingsea Essx UK this past weekend. Local sail maker Mark Butler with a Gaff rig 505… He seems happy with it… The sail was made from an old big Genoa. He's smiling which is the main thing… I'd love to see it in a blow!
Keep up the great work. – Anarchist Geoff.
June 21st, 2016
Big Pimpin'
The Esse 990 of Guy Williams ranked 3rd at the oldest point to point regatta in the Western Hemisphere, the Race to the Coast, organized by the Southern Yacht Club.
The first race was held on July 4, 1850 with a (since then unchanged) course that started on Lake Pontchartrain in New Orleans, Louisiana and finished in Gulfport, Mississippi.
Congrats to Guy Williams and his crew on the Esse 990 Fresh Pineapple!
June 21st, 2016
Because you don't sail like this…(Um, neither do we. – ed)
June 20th, 2016
Okay, okay we give up. They rule. Sort of.
I had been tempted to take another jab at Comanche, the 100-foot sloop owned by Jim and Kristy Clark, as they led the Newport-Bermuda fleet toward Bermuda. I was waiting for the jubilant press release about how they had beaten all the other boats in the race without mentioning that second largest boat in the race is just under 30 feet shorter than them. But there was no press release and instead they set a new race record so instead of a jab here is my heartfelt congratulation to the Ken Read, the owners Jim and Kristy Clark, and the entire Comanche crew. Well done that was quite an achievement.
My beef with Comanche is that I have always felt that it's an unimaginative design. It looks like they took a VOR 65 and enlarged it on a photo copier. I feel that with that kind of money and talent they could have pushed the boundaries a little, but that's just my opinion. They built what they wanted and have done an excellent job so far winning the Sydney-Hobart Race earlier this year and now setting a new Bermuda Race record.
I am also walking back my criticism of Ms Clark. I had an issue with the press celebrating her as the first female owner to win the Hobart Race when my perception was that she was just a trophy wife of a rich man. But as I said I am walking back what I wrote because it's not really fair. I spent the weekend relaxing with my family doing just about nothing. Jim and Kristy Clark were out there dealing with the rough conditions. By most accounts Kristy is a very active member of the crew and works as hard as the rest of the team to help the achieve their successes. So I don't feel that I have a right to criticize. I was in a warm bed Friday night; they were on a wet boat pounding through the Gulf Stream so hats off to them.
The previous race record was held by Rambler and Comanche managed to knock a full four and a half hours off their time to finish in 34 hours and  52 minutes. That's quite an accomplishment. The second place boat, Maximizer, a Farr 72 was scheduled to finish a day behind Comanche so they really did leave the fleet in the dust, so to speak. So no jab. Instead an acknowledgment that Jim Clark and his (by all accounts) lovely wife have chosen to spend millions of dollars in the sport that we all love and it has only bettered the sport. So thank you and again congratulations. – Brian Hancock.
June 20th, 2016
Big Pimpin'
From our friends at Oceanvolt. This from Conrad's IMOCA60 during the NY Vende. The boat was hydrogenerating 4,7kW at 20 knots speed (charging the whole 16kWh battery pack in 3 hours). We think that's pretty damn good.
June 20th, 2016
The intensity on the M32 Scandinavian Series ratcheted up in a massive way last week as the sport's biggest prize ever will soon be awarded at the end of the Match Cup Sweden in Marstrand next month.  While the Scandi Series is all fleet racing, it still served as the final big training regatta before the WMRT Finale – a combination of fleet qualifiers and match racing eliminations that will crown the 2016 champion – and the sport's newest millionaire.
Clean was on hand to do some commentary for the VIPs and a huge local audience in Gothenburg, and the video team put together a damned good highlight reel telling the story of the battle.  And that story came down to Ian Williams port tacking the fleet on a 150m wide river and getting his GAC Pindar team on the stage to grab the Gothenburg title.  Watch above and head here for pics and here for the written word.
June 20th, 2016
With many Rio 2016 teams now on the ground for their final six weeks of training and practice, shit is getting real – too real.  Worse yet, there's really no help available when it all goes down.  Consider this report from last week, sent in by a longtime Anarchist on the ground in Brazil (and remember, piracy ain't nothing new in Brazil).

Two Team GBR Ribs were stolen overnight from Torben Grael's Rio Yacht Club in Niteroi – the same club hit by stray bullets from a nearby gunfight a few weeks back.  They were dragged to a beach in Jurujuba, not far from the US Team's launching location.
The two British team coaches who lost the RIBs found them the next morning as they were being stripped.  Already VHFs, fuel hoses, tanks, and wiring were already gone, with outboards next to go.  The law-abiding GBR coaches' immediate reaction was to threaten the thieves with calling the police.
"You think that will help you?" the head pirate said, with a big laugh.  Considering the level of police corruption in Brazil, the British coaches were inclined to come up with another solution, which meant giving the pirates every dollar, pound, and real they had in both their wallets and backpacks.
One of the coaches surreptitiously snapped a pic of the pirates, and the Rio Yacht Club staff identified one of them as a top drug dealer in the nearby Jurujuba favela, and told the coach he was very, very lucky.  If the Olympic fleets get away without losing any lives over the next two months, they'll be very lucky indeed.
Title from a great band in a kinder, gentler world.
June 20th, 2016
In perhaps the most ironic piece of America's Cup news in the history of the billionaire-attracting silver bauble, Oracle Team USA's former base on Pier 80 in San Francisco has been turned into a massive shelter for the homeless.  If you're homeless in Bermuda and Oracle stays true to form, just sit tight: You might just get an awesome, free new oceanfront address in just 15 months' time! Here's more, from KQED's story a couple of months ago:
I had to backtrack to Illinois Street to find the shelter, a cavernous warehouse once occupied by billionaire Larry Ellison's America's Cup yacht-racing team that now serves as a refuge for some of the city's most destitute residents.

Located in a desolate part of the city's southeast waterfront, the facility is surrounded by chainlink fences topped by razor wire and acres of empty asphalt crisscrossed by defunct railroad tracks. Just outside the fence, a man lies behind some bushes, apparently searching for a vein.

Initially designated by the city as a temporary shelter from expected El Niño rains, Pier 80 has been pressed into service as a destination for some of those recently forced to disband tent camps in the South of Market and Mission districts. The center has grown from 100 to 120 to 150 and now to 180 "beds" — foam mats laid in rows on the floor of a giant tent inside the warehouse.
June 20th, 2016