Onboard
"At this rate, it will take a century before we get to Cape Town," sighs Jens Dolmer, standing on the bow of Team Brunel in the VOR. He is trying in vain to push the flapping foresail outwards. There is hardly a breath of wind. In the distance, the sun is sinking into the ocean. "Cape Town is still 4,200 miles away and right now we're only making one knot. At this speed it will take another 175 days before we arrive in Cape Town. We're parked in the Doldrums."
If you already know what the Doldrums are, you should carry on reading at (2). If not, carry on here. Everywhere on Earth there are areas of high and low atmospheric pressure. An area of high pressure is caused by a surplus of air while an area of low pressure is caused by a shortage of air…
October 23rd, 2014
The Royal Malta Yacht Club has been a hive of activity both day and night, welcoming back yachts taking part in the Rolex Middle Sea Race. By Midday on Day Six 34 yachts have finished the race and 25 yachts have retired. Each and every sailor that has taken part, including those that are still out there, has a story to tell for years to come. The 35th edition of the race has been one of the most memorable in the 46 year history of the race. The storm that arrived on the fourth night of racing was ferocious in its strength and lasted over 24 hours. Thankfully, conditions have now abated somewhat and although there are broken boats and battered crew, the Royal Malta Yacht Club has received no reports of serious injuries. The majority of the fleet are expected to finish today.
Reports of over 60 knots of wind and mountainous seas abound. At the Yacht Club bar, acts of expert seamanship, in exceptionally rough seas, are the main topic of conversation. These anecdotes are resonating around the sailing community, the world over. Take Eric De Turckheim's Teasing Machine, which showed electric pace in the savage seas, only to be dismasted 20 miles from the finish. Ross Applebey and Andy Middleton's Scarlet Oyster, spent last night lashed to a fishing boat, sheltering from the storm. There are a dozen Double Handed teams still out there and soon their stories will add even more depth to what has become a fascinating race.
This afternoon, with all mathematical possibilities exhausted for all of the yachts still racing. Lee Satariano's Maltese J/122, Artie was declared the overall winner of the 2014 Rolex Middle Sea Race.
October 23rd, 2014
With love from Belgium, this is SCOTW bow girl Charlotte on the IMX 40 Oxygen. We're still trying to catch our breath…  Thanks to Anarchist Robin.
October 22nd, 2014
While the weather didn't cooperate to make our lives easy during our test sail window in Annapolis, Anarchist 'gone' went and did some of our work for us, with a good comparison after test sailing the two sexiest monohulls to hit the racing scene in years.  He sailed both the Farr 280 (which just hit UK shores) and the C&C 30 (with orders spreading quickly, especially in the Midwest) and posted a good little comparison.  For loads more about either boat, check the F280 thread here and check in with C&C via Facebook (until we can find the thread).  Photos from Meredith Block (F280) and Onne Van Der Wahl (CC30).
I sailed the 280 in 8 building to 10-13. As the breeze built, the Farr rep shortened the headstay and tightened the rig up and the easily hit the polars for the wind speed. The boat has a solid feel when it sits on her chine going upwind. I really like the systems on this boat, they speak to my inner MacGyver (TV character that could disarm a warhead with his pocket knife, dental floss and a toothbrush). The boat is fast to accelerate and decelerate, which is a small boat feel. This boat will reward handsomely the crew that cross-sheets the jib going upwind.
Downwind the boat scooted along but one must keep the boat up on its chine or it sticks to the water. The rep showed how proper crew position really influences performance downwind. Boat was moving at mid 8′s sailing VMG angles, I do wish we had a little more breeze to get the boat popped on plane.
The C&C 30 was sailed in 11 building to 20+. This boat has a more big boat feel. Most of this effect comes from the higher freeboard. Rig adjustments are done with a screw driver and wrench. I sailed the boat upwind in the big breeze and it the boat stayed near its polars through the building chop and went back up to speed by pressing on the jib slightly.
The downwind ride was something. In displacement mode keeping the boat on its leeward chine is important. The boat pops onto a plane around 15 knots. When the boat gets ready to pop her nose drops and when it starts rising the boat rapidly accelerates. We saw 20.5 knots of boat speed sailing angles between 150-155 degrees.
Both boats are quality builds. I have raced on custom boats from MORC 25 footers to TP 52′s and the 280 is the closest I will ever be able to affording a custom quality boat. Premier creates jigs (think this is the term) for pre-bending the foam before it is put in the build mould. Farr oversees the whole build process and specs all laminate schedules and resin amounts. Premier actually pre-measures the amount of resin to be used in each part.
So the big finish:
Both are great boats, but I prefer the 280 because I enjoy adjusting boats to make them go fast; in fact it is the learning how the boat communicates is what I find most interesting about racing.
October 22nd, 2014
A perfect sail last Sunday on Sydney Harbour in a 15-20kt NE went tits up when Fred and Cookies Flying Dutchmans mast went snap. It looked okay here, but clearly not so much here and then, well you know…Images by Michael Chittenden.
October 22nd, 2014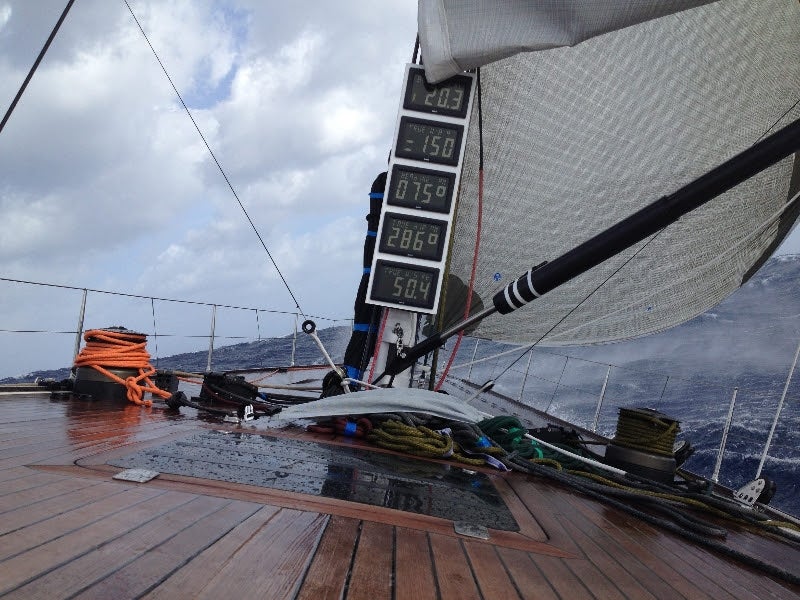 92 yachts are still racing in the Rolex Middle Sea Race. The expected frontal system arrived around Midnight last night at the northwest corner of the course. Reports of storm force winds and big seas have been received by the Race Committee and 25 yachts had officially retired from the race by 15:00 CET on Wednesday 22 October. The Race Committee has received no reports of any injuries to crew from the fleet. Pictured here is the Swan 82 Grey Goose.
Officially retired from the Rolex Middle Sea Race: Amapola, Aurora, Anouska, Azawak, Il Cavaliere, GYR Scarlet Oyster, Alcor V, Intuition Kabestan, Varuna, Walle G, Gordons, Lady Ruth ACR, Il Moro di Venezia XXVII, Unica, El Stan, Durlindana3, Ton Ton Kabestan, Salana, Mascalzone Latino, Magic Dragon, Little Emily, Gaetana, Zenhea Takesha, Manana and Stormy Weather of Cowes,
The yachts still racing cracked sheets last night, hitting the turbo, flying downwind at incredible speeds. It will be a blast on board, surfing down waves with the salt spray hissing at the rail and warm water breaking over the bows and cascading down the deck. This speed comes with a price, if the boat loses control or accelerates into the waves too fast, the loads involved can be too much resulting in damage. The saying; 'To finish first, first you must finish.' will be very much the mantra.
October 22nd, 2014
We're big fans of the high-performance luxury cruiser market, and if we had an extra 5 mil burning a hole in our pockets, we might just go with something just like this.  It's the record-smashing schooner Mari Cha IV – SA's all-time favorite offshore race boat, now in Amsterdam's Royal Huisman yard to be converted to Samurai, one of world's coolest cruisers.  The RH folks wouldn't tell us more about the new owners, though we hope they're schooner people and they keep the boats' distinctive rig (the rendering does not give us optimism on that note…we like ketches too?).
 We understand the boat will have a lifting keel instead of a canter for better port access, and you can read an update in the gorgeous e-zine Inhuis from the folks at Huisman.
October 21st, 2014
While the title of this piece may be an unavoidable paradox (like violent relaxation or crazy brilliant, both of which also can apply to most bowmen), one of the first-ever registered members of SA claims he has finally found the answer to the grumpy bowman with this technologically advanced, feature-rich foredeck hatch kite bag.  Who knows if he's selling them or not, though we can think of a thousand lazy-ass boat owners who want them to – check in with aA in the thread.
Anarchist 'Lex Teredo', clearly a bowman in recovery, has already responded, and he explains that Stanley hip flasks are all we need, and why everyone wants to kill everyone else on his boat.  It applies to many, many more.  From the thread.
Stanley: they want to help you do things right, but just in case that doesn't work, they want to help you forget.  Slug of
Pappy van Winkle, anyone?
* Near as I can tell, the guy on the helm is trying to kill the crew, preferably bowman first, but if we blow another ****ing mark, he'll settle for killing them in whatever order he can.  If the helm is bad, he will kill the crew on the other boat at the start first.  That's an infraction, and he'll have to do turns.  Goddamit!  What did I tell you about calling out lengths to the mark!
The trimmers are trying to kill everybody except the guy in the pit, because he brings them beer from the cooler – "Here, hold this jib sheet taught while I uncleat it.  That's it… hand right near the winch.  Oooh, sorry, I forgot to mention we were about to gybe.  Um, duck next time, 'kay?"
The guys on the rail just want to die if it's rough, and they just want to bang that hot chick on the other boat if it's nice and it's bikini weather.  It's probably giving them too much credit, though, to assume these inchoate longings occur at a conscious level; it's more like how starfish view the culinary world after it turns its stomach inside out and goes looking for some chow – it will settle for anything it can rest its stomach on.
The guy on the bow wants to kill everybody, himself first based on his utter disregard for established safety protocols. I have a soft spot for the bow workers. You know how firemen go running into a house on fire to rescue somebody?  Bowmen are like a neighborhood man who runs out of his house naked and into the nearby house on fire even before the firemen get there.  It's only to rescue his stash of vintage Juggs magazines, which his nextdoor neighbor Phil had borrowed, but you have to appreciate the dedication and single mindedness.
And the guy in the pit would just like to see some daylight and stand straight up for a change.  This is why most of your happier, higher quality pit men are blind hunchbacks.  They aren't much as conversationalists, but on the upside, they are great at pulling hard on ropes and can be trained to bring beer when you ring a ship's bell.
October 21st, 2014
So who can tell what happened here? A glimpse from  final event of the Seascape 18 Monocup series. Thanks to Anarchist Sawyer.
October 21st, 2014
Henry Bomby is blogging about the Volvo Ocean Race. And we're sharing…
Last week the race was all about VMG downwind sailing, with Dongfeng being the star performer. After DFRT took the lead, they shortly lost it again 36 hours later after hitting something in the water and losing their rudder. 2 hours later they were up and running again with the spare in. Impressive stuff. What I liked most about this video below is Charles', concise and clear leadership in the situation, made more impressive doing it in his second language. And how as soon as that rudder was back in, the main was being hoisted to get going in the right direction again, not a second was wasted.
Cape Verde's was the next obstacle and it looked like all the boats came out in the wash fairly even to how they came into it in terms of distance to finish. Crucially however they were set up East to West for very different approaches into the doldrums. The boats who went through the islands, Dongfeng, Mapfre and Vestas all struggled to make good value 'Westing' in after their passage through these remote, mid Atlantic islands. Therefore paying a higher price to get West than Abu Dhabi or Brunel who went West before them at a much better CMG (course made good). This meant that while it looked good initially for the southern trio, it was only ever a short term gain. Read on.
October 21st, 2014
SCOTW
Here's Amber from the Columbia Sailing Club in Columbia SC showing fine form during our Thursday evening Sunfish and Laser races this past summer.  We usually have about 20 boats sailing, and then have a casual supper, feeding twice that many.  Good times! – Anarchist Mark.
October 20th, 2014
AC Dope
We have it on good authority that the world's worst secret (as if the world gives a fuck), that the next America's Cup is indeed going to be held in the world's worst venue, San Diego. We've already said what a joke the tiny bay venue is, what a joke the little dago management hitlers are, and what a complete sell-out move this is for the AC, so there is little need to go over it again. At least for now.
But we are no longer surprised at anything the greedy power mongers do when it comes to ruining the AC. Don't be surprised if we continue to find this to be worthy of further commentary…
October 20th, 2014
If we were betting, we wouldn't bet against them….
Igor Simicic's maxi, Esimit Europa 2 is expected to finish the Rolex Middle Sea Race in the early hours of tomorrow morning. However the 100ft carbon fibre canting keel Maxi is under serious pressure to secure their fourth Line Honours victory in the race.
At dawn this morning, Niklas Zennstrom's Maxi 72, Ran V was just six miles behind Esimit Europa 2 at Pantelleria with 190 miles to go. Esimit Europa 2 is the quicker of the two yachts in a straight line but the wind is now directly behind the two yachts. To maintain the best speed to the finish, both yachts will be continuously gybing to maximise their VMG (Velocity Made Good).
In theory, Ran V is the quicker yacht in this 'short course' battle because the yacht is far more maneuverable than her bigger rival. What is more, this evening a substantial increase in wind speed is expected. This should arrive at Ran's position first, narrowing the gap on Esimit Europa 2.
October 20th, 2014
Royal Freshwater Bay Yacht Club 118th Opening day.  Plenty of Rule 10 action.  And one crash. Anarchist Poodle.
October 20th, 2014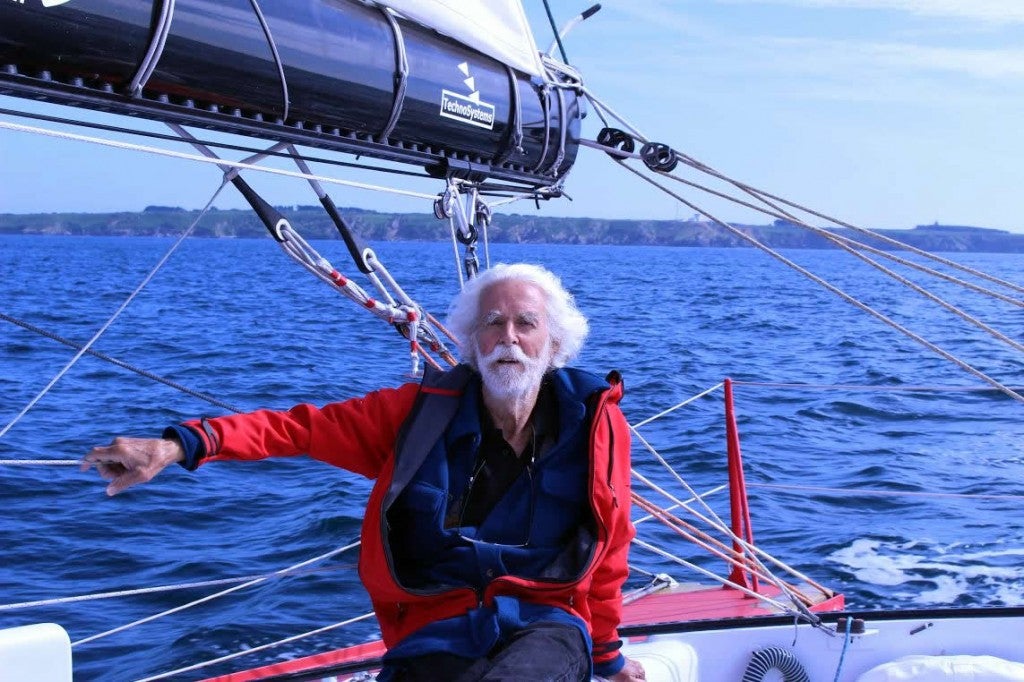 Lymington, England: Bill Green, San Francisco-born sailor, Navy jet jockey (not a lot of people know that); shrimp-boat hand (not a lot of people know that either); One Ton and Admiral's Cup winner and most latterly proprietor of Green Marine slipped quietly away from this life with – as was his final wish – no fuss or bother.
He is and will be mourned by his daughter Saskia, his son Pom, wife Susan, his immediate family and by a circle of friends as wide as the ripples of a lifetime of major contribution to yachting and international yacht racing can spread.
Bill Green was born in San Francisco, Calif, in 1937 and built his first boat at the age of 11. He arrived in England from the city of Kerouac, flower-power and all that went with it aboard George Kiskaddon's Spirit of San Francisco when European and English yachting were still hide-bound by tradition and white duck trousers but ready for change. Spirit and her bandana-wearing crew rocked the boat in more ways than one and her English season of 1967 is still spoken of with awe by those who were there – especially those who were downwind.
After a spell of international crewing, racing and running the world-girdling schooner 'New World' Bill returned to his native city and teamed-up with friend and fellow Californian Doug Peterson who needed help building a new boat to the then new IOR for the One Ton Cup. The boat was Ganbare. Ganbare won the North American One Ton championship of 1973 and then went to Sardinia for the One Ton Cup itself. They won the first four races but in the triple-scoring long offshore went round a mark the wrong way, were penalised and the One Ton Cup was won by the Dick Carter-designed Ydra. What Bill Green said to the navigator is not recorded but we may assume it was pithy and to the point.
Ganbare, Peterson and Bill Green seriously caught the attention of British boatbuilder Jeremy Rogers, who asked Green to join his company as consultant and help them build and campaign their own race boats. At a time when many British offshore racers still took pyjamas to sea, had sherry with supper and worked watches Bill Green's minimalist stay-awake-and-sail-the-boat approach coupled with an equally minimalist attitude to just how many winches and similar deck hardware was needed both changed perceptions and won races. Ganbare became the Peterson 35, went into production with Rogers and in 1974 the 'works' Peterson 35, Gumboots, won the One Ton Cup, giving Bill his revenge. It also cemented the association with Rogers and with Lymington.
In the 'Seventies there were only two match race competitions in the world: the America's Cup and the Congressional Cup in Long Beach California. Bill Green persuaded the local Royal Lymington Yacht Club to stage a similar series, called originally the Lymington Congressional Cup, eventually the Royal Lymington Cup. Imitated elsewhere, it was the foundation of what is still the world match racing circuit.
In the early Eighties Bill with the technically brilliant Ian King (another Rogers employee) and their wives Elsa and Dianne founded Green Marine, the four together building a company which quickly became a world leader in advanced composite construction. Green Marine's output ranged from lifeboats and military craft to mega-yachts, America's Cup boats and Whitbread and then Volvo round-the-world racers.
Away from boats and boat-building Bill Green was a latter-day Renaissance man with a wide range of knowledge and interests from Mozart and opera to good food and cycling. His collection of state-of-the-art road and race bikes is the stuff of legend.
There will be a private family cremation on Thursday but on November 22nd those who sailed with, loved or whose lives were enriched by this extraordinary sailor, boat-builder, businessman and polymath are invited to gather in Lymington to raise a glass or two, swap stories about him or just simply reminisce in a very Bill Green way: roasting some meat, listening to some music, drinking some rum.
His family are keen to collect stories about Bill. Please mail your own reminiscences to memoriesofbillgreen@gmail.com. If you would like to attend the gathering please e-mail for details. — Malcolm McKeag.
October 20th, 2014
In a world of mega yachts and billionaires, this anarchist parked his gem right in the front row of ground zero at the Bahia Mar. – Anarchist Brandon. Title inspiration thanks to Body Count.
October 19th, 2014
Mikkel Anthonisen – dedicated doctor, dad and anarchist reporting. Their MS-crewed Challenge 67 "Oceans of Hope" is parked at the Shipyard in Newport right now undergoing some well-deserved TLC, while he is at home in Denmark with his wife and three kids for some of the same!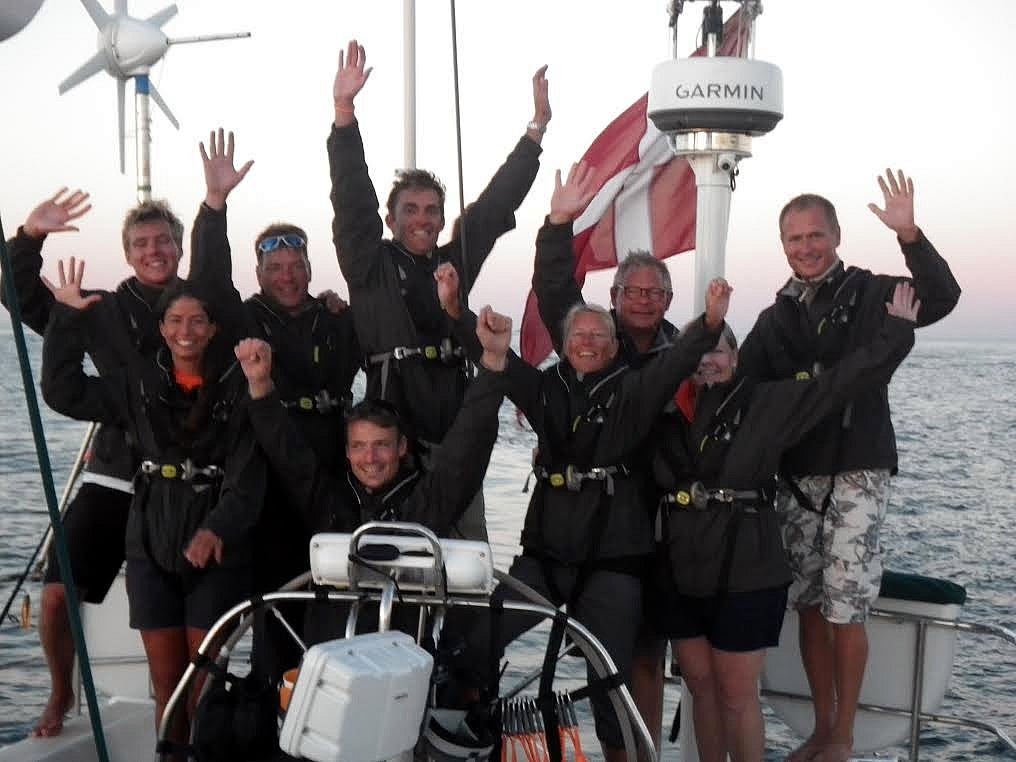 Our circumnavigation to change the perceptions of Multiple Sclerosis and to inspire those who live with MS is going from strength to strength with each passage and every stopover. After an adventure-filled, Dorado-catching transatlantic crossing, we arrived in Boston early September in time to be the centerpiece of the MS Boston 2014 conference being hosted there – an annual gathering of experts and advocacy groups.
The Sailing Sclerosis Foundation and our project Oceans of Hope was invited to open the conference showing a video of our crossing and telling about the project. The crew were given a standing ovation by the 9,000 delegates present. This was really the culmination of many months of hard work – and proof that we are doing something that matters to a lot of people.
The journey since leaving Copenhagen in mid-June this year has indeed been changing the perception of MS. The MS crew on board feel like they have recaptured their identity. Many people living with a chronic disease like MS experience a life not only in fear but also in shame. However irrational, feeling embarrassed is a normal consequence of being diagnosed with MS. Oceans of Hope wants to heal some of the wounds by helping these people to get back in life, to stand up as they are and take pride in what they are doing. Out there in the middle of the ocean we are all very small and vulnerable. We are all imperfect. But we need each other and everybody is good enough and definitely worthy of love and belonging.
I think this is the message that had all the delegates stand up and applaud at the opening of the conference. This is the very same motivation that makes these doctors, nurses and scientists get up in the morning and go to work. This is the kind of society we probably all want to live in. A society where we care about each other and where people are included with the resources they have.
During our week long stay in Boston we managed to take some 30 local MS patients out sailing in Boston Harbor – a feature of all our many ports of call to create a network between the sailing world and the MS world. We also enjoyed a few Maine Lobsters in the cockpit as a send-off meal hosted by our MS Transat crew.
We will set sail from Newport on October 22nd with a new international MS crew, including some Americans to help with Homeland Security, and our next big stopover will be in the Big Apple itself November 11th-16th. We will be berthed at North Cove Marina where the Manhattan YC is providing us with their fabulous floating clubhouse to shelter from the autumn weather. Any anarchists that live with MS, or know someone who does, can come out for a sail with us. Sailing days are scheduled for November 14th and 15th with two sails per day – apply directly to us at sailingdays@sailingsclerosis.com
If you live with MS and read this and then think: "No, I can´t do something like that". It´s ok, and maybe you are right. But do me a favor: Show up anyway. You might be surprised. And if not: At least you tried. And you will still be one of us!
October 19th, 2014
By Midnight virtually the entire fleet racing in the Rolex Middle Sea Race had passed through the Straits of Messina, heading for Stromboli, the active volcano that marks the most northerly part of the 608 mile course. As high pressure moved in from the north, the area around Stromboli had virtually no gradient wind and for those yachts yet to reach Stromboli, a south flowing current has slowed proceedings even further. For the competitive offshore yacht racer, performing well in light wind is more difficult than blasting through a storm at top speed.
After two nights at sea, the crew may well be at their lowest energy level for the whole race. The rhythm of offshore life has not been established and the ever changing wind saps energy through numerous sail changes. Concentration also becomes difficult. After the excitement of the start adrenalin levels are now lower and keeping alert is not as easy. In light airs, losing focus on the helm, or on the sail trim, can be very costly and stalling the boat in little wind makes it difficult to get going again.
At sunset on Day Two Line Honours favourite, Igor Simcic's Maxi, Esimit Europa 2, entered a transition zone in the wind and came to a virtual standstill until dawn. This allowed the duelling pair of Maxi 72s to close the gap. Niklas Zennstrom's Swedish JV72, Ran V and George Sakellaris' RP72, Shockwave are now just ten miles behind, Esimit Europa 2. Ran V is now the provisional leader of IRC 1.
October 19th, 2014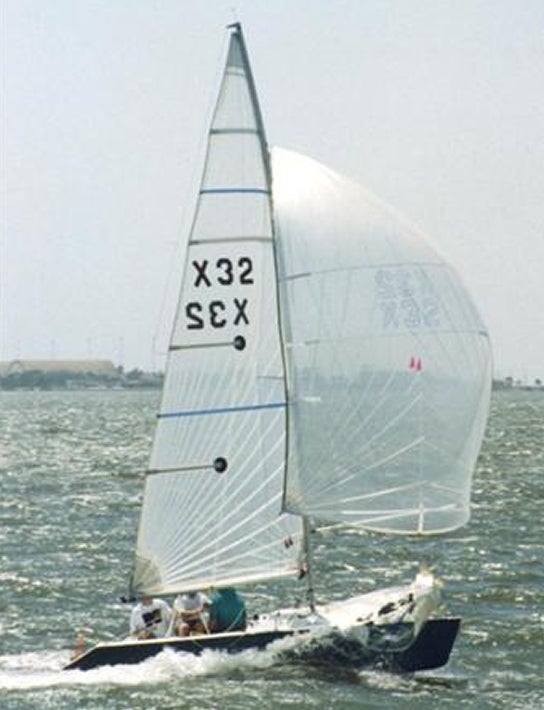 Funny sail number from the old SR Max days, thanks to Anarchist Frank. Got a pic of a funny sail number?
October 19th, 2014
You guys always know everything, all the time, right? And in a brave new world of seemingly nothing but mulihulls, all the time, of every size, shape, purpose and price point, here then is a new one.
Do you know what it be?
October 19th, 2014