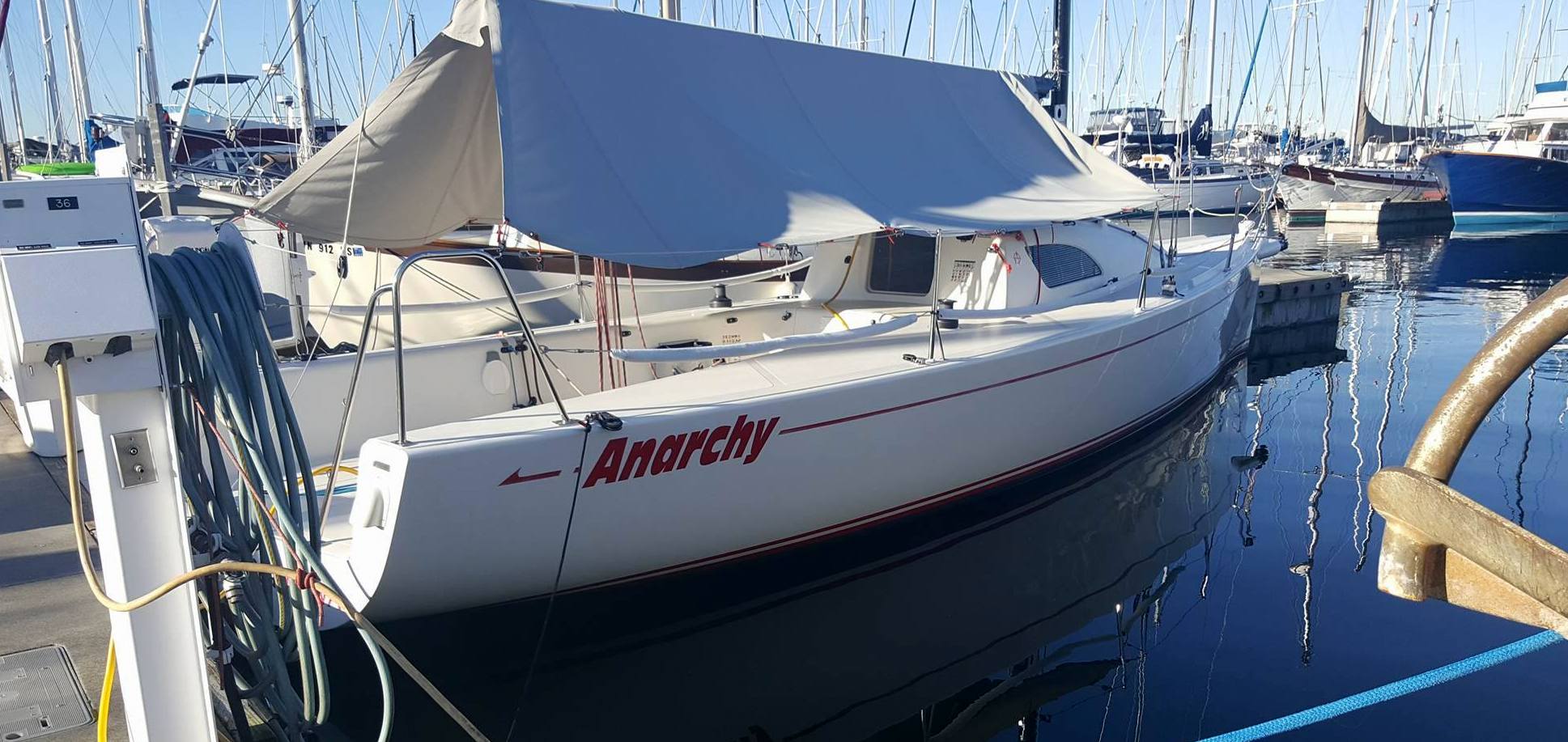 So you decide to buy a used FT 10 from the second owner of the boat. The boat you bought was named "Rode Hard and Put Away Wet" or something like that. Before it was named that, the original owner named  it "Anarchy." The reason why it was named Anarchy is obvious to anyone who races.  You are fully aware that you had nothing to do with the boat when it was called Anarchy. You are also fully aware that you had nothing to do with Sailing Anarchy. You also know that the original owner of Anarchy, now has a new boat that he has named…Anarchy.
So what do you do? You name it Anarchy again. Were all the other boat names taken?
January 14th, 2017
I remember as a kid trying to get my friends to like sailing. "It's boring," they told me. "Nothing ever happens." And you know they were probably right. I loved sailing, but sailing was kind of boring back then. Boring no more. Just step back and take a look at our sport today. Flying boats competing for the America's Cup. One man sailing single-handed around the world, non-stop, on a 100-foot trimaran and smashing over eight days off the record. The amazing footage that was sent back from the boats in the last Volvo Ocean Race and now this; the trimaran IDEC smashing old records and setting new ones on their utterly epic record breaking circumnavigation while further to the north you have two of the most experienced sailors in the world playing a cat-and-mouse game as their Vendée Globe circumnavigation enters the final stages. Wow – and wow again. Boring no more.
Let's take a look at the Vendée Globe. At the front of the fleet you have the Boss and the Jackal. In the last two editions of the Vendée French sailor Armel Le Cléac'h finished second. In the last Vendée Globe British sailor Alex Thomson on Hugo Boss finished third. Barring some lurking container with their name on it, one of them is going to win this race. I am rooting for Alex but Mr Le Cléac'h has sailed an impeccable race and deserves to win. They have entertained us with their skill, humor and a match-race that has yet to play itself out. As of writing Le Cléac'h has 2,170 miles to go to the finish in France and Alex trails him by 216 miles. At one point Hugo Boss was over 500 miles astern and as recently as this past Monday he had caught up to just 67 miles behind. They each compress and extend as the fickle breeze in the North Atlantic favors one, then the other. They are both facing a complex weather patters ahead as they negotiate the Azores High, and then they will ride a fresh winter gale back into Les Sables-d'Olonne. Anything can happen. Just ask Mike Golding who dropped his keel 50 miles from the finish of the 2004/5 Vendée. Through some extraordinary seamanship and careful sailing he managed to get his keelless boat across the line to finish third.
Now to IDEC. It's hard to not overstate things when describing what an amazing performance they have turned out so far. A new record for the fastest time from the start to the equator. A new record from the start to the Cape of Good Hope. A new record from there to Cape Leeuwin in Australia and now a new record from Tasmania across the Pacific to Cape Horn. Plus the biggest accomplishment to date; the fastest time of any boat ever from the start in France to Cape Horn which they passed early this morning. Their time was 26 days, 15 hours and 45 minutes. A full four plus days faster than the previous record set by Banque Populaire V. Incroyable doesn't come close to describing things. Don't worry I will think of something better to describe their accomplishment before they close the loop back in France later this month. For now let's just wish them a safe and speedy passage up the Atlantic.
While I am on a roll of amazing accomplishments let's not forget that the 100-foot Super-Maxi Perpetual Loyal was not only the first to finish the recent Sydney to Hobart Race, but they smashed the course record by just under five hours. 4 hours, 51 minutes and 52 seconds to be exact. Over the last few decades so much money has been thrown at trying to win that race and set a new record and I am sure there will be plenty more spent in the future, but let's congratulate the crew of Perpetual Loyal and let them bask in their achievement.
And last but not least. When the heck did this ever happen? On Monday the entries for the 2017 Fastnet Race opened; and closed 4 minutes and 24 seconds later having filled all the 340 slots. For a sailboat race? Amazing. Well it's an exciting start to 2017 and I can't wait see what the future holds for our fantastic sport. – Brian Hancock
January 14th, 2017
At the end of the day, this sport is really about the next generation. Here is a great opportunity to pay if forward. Click to get to their gofundme page and make it happen! Nice video work from Justin Edelman.
Title inspiration stolen from the lyrics in this awesome Sublime song.
January 12th, 2017
The first annual U.S. J/70 Youth Championship will take place concurrent with the J/FEST New England Regatta from August 11th to 13th. The event will be hosted by the famous crew at SAIL NEWPORT, Newport, Rhode Island and hosted at their extraordinary facility at Fort Adams State Park.
The goal of this event is to help develop and build leading-edge junior keelboat sailing programs across America. The winning club of this event will get "free" usage of fully equipped International J/70 one-design class sailboat, with sails and trailer, provided "free of charge" by J/Boats, to the winning club and its membership for twelve months.
The U.S. J/70 Youth Championship (USJCA) is open to ten (10) Youth Teams representing US Sailing recognized Sailing Clubs or Organizations. Sailing clubs may enter more than one youth team per event, but may only qualify one team for the USJCA championship in Newport, RI.
The 10 Youth Teams will compete on ten brand new J/70 Class sailboats with class sails (main, jib, spinnaker) that comply with J/70 Class rules. The boats will be identically rigged and tuned at "base settings" that are recommended by the sailmaker.
In order to qualify for the ten slots, youth teams must qualify for entry by being the top scoring Youth Team in the J/70 Class at one of the following Regattas:
Feb 24-26 J/70 Midwinters St. Petersburg
Mar 09-11 Bacardi Miami Sailing Week
Mar 17-19 San Diego NOOD
Apr 20-23 Charleston Race Week
May 05-07 Annapolis NOOD
Jun 03-04 J/70 Great Lakes at Cleveland Race Week
Jun 03-04 Cedar Point (CT) One Design Regatta
Jun 09-11 Chicago NOOD
Jul 15-16 St. Francis YC Sportboat Regatta
Jul 27-30 Marblehead NOOD
Here is the USJYC Notice of Race. For more U.S. J/70 Youth Championship information, please contact J/Boats at  or refer to the  website. Photo thanks to Phil Pape.
January 12th, 2017
Remember this thing? Isn't it amazing how rapidly the foiling phenomenon has advanced beyond this? Thanks to Will Suto.
January 12th, 2017
SORC once again delivers on one of the quickest races in the land, this time, a recordbreaker.  From Chris Woolsey (and go here for more great photos from Marco Oquendo and the SORC media team):
Every so often, the weather gods deliver the famous conditions that bring people back to the Ft. Lauderdale to Key West Race year after year after year. For starters, winter storms up north usually have folks looking to points south by the time the new year rolls around. South Florida and the warm waters of the Gulfstream always provide a welcome place to thaw out. Couple that with the South Florida winter cold front cycle of a new blast of NE breeze every few days, which allow high speeds on nice waves down and around the bend of the Florida Keys to the Happy Place known as Key West, and you have a recipe for something more fun than shoveling snow and crossing items off of the honey-do list.
So it goes to figure that those blasting conditions would coincide with the race date roughly every other year, delivering racers to Key West overnight as quickly as (I Dream of) Jeannie can fold her arms, blink and say "Pepe's!" As is sometimes the case, those conditions were a bit overdue, with the last all-out downwind romp coming in 2007. Those who made it for the 2017 running, hosted as always by Lauderdale Yacht Club and Storm Trysail Club, finally got a treat.
As a result, David and Peter Askew, and their all-star crew (including AC legend Marco Constant, Star world champ Phil Trinter, Artie Means, Ralf Steitz, Chris Larson, and half the Alvimedica VOR team) on the Reichel Pugh 74 Wizard romped across the finish line in record time, and pushed Carrera's 2005 monohull record run to second-best by a few minutes. Jason Carroll's warhorse Gunboat 62 "Elvis", with Anderson Reggio navigating, crossed a few minutes later to take the overall quickest time (thanks to a later multihull class start), but never threatened Stars & Stripes record pace of last century. The happy crew revelled in letting the big cat get out and really stretch her legs in the fresh conditions.
The rest of the fleet is still rolling in and we may yet see some surprises in the results. Hook in, hold on and stand by.
January 12th, 2017
The 2017 Fastnet Race 'sold out' in less than 5 minutes, around 20% of the time it took last time round. Perhaps the yachting authorities should take note, wonder why, and look at their own programmes.
It is no exaggeration that yacht racing is dominated by the dreaded (OK – just my opinion) windward leeward these days. Boats climb, sometimes laboriously to the top mark, hoist kites and trundle, surf or plane on pre-determined angles, gybe at just the right place, get back down to the bottom just to go through the whole process once again where they will repeat the same angles, often gybing in a place so similar that if they lost a man overboard they could just pick him up on the next lap. (Yawn)
Whatever happened to the good old (OK old fashioned) proper round the cans type racing where the next mark might be a navigation marker on a course of 120 degrees to the wind instead of the same old boring 180.
Virtually every regatta here in China seems stuck with the straight up/straight down formula which, frankly, gets a bit boring pretty quickly. I hear that many regattas globally follow exactly the same format. There is no seat of the pants decision, no need for the skipper or navigator to work things out or make decisions other than do we bear away or gybe set, never a discussion whether it should be the A2,A3 or A4 that shoots up the mast
Surely there is a good reason why regattas and events like the Fastnet, Cowes Week, the Sydney Hobart, Hamilton Island Race Week and so on are so popular. Their corners aren't just turn round and go back the way you came, crews have to think a little more and heaven forbid, they might even needed a wider skill set – or more practice – to actually do well.
Could indeed the windward leeward be a significant  reason that in many developed sailing nations participation is falling and not rising.
I am open to be criticised, disagree'd with and perhaps even vilified by the sports boat crowd for even suggesting this or are there other sailors out there who get bored by seeing the same ocean 2 or 3 times a race multiplied by 3 or 4 races a day. – Shanghai Sailor.
January 11th, 2017
Big Pimpin'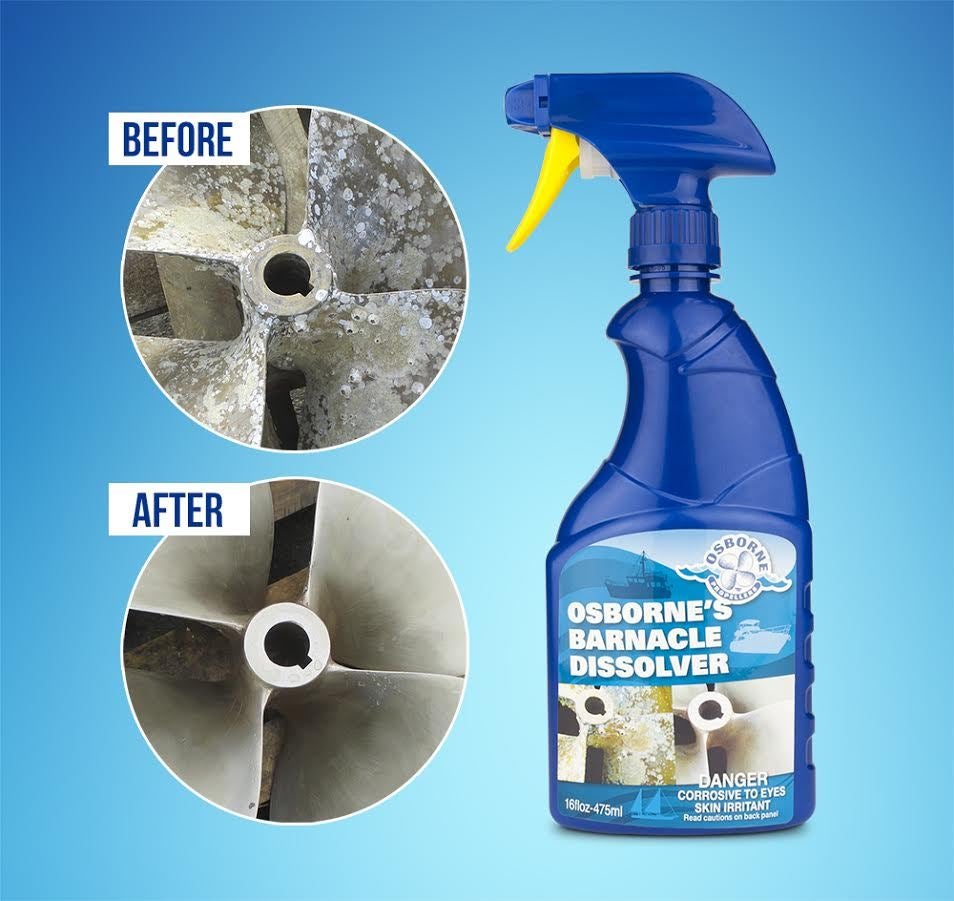 Barnacle Dissolver from PYI Inc. provides boaters with a DIY friendly solution for removing marine growth on their propellers and other running gear. Fouled running gear can negatively affect your boating experience through lower boat speeds as well as increased fuel consumption.
In the past, methods for growth removal have included the use of power tools and acids. With power tools you can run the risk of damaging the propeller by removing too much material, which could result in added vibration from an out of balance propeller. Acids, although they work very well, are not known to be very user or environmentally friendly.
With the introduction of Barnacle Dissolver, maintaining you running gear has never been easier. Barnacle Dissolver uses an organic salt compound to help release the grip of the barnacle or other growth making it easier to scrape and rinse away.
After the growth has been removed, with an additional coat of Barnacle Dissolver along with the use of an abrasive cloth (such as Scotch Brite) you will be left with a clean polished surface and very little mess to clean up.
January 11th, 2017
With Twin Peaks (one of the ultimate cult favorite TV shows) set to return this spring after something like a 50-year hiatus, our brains were already tuned to the word "Peak".  Fortunate that a sailing documentary popped up the other day with just one more peak…and a great cast of its own.
Dee Caffari stars as the celebrity with a target on her back in the Barmouth to Fort William Three Peaks Yacht Race – an event that includes both crewed racing and back country runs up some of the UK's biggest peaks.  Enjoy this rare gem of a sailing documentary that looks good, tells a great story, and helps us get to know the characters in a quirky place and a quirky race.  Sign up for the 2017 event here.
January 11th, 2017
20 M32 teams went through an entire high-pressure season of big wind sailing on the World Match Racing Tour without a single dismasting, but that didn't mean shit to mother nature in Miami as she took two rigs down in the space of 6 seconds; Petey Crawford got some good video and pics of the event here, and be sure to follow his FB page for coverage of everything Miami this winter.  Rick DeVos took M32 Miami Event # 1 over Don Wilson…
Title rip to one of the best NSFW songs ever for the racially challenged.
January 11th, 2017