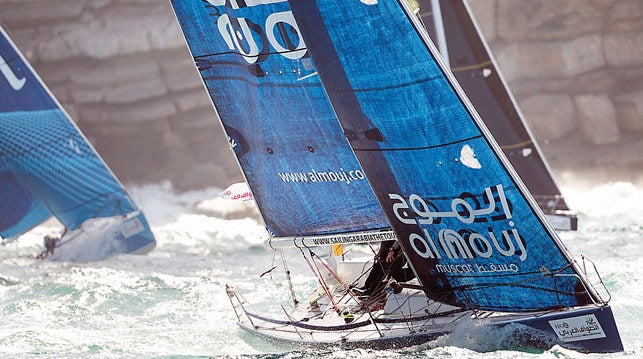 Exhausted but still buzzing after racing 150nm down the stunning coastlines of Oman and the UAE, Caterina Nitto is enjoying some downtime at the halfway point of EFG Sailing Arabia – The Tour. With a day to spare before the action kicks off again, the Italian sailor finds herself at Abu Dhabi's Sheikh Zayed Grand Mosque. Tranquil and serene, it's a world away from her busy life as a professional sailor – perfect place to reflect on the first few legs of a unique regatta.
'The best thing about this race is the mix of cultures and religions, and the adventure,' she says. 'We might all be from different backgrounds but we share the same passion for sailing.'
One week in and Nitto is fast discovering the ethos of EFG Sailing Arabia – The Tour: five offshore legs totalling 763 miles raced on identical Farr 30s around the Arabian Gulf, offering thrilling competition for the international crews while showcasing the very best of the region.
Nitto's Sardinian Adelasia di Torres team, owned by Renato Azara, was among a fleet of eight international teams that set out this year from Oman's capital city Muscat, heading north to pitstops in Sohar then Khasab on the stunning Musandam Peninsula. From there it was south to Abu Dhabi before the two longest legs to Doha in Qatar then returning to Dubai, with three rounds of inshore racing thrown in to spice up the mix. – Read on.
April 18th, 2017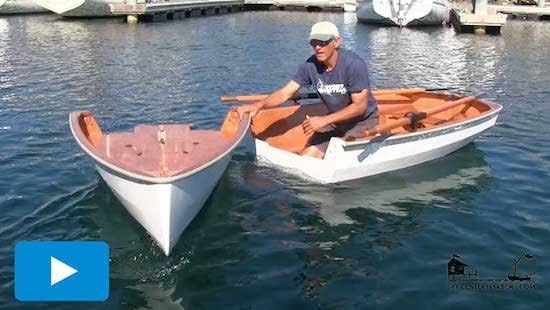 If there's such a thing as the perfect dinghy, the super-fast and seaworthy PT-11 might just be it. You can click here to see the PT-11 in action — sailing, rowing, and nesting — in this new video from OffCenterHarbor.com.
Designer Russell Brown is no stranger to high speed under sail. He spent years living aboard proas that he built for cruising above 15 knots – from the East Coast of the U.S. all the way to Australia.
April 17th, 2017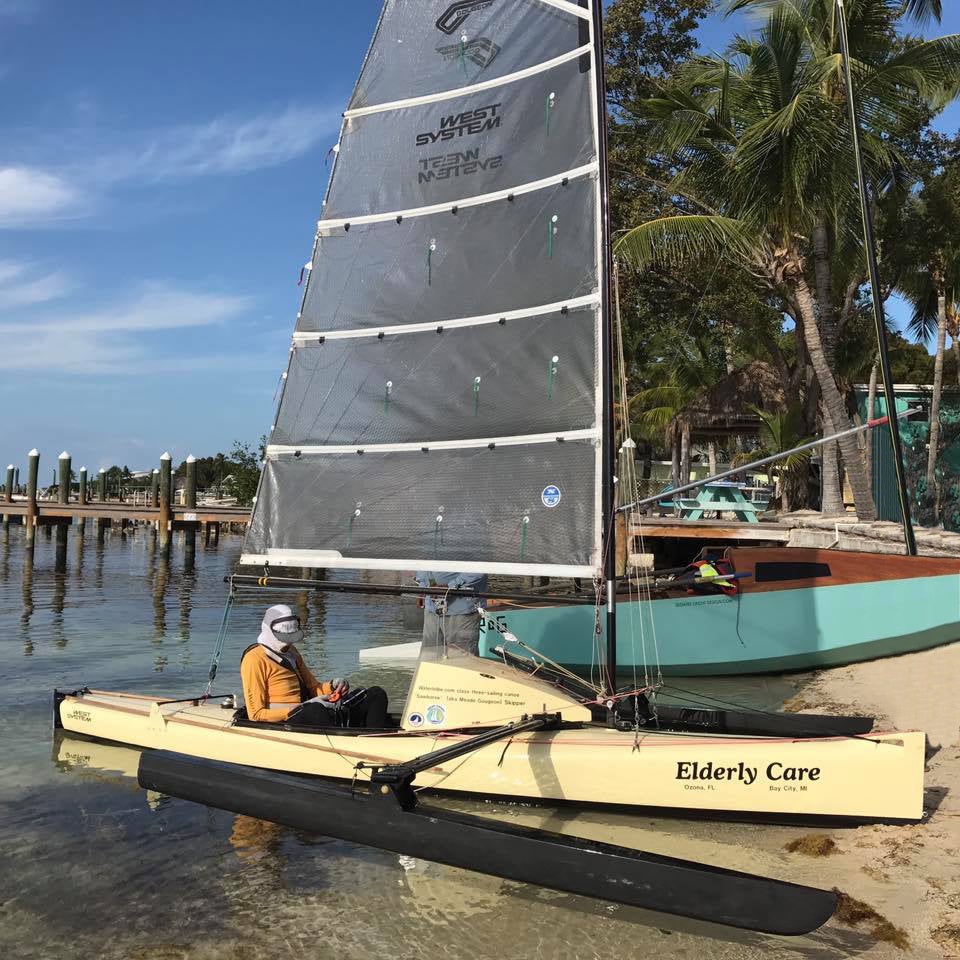 UPDATE: We just got word from Meade this morning that based on the EC's "unusual start" this year, his time has just been corrected to put him at second place in Class 3.
Meade Gougeon, aboard his outrigger sail canoe ELDERLY CARE, placed first in his class in the Everglades Challenge on March 10, 2017.
The 2017 Everglades Challenge may have been the toughest in 15 years. Gougeon described it as "Three days of high winds, headwinds, and rough seas. It was wet and bumpy." More than half of the 108-boat fleet dropped out, with just 51 entrants making it across the finish line ahead of the 8-day time limit.
The grueling 300-mile race is sponsored by the Watertribe organization, and forbids the use of motors. All race vessels must be either wind or human-powered. Competing boats must be entirely self-sufficient, carrying their own safety gear, food, and water which may be supplemented only by what racers can buy along the way. Support crews are not allowed.
Gougeon finished first in Class 3-Sailing Canoes. He placed fifth among the singlehanded racers and was 13th to finish overall. At age 78, he was also the oldest challenger to finish the race. Everyone who enters the Everglades Challenge must take a tribal name. Meade's is "Sawhorse."
To qualify for the Sailing Canoe class, a vessel must be narrow enough to fit up a creek. The 15′ ELDERLY CARE is stabilized with outriggers that can be easily removed and stowed. It features a comfortable chair which reclines into a bed. The boat also has a built-in tent arrangement that provides shelter from the elements and for sleeping.
"The boat saved my bacon in a whole lot of ways," Gougeon said. These included the tent setup. He hauled ELDERLY CARE ashore at dusk each night and slept under the boat's tent, getting back in the water around 7:00 AM.
"The boat is so fast that it allowed me enough time to sleep. My competitors would pass me in the night, but I'd catch up and pass them in the daytime. At the end of the race, I wasn't sleep deprived like the rest of the finishers," Gougeon said.
Gougeon is the founder of Gougeon Brothers, Inc., manufacturer or WEST SYSTEM and PRO-SET Epoxies in Bay City, Michigan. He has competed in The Everglades Challenge most years since 2010, and also placed first in his class in 2014. Photo thanks to Paula Martel.
April 17th, 2017
FOMO Les Voiles de St Barth 2017 from Ocean Images on Vimeo.
One of the great things about having more money than god is that you can have a bunch of cool boats, race all over the world, and have professional photos and videos made. Damn you Lloyd!
Oh and if you want to hear the original version of the sound track on this video, here it is.
Baking soda, he's got baking soda.
April 16th, 2017
 The first edition of Charleston's Fort 2 Battery looked more like a back-alley drug deal than a sailing race. Last-second registrations, lots of confusion, and competitors being distributed "race packs" in overstuffed brown paper bags late at night in the alley behind a downtown Charleston building…
In just three years since the race became the biggest of its type in the hemisphere; it was the first to use chip timing (which captured a .005 second split between the 2nd and 3rd place finishers in 2016), it was the first to provide prize money for the winner, and it led to the spinoff Foil Mania regatta – the first ever to pit foiling kites vs. moths, course racing from the same starting line.  And of course, it's the first to offer a genuine Professional Wrestling Championship Belt as the overall prize! James Island Yacht Club has come along and helped class-up the operation, but fortunately not beyond a 'weekend at the motorcycle track' vibe.  Their welcoming atmosphere is more  'go'n getcha brother a corn dog!' than anything remotely yachtie.
The best Sailing Club in Charleston has stepped it up once again for 2017. On April 29 the college bowl atmosphere among the spectators will be bigger than ever; the competition ain't just on the water – it's at the club, and anyone coming down will be treated to a perfect front-row seat to the mayhem on the Harbor and at the JIYC Barbecue Championship1.  If you think you've seen a "Race back to the dock" before, just wait until these foiling craft pick up the scent of that sweet, sweet swine.  Just like 2016, you can watch Mr. Clean's pre-race beach walk and the whole race LIVE on Sailing Anarchy from around 1pm, with the race start targeted for 2:00.
Last year saw slalom racing on Friday which continues again, and the Intercontinental FOIL MANIA Championship Belt will be on the line through the weekend as the Foiling craft slug it out in a more traditional regatta format. Registration is on pace for another record attendance, and this year could even see an E-Scow or two looking for glory in the "floating boat" grouping. We've seen the Mighty Hobie 20's smoke the E's on a circle track, but it will be interesting should it become a VMG downwind race. Will they show? Or are they allergic to corn dogs?  Find out on April 29 right here on Anarchy.
Gill North America and Charleston's Holy City Helicopters who have both been on board since day 1 will be on hand to keep Fort 2 Battery racers looking sharp. The new Kite-Foil One Design Class CR:X will even be there which allows racers to fly in with a backpack, charter gear and be part of the big weekend! April sure delivers in Charleston with the biggest regatta- Sperry's Charleston Race Week just the weekend before.
With Foil Mania, Fort 2 Battery and a BBQ contest, you can bet this version of Charleston's most exciting race will be "Good enough to slap yo' mamma!"
Relive last year's excitement with the Rev's Penalty Box edit of the 2016 Fort 2 Battery.  Register Here. And if you like our promo poster, there's more pics of that photo shoot over here.
-Tim Fitz, Founder, F2B
April 15th, 2017
Big Pimpin'
Those legendary Gunboat regatta-and-party reports may have disappeared for a couple of years, but with this video about the luxury multihull class at the BVI Spring Regatta (and their takeover of the legendary Willy T for some all-day Gunboat debauchery), it looks like they're back with a vengeance.  Full race report coming next week, and pics and words over at Facebook.
April 15th, 2017
It was great to get an update from Phil Sharp on Imerys and his drive to win the Classe 40 Championship, but what about the future for the charismatic Brit?  Hit this 17-minute audio interview on Soundcloud about Sharp's Vendee Globe aspirations, the pros and cons of hydrogen/fuel cell technology, which historical figure he'd most like to sail around the world with, and more.
One issue with Sharp's claimed goal to be the first to race around the world with zero carbon fuels: Didn't Conrad already win that battle?
April 15th, 2017
Arena sailing comes to the AC? Not quite as lame as that, but this is close. And it sure ain't F1, is it? And do you think security is going to let those ne'er do wells loiter in front for free? The suckers in the stands ponying up the $70 bucks per won't think that's so cool.
But speaking of cool, according to the PR accompanying this rendering; The racing that will take place in front of the Grandstand will feature the fastest boats in America's Cup history, raced by supreme athletes, battling it out for the oldest trophy in international sport.
Fastest in history? Did they forget these?
April 14th, 2017
World Sailing – which is the governing body for all competitors in our sport, whether we like it or not has 5 "special" events.
Those are the America's Cup, Extreme Sailing Series, the World Match Race Tour, the Volvo Ocean Race and some Windsurfing event. Sorry, I don't know what that event is as it holds no interest for me.
So, bearing that in mind, and with AC, ESS & WMRT already on 2 hulls, if the Volvo Ocean Race selects a multihull for 2020 then the closest World Sailing special event to what the majority of sailors do (sail monohulls) will be an air-rowing, sorry –  windsurfing event which many sailors don't even consider sailing anyway.
At least in Formula One Grand Prix the race cars and road cars have the same number of wheels. – Shanghai Sailor.
April 14th, 2017
We have always admired Phil Sharp's adventures. Here is his latest update:
On the performance side we have made some fairly major changes to rigging configuration for this year. We have changed the furling J1 and J2 to hanks, i.e. for both stays. Lots of people think I'm mad, and yes it is going to be a lot more work, but I like the idea of being able to stack the J1 at the back of the boat for a long downwind race like the TJV. Particularly as this season is double-handed so there will be another pair of hands. Also, if you damage the jib, you can actually take it down and repair it. Big plus point for ocean racing! For a hanked J2, there is the advantage of being able to reef it rather than go straight to the storm jib.
Lastly, we changed quite a few of the deck fittings to reduce friction, as putting a reef in was a full-on workout, and took twice as long as it should have. That should mean we can be more adaptable to the wind changes and reef / unreef sooner.
2017 Class 40 Championship races we'll be entering:
29 April – 2 May 2017 : Grand Prix Guyader
14 – 21 May 2017 : Normandy Channel Race (Caen-Fastnet-Caen)
2 – 24 Juy 2017 : Les Sables – Horta – Les Sables
6 – 11 August 2017 : Rolex Fastnet Race
5 – 30 November 2017 : Transat Jacques Vabre
April 14th, 2017