Update: This rudder is on the J/70 skippered by Bennett Greenwald with tactician Jeff Madragali. We hear there are claims that this was their "practice rudder". Really? Practice for what, cheating? Who in the hell is going to fall for that?
Among other questions, who ordered it, who built it, why was it ordered and built, and how many others have one? This is going to be a beauty. Stay tuned….
When a boat broke their rudder practicing a couple weeks before J/70 Worlds, it revealed something slightly outside Class Rules – carbon fiber!  Wanna know who it was?  Check in tomorrow morning for that juicy tidbit and the full breakdown of the regatta after two days from our own Mr. Clean, currently lying 19th out of 86 boats after 3 aboard B Squared.   Paul Todd's shooting some of his best small-boat work yet (though clearly he didn't shoot this rudder) – galleries here.  NOTE: This article corrects the previous version, which stated that the rudder broke a week before Worlds rather than more than two weeks before worlds.
September 10th, 2014
Points for originality, right?
September 9th, 2014
We have always thought that Team SCA was a bit removed from transparency – an oddly closed team that doesn't say too much, but maybe, based on their statement below,  we can see why. No clear, established skipper/leader is not how you win, and only one reason why they won't…
Team SCA has, from the start, eschewed the normal well-worn path of establishing a team behind the figure of a skipper.  For them, each member of the 14-strong squad is as important in the team.  In complying with tradition, Sam Davies (GBR) was formally named as the Person in Charge (skipper).  However, the reality is that it will take a crew of eleven women to sail a Volvo Ocean 65, not just one as each of them is an essential part of the team – whether they are trimming, helming, on the bow, in the pit or navigating. 
September 9th, 2014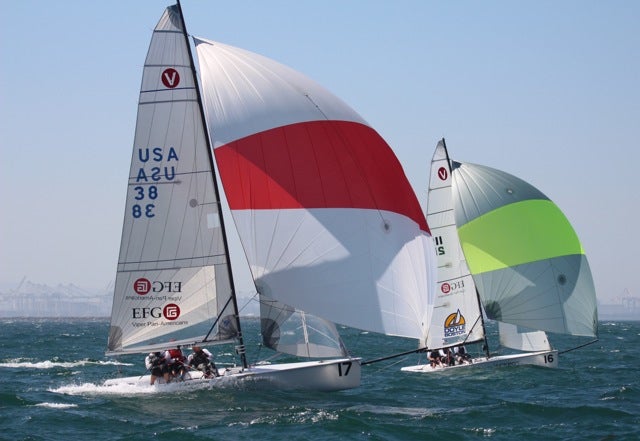 Pistols at dawn.  Chevys at Daytona. Vipers off Long Beach.  Pick your dueling weapons carefully, and watch out for the quick draw artists, a/k/a wily class veterans.  Heading into the final day of the Viper 640 North Americans at Alamitos Bay Yacht Club, the title looked to be class newcomer Jeff Grange's for the taking.  The yellow boat from Santa Barbara had led wire-to-wire through the first 11 races of the windy event, showing particular speed when the breeze came up after high noon.  However, the standings were close, with local Kevin Taugher and three-time champ Brad Boston narrowing the gap each day to trail by only four points.  The past champ from Sarnia, Ontario threw down the gauntlet in the day's first race.
Despite being over early in Race 12, Boston with ace crews Curtis Florence and Chad Corning were able to restart and get to the favored right side, grinding through the fleet to win the race.  When Grange and crew Tedd White and Chris Parker had spinnaker trouble that dropped them to ninth, Boston grabbed the lead.  With two races to go, a building southwester, and building swell in the face of Hurricane Norbert coming up the coast, the final two races saw the leaders eye to eye, with none of the three teams blinking.  Boston took no prisoners in Race 13, taking another bullet while putting one in the chances of the two Californians to keep the class title on the west coast for the first time.
Needing only a fifth in the 14th and final race, Boston and crew felt the heat, rounding the windward mark in that position with the Californians planing away at 15+ knots.  The champs slowly ground it back to a podium spot, and when Taugher nipped Grange at the finish line, the team aboard Hot Mess clinched second by a single point.  Final results at  and more photos from Bronny Daniels.
September 9th, 2014
We're fortunate to have made some very intelligent friends over the decade or so we've been working for Sailing Anarchy, and when they ask us serious questions about our reporting, we listen.  So when we  got an email a couple of months ago about the tone of some of our America's Cup editorials from one of the top people at a highly respected team, our ears perked up – partly because this dude is almost frighteningly smart and extremely respectful, and partly because his questions were reasonable and not defensive.  He agreed that much of our criticism of the ridiculous delays and the lack of transparency in the AC was accurate, but asked me if 'killing the event with negativity is really a step forward?'  He also challenged me to 'explain what changes in the AC would encourage us that things are changing?'
With the full competitor lineup about to be released during today's dog-and-pony in London, it's time for me to answer his questions.
Q) Is negative criticism or 'killing the event with negativity' a step forward?
A) Whether criticism is a 'step forward' is irrelevant; we don't work for the America's Cup and we have no duty to 'move the AC forward'; this is similar to the criticism we've gotten for writing about regattas that allow littering in the sea and for writing about classes that are being run into the ground, and our answer is always the same:  We are firm believers in transparency, and to us, letting the sailing public know what is really going on behind the scenes is always a step forward, especially over the long term, and even more especially when reality is shrouded in secrecy and bullshit.
We advocated for and applauded the move to catamarans when the majority of the world's sailing publications were shrieking tradition and sacrilege – actually, we've been asking for it since about 2003.  We approved of the format for AC34 and prayed for a great venue like San Francisco.  And we lauded the beautifully sorted and widely available coverage for the most exciting regatta in sailing history.  But we could not remain quiet in the face of the mounting fuckups while ACAlphabet paraded their stunning incompetence in front of the world.  That's what the other publications did, and if no one questions the bullshit, it will always be repeated.  We'd prefer not to see an AC35 with the same problems as AC34: Woefully low North American ratings and broadcast pickup, failure to meet any of the in-person audience/SF occupancy/ACOC sponsorship raising goals,  a fatal accident whose cause has – until today – still not been properly reported on, safety rules that changed the outcome of the event, and a venue that feels lied to and abused by the sport of sailing.
What my friend was really asking was "do we understand that our negativism is actually hurting the America's Cup?"  My answer is very simple: That's not our problem.  We didn't cheat.  We didn't fuck up the broadcast deal.  We didn't cut the promotional budget to pieces halfway through the cycle.  We didn't make up a bunch of ridiculous projections for the SF government and fail to get close to them..  And we certainly didn't cover up the cause of death of a famous sailor.  So quit blaming us.
Q) What moves would encourage you that things are changing?
A) As we've said ten million times, lack of transparency is one of the sport's biggest problems.  It's got its own language, complicated and esoteric rules, centuries of history and tradition, and is mostly run – at least in America – by a cultish bunch of odd rich people in archaic clothing.  AC33 had the potential to change all that in huge ways, yet it failed spectacularly, and somehow, the guy responsible has never even acknowledged his abject failure or explained how he will prevent the exact same failures from happening again.  That's what we would need to see in order to think about getting behind the next AC – a little openness and honesty instead of the same old back room deals that have governed the America's Cup for a century.  So when you are watching the press conference today, consider the following questions that we'd like answered; get us that, and we'll believe that times are changing.  And consider the fact that, for four years, Russell Coutts has consistently refused to sit down for an interview with the world's most widely read sailing website.  There's only one explanation for that: Fear.
WHY DID BART DIE?
As we've said over and over, we're not at all happy that there still has not been a single official comment on the cause of the accident that led to Andrew Simpson's death, and we frankly don't understand it.  We remember Formula 1 legend Ayrton Senna's death all too well, and while the public investigation process was not an easy one, it's amazing to us that AC organizers did not insist on even the most basic investigation or transparency for Andrew Simpson's cause of death.  The Senna case resulted in a finding against Williams co-founder Patrick Head after a massive investigation that included a 600-page analysis of the crash; while Head would never go to jail for his 'omitted control' culpability, at least the Italian courts provided closure for hundreds of millions of Senna fans around the world.
We know that Artemis Racing conducted their own investigation into Simpson's death, yet no one we've met will admit to seeing it.  We know the Coast Guard had a think about it too.  And we know that the San Francisco police are required to investigate any death.  Yet when we asked the America's Cup where those documents were, they had no answer, and that's ridiculous.  These reports should have been required by ACRM to be released to the public, and an open inquiry into the design, build, and management of Big Red – and the responsibility for her failure – should have been undergone immediately after the accident.  We don't blame Artemis for the silence – they have good reason to be quiet.  But the event's organizers have a duty to do more if they want to be considered anything but a failure and a joke.
We hate that we've had to, but we've done a pile of sleuthing ourselves, and thanks to Johntommy Rosas and the America's Cup Trust, we finally got our hands on the SFPD's official 86-page investigation into the Artemis accident, and for the first time today, we're sharing it with the world. We'll leave the conclusions to you guys, but it's not brain surgery; as we all knew when he loudly acted like he never said it, Nathan Outteridge's words to his dad were pretty accurate –  the boat 'folded like a taco' when it dug the hull in during a bearaway.  There wasn't a pitchpole – according to Artemis design coordinator Adam May's witness statement, the hull failed.  Why did it fail?  Is anyone responsible, as they were for Senna, or was it just a non-racing 'racing incident'?  We don't know, but if the America's Cup is to be the 'tier 1 sport' that Coutts, Ellison, and new AC Commercial Commissioner Dr. Harvey have repeatedly claimed is their goal, it's time to act like a tier 1 sport, where you investigate deaths and hold people accountable for them.
Until then, the only place in the world you can find the investigation report is right here.  Warning: It's not for the faint of heart.
Why Did AC34 Miss Every Media/Comms/Audience Target?
We're not going to re-hash this one – we've done it too many times.  The dismal ratings are public knowledge, as was NBC's refusal to pick up the final races for a national broadcast audience – even when the comeback was in full swing.  But Russell Coutts has somehow not been called to the carpet to explain this abject failure.  Were they the wrong targets?  Is it impossible to make sailing a mainstream sport in America?  We'd all like to know.
What Happened To Continuity?
Coutts told us a dozen times that one of the AC's big issues is continuity; that it's incredibly tough to run a commercially viable sports league when it isn't owned by a reliable group.  This is surely true, and Coutts' solution the last time around was a financial windfall of several million dollars for the winner of the AC if they maintained some part of the AC event management structure he planned in AC34.
Yet when Oracle won, there was no continuity.  Near as we can tell, there was no management; just Russell and a couple of trusted advisors secretly shopping venues around and trying to create a bit of a bidding war.  The incredible action we saw in San Francisco?  Forgotten.  The 'reliable pro-sports league'?  Gone.  Instead we have a year of silence while all the excitement fades into the background, and we're right back on the same old Coutts train.  And we'd like to get off it.
If you would too, start asking the AC folks the same questions we have, and don't let up. Hit them over here and over here.  If Russell Coutts or his new commercial chief are serious about what they claim, they'll answer.
But if all the talk is bullshit and smokescreen, designed to cover up the fact that Coutts' job is really to win the Cup and neither he nor Larry gives a shit about the rest of it, they'll continue to say nothing, admit nothing, and accomplish nothing – besides retaining the Cup, of course.
September 9th, 2014
SA supervideographer Petey Crawford dropped the video camera this weekend and picked up the tiller.  Here's his report along with some Tammy Sawyer photos.
The 2014 E Scow National Championship concluded Sunday with absolutely glamour conditions. I consider Crystal Lake one of the most beautiful locations in the US, as well as one of the best sailing venues anywhere.  Crystal is Michigan's Lake Garda and it rarely disappoints. In a world of declining participation in fleets around the globe, the E Scow National Class has seemingly flexed its muscles for 2 years in a row by luring 75+ boats to the line (84 and 78 respectively). Unlike another class that is experiencing a good turnout this, week the E scow has been doing it since 1959, and the depth of the talent at every one of these regattas is incomparable. Just look at the names of the champions on this list –  Now imagine the names of the others on the podium next to them. This years event was no different.  Porter, Melges, Jewett, Rogers, Burton out of the ILYA, East Coast names like Johnson, Hillyer, Lucas and Michigan locals like Price, Hatton, Kimball, Dow and Terry. Each and every one of these names was capable of getting in the mix and winning races and perhaps the whole thing.
Day 1 was bit frustrating as we spent the entire day on the water with only a single race to show for it due to extremely shifty conditions and velocity changes. Day 2 started out with a much better forecast and surely we could get back on track with 3 races. That was what PRO Bruce Golison and his team served us up. Classic Crystal Lake conditions with sunny skies made for a great day of racing, and we finally got to see the Tahiti-clear aqua blue water which is a big part of what makes this place so special. With 4 races completed and 2 more scheduled for Sunday, the stage was set for some great action.
Day 3 looked light to start but Bruce brought us all out so we could get going as soon as the sea breeze filled. With a short postponement we were back at it. Jeff Bonanni made it clear that it was moving day, and won race 5 to climb the ladder into the 3 spot. Harry had a tough 21st, Sammy sailed to a 6th, Chris Jewett got a 19, Burton scored a 9th and Peter Strothman made away with a 15th. So needless to say, the top 5 shuffled around a bit and the 6-10 group inched even closer into the mix. After 5 races completed and with a 6th race allowing a discard it was still wide open and with 78 boats anything could happen.
Jeff Bonanni, clearly liked the leap up the ladder and decided to win yet another race and pretty much showed us all how to close out an event and beat the rush to the crane. Little Harry Melges made his run back at the top with a 3rd, Strothman got a 4th and Burton took 14th. Sammy sailed just well enough to get a 12th. That meant that Sam "Big Daddy/Rasheed" Rogers and his crew of Chrisy Hughes, Tony and Lynn Jewett were the new E National Champions by a single point over Harry Melges IV and his crew of Monroe Melges, Mya Burdick (with Harry Melges III and Andy Burdick as their chaperones). I am so stoked for Sammy and the team to get this Championship, and to have it come down to a single point was even cooler! Having 13 year old Harry Melges kicking our asses already is a clear sign of what's to come, but I think we all were totally pumped to have him in there, especially with Monroe and Mya!
The E scow class continues to deliver and is filled with some of the best people I have met in my entire life let alone my sailing career. I got back into the driver seat of an E scow this year at Charleston and knew I had to be at Crystal. I found a boat and sails made it happen and although I fell short of my goal for the event, it really didn't matter; I had a ripping time with close friends and made some new ones. I even dragged a long lost friend out of sailing retirement and made him sail more races in 3 days than he had in the last 3 years, and despite his huffing and puffing and me "encouraging" him around the course we have decided that it's officially time to get back to racing E scows full time. Our personal hero moment was winning the pin end in race 3 and rounding in 3rd. Despite some mental errors in the race we still mixed it up with some of the best in the country and held on to a 15th, and we will always remember that start.
Big thanks to my crew on the II-1 Team Honor The Box –  Chris Eggert, Thorn Turner, Jess Haverstock and Nina McKeough and a huge thanks to Russ Lucas for letting me commandeer his old boat.
Side note – The last time I drove in an E Nationals I had dreadlocks down to the middle of my back and the regatta was hosted by Little Egg Harbor YC. Well, next year it's at Little Egg again and we will be there, but chances are I wont be rocking the dreads.
-The Rev. Petey
September 9th, 2014
For sure it has more than one hull. Got anything else?
September 8th, 2014
This weekend an amazing feat was accomplished by a brave 17 year old sailor. In effort to raise money for the Women's Place of South Niagara, young Bryce Barlow sailed a Bombardier 3.8 sailboat single handed across lake Ontario. He left Port Dalhousie at 11 am on September 6, and arrived at Ashbridges Bay Yacht Club (near Toronto) in the early evening. Conditions were not easy, as a major storm had passed the night before, leaving a tough sea state for such a small boat.
The Bombardier 3.8 is like a Laser, but much smaller, only 12.5 ft long. No doubt Bryce is now stiff, sore and tired.
His story is told in more detail here.  I ask all anarchists to dig deep into their wallets and support this amazing effort from a modest and inspirational young fellow. – Anarchist Randy.
September 8th, 2014
Local Knowledge
Last weekend was the Prince of Wales race out of the Royal Nova Scotian Yacht Squadron, Halifax, Nova Scotia. The race was started in 1860 and the cup was actually made by the same person that made the Americas Cup. This one is better!
It blew like stink. For most of the day the wind was floating around the mid to high 20′s but towards the end of the 25NM race our instruments had sustaining winds into the mid 30′s. Also in the gusts you would see spray getting blown off the top of waves. (Another boat said that they saw 38 knots true)
12 boats started and only 4 finished due to people dropping out. The fleet included a variety of boats with everything from a soto 40 to a C&C 37.  This us on our 1D 35 Climax. Also at 2:45 you can see the crew's new boat speed record of 18.5 knots, confirmed by our Velocitek pro start and Navionics on the iPad.
September 8th, 2014
Reader Rant
Reading your "sailing the dream" news, I see you do care of our beloved Route du Rhum. Considering the 80 and more entries, you might guess that there will be some true anarchists in there. So you'd better keep an eye on Vincent LANTIN. No chance to win with his old Class40, but he'll be in the action for sure. Want a clue? Master Sealaunay took the time to get onboard with him.
Vincent is actually doing is qualification for the race and is riding somewhere between the Fastnet and France tonight. Here is his FB page. – Anarchist Yves.
September 8th, 2014
Community
The Nyack Boat Club, located in the picturesque river-front village of Nyack, New York, currently leads in the number of participants registered for Bart's Bash with 122 members and 58 boats signed up for the September 21st race.
Bart's Bash, named for famed Olympic and America's Cup racing sailor Andrew "Bart" Simpson, is organized by the Andrew Simpson Sailing Foundation (ASSF) and is set to be the largest sailing race in the world. With over 5,000 sailors registered to race in almost 700 venues across the globe, this event is raising funds to support the ASSF. Through sailing, the Foundation's goal is to help young people develop life skills that will improve their ability to succeed in life and provide access to jobs and careers within the maritime sector.
September 8th, 2014
Seriously, WTF? Lyn Hines sent us pics of the weirdo from 'frisco. What Is It?
September 5th, 2014
Big Pimpin'
Five months have passed since the winning debut of the first Farr 280 at Charleston Race Week and Premier Composite Technologies are building boats at a good pace.  Boat #4 has just been delivered and hull #5 will be finished this weekend.
We are now ramping up production to a boat every 2 weeks and focusing in on entering our first One Design event at Quantum Key West Race Week 2015.  We will have our class entered in the next couple weeks and expect to have at least 8-9 boats for the inaugural event.  www.farr280.com.
September 5th, 2014
Just a small visual look at the difference between what Löick Petron was going to sail in the Route de Rhum and what he is going to sail. Daunting to the rest of us, a piece of cake for him! Again, thanks to Christophe Launay for the superb work!
September 5th, 2014
Some projects you get about half-way through and realize how much of a cluster you have got yourself into. This is one of those cases, but with a happy ending. 49er hull #20 was given to me in critical condition; most of the internal bulkheads were broken or missing, several holes cut in the deck, a real nightmare, as evidenced in the above video.. Of course I said yes.
I've been doing glass and carbon work for almost a decade now, and couldn't help but think of how much fun this boat would be for junior sailors to go fly around in. A lot of the progress getting the boat seaworthy can be seen in these videos – here and here.
And now, she's all up and sailing, with a 3rd trapeze wire added for little groms to go practice Aussie 18 sailing! – Anarchist Jimmer.
September 4th, 2014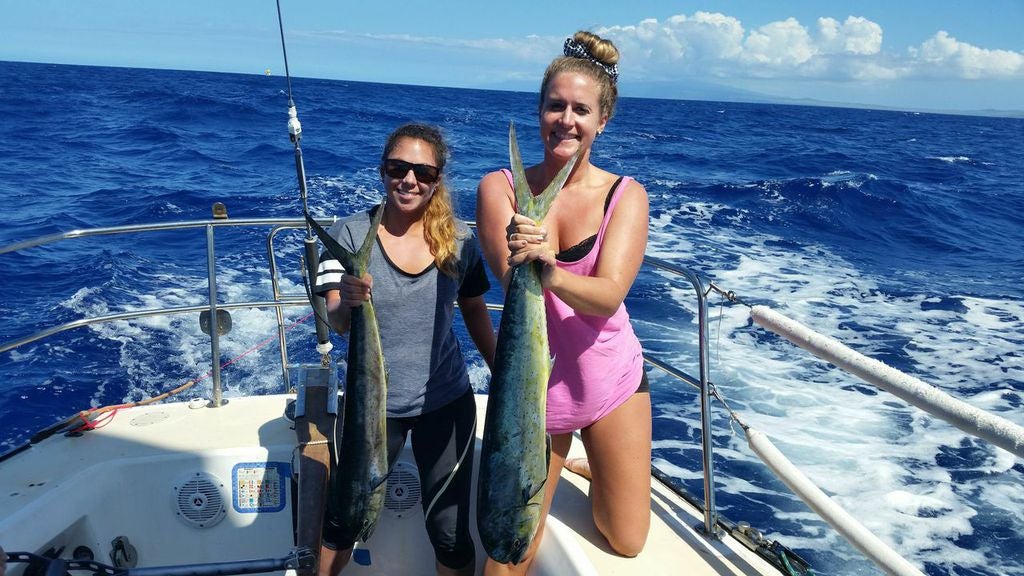 It all came down to the last tack…
"Whhaaatt!! There's no tacking in the Lahaina race. Everybody knows it's all downwind. You're crazy! I'm not reading this junk."
Ah but you would be wrong. Let's take it from the beginning.
The annual Labor Day race from Lahaina was setting up to be a bit slower with 10 to 15 knot east south easterlies predicted making a south shore of Molokai course a near suicide attempt for anyone wanting a trophy, so everyone went the north shore route with one exception, Ikaika. The north route was so favored even the multi-hulls decided their fate would be better sealed along the north shore of Molokai.
With a subtle southerly component to weak trades some spinnakers went up at the start line, and most were up before arriving to Halawa Valley on Molokai. After the big starboard jibe lift eased the wind into a more traditional angle, Kaneohe Bay could be laid by the "slow and low" boats while the sprit boats started their back and forth jibing, some more aggressively than others. While most boats were focusing on eking out that extra tenth of a knot down each swell, the J 35 Alizé was busy landing fish. In all they claim to have gotten 6 strikes, boated five fish and released 2 Aku, landing and keeping a bull mahi, another mahi, and a small yellow fin.
Then came the impending doom scenario. We are all accustomed to seeing Oahu somewhat shrouded in clouds as we approach from the sun soaked outer islands, but this time it was decidedly different. The clouds were more ominous, more threatening. Only Kokohead and Koko Creater peaked out from under the shroud, other land marks were engulfed in mystery haze. Thanks to GPS, the fleet was able to hone in on R2, but then things… took a turn. The first sign of real trouble was the Hobie 33 Flying Tiger's spinnaker collapse and dousing with headsail to follow. FT was now sailing directly upwind to R2 from outside the slot formed by Mokapu peninsula and Mokumanu island. Off they go on a port tack outside of Mokumanu, soon followed by Alizé. Right behind Alizé, the J 105 father/son J 105, 007 was going through the same transition bouncing around on a confused sea. In an effort to pass Alizé, 007 makes a bold move on starboard through the slot. What was an ETA of 6:30 wains. Boats further behind make the judicious call to start their engines in an attempt to make it home before bedtime.
As FT disappears into the haze and a light drizzle heading into the marine base, it's come down to three boats left in the race. Now it gets interesting. Alizé and 007 cross tacks with Alizé still ahead, maybe even gained a little but it's hard to tell in the gloomy conditions. The sun makes a brief attempt at penetrating through the murky haze and rain before extinguishing itself behind the Koolaus and the rain begins an earnest downpour. Even the temperature seems to have dropped 20 degrees. With the sun down, faint lights can be seen in the distance. Shining brighter than the rest is the blinking Pyramid Rock light sending brief pulses of light over the darkened race course as three boats feel their way to the finish at R2. FT is lost somewhere near the air strip while 007 and Alizé make another crossing, Alizé still hanging on to the lead, 007 closing imperceptibly. Now 007 is heading into the murky quagmire at the end of the air strip on starboard while Alizé heads towards Chinaman's hat on port. Anything can happen as the three boats are on their final approach to R2.
Will the moon come out to clear the skies for a happy ending? What happened to Flying Tiger? Will there be thunder and lighting to cap off the gloom and doom? Will they ever reach the finish mark? Could there be a tie lurking in the near future?
Good questions!
Awards ceremony at Hawaii Yacht Club this Friday night after the Frinight race.
See you there. – Anarchist Fred.
September 4th, 2014
Race Report
The sea breeze was late to arrive today for the second day of the Viper 640 North Americans, but when it did arrive, it certainly made its presence known. The day started out with flat seas and 4-6 knots of breeze; but when Mr. SeaBreeze finally decided to join the fun, steady 15 knot winds and a building sea made the racing of these sport boats (as they would say in Canada) "a hoot." Screaching downwind at 14+ knots according to the Velociteks and waves blasting apart as the bows drove through and over them, it was a hell of a day of sailing in these italic conditions off the Alamitos Bay YC.
Jeff Grange followed-up his perfect first day (can you believe this Santa Barbara guy took the gun four times?) with a 6-5-1 today. He holds the lead and local ABYC sailor Kevin Taugher moved into second, one point ahead of Canadian Olympian Brad Boston. Now that everyone is ashore, it's time to break-out the Goslings as, while today was bright and sunny, tonight's Viper NAs forecast is Dark & Stormy.
September 4th, 2014
Some cool news from Weta – who just signed up for another year advertising on SA!
Weta#1000 arrives in the USA! Jon Britt, Dick Hitchcock and some excited new Weta owners unloaded the first container of 2015 Weta, including Weta#1000 in 100 degree heat in Atlanta, Georgia on Wednesday.
The container landed just in time for the new owners to do the Lake Norman Yacht Club CatFest Sep 6-7 which should give them a good chance to cool off on the water.
There are still some big events coming up on the East Coast, Son of Duck Cup is September 27-28 in Duck, NC. The Heineken High Performance Open is at the American Yacht Club in Rye, NY October 11 – 12 and the Buzzelli Multihull Rendezvous is in Sarasota October 17 to 19.
To follow all the Weta regattas check out the Weta North America Class Association website and follow the Yahoo Weta Trimarans forum.
September 4th, 2014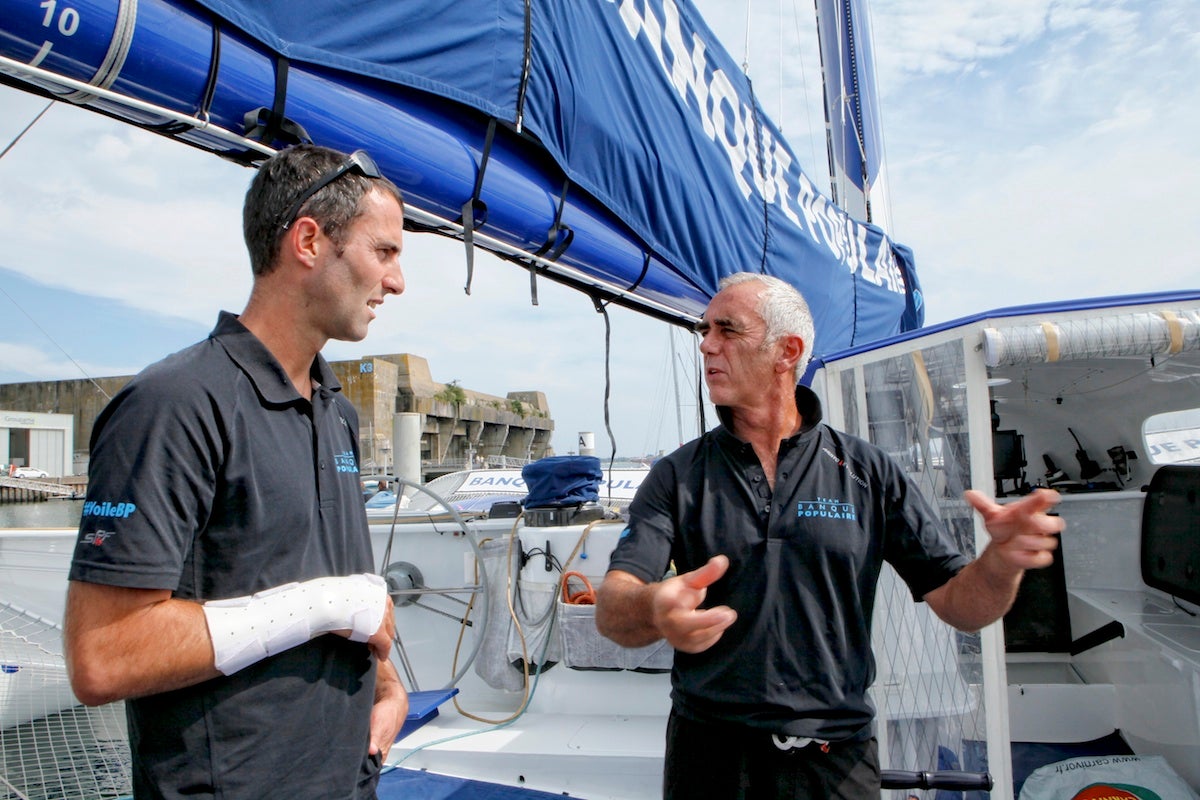 We were even more enamored than usual with our old pal Löick when we learned of his plan to take the historic and pretty little trimaran Happy across the pond for this year's Route Du Rhum.  Mr. Clean even chatted with him about it in Austria a few months back, and we were extremely excited to follow such a quirky story with one of the sport's most entertaining characters. Alas, it was not to be.
M. Peyron has just been promoted from a 30 footer to a 130 footer; thanks to a non-sailing related hand injury to Banque Populaire VII (known as Groupama 3 when Franck smashed a thousand records with it) skipper Armel Le Le Cléac'h,  Loick just got the last-minute nod to singlehand the second-most insane boat in the race (#1) across the pond.  While he may not be the hard-charger that the much younger Le Cléac'h is (and he'll need it when going for line honors against the bigger and faster S2), you'd be hard-pressed to find a smarter, more humble, or more wily sailor entered in the race.  He's also one of the few who knows what it's like to be completely screwed in the middle of the Atlantic on a big multihull during this race, he certainly knows his way around monster multihulls as the Jules Verne trophy holder (on the boat that is now his primary competition), and he might just have more solo race crossings of the Atlantic than anyone else in the race.
We know who our money is on.  Go tell him congrats on his FB page.
Christophe Launay photo from about 30 seconds ago, with a full gallery over here.  Screenshot from a very clever little press release.
September 4th, 2014
Wanna win a 7-day charter or a 7-night resort stay in St. Vincent & The Grenadines?
We do, too, and this sweepstakes hopes to raise awareness for the excellent charity Hands Across The Sea, which aims to eradicate illiteracy in the Eastern Caribbean.
Head over to the ASA's contest page and scroll down to the bottom right to enter for free.  And if you're a kind soul, donate!
September 4th, 2014