We were commissioned by Volvo Cars Sailing to cover the Virgin Kitesurfing Armada 2014, a record breaking attempt on a kiting Guiness World record. On the previous day we had a day filming Steph Bridge, five times kitesurfing World Champion and very much the head of the Bridge family of super skilled kitesurfers.
Partnered by chilled husband Eric, they preside over their three boys, two of whom ripped around Hayling Bay on foiling boards and making it look ridiculously easy! Guy (the middle son) even popped a few jumps over our RIB commenting afterwards that one was a little sketchy!!
But whilst we had met a great family who genuinely enjoyed "family time" kiting, Hayling Island also welcomed kitesurfers from all corners of the UK and beyond to help attempt to beat the world record for the number of GPS tracked kitesurfers riding downwind in a mass downwinder and support the chosen charities. All backgrounds and ages turned up. From Nick Dempsey, Olympic windsurfing medallist, a kid of 12 to a lady of 72. We enjoyed hanging out (and working) with a great mix of people all enjoying the same sport
Alas the record didn't tumble (enough entered over 340,… but there was about 20 lost sheep who didn't make the finish)……but as long as everyone had fun, and the charities got something out of it, then I guess it doesn't really matter!! – Rachel Jaspersen. Photo Ocean Images.
October 12th, 2014
We dig this shot as the 18ft Skiff Racing was back on Sydney Harbour today when the Australian 18 Footers League staged the R. Watt Memorial Trophy 3-Buoys race as the opening event of its 2014-2015 Season.
October 12th, 2014
We've got some pretty cool Sailing Anarchy branded swag for you to upgrade your look with, and now is the time to order up. Why? Because we said so! Actually we have a couple of good deals – buy one of our slick SA licence plates frames and we'll give you two for the price of one. And with any order, you'll get one of our new SA bumper stickers.
And let us close by being the first a-holes to say "Christmas is right around the corner" Hahahaha!
October 12th, 2014
First one-design race around the world? Yeah, we'd say it's pretty momentous.  Enjoy the start of the 2014-15 Volvo Ocean Race, and good luck to the teams!  For a little pre-start weather forecast for Leg 1, check in with our old friend Genny. And track the fleet here – they are really mixed up!
October 11th, 2014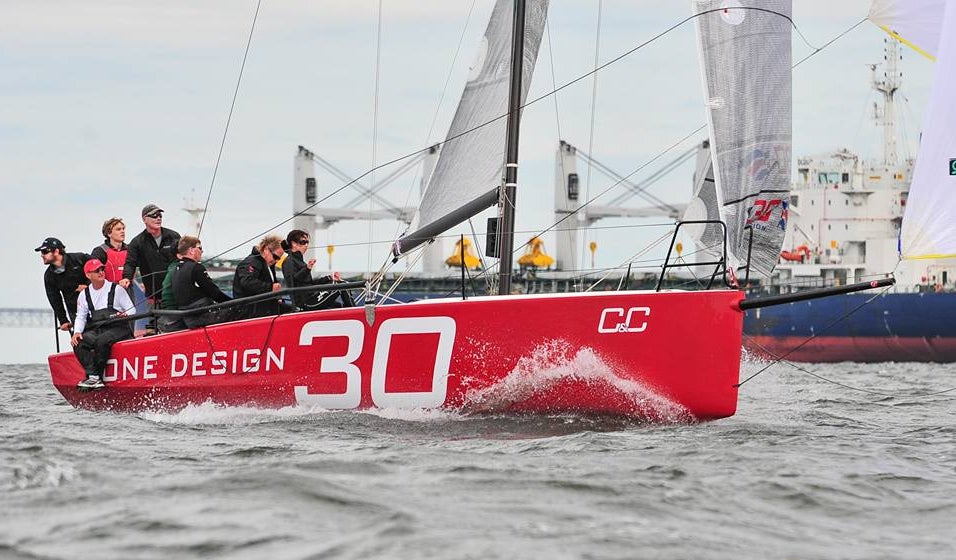 The new C&C 30 with Hutch cracking the whip. Nice to see some good sails on the thing! Photo thanks to Dan Phelps/ Spin Sheet.
October 10th, 2014
Clean Report
Two big events for the US kick off this weekend – the first is the US Sailboat Show in Annapolis, and the second is the Volvo Ocean Race.  And as usual, SA's the place to go for the best info.
After 6 years of economic mayhem and dying boat shows, the US economy has (maybe? hopefully?) finally begun the broad-based recovery we've all been waiting for, and our luxurious hobby is responding at last.  Sales are flat or increasing throughout the industry with both small and large boats selling, and, at Annapolis at least, it appears the exhibitor list is finally growing again.  For our part, we're excited to see a new 'Racing' section at America's most important sailboat show, and we're especially stoked to see sexy new offerings from our pals at C&C and Gunboat hit the water.  And we timed our visit to hit what might be the most fun couple of hours at the show: Saturday morning's start of the Volvo Ocean Race – live and loud – on the 70″ flat screen at the Musto booth.  With mimosa and bloody mary accompaniment.
We're toting along The Goddamned Reverend Petey so we can get some high quality video interviews, new product showcases, and 'first sail' reports from the deck of the new boats, and we encourage you to send us an email with your booth location and product description if you've got something cool to show our team.  If you want to shoot the shit and just buy us drinks, you can e-mail us too.  For a decent bit of enthusiast info on the show (and the spot we ripped this photo from), check out this blog.
October 10th, 2014
Looking closely at the picture will only further confuse you…
October 10th, 2014
Big Pimpin'
Stoked to finally welcome Helly Hansen on board with us at Sailing Anarchy. Long makes of exquisite sailing apparel, foul weather gear and a whole host of other lifestyle product,
Helly can be found on our front page and as the new title sponsors of our Gear Anarchy forum. Makes sense to us!
October 10th, 2014
Face of a fashion star, kiteboarding ability of a superstar, body of a porn star.  An unabashed self-promoter and a fan of Sailing Anarchy.  Could this be the perfect woman?  Maybe not, but she's certainly our Sailor Chick of the Week; watch the video to see why.
And head over to Hannah Whiteley's Facebook Page for much, much more.
October 9th, 2014
Police corruption and malfeasance has forced many departments to run cameras all the time now, and the litany of cases where the recorders were 'nonfunctional' is beyond belief.  Add that to the ubiquitous incompetence of the typical governmental body's Marine Police and you literally have people getting away with murder.  Here's one such story from the Missouri Highway Patrol, and if it doesn't make you shudder, you have no heart.  And if you don't get over and sign the petition for a little justice amongst a sea of corruption and bad actors RIGHT NOW, you have no soul.  Check out a memorial video here, but bring your Kleenex.
I was so proud of my son, Brandon. He was going into his junior year of Business College at Arizona State University and he was planning to join our family business when he graduated. But on the night of May 31, Brandon drowned while in the custody of the Missouri Highway/Water Patrol. Now all I can think, over and over, is how did this happen? Who let this happen?
On that day, Brandon was out with his friends, boating at The Lake of the Ozarks in Missouri. He was arrested for suspicion of boating while intoxicated. By taped accounts of the arresting officer himself, Brandon was respectful and compliant while he was taken into custody, placed in handcuffs, donned with an ill-fitting and inappropriate life vest, and driven away at extremely high speeds. Brandon was ejected from the boat when it hit a large wave at 43 MPH and when he hit the water, the life jacket floated away from him.  With his hands tied behind his back, Brandon struggled to stay above the water for many minutes.  It wasn't until a woman in a passing boat yelled for the officer to jump in and save him that he finally jumped in the water, but by then it was too late. While the patrol's boat was equipped with three audio-visual cameras, the memory cards were not in place and the atrocious events of the day were not recorded. Brandon's body was recovered from the water the next day in 70 feet of water.
Rather than bring in a person outside of the Missouri Highway Patrol to investigate the death of a civilian in their custody, they conducted their own internal investigation.  Then they had a coroner's inquest with a hand picked jury; crucial witnesses and evidence were left out and no cross-examination was allowed. Jurors deliberated for less than 8 minutes before determining Brandon's death to be accidental.  Four days later, the prosecutor said she would accept the jury's decision, and no charges would be filed against the officer.
I'm not the only person who thinks the circumstances of my son's death are suspicious and outrageous. The Missouri State House speaker has created a committee to investigate safety on the lake and my son's story has been reported in news outlets like The Kansas City Star and USA Today. The person responsible for Brandon's death needs to be held accountable, so that nothing like this ever happens again.  The people that helped cover-up and whitewash his death as a tragic accident need to be held responsible, as well.
Brandon was a really special person. He had an infectious laugh and a love of life, and no matter who you were he made you feel like you were his best friend. When Brandon was in high school, our home was a gathering place for all kinds of kids — older, younger, different schools, different sports. They all came to hang out with Brandon. That's who he was. He brought people together.
And now, people are coming together for Brandon again. We're coming together to demand that the Department of Justice hold those people responsible for taking the life of a bright, promising young man and all those covering up the facts. It's time to shine a light on what really happened to my son.  Please join me in demanding the Department of Justice investigate the Missouri Highway Patrol, specifically in regards to the death investigation of Brandon Ellingson, while in their custody. For updates on our progress, please visit our Justice For Brandon site.
October 9th, 2014
No one ever wants to be in the middle of a custody battle, but according to the FBI, 46 year-old Seattle sailor Jeffrey Hanson is about to have a lot of people right in the mix of his.  Accused of being a drug abuser with a volatile personality (which describes about half of our readers, and about half of our staff – ed)), he's apparently been gone for over a month with his 9 year old son. If you've seen the kid and aren't a fan of parental kidnapping, send the news to someone who can do something about it.  From the Honolulu Star:
The FBI is seeking information on a parental kidnapping case in which the suspect may have sailed to Hawaii from Seattle with a missing 9-year-old boy.
Jeffrey Ford Hanson, 46, set sail from Seattle Sept. 4 with his son, Billy Hanson, in a sailboat called "Draco," and neither have been seen since. 
Seattle FBI has consulted with the U.S. Coast Guard which said that, based on the boat and Hanson's sailing abilities, it is possible for him to have sailed to Hawaii,  American Samoa, Guam, the Northern Mariana Islands, and other Pacific Basin islands.  Hanson, a known drug abuser with a volatile personality, is the non-custodial parent and  is currently wanted by the FBI for international parental kidnapping.  
Honolulu FBI Special Agent Tom Simon said, "Our focus is helping the agents at the Seattle FBI recover Billy safely, so he can go back to his mom where he belongs.  Hawaii and the islands of the Pacific have a vibrant sailing and nautical community, and we are appealing to that community to be on the lookout for this sailboat and contact authorities with leads."
October 9th, 2014
Here is a pic of the big bad Comanche with the keel on. We I was told she will go in water either tonight or send it tomorrow at high tide. Thanks to mstrsail. Title inspiration thanks to XTC.
October 8th, 2014
Question Of The Week
I am in boat looking mode. Without getting specific, would you buy a boat if her owner was murdered on board?" -SA'er 'kidkodine.'
Best answer so far: "Is the killer still aboard?"
Supply your own response – a real one or yet another horribly morbid joke – here.
October 8th, 2014
Just had our Y88 owner driver nationals which ended up a 1 day affair after winds gusting 50kts kept the big boats off the water. Rather than admitting defeat, we staged a Wind Warrior Model yacht regatta from the bar at the Bucklands Beach Yacht club. It was an afternoon of beers, laughs, some intense model yachting and spectacular wipeouts!  - Anarchist BooBoo.
October 7th, 2014
Big Pimpin'
B&G has teamed up with renowned journalist and author Mark Chisnell to create a series of exclusive weekly blogs, providing insights into the tactics and results of the Volvo Ocean Race.
Starting this week with a preview of the first leg of the Volvo Ocean Race 2014-15, the former America's Cup Navigator, sailing journalist, marine electronics expert and author will be providing B&G with exclusive weekly, in-depth technical analysis of the action as it unfolds on the racecourse. During the 2008-09 Volvo Ocean Race, Mark wrote the daily '1000 Zulu' reports for Volvo, and B&G will be recapturing this unique and comprehensive insight for this current edition of the race. Stand by!
October 7th, 2014
The team of fifty fifty, the Hungarian 50 foot, twin rigged catamaran has built a second, smaller 35 foot foiling catamaran. The reason for this was to be able to compete in other European Lake races which have a LOA limit of 35 foot. They moved the riggs from the big one to the smaller one and test sailed it.
After initial towing tests they started with sailing just a few days ago. Yesterday during sailing the catamaran broke. Nobody was injured. The exact cause will have to be determined, the team is now on its way to Malta, to compete in the Middle Sea race with their mini maxi Wild Joe (former Wild Oats IX). Check it.
Title inspiration thanks to The English Beat.
October 7th, 2014
Today the party people of San Diego mourn as 28,000 pounds of their best friend passed away today…
Some might say this is nearly as sad, nay, much more sad, than the murder (as reported below)  of the San Diego to Ensenada race…
October 7th, 2014
You can tell your wife you just bought a brand new 100′ Maxi! Think of the look of love she will bestow upon you….when she finds out you bought the mini version….!
October 6th, 2014
Hey congratulations are in order to SWYC for the years of poor promotion, lack of energy and zero creativity that has led to the death of the once great San Diego to Ensenada Race. What?, you say, it's not dead! Oh yes it is, it just doesn't know it yet. Need some proof? Take a look at the results.
Take a pathetic entry list, stupid class breaks and a YC that is either too old, too out of touch, or just doesn't seem to give a shit and what you get is one of the better SoCal coastal races that has died a death from atrophy.
RIP
October 6th, 2014
The next generation of sailing studs is clearly taken with Charlie and Team Alvimedica, even if they can't say the name.  This is too damned cute, and thanks to Brandon for the heads up about our favorite Ratz of all.  And while we hate to give love to another idiotic use of the 'Everest of Sailing' tautology, it's good to see the young American getting some solid ink from the WSJ.
October 6th, 2014