We love the fact that one of yachting's most respected veteran photographers has jumped on the video bandwagon; more importantly, it's great to see a guy known for his classic yachting and monohull AC work bringing a different perspective to the kind of high-speed shenanigans we at SA spend most of our time drooling over.  Onne Van Der Wal shot this excellent highlight reel from last month's Line Honors US Moth Nationals in Key Largo, scoring a ride-along for 14 year-old son Adrian (who flies his drones) along the way.  Van Der Wal has been shooting video with Canon DSLRs for about three years now, but this is the first real high-performance reel we've seen from him, and we are most definitely fans.  Judging from young Adrian's reaction to the Moths (and his clear lack of excitement about superyachts and classics), the next generation of Van Der Wal is going to be even better.
For more from the Nationals including interviews with champion Anthony Kotoun, past SCOTW Emma Aspington, world champ Bora Gulari, Swedish gold medalist Freddy Loof, and plenty more, hit up this gallery.  And be sure to check out Onne's Vimeo page for a diverse portfolio of good sailing films.

April 9th, 2014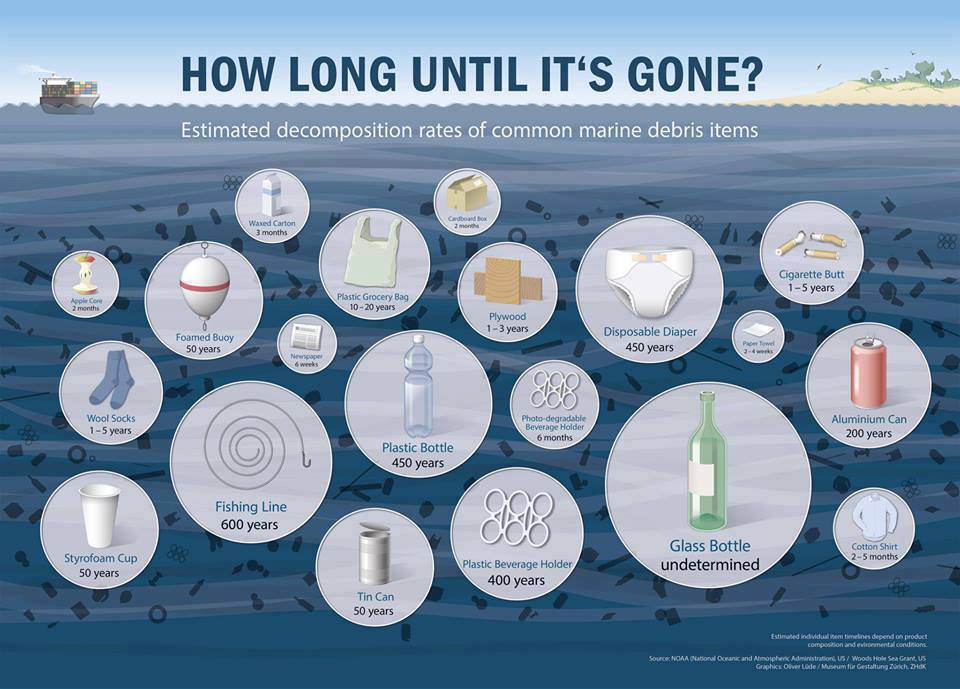 As lakes thaw and boats get loaded back into the water, take a minute to get your brain around this chart.  Maybe this year, you'll stop throwing cigarette butts over the side, or letting crew get away with tossing aluminum cans in the sea?  Everything lasts a lot longer than you might think it does, so keep it all on the boat.  Source: NOAA
April 8th, 2014
Really, who's to argue? It just makes sense, somewhere… Thanks to Anarchist Ryan.
April 8th, 2014
This month's column from Kevin Hall and brought to you by Mauri Pro Sailing goes where few dare…
So you want to win the America's Cup. You've got a budget and a core sailing team. You've found or retained or poached some great designers, engineers, shore team, and maybe more sailors. You're ready to go.
There are many good books and articles on the long history of the Cup, things which have worked in the past. I'm going to offer one word to sum up the future of the whole shooting match: offense.
First an example from on the water. I was surprised by both teams when they lead into the bottom but chose the left gate looking down wind in the flood. Yeah, I know first into the cone. But to me it read as a defensive move, something like this : "If we choose the right gate, tack, and they go to the other one and tack after having more current relief, which we should have known would happen, they might have a piece of us, and then we'll look like gooses". Or is it geese. Anyway, my read of the course and bottom gate decision was different. I rated the slightly left angle of the inshore breeze, and the slight left shift as the boats sailed into less flood, and the fact there was a good chance that crossing over to the Cityfront from the right-gate-to-boundary tack position would work pretty well, as the stronger move on average. If the trailing opponent made a small gain from being first into the relief and tacked off the boundary in the cone and had a piece, they might win that battle. But, the boat up a tack is ahead if it ducks close, and is likely to win the war from there.
I have not carefully reviewed every gate of every race of America's Cup 34 looking for data to support my theory, so I am probably the biggest goose of all. I don't mind. My point is about the mentality : if the choice was made defensively … it was made poorly.
What are some other places this offense or defense mentality can be seen? Let's say you have two choices with resource. Choice A allows you to have an upgrade of an existing piece of equipment, of a certain magnitude. It is an incremental gain from an existing piece of equipment. In order to make sure your spares program keeps up, the magnitude of the upgrade is partially compromised. (No free lunch or unlimited resource, or helpful time warps. All that). Or, you can have a bigger upgrade but no spare. I realize "it depends". It always depends. But if you're going to be uncompetitive with upgrade A or its spare, you have to go with the bigger but lonely upgrade B. Offence.
You can trust your data that very few, if any, races are likely to be sailed with Code Zeroes (why did it take everyone so long to learn this? Seems so obvious…now, with Harry Hindsight and Isabelle I Told You So at the bar). This allows you to ditch the entire Code Zero program. If you're scrambling in other areas, ditching everything about Code Zeroes might produce a huge net gain in 90% + of the races. That would be offence.
Top teams are already on offense to get setup to respond as new information about the class rule and the venue comes in. I humbly submit that part of that setup time could be invested in (bear with me) setting up a program to improve the rate of improvement in many areas. I'm sure every team is different, and I'm sure every team has strived, and will strive, for continuous improvement. Cool. That's not what I'm talking about. I'm talking about committing, right now, to systematically and continually improving the methods by which a team gets better.
I realize it's easy to throw the word "meta" around and say nothing. An example should help.
Team A has great sailing sessions, great tools, great debriefs, and works very hard. Their debriefs produce information which they scurry to use to make decisions about the existing and the future boats. They go on to sail those boats and have great sailing sessions, great tools, great debriefs, and lots of hard work. They will improve. No question. They will be sailing faster tomorrow than they were yesterday. Step by step. They will probably have the occasional day off but only to recharge enough to repeat the above. Perhaps ratchet up the intensity just a little toward the final push.
Team B has great sailing sessions, great tools, great debriefs, and also works very hard. They also know that quality time on the water is important. They also know that recharging drained physical batteries of personnel is necessary. They value time as the most precious commodity in the America's Cup game, just like Team A does. Here's what Team B does differently to team A. Before the first sailing session even begins, they plan to follow it up with a session to review that session's process. Let's call it a retreat just to hammer it home. It's not to talk about the sailing session's results, what the session produced. It's to discuss all the ways the session itself could have been better, from a better way to get the message that the lunches were soggy through to the person with the responsibility and the power to make them dry, to getting the quiet people to say what they really think, to getting the sailing team down on the floor trying to understand their tools better.
At this point, it's still only a suggestion box. A meta one, which sounds cool, but a suggestion box nonetheless. So far, we've lost valuable time-on-the-water time. The reason we've set proper time aside for our efforts to improve the way we improve is to take the next, much more difficult step. We're going to actually do something about those lessons in the box here on Team B.
After the first sailing session, Team A will be ahead. Guaranteed. They don't have time for touchy-feely, airy-fairy, ra-ra meta crap. After session two, Team A will still be ahead. Maybe even further ahead. But Team B's third session will have been considerably better than the first one, and the seed is planted. The expectation is set by and for the people on Team B to seek to improve the way they improve, from day one.
We'll be in another new class in AC35, so there will be plenty of design and technique space to exploit before worrying about the subtle stuff. Some day, though, the "AC62ish" will be a MkVII (I hope). When that day comes, the team that is still able to improve because they are still finding new ways to improve, will carry the day.
This is not an easy commitment to make. There are no double blind studies supporting it, it's hard to even talk about in a way which keeps everyone talking about the same thing. It's very hard to touch this stuff much less hit it with a hammer.
It is an investment in the long game. A tangible benefit which probably can be expected occurs on the very human level of grumble and grouse. If the troops suspect that management just doesn't seem to understand or to be committed to a vision beyond putting out fires and supplying better food at the team BBQ, some of that time we all decided was so precious will be lost to grumbling. If, on the other hand, everyone looks around and sees people who want to not only do their own job as well as possible, but also facilitate inter-personal and inter-departmental improvement during the three or four years everyone is living out of pretty much the same suitcase, the team will perform better when it counts the most.
Offense.
April 8th, 2014


Thousands of sailors are following the Flying Phantom project to see whether Alex Udin and his group have created the holy grail of high-performance sailing; a full-foiling boat that's easy and stable to sail.   Based on this short video with some words from French multihull supercoach Philip Presti, (and admittedly in very flat water), it looks like they have succeeded.  Enjoy, and get in on the Phantom discussion in Multihull Anarchy.
April 7th, 2014
Young Tim Fitzgerald shares his experience as the founder of the first drag-race style speed sailing event on the East Coast; the 3.8 mile Fort2Battery Race in Charleston, SC.  Photos from Els Sipkes; her blog is here with more, and there are hundreds more in her SmugMug gallery.  
60 days ago I didn't know if Charleston wanted a drag race sailing event, and after today I can only say "WOW" when I see how much they do! Today I saw 150 people line up on the Battery to watch kites and boards and boats on a 9-minute sprint down Charleston Harbor. Elderly people stopped me in the park to confirm the start time. People in golf carts tailgated on the points of land on James Island to watch the watery wipeouts that equate to "the big one" in a NASCAR race. The only time in my sailing career I've ever heard of more than 100 people coming out for an American sailing race was the America's Cup or the Olympics and today we accomplished that with little more than the economical low-end of sailing's high speed Band of Brothers.
Charleston is the perfect place for a sprint like this; with the beaches, breeze, and boating community, it's a playground for those who chase the wind, and with North America's biggest regatta, the biggest Sportboat regatta in the world, and the East Coast's biggest kiting community, the "Sailing Capital of the South" has emphatically stuck its pin in the world of high-performance sailing.  With an oversubscribed field of 55 entrants in the first ever running of the Fort 2 Battery Race, you can consider that pin the size of a railroad spike driven in with the overhead swing of a sledge hammer.
Anyway, it went like this:  At 3 PM on Sunday, a new battle took place in the shadow of Fort Sumter; the site of the Civil War's opening salvo.  A ragtag fleet of foiling moths, kite board, catamarans, sailboards, and skiffs went on a downwind blast to the Battery in 13-18 knots of Northeasterly breeze for a cash prize, bragging rights, and the new title of "King of the Harbor."  Bora Gulari, fresh off his win in last weekend's Moth North Americans, led from wire to wire on a starboard-tack favored run; his time of 8m58s for the 3.8 NM course equates to an average VMG of nearly 26 knots – even more incredible when you account for the 2-3 knot outgoing tide and a gybe.  The first four finishers were moths, with the fastest course-race kite board about a minute behind; importantly, there were no foil boards in the inaugural Fort2Battery Race; we're told they will most definitely be back next year, as will the Moths.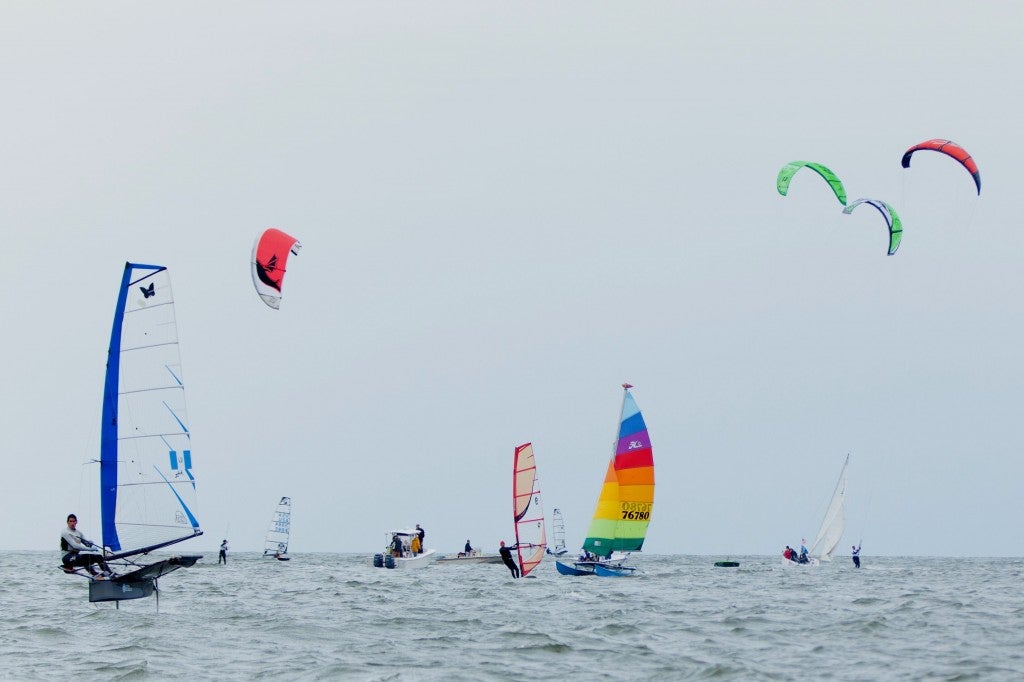 Of course there were obstacles along the way, but you'd be amazed at what a great community there is here around the water. The kind of roadblocks you'd expect for a new race with a new format and extremely high speeds just didn't exist; the USCG, Department of Natural Resources and local governments all shared the same message when I approached them; "That sounds awesome – go for it!" was their almost unanimous response, and thanks in large part to Sailing Anarchy, the entries rolled in from the moment we announced the race right here on the front page.
Now that it's finished, I find myself why there aren't events like this one everywhere; people were so eager to jump up and support a speed sailing event that it blew my mind, and confirmed what I had suspected; the only thing keeping people from doing more of this stuff is a lack of events.  The format – one start, one finish, and a short course – makes the racing incredibly accessible to both competitors and the public, just like the hundreds of easy 5K runs that happen every weekend all over the country.  We had a perfect mix of sailors; from full-family programs on a Hobie 20 to 65 year-olds on sailboards to the Moth World Champion, and everyone had a smile on their face afterwards.  The simple format was a relief to the journalists and spectators we spoke to; people who often struggle to understand the details of more complicated sailing formats
When it comes to gaining the attention of young people and our communities, high performance sailing is where it's at. This is exactly what kids need to put down the X Box and pick up a mainsheet, and I guarantee you that if you or your club or association wants to make it happen on your harbor, river, lake, or bay, you'll find it absolutely worth the effort.  And if you are interested in organizing a sprint race in your home town, hit me up through my website and I'll share any tips I can with you.
A huge thanks to Mr. Clean and Sailing Anarchy for all their help and support; without you guys, this would definitely never have happened.  Also a big thanks to Dave Pritchard at Gill North America for helping us out with competitor vests, and much love to James Island Yacht Club for your support and RC work; please can check out the rest of the sponsors at the Fort2Battery site, and we'll see you next year!
April 7th, 2014
When it comes to reporting on sailing in the Med, no one is better than Pierre Orphanidis.  The quick-witted, multilingual founder of Valencia Sailing (now called Vsail.info) is one of precious few sailing scribes unafraid of telling it like it is, even if that means fewer press junkets or PR writing gigs on his calendar.  For us, this makes Vsail required reading, and a few days ago, he took aim at the Volvo Ocean Race organization after a somewhat awkward "Stakeholder Meeting" held in Alicante.  Below you'll find Pierre's piece, and here's the place to talk about it.

Three days ago, on April 1st, we had the opportunity to assist in the opening session of the conference the Volvo Ocean Race and all its stakeholders are holding in Alicante. It is a a four-day meeting, until Friday, where nearly 200 people from the organization, teams, sponsors and stopover cities, gather to discuss all aspects of the round-the-world race. It is meant to provide a platform for debate and exchange among all participants and a mean for the organization to convey its ideas and philosophy on the race.
Unlike the previous editions, media were allowed to participate in the first hour of the conference and listen to a nearly one-hour long speech by Knut Frostad. Although we didn't learn anything extraordinary, it is always interesting to listen to the CEO of what is considered to be on of the top three events of the sport, together with the America's Cup and the Olympics. Whatever Frostad and his team decide to implement, certainly has an impact on the sport overall. Their success or failure will, undoubtedly, have a positive or negative result.
Seven entries confirmed – Sixth team with "Spanish flavor" to be announced soon
Frostad opened his speech by being adamant on the fact that seven boats will be on the starting line next October in Alicante and admitted it would be too late now for an eighth entry as their boat would be ready. Although he didn't reveal the identity of the two remaining teams to be presented, he hinted that the sixth entry would have a "Spanish flavor". No information whatsoever was given in regards to the seventh entry.
Storytelling
As one can observe from the conference agenda, and as it was repeated countless of times by Frostad in his opening speech, the fundamental axis of the race's communication policy and philosophy in this edition is storytelling. Stories will be the cornerstone around which the race will evolve. As Frostad pointed out, gone are the days of frequent race updates and press releases where navigators would go on and on, saying "today we lost 10 miles" or "today we gained 15 miles". This will be the "human" edition of the race. With all boats being strictly equal, technology now becomes nearly irrelevant and sailors, the "human factor", will take center stage. Frostad boasted he had the best storytellers in business that would produce very attractive and interesting content. The most important issue for him is to engage the audience with stories that go well beyond the conventional sailing jargon and try to win sailing and non-sailing fans alike.
All that sounds wonderful if it weren't for the fact it isn't the first time Frostad made those claims. In fact, the "human stories" are always mentioned in his speeches at the World Yacht Racing Forum. In addition, even if we are six months away from the start, the stories by the onboard reporters have been dismal so far, especially at Team Brunel. Here is an example. The Dutch team, skippered by Bouwe Bekking, achieved a remarkable feat on their delivery from Southampton to Lanzarote, just a week after receiving their brand new boat from Green Marine.
They sailed 540 miles in 24 hours, that is 56 miles, or less than 10%, short of the 596.6nm world record established by the Volvo Open 70 Ericsson 4 in 2008. This is an astonishing figure for a crew going through a selection process on a brand new boat that no sailor has ever sailed before. Wasn't that story important enough for Feike Essink, the team's onboard reporter, to write about? Where are the videos or photos taken during that achievement? Where are the videos of the helmsman commenting while the Brunel VO65 is being slammed by winds of 45 knots? What about photos and videos from inside the boat when sailors come back from their watch, wet and exhausted? Or the rookies talking about their maiden experience in what is supposed to be the premier round-the-world race? Aren't these "engaging stories"?
Instead the "stories" and photos on the Team Brunel website are about what groceries they went buying in Lanzarote, what paella they ate or the arrival of a new recruit at the Lanzarote airport! In an increasingly image-driven world of communication, the only video there is, doesn't last more than 25 seconds… We wish them good luck if they think this kind of content will engage non-sailors.
Urban connectives
If you scratch your head, trying to figure out who the urban connectives are, don't worry. As Frostad confessed himself, he didn't have the slightest clue until recently. However, urban connectives will now become one of the primary targets of the Volvo Ocean Race communication strategy. Apparently, the are people that might have nothing to do with the race or even sailing but they are considered to be very influential and followed by hundreds of thousands of people. According to Frostad, they are mostly critical but when they endorse a view or opinion, their followers will do as well. As a result, if urban connectors get hooked on the Volvo Ocean Race, millions of people around the world will follow suit.
That might very well be a brilliant strategy but it certainly will not be easy and to our humble opinion it won't be done thanks to the stories being told so far. Maybe it still is too early to make a judgement but it reminds us of the same strategy the 34th America's Cup was envisioning in 2011 when it was even prohibited using the terms port, starboard or knots but instead the mainstream left, right or km/h. A year later, and after millions of dollars spent, they realized that no matter how much they wanted to deny it, sailing had its own terms and switched back to them. It is a slippery path to follow when one thinks that by alienating your core audience you hope you will attract non-fans. At least, Frostad stressed more than once that he and his organization love sailing and that the Volvo Ocean Race will remain first and foremost a sailing event.
Again, the "human factor" is an excellent idea and the all-women team could be a fantastic tool but still there is hardly anything from there.
"Crop for diversity" and Instagram filters
This is the point that puzzled us. Given the date, April 1st, we thought Frostad was joking as we couldn't believe the CEO of a major, global sporting event would spend more than 1 second on such a frivolous issue. However, Frostad dwelled on that and even mentioned it as a key communication policy!! What is "Crop for diversity"? It is the, apparently, magic solution that allows us to make ten photos out of one. According to Frostad, the Volvo Ocean Race will attend the needs of its different audiences with the same photo by cropping it in different ways. As one can observe from the photo here below, the photo of Camper's helmsman in the previous edition of the race has been multiplied by seven.
How anyone can really think this is something to be proud of and present it in a conference that gathers the event's stakeholder is beyond our understanding. Not to be outdone, Frostad went on, stating that another innovative communication and marketing strategy will now be the application of Instagram-like filters on the photos. While so far, it was unthinkable to retouch a photographer's work, apparently the application of filters will engage more audience. Depending on what your target is, you apply the corresponding filter and you have an impacting photo. Again, we are bewildered by such statements. If it were so easy to attract fans and non-fans any other sport can also do it, rendering void any advantage it might have… We can't even believe those slides made it to Frostad's presentation.
Despite our criticism, we sincerely hope the Volvo Ocean Race, as well as any sailing event, becomes much more popular. Everybody, including ourselves, will benefit from such a success. Let's hope Knut Frostad didn't over-promise and then under-deliver a year from now…
April 7th, 2014
From Anarchist Joachim from SailingAnarchy.de…
Maarten Voogd, designer and owner of the Fareast 31 R, brought the boat from Netherland to East Germany to promote his latest design for the China based FAREAST Yacht company. Built full  carbon fibre using vacuum infusion technology, a carbon rig by Seldèn with dyform shrouds, the boat showed the high building level of that yard. 31 feet long, only 600 kg for hull, hardware and rig, 1.200 kg keel and ballast lead bulb combinedwith a sail area upwind of 65 m² makes you grin while helming the boat or hiking on the rail.
We had 2 days with wind around the 10-16,18 kns, flat water, later in the afternoon a short wave built up to 0,5 m. Ideal testing conditions for this high performance racer and the boat did not struggle: Upwind boatspeed was 7,2-7,5 kns at 40-42 degree to wind, downwind under the 120 m² asym. spinnaker easy up to 13, 14, 15 kns when heated up
The boat responded very well to crew weight and trimming and was easy to control even by a dummy like me. In short: great boat, great fun, wish I have 140.000 € to spend for that boat, but that price does include sails and trailer!
More pics here.
April 6th, 2014
Back in November we shared a story about an Anarchist jumping into the world of the Moth. Here's the follow-up.
This is the story and adventure of my first three days learning to sail a Moth. What is a Moth? A small, skiff-like dinghy that can rise above and foil over the water. It is an unforgiving and challenging boat that can achieve speeds over 25 knots and has a loyal following of America's Cup and pro sailors alike. Can a gray haired novice successfully learn to foil and rediscover his youthful energy? There was only one way to find out. Fly to Miami where the fleet hangs out in the winter months and find the best coaches available!
"Come down to Miami and we can get you sailing on a Moth," replied Ian Andrewes, the manager for the 2013 Red Bull America's Cup America Youth Sailing Force team. I was one of many thousands who became mesmerized by the sight of America's Cup 72 foot catamarans flying above the water as much as sailing across the San Francisco bay last summer. The Moth became a one-person training platform for many of the skippers learning to "fly" their boats in a seemingly precarious new way. I couldn't pass up this opportunity and one hour after my 24 hour call shift ended, was on a Virgin America flight bound for Florida.
A Northeasterly wind whipped across Biscayne Bay as I drove across a bridge bringing me to the Miami Rowing Club. With a setting sun, I arrived just in time as sailing coaches Ian Andrewes and Jonny Goldsberry were stowing gear at day's end. "It's pretty windy today from a low pressure system passing through. Hopefully the wind will moderate a bit tomorrow for your first lesson. See you then, " Ian replied as I departed.
Indeed it was windy the next morning with gusts sending darkened ripples and whitecaps in a chaotic dance across the water. "Steady 22 mph with gusts to 28 mph", I called out while reading a wind meter app on my smartphone. "Let's go get lunch at this great Cuban Café and check back after lunch", Ian suggested. It sounded like a great idea as I nervously eyed the 62-pound narrow carbon fiber hull, bounded by small winged trampoline seats on each side and sharp wing-like foils underneath. In fact the Mach 2 Moth looked more purpose built for flying than floating.
That afternoon the wind subsided a bit and I donned a shorty wet suit, gloves and booties and jumped into a small RIB powerboat that took us out in a more central part of Biscayne Bay. The setting was spectacular as downtown Miami high-rise buildings peered directly at us in the distance. I stepped carefully off the RIB into the cockpit of the Moth and it immediately rolled over, capsizing. The sudden shock of being immersed in the water caught me by surprise but was much warmer than I expected as I hung on to the side of the boat. "Grab the mainsheet and slide back on", Ian shouted from the RIB. I pulled myself up and grabbed the line attached to the boom, controlling the sail. Suddenly the Moth came to life and I hung on, trying to balance on this knife's edge. A brief puff of wind filled the sail and over I went falling back into the water on the far side. I tried fruitlessly for the next hour to find some point of equilibrium in this small and unforgiving vessel. Where was the wind coming from? Head up, bear off! The tiller feel is non-existent and doesn't do anything at slower speeds. Recognizing my complete fatigue, Ian came to my rescue. I barely found the strength to climb back inside the RIB for the ride back to the rowing club. "Don't be discouraged", Ian advised. "We all find this boat a real challenge to learn how to sail. I still do after 6 years and as a pro-sailor. That's what makes it such a rewarding challenge".
The second day came quickly despite protests from my body. Sore yet undeterred, I was ready to go. "Hey, look at Cooper. He's up and foiling on his first day!" Cooper was a teammate of Ian's during the 2013 Red Bull America's Cup Event. The Moth had risen out of the water and was flying toward the horizon. An hour later I was wet, exhausted and no closer to successfully staying upright and afloat for more than a few moments.
"Use your weight more aggressively and find your balance", Ian urged me as we began our third day on the water. It was a bright and sunny morning with a brisk, easterly wind. The small, light boat felt like a bucking bronco, flipping over repeatedly when I failed to quickly grab the reins (mainsheet) in time. "Joe, get your feet under the strap. Here comes a puff….ease, ease…good balance", Ian called as he rode nearby me keeping pace in the small powerboat. I began to move faster as the water rushed by. "You're foiling! You're foiling!" I heard a voice behind me yell. Suddenly the sound of rushing water disappeared and I felt myself flying over the water, accelerating at a faster and faster rate. It was as though I was weightless, hurtling through space. And as soon as it began, the boat took an abrupt dive and my brief flight came to an end, crashing, bow first into a wave a meter below. "Good job. Good way to end the day", Ian exclaimed as I bobbed on the surface of the water with the overturned Moth a few feet away. After three frustrating days, I finally found the proper balance that propelled me over the water for those brief moments.
I left Miami and headed home with much to share with family and friends. It was time to return to my professional life but with a surprisingly renewed energy. Now I have a much deeper understanding and humbled respect for those who sail over the water rather than in it.
Many thanks to coaches Ian Andrewes and Jonny Goldsberry whose patience, encouragement and expertise kept me going. And a special thanks to Paul Kilkenny who made me a believer that gray haired novices can learn to foil and sail a Moth. I started from the bottom and now I'm here. And ready for much more! Check the video!
Best,
Joe Andresen, MD
April 6th, 2014
This is pretty much the view the rest of the fleet had of lovely Marit Bouwmeester at the Trofeo Princesa Sofia. Maybe it wouldn't be so bad to be "behind." Yuk yuk.
April 6th, 2014
Big Pimpin'
Regardless of which side of the political spectrum you favor— the left-leaning progressives who actually care about our environment, or the  right-wingers who support things like abolishing the EPA under the guise of "less regulation" —you are bound to have a dog in the hunt regarding the new RRS 55. By prohibiting the discharge of trash and other articles overboard, ISAF has deemed that rubber bands and yarn used to stop spinnakers fall under the auspices of a rule 55 no-no.
Rules, environment, whatever; but how the bejezus are sailors supposed to set a spinnaker when it's blowing dogs off chains? Set a chute safely in stops…or break the rule. Talk about a "rock and hard place" conundrum.
Here's the thing: today rule 55 no longer controls the spinnaker stopping conversation. "How come" you ask? It turns out that the designers at UK Sailmakers have come-up with a way to stop spinnakers that IS EASIER, FASTER, AND ACTUALLY WORKS BETTER THAN RUBBER BANDS OR WEAK YARN.
Introducing SPIN STOPS from UK Sailmakers.
SPIN STOPS are quick-release elastic and Velcro tabs stitched onto the luff and tack of spinnakers. As in the past, your bowpeeps below will run the tapes of the sail; but instead of forcing the sail through a funnel or bottomless bucket loaded-up with rubber bands, they can simply and quickly wrap the SPIN STOPS around the sail and connect the Velcro tabs. No muss, no fuss, no remembering to buy more rubber bands or yarn. Quick, easy, and effective.
UK recommends installing SPIN STOPS on the top half of luff and the first third of the tack finding that both asym and symmetrical chutes once again can be set in all manner of wind conditions with safety, ease, and confidence. Once hoisted, simply trim the sheet as in the past and, SHAZAAM, the SPIN STOPS pop open and the spinnaker's flying. SPIN STOPS are sized to fit different sized spinnakers and are small enough not to impact the sail's performance once opened.
One of the worst jobs on a racing boat is going below and re-stop a spinnaker in a seaway (funny how the folks who pay for the sails usually don't get tagged with that duty). However, sailors who have gone below during a blow to re-stop a chute using SPIN STOPS find they are back on the rail in half the time and only wish that SPIN STOPS were developed years ago.
SPIN STOPS makes sense regardless of which side of the proverbial Rules Aisle you sit. Call UK Sailmakers today at 1-800-253-2002 to discuss adding SPIN STOPS on your new spinnaker or retrofitting SPIN STOPS onto an existing one. To see UK's SPIN STOP video, click here.
April 5th, 2014
Saying that Waterlust has blown us away, again, never gets old…
April 4th, 2014
A refreshingly honest reveal from the DongFeng VOR Team…
Fear of the unknown is one thing and being scared of what you know is another! For Kit, Horace, Wolf and Liu Xue, Liu Ming and Yiran Zhang, the Chinese sailors on board 'Dongfeng', they have had their first real taste of what the Volvo Ocean Race can be like and it is scaring the hell out of them.
After 12 days at sea on the training leg from Sanya and with more rough conditions ahead, the Chinese crew relayed their fears to skipper Charles Caudrelier: "They are scared about the bad weather and afraid to be sea sick again," reported Charles. "It is hard to realise from the outside and for someone who never sailed offshore, they have to understand there are going to be not easy moments… We will sail through a storm just before arriving in Hong Kong in the next few days. For sure they are not ready technically and physically to face such weather. But, honestly, it is totally normal. I went through the same thing when I started sailing offshore and my first transatlantic experience was not great… I almost gave up at that time." Read on.
And speaking of the VOR and nebies, , check out the latest from Chris Mus3ler….
For the first time in the modern history of the Volvo Ocean Race, a large portion of the skippers and sailors will be newbies to the race. Most have never lapped the planet on a sailboat. This is in stark contrast to previous races where only the most elite helmsmen – Chris Nicholson, Paul Cayard, Frank Cammas, Grant Dalton – have been able to garner the support of top sponsors and yacht designers to compete. This rarified atmosphere was the driving principle of what is considered the marquee professional ocean race in the world. Read on.
April 4th, 2014
The droneistas at Pigeonvision follow up their great work in Sint Maarten with this aerial reel from the St. Barth's bucket. A very pretty view of these jewel-encrusted heavyweights, but they do remind us more than a little of a bunch of hippos wallowing in a watering hole.
April 3rd, 2014
Ronnie Simpson continues with the bad luck, as well as with the perseverance that keeps seeing him through.  Another great story from our West Coast (and now world) wanderer.  As always, you can follow Ronnie's adventures on his page at Open Blue Horizon, and we encourage everyone who's enjoyed Ronnie's great writing and enthusiasm for the sport over the past few years to send him a few shekels via Paypal – just go here and type in rsimpson48@yahoo.com as the recipient.  Dig deep, please!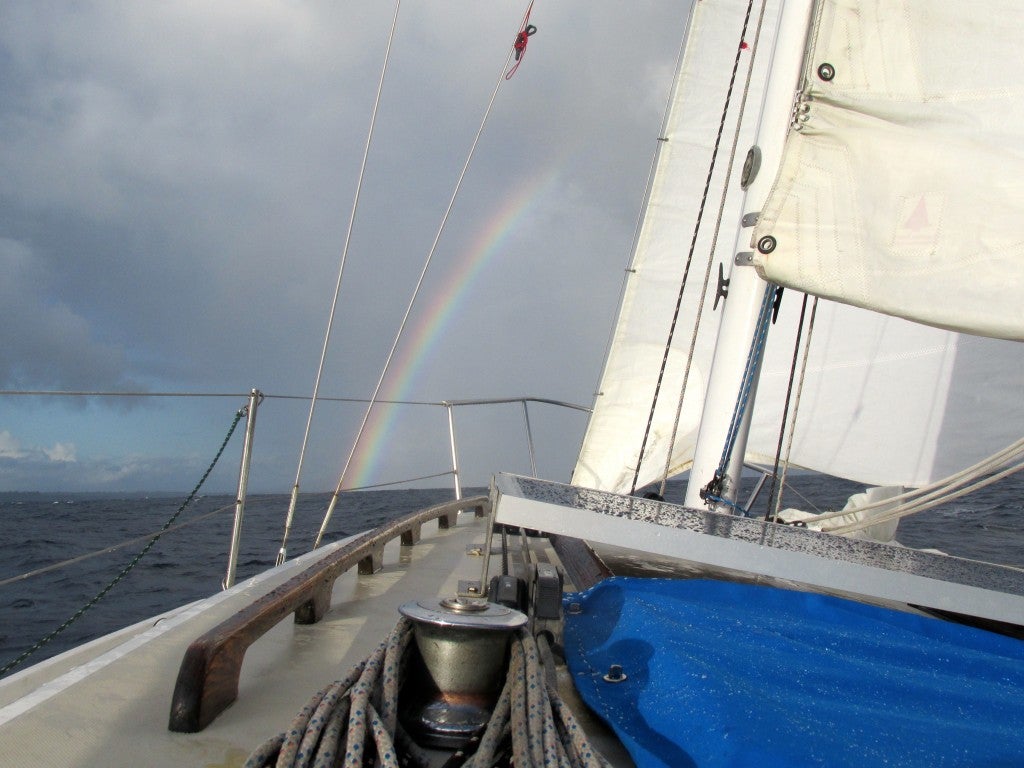 It's the thing that every sailor who sails engineless fears most; dismasting or other major problem with a lee shore, big swell running and breeze-on conditions. Unfortunately, that's exactly the situation that I found myself in yesterday off of Maui's east side while sailing my cruising boat; the Cal 2-27 MONGO.
While en route from the West coast to Australia, MONGO and I had just completed a picture-perfect early season passage from San Diego to Hilo, Hawai'i and were now cruising downwind through the islands looking for surf. After three days in Hilo, MONGO and I charged the Alenuihaha Channel from Hawai'i to Maui; known as the most treacherous in the Hawaiian Island chain. The little boat reveled in the big breeze and big waves of Hawai'i, averaging 7 knots VMG for hours, deep-reefed and all. After a brief 22-hour passage, MONGO sailed into Kahului Harbor and dropped a hook.
A strong Pacific high and stalled upper atmosphere low threatened the islands with reinforced trade winds, heavy rain and a lot of swell. Anchored in Kahului, I sought the relative safety of a mooring ball on the leeward side of the island (in Lahaina) as opposed to anchoring on the windward side with a beach park serving as a lee shore. I would sail to Lahaina in the morning, hoping to hit the Pailolo Channel in between Maui and Moloka'i in the morning before the trades built to their daily max.
Up came the anchor and within minutes, MONGO was clearing Kahului's breakwater and heading north up the coast of Maui under single-reefed main. Taking the scenic route, I stayed relatively close in to shore, watching the waves break on the rocky beach, sending white spray high into the air. Having become an avid surfer in the past two years, I am fascinated by viewing different bits of swell-exposed coastline. Engaging my self-steering wind vane "Francois" (named after VG winner Francois Gabart), I made a cup of coffee and then came back on deck to enjoy my private boat tour of Maui and another tropical morning.
With a coffee in one hand and the tiller in the other, I watched on in horror as the mast broke below the spreaders and immediately came crashing down. Why it occurred, I do not know, but all indicators lead to the starboard lower shroud's toggle failing on my 4-month old standing rigging. The entire dismasting happened in the blink of an eye and was as unexpected as it was brief. Having now put the boat through its paces for 4,000 miles of coastal and offshore cruising, 2 haul-outs and a thorough re-fit that included new standing rigging, new rudder and all of the safety gear amongst many others boat bits, I felt that MONGO was battle tested, well maintained and imminently sea worthy. Why did the mast fail?… I was in disbelief at what had happened.
Close in to a lee shore with pounding surf and a steady 18-20 knot onshore trade wind blowing, I had no time to ponder what had failed or why. It simply had. I looked at the rig, saw that we weren't holed and called "mayday" on VHF 16. I then grabbed the hand held VHF and immediately ran to the bow to begin trying to anchor my engineless, dismasted boat. While anchoring, I continued to confer with the Coast Guard on the radio. I dropped the rig in about 80-90 feet of water, unsuccessfully attempted to anchor in 62 feet of water and finally got the hook down in 50 feet of water. Now to gather the rig back on board.
With 9-11 foot pounding surf rolling under the boat and one wave breaking over the bow, MONGO rode the seas like a bucking bronco making the task of recovering the rig exponentially harder, while also inducing a serious rig-on-hull thrashing. I used a couple of halyards led to winches to begin winching the rig back up next to the boat. With the spar full of water and the main sail impeding my efforts, I struggled to get the rig back on board. An hour had passed since the dismasting. My anchor had held, the Coast Guard was on the scene and the rig was secured to the side of the boat. Had I had more time, perhaps another hour, I believe I could have gotten the rig back on board. But I didn't. The Coast Guard was circling a disabled sailboat that was anchored just outside of big surf. They were ready to get the rescue under way.
With the rig secured to the side of the boat, the Coasties threw over a heaving line with two tow lines on its end. I caught the line and rigged up for tow. The USCG wanted me to cut my anchor rode, but I pleaded for them to help me retrieve my anchor. I was just dismasted; losing my primary ground tackle seemed unnecessary. The Coast Guard indulged me and powered forward so that I could retrieve the anchor and chain. We towed east to get into deeper water and then south towards the harbor. Halfway back to Kahului Harbor, a wave broke into the side of the boat and began ripping the mast away. The bottom section, which was pointed at the sky, swung precariously around the cockpit, missing my head by inches and ripping the front of the stern pulpit off. The top section of the mast began ripping stanchions out of the deck as the bottom section began to threaten not only myself, but my wind vane Francois as well. The port side of the boat was oil-canning and flexing horribly and there were already two holes in the boat by the hull-deck joint. I feared being holed worse, so I grabbed a rigging knife, cut the halyards and jettisoned the entire rig and the main sail. The man had been kicked while he was down.
With no rig over the side, we could tow at 5 knots, the helm was neutral and MONGO felt like a boat again. I cracked a luke warm Coors Light. It was the first thing to go right all morning. Back into Kahului Harbor, we towed up to the commercial wharf next to the harbor's lone Pilot Boat and tied up. I was boarded by the Coasties, cleared and then we moved the boat to its own side-tie. My boat had been dismasted, but all's well that ends well and we were back in port safely with minimal injury to myself, and despite MONGO getting pretty trashed, she's salvageable. This hectic morning was finally starting to normalize. I began cleaning up the boat in an effort to restore order. An hour and a half later, an 8.2 earthquake hit Chile. Tsunami alerts were issued and the port began buzzing with activity. I was informed that the harbor closed at 6 pm and that if the tsunami posed a real threat, the area would be evacuated. The man was getting kicked again while he was down!
Side-tied to the leeward side of the wharf, I inflated my kayak (my dinghy) and rowed two anchors, chain and rode out to leeward about 40 feet. I then tied two old halyards to massive tires that acted as fenders on the wharf. I eased off on the halyards and took up slack on the anchor rode. MONGO was now secured at four corners some twelve feet to leeward of the wharf and 20 feet to windward of two anchors. Theoretically, she could rise up and down ten feet if need be. Whether or not she would push her keel through the hull remained uncertain. "Be brave, MONGO", I whispered to the boat as I left. I took one last look and then pushed off with my skate board headed for the nearest bus stop.
I grabbed a bus and went to Lahaina; in part to get away from the boat, in part to head for the hills in light of a potential tsunami and in part to begin sorting out the logistics of what will come next. The tsunami never materialized in Hawai'i, much to my relief. A million thoughts ran through my mind as I tried to evaluate the situation and come up with a plan to move forward. I thought of the one thing that I didn't have on board that I needed; a hacksaw. I realized I didn't have one on board halfway between Cali and Hawai'i and added it to my list of things to buy in Honolulu. Not having this saw nearly caused me to lose the boat as the mast was pinned to the port side at a precarious angle and threatened to be holed more severely than she was, as I couldn't remove the port lower shroud. I eventually managed to break the turnbuckle, freeing the rig.
I thought of the irony of sailing 4,000 miles (originating in Tacoma, WA) on my boat that I purchased for $4,000 only to lose the rig in 18 knots of breeze with only a reefed main up, less than a mile from land. I also thought of the irony that my friend Ruben and I left Kahului in 2012 and rescued the abandoned Bela Bartok and sailed her to Honolulu, only to be rescued myself two years later and towed into the very same harbor we had left from; Kahului Harbor, Maui. I thought of the fact that I had lost the rig on April Fool's Day. Murphy was clearly a sailor although his sense of humor fell on deaf ears this time.
After much thought and reflection, I realize that MONGO and I were dealt a serious blow and my journey to Australia has run into its first major roadblock. Rather than throwing in the towel and abandoning the voyage, my resolve has been solidified. I will continue to sail my boat to more land falls, both near and far.
First things first, I will source an outboard motor bracket and bolt on a borrowed 4-horse outboard from the Alameda-based Valiant 32 Horizon. I then plan to head to Home Depot to purchase wood, screws and glue to build a temporary box-section mast and then set sail for Honolulu next week. Once in Honolulu, I will re-build. I will re-rig and continue on my journey, stronger than before.  Hopefully you'll follow along, and of course if you want to send any mail, I'd love to hear from you at rsimpson48@yahoo.com.
I also want to extend my sincerest gratitude to the US Coast Guard out of Ma'alea Bay, Maui, the Kahului harbor masters, Zach Streitz of s/v Horizon, my friend Leah whose couch I crashed on last night, and everyone else that has sent me messages of support. Let the next phase of this journey begin.
Aloha and mahalo,
Ronnie Simpson, s/v MONGO
April 3rd, 2014
A little Big Pimpin' from the boys at Velocitek, sponsor of our Gear Anarchy forum!
Charleston Race Week 2014 is just over a week away and there are over 280 boats entered. With the release of our new tactical weapon, the Shift, Velocitek now offers a device legal for every class competing at CRW. To help boost your performance in Charleston, we're offering free UPS 2nd Day Air shipping right here through April 13.
And if you need any more incentive to place your order now, here's a Velocitek win list for the One Design classes that will be in Charleston:
J/80 – 2013 World Champion – New Territories, Hugo Roca – ProStart
J/24 – 2013 World Champion – Helly Hansen, Tim Healy – Shift
J/24 – 2013 North American Champion – Helly Hansen, John Mollicone – Shift
J/24 – 2014 Midwinter Champion – Helly Hansen, John Mollicone – Shift
J/22 – 2013 World Champion – Dazzler, Allan Terhune – SpeedPuck
J/70 – 2013 North American Champion – Muse, Heather Gregg-Earl – ProStart
J/70 – 2014 Midwinter Champion – Helly Hansen, Tim Healy – Shift
J/70 – 2014 Key West Race Week Boat of the Week – Helly Hansen, Tim Healy – Shift
Melges 24 – 2014 World Champion – Blu Moon, Flavio Favini – ProStart and Shift
Melges 20 – 2014 Bacardi Sailing Week – Ninkasi, John Taylor – ProStart and Shift
Viper 640 – 2013 North American Champion – ARGO, Jason Carroll – ProStart
Why do all of these One Design Champions use Velocitek? Learn for yourself – get the Velocitek edge and sail faster.
April 3rd, 2014
2-time America's Cup winner and Oracle Team USA principal Larry Ellison ranks as the most punchable CEO in America based on criteria such as  scope of influence, public image, annual income, and general physical appearance, according to one of the most reliable sources of fake news in human history…read on.
April 3rd, 2014
Deneen Demourkas took a minute from her regatta to share some thoughts about a tragic accident yesterday; we're pleased to report that Flavio Favini's doctors are optimistic after a long day of surgery to fix many of the serious injuries he suffered when his balcony collapsed on Wednesday, dropping the well-regarded pro racer some 30 feet to the ground below.  Flavio's not out of the woods yet, and we want to add to Deneen's thoughts and wishes for a rapid, complete recovery.  Flavio is one of the best human beings in the sport; a consummate professional with a huge smile and generous heart, and one of the most ethical, honest sailors you could ever hope to race with or against.  Feel the love, brother.
Here's Deneen, from Groovederci's Facebook page:
Flavio, from the first day I met him when starting my sailing career was always kind, always generous, always a friend. I have watched his children grow, his career soar… a lovely man, a truly lovely man, one hell of a sailor. And now, I ask that you join me in saying a prayer for him and his family. Flavio, I love you, you are one of my biggest heroes and I can't imagine not having you on the starting line. The entire Groovederci team are thinking of you and your family, sending our love to you and your family with wishes for a fast recovery and looking forward to your schooling us once again on the race course. God's speed caro amico! Groovederci will dedicate this week to you, your family and your recovery. Keeping all of you close to our hearts.
April 3rd, 2014
And at the end somebody always gets hurt. Awesome shots at the Trofeo Princesa Sofia from the world-renown Jesus Renedo.
April 3rd, 2014
Big Pimpin'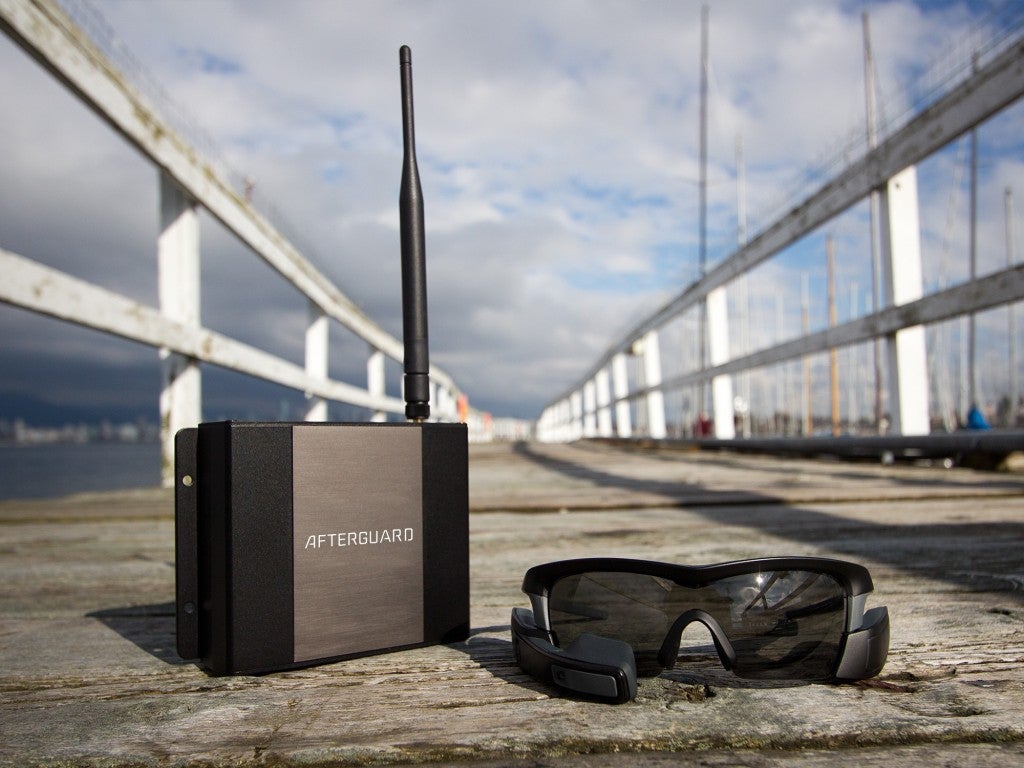 It's a good time to welcome Sailing Anarchy's newest advertiser, Afterguard! These guys have created the first really exciting new navigation/tactical technology in a long, long time, and they're the only company offering a heads-up display for sailing.  This is no fly-by-night piece of vaporware, either; we spent a long time talking to Alex and his Afterguard team as well as the folks at Recon who build much of the hardware, and they're definitely for real.
We recommend having a peak at the Afterguard website to learn more, have a look at this HD sizzle reel from their Miami testing with the TP52 fleet, or click on one of the banners you now see around SA.  We are pretty sure they'll sell out their first production run pretty quickly, so order yours today if you want to be at the front of the line.  Here's a quick Q&A with Afterguard boss Alex Moret.
SA: The Afterguard HUD has been called 'trickle-down' technology from the America's Cup, but your tech is a long way ahead of the semi-secret HUD sunglasses and backpack that Jimmy Spithill wore in the Valencia AC.  Can you explain what Jimmy used, and how Afterguard differs?
AM: The screen Jimmy used in the America's Cup was groundbreaking. It was very cool and certainly an exciting step forward for technology in our sport, however, it was really just a one-off. It wasn't a system that was ready for the consumer – the glasses were hard-wired to a computer that had to be carried in a backpack. It was bulky and quite technical to run. It was definitely inspiring and got the world excited, but it had a long way to go. Our technology is built right into the glasses – no wires, no backpacks, no technical experience needed to operate and very easy to integrate with your current boat instrumentation. With the advancements that have been made in miniaturization and wifi technology, we are finally able to bring to market a Heads Up Display that is small, light and powerful, so that you don't have to sacrifice mobility or maneuver with something that is distracting and cumbersome.
SA: What intrigues us most is Afterguard's "Virtual Tactician" feature, which can actually tell you whether you will safely cross a starboard tacker, or whether you will lay a mark, all without screwing around with a tablet around your neck or a laptop down below.  This is potentially game-changing stuff, so can you explain how the sensors, processors, and software can accomplish this very complex task?  How accurate, and therefore, reliable, is it?
AM: What the patent pending Virtual Tactician does is really simple and intuitive. How it does it is quite a bit more complicated. The Afterguard Heads Up Display integrates a 9-axis accelerometer and magnetometer that very precisely tracks the movement of your head and combines it with the information pulled from your boat instrumentation. With all of this information, the system knows what direction you are looking and what your boat is doing relative to the conditions and targets. The magic of the Virtual Tactician is that it allows you to simply turn your head, line up a mark or another boat and make a clearing decision.
SA: What led you down this path of developing something so highly specialized?
AM: Heads Up Display is something that both Ross and I have been dreaming about for years. When we first saw it in the America's Cup, we knew that it would be killer to have something like that on our own boats. In the last few years, Heads Up Display technology has really started to mature, and the cost of miniaturized sensors and components has become affordable enough that this no longer had to be a dream. Although the market is niche, we believe the product is the kind of game-changer that grabs the imagination of anyone who's raced a sailboat.
SA: Does it work for those of us who wear prescription eyeglasses?  What about the lens tint – is it variable, or are their options for foggy/clear/dark sails?
AM: The screen itself is set to optical infinity, which means that most individuals, regardless of whether they are short or long sighted, are able to read the display. The lens of the sunglasses themselves are not prescription at this time, but it may be something we introduce in the future. At the moment, we just have one set of polarized lens that we have found work best in most environments. In the future, we plan on having a selection of lenses that you can swap out.
SA: Are they battery hogs?  How will the Afterguard work for longer races, where you might want each rotating driver to slip into them as they start their stint?
AM: The system has been designed to be very power efficient, so users will get about 4-6 hours out of a battery. The batteries themselves are interchangeable, so with a couple of backup batteries, the Afterguard would be good to go even during a long offshore race.
SA: Is Afterguard's "Performance Dashboard"  a repeater of on-board instruments, or does it do its own calculations?  Can the display incorporate GPS info and navigation aids like XTE and CMG? How much overall customization is available for the display?
AM: The Afterguard system pulls the data directly from your onboard instruments, so any data that you see in the HUD is consistent with what you see on your existing instruments. However, for situations where your onboard systems aren't providing a particular piece of the data, the HUD will use its own sensors to augment each of the screens. Regarding GPS, XTE and CMG, the system receives all of the raw data from the onboard instruments, but currently doesn't incorporate all the data it receives into the screens.
SA: How much wet can the glasses take?  Any plans to do a leaner, and fully waterproof dinghy/moth/olympics version?
AM: The Heads Up Display has been designed to a standard called IP65 which means it is splash resistant, but can not withstand full immersion under water. Basically, it can get pretty wet, but you won't want to take it for a swim. We're definitely toying around with the idea of a fully waterproof HUD, maybe even something that could also work for kite boarders and wind surfers.
SA: Is there a way to record video with the HUD info for later coaching/debriefing?  If not, is this in the plan for future upgrades?
AM: Yes, the hardware is already there with a built-in HD camera, so there is definitely a plan for future upgrades.
SA: When can we expect the first units to ship, and how do folks get on the order list?
AM: We're only doing a limited production for the first run, so there is a small quantity available for preorder on Afterguard.co for early adopters who want to be the first to get their hands on an Afterguard system. We've already placed orders for all the necessary components and have booked manufacturing time, so we should be on track to ship the systems in the fall.
SA: What's the discount for SA's early adopter techno-boffins?  Got any high-profile customers you can share with us on the 'first run' list?
AM: For those lucky enough to get one of the preorder systems, we're giving a pretty hefty discount of $600 off of the retail price. The solo Afterguard system that includes the Central Communications Unit and one Heads Up Display is going for $1899, instead of the $2499 retail pricetag. We want to reward the sailors who are willing to get behind us and the product, and who are as excited as we are to start racing with the system.
SA: Thanks Alex – we're stoked to see the first units and sign us up for a test drive.
AM: You got it, and thanks so much for your interest!
April 3rd, 2014