Now that Formula 1 is over, thank god the 18 Foot Skiffs are back!  And even better, the live streaming they started during last year's JJ Giltinan Championship is now a thing; this week's archived episode features a whole bunch of footage of the Comanche training on the Harbour, typically great commentary from a couple of old salts, and massive amounts of 18 foot carnage.  Not unlike Michael Coxon's swan dive into the piss, executed in style, while leading the race.  Check it all out here.
December 7th, 2014

From Bouwe Bekking straight to you; just as Brunel makes their move for the lead; more here, and Stefan Coppers photo.
It is not the door bell who is ringing, but the boys of Dongfeng have been knocking now for 18 days in a row on our boat. The sun comes up and there they are again in full glory. It seems like our navigators have exactly the same way of approaching this leg.  One crucial point was just about 1 degree north of the equator. Capey, our navigator woke me: "hey listen, a small low is developing just northwest of us, I think we should crack 30 degrees down." He had my full attention, an all of a sudden 30 degree course change doesn't happen very often, especially not that it didn't appear in any of the other predictions from previous days. But the GFS ( low res model) and the EC ( hi res model) were actually for the first time completely in line. A quick chat going through the scenarios and the order was given to come 30 degrees down, meaning a sail change in the mean time.
A couple of minutes later, same procedure on Dongfeng, pffff, a bit of a relieve and pressure of our shoulders. This was the option to buffalo girl the arabs, who had slowly been pushing more and more west. The more easterly route predicted clearly an easier transition into the NE Monsoon, and within 30 hours we knew if it would pay off.  The transition was painfull, first of all we looked glamorous, making an 8 mile gain in 45 minutes on the chinese by
riding the edge of a cloud in pouring rain. But that same cloud became our worst nightmare, when it overtook us. We parked.  Two hours laters an 8 mile lead had evaporated and worse, turned into a deficit of 8 miles. Capey and myself looked at each other, shrugged our shoulders, this shit can happen.
The transition indeed worked better for us than the arabs in the west. Sometimes when you are leading for a while you think you have a golden D..and are invincible   and nothing can go wrong, but it can bite you sometimes as well. Over the last two days, slowly but surely  we have been grinding the Chinese back, the big code is up and playing with staysails. A good point is: we are a faster than in leg 1 in these conditions and learned heaps. Also nice to be in the lead again, always good for the moral.  We start actually practicing throwing dices, as we will need to throw heaps of  double 6′s, that will bring us good luck once in the strait of Hormuz. It will be pure casino, hopefully the dingdong bell will sound for us hitting the jackpot.
Cheers,
Bouwe
December 7th, 2014
Is this just about the pefect embodiment of what a daily highlight reel should be?  Of course it is – it's a Petey Crawford production with Clean on the mic and Gretta on the screen.  Drones, in-water helmet cams, and a rippin' track…have at it, and go here for Carlo Borlenghi's shots of yet another perfect Miami Day.  Live coverage from Clean all day over here, as USA vs. Italy battle gets serious on the final two days of Worlds.  Jason Carroll's got a great little team of anarchists aboard and we'd love to see him two-peat the Worlds, but the parity here is ridiculous, and literally 9 boats are still in this one…
December 6th, 2014
Andrew Scrivan explains why he races one of the most extreme one-design monohulls ever created. 
So who buys an Ultra 30? I did, and have loved every minute of it. The feeling of sailing 8-up, hiking hard off the racks just 10 ft. from the center of the boat, and flying over the water is just the start. With the kite up and fully planing along quietly, you realize it is only blowing 7-8kts; this is Ultra 30 sailing! Seemingly skimming over the water on a seriously powered-up 30ft monohull, with friends and grins all around, is what ultimately defines the culture of our program.
We love the concept of the Ultra 30, and what it has evolved into today in what we know as "Team Zombie". Our TZ Ultra 30 is a pretty far departure from what it once was, racing on TV during the 1990's UK "Ultra 30 Series" Grand Prix circuit. Now with a carbon mast, boom, sprit, aluminum rod rigging, and a lead bulb 6'9" below us, we have much less heeling force and far greater stability – but no trapezes.
With contemporary naval architects relentlessly pushing the design envelope to go faster through the water and air at every turn, keeping TZ up-to-date has been a never ending task. Luckily I am a fanatic about boat optimization. At 30ft LOA (45ft with pole extended), a 48 ft mast, and monster square top main, we have a lot of horsepower- a serious necessity for weeknight racing in Western Long Island Sound. 2-3 times a week, throughout the summer, we line up against boats like the MC 38, GST 43, Farr 40, Melges 32, and many other quick boats with talented sailors.
We all remember parts of the weeknight races we win and lose, but the season highlights are unforgettable. When the conditions allow, our RC sets a 6 mile around-the-islands course in Greenwich, CT. On one such occasion, we had a fairly breezy port reaching start out to the first right hand turning mark and then down and around the islands. Once the RC posted the course we were all grins, as we knew TZ would be in her element. Consistent with competitive club racing, and all 3 divisions starting together, the start was tight, with just the right mixture of multi division chaos. We started as high boat to the fleet, took off planing, and immediately pushed ahead. After a bit it was clear that we would be converging with Carbonado, the MC 38 at mark 1. Clearly Carbo, with her massive planing surface and crew all aft, was no slouch on a 15kt blast reach. And sure enough, we were still even with them 2 minutes from the mark. But with some serious crew "motivation" we worked hard, trimmed accordingly and were able to plane over them in the final 100 meters before the mark.
Now on the downwind, and 5 minutes after mark 1, we looked back and saw the massive gap we had put on the fleet. 20 or more boats were minutes and minutes behind us. We rounded the last turning mark 2 minutes ahead of Carbo and settled in for the slog upwind to the finish. Carbonado took line honors and we were corrected over by a few by night's end. Such is life in the world of handicap racing!
PHRF LIS does not allow us to use our traps and rates us at -6 without the kite and -27 with. We have always talked about doing the Stratford Shoal Race, a 40 some odd mile course from Greenwich and back. Clearly we were not going to hike that one out, so we planned to do the race on our own, shadowing the fleet, keeping our own time and use the kite with all 8 trapezes.
The TZ gang is equally into helping with boat prep and set up, so sorting and splicing new trap systems did not take all that long. On one of our practice days for the race we set out in a very lumpy 15-18kt southerly. The boat was not happy upwind as we were depowering with 8 guys trapping and getting severely bucked around. Everything changed when we turned down and launched the kite. With weight back and now 7 guys on the wire, half the boat was consistently out of the water and driving could not have been easier. With the pole 15ft in front of the bow and mast head kite up, every time we got a puff the bow lifted, and without resistance, drove down and built speed. This was one of the greatest feelings of acceleration, power and balance I have experienced on any boat. To think of all the elements at play: speed, wave conditions, righting moment, healing force, crew coordination, everything just became more balanced and fluid as we went faster and faster with each puff. With close to 20kts of boat speed, 7 guys on the wire, and all on a 30ft platform, it was a good day at the office.
The night before the Stratford Shoal Race the forecast called for light and variable winds, and delivered as promised. We pulled the plug ahead of time; if it's not going to be fun, there's no reason to be there in a boat like this!
TZ has not had an easy life. She was raced hard as a one-design before the circuit died, sailed in the UK under handicap, was almost totaled and lost in the RTI (Isle of Wight) race, fixed and raced under the sport boat rule (before that too was eliminated), brought to the US to race in PHRF, was again almost destroyed 2 separate times on her trailer by 60kt microbursts, squeaked through Hurricane Irene and Sandy unscathed, and now waits patiently under winter covers in better-than-ever condition for the 2015 season. Ironically, the massive amount of punishment and challenges that TZ has overcome has only made her stronger, proving again that it is very difficult to kill a Zombie.
Latest mods on Facebook.
Photo Boat- Round the Islands Race
Latest SA Thread on TZ.
December 6th, 2014
We don't know when we'll stop finding the entire Vestas Wind drama interesting, but not today, and with the team finally headed to civilization, there's plenty more to come.  To the few of you who've accused us of somehow whitewashing the whole affair or going easy on VOR management, we encourage you to watch this one all the way through; Frostad's clear and honest answers and obvious admiration for what Nico and crew have accomplished during the toughest moment of their careers are just about perfect, and we're not sure how anyone couldn't be on their side after listening to him!
We've been told that SA is at the top of the interview list as soon as the team has been properly debriefed in the Emirates.  Got a question for Nico?  Post it here, and don't bother if it isn't really good.  The situation deserves more thought than usual.  Hardcore music lovers will know from whence our title comes…
December 6th, 2014
In this 'cover your ass' world, there are few things more compelling than someone standing up and taking direct responsibility for something disastrous.  Team Vestas Wind router Wouter Verbraak had just two days in Mauritius to collect himself before flying out, and using one of the only forms of communication he had – Facebook on a hotel computer – he posted his mea culpa , just an hour ago, and with no qualifications.  More, he's analyzed what happened (probably ten thousand times over the past week), and provides a solid, logical, believable explanation of what was essentially a mistake resulting from the usual cascade of small errors; a combination of fatigue, time crunch, digital charting issues, and the last-minute, storm-induced course change from VOR Race Direction.  Like this attitude?  Like him on Facebook and tell him.  We're sure he could use a few words of encouragement.  More Brian Carlin shipwreck pics here.

We finally have means of communications again, so a message is highly overdue…
I am totally devastated and still in shock as the gravity of our grounding is slowly sinking in now that we are safely in Mauritius with finally some time to reflect on what happened.
We are very lucky that nobody was hurt, and a lot of that is credit to our teamwork in the seconds, minutes and hours after the crash.
I made a big mistake,[emph. ours] but then we didn't make any others even though there were many difficult decision to be made and the situation was very challenging and grave indeed.
Once I can get power to the boat's laptops (if they survived) I can look further into how we didn't see the reef on the electronic charts [emph. ours]. I did check the area on the electronic chart before putting my head down for a rest after a very long day negotiating the tropical storm, and what I saw was depths of 42 and 80m indicated. There is a very good article posted here which highlights some of the zooming problem in the vectorised charts that we used.
I can assure you that before every leg we diligently look at our route before we leave and I use both Google Earth, paper charts and other tools. However, our planned route changed just before we left, and with the focus on the start and the tricky conditions, I erroneously thought I would have enough information with me to look at the changes in our route as we went along. I was wrong. I am not trying to make any excuses – just trying to offer up some form of explanation and answer to some of your questions.
There are a number of lessons to be learned from this, which we hope will be able to relay in the time to come.
I am immensely grateful for all the support that we as a team, my family and myself have received from our wonderful friends, colleagues, family, Vestas, Powerhouse and Volvo. More over we are heavily in debt to the thorough support of Alvimedica throughout the first night, as well as the local fisherman and the coastguard of Ile du Sud in the atoll. So I want to thank everybody so very much. Thank you, thank you, thank you.
I am forever in your debt.
Wouter
December 4th, 2014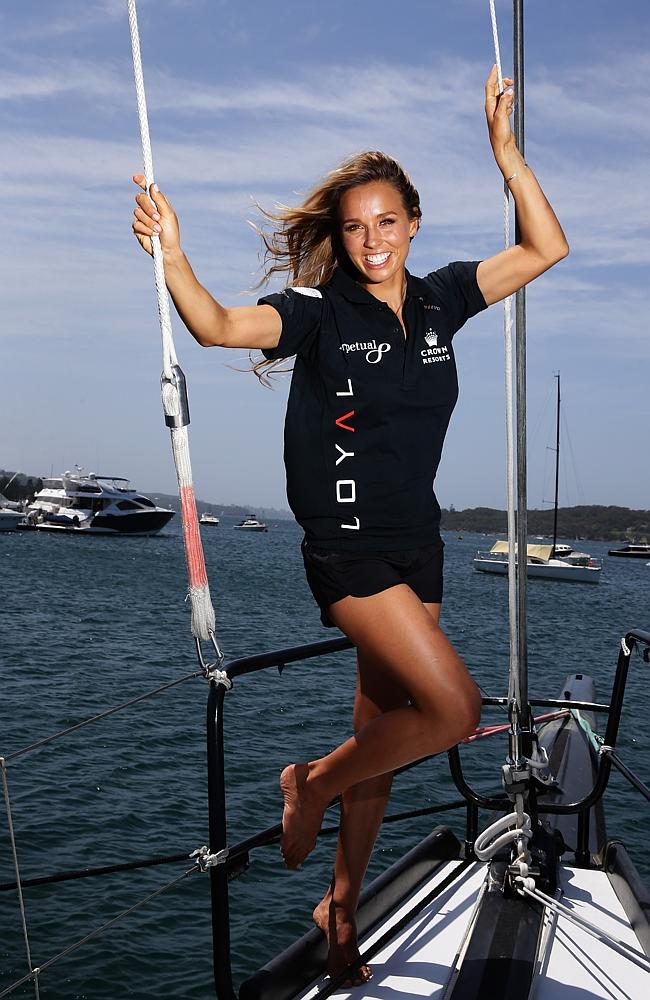 Sure, Wild Oats XI has only been beaten to Hobart twice, and her skinny bottom means she's one of the best all-rounders ever built for the coastal races she was created for.  And sure, Comanche has Stan Honey, Jimmy Spithill and Kenny's entire Puma Team, and a design that should be faster than the once-frightening Perpetual Loyal (ex-Speedboat).  But Loyal has several secret weapons – among them Sydney supersailmaker Michael Coxon and a brand new kite said to be 'the biggest spinnaker ever built'. Plus, they have a new website!
And then there's this weapon – ASP surfing world title contender Sally Fitzgibbons, who joins Anthony Bell's charity-driven campaign for this year's crowded Hobart race (remember when Clean grabbed a midnight interview with Jess Watson aboard Loyal last winter?).  She'll certainly add some motivation to the boys, and they'll likely not waste a chance to have another crew hiking and packing kites.  She'll also add thousands more eyeballs – and hopefully, the donations that go along with them – to one of the greatest spectacles in yachting: Sydney Harbour on Boxing Day.  And this year, it might be the greatest ever.  At least until they let the multihulls in.
Lou Reed is responsible for the title.
December 4th, 2014
There has never been a sailing video like this.  Turn it up and hug your fellow sailor.  For a longer look at the wreck and a short interview with Nico about it, click here. And of course, find the pics, videos and chat about everything Vestas Grounding in the thread.
December 4th, 2014
One down, four to go, and possibly the best forecast we've seen for a World Championship in years. US vs. Japan vs. Italy at the top, and Petey, Clean, and Gretta there to make it all look like sex on the water. Enjoy.  Results here.
December 4th, 2014
The offset leg was a three-lane highway  at times during Day One of the 2014 Melges 32 World Championship, with the Japanese/Spanish Mama Aiuto! taking the early lead.  Pierre Casirighi – taking over the helm for injured eccentric driver Roberto Grinover – caught a bullet and will receive average points through Saturday for Race 2.  Want to hear how a Race Officer should handle himself in an OCS/Redress?  Listen to Anderson Reggio over here for how it's done by the world's best.
John Kilroy's Samba Pa Ti could barely have started their world title bid worse, grabbing a DSQ after a top mark incident with the DeVos teams Delta and Volpe.  Go here for the full news story, and get over to Facebook to see near real time videos of every race, tons more photos like this Carlo Borlenghi shot above, and plenty more.
Stop, collaborate, and listen to the title inspiration here.
December 4th, 2014
Let them enjoy sport like anyone else, this was the beginning of the discussion. No special treatment, they get wet like any other sailor…no exception. Focus on the personality only.
A very touching experience shooting these photos. Today they have been launched at the Swiss Handicap exhibition. The images will be used for a national campaign to promote the sport of sailing for disabled. – Juerg Kaufmann.
View all the photos here.
December 3rd, 2014
You might get sick of all of our Melges 32 coverage this week, but let's be honest: It looks like five days of awesomeness in South Beach, and what else do you have to do?  Peter Crawford gives you some Pre-Worlds action along with a preview of some of the teams.
Get over to Facebook to follow the racing in real time.
December 3rd, 2014
Our old friend RadioSport NZ talker D'arcy Waldegrave caught up with Mr. Clean after yesterday's Bermuda AC announcement for his drive time show 'The Sauce". As usual, they talked some shit together, and as usual, it's worth a laugh or two.
December 3rd, 2014
the real world
Heartbreaking proof of why we love Chris Nicholson, with Mark Covell doing a great job getting the full story out of him.  There, but for the grace of god, go we.  Those of you seeking answers, read the latest update here, have patience or go play here.  And don't forget: These guys are still on the beach.
lighten up
We wouldn't post this if we didn't think Nico and the boys would chuckle at it.
Back To The Beach

There's a fun new attitude in the Melges 32 Class – if there weren't, the Rev Petey and Clean wouldn't be down at their World Championship.  Go here for OTW video and photos starting tomorrow around 11 AM EST, and watch the front page for a daily highlight reel to burn your retinas.
One Way Or Another

Andrew York gives us some juice on the latest VX-One action.  We like the way these guys think.
I love it when a plan comes together! Well, the plan I put to the Sydney VX One fleet before the season came together in spades on Saturday the 29th of November.
In early September we had a meeting at the CYCA to discuss our plans for the season. At this meeting I asked the owners what their thoughts were about towing the boats up the coast to Pittwater one morning when the breeze was light and the sea pretty flat and then sailing back to Sydney in the building Nor-east seabreeze. Their reaction was 'shit yeah, let's do it!"
We would be at the mercy of the wind gods, and there's only a 30% chance of a good seabreeze on any given day from October through to December.  So we allocated four of the Saturdays in November as 'possible days'. I rang around to find a boat to tow us and Steve Barlow who had a Riviera 44 said he was up for it. I knew that he would do a great job and that his boat would be the perfect platform to take photos of the day.
The first three weekends did not work out for us, but as soon as the seven day forecasts were out, Saturday the 29th looked the goods. There would be a light wind in the morning and the seabreeze building to 15 knots or more in the afternoon. Most importantly there would be only a three foot swell offshore for the tow up the coast. On Tuesday I notified everyone that it was a go for our trip to Pittwater on the weekend.
We would be towing from the hardstand at RANSA in Rushcutters Bay; five nautical miles to North Head and then another fifteen nautical miles up the coast to Barrenjoey Headland.
Friday dawned and all was good, until I received a message from Scott Lawson that he had been sick all week and did not think he would be able to make it. He graciously offered the use of his boat if I could find a suitably experienced skipper and crew. Although the offer to steer a VX One down the coast is a good one, I knew that the lack of notice might not make it easy to fill the roles.
I found a couple of guys more than capable of sending Scott's boat safely down the coast. Some guys named Iain Murray and Lach Gilbert would be joined by Scott's son Harry; one of Australia's top 29er sailors.
With Beth Morley of sportsailingphotography aboard Steve's boat to record our adventures and the boats hitched up, we started our journey from the dock in Rushcutters Bay. The sea was nice and flat and we averaged a bit over 9 knots on the tow, arriving at Barrenjoey around 1:30pm and heading around behind The Joey to hoist our sails, with Murray arriving by boat to join us. We beat out past the headland and then started heading south. There was quite a bit of East in the breeze so it was a two sail reach for a couple of miles until we could hoist our kites.
Phil Tomkins, sailing two-up, was fairly pressed as we surfed wave after wave. We were doing 14 to 17 knots most of the time while the Riviera buzzed around setting up the shots for Beth. We enjoyed the ride down the coast for about an hour before we jibed to go in through the heads.
When you sail downwind for 20 miles in a VX One, offshore in a building breeze, it's a good day, a very good day!
December 2nd, 2014
From the 'truth is stranger than fiction' department comes this tale of a nutty German and a goddamned funny idea.  Is it real?  You decide.
After two years of intense preparations a project which at the beginning seemed unrealistic if not impossible will become real: With a sailing boat equipped with wheels we are going to sail on the road E 40 from the southernmost end of Latin America through the pampas of Patagonia heading north for where civilization begins. For one month, a team consisting of my cameraman, a sailing expert, my co-pilot and me are going to keep sailing as far as the wind will carry us or until civilization in the form of traffic or policemen shall stop us.
As a result of the journey, a movie balancing narrative documentary and artistic film will illustrate the complex interrelations between our natural and social surroundings.  Read on.
December 2nd, 2014
Nebraska's Jen Edney has been one of our favorite young photographers for the last couple of years, and her growth and maturity in the face of a nasty sailing accident last year has been phenomenal.  Jen's work has a uniqueness about it that's hard to pinpoint, but a few minutes with her body of work shows that her onboard 'human' shots are some of the best we've ever seen in the sport.  Jen will be working on some special projects surrounding the VOR over the next few months, but was embedded with Team Vestas Wind in Cape Town, and she put this story together for the Anarchists after the team's recent drama.  Go and like her Facebook Page for more about this exciting young Sailor Chick of the Week.  And wish her a Happy Birthday while you're at it.
The boats are gone. The village is empty. My friends, my 'family' are at sea. It's a strange feeling after so much excitement, movement and anticipation over the past few weeks. Everyone is going about their daily lives as usual around me, but today, I am in another world. I find myself thinking about what my friends are eating for the next 25+ days while I eat breakfast. About the bashing they must have received overnight while I slept in the comforts of my own bed, feeling a tad guilty. I am thinking about my 30 hours+ of flight time home, realizing that I have it easy.  Call me crazy but I am also thinking, "I wish I was out there with them."
Back home, I open my eyes to see the bright orange and pink colors of a Nebraska sunrise, having stirred from yet another dream of open water and blue sky.  It's a recurring dream these days and a stark contrast to my landlocked location.  The first thing I think about upon waking is my mates at sea and how they are getting along, but it is Thanksgiving morning and I have so much to be thankful for. This morning I am thankful for my 'real' family in the Midwest as well as my 'sailing family.'
Changing Colors
I thought about a recent experience I had during this past trip to Cape Town, when I was sitting in a circle of more than a dozen friends from all over the world; a night when I realized how special this sport can be.  I was sitting across from a person who helped me with my first-ever sailing story seven years ago and who I credit for getting me into this mess that I've grown to live, love, and long for.  As we all swapped stories from years past – stories that were in some cases older than I am! – nostalgia set in, and we talked about the way this race has really become life for so many.  We talked about the Whitbread days, how the race has changed and grown, stories of sadness, joy, and drama.  Nights barely remembered and nights whose impact will be felt for decades…we all have those.
Throughout the next 9 months, I will constantly be "changing colors" to tell my own stories of the Volvo Ocean Race.  My loyalty and allegiance lies not with one team, but with the sailors…all of them. I've realized how special this opportunity is, and that is one that wouldn't have existed in this way during the past few editions of the race. Everyone has talked about how 'One Design' has changed the dynamics of the race, making for the tightest racing in history and opening the door for more sailors to compete, but that's not all that has changed. The race has nearly always been won by the best-designed yacht and in recent years by the team with the biggest budget, forcing the sailors to work extra hard behind closed doors. And now, the doors are all open; and the new feeling in the Boatyard, the team bases, the Sailor's Terrace, the hotels, parties, and media centers is one of camaraderie and togetherness.  It's something that dominated many of the less professional days of the Whitbread, but it's back – and the public, the sailors, and their families love it.  Of course they do – that camaraderie is one of the things we all love about the sport, isn't it?
This was most recently illustrated as Team Alvimedica diverted from the race to stand by and assist in the rescue of fellow Team Vestas Wind after they ran hard aground.  Charlie Enright said, "The only thing that matters was that everyone was OK, they are our competitors and our friends but in addition to that we are each other's support networks when we are sailing in remote corners of the world."  And anyone who watched Will Oxley's wonderful radio chatter and interviews knows that there was nothing that he wouldn't do to help save his friends, perched on a reef in the middle of the ocean.
It is moments like these that highlight this precious aspect of the sport. Humbling moments that remind us to stop, take a breath, look around, and truly appreciate and respect where we are, and who we are with. As usual, Bouwe Bekking said it straight: "We are someway, somehow, one big family in this race."
December 2nd, 2014