When an event includes defeated finalists like ben Ainslie in its history and the past winners list reads like a who's who of match racing (Gavin Brady, Dean Barker, Phil Robertson, Adam Minoprio, Josh Junior, Rod Davis, Brad Butterworth and Chris Dickson have all had their hands on the New Zealand Match Racing Championship Trophy) you know you are in for some competitive and combative top drawer match racing.
Add to that a PRO of the quality of Harold Bennett and a line-up of 8 umpires that included Russell Green (ETNZ and former Oracle Rules Adviser) and you have a recipe for a thoroughly entertaining and professional series of races.
19 Teams – across two flights – came to the line for the first race of the 2016 New Zealand Match Race Championships which like the WMRT started with fleet racing to seed the sailors for the match race element which was to follow.
Racing was held on the waters off the Royal New Zealand Yacht Squadron (RNZYS) and the weather threw everything at the sailors from a drifter with Harold Bennett's finger poised over the hooter with the "N" flag ready to hoist only to be saved by the wind returning, to gusts approaching 30 knots but the sailors' weapons, the locally built Elliot 7s proved ideal for the job.
Add to the wind, tides which were perhaps at their strongest of the year with a 'super moon' providing a cross current which added just a little extra spice to the required judgement of the competitors. Coincidentally the Elliot 7s used for the event which are part of RNZYS development fleet, were built by Yachting Developments who generously sponsored the event.
Quality showed in the fact that although racing was close – with the boats even closer in the pre-start – the Y Flag was not overused by any team showing that in the main they knew when and where their rights had been infringed.
The puffy conditions led to many lead changes as the event developed and as to be expected the easy victories of the earlier rounds gradually disappeared and from the quarter finals onwards the victors had to work progressively harder to make it through to the next round.
The course itself was laid out in the same way as the WMRT with the entry from windward but followed by a reaching start which produced similar tactics in most flights with an absence of split tack starts, committee boat Vs Pin and so on which for some may have taken away from the match race pre-start 'fun and games' but there was no reduction in the typical dial ups and spins as competitors endeavoured to gain the upper hand on each other.
The umpires were kept particularly busy in the boisterous conditions with, particularly the wing umpire, buzzing round to avoid blackouts on whether an overlap existed or otherwise.
Once on the course side the racing had everything. There were "swings and a miss", there was boats almost stopping approaching a mark to try and trap their opponent and as mentioned, multiple lead changes.
The final was between defending champion Chris Steels and Graeme Sutherland. From the start it appeared that Steele's boat handling was superior, especially in the brisk conditions, but this was balanced out by a straight line speed advantage from Sutherland and although the final score line was 3-0 in Steele's favour this was far from a walkover, quite the opposite.
As an extra, the finals were commentated by a voice familiar to America's Cup fans with Peter Montgomery, himself a RNZYS member, viewing the racing from the Squadron providing second by second insights to the racing. Not just to the Squadron members either, such is the keenness in the event that the finals were being broadcast live on a local radio station.
As Peter said in the movie Wind, "The big boats get the glory but the small boats make the sailor".
Well over the past weekend those competitors who were following in the footsteps of so many, now famous, names in our sport certainly showed their mettle and it would be no surprise to see some of them sharing in the 'glory' of one big boat or another at some point in the future.
- Shanghai Sailor.
October 19th, 2016
The odds-on favorite for the 2016/17 Vendee Globe checks out an entirely novel use for his foiling j-board aboard Banque Populaire.  Photo dug up by whoever the hell Nolimit Team 972 is…and there's already a pile of great Race Village photos on the VG site…T minus 18 days!
October 19th, 2016
Thought you knew what J-foils were supposed to look like? Guess again.  These from Jean Pierre Dick's St. Michel Virbac, currently lying in Les Sables D'Olonne getting ready for the Vendee Globe in just two weeks!  Sailing Anarchy will be there – will you?
Title shout to one of the funniest bits in modern movie history.
October 19th, 2016
Crazy-ass Instagram stunt nut Booth8 outdid himself the other day with this 8 story (127′) outlaw jump into one of sailing's iconic spots – Newport Beach, California's inner harbor – just missing a wooden dock and what appears to be an IOR racer.  (Reports that it was the owner of the IOR boat trying to kill himself for owning that shitter are unfounded at this point – ed).
Any morons looking to risk their lives like this dude?  We spent an hour messing around on Google to dig up the location for the jump, and it's a regular old tower full of million-dollar condos.
Just kidding, everyone: We are not condoning idiots jumping off buildings.  But if you ARE going to kill yourself by jumping, do it live.
October 19th, 2016
Is something very, very cool. Check it out here and here.
October 18th, 2016
Once again, thanks for selling another boat for me.  This has to be about the tenth one I've sold through your website.  Have no idea how I would sell them without your site and the very effective classified section!
Please remove my 1996 J92 from your classified, as she is sold and heading East!
-Anarchist Doug
October 18th, 2016
Commentary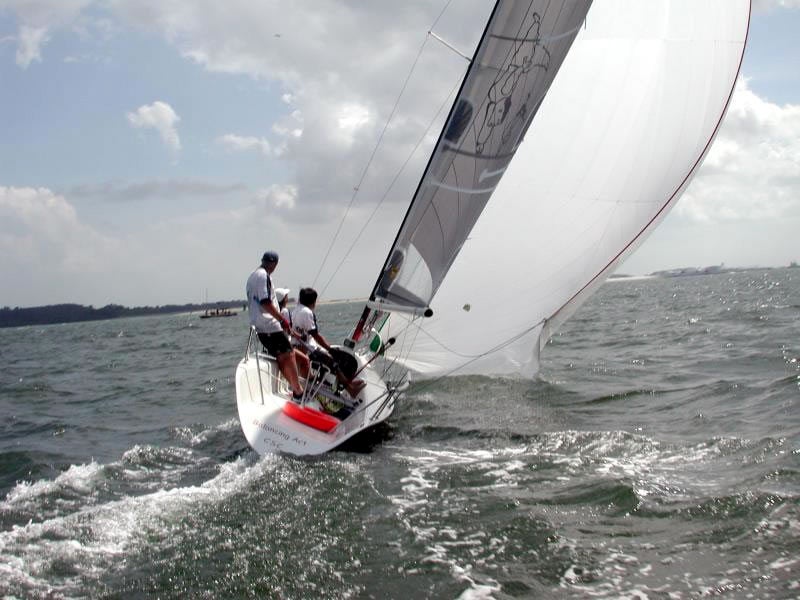 I've been trying to follow the presidential campaigns for World Sailing, and commend Mr. Clean for his podcasts and trying to get the candidates to engage in some of the toughest issues that are being faced at best or at worst will be lurking just below the surface.  While listening to some of the discussion about the concerns about classes and equipment as might be adopted or excluded by the Olympics it occurred to me that Sailing is on the surface very similar to many other sports but throughout history it has developed a very unique way of expressing itself which is very unlike the other sports.  Perhaps the Olympics is the perfect venue to reinvent the sport and get back to basics.
It seems to me that Olympic sailing defines itself through the class of boats that are sailed, which increasingly are manufacturer one design classes.  This always raises the spectre of shady dealings as production contracts get very big very fast with a global adoption of an Olympic class.  However when you listen to the discussion of the classes they are frequently described in simpler more basic terms.  Like Boxing or Wrestling, there are weight considerations.  Different boats are adopted so that the lighter sailors can compete at the same games as the heavier ones.
Like Tennis there are Men's or Women's singles, doubles, or mixed.  With the introduction of Boarding (Kites or Sailboards) there are different race formats such as slalom, freestyle, or courses.  I may be wrong, but only in sailing do they specifically classify all aspects of the craft to be used.
In skiing, or running, or cycling, there are many manufacturers in the same race.  If you use inferior equipment you lose.  The equipment in the sports outside of the Olympics is mature enough that you can get competitive gear from a number of suppliers.  Couldn't sailing just define the size, number, and gender of the eligible contestants and say how many hulls, and the size of the craft and let the sport decide what works best in the confines of that box?
In days of old sailing Clubs would purchase a number of the same boats because it was cost effective, and it brought in members who did not or could not own their own craft, some clubs may have dominated regionally but that isn't necessarily because of the class.  It was likely because those clubs had people on the water more.
I understand that at the elite big boat level of the Volvo, or Americas Cup they are moving into a one design space to drive down the multi-million dollar arms race and encourage greater ease of participation for more syndicates on the line.  This is because these events are sponsored marketing events, and spreading the marketing dollars is necessary for success.  The Olympics on the other hand is relatively white labelled at the competition level. Sure skiers hold up their skis when they finish well, and everyone sees the Nike swoosh on a runners shoes, or the logo on the strings of a tennis racket, but it doesn't define the sport.
Each sport is supposed to be defined by unique skills required for a discipline or competition format.  Would it be that hard to do that for sailing? Wouldn't it open it up to more nations if we said run what you brung, lets see what ya got? – Ted Brewer.
October 18th, 2016
When it comes to politics, Florida is surely one of the dumbest states in this country, but them boys know how to throw a cat race!
Title inspiration comes from here.
October 17th, 2016
Big Pimpin'
The Fareast 28R was introduced to the US market last year. Since the boats inception we have built and sold over 300 28R's, they are sailing in 10 countries and have gained ISAF international one design status. Clearly there is a demand for a boat that is fast and fun, but also affordable and simple to sail.
We are now introducing the Fareast 23R. Based on the lines of the 28R with a reverse bow and wide transom the boat sails easily upwind and will plane downwind. With a simple layout the boat can be sailed by any sailor and despite its speed it is by no means intimidating. Factor in the keel lifting system the boat can be ramp launched and trailered from venue to venue.
The Fareast 23R is another high quality, high performance race boat, with an affordable price tag of only $35,000USD – and that includes sails. (Note: I sailed one of these in China in May and thought they were a fun, able, good looking and as far as I could tell, plenty quick little boat. Quite nicely turned out as well. – ed)
For decades sailboat racing has been drifting towards more complicated, more expensive boats. This has put ownership of new racing boats beyond the reach of most sailors. At Fareast we are committed to changing that. We have changed that. We have proven on race courses around the world that we can beat our more expensive competitors boat for boat, and we are doing it on a platform that is fun, fast, and affordable.
Want to learn more? Visit us at the Annapolis Boat Show or visit our website, www.FareastBoatsUSA.com
October 17th, 2016
The second of three candidates for World Sailing President sat down with us on Friday to explain why he is running for the sport's top position, and he seems like as solid a choice as anyone.  An engineer and executive who perhaps lacks some of the fire of Henderson (and if you missed that podcast, it's worth a listen), Kim Andersen is as Danish as they come despite having spend many years living in Australia and Germany.  The longtime Olympic class and now Dragon sailor wants fairness, equality, transparency and solid management for the sport he loves, and he's got sensible plans on how to repair the damage done to the sport over the past few years.
Both Andersen and Henderson have a mountain to climb; no incumbent has ever been beaten for the ISAF/IYRU/World Sailing presidency, and Carlo Croce has very powerful friends: As the Commodore of the most powerful Yacht Club in Italy and the President of Italy's MNA, Croce has the ability to influence the voting MNA's in many ways not subject to public scrutiny
If Croce doesn't win after the first ballot (the winning candidate must get >50% to win), things get interesting and the horse trading really begins; either Henderson or Andersen will get axed, throwing their support to the other, with the final two candidates taking whatever time they have to drum up support for their bid.  They're technically not allowed to promise anyone positions, posts, jobs, events, etc in exchange for their vote, but from what we've heard, it happens every election.
We gave current President Carlo Croce over a week to respond to our requests for the final interview to round out this series, but other than being told the message was passed on to him, we've heard precisely nothing. We're not saying that Croce has anything to hide, but two of the three candidates have chosen to air their platforms and answer all our questions in a very open manner, and if transparency in our sport is important to you and your countrymen and you care about the future of our sport, get in touch with the president or director of your MNA and let them know what you think.  Perhaps more importantly in a long game like this, make sure you are ready to vote your national MNA bosses out at their next election if they make it clear they don't care.
October 17th, 2016