Royal Freshwater Bay Yacht Club 118th Opening day.  Plenty of Rule 10 action.  And one crash. Anarchist Poodle.
October 20th, 2014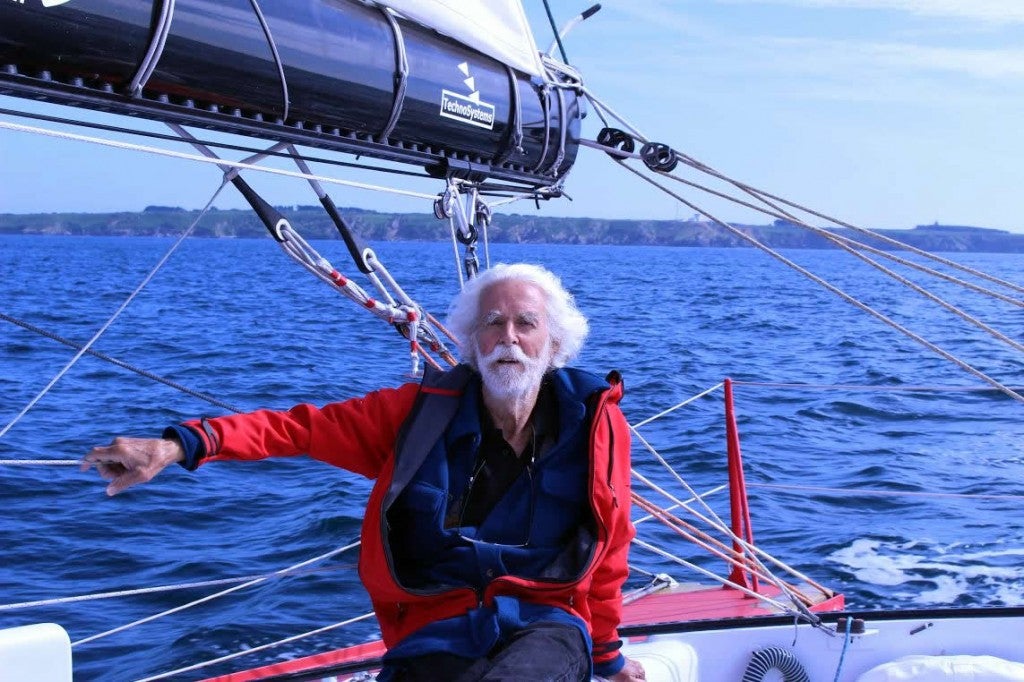 Lymington, England: Bill Green, San Francisco-born sailor, Navy jet jockey (not a lot of people know that); shrimp-boat hand (not a lot of people know that either); One Ton and Admiral's Cup winner and most latterly proprietor of Green Marine slipped quietly away from this life with – as was his final wish – no fuss or bother.
He is and will be mourned by his daughter Saskia, his son Pom, wife Susan, his immediate family and by a circle of friends as wide as the ripples of a lifetime of major contribution to yachting and international yacht racing can spread.
Bill Green was born in San Francisco, Calif, in 1937 and built his first boat at the age of 11. He arrived in England from the city of Kerouac, flower-power and all that went with it aboard George Kiskaddon's Spirit of San Francisco when European and English yachting were still hide-bound by tradition and white duck trousers but ready for change. Spirit and her bandana-wearing crew rocked the boat in more ways than one and her English season of 1967 is still spoken of with awe by those who were there – especially those who were downwind.
After a spell of international crewing, racing and running the world-girdling schooner 'New World' Bill returned to his native city and teamed-up with friend and fellow Californian Doug Peterson who needed help building a new boat to the then new IOR for the One Ton Cup. The boat was Ganbare. Ganbare won the North American One Ton championship of 1973 and then went to Sardinia for the One Ton Cup itself. They won the first four races but in the triple-scoring long offshore went round a mark the wrong way, were penalised and the One Ton Cup was won by the Dick Carter-designed Ydra. What Bill Green said to the navigator is not recorded but we may assume it was pithy and to the point.
Ganbare, Peterson and Bill Green seriously caught the attention of British boatbuilder Jeremy Rogers, who asked Green to join his company as consultant and help them build and campaign their own race boats. At a time when many British offshore racers still took pyjamas to sea, had sherry with supper and worked watches Bill Green's minimalist stay-awake-and-sail-the-boat approach coupled with an equally minimalist attitude to just how many winches and similar deck hardware was needed both changed perceptions and won races. Ganbare became the Peterson 35, went into production with Rogers and in 1974 the 'works' Peterson 35, Gumboots, won the One Ton Cup, giving Bill his revenge. It also cemented the association with Rogers and with Lymington.
In the 'Seventies there were only two match race competitions in the world: the America's Cup and the Congressional Cup in Long Beach California. Bill Green persuaded the local Royal Lymington Yacht Club to stage a similar series, called originally the Lymington Congressional Cup, eventually the Royal Lymington Cup. Imitated elsewhere, it was the foundation of what is still the world match racing circuit.
In the early Eighties Bill with the technically brilliant Ian King (another Rogers employee) and their wives Elsa and Dianne founded Green Marine, the four together building a company which quickly became a world leader in advanced composite construction. Green Marine's output ranged from lifeboats and military craft to mega-yachts, America's Cup boats and Whitbread and then Volvo round-the-world racers.
Away from boats and boat-building Bill Green was a latter-day Renaissance man with a wide range of knowledge and interests from Mozart and opera to good food and cycling. His collection of state-of-the-art road and race bikes is the stuff of legend.
There will be a private family cremation on Thursday but on November 22nd those who sailed with, loved or whose lives were enriched by this extraordinary sailor, boat-builder, businessman and polymath are invited to gather in Lymington to raise a glass or two, swap stories about him or just simply reminisce in a very Bill Green way: roasting some meat, listening to some music, drinking some rum.
His family are keen to collect stories about Bill. Please mail your own reminiscences to memoriesofbillgreen@gmail.com. If you would like to attend the gathering please e-mail for details. — Malcolm McKeag.
October 20th, 2014
In a world of mega yachts and billionaires, this anarchist parked his gem right in the front row of ground zero at the Bahia Mar. – Anarchist Brandon. Title inspiration thanks to Body Count.
October 19th, 2014
Mikkel Anthonisen – dedicated doctor, dad and anarchist reporting. Their MS-crewed Challenge 67 "Oceans of Hope" is parked at the Shipyard in Newport right now undergoing some well-deserved TLC, while he is at home in Denmark with his wife and three kids for some of the same!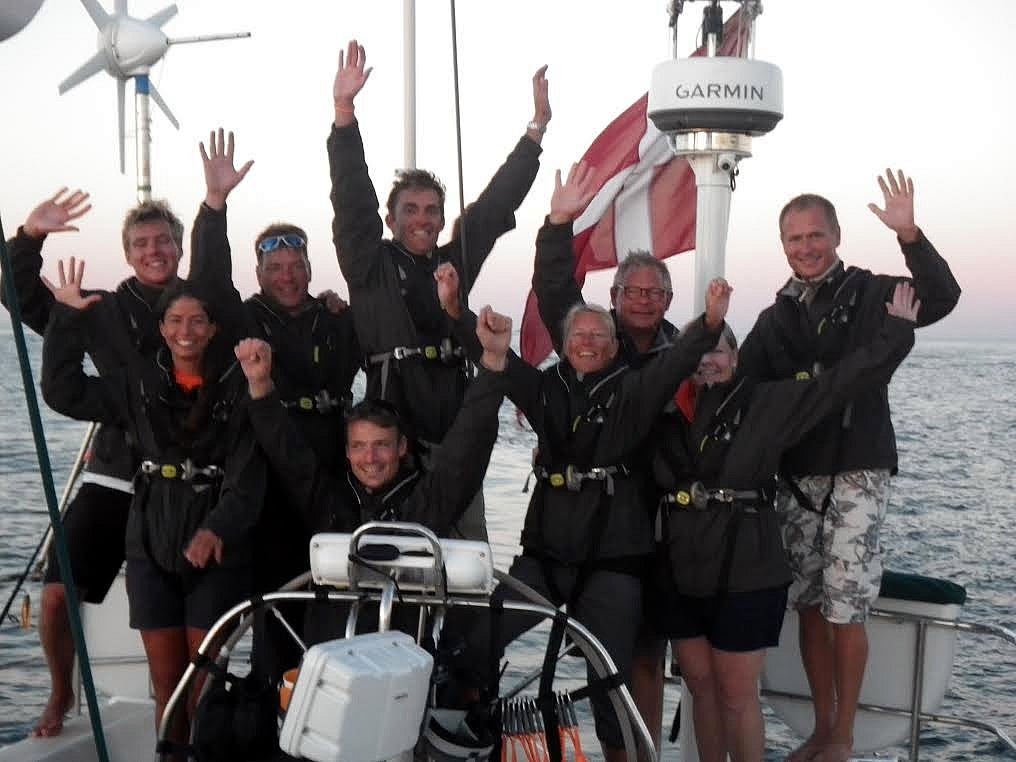 Our circumnavigation to change the perceptions of Multiple Sclerosis and to inspire those who live with MS is going from strength to strength with each passage and every stopover. After an adventure-filled, Dorado-catching transatlantic crossing, we arrived in Boston early September in time to be the centerpiece of the MS Boston 2014 conference being hosted there – an annual gathering of experts and advocacy groups.
The Sailing Sclerosis Foundation and our project Oceans of Hope was invited to open the conference showing a video of our crossing and telling about the project. The crew were given a standing ovation by the 9,000 delegates present. This was really the culmination of many months of hard work – and proof that we are doing something that matters to a lot of people.
The journey since leaving Copenhagen in mid-June this year has indeed been changing the perception of MS. The MS crew on board feel like they have recaptured their identity. Many people living with a chronic disease like MS experience a life not only in fear but also in shame. However irrational, feeling embarrassed is a normal consequence of being diagnosed with MS. Oceans of Hope wants to heal some of the wounds by helping these people to get back in life, to stand up as they are and take pride in what they are doing. Out there in the middle of the ocean we are all very small and vulnerable. We are all imperfect. But we need each other and everybody is good enough and definitely worthy of love and belonging.
I think this is the message that had all the delegates stand up and applaud at the opening of the conference. This is the very same motivation that makes these doctors, nurses and scientists get up in the morning and go to work. This is the kind of society we probably all want to live in. A society where we care about each other and where people are included with the resources they have.
During our week long stay in Boston we managed to take some 30 local MS patients out sailing in Boston Harbor – a feature of all our many ports of call to create a network between the sailing world and the MS world. We also enjoyed a few Maine Lobsters in the cockpit as a send-off meal hosted by our MS Transat crew.
We will set sail from Newport on October 22nd with a new international MS crew, including some Americans to help with Homeland Security, and our next big stopover will be in the Big Apple itself November 11th-16th. We will be berthed at North Cove Marina where the Manhattan YC is providing us with their fabulous floating clubhouse to shelter from the autumn weather. Any anarchists that live with MS, or know someone who does, can come out for a sail with us. Sailing days are scheduled for November 14th and 15th with two sails per day – apply directly to us at sailingdays@sailingsclerosis.com
If you live with MS and read this and then think: "No, I can´t do something like that". It´s ok, and maybe you are right. But do me a favor: Show up anyway. You might be surprised. And if not: At least you tried. And you will still be one of us!
October 19th, 2014
By Midnight virtually the entire fleet racing in the Rolex Middle Sea Race had passed through the Straits of Messina, heading for Stromboli, the active volcano that marks the most northerly part of the 608 mile course. As high pressure moved in from the north, the area around Stromboli had virtually no gradient wind and for those yachts yet to reach Stromboli, a south flowing current has slowed proceedings even further. For the competitive offshore yacht racer, performing well in light wind is more difficult than blasting through a storm at top speed.
After two nights at sea, the crew may well be at their lowest energy level for the whole race. The rhythm of offshore life has not been established and the ever changing wind saps energy through numerous sail changes. Concentration also becomes difficult. After the excitement of the start adrenalin levels are now lower and keeping alert is not as easy. In light airs, losing focus on the helm, or on the sail trim, can be very costly and stalling the boat in little wind makes it difficult to get going again.
At sunset on Day Two Line Honours favourite, Igor Simcic's Maxi, Esimit Europa 2, entered a transition zone in the wind and came to a virtual standstill until dawn. This allowed the duelling pair of Maxi 72s to close the gap. Niklas Zennstrom's Swedish JV72, Ran V and George Sakellaris' RP72, Shockwave are now just ten miles behind, Esimit Europa 2. Ran V is now the provisional leader of IRC 1.
October 19th, 2014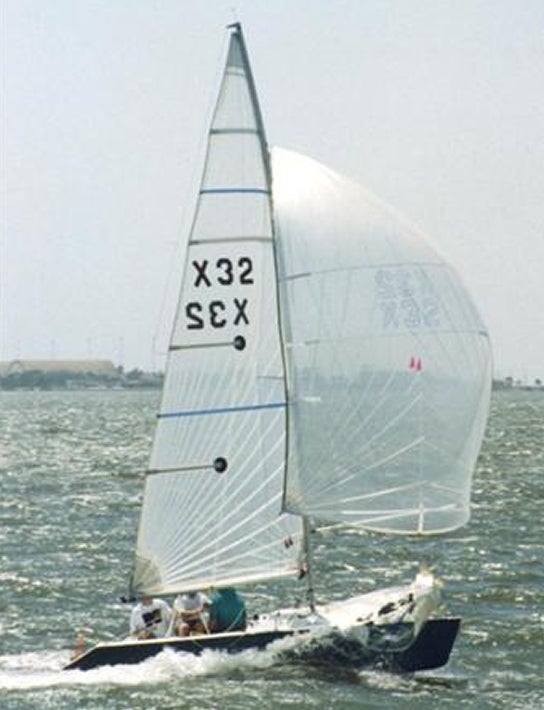 Funny sail number from the old SR Max days, thanks to Anarchist Frank. Got a pic of a funny sail number?
October 19th, 2014
You guys always know everything, all the time, right? And in a brave new world of seemingly nothing but mulihulls, all the time, of every size, shape, purpose and price point, here then is a new one.
Do you know what it be?
October 19th, 2014
Is this team, seen here foil testing,  the winner of the next America's Cup?  Some think so…
October 19th, 2014
UPDATE: It is Sold!
You know who you are, weirdo sailor dudes (funny, we never see chicks doing it) who have a major jones for R/C sailing.
The Ed is unloading is his near-perfect 2013 DM2 (everything must go!) IOM. the boat is beautifully built and in beautiful shape. A great way to get into a good class, cheap. $1,500 cheap. Check it, yo.
Title thanks to The Crystal Method…
October 19th, 2014
From our magical friends at Waterlust…
How do oil and other toxins move from deep water onto the beach? Using dye and drones, a team of scientists conduct a series of experiments to explore how ocean currents transport material from offshore into the surf zone.
October 19th, 2014
Okay, make that carbon bits. It's all kinda the same to us, only this is better, and it's our follow up to our Carbon Beach tease from Thursday. Looks pretty good no matter how you look at it to us. And here's the "official" story…
Diana Hall, (Hall Spars family) creates masterpieces of jewelry in carbon fibre, combining this future fibre together with gold, silver and precious stones. Working in her Rhode Island and Caribbean studios, Diana has continued to build on this theme, producing an expanding line of jewelry that constantly reinterprets this melding of materials in fascinating new ways. Contact Diana for more info.
October 18th, 2014
VOR Breaking
News from onboard the Chinese DongFeng Team in the Volvo Ocean Race:
At 2:10UTC, Thomas was driving when we hit something. The impact was violent. We did not know what we hit. We check the windward runner, we started to check the keel, and we wiped out. Then we realised the leeward rudder was gone. We checked if there was any water ingress in the boat.
At 2:20 UTC, we gybed.
We had two options: installing the emergency rudder, as an emergency rudder, or removing what was left from the old rudder, and putting the new one in place. We decided to go for the second option.
We prepared the rudder, we furled the A3, with dropped the A3 down, we dropped the mainsail down. At this moment, we saw ADOR passing next to us…
Thomas put the diving suit on. He jumped into the water. Kevin was in the aft compartment, and the rest of the crew on deck.
We removed what was left from the old rudder (not much), and we put the new one in place. We hoisted the main, we hoisted the A3, we jibed, and we unfurled the A3. Check the video here. 
We are now sailing 20 knts. More here.
October 18th, 2014
We're not sure how long the webcam will hold up, but for the moment we have the rare luxury of watching a hurricane as it rolls into Bermuda.  Our thoughts are with all the Anarchists on island – stay safe.  Click the pic to see the live camera, and now for the PSA from SA Weather Bureau Chief (and tech shirt guru) Mark Michaelson.
Now would be the time to move you and your family to a three story or elevated steel reinforced concrete structure. This one is for real.
My hunch is that the island could be without power for up to a month so make sure you have plenty of cash on hand. Let me know if you have any questions.Winds will be Tropical Storm force this morning becoming Storm and then quickly becoming hurricane force this afternoon. Seas will rapidly build to 35-40 feet. Heavy surge will accompany high tide around 5PM. Structurally this is on the large side for a Category 3 storm. It is moving NNE @15 so there is not a lot of time left to get to a safe shelter before movement will not be possible without risk of severe injury or death from flying debris. I expect the next advisory will maintain the intensity (Roughly) but change the trajectory to more NE. Bermuda lies in the NE quadrant of the storm which is the worst place to be. Good luck to all on the island. You are always welcomed to call or text me to get eyes on the storm from the outside for as long as you have the ability to communicate.
October 17th, 2014
Nothing like some fresh E to get you rollin'…
October 17th, 2014
HOBIE TIGER OR BOYFRIEND NEED NEW HOME
I am looking for a sailor who is crafty, and quick. Someone who can hitch and tow my boyfriends Hobie in 0.1 seconds off of my driveway- alt on Saturday I could arrange for the house to be empty, should the sailor be slow and drunk.
Hobie Tiger condition: 10 years old, in good cond. aside from a few dings due to bad driving on the start line
Boyfriend condition:- about 49.9 years old, bit shagged out due to a young girlfriend driving him mad about a Hobie in her parking space
Hobie Tiger: previously ranked 2nd in world championships
Boyfriend: Previously ranked world champ (age has caught up slightly, so results have declined)
If you are interested in either of the above please let me know asap – not willing to trade boyfriend for anything older than a 1964 model – also no ex wives please.
October 17th, 2014
This week's SCOTW? Well, maybe. But jesus, we couldn't resist. More tomorrow…
October 16th, 2014
Big Pimpin'
The Saphire 27 was born out of a passion and love for sailing! My idea was a unique boat that combines freedom, fun and speed with an easy handling. A boat that allows travelling around for pleasure and racing"
"Everything needs to be at the right place and in very good quality. It is not sufficient to put a carbon mast but the entire boat must be perfect to the very detail and offer good value for money"
"But the product on its own is not enough: Now that the boat is reality, the goal is to create big fleets and to share the passion of sailing. Events and races shall be an integrated part of it. My dream is to carry the Saphire spirit around the globe: The spirit of pure sailing!"
Saphire 27: 8.0m x 2.5m, slip and trail, one design and family sailing. 1300kg light, 44m2 of sail area, designed by Claudio Maletto and sold through www.saphireboats.com.
October 16th, 2014
We've already featured a story or two from the Viper 640 North Americans, but we found an even better one in our junk mail from newly minted NA Champ Chad Corning.  Corning got plenty of Viper experience while sailing aboard Jason Caroll's Argo, and he stepped in on bow last month with Canadians Brad Boston and Curtis Florence for the SoCal NAs.  Here's his report, and be sure to check on the excellent Snake Bytes class newsletter for more Viper developments.
Primo conditions and great hospitality at Alamitos Bay Yacht Club made the 2014 Viper North Americas an awesome event. It was a marathon –4 days and 14 races with plenty of breeze.
There was great mix of very competitive boats from the east coast, Texas, Canada and SoCal making up the 34-boat field. I had the pleasure of sailing on board Jackpot with three-time NA champ and Olympian Brad Boston driving and the incomparable Curtis Florence tending to the front of the boat. Though conditions had been unseasonably light in the runup to the event, the regatta was classic Long Beach with excellent thermal breeze in force for all of the race days.
Day one was sailed inside the breakwater in fairly flat water with building breeze all day. Santa Barbara based Jeff Grange sailing with Tedd White and Chris Parker won all four races on the day to take a commanding early lead. Almost as impressive as the score line was the way Parker and Team Venom sailed – never tacking on anyone, always going fast the right way, just smooth and settled all the way around the course.
Day two was sailed outside the breakwater and started out light enough for a short AP before the marine layer shot offshore and the breeze built. The pecking order was becoming a bit established with the local team of Kevin Taugher, Mike Pentecost and Chuck Tripp on Hot Mess and ourselves putting in fairly consistent results along with team Venom. Big breeze and waves toward the end of the day provided a pretty stern test just to get the boat upwind but the reward was sweet, with fully-hiked planing conditions on the runs.
Day three was back inside, and clear morning skies allowed the breeze to pump early, making the four-race day a long one. Local Jay Golison with Steve Flam and Mike Bradley put their bad first day behind them and dominated with an impressive 2,1,1,1. On Jackpot we were having a fairly consistent event with mostly top 3's (which would make for a winner in most events) but Venom, Hot Mess and Golison were so consistently at the top, especially as the breeze built, that it was difficult to make any progress on the scoreboard.
Going into the final day we sat tied in second with Hot Mess, with Team Venom four points clear. We had a relaxed vibe on Jackpot but were very focused on making a run. All went according to plan in race 12 as we started at the boat and worked the favored right side to take the win. The points situation became pretty favorable to us as all of our rivals started down the line a bit and struggled to get across to the pressure and shift on the right edge of the beat. Race 13 was a bit hairy as we were buried at the start, which thankfully saw a general recall. We popped off the line nicely on the next attempt and executed the same game plan as race 12 to notch another win. Nothing was certain going into the final race as ourselves, Golison, Hot Mess and Venom had (another) epic battle around the course. Hot Mess took the final race to secure second by a point over Venom. Our third was enough to comfortably take the title. Beyond the podium, the level of sailing was very high and all the teams put in stellar individual race performances.
These are good times for the Viper class with excellent racing on offer and strong fleet growth in the US and internationally. The party moves to Miami for the winter and a record fleet will likely assemble for the 9th North American Championship next fall.  For full results, go here, and for a photo gallery, here.
October 16th, 2014
The Farr 40 Worlds pulled together its best fleet in half a decade for this week's action in San Fran, and after 3 races, Alex Roepers' three bullets is obviously crushing it.  Roepers' Plenty benefits from taking nearly most of the now-defunct Barking Mad crew – including Hutch, Trubie, and Skip B – the wide variety of skill levels in the rest of the fleet make the 2014 title a bit of a foregone conclusion for the 4-time (we think) F40 World Champ tactico Hutch.  Meanwhile, Hutch's perennial helm and boss Jim Richardson (whose divorce scattered the multi-boat Barking Mad program to the wind)  quietly stepped in to charter Lang Walker's Kokomo after a business distraction pulled Walker away – he lies in eighth with an all Oz crew after a day of light to moderate San Fran autumn breeze.
For those of you who like to talk about how amateurs are just as good as pros, have a close look at the results; not a single non-pro team is ahead of any of the pro teams (and F40 rules mean just 4 pros are allowed aboard), but if trends continue apace, next year should see the first Worlds in a decade with more amateur than professional teams.
As usual, despite Rolex feeding the Class with six-figure sponsorship dollars every year, the best coverage ain't coming from them; instead, there's a sweet high-res photo stream here and a really nice Livestream video feed from Mauro and Janna at Zerogradinord who've been brought over by the Enfant Terrible team.
October 16th, 2014
Cat 4 Hurricane Gonzalo visited many of our favorite sailing destinations yesterday, and Antigua, Anguilla, St. Martin and St. Barths are all reeling.  Despite accurate forecasts days ago, dozens of yachts were tossed onto land in SXM and sunk in its lagoon.  It wasn't just boats damaged, either – the 120 knot winds tore roofs off homes and sent shanties toppling, one person lost his life in the lagoon and at least two people are missing…thus far…and there's still no power and therefore not a ton of information.  There are some decent damage reports, pics, and video on local Yana Gibbs' Facebook Page and keep an eye on the thread for more.  And if you have some info, please post it - because Gonzalo ain't finished by a long shot.
The NHC's warning map makes the tiny island nation of Bermuda look like a slow pitch down the middle for Gonzalo's 140 knot bat, and he's taking aim tomorrow with no real weakening in the forecast.  If you're visiting or living in Bermuda, don't take the laissez faire attitude many did in the French caribbean; get your shit tucked away, be sure you have potable water and food, and get to high ground long in advance.
And if you're a fan of the America's Cup, now's the time to figure out what to do when a hurricane comes straight at your fleet of AC62s, cruise ship hotels, and super yachts.  Our suggestion: Ask Russell.
October 16th, 2014