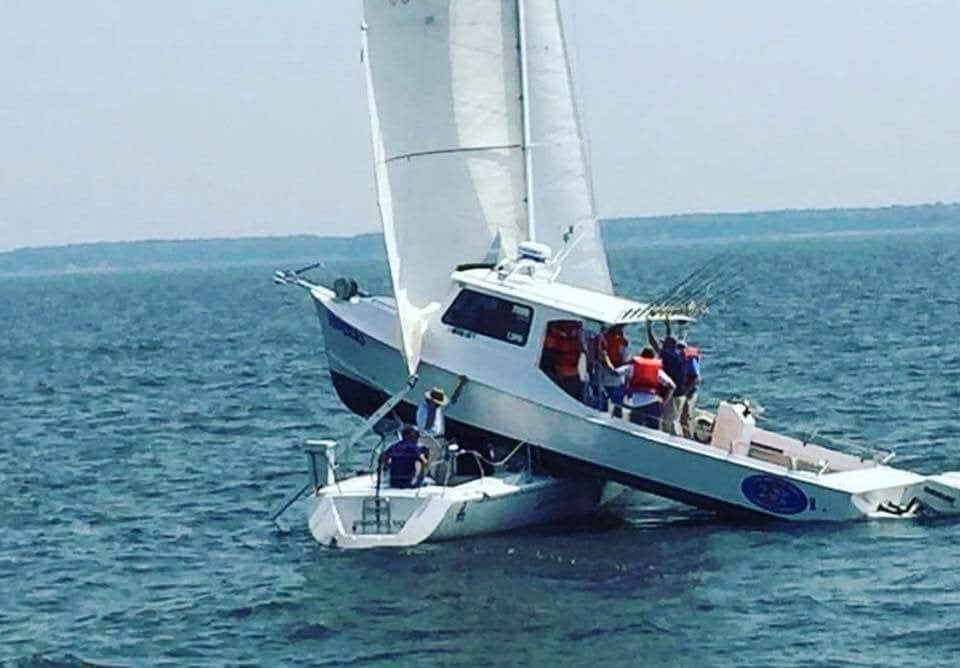 Clearly the sailboat's fault…. Jump in the thread.
August 17th, 2018
The Environment
Offshore vessel operator Maersk Supply Service has agreed to deploy the AHTS Maersk Launcher in support of the deployment of The Ocean Cleanup trash removal system, which aims to remove plastic debris from the waters of the North Pacific. It is the first large-scale initiative of its kind.
The effort will target the well-publicized "garbage patch" in the Pacific, which contains mismanaged plastic waste generated on shore. According to researchers at the Helmholtz Centre for Environmental Research, ten river systems in Asia and Africa account for as much as 95 percent of ocean plastic pollution worldwide, and six of ten flow into the seas of the Western Pacific region. The Ocean Cleanup estimates that about 85 percent of the total comes from Asia.
The Ocean Cleanup's system relies upon long floating screens to collect plastic debris for recycling. The group has a support center at Alameda, across the bay from the Port of San Francisco, and the site recently conducted offshore tow testing for a 120-meter segment of the barrier. The complete unit will be 600 meters long, and under optimal conditions, the group believes that it will accumulate one ton of plastic per week. Ocean Cleanup asserts that if deployed worldwide, and combined with onshore waste reduction, the system could remove 90 percent of the world's ocean plastic pollution. Plastic waste enters the sea at an estimated rate of 90,000 to 270,000 tons per week, according to an estimate published in Science in 2015.  – Read on.
August 17th, 2018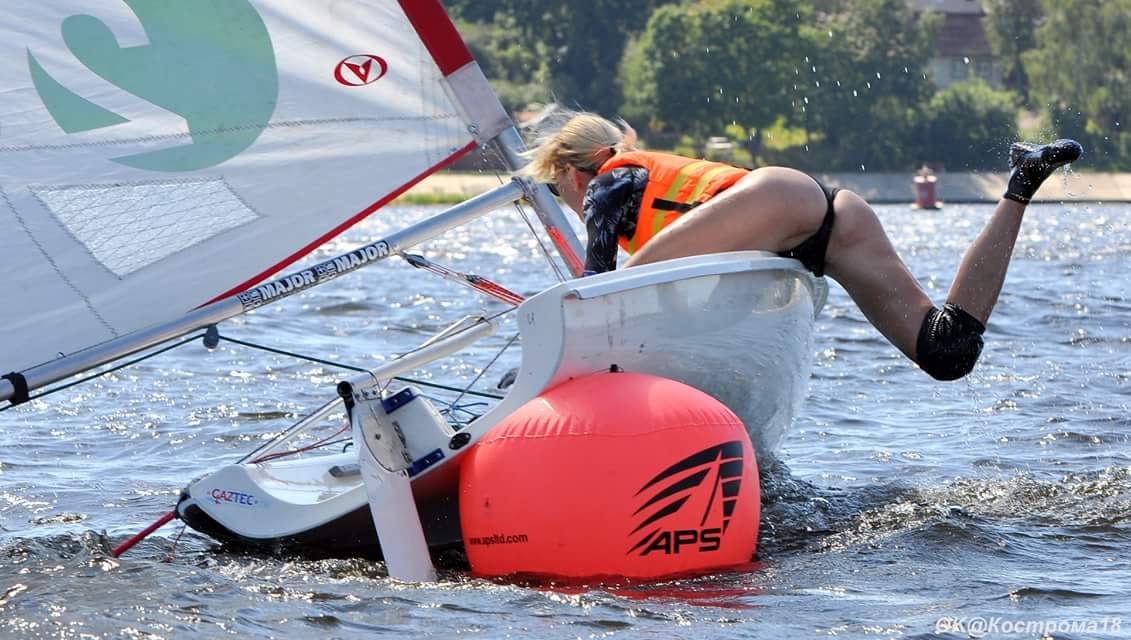 I mean, that right there is some mighty good acrobatics. Sayin'… Photo thanks to  Ольга Кашаева.
August 16th, 2018
Joseph "Joey" Chomyn was a promising young sailor from Johns Island, South Carolina. He was well known in youth sailing and was always a stand-up young man. Not enough good things can be said about the content of his character, and his willingness to help anyone he met. Most recently he competed at the US Sailing Junior Championships in La Salle, MI.
Tragically just two days after competing, Joey was killed in a boating accident near Lime house Bridge on the Stono River. Joey's signature was a US Sailing team white visor that he wore almost every day. If you have lightly used visors for Joey's family and friends.
If you think you may have one, please send it to 362 Sweetgrass Creek Road, Charleston, SC, 29412. While so tragic, it is fitting that Joey was doing what he loved before he passed. Rest well Joey, keep sailing on.
August 16th, 2018
Next year will see the 50th edition of one of the greatest ocean races of them all… save the date!

In 1886 Hawaii's King Kalākaua invited the yachtsmen of the US mainland to race across the Pacific to his island paradise. Forty-nine times now the race has been run, and approaching Transpac 50, in 2019, it's international. Among the world's great ocean races there are not many that start and end among palm trees. There are also not many long enough to inspire the spirit of adventure of an ocean crossing in newcomers and veterans alike.
Even fewer races have the cultural heritage of an event started by royalty over a century ago, enriched by the participation of thousands of sailors since. Across the generations of California's sailors Transpac is a tradition and a bond. For the internationals who drop in it's a test as meaningful as any, but with sweeter rewards as the race goes on, and the sea grows bluer and the skies grow warmer.
The Transpacific Yacht Club was created in 1928 to manage the Transpac, and there is only one way to join the club. Race, and you will be invited.
Since the first race in 1906, when the start had to be relocated from an earthquake-damaged San Francisco to Los Angeles, the Transpacific Yacht Club's 2,225-mile race to Honolulu has been an inspiration for generations of offshore sailors from all sides of the Pacific and beyond. Now run every two years, the list of entries and sailors from around the globe increases as they learn how this race is more than just a bucket-list event: it is a unique inspiration to connect with the ocean and our shipmates on what is always a memorable voyage at sea. Read on.
August 16th, 2018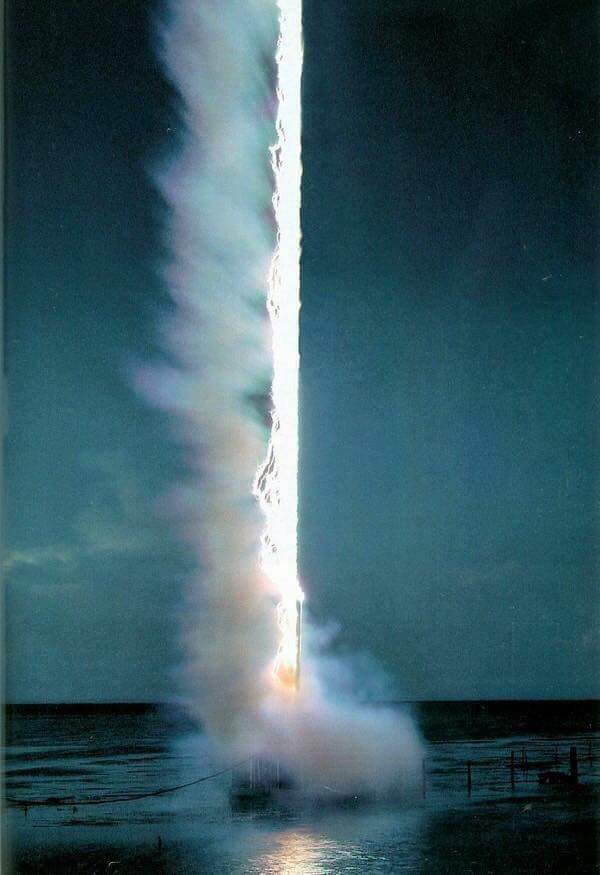 Lightning striking the mast of a boat. Or maybe not. Either way, wow, just wow. The photo is Copyright©Peter Menzel, www.menzelphoto.com
August 16th, 2018
2018 O'pen BIC North Americans, Ontario
The 2018 O'pen BIC North American "Un-Regatta" was hosted by the incredibly hospitable Buffalo Canoe Club in Ridgeway, Ontario, August 9-11.  Tight racing challenged the sailors with unconventional courses, multiple turning marks, and compulsory moves such as capsizes and 360s. The sailors were tested further with the crowd favorite, the Bridge of Doom.  CJ Perez from Hawaii Kai Boat Club took home the North American crown with her keen tactics and smooth boat handling. In second place was Landon Cormie from Vineyard Haven, MA, followed by Kelly Holthus from San Diego YC.   More than 35% of the fleet were young ladies.
Makani Andrews of Kaneohe YC won the U13 age group outright.  Makani put the fleet on warning early, winning the first two of eleven races overall.  Kiley Freitas, also of HKBC, was the top female and third overall in the U13 division. With O'pen BICs already the largest One-Design fleet in Hawaii, and their aloha spirit dovetailing nicely with the O'pen BIC class culture, it is not surprising that many of the top sailors come from Oahu.
True to "Un-Regatta" form, a spirited O'pen BIC freestyle contest was held Friday with a record 32 teams participating.   "Team Halice", Alice Le Roux with Hannah Sailer, won the hotly contested freestyle with a frenzy of synchronized back bends, rig climbing, wheelies, and dance moves, but many of the teams wowed the crowd.
The O'pen BIC families were also treated to a memorable trip to Niagara Falls and an epic beach party.  Perhaps the highlight of the beach party was the girls vs boyz massive Tug of War contest. The girls won again!
The excitement continued right thru the awards ceremony when four grants were randomly pulled from a bingo hopper for travel to the O'pen BIC Worlds, hosted by Sir Russell Coutts in New Zealand, 2018 DEC 23 thru 2019 JAN 4.  Two young men and two young women, JP Lattanzi from Hawaii, Landon Cormie from Massachusetts, Ashton Loring from South Carolina, and Sabrina Starck from New York were ecstatic to have their names drawn from the top sailors.
For those unable to make New Zealand, the O'pen BIC families left the event looking forward to rendezvousing at the 2019 North Americans to be held at Mission Bay Yacht Club, San Diego, March 8-10, 2019. Results
August 16th, 2018
Organizing big boat regattas without a palm tree in sight seems doomed to fail. With the sun and blue sky as other desired features from there it gets more complicated to put a finger on what makes a successful event, let alone a successful regatta series.
Simply asking 'Where would you like to race next year?' or 'What would make you come back to our event next year?' seems like a good approach if you are not selling a particular club or location, a position 52 Super Series is in. But quite honestly it is not as easy as that because you are most likely to get a real answer only if you ask from August onwards, so when owners traditionally start thinking of and making first plans for 'next year'. Why Copa del Rey is such an interesting – reliable – event for those in the marine business is that all of a sudden next year comes into sight as if a magical switch has been flipped each year.
For club events this autumn timing works, as their event dates and locations are fixed. Then adjusting what is on offer, the menu, so to speak, to the client's wishes is still very possible when it comes to race format, regatta management, choice of staff and the certainly important social menu… the parties.
For clubs the more longterm concerns are sponsors, sponsor contracts and relations with authorities and marinas. As the number and quality of entries are not guaranteed there always is an element of uncertainty in longterm deals made with event sponsors and other stakeholders. For sure, it makes quite a difference to a sponsor whether there are 50 or 100 boats in an event and whether there are a good number of boats and sailors of name and fame or that it is a family affair.
August 16th, 2018
Spot the outlier here in this shot by Shirley Woodsen from Airlie Beach Race Week. More here.
August 16th, 2018
Yeah, not sailing, but damn if y'all aren't nuts…
Despite 40 knot gusts and hammering rain squalls, the 2018 Wight Marine Pedalo World Championships went ahead on Sunday 29th July in Yarmouth, Isle of Wight, with 16 international pedalo teams competing and raising money for the WetWheels Foundation – a UK-based charity enabling disabled and disadvantaged adults and children to enjoy boating.
In 2017, a team completed the first pedalo-circumnavigation of the Isle of Wight. Later the same year, the Guinness World Record for 100 metres on a pedalo was claimed by a team on the River Yar, Yarmouth, Isle of Wight. This year, the inaugural Pedalo World Championships was staged at Kings Manor Reach, part of an Area Of Outstanding Natural Beauty on the River Yar with the event base and spectator area at Kings Manor, a stunning waterside farm listed in the Doomsday Book.
Racing in specialist, four-crew pedalos over a 200-metre course, the 16 teams initially withstood strong winds, poor visibility and lashing horizontal rain as the preliminary heats dismissed the less skilled crews. By mid-afternoon, as the sun made a brief appearance, the 2018 Wight Marine Pedalo World Championships final was decided by a four-pedalo race between Watermark, Mystery Marvels, Cameron's Commandos and the all-female crew from Virgin Atlantic. Photo Alan Benns.
August 16th, 2018