If anyone ever faced a challenge running a regatta it was the organisers of this year's China Club Challenge Match in Xiamen China.
As you will have seen from a recent article just a matter of hours before the practice day Typhoon Meranti descended on the island city. Well descended is perhaps not the correct word, more like fell with a hammer blow. The strongest storm anywhere on earth this year, it devastated, not only the city with clean-up going on as I write and many areas running on generator power or candles but several of the boats due to be used in the regatta were left rig-less, with tattered sails and even one or two sunk at their pontoon berths.
A fantastic effort by the organisers managed to locate – and persuade owners to lend – a further 8 boats to enable the fleet of 30 to compete as one instead of being split into flights.
It wasn't only the racing boats, this year the J-80, that suffered with umpires having to wait until marks were laid to take over the RIBs for the racing.
Day 1 saw typical, almost windless, post typhoon weather with Meranti having sucked virtually all the pressure difference out of the atmosphere and with the SI's amended to show an earliest start of 1300 instead of the intended 1000 it was perhaps a dubious group of sailors and officials that made their way to Wu Yuan Bay. Add to the light winds mid-Autumn spring tides and racing outside in the maid channel was impossible but with an inspired RO decision to race in the bay itself at least the day didn't end race- less with a race being banked on the less tidal waters just off the marina.
Day two was a little better for wind, but not much. However by cracking on when the opportunity arose 4 races were squeezed out of the light conditions. The lack of wind produced significant bunching at choke points on the course keeping the umpires whistles busy with both red and green& white variety.
Many of these were from the overly enthusiastic production of the prodder at the top mark, with some 'sticking it out' halfway between windward and offset mark with the gennaker still firmly down below. This seemed a habit that, even when boats just in front were penalised, some crews couldn't get out of.
Eventually the wind strengthened and settled in direction so the later races were less of a 'wind-hunt'.  And so the pattern was maintained on Sunday but eventually the regatta committee managed 7 races enabling them to declare a series.
Like Club Cups of the past, the evening social scene was just as much fun with a highlight being a dinner sponsored by Microlab, the electronics manufacturer involving a Chinese dice game where the prizes were nice Bluetooth sound systems. On our table many won prizes while freely admitting not having the slightest idea just how we were winning. (like a few sailors I know)
The top eight teams from this weekend's efforts return in early November' for the match race element of the Club Cup, once again a fully umpired event.
The final night's prizegiving was excellently won with a gracious hostess, great food, free-beer and a new prize categories.
For the first time there was a ladies prize – that's certainly one way to attract women into our sport – along with separate podiums for pro-sailors and amateur sailors, a clever way to spread the spoils.  The winners of the inaugural Ladies Prize was Luther Female Sailing Team with the amateur podium being 1st; Xiamen University Jetpon Team, 2nd; Yunnan Fuxian Lake Team and 3rd; Whitewave Sailing Center.
Over to the pros, in 3rd place was the Wind & Water Club; 2nd was Sea Blue Team with the podium topped off by J-Boats Racing Team from Xiamen.  At least when the top eight return in 6 weeks time it won't be into the aftermath of a weather system like that experienced last week.
Shanghai Sailor
September 20th, 2016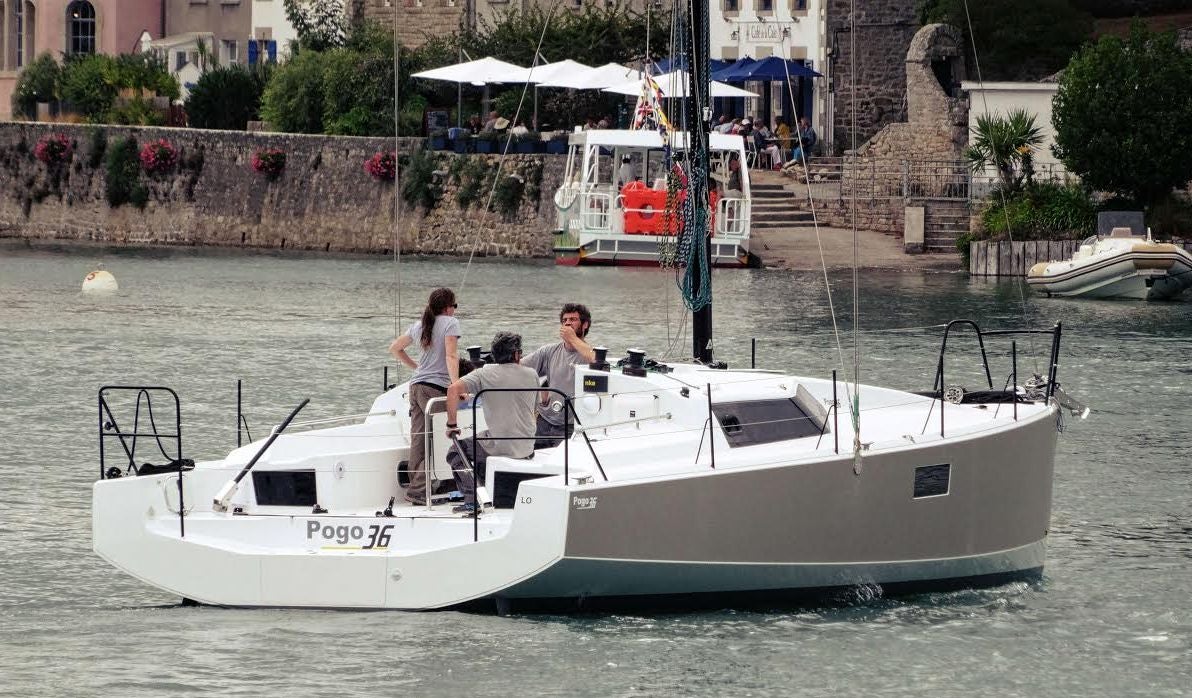 No doubt this is the best angle for it, but the new Pogo 36 looks pretty awesome from here! Here, not so much…
For those who remember pogo, this will take you back there…
September 20th, 2016
My name is Kevin Rogers and I'd like to nominate my friend Richard "D" Mitchele for Canadian Sailor of the Year (Around SA, you might know him as Bedford). D is one of Canada's most experienced offshore bowmen.
Over the years he's competed in races including the Transpac, Marblehead to Halifax, Newport Bermuda and LA To Cabo San Lucas to name a few. He's also done thousands of miles of offshore deliveries and crossed the Pacific twice.
Not only has he represented Canada at a number of prestigious offshore events, he has given numerous Canadians the chance to join him for races and deliveries and experience offshore sailing first hand. At fifty-one, he still does bow on boats as big as eighty feet.
Three years ago, D was caught in a house fire. He ended up in intensive care in a coma with third degree burns to a third of his body. That night, the hospital staff told D's family that they should consider saying goodbye as it wasn't certain that he would make it through the night. But he pulled through and a few weeks later, they brought him out of the induced coma.
The Doctors told him that he would not walk for a year. D set about learning to walk again and set his goal as the Newport Bermuda Race nine months later. Three months after the fire, he ran a mile. Three months after that he completed a twelve-hundred mile delivery aboard a sixty-footer with two other sailors. Nine months after the fire that almost ended his life, he realized his goal and competed in the 2014 Newport to Bermuda Race as bowman on a vintage Volvo sixty.
Looking for a change and a chance to put the fire behind him, D set off for the Philippines where he was looking after a fifty-five foot catamaran owned by a friend that was in Spain at the time.
Sadly, in September 2015, the marina where D was living was overrun by Abu Sayyaf terrorists and four people, three of them Canadian, were kidnapped. Two have since been beheaded. Unarmed and looking out the window at eleven gunmen brandishing AK 47's, D kept his head down. After the kidnapping, D readied the boat for a six hundred mile, double-handed sail to Palau. The first hundred miles through the southern Philippines were tense as there was a significant pirate threat in the area. He made it safely to Palau where he spent a couple months leading sailing and shark diving expeditions before returning to Canada.
I am a disabled Canadian sailor. D has been a friend and companion sailor for more than ten years. You'll see him two or three days a week at the Queens Quay Disabled Sailing Centre in Toronto where he volunteers and shares his love of sailing with Canadians living with disabilities. At his own expense, D has travelled to multiple national Mobility Cup events as a volunteer.
For all he's been through over the years, D has always found time to serve as a
companion sailor and coach to disabled sailors. As we sail out together, D often looks back and comments on how happy it makes him to see a dock full of empty wheelchairs. You see, to D, we're not disabled, we're just his sailing buddies. Please consider my nomination.
Respectfully,
Kevin Rogers
September 20th, 2016
It's open, and probably not enough rig. Don't know anything else, do you?
This what is it is brought to you by Stuart Knockabout
September 19th, 2016
Big Pimpin'
Aston Harald, Swedish builders of the M32 World Match Race Tour cats, is now ready to move into other areas of high-tech marine manufacturing
Left: Plenty of room… the combined 3,700m2 of work space available inside the assembly and laminating sheds of Aston Harald is kept immaculate by veteran builder Killian Bushe and Batt Battison, who consider it essential to their efforts to achieve maximum efficiency while also allowing visitors to better witness the creative process of high-tech composite boat building
The architectural and aesthetic beauty of sailing craft while on the water is one of the many inspirations that keeps us passionate about our sport. Even without being a boatbuilder all of us can appreciate the care and craftsmanship that go into the creation of the best high-tech race boats.
Yet the details of how these boats are produced can be lost in a rattle of machinery and clouds of dust often located on the far side of the world, where concerns about the impact of the creative process of construction may not always be at a level commensurate with the cultural standards of the customer… At the same time many of the clever techniques devised in the process of production can also be too easily hidden to the observer by the excessive clutter spun off when you are talking many hundreds – or even thousands – of man hours of manual labour.
September 19th, 2016
John Harrison Doucet, a lifelong sailor and competitor in the Gulf Yachting Association and member of Gulfport Yacht Club and graduate of Gulfport High School, was electrocuted Sunday, September 18th while trailering a J22 after sailing with his family.
He has suffered extensive burns over most of his body and is fighting for his life.
He was airlifted to Jackson Sunday night where he underwent surgery Sunday night, removing both his legs and the extent of his injuries is still being determined.
He will be transferred to a hospital in Georgia as soon as possible to receive the best burn care available.
This GoFundMe campaign is to offset the unforeseen medical, travel and housing expenses for the family so they can be there to support John Harrison through his recovery and rehabilitation.
September 19th, 2016
Clean Report
I'd already bailed from the 1D35 I usually race in Detroit for this weekend's Bayview Long Distance Race, but when my wife's plans to hold a garage sale changed an hour before getting a text from Rick Warner on Friday, I jumped at the chance to sail Rick's ORMA 60 Arete in the historic race on Saturday.  I'd been trying to race with Rick since he bought the beastly trimaran, and a dead-calm delivery I did last month with him didn't really fit the bill.
With a forecast of 10-15 for the 50-mile race, this one would be somewhat different, especially since my old friend Bora blew off an invitation to appear as one of Michigan's Olympians on the U of M football field (in front of 106,000) to take the helm of the boat for this race.  And while the Bayview Race Committee gave us a start, we were an 'unofficial' entry and the only multihull, but no one cared – we were there to set a record, and as far as we know, we did.
An ORMA is perhaps the perfect boat for the Mackinac races; blazing fast in light air, and even faster in heavy – but for a race on the depth-limited Lake St. Clair, this truly was a case of bringing a knife to a gunfight, even with much of Arete's core crew off doing other things.  It took us twenty minutes to get through the 8 classes of boats ahead of us, flying at 20 knots all the way to the wind farm off the Canadian Thames light, and you couldn't ask for a less dramatic ride; furling sails and smart winch logistics make everything as smooth as the boat, and aside from one problem with the gennaker tack (that's me hanging on the bowsprit at 15-20 knots after the fix), we didn't leave much on the course, and while the Bayview Long Distance Race Record ain't something that matters to more than a tiny group of people, as my (possibly) first ever race record, it mattered to me!
Our total time for the 50 mile race was actually the same as my birthday: 4/20.  While none of us can find an actual race record, we're pretty confident we set it – our time was just under an hour and a half ahead of the fastest boat behind us, the GL70 Equation.   I uploaded some videos during the race – if you like big multihulls, you'll like them.  Here's my arrival, update 1, update 2, and some gorgeous slow-mo of the leeward hull streaming in the sunlight.
Rick has done a great job getting  young sailors aboard Arete in her two years in the Midwest, and his Mackinac resulted in one of the most interesting distance race video series we've seen in years, this one from a young videographer.  Watch the four-part series, produced by Andrew Jowett from the Port Huron Times-Herald, here. Photo from Bora Gulari.
September 19th, 2016
Tropical sailing means diseases, and the past decade has seen a grip of new threats facing anyone who spends their life next to the water.  As of last week, there's a new one.  According to the Science Daily, scientists at the University of Florida have identified a patient in Haiti with a serious mosquito-borne illness that has never before been reported in the Caribbean nation. 
it's called "Mayaro virus", and has similar effects of Chikungaya, only worse.  With the world's attention on stopping the Zika epidemic, "the finding of yet another mosquito-borne virus which may be starting to circulate in the Caribbean is of concern," said Glenn Morris, director of the UF Emerging Pathogens Institute. "Hopefully we will not see the same massive epidemics that we saw with chikungunya, dengue and now Zika. However, these findings underscore the fact that there are additional viruses 'waiting in the wings' that may pose threats in the future, and for which we need to be watching."
Watch, and learn here.
September 19th, 2016
Carnival Cruises have long been reputed to be a shit show – there's a reason industry insiders call it 'Cannibal Cruise Lines', after all.  But this video assembled by GCaptain from a few sources shows another side of the Carnival Vista – the ruthless power of its thrusters.  Watch as the concrete docks of Messina, Italy's Marina Nettuna get literally broken to bits by the mini-tsunami from a monster ship that got way too close to shore.
More links to more videos in the thread.
September 19th, 2016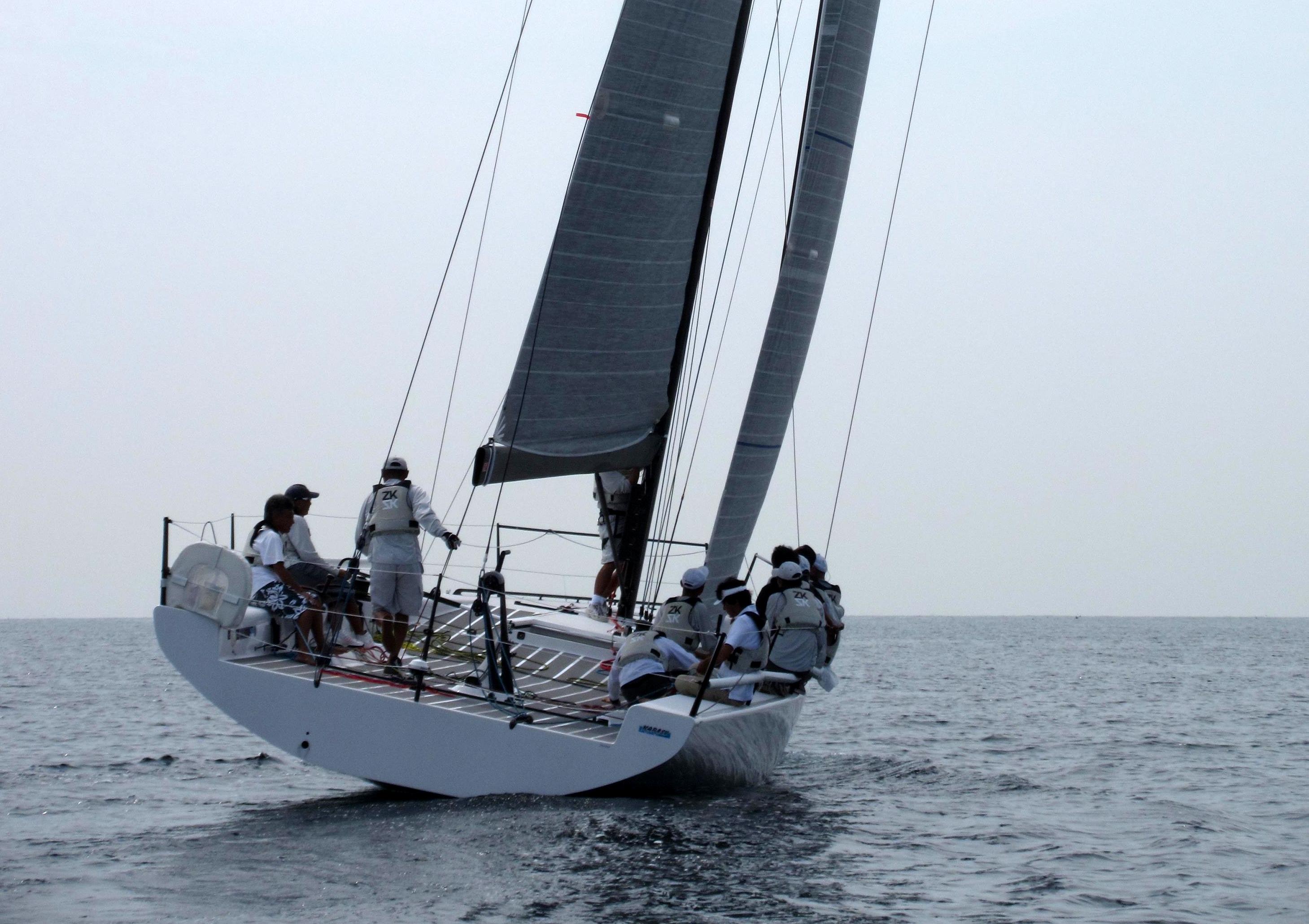 We dig the Mills ramp decks. Do you?
September 18th, 2016