What most of you schlubs can't possibly see is the value of a $500 Louis Vuitton long sleeve shirt. What makes it priceless however, is the complete lack of even the most basic idea of what "America's Cup" boats are supposed to look like. Good lord, these guys are a major sponsor of the AC and they forget to put rudders where they belong and have masts on backwards?
We'll take ten, please.
April 27th, 2016
Antigua Sailing Week is currently underway and in the turquoise waters of the Caribbean Sea dozens of highly strung yachts are duking it out. It's the 49th time that the regatta has been held with a promise that the big 5.0. next year is going to be a bumper event. If you look at the sailing calendar you will see that there is no shortage of Caribbean regattas from the Les Voiles de St. Barth which just ended, to the BVI Regatta a few weeks ago, but it was Antigua Sailing week that started it all and changed the area from a cruisers paradise to a racers dream.
My first Antigua was in 1979. I was a snot nosed African kid thrilled by the wet T-shirt contests and in awe of some of the more modern racing boats that had come over from Europe for the regatta. I jumped a berth on Battlecry, a Swan 55, and felt like I had landed in a small slice of heaven. Back then the regatta was a more humble affair, a mix between classic cruisers and some new racing boats. The cruisers have since split off to become the Antigua Classic Yacht Regatta and the racing division now attracts some of the best boats (and sailors) in the world.
The event was started, as these things often are, by a bunch of sailors sitting around in a bar wondering how they could extend the winter season in the Caribbean. They figured a regatta would bring people in at time when the season was pretty much over so in 1968 the Antigua Hotel Association sponsored the very first Antigua Sailing Week. Actually the race program called it "a week of sailing, fishing and entertainment in the Caribbean". I don't think that they had any idea how successful the event would become and how much it would change the whole Caribbean sailing scene.
When I was there in 1979 the area was called the West Indies and we sailed through the Spice Islands. It was exotic and for a fresh faced kid, an awesome experience. I have recently returned from those waters and it's no longer a remote cruising ground for hardened escapists; it's the playground of the rich and famous as well as the extraordinarily rich who flout their wealth with obscene super yachts that spell gluttony and not much else. I guess it's called progress but I preferred it back when the area was a sleepy backwater and you could bump into Jimmy Buffett in a bar eating a cheeseburger.
Antigua Sailing Week provides some of the best sailing conditions of any regatta in the world. The winter trades, which blow consistently hard, are over replaced by more pleasant sailing conditions. Some say that the weather has changed so much in recent years that flat calm days are becoming the norm, but most of my Antigua experiences have been a steady 15-20 knots out of the east with warm water, smoking hot girls and cold beer. It's hard not to like the place.
Brian Hancock has lots to say. Check out his blog.
April 27th, 2016
Who among us has not experienced this, or at least something very close to it? Props to hottie Lolo.
April 27th, 2016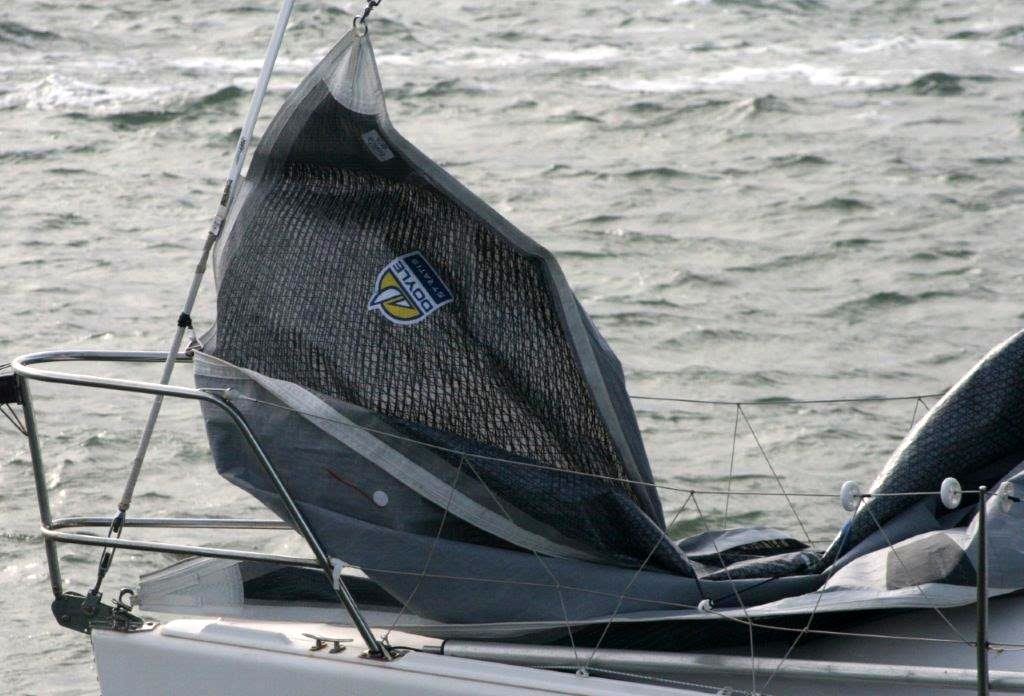 Props to Sportscar!
April 27th, 2016
The Southern Hemisphere Moore 24 fleet, a.k.a. hull #40, GANNET, departed for Opua, New Zealand when the wind came up on Tuesday, April 26—Monday the 25th in the U.S—to resume what, time and chance permitting, will be her first circumnavigation and her owner's sixth.
She is heading to South Africa via Australia, where her port of entry will be Bundaberg in southern Queensland. That Bundaberg is famous for a rum distillery is coincidental.
From Bundaberg, GANNET and Webb Chiles, 74, will make their way north to Cape York, probably first outside the Great Barrier Reef and then from Cairns inside. The sail from Cairns to Cape York is Webb Chiles's favorite coastal sail in the world and he will be making it for the fourth time in a fourth different boat.
After Cape York, they will sail for Darwin; and from Darwin to South Africa, possibly non-stop, a passage of almost 6,000 miles; possibly with stops at Cocos and/or Mauritius. By the time they reach Durban or Port Richards they will have sailed more than 9,000 miles this year. If they are near Cape Town by December, 10,000 miles.
Over the more than four decades Webb Chiles has been sailing the world, he has seen the average cruising boat become ever larger. 45' is now probably the norm. And the norm may be a catamaran.
Obviously GANNET is not a cruising boat and Webb Chiles is not a cruiser. If you would like to follow their progress the tracking page is here. Latest blog here. For more information click here. The passage logs will be published in the journal after arrival in port. When Webb Chiles sails, he enters what he calls the monastery of the sea and does not communicate with the land.
April 27th, 2016
Sunday April 24, the 25 second shitbox, (Anarchy), in haste to get back to San Diego, left Ensenada before a large front was due to approach. 50 K offshore and 20 K inshore was forecast, and was was due to come in in the afternoon from the northwest. A bit incautious, but we wanted to get the boat home. The fallback was we could always run back if it got too bad. Sure we could. Melges 32 and all.
Anarchy had just taken second overall monohull in the windy iconic Newport to Ensenada, Mexico race, and inside the boat was a place you didn't want to go. However, that's where Paige Johnston was when Keith Lorence, on deck, spotted what looked like a Panga fishing about a mile away. Keith couldn't tell what it was and knocked on the deck to roust Paige. Keith thought it was either a fishing Panga or a weather buoy.
Paige came up. looked out as we got closer, and declared, "it's a sinking boat, with people hanging off it". As we approached, we could see two wet cold men hanging off the bow of an obviously sinking power boat poking up about 6 feet out of the water. They had life jackets on and backpacks in hand, and were waving madly and blowing an air horn. Didn't need to as we were heading straight for them. As we sailed up to them, Keith asked "how's the water?". Cold was the quick response!
It was obvious we needed to get them off, so we tossed a line so they could pull closer. It was lumpy, bumpy and windy, and we had a hard time keeping the 25 second shitbox from getting bashed by the future ex-powerboat. They tossed their backpacks and shoes over to us, and while Paige fended off, they jumped aboard. As we separated, they expressed their genuine thanks. They had been in the water for 45 minuets already and were wet and very cold, so we put a blanket over them and asked if they would like a cold beer. Yes, was an immediate answer, and then the story came out.
They were bringing the owners boat (he was one of the two) down to Ensenada from San Diego when they hit something, holing the bottom of the boat. The water overcame the bilge pumps and they had just enough time to call the Mexican navy, who said they would be there in 30 min or less. They also called their friends they were going to meet in Ensenada who also said they would rush up. The sinking happened about 25 miles north of Ensenada 5 miles offshore at around 4:15 PM. They were in for a long night or swim. We stuck close to the wreck so the navy. or friends could find us.
A lone passing J-30 passing 1 mile inside us spotted us circling and came for a closer look in case we might have lost someone. As they approached, they said they saw no bodies downwind, and then noticed the bow sticking 6 feet out of the water. We pointed to the two men in our cockpit and said they were all. The J-30 yelled "god bless" and took off for points North.
While talking we found that they were from Stanwood, Wa. A town about 40 miles North from where I lived. We found a lot to talk about till we spotted their friends Panga coming. We laid down fenders and directed the pick up in such a was as not to damage Anarchy, told them to toss their bags into the panga, and directed them to jump when the timing was right.
All done, we re-called the Mexican navy to inform them of the rescue, to no avail, and then to notify the fleet of returning boats of the hazard, with Lat Lon and conditions, so to prevent some returning boat from hitting it.
It was a pure stroke of luck that Keith happened to look that way and be curious, or they might still be swimming. For once, seeing Anarchy was a lifesaver.
Paige is third from the right in the post-race Anarchy crew photo. Keith was apparently getting ready to save lives! A thread has been started.
April 26th, 2016
Well not yet, but here are 3 teams practicing in Bermuda thanks to Rachel Fallon-Langdon.
April 26th, 2016
More informative content in collaboration with Seahorse Magazine.
In 2008 Sultan Qaboos bin Said gave the green light to set up a groundbreaking initiative to reinvigorate Oman's maritime heritage and introduce sailing to a new generation of youngsters. Eight years on, things couldn't be going better for Oman Sail.
From its humble beginnings Oman Sail has grown into one of the Sultanate's – and the sailing world's – great success stories, helping more than 20,000 Omani men, women and children to discover the sport. The programme's goal? To develop homegrown talent good enough to compete at the top of sailing, be that an Olympic Games, an America's Cup or in a Volvo Ocean Race. It's a mission well on the way to fulfilment, with its sailors regularly representing Oman in international regattas and top campaigns.
But Oman Sail's beating heart is its flagship Youth Programme, getting youngsters out on the water for the first time and nurturing talented junior sailors. Four sailing schools (with three more to come) dotted round the country are abuzz with children taking their first steps in the sport or developing their racing skills. Through its Performance Pathway, Oman Sail identifies the most talented young sailors, then provides top training from expert coaches to advance high performers to a level where they are ready to be selected for the Oman National Sailing Squad.
April 26th, 2016
The only shot I could find of our Melges 32 up and planing in the N2E race. The boat is a knife with a very sharp edge. We could not love it more!
April 25th, 2016
CORRECTION: WE ATTRIBUTED THE TRANSLATION BELOW TO THE WRONG ANARCHIST.  WE SALUTE SA'ER SURLEPONT FOR HIS HARD WORK, AND TO ALL THE ANARCHISTS WHO SPEND HOURS AND HOURS TRANSLATING NEWS TO ENGLISH EVERY YEAR SOLELY SO THEIR ANARCHIST PALS CAN KEEP UP WITH OCEAN RACING.
Names like Chichester and Hasler graced the first-ever solo transoceanic ocean race, and while it's seen its share of rocky times since its 1960 birth, the Transat Bakerly (née OSTAR) is back with a vengeance in this Vendée Globe year, and it's the first time the historic race is back on its original course – from Plymouth to New York City.  This time, it features four classes – Class 40, Multi 50, Open 60, and Ultime multihulls.
Will the 2016 edition look like Chichester's, in which he famously said of the course: "Every time I tried to point Gipsy Moth at New York, the wind blew dead on the nose," said Chichester. "It was like trying to reach a doorway with a man in it aiming a hose at you."  There's a good history of the race on the event site, and the IMOCA thread is probably the best place for breaking news.
The race starts on May 2nd, and a huge thanks to the Anarchists for translating this excellent Seb Josse interview from Ouest France (Edmond De Rothschild foiler):
The Transat bakerly. Sebastien Josse on his foiling Edmond de Rothschild hopes to get a lot of answers from this race. Start from Plymouth on May 2nd.
Sebastien, why did you have to cancel the warm-up from Saint-Malo?
We had a bit of a complicated start up, racing against time since getting the boat back into the water. Everyone is working on a very tight schedule and the Vendee Globe will be here in no time. Calibrating the foils takes a lot of time. We had a problem with one of the foils, which we could manage at our base in Lorient, but which would have been a lot more complicated to do in St-Malo.
The boat's winter refit was quite long. Why?
The goal was to get rid off the teething troubles that plagued us during the Transat Jacques Vabre. We had seen that there were structural problems with all the new boats, so we had to deal with those too. Apart from that, the goal was also to carry out some major modifications that we won't reveal and that are not visible right away. We basically came out with version 2 of the boat, which will be the final version for the Vendee Globe.
Did you mainly have to erase the weaknesses or enhance the strengths?
We knew that upwind, the foiling boats weren't among the fastest, but we were able to really measure against the others during the Jacques Vabre. And it stung even more (laughs). Like Banque Populaire, we also tried to close those gaps.
Yet, in the end, did your early retirement in the Jacques Vabre in a way allow you to catch up?
Yes. The boat was only three months old and we left in heavy weather. I think we would have certainly been subject to big breakages if we hadn't turned around. Like Jean-Pierre Dick, who ended up in Madeira with a broken boat and a lot of time lost. Our boat was still intact. So we did as the other boats, we reinforced the structure, because all the new IMOCAs clearly had a problem in that regard. And then we were able to do a delivery trip to St Barth's and race the Transat B to B, so in the end we did two transats, something no other (new) IMOCA has done, which allowed us to clock up valuable miles.
So the problems you experienced during the Transat Jacques Vabre were quite serious
We had a succession of minor damages – with outrigger, mast, rigging – which, in 45-50 knots, showed that it wasn't reasonable to continue in a storm, only if we wanted it to have a catastrophic ending.
In the B to B, the return transat to Brittany, you encountered very heavy weather conditions that allowed you to test the reliability of your boat Edmond de Rothschild
Yes, I had 50 knots of wind for about six hours, but those behind me had 60 knots, and for even longer! But, for me, it was a great experience because you don't get these types of conditions during training, you don't go out in such a storm because it's dangerous for the boat. But it allowed me to tick a box: 45 knots with a 6 m swell works with this boat.
So what did you really work on during the winter refit?
Let's say stability. I don't want to divulge more. But it's not just about the foils, which represent only one third of the boat. There are the ballasts, the keel, the sails Not everything revolves around the foil issue, even though it is our primary field of questioning, for which we're still waiting for answers, just like the other teams.
You and Banque Populaire are the most advanced teams
Two weeks ago Banque Populaire was at the same level as we are, but they broke their second generation foil, and were forced to go back to the first generation, so they made a step back. Surely to be taking two steps forward later. We are waiting for answers. We have sailed five times with the new configuration and The Transat will either validate our approach or bring more questions, something only a race can do. So we can say that we are the least behind the older generation boats that benefit from 8 years of development or more. If we manage to do the two transats back-to-back (The Transat and New York/Les Sables) with honorable rankings and without a hitch, only then can we claim that we widened the gap with the previous generations. We can't say that yet. But if a foiler wins The Transat, then I will say that the die is cast.
And if that doesn't happen?
Then we have to look at the circumstances. If we are two days, or two hours behind. If the upwind conditions aren't too crappy at the end During the Transat Jacques Vabre, if Armel hadn't had his problems near the end, plus the doldrums where he had to tack, which rarely happens, he would have left everyone in his wake. Deep down, he must be pretty confident to hold some reserve But now, our new boats, which are much more powerful than anything that was done before, have to win a race to ratify all that.
You were the first to sign up for The Transat, even though it isn't part of the IMOCA schedule
Yes, but is is a legendary race that exists since 1960. So yes, it is risky in terms of breakage, but we've signed up for the Vendee Globe, which can bring tough conditions, so this is a major test for both man and boat. Whoever finishes The Transat garners a lot of points in preparation for the Vendee Globe. We shouldn't only do races where everything is to our advantage. We might be leaving Les Sables d'Olonne in November with a southwesterly blowing 30-35 knots in the Bay of Biscay and have four days of upwind sailing, which amounts to half a Transat
What are your expectations for this transat?
It is clearly a warm-up. Creating reflexes, getting into the swing of things, not hurting myself. The Transat is a race where you have to show good seamanship, it's not a speed run. It is a tough race, you have to be mentally strong, have stamina and tenacity. Whoever finishes The Transat is a sturdy one.
You are now using a second generation set of foils. How much progress do they bring?
I have a good feeling about it, but I haven't been able to test against others. I couldn't do the training at Port-la-Fôret. I can't wait to start this race. But we can already say that between the first and second generation of foils, there is a 5-6% performance increase, which is considerable. But we have to test their reliability.
Lifting boats, even making them fly, is part of what the Gitana Team is about, isn't it?
Yes, it fascinates me since I first saw the foiling Moths in 2005 And speed, innovation and avant-gardism are the Gitana Team trademarks. When it comes to foils, using them was a no-brainer. We have Gitana XV (former MOD-70) which serves as a real-life model for the design and construction of the new maxi-trimaran that will be launched next year. It is an exciting way to go for the entire team. There's a whole world to explore with tremendous room for improvement. The next 10 years will bring us amazing things. We will reach speeds that, two to three years ago, we were barely able to touch, over 40 knots (on a multihull) at a steady speed.
Jérémie Beyou's boat, your pontoon neighbor, will be the only boat of the older generation to have installed foils. Was that, in fact, not the ideal compromise?
His goal was to keep the benefits of the older generation boats combined with the addition of foils. There is a hole in the IMOCA rules that greatly benefits these older boats that want to incorporate new technologies. Today, a boat like Maître CoQ is free in terms of power! They were able to strengthen its mast, keep important ballasts, a wide angle of keel, and even add more power with the foils, while all of that has been restricted for our new generation boats, with a one-design mast and a MR of 25 tons/meter. Jérémie made an interesting gamble and fully to his credit.
Will the transat New York – Les Sables, which normally should be more favorable to the latest generation boats, be able to show everyone's true colors?
No. I think that it will already happen during The Transat. The level is high, it includes the boats that finished first and second in the Jacques Vabre, and the one that won the Vendee Globe they're all there. I'm not saying that the others don't count, but if a foiling boat were to beat one of these two other boats, it would be very reassuring for the choices we made.
How is the construction of the maxi coming along?
It's going well Launch is scheduled for a little over a year, these kinds of boats take a long time to build. We have moved beyond the moulding stage for the three hulls and the arms. It is a tremendous job for the design office, with four people working on it full-time.
You have chosen to build a 33 m long boat, which is one meter longer than the Ultim class box rule. Why?
Why limit ourselves? Our goals with this future maxi-trimaran are the Transat Jacques Vabre and the Route du Rhum, which do not impose any limits. The box rules set by the Collectif Ultim will come into play when they start organizing races. For the moment the only one scheduled is the solo around the world race in 2019, which is still far away. And we will be able to fit into the box if necessary.
You will cut a meter off the boat?
We'll see
With the former Mod 70 that you use as test boat, it seems you blew up the speedo?
Yes, we recently sailed at 43 knots. We're able to get a steady speed of 40 knots, which before wasn't possible with a 21 m trimaran. It's very exciting! Even though these speeds bring about quite some stress as well, as there is no zero risk.
Isn't it frustrating to go back to an IMOCA after that, with which you cannot reach these speeds?
No, because for me, the Vendee Globe is a dream. The 2008 edition left me with a taste of not having had enough, as I had to give up on my ambitions off the coast of New Zealand. It's a race that you want to be able to nail. Finishing alone is a feat. Making the podium or even winning is a whole other story. Given the level, you have to be fired up. The high level of the participants is what makes it so interesting.
April 25th, 2016