There are a lotta dumb mf'ers out there. For example, who in the hell would pour way too much money into a piggy Santa Cruz 33? But this dope might be the dumbest. He turned a 4ksb into a 2ksb. Fer christ's sake, what are ya smokin', laddy?
From Craigslist; "36 ft Cascade Motor sailer Yanmar diesel 2 spool simplex gurides tuna puller.. packs 2000 lbs in 2 , foamed fiberglassed slush tanks."
Only $65,000. Buy it!
December 9th, 2017
Clean Report
In a decision that will sound alarm bells across dozens of international sport governing bodies, the European Commission yesterday ruled that the International Skating Union's rules preventing skaters from competing in 'unauthorized' events are illegal and must be abolished within 90 days.  What does this have to do with sailing?  If you really don't know, here's our last big story on this case, and the short version is this:
World Sailing's Eligibility Rules allow the body to revoke a sailor's eligibility to compete if they compete in a 'prohibited event', which is basically any major competition that doesn't pay World Sailing or seek its approval.  In other words, if you use the word "World Championship" in your fun regatta, World Sailing may ban every sailor in the event from racing in other competitions.  It's not theoretical, either – the IKA has been using this bullying tool in their battle with the IFKO, enlisting World Sailing CEO Andy Hunt to write threatening letters to those daring to compete in their own event, and back when we organized the tongue-in-cheek World Sportboat World Championship of the World, ISAF actually sent a letter to one of the hosting organizations and threatened them with all sorts of penalties.
With World Sailing's rules very similar to the ISA regs that were thrown out by the EC, Those days are over now, and World Sailing will now know that it's on notice.  So call your random event "Worlds" without worries now, and if you get a letter from Andy Hunt, submit it to the European Commission's confidential Whistleblower Tool and watch the sparks fly.  And now that there is a Commission directive, you can go for damages.
December 9th, 2017

It's an ad for DJI drones, but it's also a portfolio from one of our favorite filmmakers, so spend a minute with this sparkling aerial video shot during Oracle's Bermuda AC effort.  Sam Greenfield was the first guy to run a drone from an ocean racing boat and he's continued to innovate since. If you were wondering how his recent Volvo OBR drone work is so much better than anyone else's, look above – a year of fat budgeted training on the Great Sound helped Sam become sailing's standard in flying visuals.
December 9th, 2017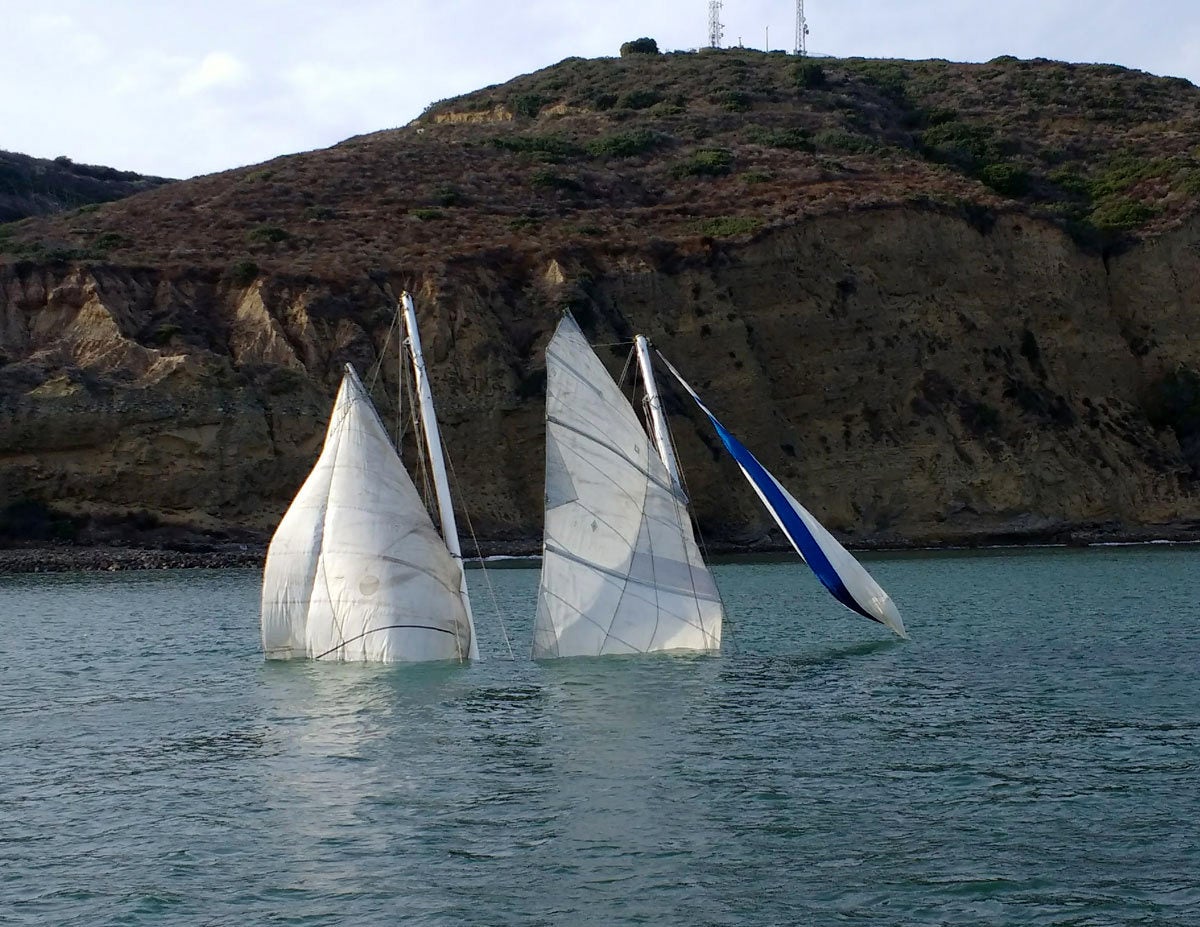 "With their new PHRF rating, the schooner Dawn, still expects to win the San Diego Hot Rum series after finishing 6 days after the last boat."
What's yours? Photo thanks to Anarchist Ralph.
December 9th, 2017
Big Pimpin'
The 52 Super Series 2018 is likely to have a lot in common with the 2015 season in which we saw nine new boats and three new teams on the starting line. For 2018 we again expect nine new boats and this time four or five new teams compared to 2017.
Pictured here: So the wheels turn… American Richard Cohen put together a strong team late in 2016 including Paul Cayard, Peter Holmberg and Marco Constant (above) to campaign the 2014 Botín design Phoenix. He began racing that autumn before a full 2017 campaign. In January 2017 he unexpectedly put his TP52 up for sale. Phoenix was sold to Hasso Plattner, who was aiming to race mainly in South Africa; in fact, at the 2017 Copa del Rey Plattner, racing with his daughter, found he was having so much fun that he ordered a new Botín design for 2018…
Building new at Persico to a Botín design will be Tina and Hasso Plattner, who are first-time TP52 class members. A daughter-and-father combination on the helm is a first; we've already had father and son twice!
With the Protocol of the 36th America's Cup specifically mentioning the TP52 as an exception to its 'Surrogate Yacht' rule one may expect the 52 Super Series to be a safe haven for AC teams aiming to practise monohull racing with a similar number of crew as on the future Cup boats.
The Protocol reads: 'No competitor shall acquire, sail or test any Surrogate Yacht as defined in this Protocol and the AC75 Class Rule.' And then describes a Surrogate Yacht as 'Any monohull exceeding 12m LOA which is capable of producing meaningful design or performance information for use either directly or indirectly in the design, construction or sailing of an AC75 yacht, but excluding existing class yachts such as TP52s used only for the participation in and preparation for their class or any other official regattas.' Quite special to see the TP52 singled out in the AC Protocol, thank you, Defender and Challenger of Record. Read on.
December 9th, 2017
And there's more snow coming…from the UFO thread.
December 8th, 2017
Greeny and Sally are back and of course, Cape Town always delivers.  Watch the Cape Doctor push the 65s right here.
December 8th, 2017
Big Pimpin'
Your kid wants one. You know it is the coolest small one-kid dinghy out there. Santa just made your decision a no-brainer:
$300 discount
Free dolly
Free shipping.
Want to be the best dad or mom ever? Easy. Email [email protected] to find a dealer near you!
December 7th, 2017
While many of us relaxed this past weekend there was an astounding accomplishment taking place out on the open ocean. And I mean astounding. The French sailor François Gabart rounded Cape Horn in record time and is now out of the Southern Ocean and now, just four days later, he is already well into the tropics sailing off the coast of Brazil.
Gabart started from France 33 days ago. He is sailing his massive trimaran Macif. The boat is 30 meters in length, just a shade under 100 feet. It has a beam of close to 70 feet and an upwind sail area the size of two tennis courts. This is a huge boat by any measure and Gabart is alone on board attempting to break the solo, non-stop circumnavigation record set last year by fellow Frenchman Thomas Coville. When he rounded Cape Horn François was 1,198 miles ahead of the reference point and he has since extended that lead to 1,762 miles.
Gabart set a new single-handed record time from France to Cape Horn of 29 days, 3 hours and 15 minutes. This was a full 2 days 8 hours and 15 minutes faster than Coville who previously held the record, but get this: only one other boat and team in history have completed that voyage faster and that was Francis Joyon racing his boat fully crewed around the world. Did I mention that Gabart is alone?
Let me try and put out some reference points so that you can get an idea of how extreme and difficult this has been for the French sailor. For a start he is trying to beat a record set by one of the worlds best, if not the best solo, offshore sailor. Coville has (I think) eight circumnavigations under his belt. He sailed a flawless circumnavigation to gain the record and was dealt some pretty decent cards by the wind gods. When he finished I was as certain as anyone that his record would stand for a long, long time. It was a superhuman effort. In order for Gabart to break the record he needs to average over 20 knots.
How many of us have even sailed at 20 knots? To average 20 knots you need to be sailing over 30 knots for a lot of the time because there are days when there is no wind and they do damage the average. Along the way Gabart needs to keep himself and his boat together. We all know how things chafe, how things go bump in the night, and how the constant pounding grinds at both man and boat.
At the last check Macif had just reeled off another 700 mile day and was cruising along at a stately 34.5 knots with just over 4,500 miles to go to the finish off Ouessant on the northwest corner of France. In a message to his shore team François admitted to being a little fatigued. "The fatigue is there," he wrote. "Accompanied by its faithful friend, the pain, which pulls on the muscles, paralyzes the sore hands … You have pain. All the time." I will let that be the last word. This is one amazing sailor who is surpassing just about everyone's expectations, except  his own I guess.
– Brian Hancock
December 7th, 2017
Remember our smug photo shop of the week post? Who's the dumb ass now? Us.
Saw the boat first hand in Split in September. It was at JK Mornar yacht club. Watched the guys cut the holes and fit the foils. Boat name is Fatimorgana. Anarchist srglaser.
December 7th, 2017