SA Exclusive
Here is the brand new J/121; after all systems had been installed for engine, power-train, steering, plumbing, electrical and the water-ballast distribution pumps and manifolds, the deck was fitted and installed. Can't wait to see what this "All American" thing can do!
August 17th, 2017
It sounds like Volvo 65 Hull Number 8 will indeed be on the starting line in a few short months, and our dockside insiders tell us it will be carrying a GBR sail number!
A slightly weaker rumor has skiff legend Chris Nicholson running the show, which leads us invariably to the speculation that number 8 might just be funded – in part anyway – by the British guy he's often raced for, who we told you is the world's most interesting racing yacht owner.
We're also hearing that one of the existing skippers may be looking for a new job soon.  We're not quite sure who it is yet, though fortunately there is a place to speculate on just that sort of thing.
August 17th, 2017
August 17th, 2017
We won't even tell you how we (didn't) solve the equation. How did you do???
August 16th, 2017
Big Pimpin'
Thanks to the R4 update to Raymarine's Award-Winning Evolution line of autopilots, a sailor is allowed better understanding and responsiveness to the winds and waters around him than ever before. The R4 upgrade provides 9-axis gyro stabilization of wind and navigation data, and Evolution TrackIQ for tighter track-keeping, accuracy and responsiveness to sea & wind conditions.
At the heart of this Raymarine Autopilot System is the 9-axis EV sensor core. This sensor core intelligently monitors vessel motion in all three dimensions (yaw, pitch-and-roll and rate of turn) and adapts to changing sea conditions.
Now, with the R4, the role of the EV sensor core has been expanded with new algorithms to improve the accuracy of measuring wind conditions. With this improved awareness of wind angle and speeds, the autopilot delivers incredibly sharp and responsive steer-to-wind control, giving sailors the confidence to let the Evolution take over whenever needed. The Evolution will steer to a set wind angle, sail downwind, or close hauled without risk of gybing or heading up into the wind. It will detect and automatically respond to true wind shifts, preventing unnecessary trimming of sails.
The Evolution was created to "learn" your vessel's steering characteristics, calibrating automatically over time without you having to adjust anything manually. As you navigate, this intelligent system continues to calibrate.
While some versions of the Raymarine Evolution Autopilot are for powerboats, the EV-100 Tiller, EV-100 Wheel, and EV-200 Linear Evolution systems are for tiller-drive, wheel-drive, and mechanical steering sailboats. These autopilot systems are available at Citimarine Store, or any other major marine accessories retailer.
August 16th, 2017
Pretty sure this has not been seen before – a tandem kite board! Leave it to the kooks in 'Frisco….
August 16th, 2017
J/70 Women's Keelboat Worlds Preview
There is a precise word to describe how we feel regarding your visit – honored.  Honored that you have chosen our little oasis as the venue for your prestigious championship. The peña that backs our club house and watches over the lake has witnessed four generations of friends become family.
From the days in the late 50´s when our grandparents sailed Lido fourteens, to the days in the 80´s and 90´s when our parents enthusiastically made sailors of us on the Optimists, sailing has been the core of our story of affection.  Out of it we have harvested many gifts, perhaps the most meaningful is the understanding of sportsmanship.
No matter how feisty a race might become, the victory has always been rejoicing over a petroleo* chased by a beer at the club bar. The "petroleo"- a traditional Mexican tequila-based cocktail, and staple at the club´s bar.
Another facet that has enhanced this tale has been the camaraderie developed among the sailors of the several clubs in Valle de Bravo. Thus, sailing has been the basis of our Valle community.
Once more, sailing is the basis of an even greater community that transcends borders with your visit. The passion that we all share for the telltales flying and the waves splashing creates an immediate connection of a brethren kind that we are certain you will feel as soon as we embrace you in a welcoming hug.
Your visit is very meaningful to us.  It will rejuvenate the sailor´s blood in our community and inspire us to pass on the joy of sailing to our children.  For this and much more, we are thankful.
My most heartfelt gratitude to the members and employees of our club, the J/70 class, the sponsors, and US Sailing for your generosity and support.  Please feel most welcome!"  The kind, welcoming words from Roberto "Pollo" Escalante, the Vice Commodore of Club de Vela La Peña and also the Chair of the 2017 IWKC in Valle de Bravo, Mexico.
The summer is Valle de Bravo´s rainy season.  A typical summer day begins with a sunny morning.  It develops the thermal breeze that comes in between 11 am and 12 pm.  Then the breeze holds until 3-4 pm, when the traditional afternoon shower comes in. Sometimes the rain comes in earlier, sometimes later, and sometimes it does not rain at all.  The temperature will range from low 60´s to mid 70´s. Very temperate.  However, as many J/24 and J/70 sailors will tell you, NEVER trust local weather forecasts, since there are no stations at Valle, forecasts are often wrong!
A very competitive contingent of women's J/70 teams have assembled for the event.  Here are the individual team biographies:
American Teams:
– Team Despacito Senoritas- http://iwkc-2017-social.weebly.com/team-despacito-sentildeoritas.html
Vivien Allan is our main trimmer/tactician, Amy Clark is our jib/kite trimmer and Lindsay Benton is our bow gal.  Don't be fooled by the direct translation of our team moniker Despacito (Slowly) Señoritas; instead, like us, it is inspired by the very popular, super fun, sassy, sexy, Spanish/English song Despacito by artists Luis Fonsi and Daddy Yankee.
– Team BAAM!- http://iwkc-2017-social.weebly.com/team-baam.html
Allie Blecher, Beka Schiff, Molly Noble, and Ali Blumenthal
– Team Seattle- http://iwkc-2017-social.weebly.com/team-seattle.html
Kathryn Meyer, Ramona Barber, Melanie Edwards, Nikki Daniel
– Team Your "Mom"- http://iwkc-2017-social.weebly.com/team-your-mom.html
Team "Your Mom" is very excited to sail in the 2017 IKWC. All four of sailors grew up sailing on Lake Erie in Ohio. Liz Barker, Taylor Robinson, Megan Riddle, Audrey Sheehan
– TEAM 'MER- http://iwkc-2017-social.weebly.com/teamacutemer.html
Megan Ploch (skipper), Erin Dubinski (main), Alix Hahn (tactics/jib), Carolyn Russell (kite trim and bow), representing American Yacht Club in Rye, NY,
– Team Scooter- http://iwkc-2017-social.weebly.com/team-scooter.html
Liz Hjorth, Stine Cacavas, Karyn Jones, and (inset) Jennifer Arrington
– Team CJ Racing- http://iwkc-2017-social.weebly.com/team-cj-racing.html
Team CJ Racing is comprised of Emily Maxwell, Elizabeth Dudley, Avery Field and Katy Nastro. Emily and Avery are cousins and grew up competing against one another in Optimists
– Team SDYC- http://iwkc-2017-social.weebly.com/team-sdyc.html
The team is made up of San Diego Yacht Club sailors – Giselle Camet Nyenhuis, Betty Sherman, Stacey Szabo, and Alexa Cavalieri.
Mexican Teams:
– Team Racing Comadres- http://iwkc-2017-social.weebly.com/team-racing-comadres.html
Eliane Fierro, Margarita Pazos, Caty Pi-Suñer, Valeria Pi-Suñer
– Team Chiquitas Pero Picosas- http://iwkc-2017-social.weebly.com/team-chiquitas-pero-picosas.html
The Flores sisters (Manuela, Casilda, & Camila) and the Sole sisters (Ana Clare & Sophia)
The Valle de Bravo "Weather Report" on YouTube:
https://youtu.be/3RqpkpFM00M
Follow the J/70 Women's Keelboat World's here
https://www.facebook.com/womenskeelboat/
For more International J/70 Women's Keelboat Championship sailing information
http://www.regattanetwork.com/event/14736#_home
August 16th, 2017
While the word 'Mooch' still may remind folks of the racist nutbag running the USA for the moment or the Goodfella who ran his press office for 6 minutes last month, we hope the UK yacht Scaramouche can begin to wash the smell off what is a damned good nickname.  And if they keep taking underprivileged city kids out on a well-found racing yacht and then publicizing it beautifully to the world, they're on their way.   From the blurb (snd thanks to Halcyon Yachts for the heads up).
After five days at sea, a team of inner-city teenagers have made history as the only crew from a comprehensive [what we call 'public' school in the US -ed] known to have finished the world's largest offshore sailing race.  Scaramouche is a 45ft German Frers yacht that was built in 1982 for the Admirals Cup, a true thoroughbred. The students are however the stars of the show and they deservedly won the Media Prize and as such were first up at the Fastnet prize giving.
In non-Mooch related news, French skippers absolutely dominated the huge race, winning 9 of the 11 major trophies.  England may have the biggest races but they grow offshore talent in France like they grow grapes and dairy cows: Very, very well.
August 16th, 2017
Tuesday 15th August 2017, Kinsale, Co. Cork racing in the Euro Car Parks Half Ton Classics Cup 2017 at Kinsale Yacht Club, Ireland.Photograph: David Branigan/OceansportWe of course are loving the Half Ton Cup action, but never forget just how much "fun" these things are downwind in a little breeze!
Oh and here is our daily reminder of the one (and the one winning) that we let get away…
Full results here.
August 15th, 2017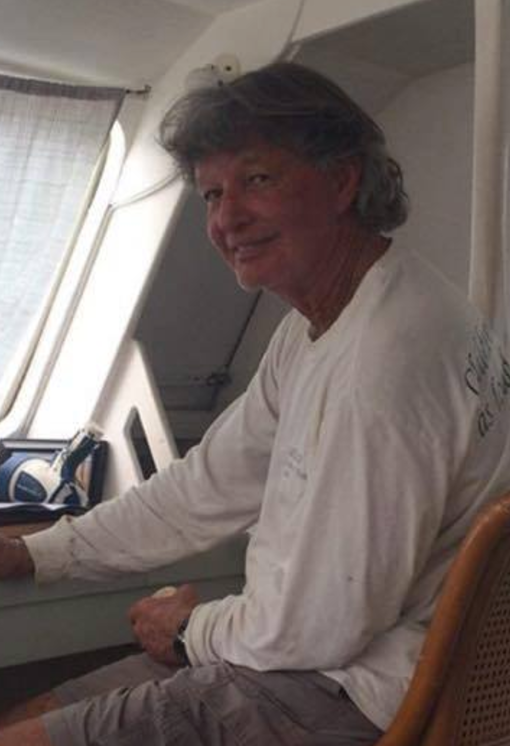 Anyone who's played around in the Caribbean racing scene for any time has come across "D" Randy West.  Quick with a multihull, quicker with a drink or a joke, we're sad to see West go and we enjoyed our own time racing with and against West on various Gunboats.   SA'er "Rasputin" wrote a little eulogy below; hit up D's Facebook Page for all the posts from wellwishers, and add your own.  And once again,  #fuckcancer. 
One of the Godfathers of the Caribbean multihull sailing and racing. and partying scenes D. Randy West has been lost to brain tumors from melanoma. I was still in bed early this morning and heard Skype ringing on my computer and it turned out to be a fellow Caribbean multi maniac in Aruba who had heard rumors of Randy passing. Must have been during the night and no real details yet but what I found on his Facebook page.
Randy owned PPALU, a 75′ Spronk catamaran and had skippered and raced a long line of Spronks since the 80's including SHADOWFAX and SKYJACK. I was lucky enough to have raced with and against him in the Caribbean and New England and he will be greatly missed among his tribe. His enthusiasm and smile was infectious and there was always a party that was threatening to break out wherever he went.
-Rasputin
August 15th, 2017