With the first of the TF-10 foiling trimarans not far from splashing, DNA Performance Sailing now has a line of four hot multihulls, all flying over the water rather than in it.  We'll bring you reports from next month's sea trials and let you know if the TF is indeed as easy to fly as Morelli & Melvin and the NYYC owner/racers who commissioned it intended.
We're even more excited though about a different DNA project; the electronically-stabilized auto-flying G4 cat.  We all know the future of foiling is automated and whether it's the DNA system or something else entirely, we're geeking pretty hard on the possibilities.  Get your geek on in this video explanation of the system.
May 18th, 2017
The best-kept secret in sailing (outside of ETNZ's wing control) comes at the end of a long press conference from Volvo HQ in Gothenburg, SWE.  Here's a synopsis of Mark Turner's speech, in order of importance (to us), and we encourage you to post any comments or questions you have for Turner and the VOR in the synopsis thread so Clean can fire 'em at Turner later for an interview to be published this weekend.
1) The offshore portions of the 2019 or 2020 Volvo Ocean Race will be contested in what the new design chief calls a 'Turbo IMOCA'; 60 foot foiling monohulls with adjustable-flap foils; while the in-port racing will happen in foiling cats.  The 60 footer will be 'convertible' to an IMOCA, and the VOR in-house design team led by Guillaume Verdier.  The cats are being opened up to a design tender process starting today at between 32 and 50 feet.
2) The 2020 Race has a wishlist of 8 teams, and all boats will be owned by VOR and leased to teams in an attempt to reduce the initial barriers to a new team/sponsor.  Turner says the new lease program and pooled services program allows a similar budget for future races to that of today's programs. This lease thing is a BIG deal, and speaks as much to Turner's cred with the Volvo Board as anything.  One paper calls the new moves (including the design and build process) a USD$50 million price tag for Volvo.
3) Sustainability looks to be a real goal this time rather than just more lip service to 'green' sponsors.  VOR spent the last ten years bowing primarily to the god of social media – their new pet deity is now a clean ocean, and they've got funding and support from 11th Hour, Akzo, and the United Nations, and their goal is a fleet of Zero Emission races.  2017/18 sustainable goals will be met with help of rules requiring team use of official RIBs, hydrogenerator minimums, fuel maximums, etc.
4) It's obvious the VOR has struggled pulling in team sponsors – that's why you saw the Hong Kong team's offer accepted yesterday, why there are still 3 empty boats, and why VOR is still trying to find someone to run a 'clean the oceans' entry for an all-women/all-youth/50/50 mixed team for the coming edition they say is already half funded.
5) Volvo and the VOR have formed a major partnership with World Sailing, principally to help create a pipeline for young sailors to become offshore pros and VOR crews.  This includes new VOR Academies (presumably in partnership with existing organizations) and keeps Turner and his hefty experience involved in the possibility of the offshore racing Olympic event that World Sailing has been chasing from the IOC.
6) Course may be radically different, especially for the 50th anniversary 2023 event.  More racing between races or a straight up 2-year race cycle, with race activity every year.  Maybe a crewed non-stop race around Antarctica.
May 18th, 2017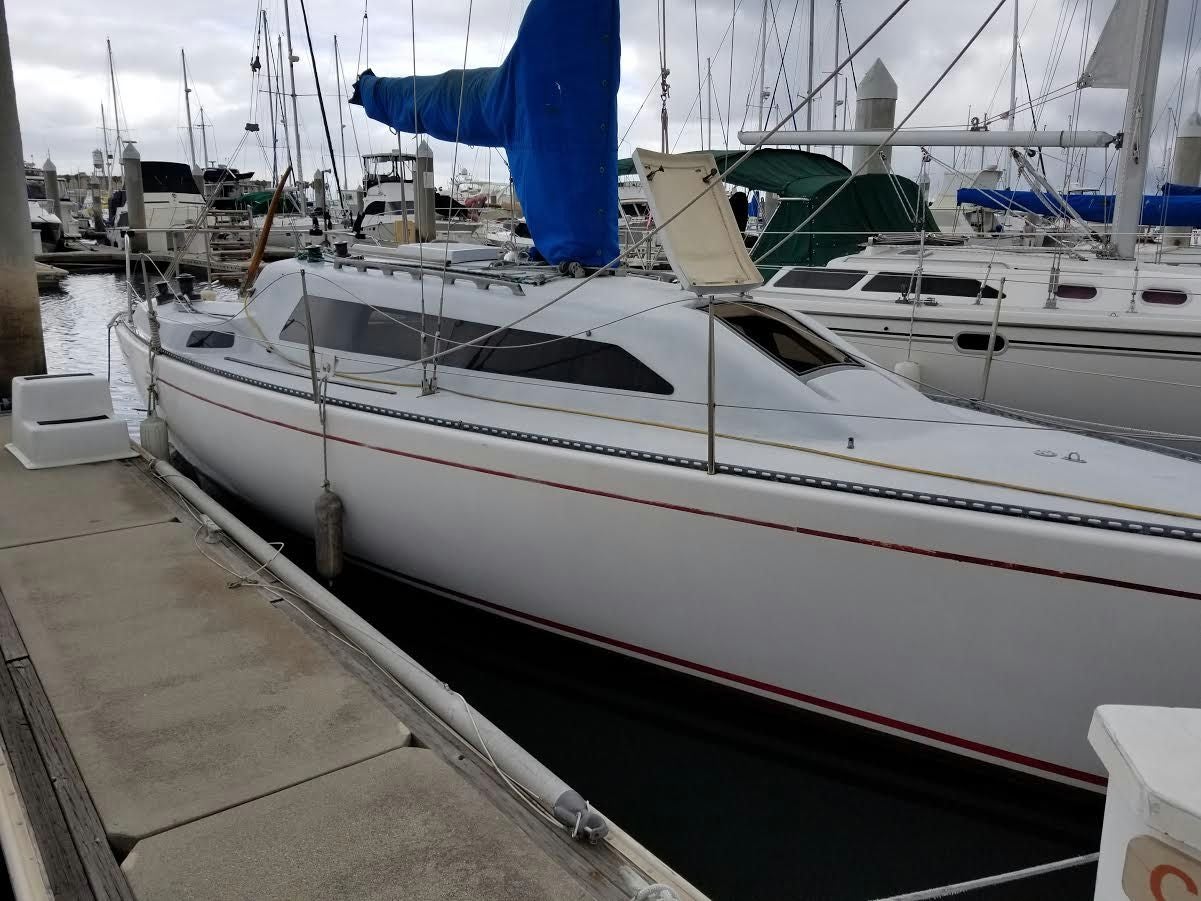 As the mighty Anarchy sails off to Ohio, I have apparently fallen and hit my head. There is now a new Anarchy and it is the old Mondo, Santa Cruz 33 hull number 2. I have sailed quite a bit on them, notably Freight Train, and I have always really liked them. Looking for a budget boat that has the ability to race, camp, cruise, daysail and just hang out on, the SC 33 is a very unique – some would say odd – way to do the above, but, it is done with with an homage to the past. Amazingly, the SC 33 is 40 years old. I like owning a little part of history.
We are doing a makeover on the boat to get it as nice as we can without spending a ton of money, and we will chronicle this adventure with a series of articles highlighting what we are doing to the boat as we go along.
We are keeping the boat stock so as not to give a couple of sadistic phrf trolls reason to fuck with us. We are also getting an ORR rating for the boat so that we can have some actual performance data and realistic comparisons with other boats as opposed to ratings that are often a result of the usual personal biases, petty grudges and  self-interested board members who are there only to attack other people's ratings while protecting their own.
We have some tremendous partners working with us on this project including OneSailsAus, Marlow Ropes, Selden, Velocitek, Pettit Marine Paint and Shelter Island Boat Yard to get the Anarchy III looking good, sailing good and making the boat a really fun place to be. Stay tuned… – ed.
Title inspiration thanks to the Tubes.
Got a comment on the SC33, or my apparent insanity? Jump in.
May 16th, 2017
Big Pimpin'
Marine trailerable pocket cruisers are modern designs created by the well known builder and designer Jerry Montgomery. The boats and built using the best materials and construction methods, creating boats that are easily trailered, rigged and sailed. The Sage 15, SageCat and Sage 17 are sophisticated enough for experienced sailors that might be downsizing, but simple enough for a beginner.The SageCat is a modern catboat rigged 15' cabin boat with a daggerboard featuring a 220# ballast bulb and a fathead main.
Excelling in light winds and having the ballast to sail confidently in sporting conditions the SageCat provides the simplicity of a single sail and the performance of a modern design. With a rotating mast and exceptional keel shape the SageCat goes to weather equally well as the sloop rigged boats in her class.
The hull and deck are constructed of fiberglass and vinylester using the resin infusion method. The cabin has aSagen adult sized v-berth with no obstructions with the daggerboard down. Sitting headroom is provided on two seats. With over twelve cubic feet of storage and the portable toilet SageCat is perfect for a daysail and extensive cruising.
Sage 15 sloop has the same deck, cabin, hull and daggerboard as the SageCat … difference is she is a sloop. For those that like sloops this is the boat for you. An excellent day sailor or cruiser the Sage 15 provides for those that like 'pulling strings' and the versatility of the marconi rig.
Sage 17 is the big sister of the fleet. She has a 7/8th marconi rig with uppers, lowers, single spreaders and a backstay. A shoal keel and a centerboard have a combined 520 pounds of ballast providing exceptional righting moment and seaworthiness. The deck is made using carbon fiber for strength and light weight. As with the Sage 15 and SageCat the cabin is obstruction free with a v-berth, two cabin seats and portable toilet. Sage 17 is a performer in all wind conditions.
All the boats come standard with solid teak exterior wood that enhance the classic looks of the molded lapstrake hulls. The cabin interiors also feature hardwood accents. All trailers are fully galvanized and come standard with a spare tire and bearing buddies for worry free road travel. Many options are available and Sage Marine will work with you to create a sailboat fitted to your sailing and cruising style.
For more information see Sage at –
May 16th, 2017
Dalts attributes Ben Ainslie's Cat 1 amateur move into the back of ETNZ as 'frustration' at his team's lack of speed, and this video won't be making the BAR skipper any calmer…
Let the head games begin!
May 16th, 2017
Fixing the bow of BAR after the pranged TNZ today.
May 16th, 2017
Incredibly, the mod 70 Phaedo just set the fastest time to Hawaii, ever, in just over 3 days and 16 hours. Lots of money and lots of talent in this program. Photo thanks to Lolo Seabiscuit.
May 16th, 2017
When it rains, it pours and when it blows, it blows the dogs off their chains in San Francisco.
Things started off pretty heady for the first St. Francis Yacht Club Friday night slalom race of the season on May 12th as the puffs hit 30 knots & 4-6′ breaking swell buried the 2nd downwind slalom mark, set a few hundred feet of Crissy Field. A dedicated group of wind junkies, half of which were on extra small bump and jump or wave gear, jumped at the conditions to carry on a tradition that has been going strong since the early days of windsurfing in California. Photo credit @lyrahcolvin
Downwind slalom racing, especially in a big breeze is one of the most spectacular to watch & one of the most exciting disciplines to compete in. At 1 min before the start, it's a chaotic symphony of windsurfers jockeying for position as they scream towards the starting line set just off Anita Rock on the San Francisco city front. Like clockwork, the fleet blast across the starting line in an all-out sprint towards the 1st gybe mark, hitting speeds of 25 knots and flying across the chop all within a few feet of each.
The first to arrive quickly lay down their sails to de-power while carving around the mark. In an instant, they are back on the new gybe going deep across the troughs of breaking swell. A few get knocked down, while the rest hold it together. It's a full obstacle course as several fleets of inbound ocean racers cross at the exact time the fleet gets ready to round mark 2.
Chaos erupts as the yachts broach in a hellish 30 knot+ westerly puff and the mark is buried in the breaking rollers coming in the San Francisco Bay. A few boards go down, just to save themselves from what would otherwise be an impending death sandwich between the fiberglass hulls. Those that emerge, do so by the skins of their teeth, threading the fine needle of control and all out balls to the wall, hold it together for your life windsurfing.
Two more gybes to go and its all over.
The fleet rips back towards the east end of Crissy Field where there's a slight relief from the 4k flood tide ripping across the course. Even the racers on 4.5 m wave sails effortlessly carve around the mark in stiff 25 knot breeze and quickly make their way towards the last gybe mark set in an all out furry of wind and waves. Positions change as rapidly as the wind but the top racers are able to maintain control and consistency in their maneuvers around the course.
One more 'OMFG reach' and the 2-1/2 minute race will be over.
If you can avoid stuffing the nose of your board in the breaking swell and round the StFYC B buoy- set just in front of the club, the race is over. If not, you'll have to watch the rest of the fleet fly by as you try to muster the energy water start to make it across the finish line in dead fucking last (DFL.)
When its all over, everyone heads back upwind for another shot at redemption.
You're only as good as your last race and for the rest of the fleet who didn't score a bullet, there's victory to be had or lost once again. 4 more races are run as the breeze settles down to a reasonable 20k and the flood builds and flattens out the course. Photo credit @petergrendler.
I have the duty of race committee this evening with 2 other racers as the only way this series works is by volunteering 1 of the 4 race nights towards race management. You get to see how and why the series works by actually taking part and running it. The marks don't set themselves, nor does the start or finish go off without the help of 4-5 person team.
By the time its over, the fleet looks like its returned from a naval battle with broken sails & twisted carbon but there's a slight twinkle in the eyes of these wind junkies- ready to do it all over again tomorrow.
For the full report- including the Sailing Anarchy sponsored Crissy Field Slalom Series, check out the USA-4 Windsurfing blog. – Steve Bodner.
May 15th, 2017
By the time that you read this, Lloyd Thornburg's all-conquering MOD 70 Phaedo 3 should have gybed over to port and be hauling ass towards Diamond Head and, with any luck, another world record. With Lending Club 2's  2015 record of 3 days 18 hours firmly in their cross hairs, Lloyd and his crew of gangsters are well on their way to breaking the outright Transpac record from LA to Honolulu.
Having officially started their record attempt at 21:45 UTC on Friday – 1:45 pm in California – the team essentially has until sunrise on Tuesday morning in Honolulu to break the record. By our rough math, they're currently sitting about six hours inside of record pace. With strong tradewinds forecast to be solidly pumping until Wednesday night, breeze shouldn't be a problem. Mai Tai's are on ice and petrol's in the welcome wagon. When we know more, you will too.
Aloha
May 15th, 2017
Part 2 of an idea that seemed like a good one, and then didn't. With this installment, now you can be the judge!
May 14th, 2017