His crew have seen it too often to be surprised but Kenny Read is both a gifted showman and great ambassador for the sport. On a Sunday morning at Woolwich dock in Sydney, a fleet of local Optis's were just finishing their session on the water when Kenny leaned over the rail to the Opti safety boat and extended an invitation to all the kids for a tour on board when they were done. It was priceless…
Thirty kids (and stoked parents…) wandered around Comanche with Kenny as chief tour guide as they turned pedestal handles, peered into the nav station, stared at the guys doing final engine checks and giggled when they saw the canting carbon head forward of the mast. When KR mentioned the Comanche was built just 2cm under the maximum allowed length of 30 metres, a little voice piped up asking why it wasn't built just 1cm shorter… After the Opti tour bus had left we sped out past Sydney heads and picked up the pace, finding some very sweet sweet-spots – boy does Comanche fly…
Thanks to Rhino, Kelvin, Kenny and the crew for a Sunday blast. – Blue Robinson.
December 14th, 2014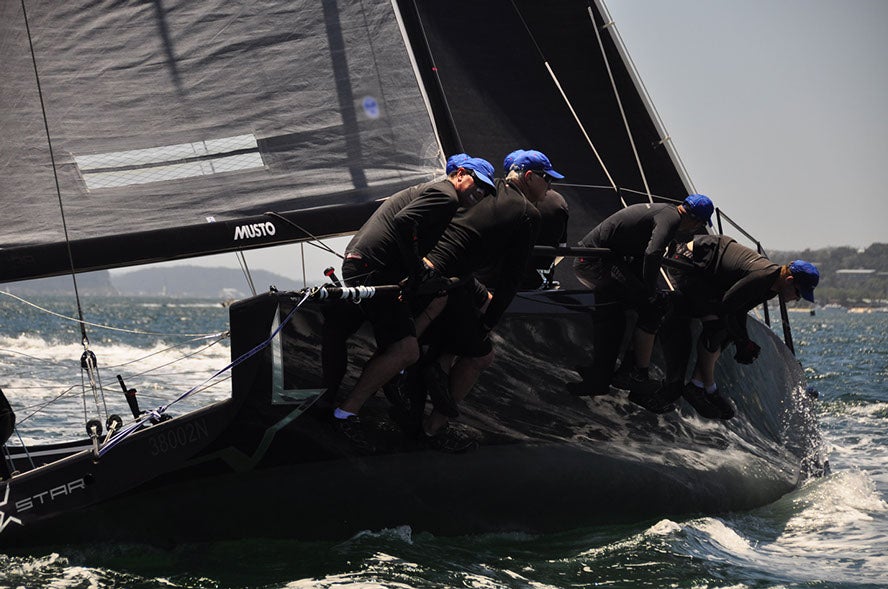 The required "bad-ass" look in big boats is the black on black look. How long until it's white on white? These are a couple of bad-ass MC 38′s racing for the best black look. They both won.
December 13th, 2014
After a thrilling final Team Brunel has won the second leg of the Volvo Ocean Race. The Dutch Volvo Ocean Race boat sailed over the finish line in Abu Dhabi on Saturday morning 16 minutes ahead of the second-placed boat Dongfeng Race Team. It took skipper Bouwe Bekking and his men 23 days and 16 hours to cover the 6,125 nautical miles (11,300 km) from Cape Town to Abu Dhabi. Team Brunel now stands in 1st place in the general ranking.
The last miles were unbelievable tense. Yesterday Team Brunel lost the lead to Dongfeng Race Team. The distance between us was 1,5 Nm. In the following night the men of Team Brunel fought back to a distance of 0,7 Nm. "Nobody slept, it was a drag race," says Bouwe Bekking with a smile on his face. "Suddenly the wind shifted slightly, this meant we could sail the last miles with a bit more speed and pass Dongfeng." Jump in the discussion here.
December 13th, 2014
Dongfeng Racing hangs on to a slim lead over Bouwe and the Brunel boys, with Ian Walker's Abu Dhabi team just a few miles back with a hair over 100 miles to the finish.  And when the sun comes up in Abu Dhabi today, the Volvo Ocean Race folks will bring the last piece of the Leg 2 puzzle to you live. Click the link above for the countdown timer, and look for videos, analysis, and share your predictions and banter in the thread.
December 12th, 2014
Chris Nicholson sat down with us on Friday for his first real interview since his return to civilization, and with the help of about a hundred Anarchist-sourced questions we had an emotional, hour-long discussion that should answer all your questions about the grounding, the evacuation, the cleanup, the rescue, the salvage, and the future.  With both Clean and the Redhanded TV shooters in the air right now, the full edit will take a few days – but here's a little teaser.
Be sure to check back right here on Wednesday for the full cut – it's some of the best work we've ever done with one of our favorite skippers, and we owe a huge thanks to the following folks for helping to make it possible: Team Vestas Wind, the M32 Series, Redhanded TV, the Extreme Sailing Series, the Gosford Sailing Club, and of course Chris and Megan for making the long drive down to meet us.  If you want to see Nico back on the line in Newport, it's time to start showing your support for TVW over on their Facebook Page.  You may very well make the difference…
December 12th, 2014
Okay, probably not as creepy as the walkers of  The Walking Dead, but weird nonetheless!
December 12th, 2014
Design 101
Chines, chines, chines! Anarchy will you find a pro to explain why we have the chine instead of arcs on boats like Ran, Comanche, and all the open 60s??? Grey McGown Fort Worth.
The selection of a chined or round bilged hull form is often not a clear cut choice and a number of competing factors need to be considered. For grand-prix offshore focused designs like the Volvo 65's, Volvo 70's, IMOCA 60's, Class 40's etc. we are seeing designs that approach or even exceed the power to weight of the highest performance dinghies [18' skiffs, i14's …]. These designs spend a lot of time in the planing boat zone so considering powerboat and skiff-like features such as chines makes a lot of sense.
As you move into this high sail area, high stability, light displacement design space, the chined hull form starts become very appealing. For a given beam, the chine lets us maximize form stability when heeled, while the flatter sections that result provide dynamic lift that assist the boat into the transitional planing regime and provide a more optimal shape for high speed. On these wider boats, the chine also acts to give some directional stability to the boat when sailing at heel, which assists handling and allows for higher average speeds especially on the short-handed boats. There are an infinite number of takes on how to blend the chines into the sections forward, but the objective is to develop a shape that is fine enough to go through waves well but one that also provides dynamic and buoyant lift to keep the bow up when sailing at speed and heel. Remember that unlike a powerboat we have to resist a sizeable pitching moment from the sails and this needs both a hull that reacts well with speed and the help of crew weight and stack aft and the use of water ballast in some cases. The quest for dynamic bow up trim has been one drive for the use of spray strakes and other sectional features forward that we have seen implemented on a number of VO70's and IMOCA 60's.
For classes like the TP52's or IRC 72's that sail more windward-leeward races and have lower average speeds, the small amount of low speed added drag from the chine makes the choice a little more nuanced. We see explorations of shapes both with chines and with rounded off chines or lifted high hard bilges. The choice to go with chines is all about rule limitations, the type of racing and the targeted sailing conditions.
That covers the high performance choices you say, but why is it that so many of the latest production cruising boats have chines?
Clearly these boats aren't designed to plane and sail around the ocean at high speed. No doubt, some of it is fashion bringing some of the high performance features down to the masses and giving the boats a straighter, more modern look. Beyond a fashion statement there are some advantages in allowing wider total beam aft, resulting in more deck space and the ability in smaller models to fit twin wheels. For cruising boats, chines can be complementary to the function of twin rudders. Performance differences aside, cruising boats often appreciate the control that twin rudders and chines provide when the boat is overpowered. For these heavier cruising boats there is a drag penalty due to the chine but it allows a big increase in form stability and a much larger interior volume for accommodations. Compare a modern 35' cruising boat with one from even 5 years ago and the amount of usable interior volume and deck space that's been added is staggering. The chine helps us achieve this interior volume without significant waterline beam increases. This keeps the low speed and low heel drag manageable while taking advantage of the control and righting moment of the chines at higher heel angles. The increased form stability also helps us achieve stability requirements without piling on keel weight that is a significant cost center.
The bottom line is there are no hard and fast rules about where and when to use a chined hull shape. As with all the other parts of a yacht design, nothing comes for free and each design needs to balance the performance trade-offs with the design objectives to come up with the right solution. – Britt Ward, Farr Yacht Design. Photo thanks to Mark Lloyd.
December 12th, 2014
SCOTW
We promised to show you what newbie sailor chick Sally Fitzgibbons had to say to our Senior Editor yesterday, and here's your delivery.  Big thanks to Land Rover Sailing, the Extreme Sailing Series, and the M32 Series for helping us put this short shoot together.  And a huge shout out to Petey Crawford for working overtime to convert some shitty iPhone video into something pretty – Sally's looks certainly helped that, and she'll be our Sailor Chick of the Week at least until the Hobart!
Learn more about this awesome athlete (and check out lots of bikini pics) over here.
December 11th, 2014
You hear it all the time— our sport needs new blood. And over the past 20 years here at the Manhattan Sailing School and Yacht Club, we've done tons to get new sailors — kids and adults— into the sport. We've taught thousands and thousands to sail, and have just under a thousand members. This has only been possible because our lease of the North Cove marina (you might recognize us from awesome boats that have docked here) has let us use docking fees to make classes and membership affordable.
Now, we're in the thick of a fight to hold onto that lease. A few months ago, the Battery Park City Authority put out a request for bids on the marina. We're up against big contenders, and expect that they'd squeeze as much profit as possible out of the marina— a situation that would decrease the accessibility of sailing in the city, and might make our school and club unviable. The mission statement of the Battery Park City Authority states that all decisions will reflect the public interest. We think if they follow through on that, we stand a good chance of holding onto North Cove.
So, we need help. We have a website, savenorthcove.com, where you can learn more about the issue and how you can help. If you're in New York City, we're holding a rally on Monday the 15th at 6pm on the south side of the marina. The media will be there, and a good showing is crucial to showing the public support for our operation. Letters of support, sent to Governor Cuomo, via http://www.governor.ny.gov/contact would also be a tremendous help.
December 11th, 2014
This is NOT some high-end riggers supply drawer.  It's not the remains of four skiffs crashing into each other, either.  Nope – it's the meat in the middle of the modern Mach 2 Moth – the junction between flight and control.  With canting rigs added to the already silly amount of controls on the world's fastest dinghy, racing a Moth at the top end is tougher than it's ever been.  Meanwhile, racing around the bay is easier than ever, thanks to the same advancements that are helping the front of the fleet, like Zack Maxam, from whom we stole this shot.
With just under 160 entries, the 2015 Worlds are set to be not only the biggest ever, but the deepest as well.  And we'll be there to bring you every minute of it live.  Shhhhhh!  Don't tell anyone, but make sure you can stay up late for a few days in the middle of January…
December 11th, 2014
Next Month Larry Leonard will be writing the ever popular "Ask Ullman" column here at SA.  Send in your questions for the long time sailing great and sailmaking authority – anything about sails, sail trim and design, materials, boat handling, tactics, industry news, you name it. Leave no stone unturned. In most cases, we're probably all interested – Send 'em to the Editor here.
It is confirmed that Larry Leonard, founder of Quantum Sails, will be joining Ullman Sails International under the title Manager of New Business and Product Development. From the sound of that title Larry will be doing big things, as he always has. Larry, the America's Cup sailor who helped grow Quantum from nothing to be one of the largest sailmakers in the world, can undoubtedly bring a lot to the table for the already powerful team at Ullman Sails.
With the added firepower for the quickly growing Ullman Sails group we're excited to see what comes next. Larry sat down and answered a few questions about the industry and what's to come. The Ullman Sails group recently met in Cape Town for an international group meeting.
Q: What are some of the trends your group sees in the sailing industry in 2015?
A: Most customers are extremely focused on cost. The result is lower participation in sailing events and a shift into one-design sailing. A good example is the growth of the J/70 class. Many sailors are
downsizing in an effort to control costs. On the other end of the spectrum however, we're seeing a huge growth in the number of boats over 70ft.
Q: Your title includes "Product Development", what's next for Ullman Sails in terms of new products and technology?
A: We're looking at ways to combine different fibers and construction techniques to get more durability at a lower cost. It has been great to discuss ideas with Dave (Ullman), Jannie (Reuvers) and others to see how we can create something new. The group is very proactive about staying on top of the latest technology, from working with cloth manufacturers to their launch of the Phantom Series back in
September.
Q: What is it critical for a sailmaker to do in today's economy to succeed?
A: To be successful, a loft must do everything possible to control their costs. Sails must be fairly priced and durable. Sail service must be emphasized, helping to create value while extending the performance life of a sail.
December 11th, 2014
As expected, the Anarchists got right into the Rambler discussion after we posted "Sawtooth" the other day; we know of course that there's nothing particularly new about Dr. Frank Fish's 'tubercles' – we first reported on them back in 2008.  And there's nothing new about them being on boats; after all, the guy who started the thread to discuss the Rambler's teeth yesterday designed the big Icon, which we think was the first-ever race boat fitted with tubercles on the rudder (added by hydro guru Paul Bieker after the boat changed hands a few years ago). 

Perhaps more intriguing is the fact that Juan K stuck 'em at the tips of the rudders rather than toward the stock, arguing against their use as a sort of low-drag replacement for the foil fences that can delay ventilation at high speeds.  We don't know what Juan is thinking here, but there's nothing new about that!
Come to think of it, we don't understand why you'd build an 88-footer to compete against the supermaxis, unless your goal is to win on handicap, but no one would drop that kind of coin to win on handicap, would they?  We're hoping that George didn't; maybe he told Juan his favorite marinas have a minimum draft, and that was the one number that Juan had as an absolute?
Talk about the R88 here. Major props to the awesomely named fuckyeahfluiddymanics blog for the image.
December 11th, 2014
The first day of the first-ever Sydney stop on the Extreme Sailing Series tour was called off today just minutes after a press conference which highlighted the fact that they'd only lost a couple of days in the entire history of the event.  Ironic, perhaps, but Mr. Clean didn't care; he got to watch 23-year old top pro surfer Sally Fitzgibbons bounce around on an Extreme 40 and then grabbed 3 minutes on video with the ridiculously cute sailor chick.  As we reported last week, she'll race to Hobart on the big Loyal, and you can hear more from her on her sailing history, how she's preparing for the Hobart, and how she likes zipping around on a cat when we publish her video later tonight.  Sexy shot from Mark Lloyd; live video from the Extremes begins tomorrow at 1530 local.  We give up on trying to calculate what that means everywhere else!
December 11th, 2014
Check out the rudders on Rambler. Here's what designer Paul Bieker said: "Those projections are called tubercles.  They create vortices over the low pressure side of the foil at high angles of attack that delay stall and make it a lot less sudden. Humpback Whales have been using them forever!" Wanna go deep on the issue? Click here.
December 10th, 2014
Remember when our Senior Editor was the closest witness to a multiple-death boat crash this summer on the river in Michigan?  Well, apparently there is some justice in the world, and it also means Mr. Clean won't have to answer that witness subpoena after all.
Brandon Verfaillie's blood alcohol was over 0.1 more than an hour after the crash according to police, and he he allegedly pled guilty to two counts of operating a vessel while intoxicated causing death and one count of operating a vessel while intoxicated causing serious injury; the maximum combined time he can be sentenced is 35 years, and the judge will hand it down in January.
Verfaillie is also facing wrongful death and other lawsuits.  His life is mostly over, but not over as the two people he killed.  Thankfully, while it's got its shortcomings, the system sometimes works.
December 9th, 2014
Anyone understand how a brand-spanking new, state-of-the-art monohull from the world's top ocean racing yacht designers could rate slower than a nearly 10-year old maxi?  We certainly don't!  Here's where Kenny originally talked about the ratings, and here's where you can find the latest betting line on the Hobart.
The trash talking is getting really good now too; the best is in the Comanche thread.
December 9th, 2014
The SOLAS Big Boat Challenge race belonged to the super slender WOXI, but what a sensational day for everyone on the yachts and spectator fleet. Kenny Read did a solid job on the brand new beamy Comanche with minimal prep time for what was essentially a bay race – two laps around Sydney Harbour with plenty of soft patches to slow the boat but raise the tempo… In Kenny's defense, Ricko and local boys on Wild Oats XI know the bays, know the breeze and know the boat and so went into yesterday race confident of their abilities to slot their silver arrow where they wanted – and they did that well.
But we were on the Anthony Bells Perpetual Loyal – and had a blast… Sailing with guys like Tom Slingsby, Tom Addis, smiling chef Guillaume Brahimi, rugby hard man Phill Waugh and the super fit and super psyched Sally Fitzgibbons was fantastic. Yes it was a curtain racer for the Rolex Sydney to Hobart race on Dec 26th, but today's race was for the SOLAS charity set up after the horrendous 1998 Hobart race, plus a great opportunity to highlight the Loyal Foundation charity, so a big thank you to Anthony Bells Perpetulal Loyal team for the really cool pro-am program, getting folks on board and amongst it – great job guys! – Blue Robinson. Photo thanks to Mark Lloyd.
December 9th, 2014
Sure, this is a bit of a pimp, but it is a good story too…
Jabuka race is the largest of the offshore races on the east coast of Adriatic. My early memory on it goes back to 2006 when we entered with four Mini650s to round up training camp we were running in nearby village of Tribunj. It so happened that weather conditions that year were near perfect and first Mini ended up finishing 5th overall in a 56 boat fleet averaging 9.6kt on the rhumb line. That was one of the best sailing I experienced but it was unlikely Minis will ever become popular in this part of the World so it felt more like an one night stand than a relationship.
Fast forward to few weeks ago to find 7 Seascape 27s – boats with Mini650 DNA in the same place where we held our Training camp 8 years ago. Crews arrived from around Europe – one double handed crew drove all the way from Norway – and looking at the crews going trough the preparation, security checks and training brought back memories. Race itself turned out to be pretty tame. First half of the race – going offshore to the small volcanic island of Jabuka – was dominated by light shifty winds that only started to build on the way back. I was part of the media crew following the race trough jabuka27.com and we decided to intercept the leaders while rounding lighthouse of Blitvenica. Even though VSR 8.8 is probably the best RIB around for going fast offshore doing 35kt in over 1m waves isn't fun. It was worth it though and we got some really nice footage of the 27s and other boats in the first pack.
Winners of the Seascape 27 OD ended up being crew of GER12 Wilde Perle skippered by Karlheinz Muller, followed closely by shorthand team from NOR3 Seayou. GER12 also ended up 11th in line honours (out of 96 boats) and would together with NOR3 took 1st and 2nd on ORC.
From my perspective It was great to watch this scenic race and a small fleet of 27s from the outside for a first time. With over 50 Seascape 27s now delivered and a lot of their owners interested to drive south at the end of the season the experience of it all started to feel more like a relationship. – Andraz.
December 8th, 2014
Sebastien D.in a recent post reckoned any statement will be prepared, orchestrated, refined and polished. No doubt but having had a (virtually) similar experience I have a theory, just a theory – that's all but I think it perhaps may have some merit.
Nothing any of us armchair admirals say or do can change the tragic and disastrous grounding of Team Vestas on the Cargados Carajos Choals and it is not my intention to pour further scorn on those on the boat. As they say 'Shit happens' and what I have written below, as the title suggests, just a theory but firstly sympathy must go out to a group of 9 guys who at this moment in time must be completely gutted, apart from being incredibly lucky that their race is over but over with no-one such as injured, never mind what could have been a much serious consequence. Poseiden was cruel perhaps but with a tinge of mercy.
When I first heard the news my first reaction was to look at the pilot (a guide book to the sea for those newbies who have never been off a windward – leeward course). One of the pilots I looked at suggested the Cargados Carajos Reef was 3 miles SW of the charted position. Well that would explain it right away. Incidentally Google Translate reckons Spanish and the English is "loaded fuck" – fairly appropriate I'd say given the topography and surrounding seas.
On checking the Navionics chart with the area, comparing it with the position reported in the pilot and also with Google Earth (which is based on satellite photos) ALL gave the exact same position so discount the islands not being where all the cartographers think they are.
So how could it happen? Who knows?
Well I have been dipping in and out of Virtual regatta during this leg and at the beginning of the weekend I set my course and went off to do some work on my real boat. The wonders of Chinese internet meant I couldn't get back on until Sunday evening and I had lost 10,000 plus places. How come?
On checking I was parked (thankfully just virtually) entirely coincidentally within hailing distance of Team Vestas and just like Nico and the boys driven straight into it. Mmm, that got me more interested.
I had checked my course well in advance then other things got in the way. On the real boat perhaps we will eventually find out, a wind gently backing perhaps or weather software clouding the issue or the image on the screen or perhaps something more fundamental.
Indeed when I looked at the area on Navionics the area initially looked clear, zooming in a little there appeared to be two small islands at the heart of a shallowing. I say shallowing as the sea to the south and east is still at 500 – 1,000 metres deep, hardly anything to worry about.
Then one more click of the zoom button and whoah – suddenly a 26 mile long reef leaps into view – at about the same speed it would in reality from the deck of a racing yacht. Looking at the surf line on Google Earth it appears incredibly narrow like the reef is on the edge of a cliff. The night wasn't particularly boisterous so nothing to make the surf more visible and no detectable land behind as the islands only rise to 1m.
Human error perhaps with catastrophic consequences but perhaps not of the severity as some have been suggesting. Perhaps one more click of the zoom wheel and it would have been a spot on instead of a head on moment.
As Frank Dick, one time British National Athletic Coach from the time when Lord (Seb) Coe was competing in the Olympics instead of organising them once said "Sometimes you make a big mistake and no one is watching; other times you make a small mistake and the whole world notices". The moral of the story is of course "Don't make small mistakes".
Respect for Team Alvimedica standing by, Will Oxley looking after his old mate Nico and here's hoping Persico can get fired up and help bring  Team Vestas back to the start line before the end of this edition of the VOR. – Shanghai Sailor.
December 8th, 2014
We're more than a little disappointed to see that the Vestas Wind media call/press conference (all but a minute or so is linked above) was straight of last century, with only pre-approved questions asked by the moderator and nothing even approaching the many meaty subjects that real sailors care about. The only 'new' news was, first, that Volvo still owned the boat – something we didn't know at all, and something the race may have not wanted everyone to know.  The more important news is that Vestas and co-sponsor Powerhouse sound to be close to pulling the trigger on a new boat – VO65 hull number 8.  We hear that the materials are ordered, holiday leave has been cancelled, and the molds are being moved back into position, and by next Monday, there's a good chance it will be underway.
What this means to points and the fleet after Vestas would rejoin is unknown.  It's the logical extension of the kind of questions asked when the first VOR was trucked across a continent rather than sailing around it.  Would it make a mockery of the race, or is this just like a low-end Formula 1 team destroying a car and taking two or three races to deal with it before returning?
Those questions are a bit far off; in at the meantime, we're psyched that there's even the possibility. We're in this at least as much for the stories of courage and fear and struggle and triumph and failure as we are for the racing.
Target time for the delivery would be the Newport stopover, and of course 90% of the world's discussion on the Vestas grounding is going on right here.
December 8th, 2014