The final and decisive leg for the VOR has just started and this should be a very compelling thing to watch.  Track 'em. Photo thanks to Thierry Martinez/team AkzoNobel.
June 21st, 2018
An incredible THREE TEAMS ARE TIED FOR THE LEAD going into the final leg of the 2018 Volvo Ocean Race, with the battle for DFL almost as interesting.  Watch the start from Gothenburg for the final leg and the closest finish in the history of the Volvo/Whitbread and stay tuned for another Boatfeed episode coming today.
June 21st, 2018
Longtime SA'er and Annapolis bowguy extraordinaire Owen Miller grabbed this overhead shot of the all-conquering Grundoon after her big win..  James Grundy went back to his classic Columbia 50 (after a mostly frustrating experience in his Carkeek 47) to get the big time silverware, taking first in class and first overall in the Bermuda Race.
The first year of multihull action at the Bermuda Race was mostly embarrassing thanks to Race Organizers rejecting the entry of the record-setting ORMA 60 ARETE. Yes – you read that right: this committee at the Crusing Club of America told the owner and designer of a well-maintained and raced version of one of the most lauded racing classes ever that he couldn't enter a one-day long race to Bermuda from Newport.  A boat designed and built in 2003 (by one of the world's most experienced ocean racing designers) to cross the Atlantic Ocean with just one or two sailors aboard simply 'didn't meet the race requirements' for ocean worthy boats.
We try to never overestimate the uselessness of the bluehairs that seem to run racing up in the NE, but this decision was one of the oddest we've seen.  Is it possible they were protecting the 3 New York Gunboat owners from racing against a real racing multihull?  Meanwhile, only one of the three Gunboats seemed to be actually racing: Jason Carroll's Gunboat 62 Elvis beat in two other 60′ Gunboats – including a sistership – by one and a half days on a 3 day race.  In the world of the CCA, this is apparently known as progress…
Meanwhile, in a seriously touchy-feely moment for us, the Mudratz won their class too.  We'll have more on them later this week.
June 21st, 2018
The Environment
Just how much more damage and disrespect for our oceans can you take from this criminal?
In proclaiming June National Ocean Month, President Donald Trump signed an executive order to revoke Obama-era protections for U.S. oceans, coastlines and Great Lakes waters. Trump's directive focuses on energy extraction, fishing, trade and national security, further highlighting that he believes that the greatest value of federal lands and waters lies in the commodities that can be harvested from them.
"Ocean industries employ millions of Americans and support a strong national economy," reads the order, which Trump signed Tuesday. "Domestic energy production from Federal waters strengthens the Nation's security and reduces reliance on imported energy."
Missing from the order are words like "conservation," "stewardship" and "climate change," as well as any mention of numerous other threats facing the world's oceans, including plastic pollution, coral bleaching and acidification. Read on
Are you jackass trumptards happy? No? Maybe ripping a few more innocent infants from the arms of their mothers will cheer you up? 
June 21st, 2018
Starting off with three straight bullets, Louise Morton and girls are straight ballin' at the Quarter Ton Cup. Results here, photos here, thanks to Fiona Brown.
June 20th, 2018
Note to you trumptards: You may wish to avoid this as the author has a ponytail and clearly cares about the environment – two things you loathe… But should you care to actually learn something, watch it.
June 20th, 2018
You may recall that we featured this pretty bitchin' Frers 57 built by McConaghy last month. Kit Carlier Design drew the interior and they were kind enough to share a couple of shots.  1 and 2. Damn!
June 20th, 2018
Big Pimpin'
For a class declared as having 'passed' as recently as 2012 the TP52 seems to be doing rather well… Although I see myself as a butler running a complicated house, some see me as a saviour and others as just lucky when it comes to my work as manager of the TP52 class.
For sure it is easier to look good in your profession when things go well. Then again, to be tested at times helps to become better at the job. Since being declared dead by most in the industry in 2012 when we were down to four boats, the remarkable resurrection now known as the 52 Super Series, built upon three owners deciding to set up a new series when the MedCup faltered, has since attracted about 20 owners. From 2014 to 2018 it was the motivation behind the construction of 20 new TP52s.
Confidence is back, as 52 Super Series experienced in her recently launched Technical Partners programme – chalking up names like Quantum Sails, North Sails, Southern Spars, King Marine, Longitud Cero and Botín Partners. Their contribution allows live TV links between races for interviews and race summaries. Some new 2018 boats still need to be launched but what I see so far makes me extremely happy to be part of this household.
June 20th, 2018
Speaking of interiors, there is this little beauty on craigslist South Carolina. This gives inspiration! Send in whatever pictures you have or find of steaming piles of shit sailboats. Beaters, abused, ignored, broken. Whatever, send 'em in! This could be great fun.
June 20th, 2018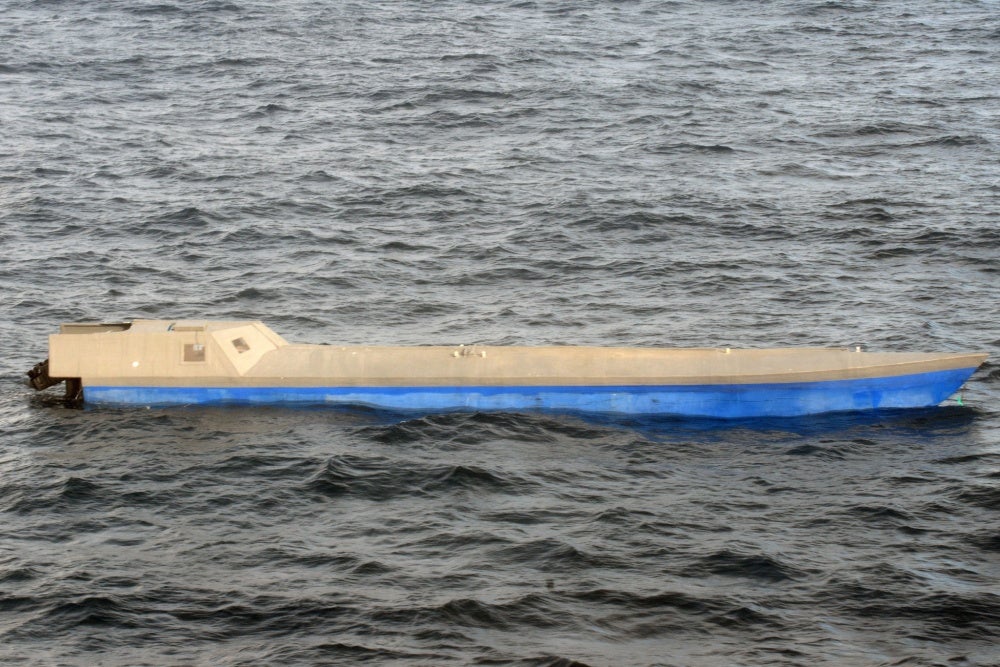 Not Sailing
Last Friday, the U.S. Coast Guard Campbell returned to Kittery, Maine, after an 80-day counter-narcotics patrol in the Caribbean and the Eastern Pacific.
Campbell's crew intercepted six narcotic smuggling boats, seized about six tonnes of cocaine – worth more than $200 million – and detained two dozen suspected smugglers. Among other interdictions, the Campbell stopped a large low-profile go-fast boat on May 24.
The Coast Guard says that it increasingly sees smugglers turning to semi-submersible boats and low-profile go-fast boats in order to evade detection.  Read on, thanks to ME.
June 20th, 2018