There are many things to be said about this besides the total absurdity of it. This is nothing more than a chickenshit attempt at retaliation for my critique of SWYC. It is all quite amusing. The so-called misconduct is an irrelevant, ginned up accusation from last year (and one that they actually started) and is the basis for this exclusion.
Isn't it interesting that if this "misconduct" was such a big deal, why is this the first I've heard of it?
This is little more than a personal beef  from one of their members towards me, who shall remain unnamed, but she knows who she is.  How incredibly petty and unbefitting of a yacht club to stoop this low. Isn't participation meant to be encouraged rather than discouraged? But then again, as part of my original comments about SWYC, what would they know about participation?
They can reject my entry (which I actually find retardedly funny), but have they followed the rules? Chime in.
February 16th, 2017
While the subject matter may be lacking, this is certainly a precursor to what videos are going to be like. Be sure to use the cursor in the upper left of the video. Love ya Waterlust!
February 15th, 2017
There is seemingly a never ending supply of freighters and the like that are capsizing or in need of rescue, but do you ever wonder how the hell these beasts are righted? Check out this detailed look at the dynamics involved…
The Sewol was a RoPax vessel built in 1994. She sank off southwest Korea on April 16, 2014 with the loss of 304 lives, many of them schoolchildren. The vessel capsized and sank in 44m water depth, coming to rest on her port side on a level seabed.
Divers searched for missing bodies until November, 2015. The last body found was in October. Nine bodies were still missing at the time of writing this paper. They are believed to be inside the wreck, probably in the damaged superstructure area.
For salvage planning, OrcaFlex was used to predict dynamic sling tensions under a range of potential operating conditions. The models developed used fully coupled analysis with the motions of the Dalihao crane barge being driven by diffraction force RAOs and influenced by the crane hook loads through appropriately modeled sling systems to the submerged Sewol model.
Simultaneously, the Sewol model was driven with diffraction force RAOs and was given a seabed ground reaction as well as sling loads from the crane barge. The seabed interface permitted the Sewol to respond in pitch and roll. Read on.
Could not resist the title rip off from this song.- ed
February 15th, 2017
This week's Sailing Anarchy Podcast features two sailors who've fallen in love with sailing fast, and when they say fast, they don't mean 15 knots!  First we grabbed forty minutes with male pin-up model, VOR/AC veteran, and 24-hr monohull recordholder (aboard Comanche) Shannon Falcone, picking his brain about testing and delivering the F4 foiling cat, who he sees as favorites for the America's Cup, and whether he's even interested in it anymore.   Follow Shannon here.
Then we sat down with a guy who sees 50 knots as the speed for the kids boat; it's multiple iceboat world champion Ron Sherry, and on an icy day in Detroit, he talks with Mr. Clean for an hour about Obsessive Runner Disorder, raising your kids while racing, crazy rigs, and sailing in Siberia.  Learn more about Ron and iceboating at the web's most comprehensive iceboat racing site here.
Follow the SA Podcast on iTunes here or Stitcher here.
February 15th, 2017
One of five sailor chicks (out of 35) entered in the all-important Solitaire Du Figaro, rigger, pro sailor, and former minista Alexia Barrier is one of a new breed of sailor who understands marketing, social media, and the web.  Above is Episode 1 of what we hope will be a long-running series, bringing her audience into the folds of an event that has remained mostly hidden from non-French eyes.  Alexia is a daily SA reader and an extremely cool Sailor Chick of Week, and she gives us a reason to give a shit who wins the Figaro.  Then again, with Justine Mettraux and Cecile Laguette on the line, we're gonna have a hard time deciding who to pull for.  If she keeps entertaining us with capsizes in other boats, we'll never get bored. Follow Alexia here on Twitter and here on Facebook.
Title thanks to solo women everywhere.
February 15th, 2017
Clean Report
The Gunboat G4′s famous flip in St. Barth's a couple of years ago didn't do wonders for the marketing plan behind that 'cruising' foiler, but the dedicated racers developing the DNA F4 one-design spinoff of the G4 have been following a different, more logical path.  Two-time America's Cup winner Shannon Falcone (who sailed the G4 extensively) and the team at DNA have been working up the 30-knot-plus machine in Antigua to find her limits before going into full production, and they found those limits a few weeks ago while testing the boat on a squally day off the West Coast of the island.    We spoke to the guys in Holland to get the story (and if you want to see the F4 being built in the DNA factory, click here for the full tour we did back in November.)  Here's a photo from under the boat, and here's a look at the F4 at 30 knots on a more typical daysail.  In a bit of bad news for race fans everywhere, the golden F4 won't make the start of yet another record-setting fleet in the Caribbean 600.  Anyway, here's the official statement:
Thanks for your inquiry, Clean.  Although everyone knows cats can flip, we would wished it wouldn't have happened on a sunny day in the Caribbean after they'd already survived rough weather and storms from NY to Bermuda and then another thousand-mile trip to Antigua without issue!  But hey, it happened – so let's learn from it.  That's why Shannon has been working so hard to learn the boat.

While we hope you get the story straight from Shannon [it's coming sooner than you realize] we learned from him that he was sailing inside the jib, heading towards the harbour while his crew were on the bow getting the furled FRO down on the tramp.  A squall and a big shift caught them with the jib on the winch, and even with the main blown off completely, the pressure on the jib slowly carried them over.

In association with Andrew "Macca" Macpherson, we've been working for some time on a system that's essential for these kinds of boats, and this incident reinforced its need. While winged AC boats and sealed-mast cats lay on their sides in a capsize, boats with more conventional masts turtle almost immediately, making recovery complicated and causing damage to electronics.  That's why we're excited about the mast-mounted inflatable balloon system we've been engineering for the TF-10 trimaran and G4 and F4 foiling cats; in the rare case that one of these boats goes over, there's no reason they shouldn't be able to be righted quickly and easily.


We'll have more news on the system later, and while we get the boat back in racing shape, feel free to check out this video of the F4 sailing in BDA and Antigua.  She's a dream!
February 15th, 2017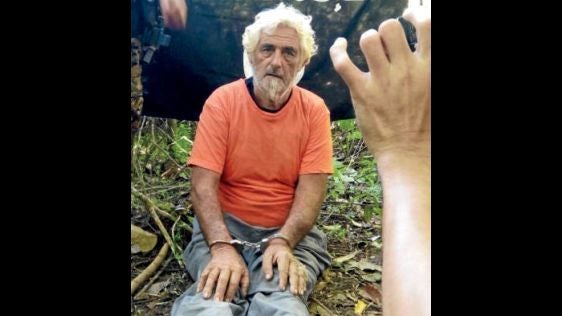 The Abu Sayyaf group has threatened to behead a German hostage unless a $100,000 ransom is paid by February 26.
The hostage, long-time sailing cruiser Jurgen Kantner, was captured in November near the pirate stronghold of Tawi Tawi. In a video released last week, Kantner – surrounded by Abu Sayyaf fighters – addressed the German government, warning that the terrorists will kill him if the ransom is not paid soon.
The Philippine military is still working to confirm the authenticity of the video, but a spokesman discouraged the idea of paying for Kantner's release. "We don't support ransom. They will just build their capability some more if they have money," said Colonel Cirilito Sobejana, commander of Joint Task Force Sulu in comments to the Inquirer.
Abu Sayyaf has often made good on its threats. Last year, the group beheaded three prisoners – John Ridsdel, Robert Hall, and Philippine national Patrick Almodovar – after ransom demands went unmet.
The group is believed to be holding more than two dozen hostages at present, most of them seafarers who were captured from tugs and trawlers. It has released eleven captives since last June, including Norwegian national Kjartan Sekkingstad. Philippine Defense Secretary Delfin Lorenzana recently told CNN that Abu Sayyaf had released so many hostages thanks to the pressure of an intensified government offensive. (Analysts suggest that kidnapping is a lucrative practice for Abu Sayyaf, but the Philippine government does not generally comment on whether ransoms have been paid.) – Read on and  Comment here.
February 14th, 2017
There was a time in Dago when the Midwinters were a fairly big deal. Plenty of boats, two days of racing, sometimes super breezy. The Midwinters were cool. Yet, under the tutelage of Southwestern Yacht Club, this once "big" regatta has been reduced to rubble. Not only has the regatta been cut in half – from two days to now just one, but four days before the event, there are a total of ten boats entered. Ten boats. Total.
Wanting to race my Melges 32, there were no boats entered in our new "sport boat only" PHRF Class 1. Because of a couple of world class PHRF whiners, sport boats have been ostracized from "normal" boats, which would be fine if there were enough of both to form healthy classes, but because there aren't for this regatta, and because this is a so called hi-point regatta – of which almost nobody  gives a fuck about – the organizers won't put us in with boats that are close in speed and all larger than us, because they aren't "sport boats" – retarded logic, without question.
So if  less than 3 boats show up for our class, rather than put us together with other boats as best they can, we will be told to go home and not race. No wonder this fucking sport is in decline.
So I called the so-called Race Chair named Don Stouder and left a voice mail, wishing to discuss our options. Two days later , there has been no return phone call. An e-mail sent has also gone unreturned. Ten Boats. Now keep in mind SWYC has always been subpar when it comes to race management. Theirs is regularly some of the worst R/C work in this town, and their somnambulant handling of the once well-attended San Diego to Ensenada Race, has seen that race fall to what appears to be the brink of extinction. And at their current pace, it will be much sooner than later.
I say this not to bury SWYC ad hoc, nor is this entirely their fault – as we all know, there are a number of factors that are leading to the sport's decline. Rather, to simply  point out what is happening here in this town to PHRF racing. Sure, races like the Hot Rum and the Beer Can Series always draw well, but without the Cortez Racing Association, whose events are almost always fairly well attended, and usually quite fun, there would be virtually no PHRF racing in this town.
SWYC has two good events, and yet they have not only done next to nothing to keep them relevant, my impression is that they act like they want to let them die. There is no promotion, no advertising, no sponsors, no incentives, no buzz. And as long as the people who are in charge of these events don't bother returning phone calls, or reject offers of help, or make any sort of attempt to improve their races, then these events have almost zero hope of surviving, let alone flourishing. – ed.
Note: We entered. Make it eleven.
February 14th, 2017
Note: The rumors that this Russian Spy ship – stocked with underage hookers with full bladders – got lost on the way to Mar-A-Lago are completely unfounded. – ed 
Fox News reports that a Russian spy ship was spotted off the East Coast of the U.S. on Tuesday morning.
The Russian ship Viktor Leonov was in international waters, 70 miles off the coast of Delaware and heading north at 10 knots, according to reports. The ship, which last sailed near the U.S. in April 2015, is apparently capable of intercepting communications and also measuring U.S. Navy sonar capabilities. It is also armed with surface-to-air missiles.
The ship made a port call in Cuba and has been working its way up the east coast.
"It's not a huge concern, but we are keeping our eyes on it," a U.S. official has reportedly said.
The news of the ship's presence coincides with reports that Russia has secretly deployed controversial cruise missiles and that Russian planes flew within 200 yards of the U.S. Navy destroyer USS Porter.
February 14th, 2017
Big Pimpin'
February 14th, 2017