We don't know when we'll stop finding the entire Vestas Wind drama interesting, but not today, and with the team finally headed to civilization, there's plenty more to come.  To the few of you who've accused us of somehow whitewashing the whole affair or going easy on VOR management, we encourage you to watch this one all the way through; Frostad's clear and honest answers and obvious admiration for what Nico and crew have accomplished during the toughest moment of their careers are just about perfect, and we're not sure how anyone couldn't be on their side after listening to him!
We've been told that SA is at the top of the interview list as soon as the team has been properly debriefed in the Emirates.  Got a question for Nico?  Post it here, and don't bother if it isn't really good.  The situation deserves more thought than usual.  Hardcore music lovers will know from whence our title comes…
December 6th, 2014
In this 'cover your ass' world, there are few things more compelling than someone standing up and taking direct responsibility for something disastrous.  Team Vestas Wind router Wouter Verbraak had just two days in Mauritius to collect himself before flying out, and using one of the only forms of communication he had – Facebook on a hotel computer – he posted his mea culpa , just an hour ago, and with no qualifications.  More, he's analyzed what happened (probably ten thousand times over the past week), and provides a solid, logical, believable explanation of what was essentially a mistake resulting from the usual cascade of small errors; a combination of fatigue, time crunch, digital charting issues, and the last-minute, storm-induced course change from VOR Race Direction.  Like this attitude?  Like him on Facebook and tell him.  We're sure he could use a few words of encouragement.  More Brian Carlin shipwreck pics here.

We finally have means of communications again, so a message is highly overdue…
I am totally devastated and still in shock as the gravity of our grounding is slowly sinking in now that we are safely in Mauritius with finally some time to reflect on what happened.
We are very lucky that nobody was hurt, and a lot of that is credit to our teamwork in the seconds, minutes and hours after the crash.
I made a big mistake,[emph. ours] but then we didn't make any others even though there were many difficult decision to be made and the situation was very challenging and grave indeed.
Once I can get power to the boat's laptops (if they survived) I can look further into how we didn't see the reef on the electronic charts [emph. ours]. I did check the area on the electronic chart before putting my head down for a rest after a very long day negotiating the tropical storm, and what I saw was depths of 42 and 80m indicated. There is a very good article posted here which highlights some of the zooming problem in the vectorised charts that we used.
I can assure you that before every leg we diligently look at our route before we leave and I use both Google Earth, paper charts and other tools. However, our planned route changed just before we left, and with the focus on the start and the tricky conditions, I erroneously thought I would have enough information with me to look at the changes in our route as we went along. I was wrong. I am not trying to make any excuses – just trying to offer up some form of explanation and answer to some of your questions.
There are a number of lessons to be learned from this, which we hope will be able to relay in the time to come.
I am immensely grateful for all the support that we as a team, my family and myself have received from our wonderful friends, colleagues, family, Vestas, Powerhouse and Volvo. More over we are heavily in debt to the thorough support of Alvimedica throughout the first night, as well as the local fisherman and the coastguard of Ile du Sud in the atoll. So I want to thank everybody so very much. Thank you, thank you, thank you.
I am forever in your debt.
Wouter
December 4th, 2014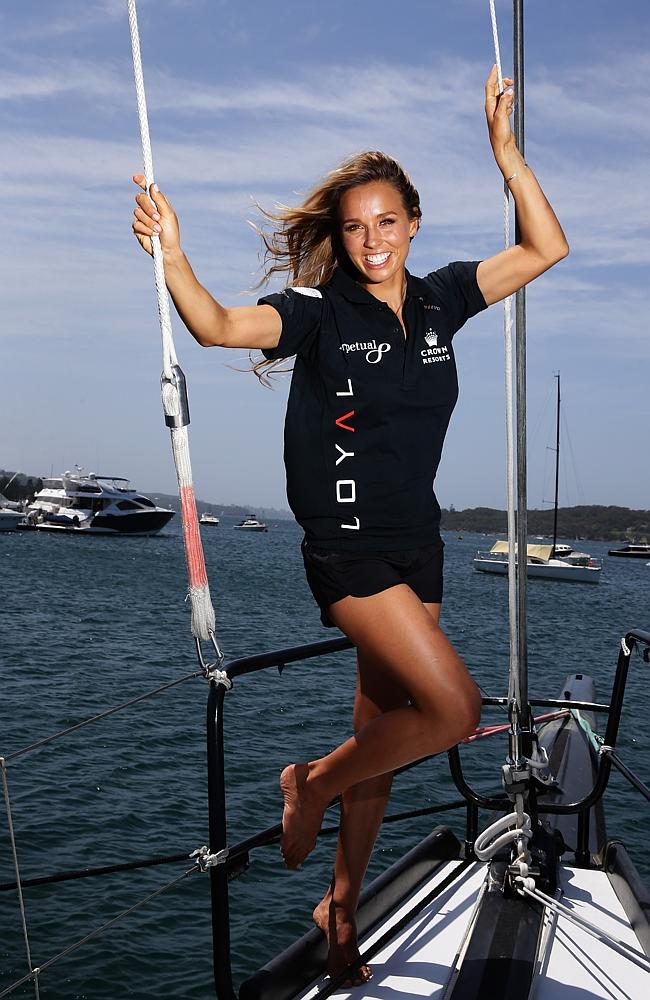 Sure, Wild Oats XI has only been beaten to Hobart twice, and her skinny bottom means she's one of the best all-rounders ever built for the coastal races she was created for.  And sure, Comanche has Stan Honey, Jimmy Spithill and Kenny's entire Puma Team, and a design that should be faster than the once-frightening Perpetual Loyal (ex-Speedboat).  But Loyal has several secret weapons – among them Sydney supersailmaker Michael Coxon and a brand new kite said to be 'the biggest spinnaker ever built'. Plus, they have a new website!
And then there's this weapon – ASP surfing world title contender Sally Fitzgibbons, who joins Anthony Bell's charity-driven campaign for this year's crowded Hobart race (remember when Clean grabbed a midnight interview with Jess Watson aboard Loyal last winter?).  She'll certainly add some motivation to the boys, and they'll likely not waste a chance to have another crew hiking and packing kites.  She'll also add thousands more eyeballs – and hopefully, the donations that go along with them – to one of the greatest spectacles in yachting: Sydney Harbour on Boxing Day.  And this year, it might be the greatest ever.  At least until they let the multihulls in.
Lou Reed is responsible for the title.
December 4th, 2014
There has never been a sailing video like this.  Turn it up and hug your fellow sailor.  For a longer look at the wreck and a short interview with Nico about it, click here. And of course, find the pics, videos and chat about everything Vestas Grounding in the thread.
December 4th, 2014
One down, four to go, and possibly the best forecast we've seen for a World Championship in years. US vs. Japan vs. Italy at the top, and Petey, Clean, and Gretta there to make it all look like sex on the water. Enjoy.  Results here.
December 4th, 2014
The offset leg was a three-lane highway  at times during Day One of the 2014 Melges 32 World Championship, with the Japanese/Spanish Mama Aiuto! taking the early lead.  Pierre Casirighi – taking over the helm for injured eccentric driver Roberto Grinover – caught a bullet and will receive average points through Saturday for Race 2.  Want to hear how a Race Officer should handle himself in an OCS/Redress?  Listen to Anderson Reggio over here for how it's done by the world's best.
John Kilroy's Samba Pa Ti could barely have started their world title bid worse, grabbing a DSQ after a top mark incident with the DeVos teams Delta and Volpe.  Go here for the full news story, and get over to Facebook to see near real time videos of every race, tons more photos like this Carlo Borlenghi shot above, and plenty more.
Stop, collaborate, and listen to the title inspiration here.
December 4th, 2014
Let them enjoy sport like anyone else, this was the beginning of the discussion. No special treatment, they get wet like any other sailor…no exception. Focus on the personality only.
A very touching experience shooting these photos. Today they have been launched at the Swiss Handicap exhibition. The images will be used for a national campaign to promote the sport of sailing for disabled. – Juerg Kaufmann.
View all the photos here.
December 3rd, 2014
You might get sick of all of our Melges 32 coverage this week, but let's be honest: It looks like five days of awesomeness in South Beach, and what else do you have to do?  Peter Crawford gives you some Pre-Worlds action along with a preview of some of the teams.
Get over to Facebook to follow the racing in real time.
December 3rd, 2014
Our old friend RadioSport NZ talker D'arcy Waldegrave caught up with Mr. Clean after yesterday's Bermuda AC announcement for his drive time show 'The Sauce". As usual, they talked some shit together, and as usual, it's worth a laugh or two.
December 3rd, 2014
the real world
Heartbreaking proof of why we love Chris Nicholson, with Mark Covell doing a great job getting the full story out of him.  There, but for the grace of god, go we.  Those of you seeking answers, read the latest update here, have patience or go play here.  And don't forget: These guys are still on the beach.
lighten up
We wouldn't post this if we didn't think Nico and the boys would chuckle at it.
Back To The Beach

There's a fun new attitude in the Melges 32 Class – if there weren't, the Rev Petey and Clean wouldn't be down at their World Championship.  Go here for OTW video and photos starting tomorrow around 11 AM EST, and watch the front page for a daily highlight reel to burn your retinas.
One Way Or Another

Andrew York gives us some juice on the latest VX-One action.  We like the way these guys think.
I love it when a plan comes together! Well, the plan I put to the Sydney VX One fleet before the season came together in spades on Saturday the 29th of November.
In early September we had a meeting at the CYCA to discuss our plans for the season. At this meeting I asked the owners what their thoughts were about towing the boats up the coast to Pittwater one morning when the breeze was light and the sea pretty flat and then sailing back to Sydney in the building Nor-east seabreeze. Their reaction was 'shit yeah, let's do it!"
We would be at the mercy of the wind gods, and there's only a 30% chance of a good seabreeze on any given day from October through to December.  So we allocated four of the Saturdays in November as 'possible days'. I rang around to find a boat to tow us and Steve Barlow who had a Riviera 44 said he was up for it. I knew that he would do a great job and that his boat would be the perfect platform to take photos of the day.
The first three weekends did not work out for us, but as soon as the seven day forecasts were out, Saturday the 29th looked the goods. There would be a light wind in the morning and the seabreeze building to 15 knots or more in the afternoon. Most importantly there would be only a three foot swell offshore for the tow up the coast. On Tuesday I notified everyone that it was a go for our trip to Pittwater on the weekend.
We would be towing from the hardstand at RANSA in Rushcutters Bay; five nautical miles to North Head and then another fifteen nautical miles up the coast to Barrenjoey Headland.
Friday dawned and all was good, until I received a message from Scott Lawson that he had been sick all week and did not think he would be able to make it. He graciously offered the use of his boat if I could find a suitably experienced skipper and crew. Although the offer to steer a VX One down the coast is a good one, I knew that the lack of notice might not make it easy to fill the roles.
I found a couple of guys more than capable of sending Scott's boat safely down the coast. Some guys named Iain Murray and Lach Gilbert would be joined by Scott's son Harry; one of Australia's top 29er sailors.
With Beth Morley of sportsailingphotography aboard Steve's boat to record our adventures and the boats hitched up, we started our journey from the dock in Rushcutters Bay. The sea was nice and flat and we averaged a bit over 9 knots on the tow, arriving at Barrenjoey around 1:30pm and heading around behind The Joey to hoist our sails, with Murray arriving by boat to join us. We beat out past the headland and then started heading south. There was quite a bit of East in the breeze so it was a two sail reach for a couple of miles until we could hoist our kites.
Phil Tomkins, sailing two-up, was fairly pressed as we surfed wave after wave. We were doing 14 to 17 knots most of the time while the Riviera buzzed around setting up the shots for Beth. We enjoyed the ride down the coast for about an hour before we jibed to go in through the heads.
When you sail downwind for 20 miles in a VX One, offshore in a building breeze, it's a good day, a very good day!
December 2nd, 2014