Well look who woke up. A washed up has-been finally opens her mouth, but it's only about a decade or so too late. Dawn Riley, who desperately attempts to somehow remain relevant in this sport, tries to rally the troops. Laughable.
As far as we're concerned, this is the most interesting thing, ever, about her, and of course, our reporting the story back then is the reason she and Butterball hate us to this very day. Here's what Dawn the Late said at some sailing conference that no one gives a fuck about: 
Dawn Riley, renowned competitive sailor and executive director of Oakcliff Sailing, challenged participants at the Sail America Industry Conference (SAIC) to change the face of sailing during her keynote presentation "Be the Force of Change-Every Day and in Every Way" this morning. The conference continues through tomorrow, June 11, at the Charleston Harbor Resort & Marina in Charleston, SC.
"We can no longer wring our hands, reminisce about the good old days, lament today's youth's lacking attention span, or complain about unbeatable competition for people's time," Riley said in her speech. "Let's blow open the norms, take control, and change the face of our sport."
Um, pretty sure that's what we have said from the jump, something like 15 years ago. Where were your big ideas then? . Viva la revolucion, Yawn.
June 10th, 2014
Here's the very first Pogo 3 mini-transat. Olivier Taillard is builing it at the Pogo shipyard and he will be riding the beast on the 2014 and 2015 class mini races and 2015 Mini-Transat. His first 2014 partial Sponsor, Alternative Sailing is a boat Rental company in Britnanny and they rent Fast cruising boats such as the Pogo 30.
Olivier is still looking for partners for his races this year and next year. Catch news of his project here.
June 10th, 2014
Feeling Blue
There has been a fair bit of chat on sailing websites about media releases from a wide variety of regattas being a bit, shall we say, ordinary. Some of the points raised that seem to contribute to this are: A) There are people hired to write these releases are not sailors. B) Often the sailing/ media office is under resourced and is pushed for time – possibly having to process racing results and get out reports of the regatta, and make the sandwiches and buy the gas for the start boat, plus, plus… and finally C) Some of them are just plain badly written.
The good news is that C) is one area the writer has control over. How? By asking. Thirty years ago when I stared writing I was awful. I mean truly awful. For a long time it seriously didn't know just how incredibly bad I was. But I was keen and somehow confident that I would improve and to try to help with that I wrote to an author and broadcaster in England whose work I admired and started a correspondence with some of my ideas. He has since told me that this early stuff gave him headaches just trying to read my garbled grammar, but I was lucky. He saw a bit of determination and he took the time to correct long sentences, so when they came back to me it looked like a WW II sensor had found a letter in the mail about the Manhattan Project there was so much thick black pencil through my article…
But I improved – and with the knowledge that overnight success takes about twenty years I have been fortunate to become a published author and the Australian writer for Seahorse International Sailing magazine – but I still have that English author in his eighties tapping me on the knuckles now and then pointing out where I could have done better. So if you want to write, or take photos or play serous baseball or design furniture or race sailboats or whatever – find someone whose style you admire and ask them how to move forward. If you really, really want to improve, they will see that energy and passion and desire. It is worth a try and hey, somebody must have helped them along the way… – Blue Robinson.
June 10th, 2014
If Sam Greenfield's latest Volvo Ocean Race video doesn't get you stoked for the race, nothing will.  Along with Amory Ross finding really finding his writing voice during last week's Team Alvimedica Transat, Americans should be proud of having two of the best young storytellers in the sport playing key roles in the biggest ocean racing event we've got.  They're also helping US fans get stoked about their team on the world stage, and we're digging it.
Alvimedica's updates are most easily followed via Twitter, and browse the VOR's channel for some of their latest work here.
June 10th, 2014
Breaking
Two minutes after rounding Wolf Rock, off of Land's End, La Solitaire du Figaro leader and two-time defending champion Yann Elies has dismasted after a starboard D1 broke at the swage end. Having repeatedly worked his way to the pointy end of the pack in a race that essentially re-started after 90 miles, Yann rounded Wolf Rock just 10 seconds ahead of second placed Charlie Dalin. Yann is recovering what he can, 86'ing the rest and heading for port in Falmouth, England. If he can get re-rigged in time, he will be able to re-join the fleet with a two-hour time penalty added to the time taken from the fleet's last-placed finisher. Let's hope Yann can get things sorted and get back in the race. He did, after all, overcome a broken forestay to win out last year…
The subject of démâte in the Figaro class is a touchy one and we've reported on it before; inferior metals used by the one-source class rigging supplier, newly allowed sail materials increasing loads and more. We're pretty sure this one is going to re-ignite all of the heated conversations about what can be done to keep rigs in these boats. In the mean-time however, a phenomenal first step of the 45th La Solitaire is winding down to a thrilling finish. Who will win? Hell if we know, track 'em here and then jump in the discussion.
Photo thanks to A. Courcoux. with more here. – Ronnie Simpson.
June 10th, 2014
As Russell Coutts continues his efforts to become the Bernie Ecclestone of the America's Cup, another Bernie learned yesterday that San Francisco is most likely OUT of consideration for AC35.  You'd think the new buzzwords of sustainability and commercial viability might argue for Northern California staying part of the AC, but apparently, they're just too big a pain in the ass for Coutts; in a truly bizarre twist, an island in the middle of the Atlantic is now thought to be at the head of the list, thanks to government subsidies, tax breaks, and time zones, while San Diego and Chicago remain in the hunt, with the SoCal gem a marginal, haven't-we-been-here-before option, thanks to the kelp, light air, and the fact that the racing will either be so far south offshore that it will be in Mexico or so far west that it might as well be in Hawaii, except it isn't. It is equally retarded to think that the Midwest option is probably the best possible one, all things considered.
A Bermuda choice would be a major admission that huge crowds aren't that important to the 'commercial cup', nor does any connection to America matter beyond the 25% nationality requirement or the name of the defending team or the competition itself.  More irony in an AC35 that's overflowing with the stuff.
June 10th, 2014
Straight out of the box, we expect Ben Ainslie Racing to have possibly the best shot at beating the Larry and Russell show for America's Cup 35.  Ben's played this one pretty close to the bone, though it isn't a stretch to tell you that long time big boat bowman and BAR Extreme Sailing Series crewmate Nick Hutton will be on the boat, as will, we expect, Paul Goodison and Mattie Cornwall.  Will Big Ben bring along sailor chick Pippa Wilson?  While size and strength will be at a premium for the AC62, Pippa's proven in the X40 that she can do good things for a 40 footer and perhaps the ACWS; it's been a goddamned long time since we saw a woman in the sport's premier competition and Ben could make some serious PR points if she came along for the ride.
But his crew isn't the reason we expect Ben to shine this time around, and the biggest news of the day isn't about sailing teams; it's about designers, and we understand that Ben has or is close to signing up Adrian Newey OBE – the 4-time Formula One winning aerodynamicist responsible for the dominant Red Bull Racing cars for the past three seasons of F-1.  Red Bull announced last week that Newey had signed on for a contract extension with the team, but not a typical one; Newey will design the 2015 cars and then expand his job to oversee the new Red Bull Technology program, and we believe that Sir Adrian's first big project is to help Sir Ben bring the Cup home to Britain for the first time in more than a century and a half.  It makes sense that Red Bull will come along as a major sponsor of Ainslie as well, especially as we've heard from several Red Bull insiders that they were less-than-enamored with their Oracle partnership in 2013.  If you're not an F-1 fan, trust us – this is the biggest threat to Ellison on the horizon; well, that, and the fact that Detroit's favorite sailing son is now in Cagliari wearing a shiny helmet and robot armor…
We'll have the press conference for you as soon as it is available; watch this space and www.benainslie.com.  And stay tuned for a detailed analysis of the Protocol and AC62 rule later in the week – the kind of thing you'll only see here on SA.
UPDATE:  Apparently, streaming a press conference on the web is simply too difficult to handle for the world's most decorated sailor, his media team, and a 100 million dollar budget, so you're shit out of luck if you want to watch it here, or frankly anywhere that isn't BBC on a television set.  Welcome to 2014.
UPDATE 2: Oracle Team USA lead designer Dirk Kramers has jumped ship; the American will be with Team Ben for the next AC.  If you don't remember Dirk, we caught up with him at the Little AC last fall.   
June 10th, 2014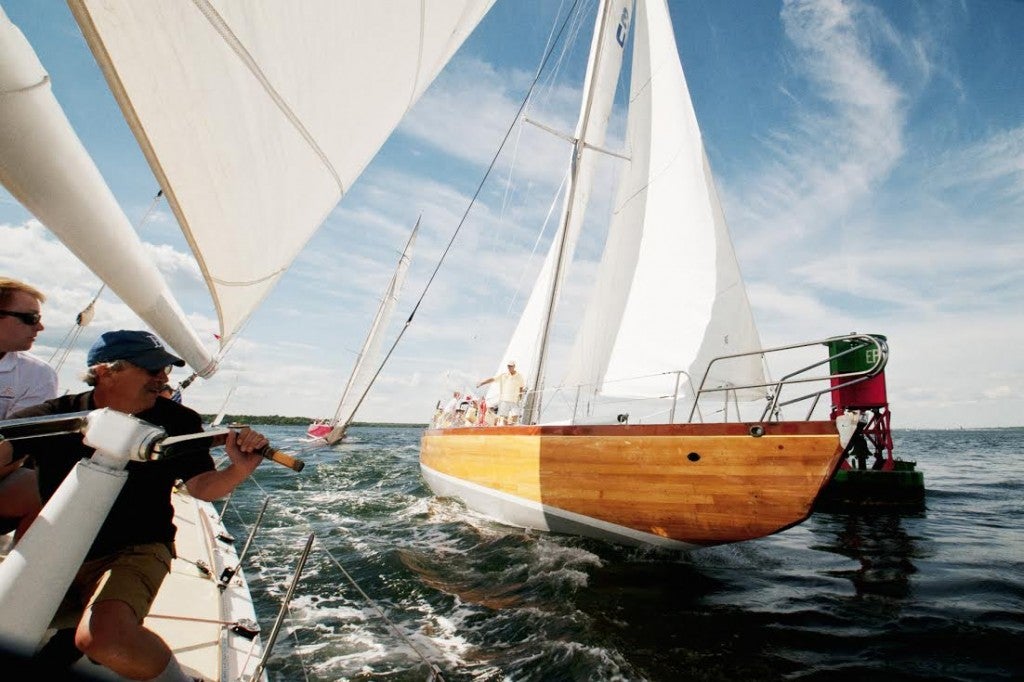 Had the pleasure of sailing with Pettipaug Yacht Club today aboard Weatherly in the Eastern Connecticut 12M Challenge. Six 12Ms were out racing including Intrepid, Columbia, Nefertiti, American Eagle, and Heritage. Crews from Pettipaug, Essex Yacht Club, Essex Corinthian Yacht Club, North Cove Yacht Club, and Thames Yacht Club all participated. It was all just for the fun of it, but done in style! Fantastic to be amongst these boats together racing – the sport's come a long way but slipping along on that boat was sheer bliss.
Here's a shot of Heritage putting her bow where it doesn't belong at the windward mark. They turned a circle for that one!  - Anarchist Dan.
June 9th, 2014
We told you there was some major NoCal fuckery at the Ditch Run, and here it is. This just in from Jon Shampain, 1/3 owner of the Hobie 33, 'Still Crazy'.
We want to preface this write up by saying that it is not your typical "I don't like my rating" rant. It is more of a "This idiot decided our rating was wrong based on the wrong information and sail configuration and he won't admit an error or fix it" rant.
We recently brought our Hobie 33, 'Still Crazy' from Southern California to San Francisco for the 2014 Delta Ditch Run from Richmond to Stockton. We sailed with our friends and family while incurring many expenses, which include but are not limited to trailering our 33 foot boat, hotel rooms for crew, and meals for the weekend. The Ditch has always been fun and the people warm and inviting. And so, the time and effort coming to the regatta has always been worth it in the past.
We have done this race a number of times before. We last raced in 2009, and rated 87 (3rd in class/51st overall). We were signed up last year but pulled out due to a family medical issue. We were listed at an 87 then as well.  This is a rating for a Hobie with the small 'J' length spinnaker pole, standard Hobie 33 spinnaker hoist and a 3 second penalty for modifying our boat. We have an open transom, modified toe rail, and interior. The boat still weighs over 4000 pounds like all Hobie 33s. For the record, many Moore 24s racing One Design with no rating penalty have done similar modifications. This year I applied again and used the Stockton Sailing Club Rating form and declared our boats configuration. We submitted 87 for the rating as it has been our rating configuration for years. We then received an email from Tom Lueck, SSC Ditch Run PHRF Committee, well before the regatta asking us to confirm our boats declared configuration. We did and we only used one small girthed symmetrical spinnaker for the entire race. We assured him of our boats configuration. All seemed well.
After sailing a wonderful race, believing we had won our class and receiving congratulations from many of our competitors, we packed up our boat, enjoyed the dinner at SSC and drove 7 hours through the night home to Southern California. Sunday, we found out on line that our rating had been changed to 78 and that we were listed in fourth. As we looked into it, we found that our rating had changed on the registration page as well and that it was not an accident. I printed the ratings the day before the race and we were listed us at an 87. The morning of the race, Richmond Yacht Club had a posted list, also showing our rating at an 87.
Facts:
All boats in Division 1 except ours used PHRFNC Buoy based ratings

The Buoy rating for a Hobie with short pole and hoist is 93

The buoy rating for a Hobe with the standard pole and hoist is 87

Still Crazy in SF/Ditch configuration has the standard hoist but short pole. That would be a 90 rating. With an additional 3 second penalty for our deck modification, we come to the 87 that we have always been, and always declared.
Immediately after discovering the rating change, we started inquiring as to what happened. We left several emails and attempted to contact SSC numerous times. We eventually received a call from William Humphreys, claiming to be the Stockton Sailing Club PHRF representative, who told us that he had, in fact, changed our rating. He couldn't tell us what prompted him  changed our rating after the event but did say that they had looked at our PHRF SoCal rating and saw it was a 78 so they used that rating. He later wrote to us, changed his story and said that actually he had seen a PHRFSC certificate that had us listed with a 9 second per mile penalty so he took the PHRFNC base rating and took 9 seconds away.
There are many reasons why the data William claimed to have used is wrong.
First and foremost, it's simply not true. We looked at both of our PHRFSC certificates. One certificate has us rated at an 87 with standard Hobie 33 poles, asymmetrical spinnakers, square top mainsail, and deck/interior modifications. The other certificate has us rated at 93 with standard poles, standard spinnaker hoist, and deck/interior modifications. Neither of these are representative of our Ditch configuration. This should have been clear if he had read our Ditch Run application. The 9 second penalty he later refers to includes the 3 for the deck/interior modification and another 6 for a square top mainsail, again, not our configuration for the Ditch Run. The 87 rating in NorCal already includes the adjustment for the deck/interior modification and we didn't use a square top mainsail. If we used a SoCal rating with a short pole, we would have been a 96 for the Ditch!
We declared our Ditch Run configuration perfectly and carefully on the application.
14 days elapsed between registering and Tom Lueck's email asking us to confirm our configuration. After calling Tom personally to confirm, another 12 days passed before start of the regatta.
We were at the regatta and no one approached us to inquire about a potential issue or a question about our boats rated configuration. We printed the ratings before driving north, we looked at the posted ratings Friday, and then again the morning of the race. All postings had us at an 87 rating. Our crew was at Richmond Yacht Club all day Friday drinking in the bar and later having dinner, and then again Saturday morning. How hard would have it been to come and talk with us? Instead they let us drive 16 hours, spend around 6K, and waste 3 days, then waited for us to get home and discover for ourselves the changes they had made without talking with any one of us.
William told us that it was our fault for not attaching an expired 2007 PHRF NC rating certificate that showed we had been rated 87 in the past.
The SIs/NOR/Registration ask for a Stockton Rating application OR a PHRF NC certificate. As our 2007 Certificate had expired, we simply filled out the appropriate SSC application with our configuration and rating that matched what we had been in every Ditch Run we am aware of. We filled it out accurately and carefully. It was accepted and posted on line along with our class designation and an 87 rating. Nothing had formally changed as of our starting time Saturday morning.
This is extremely unacceptable and leaves our stomachs churning. We feel that it was done with malicious intent and needs to be corrected.
Other interesting facts while we're at it:
The SI's say that the race will be scored PHRF 'time on time'. For the record it was not.

Before the start of the race, the other Hobie 33 owed our Hobie 33 3 seconds per mile. He was using larger spinnaker poles and larger spinnakers.  After the race, we owed him 6 seconds per mile. This was enough swing for him to beat us on corrected time.

Our Hobie is stock mast, boom, keel, rudder and short aluminum spin pole and small spinnakers in SF/Ditch configuration.

Their Hobie is a double spreader mast with runners and longer poles and larger spinnakers.

We emailed our plight to the race directors and commodores of both yacht clubs and heard nothing.
Anyway, that is our story. We're not sure why William Humphreys of Stockton Sailing Club used our square top mainsail and longer pole, wider spinnaker configuration to rate our short pole, narrow spinnaker, standard mainsail configuration. Perhaps we will never know. But we do know that he has refused to do the right thing, and by failing to do so, our race was effectively ruined.
Perhaps somebody higher up will step up and make things right.
Jump in the thread here and comment – ed.
June 9th, 2014
The A-Cats continue their uncertain march toward full foiling despite Class rules specifically formulated to prevent it; To paraphrase Jeff Goldblum, "Flight finds a way", and it certainly has.  And in spite of (or, perhaps, thanks to) the rules rift, the Gunboat A-Cat North Americans at SailNC on the Outer Banks has one of the biggest NorthAm fleets in the Class's history.
While we won't see the illegal but logical bottom-in L-foils that a few Aussies are experimenting with in Sydney, a 60+ boat fleet will include quite a few cassette and J-board foilers and some serious talent on hand.  Our own Senior Editor is on the ground in Manteo, North Carolina to help the Gunboat team provide all sorts of interesting coverage of one of the coolest events in the US this year, and it all begins above with a good look at some of the sailors and some of their rides.
Best place to follow every bit of 5 days of sailing on the breezy Carolina coast, including a pile of pics already? SailNC's Facebook Page.
June 9th, 2014