UPDATE: Delord, who had been drifting in a life raft for three days has been rescued by a cruise ship off the coast of Tasmania.
 The Australian Maritime Safety Authority is coordinating a rescue operation for French solo sailor Alain Delord (pictured here in happier times), who was dismasted sailing an A35 on a record round the world attempt. Delord was dismasted last night, 400 milles south of Tasmania. He has abandoned his vessel and is in a life raft south west of Tasmania, More here.
January 18th, 2013
The suit filed by Charles M. Kithcart, Executive Director of African Diaspora Maritime (ADM)  against The Golden Gate Yacht Club (GGYC) for the right to challenge Oracle Racing as the United States representative to the upcoming America's Cup has been dismissed with prejudice by New York Supreme Court Justice Barbara Kapnik today.
No real surprise, as most viewed the suit as a nuisance at best. Got a comment? Then jump in the discussion at AC Anarchy.
January 18th, 2013
From our friend, hero and pit bull, Urban Miyares from Challenged America
sBetween the televisions show "Adventures in Paradise" and the Broadway hit "South Pacific" in the late 1950's, sailing to Hawaii in the Transpacific Yacht Race has haunted me. Ever since my youth, growing up in New York City, I've Just never been able to get Juanita Hall singing "Bali Hai" or the fantasy of sailing to the Hawaiian Islands out of my head,," says Urban Miyares, co-founder of the San Diego-based Challenged America program.
The 2013 Transpacific Yacht Race to Hawaii will begin this July 8. Commonly known as "Transpac," this legendary race from Los Angeles to Honolulu (2,225 nautical miles) has more than a century of folklore and tradition, and is recognized as one of the world's great races with some of the fastest boats and very best of international sailors. Challenged America is part of this legend, with a crew of sailors (mostly) with severe disabilities racing in the 2003 and 2005 Transpac. A first in Transpac history, and they are doing it again in 2013 with a double-handed crew of disabled veterans: Urban Miyares and David Hopkins.
Urban Miyares' story is well-known in the veteran community. Presumed dead, Army infantry Sergeant Miyares was put into a KIA (killed in action) bag during a field operation (Vietnam, 1968), when an alert combat medic, assigned to open up body bags and identify the dead soldiers inside, discovered him still breathing and saved his life. For the following forty-five years, Urban's story is one most often read about in books and seen in movies, as he's combated the medical issues of war (blindness, type 1 diabetes, PTSD,, hard of hearing, spinal cord injury and disease, stroke survivor, transplant recipient, nerve damage in both legs, chronic pain and other medical complications) to become a nationally-recognized entrepreneur and educator, community leader, world-class athlete and sailor. His life-long "call to Hawaii" was answered when he put together Team Challenged America and competed in both the 2003 and 2005 Transpacific Yacht Race to Hawaii. Urban Miyares is the founder and president of the charitable Disabled Businesspersons Association and co-founder of the charity's Challenged America program – a therapeutic sailing program first launched in 1978 by two disabled veterans in wheelchairs who, inviting Urban to sail with them, when they coined the name "Challenged America."
David Hopkins, a Navy veteran (with a military-associated hearing impairment) and San Diego resident grew up in Florida, where he was introduced to small boat sailing and racing as a youth. An active sailboat racer, David has skippered and crewed on many vessels of all sizes, as well as being owner of a number of racing vessels up to 70 feet in length. Hopkins has had a goal of one day doing the Transpac to Hawaii. "It's just one of those major races in the world every serious and passionate racing-sailor just has to do, David proclaims.
According to Urban, "We have quite a large pool of Challenged America sailors from around North America who want to do the Transpac, as well as some who are most interested in double-handed and solo offshore sailing and racing. With all the new technology, gear and equipment now available, modifying our Tripp 40 to be more sailing accessible by a limited crew and testing this in a race like Transpac, will definitely raise the bar and give us the opportunity to advance rehabilitation and the sport of sailing further. Everyone is challenged by the sea. And we (Challenged America) strive to see who can best meet this challenge.
B'Quest will be entering the boat yard, at this writing, and after an evaluations of her hull, much in modifications are to be done, to include adding a bowsprit, new sail plan (to include roller reefing, much like the around-the-world racers of today), realign all running rigging, and modifications below-deck to better meet the new electronics, medical, fool and water storage needs of sailors who have or become disabled while at sea. Sponsors are now being soughtt to assist with these many changes, adaptations, and modifications to the Challenged America boat.
Support Team Challenged America 2013 Transpac campaign and the volunteer-driven Challenged America program, which is a recognized leader in therapeutic sailing. Donations of vessels may qualify for up to 100% of the current appraised value as a tax-deduction, and all gifts and contributions are fully tax-deductibles. Challenged America is one of five all-volunteer programs of the 501c3 Disabled Businesspersons Association.
For additional information on Challenged America and how you can support the program and its 2013 Transpac campaign, contact Urban Miyares or David Hopkins at Challenged America, 955 Harbor Island Drive, Suite 130, San Diego, CA 92101, Office (619) 523-9318, e-mail, or our website.
January 18th, 2013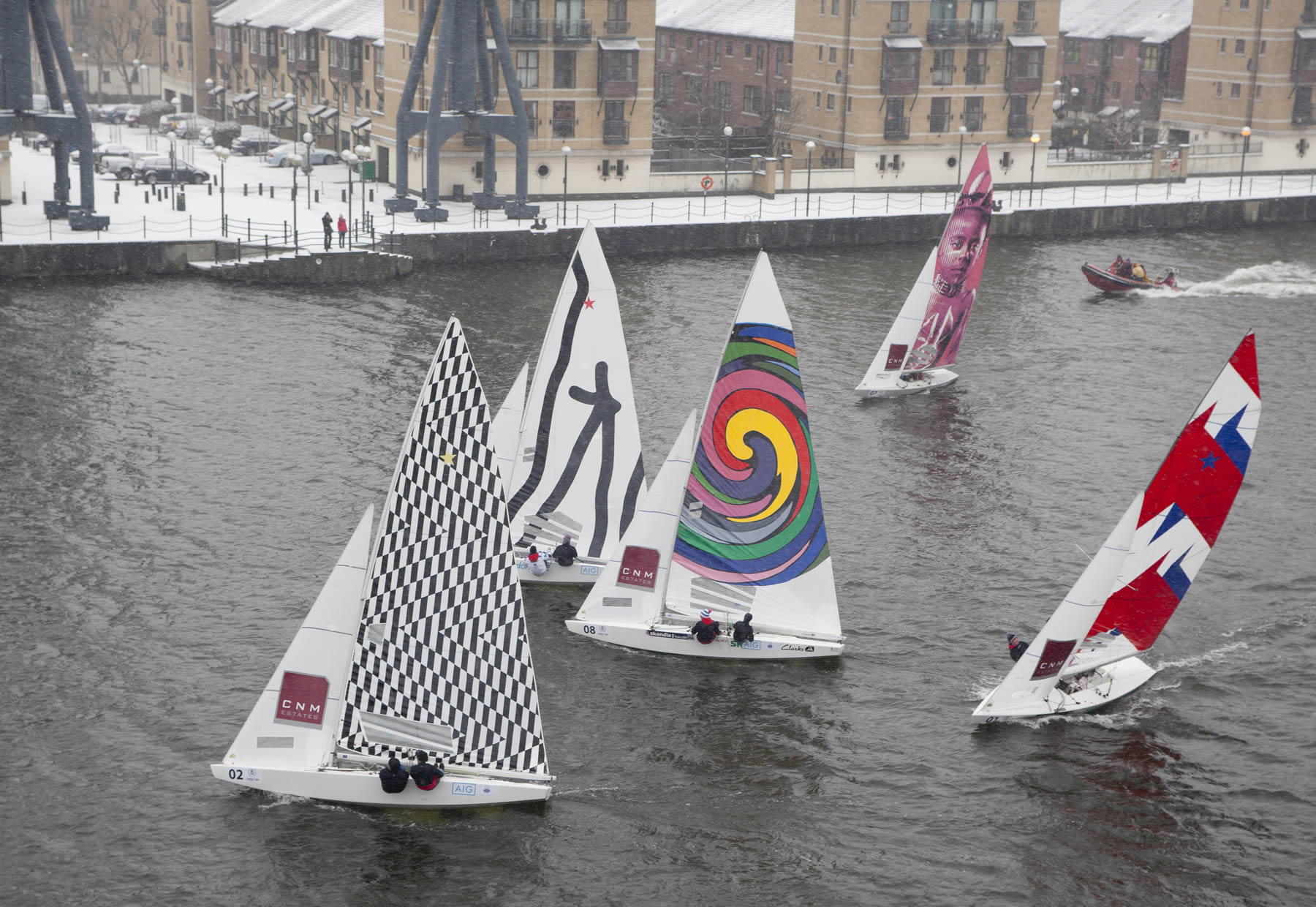 Today through Sunday January 20, ten Stars will take to the waters of the Royal Victoria Docks, outside the Tullett Prebon London Boat Show, to race in the introductory CNM Estates UK Star Championships. Gotta love the PR! Thanks to onEdition for the shot.
January 18th, 2013
With our new and mo' betta' Sailing Anarchy platform, we are now able to update the mythical front page virtually around the clock from anywhere using our mobile devices. With our outstanding global contacts, you can expect Sailing Anarchy to present fresh content virtually around the clock, 7 days a week.
So be sure to check in with the front page on a regular basis. No more waiting for a new daily edition (or even worse, some lame "newsletter" to arrive in your junk folder). Rather, constantly and maniacally refresh the SA homepage over and over and over to make sure you don't miss a single word of our brilliance!
January 18th, 2013
Beautiful Port Vincent, South Australia is the site of the 5O5 Aussie Nationals; here's a report on the early action, with thanks to Nic Douglass for the shout.
The first four races of the event were sailed in a southerly breeze of 5 to 15 knots with the wind shifting up 30 degrees. Racing has been extremely close with no room for error.
In the first race of the series Michael Quirk and Darryl Roos took a commanding one-minute lead after the first lap. By the end of the second work, with the rest of the fleet battling each other for the minor placings they had extended their lead to three minutes. From there Quirk and Roos went on to win in convincing fashion. Second place went to Sandy Higgins and Paul Marsh and third place to Mal Higgins and Luke Payne.
For race two the southerly breeze had increased to 12 to 15 knots. The racing was very close throughout, with the lead changing several times between Michael Baggage and James McAllister and Michael Quirk and Daryl Roos, with Quirk and Roos eventually getting the upper hand and going on to win. Babbage and McAllister held on to second and Mal Higgins and Luke Payne crossed the line with a consistent third.
For the second day, race three was sailed in around 8 to 12 knots and the breeze again from the south. The racing was very close with the lead changing several times between four boats at the top. Eventually the Quirk and Roos combination took their third straight win for the series, followed by Higgins and Payne, and then the Queensland combination of Kevin Cameron and Sam Heritage.
For race four, the wind started in what looked like a building sea breeze but ended up fading as the race started in around 8 to 10 knots. At the first windward mark a pack of about seven boats rounded together. By the bottom, Mal Higgins, still sailing well after his Sharpie National win only two weeks ago, took the lead and went on to take the win. Second place went to Sandy Higgins and Paul Marsh and third place went to Quirk and Roos.
 After 4 heats of racing and one drop, Michael Quirk and Daryl Roos on Strife lead the fleet, 8 points ahead of number 2 Groove Train. Full results here.
January 18th, 2013
While there are a bunch of new big bad new cats on the drawing boards, here's one nearing completion. It is the brand new McConaghyMC²60 (designed by Renaud Bañuls), hull #1. It, as we've come to expect from McConaghy, wicked looking and we hear that hull #2 leaves the yard in April. How's the cockpit look?
January 17th, 2013
This Vendée Globe report is brought to you by Bruce Schwab Energy Systems
With the Vendée Globe's two leaders now back in the Northern Hemisphere and less than 3,000 miles from Les Sables d'Olonne, a slow and problematic entry into the doldrums for Francois Gabart has allowed Armel Le Cleac'h to make massive gains, further opening the door for a thrilling battle all the way to the finish line. Less than 500 miles behind, an inspired Jean-Pierre Dick clings to the prospect of a podium finish having re-gained the miles he lost to Alex Thomson and Hugo Boss as his westerly option up the coast of South America only made for short-term gains. A further 1,000 miles back sees Jean Le Cam and Mike Golding swapping position repeatedly for 5th place while a multi-national trio is now spread out in formation, drag-racing north desperately trying to re-gain touch and make it a 5 way battle for 5th. Another 1,300 miles behind, Tanguy de Lamotte is beginning to attack Bertrand de Broc, with both sailors having recently rounded the infamous Cape Horn. Alone in the Pacific for a few days, the fleet's backmarker Alessandro di Benedetto on Team Plastique has also now rounded Cape Horn. With close racing, tactical battles and drama unfolding on every part of the race course, it has now become readily apparent that this will not only go down in history as the fastest Vendée Globe in history, but also the most evenly-paired with all boats projected to finish within 3 weeks of one another.
Gabart and Le Cleac'h back at it
With race leader Francois Gabart on MACIF steadily pulling away to a 270-mile lead up the Atlantic, it was beginning to look like he might have this race all wrapped up barring some major routing error or breakage. Banque Pop appeared slower than polars, and many were speculating that Armel might be missing a sail or fixing damage. But with MACIF slowing down to a crawling six-knots when entering the doldrums, Armel Le Cleac'h and Banque Populaire have come storming back, closing the gap to just over 90 miles as the two leaders exit the doldrums. In the same fashion as we've seen earlier in the race, Le Cleac'h took a shorter, more direct route upon entering the doldrums than did MACIF. Now having gained back nearly 200 miles, the big question will be how many of these miles can Cleac'h bank before Gabart slips away when he reaches the fresh breeze. Tactically, Gabart definitely covered Cleac'h, with Estar's numbers showing that both sailors were sailing 20-25 degrees higher (and further east) than the optimal routing suggests. Is the Jackal setting a trap and hoping that the Golden Boy falls into it? Looking at the routing, it definitely does look like Cleac'h has lured Francois to the east, hoping to trap them both in light air for longer and delay, and slow, Francois' escape after the doldrums. After the doldrums, it will be an upwind to reaching race through a very distorted NE trades and then negotiating a forming Azores High. Take the outside (west) for more breeze or sail a more direct route in less breeze through the edge of the high? With both sailors claiming to be at 100%, this battle for the lead will be a thriller to the finish.
Dick re-passes AT and pulls away
Alex Thomson and Hugo Boss had done so well on their westerly gamble, turning a 400-mile deficit into a 120-mile advantage, but it was all in the short-term. Once JP Dick got to the trades, he put the hammer down on Virbac-Paprec 3, quickly extending out to what has again become a nearly 300-mile advantage. The race is far from over though as AT looks set to benefit from a narrower passage of the doldrums than his rival Jean-Pierre, as well as a more traditional re-entry into the reaching conditions of the NE trades while Dick may struggle for a day upwind after the doldrums in a still abnormally upwind NE trade wind. Expect Alex to make some solid gains in the next 3 days although how much will have to be seen. Every bit of leverage that he can bank over the next 72 hours will be huge when deciding how to negotiate the high. The race for the final podium position is far from over.
Le Cam and Golding battle while 3-boat pack splits. 2 follow Le Cam, 1 follow Golding
Quite possibly the best battle in the entire fleet right now is that for 5th place. Jean Le Cam and Mike Golding have continued their intense battle that has raged since the start. With Le Cam briefly sailing into a light patch, Golding re-passed "King Jean" and showing good humor, questioned the prospect of Le Cam missing a sail. A bit of ribbing by the Englishman towards the notorious joker from Port-La-Foret who had famously poked Golding a couple of times when Golding was slow in the Indian Ocean. With the pair now negotiating a complex Saint Helena High in the South Atlantic, Le Cam has taken a westerly gamble while Golding has chose the more traditional route to the east. Golding and Gamesa will have a shorter route in lighter air, while Le Cam and Synerciel have had to tack to port clear the coast at Rio, before tacking back and having a tighter angle compared to Golding to clear the Brazilian bulge at Recifé. Virtually tied in the rankings, this is a brilliant battle to follow.
Behind them, the trio of Acciona, Mirabaud and Akena Verandas have also split. With all 3 skippers within about 100 miles of one another in the rankings, Javier Sanso and Acciona 100% Ecopowered have chosen to follow Golding to the east, while the Swissman Wavre on Mirabaud and Boissieres on Akena Verandas have followed Le Cam to the west. Many of the sailors in this 5-boat group are complaining of contradictory forecasts, with forecast breeze out of the west and actual breeze out of the northeast. This was clearly evidenced by seeing boats such as Mirabaud pointed directly into the breeze on the tracker, and still doing 10 knots.
Tanguy attacking de Broc after rounding the Horn
After his first rounding of Cape Horn in 30 knots of breeze, Tanguy de Lamotte finally got a chance to rest after a few hectic days upon his approach. A rejuvenated skipper has emerged on Initiatives-couer and is slowly gaining on Bertrand de Broc, now closing the gap to just under 200 miles. De Broc sounds tired in his interviews and has a boat which needs some work, namely repairing his genoa, which he's sure to need in the battle against de Lamotte in the days and weeks to come. If Tanguy can reel in de Broc, or if another boat breaks, he will be in the top 10 in a 15-year old boat. Tanguy has sailed an incredible race from day one.
Alessandro's first Cape Horn rounding since doing it in a jury-rigged 6.5 meter Mini
Sorry for that, I just think it's always relevant to mention the utter badassery that is Alessandro rounding the Cape in a Mini under jury-rig. If there is one true adventurer in this race, it is and has always been Alessandro di Benedetto. Sailing the oldest boat in the fleet, and the only fixed-keel boat at that, Alessandro is dealing with a number of problems at the moment, but compared to what he dealt with in his last Cape Horn rounding, this must be a cake walk for the Franco-Italian adventurer. Click here to read  a great and informative description of Alessandro recovering a gennaker that had blown it's halyard and gone overboard. The seamanship required by these Vendée Globe skippers is truly extraordinary and Alessandro is a great example of this!
Don't blink or you'll miss something in this race. Great battles all over the place. Stay tuned.
-Ronnie Simpson
January 17th, 2013
Or we could have called him Superman! It is our dear friend designer Doug Peterson looking a little rough, but actually incredibly good considering what he has just been through. Ed had a visit today as Doug begins his physical therapy en route to a complete recovery.
We are counting on it as we want to go to Italy with Doug this summer to sail  classic woodies, drink wine and leer at hot Italian chicks! Get your ass in gear, Peterson! We started a thread – thought it might be fun to share some Doug Peterson stories. There have to be a million!
January 17th, 2013
Another Anarchist-led society has formed in the Cruising Anarchy forum, and this one's dedicated to the identification and admiration of exceptionally ugly craft.  Give yourself some time and have a read; guaranteed to bring a smile.  This gift from On High is from Anarchist Tranquilo, and you can find tons more in the thread here.
January 17th, 2013
Months of comparative quiet belie the amount of work going on behind the scenes at Volvo HQ.  We've already told you about the Media Crew Member program's renaming, revamping, and restaffing announced last week, and now we have some concrete news, thanks in part to Pierre at VSAIL.
The Girls
No surprise to see the old Puma dressed up in pink for the girls for feminine product manufacturer and sponsor SCA, and we hear the selections are coming along, though the list is hush hush for now.  We hope the Swedes let some US blood into the mix, and there's plenty to choose from; Emma Creighton and Ashley Perrin obviously have what it takes in the distance game, while Anna Tunnicliffe should let herself be persuaded to work the race into her Olympic schedule; the girl is stronger than half the guys on the last Volvo and a better helmsman than even more.  On a more international note, we hope blonde bombshell and SA favorite Anna-Maria Renken makes the cut, but most importantly, wouldn't they be crazy NOT to go for Dee Caffari or Sam Davies as the skipper?
The Route
The big news today is from Recife, Brazil, which gets a stopover and a team for the 2014-15 Volvo.  Thanks to some of the VSAIL info, we've got a pretty good idea of the route, though a lot of the details are missing.
1. Alicante – This is the start for this and at least one more Volvo Ocean Race, though considering the new multi-million dollar VOR Museum's grand opening soon, we think both the organization and city are committed to quite a few more.
2. Recife – See above
3. Abu Dhabi – A long trip necessitated by a keen Abu Dhabi team sponsor and a pile of cash for the organizers and a Cape Town that doesn't have a nickel for the VOR.  But the biggest question on a leg like this remains:  How about them pirates?  It's a long way off and increased militarization may conceivably have quelled the problem by 2014, but are we going to see the silly load on/load off again?  As much of a wrench as it threw into the race's continuity, the whole process generated some major headlines, so maybe it stays?
4. India – Pierre's sources say a short stopover will likely happen in India, most likely for the benefit of the big sponsors and Volvo's corporate bigwigs.  A stopover will also serve to encourage India to start thinking about putting together a race team for 2017.
5.  Hong Kong – Like China, but better.  We're not sure if this info would mean Sanya is out, especially given how keen China were on the Team Sanya effort being a warm-up lap for a real, fully funded effort with Moose Sanderson at the helm.
6. Auckland – ETNZ is in for another go-round, and Auckland was massively successful this past trip.  Besides, it's an ideal place to get ready for an assault on the Horn. Never mind that Auckland knows it, and pulling money out of them is like, well, pulling money out of kiwis generally.  In other words, it ain't easy.
7.  Itajai – Again, a very successful 2012 stopover means another likely stop in the Brazilian beach town on the way North.
8. Newport – VOR would have you believe there is competition for this spot from Baltimore, but they just can't handle another bad US stopover so Newport is the pick even if Baltimore had any money for Knut – which they don't. Newport may not offer much cash, but its proximity to so many major metropolises (metropoli?) and the local community's passion will make up for it.  Miami told VOR to pound sand.
UPDATE: High-powered lobbyist/consultant Rob Housman is part of the team behind the Baltimore bid, and he made sure we knew that their bid is very real and very advantageous to the VOR's objectives.  He points to their 350,000 numbers from the 2005 stopover – which we believe to be hopelessly inflated –  and the 1M people that checked out the Sailabration Tall Ships event this past summer to show their ability to attract a big crowd.  While Baltimore's inner harbor is an awesome amphitheater and they certainly have put a lot of effort into showing that they can pull it off, we'd hate to see yet another US stopover swallowed up by yet another large American city that doesn't give a crap.
9. France – Another reasonably successful stopover despite the inevitable Scandinavian/British vs. French cultural conflicts.  If Groupama honors its agreement with Cammas, it'll work just fine.
10. Rotterdam – With Galway unhappy about its cash burn after the last race, Ireland is out, and a big European host port is important for sponsor business to business action. So Pierre's Rotterdam rumor makes sense, and we'd love to see it in what is an extremely fun town.
11. Gothenborg – A Swedish finish has always made more sense than an Irish one for Volvo, and with their world HQ just outside "YoteBoyg", why would you go anywhere else?  More importantly, the rumors we've heard of a confirmed entry from Berg Propulsion, also located just outside the beautiful West Coast town, makes this a sure thing.  There's even been talk of a two-boat team from Berg…boss Hakan loves this shit, and for that, we love him.
That's the latest and greatest from the digital coconut telegraph here at SA; hit the thread for more breaking news when it happens.
January 17th, 2013
You may remember the Mothies making their winter "Moth Camp" home in Miami the past couple of years, but 2013 brings a change of scenery to Moth Camp.  The first race of the season was last weekend, when 13 Moth Sailors gathered in Charleston to kick off the first event of the 2nd Annual Gorilla Rigging Winter Moth Series.
"It's never like this" temps in the 70′s and major high pressure meant light air for the first event of the series; Friday was slalom racing where the moths started upwind and did a 5 buoy downwind slalom that lasted 3-4 minutes. Matt Knowles, Eric Aakhus, Brad Funk and Anthony Kotoun had a great final "battle royal" with multiple lead changes. Anthony found the puff from heaven for the win.
Friday night the Mothies attacked a college house party and later, trolled down King St.  With different sailors having different intensions the inevitable happened and we all got split u, but thanks to the Mothies' love for GPS trackers and the Friend Finder iPhone app, we were able to rescue the wayward from likely tears, expensive cab rides, or walks of shame…The college party didn't go as well as they used to; we got there as the beer ran out, and they quickly figured out that most of us were around twice their ages.
Racing on Saturday went along the same lines as the college party. We were all ramped up with nowhere to go.  We waited until 3 PM before having two "exhibition races"; welterweight USA Class President Matt Knowles took both bullets.
Fearing more failure amongst the playground of beauty and youth downtown, we resorted to beer and pizza at the club, burning up some of our competitive energy with some old guy vs young guys flip cup. The young guys took it two to one; unsurprising, yet depressing.  The fine southern gentleman of host club James Island Yacht Club then treated us to their "Lowrider Lemonade" double bourbon special. Not too bad!
The high pressure kept its grip on Charleston Harbor on Sunday as well, but luckily, a touch of seabreeze filled; enough for us to do six AC reaching start courses. Brad Funk, Anthony Kotoun and Bora Gulari battled it out again and again with lots of lead changes and come-from-behind wins. Brad Funk took the overall with Anthony and Bora rounding out the podium.
The Moth Class continues to grow with each regatta posting better and better numbers. This event had three new sailors as well as competitors from Sweden and Australia. The Gorilla Rigging Series continues here in Charleston with event two in February and the North Americans in April.  For more, check their Facebook page.
Priscilla Parker photo.
January 16th, 2013
Grant's boys on ETNZ continue to keep the pressure up on the America's Cup defender, and Oracle won't be happy to see that NZ's second AC72 has just been delivered from Cookson's to the Kiwi's Auckland base.  In contrast to the US team, we're quite happy – every day ETNZ gets on Oracle gets them that much closer to an exciting, close match rather than the Defender walkover that many feared.  More details in the AC Anarchy thread.
January 16th, 2013
Beautiful weather: Check.
Hot Anarchist-owned racing yacht: Check.
Hot Russian 'dancer': Check.
We don't really understand why anyone prints magazines anymore, but if they made more like this one, we might actually buy one.  Okay – maybe not.  Here's the real story from Anarchist tuf-luf:
"This smokin' Russian model was in a photo shoot on a media boat near the startline of the IRC fleet at King's Cup Regatta last month in Thailand and we just happened to cruise past in between race starts just as one of the photogs was banging out some frames.
"Turns out she (the photog – Elena Volkova) works for SEA Yachting magazine and now we're on the cover of the Jan/Feb issue!
"Good times. Even Mrs Tuffie thought so. Enjoy, you bunch of fackwits!"
Get the full story in the thread, and go see the version of the title song that  made it a worldwide phenomenon.
January 16th, 2013
January 16th, 2013
Doug Peterson, perhaps the premier designer of a generation, has been hospitalized after suffering what we understand is a mild stroke. Doug, 67,  has some right-side body issues, and is going through therapy and hopes to be heading home in a few days.  We spoke with Doug tonight and he is fully alert and communicative and recuperating quite nicely at Sharp Hospital in San Diego. We're going to stop by and sneak a bottle of Mt. Gay in…. We'll let you know how's he's doing!
January 16th, 2013
It kinda seems like, with the whirlwind of multihull and AC  activity of late, that the Moth has been somewhat forgotten? Here's your reminder why that would be a mistake.
January 16th, 2013
What is it? We'll tell you what it is – catamaran world domination! Seriously, has sailing ever seen such an explosion of these things? And while you are busy answering that, answer this: What is it?
January 15th, 2013
We kinda dig this look at the AC through the lens of surfing…
Ever since I was little, I remember my dad telling me about how cool Scotchman's was before 'they' put in a parking lot and paved the trail down to the beach. In his stories, my dad would leave his car on the side of Pacific Coast Highway, just south of Corona Del Mar in Newport, and then walk about a mile over virgin Californian earth, towards the ocean with his board under his arm. Most of the time when he would arrive on the beach, there wouldn't be soul in the water. "Its almost like those waves were shaped for long boards" he would say. Now, for fifteen dollars, and a piece of our souls, we park just above the beach and bitch about how the little pieces of rock hurt our feet on the short walk to the sand. Instead of looking out and seeing empty water, my friends and I now see swarms of kids surfing short boards in flashy wetsuits.
The waves are right, but everything else seems to be wrong. Surfing has already transformed from a small and true sport, into some pseudo-lifestyle. Sailing seems to be going through a similar transition. If we draw from the many parallels between sponsored surfing and sailing, we can determine more about the future of our sport.
The America's Cup used to be the pinnacle of sailing. Blending athleticism, tactical knowledge, and cooperation between sailors, designers, and donors, there was no harder event to win, other than maybe the olympics. There was a point in time when sailing was understood as it was; a real sport. To this day pictures and quotes of JFK watching the racing live on. Despite this, sailing has faded out of prominence, and the general public has come to think of it as a non-sport. Something similar happened to surfing in the late 80's. People began to think of surfing as something the pot heads did when they skipped class. During this period of disinterest in the sport, surfers enjoyed a high degree of subtlety and empty beaches. Today, in it's own obscurity, sailing enjoys a level of subtlety and a small and tight knit community of devoted athletes.
In the mid to late 90's companies like Quicksilver began to develop surfing as a spectator sport. With the country recalling the days of "The Endless Summer," their interest was sparked on a very superficial level. Sponsors came together and built a professional circuit. Today surfers resent the attention that is brought on by the tour, and feel as if it has done little else than to distract from what surfing really is. It is easy to see from kids riding the same kind of boards pro's use on 20+' waves, that their understanding of surfing has been completely shaped by the countless marketing campaigns by 'surf' companies. Those people see surfing as little else than an adrenaline fix.  Read on.
January 15th, 2013
Why do they do the Sydney to Hobart Race?  Here's why. The bad news?  This footage was taken day 2 about 1-2 hours before they snapped 40% off the bottom of the rudder due to hitting a sunfish! – props to Anarchist Simon.
January 15th, 2013