Ryan Breymaier feels good, after he felt bad. You should too….
On August 11th I set off onboard Class 40 Stella Nova for the start of what has turned out to be an incredible record-breaking Round Britain and Ireland Race.
The Stella Nova is boat #4 of the Mach 40 series, designed by Sam Manuard and built by Nicolas Groleau in La Trinité sur Mer. I was lucky enough to be asked to join German owner Burkhard Keese and his teammates Alex and Max when one of his crew had to drop out at the last minute.
We knew it was going to be a fast race and we were pumped to take the start in big downwind breeze knowing we'd got a great boat and some strong competition in the class. Blasting down the Solent surrounded by VOR65, IMOCA 60 and the MOD70 was an awesome sight, we didn't see under 25 knots of breeze and never had less than 17 knots of boat speed.
For all of the first day we were having a great battle with Concise and we were really impressed with their relentless pressure and high speeds. We'd just caught back up with them a second time when we noticed they'd changed course and then found out they were retiring. Not long after that we saw that Cat Phone had also stopped with mast track issues. We were sad to see our main competition out of the race and as we headed offshore we saw no other boats apart from Varuna, a spec on the horizon.
We had two watch teams; Skipper Burkhard on watch with team member Alex  Krause and I teamed up with Burkhard's son Max. Despite only being 15 years old Max was no sailing slouch! He'd already some got some decent offshore miles under his belt already and he regularly sails F18s in his native Bavaria. Driving conditions were tough so he couldn't drive all the time but we had a great moment at about 3am with him at the helm in 35 knots of breeze as he hit 21 knots of boat speed by the light of the super moon!
As day 2 arrived the North Sea waves were as huge as ever and the breeze just kept coming. Moral onboard was great; we were all working hard, a bit tired but enjoying the ride and really enjoying the boat.
At some point we crossed paths with a big ferry and launched off its huge wake at 17 knots. It caused us to slam really hard. It was incredible, one of the worst I've ever seen but the mast was still up, and the boat kept sailing fast so we carried on. And it was from there on we started to hear noises from the hull.
At first it didn't concern us too much. Boats creak and groan and we were putting her under a lot of strain but nothing we knew she shouldn't be able to handle. We carried on churning up the miles, but as the day went on the noise got worse and turned into a distinct crunching sound. By mid afternoon it was clear it was coming from the hull in front of the mast and by then we could hear it from way back in the cockpit.
The tool kit onboard was minimal and to be able to inspect the area the noise was coming from meant cutting through a laminated glass/foam box which covers the class-mandatory flotation foam, which was not possible. Even then, if we had been able to get through and inspect hull, we had no tools to fix whatever the problem might be.
At best, it was going to be a part of the solid flotation foam that had come 'unstuck' from the hull surface and at worst, we were going to find delamination to the hull itself, which was potentially disastrous; and an argument for not cutting into the flotation foam box in the first place….
We had a team talk and quickly came to the conclusion that it would be reckless to continue north and offshore without being 100% sure of the safety of the boat and so we called up the RC and officially retired.
We gently turned the boat around and headed dead downwind to be as gently to the boat as possible. It turned out we were aiming directly at Den Helden, in Holland. We arrived the following night and the next morning we were joined by the boat builder Nicolas Groleau who had driven through the night to meet us. We hauled the boat and initial tapping showed that the hull was in fact sound.
With this good news the team put her back in the water and started a slow delivery back to La Trinité where they will cut open the suspect area to figure out what has caused the noise, be it the box itself or the foam inside.
So how do I feel?
As someone who has always prided myself in being able to fix anything I definitely didn't feel good quitting the race without being able to try 'something'. It was an even harder pill to swallow knowing we were so far ahead of the rest of the fleet and with the race record within our reach.
However, I would have felt even worse if I had urged an unsafe boat to continue a race and endangered the crew. We made the safe decision which is always the right decision and I'm happy to since learn the boat has proved to be strong enough to take a true beating and survive!
Its been great watching the records fall this year and it had only fired me up to want to come back next time and give it another crack. Congratulations to all the teams out there and a special High Five to the 'Swish' crew for storming home with the Class 40 world record! Photo thanks to Paul Wyeth.
August 24th, 2014
Christophe Launay takes you inside Marsaudon Composites.
August 24th, 2014
AC Dope
And you wonder why the America's Cup is seen as a manipulative, secretive machine with questionable motives?  Maybe Russell needs all those rooms for all those sponsors, right Russ??
But like we told you from the jump, one reason the AC gestapo chose "America's Finest City" was because the rubes here are so quick to drop to their knees, mouths agape,  ready, willing and able to be fleeced by this bunch of AC hucksters….
If San Diego hopes to attract the 2017 America's Cup, local hotels are going to have to unlock thousands of their doors for free. As part of its offer to potentially come to San Diego in 2017, the America's Cup has requested 10,000 free hotel room nights in the three years leading up to the event, the president of the San Diego Sports Commission said Friday.
Speaking to the Tourism Marketing District's board of directors, Mike McDowell, president of the commission, said the organizers would use the rooms to court corporate sponsors leading up to the international sailing competition. He said the America's Cup would also want an additional 7,500 room nights at half price, meaning a total gift of $2.75 million in room nights. Read on and click the graphic above to vote. Public sentiment, even here in Dum Diego, is running 4-1 against…

August 23rd, 2014
The America's Cup, oops, we mean the Extreme Sailing Series lines up in Cardiff Bay. You know how you can tell this isn't the AC?
A) There are more than 3 boats
B) They aren't asking for 10,000 free hotel rooms (see article)
Title inspiration thanks to Shriekback.
August 22nd, 2014
Here's what winning looks like. Not that we'd know… This is Varuna, the Ker 51, on her way to winning the Round Britain and Ireland race 2014.
August 22nd, 2014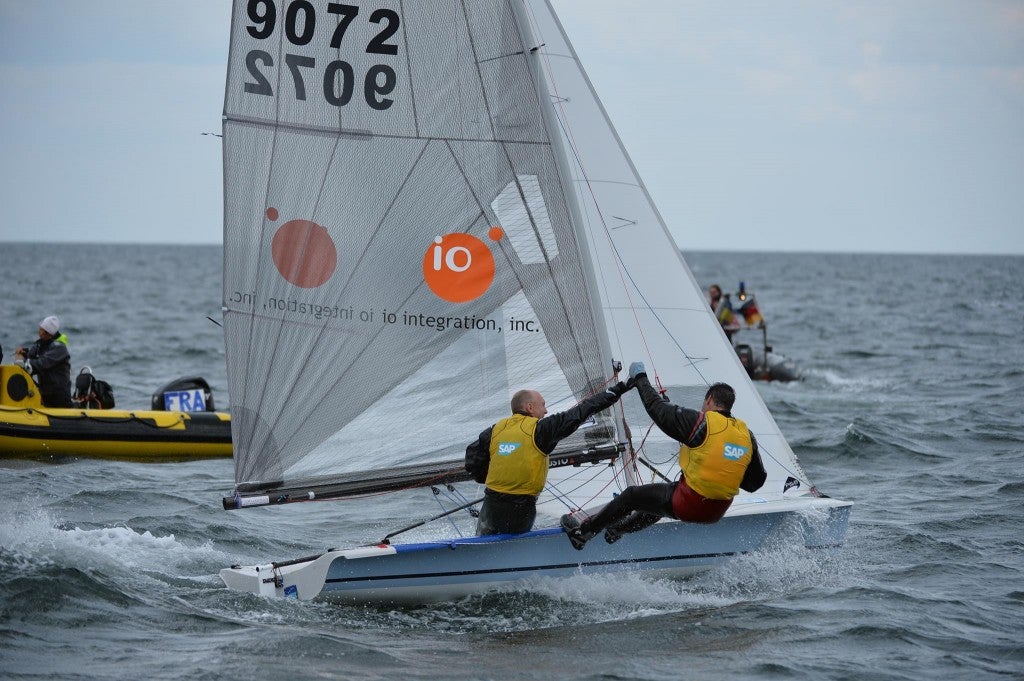 No Germans made it to the podium in their home 5O5 Worlds at Kiel this week, with 5-time world champ Dr. Wolfgang Hunger stuck in fourth.  Longtime SA'er Mike Holt has been close to winning a 5O5 Worlds for years, and a masterful performance with crew Rob Woelfel included taking the final bullet this morning to take their first World Championship by just two points.  Nice shot at the finish from Christophe Favreau, with a big gallery of pics here, and lots of video and replays at the event site.  UPDATE/EDIT:  The good Doctor Wolfgang has indeed squeaked into a final podium spot with a 3rd in the final race, making much of our report above wrong.  Our apologies for the false info; that's what happens when your communications staff thinks the whole world gets their news from Facebook and forgets to update the event site for half a day…
August 22nd, 2014
Fleets come and fleets go, but the Cal 25 remains forever.  At least that's how it is in Southeast Michigan, where the Cal 25 continues a long legacy of great racing, better partying, and lasting forever.  Here's the report from the Detroit gangstas who won last week's National Championship without winning a race, and our apologies for our almost magazine-like delay in getting it up.  Okay, not quite that bad.
The first weekend in August saw the Cal 25 fleet make its way to Port Huron, MI for the 2014 Cal 25 National Championship, some from as far away as Annapolis. Light winds all 3 days caused by a large high pressure system over the Midwest made for some delays with a final tally of 6 races going up on the board. 21 boats was the final headcount for the event, with over half of the fleet representing Detroit.
Target Practice had been awaiting this weekend for some time, and had done tons of boat and sail prep to ready for the event. Numerous jibs were looked at and the entire deck layout was reconfigured to try to give us more control over sail shape and eke out that hundredth of a knot from these 4KSB'es.
Day 1 saw light southerly breezes all day. Race 1 started in ~4knts of breeze, and saw a number of the top boats get off clean and flop onto port after a short while. Places remained relatively static around the course with Target Practice coming away with a deuce. The breeze died and we went under AP for ~90 min waiting for it to fill. When it did from a weak thermal, Race 2 saw a little more action on the line with some yelling and a couple of alleged fouls, but no flags. The rich got richer as clean air was king for the start of this race with the leaders extending, however on the 5 leg race the last downwind saw the breeze dying and things started to get mixed up with boats finding patches of wind that others simply didn't have and some boats were able to improve their lot on this and the ensuing upwind. We led the day with a 2,2 followed by Draco and Holmebrew.
Nerves ran high on Day 2 as it was moving day. It was again light southerlies but with the expectation that a northerly breeze would fill in at some point. Race 3 and 4 saw more of the same from Day 1 with slightly more breeze, we again went 2,2 however Never Alone found an upwind gear that was untouchable and took 2 bullets. Race 5 was started with an easterly thermal breeze of ~5 knots. We suffered from an unforced error and were called over early just off the boat, while Obscured by Clouds won the pin with clean air and was first around the top mark. The course however was hugely starboard tack favored, so after ducking the line we found some pressure right and still wound up rounding in the top 5. We had struggled with our downwind angles all weekend thus far, and were having trouble sailing as deep as some of the other boats. A quick gybe saw us move up to 3rd and Obscured, Never Alone and us all went around the left mark. Obscured finished first with Never Alone right on their heels, followed by us. This unfortunately ruined our up-till-that-point perfect scoreline of 2-2-2-2.
We went into the final day with a 5 point lead on Never Alone. We expected no more than 2 races, and so the gameplan was to continue to sail our regatta, but keep a loose cover on the competition. Dense fog greeted us on the racecourse, but brought relatively strong breeze with it. However, starting a race in the fog would have been difficult and as it burned off the wind died. At about 1 oclock the fog had lifted and we had sufficient wind to start. The line was pin favored
and so with a minute left we tacked away from Never Alone for a pin end start. We hit the line on time and with speed, only to look over our shoulder and see that Never Alone had done the same roughly midline. An early tack away saw us take some transoms to get to the favored board and pressure, and we were able to round in first. We held serve on the downwind and rounded the left mark again in first with Never Alone behind, coming with us out to the right. They reaped the gains of their high upwind mode and we were only able to round in front due to a header at the top mark that forced them to do 2 tacks. That header also saw Patriot squeeze in front coming in from the port layline, with Target Practice and Never Alone close behind. We finished in a dying breeze with our final deuce of the weekend and a 6 point lead on Never Alone.
Racing was very tight all weekend, and Port Huron Yacht Club and the Race Committee did an excellent job getting in 6 good races. Our thanks to Tyson Connelly and PHYC for running an awesome event! Target Practice was sailed by co-owners Erik Ryan and Adam Hollerbach, with me, Nathan Hollerbach, and RJ Wolney rounding out the crew.
Brad Terpstra
USA 632 – Target Practice
August 21st, 2014
Big Pimpin'
The father-and-son team behind the VX-One's steady growth can now move a mini-fleet all by themselves; their ability to transport 10 boats in their two rigs at a great price makes fleet-building that much easier.  Get up to date on one of the quickest and hottest new sportboats in this 8-minute Mr. Clean interview with Brian and Hayden Bennett this past Sunday from the shores of the newest VX-One home; Michigan's Macatawa Bay Yacht Club.
August 21st, 2014
Spotted by ace snapper Craig Greenhill. Looks like a hell of a lot of work that could go really wrong, really quick!
August 21st, 2014
AC Breaking
As the world waited for Le Roi Russell to announce his entry list for the LOCATION TBD America's Cup, we learned that the delay had nothing to do with whatever the AC spin said; our insider tells us that at least one team asked for a delay to shore up their finances and sponsorship scenario.  Meanwhile, the AC has announced this morning that there are indeed five challengers who fronted up several million in nonrefundable deposits and bank pledges for the LOCATION TBD America's Cup.  While we remain highly doubtful that all five will make it closer than Team Australia did to the starting line of the LOCATION AND TITLE SPONSOR TBD Challenger's Regatta in three years, we do hope they do; it would be great to see the UK and France do well, perhaps igniting some national fervor for the America's Cup, and perhaps (as unlikely as it may be) wresting it from Coutts' control to bring it to real international prominence.
Meanwhile, Sportbusiness.com today writes that Ben Ainslie has lost any chance at getting longtime BAR sponsor JP Morgan to foot the estimated $50-75M title sponsorship spot for his AC bid.
The Ben Ainslie Racing (BAR) sailing team will look for a new title sponsor for its inaugural 2017 America's Cup campaign after the incumbent, financial services company JP Morgan, decided not to continue past 2014.

The BAR team is the UK's entrant for the next America's Cup series. It is led by Sir Ben Ainslie, the most successful sailor in Olympic history and tactician for Team Oracle USA during its dramatic victory at the 2013 America's Cup.

It is understood that New York-based JP Morgan, which has been the title sponsor of Ainslie personally since 2007, and the main global partner of BAR since the team's launch in January 2012, feels an alignment with a British team against American competitors would not match its brand image.

The team is now looking for a title sponsor on a three-year contract, from 2015 to 2017.
A UK South Coast insider sent us another update this morning, possibly explaining the JPM departure from Team Sir Ben.
I wouldn't take this as a sign of anything other than regime change on the sponsorship front. When the team's AC effort was launched, one of the things I noticed was there are a couple of people on the Board of the team from Vitol, an oil trading firm (including Ian Taylor, its CEO). Vitol is not quite Torben Torquist's Gunvor, but that's mostly in the sense it's not largely owned, ultimately, by a tiger-petting Russian king.

Vitol is possibly not the most ethical of firms, and was only a few weeks ago exposed in engaging in UK Tax Avoidance on a massive scale, according to the Independent.  With figures like those in the above article, it's entirely concievable they have 50 million quids kicking around ready to drop on a Cup campaign.  Given some of the other rather, ahem, 'controversial' transations Vitol has been associated with, it could be that JPM didn't really want to be sharing signage space with them…..
And in a final piece of AC news, European sailing blog Farevela reported yesterday the completely terrifying news that Juan Kouyamdjian will be one of the designers of the underfunded Team France effort, perhaps built on the strength of Franck Cammas' relationship with the JuanKer during the successful Groupama 70 VOR program.   We'd humbly suggest our friends on the team get some extra life insurance…
Team France thread is over here.  BAR is here.
August 21st, 2014