While much of the Northern Hemisphere is busy tucking their boats away for the coming winter, the season's still rolling on the beautiful West coast of Turkey.  SA'er 'Telebox' checks in with this report.  Video of Marmaris Race Week here.
November 2nd, 2015
It turns out Merlin isn't the only Bill Lee sled going home. This well-known Chicago based Santa Cruz 70, Thirsty Tiger is heading home to Santa Cruz, sold to a company that will do corporate charters, or so we hear. This may be the only SC 70 on the planet with air conditioning!
November 1st, 2015
Tons of you Anarchists surf, board and a few also build their own boards or certainly know those who do so professionally. This little blurb will interest all y'all. 
PRO-SET Inc. has introduced an all new line of OEM epoxies designed to suit the rigorous demands of board sport manufacturers. PRO-SET Surfboard Epoxies  are ultra-clear systems designed for high-volume production with fast flip times, excellent sandability and outstanding cosmetics in the show room and on the waves. They attain superior physical properties with room-temperature cure.
These new epoxies are formulated with optical brighteners that enhance whites and colors to bring out the best in today's foam blanks and color graphics. They provide excellent UV and color stability for long lasting performance.
Here some techie stuff: The PRO-SET SBE line is formulated for rapid production with flip times as fast as 60 minutes at 85˚F with added accelerator.  These systems are very low to no blush and sand easily without complicated additives.
SBE-262 Fast Hardener is formulated for hot coating and cooler shops. SBE-265 Slow Harder has low exotherm and is formulated for laminating, potting and hotter shops. SBE 460 epoxy accelerator speeds the cure time of SBE-160/SBE-262 when added at *3% by weight.
 PRO-SET epoxies are formulated and manufactured by Gougeon Brothers, longtime advertisers, and supporters of the awesome Fix It Anarchy Forum. Truly great people, so show 'em some love!
November 1st, 2015
These guys at the Seabin Project might really be on to something good here – a way to help save the environment. We showed you their video last month, now we are helping spread the word and to help get funded.
Check it and do what you can for the environment that we all love so dearly.
November 1st, 2015
Always interesting when boats – this case 70 of them – decide to sail 1,500 miles to paradise…
They are working like Dawgs – Salty Dawgs – getting to head south to the BVI. Currently, the boats on the Salty Dawgs Rally are in the Bluewater Marina in Hampton VA getting ready to tackle the Atlantic and head south to the promised cruising land.
Boats are being furiously readied with safety gear, SSBs, SPOT Trackers, cases of provisions, sewing machines and everything else needed for passage making. The West Marine is cleaned out, the riggers are exhausted and the beverage stores emptied as some 70 boats prepare to tackle the high seas in the next day or two.
Each year for the past few boats heading to warmer climes meet up in Hampton for a low key but extremely pro rally to take them safely south.  Combining important, highly detailed seminars with liberal pours of Dark n Stormy, the Dawgs make sharing info and honing skills a ton 'o' fun with a week of get-ready action prior to departure.
Since it's Halloween, a costume party is definitely in order and the rum helped lube the outfits. Big winners were the crew of Persistence, a Leopard 44 who dressed as "Mixed Drinks" Mark Wormwood was the Black Russian, Bloody Mary the crew and so on. Bruce and Sharon Anderson from Basalt CO and his crew from his Perry 59 Free Range Chicken looked very foul-like.
Organized as a not-for-prof, the salty Dawg Rally is the brainchild of Bill and Linda Knowles, long time cruisers looking for a low cost rally that offered all the prep aspects of the top rallies without the heavy costs. The SD Rallies are free to sailors with blue water experience although a $250 volunteer membership gets you a raft of discounts from the 40+ sponsors.
They and their volunteers run seminars in Newport and Annapolis before the big annual gathering in Hampton. Their workshops get down and intimate with details from equipment checklists to float plans to who best to pay for that mooring ball in Bitter End to how to sweet talk the immigration people about your onboard pooch. And how to keep the customs folks away from your freezer. And more.
It all adds up to a rollicking and useful time plus a great way to share the passage south with a lot of skilled sailors who also share you passion funky Halloween costumes. To hook in contact www.saltydawgrally.org. – John Morris.
November 1st, 2015
UPDATE: BOSS IS BACK ON THE DOCK!
We'll have more information directly from co-skipper Alex Thomson as soon as he has had some rest.
We spoke to  exhausted ATR Managing Director Stew Hosford a few minutes ago as he boarded a plane for Vigo, Spain, and he was glad to have the chance to update Alex and Guillermo's fans around the world.  Here's the exclusive report on what happened and what's coming up from Mr. Clean.
1) As you may have already read in their early-morning statement, Alex and Guillermo were on their way back to port after a temporary fix of several broken ribs – the same problem noted by at least two new other VPLP/Verdier boats – when they were rolled and dismasted.
2) In fact they'd stopped the boat and were hove to on port during the little unforecasted bomb of a depression that developed off the NW coast of Spain two days ago.  Alex was asleep down below and Guillermo was on watch when a massive breaker capsized the boat.
3) From inside the boat, Alex found the canting button and moved the keel to the other side.  The boat snapped back upright, coming up without a rig and with plenty of new damage, including a broken foil.
4) The boat was full of water, the electronics were fried, and it was time to GTFO.
5) On reaching shore, all Alex could tell his technical crew was 'I'm going to get my boat."  The team wasted no time chartering an oceangoing tug, and they are already on station about 100 NM to the Northwest of La Coruña with Hugo Boss.
6) The dewatering is going well, the boat will be cleaned up and made as safe as possible today, then towed back to Spain overnight.
As soon as Alex has had a big of sleep and his boat is safe and sound, we'll have an extensive interview.
Still no statement or word from VPLP or Verdier, who have a very difficult route to negotiate themselves right now.  Between the insurers, race organizers, teams, and the ocean racing community, Vincent and Guillaume have very few options in how they handle this situation if they are to avoid becoming known as the next JuanK.
Check back soon for more info; watch the thread for the latest.
November 1st, 2015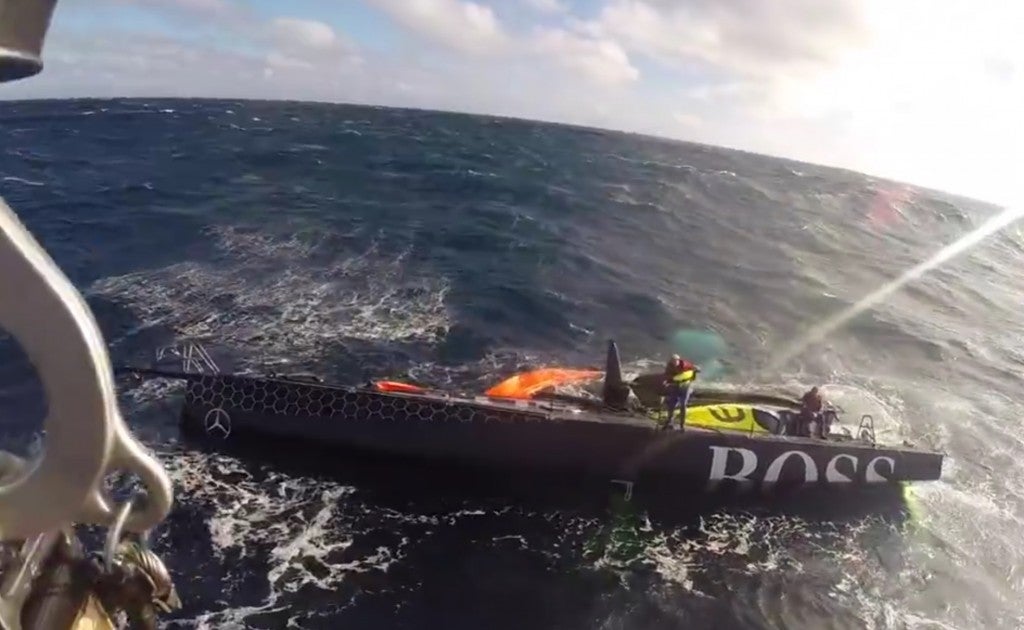 Sinking, dismasted – basically, fucked!  That's the Hugo Boss as shot by the Spanish Salvamento Maritimo crew who winched the IMOCA duo to safety.  First look at the boat is a screenshot from the video – complete with random rockin' soundtrack – of the rescue, shot from the sky.
Jump in the discussion thread here.
October 31st, 2015
We're extremely pleased to know Alex and Guillermo are safe ashore in Spain after they could presumably no longer keep up with the water ingress on the sinking Hugo Boss after her abandonment of the Transat Jacques Vabre.  The structure on the new Hugo Boss continues to break down while Alex and Guillermo and the shore team are meeting as we speak to figure out if and how a salvage will happen.
While the 6 new VPLP/Verdier boats are the most complicated and technologically advanced ocean racing monos ever created, there are only a couple of really 'new' things about their structure: The foils and cases, which look to have been a major problem with one boat, and the ultra-thin rib-and-skin construction of the hull, which took out another.  It'll be a little bit before we know which problem started Boss down her cascade of failure, but one thing is for sure: With four out of five new boats broken, at least one of them catastrophically, the designers have a lot to answer for – something we look forward to from the typically pretty straightforward folks at both VPLP and Guillaume Verdier Design.  Note that these boats were built at at least three different facilities…
The fact that the fifth of the new foiling boats is streaking away from the rest of the IMOCA fleet at a ridiculous pace doesn't really help; a small turn of fate and instead of being on shore, Alex and Guillermo are adrift in a raft.  Or lost forever.
Designers are finally starting to get around to accepting the fact that keels should not be ejectable.  Their next challenge?  Hulls need to be built to last past the first delivery.
Talk in the thread here, and track what remains of the fleet here.
If you haven't seen our one-hour interview with Alex on the deck of the now-sinking HB, get to it!
October 31st, 2015
Happy Halloween, courtesy of the Brenta 80.
October 30th, 2015
This shot from the floor of Jean-Pierre Dick's Virbac St.Michel shows the broken ribs that knocked the new-gen foiling Open 60 out of the Transat Jacques Vabre last night; the fourth retirement out of the 5 VPLP/Verdier fliers and a clear sign that someone in the design office seems to have gotten these multi-million-dollar beats wrong – very, very wrong.
One of the major innovations in the new boats is a transverse version of the approach to hull design that we first saw in Comanche; instead of a few large stringers in a structural grid over a relatively thick hull, the VPLP solution uses these small semicircular ribs to support an extremely thin hull (4mm in some spots).  It's a significantly lighter way to do it, but if the difficult production process isn't micron-perfect or if the ribs aren't taking the load in unison, things go ugly quickly, as JP and Fabien discovered when they went down into the sail locker.
While four foiling boats are out, the final "Mustache" boat is showing why they all bothered, with the new Banque Populaire XVCCIVXIICL sailing an average of more than a knot faster than the ultra-quick previous generation PRB in the same stretch of ocean on a nice run.  In a Vendee, that would translate to a couple of weeks' lead…assuming BP can avoid the speed bumps…
To The Orphanage For You
Our sentimental favorites aboard Adopt-A-Skipper have unfortunately also pulled the plug thanks to a blown out backstay, with Ryan and Nico headed back to Concarneau.  What a yard sale this TJV has become!  Chat and crowdsource all the TJV news here.
Thanks to SA'er 'chasm' for grabbing the shot from Virbac before they pulled it from their site.
October 30th, 2015