Ever want to be part of something a bit crazy, very fun and slightly dangerous? Tritium, former ORMA 60 Tri skippered by Jean Le Cam, floats stretched by Artemis America's Cup team to 72ft to trial their wing sail and curved foils may be your missing element! Campaigned on short notice by John Sangmeister in TransPac 2013, barely missing the outright race record by 2 1/2 hours, is ready for its next record attempt…
Is it you? or you and a group of otherwise normal knuckleheads who don't want leave this planet regretting you didn't take a shot at history…. Check out the video here and contact [email protected] for details….
July 24th, 2014
Big Pimpin'
We all know that our sport is a huge part of how and honestly why we live our lives. Check out how Boyd Yachting brings it to you with their a preview of their latest edition, featuring Paul Larson.
And now you'll want to sign up for it here! Did we mention it's free?
July 24th, 2014
Phil Sharp takes you on the new Seascape 27 on their double-handed Chicago to Mackinac race. Enjoy…
Long distance challenges are always something that get me excited, particularly in offshore, short-handed configuration. My first significant ocean experience was competing with a prototype in the 2005 Mini Transat, racing single-handed from France to Brazil, where I got to know fellow competitor and Slovenian skipper, Andraz Mihelin.  Having helped develop the new Seascape27 yacht, and an opportunity arose with him to take on the double-handed class of the world's oldest and longest annual freshwater events, the Chicago – Mackinac.
Not only would we be competing in the double-handed division, something we hadn't done since the Mini Fastnet 2006, but it would also be interesting to get behind the tiller of this little lightweight rocketship.  Being the smallest boat in a fleet of 300, you can't exactly consider racing for line honours, but our objectives were to win the double-handed division and find out what a serious US Regatta is generally all about.
Logistics for this race were not commonplace, and raised quite a few eyebrows from members of the Chicago Yacht Club. I flew from in the UK, Andraz from Slovenia, and the owner Svein Hubinette brought the boat from Lake Champlain, some 900 miles away! Needless to say we were one of only a few oversees entries.
Our double-handed division was first to start, and in very light reaching conditions the J29 "Relentless" in our class, headed off with very similar speed.  It became immediately apparent that a class win was not going to be as straight forward as we'd hoped, particularly as we had to complete the race 10% quicker than the J29 in order to win on corrected time.
For the first half of the course we followed our routing strategy up the west side of the lake, staying close to the Wisconsin (west) coast, which we hoped would give us more pressure by avoiding the centre of a mini high in the lake.  As well as taking advantage of the increased gradient and thermal enhancement on the coast, we were also hoping to put ourselves nicely west before the wind shifted to the south, in order to give us a good angle of approach to the Islands of Manitous at the top of the lake.
This strategy didn't exactly turn out to be a 'slamp-dunk', with a large proportion of the fleet opting to instead follow the rhumb line, with a reasonable level of success, finding more wind in the middle of the lake than forecast.
One unique feature of this racecourse which we hadn't noticed in the guidebook was the severe quantities of flies on the lake. Whenever the wind was below about 15 knots, swarms would descend on the boat, and always seemed find an area to bite into that you'd missed with insect repellent.  However their bites did have the advantage of keeping you awake when you were just starting to drifting off at the helm , a common problem when short-handing it.
Inevitably when sailing double-handed you have to sacrifice quite a lot of sleep.  We had a very basic autopilot and so where driving the whole time, changing every two hours.  By the time the person off-helm had done navigation, helped with manoeuvers, sail changes and also found time to eat, there wasn't really time for more than 3-4 hours of sleep in every 24.
For eating during the race we took a Jetboil for a stove, mounted in a gimballed frame for cooking hot pasta meals.  It wasn't until we started the race however that we realised it didn't have a self ignition system, unlike all the ones we'd used previously, and that neither of us had brought a lighter.  So we had to wave goodbye to any chance of a hot meal, tea or coffee, and instead ate cereal the whole race, which fortunately we'd brought quite a lot of.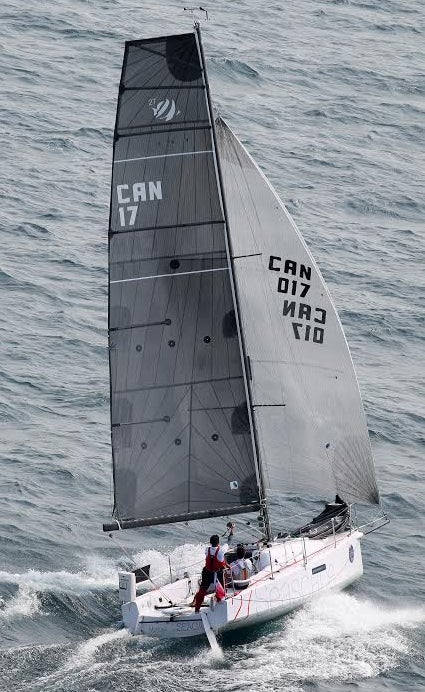 The last few hours of the race saw the wind increase to 20-22 knots, and the boat really came into its own and enabled us to start doing some serious overtaking.  Being a light and very stable design, a fractional a0 for reaching conditions gave us some impressive average boat speeds of 14 to 15 kts, which just showed how much power this boat can harness.  Wind gusts are turned into rapid forward acceleration instead of just heel, which is a sensation that brings a serious smile to your face if you are lucky enough to be driving. That's us hauling us thanks to Boatpix.
The Isle of Mackinac is an interesting place to finish a race to say the least. Cars are banned on the streets and instead, horse and carts fill the main roads, with beautiful greens and mansions watch over the main harbour – not to mention the colossal Grant Hotel where the race party was held.  It was like a fantasy island from the past that had been frozen in time for the last 100 years, and presented an extreme and refreshing alternative to the skyscrapers of Chicago we had left behind.  Perhaps aside from the very pungent smell of horse urine that also floated around the streets.
Being an ORR race, we of course had to wait for our result to come through on corrected time, and were happy to hear that we had finished in first place, just 12 minutes ahead of the J29.  This was particularly satisfying based on the fact we'd been sitting in second for most of the race.
With this mission accomplished, it's now back to Europe to continue work on my Vendee Globe campaign.  I'm particularly excited to be developing some innovative new concepts for a new IMOCA 60, including a zero-emissions energy systems that must be totally regenerative, but also very light.  But before I leave this country I must first check out the lights of Chicago – it would be rude not to.
Some facts of interest about our race:
Fastest average speed over 100m: 14.68 kts

Fastest instantaneous speed:  15.4 kts

1st in Double-handed division

43rd out of 317 in overall ORR results
July 23rd, 2014
The Snapper Report
July 23rd, 2014
Created by the team of wing designer from France (Hugues de Turckheim), wing camber builder from Switzerland (MB Composite), platform designer from Sweden (Stefan Törnblom), wing envelope sail maker from Sweden (Mats Johansson, Gransegel), and builder from Hungary (Pauger Composite), this quick 1200 kg all carbon is the T29 trimaran, "T for 3" is the first production multihull to be equipped with a hoist-able and reef-able wing.
Maximal sheeting load on the main is greatly reduced compared to a conventional wing mast rig, from around 1600 to 80 kg, thanks to the balanced wing and the boat tacks through 70 degrees with unusual ease for a multihull. More about the wing in the Seahorse August edition. Photos in the Stockholm archipelago by Swedish junior sailor Olivia 12, usually helming « T for 3!
Title inspiration thanks to, um, Soft Cell.
July 23rd, 2014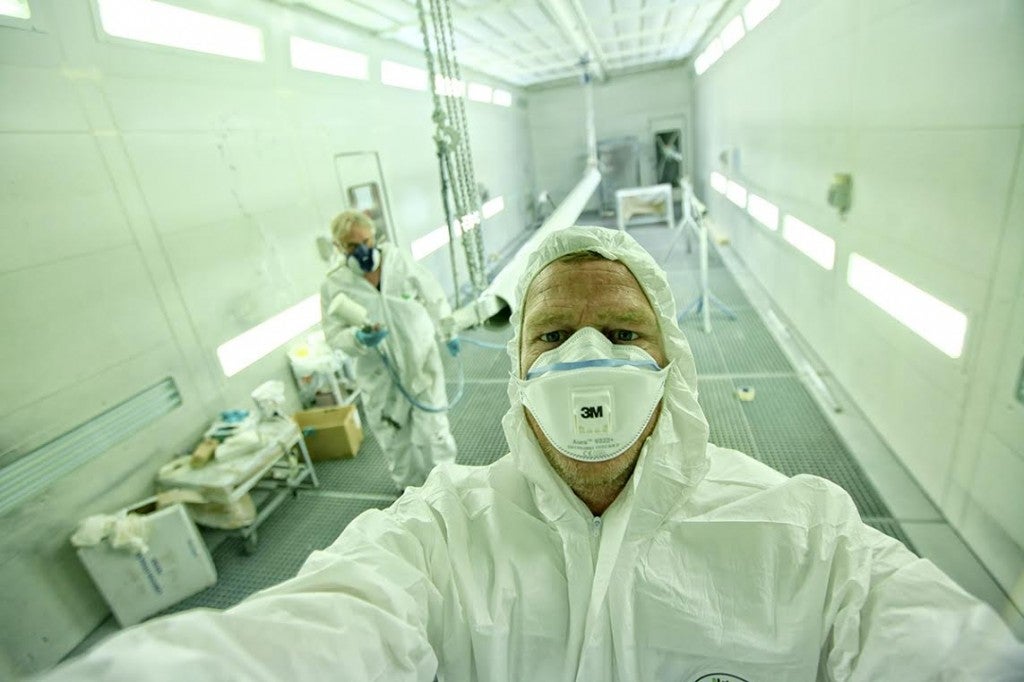 Got any idea what and where this is?
July 23rd, 2014
Maybe it's just us, but the accusations, blame and finger-pointing contained in the article below seem to be wildly off the mark. An 85 year-old schooner sank in a nasty gale, but now blame for neither the boat nor people being found is being levied at those who tried to find them? We don't see it that way. An old wooden boat sank in a nasty storm. Major rescue efforts were launched. Sometimes bad things happen at sea. Attacking others to somehow find them culpable is ridiculous.
Families of seven people lost in the Tasman when their yacht vanished have criticised New Zealand's search as poorly managed. And a close friend of one of the lost says the Rescue Co-ordination Centre (RCCNZ) failed to find the 85-year-old US-flagged schooner Nina a year ago because it searched 354 kilometres too far east.
"They used the wrong drift modelling, they wasted valuable time and resources and tragically, it may have cost lives," New Plymouth offshore sailor Paul Wilson said. At the same time international satellite phone operator Iridium Communications Inc denied hampering the search for the yacht that left Opua on May 29 last year for Australia. Read on.
July 23rd, 2014
Especially this breed of drunk hillbilly white trash. USA! USA! USA!
July 23rd, 2014
Thanks to an entire crew of AC superstars, Luna Rossa Challenge principal Patrizio Bertelli embarrassed the Puig 12-Metre Worlds fleet last week in Barcelona in his beautiful Nyala, taking bullets in 5 of 7 races he sailed.  That's not really news (though this gorgeous photo from Martinez Studio might be), but certainly newsworthy were LRC Director Max Sirena's comments about Team Australia's challenguss interruptus, as translated by SA'er 'Xlot' in the "Another Incredibly Bad AUS Challenge' thread:
Max Sirena got to Barcelona for the 12M Worlds (won by PB's Nyala, btw) straight from LA where last Sunday a meeting was held with representatives of challengers and defender for the next Cup. – Were you informed in LA about the Australians' decision to withdraw from the competition? Sirena: Absolutely not. This came out of the blue for all of us". – When will the next CoR be selected?: "Formally, it should be the first one who challenged. For the time being it's just us and Artemis". – Does this mean LR is aiming for that role? "I'm not a candidate, we are sitting on the sidelines. I have already spoken with Russell Coutts and Ben Ainslie and I proposed we should have a videoconference already next Wednesday."

Expectations – "I'm not a pessimist. Already in LA last week I had noted in the defender a certain willingness to negotiate and I believe that this new situation might be exploited to bring about changes, even significant ones concerning the future". Do you mean that even the Venue choice for the event could be rediscussed? The two left (Bermuda and SD) do not convince Sirena: "I'm not ruling that out". For the second time running Coutts got the CoR selection wrong. The Australians, like Mascalzone Latino in the previous event, dropped out before even starting. "This cannot be denied. But like I said I'm an optimist, from this mistake may come positive consequences for all"
July 22nd, 2014
UPDATE: From the forum…
7/23 – Wanted to let you all know that Bob Winson passed away this morning at about 3:30a.  He was surrounded by his family – as he was when this terrible accident occurred.  Bob was surrounded by family wherever he went.  He loved being on the water with Dale.  He was a wonderful man.  I miss him already.
Want to set the record straight – Pythagoras is owned by Dale Winson and his dad, Bob.  Dale and Bob have been ocean racing together for 40+ years. 
Pythagoras left Alamitos bay this past weekend with the entire family aboard for a Sunday sail.  While sailing on starboard tack, Pythagoras was struck by a charter sailboat on port tack.  Pythagoras did their best to avoid the collision, however, the bow of the sail boat – and bow anchor – struck Dale's 84-year old dad in the head as he sat on the leeward side.   
Bob was struck in the head by the bow anchor resulting in a massive brain injury from which he will not recover.  Dale and his family are by his father's side – they understand that he will pass away soon. This is a really sad tragedy and to speculate any further is just that – speculation.  Hoping you will all say a prayer for Dale and his family. 
The Olson 40 Pythagoras was the latest powerboat casualty in the world of yachting; according to Channel 16, she was run down by a powerboat off Alamitos Bay.  At least one crew member was injured and taken off by lifeguards, and the only news we can find is right here in the thread.
How many more people need to get wounded before we all decide to start carrying flare guns in our cockpits to fire at these motorboating yahoos?  Thanks to SA'er "LBC" for the shot.
July 22nd, 2014