Long time contributor Ronnie Simpson celebrates our national spirit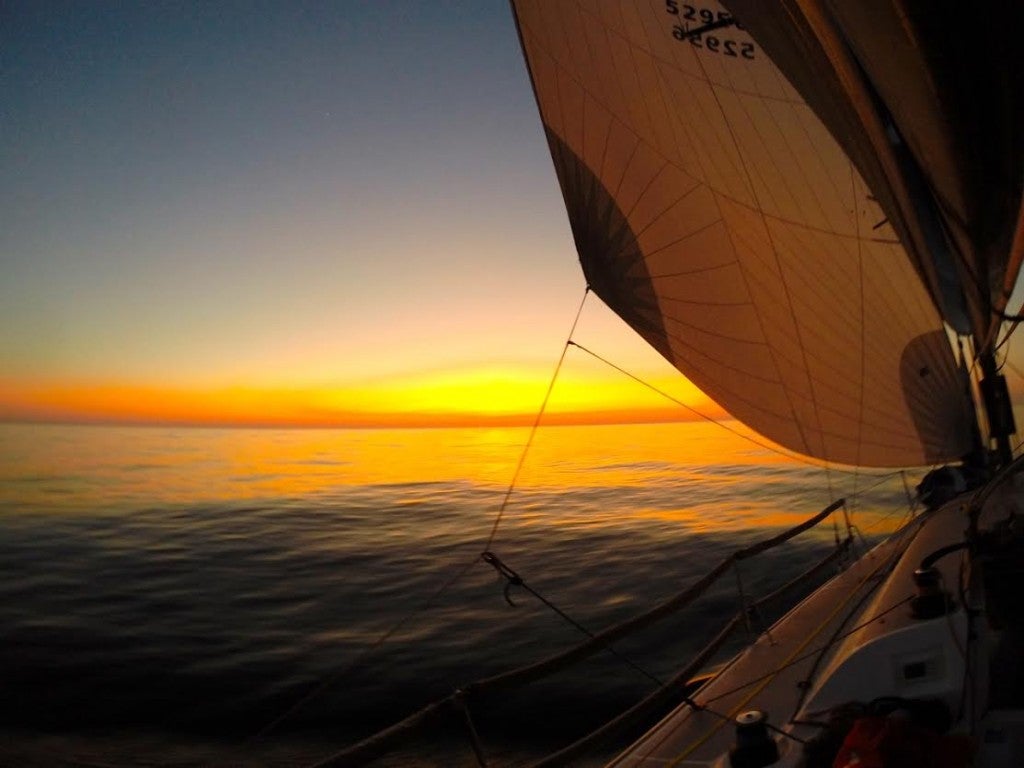 Whether downing a box of piss with your mates around the barbecue, catching some rays by the lake or fully sending it offshore, Memorial Day weekend is that special time of year when seemingly everyone in the US gets together to collectively celebrate the official start of summer. Doing what you love with the ones you love is a fitting way to recognize the men and women that have laid it all on the line in the name of freedom; the very ethos of going big on Memorial Day weekend. For me, naturally, I chose to participate in an offshore sailing race. Catching a red eye from the left coast to the sun-soaked paradise that is Charleston, South Carolina, the goal was to sail in the inaugural Ocean Race North. At 500 miles in length including a high-intensity departure from one America's great sailing harbors, a tactical and challenging offshore leg in and around the Gulf Stream and a long and potentially brutal 125-mile inshore leg up the Chesapeake to Annapolis, the closest thing I can compare this race to is the Sydney to Hobart. A new biennial race created by Atlantic Cup founder, Transat Jacques Vabre vet and ultra-stoked Kiwi Hugh Piggin, the soon-to-be east coast classic saw just five entries with four of those being Class 40's. What the fleet may have lacked in size it more than made up for in diversity and world-class talent ranging from guys like shorthanded wünderkind Jorg Reichers to US Class 40 stalwart and SA contributor Michael Hennessy to a mish-mash crew of military blokes all gunning for the win.
Enter US Patriot Sailing. A newly founded 501c3 non-profit whose mission is to create competitive sailing opportunities for wounded vets and combat vets. With a passion and a dream that I share to my core, the program is the brain child of Naval Officer Peter Quinn and has been years in the making, though this was the organization's first major offshore event. Peter reached out to me a few weeks before to join the crew and I happily agreed. Since surviving an RPG blast while manning a .50 cal in the Marine Corps Infantry near Fallujah in 2004, I plugged in to sailing in 2008 after hitting my own personal post-war rock bottom in 2007. Living on a cruising boat, racing semi-professionally, creating a foot hold in the sailing journalism and writing world, teaching wounded vets to sail and heavily supplementing my income via race boat deliveries, i'm happier and more alive than i've ever been and much of that contentedness is due to sailing. To put it simply, sailing saved my life. With an astounding and tragic twenty two veterans committing suicide every single day in this country – nearly one per hour and more than double the rate of their civilian counterparts – I firmly believe that Pete's dream of helping "heroes navigate to new horizons" is a concept that can save lives.
From humble beginnings and with meager resources, Peter teamed up with patriotic Texan and all around good-guy Jim Hightower, owner of the Summit King 40 "Hot Ticket" to bring this dream of healing vets through sailing to fruition. Jim graciously invited US Patriot Sailing's crew of 7 veterans and 1 Gold Star son (lost his father in Vietnam and has been dedicated to the cause ever since) to join him on the Ocean Race North. With a mix of active duty, retired, combat-wounded and combat vets from the Army, Navy and Marine Corps ranging from pretty experienced guys like Pete and I to a badass Navy Chaplain who had never set foot on a boat before, we had our work cut out for us from day one.
The day before the race – our only practice sail together – we could barely tack the boat and it took us four tries to successfully complete a man overboard procedure. With our 11th hour campaign running precariously short on time, we left the dock just a few minutes before the start, having never even set a spinnaker together. The motor went off exactly at the five-minute warning, we were two boat lengths late to the line, our over-banded A1 kite failed to pop in light air, the starboard jib sheet's bowline slipped out the first time the headsail loaded up and we had a close call with a fleet of not-too-happy Laser sailors on our way out of the harbor. Hugging the less-preferred side of the channel on the way out to sea, taking an ill-advised tack to the north instead of racing straight to the Gulf Stream and auto-tacking the boat a couple of times during the first night, US Patriot's first foray into the offshore racing world started out as a comedy of errors and a complete cluster-fuck that lacked any type of clearly defined exit strategy. Fortunately, as Iraq and Afghanistan vets we were un-phased by this sort of thing…
After our less than auspicious start, things could only improve and improve they did, though not without more challenges and bumps in the road. 24 hours in, our main halyard found the side of the sheave box and chafed through, bringing the main sail crashing down before our eyes. Less than five minutes later, we had a reefed main hoisted using a masthead spinnaker halyard flicked around the hounds and continued on our way with no loss in speed in the breeze-on, Gulf Stream-induced bumpy conditions that the fleet was experiencing. With the Marine Corps motto of "improvise, adapt and overcome" in the front of our minds and the kind of resolve that seemingly defines the warrior spirit, "Hot Ticket/ US Patriot Sailing" and her newly-initiated crew continued to settle into the groove. Crew maneuvers gradually improved, non-sailors gained their sea legs, sails were tirelessly stacked and shifted and the boat's condition and crew's morale constantly progressed onward and upward.
The morning after the halyard failed, the breeze had gone light and we were bleeding miles to the fleet in wholesale fashion. Showing the kind of fight that has seen this great nation of ours become undisputed World War Champions (2-0 baby!) over the past century, the crew that couldn't tack a boat two days prior was improving at a rapid clip; from sending bodies up the rig to shuttle in a repaired 2:1 main halyard, performing quick and efficient sail changes and bald-headed kite peels to night-time gybes and every single member of the crew getting time on the helm in both day light and under the cloak of darkness. Inch by inch and mile by mile, "Hot Ticket/ US Patriot Sailing" worked through a variety of conditions spanning nearly every point of sail and wind velocities from sub-5 to fully nuking.
With collective shared experience that breeds camaraderie that many will never know, the late-race peaking "Hot Ticket/ US Patriot Sailing" crew came smashing into the Chesapeake on Memorial Day afternoon in 20 knots of southerly breeze on the back side of a well-formed east-moving high under full main and A2 spinnaker. When the spinnaker flogged momentarily while running deep causing the spin sheet shackle to pop loose and open, no one in our previously deer-in-headlights crew blinked. Showing the kind of calm under pressure and poise that has kept us all alive, we put a few bodies on the bow, eased the halyard and got the kite back in un-damaged. Quickly hoisting a J3 before peeling to a jib top for a night of breeze-on, raucous sailing through the shoal and island-ridden gybe-intensive slalom that is the Chesapeake, we rapidly made our way towards the finish line in Annapolis in grand fashion. Popping an A3 before sunrise before peeling to an A2 as the course allowed, the King 40 that sailed out of Charleston looking far less than flash strutted her stuff in the early morning Maryland light to finish ahead of a much faster Class 40 boat-for-boat while possibly correcting out over another to finish on the podium. (Results not posted as of this writing.) Did we win the race? No, the world-renowned über bad-ass on a sexy new, ultra-fast Manuard design far outclassed us. Did we end up as winners however? Hell yes. In the end, the entire thing was so utterly inspiring that I will forever be proud to be a part of US Patriot Sailing's debut in what can only be described as the most memorable and fulfilling Memorial Day weekend that this wounded Iraq vet has ever been a part of.
In a nation plagued by a veteran-suicide epidemic and still paralyzed by the constant doom and gloom of multiple wars, there is a wind-fueled light at the end of a long, dark tunnel. With worthy new programs like US Patriot Sailing and a host of others around the nation using sailing and other holistic activities to positively impact veterans, there is a growing sense of cause-led community establishing itself and gaining momentum across the country and i'm beyond proud to be a part of it. After establishing a wounded-veteran sailing program that held four sailing clinics in San Francisco in 2012 and 2013, i've also re-entered the fold with a renewed passion and sense of purpose after a soul-searching year of solo cruising an engineless Cal 2-27 from California to New Zealand. Recently filing the necessary paperwork to create the 501c3 non-profit "Coastal and Offshore Recalibration Experience" (CORE), we're beginning to map out a plan that will serve more veterans and hopefully save lives while mapping out a plan to sail in the 2017 Transpac race with an all wounded-veteran crew. Participating in a formational race like the Ocean Race North with US Patriot Sailing has been inspiring beyond belief. Bonding with these eight eclectic and distinguished heroes on our way north over Memorial Day weekend, I saw first hand how adaptable and capable a group of vets on a boat can be. Combining adverse conditions with small-unit cohesiveness and team-building while utilizing defined roles and a chain of command in an environment that rewards operational risk management, quick-decision making and grace under fire, offshore racing is the perfect way to re-engage and re-inspire the warrior spirit. Mix in the therapeutic benefit of heading to see with your mates and sailing is seemingly tailor-made for those afflicted by post-traumatic stress or almost any other disability.
I know these types of programs work. I've seen it first hand, helped develop one and have now been a small part of one. To all of the Anarchists out there reading this, please help get involved. Offer up your boat for a race, make a tax-deductible charitable or donate some time to help. You'll be glad you did.
Big ups to Navy Lieutenant Commander Peter Quinn and US Patriot Sailing, Jim Hightower of the King 40 "Hot Ticket", Hugh Piggins and the rest of the Ocean Race North organizers, and all of the kind and generous souls who have helped create and establish such a worthy organization. And a personal thank you to each and every member of the crew onboard "Hot Ticket/ US Patriot Sailing' – I love all of you guys and thoroughly enjoyed every minute of this weekend. About halfway through the weekend, it dawned on me that I needed this as much as anybody. THANK YOU.
Happy Memorial Day.
-Ronnie Simpson
May 27th, 2015
This is my latest coverage of the 2015 A Cat North Americans.  It was the best run regatta I have ever been to.  Hats of to the St Andrews Yacht Club in Panama City FL and Chris Reiss and Co. – Anarchist Nick.
May 26th, 2015
We get lots of e-mail. We hope the kid gets some love…
Young Orri (11) is super keen on his Sailing, unlike school! Unfortunately for various reasons I do not have the resources available to support him fully, hence this plea.
Orri has completed his RYA certificates to stage three and should have his stage four finished this season (July 2015).
This is his first season racing single handed. He is a very competent wee sailor in various dinghies, Oppi, Topper, Feva, Pico and at the other extreme on a Janneau 49S or J110.
Click here for more info.
May 26th, 2015
Check out this cloud from Menorca, for the MenorcaMaxi series. Gray here too. Beautiful work from Jesús Renedo
May 26th, 2015
VOR
The cold war is over and the action in Leg 7 has heated up to a red-hot intensity in the second week. The fleet sailed down from the ice exclusion zone into warmer, more southerly latitudes, crossing the Azores High to reach balmy trade winds.
Any crossing of a high pressure zone is unpredictable, and this one might have dramatically changed the chase for the overall trophy… Mark Chisnell reports here.
May 26th, 2015
They do. And there is nothing better than a boat full of 'em!. The happy girls of Frenzy at the Port Phillip Women's Championship Series. Photo thanks to Alex McKinnon.
May 25th, 2015
Ya just gotta love the enthusiasm…
"Win lose or draw it is almost impossible to overestimate the excitement in the growing Chinese sailing community of Dongfeng Race Team's performance in the Volvo Ocean Race so far.
I have been told from some inside the team that any post that goes up on Wechat receives multiple likes, comments and shares almost within minutes, some ordinary office workers have got so into the race they have even joined the virtual regatta and some of them don't even know the blunt end from the sharp end. I have heard of people buying a VPN just to be able to view the youtube videos coming off the boat and even one or two complaints that the updates are too frequent because they can't help but wait up for the 0015 (China time) Sked before they go to sleep.
For the cynics of the world that say this isn't really a Chinese entry?
Well if that is the case, neither is there a Swedish entry, or Danish, Turkish or Abu Dhabi entry in the race as the Chinese sailors outnumber the 'home grown' sailors on ALL those teams. Neither can one can hardly call the Chinese sailors rookies any more as four of them have done a goodly percentage of a circumnavigation and looking at some of the shots to come off the boat in this leg alone the are not just the 'grinders' as some naysayers have suggested.
And how many of us have been down to the Southern Ocean and/or had to be part of a crew handling a mast breakage in any case?
The leg isn't over yet and certainly neither is the race and although the odds are clearly still in ADOR's favour but if it stays the same as the latest update (yep, that's right – at 0015 China time) DFRT have pulled away again but with ADOR coming back into the mix. 2 more sleepless night to go.
Do I sound a little partisan? Well it is difficult to live in a city of 23 million Chinese and not root for the home team.
Better get my flight to Gothenberg booked!
- Shanghai Sailor
May 25th, 2015
US-One might be leading by 7 points, but a double points, 'Final Four-only' format for the last half of the final day of the M32 Series means anything can happen and probably will.  Enjoy more live racing action from 1400 local/0800 EST, with the dulcet tones of Mr. Clean coming at you from Oslo.  Wanna join the fun in Scandi?  Get more info here.
May 24th, 2015
Tom Ehman's Golden Gate Yacht Club Challenge already made its first political change – it's now known as the SF Yacht Racing Challenge to keep from pissing off the rest of the Bay Area clubs.  One sneaky anarchist attended an Ehman presentation about this 'outside the box' event for the age-advanced, and here are the details we've scooped up:
+ The new class will be known as Super 12s, and will be more of a 'Spirit of Tradition' version of a 12 rather than a real one.  A Grand Prix (post-1983) 12 above the waterline, a modern fin-keel yacht below. Carbon-composite hull, deck and rig.
+ Strict OD including deck hardware and sails (lesson learned from Volvo) for the obvious cost savings, as well as to make it a crew contest, not a design/budget battle. Draft will be under 10′ – they're shooting for 9'5″ – both for access to area clubs and to commercial yards.
+ Boats are expected to be convertible to a charter life after their competitive lifespan ends.
+ Crews will have a strict nationality requirement (passports?) as well as an interesting diversity requirement: each crew will need to include a minimum of two women and two men as well as two aged 22 or younger, and one aged 62 or older.  College sailors should be eligible through their senior year, and the total crew size will be 12.
+Teams will have to work with local YCs/marinas/yards to create a base in an existing facility – no building out of own piers for a team base that is separate from existing local sailing community
+ Fleet racing and match racing finals will take place on the San Francisco city front for 2 weeks in July, when average afternoon (1300-1800) wind speed on the Bay is 13kts or more virtually 100% of the time (13-30kts). There will be no upper wind limit; lower wind limit of 5 knots or so, though stats say it ain't gonna happen much, if at all.  "Hell or high water" is what we were told.
+An East Coast venue will likely come into play within the first couple of years, and our guess is an obvious one: Newport.  We can see Annapolis trying to regain some of the luster they've lost as one of America's real sailing cities…other than that pesky problem with having breeze.
+The boats should cost somewhere between 2 and 3 million, and the campaign another 500k to 1M.
Several Italians are apparently quite keen; we'd hope to see Vincenzo and Patrizio back in the kind of racing they both enjoy.  Here's an Italian take on it.
May 24th, 2015
The M32 Series is shaping up to be the kind of fun that so much of top-level racing lacks.  With plenty of smack talk, apres-sail parties open to the public, an extremely approachable fleet and race village, and the latest live web coverage tech, it's the most modern racing circuit currently in existence.
Wanna know why?  Watch the video above and join the fun, and watch the grand finale today from 1400 CET.  You can always watch the F1 Grand Prix de Monaco on DVR…
May 24th, 2015