Our crack crew of Anarchist Spys are hard at work and this morning sent in this shot of Larry leaving town. Obviously the cost of the AC has gotten way too much! Props to Anarchist Greg.
February 15th, 2013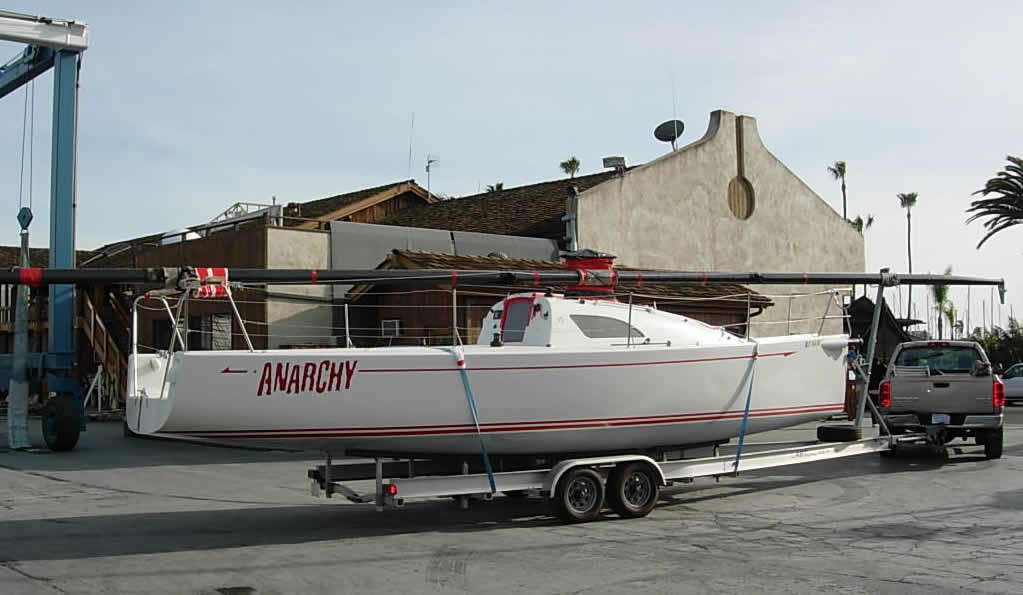 It is almost surreal to see, but the Good Ship Anarchy has been sold and today left Dago! Heading for Vancouver, Anarchy lives on to see another day….If you happen to see the boat on the road, snap a pic and send it in – you'll get our brand new SA tech shirt for doing so. Photo thanks to Erik Rogers.
UPDATE: Anarchy has been spied in Bakersfield (isn't it also known as Meth Town, USA? Or is that Fresno?). Little did any of you know that new Lambo Aventador came with a tow package…
UPDATE 2: Pope buys Anarchy, uses Popemobile to tow it past the Capitol in Sacramento…
UPDATE 3: Anarchy was sighted in Espoo, Finland, parked by the frozen sea. The driver apparently took a break to do some ice swimming. The small hut at the pier is to protect the swimmers from the freezing wind. Ice swimming is what sailors do in Finland during the winter.
UPDATE 4: Anarchy just missing being hit by the meteor!
UPDATE 5: Anarchy spotted (and narrowly missing a rather exotic naked chick) by a dry lake bed near Victorville.
February 14th, 2013
Although we suppose this comes as no real surprise, we are bummed to see Puma leave the sport. We have a bit of their gear and we like it. It looks like Puma learned how to make one million dollars in the boating industry….start with two.
Sportswear firm Puma said it is pulling out of the sailing market to concentrate on other sports such as soccer and running to rebuild its flagging business, leaving an Americas Cup team seeking a new sponsor. The German company, which on Thursday reported a 70 percent drop in its annual profit, is going through its biggest reorganization in 20 years to restore the business and get its products back in fashion in the United States, Europe and China. Read on.
February 14th, 2013
Putting aside our usual carbon snobbery for just a moment, we think the new Clipper 70 is quite brilliant – much like the race it was built for.  In fact, it's just about perfect.
Yes, as 'Left Hook' writes, the new boat looks like the offspring of a randy Winnebago and a Volvo 70 in heat.  Sure, it's got a galley that Emeril would be comfortable in.  Yes, it has real toilets.  Okay – the rig looks straight off a 50-footer.  And yep, the hull is something that Paul Watson would sink a motorboat to protect.
But for the pay-to-play Clipper 'adventure' Race, it's exactly right.  Above the waterline (where it counts), the boat looks like a serious racing machine.  Aggressive chines, plumb bow, and carbon sprit shout "VOR" to the punters that will spend nearly $60,000 to race around the world, or a few thousand per leg, while that fat belly, deep hull, and short rig will help keep the inexperienced sailors safe in the bad weather that this race seeks out.
It's a good combination of smart marketing and smart design – much like the Clipper Race itself.  A race that's put more asses on real offshore racing boats than any other organization.  For a look at founder Sir Robin in a recent interview, check here.
So there you have it: The world's economies are pushing rope, boat builders are disappearing left and right, and sponsored racing is suffering the worst market in decades.  Meanwhile, the quintessential 'punter' race is building a fleet of new 70-footers for a round-the-world race that will make them millions upon millions of dollars while adding hundreds of new people to offshore sailing.
What the hell are the rest of us doing wrong?  And what do YOU think about the boat? 
February 14th, 2013
We've been hearing rumors for months now that an Aussie biznessbloke had his eye on a '100-footer to end WOXI's reign' over the Sydney-Hobart race, but with no custom build in the works that we could find, it was all a bit of a mystery.  With news trickling in that her insurance issues had almost been cleared up and photos popping up on Facebook of the Speedboat/Rambler 100 on a southbound barge, it's all starting to make sense.  Next stop: Line honors?
UPDATE:  SA'er 'point' writes that the Speedboat is headed to NZ before Sydney, and the buyer is Investec Loyal boat partner Anthony Bell, though 'point' suggests the Bell purchase may be a cover for Neville 'Croakie' Crichton of Alfa Romeo fame.  As most remember, Crichton's big Alfa Romeo II was chased from the Line Honors rivalry when perpetual rival Bob Oatley built the all-conquering WOXI; has enough time gone by for Croakie to take another shot?  Or will Bell and LOYAL partner Sean Langman pool their talents to take on the big dog in 2014?  There's no doubt that Speedboat would destroy WOXI in a reachy, breezy race…if she finishes.  And given her track record, that's a big if.  Be sure to keep abreast of the entertaining Speedboat thread for news on the meanest monohull ever built.
Update: "Just a quick note so you can update your info from a recent article. My Name is Anthony Bell (Investec Loyal), I have not been in partnership with Sean Langman since 2010, and While Neville Crichton is a great mate and Mentor, I am not fronting a possible new campaign for the Speedboat for him."
February 14th, 2013
Just one more sleep until the 18 Foot Skiff World Championship – also known as Sydney Harbor's JJ Giltinan Championship – and the ground is quaking for this one; not only are there 33 teams registered, but for the first time in the long history of the prestigious event, an all-female crew will contest the JJ!  And not just one, either; the Aussies have SA'er Alexandra South at the tiller of Skiff Chicks/Lomax Financial, while Katie Love will drive the US entry Chad's Angels.  The race tracker should be live from Saturday here in the US, and we'll be featuring video action right here on the front page of the coolest annual regatta in the world.
Get to know Alex, Saskia, and Lizzi in the video above, and check some of the earlier season action on the 18Footers TV page.
February 14th, 2013
Giovanni Soldini and the Maserati team unsurprisingly obliterated an ancient monohull record for the NY to SF by around 25 days.  A cool record, though clearly not a tough one for a modern Volvo machine.  What's more impressive is just how close they came to beating the 43-day mark set by Gitana 13 in 2008.  In case you don't remember, that's the giant catamaran that lowered the Jules Verne bar to 60 days and change a few years back, and with an ETA of Saturday early morning, the 70-footer will trail the 110-foot super catamaran in for the most famous route of the Clipper years by just 3 days…with 40 feet less waterline and one less hull.
So Maserati will set the monohull Gold Rush Record, an official WSSRC record from Ambrose Light to the Golden Gate.  But she'll also set the Clipper Record, and the finish line is at Pier 39, so you can welcome the boys in yourself right inside the SF Bay.  Giovanni's team is talking to the Italian consulate and also to the organisation at PIer 39. The boat will berth there and the press conference is planned for Saturday morning (depending on boat arrival time) at the Neptune restaurant.  Any SA'ers that want to show up, just wear your SA hat and someone will have mercy on ya!
Meantime, check out Ryan Breymaier's little 'best and worst of trip' video from today.  If he missed out on the Barcelona and 2015 Vendee, at least he's got a budding career as a video editor.  You can follow the last few miles here, and check in on the thread for the latest news here.  C'mon Bay Area racers, including Oracle and Artemis; Let's see how much SF really cares about sailing…let's welcome in one of our own – an American offshore racer setting a world record.
February 14th, 2013
If this takes longer than five minutes, we'll be shocked… Please drive through.
February 12th, 2013
Shannon Bush seems to get better every year. This year she's set a goal for the Italian Worlds, followed by the Etchells NAs in Newport. In pushing her program to winning levels, she's added new team members, hired a coach, and taken extra days off work each month for practice prior to the Etchells Jaguar Series dates.
Brad Boston and Curt Oetking, both normally middle men on the Etchells, sorted out that lanky Curt would do the bow work and Brad would stay in the middle. "Curt barely has to stand up to set the pole," Shannon said in a phone interview. She attributed her success over the course of the series (Flip Werheim sailed in her place in December) to great starts and staying in pressure.
Big fleet starts are key to having a chance at a top ten finish and it's not easy to come out with a lane 5 seconds after the start when you're starting among 50-60 boats. Larry Suter, coaching a group of Etchells racers, tells the team even if the lane is bad, try to stay in. If you tack out, like La Tormenta did in their first race last weekend, you can lose 15 boats in a second. If you can hold the lane, even as it gets narrow and stay with the group you want in the direction you want to go, you can hold your position, Bush said. She tries to stop what she calls the "swivel heads" when they are in a narrow lane and instead focus on keeping the position they planned.
Larry Suter, according to Bush, runs them through two minute starting drills, then into a race with 4 tacks and two jibes. The group is assigned to gain access to and start at varied points along the line, and over the course of the day rotate those starting points among the practice group. At around 2pm, Suter opens up their starting line to other teams warming up and often hosts 20-25 boats in his practice starts.
Racing this weekend, Bush said, was hard. "The flukiest, shiftiest conditions I have seen on Biscayne Bay in a long long time," said Bush who finished 4th overall this weekend. In practice, Suter also had them working on tacking and roll-jibing which can give them as much as a two boat length advantage over a team that doesn't roll-jibe the boat. Brad Boston, she said, was frequently adjusting the rake of the rig to keep up with the conditions. That's where the other part of their practice, straight line sailing, usually two or more miles up Biscayne Bay, comes in. During the race, Brad and Curt are always looking at the sails, looking for the dark spots in the water and connecting the dots to stay in pressure. "We just had to stay constantly focused, stay in pressure, stay with the right pack, and stay in the starting lane."
As for Worlds preparation, aside from their training, they have a challenging set of logistics to work on. With the Worlds in Italy and the North Americans just ten days later, they need to ship the boat from NJ to Italy in March, select the right sails from her sail card for the varied sets of local conditions, find a boat to charter in Newport, and figure out which sails go where. Best of luck to the La Tormenta team! Results posted here. Photo by Marco. Story by Paige Brooks.
February 12th, 2013
Juerg Kaufmann was in Geneva shooting Team Tilt, the Swiss Team who will go to SF in a few days for the youth AC thing. Pretty cool.
February 12th, 2013
Reasons Why Boats Are Better Than Women
Boats curves never sag.
Boats don't get pregnant.
You can ride a Boat any time of the month.
Boats don't have parents.
Boats don't whine unless something is really wrong.
You can share your Boat with your friends.
If your Boat makes too much noise, you can buy a muffler.
If your Boat smokes, you can do something about it.
Boats don't care about how many other Boats you have ridden.
When riding, you and your Boat both arrive at the same time.
Boats don't care about how many other Boats you have.
Boats don't mind if you look at other Boats, or if you buy Boating magazines.
You can have a beer while riding your Boat.
You don't have to be jealous of the guy that works on your Boat.
You don't have to deal with priests or blood-tests to register your Boat.
You don't have to convince your Boat that you're a Boater and that you think that all Boats are equals.
If you say bad things to your Boat, you don't have to apologise before you can ride it again.
Your parents don't remain in touch with your old Boat after you dump it.
Boats always feel like going for a ride.
Boats don't insult you if you are a bad boater.
Boats don't care if you are late.
You don't have to take a shower before riding your Boat.
It's always ok to use tie downs on your Boats.
If your Boat doesn't look good, you can sell it.
You can't get diseases from a Boat you don't know very well.
February 12th, 2013
Crazy waterspouts off Porto Cervo February 9th from Anarchist Kristi.
February 12th, 2013
A little Big Pimpin' for you…
I am a French sailor and I usually sail and compete as genoa and spi trimmer on different kinds of boats, such as Sinergia 40, Farr 40, GP42, and other cruiser racers. I also own a Minitransat 6.50 with which I participate in coastal and short offshore regattas.
After many deliveries and participation in offshore regattas, I realized that more and more iPhones and iPads are appearing on boats and with this realization came the idea that it would be interesting to have an app which could complete the MOB systems usually found onboard through GPS devices. This app is not meant to replace the very effective systems which we normally find onboard, but may be used as a complementary feature.
The basic idea is to obtain as much information as possible so as to return to an initial point memorized at the start-up of the app. Obviously we will have the latitude and longitude positions, the distance to the target, the amount of time elapsed, as well as a compass with an arrow and numbers indicating the course to be followed. Additionally we can also find a small green and round button which automatically composes a telephone number that has been previously stored (this function depends directly on the quality of the telephone reception network).
Please check my blog. It is an application called MOBA, which I have developed for iPhone and iPad, in collaboration with these guys. Available at the Apple Store. This app will also be very useful when practicing many other outdoor activities. I hope you'll like it and will find it useful. – Stéphane Azzoni.
February 12th, 2013
The underwater view of a very sad and very upside down Acconia 100% EcoPowered from our friend Jesús Renedo.
February 11th, 2013
Seems the local Frisco non-sailing press is having a field day with what is surely becoming a potential nightmare – the America's Cup. There's this article and this article, but so far this one is the winner, courtesy of SFBG:
Here's the deal of a lifetime: For $999, you can get a ticket to watch the America's Cup races. From bleachers built on public land. Where the non-wealthy public won't be allowed.
The America's Cup Event Authority, run by Larry Ellison, who is the third-richest person in the world, has sent out an email soliciting buyers for this special early deal: Buy now, and you will be guaranteed a "reserved section in a preferred area of the bleachers," as well as exclusive access to parties and events, and a chance to get your picture taken with the Cup. Read on.
February 11th, 2013
Dear Mr Clean.
Thank you for your letter and greetings from snowy Newport (that's me to the left not sailing while Clean was wreaking havoc) where my North Sails responsibilities are taking over every aspect of my life! My new job was actually great news for the guys at Marstrom Boats because without me there this past weekend they had the opportunity to take friends and potential M-32 Cat owners out on Biscayne Bay to test drive my new toy. Until Saturday afternoon it was all going really well. Heck, I even got down there for a couple days the weekend prior to blast around. But alas, the doomed crew reported that they were enjoying the day immensely until they were all temporarily blinded by a reflection when someone in your powerboat apparently took off their hat. Perhaps easily distracted, the unfortunate group of sailors claim that the blindness, which lead to an inadvertent gybe, caused the boat to flip over on top of them and its lovely rig went into the mud which snapped one of the diamond shrouds and the top section of the mast.
As you can imagine, I was more than a bit disappointed by this news but it wasn't until I read your letter in Sailing Anarchy that I really saw the bright side of this. First, the guys on the boat just swam away and besides a bit of embarrassment, nobody was hurt. As you would expect, Marstrom is completely stepping up and replacing the shrouds and the section of the mast that broke. And the rest of the yacht is unscathed and heading north soon by trailer. Therefore all is well and this simply needs to be chalked up to the price of doing business when trying to build a class and helping give the sport a jolt of energy!
So, lessons learned…In the future I should learn to do my work down south in the winter so I can play on the weekends like everyone else. That will help me protect my assets a bit better. And finally, it should be a lesson for all to cover your eyes or upgrade your Kaenons or Oakleys if Mr. Clean comes by sans sombrero. You never know when temporary blindness could lead to tragic unforeseen consequences.
Kind regards,
Kenny Read
February 11th, 2013
ETNZ's first sail with NZL 5, their new AC 72. Thanks to Chris Cameron/ETNZ.
February 11th, 2013
A bit of a poke from Anarchist Clash…
Shock news this week as Pope Paul resigns. Christ! Are things at Artemis really that bad? Unable to make the sign of the cross beam, our stateless wonder has finally called it a day.
Pseudo-Yanked from the strange reality of a jet-set lifestyle, our Hero has realised his boat don't fly at all. No more state visits from our vacuous pontificator in chief. Best blame the vacuum bags instead?
Poor pontif. And end to any thought of Tea With the Queen. Oh for sweet divine intervention. Ah ha voila! Curse the lack of T-Foils and sack T-Hutch instead. After all, he hasn't got a pot of Gold Medals in the Vatican Bank either.
You can see the sunny side up logic on that one. Roll on, ex-benedict…..
February 11th, 2013
A video pimp from our Classified sponsor Do it Yourself Yacht Broker. Jump in the discussion thread if you like!
February 11th, 2013
A little Local Knowledge for ya, and a reminder that this sport belongs to you, not some douchebags in  blazers and sperry topsiders…
As an alternative to "another" Florida regatta that has had declining participation each February, a group of Multihull Sailors got together with the Sarasota Sailing Squadron and held the first annual Cherry Pie Multihull Regatta this past weekend.
Mother nature blessed this new event and gave us perfect conditions that allowed our awesome IRO to get in 11 races over the three days. In addition to great sailing, the club management, volunteers and race organizers really made everyone feel at home at the Squadron.
The overall trophy for the 14 boat Trimaran fleet was won by YO!, with Panic Button taking first place in the Corinthian division. Full results are available at Reggatanetwork.com. Oh and a title shout out to maybe the worst hair farmer song ever!
Larry Geller
Sprint 750
Third Tri
February 11th, 2013