Archive for the 'Big Pimpin'' Category
Big Pimpin'
Stalwart SA supporters Juan Mauri and Rondar Raceboats have joined forces!  Rondar Boats USA are pleased to announce that Texas-based Mauri Pro Sailing is now an official outlet for the Viper 640, Rondar K6, and singlehanded K1 dinghy.  Get in touch with Juan and the boys today to get advice on everything for your Rondar Raceboat, or to find a new one!
June 30th, 2014 by admin
Big Pimpin'
Andraz and the boys at Seascape are pushing to fill their last few build slots for 2014, and they figured this shot might light some of you up a little, reminding us that the Seascape 27 isn't just a race boat!  The shot comes from Croatia on one of the world's coolest bays, and if you're looking to check out the new Seascape 27, the Chicago Yacht Club is the place to be; US boat # 1 sets off for the Chicago Mackinac Race next month, doublehanded with US offshore shorthanded Phil Sharp.
For more on the boat, see here.
June 27th, 2014 by admin
big pimpin'
Our pals at Gunboat continue to work on the super-sexy coastal racer/cruising G4, but with a twist:  Now, you can get them with J-foils.  Flight of fancy or flight for real?  We grabbed team member and design dude Rudo Enserink for a quick update.
SA: With the J-boards and T-rudders, this is looking like a full foiler.  Is that really possible on a boat with bunks and a kitchen?
RE: Yes and no. We're first going to build high-lift C-foils for safe but very fast foil-assisted sailing.  The mildly asymmetric C-boards can be raked from -1 to +7 degrees and will be set at the factory for safe cruising.   The lift of these foils maxes out at 80% of displacement, and advanced owners can play with the rake adjustment to optimize for purpose and conditions.  One of the great things about C-foils is that you can leave the windward daggerboard deployed in all tacks.
The hull and daggerboard casing structure is prepared for full foiling, as are daggerboard bearings and rudder bearings.
If there's enough interest from the market we'll develop an electronically stabilized full foiling package that will be available as aftermarket upgrade. The current concept for this is an L-foil and auto-leveling T-rudders.
SA: Who is building/designing the foils?
RE:  Foils are designed jointly by Doug Schickler from Schickler Tagliapietra, with Davide Tagliapietra, Pieter Jan Dwarshuis, Mischa Heemskerk and Rudo Enserink.  They will be built in by Holland Composites (also builder of DNA A-cats), in their autoclave, and you can see some progress at their Facebook page.
SA:   That's a pretty serious VPP chart.  Is that with the C-foils or with the new J/L foils?
RE: This VPP is with the C-foils.
For more info on the very hot Gunboat G4, check out the full details here or ask questions in the thread here.  Title shout to the best cartoon of the 80s.
May 14th, 2014 by admin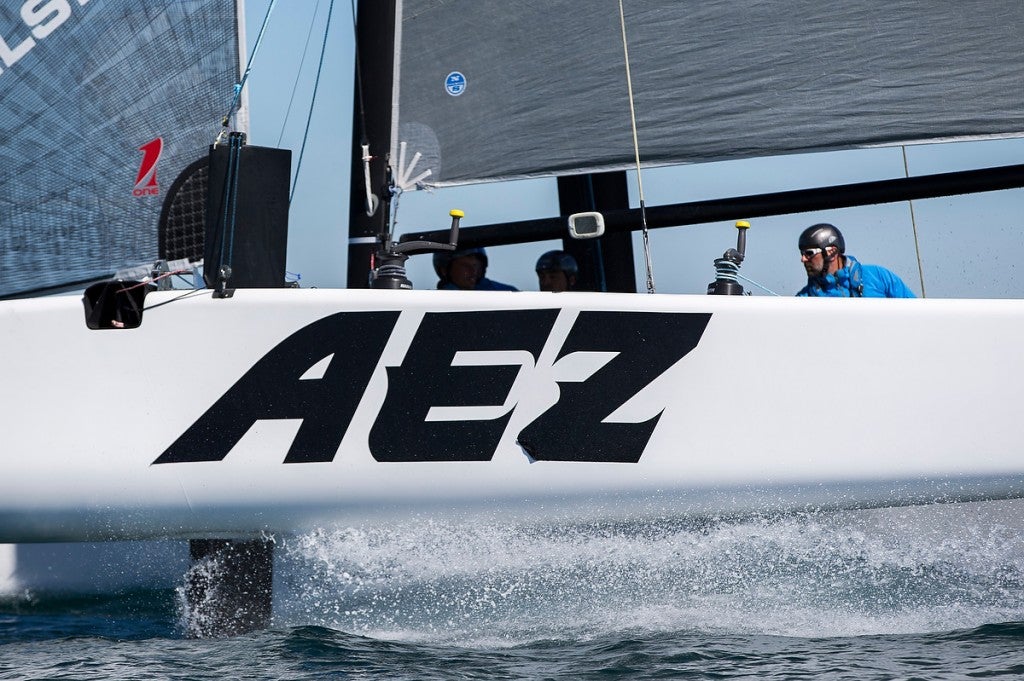 Clean Report
More than 18 months ago, just a month after ETNZ revealed their AC72 was a flying boat and lured by the potential for a 32-foot version of it, I spent 12 hours flying to Dubai just to check out the brand new GreatCup 32 catamaran from F-18 sailor Laurent Lenne and designer Martin Fischer.  I took a cab straight to the Dubai Marine Center, and an hour later, we were sailing the sleek carbon cat in 8 knots of Arabian breeze.  And 20 minutes after that, the boat was broken.
Needless to say, I was underwhelmed.  The Southern Spars-built spine of the boat wasn't right, and I wasted a couple of days in a plane to find it out.  To compound matters, it was pretty clear that the intricate, Alinghi 90-style S-shaped foils were cool-looking, but lacked true foiling ability.  They reduced displacement, but only in very specific conditions would they lift the boat out of the water and create anything that could be called stable flight.
But Fischer, Lenne, and Aussie project manager/COO (and longtime SA'er) Andrew "Macca" McPherson had just seen the future in the form of a flying red-and-black carpet in Auckland, and they were already planning on meeting it.  They spent much of 2013 studying, learning, and redesigning the foil system for the GC32, and while they didn't put a ton of effort into selling a boat they knew was in the midst of a big change, they quietly sailed a 4-boat, 4-event Great Cup series in Europe.  And they kept working.
Fast forward to April, when I got a call from Lenne.  "They're ready," he told me.  "And you should get your butt over here."  Hours after Charleston Race Week ended, I jumped on a plane from Charleston to JFK to Paris to Marseilles, and made my way to one of Europe's biggest marinas in La Grand Motte, France.
An intense design process had led Fischer to a ETNZ72/Flying Phantom/Groupama C-Class style foil solution, with acute-angled, rake-adjustable J-boards with a massive 1.2m span, and adjustable t-foil rudders like a Moth.  Built by Heol, supplier of foils for just about every major French racing multihull for the past decade, the foils are serious pieces of machinery – a single dagger supports almost the entire weight of the nearly one-ton cat and its crew, is built under a massive 8 Bar of pressure, and weighs some 50 KG.  The good news is that you don't often take them out; they insert from the bottom and retract up to the hull, allowing you to beach or ramp launch the boat with no hassle.
But even if they were a big hassle, it would be worth it, because after three days of sailing the GC-32, I can honestly say that this boat has the potential to change multihull racing forever – all of a sudden, non-foilers just seem kind of silly.  They're slower, less forgiving, harder to sail, more loaded up, and just nowhere near as fun.  I'm leaving for the airport in just a few minutes and there is a long, comprehensive video being put together next week with all the details, so I'm going to keep this short, but after crewing, driving, filming, and spectating for the past 3 days in winds from 5 knots to 30 knots, it's very clear that this boat is something entirely new.
What do I mean by that?  How about some numbers:  22 knots upwind at 44-50 degrees TWA, with more than 5 degrees of windward heel – almost like a moth.  32.7 knots downwind on the boat's fourth day in the water, with too much sail area and old sails designed for a skimmer.  And our gybing angles, confirmed by Velocitek GPS replay?  40 degrees.  In other words, this boat sails downwind at roughly the exact same angles as an AC-72, and 80% of the speed, with a quarter the crew.  And at 235K Euro, it's around 1% of the cost.
Far more importantly, a no-talent hack like me can EASILY drive the thing.  This is no joke – the GC32′s huge vertical lifting surfaces are nearly as big as those on the Oracle 72, and that means when you do something stupid – which I did plenty of – you don't crash down like a Moth or AC72, and if you press too hard and get too much heel on, the boat gently slips sideways rather than pitching you over into the piss.  I hit 24.4 knots yesterday in 14 knots of wind, heating up to pass a fleet of Fireballs rounding the top mark off Montpellier beach…the lead boat just stopped and stared and let his competition sail by him.  An excellent driver like Macca or Adam Piggot only got to 26 – if I can do 90% of their speed, truly anyone can.  In other words, you don't need to have Bora Gulari's cat-like reflexes, Jimmy Spithill's iron balls, or Larry Ellison's mountains of money.  Just a couple hundred grand and a desire to fly.  The Daily Sail's James Boyd hit 20.2 on Monday, so at the moment I am the fastest 32-foot foiling cat driving media person in the world –  a title I will wear with pride.  Back on you, Boydie.
More to come, and big thanks to Sander Van Der Borch for the gorgeous shots.  There's more info and some data in the thread.
April 18th, 2014 by admin
It's got more entries than any keelboat regatta in the Western Hemisphere, more women and juniors than any open regatta we've ever been to, and one of the best venues in the entire sport.  And now it's got one of the best highlight videos, too.  Petey Crawford from Penalty Box Productions went two days without sleep to get dozens of hours of footage from 2014 Sperry Top-Sider Charleston Race Week turned into 10 minutes of reality show/highlight reel/tribute film, and the result is just goddamned excellent.  If you want to know the recipe for success in modern American regattas, watch and learn.  And go here to find all the interviews, photos, and race coverage from the SA crew over this past weekend.
April 16th, 2014 by admin
Heavily touted as a replacement for one of our favorite all-time racing boats (the Mumm/Farr 30), the new F280 is the best looking thing to come out of the Farr Yacht Design office in years, and hits that under-30 size that's been so underrepresented in Grand Prix over the past few years.  The powered-up sportsyacht – named Chessie Racing in a nod to the Annapolis owners' past programs and flown to the states from Dubai in a cargo jet to make the CRW starting line, sailed off to a 1,1,2 in the PHRF B class on the opening day of Charleston Race Week with a handicap in the 40s; there's some video of Race Day 1 here and we'll have more on the boat this afternoon via the CRW Facebook Page.  Meredith Block photo, with big galleries of all the CRW boats here.
April 12th, 2014 by admin
Torqeedo are all over Charleston, with three electric-powered media boats, dozens of sportboats running their outboards, a display booth, charging stations, giveaways, and above all else; girls.  Good for the environment and good for the soul!  Thanks to Torqeedo for the shot.
April 12th, 2014 by admin
Big Pimpin'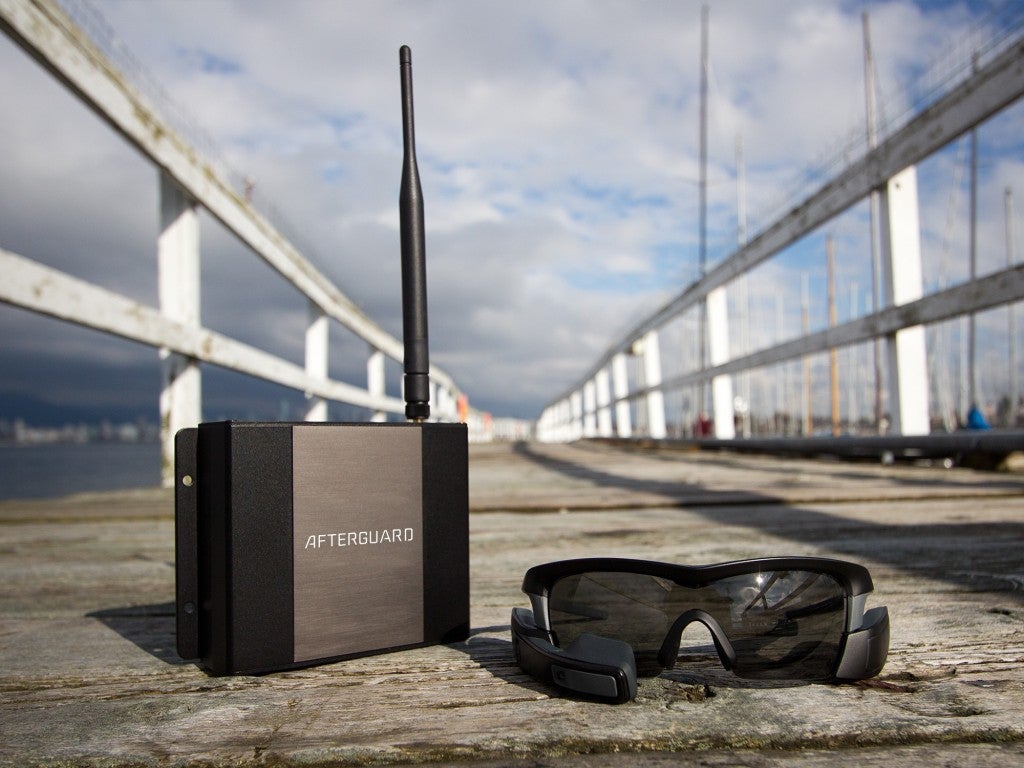 It's a good time to welcome Sailing Anarchy's newest advertiser, Afterguard! These guys have created the first really exciting new navigation/tactical technology in a long, long time, and they're the only company offering a heads-up display for sailing.  This is no fly-by-night piece of vaporware, either; we spent a long time talking to Alex and his Afterguard team as well as the folks at Recon who build much of the hardware, and they're definitely for real.
We recommend having a peak at the Afterguard website to learn more, have a look at this HD sizzle reel from their Miami testing with the TP52 fleet, or click on one of the banners you now see around SA.  We are pretty sure they'll sell out their first production run pretty quickly, so order yours today if you want to be at the front of the line.  Here's a quick Q&A with Afterguard boss Alex Moret.
SA: The Afterguard HUD has been called 'trickle-down' technology from the America's Cup, but your tech is a long way ahead of the semi-secret HUD sunglasses and backpack that Jimmy Spithill wore in the Valencia AC.  Can you explain what Jimmy used, and how Afterguard differs?
AM: The screen Jimmy used in the America's Cup was groundbreaking. It was very cool and certainly an exciting step forward for technology in our sport, however, it was really just a one-off. It wasn't a system that was ready for the consumer – the glasses were hard-wired to a computer that had to be carried in a backpack. It was bulky and quite technical to run. It was definitely inspiring and got the world excited, but it had a long way to go. Our technology is built right into the glasses – no wires, no backpacks, no technical experience needed to operate and very easy to integrate with your current boat instrumentation. With the advancements that have been made in miniaturization and wifi technology, we are finally able to bring to market a Heads Up Display that is small, light and powerful, so that you don't have to sacrifice mobility or maneuver with something that is distracting and cumbersome.
SA: What intrigues us most is Afterguard's "Virtual Tactician" feature, which can actually tell you whether you will safely cross a starboard tacker, or whether you will lay a mark, all without screwing around with a tablet around your neck or a laptop down below.  This is potentially game-changing stuff, so can you explain how the sensors, processors, and software can accomplish this very complex task?  How accurate, and therefore, reliable, is it?
AM: What the patent pending Virtual Tactician does is really simple and intuitive. How it does it is quite a bit more complicated. The Afterguard Heads Up Display integrates a 9-axis accelerometer and magnetometer that very precisely tracks the movement of your head and combines it with the information pulled from your boat instrumentation. With all of this information, the system knows what direction you are looking and what your boat is doing relative to the conditions and targets. The magic of the Virtual Tactician is that it allows you to simply turn your head, line up a mark or another boat and make a clearing decision.
SA: What led you down this path of developing something so highly specialized?
AM: Heads Up Display is something that both Ross and I have been dreaming about for years. When we first saw it in the America's Cup, we knew that it would be killer to have something like that on our own boats. In the last few years, Heads Up Display technology has really started to mature, and the cost of miniaturized sensors and components has become affordable enough that this no longer had to be a dream. Although the market is niche, we believe the product is the kind of game-changer that grabs the imagination of anyone who's raced a sailboat.
SA: Does it work for those of us who wear prescription eyeglasses?  What about the lens tint – is it variable, or are their options for foggy/clear/dark sails?
AM: The screen itself is set to optical infinity, which means that most individuals, regardless of whether they are short or long sighted, are able to read the display. The lens of the sunglasses themselves are not prescription at this time, but it may be something we introduce in the future. At the moment, we just have one set of polarized lens that we have found work best in most environments. In the future, we plan on having a selection of lenses that you can swap out.
SA: Are they battery hogs?  How will the Afterguard work for longer races, where you might want each rotating driver to slip into them as they start their stint?
AM: The system has been designed to be very power efficient, so users will get about 4-6 hours out of a battery. The batteries themselves are interchangeable, so with a couple of backup batteries, the Afterguard would be good to go even during a long offshore race.
SA: Is Afterguard's "Performance Dashboard"  a repeater of on-board instruments, or does it do its own calculations?  Can the display incorporate GPS info and navigation aids like XTE and CMG? How much overall customization is available for the display?
AM: The Afterguard system pulls the data directly from your onboard instruments, so any data that you see in the HUD is consistent with what you see on your existing instruments. However, for situations where your onboard systems aren't providing a particular piece of the data, the HUD will use its own sensors to augment each of the screens. Regarding GPS, XTE and CMG, the system receives all of the raw data from the onboard instruments, but currently doesn't incorporate all the data it receives into the screens.
SA: How much wet can the glasses take?  Any plans to do a leaner, and fully waterproof dinghy/moth/olympics version?
AM: The Heads Up Display has been designed to a standard called IP65 which means it is splash resistant, but can not withstand full immersion under water. Basically, it can get pretty wet, but you won't want to take it for a swim. We're definitely toying around with the idea of a fully waterproof HUD, maybe even something that could also work for kite boarders and wind surfers.
SA: Is there a way to record video with the HUD info for later coaching/debriefing?  If not, is this in the plan for future upgrades?
AM: Yes, the hardware is already there with a built-in HD camera, so there is definitely a plan for future upgrades.
SA: When can we expect the first units to ship, and how do folks get on the order list?
AM: We're only doing a limited production for the first run, so there is a small quantity available for preorder on Afterguard.co for early adopters who want to be the first to get their hands on an Afterguard system. We've already placed orders for all the necessary components and have booked manufacturing time, so we should be on track to ship the systems in the fall.
SA: What's the discount for SA's early adopter techno-boffins?  Got any high-profile customers you can share with us on the 'first run' list?
AM: For those lucky enough to get one of the preorder systems, we're giving a pretty hefty discount of $600 off of the retail price. The solo Afterguard system that includes the Central Communications Unit and one Heads Up Display is going for $1899, instead of the $2499 retail pricetag. We want to reward the sailors who are willing to get behind us and the product, and who are as excited as we are to start racing with the system.
SA: Thanks Alex – we're stoked to see the first units and sign us up for a test drive.
AM: You got it, and thanks so much for your interest!
April 3rd, 2014 by admin
As long as Gunboat doesn't get bored of spending money on creative video teams like Rachel and Richard, we promise we won't get bored of watching them.  This one's a fun look at Jason Carroll's Gunboat 62 Elvis at the Heineken.  Title shout to Mojo Nixon; listen to the ultimate Elvis tribute in their 80′s punk classic here.
March 17th, 2014 by admin
We welcome our friends from the Barcelona World Race back and thank them for their support and advertising with Sailing Anarchy!  The BWR is a completely unique race, providing most of the adventure and challenge of the Vendee Globe, but adding the spice and flavor of a start in the fabulous city of Barcelona and the excitement and adrenaline available from the higher-performance of a double handed crew.
The additional body aboard also means the interpersonal relationship is a big part of the race, and with one more person to write/shoot/edit there's more content as well.  In just three editions it's become one of the world's greatest ocean races, and you can talk about the race here, and hit their Facebook Page here for more info.  Here's their big announcement:
The third edition of the Barcelona World Race starts New Year's Eve, December 31, 2014 and will reveal ten duos or more on the start line, ready to take on the biggest and most arduous challenge in double-handed ocean racing!
Four high caliber teams have already announced their participation, including six co-skippers who return as BWR race veterans.  Entered teams are the Mare Racing Team with German and French skippers Jorg Riechers and Sebastien Audigane, GAES Centros Auditivos with Spaniards Anna Corbella and Gerard Marin, Hugo Boss with Alex Thomson from Great Britain and Pepe Ribes from Spain and the recently announced Neutrogena Sailing Team with Spaniard Guillermo Altadill and Chilean Jose Munoz, to be joined by another six in the upcoming weeks and months.
The next edition will take a new course, taking the fleet south of New Zealand this time. Stops will be taxed much more heavily. The Barcelona World Race, a thrilling adventure to take competitive human sporting partnerships to the limit of endurance, has long since set its position as a 'must do' on the IMOCA Ocean Masters World Championship.
An innovative and exciting media programme using up-to-the-minute platforms will bring the Barcelona World Race to individual race fans and into households around the world, developing and reporting the sporting and human stories hour by hour and day by day. The commercial returns for sponsors and partners on previous editions of the race represent excellent value. And alongside the sporting challenge, the Barcelona World Race will open avenues for important scientific and marine research.
March 5th, 2014 by admin
As if there was any doubt about how bad ass The Reverend Petey Crawford's videos are, take a look at this highlight reel from his 2013-14 jobs. And just as an added bonus, we've got a little contest for you. For the first 3 people who can tell us how many current World Champions appear in the video, Penalty Box Productions will provide their sweet new flat brim PBP hats and stylin' shirts (thanks to Line Honors) for ya. There will even be a special, as-yet unnamed prize to the first person who can get every name of every world champion right!
So get going and tell us - Whaddaya got?
February 24th, 2014 by admin
Big Pimpin'
Our friends at West Marine have joined up with Nobeltec to give away a brand new iPad loaded with charts to celebrate their excellent nav data going mobile with the new TimeZero App for IOS.  We'll have  full review of the app for you as soon as the ice melts, but if you want a chance to win a jewel of a device with some useful tools, get over to Facebook and fill out a quick form right here.
February 7th, 2014 by admin
Big Pimpin'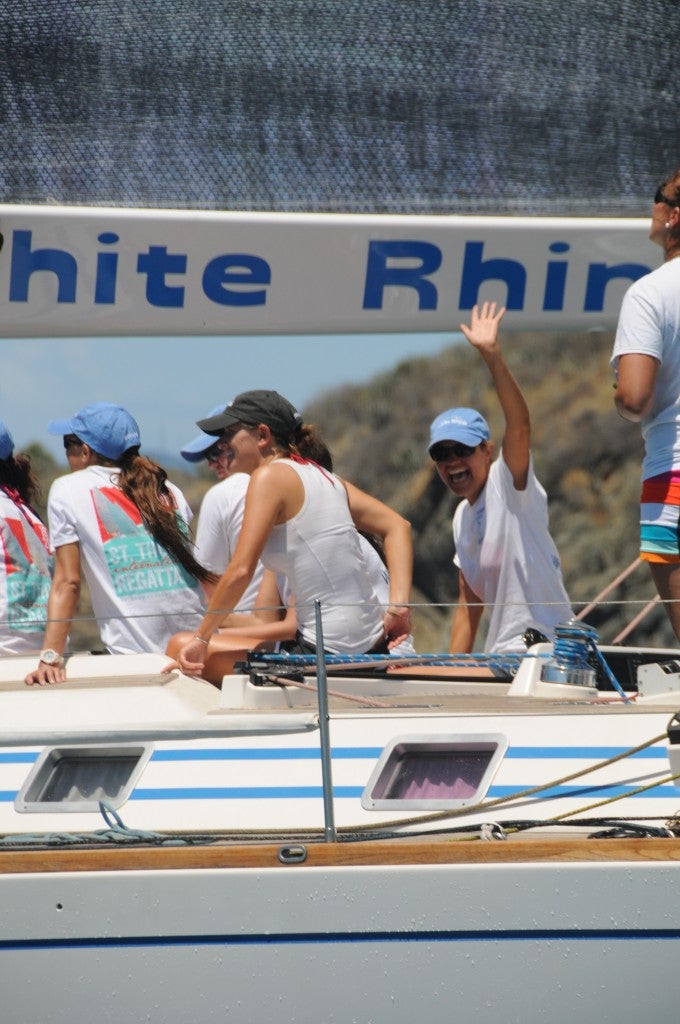 If, like many of us, you've just about HAD IT with this insane winter weather, now's about the perfect time to register for the St. Thomas International Regatta and save $150 off the entry fee if you sign up by this Friday the 31st.  You'll be in good company regardless of what you race; the big boat IRC class is looking ultra-competitive with Highland Fling XII, Tonerre, Scarlet Runner fresh across from Cape Town via Rio and loads more, while the STIR always gets awesome turnout from the diverse cruiser/racer crowd racing CSA.  Add in the triple threat of Melges 32s from Puerto Rico, a great beach cat class, and the big IC-24 fleet and you've got a recipe for success in the 41st year of the "easy button" for Caribbean racing. "St. Thomas has the best combination of high quality race administration, great competition, and affordability, and the STYC is an awesome atmosphere whether you're with the family or the party animals," says Melges 32 owner/driver Jaime Torres. For more information, visit www.stthomasinternationalregatta.com. Or, follow for the latest information on Facebook www.facebook.com/rolexregatta, Instagram #IRRSTYC and Twitter @IRRSTYC.  Dean Barnes photo.
January 29th, 2014 by admin
January 7th, 2014 by admin
Rob Doolittle and Bob Hodges took the second ever VX-One North American Championship last weekend in a 21-boat fleet out of Rush Creek YC in Texas.  Full results here, full story here, and a couple of nice photo galleries (and the above shot) from Rush Creek YV here.
The super light, super quick VX-One continues to please, growing especially well on the Gulf Coast…check 'em out here.
November 11th, 2013 by admin
Big Pimpin'
Doyle Sails continues to crush it down in the deep South, with Stratis-powered boats taking overall line honors, overall handicap, and taking the line in 4 of 6 classes in last month's NZ Coastal Classic.  We've got two reports for you; one from Simon Kidd aboard overall handicap winner Omega, and one from Moose on the Team Australia trimaran.  Awards irony:  The brand new North Sails trophy for top monohull on handicap went to Omega and her brand new set of upwind Doyle Stratis ICE sails.  Full list of Doyle-powered results and photos are here, and Adam Sandler fans everywhere should get the title reference.
Omega Men
It was always going to be a great race for Omega upwind, with pressure and the breeze backing later in the day. We started well ahead of the starting gun with preparation on the boat, which is half the battle, dropping the rudder to service the bearing and undertaking several other small maintenance jobs. For the sail inventory we added a new Stratis ICE Code 2 headsail, which we carried from North Head up the coast, and also a new Stratis carbon technora mainsail.
With a large fleet off the line there was some urgency to set the Doyle A3 laminated gennaker and we made a nice jump on the other 40′s down to North Head. We had a good run up to Sail Rock with a long port tack and couple of short starboard tacks. Just after Sail Rock a squall came through and we ended up bareheaded for a couple of minutes before settling back into a slightly cracked jib top and then into the Code 0 which carried us through to the Cape Brett. The 40 fleet was locked together with Mojo, Power Play, Pretty Boy Floyd and Lawless all metres apart as we cleared the Brett.
Omega was in her element with an 150% overlapping headsail we laid pretty much through to the Black Rocks, having taken advantage of the incoming tide and then a long starboard tack through to Tapeka Point. A short tack and we laid up to the finish just as the breeze started to die, with the tide changing as we finished. Skipper and owner Scott McLaren was delighted with the result and very complementary of both the crew and also the Doyle sails that powered Omega to her win.
Tri Harder
It's a long time since someone brought a boat all the way from Australia for the Coastal Classic and so when owner Sean Langman and his team made noises about bringing their very cool ORMA Trimaran Team Australia over for the 2013 event it was pretty exciting news. Team Australia is, like local boat Team Vodafone, an ex-French ORMA Class box rule  boat, maximum length, maximum beam, maximum mast length and that's about it… they were developed for a combination of round the buoy Grand Prix events and single and double handed Trans-Atlantic racing. Until the creation of the AC 72 they were the most developed large multihull in the world.
Team Australia started their 2013/4 campaign by setting a new bench mark for the Trans-Tasman sailing record, crossing from Sydney to Auckland in 2 days 19 hours 2 mins 45 seconds. Their new record, now ratified by the World Speed Sailing Association, has set the bar very high for others to try and have a crack at. Once in Auckland, with the crew recovered from their Tasman ordeal, we set about getting her ready for the Coastal Classic. This entailed the guys removing all the offshore equipment and most excitingly the fitting of three new Doyle sails to compliment the new mainsail we fitted late last year prior to their successful Sydney-Hobart record run. Ahead of the Coastal Classic, Team Australia got a new Radial Stratis gennaker, and replaced both the primary headsails, the "solent" and "trinquette." These new sails were utilising our very latest technology, with both the jibs being Stratis carbon ICE. All the sails went straight on and fitted like gloves and were "sweet as," to use the words of one of the crew.
Race day came around and I think I was the most excited person in Auckland, with the prospect of an upwind beat to Russell, knowing we had two brand new jibs in our arsenal. The start went well, with Sean's years of skiff sailing paying good dividends. We won the race to North Head but soon after Team Vodafone got through us by just carrying bigger sails. Team Australia is less powerful then Vodafone and so we decided to go with the smaller Trinquette jib. During the reach to Kawau Island we struggled to hang on to them as their added power let them slip away. Around Kawau we cut the corner on them and were right back into it… we then exchanged a couple of tacks and with the wind forecast to go left, we protected that side and were starting to pay good dividends. Just as we were about to tack and clear ahead the $10 lashing that held  the Solent Jib up snapped and we had the jib fall on the deck. There is no halyard for this sail, it gets hoisted on a Gennaker halyard and then lashed, so we had to change down to the Trinquette and set about to catch them up. Whangarei Heads was always going to be an interesting landmark to get past in a Westerly breeze. We saw Vodafone go wide and so hit the beach. This paid off big time and while they were struggling offshore in light winds and headed breeze, we were smoking down the beach. From the time we got past them through to when we finally rounded Cape Brett I believe we were just quicker, as we reasonably quickly extended our lead out to nearly 40 minutes from there it was a blasting reach into the finish..
All in all it was a very satisfying win for Team Australia, we certainly had had our share of obstacles along the way! A big thanks to Sean and the Team Australia team for putting their faith in Doyle Stratis sails to power their amazing boat, and thanks also to our team for delivering. Let's hope Sean can bring the boat back next year to have  a crack at defending our title!
November 4th, 2013 by admin
Big Pimpin'
Our performance-loving friends over at Velocitek have spent the last couple of years designing and building the perfect tactical compass, and today, they introduce it to the world!
The new Shift uses a nine-axis solid-state sensor to provide buttery smooth compass headings regardless of conditions, while the port/starboard reference angle buttons and indicators are huge, intuitive, and extremely easy to use.  Instead of doing mental gymnastics or waiting for your existing compass to stop bouncing around so you can see if you're lifted or headed, the Shift tells you what you need to know quickly, accurately, and reliably, taking the guesswork out of your tactics on the course.
Hit the thread and ask the inventors yourself if you have any questions.
October 29th, 2013 by admin
He may not be having the regatta he wanted or expected here in Hawaii, but Red Bull Youth AC winner and 49er World Champ Pete Burling still had enough speed to win yesterday's Velocitek "Dash For Cash" for a cool grand.  25 knots of boatspeed in 11 knots of breeze on an 11-foot long singlehander?  That's fast.
Hear how he did it here, and stay tuned next week for the big announcement you've all been waiting for from one of Sailing Anarchy's most loyal longtime supporters, Velocitek.  Photo thanks to Gretta Kruesi/www.grettakruesi.com.
October 18th, 2013 by admin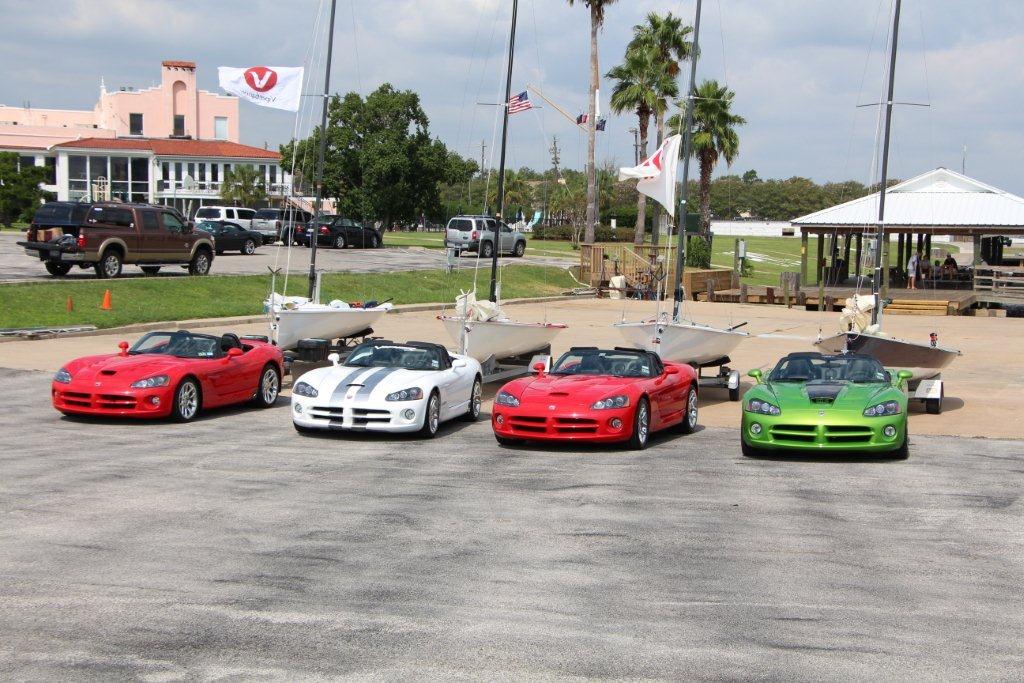 This week it's the Viper 640 North Americans at Houston Yacht Club. Texans believe that two Vipers are better than one, Babe.
Two Melges 32 owners tied for first after the second day. Two leaders are better than one, Babe.
Jason Carroll driving his Viper 640 Argo with crew Chad Corning and Danny Pletsch is tied with Malcolm Geftner's Celeritas with Willem Van Waay and Victor Diaz Deleon. Both teams are fresh from the Melges 32 worlds where Jason was crowned Champ; the Viper program is a tiny fraction of the cost of a Melges 32 program but it continues to attract some of the best sportboat sailors on the planet as both a great cross trainer for big boat owners and double the pleasure for half the cost for everyday one design sailors. In third,  Jay Gollison with Ched Proctor and Steve Flam are only two points behind the leaders, and they are closely chased by Luke Lawrence in Arethusa, Kevin Taugher in Hot Mess and Brad Boston in Jackpot. It's a field laden with talent and Anarchists.
Oh and for those Vipers that couldn't make it to Houston this year, there are another 30+ Vipers registered at the HPDO this weekend! Two Regattas are Better than One, Babe.
Title Credit from a song so old that we can't even find it online, and huge kudos to the Houston Viper fleet for creating this great cover shot at the HYC parking lot, and to KO Sailing for an incredible Texas Open Pit BBQ!
October 11th, 2013 by admin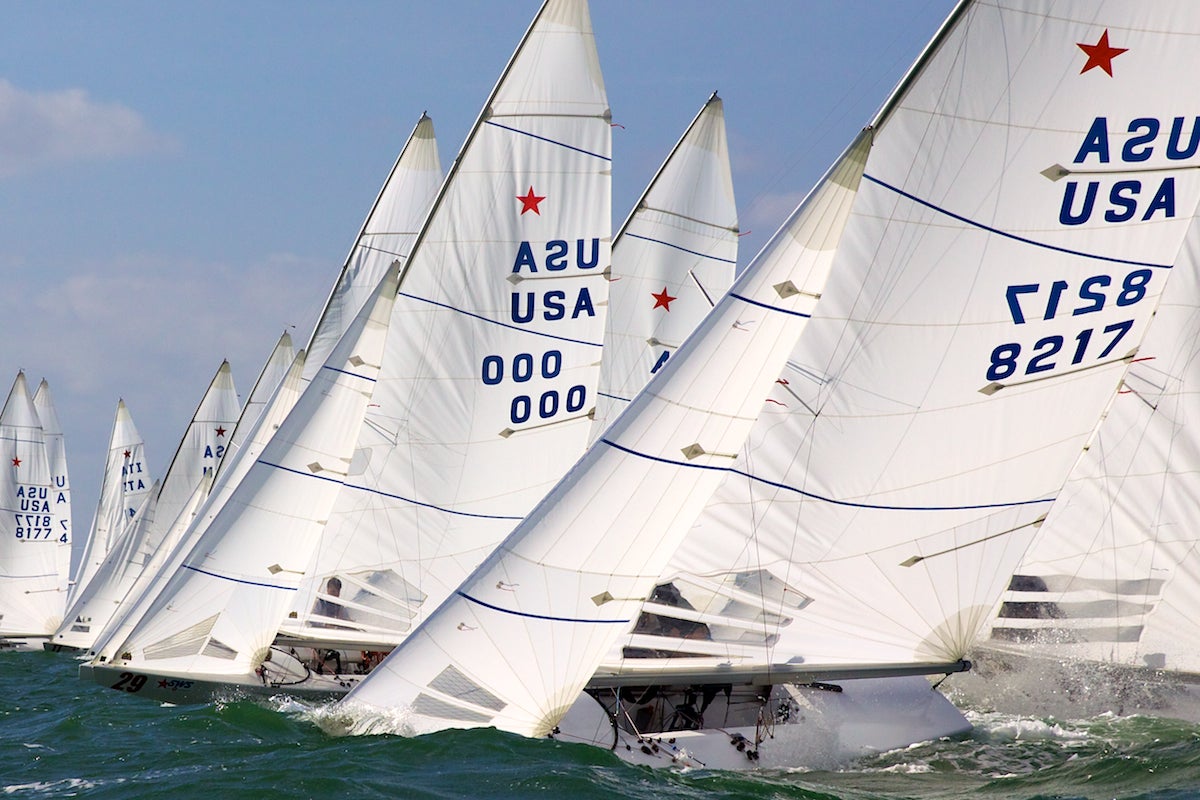 Nearly 50 teams participated in the inaugural Star Winter Series (SWS) Presented by EFG International  last year, won by Augie Diaz and Arnis Baltins.  The Miami-based series was such a success that both its Event Director and Presenting Sponsor are back, with more excitement and more action planned for the 2013-14 season.  Let's take it over to that Director, our old Anarchist friend Stu Hebb.
"After wallowing around in ultra-light air at the San Diego Worlds, every Star sailor I know is pumped up for the amazing conditions we get in Biscayne Bay, week in and week out," said Hebb. "Over the five events of last years SWS – 12 days of racing – we lost just half of one morning to light air, with the rest being perfection; 8 knots to 18 knots, 75-85 degrees; any questions?  Anyone with a Star, or thinking about getting a Star, we've made the decision really easy for you:  Get your boat down here before the first event in November and you'll have the time of your life."
Hebb says interest in the 2013-14 Series has surprised even him, with multiple teams from California and New England making their way to Coconut Grove next month to join the already-established fleet, as well as committed entries from Germany, Brazil, and several other nations.  As everyone is rediscovering, Miami has become the new "place to be" for winter sailing in this hemisphere.  Here's the schedule:  Get registered!  Meredith Block photo.
October 8th, 2013 by admin