Archive for the 'Big Pimpin'' Category
Big Pimpin'
Designed and built in the good old US of A by a couple of adrenalin-loving racers, the Vakaros Atlas replaces many of the plastic boxes you've got on your racing boat with more accuracy AND the looks of a supermodel.  Here's a bit more about the coolest new electronic toy to hit the race course in some time.
August 23rd, 2018 by admin
Our Volvo Ocean Race coverage is brought to you by Musto, Official Apparel Provider for the 2017/18 VOR.
Matt and Clean are back with Episode 3 of "The Boatfeed!", featuring the dynamic duo's analysis of the exciting Leg 3 of the VOR via a close look at the best raw video coming off the boats.
This ep includes a great interview with longtime SA favorite Jen Edney, straight off the winning Leg 3 boat.  The wward-winning adventure photographer talks about getting smashed in the face and almost fracturing her skull, the brutality of the Southern Ocean, and why, even with scars and bandages all over, she can't wait to get back out there.
In yet another new feature, we 'Dial-A-Fan' and speak with lifetime VOR/Whitbread Superfan and Sailing Anarchist John Callender to find out why, how, and for who he spends hours and hours every week categorizing and tagging VOR videos for the JBC systems database of Raw Video. Find his awesomely useful database here.
Matt and Clean continue to post and analyze photos and videos from every leg of the Volvo Ocean Race – stay in touch with them and the content:
On Facebook: @TheBoatfeed
On Twitter: @BoatfeedTV
On Instagram: @BoatFeed
January 7th, 2018 by admin
It's super rare to get a look inside a designer's head, which is why we absolutely loved this page of sketches by the designers of the all-new Gunboat 68, part of Gunboat's new series of articles on design and construction to celebrate GB68 #1 coming out of the molds. We've excerpted the story below, but head over to the GB newsletter for the full read or to sign up for the next one. 
The prior Gunboats had either low or high walkthroughs from the transom. Both have their benefits, but also drawbacks. On the Gunboat 68, a mid-height walkthrough transom creates the best of both worlds, with maximum space and light in the aft cabin and also the security in having a physical barrier from following seas while offshore. The traveler is mounted all the way back on the aft beam. This, in conjunction with the mast further aft, meant a balanced, modern sail profile (with the added bonus of a customizable entertainment area in the same aft structure!).
The cabinhouse design offers maximum real estate for solar panels while remaining visually aesthetic with sleek, wraparound windows. Sugar scoop cutouts in the transom make for easy boarding and tying up a dinghy alongside the inner hull. Another unique feature of the Gunboat 68 is 'The Breakthrough.' Though an aesthetic concept by Quément and Chedal Anglay at the outset, we quickly identified many uses such as a lead for dock lines, a short power cords, or a dock hose, as well as a stepping point for boarding. This is a great example (albeit rare) where function follows form!
Long topside windows are visually striking and ensure fabulous natural lighting in the hull cabins. The mast located further aft than prior models, combined with an increased beam offers a higher safety margin and increased righting moment. The modern wave-piercing bow profile gives a sense of modernity and increased performance. These design decisions are made with aesthetics, performance and utmost safety in mind for a blue water performance cruiser.
Christophe Chedal Anglay compares our project to a race around the world (at a time when we're all inspired by the recent solo-round-the-world record by François Gabart aboard MACIF – a VPLP designed 30m trimaran!). "The Gunboat 68 captures the lightweight structure, expectation of performance, and luxury that is race-inspired but truly a platform for people who would enjoy going around the planet. Detailed design and planning have given us a great jump off the start line!"
Patrick le Quément further unpacks what we're looking at: "In design, there is this rule that one searches for balance. With the Gunboat 68 we sought the perfect imbalance – the notion of movement and speed. The proportions make the boat look right, like it is positioned moving forward in the sea and totally adequate for its purpose. There are no straight lines – everything is designed with taut curves as in nature. There are no mechanical radii, instead we designed accelerated lead-ins that look right from any angle. There are curves, an overall strength and authentic design that we did not want to look aggressive – we just made it awesome."
December 30th, 2017 by admin
Cruising is at its best when it's about uncovering mysteries and discovering new spots, and when world-famous snowboarder Travis Rice and big-wave surfer Ian Walsh are the ones doing the searching, we're all in for a treat.  It doesn't hurt to have former Volvo Ocean Race filmmaker Amory Ross aboard either, and a Gunboat 48 (awesomely named Falcor) ain't a bad ride to do it in.
The trailer above is for what we expect to be a series about Travis and Ian's search filmed during their 2500 Tahiti to Hawaii trip.  First real short film drops next Thursday, and we'll have it right here.  Thanks to Gunboat for letting us know about it, and to ROAM and whatever the hell Gnarbox is for making it happen.
December 2nd, 2017 by admin
Big Pimpin
The SAP 5O5 Worlds has everything you'd want from a big event: Container accommodations, spectator boats, live race coverage on the SAP youtube channel,  and the event website is a great source of information.  So far, all that's missing is the wind. Like Outkast so wisely said, "You can plan a pretty picnic, but you can't predict the weather."  The next few days are looking better with breeze coming in for the final days.
Seldén Mast has been on site all week in support. Their "Alto" 505 mast has won about everything there is to win in the 5-Oh class and they're raffling a brand new one this week. This Alto is from their new "XPS" aluminum alloy, which is harder, stronger. better against corrosion, and can take more bend without a permanent set – ideal in a dinghy mast. You can jump in the raffle at the link below.
From the SAP 2017 International 5O5 World Championship event:
Dear Competitors,
Our Partners at Selden are going to run a raffle for their brand new Alto Mast Section.  Each ticket is $1.00, 6 tickets for $5.00, or 12 for $10 to be entered and randomly drawn for this great prize.  We will announce the winner at the closing ceremony on Friday.  Selden has also agreed to generously donate all proceeds to the Olivia Constants Foundation (link).  The Olivia Constants Foundation was founded in honor of Olivia Constants, a talented young 14 year old whose life was taken away on June 23, 2011 in a tragic sailing accident. Olivia lived her life with such joy and has impacted so many people that we have been encouraged to continue her legacy through this foundation.  The Foundation is run by Steve Constants a longtime member and leader at SSA.
You can buy as many raffle tickets as you like to maximize your chances of winning this great prize!
To buy your tickets please use this Paypal link.
And if you don't know about the 505, now ya know, Sailor.
September 28th, 2017 by admin
Many in the sailing community know Billy Black from his work as a photographer in the marine industry. You may have seen his boat at regattas, seen his pictures in magazines, or if you are really lucky, had the chance to spend time with a man who turns every shared moment into some of the best moments you can remember.
What folks might not be aware of is that Billy Black had a fight with ocular lymphoma in 2013 that spread to his brain this past December. By May he had successfully achieved remission and since this type of cancer has a high relapse rate, the recommended course of action is to get a stem cell transplant following remission. He completed that treatment but the doctors say it will be a year before he recovers his previous energy and endurance. The prognosis looks good and over the past month or so he has been getting back on the water and resuming his work, which is fantastic news.
His insurance policy covered most of what was a very expensive treatment. The reality, however, is that he has been out of commission for over 6 months and as a result he had to cancel scheduled work, could not take new bookings, and had no revenue coming in. He and Joyce also incurred significant out-of-pocket expenses related to his treatment that were not covered by insurance and they had to dig into the savings they had put aside, spending a little over $100,000.
Those funds had been earmarked to purchase a replacement for the Silver Locomotive. You may have seen Billy towing his photo boat with this van, kitted out to serve as his home while he was on the road up and down the east coast traveling to shoot all of us on the water. The current vehicle has 350,000 miles on the odometer and is on borrowed time.
To know Billy is to love him. He is the nicest guy in the marine community, and someone who certainly makes me want to be a better person. He is generous with his time, his knowledge, his smile and his art. I know there are people who would like to help he and Joyce out, so Tristan Mouligne and I have organized an effort to pass the hat around. We have set up a joint account in Billy and Joyce's name, and hope that folks in the community can join us in helping Billy bounce back from this challenge. A gift in any amount will help us put Billy back on the road and back on the water. If anyone would like to give, it's simple:
For maximum benefit to Billy, make out a check to Billy and Joyce Black and mail it to the following address:
Morgan Stanley
C/O Tristan Mouligne
53 State Street
Boston, MA 02210
Tristan will take care of the details of getting it credited to Billy and Joyce's account, and I will send out periodic updates of the progress.  If you would like to support Billy with an online gift, please go to www.youcaring.com/billyblack-908322 with your credit card.  It's free to you.
Thanks so much for considering a gift. I know that Billy really appreciates all the support he has been shown by his friends throughout this challenge. If you want to get in touch with him directly, his email is [email protected]. He has been much more active on social media and email as he has recovered from his stem cell transplant, and I am sure he would love to hear from you.
Best Regards,
Michael Hennessey, Skipper
Dragon
August 21st, 2017 by admin

Big Pimpin'
For the select few sailors looking for the ultimate in Grand Prix one-design, it looks like the TF-10 might just be it. With electronic rake control, off-watch bunks for distance races, and a M&M design that appears to be extremely well mannered, the TF-10 seems to answer all the right questions for even the out-of-shape or septuagenarian owner.
The boys at DNA put together the sea trial video above that includes quite a lot of info directly from the owners mouths – owners with experience in everything from Melges World Championships to J/105s at the Big Boat Series to Marstrom 32s in Sweden, and they explain why they've decided they've moved out of all that jazz and into this.  We've been told they've all signed off on the design, the components are greenlit, and production on hulls 2 and 3 is now under construction in Holland with the fourth beginning soon.
Sailing Anarchy will be aboard hull number 1 as soon as possible for a full review; a truly stable foiling multihull has long been sailing's unicorn and we're goddamned stoked to check her out.
Details and sea trials are over on the DNA site here.
August 18th, 2017 by admin
Big Pimpin'
If you wanna race at 20+ knots and still party like a rock star on your racing machine, no one does it quite like Gunboat.  Here's a muy bonito look at the NYYC Multihull Regatta, with Gunboats making up 6 of the 8 entries in the class (including some newly imported AC talent) and taking 1st and 3rd.  Buy your own over here.
August 14th, 2017 by admin
Big Pimpin'
Over eight years ago, Hakes Marine in New Zealand started building a very special catamaran for a German client. It was called the SL33: 10m in length, weighing only 650kg with a mast over 18m tall. A bit insane in its power-to-weight ratio, the boat was designed and built for the light winds of Lake Constance, where the goal was to fly hulls to victory fly to victory  in the typical 4 knot breeze.  
The SL33 was one of many successful ventures between builder Paul Hakes and designer Gino Morrelli. At the time of construction, Morrelli & Melvin were also contracted by Emirates Team New Zealand to design what would eventually become the very first flying AC72. Impressed by the SL33 project and recognizing it as a good training and development platform, ETNZ purchased two SL33s from Hakes, with Luna Rossa following suit and purchasing one of their own. Using this new, lightweight yet robust platform, ETNZ began daggerboard development and eventually learnt how to foil on the SL33s. This technology and valuable experience was quickly applied to the AC72, which went on to shock the world with the first-full flying America's Cup boat, setting a standard for AC racing that would continue through the exciting event in Bermuda while changing the face of racing forever.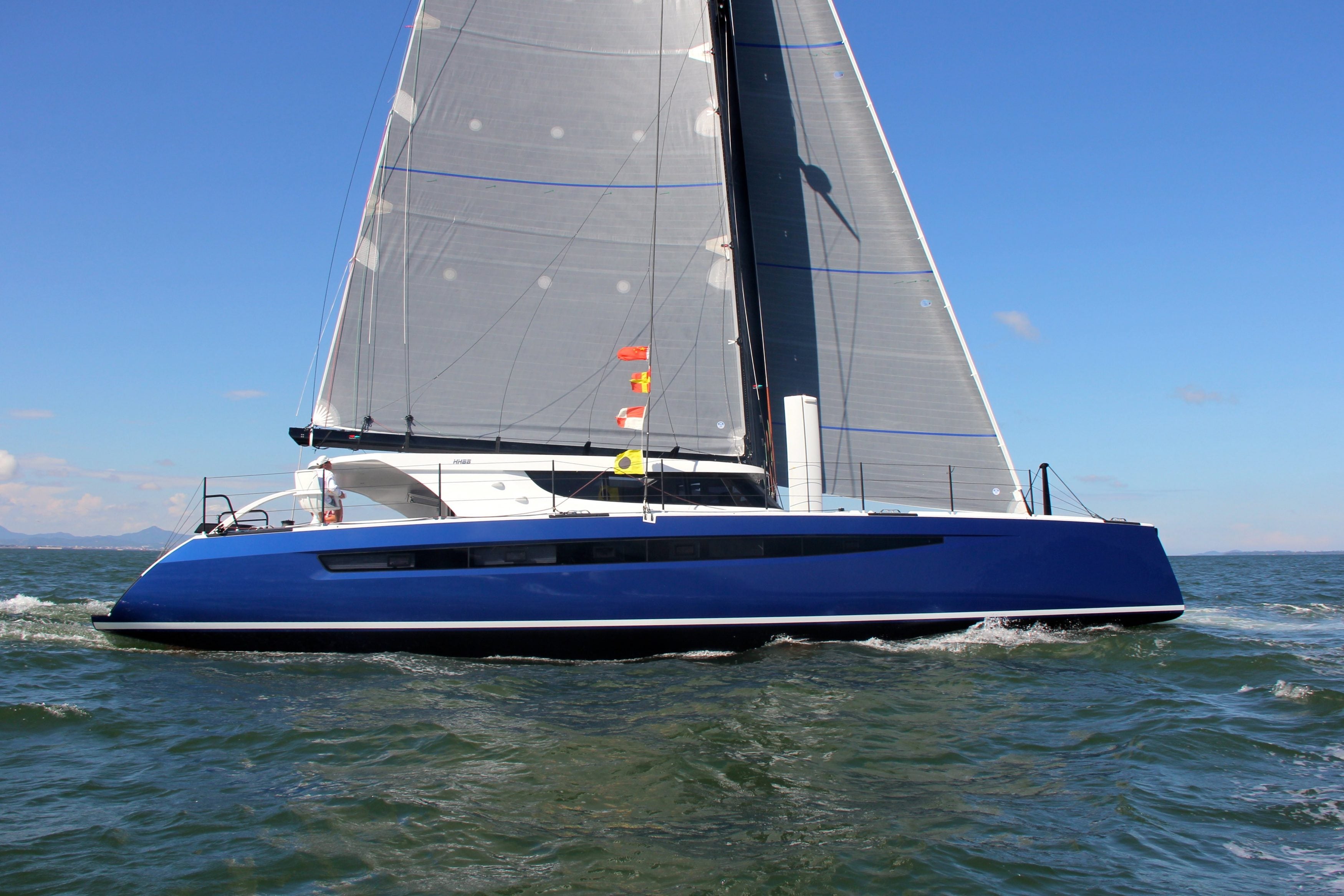 Since that revolutionary day in New Zealand, the world has seen a remarkable number of boats, both multihulls and now even monohulls, flying on foils with incredible speed. It's great to reflect back to one of the foundations to flying multihulls and spectacular America's Cup racing, the SL33. Today there are three SL33s still tearing it up around Auckland's Hauraki Gulf. Black Jack, the original SL33, still dominates lake racing in Northern Europe.
Today, we see Paul Hakes and Gino Morrelli teaming up again, this time on a slightly cushier project! HH Catamarans, the luxury, performance cruising cat line, has commanded the niche market, and considering the shared pedigree: carbon construction, curved C-boards, T-rudders, push button sail controls; and luxuriously comfortable platform, it's easy to see why. HH Catamarans' most recent launch, HH66-05 is currently in the midst of sea trials – check out the video of her launch here. The electric blue hull is already hitting speeds in the high teens in the light Xiamen seabreeze, with plenty left in the tank. With a forward helm inside the salon and ORMA style bucket seats and tillers aft, HH66-05 provides the best of both worlds for the serious dual purpose sailor. Loaded with all the amenities for cruising and entertaining in style, the HH66 will be the perfect platform for spectating the next Cup in Auckland in 2021… Want to get in on the fun? Contact [email protected] to discuss your AC inspired cruising catamaran, and find out more about HH Cats bere.
July 10th, 2017 by admin
Bouwe Bekking is the most experienced VOR skipper in the history of the Volvo Ocean Race, and if you're fit, strong, under 30, and will do whatever it takes, you might just be able to learn from the Jedi master himself as the 2017-18 Volvo Ocean Race gets going in just a few months.
The positive side of Brunel's ultra-late entry into the race is the amount the save on crew and staff expenses.  The negative side is they now have just a month or two to get their crew selected, trained, and fully up to speed.  So if you fancy yourself an ocean racer, get your sailing CV together and submit it online TODAY.  Sailor chicks too!
July 4th, 2017 by admin