Archive for the 'Big Pimpin'' Category
Big Pimpin'
It hasn't been around long, but already Eelsnot racing hull coating is making a big difference on the race course! In Key West, Eelsnot-coated boats tied for first in the J/111 class (Spiff lost on countback), grabbed 11th and 13th overall/3rd Corinthian (B-Squared) in the J/70 Class, and took 5th in the Melges 24 (Party Girl). Eelsnot kept the slime off and the speed up in Miami too, with Entourage taking 3rd Corinthian in the Jaguar Cup and J/70s scoring a 4th and 5th in their big fleet at Bacardi Sailing Week (Reach Around and Rascal).  
Use the coupon code ANARCHY and grab your 10% discount when ordering two or more tubs of Eelsnot from our pals at Latis International today, and don't forget to check out their other offerings; the awesome Raptor deck grip and the best dock boxes ever – Mobox.
March 23rd, 2015 by admin
Jen Edney is one of the most exciting young photographers to come along in years.  But can she write?  Peter Johnstone and the Gunboat folks gave us all a chance to find out with this excellent NC to Miami delivery report from the Gunboat 55 Toccata.  And for those of you waiting for the details on the loss of the Rainmaker, sit tight.  It drops soon.  Those of you confused by the title of this one…really?
I hear the buzz next to my head, my alarm waking me up to make sure I don't miss sunrise.  I roll over to my side, peaking out the porthole – thankfully, it's still dark.  I hit snooze, and this way-too-comfortable bed keeps rocking me back to sleep, rather than tossing me out of my bunk. More sleep…
Buzzzzzzz! It's 20 minutes later, and I see light starting to tickle the water with reflections.  Now I'm excited to get up, and even more excited when I realize I don't have to suit up in foul weather gear to go out on the deck to "use the head!"
I peel myself out of bed and walk up the steps to make a cup of coffee, and rather than hunkering down in a deep galley looking at a gimballed cooker, I feel like I'm walking into the cozy family room of a modern Manhattan apartment with the best 360 degree-view of the ocean in the city.  But it isn't, of course – it's a Gunboat, and we're motoring along, waiting for the slightest zephyr of breeze to let us get the sails up.
The hectic day before was a bit of a blur, as pre-delivery days with a narrow weather window usually are.  I helped with the extensive job of finishing up provisioning and making sure everything was loaded on the boat as quickly as possible, and seeing the food that was being passed onboard, I realized it was going to be a far cry from my racing yacht days of one-pot meals and freeze-dried hell.
"There's a serious flood of emotions right now," said Carolyn Groobey, proud co-owners of Toccata.. "We've been anticipating this day for so many years, so my heart was pounding like I'd just won the prize I've been striving for." At the same time, there was some heaviness. "This was a goodbye for a while to our families, dogs, and the Gunboat family for a while."
Within hours of arriving in North Carolina I heard the phrase "Gunboat Family" and "Tribe" more then a handful of times, especially when listening to Chris Bailet recount the reaction after the loss of the boat he was delivering, Rainmaker. "We had no idea what was going on back on shore," said Chris.  Apparently the coast guard was in touch with Lauren and that started the ball rolling, and the entire Gunboat staff was working angles for both getting us home and readying a salvage mission. "I was only able to get one call out to Peter. It was chopped up and cut out halfway through the conversation. But it was enough to let him know the situation, and enough to get people moving."  Johnstone had calls on from Florida to Annapolis, people were ringing their cousins' second uncle with a Commercial shrimp boat in Charlestown to get out there. By the time we landed, the Gunboat team was at Dare County Airport, open arms and hot pizza, with a meeting scheduled for a full review and salvage operation. "This level of camaraderie and support – it's just not something you feel with any other boat company, said Chris.  "Ask any of the crew or owners on any Gunboat – it's a family. Or as Peter so appropriately put it before, a TRIBE" [PJ's first Gunboat – the boat that inspired the Gunboat line – is called Tribe -ed].
Having only met them the night before, I didn't realize how strong the relationships were among the crew, though I learned the next day that PJ and the Groobeys had built a friendship over the preceding 3 years.  They recounted stories with laughter and nostalgia,  discussing the journey that led up to this monumental maiden voyage. "That unique Gunboat sense of community is important to us, and it's one of the big reasons we bought the boat," explained Carolyn.  "From the beginning, we felt like part of a big, awesome family, welcomed by the high-caliber folks that make up the tribe of Gunboat owners, employees, skippers, and crews."
For this trip, the new owners were eager to get acquainted with their boat – meaning lots of helming.  And the diminutive Carolyn Groobey proved to be the rock star, hitting 21.8 knots for Tocatta's first 'personal best' speed.  "It was a real gift to have Peter do this passage with us. We were learning 'the Gunboat way' at the feet of the master," she said.    Curious to know a little more about how these boats handle after only a few days onboard, I asked Chris Bailet what he thought was a standout feature of Gunboat. "All of PJ's boats seem to have the perfect combination of speed and comfort, without tradeoffs.  I've been on a lot of Peter's boats, and you can ramp it up and send it while feeling completely stable, and not have the wave slap sending your coffee machine into a charter guests face. The beam keeps it stable and all that freeboard makes you feel like you're at the bridge. I love the boats and the family, especially the 55, that thing is like a guided missile."
Chris and Carolyn had similar feelings about the comfort of the boat, as did I, especially when compared to my last big delivery – the turboed VOR 70 Maserati.  Comfort is not a word I'd use when describing any VO70, but that's what it takes to get real speed out of a design like that.  Gunboat does it smarter, as Groobey summed up: "We are deliriously happy with the boat. It's solid, strong, and very comfortable. The openness and 360 visibility in the boat makes it both a great sailing platform and living platform. We love the galley up configuration. As you are sailing along, various crew members are cooking, sailing, reading, and relaxing – it's all about the family; the tribe – that's what Gunboats do."
February 16th, 2015 by admin
The Sailing Anarchy/VOR "Show Us Your Boatyard" competition is off to a blazing start, with over 50 submissions coming in over the past few weeks.  They've been so good that the SUYB leaderboard (left) is now a permanent part of the traveling VOR race village show – be sure to check it out when you come down to visit the race.
Your submissions are also providing plenty of entertainment to the awesome girls of the Boatyard (the competition's judges), and they remind you that Leg 3′s Boatyard T-shirt winners will be announced immediately after the Sanya In-Port Race.  Keep sending in your submissions, and if you want extra consideration, post 'em straight on the Boatyard Facebook Page with a hashtag #showusyourboatyard.
Full contest details over here.
January 30th, 2015 by admin
Wanna watch the most insane sailing you might ever see?  NOW IS THE TIME, and it's live from Australia!
One final day, 25-30 knots, and 80 of the world's fastest dinghy sailors will put on a show for you today, and we've got our superstar team on the water to bring it all to you live.  Watch today and you might even win a highly sought-after Sailing Anarchy/Sperry/Line Honors/Moth Worlds Flexfit gangsa cap like the ones we rock.  And yeah, we've got another special guest star on the microphone today…
Please go and thank Sperry for their patronage, but only if you want more…
January 15th, 2015 by admin
big pimpin'
We'd like to welcome our friends at Melges back for another year of pimpin', and the timing couldn't be better; there's all sorts of exciting fall/winter action going on across the Melges fleets, and we're going to help highlight just how fun and accessible it can be.  Here's some news from the M32 fleet in Florida, and watch for a feature from Jaime Torres soon on the M32 Caribbean Fleet.  For everything Melges, check their site.
With a fleet and sailors diverse as the nightlife on Ocean Avenue, the Melges 32 Gold Cup kicks off in just two weeks, featuring 18 ultra-high performance Melges 32 teams from 9 different countries.
This "Florida Classic" will decide not only the new Gold Cup titleholder; it will serve as the final notice for teams looking to challenge for the ultimate goal: the Melges 32 World Title. Louisiana skipper Chris Wientjes (Stormvogel, Metairie, LA) can't wait for it all to begin. "The Melges 32 Class always brings great talent to its events, but there's no doubt these two will bring some of the best sailors in the world to Miami," he said. "We're really looking forward to testing ourselves in both the Gold Cup and Worlds."
It may have started as a low-key tune-up regatta in the Melges 32's fledgling days in 2006, but the Gold Cup has emerged as the longest-standing Melges 32 regatta on the annual calendar. Regularly featuring more than 20 teams – from the highest-level international two-boat programs to more modest but still ultra-competitive local and Caribbean teams – winning the Gold Cup has historically required great boat speed and teamwork along with a strong understanding of tricky autumn breezes and meandering Gulf Stream current and waves.
2012 World Championship runner-Up Alec Cutler (Hedgehog, Bermuda) recognizes the balancing act between sailing hard at the Gold Cup without tipping his hand for the upcoming Worlds a month later. "Gold Cup may be a Worlds tune up, but it is also a coveted trophy for our team," said Cutler. "Our goal is to hold off from some of the big decisions until after Gold Cup while racing hard, having a good time, and learning the venue."
October 27th, 2014 by admin
Thanks to income inequality and the booming markets, the maxi class continues to roll; Fresh off a huge acquittal in one of the biggest insider trading trials in years, Flash memory tycoon Manouch Moshayedi bought a motherfuckin' boat, then made her a Transpac weapon.  Here's the story from our friends at Doyle NZ.  Back to Eddie Murphy's "Raw" for the title shout.
Following her major refit at Cookson's, Rio 100 (ex. Zana/Konica Minolta/Lahana) is back on the water this week and she is raring to go. Purchased in 2014, the yacht has been redesigned and reconfigured by her Kiwi designer Brett Bakewell-White for use on the West Coast of the USA. "As part of her refit, Doyle Sails supplied her with a new set of Stratis carbon ICE sails, including a mainsail, two jibs, two reaching sails and two spinnakers," says Mike Sanderson, Head of Sales at Doyle Sails NZ. "This was an exciting project for the Doyle team, particularly since Doyle NZ built so many sails for this boat during her previous life."
Choosing a sailmaker was a key consideration for the refit. "Between the top sailmakers, there is really very little between the products, so we also looked closely at the customer service side in making our choice," said Keith Kilpatrick, captain and project manager for the Rio refit. "I was very impressed with the Doyle operation. Just seeing it in action, and the hands on approach, reassured me that we would get the attention we needed for a programme like this; we felt that with other big sailmakers we would be just another customer. We are looking forward to seeing the sails in action in sail trials."
Sail trials are scheduled for this week, with the upcoming Coastal Classic the yacht's first official outing. The yacht will then be gearing up for the 2015 Transpac race, where the Barn Door Trophy is firmly in her sights.
September 18th, 2014 by admin
Big Pimpin'
Bob Hillier and the folks at Line Honors Yacht Racing Outfitters continue to provide one of the most complete lines of racing apparel and accessories anywhere, and now you can try it all before you buy at the new Line Honors shop!  Support Line Honors just as they support so many teams and events around the world – stop into their brand new store on downtown Lake Geneva, WI for the Grand Opening on October 3.
September 18th, 2014 by admin
Big Pimpin'
Huge thanks to Mark Miachelsen and the folks at DryUV for kitting out the B Squared team at J/70 Worlds.  Now if we could just be up there with these guys!  Paul Todd photo of more gorgeous Newport conditions. Get your DryUV stuff today at a ridiculous price!
UPF50+ 100% moisture management tech shirt for under $20 INCLUDING YOUR LOGO. You can't beat that and this deal won't go on forever. Get on it people. . Elite Polos in a wide variety of colors along with the best name in hats FlexFit are now In THE HOUSE.
True Sport moisture wicking shirts come in a huge number of colors and in short, long and for girls, cap sleeve. Matching youth sizes also available in short sleeve. Order six of any mixture and get FREE dye sublimation logo on the shirts (Light color fabrics only for free graphics). Screen printing and embroidery are also available for an additional charge.
September 12th, 2014 by admin
With six races down and one throwout already counted, John Kilroy along with pro trimmer Jeff Reynolds and UK Olympic golden boy Paul Goodison is walking away with the second-ever Audi Melges 20 World title.  Meanwhile, Monaco's Guido Miani won the breezy day yesterday with a 1,3,1 and sits tied with Italian standout Fremita D'Arja, both 14 points behind Kilroy.  The Kilroy nipper continues to excel, though he's dropped back to sixth, while Aussie gold medalist Mal Page has helped young Achille Onorato climb back up to fourth…three more days of action ahead and get over to Facebook to watch it all unfold.  Yesterday's photo gallery is here.
August 29th, 2014 by admin
Big Pimpin'
The father-and-son team behind the VX-One's steady growth can now move a mini-fleet all by themselves; their ability to transport 10 boats in their two rigs at a great price makes fleet-building that much easier.  Get up to date on one of the quickest and hottest new sportboats in this 8-minute Mr. Clean interview with Brian and Hayden Bennett this past Sunday from the shores of the newest VX-One home; Michigan's Macatawa Bay Yacht Club.
August 21st, 2014 by admin
Big Pimpin'
In between forecasting the latest storms' landfalls, our friends at DryUV still have to pay the bills, and they do so with a great line of technical apparel for all your racing and shoreside needs.  And check this out:  The 60+% off deal is back on!  That's less than 20$ for DryArmour's super comfortable, super efficient Pro-Tech UPF 50+ shirts – and that includes your team or sponsor logo!
You don't have to worry about any more poor-fitting 'yachtie' hats, either; DryArmour e just added FlexFit Hats to their awesome lineup.  Add in their compression shorts, hoodies, and polos, and you're covered from skin to foulies – all at a huge discount.  Mark can help with your graphic design and is always available to his customers; order your gear today and check out more about the sale right over here.
August 6th, 2014 by admin
Okay maybe not exactly, but it got your attention! From our "Big Pimpin' files…
Scott Vogel, President of Composite Rigging, announced that the company is sponsoring the "ECsix T-Shirt Design Contest."
According to Vogel, "Everyone and anyone have a chance to win an expense paid "trip for two" to one of seven ports-of-call along the Round the World Race. We are sure this promotion will create a stir within the sailing community."
ECsix is the sole rigging supplier for the next two editions of this historic ocean race. As the world leader in carbon rigging ECsix has over 3000 stays in service on more than 500 sailing yachts, ranging from 11' moths to 250'+ superyachts. Since 2005 ECsix stays have sailed over 1,000,000 nautical miles in all conditions and have not had a single failure due to age, wear, waves, weather or water.
Vogel says, "Composite Rigging has refreshed the look of ECsix with our new "When Your Mast Must Stay Up" campaign, highlighting the strength and durability of ECsix products. We are now inviting the sailing world to have fun with the brand by entering our T-Shirt Design Contest. The winner can take a guest to either Sanya, Auckland, Itajai, Newport, Lisbon, Lorient or Gothenburg. This is an opportunity of a lifetime."
Interested in the ECsix T-shirt Contest? If so click right here for contest rules and information.
August 6th, 2014 by admin
Big Pimpin'
Rather than get into protracted trademark litigation with some asshat in an entirely unrelated business, our pals and longtime advertisers at YellowBrick have just announced a name change, and we're passing it along so that everyone knows where to find the most reliable offshore tracker in the sport.  From now on, they'll be known as YB Tracking, and you can find them at www.ybtracking.com.  We're also stoked to learn that more and more events will be offering free mobile tracking as well, solving the only gripe we have about the YB program. Here's more from Nick @ YB:
Aside from our name, absolutely nothing else is affected. Our staff, products and service delivery remain unchanged and our business will continue as normal. Your primary contact for any assistance should be [email protected]  Thank you for your continued support, and we look forward to serving your next race, event or expedition as YB Tracking.
July 25th, 2014 by admin
New York Angels founder Brian Cohen has made his mark on the business world by investing in over 200 disruptive start-up companies, though he is perhaps best known for being the original investor in Pinterest. So when it came time for Cohen to replace his Swan, the investment legend knew it was time for something a little more… disruptive.  Even Anarchist.  Very little in today's sailing market intrigued Brian until he discovered Gunboat, and the excellent new Gunboat 55.  We rarely publish gushing reports, but given the stature of this author and our love for all things Gunboat, we thought we'd share some glowing positive sentiments from a happy new boat owner. And to Brian: Keep disrupting, bro.  And for you grommets who don't know what we're referring to in the title of this piece, get educated, and don't forget to watch the video below Brian's thoughts.

My life has always involved technology disrupters. Little wonder that meant my sailing life would also be disrupted by the extraordinary vision of Peter Johnstone and my new Gunboat family of 100 artisan boat builders in North Carolina. From the moment RAINMAKER left the dock in Wanchese, headed for NYC, I knew my life would never be the same. Being the honored owner of the very first GUNBOAT 55 comes with the great responsibility of sharing its luxury, speed and grace with whomever I could. The sailing world has forever changed!
On Father's Day I took the first sail with my family on Long Island Sound and anchored in Huntington Harbor. If a sailing experience can be magical, this one was, and we all shared it together. We toasted the moment and then took turns at the wheel, sailing past every one, countless wide-eyed faces trying to figure out just exactly what it was that they were seeing.
On board we shared the exhilaration as RAINMAKER's speed dramatically accelerated, 12 knots, 13 knots, 14 knots, and screamed in harmony as she hit her stride at 18 knots. Screams gave way to giggles, everyone thoroughly enjoying the rush of fear and excitement of such an unknown experience. The boat's ease of use and power have created a new level of quality and performance expectation in the sailing universe.
My urge to sail RAINMAKER is very intense. I live in the West Village and have reserved a slip just 15 minutes away via the PATH train at the beautiful Newport Marina. Against the backdrop of the Manhattan skyline, and amongst the many 100'+ motor yachts, RAINMAKER's sailing power and luxury feel right at home.
We are fortunate to have the young but very experienced chief Gunboat skipper Chris Bailet onboard, who is quickly connecting with RAINMAKER's mind, as I become its soul. This past weekend with winds nearing 25 knots, we seamlessly climbed through speeds in the high teens and into the twenties, eventually flying faster than the wind!
I'm looking forward to getting RAINMAKER out on the racing circuit as soon as possible, our first test being the ALIR in late July, a race I won in 2002 aboard my Swan 40. If our early experiences are an indication of our potential, RAINMAKER will become a regular sight on the race course.
In the meantime, we'll be enjoying evening and weekend sails on the Hudson. If you happen to be in the New York Harbor, please come by and say hello.
-Brian
July 9th, 2014 by admin
Big Pimpin'
Stalwart SA supporters Juan Mauri and Rondar Raceboats have joined forces!  Rondar Boats USA are pleased to announce that Texas-based Mauri Pro Sailing is now an official outlet for the Viper 640, Rondar K6, and singlehanded K1 dinghy.  Get in touch with Juan and the boys today to get advice on everything for your Rondar Raceboat, or to find a new one!
June 30th, 2014 by admin
Big Pimpin'
Andraz and the boys at Seascape are pushing to fill their last few build slots for 2014, and they figured this shot might light some of you up a little, reminding us that the Seascape 27 isn't just a race boat!  The shot comes from Croatia on one of the world's coolest bays, and if you're looking to check out the new Seascape 27, the Chicago Yacht Club is the place to be; US boat # 1 sets off for the Chicago Mackinac Race next month, doublehanded with US offshore shorthanded Phil Sharp.
For more on the boat, see here.
June 27th, 2014 by admin
big pimpin'
Our pals at Gunboat continue to work on the super-sexy coastal racer/cruising G4, but with a twist:  Now, you can get them with J-foils.  Flight of fancy or flight for real?  We grabbed team member and design dude Rudo Enserink for a quick update.
SA: With the J-boards and T-rudders, this is looking like a full foiler.  Is that really possible on a boat with bunks and a kitchen?
RE: Yes and no. We're first going to build high-lift C-foils for safe but very fast foil-assisted sailing.  The mildly asymmetric C-boards can be raked from -1 to +7 degrees and will be set at the factory for safe cruising.   The lift of these foils maxes out at 80% of displacement, and advanced owners can play with the rake adjustment to optimize for purpose and conditions.  One of the great things about C-foils is that you can leave the windward daggerboard deployed in all tacks.
The hull and daggerboard casing structure is prepared for full foiling, as are daggerboard bearings and rudder bearings.
If there's enough interest from the market we'll develop an electronically stabilized full foiling package that will be available as aftermarket upgrade. The current concept for this is an L-foil and auto-leveling T-rudders.
SA: Who is building/designing the foils?
RE:  Foils are designed jointly by Doug Schickler from Schickler Tagliapietra, with Davide Tagliapietra, Pieter Jan Dwarshuis, Mischa Heemskerk and Rudo Enserink.  They will be built in by Holland Composites (also builder of DNA A-cats), in their autoclave, and you can see some progress at their Facebook page.
SA:   That's a pretty serious VPP chart.  Is that with the C-foils or with the new J/L foils?
RE: This VPP is with the C-foils.
For more info on the very hot Gunboat G4, check out the full details here or ask questions in the thread here.  Title shout to the best cartoon of the 80s.
May 14th, 2014 by admin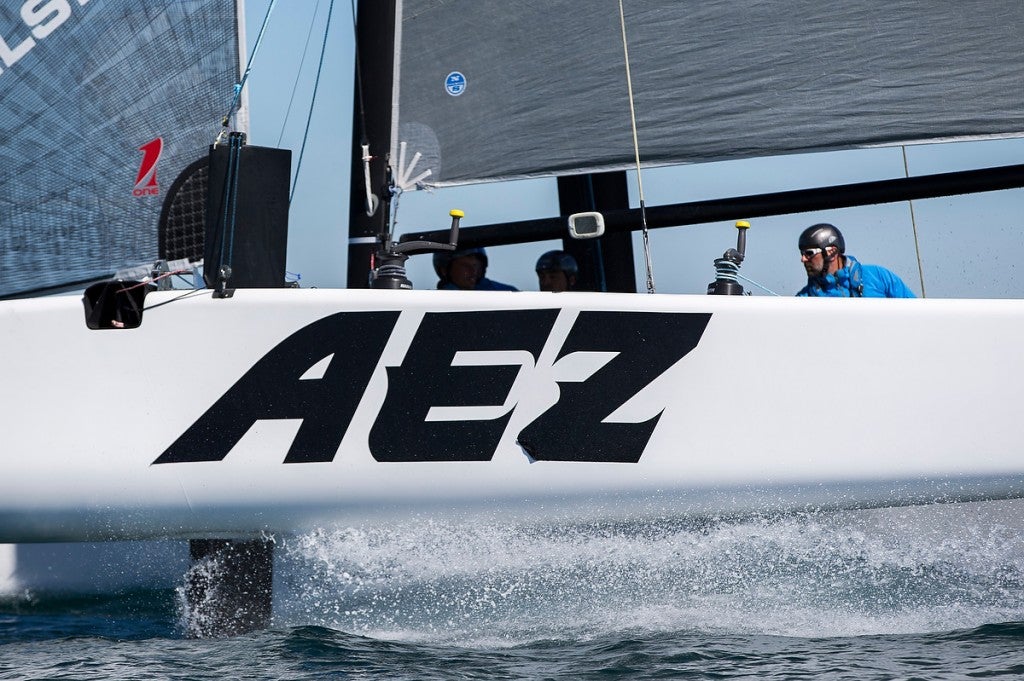 Clean Report
More than 18 months ago, just a month after ETNZ revealed their AC72 was a flying boat and lured by the potential for a 32-foot version of it, I spent 12 hours flying to Dubai just to check out the brand new GreatCup 32 catamaran from F-18 sailor Laurent Lenne and designer Martin Fischer.  I took a cab straight to the Dubai Marine Center, and an hour later, we were sailing the sleek carbon cat in 8 knots of Arabian breeze.  And 20 minutes after that, the boat was broken.
Needless to say, I was underwhelmed.  The Southern Spars-built spine of the boat wasn't right, and I wasted a couple of days in a plane to find it out.  To compound matters, it was pretty clear that the intricate, Alinghi 90-style S-shaped foils were cool-looking, but lacked true foiling ability.  They reduced displacement, but only in very specific conditions would they lift the boat out of the water and create anything that could be called stable flight.
But Fischer, Lenne, and Aussie project manager/COO (and longtime SA'er) Andrew "Macca" McPherson had just seen the future in the form of a flying red-and-black carpet in Auckland, and they were already planning on meeting it.  They spent much of 2013 studying, learning, and redesigning the foil system for the GC32, and while they didn't put a ton of effort into selling a boat they knew was in the midst of a big change, they quietly sailed a 4-boat, 4-event Great Cup series in Europe.  And they kept working.
Fast forward to April, when I got a call from Lenne.  "They're ready," he told me.  "And you should get your butt over here."  Hours after Charleston Race Week ended, I jumped on a plane from Charleston to JFK to Paris to Marseilles, and made my way to one of Europe's biggest marinas in La Grand Motte, France.
An intense design process had led Fischer to a ETNZ72/Flying Phantom/Groupama C-Class style foil solution, with acute-angled, rake-adjustable J-boards with a massive 1.2m span, and adjustable t-foil rudders like a Moth.  Built by Heol, supplier of foils for just about every major French racing multihull for the past decade, the foils are serious pieces of machinery – a single dagger supports almost the entire weight of the nearly one-ton cat and its crew, is built under a massive 8 Bar of pressure, and weighs some 50 KG.  The good news is that you don't often take them out; they insert from the bottom and retract up to the hull, allowing you to beach or ramp launch the boat with no hassle.
But even if they were a big hassle, it would be worth it, because after three days of sailing the GC-32, I can honestly say that this boat has the potential to change multihull racing forever – all of a sudden, non-foilers just seem kind of silly.  They're slower, less forgiving, harder to sail, more loaded up, and just nowhere near as fun.  I'm leaving for the airport in just a few minutes and there is a long, comprehensive video being put together next week with all the details, so I'm going to keep this short, but after crewing, driving, filming, and spectating for the past 3 days in winds from 5 knots to 30 knots, it's very clear that this boat is something entirely new.
What do I mean by that?  How about some numbers:  22 knots upwind at 44-50 degrees TWA, with more than 5 degrees of windward heel – almost like a moth.  32.7 knots downwind on the boat's fourth day in the water, with too much sail area and old sails designed for a skimmer.  And our gybing angles, confirmed by Velocitek GPS replay?  40 degrees.  In other words, this boat sails downwind at roughly the exact same angles as an AC-72, and 80% of the speed, with a quarter the crew.  And at 235K Euro, it's around 1% of the cost.
Far more importantly, a no-talent hack like me can EASILY drive the thing.  This is no joke – the GC32′s huge vertical lifting surfaces are nearly as big as those on the Oracle 72, and that means when you do something stupid – which I did plenty of – you don't crash down like a Moth or AC72, and if you press too hard and get too much heel on, the boat gently slips sideways rather than pitching you over into the piss.  I hit 24.4 knots yesterday in 14 knots of wind, heating up to pass a fleet of Fireballs rounding the top mark off Montpellier beach…the lead boat just stopped and stared and let his competition sail by him.  An excellent driver like Macca or Adam Piggot only got to 26 – if I can do 90% of their speed, truly anyone can.  In other words, you don't need to have Bora Gulari's cat-like reflexes, Jimmy Spithill's iron balls, or Larry Ellison's mountains of money.  Just a couple hundred grand and a desire to fly.  The Daily Sail's James Boyd hit 20.2 on Monday, so at the moment I am the fastest 32-foot foiling cat driving media person in the world –  a title I will wear with pride.  Back on you, Boydie.
More to come, and big thanks to Sander Van Der Borch for the gorgeous shots.  There's more info and some data in the thread.
April 18th, 2014 by admin
It's got more entries than any keelboat regatta in the Western Hemisphere, more women and juniors than any open regatta we've ever been to, and one of the best venues in the entire sport.  And now it's got one of the best highlight videos, too.  Petey Crawford from Penalty Box Productions went two days without sleep to get dozens of hours of footage from 2014 Sperry Top-Sider Charleston Race Week turned into 10 minutes of reality show/highlight reel/tribute film, and the result is just goddamned excellent.  If you want to know the recipe for success in modern American regattas, watch and learn.  And go here to find all the interviews, photos, and race coverage from the SA crew over this past weekend.
April 16th, 2014 by admin
Heavily touted as a replacement for one of our favorite all-time racing boats (the Mumm/Farr 30), the new F280 is the best looking thing to come out of the Farr Yacht Design office in years, and hits that under-30 size that's been so underrepresented in Grand Prix over the past few years.  The powered-up sportsyacht – named Chessie Racing in a nod to the Annapolis owners' past programs and flown to the states from Dubai in a cargo jet to make the CRW starting line, sailed off to a 1,1,2 in the PHRF B class on the opening day of Charleston Race Week with a handicap in the 40s; there's some video of Race Day 1 here and we'll have more on the boat this afternoon via the CRW Facebook Page.  Meredith Block photo, with big galleries of all the CRW boats here.
April 12th, 2014 by admin