Archive for the 'Big Pimpin'' Category
Big Pimpin'
Our friends at RS Sailboats are lighting things up with the ultra-light RS Aero singlehander.  We'll have more from them next week as their North Americans gets set to go off in the Gorge.
A year ago almost to the day, the first production RS Aero dipped its toe in the water just around the corner from RS HQ in Lymington, UK. And then the whirlwind began!  A year gone by and an average of 2 RS Aeros have been sold every single day. As you read this, the 600th boat is in transit to South Korea with a further 150 boats on order. Alongside boats dispatched to Israel, Russia, Turkey and Bermuda, the RS Aero will have reached 39 countries and 4 continents around the world in just over a year.
Not yet established in Africa, Sailors in South Africa are eager not to miss out on the action with 3 competitors entered and chartering boats for the RS Aero Eurocup and Lift-Off Coaching taking place over the RS Tera Worlds in Bruinisse this Summer. The event will be the first official RS Aero International Championship and will immediately follow the RS Aero North American Championships, Oregon. Held in late July, both will set the precedent for a busy season on the International circuit. The RS Aero UK Nationals and International Open will take the baton a month later before handing over to the very first RS Aerocup to be held in Barcelona in October.
Now with 90 boats in the United States and over 40 in Australia, the Aero has well and truly taken flight. The UK remains the largest Aero nation with over 280 sailing at over 120 clubs, 19 of which have a fleet of 5 or more boats. Nations around the globe are hot on the chase; North America are ramping things up with 19 entries already in for the RS Aero North American Championships just weeks after entry opened, while Germany stakes claim to the second largest Aero Nation in Europe.
750 orders, 365 days, 39 countries, 4 continents, 4 awards, 1 big family doing what we love. It's been one to remember, and we can't wait for the next year of Aero!  Learn more about the boat and the Class here.
July 15th, 2015 by admin
Penalty Box Productions' Petey Crawford and Melges 24 Class President Jens Wathne take a short break from the action at the M24 Worlds in Middlefart, Denmark, where moth and 49er rivals Bora Gulari and Chris Rast have been battling it out all week.  Rast capitalized on yet more mostly non-planing conditions to take three bullets today, with Bora losing positions to both the Rastaman and Italy's Andrea Rachelli.  Watch it live over here for a couple more days.
Petey's got a bang-up gallery of beauty shots over here and be sure to check in on the front page for more great work from Petey during next week's J/70 Worlds in La Rochelle, FRA.
July 2nd, 2015 by admin

Clean Report
M32 Hydra Sailing went from 12 knots to zero in less than a second yesterday on the penultimate day of the M32 Scandie Series in Gothenburg, proving yet again that even the most space-age autoclaved carbon fiber is no match for a big piece of steel.  You can see the highlights from a day of light-air racing here, but if you really want entertainment, stand by for the final day of action, coming at 1400 CET today.  20 knots of cold breeze is pumping up the river and the final four/double-points format means it ain't over til the hot blonde Swedish girl sings.
I did my part last night to keep things interesting on the course today, topping up the dominant US-One team's champagne glasses until daybreak at the hottest club in town.  Will a hangover make a difference to the results?  Only one way to find out.  Swedish AC and match race legend Magnus Holmberg will join me in the booth for the day's call; click 'play' above and enjoy.
June 14th, 2015 by admin
Big Pimpin'
You know you've been putting off that new crew gear purchase, just waiting for the big deal to come around one last time before the season hits full swing.  Well, THAT TIME IS NOW with a full 60% off for the top end in professional technical gear.  Under 25$ for Pro-Tech in short or long sleeve for under $25 including your logo!
All you need to get the free logo on the left chest is an order of five or more and the coupon code "Best Crew" at checkout. Don't wait to order, this deal will come to an end before you know it!
We will even create your logo for you for FREE if you don't have one. Just place your order and then email [email protected] with art or just an idea for art and let our design team make your team look PRO for 2015.
May 6th, 2015 by admin
Drizzle doesn't dampen the mood for Charleston Race week. It didn't stop the ridiculous Sperry/Sailing Anarchy party last night, and racing commenced on time and on pace today. Under dark morning clouds, an eight knot northwesterly greeted the inside fleet and held enough to get high quality racing in. And what's Charleston Race Week without current. The ebb was flowing hard today, with teams jockeying for shallow water position all day. Who played it the best?
It's not Cinco de Mayo yet, but the J/70 Mexican team Flojito Y Cooperando helmed by Julian Fernandez celebrated early with two bullets today to set themselves apart in this talent laden fleet. Elvind Astrup's Norwegian Steam stayed consistent with a 1, 6, 5 to hold on to an early second. The top and only US team currently on the J/70 podium is Joel Ronning's Catapult. Since there are 78 J/70s racing in four separate fleets, the points add up quick and the scores are really close with eight boats tied in one way or another in the top 15. The fleets will be reset tomorrow for more qualifying racing.
Continuing the south of the border but north of the fleet tone, the lone Brazilian Melges 20 entry, Portabello, led by Cesar Gomes Neto, threw down some spicy upwind skills to keep ahead of Bruce Golison's Midlife Crisis by three points. Midnight Blue sailed well in today's darker conditions to keep it tight on the podium, behind second by only one point. Only eight points separate the top six in this wide-open class.
Guy Mossman's name is on the Melges 24 score sheet, but he's mending a broken hand from a 'being a nice guy' moment.  Lesson: Don't punch a fighting pit bull in the head. In his place on Battle Rhythm is Will van Cleefe, who earned a four point lead today over Brent McKenzie on Ex-Kahn, followed closely by Bruce Ayres on Monsoon.
Watch the full replay of all the live racing action here, and if the wind ever fills in, we'll have Saturday's racing for you on this page.
Brian Carlin photo of the sexy C&C 30 and the rest of PHRF A offshore, and seriously big, badass galleries from Brian and Sander Van Der Borch are over here.
And the Team Vestas Wind award goes to Christian Koppernaes in the VX-One fleet, who took the 'short tack the shore' move a little too far.  Sander Van Der Borch photo.
Results after day one here, and of course a huge thanks to our friends at Sperry for making SA's extended coverage of Charleston's action.
-John Casey
April 18th, 2015 by admin
It has been a long time since we've seen this much excitement around a new boat launch, but we reckon if ever a boat deserved it, it's the world's first fully foiling cruiser/racer.  Sick work from all the Gunboat G4 build/design team, and we're proud to host this World Premier of the beautiful film of Timbalero 3′s sea trials earlier this week (thanks to Richard and Rachel).
Mr. Clean heads down to Antigua at the end of the month for his in-depth, Anarchy look at the G4; in the meantime, head to the thread for all the news and analysis here.
April 11th, 2015 by admin
Big Pimpin'
One of the most competitive and extreme one-design fleets of the past decade has gotten the message from its owners, and we're excited to share the news that the Melges 32 Class is rolling out a new Winter Series for the 2015/16 season.  Hosting all three events from the same yacht club will cut down significantly on logistics costs, and the Fort Lauderdale venue will prove far more affordable than some of the over-the-top locations of recent years.  With used boats available at great prices, it's a perfect time to get into the exciting Melges 32 fleet.
Joy Dunigan photo, and check out the full schedule over here.
April 7th, 2015 by admin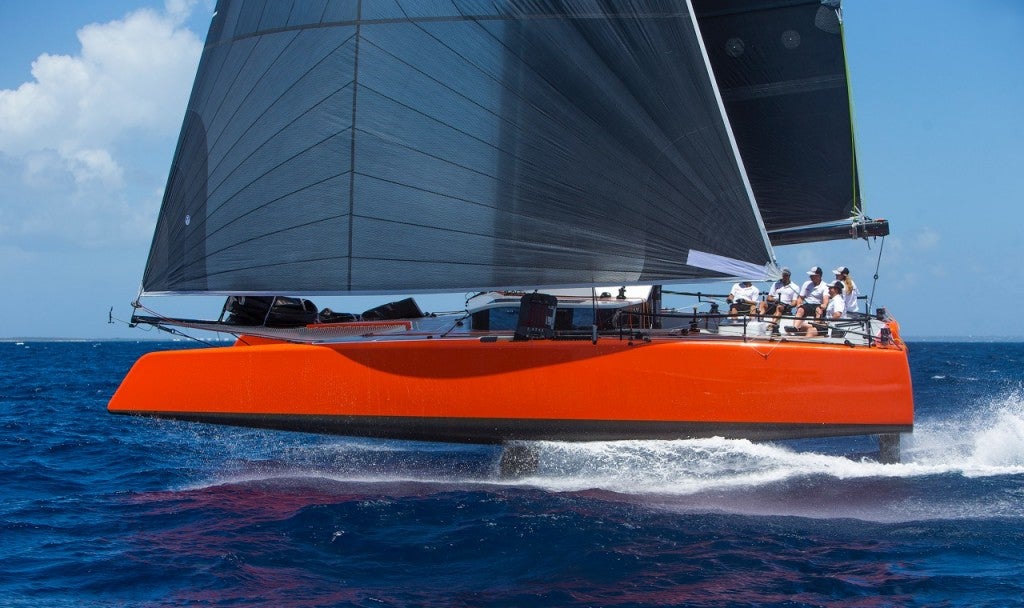 A stoked Peter Johnstone reports that the hard-working design and build team at Gunboat have done it!  The full-foiling G4 cruiser/racer is ticking all the test boxes during her St. Martin sea trials, and here's today's sailing report directly from test pilot and mast builder Ben Hall:
"An epic day of sailing the new Gunboat G4!  The orange rocket handled the 18-20 kt breezes off St Maarten with ease.  Foiling was fast and steady. I got to drive upwind and hit 15.4 kts…incredible!
Downwind with R1 we peaked out at 25.7. On the foils we had really good VMG with TWA of about 160. On the final burn into the harbor with the solent and full main the top speed was 29.7.
Probably one of the best days of sailing ever for me…all on a boat with a cruising interior, a nice fridge and stove, electric sail drive and cockpit for the best of parties.
Truly remarkable!"
Screw the AC48 – they should just do the America's Cup in these things.
Watch the G4 thread in Multihull Anarchy and Gunboat's Facebook Page for the latest photos and reports, and check back here later in the week for the full video.  Photo courtesy of Rachel Jaspersen/Ocean Images.
April 6th, 2015 by admin
Language boffins have complained for years that the 3-day Sperry Charleston Race Week is woefully misnamed.  But the wild success of the hemisphere's biggest regatta has allowed the event to leapfrog right over the 'week' part of its name, because this year, April is Charleston Race Month.  And thanks to our friends at Sperry and their Odysseys Await promotion, Sailing Anarchy is bringing you its biggest coverage of Charleston action ever – just when conditions in the South's sailing capital are a sailor's paradise.  For more, we go to For2Battery Race founder Tim Fitzgerald:
All the Charleston action begins on April 11th, when the second annual Fort2Battery sprint turns Charleston Harbor into "Caddy Day" at Bushwood.  This hot event reached its entry cap weeks ago, and some 75 high-speed kites, boards, catamarans and moths will be racing down the harbor at speeds touching 40mph, competing for some $20,000 in prizes including a brand new bike, and one of the largest single cash prizes in all of American sailing!
One notable absence is the inaugural Champion, "King of the Harbor" Bora Gulari, who's giving someone else a chance to win this year.  Will the sailors still be able to hold off the kites in 2015?  You can tune in right here on the front page for a live hour-long morning show from the beach, and the entire 9-minute race, streamed by the original troublemakers who called last year to tell us "DUDE! this race needs to happen, how can we help?!" at Sailing Anarchy. And we've got a pro photographer going up in a Holy City Helicopter to shoot the event – it will be awesome!  Head over to our Facebook Page to find out how you can enter to win a brand new Liquid Force Kite or Kiteboard, and please join us at the huge post-race party and awards at the awesome Palmetto Brewery at 7 pm. 
The nearly 300 teams entered in Sperry Charleston Race Week in about a hundred classes on 5 circles will begin arriving in Charleston immediately after the sprint, and we've got a full program of live, recorded, photo, and social content for everyone stuck at home.  For the 2500-odd sailors, shore crew, and support staff in the Holy City, we've got all sorts of goodies, including giveaways, contests, and a VIP after party with tons more giveaways, and a Karaoke contest where we'll award a year-long Sperry footwear sponsorship to one lucky crew!
While the multi-media fun ends on 4/20, the month ain't over for sailors until the next weekend, when 15-20 high-speed E-Scows (including one helmed by the aforementioned Gulari) will take advantage of the perfect SE seabreeze to race in the CYC E Regatta.  We've also heard rumors that several high-performance one-design and box rule classes are looking to join the late April fun in 2016; is there another 200+ boat Charleston regatta on the horizon?  We think there should be.
Check out the full webcast schedule here, and let us know about you and your crew in the Charleston Race Week thread.
April 6th, 2015 by admin
Big Pimpin'
It hasn't been around long, but already Eelsnot racing hull coating is making a big difference on the race course! In Key West, Eelsnot-coated boats tied for first in the J/111 class (Spiff lost on countback), grabbed 11th and 13th overall/3rd Corinthian (B-Squared) in the J/70 Class, and took 5th in the Melges 24 (Party Girl). Eelsnot kept the slime off and the speed up in Miami too, with Entourage taking 3rd Corinthian in the Jaguar Cup and J/70s scoring a 4th and 5th in their big fleet at Bacardi Sailing Week (Reach Around and Rascal).  
Use the coupon code ANARCHY and grab your 10% discount when ordering two or more tubs of Eelsnot from our pals at Latis International today, and don't forget to check out their other offerings; the awesome Raptor deck grip and the best dock boxes ever – Mobox.
March 23rd, 2015 by admin