Archive for the 'video' Category
We opened our Youtube digest this morning and saw this video pop up, and it took our breath away.  Not because it's great – though it is – but because it's the sailing media's version of a unicorn: An AC promo that doesn't suck! When we did some digging, we found out why: Rather than the budget-cut shit from the AC media folks that occasionally floats across a Facebook timeline, this one comes from Don Wilson and his CMRC team, and they tapped the talents of the overall 2015 Volvo Ocean Race OBR winner Matt Knighton to produce it.
It's a sign that Chicago won't let the incompetence of the ACEA get in the way of what we predict will be the shining gem in the otherwise snoozy and unfollowed ACWS; the 2016 qualifiers in Chicago.  Wilson doesn't fuck around, and neither does his crew – now they just need to pray for a big June wind.
When the ACWS inevitably disappears, we're glad to know that Chicago has seen the sowing of the seeds of its high-performance cat fleet…just don't let Chris drive.
October 8th, 2015 by admin
Adventures of a Sailor Girl's Nic Douglass and proud papa Rob lead yet another Tasar Aussie Nationals today down in the crocodile country in Townsville, and she just posted this very cool timelapse of the fleet launch this morning. See any crocs?  Results here.
October 1st, 2015 by admin
Two of the most impressive one-designs of the past decade, head to head in big breeze on the Cote D'Azur.  Which is quicker? Watch and learn (and chat here).
September 30th, 2015 by admin
Organizers of the E-Scow's Blue Chip Regatta wanted to make a splash for the 50th anniversary of the Midwest classic, so they rounded up as many of the past 'mystery guest' rockstars as they could and flew them to Pewaukee and gave them the helm and crews from 25 qualifying E boats.  Names like Reynolds, Alison, Lewis, Benjamin, McKee, Lovell and Cayard weren't a match for the Midwest's own Bora Gulari, who finished 5 points ahead of Peter Holmberg to take the win.
If you still watch television you might catch sight of a Gary Jobson documentary of the event at 3 AM on ESPN sometime later this year.  Those of you younger than 90 might want to check out some of the footage Petey Crawford and drone pilot Sean Fidler put together of the event.  A bit of it is above along with some action from the awards ceremony, and head over to the regatta playlist on Youtube for drone footage of most of the races, and a pile of interviews here.
September 28th, 2015 by admin
After a long absence from on-line broadcasting, it's great to see the TP52s back on the screen in the big stuff just off Cascais, Portugal in big breeze.  No graphics and a single, high-mounted ultra-long shore lens (edit – and now they've got a boat-mounted FLIR cam!) mean it's a far cry from the heady, high-production Medcup TV that helped push the TP52 towards its current status as the most successful big boat box rule in history, but with decent commentary from the knowledgeable Andi Robertson and a 52 crew, it's a watchable addition to the live sailing fare on the menu this month.
Or you could watch live videogame representations of today's Little America's Cup finals, where latest iteration of the most successful C-Class in history battles against the modern marvel that swept the last one.  Spoiler alert: The green boat will win.
September 18th, 2015 by admin
Driven in large part by one of SA's closest friends, Renaud LaPlanche's 6-month record-breaking campaign aboard the monster trimaran Lending Club helped cement the United States' ascendency as one of the world's preeminent multihull powers.  Along with Lloyd Thornburg's busy Phaedo 3, Taylor Canfield's US-One's dominance of the M32 Series and now odds-on favorite status to win next year's $1M World Match Racing Tour, and Oracle Racing "USA"'s likelihood of taking home the Auld Mug, Lending Club has moved the goalposts for anyone looking to make a mark in outright speed under sail (or introduce huge numbers of people to the pointy end of the sport). For a wrap of their season, we go to Ryan (and be sure to follow as Ryan goes for doublehanded glory in the massive 21-boat fleet for the Transat Jacques Vabres next month).
After an action-packed 6 month charter, today the maxi-trimaran Lending Club 2 project has come to an end and we hand the boat back to its owner.  We knew from the start back in March that this was going to be a busy year, but I don't think anyone realized how many people would come and see the boat or come sailing with us.
From the start we agreed we would have an open door policy and whenever possible we made the boat available for visits at the dock. Our skipper, Renaud invited all the Lending Club employees to come sailing and over 1000 of them took him up on the offer. We took children from sailing schools and students from all backgrounds and as young as 5 and 6 years old. We took hundreds of Lending Club guests and business partners in both New York and San Francisco. Everyone without exception had the opportunity to drive the boat if they wanted to and everyone came back to shore with a huge smile and an unforgettable souvenir.
We set three new world records in Europe, the Atlantic and the Pacific oceans.
We made friends.
We had fun.
Heartfelt thanks to the entire team for working so hard; literally every single day for weeks on end and for taking such great care of all 1500+ guests. Thanks to the racing team who stepped up to the challenge and brought home three new records. Thanks to our technical partners Switlik, Marlow, Guy Cotten, Events Clothing and Underwater Kinetics who supported us from the start and finally a huge thanks to our leader Renaud Laplanche for making all this possible.
Here's a short video that sums up the whole adventure in a few minutes, I hope you enjoy watching as much as we did living it.
Ryan
September 17th, 2015 by admin
Will Canfield continue to humiliate the Euros or will the Dark Hammer or Taco Matt climb their way over him to take the ultimate Scandinavian prize – a meter tall trophy and likely an instant invite to the million-dollar 2016 WMRT?  Only one way to find out, and with 15 knots hitting Lake Malaren again, the final day of the M32 Battle of Stockholm is fucking ON!
September 13th, 2015 by admin
If the crash'em up action from yesterday's M32 Battle of Stockholm wasn't enough for you, sit tight – 20 knots on a tight river means today we can almost guarantee more carbon-splintering fun and a few capsied thrown in for good measure.  And Clean seems to think he's a UFC announcer, so that's sort of interesting…check the full load out above.
September 12th, 2015 by admin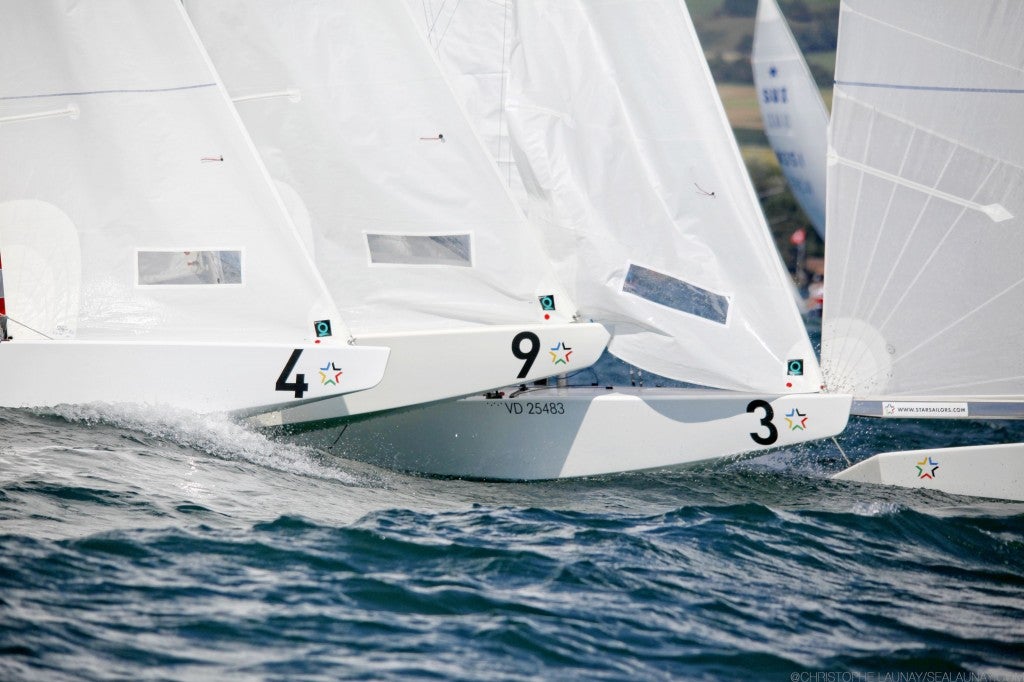 More action from the quarterfinals of the Swiss Open for the Star Sailors League in the battle for a pile of cash and big boy bragging rights – video livestream is here. 
September 12th, 2015 by admin
Those of you bored by yesterday's drifter can rest easy; sailing fans can expect 10 knots or more for the exciting Day 2 of the M32 Scandinavian Series finale in Stockholm, Sweden.  Our good friend Sander Van Der Borch just flew in to bring his incredible eye and lenses to the most exciting cat racing in sailing today…watch Facebook for the photos and the Livestream above for the non-stop action.
September 11th, 2015 by admin