Archive for the 'video' Category



Willie McBride and Dane Wilson were born to the sea; two quintessential California watermen with a long, long sailing future ahead of them.  Will that future begin in Rio?  Only time will tell, but we love the fact that these young studs are already pushing the limits with their training and their organization.  More from Willie below, and have a look at their good-looking website and donate to their cause here.
For those of you not currently following the daily tweets and posts of your favorite Olympic hopefuls or don't live in Long Beach, CA, the traveling circus that is currently masquerading as the US Sailing Team arrived nearly unannounced in May at Alamitos Bay Yacht Club, and immediately began setting up camp to take advantage of the clockwork-like sea breeze and messy seas west of the LA Harbor breakwater.
For Dane and me, this was the first chance to train shoulder to shoulder with the other 49er teams vying for a spot on the 2016 Olympic Team. We're relatively new to the fray, having only been sailing the 49er for the past 10 months, but opportunity knocked, so we packed up our gear and abandoned our daily training grind in Santa Barbara to see where we fit in the fleet.
Day one was a bit jittery for us, as the other teams hoisted their sails plastered with sponsor logos, Olympic rings, and gigantic US flags. We were sporting an old set of Canadian sails. No matter – never judge a book by its cover – off we went. The agenda for the day was to speed test upwind until we ran out of runway, then turn around and send it downwind, best man wins. Somewhat to our surprise we hung in with the "senior class," so much so that by the end of the session Luther and Fuzz awarded us the title of "greatest rookie team of all time." We weren't entirely sure if they were encouraging us or hazing us. Either way, day one was under our belt and all was well.
The highlight of the month was the private coaching bestowed upon us by the famed McKee brothers – legends to any high-speed sailor on the West Coast. We'd been staying on the water after the group sessions each afternoon to solidify the day's lessons, and one afternoon Charlie and Jonathan stayed out to chase us around in a coach boat, with Charlie analyzing our crew work and Jonathan critiquing driving techniques. We made several changes that smoothed out a lot of the boat handling and helped with the rudderless aspects of our maneuvers. We were stoked to get the attention and hopefully to put it all to good use. Part of that process was sharing debriefs each night with longtime supporter and mentor Howie Hamlin. Howie was gracious enough (as always) to provide a roof over our heads while we were staying in Long Beach, and served up heaping bowls of ice cream each evening as we mused over the daily sessions, discussing tuning techniques unique to skiffs, boat handling nuances, and even the means by which we can collaborate more effectively in order to leap frog the US skiff talent in general, as he has always encouraged us to do in the 29er fleet. If that weren't enough, he even volunteered to ferry around our buddy, and epic young gun photographer John Kelsey in his ridiculously cool helicopter to shoot some aerial stills and video. The footage in this video is just a snippet from our time in Long Beach. Expect to see a lot more from John in the near future as we're collaborating on a movie about our collective love of the ocean.
In the end, it was an intense month of learning. We've now been training for nearly a year in the 49er and by far our biggest challenge has been getting good, consistent information and data to help us progress. It would be incredibly helpful if there were easily accessible institutional knowledge available for young teams here in the US, but unfortunately that knowledge base doesn't exist yet. In our own program we've been compiling, tracking and archiving all of our training sessions, lessons learned, testing procedures and Ah Ha! moments throughout our campaign. It's a bit of a mish mash of data at this point, but in time we hope to establish a baseline of open information that will be available to new teams getting started on the Olympic skiff path. Anyone willing, able, or interested in helping out can peruse our extended mission at www.FromWhenceWeCame.org.
Big thanks to Trevor Moore for letting us use the American flag sail for the video and to all who made it a great month of training: Leandro, Luther, the McKees, Oakcliff, ABYC, and of course Sailing Anarchy for always highlighting young teams like ours.
-Willie
June 27th, 2014 by admin
Newport is one of the world's most iconic sailing destinations, and last month's 11th Hour Racing Cup on Narragansett Bay was something of an introduction of the Class to a place filled with the world's top sailors.  Scheduling issues and light air turned a potentially amazing regatta into a bit of an exhibition, but who better to make it all look great than the awesome Onne Van Der Wal?  Here's his 3-minute HD wrap of the action.
June 25th, 2014 by admin
Dead calms meant lots of swimming and fishing on the big MN lake yesterday, with 29-year old Vince Porter (Melges 24 World Champ Brian's nephew) holding the A-Scow US National Championship lead after two races.  Racing begins at 10 AM central for all the marbles today, with Clean and the team streaming it all live.  Check it out above, and go here for the results after two.
June 22nd, 2014 by admin
As always, Ryan Breymaier is as honest and refreshing as they come, and as the first American to win an IMOCA event in a long time, he's got plenty to say.  About his race and NYC's sendoff (and what NYTimes' Chris Museler has on his plate after crossing with Ryan), about big moves in the Open 60 fleet, about the soon-approaching Barcelona Race, and why he'll be in Marine City, MI for a while this summer.  A half hour with Mr. Clean for the SA Innerview.
June 18th, 2014 by admin
Ben Moon's late charge wasn't enough to hold off the speed of Bruce Mahoney's DNA cat with T-foil Exploder rudders at the biggest A-Cat North Americans in history; Mahoney becomes the champ of the first-ever event held at SailNC in the Outer Banks, and we expect it to be the first of many.  Here's a quick look thanks to the Rachel and Richard show; we'll have a bit more about the current state of A-Class racing later in the week.
June 16th, 2014 by admin
Ben Moon takes the lead on a very breezy Friday at the A-Cat NAs. Check it.
June 14th, 2014 by admin
With racing abandoned on day 2 of the A-Cat NAs, Houston cat racer Bruce Mahoney took the chance to trial his brand new flying J/boards in 12 knots of breeze and a beautiful evening in the OBX.  Here's the interview and Bruce's explanation, along with a look at what a stable 18-20 knot ride looks like on an A-Class.
June 13th, 2014 by admin
While its international appeal is fairly diverse, the American A-Cat Class has long been regarded as the province of athletic but greying sailors, so it's surprising that we've got not one but two teenagers racing their own boats at the A-Class NAs in the OBX.  Here's a Rachel Jesperson/OceanImages look at the excellent Jeremy Herrin, who nailed a second place yesterday sailing an A-Cat he built himself in his Sarasota, FL garage with his dad.
Here's the Day 1 Highlight Video with a short chat from Jeremy; three more days of sailing are ahead with Bruce Mahoney leading the fleet after two light air races.
June 12th, 2014 by admin
If Sam Greenfield's latest Volvo Ocean Race video doesn't get you stoked for the race, nothing will.  Along with Amory Ross finding really finding his writing voice during last week's Team Alvimedica Transat, Americans should be proud of having two of the best young storytellers in the sport playing key roles in the biggest ocean racing event we've got.  They're also helping US fans get stoked about their team on the world stage, and we're digging it.
Alvimedica's updates are most easily followed via Twitter, and browse the VOR's channel for some of their latest work here.
June 10th, 2014 by admin
The A-Cats continue their uncertain march toward full foiling despite Class rules specifically formulated to prevent it; To paraphrase Jeff Goldblum, "Flight finds a way", and it certainly has.  And in spite of (or, perhaps, thanks to) the rules rift, the Gunboat A-Cat North Americans at SailNC on the Outer Banks has one of the biggest NorthAm fleets in the Class's history.
While we won't see the illegal but logical bottom-in L-foils that a few Aussies are experimenting with in Sydney, a 60+ boat fleet will include quite a few cassette and J-board foilers and some serious talent on hand.  Our own Senior Editor is on the ground in Manteo, North Carolina to help the Gunboat team provide all sorts of interesting coverage of one of the coolest events in the US this year, and it all begins above with a good look at some of the sailors and some of their rides.
Best place to follow every bit of 5 days of sailing on the breezy Carolina coast, including a pile of pics already? SailNC's Facebook Page.
June 9th, 2014 by admin
What's this got to do with sailing? Absolutely nothing, but we couldn't stop watching it. Maybe this one is more up your alley for non-sailing, extreme ocean movies?
June 5th, 2014 by admin
The wind finally showed up on the final day of the foiling GC32 Austria Cup, with Chris Draper driving Luna Rossa to an undefeated finale, and 10 wins out of 13 races on the week. We'll have more on this extremely exciting class for you soon; in the meantime, check out the full day's racing from Sunday above with speeds over 30 knots, and hit up Youtube for the daily highlights and dozens of interviews.  The archived races from earlier in the week are on the Livestream channel here.
June 2nd, 2014 by admin
Looking for some of the great sailing videos this week to watch on a near-summer Sunday?  We've got it for you right here.
High Line
As much as we like the one-design idea of the next Volvo Ocean Race, there's no doubt that the usual buildup of excitement for the VOR is largely gone without the open design challenge of a developmental class.  The VOR hasn't handled this change with a lot of grace, but Rick Deppe and his video team are finally getting it rolling, and this look at what it's like to work in the sky is both beautiful and interesting.
Time Line
Petey Crawford shares a time lapse look at a series of 'days in the life' of a sailing videographer, with a nice track and some of the prettiest scenery you can imagine.
Scout Report
We never let a chance to speak to Loïck Peyron slip by, and he stopped by the Austrian Alps with Artemis teammate Iain Percy to have a peek at the foiling GC32 action on Lake Traunsee.   Mr. Clean sat down with the boys to see what they thought about the foiler and where it fits into the AC world, and watch the final day of action at the GC32 Austria Cup right here on the front page starting at 1000 CET/0900 UTC today.  For dozens more interviews, go here.
Scouts Rising
If sailing is to ever to grow again, it ain't Yacht Clubs that will make it happen; it will be the sailing centers, community organizations, and folks like the Sea Scouts who spread the word to the unwashed masses.  Huge, well-funded spots like the new 60,000 square foot Sea Scout base in Galveston, TX will lead the way; check them out above and support Sea Scouts in your neck of the woods.
The Haunted
Sure it's a sport, but it's also all about soul and history and isolation and all the things that don't easily fall into the realm of 'competition.'  Here's a look at some of that soul, captured by some of the sport's ocean racing pioneers.
May 31st, 2014 by admin
If the US Sailing Team can race as well as Amory Ross can shoot video, Brazil is going to be full of shiny golden trinkets for our Americans. Get to know the team in the first excellent Olympic sailing video we've seen this cycle, and props to Sperry for throwing down the coin to get this kind of film made.  Show your support here.
May 29th, 2014 by admin
Since the end of the America's Cup, have you experienced any of the following symptoms?
1) Pain when you see slow sailboat racing?
2) Inability to sleep without youtube videos of AC45 crashes going in the background?
3) Compulsive watching of any foiling boat videos no matter how short, terrible, or foreign?
4) Obsessive research about J-foils, L-foils, T-foils, Elevators, and all sorts of other shit that has no bearing on your personal sailing?
If so, you need to take two Great Cups and call us in the morning.
That's because we will be broadcasting live from the first ever non America's Cup foiling multihull regatta this week in picturesque Lake Traunsee, Austria, where racing teams from all over the world will be test sailing and then racing the first few GC-32 foilers against each other as well as one of the older-foiled designs.  Luna Rossa's been training for the better part of a week with some seriously cool results – the first foiling gybe ever – and we certainly expect them to kick some ass, but with AC folks like Slingsby, Langford, Minoprio and more all checking in, it could be anyone's game.
Our own Mr. Clean will be leading the commentary team for four hours each day of live action racing. Tune in right here, but only if you like excitement, spray, beautiful alpine backgrounds, and top America's Cup teams.  Miss it and you miss one of the most exciting developments in the sport.
May 27th, 2014 by admin
By Saturday, Michael Hennessey's Class 40 Dragon was finally on a roll in the Atlantic Cup.  Tied for first place going into the final weekend of inshore racing in Newport, Dragon got a great start in the first inshore race today, with a great kite hoist leading to a 7 boatlength lead at the turning mark off Beavertail.  And then disaster struck; Dragon clipped a big rock just as bowgirl and former SCOTW Emma Creighton went out on the bowsprit to set up the douse.  The boat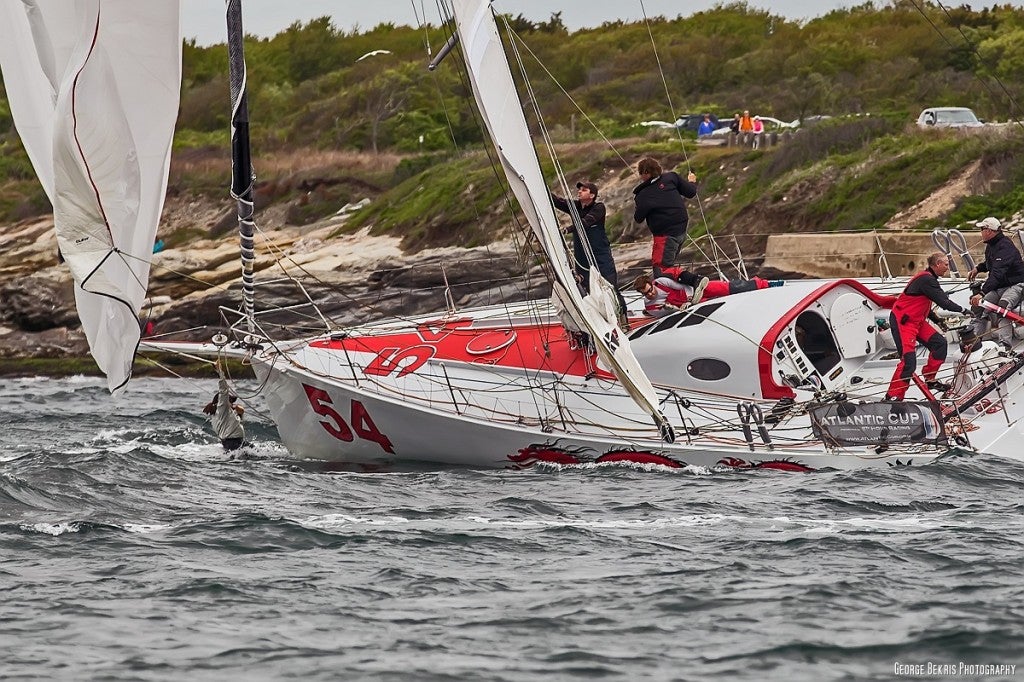 went from 12 knots to zero, knocking the crew off its feet and launching Emma off the bow, though the young Maine native's badassery knows no bounds, and somehow she held on, and no one was injured on the crew.
The boat is another story however; have a look here and you'll see what we mean.  Cracked keel box, cracked grid frames, wrecked fairing, and cracked glass around the keel entry.  Huge bummer on a beautiful Memorial Weekend sailing day, but it could have been much worse.
More info at the Atlantic Cup site here, huge thanks to SA'er "Mister Sail" for the shot of Emma to your left, and to Julianna for the keel shot.
May 24th, 2014 by admin
Curating the internet's best sailing videos for you, here's another SA video edition.
Transformer
While Thomas Coville's crewed endeavors over the past couple of years (Groupama 70, Banque Populaire V) have been damned impressive, he spent the past few years losing to Francis Joyon in the world's big solo records with a near sistership to Joyon's IDEC.  The big Irens trimarans are narrow and light and designed for solo sailing, and clearly, Coville's Sodebo just wasn't getting it done.  So he picked up the bigger, wider, and much older Geronimo for a song, brought it to Multiplast for a mega-refit, and just relaunched in time for some serious pre-Route Du Rhum prep and record-breaking.  Looking goddamned good.
In other big French multihull Route Du Rhum news, Team Edmund de Rothschild relaunched their MOD 70 the other day for Seb Josse, but it's no longer a MOD 70; instead, it's a turbo MOD.  A lighter motor/generator,  lighter interior, larger canopy (Seb will live outside the cabin during the RdR), and most importantly, a set of Verdier/Koch-designed T-foil rudders.  Will Seb stand a chance against the super-trimarans?  If anyone can, it'll be Josse.  More info here.
Britain's Next Top Model
Artemis Offshore Academy's Sam Goodchild continues his climb into shorthanded stardom, albeit it slowly. The young Brit continues his Figaro ways this year as he continues to hunt for Vendee Globe money, and here's an intense clip showing what it's like to sail in gusts to 60 knots. You think you know 60? Take a look and compare Sam and Sandy's delivery to your biggest day.  Click the video to get to it.
Blu, You're My Boy!
With Flavio Favini on the sideline after his horrendous accident earlier in the year, Franco Rossini's Blu Moon continued her winning ways with Matteo Ivaldi helping the Moonies to European Championship glory last week.  Here's a video from midway through the week that showcases just how gorgeous Hungary's Lake Baloton can be, with thanks to Janna Buriani for the shooting and editing.  Title shout is all about Old School, yo.
Can't Teach Old Dogs New Tricks

It's amazing how quickly the once-amazing AC45s have descended into obsolescence; too flexy to make a good foiling platform and slower than pretty much all the foilers, Oracle Team USAustralia and Team Australia continue to practice in Sydney despite the irrelevance of their platform to the new AC62 class.  That being said, this video shows off the lighter, more easygoing side to OTUSAUS resulting from Tom Slingsby taking a much bigger role aboard as Sailing Team Director.  It also shows off a more American side to the team; Rome Kirby, Andrew Campbell, and now Matty Cassidy joined with half-citizens Slingers and Spithill bring the total yank factor up to 4, and with a very American design team, OTUSAUS is almost, dare we say it, an American team!  Good fun from the Oracle media boys.
Just When You Thought It Was Safe
Your $200k RIB seems like it can take anything you throw at it, but can it? These guys found out the answer.
One Man's Trash Is Another Man's Island
You've all heard about the Great Pacific Garbage Patch?  Well, how about Richard Sowa's recycled bottle island?  We like.
May 15th, 2014 by admin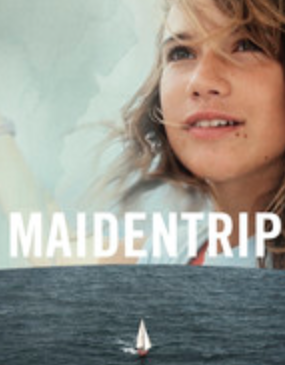 Looking for something to wash the Robert Redford stink off your TV screen?  The Laura Dekker biopic Maidentrip has been out for a while now, and garnered its share of impressive reviews – the best for any sailing movie ever.
And now it's an iTunes Movie of the Week Rental, available for just 99 cents.  Download it here.
May 15th, 2014 by admin
With just five boats entered for October's Volvo Ocean Race, Knut Frostad's business plan is in serious trouble – but at least their videos are getting better! This one comes from the editing deck of longtime Volvo media producer Austin Wong, but it's funnier and more clever than we've seen from the VOR vets in some time.  And surprise surprise – it's already getting a lot of views.  Send it around.
May 5th, 2014 by admin
Two AC wins and the informal title amongst San Franciscans as the AC's sexiest sailor haven't gone to Angtiguan Shannon Falcone's head; the musclebound monster is still as humble and down-t0-Earth as he's ever been, and he's an easy guy to cheer for – especially when he's using his connections to help kids in the islands get more into sailing.  Shannon was instrumental in getting the big Cup to town for a quick visit as Sailing Week comes into its final days; check out the video profile above for a look at Shannon and his family, with thanks to Roddy and the ASW video team.
May 2nd, 2014 by admin