Archive for the 'video' Category
Things are still pretty chaotic at Volvo Ocean Race HQ but the content is certainly flowing in from a fleet that's all still within sight of each other hundreds of miles down the track. The Leg 1 Start coverage may not have been inspiring but at least it wasn't embarrassing, and you should watch it here if you haven't.  And for those looking to really embark on the VOR adventure, click the player above to check out the first episode of Life At The Extreme – the weekly series Volvo is banking on to attract millions of new fans to the race.  We're not at all sure it's the right path to follow (especially if the series relies on the British version of Twiki for the voiceover), but it's a creditable half hour of documentary TV introducing the key players on many of the teams.   Producers continue to struggle to get these pro sailors to show even the remotest enthusiasm or humor when they're on camera, but that's a universal problem that time and good interviewers can hopefully solve.
It's no easy task for a fan stay on top of the disorganized stream of info coming from the fleet, and the most complete index for all of it might just be the Leg 1 thread in Ocean Racing Anarchy. The forum-adverse can hit the VOR Watch Log here and the 'new article' link here for an easy content dump, and we encourage everyone to check out past SCOTW's daily show The Inside Track on this playlist.  For the best place to see the raw boatfeeds, subscribe to Pierre's Vimeo page.
There's already been some good carnage; Brunel had to cook up a repair for a snapped spinnaker sheet outrigger, Tony Rey crushed some ribs, and there's a few more human and non-human breakages, though our favorite story so far comes with a side of sashimi.  From Brunel:
Jens Dolmer is looking restlessly around. The boat is not sailing to his liking. His eyes dart nervously back and forth. Suddenly the Dane pulls a large a serrated knife from his pocket and runs to the aft deck. Behind the boat is a fishing line with a giant tuna at the end, fighting for his life. In the distance a Moroccan fisherman in a tiny rowboat balled his fist! With a quick movement Dolmer cuts through the thick fishing line.

Helmsman and gastronome Laurent Pagès cannot believe his eyes. "Two days," he calls somewhat disappointed. "For two days we could had eaten delicious tuna." He shakes his head. However Dolmer looks happy. He does not like fish and the boat runs harder.
Oh yeah – the VOR's tracker has been universally panned, losing a great deal of functionality from the past two editions while getting a cartoon look.  There's an alternative over here until they get their shit together, and if you don't mind using more CPU than a copy of Planetside 2, hit up the Virtual Eye tracker.
October 15th, 2014 by admin
More busy times in the land of the video editor, and we've got 5 good ones for you to start your week off right.
Getting To Know You
It's gratifying to see so many sailing videographers finally focusing on individual people; it's the kind of character-building we've felt has been missing from the landscape for the better part of a decade.  The characters are there – the sport's full of 'em – and this video from Ben Hartnett is an absolutely gorgeous and innovative way to get to know UK-born Aussie Olympic Finn sailor Oli Tweddell.  Watch closely – it might make you a better sailor, too.
Show and Show
Olympic 470 Dutchie and longtime SA devotee Kalle Coster showed off possibly the hottest racing product at the Annapolis Boat Show to Mr. Clean and Petey; here's a 6 minute look inside the best-looking race display on the market.  Keep an eye on Penalty Box Productions' Vimeo page for more videos from the show dropping on Tuesday morning, including our first-sail on both the Gunboat 55 and 60.
Humbled
It's easy to get caught up in the excitement of the awesomely close one-design racing we're already seeing in the Volvo Ocean Race, but we ought never forget that they are competing on a forbidding and potentially deadly field.  If there's one thread running across all of Waterlust's videos, it's humility, and this VOR vid from the Waterlust team is a beautiful look at that humbling ocean.  As an aside,  we thank VOR TV for fixing many of the problems that plagued the in-port race during their much better race start coverage.
What A Long Strange Chip It's Been
Petey Crawford takes a soup-to-nuts look at the breezy E-Scow Blue Chip Regatta last month on Lake Pewaukee Lake.  It's got carnage, kids, drones, and Jimmy Spithill helming one of these classic surfboards; a strong buildup to next year's 50th anniversary Blue Chip.  If you've been a Mystery Guest before, mark your calendars – they'll be inviting every one of you to come along for the fun in September 2015.
Back Of The Pack
While the top boats get the prettiest videos, we love to check in with the rest of the fleet, and this video from 30th place Hyper Viper at the 34-boat Viper 640 North Americans has plenty to make you smile.  Congrats to Brad Boston, Curtis Florence, and Chad Corning for the win.
October 13th, 2014 by admin
First one-design race around the world? Yeah, we'd say it's pretty momentous.  Enjoy the start of the 2014-15 Volvo Ocean Race, and good luck to the teams!  For a little pre-start weather forecast for Leg 1, check in with our old friend Genny. And track the fleet here – they are really mixed up!
October 11th, 2014 by admin
Face of a fashion star, kiteboarding ability of a superstar, body of a porn star.  An unabashed self-promoter and a fan of Sailing Anarchy.  Could this be the perfect woman?  Maybe not, but she's certainly our Sailor Chick of the Week; watch the video to see why.
And head over to Hannah Whiteley's Facebook Page for much, much more.
October 9th, 2014 by admin
The next generation of sailing studs is clearly taken with Charlie and Team Alvimedica, even if they can't say the name.  This is too damned cute, and thanks to Brandon for the heads up about our favorite Ratz of all.  And while we hate to give love to another idiotic use of the 'Everest of Sailing' tautology, it's good to see the young American getting some solid ink from the WSJ.
October 6th, 2014 by admin
Charlie Enright's Alvimedica Team may be the youngest in the Volvo Ocean Race but they didn't look it on Saturday; the Turkish-flagged, American-helmed crew looked smart and conservative, letting the other boats mostly take themselves out of racing with a litany of boathandling flubs.  Bad gybes, worse furls, screwy roundings, ugly laylines – most of the teams had one or more of these issues – but not Charlie.  So the boys in orange get the morale boosting In-Port Race victory over Ian Walker's Abu Dhabi team with the Spanish
The coverage itself was a bit embarrassing even for the first go-round, with the sole production bright light being brilliant talker and ex-Olympic Star guy Mark Covell on the microphone.   Unfortunately, the hysterically screaming play-by-play Englishman beside him snuffed that light out most of the time with brilliant observations like "they are really close together!!!" and "this is the team's third Vendee Race together!!!"  The actual pictures weren't much better – two helicopters, zero on-board footage, and what looked like iPhone footage from the water making up nearly all the images on the Youtube and broadcast feed.  Even the Virtual Eye (or more likely, a knockoff based on the poor quality and completely inaccurate speeds) was useless.
We get that the VOR needed to cut costs, and we get that the In-Port now counts for almost nothing, and we get that the In-Ports are now pretty much internet only – and we applaud all these decisions.  But we don't get how the sponsors can look at this level of coverage and not be embarrassed to be involved.  No coverage of any part of the world's premier ocean race - the Formula 1 of the ocean – should be outspent and outperformed by live coverage of the World Match Race Tour, the Great Cup, or even the 5o5 Worlds.  But this In Port coverage was.
Organizers deserve a little leeway because it's their first attempt for this one but it ain't like the VOR staffers haven't been down this road before, so they don't get much.  Step it up, guys and girls, or give up on your claims of being the Big Show.
October 5th, 2014 by admin
You thought rudder problems were an issue in your wee yacht? Well, when it hits one of the world's largest container ships as she enters Suez Canal, it's a whole different ballgame.  Check out the Colombo Express taking a chunk (and some containers) off the Tanjong in the spectator video above; the canal was shut down for about half a day with minimal pollution issues and no injuries; a lucky end to a collision that could have been a hell of a lot worse.  Thanks to SA'er 'pipe dream' for the heads up.
October 1st, 2014 by admin
It's been a while since we had this many good ones, and the stories to go along with them.  Enjoy another edition of Video Anarchy.
Big Man in Big Boat
Jim Clark's record-breaker 100 Comanche is just about ready to splash, and Mr. Clean walked through her last week to show you what this new VPLP/Verdier monster is all about.  Wanna know what the absolute coolest part of this new boat is?  Watch the video.  Editing thanks to Penalty Box Productions, and a huge thanks to everyone at Hodgdon Yachts for their total openness with our bald avenger.
Big Man In Little Boat
The continuing and unnecessary mystery of the cause of Andrew Simpson's death combined with organizers obsession with a Guinness record may have turned us off a bit on Bart's Bash, the inaugural festival has already raised some $400,000 for an extremely worthy cause; getting more people into sailing.  And thanks to AC ambassadors like Jimmy Spithill, the event itself accomplished that as well – even in the heart of the Midwest. Petey Crawford shares.
One of the best parts of last weekend was being on hand for the Bart's Bash Opti race as the bookend to an amazing 3 days of sailing at Pewaukee Yacht Club for the E Scow Blue Chip. Local Opti kids, their parents, and some E -cow sailors were all in on a chance to get to race against Jimmy in what was a World Record event – Bart's Bash. I've said it before and I will keep saying it, I love shooting kids (not Bang Bang but Click Click). Youth events are so much fun to shoot because the kids are always having such a great time. This outing was no different, and the smiles on the faces of the kids and adults alike were priceless. Parents with 1 and sometimes 2 kids all crammed into an Opti is a pretty cool sight for anyone with a love for sailing. Everyone had a great time and the never-ending stream of youth sailors in the autograph line was evidence that they were all stoked to race against Jimmy. I think I even caught him digging it a few times. All wrapped up was an epic regatta of action, smiles, fundraising and a bit of debauchery. Final highlight reel coming up next, with way more killer scow action, awesome aerial footage, crashes, and interviews.
Mona Lisa Overdrive
It's partly a Vodafone publicity stunt, partly performance art, and partly a very creative way to showcase one disabled sailor's drive, and in a sport that often lacks creativity, we salute 23-year old Lasse Klötzing and the boys behind the First Sailed Mona Lisa project. Their mission: Sail a GC-32 foiling cat through 271 waypoints on the Baltic Sea to create a GPS track of the Mona Lisa over 3 days.  Klotzing will use the Vodafone 4G/LTE network for all their connectivity, and they claim the entire thing will be live streamed on their website over the same network.  It all starts tomorrow morning, and we'll be watching.  Hit the movie above for the full story.
Title shout for all the cyberpunks out there.
Milk Run
Yvan Bourgnon is easily the baddest motherfucker in all of sailing.  He's won some of the biggest events in the sport, but it's his ultra-extreme cat records that have kept us following him for a decade.  This is the dude that sailed around Cape Horn, across the Mediterranean, and across the Atlantic alone on a beach cat, and last year he embarked on possibly the only real challenge he had left:  Alone, unassisted, around the world.  On a beach cat.  With no electronics.
Check out the video above, and read on to learn how you can help this French cowboy finish his trip.
Around the world Yvan was stopped in Sri Lanka, but our Swiss adventurer does not want to stop there!  He needs us to continue.  He wants more than anything to complete his dream, up the channel of Les Sables d'Olonne after rebuilding his cat and a new beginning in Sri Lanka in January 2015.  Yvan has been able to recover much of the equipment (about 1/3 of the boat), Forward Sailing will make her new sails and help fund two new hulls, which are ready to go to Europe. The rest will be rebuilt and reassembled on site in a construction site, with the strong mobilization of Sri Lankans.
But to realize this childhood dream, Yvan needs support and appealed to all lovers of catamarans. He recently set up a crowd funding campaign to allow it to revive its "Louloutte." He must find € 40,000 budget to rehabilitate his boat.
Today we represent the last chance to Yvan to finish this round the outstanding world. It will only be through your generosity that Yvan will complete the circle.  So hop on board and join this fabulous adventure -contribute here.
Caught in the Glow of the TV Screen
Above is the wholly underwhelming official Volvo Ocean Race promo clip released with yesterday's announcement that the VOR would be hitting American TV screens, and we're cautiously optimistic about the deal's ability to help solve the race's decade-old struggle to register on mainstream American radar.  The deal commits NBCSN (the America's Cup broadcast partner) and OutsideTV to air 20 hours of programming produced by Sunset + Vine on behalf of the VOR.  For Americans wanting to see Alicante-sized crowds in Newport next summer, dissecting the impact of this deal is important, so let's have a look.
OutsideTV is a nonentity in terms of viewership, though its support provides access to the millions of readers of Outside mag and OutsideOnline – a great demographic if you're looking for new interest in sailing.  Last month's Outside showed the Abu Dhabi boat blasting around the atlantic to some 1.2 million readers.
The NBCSN deal is more complicated, because the old Versus has been remaking itself as the educated, cosmopolitan man's sports network.  Their America's Cup broadcast adds to programming like Formula 1, Premier League, and the Tour De France, and with the US fans going increasingly global in their spectating, it's a good spot to be in.  All that being said, NBCSN is still a guppy in a very big ocean; it's only available to a bit more than half of the US, and if you go by the numbers from the America's Cup – doubtless a bigger draw than the VOR to Americans – the best any sailing show would be likely to get is somewhere around 150,000 viewers, in a country with around 300 million people; 0.05 percent of the population.  Not inspiring.
Let's add that to the VOR's choice of producer; the ubiquitous Sunset + Vine.  Responsible for a lot of VOR movies – especially the live racing – for the 2005 and 2008 events, their work always seemed to make extremely exciting action somewhat less so.  Shirley Robertson's CNN Mainsail show has always been reliable and watchable and full of good info, but again – it just lacks a little soul.  That might work for overseas markets, but not here – remember the America's Cup Undisclosed or whatever that 750,000-episode long series was called?  Whatever it was, it failed – and badly.  Whether it was because S+V underbid the series by a fortune or because they are just not that good, the awfulness of the AC Underfunded series was epic.  The series never picked up any devotees and had a constantly shrinking viewership throughout its life, and if that's the kind of product they feed to American TV, they won't even get a tenth of what the AC got.  And we don't know who made the promo above, but it has the same scent.
But of course this is a very rapidly changing world, and the AC suffered from awful promotion and almost zero advertising when it counted; if a growing network can succeed with a shit ton of cross-platform and cross-partner promotion, and if the live racing and weekly highlight shows are reliably spectacular and engaging, this deal could open those elusive golden doors to the US public.  We have heard that the deal includes a big number of tune-in promos to the race programming over the 9 months. That's a positive, especially if they run during NHL, Premiere League or F1.
That is, if NBCSN realizes what it's selling, and if we go by NBC Sports President of Programming Jon Miller's statement, our optimism wanes. "NBC Sports Group's coverage of the Louis Vuitton Series and the 34th Americas Cup was a tremendous success and demonstrated the country's strong appetite for sailing on television." said Miller.  We struggle to reconcile Miller's statement with the fact that the final race of the 'biggest comeback in the history of sport' drew a rating of around 189,000 households; around what Major League Soccer games get.  Does that really mean the country has a strong appetite for it?
While we sound cynical, we're actually quite pleased; while Americans won't soon see VOR in-port races on a major network, the new deal is a long way from the last-second FSN regional programming they had last time 'round, which wasn't worth the dinner napkin it was written on.  Is a hundred thousand or so bodies on a dying medium worth the effort when the digital avenue could garner significantly more if executed really well?   That's a whole different conversation.  And we'll be in Alicante in two weeks to have it.
Iggy Pop supplied the title.
September 26th, 2014 by admin
This one is for those of you who would never want or get the chance to climb nearly 200 feet of mast.  The climber is scampering up the mainmast of the Sedov – the world's largest auxiliary barque at her launch in 1921, and now a Russian sail training ship.  Thanks to Ahab for the heads up.
September 24th, 2014 by admin
Two time AC winning skipper Jimmy Spithill takes to the waters of Pewaukee, WI this weekend as the Mystery Guest for the long running Blue Chip.  No surprise that Scowbilly Video is on hand in the form of Petey Crawford.  Here's a short report from our videographer extraordinaire:
While the direction wasn't that desirable for this small lake, the velocity built all day, with major carnage rolling in with puffs well into the 30s when all was said and done.  31 legs in 3 races created lots of opportunity for spills and thrills and I was stoked that we were on hand to capture it. With aerial footage from Sean and Tiffany Fidler and our cameras rolling at deck level, we got just about all of the action I could fit on a barrel full of SD cards. This year's mystery guest Jimmy Spithill had a blast "launching around the lake" and seemed to pick up on racing E scows pretty quickly. He laughed later about the time he was looking for a grinder for the main.  "TRIM!…wait…that's my job…oh, never mind…EASE!" was how we heard it went down.
Despite the rockstar talent on hand, the day belonged to a 13 year old with a pretty good name of his own; Harry Melges IV (a/k/a "H4″) ended the day with just 3 points.  I told you after Nationals that we'd be seeing H4 kicking our asses for many years to come…I just didn't expect it to be this soon, and in this much breeze.  Watch this space for more on young H4 and of course another breezy day in Pewaukee on the penultimate day of summer 2014.
September 21st, 2014 by admin
Big Pimpin'
Bob Hillier and the folks at Line Honors Yacht Racing Outfitters continue to provide one of the most complete lines of racing apparel and accessories anywhere, and now you can try it all before you buy at the new Line Honors shop!  Support Line Honors just as they support so many teams and events around the world – stop into their brand new store on downtown Lake Geneva, WI for the Grand Opening on October 3.
September 18th, 2014 by admin
We are frequently frustrated by the low-quality videos put out by ostensibly 'world-class' organizations (see the link in the BBS BS story below for a great example), so when someone does it 'just right', we notice.  And that's what this is – a short but intense look at the people of the Melges 20 Class from their recent Lake Garda Worlds.  Doesn't it make you want some?
September 15th, 2014 by admin
Turns out the M32 Cup is pretty damned fun to watch at least from what we saw yesterday in Sweden.  Sweet boats and ultra tight racing on America's Cup courses – what more could you want?  Final day of racing is above.
September 14th, 2014 by admin
We first got to know Chris Branning when he was barely out of diapers as part of Disney's Morning Light program, and as a former shipmate of Mr. Clean (poor kid – ed)), and as he's gone from grommet to sought-after offshore navigator to helicopter rescue pilot, we've seen what an incredible young man he has become. And when Charlie and Mark from Team Alvimedica brought him aboard their Volvo 65 during tryouts, we were extremely excited to see it – and not for Branning's sake.
We see the US-skippered Alvimedica as having a genuine chance of really impacting the sport's perception here in America, and Branning would make that about a hundred times easier.  Branning is the anti-yachtie.  He's soft-spoken but extremely bright, wears his heart on his sleeve, is tall and good-looking without being intimidating, and he just oozes honesty and character.  In other words, he's a media dream.  Add to that the fact that his job as pilot of a USCG Search-and-Rescue chopper makes him one of the only human beings on Earth that this divided America unanimously loves; the most ignorant redneck fisherman on the Florida panhandle is just as much of a fan of USCG rescue pilots as a Wall Street investment banker sailing his Concordia out of the NYYC.
Which makes this video all that more poignant, because no matter how much we wish it was, is isn't a crew profile.  Rather, longtime SA videographer and now VOR moviemaker Sam Greenfield put this movie together to show us that best intentions are not always enough, and that life can sometimes get in the way of the perfect opportunity; thanks to his demanding job saving lives, Branning will be watching this VOR from afar.
As you'd expect from a guy of his character, Branning is still 100% supportive of his friends, and he sent a few words over to share his thoughts on what they've done:
"I think it will take years before what the sailing world realizes what Mark and Charlie have done. For sailing to progress as a commercially viable sport, to compete against the mainstream sports especially in the USA, the process of fund sourcing had to shift. Sailing doesn't need another watch captain, skipper, rigger, or trimmer; though we greatly appreciate the talents of those roles. Sailing needs "board-room" sailors. Educated, professional sailors who can take off the foul weather gear, put on a suit and walk into the board room to pitch, present, argue, defend, convince, cajole, and earn the money to go sailing at the highest level. That is what our sport needs. Few people can fathom the amount of work and risk that takes.  Charlie and Mark, in their mid-twenties, did just that.
"They brought another boat to the starting line of the Volvo Ocean Race, and in the process, they paved the path for younger sailors to do the same.  Did they change the sport forever?  It's too early to know that.  But they did something no one has ever done here, and I salute them for it."
August 27th, 2014 by admin
Monday sucks.  And Tuesday is only slightly less sucky. These videos might be the cure.  Today weve got high performance boats, low performance boats, crashes, flooking around, and kids – lots and lots of kids.  Welcome to Video Anarchy.
Mac Art
A little production value can do wonders to transform some basic GoPro video into something quite beautiful, as the boys and girls from Froeter Design showcase in this video of the Chicago Mackinac aboard the Beneteau Chief. 
Check Yourself
You've seen the scores of young Anarchists (and these kids have been SA junkies since about kindergarden) Ian and Nicolas representin' enroute to their US Youth Nationals.  Here's the movie.  Turn down the music unless you're nostalgic for your dentists' soundtrack…and here's an audio interview with the nippers.
Swedish Bikini Team
The 'new age' of video storytelling has slowly crept into the top end of sailing, with producers (and those who pay them) finally understanding what we've been screaming about for years:  You have to put the audience right there in the trenches with the subject or you're just wasting your time.   We've seen plenty of nasty pictures come out of the Brazil test event, but for many Olympic hopefuls – those without the runs, at least –  it was an amazing adventure in one of the world's most exciting countries.  Above is a look at the beauty and skill of the Swedish team, and no dirty water.  Thanks to Swedish mothy Magnus Gravare for the heads up.
Joie De Vivre
Another essential aspect of video storytelling is about charisma; the camera loves those who have it.  Example?  This excellent Team GBR/Volvo Cars-sponsored Rio Test video from our old friends Richard Langdon nd Rachel Jesperson, focusing on always-smiling and ultra-charismatic silver medallist Luke Patience.  Also starring in this one are his excellent Aberdeen accent and a couple of Nacra 17 sailors.  Have a look at two more charismatic intros from the same team over here.
flook off
Brilliant, stupid, or a hoax?  You decide.
August 26th, 2014 by admin
No TV news organization has fallen further than CNN over the past decade (Fox cannot fall any further, they started as low-brow, race-bating, right-wing shills, and have remained there) with the cable news giant hitting historic lows in almost every category of viewership this year.  For our non-American readers we suggest a trip over to Jon Stewart's hilarious explanation of everything wrong with CNN (and check out his tongue-in-cheek Kickstarter campaign to buy it out), but for the rest of you, we've got a spectacularly dramatic sailing video to prove all of Stewart's points – and you just have to watch it.
Yes, we understand that CNN has 'content partners' like the WFRV 'reporter' who narrates the piece, but maybe, just maybe, they shouldn't?  This ain't a joke or an Onion story, folks.  Share your thoughts on the sheer genius of the piece here.
Meanwhile, CNN does have the only mainstream english-language sailing news show out there, and while Mainsail's quality has been slipping over the past couple of years and the CNN audience is nearly gone, it's still some of the best-produced conventional stuff out there.  Here's Scottish Shirley and Part 1, Part 2, and Part 3 of the Land Sailing Worlds we reported on last month.
August 18th, 2014 by admin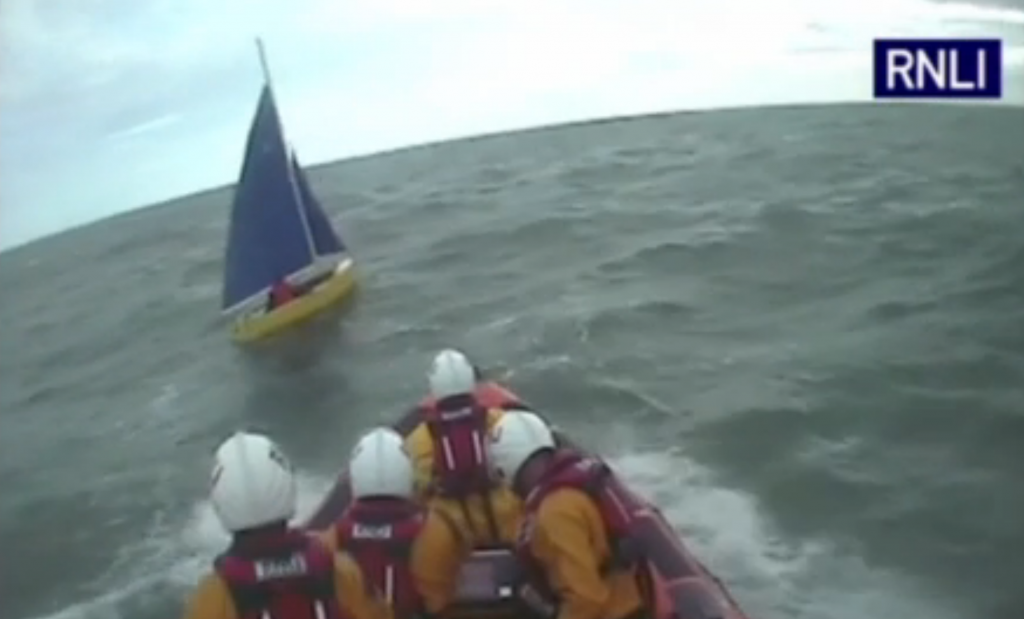 "The man bought the 14-foot dinghy on Saturday and then set off on his 3,500 mile voyage across the Atlantic…not wearing a life jacket, his boat had no lights and his only navigational aid was a street map of Southampton."
Seems like a good kit bag for most major voyages, right?  But wait – that's not all.  "He had a passport containing a US visa, hot dogs, beans and a bag of biscuits." Hot dogs?  Beans and biscuits?  Sounds like a fine transatlantic menu, as long as he's alone!
The Bulgarian man was not interesting in whatever the RNLI was selling. "When we reached the gentleman he didn't want us there, he wanted to carry on his way," refusing assistance for 45 minutes, after which "the crew dragged him on to their boat and took him to shore."
We can't be the only ones who really, really wanted to see how far he could get.  If anyone runs into this guy, let him know that next time, Sailing Anarchy fund your YellowBrick tracker, an EPIRB, and some extra provisions…
Watch the video for the full 'rescue' and thanks to Brad T for the heads up.
August 18th, 2014 by admin
One of the most interesting things to come out of an otherwise uneventful Moth Worlds was their sharing of this poignant story about Hayling Rescue's Frank Dunster.  For an explanation of this enigmatic subject, we go to the film's co-creator, Jack Pollington.  If you're motivated to contribute to such a wonderful effort, hit up Hayling Rescue on Facebook, and for more on the producers, go here.
This was a short documentary created by Alex Forbes and me as part of coursework for Farnham Film School.  Frank runs a completely voluntary, non-profit life saving operation from Hayling Island Sailing Club.  He is a vital part of what keeps that very busy and active club safe and running,  year by year, and in thanks for that, the members of the club contribute to Hayling Rescue's upkeep in an annual fundraiser.
August 15th, 2014 by admin
Whenever we get videos piling up in the back rooms of Sailing Anarchy , we purge them with an installment of Video Anarchy, and this one is a doozie.  Check it.
Sneaky Peaky
Though the work list is massive for the September launch of the first new Supermaxi the world has seen since Alex Jackson's Speedboat, we're told things are more or less on schedule for Jim Clark's Comanche (née New Cubed).  The fact that photog-to-the-NPT-mafia Onne Van Der Wahl is already making videos of the boat tells us Ken Read and friends are confident that the VPLP/Verdier monster will be ready for her trip to Sydney with (a tiny amount of) time to spare.  This little sneak peak, which shows virtually nothing, is courtesy not of Onne but of his editing team at Death Cookie, and it sort of reveals a boat that's fairly conventional in thinking; evolutionary rather than revolutionary, and perfect to go up against 10+ year old designs that have had it all to themselves for the past decade.
Satan's Regatta
Named for the French sailor known to the British Navy as "Admiral Satan", the Trophée Bailli de Suffren is the only event of its kind; a 600 NM race/rally from one beautiful Mediterranean port to another, for Classics only.  And while they invariably sail like the ancient pigs they are, they sure are pretty, as this very beautifully produced movie shows off quite well.
Youth of Today?
You've got billionaire-funded kids teams, 44-foot carbon yachts, Russian oligarchs, feuding ex-America's Cup teammates; as much drama as you can handle.  And with all that, they still can't make an RC44 look cooler than what it is – a tiny version of the piggy IACC yachts.  Hey – at least they have live blogging at their Worlds!  Here's a look at the Gazprom Youth team, who we assume won't be sailing any US regattas for a while…
Youth of Tomorrow
It's not often that a kids' regatta gets video production by someone as good as our own "The Rev Petey", but he was on hand last month for the light-air ILYA X Scow regatta in Gull Lake, MN.  It's long, but watching the smiles on these kids' faces should give you smiles of your own, and even some optimism about the future of the sport in the Midwest.
Heavy Air Wizards
While the British media were freaking out over a storm-swept dinghy regatta in Ireland, 60 of the world's prettiest classic dinghies were battling for their UK National Champs (and still are).  Check out the Merlin Rockets sailing in 10-35 knots of Hurricane Bertha remnants…though with storms, rain, sun, breeze, and a near gale, it looks like a typical day in Cornwall to us.  But hey – no fog!
Video Fail
While we love TP52s and think they are the best thing to happen to big boats over the past decade, we've been unimpressed by the 52SuperSeries – the group that's been trying (and failing) to regain the glory of the Audi MedCup days for a couple of years now.  They seem to have some sponsors, but let's be frank:  It's become yet another ultra-wealthy fun-fest for owner/drivers; like the RC44, but for boats that aren't nearly so dumb.  So why have they had to work so incredibly hard just to get 5-7 boats on their starting lines?  Maybe it's because the people behind the PR and marketing wheel suck at it?
Above is an example from last week; it's clearly an introduction to a contest to sail aboard a TP52 during a SuperSeries event, and it's clear the SuperSeries folks are trying to run the contest, even though they are using Ed Baird as a spokesman, and Quantum's video footage. But what's not clear since the video went up is what the contest is, how you enter it, or who it's for, other than that it says "Facebook" on the title, along with the word "Competion", whatever the hell that means.  A long search through the lonely SuperSeries' Facebook Page reveals that "Closing date for entries is 31 August, 2014 get your entries in!", but that's about it, and our e-mails to the Series' PR people went unanswered.  So good luck winning the contest, and don't be surprised to see SuperSeries sponsors walk away at the the end of the year just as Audi did when the organizers fucked that one up.  Why is it so hard to be even a little bit competent at this shit?
August 14th, 2014 by admin
James Cameron's stupidly-named Deepsea Challenge 3D movie comes out today across the US, and while it hasn't garnered the best reviews, we suspect that water people like us will probably like it just fine.  The world's most successful movie maker is certainly impressive man and he spent some serious coin to fulfill a lifelong dream, and whether his pet project's film makes any money at all (or whether it is anything more than a shallow vanity project) is besides the point for us.  We just want to get a little irie, have a tub of popcorn, and see the bottom of the ocean in huge, glorious 3D with an ear-splitting soundtrack.  And not just because advertiser McConaghy Boats built Cameron's record-breaking sub, either!
August 8th, 2014 by admin