Archive for the 'audio' Category
Former Oracle team member and 2017 Wild Oats XI crew Matt Mason turned the trash talking volume up to 11 in a recent interview with Auckland radio leader Newstalk ZB. He told host Matiu Workman that "Jimmy's getting a little bit desperate for a win and he's got it. But anyway, he can take that. That's cool."
Mason, who has a history of…let's say… "creative" rules interpretation and has been dinged for breaking rules before, also was 'dumbfounded' by the same one-hour penalty that most of the world thinks was way too small.  Dumbfounded, or just dumb?
Never one to back down from a war of words or otherwise, Spithill fired back in this 10 minute interview just before the New Year, and he had some choice words for Mason and the amateur-hour tactics aboard the mighty WOXI.  Listen to the full interview above, and if you know where the actual link is on ZB give us a shout so we can send you there.
January 3rd, 2018 by admin
Clean Report
This past Wednesday I spent an entire day (and much of the night) with recent rescuees Jen Appel, Tasha Fuiava, and their two dogs.  My motivation was partly curiosity and partly a desire to get some truth out there about these two sailors, to stop the attacks and feeding frenzy on what seem like a couple of women with little more than poor decisionmaking and sailing skills.
What I found was not that surprising: Jen Appel was just another hopeful cruiser who set off without anything like the experience or tools to complete her voyage – not unlike the half dozen who are rescued every year – while Tasha and the dogs were mostly just passengers.  I also found that they were kind people, and that unlike so many other clueless rescuees or RTW sailors – Rimas, Reid Stowe, Dr. Paris to name a few – they never sought out attention or press, and much of their debacle comes from the way they were fed to the media lions with no experience and no one watching out for them.
Would I go to sea with these women?  Probably not.  But they're not bad people, and when you dig down under the craziness of their early interviews, you find some interesting bits and bobs.  Start digging via the player above, or head over to iTunes or Stitcher to download on your mobile device.  The full SA Podcast library is here.
December 4th, 2017 by admin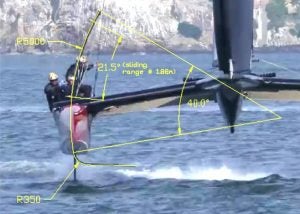 As the world awaits the big decision on what the AC75 monohull will look like, the man at the center of it all talks about the potential concepts and the details on how Emirates Team New Zealand crushed the world in Bermuda.  Here's 10 minutes with ETNZ Design Coordinator and former Formula 1 Vehicle Dynamics Engineer (McLaren) Dan Bernasconi from Radio NZ.
Concept 1 "…a fairly conventional but high performance monohull…"
Concept 2 "…a semi-foiling monohull…"
Concept 3 "…is it possible to get a really big yacht fully foiling. The sailors who are listening will know about foiling Moths which are single-handed fully foiling boats which are great. But on those you use a lot of your body weight to balance, and that is something which is really difficult to scale up."
Discuss the three options for the next Cup in the thread. 
October 11th, 2017 by admin
Grant Dalton doesn't reveal the deepest darkest secrets of the America's Cup in this 90-minute chat with Mr. Clean, but the Emirates Team New Zealand head man touches on a wide variety of subjects regarding the Bermuda AC, the AC75 monohull, and the just-announced protocol for the next one (natural disasters notwithstanding 😉  Get balls deep into the 26th Sailing Anarchy Podcast with Auckland vs Italy, trickle-down technology, the supercomputer vs. the mobile phone, how disbelieving the Kiwis were that the rest were so far behind, who nicked the videos of AC34 and 35, and much, much more in this frank discussion with one of the iron men of the sport.  Direct listen or download here for the podcast-challenged, and please subscribe to the SA Podcast on your iPhone or Android device.
Show Notes:
00:00-10:27 Intro
11:27 Who wrote the protocol and explanation of its genesis
13:17 Off-water battles in the Bermuda Cup buildup, and obstacles thrown up by Coutts & friends
14:47 Why should challengers trust you to be more fair as organizer than the America's Cup Event Authority were to ETNZ?
15:34 "The most ridiculous stacking of the deck in modern times came from Alinghi"
15:57 How much has Royal New Zealand Yacht Squadron been involved in the protocol process?
16:57 About the Cup's national NZ road show coming up
18:07 Why is it OK to take the Cup to a boat show but not a car show?
18:57 How the RNZYS will help lessen the load for Dalton and the TNZ staff.
20:57 What information did you base your decision to go to a monohull? What's the real motivation?
25:57 The density of breeze in Auckland and the frailty of the Cup cats. Dalts: "16 knots here would pull an AC50 to pieces"
26:41 On NZ's huge tech advantage in Bermuda. "For the life of me I can't figure out how all the other teams were so far behind us"
26:57 How keeping the AC50 would almost definitely guarantee another TNZ win
28:07 How many concepts are being considered for the actual boat? Are ETNZ consulting with other potential challengers besides Luna Rossa?
30:03 Does the design rule schedule mean TNZ and Luna Rossa get an unreasonable head start over other challengers?
30:57 Why can't you say whether or not the boat will lift out of the water?
31:57 Would you lose Glenn and Burling and the other speed junkie tech heads if you go to a heavier, more conventional type of boat?
32:47 Ashby's huge beard and his two months on walkabout
34:07 Dalts' motorcycle crash in the Isle of Man TT
36:02 Bicycle grinders and the openness of the AC36 design rule. "We have no intention of banning bicycles"
38:52 Box rules vs open Rules, and the element in the next AC of "one-design supplied parts". Don't want to stop innovation in areas that can help the average yacht racer, eventually.
41:30 Clean's disappointment with the residency requirement, and Dalts explanation of what he thinks people are misunderstanding about the new nationality/residency rule.
43:24 Finding the balance between a rule that would exclude many countries and one that will help reduce the mercenary culture in the sport, and how to get teams to look to their own countrymen first for crew.
48:07 Dalts: "They commit to a team and a country rather than a worldwide circus where they're guns for hire to an owner who doesn't realize he's getting ripped off"
48:57 Surrogate boats, regatta schedules, and high entry fees for the pre-regattas. "This will allow us to create a financial pool so we don't have to be beholden to a city for funds." Dalton says ACWS events were driven by venue fees in bad places or at bad times for sailing. "Make it great for the yachties, and the rest is easy."
52:27 With the residency requirements and lack of venue certainty right now, how does ETNZ ensure teams spend enough time in Auckland to justify the money the venue will have to spend to prepare for the Cup?
53:42 Dalts' sample schedule for Challengers.
57:12 Is the Italian Option really just Dalts holding Auckland's feet to the fire? What's with the natural disaster thing?
59:05 Two boat testing for ETNZ and no one else? How about a defender challenge?
60:58 There are ways around two-boat bans, but it might not help anyone. Dalts: "SoftBank was Oracles B boat, but they couldn't get it up to speed fast enough"
61:42 Fan questions begin: Soft sails or hard sails? Hybrids?
62:51 Limiting electronics? More PlayStation type controls? Dalts analogy for ac35: "Oracle were still a mobile phone and we were a supercomputer"
64:27 Sailhandling, stored power and the team's philosophical problem with combustion engines on AC boats.
65:37 What happened with the AC34 and 35 Facebook pages and videos? Were they stolen?
67:06 IF you can get the media back, will you publish all the video from those Cups for free to the world?
67:57 who owns the Liveline graphics system and do you intend to have them back in the mix for the worldwide audience?
69:02 Free to air distribution for AC36!
74:37 Omega time, Swiss Timing, and how am entirely new graphics system might be going into the AC46 broadcast
76:27 Entry period closes before venue announced. How is that ok? (Answer, it might not be).
77:57 What are you looking to get from Auckland and the NZ government to make the event possible?
80:01 How much will a basic, unembarassing campaign cost? "People will still spend 160 million" to try to win
81:38 Biggest sponsorship mistake made by most campaigns
82:57 Happy to see Louis Vuitton go, or will you miss them?
84:07 Burlington vs Tuke, Mark Turner's shock departure from the Volvo Ocean Race, and Dalts' picks for the 2017 VOR
86:42 Uniting the major races, World Sailing, and where the sport is headed at the pinnacle.
87:42 Exactly what they're releasing in November and how Dalts will judge whether it was the kind of technological success he hopes for.
88:47 What's by far the most read site in New Zealand (guess?), AC Anarchist Stingray gets a shoutout, and out.
Thanks for all your questions, and head over to the Protocol discussion in AC Anarchy.
October 3rd, 2017 by admin
Who knew Dennis Conner had a podcast? Love him or hate him, we're glad to see his voice out there in public.
Listen to him beat up on Bermuda, Russell Coutts, nationality rules, and kids on his lawn in this half hour episode of whatever the hell he's calling it.
August 7th, 2017 by admin
Clean's back, this time with his final America's Cup thoughts, and this time, with a slew of experts to dig into it with.  First, two longtime yachting scribes 6 decades of AC coverage between them; Associated Press sailing correspondent Bernie Wilson and longtime Aussie scribe Rob Mundle, who pull no punches in an analysis of went went right and wrong on the business and media end of AC35.
Next, a tech talk with the man behind the on-screen broadcast graphics known as Liveline, multiple world-record-holding navigator Stan Honey.  Find out what it will take for other events to get the kind of broadcast tech the Cup enjoys, and hear more ultra-geeky TV tech info from the ultimate tech geek.
Finally, a chat with America's fastest foiler, double Moth world champion Bora Gulari, about the recent carnage in the Mackinac Race, his picks for the Moth Worlds, and his overall thoughts about an America's Cup he was once destined for with Luna Rossa: Foil design, controls, and a great discussion on what Bora would like to see in the next America's Cup (hint, it ain't a multihull!).
Special thanks to all of you who've liked, shared, or commented on the SA Podcast; thanks to you, we passed the 200,000-download milestone last month, and our monthly averages are now over 30,000 downloads.  Please keep it up, and let us know if you've got someone we absolutely must talk to. Subscribe to the SA Podcast for two dozen episodes so far, with more great shit to come! (iTunes, Stitcher)
Show notes:
Intro
00:00:19 Sailing Anarchy current podcast numbers – 200K downloads – thank you listeners! 00:01:04 Reach out on itunes, stitcher, [email protected] if you have any show ideas. 00:05:55 The Ellison Era – the good, the bad, the ugly. 00:16:30 Cup media program, media coverage. 00:18:50 The in-person experience at AC Bermuda, 00:19:33 Broadcast/production problems with analysis. 00:26:222 Clean goes to Nacra 17/49erFX/49er European Championships – what to expect.
Bernie Wilson & Rob Mundle – Pre-America's Cup – in Bermuda                                      
00:28:55 Intro to Bernie Wilson and Rob Mundle, plug for Mundle's soon-to-publish Spithill biography. 00:30:57 legendary parties and the Society of International Nautical Scribes (SINS). 00:34:00 Does the Associated Press see sailing as a major sport? How do they cover it and why? Who is following the SA in mainstream media? 00:46:22 ACEA/Coutts/Bermuda administration; did Russell take his eye off the prize? "If they want to be mainstream, they have to act like a mainstream   sport." 00:54:22 "Good riddance to Larry Ellison and the Cup. The Louis Viutton effect vs. the Red Bull effect. 00:58:00 will the US get behind an American challenger? 1:01:08 The Cup as a hooker and Coutts as the pimp.
Stan Honey – A Touch of Genius & A Taste of Brilliance               
01:03:07 Stan's interesting month in Bermuda, his role in the 2017 AC. 01:06:42 Stan's/Liveline's role in AC35, differences between SF and BDA systems. 01:08:52 Factchecking Spithill's claims that the software caused his multiple OCS. 01:11:20 On screen graphics/green screen/Hockey Puck swoosh from 1993/geeky broadcast stuff. 01:15:19 Bringing Liveline to lower budget classes/events. 01:18:18 Too much information for sailors? 01:21:08 Tech's ability to make the sport less intimidating for both fans and competitors. 01:22:55 Storytelling, digital streaming, customizable interactive viewing, the PGA tour, professional directing. "The key to everything is the story." 01:27:43 Stans's experience at the AC, overall highlights. 01:28:45 Stan's transpac record, what's next. 01:29:35 That's a wrap – custom feed and the importance of the storytelling team.
Bora Gulari Interview – Midwest Tech
01:35:27 Mackinac carnage – what happened to Natalie J? 01:38:38 the MOD aboard Meridian X, thoughts. 01:41:48 Safety conscious sailing – more sensible these days or more reckless? 01:43:19 Battle of the Lakes superboats, damage to Earth Voyager. 01:45:15 America's Cup impressions, good vs. bad matches, and the problems with the grinding. "It just doesn't feel right to me." 01:47:46 Foil shapes and changeable surfaces, new Gitana, flaps. 01:50:07 Wing trimming vs. sail trimming. 01:51:25 automatic foiling, the Holy Grail of perfectly stable/low drag foiling. 01:53:07 The rise of Burling – luck vs. skill vs. maturity. 01:54:05 Foil shape analysis of AC. "Aspect ratio is king", daggerboard shredding. 01:59:19 Getting personal/emotions at missing the Cup after being part of Luna Rossa team. "They definitely got the short end of the stick." 02:01:53 Underdogs and outsiders. 02:03:15 If Bora picked his perfect boat for the next AC, what would it be? Why don't we have widespread automated electronic foil control now? Other formats, "I think the Superfoiler has a lot of potential." 02:10:30 Bora pulls out of Moth Worlds. 02:13:27 Moth Worlds form guide.
02:19:30 Outro/What's next for the Sailing Anarchy Podcast/Wishlist for future talks
July 24th, 2017 by admin
For some reason, a nervous Kiwi nation can't be consoled by talking to their countrymen, so they turn to Mr. Clean to calm their frazzled nerves.  Here's a strong 7 minutes of live radio with Sailing Anarchy and Newstalk ZB's Larry Williams on what to expect for Day 5 of the America's Cup Match.
June 26th, 2017 by admin
Mr. Clean his the New Zealand radio shows as the end gets closer.  One piece on venue selection and the obstacles to an Auckland event, and the other on potential shenanigans from the OTUSA bunch.
June 24th, 2017 by admin
Bermuda internet may not be quick enough for a live show down on the docks at the AC Village, but Mr. Clean's loaded up 18 minutes of pre-race analysis (in two parts, above), including some seriously interesting rumors about Oracle's case of the slows and the interesting Challenger possibilities opening up if ETNZ can close it out this weekend.  With 8-12 knots on call today and less tomorrow when Race Director Ian Murray can add a third race if it's match point, most are expecting this to be over by Sunday night.
Keep an eye on Facebook for interviews and analysis all day long.
June 24th, 2017 by admin
Clean Report
With Pete Burling and the kiwis just one win away from the rematch of 'sporting's greatest comeback' and a seemingly unsurmountable speed advantage over Nathan Outerridge's Artemis Team, today will likely see Emirates Team New Zealand skate through to another America's Cup.  Radiosport NZ's Darcy Waldegrave gave me a call last night to dig into the Burling vs. Outerridge starting dynamic on the air as well as to go over some of  TNZ's reliability issues and some interesting AC Organizer drama…listen to it as you get ready to watch the Scandinavian team's last hurrah today at around 1300 ET.
To talk about the live action and get updates, clicky.  If you miss it, clicky to catch up.
June 12th, 2017 by admin