March 26th, 2017
Big Pimpin'
When builders point to the greater volume of a new model over its predecessor the risk is that the increase has been achieved at the expense of looks. More volume rarely leads to better aesthetics. Yet Oyster's G6 range marks a step forward in both areas, delivering sleeker, more modern appearance while offering significantly more space above and below decks.
But the new style is much more than simply a smart exercise in creating a good-looking, voluminous boat. Since the G6 range was first announced in 2012 the project has been an ambitious one that extends from the new flagship of the fleet, the 118 that is currently in build, through seven models, to the recently announced 565 and 595s. A comprehensive new lineup that is arguably one of the boldest in the company's history. There are certain details in the G6 approach that stand out immediately.
Stepping onto the new 745 (above) most noticeable is the sleeker, lower profile deck with its tinted, wrap-around saloon windows. The landscape oriented 'seascape' hull port lights are another signature of the new marque. Cleaner-looking, clutter-free decks are also part of a new style, as are sail plans that incorporate blade jibs, bowsprits, swept-back spreaders, full-width chainplates and carbon rigs. Read on.
Title inspiration right here.
March 26th, 2017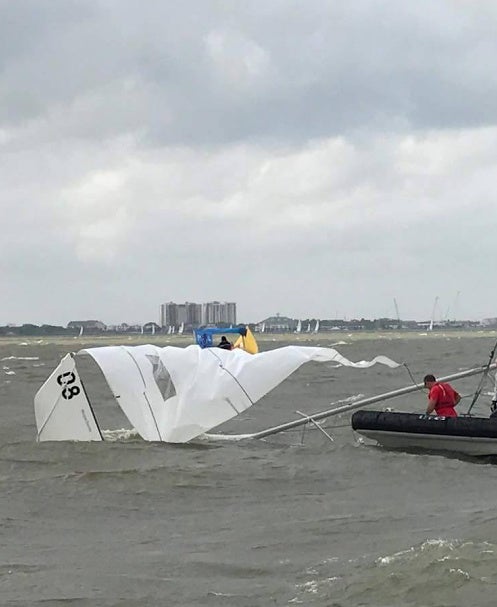 This seems like a good time for a caption contest. This shot from the J/22 Midwinters at Southern Yacht Club. Props to Anarchist Grant.
March 24th, 2017
Thanks to the wishes of an uber-secret previous owner, images and videos of the monster Gunboat 90 have been scarce since her launch.  But now that the biggest and baddest cruising cat of all is up for sale, the covers are coming off for the world to see.  She's got the M&M 'battleship' lines that so many love about the pre-2013 Gunboats, and this girl is definitely the only luxury superyacht that can easily hit 30 knots under sail and embarrass any other superyacht on the planet around the cans.
We're not superyacht lovers by any means, but if we were billionaire industrialists or climate-denying oligarchs, this is what we'd sail away on once the coasts are under water and the poor are eating the rich.   Hit up Nils for more details about the G90 or to arrange a (carefully pre-qualified) test sail.
March 24th, 2017
Big Pimpin'
For generations, families have gone into the woods to dig up time capsules. Relics of the past, to see how things were done way back when. For anyone who dug up an old Club 420, they were able to take it straight to the racecourse and give it the whip.
So many of us wonder why our kids are racing the same boats we buried in the backyard years ago, which is why it's so encouraging to see some brilliant moves by Class leaders that have allowed the Club 420 to hit a sharp upswing in popularity.  Series scoring, smart championship and event venue choices, and creative work in partnership with builders Sturgis, Zim, and LP continue to add value to one of the foundations of youth sailing in America.
Managing a one-design class is a difficult balance between honoring history and keeping up with the times, and improvements can be painful in the short term even while they make the boat better, newer, and more exciting again. We've seen it with the E-Scow, Laser, Sunfish, Thistle, J24, and Melges 24, among others, and over this past winter season, the Club 420 has seen a unique and successful effort by the Builders and the Class, working together, to modernize the gear while adding a bit to the safety and ease of use.
The changes may be minor, but for 420 sailors, they give us some new gear to geek out on. There's a new spinnaker cut to make the reaches more fun, plus a new rig package from Seldén which offers a lighter boom, plus updates the mast to replace the high-maintenance items with smarter and stronger parts.  Now the kiddos can even fly around the course with the same boom their Team USA heroes Stu and Dave took to Rio in the 470; if you've got young ones- the new gear is available from each of the class Builders. (Sturgis, Zim & LP).  Click the photo above or go here for a closer look at the new boom with Club 420 ExecDir John Vandemoer.
It shouldn't be understated how important the C420 class is for the future of Sailing, and we're all lucky for the current board of innovators and lifelong class stalwarts, so if you see one of them at the bar or in the boat park, buy 'em a round and see if there's an event in your area you can help out with next year! You may leave the weekend with new inspiration from Youth Sailing.
For a discussion about Selden and the growth of youth sailing in the USA, check last month's Sailing Anarchy Podcast with Tim Fitzgerald, and keep an eye on Selden Mast Facebook page for more innovations over the coming months.
March 24th, 2017
Love him or hate him, the first man to win a non-stop RTW race has certainly earned every sailor's respect in his long, long life, and his history isn't even the most interesting thing about him.  Our fascination with Sir Robin Knox-Johnston comes from how little he seems to give a shit about anything that ain't him.  If you ever get a chance to listen to some of his tales at a marina or a boat show (preferably after the gin starts flowing), we highly recommend it – just don't expect him to remember your name!  We share a short excerpt below from a very well-written profile on the Clipper Race boss from Avaunt Magazine; you can share your own RKJ stories in the thread.
"I was out sailing with my grandchildren in the harbour here, they were all in lifejackets and I wasn't wearing one, and the patrol came up and said, "You should be wearing a lifejacket. It's the law."

And I said "No it isn't. The reason I'm not wearing a lifejacket is that if one of them falls in, I want to be able to swim after them. A lifejacket would be a hindrance."

"Well our advice is that you should wear one."

And I said, "So what qualifications have you got?"

He said, "I've got my Boatman's Licence."

And I said, "Well I've got a class one Masters' Certificate, and I don't need advice from a ruddy boatman. So fuck off."
March 24th, 2017
Second over the line to the Andrews 68 Simon Says (ex-Terrapin), first in class, and the overall winner for the second straight year, Michael Hennessy and the Dragon crew were first to the Hemingway Yacht Club bar by a long, long way, earning him the new nickname "Sr. Habana".  We'll have a full report on what's going on in Cuba and the Miami to Havana Race from Mr. Clean in an upcoming podcast; until then, check out our future Sailor Chick of the Week in this video with 13-year old Vieva Mulhall from aboard the PHRF C winning Testing Life.
Full results here.
March 24th, 2017
Eighty O'pen BICs participated in the North Americans hosted by Sarasota Youth Sailing, March 17-19. Beautiful conditions allowed the completion of 14 races and the O'pen BIC Freestyle Challenge with 32 teams.
The highlight of the event may have been the World Premier of the "Bridge of Doom" bringing course obstacles and X-Games feeling to Youth Sailing. On one reaching leg of the high-speed slalom course, the sailors had to heel over to get under an inflatable arch. This tested the sailor's boat handling and made for added fun and drama.
Nine sailors from the North American's now qualify for the America's Cup Endeavour O'pen in Bermuda, and join twenty-three other international O'pen BIC sailors who will be The Half Time Show between Race One and Race Two of the America's Cup Finals, June 17.
Find event results here. Title thanks to this.
March 23rd, 2017
We have almost zero love for the AC, but we sure love this video and the energy behind the team.
March 23rd, 2017
Perhaps it is because we are older, perhaps with that comes a better understanding for and appreciation of our parents who made it possible for most of us to fall in love with this sport that we can never seem to get enough of..
I had dinner with a friend of mine the other day. She was constantly checking her phone. Her 20 year old daughter had moved to live with her father in Germany and her three-times-a-day text had not arrived. She was worried. "She usually text's at the same time every day," my friend said. "I can't imagine what's gone wrong." I nodded in sympathy. I am a parent and I totally understand.
The next day I had lunch with one of my oldest and sweetest friends. Without her I would never have had the most awesome life that I have had. That's a true statement. I was a snotty nosed kid walking the docks in Durban, South Africa dreaming of a life on the lip of an ocean swell; but clueless. That's when I met Lyn Lindsay. She was First Mate of one of South Africa's best know yachts – Dabulamanzi. They had just arrived from the Seychelles and they were planning on doing the Cape Town to Uruguay race. I was a hands-on-my-knees sailmaker at Elvstrom Sails in Durban and the boat needed some sails repaired. I offered to help and Lyn saw something that she liked. Enthusiasm, innocence, and a bucket full of bullshit. Lyn asked if I would like to join the boat for the race to Uruguay.
OK let's put this into perspective. I was a 20 year old "kid". I had no offshore sailing experience. I had a long term girlfriend, my first love, and had just been offered an adventure of a lifetime. I wasn't sure. I walked the damp streets of Durban searching my soul. Should I go for it or should I stay with Liz?  It never once occurred to me that my parents had any say in the matter. My Mom was dead but I was very close to my Dad and Step-Mom. I wandered some more and at some point I made a decision. I was going to join the crew.
And I did. We left Cape Town on a blustery January day and sailed across the South Atlantic. Along the way I turned 21. Jeeze I am pushing six decades now and as I said I have children. I am not sure how I feel about things. Would I let my boys "just go for it?"  Probably, but then, maybe not. Back then the only means of communication was by letter. Or if desperate, telegram. They charged by the character and it was expensive. So expensive that when I was lost and presumed dead in the 1979 Fastnet Race, and then found alive, my parents sent me a telegram. They signed it MaenPa. That's Afrikaans for MomandDad. See, shorter=cheaper.
The friend with whom I had lunch with, Lyn Lindsay, brought along a pile of photographs from our wonderful adventure. We not only sailed to Uruguay but continued up the coast of Brazil to the Caribbean. She dug through the photos and found one of me. I had just turned 21. I was broke but the captain of the boat had offered to buy me lunch; a beer and a whole chicken. I look at the picture now and I am not sure what I see. I see a happy kid with a whole lot more hair than I have now. I have a son who looks just like me. He is only 16, so he is not leaving just yet, but I wonder how much courage it took for my parents to give me their blessing. They let me go on a trip across the Atlantic and eventually around the world. Postcards would be sent when I had money for a stamp and sometimes they got lost. They could not follow me daily on Facebook, or Twitter, or Instagram. Definitely not Snap Chat. Nope I was out there making it; or not.
I have huge respect for parents of the past. How much courage did it take to say goodbye – and hope beyond hope – that not only had they done a great job raising their (in my case) son, but that the traffic and jams of life did not trip them up along the way. Thank you Dad, and you too Judy, my StepMom. – Brian Hancock.
March 23rd, 2017