It's got more entries than any keelboat regatta in the Western Hemisphere, more women and juniors than any open regatta we've ever been to, and one of the best venues in the entire sport.  And now it's got one of the best highlight videos, too.  Petey Crawford from Penalty Box Productions went two days without sleep to get dozens of hours of footage from 2014 Sperry Top-Sider Charleston Race Week turned into 10 minutes of reality show/highlight reel/tribute film, and the result is just goddamned excellent.  If you want to know the recipe for success in modern American regattas, watch and learn.  And go here to find all the interviews, photos, and race coverage from the SA crew over this past weekend.
April 16th, 2014
Here's a good look at historic 18-footer Yendys on her way to a 2014 season championship win in the Sydney Flying Squadron with far too little mainsail on…Look at that boom!  Congrats to our good friend, sailing cheerleader, camera cat owner and all-around lover of sailing Bob Killick on the victory, and here's a report from the Squaddie.  Bob Ross photo and full results here.
April 16th, 2014
The Race Committee can't call you over the line if they can't see you.  At least that's what distinctive Italian Melges 32 owner Filippo Pacinotti seems to be going for with this all-new naval camouflage look for an all-new Melges 32.  Check out the new Brontolo (Italian for 'Grumpy' and a reference to its owners shared features with the Snow White character) and thanks to Marco Perazzo for the photo.  The new boat even comes with a new iPhone cover; check this shit out!
April 16th, 2014
The Agustsson brothers are just $50,000 away from turning this clever little Vertical Axis Wind Turbine into reality; If their Kickstarter campaign raises a total of $50k, just two-fitty will get you one of the first production units of the Trinity wind turbine mini USB charger (another hundred bucks will reserve you a limited edition version.  Minnesota-based Developer Skajaquoda says it wants to become the world leader in sustainable products; check out the oddball shit in their online store to ascertain whether they are getting there.
Here's the Kickstarter page if you want to get involved.  Thanks to Treehugger for the heads up.
April 16th, 2014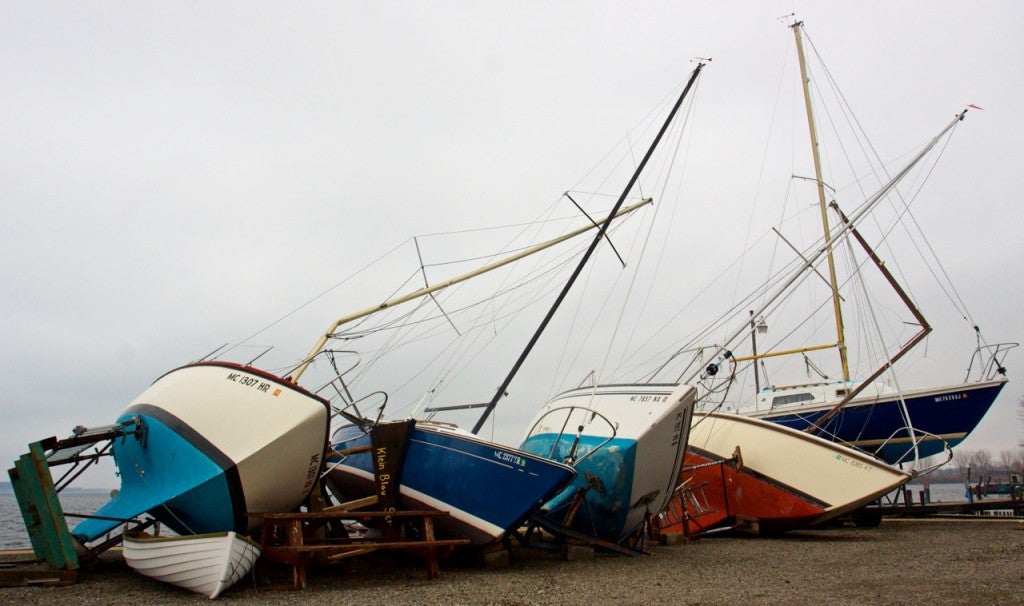 This picture was taken about 45 minutes after this front passed through Muskegon, Michigan at Torresen Marine April 12. Title inspiration that J-Kwon. Photos thanks to Anarchist Daniel.
April 15th, 2014
We'll have more insight on this rather shocking story asap…
America's Cup sailor Dirk de Ridder has been suspended from sanctioned events for five years by sailing's international governing body, two people with knowledge of the decision said Tuesday.
The people spoke with The Associated Press on condition of anonymity because the suspension is being appealed.
Unless a review board or the Court of Arbitration for Sport overturns the suspension, it effectively ends de Ridder's sailing career. Not only is the 41-year-old de Ridder banned from the 2017 America's Cup, but he's unable to accept a $500,000 contract to sail in the Volvo Ocean Race, which begins later this year. Read on.
April 15th, 2014
Brian Carlin gives us his Pink Floyd interpretation of Wish You Were Here. Kook!
April 15th, 2014
Since Fresno Yacht Club angered the gods with this douchey move, and is now being appropriately punished, perhaps they can now finally turn to a business better suited for them. It would appear that the Number One commodity in Fresno could use even more knuckleheads to fuck it up.
We wholeheartedly support FYC should they take our suggestion to branch off to what surely is their true calling.
April 15th, 2014
When good things happen to good people and we have a hand in it, that makes us smile…here's some excellent news from our pal Ryan Breymaier.  Mark Lloyd photo.
Thanks in large part SA's support and promotion, everyone here knows I have been working with Alex Thomson Racing's management company 5 West in my search to find a partner for my Vendee Globe Project USA. Our cooperation took another step recently, when I was asked to race onboard HUGO BOSS for the upcoming Ocean Masters race, a double-handed transatlantic from New York to Barcelona, starting on June 1st.
Alex needs to be home for the birth of his second child, due in the first week of June and has asked me to take his place. This is an incredible opportunity for me, and I am very proud to have Alex and HUGO BOSS put their trust in me to fill his shoes in such an important way.
The boat is the ex Virbac-Paprec 3, sailed to 4th place by Jean-Pierre Dick in the last Vendee Globe. It's a latest generation VPLP-Verdier design; the same hull as winner Macif with a different deck layout.
It is a quantum leap ahead of Neutrogena that Boris and I sailed to fifth place in the 2010 Barelona World Race, and one of the fastest boats in the fleet today.  Each time we have been out sailing I am just floored by its sheer speed and ease of handling.
Along with such an incredible boat, I have the privilege of sailing with Pepe Ribes, who really does not need much introduction here.  FOUR times around the world in the Volvo Ocean Race, at least TWO Americas Cup campaigns, and 4th place (just ahead of me) in the last Barcelona World Race, Pepe is a wealth of knowledge and experience. He's hugely competitive and a great guy to go sailing with.  As serious on the water as he is relaxed off it, I could not ask for a better team mate.
I have been in Gosport, UK at the Alex Thomson Racing base working with the team for the past few weeks, training and helping prepare the boat. We are due to leave for the US on April 22nd.
We will be in New York at North Cove Marina from approx. May 11th -19th and will arrive in Newport on May 20th to prepare for the warm up race from Newport back to New York starting on May 24th. From May 26th there will be a race village set up at North Cove and on the 29th we have another 'friendly' race on the Hudson.  If you are in the area, come and see the boats, and feel free to say hello!  I am happy to answer questions, and I'm very serious when I say that I would love to meet every NYC and Newport anarchist, sailing enthusiast, singlehanded hopeful, ambitious junior sailor – whatever.  Come and say hello, please.
As for the race itself, what an awesome racetrack;  leaving iconic New York City to hook into a depression, ride it to the Portuguese trades, and then through the tactically challenging Mediterranean to my favorite European city of Barcelona, which also happens to be Pepe's current hometown.
We're going to be gunning for a HUGO BOSS win, and all the pieces are in place to make it happen!
April 15th, 2014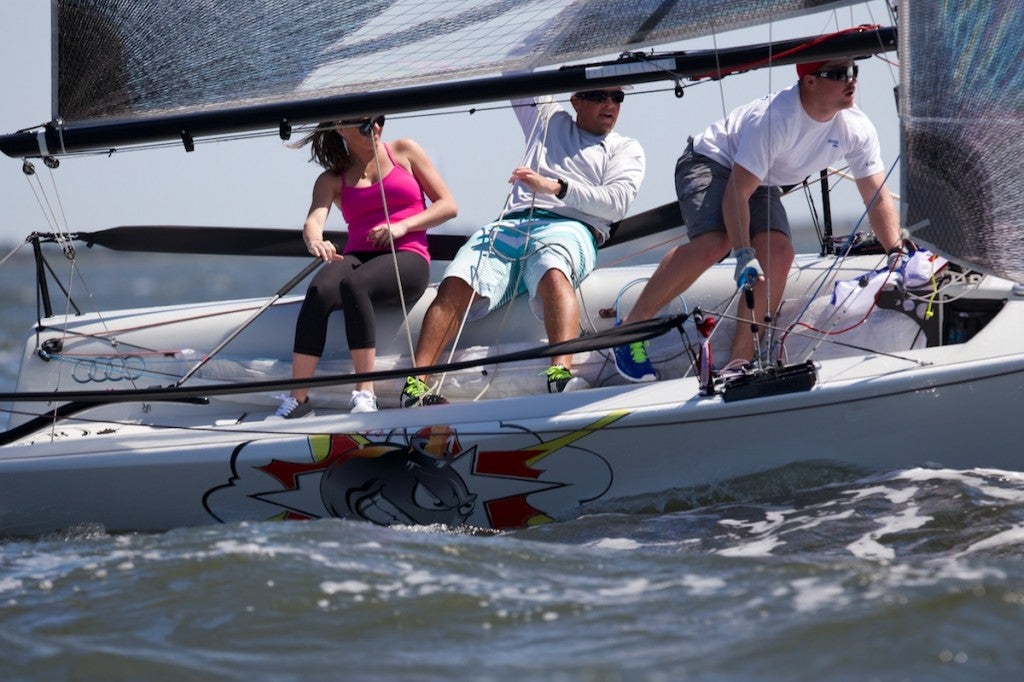 This week's Sailor Chick of the Week was a no-brainer; 23-year old Grace Lucas is smart, sassy, fast as hell, and just helmed her way to fourth place in an extremely competitive Charleston Melges 20 fleet, losing the podium spot she'd held through 6 races after a last-leg charge from Michael Kiss's Bacio.  Grace is finishing her college career this year after 3 years on the CofC sailing team; here's hoping she doesn't get so sucked up in the employment world that she gives up sailing.  Get to know Grace more in two interviews our own Mr. Clean did with the young NJ native, and enjoy tactician and Melges fixture Sam Rogers' new nickname.
April 14th, 2014
What a cool shot of a Navigo 38 and Ufo 28 racing in Dubrovnik, Croatia from Anarchist Ivo.
April 14th, 2014
UPDATE: Make that 49 cents.
Happiness abounds today as The First Marblehead Company stock hits a new all-time low. Don't be fooled by the horseshit 10-1 reverse stock split. Nobody bought into it, because honest people know the company is toxic. Without that bit of trickery, the "real"  price hit a whopping 49 cents price per share with volume at 19,700 – pathetic numbers no matter how they are spun. And you can be sure that spun they will be.
However, it looks like the world is catching up with the bullshit. Thanks to Middle Class Rut for the title inspiration.
April 14th, 2014
That's what you do when there's no breeze, right? Cool shots from the Onyx 8.5m class racing in Zurich. More shots by Martin Tschupp right here.
April 13th, 2014
This cat sailor got a closer look than he bargained for and set up this great football analogy after a capsize just downwind of the Viper fleet during the second day of Charleston Race Week.  Meredith Block Photo and an awesome gallery of 111 photos from Day 2 here.
 The HD Day Two Highlight Reel from Petey Crawford is here.  Results here.  Follow the final day of action on Facebook here.
April 13th, 2014
Heavily touted as a replacement for one of our favorite all-time racing boats (the Mumm/Farr 30), the new F280 is the best looking thing to come out of the Farr Yacht Design office in years, and hits that under-30 size that's been so underrepresented in Grand Prix over the past few years.  The powered-up sportsyacht – named Chessie Racing in a nod to the Annapolis owners' past programs and flown to the states from Dubai in a cargo jet to make the CRW starting line, sailed off to a 1,1,2 in the PHRF B class on the opening day of Charleston Race Week with a handicap in the 40s; there's some video of Race Day 1 here and we'll have more on the boat this afternoon via the CRW Facebook Page.  Meredith Block photo, with big galleries of all the CRW boats here.
April 12th, 2014
Spring has sprung and the sailing world is on fire!  Here are 5 vids for your weekend viewing pleasure.
the young ones

Charleston continues to show its uniqueness, and never mind the huge fleets or sportboat-gathering.  Where else outside the Olympics do you see 20-year old skippers beating up on Grand Prix fleets, and what other regattas have literally hundreds of gorgeous girls in attendance – both on the race course and at the parties?  That's right – there are none.  Check Petey's Day 1 highlight reel above.
C___ Tease

Do you want to go foiling at the 2015 ICCC Worlds/Little America's Cup in Lake Geneva, Switzerland?  Well, now you can.  The Canadian build team for the last 3 Little Cups will make it happen for less than you think.  Go check out patersoncomposites.ca for more
Wake Me

It's been a while since anyone did a good wakeboarding-behind-the-boat video, and this one has the added bonus of being shot and edited by one of the most beautiful cat sailors in the world and the longtime SAers aboard the Formula 40 Soma.  
Everybody Quant Some

We're not sure if the DSS system is every really going to be ready for prime time, but the Quant boats are different and quick enough that we're still watching.  Check it out above.
Just In Time

This container ship gives a new meaning to 'emergency stop'.  Hong Kong, last week, and very close to a bad day.
April 12th, 2014
Torqeedo are all over Charleston, with three electric-powered media boats, dozens of sportboats running their outboards, a display booth, charging stations, giveaways, and above all else; girls.  Good for the environment and good for the soul!  Thanks to Torqeedo for the shot.
April 12th, 2014


It's a Charleston time of year again, and who better to give you the lay of the land than the Rev. Petey.  For live video updates, near real-time HQ photos, drone videos, and plenty more, check out the Charleston Race Week Facebook Page.  Racing begins at 10:30.
April 11th, 2014
Wouldn't that be funny if it was? But of course it isn't, as Dan Meyers, in addition to his bullshit lawsuit against us, has a whole slew of other "numbers" to deal with. You know, like this one, and this one, and this one, and this one…
No, what this really is is the brand new J/V 72′ Ran, photographed here and here by Jesus Renedo. Can't wait to see it sailing.
April 10th, 2014
Sadly, we bid adieu to the Shaw 650 Sock Puppet as it heads to the east coast to make it's new home and hopefully help kick start a new sportboat revival there. Quick as shit and a ball to sail, our time with the boat was limited as were the boats to race against here in conservative and sportboat barren San Diego.
But that doesn't change how much we dig the thing and highly recommend the 650 to anyone who wants to sail what has to be one of the fastest small monohulls downwind in breeze ever! And check out their new 550…
April 10th, 2014