Big Pimpin'
The HH Catamaran fleet has begun its Winter migration, with HH66-05 FLASH sailing from Annapolis to the Exumas last week. With cold weather and frontal conditions forecasted to the North, the crew departed Annapolis bound for Beaufort, NC. After a quick pit stop and a light and easy Gulf Stream crossing, the breeze filled in and a 48-hour downwind sleigh ride ensued. With 25kts on the port quarter, under double reefed main and staysail, FLASH surfed down the faces of 6-8ft waves with sustained speeds in the high teens to low twenties and a top speed of 27.9kts.
Once in the Exumas, FLASH got a chance to stretch her legs upwind, sailing from Cat Island to Great Exuma with 30kts on the nose. On arrival in Emerald Bay, boat and crew were warmly welcomed by the friendly Bahamian people, and delighted by the sights, sounds and flavors of the islands.
FLASH is the first of five HH Catamarans planning to sail south this winter. Two HH66 sister ships, R-SIX and Nala will join Flash, along with two 55s, Minnehaha and Hai Feng; the five yachts will eventually converge in the Caribbean late February. Together with the Offshore Multihull Association, HH is excited to promote growing participation in a number of Caribbean events this Spring. Despite, or perhaps in-part because of, the devastating blow dealt to the BVI this year, nine big performance cats are already signed-up to participate in the 2018 BVI Spring Regatta.
The HH fleet is excited to take part in this and other events throughout the season, and is looking forward to the opportunity to contribute to the recovery efforts of the islands that have so graciously hosted the sailing community over the years. To keep up with the HH fleet or to learn more about HH Catamarans, check out the website and Facebook page or contact them directly at [email protected].
November 22nd, 2017
They say in the jungle that the only thing more dangerous in the jungle than a tiger, is a wounded tiger. Clearly the pride of Charles and Pascal on Dongfeng was wounded when, having led Leg 2 of the Volvo Ocean Race virtually all the way from leading the fleet out of Lisbon, a wrong decision leading to sailing too far towards the high pressure threw them out the back door.
Even Pascal was heard to say on the VOR Daily Live "we're completely fucked".
The mark of true champions however, is that when they are down they don't stay down, they pick themselves up.
I have seen Olympic runners knocked over on the last lap, pick themselves up, then pass everyone to take the gold. Football teams 3-0 down come back to lift the trophy – that is the mark of champions.
Dongfeng have not yet re-taken the lead but Mapfre must be looking over their shoulder as the boys and girls on the East Wind (Dong Feng) have just posted the fastest 24 hour run of this race so far, surpassing 530 Nm for the first time taking the wind out of the sails of, not only some of the other teams, but also several pundits who immediately wrote them off for a podium finish.
To give an idea of how the whole team is pulling together to reduce the deficit, and who knows, perhaps even get to Capetown first, below is straight off the boat from Dongfeng skipper Charles Caudrelier: 
Our speed is the work of the whole Dongfeng crew. The mood is better on board after our fantastic come back. When I said two days ago that we can maybe make a comeback, I was not sure I really thought it was possible. But I wanted to ensure that we didn't lose hope and I also always believe that when you sail well and work hard you deserve a bit of luck.
The luck was that the situation – until tomorrow – favoured the back of the fleet. It was important to come back before today and we have done it. Our speed over the last two days has been amazing; it could have been even better if we had not had a small issue two days ago when we lost a few miles. But this speed is crazy. In the last race, we were the king of the light and medium air but we were not fast in heavy weather so we worked really hard to find solutions this winter and this investment has paid off.
I can hardly believe how fast we are sometimes. It reminds me of the old times on Groupama when we were one knot faster than everyone else at times.
But this speed is the result of the efforts of the full crew and the big work we did this winter and then with MAPFRE in August in Sanxenxo. It is also a result of the efforts of the new sailors in Dongfeng Race Team who have brought us their knowledge and their driving skills. Stu and Daryl are just amazing drivers at high speed.
On the cockpit display we have our performance presented as a percentage of the boat's polars and, I can tell you, it's not easy to drive after Stu – "Mr 102%!" But this is a good reference and all our drivers now reach this target.
This afternoon Marie was helming and I was watching her, pushing more than anyone. I decided to give up my turn on the wheel and do the grinding for her. But now, ahead of us, there is a high pressure ridge to cross and there are decisions to make. I missed one opportunity a few days ago – I will not miss the next.
This is the last phase of the race if we forget the terrible bay of Cape Town where you can lose so much, just two miles from the finishing line.
Notice also, that unlike some skippers, Charles takes full responsibility for the error that cost them so many miles.
With a leader like this and a crew, obviously, so willing, keen and able to follow makes them a danger to their competitors, whatever the situation.
Shanghai Sailor
November 21st, 2017
Okay, we know these guys aren't from Dago, but no one onboard didn't know not to go in there? Here's the best part, and it is why Pendragon earned Dummy of the Day: They ran aground before their start and stayed parked there (it was a big ebb that day) for the duration of the entire race! We have no idea when they actually got unstuck, but it doesn't really matter, does it?
We've always loved that boat, but maybe they need a good local onboard…
November 21st, 2017
It is official as of last night.  NOSA ratified a contract acquiring the Border Run race from XS Sailing.  The two Border Run courses will be integrated into the Newport to Ensenada International Yacht Race event, which will offer 3 courses in 2018; Newport to Ensenada (N2E), Newport to San Diego (N2SD – Border Run), & Newport to Dana Point (N2DP – Border Sprint).
Also new is that the N2DP course will offer small one design classes as well as Portsmouth for beach cats and non-one design small boats.  All starts are April 27.  All courses share in all activities, like the Thursday night pre-race party at the Balboa Yacht Club.
It'll probably take a few days for PR and website updates to catch up.  NORs will be up in a few weeks.  Registration starts 1/1/18. Jump in the thread.
November 21st, 2017
Clean Report
You see them at every major regatta; a chaotic, bedraggled corps of passionate wackos toting pelican cases and laptop bags who call themselves 'media professionals.'  They're more demanding than the most spoiled billionaire owner and more manipulative than a match racing champ, and they're more cynical and jaded than any sailor could hope to be.  The scariest part of it all is that the success or failure of an event can come down to whether or not someone can keep the journalists, filmmakers, and photographers happy, and in all the world, there was one woman better at that job than anyone else in the world.
And we're gutted to tell you that yesterday, after years of quietly battling against the disease that took her, one of the world's best managers of personalities anywhere died.
I'd say Isabel Genis exemplified the term 'grace under pressure,' but in reality, grace permeated Isa did regardless of pressure.  When we first met Isabel she was running a massive press operation at the Barcelona World Race, and her deft hand at handling the stickiest situations was already legendary.  Somehow able to turn the most negative story into a feel-good win/win narrative, Isabel always managed to find an elegant solution to any problem without sacrificing her integrity or honesty.
Isabel took the time to read every reporter's filing and watch almost every film.  She spoke at least 6 languages and could provide you with a fact, a name, or a translation in microseconds. To me,  a 30-something 'reporter' with my 20-something photographer wife representing an 'outlaw' publication, Genis did something that no one else running a major event had ever done: She made us feel like a truly valuable part of the whole thing, and helped us really want to bring our readers behind the scenes for some amazing stories.
Without Isabel, the world's understanding of the great races she worked – The Race, the Vendee Globe, Olympics, Barcelona World Race, America's Cup, Volvo Ocean Race (and everything else Isabel touched in her busy career) – would be much poorer.  Personally,  had I missed out on several late night, hours-long, red wine-fueled talks about the sport, controversy, ethics, technology and family with Isabel, I know I'd be a much poorer person for it.  We are all poorer this morning for her loss.
As evidence of the strength of her personality, the internet's blowing up with thoughts on her death.  First, an excerpt from Marcus Hutchinson's eulogy on Facebook (thanks for the pic, Marcus):
There is not a day that goes by that we are not confronted by a difficult choice or a situation where we need to lean on past experience. When it comes to being patient, understanding, tolerant and forgiving, something I often struggled with in my younger years, I now frequently revert to the behaviour of Isabel Genis and how she would have dealt with this or that situation. I know too that my children watch me and often react to how I react. This is good, great, the best possible outcome. Thank you Isabel. RIP
And from Corriere Della Sera's Bianca Ascenti:
When I landed in Auckland in September 2002 I had only two details, a contract with the Louis Vitton Cup and a postal address. When I arrived in what would have been my home for six unforgettable months, I came through the door: With one hand you gave me the house keys and with the other, a glass of red wine, all while speaking perfect italian about the Cup, the Kiwis, and the beauty of the land down under…
I want to talk about my friend Isa, who I had the honor of knowing and the privilege of attending: a rare person, able to hear and understand without ever judging; to enjoy life and to laugh at things without losing them; to take everything that came with strength and with extraordinary balance; to always find time for friends and affections, to say the right words at the right time, to recommend deep books and to stimulate always interesting conversations …
I can not believe it, but after 15 years the time has come to say goodbye. I'll miss you, Isa. And look at you when you're up there, as you always said to me, "Hay gente para todo."
Here's another from well known Spanish sailing journalist Pedro Sardinia, and another from Nicolas Martinez.
Fair breezes to you, Isa, and to her friends and family, we shed a tear for you, and with you.
November 21st, 2017
As many of us prayed for, the next America's Cup will indeed be a flying one.  No keel, ballasted foils, and a bow profile that looks more like an alien critter than a boat.  All in all, we dig, and how about the fact that it's actually early?  Discuss here, full release from ETNZ here.
To go back and listen to Dalts explaining all about their decisionmaking process, go back to this podcast from earlier in the fall.
November 20th, 2017
I read an article the other day that posed the question; "Is sailing a dangerous sport?" I kind of scoffed at it after reading that the author of a report concluded that sailing is indeed a dangerous sport. I mean seriously, how dangerous can it be to be on a boat plodding along at 5 knots on a sunny summer afternoon? Well once again I was wrong. I read the news over the weekend that there had been another fatality in the Clipper Round the World Race. A 60 year old former lawyer from England was washed overboard and by the time the crew was able to recover him he was dead. This is the third death in the Clipper Race in the last couple of years and it begs the question. "what the heck is going on with that race?"

Let's first take a quick look at the idea of amateur sailors paying for a berth in an around the world race. I, for one, think it's a fantastic idea and a great opportunity for sailors to experience one of life's greatest challenges; a circumnavigation. Simon Spiers, the person who was washed overboard this past weekend, had most likely worked his backside off for most of his life and was finally able to enjoy the fruits of his labor. He was likely ticking a box on his bucket list. What a grand idea. Now I know that plenty of you will point out that it probably was not such a great idea given that he is dead and you will continue on to say that he was inexperienced and should not have been out there. Let me counter by saying that Mr Spiers had at least 10,000 nautical miles under his belt in the Clipper Race alone. That's more sea miles than most "experienced" sailors accumulate in a lifetime. That's plenty of experience so that argument is facile.

I think it comes down to a basic law of averages. There are so many people out on the water sailing these days that the chances of something happening is increased. In terms of big offshore races right now we have the Volvo Ocean Race going on, the Clipper Race, the Transat Jacques Vabre and the Mini Transat. I am too lazy to count how many sailors that is but it's a lot and the odds of something happening to someone is therefore increased. Mr Spiers could just as easily have been hit by a London bus had he continued on as a lawyer.
One of the first people to take on paying crew for an around-the-world race was the late Rob James. Rob was an immensely experienced sailor but ironically it was he who died in a freak accident. Rob and his crew had just delivered his 60-foot trimaran from Cowes to Salcombe on the south coast of England when he went forward to drop the mainsail and fell into the water. By all accounts it was pretty calm but it took the crew an hour and forty-five minutes to locate and recover his body.
Let's also not forget that it's been over a decade since the highly experienced Hans Horrevoets was swept overboard and died during one of the final legs of the Volvo Ocean Race and in the earlier versions of the race, when it was called the Whitbread Round the World Race, they lost three sailors overboard. The possibility of being washed overboard comes with the territory if you want to race a sailboat around the world. With that in mind I don't think that there is anything wrong with the Clipper Race.
The pre-race training is rigorous and the safety standards are high. This was just bad luck. I send my condolences to his family and friends and I hope that those who are quick to criticize sit on your hands for a while longer before jumping in and condemning the race organizers. – Brian Hancock.
November 20th, 2017
It's called a SuperFoiler and it does look very bad ass. Check it out y'all.
November 20th, 2017
The two fatalities in the 2015/16 Clipper Round the World Race were the first in the company's history, and after a comprehensive report on those deaths from the UK's MAIB giving stern recommendations for improved safety procedures at Clipper Ventures plc, the last thing anyone would expect is yet another fatality just a year later!  Yesterday, that's exactly what happened; 60 year old former lawyer from Bristol UK Simon Spiers was washed off the foredeck of Clipper CV30, yet despite being clipped in, the Clipper says he was separated from the boat and likely drowned.  Spiers' body was recovered by the crew and given a burial at sea.
No amount of the Clipper PR team's "quiet reflections" addresses what has to be considered something of a crisis in this high-profile round-the-world 'adventure race'; in just three years, three participants in the Clipper race have now died at sea; two washed overboard and drowned, and one crushed by the clew of a sail.  If you're doing the math for the past two events, based on the Clipper's own numbers (700 sailors per event), that means 1 in 466 Clipper participants has now died – and that's assuming no one else loses their life on the 2/3 of the current race remaining.  Considering one entry just went hard aground on a well marked shoal off South Africa without any explanation, nothing would surprise us about the Clipper fleet – and that's terrifying, especially with the lack of experience aboard.
We're not sure whether the RYA should shut the Clipper down while they figure out just why people keep dying on their boats, but we do think that if 3 people in another sporting event died over three years, there'd be some serious investigations underway of the people who were supposed to keep them safe.
Get in on the thread here.
November 19th, 2017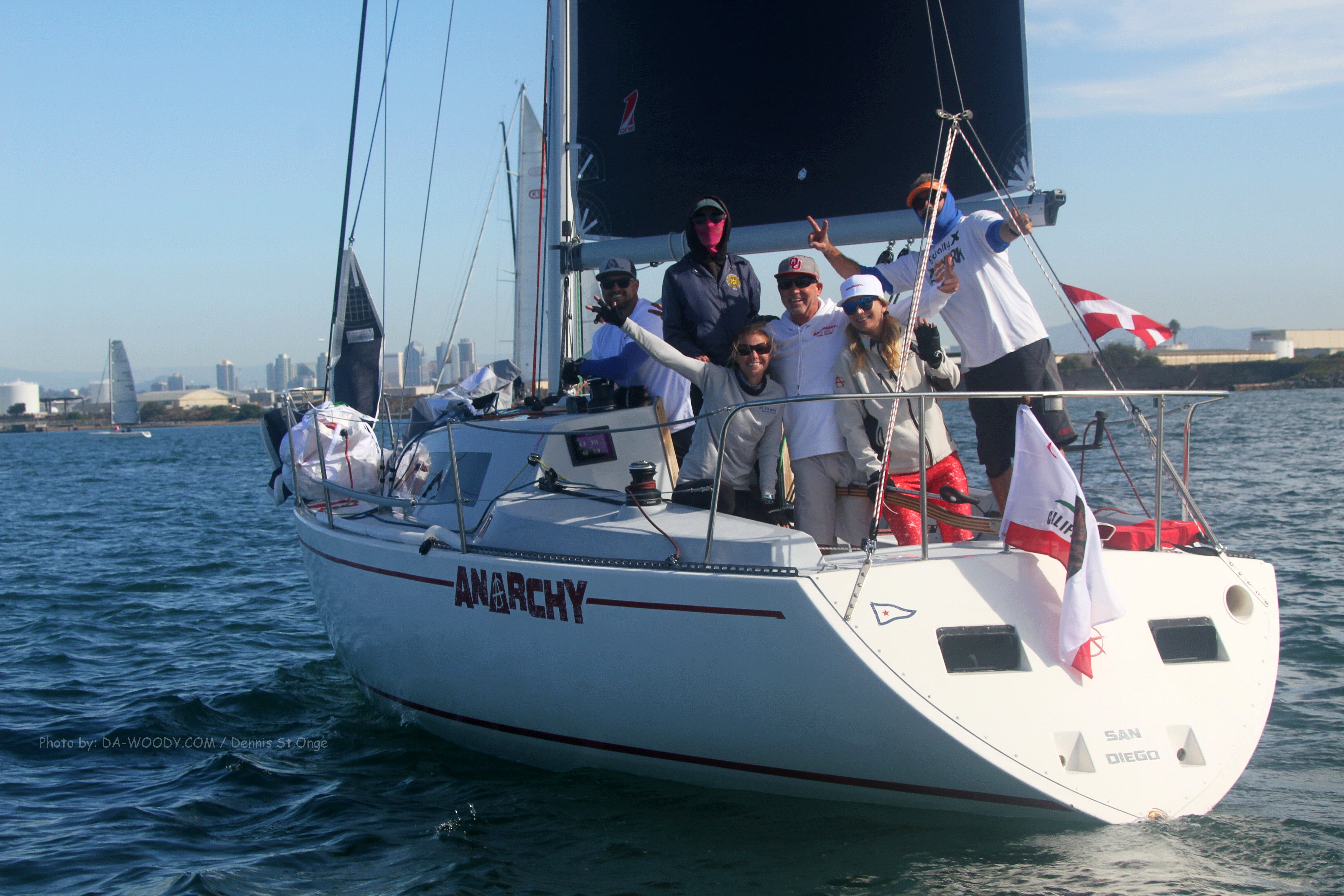 Yes, that's what I was thinking too, but not for our overall finish position in SDYC's Hot Rum Series! The something less than mighty Anarchy III looked pretty good for a while, but then the windy beat back was not something the 40 year-old 5ksb seemed to enjoy very much. But with our awesome crew (primarily the babes – duh), we still actually had a fun day as evidenced by this pic from Da-Woody.
Our 8th in class finish leaves us 4 points out of a podium, so maybe a little lighter air and we may have a shot. And if not, I'll still have cuter chicks on board than you! – ed.
November 19th, 2017