The best 15 second sailing video you will ever see. The sound of him going through the sail reminds me of someone sitting on a bag of chips.  - Anarchist Adam.
October 25th, 2014
Speaking of Moths…
The Wazsp looks like a moth, it will measure as a moth, it still has wings and foils in the same positions, it will be like a current moth to sail, except maybe simpler with less adjustments, but there are differences which make it cheaper to build, simpler to rig and more attractive to younger people and their parents who have to part with their money. That logically means less carbon and more weight.
Because of the weight and the simpler rig it should not be as fast as a Mach2, but AMAC has said he plans to sail on in the Sorrento Worlds in January, with hope of getting into the Gold fleet.
I understand that tooling is well on the way and some components have started production. Like a Mach2 there are a lot of parts to get right.
No one has yet seen one but some impressive digital images were shown to The Foiling Week attendees. Its not a secret, but we will not get more to see until they build a dedicated web site and have some product to show off.
Too many optimistic people go for premature publicity and fail to deliver on their promises, the Mach2 team are smart enough to not show too much until they are ready to deliver. Jump in the thread.
October 25th, 2014
Earlier this week we asked you to tell us what the inside game of a modern build is, now we ask the same thing of something not quite as modern, but one which now has a new lease on life. Do you know what it is?
October 25th, 2014
It is often said that what goes around, comes around. Then if that is true, it would appear that the karmic wheel is turning – While Dan Meyers continues his ludicrous suit against Sailing Anarchy, it would appear that his little company, unlike Meyers,  becomes littler by the day. With a $45 million dollar judgement against him, huge IRS issues, and the following all on his gluttonous table, we cant wait to see the collapse of this house of cards. Karma, she's a bitch. Or so we are told…
On Oct 07, An active bench at the Supreme Judicial Court heard oral argument in The First Marblehead Corporation (NYSE:FMD) & Gate Holdings, Inc. v. Commissioner, Docket No. 2013-P-0935 this morning; posing pointed questions to both parties.
On 23 October, The First Marblehead Corporation shares moved down -0.41%, hit an all-time low of 2.28 and was closed at $2.45. FMD EPS growth in last 5 year was 38.20%. The First Marblehead Corporation year to date performance is -66.85%.
Middle Class Rut provides the live title inspiration.
October 25th, 2014
Our friends at McConaghy Boats and Schionning Designs have been commissioned to design and build a lightweight new 49′ performance catamaran. See for yourself…
October 24th, 2014
Being There
I'm here in Bermuda up the rig of an IOD and wondering exactly how I got here. Well, a year ago, after being caught in an unfortunate house fire, I was lying in a hospital bed in a coma and on a respirator. My family was saying their goodbye's as it wasn't certain if I would see another sunrise. Thirty-four percent of my body sustained third degree burns. Here's the SA linky:
I got better. Heck, I'm a bow guy. We laugh in the face of adversity. Maybe I just don't feel the pain anymore after having a spinnaker pole dropped on my head more times than I can count. I'm doing well and I'm turning fifty. Also, I can wear Bermuda shorts and knee socks that hide my burned legs and still look sort of cool. Bow guys need to believe we look cool. As a goal for my recovery, I set the Newport/Bermuda race (my fourth to date) as a goal. I ended up on the bow of a vintage Volvo/Whitbred 60.
A few months ago, my wife surprised me with the option to go anywhere on the planet to celebrate my half century living amongst humans. Without hesitation, I chose Bermuda. For the record, Tonga was a close second but Bermuda is, well, perhaps the nicest place on earth IMHO. In the past ten days, we've had two hurricanes, both with sustained winds over 150mph. Still, there's no place I'd rather be right now.
The day after the second hurricane, we buzzed down to the Royal Bermuda YC on our mighty 49 cc scooter (Everybody here drives one.) to see how the club got on. We expected to see devastation and people on cell phones yelling at lawyers who in turn were yelling at insurance companies and preparing a class action lawsuit against Mother Nature. Instead, we were greeted by group of cheerful volunteers. It was three days until the Argo Group Gold Cup Regatta and a couple hurricanes weren't about to dampen Bermuda's enthusiasm for hosting this stop on the world match racing tour.
Speaking of greetings, it's important to greet everyone here individually. The standard greeting is, "How are you doing?", pronounced "How ya doon?". Complete strangers will say hello as you walk past them. Friendly doesn't begin to cover it. As much as every inch of this place looks like a postcard, it's the people that make Bermuda. Bermudians bristle with a sense of pride but, being Bermudian, it's kept in check in a modest, self deprecating and somewhat British fashion.
Everyone in this tiny country is aware of the Gold Cup regatta and sailing in general. In most other venues, sailing is considered a pastime for idle trust fund babies. Here the sport is given its due. Local school kids learn to sail Opti's to augment their curriculum and everyone comes out for the major regattas.
So here I am. Being a pointy-end guy, I naturally went on vacation with my Spin Lock climbing harness packed in my hockey bag (I'm Canadian). And it didn't take long before the infectious enthusiasm overwhelmed me. I volunteered to help prepare for the regatta and I ended up doing rig checks replacing split-rings and taping the sharp bits. For the record, I was up ten rigs in one day with my new BFF, Pete doing the grinding. I'll cover the highlights of the regatta next week as the world's top-ranked match racers square off on this tiny island paradise.
There is a chance that Bermuda will play host to the next America's Cup. If that happens, I'll be here. If the powers that be elect to host it in another locale, I'll come here anyway and watch it on my iPad from the beach. – Bermudahhh.
October 24th, 2014
Big Pimpin'
These are very cool. How do we know? The Ed ordered one for his gf. But he didn't receive it before she was his ex-gf.  It now sits on his desk, looking bright and shiny. As usual, his timing is awesome…
With everything nautical in fashion right now and Christmas just around the corner, Saltytag has the solution for the perfect gift for family and friends or for yourself. Saltytag has launched a range of good-looking, fashionable, sterling silver sailing signal flag pendants and anchors. Each piece is crafted using beautifully coloured, high lustre glass enamel representing the 26 signal flag designs.
Choose the flags that spell a name or just wear your initials. Mix and match using the silver spacer beads to add fun to the design. Then add in one or anchors available in colours to match the flags, and you have the perfect gift for yachties and boaters. Free Worldwide Shipping.To live the life and wear the code, go to www.saltytag.com.
October 24th, 2014
Deep and dark. But what is it?
October 23rd, 2014
ISAF CEO Jerome Pels got the flick today, just two weeks before the ISAF AGM. Something is up with that, and as usual, everyone inside ISAF ducks for cover. No wonder this sport is on hiatus…Could this have something to do with Pels' application to run the next America's Cup?  Since this is ISAF, don't expect an answer – just a steaming pile of press release.
ISAF and Jerome have enjoyed a very fruitful relationship. Jerome has had the foresight and leadership to steer ISAF through the many challenges he has encountered during his long service at ISAF. His steady hand on the helm will be missed by the President, the members of the Executive Committee, his colleagues in the ISAF Secretariat and in the greater worldwide sailing community. More.
October 23rd, 2014
Couldn't be at the biggest sailboat show in America?  Don't fret; like all boat shows in North America; there wasn't much to see for the average racing enthusiast.  Sometime around 2008, when the economy was in full implosion, the Annapolis Show was more or less taken over by the only companies with money to spend – the big cruising manufacturers.  Enthusiasts get their 'first looks' from the web these days while racing manufacturers tend to save their real secrets – if there are any left – for the METS, Paris, or Dusseldorf So now the show is dominated by fat, slow boats and the people who love them – especially the folks at Cruising World, who are like royalty amongst the Annapolis crowd, using the show to get all their advertisers in one place for their 2015 sales book.
While there was almost nothing actually new in Annapolis, there were still a few interesting things to see from both randoms and friends of SA.  We didn't get everything we liked – for instance, we missed the crazy Swiss guy 3-D printing models of your boat from existing CAD files (though not particularly new), and the wind didn't cooperate either for an honest test of the MxNext or our Gunboat tests – but thanks to help from The Rev Petey, we've got nine videos from the show, and the best are embedded below.  Don't miss interviews about new products from Zim Sailing (high-quality dinghies built in USA), Ganz Eco Energy (tough, efficient solar panels), and SailMon (best instrument displays ever) here. 
Gunboat 2.0
Folks tell us we have a love affair, but we don't give a shit, because we love everything about them.  Peter Johnstone has not only created an entirely new genre of high performance sailboats, he's created a brand that is now reaching into exciting new communities with some very hot new boats.  Extreme snowboarding legend Travis Rice is now cruising his Gunboat now, while dot com boomers like Carolyn and Chris Groobey and a pile of confidential Facebook veterans are easing into the new 55 series, and digital entrepreneur Rob from Vermont commissioned his new G60 with the first rotating rig on a Gunboat.  They're fit, friendly, and none of 'em shies away from a good party. Gunboats still seem to be getting some of the older performance monohull crowd on board with the 55 as well, guys like the NYYC Commodore, for example.  Things are busy in Wanchese, and we couldn't be happier for this modern American success story.
During what was meant to be our 'test sail' window in Annapolis for the newly launched G55 and the Spring-launched G60, we ghosted along at 5 knots under a big furling downwind sail in a hair less of breeze, sliding up the bay on the incoming tide.  So rather than shoot some uninspiring light-air sailing, we talked to Carolyn Groobey aboard Gunboat 55 #1, which she and her husband are sailing to be ready for their 55 #3, scheduled for imminent delivery.  She's a great chat and the video above is an interesting look at a part of the new generation of semi-retired cruisers.
Our staff videographer got the chance to deliver the boat to North Carolina over the weekend in 20-40 knots of breeze and hurricane-driven following swell, and we're looking forward to some excellent delivery stuff featuring Petey himself, as well as the Groobeys, Gunboat staffer Lauren Bataille and boat captain Chris Bailet.
Aero Space
I admit to being a little distracted during this interview with RS Sailing's Riki Hooker thanks to his physical and vocal resemblance to Office Space's Ricky Gervais.  He's funny as hell too, and very excited about the more than 400 orders RS have already taken for the 66-pound Aero.  We have no idea whether it sails well (though there are plenty of first-hand reports in the forum – and remember to take everything with a grain of salt) but it looks sexy and quick, and the price compares well to anything else in the market.  Learn more about it in my chat with Riki above.
3 out of 3
You know the old saying about "stronger, cheaper, lighter – you can pick two out of three"?  Dave from Samson talks about how the new Warpspeed 2 manages all three in the update on one of our favorite lines.
Watch This Space
We have a hard enough time keeping track of one watch, much less two.  Ronstan's figured out a way to make something functional that looks good enough to wear to dinner.  Clean gets Moondawg to explain.
Rodeo Clown
There's no question that conventional drysuits make us all look like a bit of a clown no matter how incredibly functional they are, and the PNW kiteboard guys at Ocean Rodeo have a solution.  We love to see new blood in the sport, especially coming from the young, hip part of things, so check out what they've got.
Reel Big Fish
Challenged by Oakley at Harken, Mr. Clean stepped up to the pedestal to win the final day of the show by a whopping 18 hundredths of a second over the runner up.  It's funny because it's true.
October 23rd, 2014
A way cool shot from the 2014 Vistra Hobie Asian Championship from Peter Kuoo.
October 23rd, 2014
Onboard
"At this rate, it will take a century before we get to Cape Town," sighs Jens Dolmer, standing on the bow of Team Brunel in the VOR. He is trying in vain to push the flapping foresail outwards. There is hardly a breath of wind. In the distance, the sun is sinking into the ocean. "Cape Town is still 4,200 miles away and right now we're only making one knot. At this speed it will take another 175 days before we arrive in Cape Town. We're parked in the Doldrums."
If you already know what the Doldrums are, you should carry on reading at (2). If not, carry on here. Everywhere on Earth there are areas of high and low atmospheric pressure. An area of high pressure is caused by a surplus of air while an area of low pressure is caused by a shortage of air…
October 23rd, 2014
The Royal Malta Yacht Club has been a hive of activity both day and night, welcoming back yachts taking part in the Rolex Middle Sea Race. By Midday on Day Six 34 yachts have finished the race and 25 yachts have retired. Each and every sailor that has taken part, including those that are still out there, has a story to tell for years to come. The 35th edition of the race has been one of the most memorable in the 46 year history of the race. The storm that arrived on the fourth night of racing was ferocious in its strength and lasted over 24 hours. Thankfully, conditions have now abated somewhat and although there are broken boats and battered crew, the Royal Malta Yacht Club has received no reports of serious injuries. The majority of the fleet are expected to finish today.
Reports of over 60 knots of wind and mountainous seas abound. At the Yacht Club bar, acts of expert seamanship, in exceptionally rough seas, are the main topic of conversation. These anecdotes are resonating around the sailing community, the world over. Take Eric De Turckheim's Teasing Machine, which showed electric pace in the savage seas, only to be dismasted 20 miles from the finish. Ross Applebey and Andy Middleton's Scarlet Oyster, spent last night lashed to a fishing boat, sheltering from the storm. There are a dozen Double Handed teams still out there and soon their stories will add even more depth to what has become a fascinating race.
This afternoon, with all mathematical possibilities exhausted for all of the yachts still racing. Lee Satariano's Maltese J/122, Artie was declared the overall winner of the 2014 Rolex Middle Sea Race.
October 23rd, 2014
With love from Belgium, this is SCOTW bow girl Charlotte on the IMX 40 Oxygen. We're still trying to catch our breath…  Thanks to Anarchist Robin.
October 22nd, 2014
While the weather didn't cooperate to make our lives easy during our test sail window in Annapolis, Anarchist 'gone' went and did some of our work for us, with a good comparison after test sailing the two sexiest monohulls to hit the racing scene in years.  He sailed both the Farr 280 (which just hit UK shores) and the C&C 30 (with orders spreading quickly, especially in the Midwest) and posted a good little comparison.  For loads more about either boat, check the F280 thread here and check in with C&C via Facebook (until we can find the thread).  Photos from Meredith Block (F280) and Onne Van Der Wahl (CC30).
I sailed the 280 in 8 building to 10-13. As the breeze built, the Farr rep shortened the headstay and tightened the rig up and the easily hit the polars for the wind speed. The boat has a solid feel when it sits on her chine going upwind. I really like the systems on this boat, they speak to my inner MacGyver (TV character that could disarm a warhead with his pocket knife, dental floss and a toothbrush). The boat is fast to accelerate and decelerate, which is a small boat feel. This boat will reward handsomely the crew that cross-sheets the jib going upwind.
Downwind the boat scooted along but one must keep the boat up on its chine or it sticks to the water. The rep showed how proper crew position really influences performance downwind. Boat was moving at mid 8′s sailing VMG angles, I do wish we had a little more breeze to get the boat popped on plane.
The C&C 30 was sailed in 11 building to 20+. This boat has a more big boat feel. Most of this effect comes from the higher freeboard. Rig adjustments are done with a screw driver and wrench. I sailed the boat upwind in the big breeze and it the boat stayed near its polars through the building chop and went back up to speed by pressing on the jib slightly.
The downwind ride was something. In displacement mode keeping the boat on its leeward chine is important. The boat pops onto a plane around 15 knots. When the boat gets ready to pop her nose drops and when it starts rising the boat rapidly accelerates. We saw 20.5 knots of boat speed sailing angles between 150-155 degrees.
Both boats are quality builds. I have raced on custom boats from MORC 25 footers to TP 52′s and the 280 is the closest I will ever be able to affording a custom quality boat. Premier creates jigs (think this is the term) for pre-bending the foam before it is put in the build mould. Farr oversees the whole build process and specs all laminate schedules and resin amounts. Premier actually pre-measures the amount of resin to be used in each part.
So the big finish:
Both are great boats, but I prefer the 280 because I enjoy adjusting boats to make them go fast; in fact it is the learning how the boat communicates is what I find most interesting about racing.
October 22nd, 2014
A perfect sail last Sunday on Sydney Harbour in a 15-20kt NE went tits up when Fred and Cookies Flying Dutchmans mast went snap. It looked okay here, but clearly not so much here and then, well you know…Images by Michael Chittenden.
October 22nd, 2014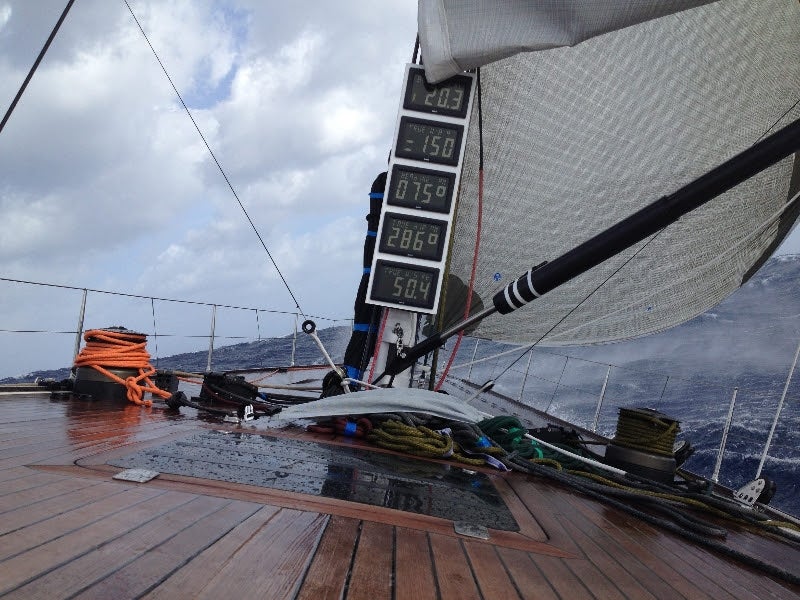 92 yachts are still racing in the Rolex Middle Sea Race. The expected frontal system arrived around Midnight last night at the northwest corner of the course. Reports of storm force winds and big seas have been received by the Race Committee and 25 yachts had officially retired from the race by 15:00 CET on Wednesday 22 October. The Race Committee has received no reports of any injuries to crew from the fleet. Pictured here is the Swan 82 Grey Goose.
Officially retired from the Rolex Middle Sea Race: Amapola, Aurora, Anouska, Azawak, Il Cavaliere, GYR Scarlet Oyster, Alcor V, Intuition Kabestan, Varuna, Walle G, Gordons, Lady Ruth ACR, Il Moro di Venezia XXVII, Unica, El Stan, Durlindana3, Ton Ton Kabestan, Salana, Mascalzone Latino, Magic Dragon, Little Emily, Gaetana, Zenhea Takesha, Manana and Stormy Weather of Cowes,
The yachts still racing cracked sheets last night, hitting the turbo, flying downwind at incredible speeds. It will be a blast on board, surfing down waves with the salt spray hissing at the rail and warm water breaking over the bows and cascading down the deck. This speed comes with a price, if the boat loses control or accelerates into the waves too fast, the loads involved can be too much resulting in damage. The saying; 'To finish first, first you must finish.' will be very much the mantra.
October 22nd, 2014
We're big fans of the high-performance luxury cruiser market, and if we had an extra 5 mil burning a hole in our pockets, we might just go with something just like this.  It's the record-smashing schooner Mari Cha IV – SA's all-time favorite offshore race boat, now in Amsterdam's Royal Huisman yard to be converted to Samurai, one of world's coolest cruisers.  The RH folks wouldn't tell us more about the new owners, though we hope they're schooner people and they keep the boats' distinctive rig (the rendering does not give us optimism on that note…we like ketches too?).
 We understand the boat will have a lifting keel instead of a canter for better port access, and you can read an update in the gorgeous e-zine Inhuis from the folks at Huisman.
October 21st, 2014
While the title of this piece may be an unavoidable paradox (like violent relaxation or crazy brilliant, both of which also can apply to most bowmen), one of the first-ever registered members of SA claims he has finally found the answer to the grumpy bowman with this technologically advanced, feature-rich foredeck hatch kite bag.  Who knows if he's selling them or not, though we can think of a thousand lazy-ass boat owners who want them to – check in with aA in the thread.
Anarchist 'Lex Teredo', clearly a bowman in recovery, has already responded, and he explains that Stanley hip flasks are all we need, and why everyone wants to kill everyone else on his boat.  It applies to many, many more.  From the thread.
Stanley: they want to help you do things right, but just in case that doesn't work, they want to help you forget.  Slug of
Pappy van Winkle, anyone?
* Near as I can tell, the guy on the helm is trying to kill the crew, preferably bowman first, but if we blow another ****ing mark, he'll settle for killing them in whatever order he can.  If the helm is bad, he will kill the crew on the other boat at the start first.  That's an infraction, and he'll have to do turns.  Goddamit!  What did I tell you about calling out lengths to the mark!
The trimmers are trying to kill everybody except the guy in the pit, because he brings them beer from the cooler – "Here, hold this jib sheet taught while I uncleat it.  That's it… hand right near the winch.  Oooh, sorry, I forgot to mention we were about to gybe.  Um, duck next time, 'kay?"
The guys on the rail just want to die if it's rough, and they just want to bang that hot chick on the other boat if it's nice and it's bikini weather.  It's probably giving them too much credit, though, to assume these inchoate longings occur at a conscious level; it's more like how starfish view the culinary world after it turns its stomach inside out and goes looking for some chow – it will settle for anything it can rest its stomach on.
The guy on the bow wants to kill everybody, himself first based on his utter disregard for established safety protocols. I have a soft spot for the bow workers. You know how firemen go running into a house on fire to rescue somebody?  Bowmen are like a neighborhood man who runs out of his house naked and into the nearby house on fire even before the firemen get there.  It's only to rescue his stash of vintage Juggs magazines, which his nextdoor neighbor Phil had borrowed, but you have to appreciate the dedication and single mindedness.
And the guy in the pit would just like to see some daylight and stand straight up for a change.  This is why most of your happier, higher quality pit men are blind hunchbacks.  They aren't much as conversationalists, but on the upside, they are great at pulling hard on ropes and can be trained to bring beer when you ring a ship's bell.
October 21st, 2014
So who can tell what happened here? A glimpse from  final event of the Seascape 18 Monocup series. Thanks to Anarchist Sawyer.
October 21st, 2014