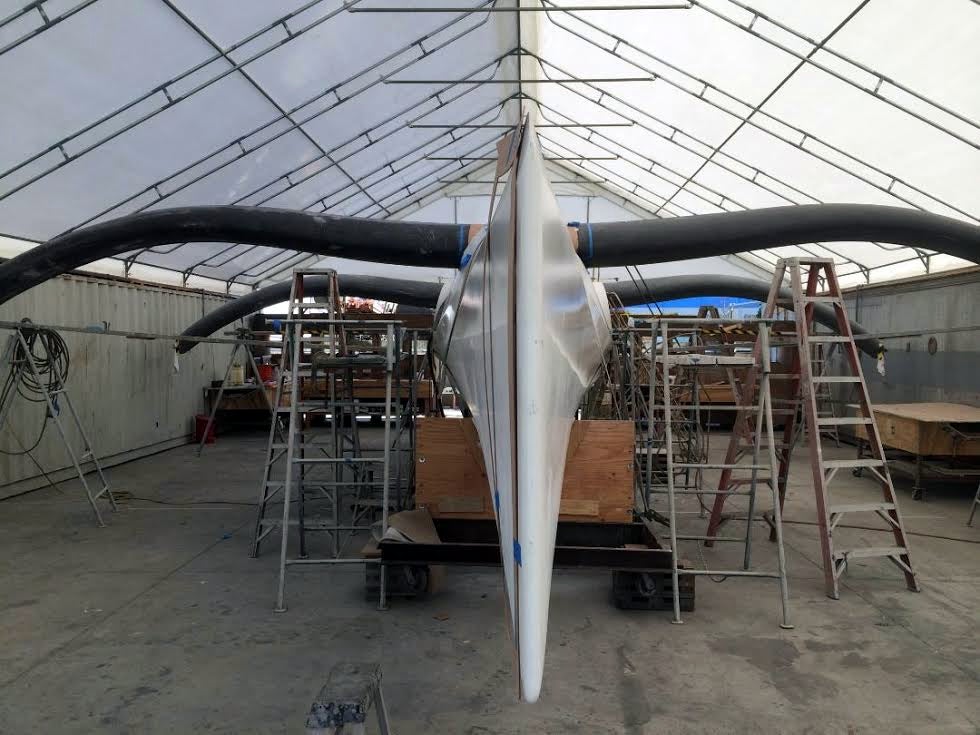 Kinda creepy looking, isn't it?
April 24th, 2014
Local Knowledge/Big Pimpin'
Race the Cape 2013 was pure gold! An awesome regatta, so much so they're doing it again this summer, July 18 – 24, starting just a few days after the finish of the Route Halifax Saint Pierre Ocean Race.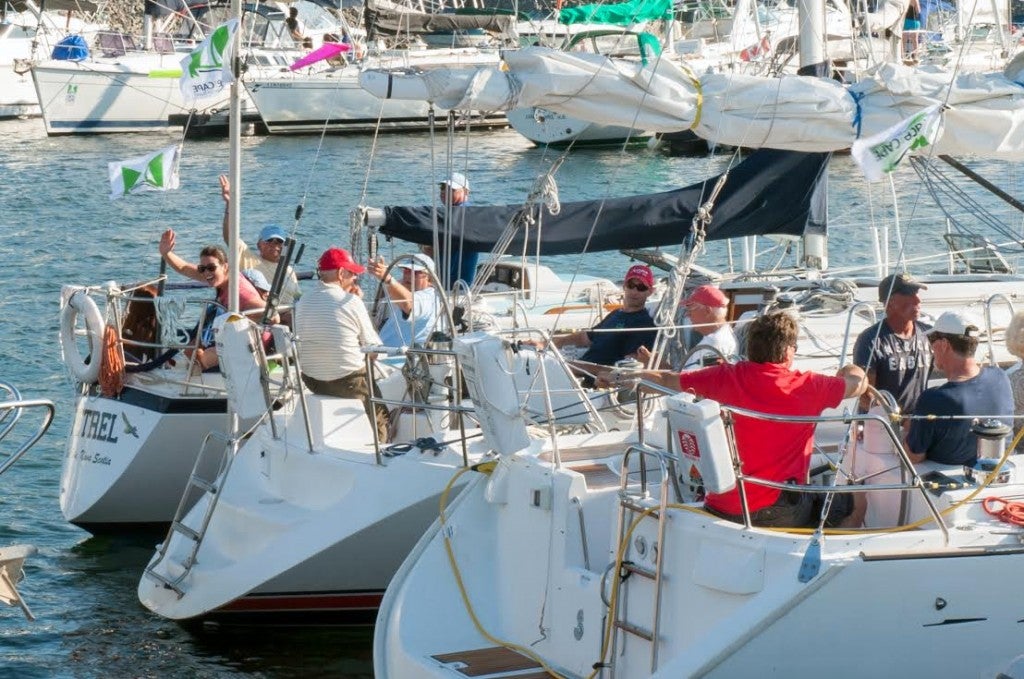 Race the Cape was created to introduce sailors from off island to the scenic wonders of Cape Breton Island and the Bras d'Or Lakes. The 2013 inaugural edition of this multi-day series of point-to-point races was a resounding success, drawing 40 keelboats from 23 to 48 feet from all over the Maritimes, featuring a broad mix of entries, ranging from the diminutive J/70, Hot Water, to a classic sky blue Swan 48, Dreamcatcher, fresh from competing in the Marblehead-Halifax Ocean race.
Even with this diverse mix of competitors the Race the Cape results wound up fundamentally fair. The J/70 that Halifax car dealer Ed Backman purchased specifically for the event did win its class over the lumbering Dreamcatcher, but lost out on overall honours to Ted Murphy's old but very well-sailed J/24. In the non-spinnaker classes, even the pokiest-looking cruisers had their day. Gay Wind, an 8 ton Berthon Gauntlet built in 1950 in Lymington England took a 1st in E Class and also a 1st Overall in the Non Spinnaker Division in Leg 2. The old girl still knows how to move! And a Beneteau 423 fitted out for cruising (still flying a wind gen!) still captured two 1st in their division and a 2nd overall for the series.
All four races went off on time, the winds were robust, the sun shone all the time (almost), and the all the legs went off without a hitch.
When the day's race was completed, Race the Cape turned into a floating festival with Cape Breton's renowned vibrant Celtic music, mouthwatering seafood and legendary hospitality being shared in every harbour along the route.
Join us July 18-24, 2014!
Race the Cape 2014 will unfold over seven days this July. Five days of challenging point to point racing through the amazing Bras d'Or and along Cape Breton's rugged Atlantic coast. Seven nights of legendary Cape Breton food, hospitality and entertainment!
Check out the Website.
Join the Thread.
Email for info
Join us in July for one of the best regattas in one of the best places in the World!
April 24th, 2014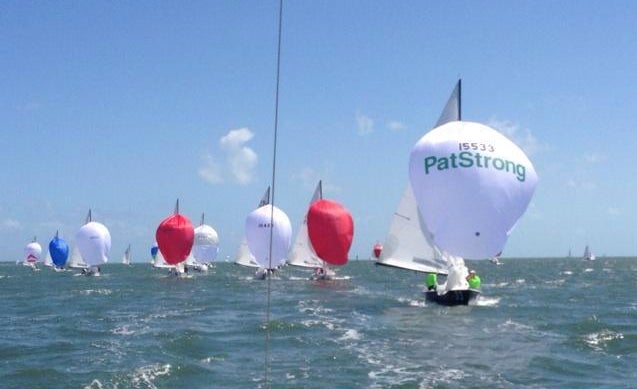 Patrick Waldron, the nephew of US Sailing Rolex Yachtsman of the Year nominee David Starck and Yachtswoman of the Year Jody Starck, needs as much support as he can get right now in his fight with Leukemia.  We fight and argue about meaningless stuff in our sport, but this matters. Think PatStrong!
April 24th, 2014
Our praise for all the wonderful things that make Fresno, home of the equally awesome Fresno Yacht Club, so incredibly wonderful, continues today with more news pushing Fresno right to the top of the slag heap. And now that they've moved so deftly beyond their usual scourge of meth, violence and crime, brave new worlds await Fresno. Good times. 
FRESNO — The state's new effort to map the areas most at risk from pollution features hot spots up and down California. But nowhere are there more of the worst-afflicted areas than in Fresno — in particular a 3,000-person tract of the city's west side where diesel exhaust, tainted water, pesticides and poverty conspire to make it No. 1 on California's toxic hit list.
Pictured left, a local community member apparently stops on his way to work to celebrates the good news.
Pollution has long plagued the Central Valley, where agriculture, topography and poverty have thwarted efforts to clean the air and water. The maps released this week by the California Environmental Protection Agency show that eight of the state's 10 census tracts most heavily burdened by pollution are in Fresno. Read on.
April 24th, 2014
Spring has sprung up here in BC and the ice has thawed on Kootenay Lake BC and here is the It's an older Steven Jones designed Oyster 30 named "Mojito trying to catch us! – Anarchist Dave with more cool photos here.
April 23rd, 2014
Local Knowledge
After a close and hard fought series of 8 races on Port Phillip last weekend, the MONJON 2014 Victorian State titles was won Dave Suda sailing Pacemaker. Sailing with Dave are Herschel, Luke, Sam and Rachel, pretty much the same team that has been doing it for the last 10+ years, perhaps the only team in the fleet to have been together for so long – and it showed. Dave had to drop a second place, it doesn't get much better than that. That's second place Convict'ss Revenge looking good pictured left.
Dave keeps his cards close to his chest with a glimmer of a smile as he tries to keep a straight face about his plans. But I am the keeper of the royalty tags, so I know who is getting new sails, Dave – new set, Hugo new sails, the girls new genoa, mmmm … well we had a new kite and reasonably new sails.
Says Dave of the racing on Saturday, "After six months of arguably the best summer season for as long as I can remember, we finished with two perfect days, racing J24's as hard as we can, against 16 other J24 crews who used every ounce of speed and skill to will their boat ahead of the next, on a course as well managed as any sailor could hope. I feel sorry for the J24 members that didn't sail this weekend, for they missed another beauty.
Saturday had four races and four different winners, with Gridlock Doug Watson and co taking heat one honours in a tight three way tussle from Pacemaker and Convicts Revenge. Race 2 was a nail biter with Convicts Revenge holding the narrowest of margins over Pacemaker at every turn and they defended multiple attacks on the final downwind leg to cross the line 2 seconds ahead.
Race 3 saw another black flag and this time Convicts Revenge had a lapse in concentration on the restart and crossed early, meanwhile the largely female crew on Hyperactive had a brilliant start to hold a comfortable lead all the way to the finish.
Race 4 and wind increased to 18 knots for the last race of the day. We eventually started second row directly behind Hugo after we left our port approach late. We couldn't find a gap anywhere near the pin in this much improved and aggressive starting J24 fleet. We tacked very shortly after the start and ducked a few sterns to find some clear air and thankfully met a 15 degree right hand shift and extra pressure, thanks Huey! The usual suspects of Pacemaker, Convicts, By the Lee and Bruschetta VI led the fleet home."
But let's step back a bit. A full week's training and boat preparation was put on hold as Melbourne had its wettest week in living memory, if nothing else the deck was clean, although there was the distinct possibility that there might now be fish living inside the boat.
Ron Thompson takes us on his journey to the states. " Friday was spent with bucket and sponge getting the water out.  And the forecast was 25 to 30 knots southerly with big waves and rain again. Oh, lets just turn up and see, with a new crew with one day training and nothing in heavy conditions. Got to get up early Sat morning at 6am and do another walk around the block to lose ½ kilo as weigh in finishes at 8am.  What an ungodly hour.  We are struggling with crew weight as everyone lied last week, even me and although I lost 3 kgs, got to lose a bit more.  And it will be cold and wet on my walk!  No … surprise, actually it is not raining and I can see clouds in the sky after only seeing grey all week.  Ah, but I bet its is blowing hell on the water.  Arriving at the club and the burgees are flying nicely in a 12 knot wind.  What happened to the 30 knots, must be coming later!"
Brendan Lee (3rd overall) leads us into Sunday. "Sunday arrived and again with beautiful blue skies and light South Easterly winds, or was it South, or East, or South South East. Okay let's pick south and head out to sea on leg 1. Bollocks wrong choice! Next upwind leg, okay there is more South East in this, let's go left. Bollocks wrong choice and so it went on every leg. Race 6 was a bit like race 5, a late surge on the final leg saw us scramble into a respectable position. Race 7 and the wind clocked to 180 degrees and freshening. Right this time I am going out to sea. Hey presto it worked – 2nd place but behind Dave AGAIN! 4th race, much like the 3rd…"
So we all get our few moments of glory, in race 6 Jet's came knocking. I decide that there is a big lift on the port layline and go for it, we picked it and Jet is around the first two marks first. All good and happy and Matty is now satisfied that his trip down from Sydney was worth it. I tell the crew that all we have to do is cover. But I don't, I tack onto what I think is the lay before Steve does and then we get knocked while he gets lifted, around the top mark 2nd and we did a bear away set, Dave does a gybe set behind us and by the time we have gybed he is level with us on what is now a lay though to the finish, he just pips us. I am consoled by the crew for at least putting us ahead – before being dumb enough to lose it.
Dave continues, "Race 7 arrived and we knew a win in the next race would be enough and then we see Convicts doing penalty turns with two minutes to the start. We happily refocus and get a great start with Hugo near the pin, then tack out right to cover the fleet. By the end of the race Convicts Revenge has recovered to a very credible 4th, behind Pacemaker, By the Lee and Doug Watson. We relax now and enjoy a great final race battle with Steve Girdis in Convicts Revenge who take the win."
Steve is a great sailor, a sly "young" fox who smiles at me from the back of the pack (I think I must be doing quite well to be near him) and then again from the podium – how does he do that?
Race 8 and Dave has won overall, Steve is second and Brendan third.
Brendan, "Onto the prize giving and it was Dave and the team picking up the winners trophy again. I could have sworn I had them 8 from 8 on the starts. My trimmer says "Okay, well I may not be able to sail, but I can lift heavy boxes". What more can a skipper want?
There are of course lots of stories from the front to the back, Doug MacGregor, our State President is a voracious defender of the truth and tells it like it is. "Clear air was the only currency worth bothering about on a start line that felt like a combination of a scrum and an orgy.  One abiding but crucifying memory; we probably came out of the final start in 4/5 position.  We couldn't have been happier.  Going to windward I bloody well had them … and they just sailed right over me.  I shrugged my shoulders and thought "National Champion" whatreyegonnydo?  Three tacks later we make our final tack on to the lay line for the top mark …. Lovin' every second.  Over we go. Last place!  We invented a new word; absolfu**inguetlyfu**ingbefu**ingmusing.  Seemed to be the story of our states. It's a wonder they didn't throw me overboard.  I am so grateful to them for sailing with me and sticking by the boat through thin and thinner.  The silence on our boat as we sailed in after the last race was deafening."
Kirby O'Brien, sailing on Vertigo and also one of the hard working committee team doing the weigh in, with her usual dry sense of humour also made a number of observations.  " It all went pretty smoothly, but if I had one bit of feedback to offer, I'd say "not enough stripping". Honestly, it just didn't stack up to past years. Although an honourable mention does go to Daniel, who stripped with incredibly good humour considering that none of the rest of the Vertigo crew bothered to wait before getting stuck into the beers, so the 800g excess was his and his alone to deal with … albeit to the sound of our hearty encouragement and a round of applause when the final piece of attire yielded up the last required 200g's.
I think it's time I offered up a few rule change suggestions to the committee, all with the idea of introducing a little more sport into the weigh in process:
No more four member crews. Where's the fun in watching sailors stroll confidently up to the scales, not even bothering to remove their shoes, as they know the 400kg limit isn't a worry unless they convert their entire life saving into 20c coins and carry it on their backs. No more. What this situation needs is another body and all five of said bodies can take themselves off for a 10km run and return to approach the scales with the dread and trepidation that the rest of us all know and love.
No more people under 60kg !  I mean really, what is more annoying to those of us with a life of dinners still on the belt, than someone stepping up to the scales, registering an elephantine 57kg and moaning that they've gained since last regatta?
OK, so to the racing…well let's see, race overview…I lost a shoe (Vice Versa and Fly Away Jay – you guys rock for randomly finding my missing shoe in the middle of the bay and bringing it back!), I got splashed a bit, pulled some ropes, forgot to pull some other ropes, got yelled at, got annoyed when a boat tacked in front of us and when we yelled "Protest! We had to change course", he turned to us with the smile of a Cheshire cat and replied "Did not."  Well!  May I take this chance to say simply… "Did so." You know who you are!!
And that's it really. We came outright last when it mattered – the race back to the crane. I think I have new life goal – to get into the dock before Pacemaker is safely tucked away into its place on the hardstand."
A huge thanks to the J24 State Committee, Sandy YC, all the volunteers and especially to the sponsors, MONJON in particular, Anchor Marine, Bike Factory Outlet, Smart Marketing, Synergy Audio  – and also to Hugo for the delivery of 25 logo-printed protest flags! What other regatta supplies the protest flags!
Well, in the end the Thommo Cup was a fizzer this year and Jet has finally beaten Ron and Kirsty and no one ahead of us is a slug so I guess that's a good series result. I've locked up the trophy cabinet again, let the dust rule supreme. There will always be another regatta.
The MONJON Victorian State Championships have proven to be the best regatta of the year again, the ultimate J/24 season grand finale.  Written by Simon Grain with help from Dave, Brendan, Doug and Kirby- thanks guys. Go here for the full results. – Simon Grain.
April 23rd, 2014
Get it? What a great shot of a Quant 30 sailing in Switzerland. 4 30′s sold so far….
April 22nd, 2014
Update: Jeanne Grégoire and Gérald Veniard (Scutum) struck a "UFO" unidentified floating object on Wednesday afternoon. The shock was large enough to damage the keel and, especially, break one of the two rudders on their Beneteau Figaro. To port, the boat is no longer manageable, forcing the duo Scutum substantially reduce speed and opt for a safe road. At the time of the damage, the duo pointed Scutum 5th positon of the Transat AG2R La Mondiale, competitors are 5-6 days of arrival in St Barthelemy in the Caribbean.
 Nearly 17 days and 3,000 miles into this twelfth edition of the Transat AG2R, just ten miles separate the leaders while nearly half of the fleet remains in contention to win. Combining relatively simple boats with an absolutely obscene talent level in the fleet, each crew must extract every hundredth of a knot, continuously, and sail and navigate flawlessly at all times to even have a shot at the podium. This is the Figaro circuit; the closest, most intense and oftentimes most tactical ocean racing class in the world and this current Transat AG2R is living up to the hype in every way with 3,890 miles of impossibly close one-design racing from Brittany to the Caribbean.
After rounding the mandatory turning mark at La Palma in light air, the 14-strong fleet essentially endured a restart with the fleet abruptly splitting into two groups after La Palma; north and south. With five boats taking the northerly option sailing west and nine boats taking the southerly option heading almost due south, the fleet quickly gained separation in this AG2R's decisive make-or-break scenario. Among the northerly boats included three of the fleet's elder statesman; Michel Desjoyeaux, Jean Le Cam and Kito de Pavant, while the southerly option attracted many of the Figaro class' young regulars alongside the great Roland Jourdain. The face off that made this edition of the AG2R so thrilling had finally occurred. Who would win? Youth and skill or age and treachery?
It appears that youth and skill are coming out ahead in this double-handed Transatlantic throw down. As a weak low moved from west to east across the Atlantic, the Azores High was pushed south and weakened, creating a disorganized light-air upwind and variable scenario for the northerly boats while the southerly boats slid into more steady northeasterly tradewind pressure and sailed away to the tune of turning a fifty mile deficit into a hundred mile advantage within seventy-two hours.
Perennial AG2R contenders and maxi-multihull specialists Thierry Chabagny and Erwan Tabarly (nephew of the late, great Eric Tabarly) aboard GEDIMAT suffered the same ill fate as Cercle Vert when a lower shroud failed at the turnbuckle, sending the rig toppling over the side. With the defending Transat AG2R champs (Cercle Vert) and defending AG2R runner-up Tabarly both knocked out by a démâtage, in addition to Damien Guillou's dismasting in the last Figaro and eventual 2013 Figaro winner Yann Elies' headstay failure, the recent lack of reliability of the one-supplier Figaro Class' standing rigging is becoming a hot topic within the class. With speculation regarding inferior materials, failure-prone rod heading procedures and failure induced by newer, stiffer sail materials, the class will have plenty to talk about and resolve after this current AG2R comes to a close.
The cream has risen to the top in this AG2R and while many of the pre-race favorites have lost the race due to navigation, the battle at the front rages on. Class stalwarts Generali, SAFRAN- Guy Cotten and Skipper MACIF round out the top three positions, separated by a scant 20 miles, while Roland Jourdain's LA CORNOUAILLE, Scutum and 30 Corsaires remain in contention between 40 and 70 miles back of Generali, effectively making this a six-boat race with some 1,200 miles left to go. The leaders are expected into St. Barth sometime early next week. – Ronnie Simpson.
April 22nd, 2014
April 22nd, 2014
Les Voiles De St. Barth continues to provide one of the best all-around regattas around, provided you can afford it.  Here's another spectacular drone video from the boffins at Pigeon Vision who are pushing sailing drone coverage further than anyone we've seen yet; be sure to watch it through right to the end or you'll miss the best part of the vid.  There's also a mediocre event-sponsored vid here, and a completely unrelated but awesome drone vid here.  Then check out Sam Roger's story below on the hard-charging team of Gunboaters aboard Jason Caroll's Elvis at Les Voiles.  Carroll, Chad Corning, Scotty Bradford, Dave Allen,  Dave Hazard, Weston Barlow, Anthony Kotoun, John Baxter and Sam Rogers nearly made the headlines for all the wrong reasons, but continued the Elvis tradition of pushing everything - on and off the water – to the redline.  Check out more from Sam at 42 Marine.
Growing up in tornado prone Minnesota, there are a few safety measures engrained in one's psyche when summer weather sirens begin to sound.  If caught indoors, find a stable structure to ride out the storm; a basement, bathtub or when all else fails, a doorway. While racing the 62 ft Gunboat Elvis at Les Voiles de St. Barths this past week, I didn't imagine a scenario where deploying tornado safety measures would be needed, but on a windy Day 3, when danger found us, I found the doorway.
For cruisers and racers alike, Gunboat catamarans are an appealing option. For cruisers, the modern, chic layout and design both inside and out allow the boat to hold its own in the swankiest harbors in the world, with a brand that's known throughout the yachting world. Staterooms are comfy and roomy, there are plenty of nooks for relaxing, and as the many who have stepped foot aboard Elvis know, there is space for a sizeable party, complete with an impressive sound system, disco lights, and a dance-inducing 16-gallon rum tank and tap.
At 62 ft long, 30 ft wide, with carbon fiber throughout and a full compliment of racing sails, Elvis easily goes from Grand Ballroom to Grand Prix, capable of sailing 15 knots upwind and rumbling into the high 20s when cracking sheets.  As a sailor used to fast boats but without the leverage of being 30 ft wide when heeling 10 degrees, or having lead underneath them and simply waiting it out when a wipe-out occurs, the Gunboat sent me accroos to the lap of Anthony Kotoun when lifted 60 foot of starboard hull out of the water for the first time.  The comfortable mix of cruising and white knuckle sailing attracts owners like Jason Carroll who are looking for more than a standard racer/cruiser.
Our practice session and the first two days were in 11-15 kt tradewinds with moderate seas that gave Voiles competitors idyllic Carribean racing in and around the surrounding islands of St. Barths. Racing the Elvis at full steam took the max effort of 9 capable sailors, as we ran the gamut of our sail inventory on the winding courses.  The bow team was busy on the trampoline completing sail changes, as well as the pit/trim team managing sails, dropping and raising boards and pushing to maintain max vmg at all times. With a favorable rating on a Seacart 26, we found ourselves with two 2nds, and 2nd overall heading into the lay day.
The lay day is exciting moment for sailors. For some it provides a relaxing evening followed by a day of exploring which is often not afforded at most regattas, and for others it essentially is a hall-pass for a night on the town without a harsh wake-up for boat call.  After a fun night at Baz Bar, we posted up at noon for a regatta sanctioned "lunch" at the famous Nikki Beach, gawked at the menu listing 30,000€ bottles of champagne, and washed down our body surfing sessions with magnums of Rosé.  Yes, Rosé, its what they do in St. Barths, and we were in no position to question it.  If we knew what was awaiting us on the racecourse the next day, we may have opted for a pot full of calming herbal tea.
Sipping our coffee on the morning of day 3 from the perch of our villa, we could see the Trades were in full effect, and the Carribean at full noise.  With my experiences on Elvis being new, different and very smooth up to this point, I had veiled excitement as we headed to the racecourse; I did not know enough to be nervous.  With the wind instruments reading 25-28 and monster seas rumbling through the straight between St. Barths and St. Maarten, it was enough to drop the rig on the mighty 72 ft. Bella Mente.  Still not fully grasping the potential of the Elvis in this condition, we hoisted sails and put her on the wind.
Once sheeted on, the speed ticked up quickly, and from the comfort of Anthony's lap, I felt our starboard hull lift for a few moments, then gently touch down.  Racing 38 ft scows that can touch 25 kts on a lake and easily capsize, or a Melges 32 down big waves in big breeze does not make me nervous.  The magnitude of racing a 62 foot Gunboat with the potential to tip over in big waves in the Carribean Sea made me nervous, and I instantly felt the weight of this for the first time.  With a monster puff descending on us and entering it unprepared on a fat angle without sheets ready to ease, we lifted off again but this time we kept going, with the heel angle reaching 20, 25, 30, 35, 40 degrees….
It was a forgone conclusion that we were going over as the worst case scenario loomed. With some braver team members reaching for their knives and winches to cut sheets or find a last ditch effort at salvage, others braced for impact, and when we reached the point of what I thought was no return, I found the nearest place to ride out the situation which happened to be the windward cockpit door frame, finally putting my childhood tornado education to use.
From our estimation, and from a handful of other sailors who witnessed our starboard hull rising from the water the heel angle reached somewhere in the low 40s before it stopped, held for a few moments, and quickly descended back into favorable numbers, like 0.  As the Elvis sat for a few moments, sails totally luffing, our team stared at each other in a mix of nervous laughter, and total shock that we were still floating upright.
Seeing steady breeze in the high 20s, the Bella rig go down, and potentially our near capsize, the always fearless Carribean/French RC sent all racing boats to shore for a postponement.  With every crew-member wound like a coiled spring ready to explode at any back-pat, sound or hint of trouble, we motored to Columbie' (a beautiful beach lined natural harbor around the corner from Gustavia). Once we got settled, the team quietly separated to different areas of the boat, reflecting on what went wrong, what could have been, and how fortunate were to have our only damage be bruised egos.
In the end, our momentary lack of respect for the boat and conditions got us close to capsizing.  Being too cavalier, pushing the boat at 100% while not being prepared with having everyone in their racing positions, with someone calling puffs full time, and the driver and trimmers ready to react to the smallest wind increase or direction change was careless, and we fully understood that.  The Gunboat is a very fast, exciting boat that can be sailed in big heavy seas, but if a team is going to push it as hard as we intended, everyone needs to be on high alert any time the sails are trimmed; you can't race this boat in the same way that you party on it.
With a few hours at anchor to calm our nerves, thank our respective spiritual leaders and share some more nervous laughter, we headed back out at 2:30 for a start in a breeze that had died slightly.  Pushing the boat at 85%, we completed the course and slowly got our confidence back to tame Elvis in 20-25 kts.
The final day saw similar conditions, and using our experiences from the day prior, we came to the racecourse more prepared, pushed harder, and enjoyed the sailing.  Once the magnitude of the boat and the conditions were fully understood, the Elvis seemed perfectly at home in similar conditions that caused us trouble a day earlier. With satisfaction that we could push the boat hard and get it back to the harbor in once piece, we returned to our mooring in Columbie', relaxed on the comfortable layout of Elvis, put on some reggae, clicked on the ice maker and watched the gauge on the rum tank slowly go down.
After an amazing week of Red-Lining our sailing and on-shore activities on the Elvis team, it is very apparent St. Barths and Gunboat sailing are a stellar combo.  It might just be the perfect place for the first ever Gunboat World Championships in 2016…who's in?
April 21st, 2014
If we had $200,000 to spend on a new rocket ship, we'd sure give the new Bolt 37 a close look. Here's a little amateur video from onboard. No one said going fast wasn't wet!
April 21st, 2014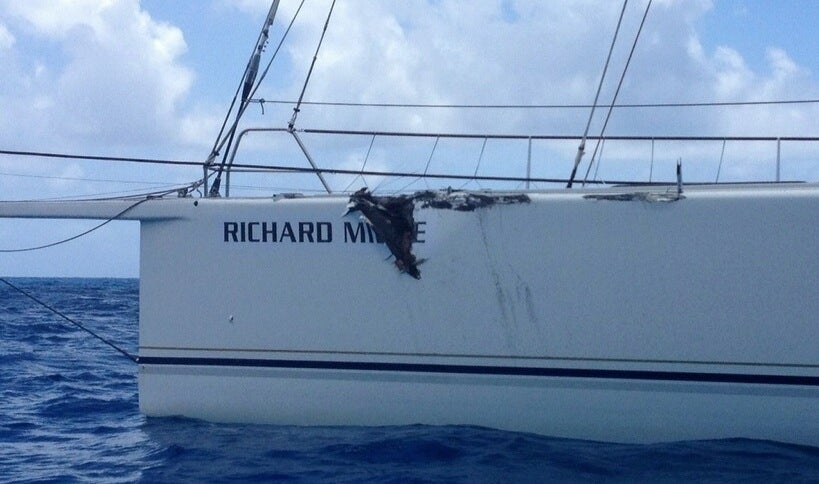 Bite One:  With a new one in the oven, It's the swan song for George David's much-conquering Rambler 90.  David's gotten more out of the big water-ballasted beast than could ever have been expected, though not at Les Voiles de St. Barths, where light air early in the week meant a distant second place behind the Aussie-stacked 69′ CAOL…something we can't pronounce.  This little boat bite was an easy early morning epoxy-and-tape fix, apparently a powerboat just had to get a closer look while the Rambler was on her mooring before Les Voiles.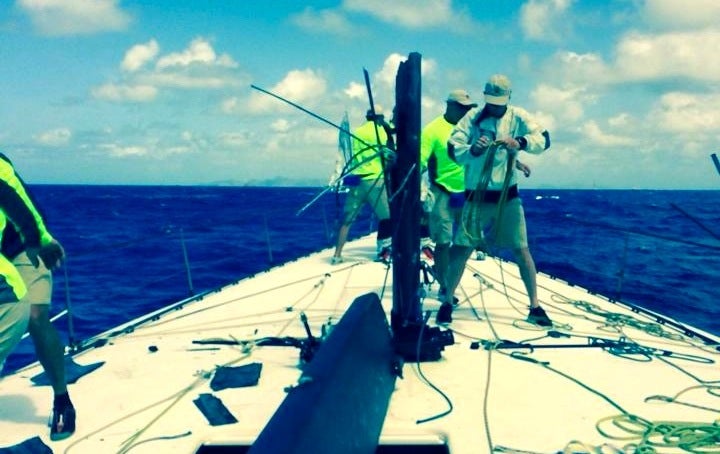 Bite Two: Last month Hap Fauth's big Bella Mente ran off to a Caribbean 600 win as explained right here by Mike Sanderson.  This month, she loses her rig on the way out to the race course on Day 3 of Les Voiles.  Fauth had a good shot to win, but not without a rig!  An expensive week for maxis at the very expensive island of St. Barths.  More in the thread.
April 21st, 2014
App of the Week
If you buy one iPhone/iPad this year, this is the one.  For just $2.99, Starmap 3D+ provides you with an absolutely foolproof way to find every star, planet, comet, satellite, and constellation you could ever want to see.  Using your iDevices's compass and accelerometer, the app lets you point your phone at the sky and labels everything in your view.  Punch in a star if you want to find it, and you'll get arrows taking you to exactly the right spot.  Fire up your telescope with the kids and use Starmap to make you seem way smarter than you are.  Glance at it on a first date and let her think you are a master navigator rather than just a masturbator.  And of course use it for your celestial navigation if you are one of the nineteen people left on Earth who knows what that means.
We spent about 2 hours outside last night with a pile of 3-4 year olds just exploring the sky with this thing, and we're excited to do a lot more of it soon.  The first paid app we've bought in six months is worth every penny.  Video explanation here, and find it in iTunes here.
Title shout to NIN, of course.
April 21st, 2014
The new Ran looking – what else would you expect? – bad ass! Photos thanks to Jesus Renedo.
April 19th, 2014
2014 Congressional Cup – US One
By Brian Janney
Let it be said…we've been looking forward to the 2014 Congressional Cup since the 2013 event ended. Cup Cup is the granddaddy of modern match racing and although Taylor has been invited several times before, this year had a certain edge to it. The event was split into 2 tiers this year. Tier 1 featured 6 invited skippers who hadn't won a Con Cup and had to compete to make it to the second stage of the event. Tier 2 was filled with the previous Con Cup champions. Catch was, we were placed in the Tier 2 group…but we had never won the Cup. US One got put in Tier 2 because we are the ISAF #1 ranked team and had just won the Alpari World Match Race Tour. Just a bit of pressure.
It was great getting the band back together…we hadn't raced since Malaysia in December. On the bow was Hayden Goodrick, I was in the pit, Mike Rehe – offside trim, Dan Morris – trim, Rod Dawson was on main/tactics and Taylor Canfield drove.
The first 2 days of the round robin we sailed well placing near the top of the leaderboard. By the last day of the round robins we had a spot locked up for the semis and were able to lock down top seed ensuring we had pick for the semi-finals as well as starboard advantage in the knockout rounds.
The final 4 teams for the semis were US One, Francisco Bruni (Luna Rossa), Keith Swinton (Alpari FX), and Ian Williams (GAC Pindar).
Now let it be said: we've got a friendly relationship with all these teams, after all we've competed against each other many times. However, being the #1 ISAF matching team we were keenly aware that the #2 ranked team was thru to the semis…and ever since gaining the #1 title in August 2014, beating Ian in Bermuda, and winning the Tour last year we knew a lot was on the line.
On the way in on Saturday we started to talk about who to pick for the semis. One school of thought is pick a top team so you can get the hard race over with and hope for an easy final. That one never seems to be a team favorite. We like to choose the team with the least amount of round robin points to give us the best chance of advancing. In this case that meant facing Australian Keith Swinton.
We had to work hard upwind and downwind to keep it close. We knew that our strength was in boat handling and at both leeward marks we made our passes to take the lead. We won the semis 2-0 and moved into the final against who else…Ian Williams. Now from a regatta stand point I'm sure the organizers loved seeing the #1 and 2 ranked teams in the world sailing in the final. As a competitor we knew it wasn't going to be easy. Ian and his team don't make many mistakes and when they do they are quick to fix them.
Everyone on board was loose and in a good mood headed into the finals. As we waited for the petit-final it got cold so on went our Line Honors hoodies…of course Taylor loves to wear it with the hood up. Looking ahead we knew the finals would be best of 3 so being on starboard for the first race and, if needed, the 3rd race is a nice advantage to have.
During the first pre start we were able to get a penalty on Williams and come off the line in a leeward position. The first beat was mainly a drag race where Ian was trying to roll us and we were trying to pinch him off. It took 3/4 of the beat but we were able to get Ian to tack away. During the run we pulled away and never looked back. 1-0 to US One.
The second race we entered from the port side and this time we copped a penalty as well as didn't have the best start. As stated previously, Ian doesn't make many mistakes and he sailed away up to a 2-3 boat length lead. On the last run we closed the gap but during a luff our spinnaker touched his and since we were windward we got a second penalty and Ian easily won. Even at 1-1…you couldn't script this, there's going to be 1 race to decide Con Cup Champion AND #1 ISAF ranking?
Prior to the third race, we were doing our pre-race lay lines and Rod looked over and waved to Ian's crew in a "hey good luck, good sailing" kind of way…their team was in the zone and just shot us that "we are coming for you" look. Great. Everyone on our boat was in a good mood and ready to win the regatta, so no one talked about anything other than where the first puff was coming from and what side of the course looked best. The pre start was intense and as we were on final approach to the start, Ian was pushing and got too close and ran into our transom hard! That took the pressure. We sailed up the course and a tacking duel started but Mike Rehe and Dan Morris had been doing a great job tacking the genoa all week and we slowly opened the gap a little bit. Then at the top of the course Ian got a last min shift and 5 lengths from the mark we had to do a very tight lee bow.
But you didn't think this was going to be easy right? At the Leeward mark during the takedown bad luck hit and our spin caught the trip wire for the spin pole and we had 2 tears in the spinnaker. One was a 1-foot-by-1-foot "L" shape tear and I had to spend most of the upwind leg below trying to put tape on the wet spin. I popped up from down below about 5 lengths from the mark and had to go head down during the set. I didn't look back until about half way down the run and smiled as I saw that we now held a 5 length lead and we'd hold on for the win! After the race, Matt Cassidy, Ian's bowman, jokingly ran up to the bow and yelled to us "Hey, slow down and make this more interesting for TV!"
An epic event that caps off a 14 month dream-roll for our team as we head fresh into the 2014 Alpari World Match Racing Tour…we want to say thank you to all who have supported us this far, including Smith Optics, Bob and Erika Hillier at Line Honors, and Chicago Match Race Center. Check out the video here.
Follow US One on the team Facebook page. As the program is growing, the team is actively entertaining sponsorship for the 2014 season. If interested in partnering with the team, please contact Hayden Goodrick at hayden@usonesailing.com. Video and photo to Matt Knighton
April 19th, 2014
Remember this what is it?  From designer Paolo Bua: The boat is now sailing in France, we're organizing demo sailing right now. This summer, it will be in Sardinia. We're happy: it is a stiff and stable little boat, it appears quite forgiving but at the same time it's ready to go fast. As you can see, we had little breeze for the maiden voyage ( we have 2 traps for the windy days ) but it was a joy to sail! Check out our "roots" looking video
April 19th, 2014
Weta joins the drones! Check out their event.
April 19th, 2014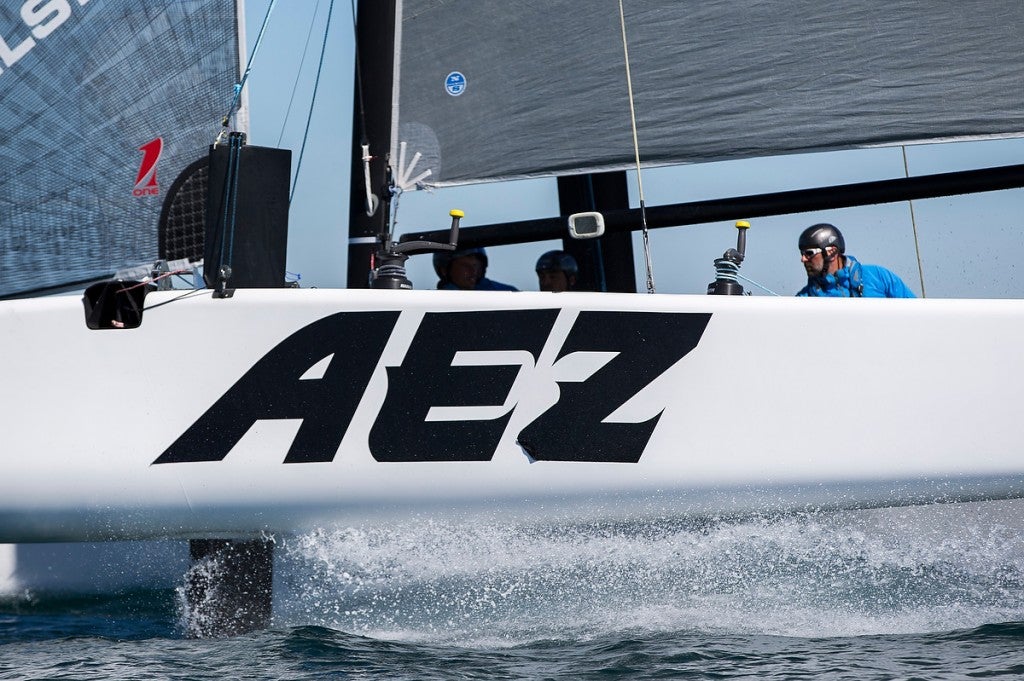 Clean Report
More than 18 months ago, just a month after ETNZ revealed their AC72 was a flying boat and lured by the potential for a 32-foot version of it, I spent 12 hours flying to Dubai just to check out the brand new GreatCup 32 catamaran from F-18 sailor Laurent Lenne and designer Martin Fischer.  I took a cab straight to the Dubai Marine Center, and an hour later, we were sailing the sleek carbon cat in 8 knots of Arabian breeze.  And 20 minutes after that, the boat was broken.
Needless to say, I was underwhelmed.  The Southern Spars-built spine of the boat wasn't right, and I wasted a couple of days in a plane to find it out.  To compound matters, it was pretty clear that the intricate, Alinghi 90-style S-shaped foils were cool-looking, but lacked true foiling ability.  They reduced displacement, but only in very specific conditions would they lift the boat out of the water and create anything that could be called stable flight.
But Fischer, Lenne, and Aussie project manager/COO (and longtime SA'er) Andrew "Macca" McPherson had just seen the future in the form of a flying red-and-black carpet in Auckland, and they were already planning on meeting it.  They spent much of 2013 studying, learning, and redesigning the foil system for the GC32, and while they didn't put a ton of effort into selling a boat they knew was in the midst of a big change, they quietly sailed a 4-boat, 4-event Great Cup series in Europe.  And they kept working.
Fast forward to April, when I got a call from Lenne.  "They're ready," he told me.  "And you should get your butt over here."  Hours after Charleston Race Week ended, I jumped on a plane from Charleston to JFK to Paris to Marseilles, and made my way to one of Europe's biggest marinas in La Grand Motte, France.
An intense design process had led Fischer to a ETNZ72/Flying Phantom/Groupama C-Class style foil solution, with acute-angled, rake-adjustable J-boards with a massive 1.2m span, and adjustable t-foil rudders like a Moth.  Built by Heol, supplier of foils for just about every major French racing multihull for the past decade, the foils are serious pieces of machinery – a single dagger supports almost the entire weight of the nearly one-ton cat and its crew, is built under a massive 8 Bar of pressure, and weighs some 50 KG.  The good news is that you don't often take them out; they insert from the bottom and retract up to the hull, allowing you to beach or ramp launch the boat with no hassle.
But even if they were a big hassle, it would be worth it, because after three days of sailing the GC-32, I can honestly say that this boat has the potential to change multihull racing forever – all of a sudden, non-foilers just seem kind of silly.  They're slower, less forgiving, harder to sail, more loaded up, and just nowhere near as fun.  I'm leaving for the airport in just a few minutes and there is a long, comprehensive video being put together next week with all the details, so I'm going to keep this short, but after crewing, driving, filming, and spectating for the past 3 days in winds from 5 knots to 30 knots, it's very clear that this boat is something entirely new.
What do I mean by that?  How about some numbers:  22 knots upwind at 44-50 degrees TWA, with more than 5 degrees of windward heel – almost like a moth.  32.7 knots downwind on the boat's fourth day in the water, with too much sail area and old sails designed for a skimmer.  And our gybing angles, confirmed by Velocitek GPS replay?  40 degrees.  In other words, this boat sails downwind at roughly the exact same angles as an AC-72, and 80% of the speed, with a quarter the crew.  And at 235K Euro, it's around 1% of the cost.
Far more importantly, a no-talent hack like me can EASILY drive the thing.  This is no joke – the GC32′s huge vertical lifting surfaces are nearly as big as those on the Oracle 72, and that means when you do something stupid – which I did plenty of – you don't crash down like a Moth or AC72, and if you press too hard and get too much heel on, the boat gently slips sideways rather than pitching you over into the piss.  I hit 24.4 knots yesterday in 14 knots of wind, heating up to pass a fleet of Fireballs rounding the top mark off Montpellier beach…the lead boat just stopped and stared and let his competition sail by him.  An excellent driver like Macca or Adam Piggot only got to 26 – if I can do 90% of their speed, truly anyone can.  In other words, you don't need to have Bora Gulari's cat-like reflexes, Jimmy Spithill's iron balls, or Larry Ellison's mountains of money.  Just a couple hundred grand and a desire to fly.  The Daily Sail's James Boyd hit 20.2 on Monday, so at the moment I am the fastest 32-foot foiling cat driving media person in the world –  a title I will wear with pride.  Back on you, Boydie.
More to come, and big thanks to Sander Van Der Borch for the gorgeous shots.  There's more info and some data in the thread.
April 18th, 2014
It's got more entries than any keelboat regatta in the Western Hemisphere, more women and juniors than any open regatta we've ever been to, and one of the best venues in the entire sport.  And now it's got one of the best highlight videos, too.  Petey Crawford from Penalty Box Productions went two days without sleep to get dozens of hours of footage from 2014 Sperry Top-Sider Charleston Race Week turned into 10 minutes of reality show/highlight reel/tribute film, and the result is just goddamned excellent.  If you want to know the recipe for success in modern American regattas, watch and learn.  And go here to find all the interviews, photos, and race coverage from the SA crew over this past weekend.
April 16th, 2014
Here's a good look at historic 18-footer Yendys on her way to a 2014 season championship win in the Sydney Flying Squadron with far too little mainsail on…Look at that boom!  Congrats to our good friend, sailing cheerleader, camera cat owner and all-around lover of sailing Bob Killick on the victory, and here's a report from the Squaddie.  Bob Ross photo and full results here.
April 16th, 2014