We like the looks of the one up better! Two MOD 70′s on their way during the RORC Caribbean 600. Photo Credit: Rachel Fallon-Langdon / Team Phaedo.
February 20th, 2017
Maryland's goodwill ambassador Pride of Baltimore II now has a video mini series on Youtube & Facebook. The series features various traditional sailing maintenance projects – check it out.
February 20th, 2017
Remember our humorous story about the rich rooskie and his corpulent "A Yacht"? The A may very well stand for A-hole as approx $16 million is still owed to the builder. Not paying his bills sounds familiar, doesn't it? Or maybe it's just a small accounting mistake…
One of the world's largest yachts has been arrested in Gibraltar over a$16.2m admiralty claim filed by the German shipyard that built it. The sleek, futuristic Sailing Yacht A attracted wide media attention when it sailed into port on Wednesday morning for what should have been a short refuelling stop.
But just hours after its arrival, lawyers for superyacht builder Nobiskrug filed a claim in the Supreme Court against the vessel's "owners/charterers/operators" for breach of contract. According to court documents, Nobiskrug says the final $10.4m payment of a shipbuilding contract between the yard and Valla Yachts Limited, the vessel's Bermuda-based registered owner, was due on January 27 but has not been paid. Read on. Photo thanks to Bloomberg/ Carsten Rehder/picture-alliance/dpa/AP Photo.
February 20th, 2017
Well it looks way cooler, what with the low freeboard and rolled and ramped deck/hull and all, but one has to ask; why build this Cape 31 when the C&C 30 already exists? Cheaper? Logistics?
February 19th, 2017
Ben Ainslie's 2017 America's Cup team are paying much more than lip service in their wide-ranging environmental partnership with 11th Hour Racing
It all started with the ocean, the playing field that inspires every sailor's dreams, and the vision that sport is a powerful force for positive change. Then a top-notch 2017 America's Cup team and an organisation devoted to advancing practices that protect and restore the health of the oceans came together – and a partnership was born.
Newport RI-based 11th Hour Racing is the exclusive sustainability partner of the Land Rover BAR America's Cup challenge, working with Ben Ainslie's team to meet the ambitious standards they set together at the onset of the co-operation.
As Jeremy Pochman, president of 11th Hour Racing, highlights, 'We challenge and change practices in technology, procurement, energy production and use, efficiency, economy, community and legacy. We collaborate closely with Land Rover BAR to implement solutions to overcome or mitigate environmental issues, and promote a lasting legacy — and we believe this is happily also fundamental to creating the strongest team possible.
The team's sustainability strategy is based on three specified targets, driving innovation, promoting smarter futures and generally inspiring excellence, the elements blending together to ensure a lasting legacy both in the UK, where Land Rover BAR are creating an inspirational centre of marine technology, as well as in Bermuda, the team's temporary home for the 35th America's Cup. In the UK the team are engaging with their local community through a rich portfolio of activities – from installing solar panels at a local school, to running a sustainability challenge for students at Portsmouth University, through the work of the team's official charity, the 1851 Trust, to creating the Tech Deck education centre at the team base.
February 19th, 2017
You may recall the Jones Act and the America's Cup from 2011. With the Jones Act again coming under scrutiny, it is timely to remember that those most directly affected by the act are seafarers.
Over the years, lawmakers and presidents have proposed making somewhat controversial changes to the Jones Act. Some have gone so far as to recommend repealing it entirely as Senator John McCain did in 2015. He described the law as archaic and claimed that it restricts economic growth and drives up prices for consumers by limiting the extent to which foreign-flagged ships can move goods through the U.S.
The Jones Act has been in the news again recently as the U.S. Customs and Border Protection has made a move to revise or reverse more than 30 interpretive rulings of the law that date back to 1976. These mostly relate to offshore operations through the extension of the Jones Act called the Outer Continental Shelf Lands Act. The changes could have far-reaching consequences, and many, including the Trump administration, are concerned they will limit offshore growth and tonnage. The administration has put a temporary freeze on any changes to the rulings so that they can be reviewed.
February 19th, 2017
Very stoked to get the mighty Anarchy sailing again after our broken mast fiasco! The new spar is beautiful and after not having been out on the 32 for months, it was a sweet reminder of what an incredibly dynamic boat it is.
Oh and while sailing in the bay, one could barely even notice that the San Diego version of the 88th edition of the SCYA Midwinters, hosted by SWYC  was taking place. Six boats competed. Six total boats.  That is down from the 11 that had entered just a few days ago. The breeze was 12 knots, yet the racing was moved from the ocean to inside the bay. After all, who could possible be expected to brave 12 knots and an actual swell in the ocean?
Speaking of dubious moves, how interesting to note that SWYC recently scrubbed the 2016 San Diego to Ensenada race results from their website. Hmmmm, I wonder what monohull and skipper got first in class and first overall in that race?
What universe are these people living in?
February 19th, 2017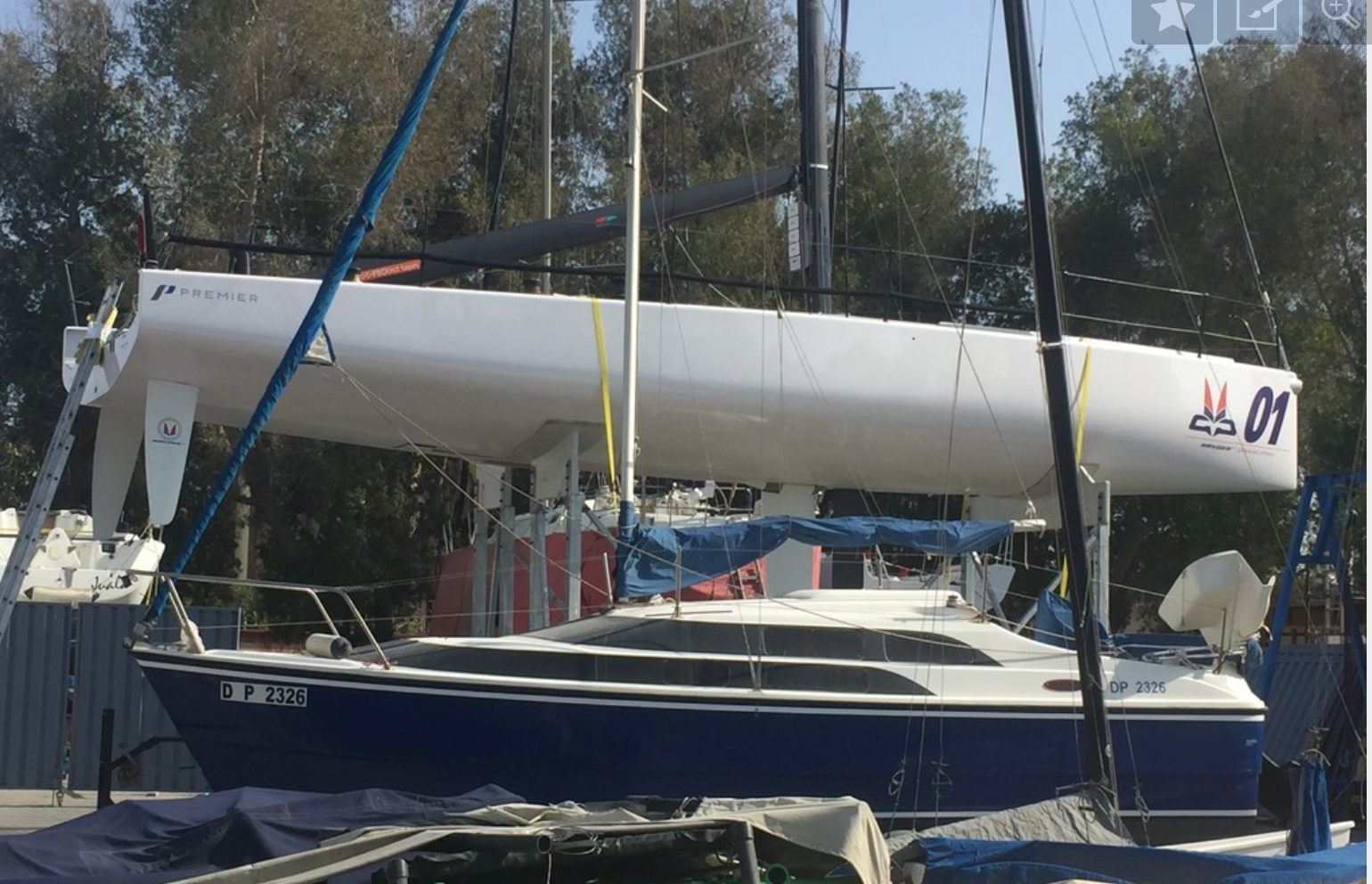 It's perhaps the fastest production 40-foot mono ever built, but in this life, nothing can ever get far from the scourge that is Macgregor!
Thanks to JBSF for the shot of the Melges 40 in Dubai; stay tuned for a new M40 video coming out very soon.
February 17th, 2017
Pedal power isn't the only interesting bit of news coming from the Deep South, as a team of scientists from NZ, Australia, and New Caledonia today published their data proving, they say, that the region of Zealandia is actually a single, intact piece of continental crust separate from Australia.  In sailing and sport, we've long called the region Oceania, but the new data makes it much more likely that Zealandia will indeed be recognized as Earth's seventh continent (or 8th, if you count Europe and Asia separately like a plebe).
The argument ain't new, but it's the first time it's been presented in such a compelling and formal way, and it may help to convince the only people empowered and qualified to decide how many continents there are…schoolchildren and the teachers who make up their mnemonic rhymes.
February 17th, 2017
Oracle, Softbank, and Big Ben have now all splashed their AC50s this week, but it's the throwback bicycle grinders that has set the mainstream's tongues wagging all over the world.  Will bicycle power make the difference to help ETNZ overcome the obstacles they face in just a few months' time, and if so, will Oracle or another team have time to catch up to a system the Kiwis have been working on for more than a year?  And will Franck Cammas – well experienced with leg-powered racing yachts - uncover his own spinning class on Groupama Team France?
As the unveilings begin, we're finding ourselves interested again.  Watch the excellent launch video above for a look at New Zealand, head over here to listen to Glenn Ashby discuss the new systems with RAdioSportNZ's D'arcy Waldegrave, and click the player below for Mr. Clean's take on what is finally an interesting week in AC land, also with RadioSport's Waldegrave.
The America's Cup Anarchy forum is heating up as well…chat about any of your favorite teams right over here.
February 17th, 2017