August 19th, 2014
Why hire an old monohull guy unless you are looking for as much San Diego local knowldge as possible?  Sadly, more and more roads are pointing to Dago as the destination for the next AC. Given how badly Coutts is tripping over his dick this go around, perhaps SD will be the final resting place for the final edition of the AC?  In both a weird and kind of fitting way, we kind of hope so…
Team New Zealand have suffered a blow with sailing coach Rod Davis joining Artemis Racing ahead of the next America's Cup. Davis has a storied history in sailing for New Zealand and will undertake his ninth campaign for the Auld Mug with the Swedish outfit.
Davis, 58 won Olympic gold for the US in the Soling class in Los Angeles in 1984 and silver for New Zealand in the Finn class in Barcelona in 1992. Artemis confirmed it is challenging for the America's Cup again and also announced that Swedish Olympic gold medalists Freddy Loof and Max Salminen have joined the sailing crew. The star-crossed syndicate announced its return today during a news conference at the Moderna Museet, with the America's Cup itself on hand. Read on.
August 19th, 2014
What the hell else do you think it is? Torpedo tube? Cocaine smuggling chamber. Props to Anarchist Ben for the pics of this beauty…
August 19th, 2014
AC Dope
It is pretty interesting to see sentiment turn against Oracle. Not surprising,  given the amount of fuckery that Coutts and company have embarked upon so far in this AC merry go round.
Yeah – as much as I wanted Oracle to win the last one so they'd stay with the big cats and foiling, I'm not a fan of the two venues offered, the lack of a defender series, or the minimal upwind race courses.  So, although American, I'll probably be backing whoever the challenger is…
Are you down with the home team?
August 19th, 2014
We've seen a lot of weird shit over the years here at SA, but this one might be the weirdest….
August 19th, 2014
Big Pimpin'
Can a boat change the world? It depends on the boat…
Today saw some real international news taking place. Good news and we figured that we could all use a little good news these days. Before I elaborate let me tell you a story. There is a lot of power in a single idea. Two and a half decades ago, well behind the iron curtain, there was an idea to enter a Soviet Union boat in the Whitbread Round the World Race. It was an absurd notion on the face of it, but the boat, named Fazisi, was designed, built and raced around the world. This was at a time when the edges were just coming off the Soviet Union, the period of glasnost and perestroika, a time when most people in the west had never set eyes on a Russian person.
By the time Fazisi finished the race the Soviet Union had collapsed. No it was not the fact that there was a Soviet boat in the Whitbread that led to the collapse, but Fazisi, the first ever Russian private professional sport enterprise, perhaps did play a small part in it…
The bigger deal, however, was the role she played in the sailing industry, becoming a harbinger of things to come. Back in 1989 there were comparatively few sailboats in Russia. Look at the international market these days and the majority of super yachts are owned by Russians. Fazisi led the way and we almost ended up with world peace… Almost…
These days we have anything but world peace so it's time for another grand gesture.
Vlad Murnikov, the force behind Fazisi, is now an American citizen living in Massachusetts. With the mess in Ukraine once again straining relations between the West and Russia, it's time for some on-the-water diplomacy. Time for another sailing adventure. This morning we loaded a container packed with a dozen mxNext's mini-SpeedDream boats, half of them being shipped directly to Russia.
While politicians are bickering, escalating sanctions and countersanctions, Russian sailors are surfing the internet looking for the latest and coolest innovations and guess where they landed – right on the mxNext website. So once again sailing is reaching across international boarders in a person-to-person effort to change things – one boat at a time.
Better still, we have another half-shipment of boats going to another country in Europe. When you think of a country known for precision, quality and exquisite design you probably think of Switzerland. Well, to balance out our high level diplomacy with something more neutral, as in Switzerland neutral, we are also sending seven brand new mxNext's to Geneva. How about that? The place known for its top notch craftsmanship is buying high-tech carbon boats from America at times when the daily news tells us that we are shipping jobs overseas. Crazy isn't it?
So there you go. The first lot of mxNext's are off the production line are being sent out into the world to create a little world peace and to showcase the fact that great, new, innovative products are still being built in the good old US of A. Check some video action here.
August 19th, 2014
Sometimes you just have to wonder…. Thanks to Anarchist Jørgen.
August 18th, 2014
Kevin Hall concludes his column with us with this look at coaching. Huge thanks to Kevin and Mauri Pro Sailing
The loud team of young American sailors and their coaches wound their way through the cobblestone backstreets of Tavira, Portugal. Navigation duties were passed from the 420 class to the Laser class with appropriate taunting. The best clue we found that we were in the right place for dinner was the table set for fifteen. We sat next to the old town square.
 A new coach brings risk of disruption to an athlete. I thought about exactly that on the way to dinner. The one thing which is almost always a positive, whether at the world championships of youth sailing, or dark lonely nights in a hospital, is humor. (Robin Williams gave the world so much).
The icebreaker with the young athletes I would be coaching in the following days at the ISAF Youth World Championships was taken care of for me. One place remained empty at the table a few minutes after the team had been seated. As the mother of one of the sailors arrived, her eyes lit up when she saw me.
"Oh! I'm so glad I'm not the only parent!" she said.
The group's laugh echoed through the square. I scrambled for the right response. Fortunately the kids stepped in.
"Mom! Jesus mom! He's a coach!"
I think I mumbled something to the effect of, "Well, I am a parent but my kids aren't quite this old yet…."
 The 2014 ISAF Youth World Championship last month was the largest in history. 367 sailors from 67 nations competed.  I coached on the 420 and SL16 (mixed Cat) course. Each team had a maximum of three coaches for the eight classes. One for each course. Just after the sailors left the ramp, we were shuttled out to various coach boats, from Beneteau 32s to a large utility tug. Many thanks to all the volunteers who made our days on the race course possible.
It was moving for me to see old friends, and to be sharing a different involvement in the sport to the one we used to share as competitors. I first met one of the other coaches, Alessandra Sensini, in 1986 at the Youth Worlds in Greece. She went on to win four Olympic medals in as many Olympics. Here she was in Portugal at the Youth Worlds as Team Leader. Belinda Stowell was another Team Leader and Olympic gold medalist. We became friends in 1996, when I was racing on the circuit in the last year of the Grand Prix Aussie 18s in Sydney and she was training there. Far more important than the medals now, at least to the young athletes competing in Portugal, both women are great coaches: extremely knowledgeable and battle hardened, but also attentive to striking a balance between being the water bottle manager and a tyrannical director of tuning and strategy.
 As a US team we had a strong performance. Haddon Hughes sailed very well and lead the regatta at times, finishing with the silver in the Girl's Radial. Quinn Wilson and Riley Gibbs were tied for the lead in the 29er going into the final race and also won silver.  On my course with the 420s and the SL16, we missed the open catamaran bronze by a general recall. Had the penultimate start been the actual race, Ravi Parent and Nicolas Schultz would have won the bronze by forcing their competitors into an O-flag DSQ. They handled the disappointment in a manner well beyond their years. Our Team Leader was Leandro Spina. Look for his dedication and enthusiasm to lift the US Youth Development program dramatically over the next few years.
 My own sailing, and my life, have benefited from a tremendous amount of magnificent coaching. I'd like to recognize and thank them here. My first CISA clinic with Dave Perry in 1983 opened my eyes to more than I can describe in a quick article. His passionate dedication to the US Youth Champs has left a clear legacy.
Charlie McKee was my coach at the Youth Worlds I won in 1986. I got off to a tough start. Whatever he did at that regatta, he did it just right. Fourteen years later we went head to head at the US 49er trials, as fierce competitors and even stronger friends. Charlie also coached me at the 2004 Olympic Trials in the Finn, one of the best regattas I have ever sailed and maybe ever will.
I also met Tom Kinney at the 1983 CISA clinic. His college-sailing approach to learning and discipline was another eye-opener for me, then aged 13. We gave the 470 a good effort together in 1989 and 1990.
I first met Brad Dellenbaugh when he was coaching the IYRU Women's World Championship in La Rochelle, France in 1985, where I was living as a foreign exchange student for a year. He successfully recruited me to Brown University, and I learned a lot from him. I wish I had learned to be coachable by then, as I would have learned so much more. Alas, youthful arrogance is a double-edged sword. My tongue was sharp and he must have cringed more than once at my complicated efforts to not hear.
Zack Leonard came to coach at Brown when Brad moved on. In addition to dedicated on the water feedback, he helped me see that there was more to life than sailing. Which was what I desperately needed at the time. My sailing improved when I emerged from this challenge to my existing world view.
Luther Carpenter is one of a kind. Technically, in multiple classes, he has few peers. As a regatta coach, he is a wizard at tailoring his approach to the athlete, often with well-timed wit. On shore, he is just plain fun.
Finally, Rod Davis negotiated the minefield of coaching the afterguard at Team New Zealand between 2004 and 2009 with me, and for a number of years after that. He made a difference for which there is no data but of which I am certain.
What all of my coaches shared was a philosophy which had far more in common with the "teaching a man to fish" side of the old saying than the "give a boy a fish/side of the course/exact tuning setting" side. When they did have strong feelings, they would try to gently lead me to their way of thinking, not tell me what to do. I hope they know I was always listening, even if it didn't seem like it at the time.
August 18th, 2014
When you don't yet have a boat to show, you show the next best thing!
August 18th, 2014
If the sun, tropical racing, posh digs, and sexy aussie girls wasn't enough to get you jonesin' to sail Hammo Island Race Week, the wildlife might.  Incredible right-place-right-timing for the yacht Synergy as well as the Hammo TV crew that caught it; check the whale breach video here.
August 18th, 2014
In the audio player above, Our favorite sailor chick/radio host digs deep into Hamilton Island Race Week as Day 2 of the tropical regatta wraps.  Nic's got Seve and Ricko from Wild Oats XI, Gavin Brady from the TP52 Beau Geste, David Chapman from the big MC38 fleet on Ginger and much more, including her own adventures aboard and ashore at a regatta that's gotta be on everyones 's bucket list.  Results are here.
August 18th, 2014
No TV news organization has fallen further than CNN over the past decade (Fox cannot fall any further, they started as low-brow, race-bating, right-wing shills, and have remained there) with the cable news giant hitting historic lows in almost every category of viewership this year.  For our non-American readers we suggest a trip over to Jon Stewart's hilarious explanation of everything wrong with CNN (and check out his tongue-in-cheek Kickstarter campaign to buy it out), but for the rest of you, we've got a spectacularly dramatic sailing video to prove all of Stewart's points – and you just have to watch it.
Yes, we understand that CNN has 'content partners' like the WFRV 'reporter' who narrates the piece, but maybe, just maybe, they shouldn't?  This ain't a joke or an Onion story, folks.  Share your thoughts on the sheer genius of the piece here.
Meanwhile, CNN does have the only mainstream english-language sailing news show out there, and while Mainsail's quality has been slipping over the past couple of years and the CNN audience is nearly gone, it's still some of the best-produced conventional stuff out there.  Here's Scottish Shirley and Part 1, Part 2, and Part 3 of the Land Sailing Worlds we reported on last month.
August 18th, 2014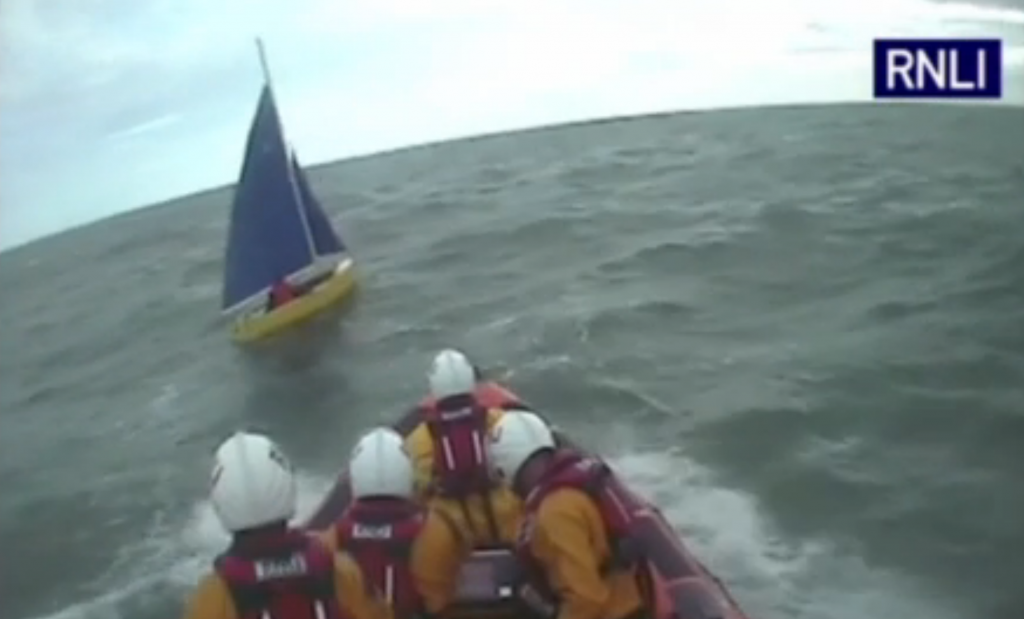 "The man bought the 14-foot dinghy on Saturday and then set off on his 3,500 mile voyage across the Atlantic…not wearing a life jacket, his boat had no lights and his only navigational aid was a street map of Southampton."
Seems like a good kit bag for most major voyages, right?  But wait – that's not all.  "He had a passport containing a US visa, hot dogs, beans and a bag of biscuits." Hot dogs?  Beans and biscuits?  Sounds like a fine transatlantic menu, as long as he's alone!
The Bulgarian man was not interesting in whatever the RNLI was selling. "When we reached the gentleman he didn't want us there, he wanted to carry on his way," refusing assistance for 45 minutes, after which "the crew dragged him on to their boat and took him to shore."
We can't be the only ones who really, really wanted to see how far he could get.  If anyone runs into this guy, let him know that next time, Sailing Anarchy fund your YellowBrick tracker, an EPIRB, and some extra provisions…
Watch the video for the full 'rescue' and thanks to Brad T for the heads up.
August 18th, 2014
Whatever it is, it's nothing that a big ol' sledgehammer won't fix! Right?
August 17th, 2014
Class Action
The Ultimate 20 class returned to Racine, Wisconsin for their 2014 North American Championship. 22 boats competed for the classes' top prize. Most teams arrived Thursday to set up and practice out on the lake. The conditions were consistently 7 to 10 knots which generated a short chop which tested the skippers and crews.
We are stoked this class continues to stay strong and props to Mark Allen and the team on Junta for their win. Story here.
August 17th, 2014
One of the most interesting things to come out of an otherwise uneventful Moth Worlds was their sharing of this poignant story about Hayling Rescue's Frank Dunster.  For an explanation of this enigmatic subject, we go to the film's co-creator, Jack Pollington.  If you're motivated to contribute to such a wonderful effort, hit up Hayling Rescue on Facebook, and for more on the producers, go here.
This was a short documentary created by Alex Forbes and me as part of coursework for Farnham Film School.  Frank runs a completely voluntary, non-profit life saving operation from Hayling Island Sailing Club.  He is a vital part of what keeps that very busy and active club safe and running,  year by year, and in thanks for that, the members of the club contribute to Hayling Rescue's upkeep in an annual fundraiser.
August 15th, 2014
The annual New York Yacht Club Cruise is back, and as usual, there's plenty of drama, and yet more reasons to watch it when you see the burgees coming through your piece of water.  This time, the drama is in limerick form, thanks to SA'er 'Left Hook'.  To add your own limerick (and there are already several good ones) or for the full story of the sinking of Concordia 40 #11, hit the thread hard.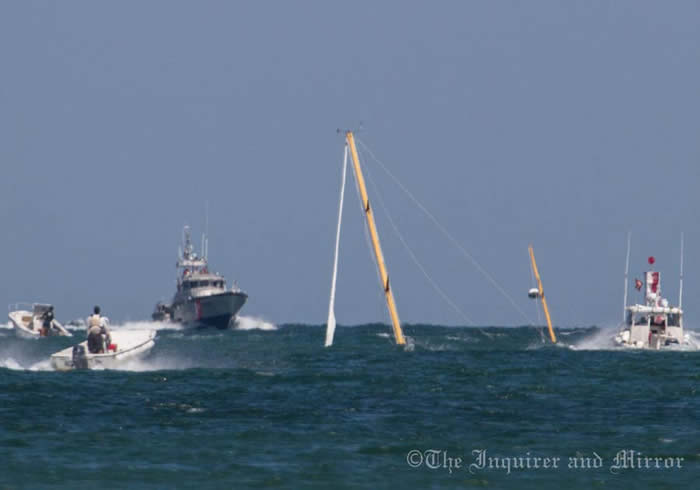 Title is more about Dice than limericks, but hey – fuck it.
There once was a man on Nantucket
Whose Swan was so big he said "fuck it!"
So he went down the line,
spied Winnie so fine,
and said "crap, we're on port, we should duck it!"
August 15th, 2014
With Team Australia flaming out of the America's Cup with a whimper, the Oatley family needed a new look for the winged AC45 they picked up along the way.  And once they painted it up right, they realized they'd finally gotten a Wild Oats that's significantly faster than the R/P 100 that's been winning the Hobart for a decade…and for about 5% of what they've spent on the big one!
Pic thanks to SA'er 'wildboats' from the 45s launch at the upscale Hamilton Island Race Week.  Not the latest or greatest tech or the fastest cat out there, but it's certainly got sex appeal…
August 15th, 2014
Sydney Gavignet's Oman Sail Musandem took line honors in the Round Britain and Ireland Race just past noon today, with a final time of 3 days, 3 hours, and 33 minutes (rounding up a touch).  This breaks the existing race record of the Volvo 70 Groupama by days, and beats the nearly twice-as-long Banque Populaire V's absolute course record by around 16 minutes.  While technically it seems the RBI course may not comport with the WSSRC's rules on a RBI record, we hope it stands; this is a giant-killing effort that saw a top speed of an incredible 43 knots…just fucking stellar!
One Design Spread
Meanwhile, the Volvo 65s are busting some big misconceptions; the first is that 'One Design' always means 'close racing'; as you can see from the tracker, it doesn't mean that at all – unless you are one of the three boats bringing up the rear.  Ian Walker is running away aboard Abu Dhabi with Iker and Mich Dej well behind, and the final trio in another time zone.  While generalizing from a single race is silly, it's interesting to us that two boats at the opposite end of the preparation curve – Azzam with more than a year of prep time and Campos with around a month – are leading, while the boat with the most time on the water (SCA) is fighting for DFL with two other new entries.
The second misconception is about their speed, long thought to be significantly slower than a Volvo 70.  Sure, they've got perfect angle/gale force conditions unlikely to revisit this race for decades, but either Walker or Martinez is going to break Franck Cammas' monohull record.  That ain't slow.  Neither is the Volvo 70 Monster Project, nearly 100 miles behind the back marker VOD 65s, nor is Brian Thompson's Open 60 Artemis, which is nearly 200 miles back.
Not Your Daddy's Class 40
Remember when the Class 40 was designed to sail around the world as a cruiser or racer?  Tough as nails, cost-controlled, and bulletproof, right?  They've come a long way, baby – both in speed and in frailty.  Four of the five Class 40s are out, including the brand new Mach 2 Stella Nova and the slightly older but hells-quick Concise, which were both crushing the 50-footers until they bowed out with damage.  Get your shit together, Class 40 designers/builders!
Great shot from Mark Lloyd/www.lloydimages.com
August 14th, 2014
Whenever we get videos piling up in the back rooms of Sailing Anarchy , we purge them with an installment of Video Anarchy, and this one is a doozie.  Check it.
Sneaky Peaky
Though the work list is massive for the September launch of the first new Supermaxi the world has seen since Alex Jackson's Speedboat, we're told things are more or less on schedule for Jim Clark's Comanche (née New Cubed).  The fact that photog-to-the-NPT-mafia Onne Van Der Wahl is already making videos of the boat tells us Ken Read and friends are confident that the VPLP/Verdier monster will be ready for her trip to Sydney with (a tiny amount of) time to spare.  This little sneak peak, which shows virtually nothing, is courtesy not of Onne but of his editing team at Death Cookie, and it sort of reveals a boat that's fairly conventional in thinking; evolutionary rather than revolutionary, and perfect to go up against 10+ year old designs that have had it all to themselves for the past decade.
Satan's Regatta
Named for the French sailor known to the British Navy as "Admiral Satan", the Trophée Bailli de Suffren is the only event of its kind; a 600 NM race/rally from one beautiful Mediterranean port to another, for Classics only.  And while they invariably sail like the ancient pigs they are, they sure are pretty, as this very beautifully produced movie shows off quite well.
Youth of Today?
You've got billionaire-funded kids teams, 44-foot carbon yachts, Russian oligarchs, feuding ex-America's Cup teammates; as much drama as you can handle.  And with all that, they still can't make an RC44 look cooler than what it is – a tiny version of the piggy IACC yachts.  Hey – at least they have live blogging at their Worlds!  Here's a look at the Gazprom Youth team, who we assume won't be sailing any US regattas for a while…
Youth of Tomorrow
It's not often that a kids' regatta gets video production by someone as good as our own "The Rev Petey", but he was on hand last month for the light-air ILYA X Scow regatta in Gull Lake, MN.  It's long, but watching the smiles on these kids' faces should give you smiles of your own, and even some optimism about the future of the sport in the Midwest.
Heavy Air Wizards
While the British media were freaking out over a storm-swept dinghy regatta in Ireland, 60 of the world's prettiest classic dinghies were battling for their UK National Champs (and still are).  Check out the Merlin Rockets sailing in 10-35 knots of Hurricane Bertha remnants…though with storms, rain, sun, breeze, and a near gale, it looks like a typical day in Cornwall to us.  But hey – no fog!
Video Fail
While we love TP52s and think they are the best thing to happen to big boats over the past decade, we've been unimpressed by the 52SuperSeries – the group that's been trying (and failing) to regain the glory of the Audi MedCup days for a couple of years now.  They seem to have some sponsors, but let's be frank:  It's become yet another ultra-wealthy fun-fest for owner/drivers; like the RC44, but for boats that aren't nearly so dumb.  So why have they had to work so incredibly hard just to get 5-7 boats on their starting lines?  Maybe it's because the people behind the PR and marketing wheel suck at it?
Above is an example from last week; it's clearly an introduction to a contest to sail aboard a TP52 during a SuperSeries event, and it's clear the SuperSeries folks are trying to run the contest, even though they are using Ed Baird as a spokesman, and Quantum's video footage. But what's not clear since the video went up is what the contest is, how you enter it, or who it's for, other than that it says "Facebook" on the title, along with the word "Competion", whatever the hell that means.  A long search through the lonely SuperSeries' Facebook Page reveals that "Closing date for entries is 31 August, 2014 get your entries in!", but that's about it, and our e-mails to the Series' PR people went unanswered.  So good luck winning the contest, and don't be surprised to see SuperSeries sponsors walk away at the the end of the year just as Audi did when the organizers fucked that one up.  Why is it so hard to be even a little bit competent at this shit?
August 14th, 2014