I was fortunate to meet Hilary Lister, just the once, but it was uplifting.
It wasn't a pre-arranged press conference or anything fancy like that. It was just as fellow Redjet passengers crossing the Solent to Cowes.
I am sure many of our fellow passengers looked on with pity not knowing the spirit of this young woman. I, on the other hand was filled with awe. Stricken with a debilitating disease that gradually was robbing her of more and more motor control and sitting in her wheelchair as we talked she had every right to feel life was unfair but if one had closed your eyes you would have never known.
A keen sailor who controlled her boat using a 'sip and puff' method she was the first quadriplegic to sail solo across the English Channel (2005) and as far as I am aware, that is a feat not yet equalled. That's right, she sailed a converted Soling where the sails and rudder were controlled by Hilary sipping and puffing into straws which controlled mechanisms to steer her boat and trim her sails, mechanisms which were adapted from those she used to control her wheelchair.
The crossing was backed and supported by Pindar, the yacht logistics company having inspired Andrew Pindar (as she doubtless inspired so many thousands) to lend his support.
And as if that wasn't enough she sailed single handed round Britain, in stages, in 2009. Then to cap it all she sailed a Dragonfly Trimaran, albeit and necessarily this time with help on board, around the coast of Bahrain.
I have met many accomplished sailors in my life but it is hard to think of anyone who's courage or acceptance of their situation left such a positive mark. Sadly on 18th August, aged just 46, Hilary finally succumbed to her condition and passed away.
Sail on Hilary, may your memory continue to be an inspiration to those who met you, knew you or loved you.
SS
August 19th, 2018
Big Pimpin'
One thing distinguishes the foiling generation… the flow of technical development often goes in the opposite direction from usual. Harken embraces that.
The Harken process of developing new products usually follows a similar path: identify a market need, design, refine and engineer a product that fills it in a way no other does, then manufacture, package and launch. If the need stays big enough and the product performs well enough, you're onto a winner. Now Harken are experimenting with a 'skunkworks' approach that fast-tracks niche products to help the world's best sailors perform even better.
Literally and figuratively, grand prix and Olympic sailing classes move fast. And that has revealed development opportunities. So Harken have adopted a 'quasicustom' approach, to accelerate their product design and take those opportunities. The result is a growing suite of seriously niche products that execute on their design objectives well but are also specialised. Few sailors will need them but they will make a big difference to those who do.
The three most recent are the Harken Grand Prix (GP) mainsheet system for high-performance catamarans like the newly foiling Nacra 17 and F18s, the Harken Fly 29mm high-strength blocks, and an adaptation of the Ratchamatic block. Read on.
August 19th, 2018
Giles Scott spent years playing second fiddle to Ben Ainslie. Google seems to be taking pleasure in rubbing the salt in further. Thanks to Anarchist Mat.
August 19th, 2018
Sorry for the balls up on the forum registration. Y'all may register now!
And do let me know if there are still any issues…. -ed.
August 18th, 2018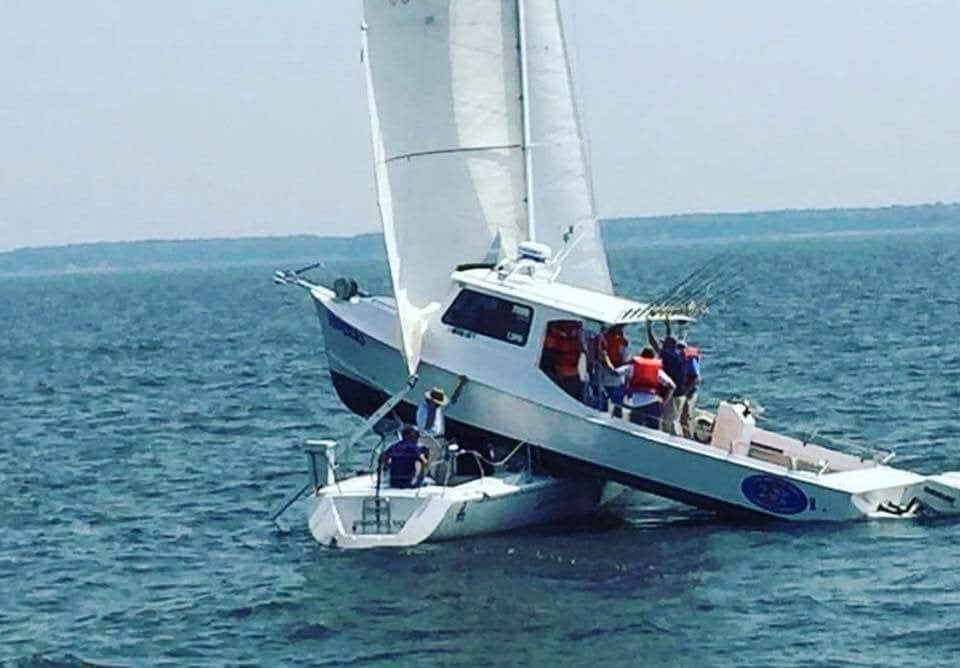 Clearly the sailboat's fault…. Jump in the thread.
August 17th, 2018
The Environment
Offshore vessel operator Maersk Supply Service has agreed to deploy the AHTS Maersk Launcher in support of the deployment of The Ocean Cleanup trash removal system, which aims to remove plastic debris from the waters of the North Pacific. It is the first large-scale initiative of its kind.
The effort will target the well-publicized "garbage patch" in the Pacific, which contains mismanaged plastic waste generated on shore. According to researchers at the Helmholtz Centre for Environmental Research, ten river systems in Asia and Africa account for as much as 95 percent of ocean plastic pollution worldwide, and six of ten flow into the seas of the Western Pacific region. The Ocean Cleanup estimates that about 85 percent of the total comes from Asia.
The Ocean Cleanup's system relies upon long floating screens to collect plastic debris for recycling. The group has a support center at Alameda, across the bay from the Port of San Francisco, and the site recently conducted offshore tow testing for a 120-meter segment of the barrier. The complete unit will be 600 meters long, and under optimal conditions, the group believes that it will accumulate one ton of plastic per week. Ocean Cleanup asserts that if deployed worldwide, and combined with onshore waste reduction, the system could remove 90 percent of the world's ocean plastic pollution. Plastic waste enters the sea at an estimated rate of 90,000 to 270,000 tons per week, according to an estimate published in Science in 2015.  – Read on.
August 17th, 2018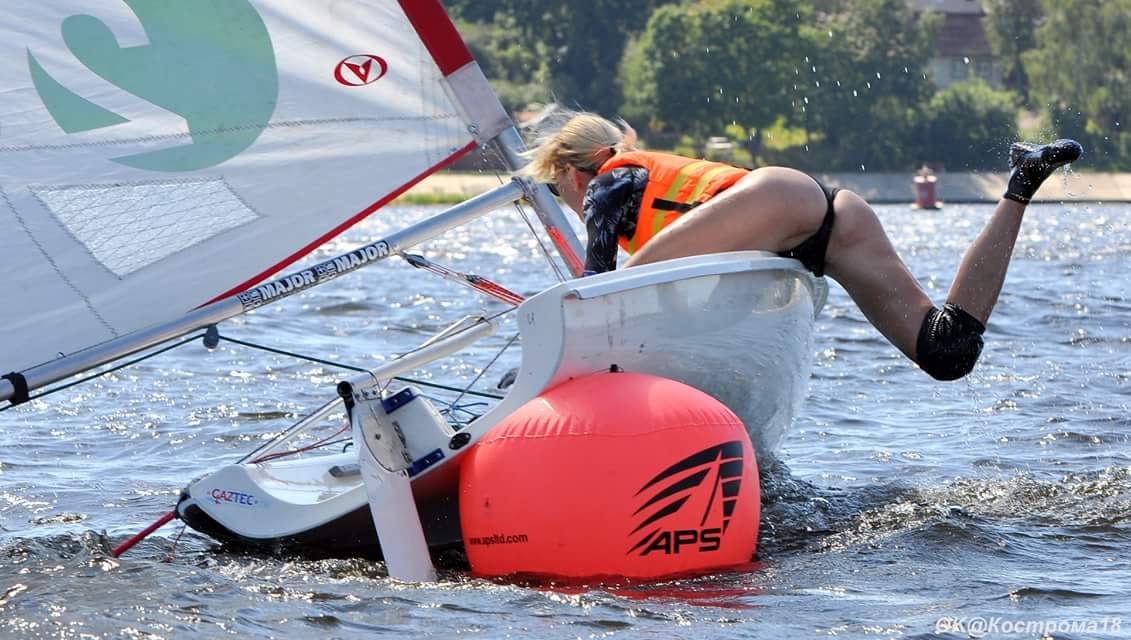 I mean, that right there is some mighty good acrobatics. Sayin'… Photo thanks to  Ольга Кашаева.
August 16th, 2018
Joseph "Joey" Chomyn was a promising young sailor from Johns Island, South Carolina. He was well known in youth sailing and was always a stand-up young man. Not enough good things can be said about the content of his character, and his willingness to help anyone he met. Most recently he competed at the US Sailing Junior Championships in La Salle, MI.
Tragically just two days after competing, Joey was killed in a boating accident near Lime house Bridge on the Stono River. Joey's signature was a US Sailing team white visor that he wore almost every day. If you have lightly used visors for Joey's family and friends.
If you think you may have one, please send it to 362 Sweetgrass Creek Road, Charleston, SC, 29412. While so tragic, it is fitting that Joey was doing what he loved before he passed. Rest well Joey, keep sailing on.
August 16th, 2018
Next year will see the 50th edition of one of the greatest ocean races of them all… save the date!

In 1886 Hawaii's King Kalākaua invited the yachtsmen of the US mainland to race across the Pacific to his island paradise. Forty-nine times now the race has been run, and approaching Transpac 50, in 2019, it's international. Among the world's great ocean races there are not many that start and end among palm trees. There are also not many long enough to inspire the spirit of adventure of an ocean crossing in newcomers and veterans alike.
Even fewer races have the cultural heritage of an event started by royalty over a century ago, enriched by the participation of thousands of sailors since. Across the generations of California's sailors Transpac is a tradition and a bond. For the internationals who drop in it's a test as meaningful as any, but with sweeter rewards as the race goes on, and the sea grows bluer and the skies grow warmer.
The Transpacific Yacht Club was created in 1928 to manage the Transpac, and there is only one way to join the club. Race, and you will be invited.
Since the first race in 1906, when the start had to be relocated from an earthquake-damaged San Francisco to Los Angeles, the Transpacific Yacht Club's 2,225-mile race to Honolulu has been an inspiration for generations of offshore sailors from all sides of the Pacific and beyond. Now run every two years, the list of entries and sailors from around the globe increases as they learn how this race is more than just a bucket-list event: it is a unique inspiration to connect with the ocean and our shipmates on what is always a memorable voyage at sea. Read on.
August 16th, 2018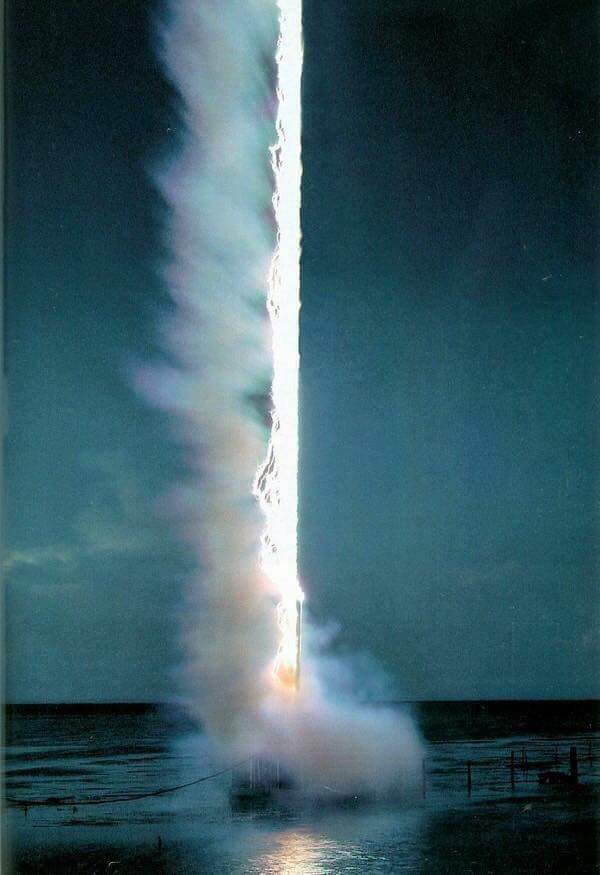 Lightning striking the mast of a boat. Or maybe not. Either way, wow, just wow. The photo is Copyright©Peter Menzel, www.menzelphoto.com
August 16th, 2018