The new Ran looking – what else would you expect? – bad ass! Photos thanks to Jesus Renedo.
April 19th, 2014
2014 Congressional Cup – US One
By Brian Janney
Let it be said…we've been looking forward to the 2014 Congressional Cup since the 2013 event ended. Cup Cup is the granddaddy of modern match racing and although Taylor has been invited several times before, this year had a certain edge to it. The event was split into 2 tiers this year. Tier 1 featured 6 invited skippers who hadn't won a Con Cup and had to compete to make it to the second stage of the event. Tier 2 was filled with the previous Con Cup champions. Catch was, we were placed in the Tier 2 group…but we had never won the Cup. US One got put in Tier 2 because we are the ISAF #1 ranked team and had just won the Alpari World Match Race Tour. Just a bit of pressure.
It was great getting the band back together…we hadn't raced since Malaysia in December. On the bow was Hayden Goodrick, I was in the pit, Mike Rehe – offside trim, Dan Morris – trim, Rod Dawson was on main/tactics and Taylor Canfield drove.
The first 2 days of the round robin we sailed well placing near the top of the leaderboard. By the last day of the round robins we had a spot locked up for the semis and were able to lock down top seed ensuring we had pick for the semi-finals as well as starboard advantage in the knockout rounds.
The final 4 teams for the semis were US One, Francisco Bruni (Luna Rossa), Keith Swinton (Alpari FX), and Ian Williams (GAC Pindar).
Now let it be said: we've got a friendly relationship with all these teams, after all we've competed against each other many times. However, being the #1 ISAF matching team we were keenly aware that the #2 ranked team was thru to the semis…and ever since gaining the #1 title in August 2014, beating Ian in Bermuda, and winning the Tour last year we knew a lot was on the line.
On the way in on Saturday we started to talk about who to pick for the semis. One school of thought is pick a top team so you can get the hard race over with and hope for an easy final. That one never seems to be a team favorite. We like to choose the team with the least amount of round robin points to give us the best chance of advancing. In this case that meant facing Australian Keith Swinton.
We had to work hard upwind and downwind to keep it close. We knew that our strength was in boat handling and at both leeward marks we made our passes to take the lead. We won the semis 2-0 and moved into the final against who else…Ian Williams. Now from a regatta stand point I'm sure the organizers loved seeing the #1 and 2 ranked teams in the world sailing in the final. As a competitor we knew it wasn't going to be easy. Ian and his team don't make many mistakes and when they do they are quick to fix them.
Everyone on board was loose and in a good mood headed into the finals. As we waited for the petit-final it got cold so on went our Line Honors hoodies…of course Taylor loves to wear it with the hood up. Looking ahead we knew the finals would be best of 3 so being on starboard for the first race and, if needed, the 3rd race is a nice advantage to have.
During the first pre start we were able to get a penalty on Williams and come off the line in a leeward position. The first beat was mainly a drag race where Ian was trying to roll us and we were trying to pinch him off. It took 3/4 of the beat but we were able to get Ian to tack away. During the run we pulled away and never looked back. 1-0 to US One.
The second race we entered from the port side and this time we copped a penalty as well as didn't have the best start. As stated previously, Ian doesn't make many mistakes and he sailed away up to a 2-3 boat length lead. On the last run we closed the gap but during a luff our spinnaker touched his and since we were windward we got a second penalty and Ian easily won. Even at 1-1…you couldn't script this, there's going to be 1 race to decide Con Cup Champion AND #1 ISAF ranking?
Prior to the third race, we were doing our pre-race lay lines and Rod looked over and waved to Ian's crew in a "hey good luck, good sailing" kind of way…their team was in the zone and just shot us that "we are coming for you" look. Great. Everyone on our boat was in a good mood and ready to win the regatta, so no one talked about anything other than where the first puff was coming from and what side of the course looked best. The pre start was intense and as we were on final approach to the start, Ian was pushing and got too close and ran into our transom hard! That took the pressure. We sailed up the course and a tacking duel started but Mike Rehe and Dan Morris had been doing a great job tacking the genoa all week and we slowly opened the gap a little bit. Then at the top of the course Ian got a last min shift and 5 lengths from the mark we had to do a very tight lee bow.
But you didn't think this was going to be easy right? At the Leeward mark during the takedown bad luck hit and our spin caught the trip wire for the spin pole and we had 2 tears in the spinnaker. One was a 1-foot-by-1-foot "L" shape tear and I had to spend most of the upwind leg below trying to put tape on the wet spin. I popped up from down below about 5 lengths from the mark and had to go head down during the set. I didn't look back until about half way down the run and smiled as I saw that we now held a 5 length lead and we'd hold on for the win! After the race, Matt Cassidy, Ian's bowman, jokingly ran up to the bow and yelled to us "Hey, slow down and make this more interesting for TV!"
An epic event that caps off a 14 month dream-roll for our team as we head fresh into the 2014 Alpari World Match Racing Tour…we want to say thank you to all who have supported us this far, including Smith Optics, Bob and Erika Hillier at Line Honors, and Chicago Match Race Center. Check out the video here.
Follow US One on the team Facebook page. As the program is growing, the team is actively entertaining sponsorship for the 2014 season. If interested in partnering with the team, please contact Hayden Goodrick at hayden@usonesailing.com. Video and photo to Matt Knighton
April 19th, 2014
Remember this what is it?  From designer Paolo Bua: The boat is now sailing in France, we're organizing demo sailing right now. This summer, it will be in Sardinia. We're happy: it is a stiff and stable little boat, it appears quite forgiving but at the same time it's ready to go fast. As you can see, we had little breeze for the maiden voyage ( we have 2 traps for the windy days ) but it was a joy to sail! Check out our "roots" looking video
April 19th, 2014
Weta joins the drones! Check out their event.
April 19th, 2014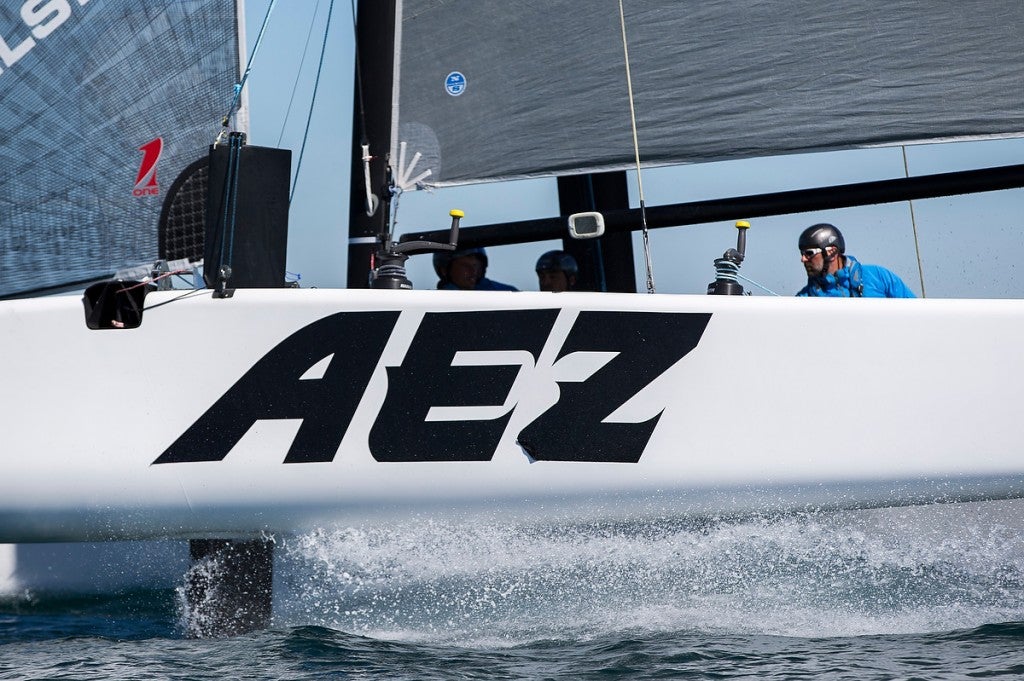 Clean Report
More than 18 months ago, just a month after ETNZ revealed their AC72 was a flying boat and lured by the potential for a 32-foot version of it, I spent 12 hours flying to Dubai just to check out the brand new GreatCup 32 catamaran from F-18 sailor Laurent Lenne and designer Martin Fischer.  I took a cab straight to the Dubai Marine Center, and an hour later, we were sailing the sleek carbon cat in 8 knots of Arabian breeze.  And 20 minutes after that, the boat was broken.
Needless to say, I was underwhelmed.  The Southern Spars-built spine of the boat wasn't right, and I wasted a couple of days in a plane to find it out.  To compound matters, it was pretty clear that the intricate, Alinghi 90-style S-shaped foils were cool-looking, but lacked true foiling ability.  They reduced displacement, but only in very specific conditions would they lift the boat out of the water and create anything that could be called stable flight.
But Fischer, Lenne, and Aussie project manager/COO (and longtime SA'er) Andrew "Macca" McPherson had just seen the future in the form of a flying red-and-black carpet in Auckland, and they were already planning on meeting it.  They spent much of 2013 studying, learning, and redesigning the foil system for the GC32, and while they didn't put a ton of effort into selling a boat they knew was in the midst of a big change, they quietly sailed a 4-boat, 4-event Great Cup series in Europe.  And they kept working.
Fast forward to April, when I got a call from Lenne.  "They're ready," he told me.  "And you should get your butt over here."  Hours after Charleston Race Week ended, I jumped on a plane from Charleston to JFK to Paris to Marseilles, and made my way to one of Europe's biggest marinas in La Grand Motte, France.
An intense design process had led Fischer to a ETNZ72/Flying Phantom/Groupama C-Class style foil solution, with acute-angled, rake-adjustable J-boards with a massive 1.2m span, and adjustable t-foil rudders like a Moth.  Built by Heol, supplier of foils for just about every major French racing multihull for the past decade, the foils are serious pieces of machinery – a single dagger supports almost the entire weight of the nearly one-ton cat and its crew, is built under a massive 8 Bar of pressure, and weighs some 50 KG.  The good news is that you don't often take them out; they insert from the bottom and retract up to the hull, allowing you to beach or ramp launch the boat with no hassle.
But even if they were a big hassle, it would be worth it, because after three days of sailing the GC-32, I can honestly say that this boat has the potential to change multihull racing forever – all of a sudden, non-foilers just seem kind of silly.  They're slower, less forgiving, harder to sail, more loaded up, and just nowhere near as fun.  I'm leaving for the airport in just a few minutes and there is a long, comprehensive video being put together next week with all the details, so I'm going to keep this short, but after crewing, driving, filming, and spectating for the past 3 days in winds from 5 knots to 30 knots, it's very clear that this boat is something entirely new.
What do I mean by that?  How about some numbers:  22 knots upwind at 44-50 degrees TWA, with more than 5 degrees of windward heel – almost like a moth.  32.7 knots downwind on the boat's fourth day in the water, with too much sail area and old sails designed for a skimmer.  And our gybing angles, confirmed by Velocitek GPS replay?  40 degrees.  In other words, this boat sails downwind at roughly the exact same angles as an AC-72, and 80% of the speed, with a quarter the crew.  And at 235K Euro, it's around 1% of the cost.
Far more importantly, a no-talent hack like me can EASILY drive the thing.  This is no joke – the GC32′s huge vertical lifting surfaces are nearly as big as those on the Oracle 72, and that means when you do something stupid – which I did plenty of – you don't crash down like a Moth or AC72, and if you press too hard and get too much heel on, the boat gently slips sideways rather than pitching you over into the piss.  I hit 24.4 knots yesterday in 14 knots of wind, heating up to pass a fleet of Fireballs rounding the top mark off Montpellier beach…the lead boat just stopped and stared and let his competition sail by him.  An excellent driver like Macca or Adam Piggot only got to 26 – if I can do 90% of their speed, truly anyone can.  In other words, you don't need to have Bora Gulari's cat-like reflexes, Jimmy Spithill's iron balls, or Larry Ellison's mountains of money.  Just a couple hundred grand and a desire to fly.  The Daily Sail's James Boyd hit 20.2 on Monday, so at the moment I am the fastest 32-foot foiling cat driving media person in the world –  a title I will wear with pride.  Back on you, Boydie.
More to come, and big thanks to Sander Van Der Borch for the gorgeous shots.  There's more info and some data in the thread.
April 18th, 2014
It's got more entries than any keelboat regatta in the Western Hemisphere, more women and juniors than any open regatta we've ever been to, and one of the best venues in the entire sport.  And now it's got one of the best highlight videos, too.  Petey Crawford from Penalty Box Productions went two days without sleep to get dozens of hours of footage from 2014 Sperry Top-Sider Charleston Race Week turned into 10 minutes of reality show/highlight reel/tribute film, and the result is just goddamned excellent.  If you want to know the recipe for success in modern American regattas, watch and learn.  And go here to find all the interviews, photos, and race coverage from the SA crew over this past weekend.
April 16th, 2014
Here's a good look at historic 18-footer Yendys on her way to a 2014 season championship win in the Sydney Flying Squadron with far too little mainsail on…Look at that boom!  Congrats to our good friend, sailing cheerleader, camera cat owner and all-around lover of sailing Bob Killick on the victory, and here's a report from the Squaddie.  Bob Ross photo and full results here.
April 16th, 2014
The Race Committee can't call you over the line if they can't see you.  At least that's what distinctive Italian Melges 32 owner Filippo Pacinotti seems to be going for with this all-new naval camouflage look for an all-new Melges 32.  Check out the new Brontolo (Italian for 'Grumpy' and a reference to its owners shared features with the Snow White character) and thanks to Marco Perazzo for the photo.  The new boat even comes with a new iPhone cover; check this shit out!
April 16th, 2014
The Agustsson brothers are just $50,000 away from turning this clever little Vertical Axis Wind Turbine into reality; If their Kickstarter campaign raises a total of $50k, just two-fitty will get you one of the first production units of the Trinity wind turbine mini USB charger (another hundred bucks will reserve you a limited edition version.  Minnesota-based Developer Skajaquoda says it wants to become the world leader in sustainable products; check out the oddball shit in their online store to ascertain whether they are getting there.
Here's the Kickstarter page if you want to get involved.  Thanks to Treehugger for the heads up.
April 16th, 2014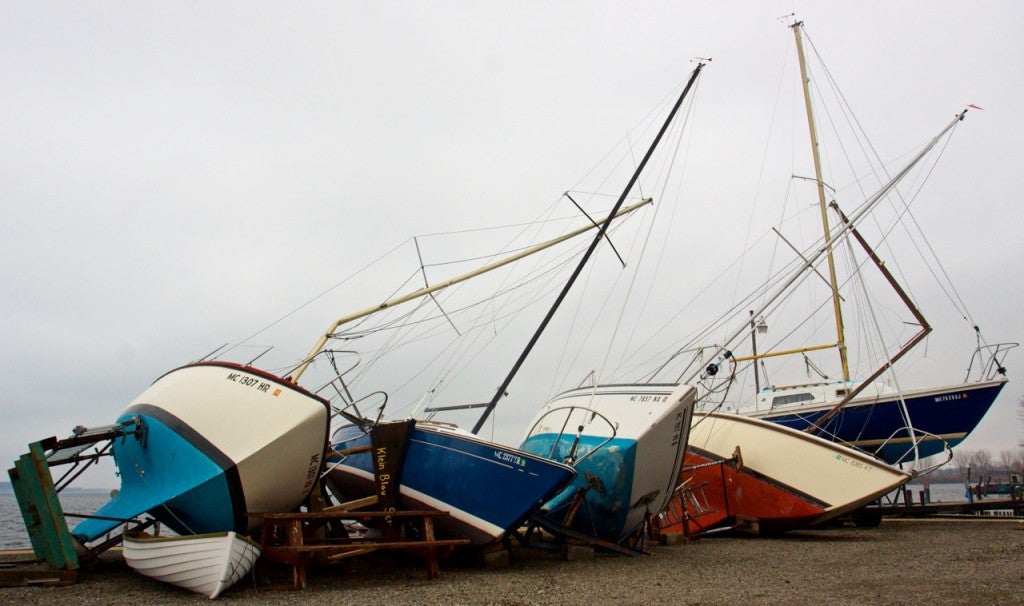 This picture was taken about 45 minutes after this front passed through Muskegon, Michigan at Torresen Marine April 12. Title inspiration that J-Kwon. Photos thanks to Anarchist Daniel.
April 15th, 2014
We'll have more insight on this rather shocking story asap…
America's Cup sailor Dirk de Ridder has been suspended from sanctioned events for five years by sailing's international governing body, two people with knowledge of the decision said Tuesday.
The people spoke with The Associated Press on condition of anonymity because the suspension is being appealed.
Unless a review board or the Court of Arbitration for Sport overturns the suspension, it effectively ends de Ridder's sailing career. Not only is the 41-year-old de Ridder banned from the 2017 America's Cup, but he's unable to accept a $500,000 contract to sail in the Volvo Ocean Race, which begins later this year. Read on.
April 15th, 2014
Brian Carlin gives us his Pink Floyd interpretation of Wish You Were Here. Kook!
April 15th, 2014
Since Fresno Yacht Club angered the gods with this douchey move, and is now being appropriately punished, perhaps they can now finally turn to a business better suited for them. It would appear that the Number One commodity in Fresno could use even more knuckleheads to fuck it up.
We wholeheartedly support FYC should they take our suggestion to branch off to what surely is their true calling.
April 15th, 2014
When good things happen to good people and we have a hand in it, that makes us smile…here's some excellent news from our pal Ryan Breymaier.  Mark Lloyd photo.
Thanks in large part SA's support and promotion, everyone here knows I have been working with Alex Thomson Racing's management company 5 West in my search to find a partner for my Vendee Globe Project USA. Our cooperation took another step recently, when I was asked to race onboard HUGO BOSS for the upcoming Ocean Masters race, a double-handed transatlantic from New York to Barcelona, starting on June 1st.
Alex needs to be home for the birth of his second child, due in the first week of June and has asked me to take his place. This is an incredible opportunity for me, and I am very proud to have Alex and HUGO BOSS put their trust in me to fill his shoes in such an important way.
The boat is the ex Virbac-Paprec 3, sailed to 4th place by Jean-Pierre Dick in the last Vendee Globe. It's a latest generation VPLP-Verdier design; the same hull as winner Macif with a different deck layout.
It is a quantum leap ahead of Neutrogena that Boris and I sailed to fifth place in the 2010 Barelona World Race, and one of the fastest boats in the fleet today.  Each time we have been out sailing I am just floored by its sheer speed and ease of handling.
Along with such an incredible boat, I have the privilege of sailing with Pepe Ribes, who really does not need much introduction here.  FOUR times around the world in the Volvo Ocean Race, at least TWO Americas Cup campaigns, and 4th place (just ahead of me) in the last Barcelona World Race, Pepe is a wealth of knowledge and experience. He's hugely competitive and a great guy to go sailing with.  As serious on the water as he is relaxed off it, I could not ask for a better team mate.
I have been in Gosport, UK at the Alex Thomson Racing base working with the team for the past few weeks, training and helping prepare the boat. We are due to leave for the US on April 22nd.
We will be in New York at North Cove Marina from approx. May 11th -19th and will arrive in Newport on May 20th to prepare for the warm up race from Newport back to New York starting on May 24th. From May 26th there will be a race village set up at North Cove and on the 29th we have another 'friendly' race on the Hudson.  If you are in the area, come and see the boats, and feel free to say hello!  I am happy to answer questions, and I'm very serious when I say that I would love to meet every NYC and Newport anarchist, sailing enthusiast, singlehanded hopeful, ambitious junior sailor – whatever.  Come and say hello, please.
As for the race itself, what an awesome racetrack;  leaving iconic New York City to hook into a depression, ride it to the Portuguese trades, and then through the tactically challenging Mediterranean to my favorite European city of Barcelona, which also happens to be Pepe's current hometown.
We're going to be gunning for a HUGO BOSS win, and all the pieces are in place to make it happen!
April 15th, 2014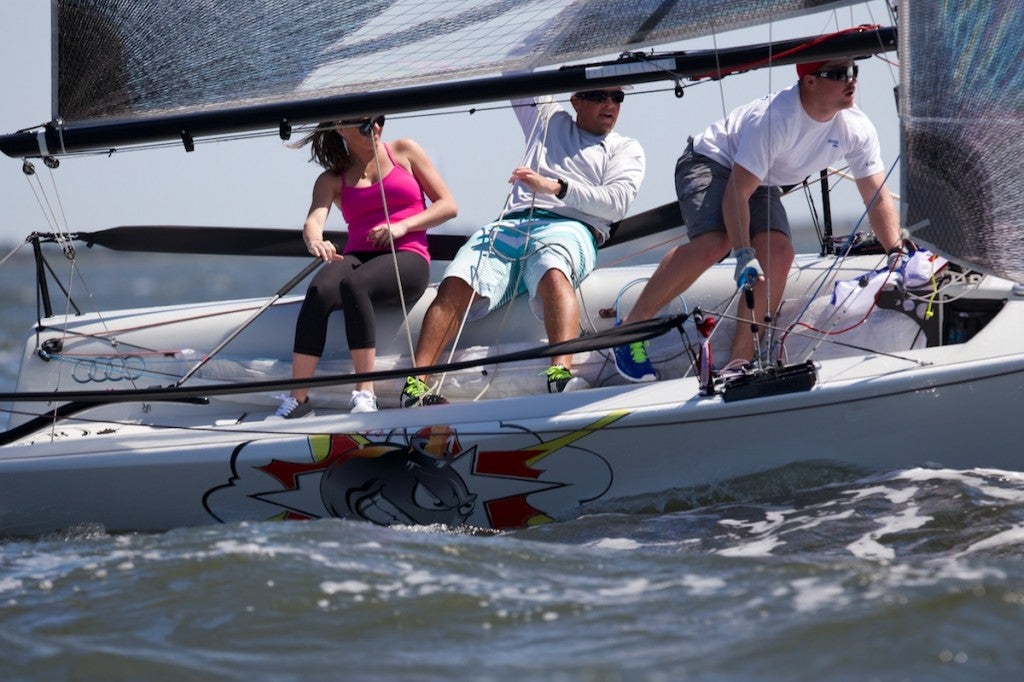 This week's Sailor Chick of the Week was a no-brainer; 23-year old Grace Lucas is smart, sassy, fast as hell, and just helmed her way to fourth place in an extremely competitive Charleston Melges 20 fleet, losing the podium spot she'd held through 6 races after a last-leg charge from Michael Kiss's Bacio.  Grace is finishing her college career this year after 3 years on the CofC sailing team; here's hoping she doesn't get so sucked up in the employment world that she gives up sailing.  Get to know Grace more in two interviews our own Mr. Clean did with the young NJ native, and enjoy tactician and Melges fixture Sam Rogers' new nickname.
April 14th, 2014
What a cool shot of a Navigo 38 and Ufo 28 racing in Dubrovnik, Croatia from Anarchist Ivo.
April 14th, 2014
UPDATE: Make that 49 cents.
Happiness abounds today as The First Marblehead Company stock hits a new all-time low. Don't be fooled by the horseshit 10-1 reverse stock split. Nobody bought into it, because honest people know the company is toxic. Without that bit of trickery, the "real"  price hit a whopping 49 cents price per share with volume at 19,700 – pathetic numbers no matter how they are spun. And you can be sure that spun they will be.
However, it looks like the world is catching up with the bullshit. Thanks to Middle Class Rut for the title inspiration.
April 14th, 2014
That's what you do when there's no breeze, right? Cool shots from the Onyx 8.5m class racing in Zurich. More shots by Martin Tschupp right here.
April 13th, 2014
This cat sailor got a closer look than he bargained for and set up this great football analogy after a capsize just downwind of the Viper fleet during the second day of Charleston Race Week.  Meredith Block Photo and an awesome gallery of 111 photos from Day 2 here.
 The HD Day Two Highlight Reel from Petey Crawford is here.  Results here.  Follow the final day of action on Facebook here.
April 13th, 2014
Heavily touted as a replacement for one of our favorite all-time racing boats (the Mumm/Farr 30), the new F280 is the best looking thing to come out of the Farr Yacht Design office in years, and hits that under-30 size that's been so underrepresented in Grand Prix over the past few years.  The powered-up sportsyacht – named Chessie Racing in a nod to the Annapolis owners' past programs and flown to the states from Dubai in a cargo jet to make the CRW starting line, sailed off to a 1,1,2 in the PHRF B class on the opening day of Charleston Race Week with a handicap in the 40s; there's some video of Race Day 1 here and we'll have more on the boat this afternoon via the CRW Facebook Page.  Meredith Block photo, with big galleries of all the CRW boats here.
April 12th, 2014