The Tall Ships race from Falmouth to Greenwich, London, courtesy onEdition.
August 31st, 2014
Local Knowledge
For the 50.5 mile race is leg 1 of the Tri-State race, the promised thunderstorms loomed to the south of us for most of the night without a single drop spilled on us  . The light show stayed on shore, but provided us with a steady 14-16kts with gusts upwards thereof. The steady southerly meant a  swift race, especially for the Andrews 77 Ocean – crossing in just 4hr 14m, but with a rating of -138 correcting to 5th place. The ride over was fairly monotonous with a tack at the start and a single reef when we became overpowered on the Shock 35 Free Agent.
 The interesting, wet ride was probably on the new gem RAMBLER – the J/88 owned by Ben Wilson. Wilson took the lead ahead of a lot of local St. Joe talent, but the second, newly delivered J/88 Slot Machine hasn't quite dialed it in yet coming in 11th. We'll look forward to the two jousting on the lines after they both get some more time out on their new toys.
 Almost the entire fleet was here rafting in St. Joe by 2am on either side of the river. The only battle being for the coveted spots on the wall at the St. Joseph River Yacht Club – "They say we can't do that," "They say we can only go 5 deep." "They" seem to be saying lots of things this year. So we ended up with the big boys on the south side of the river by town. This actually isn't a bad deal since SJRYC runs a shuttle continuously until midnight, which is about when we'll head over to Czar's for some good townie music.
For now, the bikini's on and the beach is calling… Anarchist Morgan.
August 31st, 2014
The final race for the second Melges 20 World Championship went off during Garda's crisp, beautiful northerly morning wind with John Kilroy, Paul Goodison, and Jeff Reynolds taking the easy bullet and the title; after winning M32 Worlds in San Francisco a couple years ago, Kilroy now owns two Melges Worlds titles in the builder's only two amateur owner/driver classes…we can only imagine what's next in the owner/driver bucket list for JK.  Meanwhile, four nations in the top four spots is a great indicator of this classs's international strength, though the Italians can't like being smacked down on their home turf.  Hey – there's always next year!  Watch the full awards show here, and scroll down on the Livestream Page to check out the racing as it happened; apparently (at least from their numbers), they forgot to tell anyone they were live streaming the racing.  There's also an 11-minute video over here from the Riva Sailing Club, but we haven't watched it because our attention span is max 4 minutes.
Above is another fab Stefano Gattini shot – the galleries from this event have been some of the most beautiful we've ever seen, so check them out here.  Thanks to Melges Europe and Studio Borlenghi for the exclusive coverage this week;  According to the sailors we spoke to, "This is how a World Championship should always be."
August 30th, 2014
Interesting to watch this KER Class 40 sending it downwind. Controlled, yet intense. must be a blast. Thanks to Anarchist Ned.
August 29th, 2014
Clean Report
Terry Hutchinson's surprise departure from Artemis Racing a year and a half ago was overshadowed by Big Red's tragic accident a few months later, but we'd always noted how incredibly quiet Hutch was after getting the flick.  An article in his hometown-ish Baltimore Sun gave a clue as to why a short time after his ouster; "not wanting to say anything that could jeopardize the terms of his release…" was how the author put Terry's reticence to open up, and that's all anyone would get for more than a year (not that it stopped the speculation for a minute).
Until earlier this month, when Maxim writer Alexa Lyons's interview with Hutch hit the interwebs; called "Can Sailing Be The Next F1″ (Answer: No, dumbass), there was, at first glance, nothing remotely new or interesting about the piece – other than the fact a sailing profile was in a major national mainstream men's pub.  But one answer was a little shocking, and it was allegedly in response to a question from Lyons about his termination from Artemis Racing."I had a massive falling out with the owner of the team and the CEO about the safety of our yacht so they decided to terminate me." Hutch told Lyons.  "Ten weeks after my argument with the owner about the safety of the Artemis boat, the boat capsized in the San Francisco bay and one of the sailors was killed. It was a known thing that the boat was not safe…"
And today, he is backpedaling faster than a foiling AC72 in San Francisco breeze.
While Hutch has refused to answer any of our detailed questions on this one (despite 16 months of badgering and my reminder that a few answers would stop a lot of speculating), he admitted to us that he deserved all the blame for what Lyons typed up and published – though it would be easy and fairly graceful for him to fall on his sword for everything.   We can probably assume that his comments were some kind of breach of the Cup-standard non-disclosure clauses in any employment and termination agreement, for which he presumably received a nice severance package. But we know Hutch, and he's not the kind of person to slip up like this with a newbie editor of a pretty vapid magazine; maybe he was off on one of his early morning A-Cat training sessions when the Cup media people came through to do interview training?
Hutch certainly wouldn't be the first to be screwed by a reporter turning background conversation into foreground publication, through we doubt that Lyons, fresh off the intern roster and still proud of her title as "Project Manager, Maxim Hometown Hotties Competition" was playing investigative journalist, driving Hutch into a slip-up about the intrigue of the America's Cup.  Possible? Sure.  Likely?  No.
As for the specifics of what caused the big accident, we've told you before that we've never been happy with the information available, but after 16 months with seemingly no one else giving a shit, we've stopped caring too.  There's just not a lot out there other than one post from Hutch and one from a Maxim blog writer who interviewed him.  We'll leave it to you guys to figure out where reality lies.
And hopefully, the whole mess will end with Terry's strong and unequivocal apology, posted on Facebook an hour and change ago.  Here it is in full.
On August 7, Maxim magazine posted an interview about the 35th America's Cup that included some untrue statements and inaccurate remarks I made about Artemis Racing. To be clear, Artemis Racing is a well-organized and responsible professional sailing team that considers safety an absolute priority. My departure from the team more than five months prior to the tragedy of May 9, 2013 was on agreeable terms with the owner and my teammates. No one could have anticipated what occurred, and I meant no disrespect to the memory of Andrew "Bart" Simpson or to any current or past members of the Artemis Racing team. I deeply regret any misunderstanding that was drawn from the Maxim interview.

Regarding the safety issue specifically, following the capsize of the Oracle AC72 in October 2012, Artemis Racing went through a thorough safety review, including enhanced training for the crew. Every sailor conducted underwater survival testing, including carrying and learning how to use canisters of spare air in the case of an accident. As a participant in these exercises, I can attest to the fact that the sailors, shore support, and entire team made safety the highest priority. Like many professional sports where competition is conducted at the highest levels, the 34th America's Cup tested many boundaries, as demonstrated by the sheer power of the AC 72's, in both their size and performance.

As preparations for the 35th America's Cup come underway, I wish Artemis Racing and all involved success.

Thanks to Juvenile for the title inspiration.
August 29th, 2014
Local Knowledge
102 boats will be heading east from Chicago to St. Joseph, MI starting at 6PM tonight. The 50.5 mile race is leg 1 of the Tri-State, which will then head to Michigan City, IN and then back to Chicago over the course of Labor Day Weekend. Shown in this pic from last year, a storm with 40 knots of breeze postponed the start by an hour while sails were shredded, boats dropped out and we were flying around the start line blind.
This morning, winds were peaking at 26 kts and have now calmed down to a consistent 13-16 kts from the south with a promise of storms. Stay tuned for the race report from St. Joe. – Anarchist Morgan, with title inspiration from Migos.
August 29th, 2014
With six races down and one throwout already counted, John Kilroy along with pro trimmer Jeff Reynolds and UK Olympic golden boy Paul Goodison is walking away with the second-ever Audi Melges 20 World title.  Meanwhile, Monaco's Guido Miani won the breezy day yesterday with a 1,3,1 and sits tied with Italian standout Fremita D'Arja, both 14 points behind Kilroy.  The Kilroy nipper continues to excel, though he's dropped back to sixth, while Aussie gold medalist Mal Page has helped young Achille Onorato climb back up to fourth…three more days of action ahead and get over to Facebook to watch it all unfold.  Yesterday's photo gallery is here.
August 29th, 2014
One of the world's legendary Maxi racers sat in a climate-controlled shed on the Eastern Shore of Lake Michigan for a decade at a cost of tens of thousands of dollars per year, while rumors said she was broken or delaminating, or that maybe she could never again be competitive against newer boats. We think Larry just a little sentimental about the boat he nearly died on, and he'd rather have her as a trophy than let someone else make new memories on Sayonara.
And that's what you see here – the bow and stern of Sayonara waiting for a lift on Pier 80 after a date with a chainsaw; the final remaining signs that there was an America's Cup in San Francisco.  There's no sailing center or junior racing center; no museum or clever, multi-use development.  In fact, despite all the pre-event posturing, there's very little legacy for 'the Summer of Sailing' at all on the ground in SF; just a few rusty boxes and a famous yacht sliced up like an 8-point deer, ready to go on some wall or building or corporate campus.  It can't be any more cliché, but we're left no choice but to say it: Sayonara!
Here's the cover story about Larry's infamous Hobart from something called BusinessWeek, apparently a magazine in the 20th century.  Like Sayonara, something obsolete; a collection of stories and advertisements bound together in paper.  Imagine that!
Title song from the same era as the boat, and a bit creepy, like its owner.  Interesting photo thanks to SA'er 'L124C'.
August 29th, 2014
Yes it's surfing, but it's Waterlust so it's good. Like always! As a very interesting related note, Patrick Rynne, the main dude at Waterlust, was asked to be the keynote speaker at the 2015 US Sailing symposium!  That is actually a pretty awesome thing for Patrick, and we bet he rocks it. We're sure our invitations to speak will arrive any day now…
August 28th, 2014
Funny that Ed should be thinking of me, as I was about to email him info on my new book '50 Water Adventures To Do Before you Die' – out on Sept 11!
The book took 9 months to write, 2 years from conception to proof, and could not have come together without the 94 people who agreed to be interviewed or contributed images.
Check out the book, using the Amazon 'Look Inside' feature.
From iceboating in Siberia to sailing a traditional felucca down the Nile (hey, we never got to perform felucca with Lia! – ed.), windsurfing the Luderitz Speed Challenge to dining in the undersea restaurant in the Maldives – '50 Water Adventures To Do Before you Die' is bursting with inspiration for you and is the perfect Christmas / gift book for friends.
For a very limited time, I'm offering signed copies at 30% off RRP. Check out the 'Books' page on my blog, pick your currency and ORDER TODAY! – Lia Ditton.
August 28th, 2014
How many times have we had that look? "Holy christ, I can't believe we just did that." Believe it, junior. Pretty sure he was hoping for something more like this….
Tons of awesome photos from Trevor Wilkins right here. And of course thanks to Public Image Ltd. for the title song.
August 28th, 2014
The young, fun crew of the Wildman sits in third at the Melges 20 Worlds overnight, with 11-year old Liam Kilroy actually leading the 57-boat regatta after two races and sitting just a couple of points back of papa on Samba Pa Ti at the end of the day.  The nipper's got serious juice behind him; Erik Shampain and Steve Hunt were half the crew of top performing Melges 24 WTF, while SCOTW and top women's match racer Steph Roble calls turns for young Kilroy in the first 3 races of the second-ever M20 Worlds.
And yes, daddy's rich (somebody has to pay all those salaries), and we don't expect too many 11-year olds to get this kind of present under the tree, still it's good (isn't it?  to see the kid make the most of it – it's events like these, at an age like this, that can cement a lifelong love (and tons of support) for the sport.  It's also a shout to other sportboat parents: If you want this sport to have a future, give your kids the helm or the boat whenever you can.  And no, that doesn't mean some shitty Opti.
Leading the event is consistent badass Alessandro Rombelli on STIG with longtime sportboat star Dani Cassinari on tactics.  We'll have another update for you on Thursday night.  Exclusive photo from Stefano Gattini with an awesome photo gallery here.  Updates throughout the day at the Melges 20 Facebook Page.
August 28th, 2014
Next Week
Posting the picture of Lia Ditton, our all-time favorite SCOTW ever, took us back to a bunch of pictures, stories and features from our thousands of archived past content. Each day next week we are going to roll one out, starting with a multihull that was either way ahead of it's time, or just too weird to be a hit. You decide.
Be there.
August 28th, 2014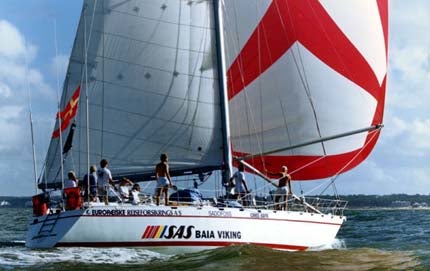 Sailing Anarchy only logs about 30,000 readers annually from beautiful Denmark, but we do love our Scandinavian friends – and one of them took issue with our Vestas Wind story yesterday. 
Dear Sir:
I would like to draw your attention to a small error.  You reported yesterday that the Vestas Wind boat is the "the first-ever Danish-flagged Volvo entry", but this is not true.  SAS BAIA VIKING, a Kjaerulff  50, competed in the '85/86′ Whitbread with skipper Jesper Norsk.
While we were technically correct (and mostly due to the handicap vs. box rule situation, we have always felt as though the Volvo Ocean Race was more of a descendent of the Whitbread than the same race),  our new friend Niels is certainly correct to point out the Danish history in this race; one boat, the smallest in that year's Whitbread, and it crossed the line last.  We hope and expect the Vestas Wind team to do quite a bit better…
The full story is here in "BaadMagasinet", including links and time stamps from the archived movie of the '85 race.
August 28th, 2014
We first got to know Chris Branning when he was barely out of diapers as part of Disney's Morning Light program, and as a former shipmate of Mr. Clean (poor kid – ed)), and as he's gone from grommet to sought-after offshore navigator to helicopter rescue pilot, we've seen what an incredible young man he has become. And when Charlie and Mark from Team Alvimedica brought him aboard their Volvo 65 during tryouts, we were extremely excited to see it – and not for Branning's sake.
We see the US-skippered Alvimedica as having a genuine chance of really impacting the sport's perception here in America, and Branning would make that about a hundred times easier.  Branning is the anti-yachtie.  He's soft-spoken but extremely bright, wears his heart on his sleeve, is tall and good-looking without being intimidating, and he just oozes honesty and character.  In other words, he's a media dream.  Add to that the fact that his job as pilot of a USCG Search-and-Rescue chopper makes him one of the only human beings on Earth that this divided America unanimously loves; the most ignorant redneck fisherman on the Florida panhandle is just as much of a fan of USCG rescue pilots as a Wall Street investment banker sailing his Concordia out of the NYYC.
Which makes this video all that more poignant, because no matter how much we wish it was, is isn't a crew profile.  Rather, longtime SA videographer and now VOR moviemaker Sam Greenfield put this movie together to show us that best intentions are not always enough, and that life can sometimes get in the way of the perfect opportunity; thanks to his demanding job saving lives, Branning will be watching this VOR from afar.
As you'd expect from a guy of his character, Branning is still 100% supportive of his friends, and he sent a few words over to share his thoughts on what they've done:
"I think it will take years before what the sailing world realizes what Mark and Charlie have done. For sailing to progress as a commercially viable sport, to compete against the mainstream sports especially in the USA, the process of fund sourcing had to shift. Sailing doesn't need another watch captain, skipper, rigger, or trimmer; though we greatly appreciate the talents of those roles. Sailing needs "board-room" sailors. Educated, professional sailors who can take off the foul weather gear, put on a suit and walk into the board room to pitch, present, argue, defend, convince, cajole, and earn the money to go sailing at the highest level. That is what our sport needs. Few people can fathom the amount of work and risk that takes.  Charlie and Mark, in their mid-twenties, did just that.
"They brought another boat to the starting line of the Volvo Ocean Race, and in the process, they paved the path for younger sailors to do the same.  Did they change the sport forever?  It's too early to know that.  But they did something no one has ever done here, and I salute them for it."
August 27th, 2014
As we told you when we first broke the world-exclusive news about Chris Nicholson's VOR Entry last month, we expect a shit-kicking team aboard Team Vestas Wind, and we're getting one. As the team puts their sparkling new VOD65 (in its sponsored livery, above) through its sea trials on the UK's South Coast and gets to know it inside and out, familiar names are bubbling up the list.
Nico first knocked off the shore boss spot, with Neil Cox able to fill that role better than perhaps anyone else alive. Nico then killed two birds with one stone: Danish title sponsor Vestas means a few Danish sailors need to be aboard for the first-ever Danish-flagged Volvo entry, and Dane match racers (and recently, Extreme 40 sailors) Peter Vibroe and Nicolai Sehested got the nod.  They're also both under 30, which covers that problem too.
A good look at the videos and Facebook photos of several sailors reveal three more names, every one of them a rock star: Rob Salthouse, Wouter (The Router) Verbraak, and Tony Rae all showed up on the boat in the past days.  While none are confirmed as crew just yet, with barely a month to go before the start of the race, there won't be much trying out.  As if those guys need to.
Just 5 weeks left, boys and girls.  Let's get that party started.
August 27th, 2014
There is almost no one who wouldn't choose this as their ideal of the nearly perfect under 40′ pure racer. And at $250,000, what's not to like? The class just completed the MC38 Australian Championship at Hamilton Island, won by Ginger Spice (name artistically altered to fit title! – ed.)
August 27th, 2014
UPDATE:  This morning at 6:20AM the fabled Wedge in Newport Beach is checking in with 20-25 foot swells and occasionally, a 30-footer! Now go be safe, people. for those of you going in and out of channel entrances please pause and make certain you are between sets before you make the charge in or out in the impact zone. For a real-time camera feed of some major surfing wipeouts, go here. 
Hurricane and extreme weather boffin Mark Michaelsen continues to take time to report on severe weather events for Anarchists (This time, from SoCal) while his company DryUV is filling all those 60% off DryArmour orders.  Keep the orders coming: Long or short sleeve Pro-Tech for under $20, including your logo.
As BIG WEDNESDAY approaches (Major swell from previously Category 5 hurricane Marie) one has to wonder how many more seasons we here in SO CAL can go without at least a slap on the wrist from a major hurricane. This September 21st will mark the 75th anniversary of the 1939 Long Beach cyclone. As the winter storm fronts begin to influence the steering patterns of Eastern Pacific hurricanes as we wind toward fall, several factors are coming into alignment that may make this the year we finally get a system to come visit us.  Warmer than normal Sea Surface Temperatures from Santa Barbara to Cabo San Lucas are in theory making it the most likely year in decades for us to see a tropical cyclone or at least the remnants of one here in the normally arid Southwest. Above is the SST anomaly for the Eastern Pacific and you can see that the beltway between the formation area to the south of Baja and So Cal is wide open for storms at the moment.
Cyclone after cyclone is traveling by to the West the water temperatures are being driven up.  We may see a cool down between now and the weekend however as a low pressure system over the interior southwest will bring brisk 15-20 knot winds Wednesday through Thursday in the late afternoon and evening hours. This should make for some great sailing this week. For those of you sailing Wet Wednesday and Thirsty Thursdays entering and exiting the South or Southwestern facing channels may prove dangerous at times. Low tide in the area is around 5PM and this will represent the great chance of waves breaking at the harbor entrances.  Bring your GoPro or Camera Phone to capture the scene as it should be EPIC. Post the footage here please as there are sure to be lessons learned from this surf event and how mariners deal with it. Here is a shot from Oceanside Harbor which is one of the south facing harbor entrances that is likely to be affected by this swell. The Orange County Harbors will likely feel the greatest effects though.
Other factors that may improve our chances to get a hurricane or what is left of one include but are not limited to:
-Reduced shear
-Ample ACE (Accumulated cyclone energy) in the incubation area to our south
-Plenty of start-up energy in the form of tropical wave after tropical wave entering the far southeast Pacific.
We haven't had much in the way of natural disasters here lately (At least in So Cal) and after living here thirty years I know that trend cannot continue.
Several municipalities have seen fit to let the drainage system become silted up in many areas and have even turned a few areas in to parks (Yes, it has been that dry for years). We had less than 6" of rain in the last 12 months. A whopping total of 11 days of any rain during those same 12 months. The lack of maintenance to these critical drainage systems could prove literally fatal if not remedied before  even a tropical storm comes to visit. Murphy's Law at work.
I for one look forward to a visit from a tropical cyclone as the weather here is far too mundane for my taste but the quality of the weather for the family and sports is hard to beat.
Unless you are an expert waterman, stay on the beach and watch as one of the more epic surf events in recent history unfolds and if you must go to sea, watch the channel entrances VERY* carefully and time your sets both going out and coming back in.
As always, drop me a note with any questions, and check the thread for the latest.
Mark Michaelsen
August 27th, 2014
UPDATE:  The US Fifth Fleet Public Affairs Office got in touch with us on Thursday morning to confirm that indeed an Iranian motorized dhow was the boat fired on.  Not a sailboat.  And for the 200 millionth time this year, American journalists prove they are idiots.
Sailing made the major international news last night when news sites everywhere began reporting that the a RIB from the USCG Island-Class Cutter Monomoy fired a single warning shot at an Iranian 'sailboat' yesterday in the Arabian Gulf, though we suspect that, as usual, they've got it somewhat wrong – at least the part about the sailboat.  As far as we can tell, the US 5th Fleet reported only that a tender to the Monomoy fired a warning shot at an Iranian dhow in response to the boat pointing a .50 cal machine gun at the RIB, which was approaching the Iranian boat for an inspection.  While there are certainly sailing dhows in the area – some of them pretty awesome – we suspect that stupid reporters and editors are behind this one; a quick search for the word 'dhow' could certainly lead a moron reporter and editor to think the US was trying to sink a sailboat despite the fact that there are far more non-sailing dhows than sailing dhows.
Of course the USCG is pretty useless, too.  When we tried to verify the dhow story with the Commander responsible for media inquiries at USCG HQ, we found his voicemail to be full – and this is the guy whose primary job is to field phone calls from reporters.  We'll update you if his e-mail inbox isn't over its limit.
August 27th, 2014
It's not like she isn't still very much alive,  just perhaps a bit disappeared from the sailing scene.  The Ed thought she was his GF, until he found out she didn't know that! Who is this lovely lady?
August 26th, 2014