Local Knowledge
It took a major commitment to get there and even more just to get suited up everyday at 10,000′ but snow kiting in Utah has got to be one of the great winter trips for wind & snow lovers. Like anything worth while, just getting there was an adventure in itself.
It began as a caravan from San Francisco with half the crew flying and the other half driving 20+ kites, snowboards and skies to Skyline, Utah. Somewhere east of Winnemucca, Nevada at 3 in the morning, Johnny's car broke down so we packed everything into 1 SUV with 5 sets of wind and snow gear, dog and riders for the remaining voyage east. Sometimes you need to scuttle half the fleet just to get to your destination.
After 15 hours in the car, we arrived to beautiful wide open Utah. The setting at Fairview Canyon at mile marker 14 on HWY 31 aka- the Big Drift- is awe inspiring. The 180 degree Utah sky at 10,000′ is just sublime. We rigged and had our first afternoon session in the rolling hills, meadows and steep bowls surrounding the launch site. Besides us, there was a handful of snow mobiles that might buzz by then disappear but nothing else but back country for miles around.
Snow kiting is just as it sounds. You choose either skies or snowboard and get pulled around on your kite- up, down, around and over what ever terrain you choose. It's an absolute beautiful and pleasant way to explore the back country and get to experience the similarities of paragliding when coming down the mountain on an updraft. I rigged my 13m foil kite, launching with ease and immediately got pulled across the meadow on my snowboard. Holy bejesus this is fun!
It took me the rest of the day to get comfortable going back and forth and finding the subtitles of the site but I was hooked. My goal was to get more time with the new foil kite and that's what I got- from relaunching in gullies to down looping up the mountain.
Snow kiting has all the benefits of kiting on the water without the consequences of water itself. I dropped and tangled my foil kite quite a few times in the 8-12k breeze and easily unhooked and walked up the line and bridle to unsort it all out. Granted- even walking the length of 15m line and untangled your kite in powder is an exercise itself. Transitions are almost effortless without the footwork required on a normal foil or directional board.
I got a bit greedy towards the end of the day and kited myself right into a gully and wind shadow dropped my kite in the process. All the waiting & pulling on my lines would not launch this kite. Then came the pack up and 1/4 mile hike back to the launch in the knee deep powder. One step at at time, I thought to myself as a huge grin spread across my face from my 1st day of snow kiting
For the full adventure- head here
Steve Bodner
USA-4
February 24th, 2017
But that's what they made subtitles for…
February 23rd, 2017
Congrats to our good friend Brian Janney for his move to North Sails One Design. Those of you who have sailed with Brian know that you can't find a better all around sailor or a nicer human being.
Brian has been instrumental in getting our Melges 32 Anarchy set-up and up to speed. Frankly, we could not have done it without him. He is a joy to sail with and an asset in all phases of this sport. North Sails is fortunate to have him on their team.
We're not North customers, but if we were, we'd want Brian!
February 23rd, 2017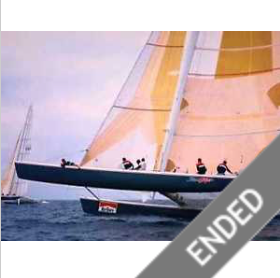 The soft-sailed sistership to the America's Cup winning Stars and Stripes catamaran may have crushed all sorts of records under Steve Fossett back in the day, but she's better known these days for dropping her rig to the dark, deep bottom of Lake Huron a few years back.  The rig was marked and recovered, but the lawsuit between her Chicago charterer and Florida owners over repairing the rig took S&S meant the newly rediscovered record runner would sit in an Illinois parking lot for years instead of blasting from point to point.
Last we heard, ideosyncratic cruiser/racer Freddy Mills had picked her up for a song and ran her on day charters in New England, but last week someone tested the market for record chasers on eBay from Miami.   After a week on the market and zero bids, it seems the 60-foot cat ain't going anywhere – not for a starting bid of $375,000 or a 'Buy It Now' number at more than half a mil for the 30-year old S&S cat.  We can see a real historical premium for the cup-winning cat (still in Mexico), but this thing is only good for one thing: Record chasing with a very experienced crew aboard.  Add a couple hundred grand for a real foil and an adjustable t-rudder package and no flatwater record in the world would be safe.
Looking for the fastest boat of her day?  Maybe eBay user Propriedades can tell you more.
February 22nd, 2017
There's a new player in on-the-water drone work, and if this quick peak of M32 catamaran racing on Biscayne Bay from earlier this month is any indication, they've got the goods.  Check out Up Top Photography's other work here, and head over to M32 North America on Facebook to check in with the fastest one-design fleet racing in the USA.
February 22nd, 2017
It seems that club doing their damnedest to ruin racing in San Diego couldn't even come up with their own burgee.  Why would a club need to appropriate the design of a club established more than half a century before?  Is there really no alternative to 'red diagonal stripe on dark blue background' out there?
At least they're the perfect club to run a bottom-fishing tournament.  Why deal with a failed racing program when you can cater to the much easier demands of heavy-drinking fishermen looking for ling cod and rockfish.
February 22nd, 2017
We all need a break from the water now and again, and recently profiled SA Sailor Chick of the Week Jen Edney has been busy this winter taking her 'relaxing' break from sailing (while climbing a snow-and-ice-covered 13,000-foot peak).   She'll be back on the water aboard Dragon for the Miami to Havana Race in March (as will our own Senior Editor), but until then, enjoy this landbound piece from the Red Mountains of Southern Colorado.  Keep an eye on Jen's latest photos like the one above over on Instagram. 
I wake up in the darkness. The sun has not yet risen and the world is almost silent. I hear the fire crackling as the smell of coffee drifts up to the loft where I've been sleeping. I climb down the ladder to greet the new day, trading in my sea legs for ski legs. Grabbing a cup of coffee and my big Patagonia puffy down jacket, I head outside to breathe in the fresh mountain air. I Inhale. I exhale. I close my eyes.
Step, breath. Step, breath. Step, breath. Five women stepping in sync with our guide, silence beyond the crunching of the snow underfoot. The pace is brisk; beads of sweat are starting to form under my beanie. I'm breathing hard and my mind is focused. It's a magnificent winter wonderland out here. The mountains surround me, and I get a similar feeling to when I am on a boat offshore with only blue water and the horizon as far as the eye can see. I try to remind myself to lift my head, look around and take in the scenery as we head towards the summit of McMillan, about 12,805 ft, our goal for today.
The past two days have been a buildup to the big climb, with some serious class time, field work, safety lessons… but not devoid of entertainment, laughter and heartfelt moments. Our guide, Karen Bockel, an AMGA Certified Rock and Certified Ski Guide—also described as an "Extraordinary Baddass"—expressed her love of manual labor in the form of chopping wood and digging snow pits, always with that big grin on her face. Her love for the mountains came through with everything she said and did, and her energy set the tone for the rest of us.
Click for the rest of the story.
February 22nd, 2017
Who knew these guys were funny? Smart yes, but funny?
It's the mysteries of our hulls that draw us to them. One moment, you're on dry land unacknowledged by an uncaring terra firma. The next, you're aboard. And part of the running conversation between you, the sea, and the hull that floats on that sea.
Not all hulls use the same vocabulary. Agro, tippy skiffs seem to threaten with a techno hull-speak of planing, surfing and foiling. And more stately yachts, like our plush 90-foot ketch Bequia, practically bow to those who wander her decks with a hushed language of soft entry, high freeboard and tons of reserve buoyancy.
To get a better feel for the nautical etymology of hulls, we thought we would take a deep boat-nerd dive into one of our more ambitious, if understated, hull projects: The hydro-dynamic form for the Bluewater 56, part of our growing efforts in serving the production yacht sector.
Production boats are unique design challenges: You work a plan to build in series, and position the product in a very crowded field. So it pays to invest the resources to engineer every single last inch of the design from the start. The goal with the Bluewater was to freshen up the shorthanded global cruising market that built so many storied yachting brands, like Morris Yachts, (just acquired by Hinckley Yachts), Tartan Yachts, or Pacific Seacraft, as well major international brands like Nautor Swan, Baltic, Southerly, Oyster and many others. All these established production makers are based on a consistent approach to hull form. So as designers, if we wanted to play in this market — and not look foolish — we most definitely wanted to conduct our due-diligence in designing that hull.
Our argument for Bluewater in the high-end niche production yachts is a robust, stable hull that fits the role of an ocean worthy classic. But is engineered with some sophisticated subtlety to tell an absolute cutting edge story of wholesome, yet high tech technologies.
That innovation starts with length: Big or small, fat or skinny, multi or mono, when it comes to hulls, it is the marvelous concept of longness that matters. Why? Water is do dang sticky. So sticky in fact, that the tiny little layer of the stuff, right there near the skin of your boat never ever moves. – Read on.
February 22nd, 2017
Wow there is a hell of a lot going on with this small package. Photo thanks to Vincent Olivaud / Team Arkema Lalou  Multi
February 21st, 2017
There is big news for American sailing today. Big news. Except that it will likely go unnoticed in the US. Sadly. Not in the rest of the world where they will learn that American Richie Wilson just completed his second Vendée Globe becoming the only American to finish the race twice and only one of few who have ever completed two Vendée Globe's. This is an enormous accomplishment, even more so knowing that Richie is not only in his sixties, 66 to be exact, but he also suffers from asthma.
When many/most of us are prepared to park off on the couch and binge watch House of Cards, it's good to know that there are others who set lofty goals and go out and accomplish them. In a race that always sees a lot of attrition you have to know that it takes extraordinary seamanship (plus, yes, a little luck) to loop the planet twice, all alone, without outside assistance and without stopping.
Richie comes across as a mild, understated person. He is very humble, almost to the point where you want to wring his neck. He talks about his sailing accomplishments (and there are many others beside the Vendée) as if they are just another day at the office. These are no ordinary days at the office. The Vendée has to be one of the most challenging sporting events ever conceived and finishing is a big deal. Especially in France where sailing is a religion.
Add to that Richie had tens of thousands of school children from around the world following him and learning through his education plan which was run through his website Sites Alive. As a former school teacher in the Boston school system Richie's passion is all about educating students. His education program has been followed in 79 countries. Over one million people engaged on a regular basis of which at least 70 per cent were students. Over 968,000 people received weekly content. It's an amazing program that went almost unnoticed in the United States. I am willing to bet that Ms. de Vos neither heard of the program nor would see it as a useful tool to educate and inspire students.
Yet inspire he has. I am inspired. I used to think that I had done some sailing that counted, but what I have done barely qualifies me to carry Richie's bags. So welcome home Mate – I can call him that because he is my neighbor – you may have taken 107 days, 00 weeks 48 hours and 18 seconds to get back to where you started but you made it and finished a hugely respectful 13th out of 29 starters. Respect. – Brian Hancock.
February 21st, 2017