In a fairly amazing salvage operation, Coxy, Nico and the team somehow managed to free the Volvo 65 Team Vestas Wind from the grips of the reef, and she's already loaded on a MAERSK container ship and bound for Malaysia in incredibly good shape, considering.  The boat will be offloaded and transshipped directly to Italy, where all the ducks are all in a row to put humpty dumpty back together again.  We have no word on whether Vestas management have decided to pull the trigger, but we know Volvo wants to see it happen, and so does the world.  Tell 'em so on Facebook, and help the big blue boat get back in the race!  Talk about it in the Vestas Resurrection thread.
Photo thanks to MAERSK, with more shots and the story of the salvage op over here.
December 22nd, 2014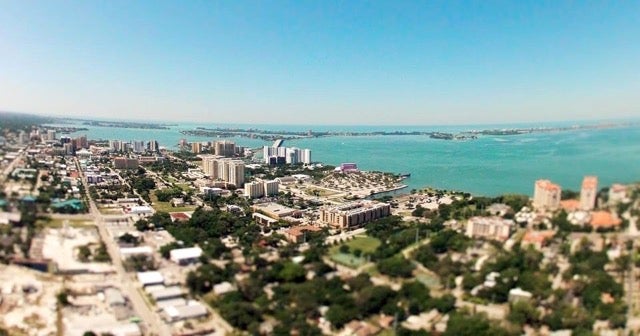 Bucking the upward trends of most regattas over the past couple years, Key West Race Week continues the slide it began a decade ago, with just 121 boats entered as of Friday's entry deadline and some meager-looking class numbers.  So where has everyone gone?  One answer is Florida's West side, which is raging with sportboat regattas up and down the length of the Gulf Coast.  Davis Island Yacht Club's 3-regatta J/70 series is oversold, while we turn to a newcomer in the sporty world for more info on a great sailing venue that's making the effort to get more people on the water.
The Sarasota Sailing Squadron has quietly been stacking the schedule for this winter sailing season. In just the last three weekends, SSS has hosted the kickoff event for the three stop VX One Winter Series, which saw three days of off-the-hook sailing with 21 VX's on the line. This was followed by the 84 boat Laser District 13 Championships that included the Norwegian National Team. This past weekend was the kick off of the three event ActionQuest Sarasota Viper Winter Series with 13 Vipers on the line, in a series that now has 18 boats registered (and growing) for the upcoming two events in Jan/Feb. Phil and Wendy Lotz, with Luke Lawrence, were on fire as they managed to outpace North American Champion Brad Boston who was followed by Henry and Barb Amthor sailing with the always fast Ethan Bixby.
Considering that not more then 50 miles north of Sarasota Sailing Squadron, at Davis Island Yacht Club, there are 48 J/70s battling it out in the Quantum J/70 Winter Series, and with the news that the 2016 Melges 24 Worlds is likely moving somewhere in the vicinity, t has to be said that the West Coast of Florida is THE hot place to be sailing sportboats!
-Travis Yates
December 22nd, 2014
Big Pimpin'
The European Yacht Of The Year 2014 SAPHIRE 27 was designed by Claudio Maletto (AC Prada Luna Rossa) and is being built in DELPHIA, one of the biggest yards in the world, to carry the spirit of "Pure Sailing" around the globe!
A one design racer for the family, easy to sail and fun! The boat can be ordered online  www.saphireboats.com or during the boat show BOOT Düsseldorf in January 2015 in hall 15 C39.
December 22nd, 2014
Obama's shock announcement that the US would restore full diplomatic relations with Cuba earlier this week opened the floodgates of memories from one of the region's historic yachting destinations.  If you're too young to remember the Tampa to Havana Race, head over to the St. Pete Yacht Club's excellent historical description here.  And whether you're young or old you won't want to miss this one, so keep your calendars open for January 2016, when the first legal race in more than half a century will finish off Havana's famous Morro.   You'll hear all about it right here…or in the forum.
December 22nd, 2014
Team Vestas Wind Navigator Wouter Verbraak has been quiet since his early mea culpa on Facebook, but he's not shying away from the camera here; our pals from NOS Sport got him for a good interview in Dutch, and then they went to the trouble to subtitle it just for the Anarchists.  And the story of the blue boat continues…
December 22nd, 2014
Add the brand-ass new MC 31 to the 30′ arena. here we go, y'all!
December 20th, 2014
Lottsa Pimpin' today. Hell, it's X-mas time, right?
Your performance-loving friends at Velocitek are offering Free 2-Day Shipping (US Only) with every order on their website! Order now through December 21st and get it by Christmas, guaranteed!.
'Twas seconds to the start, and all down the line,
Many boats were over, except, of course, mine.
Other skippers were cursing, and sounding most surly,
With much screaming at bows: "We're OVER EARLY!"
But we're off, fast and clean, as we charged up the course.
Tacking on headers, without slightest remorse.
And we made it look easy, as we stayed with each lift,
With the right sort of input, knowledge is a gift!
The crew was quite giddy, as we charged ahead,
With visions of pickle dishes dancing in our heads.
And we shouted with glee as we crossed in first place,
It was ProStart and Shift that had won us the race!
Velocitek has a gift for every sailor on your list:
SpeedPuck – a perfect stocking-stuffer for the dinghy sailors on your list.
ProStart – for someone naughty who likes to push the line without crossing it.
Shift – will help you with your New Year's Resolution to Stay in Phase.
Title inspiration thanks to the Beasties….
December 20th, 2014
The essence of sailing: incredible footage by Onboard Reporter Amory Ross, evocative music from the City of Birmingham Symphony Orchestra , conducted by Michael Seal – with special thanks to Visit Abu Dhabi.
December 19th, 2014
Big Pimpin'
Tactical Sailing is an educational computer game not only for sailing beginners but also regatta newcomers, regatta freaks and for coaches. The basic of the game is founded on optimal usage of the wind. This is important to every sailor, whether beginner or regatta freak.
With our modern computer simulator the wind becomes visible, thus enabling the player to learn how to play with tactical finesse. Until now the passage of the wind was only shown in sailing text books as diagrams 1,2,3,4,5…. In Tactical Sailing the wind´s passage is shown in an animated form on a screen. At the same time it impressively shows the tacking lines visually. Tactical Sailing has a selection of 11 different classes of boats to helm through the race area. The wind veers off, or there is a sudden lull as in real life on board!
The game begins with the one player modus. Here the player sails alone, but has a parallel computer sparring partner for comparison to his helming skills. Who reaches the finishing line first has made best use of the wind.
To enlarge the scope of the game is the two player modus. Here is played boat versus boat. Each player helms his own boat. Not only must the wind be accounted for, but also the Right of Way Rules. Any breach of rule (e.g. touching a mark or another boat) will be automatically penalised by the jury which leads to penalty points. The computer is an incorruptible jury with a penalty point account system.
With "Toolbox" you extend to four player modus. You can sense the wind veering to your advantage and helm off leaving the other boats behind you. The coach Toolbox is a learning program within the frame work of the entire concept of Tactical Sailing "Games & Tips". This Toolbox program is an add on with more than 20 exercises ready to run or design for your demand.
With Toolbox you can play and train. An experience coach explained to his sailors that what they were seeing on the screen is exactly what to expect on the water. But the coach Toolbox is not only developed for coaches it is also useful for sailors who wish to improve their knowledge in strategic and tactical sailing. With up to 8 boats you can plan your own virtual regatta situations, for example the starting phase, negotiating a regatta buoy upwind, a leeward gate scene and target crossing. A sailing rookie wrote that our regatta simulation generated complete concentration as if he was really on the water. With Tactical Sailing you can have fun, learning to attack, defend your position and win the regatta.
The Tactical Sailing team was given the award "Eurela-2012" for the best didactics of media studies. A European competition set by the College of Karlsruhe. Learning can also be fun.
The Games & Tips is available as direct download (39 EUR) or including add on Toolbox (59 EUR); it operates on almost every computer system (Windows, Linux, Mac). Learn more about the features at www.TacticalSailing.com under "Game & Tips & Toolbox".
December 19th, 2014
More good times from The Cup that doesn't matter anymore. Thanks to the Couthouse news….
A sailor on Oracle Racing's winning America's Cup team claims in court that he had to shell out $68,000 for a lawyer to fight charges that he tweaked the rules by adding extra weight to a sailboat.
Matthew Mitchell sued Oracle Racing Inc. on Wednesday in Superior Court. Mitchell claims his employer told him to add the weight, so the employer should foot his legal bills.
Oracle Racing's principle owner is Oracle billionaire Larry Ellison, who is not a party to the case. Mitchell says that Oracle Racing hired him to prepare a 45-foot catamaran for the America's Cup World Series, a string of races building up to the 34th America's Cup, which took place in San Francisco Bay in 2013 and used 72-foot boats. Mitchell says flew to San Francisco in 2012 and joined his teammates on the Oracle Racing team.
"Immediately after his arrival, plaintiff was assigned by defendant to commission and prepare a boat known as the BAR45 (Ben Ainslie Racing)," the complaint states. His tasks were "listed on a 'job list' that was prepared and issued by defendant," the complaint states. "Included in the 'job list' was a task listed as 'Fill Kingpost.'" The kingpost is a sturdy post near the bow that rises above the deck. Race officials subsequently found that the kingpost on Mitchell's boat was too heavy and broke AC45 class rules. Mitchell's was named as a defendant by the America's Cup International Jury and was required to attend a two-day hearing in August 2013. The jury decided that Mitchell probably participated in filling the kingpost with heavy resinous material. Read on.
December 19th, 2014
Big Pimpin'
A subscription to Seahorse. If Santa were a sailor it¹s what he¹d want. Print. Digital.
December 18th, 2014
Local Knowledge
My name is Julio Paredes and I have a 7 year old son that sails on an Open bic in the Columbia River in Oregon.  As the wind pics up here in the Gorge, the Open Bic becomes hard to handle especially downwind for a 50lbs kid.
Sailworks, a local windsufing sail loft in Hood River, has designed and produced a 3.3 sail for the Open bic that is way better quality than the stock sail and for a fraction of the price.
Just wanted to share this with other parents in the same situation.
December 18th, 2014
There's something special about a pretty drawing, and Francois Chevalier has long been the world's most interesting racing yacht illustrator.  He and the Anarchists over at the ChevalierTaglang blog have knocked up not only this awesome drawing of Comanche, but all 5 of the Supermaxis contesting this year's Hobart.
They've even got analysis, and thanks to SA'er 'nuttyrave', you can check it out here.
December 17th, 2014
The history is a little foggy, but Lemon & Line was launched one summer night over a healthy ration of Dark 'n Stormys. Staring down at the weathered turks head bracelet on his wrist, life-long sailor David Norton saw the opportunity for something different.
Using only marine grade materials, he set out to make the "new" rope bracelet. Clean & subtle in approach, Lemon & Line debuted the original square knot bracelet in 2010. Now offering a large selection of bracelets and other accessories, Lemon & Line has something for the sailor in all of us. Visit the flagship/headquarters at 421 Thames Street, Newport, RI. Facebook here.
December 17th, 2014
Finally, here is the full story, as only the skipper could tell it.  55 minutes of everything about the why, the how, and the what next after the shipwreck that shocked the world.
Huge thanks to the M32 Series, Gosford Sailing Club, Redhanded TV, Penalty Box Productions, Morten and Team Vestas Wind, and Megan, the blonde groms, and Rusty for helping make it happen, and of course thanks to the Anarchists for giving us mostly excellent questions for Nico.
And if you want to see the boys in blue back in the race, tell them so on Facebook. 
December 17th, 2014
With Key West just around the corner it's well past time to drop weight for the procrastinating grand prix racer; want to learn how the most elite fighters cut 20 pounds in five days?  Don't try this at home, kids – this is just an illustration of just how crazy weight manipulation can get.  From Tim Ferris' blog.
WARNING: Even though boxers and wrestlers have been manipulating weight in this fashion for decades, it has the air of illicit activity. And though it's legal in MMA competition, you should *never* try this at home or without medical supervision. Excessive dehydration can kill you. "Cutting weight" has no place in real-world dieting or behavior.
This is NOT an article on sustainable weight loss or healthy living. Rather, it's a fascinating look at how far athletes and scientists will go to manipulate the human body for competitive advantage.
Imagine this: It's Saturday night and you're a top-ranked MMA fighter who just stepped into the cage to fight for the 170-pound Welterweight Championship.
Question: How much do you weigh?
The answer may seem obvious: 170 pounds, right? But if you followed the steps of extreme weight manipulation, the real answer is that you weigh somewhere between 185 and 190 pounds. That's 15-20 pounds more than the "cutoff" weight of 170.
24 hours before you stepped into the cage, however, you did in fact weigh 170 pounds. You had to. Friday night was the official weigh-in where you and your opponent both stripped down to your skivvies, stepped on the scale in front of the judge, and prayed that the number on the scale hit 170 or lower.
But once you stepped off that scale it was a race to gain weight.
I find this kind of physiological puppetry very interesting. Most of us regular guys have a hard time gaining or losing just 5 pounds at a time.
But the top combat athletes can lose up to 30 pounds in just 5 days leading up to the fight. Then they can gain nearly all of it back in the 24 hours between weighing in and going toe-to-toe.
December 17th, 2014
Mr. Clean's headed over to Abu Dhabi next week to bring you more of what a sailor wants to see, but already, SA Middle East Bureau Chief Jeff B is on the ground putting his own slices of life together with some Canon L glass.  He ain't Borlenghi but he's got a good eye, and we can definitely say we've got the only VOR-accredited photographer who flies fighter jets!
Jeff caught this awesome Lego Team SCA boat in the race village, and we learned the (now old) story of why it's going with them around the world; very cool stuff that you can learn too if you get to the Abu Dhabi Stopover thread for all sorts of pics of the haulouts, the teams, the race village, the Boatyard, and much more.
And don't forget to check out the live feed when Clean and the VOR team bringing you the In-Port Race and Leg 3 Start on the 2nd and 3rd of January.
December 16th, 2014
We were so motivated by the youth-centric feel at last week's Melges 32 Worlds (and stay tuned for the full movie from that one coming soon) that we arranged a little trans-oceanic conversation between M32 alums Charlie and Mark and the Worlds fleet on Team Alvimedica.  Petey Crawford and the Alvi editing crew put it together into a little story.  Maybe your school kids or sailing organization wants to chat to them too; can't hurt to ask them on Facebook...
December 16th, 2014
Likely old news for many of you, we dig it. Click on the pic and you'll see.
December 16th, 2014
We're not quite sure how we missed this one, but here's today's Public Service Announcement:  Think about your GoPro helmet mount kit, and think hard.  Why?  Because there might just be a chance it could turn you into a paraplegic, or worse.
All this because of an interview with a lone French F1 journalist – Jean-Loiuis Moncet – who has been following Grand Prix legend Michael Schumacher and his very slow recovery from coma and paralysis after a skiing accident.   Moncet wrote in October that "The problem for Michael was not the hit, but the mounting of the GoPro camera that he had on his helmet that injured his brain." 
Because of Schumacher's massive celebrity, this single sentence caused a shockwave in the world of high-flying IPOs and action sports.  GoPro's stock (which had only gone public a couple of months before) immediately tumbled more than 20%, losing literally billions worth of market capitalization in a few short days (and other wearable cam makers followed).  According to Forbes, GoPro responded by immediately (and publicly) discussing legal action; perhaps this was what led to Moncet immediately labeling his comment as 'opinion' via Twitter just days later.
December 16th, 2014