Rio 2016 watchers never seem to have to wait long for yet another scandal; since our last piece there have been more robberies, more assaults, and on Friday the World Anti-Doping Agency suspended the only WADA-accredited lab in Brazil for noncompliance with lab standards.
Putting aside WADA's own disgusting treatment of the Russian doping issue (which included them literally turning in a whistleblower to the Russian authorities before dragging their feet for years on a problem they knew about), the latest kerfuffle likely means big delays in testing the thousands of athletes already in Brazil for the duration, and hundreds of thousands in unplanned costs to fly the samples overseas for testing.
Precisely zero people worldwide are surprised at the latest news, and we're all just wondering what the hell is next. Man-eating sharks on the rampage? Gang wars on the beach?  Armed rebellion? Zombie apocalypse?  Watch the news and you probably won't need to wait long.
June 26th, 2016
2016 M24 Worlds boss Petey Crawford is back with Episode 5 of "View from the Chair", and he's got a special sponsor prize for competitors who haven't yet completed their replication; two brand new Velocitek Pro-Starts will be awarded to those who finish their registration (meaning…they pay) before July 4th.  Even if you ain't coming to Miami this winter, click on Play and let Petey make you laugh.  And even if you don't win one, you'd better have one on this 100+ boat starting line!
June 26th, 2016
Exploring the science of larval fish and the sport of freediving with Biological Oceanographer Dr. Claire Paris and our friends at Waterlust.
June 23rd, 2016
The Sailing Anarchy Podcast is back, and this week Mr. Clean gets into the business behind the single biggest event in the entire sport: The Vendee Globe.  This 100-minute episode # 6 is a mix of insider chat from Clean and four interviews he grabbed last month in New York with interesting Vendee figures: IMOCA Ocean Masters Commercial Director Alex Mills, Canadian Ocean Racing grom Morgan Watson, Irish skipper and storyteller Enda O'Coineen, and Team SMA media man Brian Carlin.
Episode # 6 will drop next week and it'll be all about the Race 2 Alaska.  If you've got something to say about the R2AK, let us know and we'll add you to the show.  Subscribe to the Podcast here.
June 22nd, 2016
Extreme 2 continued her dominant ways in the C&C 30 class at the NYYC Annual last week, with mast man Petey Crawford continuing his ultra-high octane videography with this highlight reel from the regatta.  What isn't on camera was a stellar Round-The-Island Race crash when the 12M Courageous sailed headlong into the rocks at Fort Adams, but not before t-boning a J/88 and knocking Extreme 2 skipper Dan Cheresh to the dirt with its spinnaker pole.
Courageous retired from the race and didn't even bother showing up to the protest hearing despite being notified in person (and they lost, of course) but the old boat's tactician has now claimed it wasn't their fault.  We've invited said tactician and several crew and on-shore spectators to provide their view before sharpening up the pitchforks…
June 22nd, 2016
J/111 skipper Bill Smith very nearly became the first posthumous winner of a Continental Championship this past weekend after a massive heart attack took the hard-nosed Chicago sailor's life on Saturday morning.  His Wooton was leading after the first day of racing for the North American Championship, with light airs killing off Saturday and very nearly claiming Sunday until a late thermal allowed a couple of races that crowned Kashmir as the new champion.
Smith was a self-made man who started as a carpenter and loved Chicago; he ended his life as a highly respected developer and project builder after a career the Tribune called 'a towering achievement'.
Smith's crew took the Wooton out to spectate on Sunday, when competitor Spaceman Spiff hoisted Smith's spinnaker on the final run in tribute.  Thanks to Steve Kindra for the news and for sending the photos on.  Fair winds, BS.
June 22nd, 2016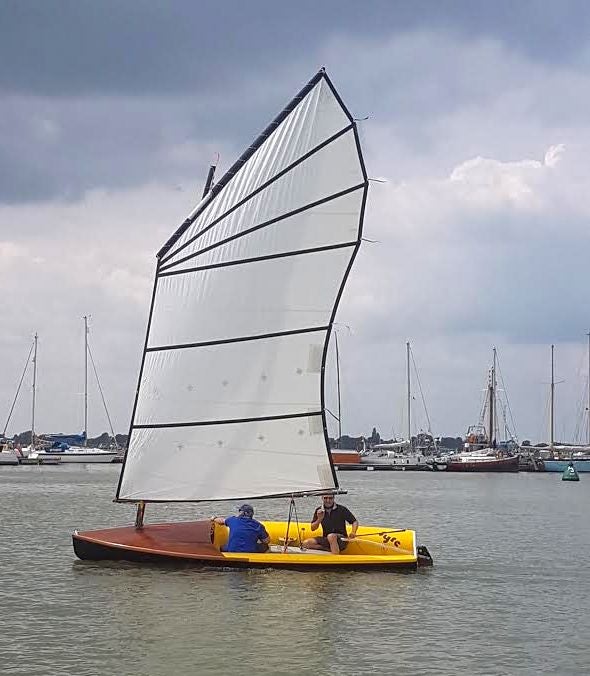 Spotted in the creek in brightlingsea Essx UK this past weekend. Local sail maker Mark Butler with a Gaff rig 505… He seems happy with it… The sail was made from an old big Genoa. He's smiling which is the main thing… I'd love to see it in a blow!
Keep up the great work. – Anarchist Geoff.
June 21st, 2016
Big Pimpin'
The Esse 990 of Guy Williams ranked 3rd at the oldest point to point regatta in the Western Hemisphere, the Race to the Coast, organized by the Southern Yacht Club.
The first race was held on July 4, 1850 with a (since then unchanged) course that started on Lake Pontchartrain in New Orleans, Louisiana and finished in Gulfport, Mississippi.
Congrats to Guy Williams and his crew on the Esse 990 Fresh Pineapple!
June 21st, 2016
Because you don't sail like this…(Um, neither do we. – ed)
June 20th, 2016
Okay, okay we give up. They rule. Sort of.
I had been tempted to take another jab at Comanche, the 100-foot sloop owned by Jim and Kristy Clark, as they led the Newport-Bermuda fleet toward Bermuda. I was waiting for the jubilant press release about how they had beaten all the other boats in the race without mentioning that second largest boat in the race is just under 30 feet shorter than them. But there was no press release and instead they set a new race record so instead of a jab here is my heartfelt congratulation to the Ken Read, the owners Jim and Kristy Clark, and the entire Comanche crew. Well done that was quite an achievement.
My beef with Comanche is that I have always felt that it's an unimaginative design. It looks like they took a VOR 65 and enlarged it on a photo copier. I feel that with that kind of money and talent they could have pushed the boundaries a little, but that's just my opinion. They built what they wanted and have done an excellent job so far winning the Sydney-Hobart Race earlier this year and now setting a new Bermuda Race record.
I am also walking back my criticism of Ms Clark. I had an issue with the press celebrating her as the first female owner to win the Hobart Race when my perception was that she was just a trophy wife of a rich man. But as I said I am walking back what I wrote because it's not really fair. I spent the weekend relaxing with my family doing just about nothing. Jim and Kristy Clark were out there dealing with the rough conditions. By most accounts Kristy is a very active member of the crew and works as hard as the rest of the team to help the achieve their successes. So I don't feel that I have a right to criticize. I was in a warm bed Friday night; they were on a wet boat pounding through the Gulf Stream so hats off to them.
The previous race record was held by Rambler and Comanche managed to knock a full four and a half hours off their time to finish in 34 hours and  52 minutes. That's quite an accomplishment. The second place boat, Maximizer, a Farr 72 was scheduled to finish a day behind Comanche so they really did leave the fleet in the dust, so to speak. So no jab. Instead an acknowledgment that Jim Clark and his (by all accounts) lovely wife have chosen to spend millions of dollars in the sport that we all love and it has only bettered the sport. So thank you and again congratulations. – Brian Hancock.
June 20th, 2016