As in Medicine Man, a much modified 63′ Alan Andrews SoCal special cruising along in the so far very light Santa Barbara to King Harbor Race. She rates -99 in PHRF, and owes the sleds time, but that wasn't a problem for them in this one. Results here.
While we're at it, here's the nicest Santa Cruz 50 on the planet, here's the yellowest Sled on the planet and here's the nicest Carrera 290 on the planet, all on their way to King Harbor. Photos thanks to Mad Max.
July 26th, 2014
That's what we were all saying to the wind gods who plagued the 6 Meter Europeans in Falmouth U.K,.this week. The Europeans ended today on a whimper in another dying breeze day and concluded a non event since the required five races was not achieved to establish a series.
Today was the make up day and with fingers crossed we all headed to the boats for the early start time with high hopes for two or possibly three races today. There was no time to grab a breakfast pasty or really bad coffee from Tesco as we had to get out and attack the morning breeze, which sadly did not arrive.
Still, we all headed out to the course and the PRO ultimately sent us on our way in what looked like light but reasonably steady breeze. Unfortunately, the breeze died and while the modern division managed to limp over the line the classics could not overcome the 0-2 knot gusts against a building adverse tide.
On US 83 Llanoria, we match raced a lobster pot for about half an hour and were soundly beaten. At that point we radioed the RC and let them know we were retiring. Other boats anchored for a while and the PRO, Chris Hadden, finally let the classics know that we were done.
Normally – after having three and a half days of being skunked for wind – there would be lots of grumbling, but everyone took it in stride. There was really nothing that could have been done with zero workable wind despite the admirable efforts of the race committee.
I've taken a few swipes in my reports and they've all been justified, especially calling out certain teams who had support boats that could have helped tow boats in (after being asked to) but chose not to, while others went over the top to help. The 6 meter fleet is chock full of really great people who are enthusiastic, love their boats, and partaking in an event that became a non event did not damper the overall feeling of general camaraderie among the bulk of the competitors.
The race committee team really deserve some praise for doing everything possible to get the fleet racing. The British Open had some of the best 6 meter racing I've done with nice breeze and good courses. I for one am going to miss the voice of the radio time keeper, whom I nicknamed Davros (the imperial Dalek leader) with his count offs and when he announced 'one minute to orange' was eerily reminiscent of 'orange alert' from the classic 60′s series The Prisoner. All joking aside, the team on the Buccaneer Charlie and all the mark boats deserve a big hand and everyone appreciated their efforts!
The North American's will be held in Vancouver in September, the site of the 2017 World's. It promises to be a great event with several European teams coming over to test the waters. The official site is  and you can find lots of shots from the British Open and Europeans as well as notices for the NA's.
I've been racing 6 meters for five years now and race everything from Vipers to large high performance boats. The 6′s are amazingly cool to sail because whether you are in a modern or classic, there is plenty to do in these highly tweaky boats! If you get a chance, go for a sail on a tuned up classic or modern, you will be impressed!
The British Open winning team of US 83 Llanoria consisted of Eric 'Jumbo' Jespersen (helm), Chris 'Snapper' Winnard (Main/Tactics), Rodger 'Nudger' Phillips (Genoa/Spin), Peter 'Noddie' Hoffman (owner/ cockpit) and last but not least, Ross 'Bubbles' Jespersen on bow. We had a fantastic time in Falmouth and local comedy legend Jethro will be handing out the Snappie awards later this year in front of the Oggy Oggy Pasty Shop with musical guests, The Wurzels. Photos – credit Dana E Olsen.
-Chris 'Snapper' Winnard
July 25th, 2014
No one saw this coming, did they?
July 25th, 2014
SA'er "US772″ checks in (with some editing help) from the Landsailing Worlds sailed last week in the heart of the Nevada desert in Smith Creek.  More photos from Walter Carrels here, and you can add your own report or ask the new Champ questions in the thread.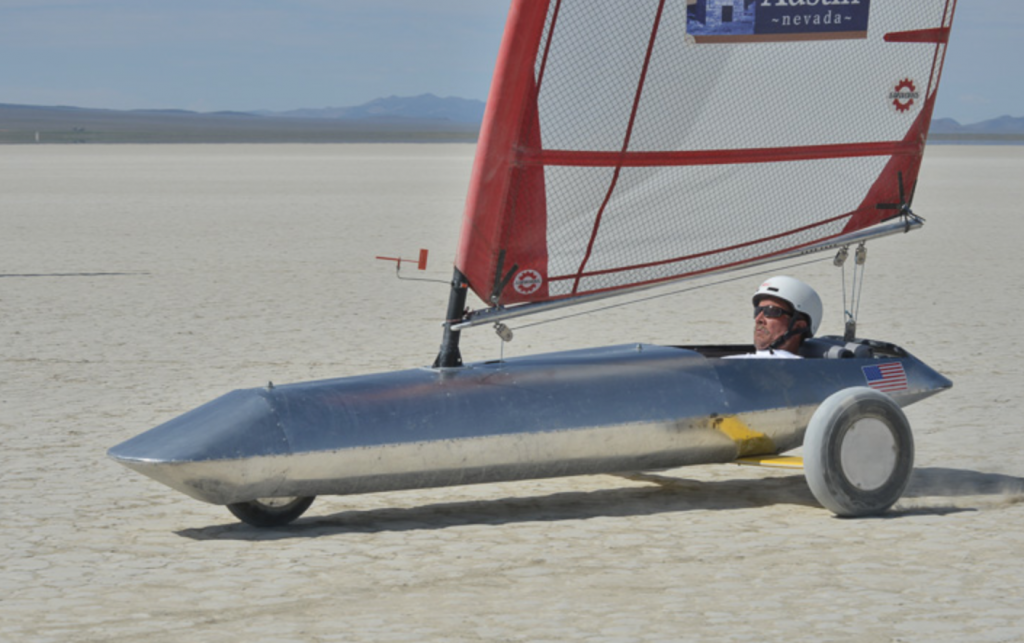 I just got back from the event – about a 16-hour haul for me from Montana.  I'm an avid iceboater up here, and I get to land sail a few times a year at the America's Landsailing Cup and the HolyGale, both in Nevada.   A new class called the 5.6 International Mini has emerged recently; catching on like wildfire all over the world.  I decided to join the fray, and I've been preparing for Worlds for a while now.  The Mini class is a brilliant class with only 3 rules: 1) 4.8×8 inch tires or the equivalent in size; 2) a round mast section; and 3) the boat must fit inside a 5.6-meter long rope that wraps around the wheels as they touch the ground. This very open rule means unlimited sail size and almost complete freedom in design. So if you're a big or little person, you still have a chance.
I build all my equipment from scratch, and with my experience from bigger dirt boats, I decided to take a different approach to the design that what was previously out there. I made mine more like a bigger Class 3 dirtboat  than a stick framed mini, concentrating on aerodynamics and function rather than the typical lightweight approach.  My mini weighs twice as much as most; about 150 lbs.  My sheeting system is a winch and drum system, and I used 1/8" spectra and, rather than the typical Harken stuff, I made my own blocks with the rollers off a sliding glass door. My traveler is also a homegrown device that allows you to pull it to weather; I made it with skateboard bearings from the local skate shop.
The framework of the boat started with a conduit bender I bought at Home Depot. The tubing bender's radius set the tone for the whole boat and the size of round tubing I could use. The fuselage is also based off of the front wheel. I decided to go very aero on the front wheel, which is  buried inside the fuselage. Everything gets complicated when you do that. After the framework comes the aluminum sheeting.
For the sail package, I worked with Bruce Peterson at Sailworks. I had him do a few tweaks on the normal sail designs to suit my needs.  I completed the mini last fall, converting it to an iceboat and sailing it for hundreds of miles and many many hours on hard water to get some practice for the event. I broke the boat 4 times prior to the Worlds, believing it's good to sail hard and find the weak spots.  A few weeks before the event, I made a few more changes that really paid off for the conditions at the Smith Creek.
The Minis race first two-and-a-half days at Worlds. The rest of the classes race the remaining days. The weather was awful! 95 to 100 degrees no wind for the first day. I've been racing dirtboats since 1980 and sometimes I still get sick to my stomach pre-race, and this was the most stressful racing I've ever done. I was going up against the European and prior World Champion, and there were about a half dozen others that would be really tough to beat.  Most, if not all their boats, are a factory boat or a partial factory boat that I'm assuming are sponsored or partially sponsored by the manufacturer. In fact, the French get paid by their government if they win or place at a World Championship!  The sport is very popular in Europe compared to the US. There are even landsailing schools in France. They are usually dominate competitions. Fortunately, I have been watching those guys on the internet over the years so I knew what to expect.
Day One: 
Not much wind but plenty of heat. We sat around from 10 am to about 7pm waiting for wind and listening to briefing after briefing every hour or so. It was tough to be filled with pre-race nerves while staving off dehydration. I got a ripping headache from the heat and felt lethargic most of the afternoon. They started one race which I led most of the way around, only to turn about to find 3 Euros pushing like jackrabbits toward the next mark while I'm trying to sail. The race was black flagged due to lack of wind. Racing cancelled at 7pm, and of course, the wind arrives at 7:10.
Day Two:
10 am race briefing. I feel much better this morning. My brother, Scott, is a cyclist, and he's helping me stay healthy by pumping me full of all kinds of fluids and go-fast cycling supplements throughout the day. I win the first race, but it's black flagged due to the three quarters of the fleet not being able to sail. In the second race, I come in  just behind the former World Champion from Germany. In the third race, three boats are over early when I hit the line at speed on the right side of the course. I stay in third but end up in first due to others' mistakes. In the next race, the wind one-eighties, so the coarse is reversed. It's a short coarse with 4 to 5 marks wrapped around camp so spectators can view easily. I'm used to a windward leeward iceboat type coarse, but my boat, even tough it's heavy, does very well on the short circuit. I've got the sail set up for low end performance, and I do most of my passing going downwind. The lighter the wind the better I do.
You can see defeat in the eyes of a few that were expected to be favorites. Just after midday a thunderstorm is brewing in the distance. We see the dust from afar coming our way. I tip my boat over to secure it and other follow suit. The wind and dust hit and I can only see about 4 feet in front of me. We lay on our sails getting pelted by the lake bed getting ripped off itself. It feels like hail, and lasts about 40 minutes. Sven the German World champion gets off his sail after the storm and can't find his boat. It got loose with no mast or sail and blew down the dry lake 2 miles away.  The gps revealed a top speed of 32 miles per hour with no rig.
With the dust came rain, which caked mud clods onto everything. It took a while to get things cleaner again, and since the storm sucked all the wind away with it, we've got time. The next race I am in second following the leader about 3 feet behind, and we're both clearly tired from the heat.   He starts rounding one of the marks the wrong way, and I follow until just before the mark I get yelled at by a French pilot bearing down on me so we don't collide head on around the mark. Collision averted, I round properly only to be fouled by the previous leader. I am rattled and sail the wrong way again. At the last second, I looked over my shoulder to see 3 boats sail the proper course so I quickly jibe down to the mark in hot pursuit. In the end I clawed back a few spots after my stupidity.  2 more races and 3 more black flagged races later I'm leading the mini class by one point!  That night I collect 1 daily first award and another award for leading the class for the first day. I'm stoked and surprised at my success, to say the least!
Day Three:
I'm even more nervous than before since I'm now in the lead, and I have a huge target on my back. The 2-minute sailing start could easily do you in, as 40 plus boats are wizzing around at 25 miles per hour jockeying for the windward pin at speed. One of the US guys get t-boned in the prestart. The French boats front wheel ends up in the Americans lap, badly cutting his knee with the front fork. Most of the French are really getting good at their starts, while I am not. I hold back a bit so as not to foul anyone or get in a wreck, of which there are plenty. I find the windward pin area is pretty clogged up. I choose the middle. I find I can claw my way back to the top if there are enough laps with in the 10 minute timed race. We race for 10 minutes who ever is in the lead after 10 minute wins. That usually translates into 3 to 4 laps. The first races goes well for me, and I come in second. In another race, I'm way ahead in the lead, only to sail into a hole and watch the fleet go around me on the left.  The race is eventually black flagged due to lack of wind. One more black flagged race. In the next race I get a bad start and end up in fifth place, and adding up numbers from the placements the night before, I think I'm still in first. The second place boat the day before is mid fleet. The third place guy yesterday is now second, and my biggest threat.
The cut off is 1 pm, and at 12:30, I just want the time to run out.  The wind doesn't, and I'm in third place when the next race is abandoned.  As I'm pushing back to the camp, I throw my helmet sky-high, knowing I'm the World Champ.  The Race Committee doesn't agree, and they decide to hold a race at 1:06 PM. "Someone shoot me with a gun," I think to myself, feeling screwed over.  I'm in tenth shortly after the new final race starts, and I hope I can pass enough boats.  I pass four before the weather mark and turn downwind.  The wind dies, the race is black-flagged, and I become the  2014 5.6 International Mini  World Champion!
Later that week I raced in class 2 and ended up in fourth place, while my nephew Will raced class 3 and helped the USA get the team medals for that class. A huge thanks to FISLY and NALSA for organizing an awesome event, and a bigger thanks to my family who kept me healthy during the racing.
-John Eisenlohr, US772
July 25th, 2014
Fresh from their trouncing of Teams SCA and Campos during last weekend's little Round the Canaries race comes this shot of Brunel bowman Gerd-Jan Poortman standing on Brunel's forestay.  "Was he up there fixing or inspecting?", we asked.  "Nope – that pose was on his bucket list."
While Bouwe and the Brunel team continue to do a good job building fans, we're surprised that the Alvimedica and Abu Dhabi teams seemed to have dropped off the face of the Earth after their recent transatlantic 'non-race', without a single update since about the 19th.  Anyone know more?  Hit the VOR thread.  Sander Van Der Borch photo, and here's the best cover we've found of the Johnny Cash classic that gave this piece its title – or at least the best looking!
July 25th, 2014
Big Pimpin'
Rather than get into protracted trademark litigation with some asshat in an entirely unrelated business, our pals and longtime advertisers at YellowBrick have just announced a name change, and we're passing it along so that everyone knows where to find the most reliable offshore tracker in the sport.  From now on, they'll be known as YB Tracking, and you can find them at www.ybtracking.com.  We're also stoked to learn that more and more events will be offering free mobile tracking as well, solving the only gripe we have about the YB program. Here's more from Nick @ YB:
Aside from our name, absolutely nothing else is affected. Our staff, products and service delivery remain unchanged and our business will continue as normal. Your primary contact for any assistance should be support@ybtracking.com.  Thank you for your continued support, and we look forward to serving your next race, event or expedition as YB Tracking.
July 25th, 2014
The Jim Donovan-designed GP 26 hull #6 gets ready for action in Connecticut. More pics of the boat, Donovan and his crazy bird are here.
July 25th, 2014
From the world of press releases. Smells like desperation to us…
Following the announcement of Team Australia – representative of the Hamilton Island Yacht Club, Challenger of Record of the 35th America's Cup – of its intention to withdraw from the competition, the teams Luna Rossa Challenge, Artemis Racing, Ben Ainslie Racing and Team France – jointly with the yacht clubs they represent – confirm their full support to the event, regardless from the host venue that will be selected.
The four teams, who have so far made clear their involvement, also reiterate their commitment to co-operate in a constructive way with the Defender to the sporting and commercial success of the 35th America's Cup, with the aim of bringing this event to the peak of the world's professional sport in terms of media, show, public and the intense sporting competition which has always characterised the America's Cup.
The teams look forward to establish a constant dialogue with the Defender Oracle Team USA with the intent to fully preserve the principle of "friendly competition between foreign countries" – one of the core elements of the Deed of Gift that rules the America's Cup – and to co-operate actively with the Defender to adapt the rules where need be and outline the America's Cup World Series calendar, as well as the format of the Challengers' Selection Series and of the America's Cup finals.
July 25th, 2014
We took Mich Dej's presently undefined role in the Team Campos VOR team as an indicator that maybe things are not going all that well for him as one of the trio of leaders of the Team France AC effort, but that take might be very wrong if you believe France's top sailing journo Loïc LeBras.  LeBras is a good digger though, and his sources told him two days ago that Cammas is about to sign a major agreement with "France's leading hotel group and Europe's leading aircraft manufacturer."   Cammas' statement in an otherwise fluffy and bullshitty joint statement today seems to support Franck's optimism that Team France will, at least, be able to enter by the million-dollar deadline on the 8th of August.
Let's not screw around with implication here; if LeBras is right, we'll see some serious commercial juice in AC35 from a second non-billionaire backed team. France's biggest hotel group, by far, is the Paris-based Accor, which owns some 3,600 hotels on five continents.  They hit every budget with their holdings; from Motel 6 and Red Roof Inn right up to the 5 stars of the Sofitel and Pullman lines.  And of course Europe's biggest airplane manufacturer is Airbus, which has been peripherally involved in sailing (via the C-Class Invictus and several other endeavors) for ages now.  As a branding exercise, Airbus could get huge mileage out of involvement with the AC, especially considering Oracle's ties to Airbus competitor Boeing.  And while France's tardiness means they might miss out on the designer raffle and some may dismiss this as a Luna-Rossa-in-AC-34-style 'learning campaign' leading to AC36, there are those who thought the same thing about Groupama in the VOR…and we know how that worked out.
Stay on top of the Team France thread in America's Cup Anarchy for the latest on Cammas and Co, and have a look here at one of the most empty, vapid, useless press releases we've seen from a Cup team in years…and that's saying something.
July 25th, 2014
The boat was simply spectacular today. The wind was 3-5mph max but was 4-6 at my house from the south when we left. By the time we got to the Port Canaveral it had switched to the SW and died to 3-5. But the waves left over from the 20 mile fetch south were still "bending around" thru the bridge. I would have preferred flat calm -no waves-just wind. But as it turned out-well, it could not have turned out better.
First thing we noticed was that the lee ama popped up-it was then we knew this was going to be a great day. Shortly after the ama popped up the whole boat did and we got a couple of stretches of extremely stable, fast foiling. Perfect pitch stability, perfect ama foil altitude control-man, she couldn't have done any better. And all this in a 5MPH breeze! I couldn't be happier and more satisfied that the step by step analysis I did after the first three videos was right on target.
Jump in the thread here, should you dare. – Anarchist Doug Lord.
July 24th, 2014
Ever want to be part of something a bit crazy, very fun and slightly dangerous? Tritium, former ORMA 60 Tri skippered by Jean Le Cam, floats stretched by Artemis America's Cup team to 72ft to trial their wing sail and curved foils may be your missing element! Campaigned on short notice by John Sangmeister in TransPac 2013, barely missing the outright race record by 2 1/2 hours, is ready for its next record attempt…
Is it you? or you and a group of otherwise normal knuckleheads who don't want leave this planet regretting you didn't take a shot at history…. Check out the video here and contact Gino@Morrellimelvin.com for details….
July 24th, 2014
Big Pimpin'
We all know that our sport is a huge part of how and honestly why we live our lives. Check out how Boyd Yachting brings it to you with their a preview of their latest edition, featuring Paul Larson.
And now you'll want to sign up for it here! Did we mention it's free?
July 24th, 2014
Phil Sharp takes you on the new Seascape 27 on their double-handed Chicago to Mackinac race. Enjoy…
Long distance challenges are always something that get me excited, particularly in offshore, short-handed configuration. My first significant ocean experience was competing with a prototype in the 2005 Mini Transat, racing single-handed from France to Brazil, where I got to know fellow competitor and Slovenian skipper, Andraz Mihelin.  Having helped develop the new Seascape27 yacht, and an opportunity arose with him to take on the double-handed class of the world's oldest and longest annual freshwater events, the Chicago – Mackinac.
Not only would we be competing in the double-handed division, something we hadn't done since the Mini Fastnet 2006, but it would also be interesting to get behind the tiller of this little lightweight rocketship.  Being the smallest boat in a fleet of 300, you can't exactly consider racing for line honours, but our objectives were to win the double-handed division and find out what a serious US Regatta is generally all about.
Logistics for this race were not commonplace, and raised quite a few eyebrows from members of the Chicago Yacht Club. I flew from in the UK, Andraz from Slovenia, and the owner Svein Hubinette brought the boat from Lake Champlain, some 900 miles away! Needless to say we were one of only a few oversees entries.
Our double-handed division was first to start, and in very light reaching conditions the J29 "Relentless" in our class, headed off with very similar speed.  It became immediately apparent that a class win was not going to be as straight forward as we'd hoped, particularly as we had to complete the race 10% quicker than the J29 in order to win on corrected time.
For the first half of the course we followed our routing strategy up the west side of the lake, staying close to the Wisconsin (west) coast, which we hoped would give us more pressure by avoiding the centre of a mini high in the lake.  As well as taking advantage of the increased gradient and thermal enhancement on the coast, we were also hoping to put ourselves nicely west before the wind shifted to the south, in order to give us a good angle of approach to the Islands of Manitous at the top of the lake.
This strategy didn't exactly turn out to be a 'slamp-dunk', with a large proportion of the fleet opting to instead follow the rhumb line, with a reasonable level of success, finding more wind in the middle of the lake than forecast.
One unique feature of this racecourse which we hadn't noticed in the guidebook was the severe quantities of flies on the lake. Whenever the wind was below about 15 knots, swarms would descend on the boat, and always seemed find an area to bite into that you'd missed with insect repellent.  However their bites did have the advantage of keeping you awake when you were just starting to drifting off at the helm , a common problem when short-handing it.
Inevitably when sailing double-handed you have to sacrifice quite a lot of sleep.  We had a very basic autopilot and so where driving the whole time, changing every two hours.  By the time the person off-helm had done navigation, helped with manoeuvers, sail changes and also found time to eat, there wasn't really time for more than 3-4 hours of sleep in every 24.
For eating during the race we took a Jetboil for a stove, mounted in a gimballed frame for cooking hot pasta meals.  It wasn't until we started the race however that we realised it didn't have a self ignition system, unlike all the ones we'd used previously, and that neither of us had brought a lighter.  So we had to wave goodbye to any chance of a hot meal, tea or coffee, and instead ate cereal the whole race, which fortunately we'd brought quite a lot of.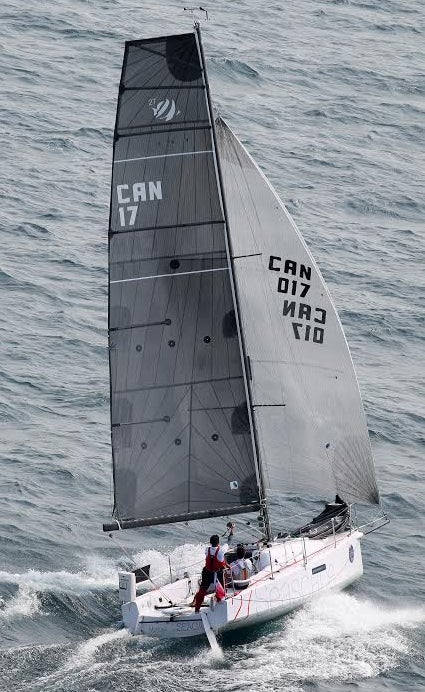 The last few hours of the race saw the wind increase to 20-22 knots, and the boat really came into its own and enabled us to start doing some serious overtaking.  Being a light and very stable design, a fractional a0 for reaching conditions gave us some impressive average boat speeds of 14 to 15 kts, which just showed how much power this boat can harness.  Wind gusts are turned into rapid forward acceleration instead of just heel, which is a sensation that brings a serious smile to your face if you are lucky enough to be driving. That's us hauling us thanks to Boatpix.
The Isle of Mackinac is an interesting place to finish a race to say the least. Cars are banned on the streets and instead, horse and carts fill the main roads, with beautiful greens and mansions watch over the main harbour – not to mention the colossal Grant Hotel where the race party was held.  It was like a fantasy island from the past that had been frozen in time for the last 100 years, and presented an extreme and refreshing alternative to the skyscrapers of Chicago we had left behind.  Perhaps aside from the very pungent smell of horse urine that also floated around the streets.
Being an ORR race, we of course had to wait for our result to come through on corrected time, and were happy to hear that we had finished in first place, just 12 minutes ahead of the J29.  This was particularly satisfying based on the fact we'd been sitting in second for most of the race.
With this mission accomplished, it's now back to Europe to continue work on my Vendee Globe campaign.  I'm particularly excited to be developing some innovative new concepts for a new IMOCA 60, including a zero-emissions energy systems that must be totally regenerative, but also very light.  But before I leave this country I must first check out the lights of Chicago – it would be rude not to.
Some facts of interest about our race:
Fastest average speed over 100m: 14.68 kts

Fastest instantaneous speed:  15.4 kts

1st in Double-handed division

43rd out of 317 in overall ORR results
July 23rd, 2014
The Snapper Report
July 23rd, 2014
Created by the team of wing designer from France (Hugues de Turckheim), wing camber builder from Switzerland (MB Composite), platform designer from Sweden (Stefan Törnblom), wing envelope sail maker from Sweden (Mats Johansson, Gransegel), and builder from Hungary (Pauger Composite), this quick 1200 kg all carbon is the T29 trimaran, "T for 3" is the first production multihull to be equipped with a hoist-able and reef-able wing.
Maximal sheeting load on the main is greatly reduced compared to a conventional wing mast rig, from around 1600 to 80 kg, thanks to the balanced wing and the boat tacks through 70 degrees with unusual ease for a multihull. More about the wing in the Seahorse August edition. Photos in the Stockholm archipelago by Swedish junior sailor Olivia 12, usually helming « T for 3!
Title inspiration thanks to, um, Soft Cell.
July 23rd, 2014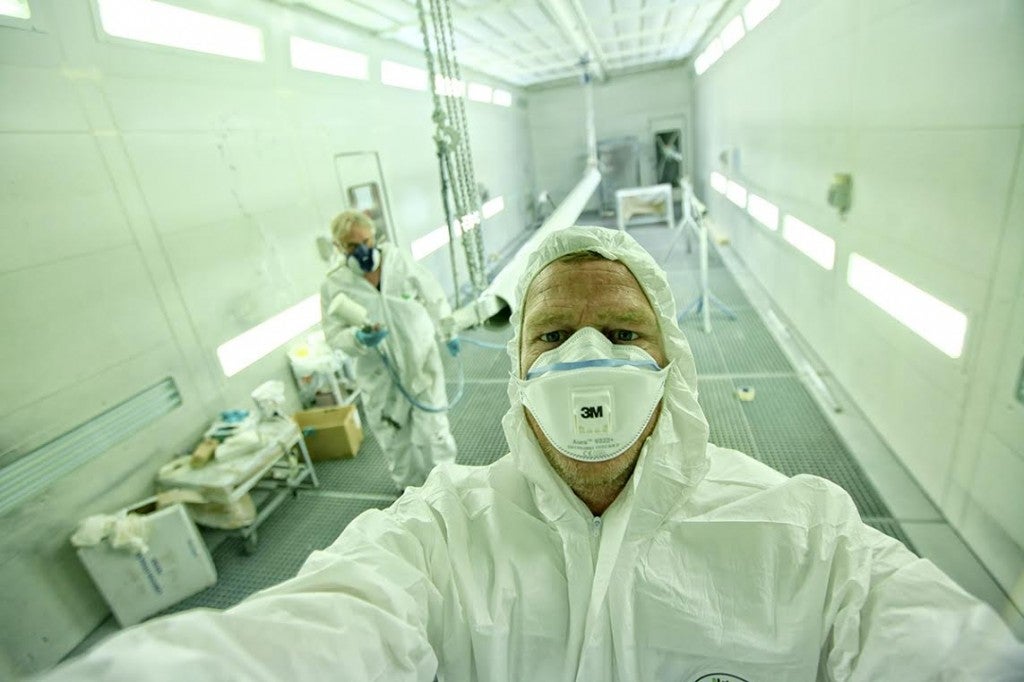 Got any idea what and where this is?
July 23rd, 2014
Maybe it's just us, but the accusations, blame and finger-pointing contained in the article below seem to be wildly off the mark. An 85 year-old schooner sank in a nasty gale, but now blame for neither the boat nor people being found is being levied at those who tried to find them? We don't see it that way. An old wooden boat sank in a nasty storm. Major rescue efforts were launched. Sometimes bad things happen at sea. Attacking others to somehow find them culpable is ridiculous.
Families of seven people lost in the Tasman when their yacht vanished have criticised New Zealand's search as poorly managed. And a close friend of one of the lost says the Rescue Co-ordination Centre (RCCNZ) failed to find the 85-year-old US-flagged schooner Nina a year ago because it searched 354 kilometres too far east.
"They used the wrong drift modelling, they wasted valuable time and resources and tragically, it may have cost lives," New Plymouth offshore sailor Paul Wilson said. At the same time international satellite phone operator Iridium Communications Inc denied hampering the search for the yacht that left Opua on May 29 last year for Australia. Read on.
July 23rd, 2014
Especially this breed of drunk hillbilly white trash. USA! USA! USA!
July 23rd, 2014
Thanks to an entire crew of AC superstars, Luna Rossa Challenge principal Patrizio Bertelli embarrassed the Puig 12-Metre Worlds fleet last week in Barcelona in his beautiful Nyala, taking bullets in 5 of 7 races he sailed.  That's not really news (though this gorgeous photo from Martinez Studio might be), but certainly newsworthy were LRC Director Max Sirena's comments about Team Australia's challenguss interruptus, as translated by SA'er 'Xlot' in the "Another Incredibly Bad AUS Challenge' thread:
Max Sirena got to Barcelona for the 12M Worlds (won by PB's Nyala, btw) straight from LA where last Sunday a meeting was held with representatives of challengers and defender for the next Cup. – Were you informed in LA about the Australians' decision to withdraw from the competition? Sirena: Absolutely not. This came out of the blue for all of us". – When will the next CoR be selected?: "Formally, it should be the first one who challenged. For the time being it's just us and Artemis". – Does this mean LR is aiming for that role? "I'm not a candidate, we are sitting on the sidelines. I have already spoken with Russell Coutts and Ben Ainslie and I proposed we should have a videoconference already next Wednesday."

Expectations – "I'm not a pessimist. Already in LA last week I had noted in the defender a certain willingness to negotiate and I believe that this new situation might be exploited to bring about changes, even significant ones concerning the future". Do you mean that even the Venue choice for the event could be rediscussed? The two left (Bermuda and SD) do not convince Sirena: "I'm not ruling that out". For the second time running Coutts got the CoR selection wrong. The Australians, like Mascalzone Latino in the previous event, dropped out before even starting. "This cannot be denied. But like I said I'm an optimist, from this mistake may come positive consequences for all"
July 22nd, 2014
UPDATE: From the forum…
7/23 – Wanted to let you all know that Bob Winson passed away this morning at about 3:30a.  He was surrounded by his family – as he was when this terrible accident occurred.  Bob was surrounded by family wherever he went.  He loved being on the water with Dale.  He was a wonderful man.  I miss him already.
Want to set the record straight – Pythagoras is owned by Dale Winson and his dad, Bob.  Dale and Bob have been ocean racing together for 40+ years. 
Pythagoras left Alamitos bay this past weekend with the entire family aboard for a Sunday sail.  While sailing on starboard tack, Pythagoras was struck by a charter sailboat on port tack.  Pythagoras did their best to avoid the collision, however, the bow of the sail boat – and bow anchor – struck Dale's 84-year old dad in the head as he sat on the leeward side.   
Bob was struck in the head by the bow anchor resulting in a massive brain injury from which he will not recover.  Dale and his family are by his father's side – they understand that he will pass away soon. This is a really sad tragedy and to speculate any further is just that – speculation.  Hoping you will all say a prayer for Dale and his family. 
The Olson 40 Pythagoras was the latest powerboat casualty in the world of yachting; according to Channel 16, she was run down by a powerboat off Alamitos Bay.  At least one crew member was injured and taken off by lifeguards, and the only news we can find is right here in the thread.
How many more people need to get wounded before we all decide to start carrying flare guns in our cockpits to fire at these motorboating yahoos?  Thanks to SA'er "LBC" for the shot.
July 22nd, 2014