It's been a week of shocking revelations in the America's Cup, with a 3-2 vote going against both the AC62 and the Auckland qualifying regatta and a heavily restricted '45-50 footer' likely for the AC35 in Bermuda.  The two 'nays' are also the two most successful challengers entered, and one of them – Grant Dalton's Emirates Team New Zealand, announced last night that they'd be taking the AC organizers to arbitration to try to get Commercial Director Harvey Schiller to honor his signed agreement to bring the qualifiers to New Zealand.
But in the biggest shock move of the decade, Luna Rossa has not only pulled out of the next AC and disbanded their team – they've sold the entire show to an American-based consortium with designs on forever changing high-end luxury sports sponsorship.  The new team has purchased all of Luna Rossa's assets in a deal valued at just under $20M.  And as usual, we've got the exclusive scoop.
"The new Seattle-based Marley Progressive Race Team brings some of the most progressive companies and causes of the modern era to bear on a one of the world's iconic competitions, but one that's long been the province of robber barons and industrial tycoons," said long time Sailing Anarchist and country music legend Willie Nelson.  "We aim to change that forever; sailing should be more about enjoying our beautiful waterways with friends than about stroking aging billionaires' egos."
Nelson, the Non-Executive Chairman of the new team and a spokesman for social change, told us the team will be a clearing house for companies and organizations to unite together under the Marley Progressive banner, with title sponsorship shared between Progressive Insurance (whose founder contributed more than $40M to cannabis law reforms before his 2013 death), and legal cannabis juggernaut Marley Natural - already forecast to be the first (legal) billion-dollar marijuana business.  "We are going to Bermuda to bring the America's Cup back to the US West Coast where it belongs – the land of free thinking, progressive policies, and recreational marijuana," said Nelson.
One team source, who spoke on the condition of anonymity because he wasn't authorized to brief the press, told us the team had already started to come together.  "You wouldn't believe how many of the world's best sailors are already on board," she said.  "With WADA easing its marijuana testing requirements in 2013, the doors have been opened for some of the thousands of cannabis-loving professional sailors to reach the sport's pinnacle, and we won't have the salary problems the less progressive teams do.  Our sailors will be in it for love, not money."  The insider did let slip the identity of the team's principal designer, Juan Kouyoimdjian.  "You can tell just how much cannabis Mr. Kouyoumdjian smokes simply by looking at his designs, so he was a 'Marley Natural' choice for us.."
When contacted by phone, a spokesperson for Bermuda Governor George Fergusson said the news was troubling.  "Well, it's sort of a tiny bit concerning for Bermuda you know," said aide Nanny McPhee.  "Bermuda is not quite known as 'party central' and we hope to maintain the tradition and heritage of the world's oldest sporting competition on Bermuda's waters regardless of who sponsors America's Cup teams."
AC Commercial Director Dr. Harvey Schiller was less circumspect, and in an unguarded moment with an unnamed ISAF official, Schiller was reportedly overheard to say, "I don't care if the Russian Army wants to enter the America's Cup, as long as they're paying retail."
In related news, our own Senior Editor Alan "Mr. Clean" Block will say goodbye his ten-year tenure at Sailing Anarchy this week for 'greener' pastures.  "It's been a hell of a trip here at SA, and I'll miss this massive community with all my heart," said Block.  "But when Willie offered me the chance to run media for an America's Cup team while promoting marijuana use for sailors everywhere, I knew this was the job I'd been waiting all my life.  Thanks especially to Russell, Ben, Iain, and Franck for making the change to an affordable AC – this would never have been possible without you, and it's a new era for the America's Cup.
We'll have a formal announcement of the team on Monday, including a video interview with the as-yet-unnamed Sailing Director.
April 1st, 2015
VOR Breaking
In what looks for all the world to be an official record, Volvo Ocean Racing Team Team SCA has logged an incredible 701 nautical mile 24 hour run in the Southern Ocean. With news that  the dreaded "menstrual synchrony" has inflicted the entire team, reports from the boat are, as expected, short, exasperated  and angry.
Stand by for more info!
April 1st, 2015
Chappie, the smash movie about a robot that embodies human behavior and emotions, is now the basis for a brand new sailing movie! In a surprising plot twist on this take-off of Chappie, the star of this new movie is a human being who has the behaviours of a robot. Chumppy, starring Craig Leweck, is the tragic tale of an emotional drone lacking any semblance of creativity or emotion, other than anger and jealousy. Unable to process the most basic human conduct, Chumppy exists as a whining autonomon, robotically cutting and pasting  "content" into his meaningless newsletter, incessantly sending it into space, where it is read by no one.
As the lack of response to his incoherent "news"mounts, his inability to face reality grows; the robot short circuits, sending pitiful e-mails of complaint about his Dark Overlords to everyone from the Volvo Ocean Race to potential advertisers.
Unable to comprehend the daily beatings administered by his vastly superior Dark Overlords (Played with aplomb by the equally brilliant Scot Tempesta as Ed and Alan Block as the dreaded Mr. Clean), Chumppy tries to compete in a world that has long passed him by. At turns both pathetic and entertaining, Chumppy finally quits his futile efforts to be human.
The rather shocking end of the movie also entails a twist. As Chumppy's head explodes in frustration and bitterness, the resultant anticlimax is revealed:  All that emits from Chumppy's head is fetid, rank hot air. Not a brain cell at all to be found in poor Chumppy's head. A sad, yet fitting end to an equally sad robot.
April 1st, 2015
Jesus we hate press releases but this one we just can't pass up…
Press Release  01 APR 2015 0600 UTC
Volvo Ocean Race Turns Social Media Campaign over to ISIS
As of 1800 hours UTC today all of the Volvo Ocean Race Social media work will be handled by ISIS. This decision was reached after concluding that the VOR was not reaching the key demographic on social media.  The group cited that ISIS has clearly become a force in new media with an amazing close rate.
After comparing the effectiveness , reach and impact numbers for several groups, the VOR executive team realized that it was between ISIS and a group of neo Nazis on the UP of Michigan.  Knut Frostad said in making the decision that the VOR was "Looking to the future and not the past".
The America's Cup organizers are considering a similar move.  Russell Coutts when asked for comment noted that "You would think that 72 foot Catamarans cartwheeling in front of Alcatraz Island would be enough of a draw, but those guys in Syria are really unto something and we want in!!"
There will be some small changes in the race format to accommodate the social media campaign.  For all remaining legs there will be random scoring gates where Jihadi John will board the last place boat and execute one sailor.  This will be broadcast live.
During in port races, mortar shells will be lobbed at the boats during key mark rounds to heat things up there.  ISAF president Carlo Croce says "I love these changes to the format. Sailing is reaching out to a younger demographic in key parts of the world. VOR partnering  with ISIS is a wonderful opportunity.
Media Contacts
Jon Bramley
Christina Gaither
April 1st, 2015
Listen, who the hell are we to argue with going with the times? If only Chumppy had been able to…
April 1st, 2015
Longtime SA'er and A-Cat, Moth, and 18 footer sailor SimonN begs for it, though the vote is already likely over. Agree or disagree?
I know that members of a number opf teams read this forum, so i address this to them in the hope of avoiding what i believe will be a disaster for the America's Cup. I would welcome others posting as well, but please don't let this thread degenerate like the other threads. Well thought out support or rejection of the One Design ideas are welcomed. let's prove that SA can have a sensible voice that is work listening to.
First, it goes against the very spirit of the Cup which has always been about who can design, build and sail the better boat on a 1 on 1 basis. Changing that turns it into any other match race championship, even if it is in the fastest match race boats.
However, my biggest concern is that this move will drive away followers and reduce the interest in the AC. Each "package" that becomes one design has a significant impact on how the viewers see the boats, If, as suggested, we see a one design platform married to a one design wing but with free development on foils and systems, the general public will see boats that look identical going at different speeds for reasons that are hard to explain. The motor racing analogy would be having everybody driving the same car but that tyre development is free. With AC34, it was easy for people to understand there was a rule and that ETNZ and OTUSA had developed different boats within that rule. The discussion as to which was better was pretty transparent. It will not be if the new rules come in.
If these rules are brought in, the America's Cup will no longer be at the forefront of cat development. That will go back to the C Class and A Class. While I cannot comment on the C's, I know that in the next 2-3 years in the A's, we will see some pretty interesting stuff. Instead of it being trickle down from the AC as it has been from AC34, we will see the AC boats needing to play catch up in AC36. The chances are that by 2017, the AC boats won't even be the most advanced cats around.
Finally, if costs really are the reason for going down this route, why aren't we seeing efforts to cut costs in other areas. the boats mustn't take the full force of the need for economy. They aren't even the most expensive part of the whole campaign. Of course, we all know the real reason why other costs aren't being tackled and that is because the biggest single cost, the one that is easiest to regulate, is wages and the very people making these decisions would be the ones who see their wages reduced, even if it is from some highly inflated number that is beyond the wildest dreams of any of them when the were young.
The only reason to support the one design ideas is to preserve the money earning opportunities for the sailors. I appeal to the sailors and decision makers to put aside their personal greed and remember why the America's Cup was such a dream for them. I believe that every single sailor dreamed of sailing in the AC not for the money, but because it was the ultimate challenge, because of the acknowledgement of the history and traditions. To kill those in order to maintain the viability of teams is simply wrong.
March 31st, 2015
It's taken two weeks to cross the Southern Ocean from Auckland to Cape Horn, with Team Alvimedica getting all the kudos for rounding the legendary Cape at the head of a tightly packed fleet. Mark Chisnell looks back to see how Charlie Enright and his team did it.
March 31st, 2015
The new Botin 52 Quantum Racing unveils their new color scheme. They'll drive the competition insane!
March 31st, 2015
From the un-Opti Dad, Mike Mills
I think anarchy is gaining a foothold in junior sailing. This past weekend, I bit the bullet, skipped out on the mentally draining New England weather, and went down to Miami to try out the O'Pen BIC North American Un-Regatta with my daughter, Maya (11), and two of her buds. Finally! A junior regatta without kids crying, parents rigging boats, a traffic jam of suburbans, and expensive coaches with their friggin rulebooks!
Skippers meetings were a civilized 9:30 a.m. with a short sail out. And racing was only part of the regatta. There was a freestyle comp where kids were scored on creative moves and crashes, a limbo contest(!!!!), where the kids heeled their BICs over just far enough to make it under a limbo pole, and the whole event was spun around "Rule Number 1" -having fun. I met a bunch of super grounded parents from Bermuda, Hawaii, Florida and New York, who were stoked to share beers, and even sail the BICs themselves after racing in an adult expression session (I was in the 200+ pounder division). The most important thing is the kids were fully passionate about the sailing.
It feels good to know that Optis aren't the only option for my kids.
March 31st, 2015
We know he's not, but a quick glance makes us think the dude heading for the drink is checking the time… A crazy day in Palma today. The wind was hectic from 0 to 35 knots and 60 degrees swifts, making life very hard for Nacras  17… Nicole Van Der Velden  and Thijs Visser from Aruba. Awesome shot from Jesus Renedo, with a full gallery here.
March 30th, 2015
Ok- So I had my introduction to foiling. Now it was time to learn how to properly fly. There's probably no better place in the world than La Ventana, Mexico for kiting and foiling: steady winds, warm water and a protective bay!
The 1st few days here were basically an extension of the steep learning curve with many falls, tumbles launches and crashes. I had sore ribs, bruises on my thighs, butt and waist, cuts on my feet, swollen ankles, nicked brow and brim and a stiff neck from the whiplash of hitting the water at full speed with a helmet on. I'm still considering the impact vest. The kook helmet is mandatory. Even in warm water a wetsuit softens the blow.
Something began to happen by the 3rd day here- I got more comfortable and began to know what to expect. My rides were getting longer and I could easily lift off and begin to foil at will and touchdown when needed. By the last 2 days I began to get into the rhythm of keeping the foil up and steadily riding without getting launched every 10 seconds but sometimes still got randomly launched over the front of the board. By the end if the week I was able to get going upwind on both tacks more efficiently. The foil really wants to track and is almost effortless once you find the sweet spot. Downwind. It's a different story. Somehow the mental block or muscle memory has not allowed me to fully send it. Perhaps it's the side shore conditions or the steep northerly chop but for the life of me- I can't go deep at all on starboard tack.
Foiling is attune to an epic powder day in the mountains. Oh my, that floating feeling of riding 2-3′ above the water is like flying. There's no sound except for the occasional touchdown and splash of the hull against the water- reminding oneself of that other reality. Then with a slight pull if the bar, the board jumps up again. It's absolutely the most amazing kind of sailing I've ever done.
Granted, I'm still a kook when it comes to making any type of transitions from tacks or gybes but I know quite well it's all about the journey this time around.
25 gybes attempted. 9975 to go perfection! What I can say after 6 more days of riding here is that I've rediscovered the joy, surprises and excitement that captured me for the past 25 years on the windsurfer.
Full story and report: stevebodner.blogspot.com
photo credit: Michael Petrikov
March 30th, 2015
Big Pimpin'
Back in the 1980s and early 1990s Spike Lee's commercial featuring Michael Jordan absolutely dominating the NBA like no other player in history suggested that Jordan's prowess on the court was due in large part to his Nike basketball shoes he wore and a legend was born. Lee's "It's gotta be the shoes Money…" commercial got us thinking.
With the team on PYEWACKET winning the CABO Race ORR overall as well as ORR2 and the 70s fleet and "Lucky Duck" winning the 50s and ORR3 we have come to the conclusion that the UPF 50+ Pro-Tech shirts must indeed be the fastest shirts available since both boats were wearing them for this race. Both programs are clearly capable of selecting any product on the market but they did their research and chose the Pro-Tech as the best shirt available on the market today.
We are kidding of course about the Pro-Tech being the main reason those teams won CABO as superior boat speed and better tactics/navigating are what clearly got it done for both syndicates but more and more of the winning programs are selecting the Pro-Tech and Elite Polo as well as the VMG Elie zip tech shirts to proudly carry their logos both on and off the water. Your team can dress like the Pros as well and right now the Pro-Tech in long or short sleeve is UNDER $25 INCLUDING* YOUR LEFT CHEST LOGO. Back and sleeve prints are also available. Click here for more information on our team gear. Use coupon code BEST CREW at checkout and save more than 60%. We will even create or recreate your art for free if you need some help in that department.
March 30th, 2015
Some awesome shots of the VOR boys rounding Cape Horn. Props to Rick Tomlinson.
March 30th, 2015
We may have just learned why Dongfeng Race Team has been so fast downwind…the triple-rigged headsail!  Seriously, take a look at the masthead breakage DFRT suffered last night (they're heading to Ushuaia for a repair/replace) and tell us what you see!  We see a mainsail, a solent and a Fr0 below the break and a big downwind sail (red) above the break.  We're not sure that's what they were running at the time of the breakage but it would sure explain a lot!
Big props to the VOR folks for giving the fans what they want – live coverage of Alvimedica rounding the horn in first, and congrats to Charlie and the team.  Also a big congrats to Abu Dhabi Ocean Racing for finally showing that a crewed VO65 is quicker than a solo Open 60…Ian clocked 551 NM over the past 24 hours under main and Fr0, 7 more than Macif did in the 2012 Vendee.
March 30th, 2015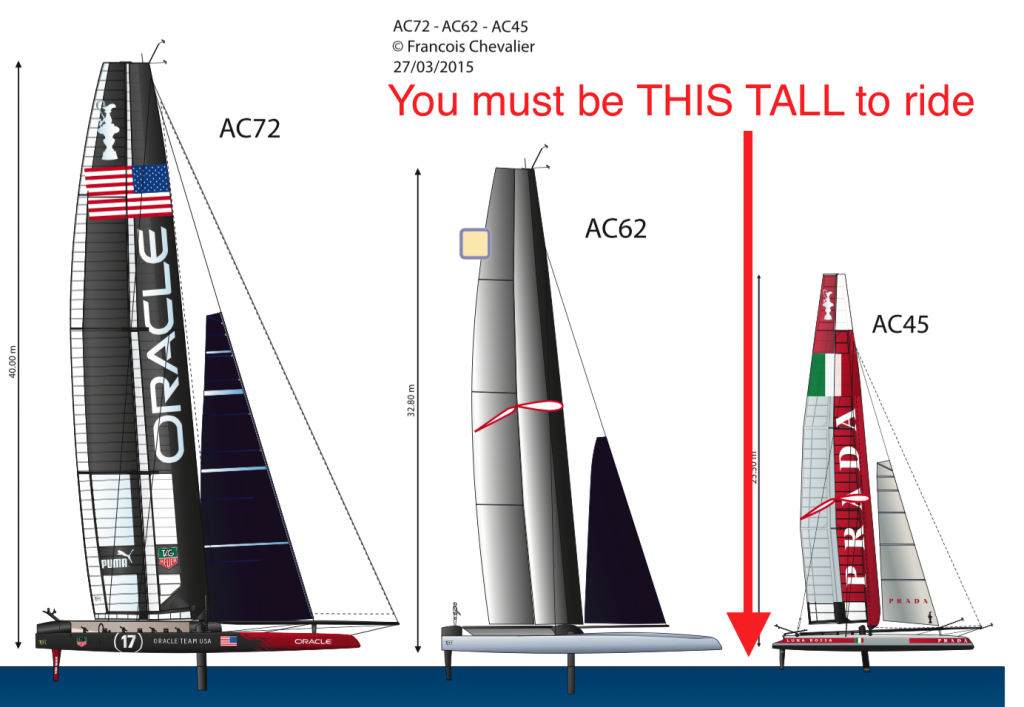 As Ferrari finally gives Italy something to cheer for in top level racing, the fanatical Italian fans are on the verge of losing their maritime standard bearer Luna Rossa thanks to the impending vote on the new America's Cup One-Design 48. That's right, folks, and you heard it here first, of course: The next AC will be sailed in one-design boats – at least if Tuesday's Challenger vote goes the way we forecast.  And Emirates Team New Zealand may follow Prada right out the door, making Russell Coutts the most hated man in New Zealand for the second time, and in Italy for the first.
The SA Army has been working overtime since Coutts' proposal reached the teams on Saturday, and we think we've nailed it thanks to some of our less enthusiastic friends inside (otherwise enthusiastic) teams.  So meet the new boat:
-Strict one-design hull/platform, 48 feet long x 30 feet wide,
-Strict one-design wing, similar proportions as Oracle AC45T,
-Strict one-design daggerboard location and case,
-Strict one-design rudder location and case,
-Open main foil design,
-Open rudder design (minimum horizontal area)
-Hulls and wings to be built by teams with strict ACEA controls (weight, dimension certs, etc.)
It may shock you readers who think we are perpetual AC antagonists, but we actually are fully in favor of the move to a smaller boat.  We have never and will never 'hate' the America's Cup – we're just embarrassed to part of a sport when open, public greed and repetitive incompetence govern the pinnacle event, and that's why we let them know constantly.  But we love fast boats, and we dig foilers, and we're stoked to see flying get so much love.
Meanwhile, the boat will be very sexy, but crucially, having the development dollars go exactly where they can be most effective – the foils – is extremely clever.  There should be no barrier to AC48s hitting similar speeds to the AC72s downwind and upwind, and while open-design foiling AC62s would unquestionably be quicker and a great deal more spectacular than the new 48, the majority of the public wouldn't be able to tell the difference.
While we like the new boat, and we like the idea of a fun regatta in beautiful Bermuda, we are quite sure AC35 will be a flop, if only because it's part of Russell Coutts Flying Circus.  We've learned to always bet against Russell when it comes to business and marketing, and never bet against him in sailing.
In addition, we can't help noticing that ACEA has caught itself in a massive conflict: On one hand, they have an edict from Larry to 'make the event self-supporting', in other words, MAXIMUM CASH INTAKE, and hence, Bermuda's $72M in cash and prizes.  On the other hand, Larry and Russell want to see an event with a long-term future, in other words, maximum public, TV and sponsor interest – which would mean a major population center in a transportation hub with tons of media.  That ain't Bermuda, and that's all you need to know about Ellison's priorities.
Tuesday morning, the five teams of the Challenger Committee will vote on the new design.  If, as we expect, Team France, Ben Ainslie Racing, and Artemis all vote 'yes', we should see another team enter – a Japanese entry that will be a partner to the Oracle boys.  Luna Rossa will probably make good on its promise, killing off the team with by far the most time and money in the next Cup and the AC62 design – something we think Russell has been wanting to do since they made him look like an incompetent boob in San Francisco.  It makes us sad, but we have ZERO pity for Luna Rossa – as the second-in-time challenge, they had the right to take over for the embarrassment that was Team Australia and become Challenger of Record and prevent ALL of this.  Instead, the Italians chose to sit on their ass and be part of a committee, and they have no one to blame except themselves.
As for ETNZ, despite Doc Harvey already saying that ACEA would ignore its written contract to bring the qualifiers to Auckland, we think Coutts will use this tremendous leverage to get ETNZ on board with the change.  Dalts can 'toe the line' for his Italian friends during the vote and still remain part of the new AC48 Cup, if it will get the qualifiers back in Auckland – and his coffers filled.
Many of the die-hards think this move is the death knell for the America's Cup, and if public sentiment depends on a real design competition, they're right.  We think the spirit of the AC died a long time ago, and this move could turn it into something useful, at least.  What do you think?
March 30th, 2015
The Coast Guard saved two people from their sinking Beneteau 55 17 miles offshore, south of Monterey Friday afternoon. At 4:38 p.m., Coast Guard Sector San Francisco watchstanders received a VHF-FM radio transmission distress call from a person aboard a 55-foot sailboat, who reported the vessel was taking on water at a rapid rate. The two people aboard could not identify why the boat was
sinking, and the vessel's built-in dewatering pump was not able to keep up with the flooding water.
The vessel was reported to be located approximately 60 miles south of Monterey and 17 miles offshore, in the Monterey Bay National Marine Sanctuary. Two rescue boat crews were dispatched from Coast Guard Station Monterey and Station Morro Bay, and a search-and-rescue helicopter aircrew was launched from Coast Guard Air Station San Francisco.
The on-scene weather was reported as six-to-eight-foot high sea swells and 20-to-25- mph winds. The two people aboard the sinking vessel were equipped with personal floatation devices, a rescue life raft and an emergency position-indicating radio beacon, which was activated to assist the rescue crews in locating their exact position. At 6:40 p.m, the rescue aircrew located the sailboat with the two people aboard. Utilizing the rescue swimmer, both survivors were hoisted from the sinking sailboat and into the helicopter where they were transported to safety. The sailboat was not salvageable due to the amount of flooding.
March 30th, 2015
The Weather Channel
We haven't had rain here in Southern California in quite a while and the North Pacific high doesn't look like it will relinquish its grip on the state anytime soon. The massive dome that has occupied the area between Hawaii and the mainland pretty much all winter is simply huge and has all but completely shut off the tap for the foreseeable future.
I got to thinking that this lack of storm activity in the Northeastern Pacific probably means that there is quite a bit more stored energy than normal. A degree or two above normal isn't all that alarming. Three or four degrees would have me concerned about what this coming Summer may bring. After pulling up today's chart I found that while some areas were three to four degrees warmer than normal, other stations like San Diego, Scripps pier and Santa Monica Buoy were all reporting temperatures 6-9 degrees (F) warmer than normal. It is difficult to translate how much of an anomaly that is but if this trend continues it could be an interesting summer here in Southern California. Read on.
March 29th, 2015
You can be forgiven for not realizing that Jean Le Cam and Bernard Stamm won the Barcelona World Race the other day, and we congratulate them for finishing a task that's never easy, even if their only real competitor dismasted shortly after the start.  Stamm adds the BWR to his other major victory in the also sparsely populated 2005 Velux5Oceans (née Around Alone) Race, and he'll try to break a string of bad Vendee finishes next year.  Second place Guillermo Altadill and Jose Munoz will cross tomorrow, five days after the winner.  The rest of the 7-boat fleet is similarly spread out.
This episode of the BWR suffered from a small and widely varied fleet of Open 60s with a wide spread in performance, and because of this, the race seemed more about adventure than competition.  Fortunately, the lack of boat-on-boat battles has meant time for some of the skippers to write wonderful prose from the middle of the ocean as well as sharing their experiences with tens of thousands of Spanish schoolchildren involved through a science education program.  It may not have been a great race, but they've done great things with it.
The most compelling stories were unsurprisingly coming off a boat with the most problems; Nandor Fa and Conrad Colman's troubled Spirit of Hungary, and we caught up with our old pal Conrad during a repair stopover in Auckland a couple of weeks ago.  Colman is funny, smart, and honest, and he and Clean have an entertaining 40-minute chat about those troubles and much, much more, in the video above.  And be sure to dig through Conrad's full blog here – it really is some of the best race reporting we've ever seen.
We apologize for taking so long to get it up here, but with Hungary's 8,000 nm deficit in the race, we figured it wasn't all that time-sensitive.  Thanks to Petey Crawford for finally sorting us out and making the video pretty.  Get some of his top quality video work for your regatta here.
March 29th, 2015
Last week we asked our friends Jacques Taglang and Francois Chevalier if they could put together one of their awesome line drawings comparing the various AC multihulls, and they did us one better – here's a look at the 'evolution' of the fastest inshore racing boats in existence; the BMW/Oracle 90, AC72, stillboard AC62, AC45, and GC32, simply to compare them with a more mortal boat (that still goes 38 knots and only costs $300k or so).
We'll have an update on Russell Coutts' Flying Circus tomorrow; use the time to troll Stingray in AC Anarchy.  For the more cultured, read up on Jacques and Francois' awesome project "The Impressionists and Yachting On The Seine" here.
March 29th, 2015
Eric Rogers jacks, Brian Janney holds, Jim Donovan supervises as the GP 26 Sleeve of Wizard keel gets fitted for it's kelp cutter. Nice cut here. It is looking really good and so is the boat. The rig gets stepped Monday…
March 28th, 2015