Few sailors have had a bigger impact on the pop culture of sailboat racing than multihull pioneer Randy Smythe.  From Olympic medals to Hollywood helmsman to America's Cup winner/Dennis Conner trainer, Randy's done it all.  Perhaps more importantly, he remembers it all, and loves to tell the stories.  Listen to a couple of hours of 'em as John Casey's podcast just keeps getting better and better.  Subscribe to JC's world on iTunes.
February 11th, 2016
Race Chairman Chris Woolsey gets personal as he heads to Cuba to welcome in the Miami-Havana Race fleet. Marco Oquendo photo of the line honors winner Trebuchet with a bunch more on SORC Facebook. From the race thread.
Okay, after many months of preparation and 24/7 phone calls and emails, arguing with PayPal, various government agencies, and so on, SORC's Miami to Havana Race finally came to fruition today.  The last few months have been an exercise in not giving up when hearing the word "no".  I have not heard the word "no" as often as I have in the past year since I stopped frequenting singles bars.  Fortunately, I can be pretty stubborn. Even more fortunately, there was a small army of volunteers, boosters, and problem solvers helping to make it all happen.
Last night's party was epic, gathering a crowd at Coral Reef Yacht Club as large as any that I have seen there for any offshore race I have ever seen, and I did my first race there over 40 years ago.  We wanted to have a send off party with a distinctly Cuban beat, for which a couple of SORC volunteers literally walked Calle Ocho on a weekend evening until they heard the right sound, and voila!, a four piece band for the party.  The check in process went relatively smoothly, as did the skippers meeting, though we did run out of apparel at the end of the night, something we may remedy with a bit more merchandise and an online store.
Today's start was picture perfect, with clear skies and light shifty breeze keeping crews on their toes, with some big gains and losses available early on.  All classes started on time, without any issues other than one boat being a bit tardy to the line.  You can see the rest from the tracker.  We set out to lay the foundation for a great race, but not to try to create a puffed up bloviating PR monster that would be impossible to live up to; we didn't talk any shit, we just set out to run a clean race with no issues, and so far we met every goal and then some, with 46 boats crossing the line on their way south.  There is a long way to go before the deal is done.  I head down tomorrow morning for the rest of the fun.  So now I get to drop a line I've wanted to use ever since seeing the movie "A Few Good Men", about something I have wanted to do since I was a very little kid:  "See you when I get back from Cuba."
February 11th, 2016
History
50 years ago the wooden 35ft French sailboat Beligou sailed around the world. The crew of three were amongst the first to make a round the world voyage in a small sailing boat. One of the crew has finally published their story, it's a free" Internet book" and there are no advertisements. I am hoping you will inform your readers about this most interesting story. I believe that the one who cannot read French will be pleased to have a look at more than 400 B/W and several Kodachrome pictures.
It was in the Solent where, when I was 16 years old, I had the great pleasure to be a crew member on this boat, sleeping on a wooden bench in the bow. To give you some impression of the book, it recalls Panama Canal fees of 7 US $ and making the passage under full sail. Once in the Pacific, on Galapagos they were to free to go everywhere and hunt goats (for food) with UNESCO "benediction" approval because the many goats were devastating the grass.
Six yachts in Horta at the time (now 1100) – another world.
In addition, there are 30 pages, nicely hand illustrated, dedicated to the building of the yacht. Also the full 164 pages scanned from the golden book where for example Beryl Smeeton, (Once in Enough), Pat and Barry Cullen (on board Sandefjord) and other famous sailors have written some interesting and amusing comments, some of them in English. Also included are some paper notebooks showing position calculations with sextant and old tables (not HO249), forecast maps received by Morse, etc.
Their accounts book shows an incredible number of rum bottles and red wine…to assist deals/barter at every harbor or haven along the way. When they returned back in 1968, she was sold and passed through the hands of 3 different owners but no one took proper care of her. But 30 years ago, a French guy bought her and renewed her. Except engine, painting, varnishes, sails, and shrouds, all is original including Spruce mast and enormous Goiot winch which was used as an anchor windlass.
And she sails, she is not a house boat! The new owner did all the work himself, it was not refurbished by an expensive "refit" shipyard.
The writer is to day 81, and visited her old boat in December 2015 in a South Brittany marina. He was astonished at the superb restoration. If you like it, please be kind enough to inform your readers. I think you will agree this is an important part of our common yachting history. The web address is http://www.beligou.fr/
Yours sincerely,
Philippe Deblon
Friend of the author
February 10th, 2016
Probably not exactly what the Hawaiian Board of Tourism wanted to hear…
The mayor of Hawaii Island has declared a state of emergency after more than 250 confirmed cases of dengue fever on the island since late October. The island, commonly referred to as the Big Island, is a popular tourist destination, with more than 1.5 million visitors to the island in 2015.
Mayor William P. Kenoi made the emergency proclamation Monday. Officials are using mosquito control measures along with public education and outreach to break the cycle of infection and transmission. The emergency period will be in place for 60 days or until further notice from officials.
Dengue fever is transmitted by infected mosquitoes. The disease causes flu-like symptoms such as high fever, nausea and joint and muscle pain. In severe cases it can cause bleeding from the nose or gums, persistent vomiting and can be fatal, according to Health Canada. Read on.
February 10th, 2016
Big Pimpin'
Seems like a pretty damn nice thing to get! Check them out at the Miami Boat Show.
February 10th, 2016
Ryan Breymaier and John Sangmeister's Tritium Racing made a quick pit stop this afternoon in sunny Santa Barbara, during their 390 mile SF-LB delivery that began on monday. Rough.
We took John and Ryan to grab some diesel, planning for the worst. (tritium motors at 4.5 knots in calm water and 5.5 with a bit of wind filling the main.) And of course, had to grab some food and drinks for the guys.
We threw them back on the boat, and not 2 minutes later, the jib was unfurled, and they turned southward and activated warpdrive, doing 16 knots in 12-14 TWS.  We applaud them for their suffering. Keep your eyes on Tritium later this year – rumor has it we may see a Newport to Ensenada record attempt…. -anarchist zac
February 10th, 2016
It's been a loooooong time coming, and Sailing Anarchy is on station to bring you all the action this week from the SORC Miami to Havana Race.  It's a great mix of 46 grand prix and not-so-grand prix mono and multihulls, and you'll get to see not only the starts, but you'll be along for the ride as we discover a brand new destination for American racers.  Watch on Facebook.
February 10th, 2016
IMOCA and Class 40 designer Merf Owen will race one of the 40s he designed to Cuba today, but something he posted this weekend  gave us a real smile.  We share it from Facebook and a huge congrats to two long time members of the SA family.  For on-the-water coverage of the Havana Race start, head over to SA Facebook and the SORC page.
Perhaps it was the beautiful sunset, or the sleep deprivation after a 40kt Atlantic blow. Whatever it was my thirty years plus of bachelor days are coming to an end. Passing Cape Canaveral the other evening, sailing double-handed with my darling girlfriend Ash, I found myself on my knees emptying 'the bucket' , turned around and she was framed in the hatchway. I proposed and happily with a laugh and big smile on her face she said yes ! She's now wearing the titanium and carbon ring I'd made her…happy couple.
February 10th, 2016
Original plan. Freezeout Lake, near Choteau, MT, east of Glacier National Park, out on the great plains east of the Divide. Sun, and temps in the forties predicted, but with 30, gusting into the high forties. Too much! So we gaze further east, and a little further south, to Canyon Ferry, which has delivered big fun in the past. With the added bonus of Glenn's fabulous clubhouse accommodations, and enthusiastic local iceboaters and skaters!
We back down the ramp around 1 pm in glorious sunshine and 8 to 10 kts of breeze, fifteen minutes and we've got three mini skeeters rigged, and we launch onto the big lake. Jim's christening a brand new boat he's just completed, as well as taking a first bite at skippering his own ice yacht. Ice is a bit rough, diminishing refrozen drifts sapping hard won speed. But we negotiate the obstacles enough to wind them up on the smoother sections, finding sustained speeds in the thirties, bouncing over the bumps. John takes a break to hand off the Kestrel to his brother Scott, who immediately shows that his soft water acumen translates nicely onto the ice.
We pull the new Wingnut V out of the trailer, and begin assembly in the tropical conditions. First time on ice for this machine as well, and when rolling she absorbs the irregularities effortlessly, and powers up quickly, occasionally hiking in this light air. She's drop dead sexy sitting still, and somehow even more so in motion. But he only gets a half hour of glee before some critical parts land in his lap, and the maiden voyage comes to a close. So he jumps back in the mini skeeter and racks up the miles til sunset shuts off the pressure.
The evening festivities leave us well fed and nicely buzzed. The wind builds thru the night, to boat breaking strengths. With the temps dropping overnight into the twenties, the morning windchill is brutal! We lounge about casually with coffee and conversation, waiting for the predicted moderating. We straggle to the beach after noon, kick the tires, shoot the shit, and eventually rig the small sails. The morning's squall has further smoothed the surface, leaving a pebbled surface which provides great grip for runners. Which is most appreciated, as maintaining control in the hugely gusty conditions has become a high priority.
This is what we've come for! Totally powered up, teeth rattling speeds touching 60 mph, astounding control for boats so small, a welcome confirmation of this terrific design's high wind capability. The locals stream onto the ice, and the party cranks up! DNs, Nites, and a host of custom machines. Those with high wind sails venture out first, with others following as the breeze eases and settles. Miles are covered. Another big sky sunset drives us ashore, all sporting that iceboat grin!
Sunday morning again dawns clear, and the enthusiasts again assemble at the ice's edge. Zero breeze, so the drones emerge, the wrenches come out, and skaters set forth. The sunshine and good company is intoxicating, and when the decision to pull the plug finally comes, there are no regrets. We stuff it all back in the trailer, and motor westward, planning the next foray.
Dave and John
February 9th, 2016
I just had a serious case of deja vu all over again. I was flicking around online  when I saw a photo of a recently launched boat sailing in Dutch waters. I had to give it a second look because it was a photo of a boat that I knew for 100% certainty had been massively remodeled back in 1981. I was there. I saw these huge blades cut from sheerline to sheerline just aft of the keel and lob 20 feet off the stern. We also removed the mizzen and cut off a hideous coachroof that was designed to protect the crew from the cold Southern Ocean water. Once we were done with the refit the boat that emerged from the shed did not look at all like the the boat that arrived at the yard a few months earlier.
So how was it that I was seeing a recently taken photo of an old boat that no longer existed?  Let me explain. In 1981 I did my first Whitbread Round the World Race on an American boat by the name of Alaska Eagle. It was a Sparkman and Stephens design, a 65-foot aluminium sloop built at Huisman Shipyard in Holland. '81 was at the tail end of S&S's glory days as the world's top yacht design company, and '81 was also the beginning of an amazing few decades where Huisman Shipyard stood atop as the world's premier boatbuilder. Alaska Eagle was the last "tiny" boat they built; they were soon building some of the most exquisite SuperYachts ever launched.
We had bought Flyer, the boat that won the 1977/78 Whitbread race. Flyer was originally commissioned by the Dutch businessman Cornelis van Riestchoten. Connie wanted a boat modeled on a Swan 65 because four years earlier a Swan 65 had won the Whitbread race. van Riestchoten wanted a souped-up Swan and he got a pretty good boat that allowed him to handily win the '77/78 Whitbread. Two years later the boat was renamed Flying Wilma and with Gerry Dykstra as skipper went on to win the Spice Race from Jakarta to Rotterdam.
Then along we came and hired S&S to help us modify the boat, to update it for the '81/82 Whitbread race. The design team at S&S, led by the late Bill Langan, were adamant that the pinched in IOR stern had to go as did the ketch rig so we took the boat back to Holland and into the original shed where it was built at Huisman Shipyard.  Flyer underwent a fairly substantial refit and emerged as Alaska Eagle, but unfortunately the name given to it by the rest of the fleet, Alaska Beagle, was more appropriate. We turned a great boat into a dog. The wetted surface went up, the sail area went down, the rating went up and the boat speed went down. It really was a dog and we thrashed it 27,000 miles around the world trying to keep up with the other boats. The refit had been a disaster.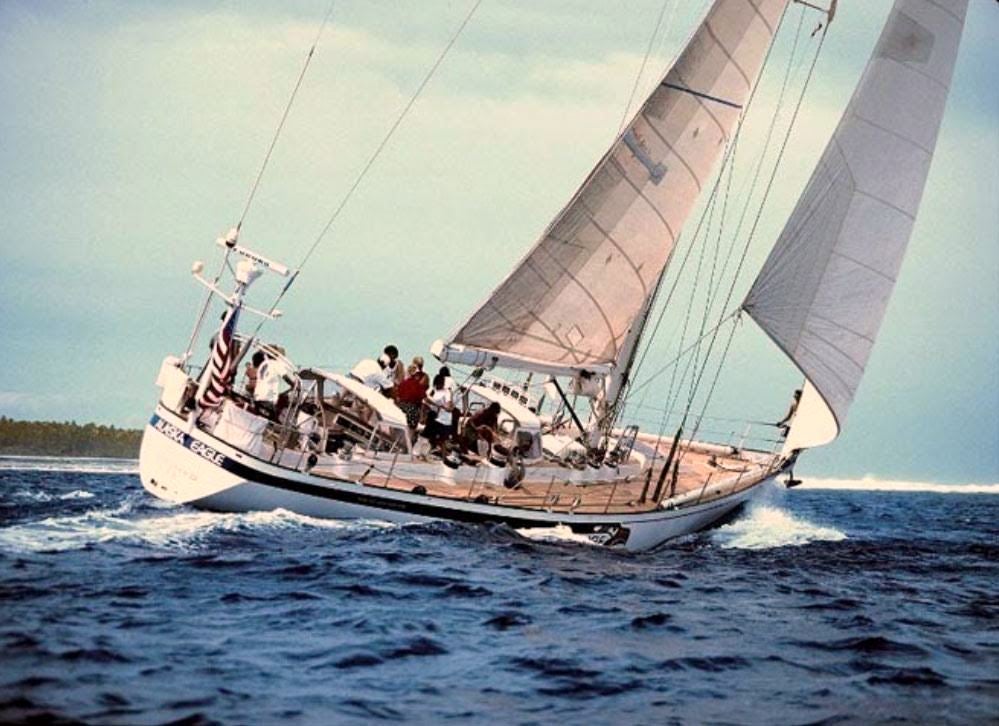 After the Whitbread was over Alaska Eagle was donated to Orange Coast College in California where it was used as a crew training boat. Fast forward three decades and enter Diedreick Nolten and Gerard Schoostra, two sailors from the Netherlands.  Nolten is a successful Volvo truck dealer and Schoostra the skipper of the old Swan 65 King's Legend. They got to wondering what ever happened to Flyer and coincidentally found that it was up for sale.
The two Dutchmen flew to California and immediately bought the boat. I had heard that they were taking it back to Holland but never gave it another thought. That was until I saw a photo of it sailing again as Flyer.
Nolten and Schoostra had taken Alaska Eagle back to the same shipyard where it was originally built and refit, only by this time the shipyard had received a royal designation and was now the Royal Huisman Shipyard. Over the course of the following year Huisman returned Alaska Eagle back into an identical replica of the original Flyer. Once again a saw was taken to the stern and the piece we had added was lobbed off to be replaced by the pinched up IOR stern that was the original design.
The mast was chucked away and a new mainmast and new mizzen were installed. Below decks the boat was refitted to the identical interior of the original design right down to the finer details like some of the older navigation instrumentation. They even added the hideous aluminium dodger back aft. The boat that emerged from the shed was identical in almost every way to the boat that was originally launched four decades earlier.
I am not really sure how I feel about this. Granted Alaska Eagle was a total dog of a race boat but Orange Coast College put roughly 10,000 miles on the boat each year for over 30 years and hundreds sailed aboard her. Many people had great affection for Alaska Eagle with many memories tied up in the name. I was in my early 20's when I raced around the world on Alaska Eagle and it's strange to think that the boat no longer exists. Alaska Eagle was a large part of my life and I have my own fond memories, some of them not printable, all tied up with that name. Well life goes on I guess. I just hope that I get an invite to go for a sail on Flyer.
February 9th, 2016