A little pimpin' from our friends at Southern Spars.
September 24th, 2016
We've made it to Miami! After hunkering down through hurricane Hermine in Savannah, we pushed south through a maze of inlets and waterways along the Georgia coast towards Florida. Strong tides and light winds brought a lot of Mirage drive peddling or "miraging" as we call it, but as we crossed into Florida the conditions improved and we were able to sail most of the time.
Overall the boats held up amazingly well. The only issues we had were a broken seat, the result of some overzealous attempts to surf the canoes (see video!) and a broken mizzen mast courtesy of a navigation piling that we snagged. Luckily the entire team is now well versed in woodworking and fiberglass repair, so we were able to get it all back up and running quickly.
A huge thanks to everybody for following this crazy adventure, for their supportive comments on the videos and social posts, and for being amped up about boat building! Through this experience we fell in love with wooden boat building and hope that this project is proof that anybody…ANYBODY can build their own craft, especially when using a CLC kit! Yesterday we got word that the Expedition Canoes WILL become a kit you can build yourself, so if this design strikes your fancy, get in touch with the masters themselves at clcboats.com and get after it! – Team Waterlust.
September 23rd, 2016
We thought we were going to be focusing on the Etchells Worlds IJ granting the Event Chairman redress for two different UFD scores, but as we were writing that one up, something way better came up for our monthly look at protests and sailors behaving badly.  And it's a hell of a story.
Julian Fernandez Neckelmann dominated the J/70 Worlds last year with his Flojito and has continued in other big events, and with two of the winningest one-design pros of the past decade as his crew and Ed Adams coaching, Julian ain't playin' – he's in this one for real. But after six races at St. Franny's Big Boat Series, a much lower-budget team – Joel Ronning's Catapult - sat tied with Neckelmann in the same water they'll be racing next week at Worlds.
That's when Neckelmann – a lawyer, we think – decided he needed to find out more about the stainless hoop you see above in Ronning's cockpit.  We were told by several people he asked them about it, and several told him they thought it was legal, and even suggested against protesting it.  When Neckelmann saw Catapult tactician John Kostecki on the dock, Neckelmann told him he didn't think the roll bar was kosher, and Kostecki, ever the communicator, said 'Protest me."  Neckelmann did exactly that, and that's where it gets good.
The Jury asked why Catapult had a non-OEM part on the boat, and Joel calmly explained that bar was installed to assist him from moving from side to side during tacks and gybes.  He also explained that the J/70 rules allow installation of such a device for people with physical disabilities, and that both the plans and photos of the finished part had been signed off by the J/70 Technical Committee and Adminstrator as required by the Class Rules.
At this point, our sources differ on what exactly happened, but a credible one has Neckelmann next asking Ronning, "How disabled are you that you need this bar?"
Ronning then reaches down, unstraps a buckle, pulls his carbon-fiber prosthetic leg off, and slams it on the table in front of god and everyone, shouting "Is this disabled enough for you?"
A differing account says Neckelmann asked why he wasn't allowed to have the same bar installed on his boat.   Ronning pulled off the leg and slammed it on the table, telling Neckelmann to "Saw off one of your legs and you've got it."
Regardless of which version is true, the whole thing is pretty ridiculous, and sends an awful message to disabled sailors in open classes: Fuck you and your problem.  We certainly know the history that makes top J/70 teams so nervous about cheaters, but handling a protest poorly risks not only pissing off your fleet, but it can earn you new enemies you can't afford on the course.
We note that Neckelmann has always been a straight talker with us, and was always ethical when we've spectated or raced against him.  He told us in an email that he never knew Ronning had any disability until that protest hearing, let alone a carbon-fiber leg; this isn't that far-fetched given that Ronning is proud of the fact that so few people can tell he has an artificial leg.   Still, we struggle with it, because Neckelmann poached his pros director from the Catapult team.  Bill Hardesty and Willem Van Waay both worked for Ronning on his A-Scow and J/70 for some time and they knew him well;  if Bill and Creature let their boss protest an amputee without telling him about it – well, that's a great story too. (And speaking of stories, we are hearing about Hardesty's questionable behavior at Mission Bay Yacht Club a few weeks ago. – ed)
We don't think Neckelmann is some kind of anti-disabled sailing nutbag, but he's a fierce competitor, and as he wrote us yesterday, "Some people in good faith and others in bad faith are playing with modifications.  If these moves are legal we want to do them, if they are not, we want nobody else to do them."  That's fair.  But protesting a heavy metal bar in a bad place when people told you it was legal…it's your right, but it's stupid.
The reality is that Neckelmann's protest was probably a shot across Ronning's bow and an attempt to get into the head of a team that can clearly challenge for the world title – a team that already has plenty of bad blood with the reigning world champion.  Top pros play head games because sometimes, they work.  But this one seems to have backfired, and Neckelmann and Hardesty haven't made any friends with their move; many think they also made their class and the BBS look like shit.
One other thing it did?  It made us pretty excited to watch how steamy this rivalry gets next week in the Berkley Circle.  Nothing fires up interest like a battle before the war.  You can read a full Worlds Preview at the J/70 Facebook Page here.
September 22nd, 2016
Sailing movies are almost universally awful, but there are a few that we hold dear.  "Wind" for obvious and ironic reasons, "White Squall" for a fascinating dramatic take on a horrifying event, Dead Calm for Nicole Kidman's nakedness,  Morning Light for some of the best offshore sailing shots of its time, and Master and Commander for everything else. The Russell Crowe-led film hired pro sailors and riggers to help with the sailing, bought two square rig replicas, spent 9 figures on production, and managed to not only provide historically accurate visions of the Age of Sail at war, but a great adaptation of one of the best seafaring book series of all time.
The guys at History Buffs are perhaps the web's best judges of the historic value of movies, and they took on Master and Commander in this episode that dropped the other day.  It's a great 21-minute look at one of our favorite sailing movies, and the video is above or over here on Youtube.
Thanks to Weinie for the tip.
September 22nd, 2016
Having just passed away on Tuesday, we remember long time big boat racer and North Sails owner Terry Kohler today.  Having cemented his legacy in the sport of sailing when he bought North Sails from Lowell North back in the 80s, and over his remaining years, this larger-than-life Wisconsin character continued to touch thousands in our sport and millions outside of it in both good and bad ways. 
Kohler's actions and activism show a conflicted soul; despite being born with a straight-up gold spoon in his mouth as a scion of Industry, Kohler spent thousands of hours rescuing cranes and swans and millions of dollars trying to save and protect the environment.
At the same time, he was in bed with the Koch Brothers and donated millions upon millions of dollars to elect conservative politicians bent on raping and destroying that same environment. He funded numerous programs dedicated to strengthening marriage and family, at the same time calling  homosexual behavior "aberrant and immoral." 
He grew Windway (North Sails and other businesses) with great success and won almost every major big boat title in existence, but suffered humiliating failures in politics and was voted down from a position on the Wisconsin Board of Regents, never quite measuring up to his ex-governor progenitors.  He was a private and quiet man who mostly shunned the limelight, even as he was known as the single most important power player in Wisconsin politics for decades. 
Terry Kohler loved sailing and his generosity with sailors and support of the sport – especially in the Midwest – was legendary.  For that, we honor him. 
For his part in the rise of the Religious Right and the election of George W Bush, his nasty statements on homosexuality and the ugliness that goes along with those things…well, he was from another era, and we'll all just hope his "Judge" is more lenient than some of the judges and politicians he supported for all those years. 
Fair winds, Terry, and we hope you all enjoy a short anecdote from Brian Hancock about a fun time with Kohler. For those who just want to read a bubblegum obituary from a right-wing pub, here's that.
I am sad to hear that Terry Kohler has moved on to wherever good people go after they have left this planet. I only met him once although I see his name numerous times on my morning ablutions. So here is my one and only Terry Kohler story.
Quite a few years ago I did the Chicago Mackinac race on the boat owned by the then editor of Sailing Magazine – great magazine by the way. Micca Hutchens had asked me to do the race with her but I was on a bit of a time crunch. "Don't worry," she said. "I will organize a ride off Mackinac Island after the race is over."
Now the thing about the Mac race is this. Mackinac island is (I think still today) a car free zone. No cars. Just horses and buggies to get around. Very quaint in fact quaint beyond belief. So we approached the finish line in a thick pea soup fog I had no clue where we were but the navigator assured us that we were close. Then I knew he was not kidding. All of a sudden there was an overwhelming smell of horse shit. Yup we were close indeed.
So the island is car free. Supplies are delivered to restaurants in the morning by horse drawn carts. It's just so awesome; almost something that you would see in Europe. I was told that I was getting a flight out on Terry Kholer's private plane – a Lear Jet if I remember correctly. I was told to meet the plane at the air strip at a given time and I remember it was early in the morning. So I called their version of Uber – yes a horse with a buggy – and we left just as dawn was breaking.
The pony trotted down narrow lanes toward the outskirts of the island. To the small airstrip. As we got close to the runway I saw a jet and some sailor types hanging around so I asked the horse rider guy if he could just take me out onto the runway. Which he did and sure enough it was Terry Kohler's plane and the great man himself was there. "Right then," he said.  "Jump on board."  And I did. I jumped out of the buggy feeling like I had been caught in a time warp, and stepped onto one of the most beautiful planes I have ever been in. The horse and buggy pulled away, the pilot gunned the engine, and with almost a supersonic boom we reentered modern life. What an experience, and so I want to thank Terry Kohler not only for the ride of my life but for all he did for sailing. Terry was after all the owner of North Sails and an avid sailor.
- Brian Hancock.
September 21st, 2016
If anyone ever faced a challenge running a regatta it was the organisers of this year's China Club Challenge Match in Xiamen China.
As you will have seen from a recent article just a matter of hours before the practice day Typhoon Meranti descended on the island city. Well descended is perhaps not the correct word, more like fell with a hammer blow. The strongest storm anywhere on earth this year, it devastated, not only the city with clean-up going on as I write and many areas running on generator power or candles but several of the boats due to be used in the regatta were left rig-less, with tattered sails and even one or two sunk at their pontoon berths.
A fantastic effort by the organisers managed to locate – and persuade owners to lend – a further 8 boats to enable the fleet of 30 to compete as one instead of being split into flights.
It wasn't only the racing boats, this year the J-80, that suffered with umpires having to wait until marks were laid to take over the RIBs for the racing.
Day 1 saw typical, almost windless, post typhoon weather with Meranti having sucked virtually all the pressure difference out of the atmosphere and with the SI's amended to show an earliest start of 1300 instead of the intended 1000 it was perhaps a dubious group of sailors and officials that made their way to Wu Yuan Bay. Add to the light winds mid-Autumn spring tides and racing outside in the maid channel was impossible but with an inspired RO decision to race in the bay itself at least the day didn't end race- less with a race being banked on the less tidal waters just off the marina.
Day two was a little better for wind, but not much. However by cracking on when the opportunity arose 4 races were squeezed out of the light conditions. The lack of wind produced significant bunching at choke points on the course keeping the umpires whistles busy with both red and green& white variety.
Many of these were from the overly enthusiastic production of the prodder at the top mark, with some 'sticking it out' halfway between windward and offset mark with the gennaker still firmly down below. This seemed a habit that, even when boats just in front were penalised, some crews couldn't get out of.
Eventually the wind strengthened and settled in direction so the later races were less of a 'wind-hunt'.  And so the pattern was maintained on Sunday but eventually the regatta committee managed 7 races enabling them to declare a series.
Like Club Cups of the past, the evening social scene was just as much fun with a highlight being a dinner sponsored by Microlab, the electronics manufacturer involving a Chinese dice game where the prizes were nice Bluetooth sound systems. On our table many won prizes while freely admitting not having the slightest idea just how we were winning. (like a few sailors I know)
The top eight teams from this weekend's efforts return in early November' for the match race element of the Club Cup, once again a fully umpired event.
The final night's prizegiving was excellently won with a gracious hostess, great food, free-beer and a new prize categories.
For the first time there was a ladies prize – that's certainly one way to attract women into our sport – along with separate podiums for pro-sailors and amateur sailors, a clever way to spread the spoils.  The winners of the inaugural Ladies Prize was Luther Female Sailing Team with the amateur podium being 1st; Xiamen University Jetpon Team, 2nd; Yunnan Fuxian Lake Team and 3rd; Whitewave Sailing Center.
Over to the pros, in 3rd place was the Wind & Water Club; 2nd was Sea Blue Team with the podium topped off by J-Boats Racing Team from Xiamen.  At least when the top eight return in 6 weeks time it won't be into the aftermath of a weather system like that experienced last week.
Shanghai Sailor
September 20th, 2016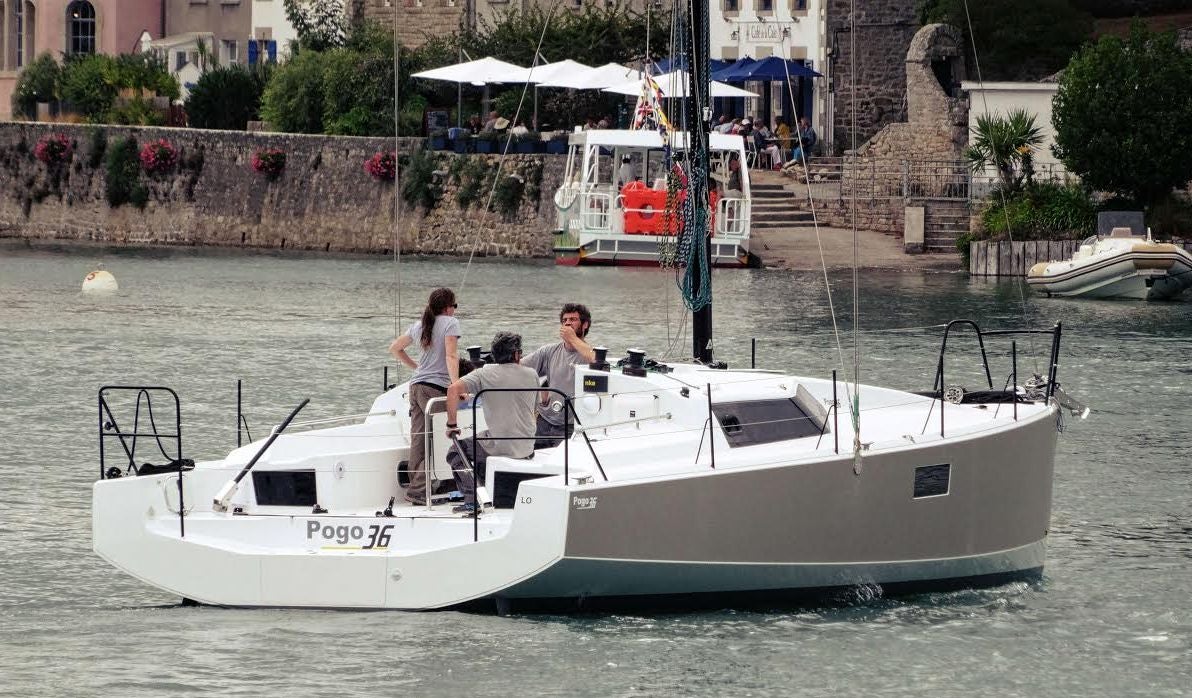 No doubt this is the best angle for it, but the new Pogo 36 looks pretty awesome from here! Here, not so much…
For those who remember pogo, this will take you back there…
September 20th, 2016
My name is Kevin Rogers and I'd like to nominate my friend Richard "D" Mitchele for Canadian Sailor of the Year (Around SA, you might know him as Bedford). D is one of Canada's most experienced offshore bowmen.
Over the years he's competed in races including the Transpac, Marblehead to Halifax, Newport Bermuda and LA To Cabo San Lucas to name a few. He's also done thousands of miles of offshore deliveries and crossed the Pacific twice.
Not only has he represented Canada at a number of prestigious offshore events, he has given numerous Canadians the chance to join him for races and deliveries and experience offshore sailing first hand. At fifty-one, he still does bow on boats as big as eighty feet.
Three years ago, D was caught in a house fire. He ended up in intensive care in a coma with third degree burns to a third of his body. That night, the hospital staff told D's family that they should consider saying goodbye as it wasn't certain that he would make it through the night. But he pulled through and a few weeks later, they brought him out of the induced coma.
The Doctors told him that he would not walk for a year. D set about learning to walk again and set his goal as the Newport Bermuda Race nine months later. Three months after the fire, he ran a mile. Three months after that he completed a twelve-hundred mile delivery aboard a sixty-footer with two other sailors. Nine months after the fire that almost ended his life, he realized his goal and competed in the 2014 Newport to Bermuda Race as bowman on a vintage Volvo sixty.
Looking for a change and a chance to put the fire behind him, D set off for the Philippines where he was looking after a fifty-five foot catamaran owned by a friend that was in Spain at the time.
Sadly, in September 2015, the marina where D was living was overrun by Abu Sayyaf terrorists and four people, three of them Canadian, were kidnapped. Two have since been beheaded. Unarmed and looking out the window at eleven gunmen brandishing AK 47's, D kept his head down. After the kidnapping, D readied the boat for a six hundred mile, double-handed sail to Palau. The first hundred miles through the southern Philippines were tense as there was a significant pirate threat in the area. He made it safely to Palau where he spent a couple months leading sailing and shark diving expeditions before returning to Canada.
I am a disabled Canadian sailor. D has been a friend and companion sailor for more than ten years. You'll see him two or three days a week at the Queens Quay Disabled Sailing Centre in Toronto where he volunteers and shares his love of sailing with Canadians living with disabilities. At his own expense, D has travelled to multiple national Mobility Cup events as a volunteer.
For all he's been through over the years, D has always found time to serve as a
companion sailor and coach to disabled sailors. As we sail out together, D often looks back and comments on how happy it makes him to see a dock full of empty wheelchairs. You see, to D, we're not disabled, we're just his sailing buddies. Please consider my nomination.
Respectfully,
Kevin Rogers
September 20th, 2016
It's open, and probably not enough rig. Don't know anything else, do you?
This what is it is brought to you by Stuart Knockabout
September 19th, 2016
Big Pimpin'
Aston Harald, Swedish builders of the M32 World Match Race Tour cats, is now ready to move into other areas of high-tech marine manufacturing
Left: Plenty of room… the combined 3,700m2 of work space available inside the assembly and laminating sheds of Aston Harald is kept immaculate by veteran builder Killian Bushe and Batt Battison, who consider it essential to their efforts to achieve maximum efficiency while also allowing visitors to better witness the creative process of high-tech composite boat building
The architectural and aesthetic beauty of sailing craft while on the water is one of the many inspirations that keeps us passionate about our sport. Even without being a boatbuilder all of us can appreciate the care and craftsmanship that go into the creation of the best high-tech race boats.
Yet the details of how these boats are produced can be lost in a rattle of machinery and clouds of dust often located on the far side of the world, where concerns about the impact of the creative process of construction may not always be at a level commensurate with the cultural standards of the customer… At the same time many of the clever techniques devised in the process of production can also be too easily hidden to the observer by the excessive clutter spun off when you are talking many hundreds – or even thousands – of man hours of manual labour.
September 19th, 2016