We're stoked for HH Catamarans – sponsor of our Multihull Anarchy Forum – and the win by their brand new HH 66 Nala at the St. Thomas International Regatta stunning the fleet and taking 1st in Offshore Multihull Class. Read all about it right here.
March 29th, 2017
We continue to be impressed by the outside-the-yachting-box thinking of Race 2 Alaska organizers, with the latest coming via their infographics department.  Click this link to get to the interactive version, and head over to one of just 12 of last year's episodes of CNN's "Really Great Big Story" for a gorgeous and inspiring documentary on three paralyzed men embarking on last year's journey.
With R2AK'ers verbosity approaching that of the Everglades Challenge hippies and survivalists, the forum thread on the race is a veritable cornucopia of info on the event.  Go there.
March 29th, 2017
From our friends at, ironically, Easy Ride.
March 29th, 2017
My husband as a child discovered sailing by accident.  His family has moved to Canada as part of his father's teaching exchange program, and while he was biking during summer break, saw a sailing lesson occurring nearby.  He approached the instructor and made a deal in exchange for learning to sail, he'd help set up and clean up after the lesson.  His love of sailing took hold and is going strong to this day.
His family moved back to the United States and immediately after high school, my husband enlisted in the Marines, becoming a part of the air wing at El Toro airbase on C-130′s.  After serving in Desert Shield and leaving military life, he moved back to where his parents lived in North Carolina, where he joined a crew racing J boats and playing semi-pro soccer.  After a career ending knee injury years later, he opted to rejoin his mother, who had moved back to Wisconsin – where we lives begun together 20 years ago.
Little did I know what I getting pulled into, sometimes kicking and screaming along the way.  We became involved the Hoofer sailing group with the University of Wisconsin, racing an E Scow for a few years and then got a boat of our own, I-505 and campaigned it, even taking part in a regatta with the Indiana University (with stories about outracing a tornado after a race on Lake Mendota, snapping a stay and limping back to dock without losing the mast, standing on the side and just catching it to right the boat when a wind gust caught us by surprise and not catching the side stay release in time, the panic of thinking we lost our trailer boat after waking up on an overnight drive to Indiana).
In 2006 we started our family so I was not longer able to crew on a racing boat, however that never stopped my husband.  He then volunteered – starting a high school youth racing program (MYST – Milwaukee Youth Sailing Teams), co-oping with 11 high schools in the greater Milwaukee area, bringing in the Milwaukee and Pewaukee yacht clubs to loan boats and allow usage of their facilities (and my poor Jeep commandeered for it's towing ability).  What started with 4 kids grew to around 50 and 3 years after it's start, two teams went down to the nationals in New Orleans and brought home two second places.  Eventually our family grew and the MYST program had taken on a staff, so he stepped away and become involved in race committee for Racine Yacht Club when we moved to the Southern Wisconsin.
Fast forward to 4 years ago, my husband had a stroke that was just the hint of things to come for his health.  We are struggling while waiting for disability to go through it's long process and find ourselves in need.  We're hoping you can help spread our message and donate if your able to allow us to keep going.
Our donation link is here. Thank you for all your help. - Stephanie Gruchow.
March 29th, 2017
Wind readings as Cyclone Debbie passed over Hamilton Island.  Must have been pretty close to the eye the way the wind direction changed so drastically! – Anarchist Ian.
March 28th, 2017
Gunboat Tech/Sales Director Nils Erickson got bored on the plane to the Caribbean and came up with this gem of a Form Guide for the high performance, HNW, hard-partying luxury cat racing class at the BVI.  This is too good a piece for plain old pimpin', but always consider the source!  
Hot on the heels of the St. Thomas International Regatta, this year's BVI Spring Regatta may well feature the hottest collection of performance multihulls ever assembled on Virgin Island waters.  This burgeoning market segment is seeing new players in what was once Gunboat's private playground, and with events not only in the Caribbean but in places like Palma (where last summer's Multihull Cup attracted 3 Gunboats, an HH-66, MC2-60 and APC78), the future of big multihull sailing looks bright indeed.
Traditionally, Gunboats have made the Heineken Regatta their winter event of choice, but this year the fleet has settled on the BVI Spring Regatta in Tortola. Nanny Cay Marina has been running the event for several years now, and it's become one of the best events on the calendar. With over 100 new slips open this season and constant improvements to the facility, Nanny Cay and BVI Spring Regatta have become a premier destination and event. This regatta will feature the fastest versions of 4 different platforms (Gunboat 60, Gunboat 62, Gunboat 66, and HH66) which should provide for some compelling action and some great stories.  With that in mind, here's my shot at an impartial Form Guide for the event, and we encourage you to follow along at Gunboat's Facebook page here.
Extreme H2O (Gunboat 66): She's the reigning queen of the West Coast performance cats having won catamaran line honors in almost every race she's entered (Cabo, Transpac, etc). She's left the Left Coast in search of stiffer competition and hopefully a new home (she's for sale). Extreme H2O will face off with her East Coast rivals for the very first time. This Morrelli Melvin designed Gunboat 66 is the most technologically advanced Gunboat out there (hybrid drive system, HUGE C boards, T-rudders, etc) and she's arguably the fastest Gunboat afloat. Weighing it at a svelte 17 tons, she's still going to need a bit of breeze to take advantage of her greater righting moment compared to lighter and smaller Elvis. Extreme H2O will be sailed by Team Gunboat, with Vincent (the LP of VPLP), Xavier, and Matthias also from VPLP, as well as some of Gunboat's French internal design and management team. Hopefully, Extreme H2O project manager Malcolm Park, skipper Hannah Jenner and her core crew can make up for the desk jockeys (myself included) that will be "trying to help". VI legend/Olympic/America's Cup/all-around rockstar Peter Holmberg will be joining to offer some local knowledge and expertise as well. He's recently purchased an Outremer for his own personal enjoyment, so he's the latest member of Gunboat's extended "family". (Photo credit Ultimate Sailing/Sharon Green).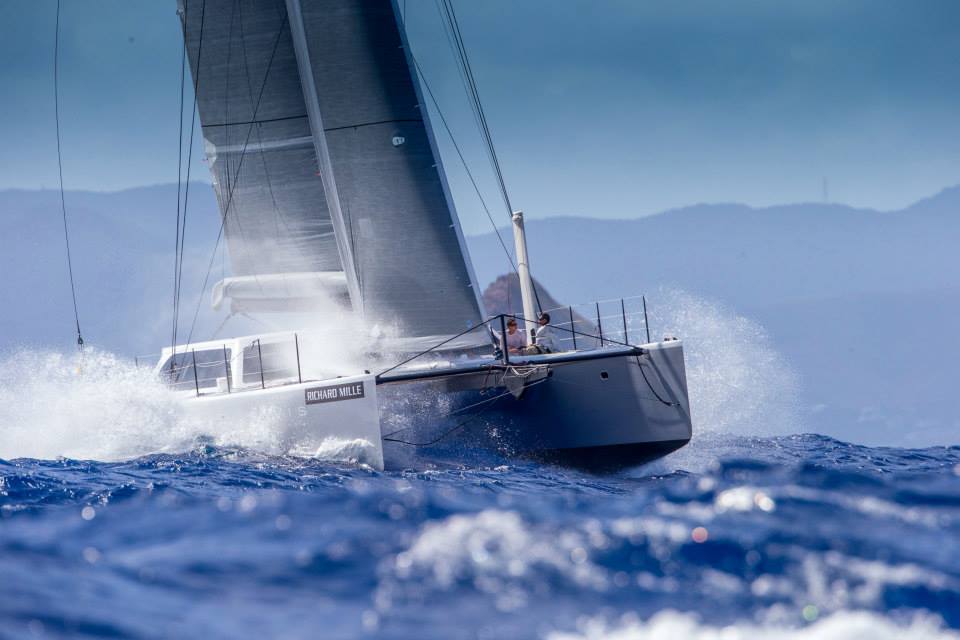 Elvis (Gunboat 62): The King. Jason and the Argonauts. Throw a dart on that boat and you'll hit a world champ. Their bench is deep with talent. Not only is Jason one of the best owner/drivers out there, he's one of the best drivers out there, period. When they aren't sailing on the Gunboat, they are busy in the GC32 circuit. When they aren't doing that, they are crushing it on the Melges 32, Marstrom 32, Viper, whatever is fast and fun. These guys rarely make a mistake on the course and they are fast into and out of the corners with superb sail-handling. At <15 tons she is powered up early, and these boys stay on the throttle up the wind range (I'm not sure they even know HOW to reef). Combined with a devoted rum tank and a booming stereo system, these guys know how to race hard, play hard.  Photo credit Christophe Jouany.
Flow (Gunboat 60): Hustle and Flow. The first Gunboat 60 to be fully optimized, she has redefined what we can expect from the Gunboat 60. There's been rigorous preparation of the boat by one of the industry's best skippers, Tony Teale. Rigging Project's Nick Black has gone through the deck gear, layout, and helped with a new Lorima ultra high mod rig, Jack Slattery has spearheaded a new suit of 3di Sails, and America's most famous multihull sailor and all around dynamo, Cam Lewis, is their own "Neal Cassidy".  Coming out of a refit that pulled 2 tons (!) out of the boat, they are sailing at the top of the game. Photo Credit Laurens Morel
Arethusa (Gunboat 60): No one better exemplifies the real benefits of a Gunboat like NYYC Commodore and Gunboat 60 owner Phil Lotz. He and his wife have spent the last several weeks living aboard, doing some racing and some cruising. They are more Corinthian in spirit, making full use of their boat before, during, and after the regattas. There's nothing like racing at 25 knots, then coming back and cooking a delicious meal and enjoying the sunset from the aft deck of the very same boat. Phil has no shortage of trophies on his mantle, and they are fantastic sailors. They've (so far) avoided the arms race, but with Phil's energy behind the new MultiRule rating rule, there should be more parity among the fleet. Photo credit: Gary Jobson
Momentum (Gunboat 60): Hide your daughters and bring your ear muffs. These Jamaicans WILL have more fun than anyone, guaranteed. The boat has 23 speakers and no shortage of Red Stripes. Legendary skipper Lucky Mike (picture a bald, S. African Captain Ron) and the rest of the crew will be the life of the party.  Photo credit: Lucky Mike
Dominator (Outremer 5x): These guys were the big surprise at this year's Heineken Regatta, beating larger (and way more expensive) boats on the water. Skippered by Gunboat 62 "Elvis" alum Dave Allen, and owned by the father of an Olympic sailor and Rolex Yachtwomen of the Year, this is a family that knows how to sail and these guys are punching way above their weight class. I expect Gunboat and Outremer owner Xavier Desmarest to be shocked at what you can do with/to an Outremer. Still in its original configuration, these guys are just sailing harder and smarter, and it shows.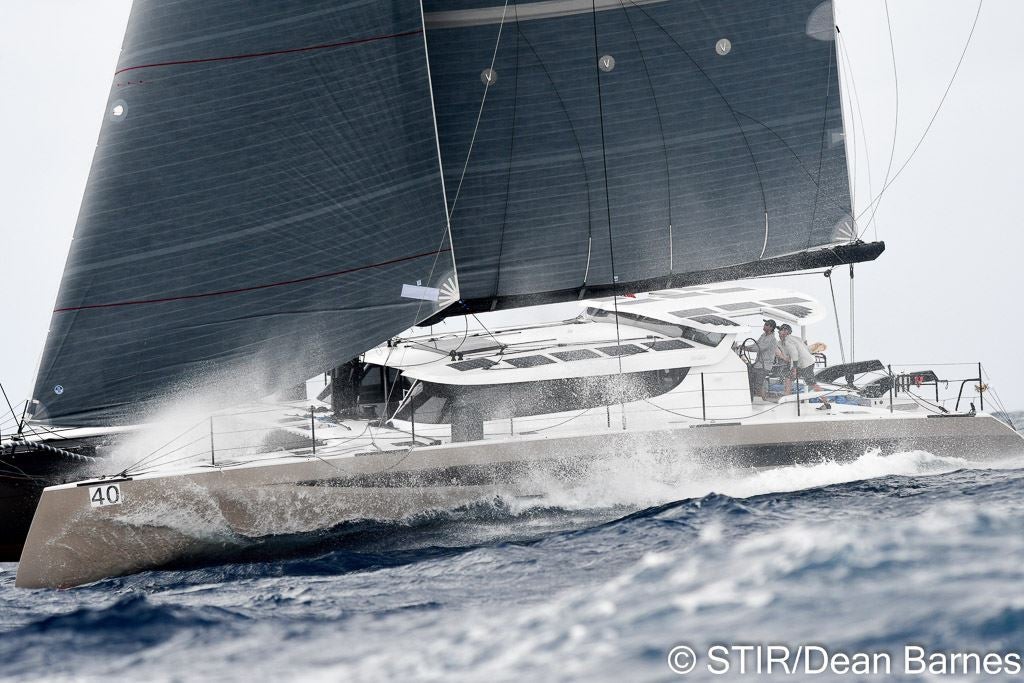 Nala (HH66): The lightest, fastest, and most turbo'd HH66, Nala will be one of the fastest boats on the course. Coming off a big win at STIR, expectations are high for the boat. Owner Jim Vos is a fantastic monohull sailor who is taking his first steps into the multihull scene. He did spend the summer training on his A-Cat, though, so he should be comfortable at the helm. With HH designer Gino Morrelli backing him up and Kenny Read in the afterguard, this boat should be a real threat for line honors. Most people think of Kenny as a monohull guy (Puma, Comanche, Stars and Stripes), but don't forget that he also owned a Marstrom 32 and previously owned my Formula 40, Soma, so multihulls are in his blood. Nala is over 3 tons lighter than her sistership R-Six, so any conclusions drawn about the HH66 based on R-Six's performance at the C600 or Heineken will have to be reevaluated after BVI Spring. (Full disclosure, I was owner's rep for the build of Nala for two years before I accepted the job at Gunboat. We pulled 3 tons out of the platform and turbo'd the mast, boom, and longeron. Despite my role with Gunboat I'm still quite proud of what we came up with. Go Nala!).  Photo credit on the shot with thanks to our old pal L for sourcing it.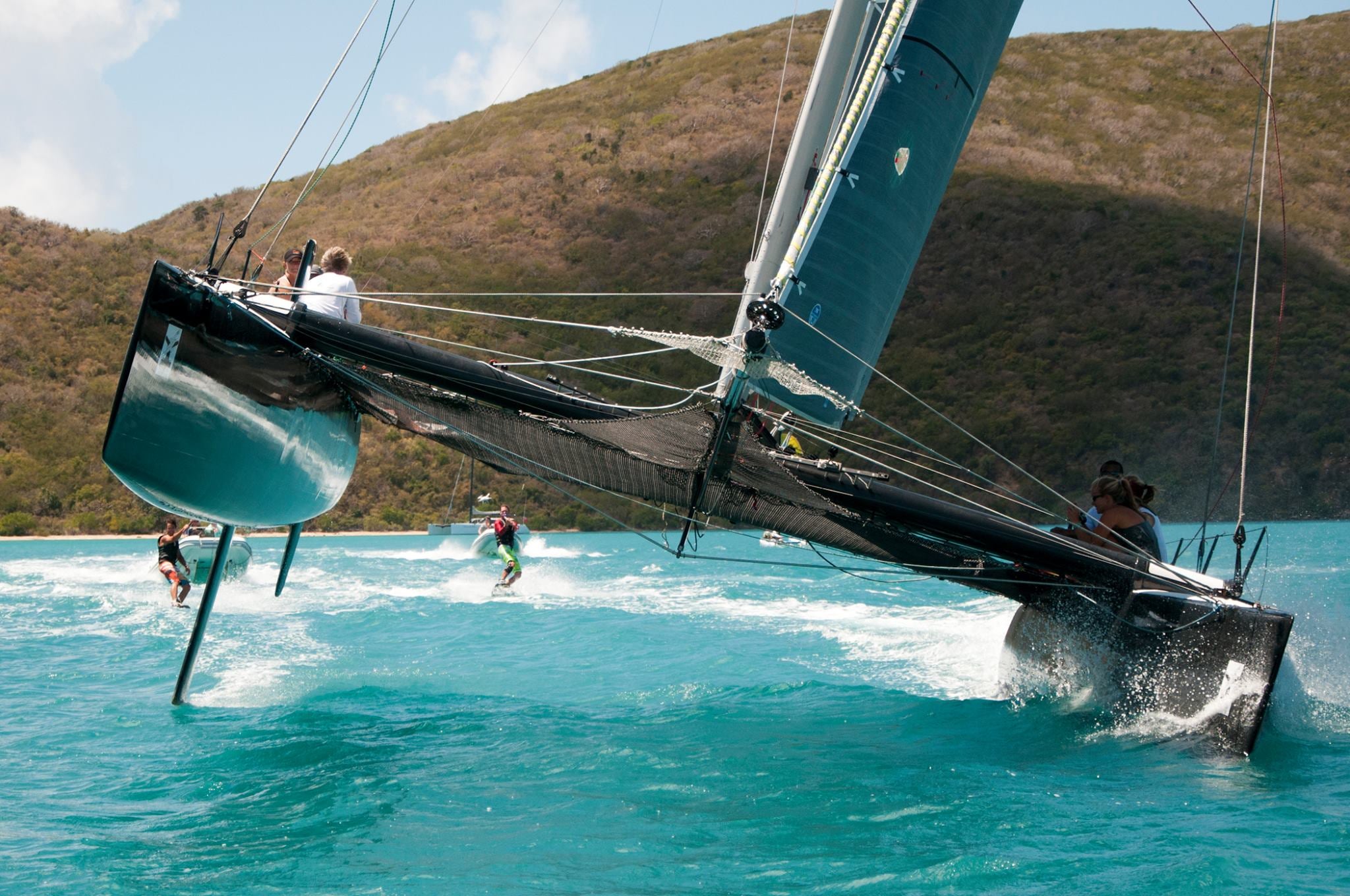 Conspicuously absent this year will be defending champ, Soma. She does have front row seats for all the action in the Sir Francis Drake Channel, though. Like Melania Trump, Soma is just a forgotten and unloved trophy wife…Photo credit: Mar Javierto
In the end, though, it's not about who's got the tallest mast or the most trophies. It has been (and hopefully will remain) about the people and times. The camaraderie on the dock, the time with friends and family, and the late-night repairs (and other shenanigans) are what make the events memorable and why people come back. We at Gunboat have got some fun events planned for the fleet that will hopefully form the backbone of a new tradition moving forward. VPLP are organizing a party at the Willy T (which should be legendary), BVI Painters and Nanny Cay are hosting a cocktail party in the new marina. Of course, Nanny Cay and the organizers of BVI Spring Regatta are responsible for all of it, so big thanks to Cameron, Miles, Emily, Judy, and everyone else there, too.
Though Gunboat invented this market segment, it's a big tent and there's room for everyone.
March 28th, 2017
Whatever your body type, one of the new sporty solos are sure to fit you, and if they all look as good as the Melges 14 fleet above, everyone is a winner.  Look at the excellent video of the 25-boat M-14 fleet in Sarasota last week and tell us with a straight face that you can't wait to get in your Laser…we're waiting…
Results are here in a regatta that saw age ranges from 13-74, with everything from weekend sailors to past Olympians.  Head to Melges on Facebook for more vids and info about the M14, and join the 'Catch On' thread for varied and mostly civil discussions about the M14/Dzero/Aero and the future of solo dinghy racing.
March 28th, 2017
We love Justin Edelman's work. The subject of this well shot and produced video by him is something that we  kinda scratch our heads over. $3 million for a 52 "class" boat that likely has almost no growth potential?  We know one boat  has a budget of $1 million a year just to run it, with 7 pros onboard every time they leave the dock. We get that this is how the money boys play, couldn't one get a fully sorted out year-old TP52 and arguably have a better boat? For less?
We do see about the 'offshore' capabilities and we dig that the mast is a meter taller than a TP 52. Time will tell on this project, but they are off to a good start…
March 27th, 2017
We don't think we'd be running a press release touting that "The Bermuda Race Organizing Committee (BROC) is pleased to announce that multihulls will be welcomed into the 2018 edition of the Newport Bermuda Race."
2018? It took you tight-ass conservative hand wringers that long to finally give your sainted blessing? That "after careful study and consideration of the unique and challenging characteristics of our race to welcome multihulls of 58 feet and longer" you have decided to let the colored folk in? But if I have, say, a HH 55 catamaran, I can't enter??  What, too black for ya?
This announcement is not to be heralded; rather the organizers are to be derided for such an incredibly and ridiculously delayed decision to partially lift the decades of bias, prejudice and ignorance of the blue blazer club against multihulls.
So you woke up from your dummy slumber and almost did the right thing. Whatcha want, a cookie?
March 27th, 2017
Mike "Rail Meat" Hennessy reveals the secret sauce behind being the only overall winner in the short history of SORC's Miami to Havana Race.  Turns out it's all about adversity.  Photo of a local taking 'selfie with dragon and Morro" during the Saturday 'in-port' race in Havana Harbor thanks to Mr. Clean, and title thanks to one of the most influential albums in history.  Race chatter here. 
Just getting to the start line of this race was an epic of Homeric proportions, with canceled flights and snow storms providing me the opportunity to drive from NYC to Charleston in one 13-hour effort last Monday night. Charleston offered one of the first opportunities far enough south of the storm to allow an actual scheduled flight to make it to Miami, and fueled by caffeine and questionable food choices, I made it in time for a 6:30 am departure on Tuesday.  After meeting up the crew, a low key and warm party at the Coral Reef Yacht Club, and then a team dinner I was finally able to get some sleep.
It was a 10 AM start, with winds from the NW in the low teens. We were initially blanketed by Metolius which let Long Bow jump out to a lead in the left lane, but some smart choices about the gybes to get east of Fowey put us back into contention and just behind Simon Says as we started legging it down the reef line.
The first leg of this race is a necessary drag race south, hugging the reef in an effort to keep out of the Gulf Stream to a point around Islamorada where the rhum line then diverges from the coast and heads out across the Florida Straits. In this section we saw the wind build and shift west, necessitating a switch from kite to solent and finally two reefs in the main and the  trinquette (the smaller inner forestay sail) as the wind built into the mid-twenties and far further west than forecast.  We had been playing cat-n-mouse with Long Bow, but they hung onto their kite for a bit too long (wipe outs) then switched to a Code that quickly became too much sail, then had some troubles with their take down all of which let us leg it out on them by a bit.
The first real choice in this race comes at (or somewhat before) Islamorda, deciding when to transition from the drag race of a first leg and into the second leg that takes you across the Stream.  Go east early to get across the Stream and play the weather forecast for a favorable angle in the third leg to the finish?  That worked well for Trebuchet last year when they set the benchmark time.  Or down the rhum line, maximizing your time in current but offering the tempting shortest distance and the likelihood that you cover your competition?  Or stick with the reef, sacrificing distance but minimizing your time in current?  It is this choice that makes this a navigators' race, and tactically as challenging as any distance race that I have done.  All the marbles, on one decision.
In 2016, we won the race based on unexpected weather.  The forecasts at the start called for a N to NW that would swing to a NE about halfway through that meant the rhum line was favored in the routing models. And that is what the majority of the fleet followed.  But as we approached Islamorada around 7 in the evening, I pulled down fresh weather that showed the shift coming much later than originally forecast, which favored holding the starboard gybe for a much longer period, hugging the reef all the way to Key West and even beyond before gybing over.  The weather allowed for us to stay out of the current, but had that the original forecast held, we would have been forced to make the choice to go down the rhum line.  Instead, we went past Key West before Ashley Perrin called the lay line from 80 miles out and the rest was history.
This year was a different story.  The Tide Tech models and SST (surface temperature) observations pointed to a conventional Gulf Stream that met up with Florida at Key West and offered only a mile or two of relief between the northward column of water to the east and the coral ship breakers to the west.   But we knew something different.  Our participation in the Cuba Cup from Montego Bay to Cuba / Key West in late February pointed to a Stream that was much further south in the Florida Straits, one that was very close the coast of Cuba and with a wide gap of relief between the Stream and the southern keys.  So, on March 12, when Kyle Hubely left Stock Island to deliver Dragon north, he headed straight south out to find the western wall of the Stream.  Almost 40 miles south. Then he turned and followed the western wall until it met up with the Keys just north of Marathon, measuring current every few miles and marking up the chart.  We knew for a fact where we had to hug the rocks, and where we could free out selves from the reef and start to cut the corner without paying a penalty.  All we had to do was see what the weather would allow us to do.  Meanwhile, any boat taking the rhum line or the easterly route would actually see adverse current for almost the entire way across the Straits, never getting the usual relief that comes on the south eastern side of the Stream.   This year's conditions meant the Stream dictated a course that split the difference between last year's tactic and the rhum line choice, and then weather and our reconnaissance allowed us to execute with a level of precision that was a distinct advantage.
The weather cooperated beautifully.  The actual winds went west and blew 25 to 28 much of the night which lured much of the fleet into the more physically comfortable ease down the rhum line. Meanwhile, we stuck to our plan and did a very shy reach along the curve of the reef until 1 AM or so when it dropped to high teens / low twenties and allowed us to get into the solent near about the time we reached our mark at Marathon Key where we also could ease off bit-by-bit and follow the western wall of the stream.  That ease gradually took us into the Code then the Kite as the move freed us into reach and then run.  It also traced a gradual curve away from the Keys and towards Cuba, all while maintaining the same board.  By the end of the race, we spent less than 4 hours in the Stream.
A forecasted shift to the NE ultimately did show up, but very late in our final run into Havana and we were able to gybe into port board and then downshift into the solent as it pulled forward.  In total we did two gybes up at Miami, and one gybe down off Havana for a total of three maneuvers.
We sailed right up the channel and dropped the sails as we approached the Customs dock where we saw Simon Says still clearing all the formalities.  When we got to the dock and found out how their quadrant issues allowed us to be right behind them, we got our hopes up.  The J125 Raising Caine did an awesome job and was close on our heels but we owed them very little time and felt pretty comfortable as we put the boat away.  More worrisome was Detroit's Chico 2, where we owed the 1D35 a ton of time.  As we watched them finish, we ran a quick calc of TOD, and thought that we might have lost to them by about 20 minutes.  It was not until much later when we got a chance to see the TOT results that we found out that we beat them by that same approximate 20 minute margin.  They had a tough crew and raced an excellent course.  If we meet up again, I will be sure not to underestimate them.
It could not have happened without a great crew.  Kyle Hubley is doing a thousands of miles of double handed racing with me on Dragon this year, including this race.  We were joined by Mark Washeim, long-time sailmaker for the beast, as well as Nick Halmos who is the former owner of Cutlass, a sister ship to Dragon that is now First Light (and is for sale).  Rounding out the crew was Jen Edney who put down her camera for once to stand watches and pull various bits of string, and Evan Langford who at 18 has a shared claim to a victory for his very first offshore race.
Hats off to the competition, and a huge thank you to Chris Woolsley and the SORC for hosting what is a tactically challenging and completely excellent race.  They are learning something new each time, and it has and (I am sure) will continue to improve.  The event is on its way to becoming a Classic and if any of you are mulling over a trip south for some warm weather winter sailing and a shot at the podium in 2018, I highly recommend it.  Dragon will be there to defend, and we have no plans of taking anything for granted.
March 27th, 2017