Solo Figarists Nick Cherry and Henry Bomby begin our 2014 Route Du Rhum coverage with a great form guide for the fleets.  Follow Nick here, learn more about his Figaro campaign here, and tune in for all the info when the race starts in less than two days.  There's always the Ocean Racing Anarchy thread for the very latest.  Huge thanks to Bruce Schwab Energy Systems for supporting our coverage of this great race.  Please get in touch with the Vendee veteran to find out how his energy storage, solar power, and charging systems can benefit your cruising or racing boat today.  Photos from Christophe Launay.
Anyone who's never been to the start of this race needs to go, and it seems like most of France has. The population of St Malo swells from 45,000 to around 2 million over the ten-day period before the race, with massive park-and-ride car parks set up outside of town; getting to and from the boats is an absolute nightmare for the shore crews. There's something about the simplicity of this 3500-mile solo race across the Atlantic every four years that really captures the nation's hearts. Walking around town and jostling with thousands of the non-sailing public just to get around is cool and rare in our sport, and seeing just how rock-starrish the 91 skippers are – and how real a return they can offer to their sponsors – offers solo skippers hope of what may be achievable.
Beat Down?
At the moment it looks like the fleet will be starting in post-frontal westerlies, beating out through the chops of the channel before cracking sheets a little and heading across Biscay into quite a lot of pressure. Early indications are that the trades are developed quite a long way north and most of the boats should have a fairly straightforward and fast run to Guadeloupe. Things are still fairly unstable with some models predicting a very fast race and others showing a lot of the boats having a tough time due beating towards Cape Finisterre in some mildly heinous conditions.
Run Down
Ultime Class
This is the blue ribbon, main event, 'real deal' part of the race. Eight proper rockstars of the French sailing world lining up in, without a doubt, the filthiest boat porn on the planet (hopefully as a precursor to an imminent race around the planet, but more on that in a future installment).
In the last edition in 2010 'Petit Franck' Cammas showed us the light (albeit in fairly straightforward conditions) by going against conventional wisdom that said that the smaller, more manageable tris would probably beat his 105-ft Jules Verne trophy winner Groupama 3 when it came down to a solo race. Pundits say Yann Guichard will have a hard time handling Spindrift (ex-BPV) all by himself, that this time (with 200tm of righting moment compared with 160tm in BPVII and 28 in an IMOCA) it really is too big. He has the fastest boat, that's for sure; can the Jules Verne Trophy holder be handled by a lone, mortal man, or is the old G3 the maximum?
Sticking my neck out a little bi,  I'm going to put Thomas Coville in the new (to him) Sodebo (the heavily modified ex-Geronimo) as favourite. He will benefit from a lot of up-to-date design work on the floats and foils as well as plenty of time sailing these sorts of boats alone thanks to his 4,5 failed attempts.  Or is it 6???! Watching him go through the start line on his last failed RTW record attempt with all three rudders well clear of the sea shows that he certainly isn't lacking for balls for this race – almost a sprint in monster-multi terms.
Loick P is the final podium bet, having already done this race 7 times! On top of about 45 transats in total. Seriously.  And he's a nice chap. Many are sad we didn't get the incredible story of him racing across in his little yellow boat 'Happy' which would have gone down a storm in France, being the man he is and the name he has there. But he was the only man Banque Pop (the Ex-G3) could go to after Armel hurt his hand (in a freak car washing accident?), the boat is fast, it's been breaking records throughout 2014 and may be the best optimized for a solo run.
Never to be discounted, in his somewhat conservative (by modern standards), Nigel Irens-designed 105 footer, we have Francis Joyon. Probably the hardest man in sailing and a true solo obsessive. We have been wowed by stories of his solo transatlantic records attempts for years, and by solo we mean no shore team whatsoever, sailing on and off mooring bouys in New York harbour all by himself. (Is this true or just a rumour?!) If this race gets rough and decimates the fleet like the 2002 storms that destroyed piles of ORMA 60s, IDEC and Joyon are the combo I would back to be the last one standing.
Watch out for the race-within-a-race in this fleet between the three somewhat modified MOD 70s. These boats have shown they can be pushed hard with a crew and hopefully the improved emergency sheet release systems mean that Sydney Gavinet's prediction that he has a 50% chance of capsize won't come true. The other two MOD-touting skippers Seb Josse and Yann Ellies both have a reputation for pushing hard, and whilst it would take something odd to happen for a MOD to come in first you can be guaranteed a good old battle going on here. Yann has the least time in the boats and the least modified, but he has been smashing the Figaro Circut for the last 3 years, and could pull something impressive out of the bag. As a pair of Figaro sailors ourselves, we would love an underdog victory from Paprec in this one. It would probably be rude not to mention the race record holder from 2006 Lionel Lemonchois in his deeply modified former Orma 60 'Prince de Bretagne'. If the four more powerful boats have some sort of major calamity or follow each other into a meteorological black hole then Lionel is our man! He should really beat the MODs, but they've shown themselves to punch well above their weight…
The extra dimension is this class compared to the others is that outside weather routing is allowed, which to us, makes sense – you wouldn't want to be stuck at a computer for any length of time downloading the latest gribs whilst the boat careens down a wave at 35 knots into a full somersault. All the big French names in French Meteorology are on the payrolls here and it will be interesting to see how the different approaches pay off once things kick off on Sunday.
IMOCA 
There are 9 boats in this fleet. Four favourites in order are: Francois Gabart, Vincent Riou, Jeremie Beyou and Marc Guillemot. It would be brave to bet against Vendee Globe golden boy Francois, but rumours from recent training sessions in Port La Foret have Riou's PLB being right on form with a lot of caginess surrounding modifications to aft ballast arrangements in relation to the new rule; IMOCA is the land of big secrets, and nothing is easy to call in this class as a result! There's no doubt Jeremie has a good boat in Maitre Coq, sister ship to Macif and he delivered the goods again in the world's toughest one-design race – the Solitaire du Figaro. Guillemot's Safran certainly has form in the transatlantic races of recent years and I'm sure he'll be keen to make a mark in his last race before Morgan Lagraviere takes over the new boat next year.
The most interesting thing here is dock gossip regarding the six new Vendee-bound boats due off the drawing board of VPLP next year under the new rule, and the wide variety of foil solutions they've come up with.  DSS, outward-facing J and L foils, canting, raking, in and out and up and down and potentially adding a few more letters to the foiling vocabulary.  As in every new generation of Open 60, these new boats are going to be a big jump faster, and when reaching in big breeze, they could be light years faster.  Hopefully older boats can be retrofitted, and even more hopefully, the new one-design mast spec will be able to handle the added load of a faster, foiling boat. No one wants to let their cat out of the bag too soon in the build up to the all-important Vendee and we will have to wait for this exciting installment a bit longer.
For a potential spoiler, we'd love to see one of the nicest guys in sailing, Tanguy De Lamotte, get some real speed out of his new 'Initiatives-Coeur' (ex-Foncia, ex-Mare).  This older boat was heavily modified by Class 40 sailor Joerg Richers before he pulled out of the project, and she's potentially quite quick.
Class 40s
Loads to choose from here, and special props to youngest competitor in the race Paul Hignard who slept in and missed a big sponsor/press do on Tuesday after rumours of a big night on the sauce/with some chick.  Legend! Otherwise, there's a load of good boats, good skippers and not a lot of recent bust ups to show form.
Seb Roues is undefeated in his Mach 40 GDF Suez in 2014, although some questions remain regarding his solo skills. A lot of people rate Spaniard Alex Pella highly in his sexy looking Botin designed Tales 2 but there are plenty of boats with a reasonable shot at the top spot. Yannick Bestaven has a very new Verdier boat and a reputation for pushing hard, Halvard Mabire is sailing a new Pogo s3 and has a lot of experience and a good track record. Stepping down from his laughing cow Open 60, Kito de Pavant should be in the mix and whilst he's had a bit of a break from solo sailing, brit Conrad Humphreys seems to have a good sponsor in Catphones and plenty of motivation.
Our wildcard favourite is Nicholas Troussel in his Humphrey's designed Credit Mutuel de Bretagne. A real last-minute campaign but this guy has a record of winning two Figaros with well-judged flyers. His boat is quick enough and if there is a good corner to be banged, expect Nico to be right in there, making it work.
Multi 50s
A walk down the Multi 50 dock in St Malo is quite interesting, a history lesson in the development of offshore trimarans over the last thirty years. It would also be interesting as a standalone race but I think we'll be too busy following the big tri's and the 40s to get too bogged down here once the race starts. Four top contenders here based on previous form and newness of boat are: Erwan La Roux, Yves Le Blevec, Lalou Roucal and Loic Fequet. Fair play to everyone involved in this class as sailing solo across the Atlantic in a 50ft tri takes some proper balls, and it's great that there's 11 of them out there doing it. Interestingly, this class prevents foils, and you can't argue with their numbers, but would it certainly kick off big time if foil development was allowed? Imagine these lightweight 50 foot tris flying solo across the Atlantic. There is definitely some Frenchman out there crazy enough for it.
The Rhum Class

As far as we're concerned, it's cool that the race has this class. They might not look as cool as the big tris and the 60s but it does allow retired doctors from La Trinite, bearded blokes with odd looking cruising boats, and the living legend that is Robin Knox-Johnson to add some colour to this French classic. We won't be watching too closely to see who wins this fleet but expect some nice stories and that. Shame Loick isn't here with his Happy project, but hopefully he'll be back in 2018.
The start on Sunday morning is set to be a massive affair with literally thousands of spectator boats predicted, and the major viewing headlands along the Brittany coast rammed with fans. Due to tidal constraints in the St Malo Basin, the boats will be docked out by shore crews under cover of darkness before the sailors rib out after breakfast to race across an ocean. We'll be standing by to cover the start and offer a bit more insight into goings on as the race unfolds.
October 31st, 2014
We're not sure why this is the first we've heard about it, but the folks at ASV Performance shared the news in a PR yesterday that their 'rescue kites' are OEM equipment on each of the Volvo 65s, and that they constitute "the biggest breakthrough in the kiteboarding industry…"  It's a bit weird to see this info, accompanied by the above credited shot from Ainhoa Sanchez/VOR but have nothing but silence from the folks at Volvo, who ordinarily seize on any opportunity for an interesting story angle that isn't about toilets or toothbrushes.
But we dig kites, and seeing the test kite up there on the old Sanya, we wish the rule allowed them to fly 'em!
October 31st, 2014
Maybe the best part of the Halloween is the beer in his hand. Props to Max for nailing it!
October 30th, 2014
When Pierpaolo Ballerini called me and invited me for a doublehand round Sicily in the Middle Sea Race, I was not late to respond and jump ship back home. The boat is a very nice kitchen cruiser (please take no offense, owners of such and similar ) , an Azuree33 designed by my former +39 AC designer Giovanni Ceccarelli. Build in Turkey by Pierpaolo–so I knew the boat would work well even in the Med, known for its either or. Either you have zero, like in absolutely no wind, or you get hammered. In any case, it would work.
And I knew Pierpaolo as an awesome seaman. Which I actually think is the reason behind our result. We had a perfect split in terms of roles onboard. I focused on the helming, trimming and strategy, and Pierpaolo, apart from taking his turn on the wheel he focused on the "functionality of the boat". We never had any issues on who did what onboard, it just came very naturally.
But to be honest, we had not expected us to do so well. Our opponents were packed with fully pros, geared and prepped to their maximum. But as we steadily climbed the ranking as we went forth, even in the light winds. We had made it to nr 3 at the first turning point of the coast of Scilily, an island called Favignana, which is a little more than half of the route. I knew we had chance of doing an epic result. Being in top five of the 120 boats started, overall. But as a double hander. Actually the winning boat was never classified until the race committee was certain that we could not match them. Of course they did not know of our fatigue.
And I have to admit that doublehanding of this length and more makes the Volvo look like a walk in the park. So I take my hat off for the guys in the Barcelona Race. They are tough bastards. But basically, with Pierpaolo being rather seasick (sorry Paolo, but in the closed circles I think we can share that fact) we had to take the pedal from the metal and slow the boat down. I was not much good after a good chunk of the helming since Favignana, batteries dead and brain no longer attached to my body (evil tongues would argue that it happens more often than only when sailing big winds), and for sure Pierpaolo had the same feeling. So half way down from Panteleria we slowed down to a try sail config only. Effective but slow. We just wanted to make it safely back to the continental breakfast in the yachtclub. At that time we had +40 knots, which is a bit in a small boat, our top speed was 21,4 knots )))))). The sea state though being the main issue. Some rather good rollers trying to take over the control of the boat. And succeeding on many occasions.
It was a pleasure sailing with Pierpaolo. that guy has balls the size of a camel. No complaints of going to the foredeck changing sails in +40 knots, eventhough sacrificing the belly content at the same time. That is "mind over body", that I have only seen on rare occasion in the pro circuit. He was also man for our diving when we got tangled up in a fishing net on our fist night. We lost almost 2 hours to a local fisherman. And he lost his net, his palmtrea leave (they attach this to the net for fish heaven) and his 200 liter styro block.
No way to tell how the end result would have looked if we had managed to be further ahead and avoid the big upwinds of 25-30 knots for the last hour before Favignana. Learning points for a double hand like this, on a small boat, is that sleep and rest is absolutely crucial. I have to go home and learn power napping (perfect excuse-: ))) ). As well as anything more than 35 knots and big waves turns a 100 twa into an upwind.
In any case, we are rather proud of our result. Making it in one piece, winning the double hand category as well as the IRC 5, and competing all along for the overall win. In a 33 footer. We dreamed along the route of the tripple. Now that, would have been truly epic. Now we just did well))
For sure this is not my last double hand. It is just sheer fun sailing, which takes a few years out of your life expectancy. It is highly recommendable. – Stig Westergaard.
October 30th, 2014
Big Pimpin'
Sailing Anarchy is pleased to welcome Whitecaps Marine Outfitters as the newest sponsor of our site and our Gear Anarchy forum.
Whitecaps has been providing sailors with a great selection of foul weather gear since 2006 and has recently undergone a major makeover with a new website, new owners, and new Brands.  We are passionate sailors who do all kinds of sailing – racing, cruising, small boats, big boats…basically any excuse to be on the water!  Our passion is what drives us and our goal to provide our customers with the BEST customer service in the industry.
We recognize that there is some great gear out there for people on and around the water – it's more than just foulies and wetsuits. Whitecaps Marine offers a wide selection of gear from Southern Ocean rated gear to dockside apparel and accessories.  Our top Brands include:
HENRI LLOYD, GILL, ZHIK, SLAM, RONSTAN, HARKEN, SPINLOCK, OPTIMUM TIME, LEMON & LINE,  And MORE!
For 1 MONTH ONLY, Whitecaps Marine Outfitters will be offering Anarchists an exclusive 20% OFF deal. Just enter coupon code "ANARCHY20" in the shopping cart for your savings. (Discount does not apply to Clearance Items, Gear Packages, or already discounted Team Gear). Always FREE SHIPPING on all US orders and international orders over $500. Follow us to stay up to date with special offers:
Twitter: @whitecapsmarine
Facebook: www.facebook.com/WhitecapsMarine
October 30th, 2014
Mateo Miceli (guy who holds couple of WSSRC records on 6m cat, Dakar-Guadeloupe) has departed 12 days ago on modified Class40 for the non-stop round the world voyage with aim to not use single drop of diesel and no prefabricated food onboard (he has two chickens, little garden planned by scientist and plenty of fishing gear). You can find more details on his website. Here is report from today:
It is very hard at first light to get back on track. I put down the rod and the hydro generator that charges 12 amps, the battery is at 74%. I pulled up again frullone that night for fear of reinforcements as well as it rolled up the blanket I had put in.
From the track of October 30, I see that I was back but I'm happy for all the work done, now I should wait for the trade wind. Repaired the rudder brackets, bonded well sealed well bushings lower aft of the rudders. [Editor's note - the water had seeped under stern rudders]. 5 hours to the hood but I think I've solved it all!:-)
Large beautiful sailing this code works with little air from 45 to 100 angle increases and if it makes you rest well. see how it behaves with the trade winds!
October 30th, 2014
The Puget Sound racing community continues to drift along in shock at the loss of affable and experienced 46-year old Star sailor Jay Berglund (and the sinking of the Harmony 22 Gizmo, the boat he was on) during a race this weekend in the South Puget Sound.  Three Sheets NW has a touching feature on Berglund, the thread has plenty of stories about him, and we encourage you to add your own memorial thoughts.  For those looking to know what really happened, here's a brave, honest, and detailed account from skipper and boat owner John Thompson.  Props.  Photo of Thompson and Berglund (crew) from Thera Black.
I was the skipper of Gizmo when she was lost this past Saturday.  I was sailing with Jay Berglund and Peter Crossman.  All of us have a full lifetime of experience sailing and racing.  We are all in mourning right now for Jay.  He was one of my dearest friends, and he loved little Gizmo easily as much as I did.  Harmony 22s are phenomenal little boats, especially in light air.  Jay was an experienced open ocean sailor and racer.  He had his USCG Captains License, SOLAS credentials and all that.  He has sailed all sorts of boats from Thistles and Stars up to his current ride on Artemis (a 50ish foot racing yacht out of Shilshole).  He's been my right hand man on Gizmo since I bought her in 2012.
This account of what happened is mostly my own obeservations, with a bit of second hand info to fill in the gaps.
Gizmo was participating in the South Sound Sailing Society Eagle Island Race when she was lost.  We had completed about 25 miles of the 27 mile course.  The weather forecast had called for high winds that day, but after 8:00pm and through Sunday.  We were planning on being done long before then.  As we passed Boston Harbor with the working jib up and full main in about 15 knots of wind, we could see the heavy white caps ahead in Budd Inlet.  So we cleared the 150% off the foredeck and reefed the main before getting there.  We quickly took in a second reef as the winds built to 30 knots steady with gusts probably to 35ish.  In this configuration, I was just flogging the main, so we eventually decided to douse the main completely.  With the dagger board so far forward on these boats, she actually sails OK this way.
We sailed two long boards back and forth across Budd Inlet keeping the boat at close to hull speed all the way despite the waves.  We were still racing at this point and just looking forward to reaching the finish line so we could douse the sail.  But on the third board, the waves built to 6-8′ making controlling the boat and holding her nose on the wind without the main very difficult.  Halfway across the bay, the forehatch blew open creating an instant safety situation.  At that point, both Peter and I reached the conclusion that we were in over our heads and decided to abandon the race.  But before we could act, a gust measured at over 60 knots swatted her over.  It happened so fast that there was no recovering from it.  Harmony 22s have bilge ballast rather than a ballasted keel, so when they go beyond 90 degrees, they turtle immediately.  And this is what happened.
I was actually under the boat in the cockpit when it came down on me.  I had to swim down under her to get free.  Jay and Peter rode the rail over and were free in the water when I emerged.  We swam to the transom together so I could reach the VHF radio and call for help, but Jay said it was gone.  I was still thinking that the boat would right itself, and she would have had she had bouyancy bags installed. Jay stayed with the boat.  Thats what they always tell you to do in a situation like this.  about 2-3 feet of the stern was sticking out of the water.  Unfortunately, he wasn't wearing his life jacket.  Jay always wears a life jacket.  I can't for the life of me figure out why the one time he didn't wear a life jacket, that when the shit hit the fan.  I also wasn't wearing a life jacket, which turned out maybe to be a blessing since I had to swim out from under the boat when it came down on top of me.  I found the foam rudder floating free, so I used that to keep me up.  Peter had his life jacket on and Jay was clinging to the boat.
Peter and I were quickly washed away from Gizmo and Jay.  Four sailboats converged on the scene to assist within minutes.  The first was a single-handed San Juan 24 with a roller furled jib that would not roll up all the way in the heavy wind so he was barely in control.  He tried to pick up Peter, but didn't have any way of getting him aboard so Peter finally gave up and waited for another boat.  The next boat in was a S2 7.9 that was also barely under control with a full main up that couldn't be reefed.  The winds were still blowing over 40 knots with higher gusts.  I swam over to her, grabbed the backstay and hoisted myself aboard over the transom.  Somehow I ended up in control of the boat (maybe just because I was in the back of the boat and in the way I guess), so I steered over to try to pick up Peter and Jay. Gizmo was gone by this time. My intent was to park the boat to windward and drift down on them, but with the full main up and 40+ knots of wind thats no easy task.  I drifted past twice out of reach.  At that point, I noticed an Express 37 coming in under power already deploying their lifesling, so we were just in the way.  The Express picked up Peter after a couple of passes.
At this point Jay was face down in the water and non responsive.  The rescue boats were converging on the scene at that point, so they directed them to where they last saw Jay.  I think he had sunk by that point, because it was exactly 24 hours later before he was found a long way from the scene of the sinking. My thoughts and prayers go out to Jay's wife Ruth.  Jay was a great guy and a great sailor.  He was very focused on his sailing.  When he trimmed the sails, they rarely ever got cleated.  He was constantly paying atttention to the boat trim and sail shape.  I've never met someone so focused.  He loved Gizmo as much as I do.  If I can raise her, it will be in his honor.
John Thompson, Skipper, Gizmo
NOTE: There will be a celebration of life for Jay on Sunday at 1pm.  Out of respect for the family, it will be a dry event.  The event will be held at the Everett Yacht Club (404 14th Street Everett, WA 98201). In lieu of flowers, donations may be made to the Olympia Yacht Club Foundation for the Junior Sailors program or to Save Our Wild Salmon. Cards can be mailed to: Ruth Elder c/o Hope Elder, 30105 2nd Place SW, Federal Way WA 98023. Email to rjelder@hotmail.com
October 30th, 2014
A missing nine-year-old boy, whom federal authorities say was kidnapped in by his father from Seattle, has been located and is safe in an island 1,500 miles northeast of New Zealand. according to the FBI.
Jeffrey Hanson, the boy's non-custodial father, is being detained on the island of Niue, the FBI said. The FBI issued an alert earlier this month advising mariners in the Pacific that Billy Hanson and his father set sail from Seattle on Sept. 4, in a sailboat called "Draco," and may have sailed to Hawaii, American Samoa, Guam, the Northern Mariana Islands, and other Pacific islands.
Federal officials said Hanson is a known drug abuser with a volatile personality. More.
October 30th, 2014
Christophe Launay beautifully catches the mood of this voyage, as described by Gilles Morrelle:
Vincent Beauvarlet is a French sailor. If he started his career as a windsurfer, youth world champion in 1990, he discovered offshore sailing quickly (Route du Rhum, Québec St Malo)… Today, three days before the start of La Route du Rhum, he goes on a long journey from Cancale (France close to St Malo, start of the Route du Rhum) to Guadeloupe (French caribbean island, arrival of the Route du Rhum and where he is born 40 years ago) alone onboard a very small  Multi 23 (VPLP Design ) called "Ocean Love Dream".
If he won't go as fast as big multihull as Spindrift, 140 feet, Vincent'll try to make a new record set of the atlantic cross alone and onboard a dinghy multihull. It's not holidays, it's adventure. Vincent, take care !" Check all the photos here.
October 30th, 2014
This will be the 9th Archipelago Rally held in the upper reaches of famed Little Narragansett Bay! BBQ food for kids and adults will be on hand at the Watch Hill Boatyard with heated bathrooms, covered picnic area, a beautiful launch ramp and protected pier. Sunday is the Rain Date and that call will be made by Nov. 7 through Paperless Post and to the media outlets.
Anything with a sail is eligible, we will give you a Portsmouth Yard Stick Rating and start lemans style from the pier. Keelboats not recommended unless small like a 110. DON'T FORGET your personal flag to fly from your rig. Prizes and the enviable BROKEN HEAD PERPETUAL TROPHY will be awarded, along with the PINE NEEDLE and LONELY LOON awards!
Bring a six pack, thought there is some beer being provided and all food is provided too with some drink boxes for the young 'ins. Feel free to bring something fun for the BBQ to share if you'd like, but not essential to sustenance.
Please email with any questions. cmuseler@gmail.com or ezrasmith@yahoo.com or call Chris at 401-835-5406 See you this weekend!
UPDATE 10/30/14: DATE CHANGE to Saturday, NOVEMBER 8!!!! Though we will have three chase boats, if conditions seem beyond your threshold, please come anyway for the party and remember that with about 30-40 boats on the water, there are always more people have a great time on land enjoying food, beverage, rights and music the whole time! – Chris Museler.
October 30th, 2014
Innovation is good. Will this particular one work? We're about to find out…
First Solar Mainsail designed for Offshore Racing. First shake down with the North Atlantic, next Sunday, Route du Rhum starting line. Sails made in Cannes-Mandelieu par Power Sails. Setting of the new pohovoltaic sails tomorrow on board 'IMOCA 50 "Martinique Challenge" in Saint-Malo, France.
October 29th, 2014
Once again Henry Bomby bring you the dope on the VOR
The big news of yesterday was the introduction of an ice gate by Race Director Jack Lloyd. Designed to take away the temptation for the teams to dive deep south in the search for better pressure and a better angle to Cape Town. The Ice Gate is placed at 42 deg South between 20W and 10W, seen here.
Over the past few days the weather models are now in better agreement, giving a more reliable forecast and therefore more reliable routing options for the teams. This allows them to commit to a certain path to dive South, although how far South is still unclear. In the screenshot below is an ensemble routing of GFS 1.0 deg, at 0600UT this morning. The top of the red box depicts the ice gate, to be left to Starboard. I made it into a box so it is easier to see.
The addition of the ice gate reduces the options for the teams, which is good news for the front runners and bad news for the teams behind. What we will likely see is the fleet sailing along this ice gate in order to be as far south as possible, in order to make the most of the left shift on Saturday afternoon. Read on.
October 29th, 2014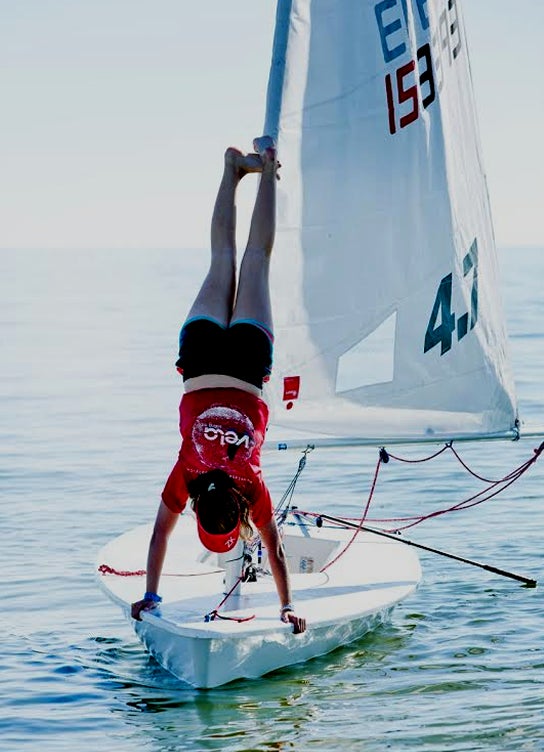 This pic was taken in Houston, Texas (Lakewood YC) at the final Texas Sailing Associationevent of the season. Sunday was very light.  The pic is of 15 year old Katy Hannan from Rush Creek Yacht Club. Photo taken by Gustav Schmiege Photography. Fun!
October 28th, 2014
Haven't we screamed for years how absolutely fucked ISAF is?
Open Letter to members of ISAF Council:
As you prepare for the ISAF Annual Meeting next week, and knowing that you have something like 215 submissions to consider, it is time to take a pause and give serious consideration to the state of the Disciplinary Commission (DC) and Regulation 35.  Submissions 37, 38, and 39 directly relate to the Disciplinary Commission.  Instead, take a step back, and look at the bigger picture of sailor and race official discipline in a more comprehensive fashion.
The whole problem with the way the DC works starts with the Executive Committee.  It was the Executive Committee who put forth the submission to create the DC.  The Executive Committee set forth the parameters that the DC could write their own rules with exactly zero oversight from either the Executive Committee, or Council.  It was if the Executive Committee allowed the Racing Rules Committee to re-write the racing rules in a vacuum.  As members of the Council it is reasonable to presume you just missed that part when this submission was voted in.  Just like with 215 submissions at the coming AGM, who can be expected to read every line of every submission?  But, as members of Council, you can be certain that when the fur starts flying about what has happened as a consequence of the new disciplinary rules of procedure, and it will, that the Executive Committee and the Staff will point their fingers at you as having approved the opportunity for a handful of people to devise the disciplinary process for the whole sport, with exactly zero oversight.
Then we get to the part about empaneling the DC. Here's the regulation about the requirements to empanel the DC:
8.15.2  Regulation 8.2 does not apply to the appointment or removal of members of the Commission. Council shall appoint the Chairman, Vice-Chairman and members of the Commission on the nomination of the Executive Committee for a specific term. The membership of the Commission shall include a sufficient number of legally qualified members to enable it to discharge it functions.
Having searched the ISAF Executive Committee minutes I found nothing about the required nomination by the Executive Committee of the DC members.  I later learned that VP Scott Perry was given oversight of the DC working party.  It seems what happened is that somehow the some members of (maybe all?) DC working party were put forth as the interim members of the DC.  I asked Perry if he did this on his own, or if the ISAF staff did it without his knowledge.  He has to date refused to answer my question.
However, ISAF in-house counsel jon napier responded to this question.  He said that as a matter of Executive Committee work process Perry was assigned oversight of the DC, and therefore his recommendation constituted nomination.  That is a pretty weak premise, particularly because nothing about the nomination comporting to the Regulations shows up in the Minutes of the Executive Committee.  Ever. Anywhere. Read on.
October 28th, 2014
Big Pimpin'
Tacking battles are among the most exciting elements of a sailing regatta. This excitement is also brought by a new regatta game.
This is a tactician's game.  You can tack, head up, bear off and virtually do everything to cover and control the competitor.  The player can force the competitor to unwanted tacking and try to catch the wind shifts to his own advantage.  However, the virtual competitor also knows the rules: if he approaches with the right of way, you have to avoid him.
The game is a zigzag course and the goal, of course, to be the first to cross the finish line so as to advance to the next of the seven levels.
This app is available at the Apple App Store for iPhone and iPad, and at the Google Play Store for Android.  The versions for the MAC App Store and Windows App Store are in preparation.  Currently, the app is available in German, English, Italian, French, Spanish and Russian. $ 1.99 will be charged for the download. Have at it!
October 28th, 2014
God damn, we don't know which we like better, the boat or the song. Props to Anarchist Nat.  Wanna know exactly how much she cost to build?  So do we, especially after reading this CNN piece!
October 28th, 2014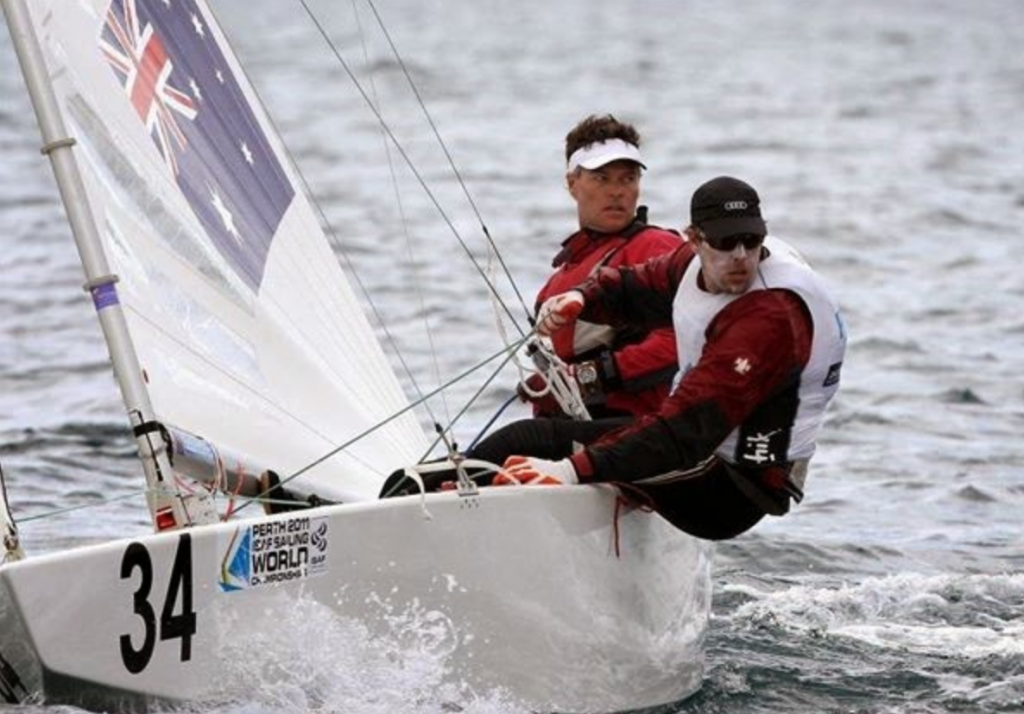 Crewing: Phil Toth tells us how to do it right.  Got questions?  E-mail him.
There have been loads written about winning from the perspective of how to be a great helmsman or a brilliant tactician. Practice a bit, win the start, hit the first shift and extend from there. What could be more simple….right?  Truth is that from the lofty, exalted position of helmsman or tactician, it may appear to the gods in the back of the boat that sails get trimmed perfectly each and every time, and the crew still have the time to clean everything up and scramble across the boat and hike after maneuvers like mark roundings.
I have been sailing on the Olympic circuit almost full-time over the last 8 years both in the Finn and the Star, and they It really opened my eyes on how important the crew is! Many of the top Star crews in the world can swap and change drivers, it does not matter who is steering behind us we can still win. Many of them have gone on to be highly sought after crews in other classes such as the Dragon, Etchells, Melges 20, Volvo, Americas Cup and TP52s etc. Good crew will have a set of base set of skills that will really work successfully in any class!
Team Work- Good crew are people that can work well and constructively in a team. The last thing a driver or tactician needs is someone in the middle of the boat chirping away second guessing there every move. It wrecks their confidence and only creates turmoil and frustration on the boat. Everyone needs to know their job and the strengths and weaknesses of the others. Make sure that you can back up the person beside you, if they don't fail in their job neither will you. Always be positive and say only what needs to be said and only that which will move the boat forward to a better position. Never give up and never stop sailing at 100% till you cross the finish line. Many regattas are decided by a single point. Being a good crew means you get everything done even if it's just coiling a line before the gybe…most of it will happen in the back ground and no one will notice. It is often when nothing happens (the spin sheets don't get knotted and screw up the gybe) that it means you're doing your job right. Debrief after each race to talk about how to improve for the next one.
Compass- I sail a lot of small boats that do not have the fancy electronics that give you all the wind and speed info. I have found that a compass is all that you really need. The fancy stuff is nice to have for sure, and I will use it to confirm what I already know from the compass. No matter if it is a new digital compass or an old school one it will help you figure out when there is a shift, the favored end of the line, or the wind heading. When crewing I will keep track of the boat heading (as I know the tactician is too) so that I know when there has been a shift and I can then be ready for any maneuver to take advantage of the shift that just happened. Keeping track like this will keep you a step ahead of the boat. It will help you keep your head in the game tactically as well as inform others on the crew that there is a maneuver likely soon and to be prepared when the tactician calls for it.
October 28th, 2014
As the days grow short, foiling Great Cup 32 sailors grow impatient, and last weekend, both the Hungarian team and the shiny new American team took advantage of autumn breeze to go record-hunting…
On Friday, Hungarian team RSM DTM (owned by Zsolt Kalocsai) smashed the 'cross Lake Balaton' record – also known as the Hungarian Sea – previously held by the Pauger P50 double masted cat.  The GC32 took less than two hours to complete the 49 NM course, and their time of 1h57m shaves almost a half hour, or more than 25% of the time off the long-standing record. Sure it was cold, but nothing warms like victory…and rum.   5000 miles away, the first-ever US-based GC32 Argo also had a strong first weekend despite landing a week earlier in Newport straight from the builder in Dubai.  As a Moth racer, two-boat Melges 32 campaigner, past M32 World Champ, and high-performance monohull guy, new owner Jason Caroll finally came over to the dark side with the GC32, and he didn't waste any time.  Their first assault was the Around Jamestown Island Record and not because the season victor takes home his weight in rum.  Well, not entirely.  Thanks to its location just a few miles from the yachting wonders of Newport this record gets constantly attacked by some of the world's best sailors, so it makes sense that it was a major goal for the Newport-based Argo team.  And attack they did: On just their third day sailing the boat, Argo notched the first sub-1 hour time ever recorded for the busy record.
With 16-22 knots from the West, Argo hit a top speed of over 37 knots enroute to a new record of 58 minutes and change for the AJIR, and here is the report from Argo program manager Chad Corning.
All it took was a two-day test session in La Baule, France last month for Jason to press 'GO' on a GC 32 of his own.  These boats are truly next-level stuff, with balanced power, adjustability and top end speeds that defy belief.  Our immediate goal would be the around Jamestown Island record which had been set in perfect conditions earlier this year by the Marstrom 32 Bronco.  
Once all the bits had arrived in Newport from around the globe, we had just four days to build the boat with Jim, Mischa, Macca and Mikey all working huge days to get it done.  We made it into the water Friday, and had a three day window to work to take a crack at the record.  
Conditions were fairly benign as we worked the boat up, but we still topped 30 knots of boat speed.  We took a stab at a lap of the island, but inconsistent pressure and a sub-optimal direction left us with a 1:20 time – 17 minutes short of glory.  Saturday was another great day with a near-vertical learning curve going and another bump in top speed to 33 knots.  Our attempt time came out about the same as Friday, as conditions remained just too light to get it done.  
Everyone was licking their chops though as we looked at the forecast for Sunday.  Fresh westerlies were on tap which would make for reaching on both long legs of the course – perfect.    
Sunday dawned with more wind than forecast but from the right direction.  GAME ON!
A quick test run prior to starting proved that the boat was a absolute beast in the breeze-on conditions.  The first leg out to Beavertail was slightly cracked from upwind on starboard and we skimmed or foiled at 16-18 knots.  A quick tack and we were off on a broad reach down the back side of the island, a condition that the GC 32 likes, to say the least.  Our hair was fully on fire on this leg, though we had to take a two minute pit stop at the north tip of the island to repair the rudder down line which had broken.  After nailing a jibe it was all on to the finish.   The moment of the day came when we rode a big lifting puff to 37 knots of boatspeed.  With board-flat water, the boat just wanted to go, and we all foresaw a 40-knot ride.  But the puff faded, and as we neared the Newport Bridge, the boat dug its nose in heavily.  With the port foil hitting a lobster pot, the horizontal element of the foil quickly became vertical at 30+ knots and the bottom half cleanly sheared away.  With the record in hand, we low-rode into the finish eventually stopping the clock at 58 minutes and 31 seconds, the first sub 1-hour lap of the island.   On board for the record – Jason Carroll, Mischa Heemskerk, Cameron Appleton, Mike Kuschner, Michael Barnes and Chad Corning while Andrew Macpherson from GC and our boat captain Jim "Grande" Condon manned the chase boat.  Team Argo has a lot to learn in this new world, but our first taste was extremely satisfying.    
The Argo GC32 heads south for the winter and will be joined by more GC32′s from Europe for some winter foiling – we'll have some more news on that program soon.  Short vid of the Opti fleet flyby here, and a bit of post-crash non-foiling here.
October 28th, 2014
VOR
The fans who follow us at home now think, why the hell have the guys choose this strange route yesterday," says Bouwe Bekking with a sour face. Sitting on the little bench he stares into the navigation screen of Andrew Cape. It is a dark hole, and the only source of light is the small computer screen. "We clearly sail the wrong way," he continues.
As always, there was once again a thought behind this tactical move of Bekking & Co. Team Brunel was sailing 400 miles off the Brazilian coast to the south. Directly ahead for the Dutch team was a huge high pressure area. Bekking: "There is virtually no wind here. Think of it as a concrete wall. It's impossible to break."……. Read on.
October 28th, 2014
With the Vanguard 15 class in continuing decline, team racing Midwinters was cancelled this year, so Eckerd College Anarchists Kevin and Zach stepped up to do something about it, and Zach sent us a little note: "We know a ton of team race fans read Sailing Anarchy, and we're hoping you can help us spread the word."  Consider it spread. 
If you are bummed that the V-15 midwinters are dead, or if you never sailed the V-15 midwinters because you don't have a boat, then come sail the first ever Eckerd Open Team Race hosted by Eckerd College on Dec 31- Jan 2. What could be better than some 3-on-3 action in warm Florida during the dead of winter?  We're providing the boats, the dates have been setup not to conflict with Orange Bowl, and entry is dirt-cheap.  We've partnered with the beachfront Post Card Inn for an awesome regatta dinner and special regatta rates, and they are stoked to have us join in their New Year's festivities! Bonus: No NYE driving!
Finally, we've got six Zim 15s to race; this will allow us to take more entries, and competitors will have a chance to get to know the boat used at the Hinman Teamrace.
Registration is now open and available online – please go there to register!
October 28th, 2014