MAYDAY alert via satellite from 11'19.876S 112'23.973W @21.07.2017 0030UTC came in 1 hr ago via friends of Jørgen Emmerik Andersen and Anna Viera on S/V Restless.
If anyone is sailing in the vicinity please help them them out.
MAYDAY MAYDAY, SY Restless OSLO with Anna Viera and Jorgen Emmerik Andersen on board are slowly sinking in the south Pacific ocean, 11'19.876S 112'23.973W @21.07.2017 0030UTC. We have a crack of about 60cm in length in front of the keel, where the mast base is located, no visible crack on the inside of the boat, it must be under the stringers.. . I have been diving and trying to fix the leak with epoxy sticks unfortunately not working, to reduce the leak we have tied a tarp from side to side under the boat.
The 3 electrical bilge pumps are not working great so we have disconnected the raw water intake from the engine and connected a hose so we can pump out the water quickly.. We have contacted via Satellite phone HRS Sola Norway and they have issued a mayday to vessels within 600nm of our location. VHF DSC Mayday has been sent. Other than being really bummed and sad, we are doing well. Keeping her afloat until rescue comes, so please share so we can get to safety.
July 21st, 2017
July 19 at 3:27pm · Chicago, IL ·
7/18/2017 High Priority 2 Update
A long day on the water, 13 hours later she is floating upside down at a commercial ship yard in Milwaukee. 2 boats and 4 able body seamen ; David (boat owner/skipper) myself, Pete and Gary from Tow Boat US were not able to right her 20 miles offshore in 400 feet of water.
Carbon fiber mast is broken, code o damaged,screecher damaged, main, jib and spinnaker destroyed. Most of the sails and rigging were removed offshore. Some untangled, some cut way.
Pete and I spent most of the morning in the water clearing lines , removing sails, rigging and what was left of the mast. David and Gary hoisted the gear aboard Petes trawler.
We made every effort possible per manufactures guide lines to right the Corsair 31 .
I believe it's possible but Pete exhausted his air supply and was unable to continue diving. Approximately 12 feet of mast and 3/4th of the main sail are still attached. With this much drag from below she will not flip back over when towed backwards.
So after 8 hours of towing her on her back, we will right High Priority2 in the a.m
– Jim Goempel
July 21st, 2017
Like a whirlwind of brilliance and carbon fiber, Russell Coutts leaves a path of devastation behind him.  First in NZ, where to many he is still one of the biggest traitors in the island's sporting history.  Then to Switzerland, where his divorce from Alinghi was so nasty there was a rule written specifically to ban only him from AC32.
Then to the US, where after a brilliant comeback and a great event in San Francisco, he found ways to completely alienate the majority of the team's American supporters for the recent Cup:
First by removing the competition from the country that won it; second by decisions that brought bad ratings and made it expensive (or downright impossible) for Americans to watch the majority of racing, and third by saddling San Fran with an unexpected, 8-figure bill – a move that ensured no US host cities bid for the event with even a fraction of what Bermuda came up with.
It appears that familiar old Coutts tornado has left another wrecked venue in its path now that results are in from the parliamentary election we reported about before the Cup that was held this week in Bermuda.
On Tuesday's General Election, the mostly white, ruling One Bermuda Alliance party (the OBA – jokingly called Oracle Booster Association in online chatter)  suffered a crushing defeat at the hands of the mostly black Progressive Labor Party, many of whose members had been strongly critical of the money spent to bring the AC to the island.
The election was a true landslide in the tiny island nation, with the PLP receiving 20,059 votes, or nearly 59 percent, while the OBA secured 13,832, with resigning PM Michael Dunkley complaining that the biggest issue in the country is its "racial divide."
While we are certain that there are much bigger, far reaching components to the OBA's thumping than just the America's Cup, it probably didn't help the race problem to spend millions and millions of dollars on perhaps the least racially diverse sport on the planet?
July 21st, 2017
Just a little bit of summer vibe from the beautiful Bay of Arcachon…. in South West of France. – Christophe Launay.  See all the beautiful shots here.
July 20th, 2017
Big Pimpin'
In the 1930s, when the rule was first introduced, J-Class yachts were the pinnacle of world yacht racing. But by 1940 many had been stripped or broken up for scrap metal for the war effort or just abandoned and left to rot in mud berths. Decades later several of these leviathans have been rebuilt and restored and are now part of a healthy and spectacular racing class that has also witnessed a number of new builds… or 'new old' builds. And as the level of racing in a remarkable fleet has increased so inevitably has the demand for 'faster' technology. Enter Southern Spars.
Naturally modern design, manufacturing processes and materials allow a company like Southern Spars, immersed in grand prix sailing, to make those towering J-Class rigs massively lighter than their original predecessors – most of which were fabricated in steel.
But since the first carbon mast appeared in this specialised fleet the race for even lighter rigs with lower VCGs has powered inexorably onward. For example, the recent upgrade of the Hanuman rig package yielded a saving of more than 800kg across mast, boom and rigging compared with its carbon predecessor. The previous rig was built by another manufacturer just a few years ago and yet this latest weight reduction is the equivalent of removing 10 crew sitting on the second spreader. Even on a yacht this size that's a big gain.
But Paul Snape, head of mast design at Southern Spars, says the benefits that such an upgrade offers extend far beyond these substantial weight savings.
July 20th, 2017
If there's one thing that bothered us during the buildup to AC35, it was the way they treated the Cup itself; that doo-doo brown Louis Vuitton case was bad enough, but the pair of white-gloved rent-a-guards toting the silver cup everywhere brought it into parody territory for just how silly the ultra-rich can be.
Despite the Cup's only historic damage coming from a 1997 Maori protestor's sledgehammer, Dalts and the ETNZ team has gone 180 degrees in the opposite direction.  No white-gloved douchebags, the public getting their chance to touch it at most of their victory tour stops, and ETNZ foil trimmer Blair Tuke using the Cup for rum and cokes aboard an Emirates flight (as he gets ready for his own quest to be the first sailor to get the first true Grand Slam in history (Olympic Gold, AC win, and VOR victory) aboard MAPFRE in the next Volvo.
Carlo Borlenghi photo.
July 20th, 2017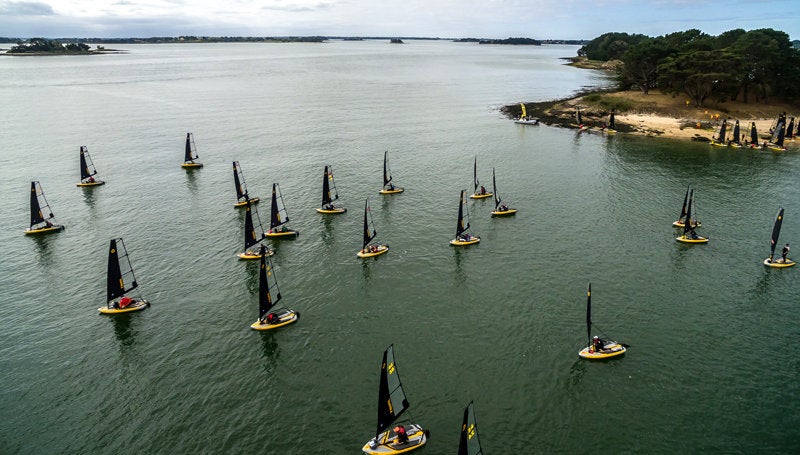 On Saturday 3rd June, 53 inflatable dinghies lined up for the 4th edition of the TIWAL Cup in the Gulf of Morbihan (France) – an annual event for fans. Participants came from the United States, New Zealand, Hong Kong, Malta, Sweden and all over Europe to take part in this fun and sporting challenge.
The bags are lined up on the beach. 53 TIWALs are ready for the assembly challenge.The designer and co-founder of TIWAL Marion Excoffon, starts the clock. They're off! Double and single-handed, 85 people get down to work: opening bags, inflating the hulls, assembling and setting the sails. 6 minutes 28, Mélanie and Grégory beat the double-handed assembly world record. 10 minutes 41 single-handed for Gilles.
The 53 boats set off for a morning of quiet navigation between the islands in the Golfe du Morbihan in almost no wind. During a friendly, sun-filled lunch on the island of Arz, Vincent gives the start for the TIWAL Kid's Cup: "For this 4th edition, we wanted to include the children more and offer them their mini competition." This is a serious business for the 10 to 16-year-olds. Following the victory of Marine and Salomé, the wind picks up and the TIWAL Cup gets underway again in sportier conditions. "We had a slight wind in the morning, but conditions in the afternoon were a little sportier. With all of its islands and currents, the Gulf is a very interesting venue and a wonderful stretch of water!"comments Mélinda from New Zealand.
On returning to the port, the TIWALs are packed up and loaded into car boots. The day ends with a prize-giving ceremony and drinks, an opportunity to discuss the day's sailing.
July 19th, 2017
We never have really thought about how to win a Super yacht Regatta…
Talking about racing sailboats starts a competitive debate around here. On one hand, we're still the boat-nerds dreaming of deconstructing a Vendee Globe or America's Cup racing rule to unlock the hidden speed secrets that take the silver home. All designers dream of sailing glory. But on the other, experience has taught us that real raceboats are a bummer. The dumb things go out of date before they're even built. And the boat you wind up having to sail is a beast: Rough. Wet. Dangerous. And that's assuming you know how to sail fast. Most of us live through the nautical murder of slowly slogging along, crawling along in a boat meant to go fast. It's a killer.
The lovely Bequia won big at the 2017 America's Cup Superyacht Regatta in Bermuda.
Instead, time has taught us to stick to our wholesome Spirit-of-Tradition naval knitting. We seek to design boats that are comfortable, look fabulous, yet still flash plenty of speed for fun and safety. And if you win your Wednesday night 'round-the-can races with your buddies, all the better. That's racing Stephens-Waring style.
Thing is, in our world sometimes this sort of racing among friends turns into serious competition among seriously competitive sailors. And earlier this summer, one of our favorite 90-foot yawls, Bequia, shaped up for the America's Cup Superyacht Regatta 2017 in Bermuda, skippered by no less than Tom Whidden, president and CEO of North Technology Group, in Milford CT; where he manages the core North Sails brand, as well as companies like Southern Spars, North Apparel and EdgeWater Boats. Tom gets going fast in sailboats. He's actually won a real America's Cup, back in the day. And he's one of the few sailors that legends like Dennis Connor actually listen to out on the race course. Whidden helmed Bequia to a win in her class, and within just a point or two of taking the honors for the entire regatta.
July 19th, 2017
Big Pimpin'
Summer is for sailing and enjoying life. We would like to remind you that you can spend your Seascape summer/autumn vacations in FreeSpirit Sailing Center, based in Croatia and surrounded by a beautiful archipelago of islands and crystal clear sea. Free Spirit is the right place for all of you who might need a hand with assembling the boat, and or in case you need some lessons. They have an excellent sailing school program.
Their Basic and Advanced sailing courses are just perfect if you wish to learn or upgrade your sailing knowledge. The classes are structured, starting with the morning theory and practise on Seascapes later on.
If you have a family and wish your kids and wife/husband would fall in love with sailing, you can join a Family sailing course, where each family member gets the knowledge he needs and some quality time together.
For more adventures types of sailors, they organise Chasing Kornati adventure. A sailing week where you will explore nature and authentic spots in National Park Kornati.
July 19th, 2017
A scary little shaft near the Chesapeake Bay Bridge during a nice Saturday sail.  Tip 'o the hat to Spinsheet.
July 19th, 2017