So this is different! What do you think?
April 26th, 2017
If you don't know Matt Wake, you should. A truly good guy, good sailor and owns one of the better stores on the East Coast, and is the US dealer for Fareast Yachts He took his Fareast 28 to Charleston Race Week, sailed it in ORC, and here are his observations.
Sailing is seeing lower participation rates, less variety and rising costs. Why? Well, probably a lot of reasons, but a big part of it is the predominant thinking that the only good racing is One Design racing. And it's true, nothing beats One Design if the boats on offer fit your sailing venue, your ideal boat type and your budget.
The problem is, that's rarely the case, you almost always have to make sacrifices and usually big ones. It costs a lot to develop and build a One Design class and it's a risky endeavor, even for big, established brands. They need to be, and deserve to be, paid to take those risks. But it also means the boats cost more, a lot more, and they typically get more expensive as classes become successful and more and more you're paying for the fleet, not the boat.
Enter ORC. If you're a regular Joe, with a non-hedge fund job, and you like fast boats, this is your happy place. The ORC C course had 9 very competitive boats on the circle, ranging from brand new GP26′s and Fareast 28R's to a 20 year old Henderson 30 and a Melges 32. Now consider that a brand new Fareast 28R is 50K, and a GP26 is 65K. A used 32 can be had for 60K and a Henderson 30 for less. In all probability the boats on that course cost less than the SUV's that towed them to Charleston. All the boats are equally at home around the buoys or offshore, and all were ripping 18 knots all day long. Oh yeah, and nobody felt like they shouldn't bother showing up without a brand new set of sails. I spell awesome "O.R.C".
Let's dig into this a little more. First of all, we've established that it's a pretty good thing to be able to shop for a new boat based on value, not brand, and that you can also get your aspirational boat for a bargain on the used market once the billionaires are done with it. But that's not all folks, ORC rates you 3 times, once each for low, medium and high wind speeds.
That's right, so sport boat lovers like myself don't have to cry ourselves to sleep when we have to line up in breeze with bigger, multiple headsail boats, or the other way around. There's a rating for that! Last, but certainly not least, it's a formula, it's not as subjective as PHRF. Plug in the numbers, get your rating. Wondering what a bigger kite will do, or a smaller jib? Plug in the numbers. Imagine the money you'll save when you no longer have to buy drinks for your local PHRF rating officer. Imagine the money you'll save when you no longer have to drink to console yourself after you get your PHRF rating.
OK, on to the racing. This was the first year these boats were moved inside, and it was awesome! We still had plenty of breeze but the commute was a lot shorter and the sailing much more civilized in the relatively flat water of the harbor. With no waterlines over 32 feet and weights of only 2500 to 4000 pounds, flat water feels good and kept the crews smiling. Racing in a mixed fleet also brought some interesting tactical challenges, and opportunities. The Melges 32 and 30 were the fastest boats, so just go to the front and stay between the competition and the mark, right?
Wrong. Sure, they mostly had clear air, but they had to go to the front and extend to win and without the reference of other boats on the same angle. And it was dangerous business setting up next to those guys at the start. Set up below and lose the race to the first shift and you got rolled, set up too close above and get pinched off. But if you could nail it just right, you could pin a faster boat to leeward for a long time, burning away the time they needed to get the win. In everything from crossings, to roundings, to down wind angles, every boat needed to factor in what weapon the other brought to the fight.
Rattle and Rum had a bigger kite than the other GP26′s, you just weren't going below them on the run, only the 32 had that downwind angle. The Fareast 28R's have a whole other bow down gear, so it was easy to escape off the line and then hold angle with anyone, you always wanted a little separation from those guys. The GP's were up and out of the well right quick, blink and they sailed away.
In the end, I think the results speak for themselves. Rattle and Rum ran away with it, but because of solid crew work and consistently good tactical calls. On my Fareast 28R, Eagle's Eye (2nd place), we had an identical rating and felt we could always hang with them in a straight line, maybe we had an extra gear upwind, they had one down. But our pick up crew of misfit toys just couldn't turn the corners well enough to beat them. If you run down the results, boat by boat, every boat got what it deserved every race. If you were smart and kept the boat on it's feet, you were top 3, for sure. If you didn't you got shot to the back. You don't see that many first place finishes spread around the fleet if the rating system doesn't work. That said, the boats were pretty similar and the courses short, so it made for close, exciting, racing.
I think it's worth mentioning that this circle just had some really great people sailing on it. The Canadians on the Fareast 28R Hard 1 lost 3 races to a blown out head on their main. If not, they almost certainly would have posted some top scores and beat us, and those hosers were fun to drink rum with. Also, Short Bus, the Henderson 30 was a rock solid bunch, tons of fun to sail against and with a very strong last day they came within 1/2 a point of snatching our second. They were the first ones to congratulate us, now that's class!!
Also,we were sorry to lose Temptress for the last day when a wipe out resulted in an ankle injury and they were forced to retire. Finally, thanks to the crew, Scott "Hot Scott" Williman, Tim "Adorable Tim" Fitzgerald, Anne "Bow Ninja" Sheridan, Tristan "Metric Master or Masts" Story, Juliana "Bad Ass Backstay Babe" Skougland and Jacob "Needs No Introduction" Raymond. (Seriously, is there anyone in Charleston who doesn't know Jacob?).
April 25th, 2017
How drunk was El Capitan?
April 25th, 2017
Blue Robinson talks immovable objects, round-the-world navigation and Southern Ocean weather with routeur du jour Marcel van Triest
Seahorse Magazine: Before the last Volvo Ocean Race when Ian Walker on Abu Dhabi came to you, what was your brief?
Marcel van Triest: I discussed this with Ian not so long ago, asking what his philo – sophy was in getting me and Chris Bedford involved. Ian's take on it was that if he took a blank sheet of paper and asked where he could become better with the resources that were available to him – as the VOR is now one-design, which doesn't allow two-boat testing or new areas in sails to explore – one of the areas he identified where money and people could improve his campaign was navigation.
He then made a clear goal of trying to get the best he could, and the brief to Chris and me was not to focus on a certain area but to assist them by leaving no stone unturned. And that is really how I approached it, preparing the legs as if I was going myself, but with the benefit that I wasn't and so I could really drain myself and be worn out by the leg start.
With navigator Simon Fisher some of the tasks we doubled up on, as simple as the two of us checking waypoints in traffic separation zones. I recall when the fleet were leaving Holland these got amended at least 11 times, meaning it is very easy to make an error. If you have somebody in the team administration checking this it just isn't the same as another navigator. Plus you have all the Notices to Mariners, which is a big read if you are racing through different nav areas; all this can get away from you if you are on your own.
Me doing it all allowed SiFi to rest, take part in sponsor commitments and spend time with his family, knowing that everything was in hand. Read on.
April 25th, 2017
"We're just trying to beat Waikiki Yacht Club", he said, gazing out over the water. "Us too", I replied. Having won the Lipton Cup four consecutive times, Waikiki Yacht Club's group of assembled rock stars and their venerable Humboldt 30 High Tension had a clearly defined target on their backs. Eagerly anticipated by sailors from all over the Hawaiian islands, the Lipton Cup is an annual regatta that effectively serves as the state's club keelboat championships. Coming together each year to race at the venue of the defending champions, all of the major yacht clubs in the state send a team of their best sailors to contest a two-day regatta using similarly rated and performing boats.
For Waikiki Yacht Club, defending the title for a fifth consecutive year wouldn't be easy. With two clearly faster Hobie 33′s and an Olson 30 on the line, and moderate breeze that was just below planing conditions for the ULDB's, there were several question marks lacking answers before the first gun went off. Maui's Lahaina Yacht Club was MIA for the regatta, meaning that just four boats representing Kaneohe Yacht Club, Waikiki Yacht Club, Hawaii Yacht Club and the regatta's only non-Oahu team, Nawiliwili Yacht Club from Kauai, would compete for the Lipton Cup.
Sailing with different configurations but the same rating, the two Hobie 33′s battled for the lead early. Waikiki Yacht Club and their slightly slower Humboldt 30 High Tension was not far behind, hoping to stay in touch with the leaders and correct out on top. Halfway up the second beat, WYC was dealt a crushing blow when a massive left-hand shift came down off the beach and auto-tacked the boat, forcing a lower lifeline to come unthreaded and two crew members into the drink. While they recovered quickly the MOB incident dropped them well behind the fleet, and put them last in the first race. This didn't help much either…
Kaneohe Yacht Club's Hobie 33 "Yellow Dragon" with skipper Marc Barra proved the class of the fleet and pulled out to a convincing win in the first race with Hawaii Yacht Club's Hobie 33 "Mayhem" in second place, Nawiliwili Yacht Club's Olson 30 "Fast Company" in third and High Tension fourth. The second and third races of the day confirmed that Kaneohe Yacht Club's "Yellow Dragon" was on point this weekend, and that they were now the boat to beat. Their sistership "Mayhem" kept them honest but with a smaller headsail, slightly less polished crew work and a lighter crew, they just could not match KYC's speed and point when sailing upwind. With KYC dominating and Nawiliwili YC off the pace in fourth, the most exciting race of the regatta was for second place. Hawaii Yacht Club's "Mayhem" owed the defending champions from Waikiki 6 seconds per mile, and came out just short of beating Waikiki on both the second and third races of the day. HYC's 2-3-3 put them tied for second place on eight points with Waikiki's 4-2-2 after day one.
As day two dawned, KYC had the regatta all but wrapped up and merely needed to sail around the course to un-seat WYC as defending champions. Not ones to be happy with merely playing it safe and sailing around the course, KYC's "Yellow Dragon" again went for it on day two and charged the start, perhaps even a bit too hard, as they were over early alongside WYC. Handing an early lead to both "Mayhem" and "Fast Company", the regatta leaders re-gained control of their own destiny by once again putting on a clinic upwind. Despite having to turn back to sail across the starting line, KYC still rounded the windward mark in the lead and never looked back. Continuing to construct a nice picket fence for the weekend, KYC now sat on four bullets while HYC claimed second and took a one point lead over WYC, with Nawiliwili once again in fourth.
A big right-hand shift in between races four and five caused the Race Committee to re-set the starting line and windward mark, bringing the race a bit closer inshore. With the big puffs and shifts closer to the beach, the game had changed, adding to the drama of the final race. Coming into the last race, KYC had officially won the regatta and claimed the Lipton Cup, while Waikiki's two yacht clubs would be duking it out for second. Hawaii Yacht Club led their local rivals from Waikiki Yacht Club by one point. If HYC beat WYC, they would claim second place by 2 points or more. If WYC beat HYC however, they would claim second on a tie-breaker. WYC and their renowned skipper Sean Doyle came for blood in the pre-start, employing full-on match racing tactics, while HYC's team with skipper Steven Eder was having none of it and merely wanted to gain separation and sail their own race.
KYC hoisted a battle flag rather than a head sail and retired after crossing the starting line to join the fleet of spectator boats. Racing close up the first beat, HYC and WYC rounded the top mark and took off downwind. HYC looked to be correcting out over WYC, but fell victim to a couple of big shifts on the second beat, one of which auto-tacked the boat and nearly caused a man over board. HYC's "Mayhem" stuck with it however and went on to take the bullet in KYC's absence, and therefore secure second place for the regatta with WYC's High Tension rounding out the podium, and Nawiliwili YC's "Fast Company" in fourth.
Filling the impressive Sir Thomas Lipton Cup with rum and coke, multiple times, and sharing it with the rest of the fleet, Kaneohe Yacht Club and the "Yellow Dragon" crew celebrated their well-earned victory well into the night.
They came, they saw, they conquered, and they have now taken the Lipton Cup back to Kaneohe in 2017. As for next year, Kaneohe is a hell of a venue to sail in, and every other club in the islands is looking to slay some dragons.
Aloha
Ronnie Simpson
bowman, "Mayhem"
All photos by the insanely talented Lauren Easley
April 25th, 2017
Italian cat sailor Vittorio Malingri long ago proved himself a certified nutter, setting the singlehanded beach cat record for the Senegal to Guadeloupe transatlantic route back in 2008 at around 13 days.  It's the same route that certified French nutters Benoit Lequin and Pierre-Yves Moreau did in 11 1/2 days on their beach cat, and for Vittorio, beating their doublehanded time was a challenge he decided to take on with family.
The duo of Nico and Vittorio smashed the record on Saturday, taking more than ten hours off the Frenchies record at an average of just under 10 knots.  Sick stuff, and check out the team's Facebook page for more photos, videos, and stories (in italian) about their effort. Bravo Ragazzi!
Title shout to fathers and sons everywhere who do cool shit together, and thanks to SA'er "M26″ for the tip.
April 24th, 2017
As expected, in any breeze at all, the Bermuda America's Cup will be sailed entirely above the water if Emirates Team New Zealand's most recent practice is any indication.  Watch the 11:30 mark of this video from AC junkie MyIslandHomeBermuda for an incredible sequence of foiling tack/foiling rounding/foiling gybe and note the stability on the Kiwi AC50; is ETNZ once again too stable for speed, or do they finally have it right?
April 24th, 2017
The multiple-fatality wreck of the Dipiu we told you about last week was hauled off the Rimini jetty over the weekend as documented by Manual Migliorini from Il Resto Di Carlino here. The Italian Coast Guard is now focusing on engine issues as the primary cause of the wreck.  One source told us the on-deck crew was actually washed off the boat in a breaking wave that also flooded the boat and shut down the engine, and the only crew to make it out alive were those stuck inside the boat when she was thrown onto the rocks.  We're also told one sailor tried to rescue his girlfriend, whose foot was stuck between two rocks on the jetty…they both drowned.  All in all, a horrible story that could have been entirely prevented by listening or reading one of dozens of forecasts and warnings available to everyone in the area for days.  One Anarchist says undue respect for a senseless tragedy doesn't do anyone any favors.  "Skol" writes in the thread:
My condolences to the families that are affected.  Given the comments in the forum, I feel somebody should speak up.  Terrorism is a tragedy. Gun violence is a tragedy.  This particular accident was caused by a suicidal, murderous asshole. The skipper paid the price? And what about his son-in-law or his grandchildren, or his (ex) wife?  What are they paying – respects? Bullshit.
The conversation here should be about the living and keeping them that way if facing similar conditions.  If that's done in acerbic and unpleasant terms, well tough shit. It's not a disrespect for the dead. It's a wakeup call to the people who potentially don't take their safety and their crew's safety seriously enough.  You know there was probably words of respect and moderation on board that boat before 4 people lost their lives, when what there should have been was a fucking mutiny.
So – how many of us have been out on a daysailing on a 30~40 foot pleasure yacht without adequate storm gear?  I'm guessing that's most of us. Putting aside the boneheaded choices that got them (or you) out there in the first place, what would you have done? 
[  ] not enough sea room for a sea-anchor, even if they had one 
[  ] not enough sea room to run downwind.  NE gale was perpendicular to the coast 
[  ] attempt to heave to (… on a fin keel boat close to lee shore, not the wisest option)   
[A] motorsail to windward under reefed main, sliver of furled jib, or any combo thereof. 
[B] attempt a broad reach parallel to the coast under reefed main 
[C] combo of a & b to maintain searoom until reasonable window for port entry 
Running for port just isn't on the damned list. Running for port under power without a scrap of sail up is doubly not on the goddamned list. If they left port with a damaged rig while under storm warning in the forecast, I'm sorry, but it was a suicide run from the beginning. It really makes my blood boil.  So again – for the sake of the living, please note!:
NO SAIL and NO MOTOR is NO CONTROL.  Add that recipe to a lee shore and you're finished.  
A sailboat auxiliary engine is just that: auxiliary.  Trust it only at GRAVE and MORTAL fucking peril! 
And finally, if the skipper is on a suicide mission, speak the fuck up. I don't care if it is your daddy, I don't care if it's your daddy's best friends. For fuck's sake say something. 
April 24th, 2017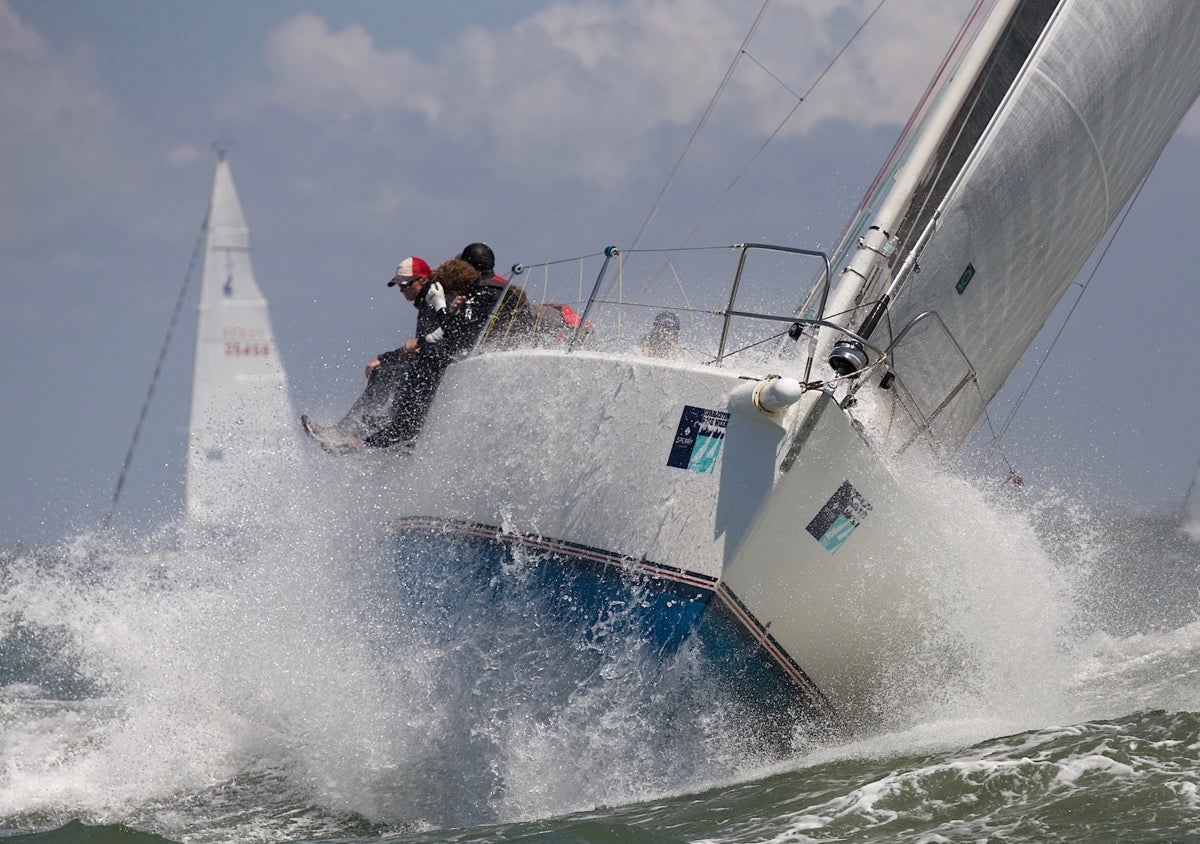 After several years with lost days and poor racing offshore, the 22nd edition of Charleston Race Week delivered 3 days of full-on racing, with moderate to big air inshore and big wind and seas outside the harbor for 212 boats at the biggest event on the calendar for many teams.  After losing around 30 boats for both 2017 and 2016, organizers are doing what others often haven't – they listened to their critics and moved things around significantly, and the 2017 event seems to have rewarded their moves.
The first move was working with the Coast Guard and Port to add a fourth circle in a harbor that many used to think couldn't even fit two, and the result was not only sailable, but it showed that there's easily room for another new fleet or two.  Stars and Lightnings are both perfect candidates, and both fleets are looking for some new venues, so we expect next year to begin growing once again.  They also moved the smaller handicap racing fleets – now all sailed under ORC – inside the harbor, and every team we spoke to will be back now that they don't have to face the long slog offshore in little boats.
As usual, Charleston reminded us that it's the only regatta party we know of with more women than men, and the diversity on the water was just as good; boats fully crewed by women, fully crewed by kids, and fully crewed by military vets and wounded warriors were all over the place, with some even winning their classes despite their bow guy/main trimmer being blind.
The overall winner was reigning J/70 World Champ Joel Ronning, who dodged a last-day protest to hang on in the biggest fleet at the event.  They almost lost it all though, when the forestay let go just before the final race.  Listen to the full story from Catapult trimmer and longtime SA fan Patrick Wilson here.
Clean and the media team posted stories, interviews, hundreds of photos and hours of video on the CRW Facebook Page here.  Full results here.  Meredith Block photo of the J/120 Illyria.
April 24th, 2017
After several years of losing multiple days of racing from the usually reliable Charleston Race Week schedule, the 2017 regatta is more of what Charleston became famous for: 80 degree days and 12-18 knots of sea breeze for the 200+ boat fleet.  It's also the first regatta in America to feature ORC for all handicap racing – an experiment that we'll be reporting on after the data are in.
Results, photos, and constant video updates from our own Mr. Clean are over here.
April 22nd, 2017