As someone close to the communities involved, ie. Chinese seafarers, Chinese sailing and the VOR I understand the concerns of all parties. It is never good news when someone dies in an accident and that applies to all concerned.
However to suggest that legs should finish out to sea instead of in close to where people can see the finish would potentially kill the event as a large part of the sponsors' visibility would evaporate. Besides an ocean crossing or ocean race is from shore to shore, not close to shore.
And why stop doing it? I have followed the Whitbread/Volvo since a washing machine manufacturer won the first one, and while I admit my memory may have missed or forgotten some details, and I cannot remember any such accident ever – not in Volvo Ocean Race finishes.
I have been on chase RIBs welcoming the lead boat as it comes out of the gloom of a nautical dawn, been on or driven the VOR photo RIB at numerous VOR in-ports and leg stats and the only time there was any issue was when an over-enthusiastic power boat owner encroached on the well marshalled race course.
Just think of the numbers, multiple races, each race with multiple legs, each leg with multiple finishers and many in poor or NO light and yet this is the first time this has happened AND it was 30 miles out to sea.
On the other hand there are multiple reports of collisions between yachts and other vessels way out to sea – do we stop all yacht racing in areas where there may be fishing boats or other shipping?
There has, perhaps naturally, been a knee jerk reaction to the death of a fellow seafarer but it is most certainly NOT a common situation with the Volvo Ocean Race.
Everyone needs to calm down, slow down, stop "specuguessing" and leave it to those concerned with – and responsible for – finding out what actually caused the collision, suggest the solutions for the future and then ensure, as best as humanly possible (and only if deemed necessary) they are implemented them into race (and perhaps the sport in general) to help avoid a repetition.  
Let's not forget that the sea is NOT our natural environment and accidents, and yes, deaths at sea are sadly not a rare occurrence. Just a matter of weeks before this event over 20 sailors lost their lives when a freighter and tanker collided only a few hundred miles from Hong Kong off the Chinese coast.
Yes be sad for the sailor who lost his life but let's not throw the sport out with the seawater and also lets leave the professionals to investigate the causes and reach sensible decisions unencumbered by less well informed, more emotional arguments.
-Shanghai Sailor
January 20th, 2018
UPDATE: Video of the fisherman casualty being winched up into the helicopter is on the web, and we note that he may have been dead before he ever got to the hospital.  Investigation underway and VOR finally confirms the death hours after numerous other sources.
If there is a mild winner in this whole situation (and it's a morbid thought), it's Charlie Enright, who sat out this leg to deal with health issues in his family.  We doubt he is feeling particularly lucky tonight.
More reports as available.
January 20th, 2018
VOR BREAKING
2 minutes ago, Hong Kong's Oriental Daily News reported that a Chinese fisherman died in a collision this morning and the coincidences are way too strong for it to be anything other than the fishing boat involved in today's collision with Vestas 11th Hour Racing.  NOTE: This is a legitimate news source claiming to have confirmed the death with Eastern Hospital, but we HAVE NOT BEEN ABLE TO CONFIRM THIS INFORMATION WITH THE HOSPITAL.  Translation from SA'er 'BLAK' and Google:
A collision between a yacht and mainland Chinese fishing boat to the East of Waglan Island at 2:32 AM, police and firefighters responded.  10 of the fishing boat crew went into the sea and were rescued, one of them sent to hospital in a helicopter and seriously injured.  Confirmed dead at 6:30 AM at Eastern Hospital. The police are investigating the incident.  
Oh, shit.  This changes everything.
At about 2 am, a sailing vessel was engaged in a collision with a fishing vessel off the Mainland on the east of Waililan Island. After the accident, the fishing boat sank and 10 people fell onto the sea and were rescued. However, one of them He was seriously injured and was taken by the Government Flying Service helicopter to Eastern Hospital for treatment. Unfortunately, he was eventually declared dead. Police are investigating the collision between the two vessels.
double shit.
January 19th, 2018
Our Volvo Ocean Race coverage is brought to you by Musto, Official Apparel Provider for the 2017/18 VOR.
The first decent live coverage of the Hong Kong arrivals happened just a few minutes ago when overall leader MAPFRE crossed the line in fourth place; click the vid for some updates about Vestas and strong on-water color from Bicey as Xabi and team dock in.
January 19th, 2018
Our Volvo Ocean Race coverage is brought to you by Musto, Official Apparel Provider for the 2017/18 VOR.
The Anarchists have been swarming over Vestas 11th Hour Racing's debacle just a few miles from Hong Kong since around 8 hours ago, when, in the middle of the night at 20 knots of boatspeed in 20 knots of wind, they collided with and sunk what's been reported as a commercial fishing boat.  The forums were on fire with analysis of what appeared to be Vestas sailing a search pattern and then drifting downwind on the VOR tracker and now we know why: 29 minutes ago (a full 8 hours after the first inkling something was up), Volvo HQ posted this statement:
The Volvo Ocean Race can confirm Vestas 11th Hour Racing…has been involved in a collision with a non-race vessel before the finish of Leg 4, near Hong Kong.  The team has retired from Leg 4 and is proceeding to Hong Kong unassisted and under its own power.
January 19th, 2018
What can't Brian Hancock complain about?
Like many other sailors out there I have become a tad obsessed with the Volvo Ocean Race tracker especially at the start and finish of each leg. And I confess that in the last few days I have been keeping a close eye on the Hong Kong entry Team Sun Hung Kai/Scallywag. Some that read my stuff on a regular basis will know that I am not a big fan of David Witt, the skipper, although I have never met him and he may indeed be a great guy in person.
I took exception to his comments about having women on board. He was originally against it not wanting to, as he put it, "participate in some kind of social experiment." He has since had a change of heart and now there are two female sailors racing on board the good ship Scallywag. Annemieke Bes who has been there since the start, and more recently Libby Greenhalgh who replaced Steve Hayle as navigator.
So it was with mixed emotions that I watched Team Sun Hung Kai/Scallywag take line honors on the fourth leg into Hong Kong. There are, however, two things that I am happy about. I am happy that the local team won the leg that finished in their home port. It's brutally hard to get sponsorship for an entry in the Volvo Ocean Race and I am sure that the people of Hong Kong will be more than chuffed that their local team was first across the line. I am also happy that the navigator was a female. Libby Greenhalgh is a very experienced sailor and I feel certain that their win was in no small part due to her experience and input.
Having said all that I hate to say what I am going to say next, but their win was pure dumb luck. The Scallywag crew were trailing the fleet for most of the leg. Maybe that was their strategy, but I doubt it. Being so far behind as the front runners approached the doldrums was a very nice gift. They were able to see the leaders sail into a hole, a total windless zone, and they sailed around all the other boats that were drifting aimlessly in circles. It must have been hell on board the leading boats to see the last place boat (by far) tack off in a different direction and do an end-run around the whole fleet.
But that's sailing isn't it? When sailing downwind the boats from behind bring the new breeze with them and the gap closes. Same goes for sailing upwind. The leading boats get into the new breeze first and leg out. We have all dealt with these kind of fluctuations, but seriously, have you ever seen the dead last boat catapult into first place in such a spectacular way? You can't take anything away from them either. They played the cards that they were dealt and played them masterfully. I just hope that Mr. Witt gives his navigator credit where credit is due and does not grab all the attention for himself.
– Brian Hancock
January 19th, 2018
An awesome picture from new fiction:
The world was melting down with political insanity – Dylan Blake was happy to leave it all behind. Sailing alone near Antarctica in the middle of winter, she was prepared for the worst: icebergs, rogue waves, isolation. She had no idea of the dangers ahead.
Any good? You decide
January 18th, 2018
Over the years I have been pretty outspoken about the use of lifejackets and safety harnesses, and have received my fair share of grief from readers who have a different opinion. Basically I view it as a personal responsibility kind of thing. You know when you need either, or both, and it should be up to you to decide what's best for you. I am, however, having to rethink things a little after the recent man overboard incident in the Volvo Ocean Race.
We are told that the sailors racing in the Volvo Ocean Race are among the very best in the world and they probably are, but if that's the case how do you account for what happened aboard Team Sun Hung Kai/Scallywag. They were sailing in near perfect conditions, a steady breeze coming from aft of the beam, decent seas and heaps of sunshine. Crewmember Alex Gough was out on the outrigger presumably leading the headsail or spinnaker sheet.
The outrigger, by the way, is a strut that juts out perpendicularly from the side of the boat there to provide a better sheeting angle for the headsails and spinnakers. They are on the leeward side of the boat, in other words fairly close to the water, and Gough was out there with neither a lifejacket or a safety harness. He had not even told the helmsman what he was doing and I guess the driver caught a nice wave, took off down it at speed, and in a split second the spray from the bow washed Gough into the water.
To the team's credit they were able to recover him in around seven minutes and all agree that it was a pretty dumb thing to be doing, but can you imagine what might have happened had it been at night, in colder water, in the Southern Ocean? The chances of stopping a Volvo 65 running at full speed and turning around to go back into the some of those massive seas found down that way is close to impossible. Let alone finding someone who is likely to be in a trough a few waves over and completely out of sight.
But here is the thing. Most of us, me definitely, are too casual moving around a boat especially if the conditions are good. We get complacent and that's when things can go wrong. The worst time is when the wind has dropped from 45 knots to 30 knots. After 45 knots, 30 feels like a walk in the park, but it's not. We get complacent and make mistakes. I skimmed through the image galleries on the VOR website and noted that some of the crew were wearing lifejackets, but there were plenty where no one was wearing a lifejacket or harness and the conditions looked pretty gnarly.
This is not the first time a crewmember in the Volvo Ocean Race has been washed overboard. In the first race in 1973/74 there were three fatalities. Paul Waterhouse, Dominique Guillet and Bernie Hosking were all washed overboard and drowned. In the 89/90 Whitbread Race two sailors were washed overboard from the maxi-yacht Creightons Naturally. The boat was sailing in the Southern Ocean when Bart van den Dwey and Tony Phillips were swept overboard. The crew managed to locate van den Dwey. He was unconscious but alive and they were able to resuscitate him and he survived. Not so for Phillips who was found 15 minutes later but he had already succumbed from the cold. In 2006 Dutch sailor Hans Horrevoets, racing on ABN AMRO TWO, was washed overboard about 1,300 miles west of Land's End. His body was recovered but Horrevoets was dead.
I am definitely not one to criticize and I can assure you I have done more than my fair share of dumb things on a boat, but let's hope that a lesson has been learned not only by the VOR sailors, but all sailors. – Brian Hancock
January 18th, 2018
We asked "What is it" about one of top hollywood and video game artist David Levy's insane sailing renders last week (with another of his 'space-sailboats' in the pic), and of course y'all got it in seconds.  What we didn't know is that Levy is a longtime reader of SA and he checked into the thread…
"Hi guys, I am the creator of these images. Shocked to see my image doing the front page of a forum I visit regularly. And right away I knew I would have to brace for impact! Was quite cracking up reading the replies as I usually do when reading these forums. 

"A little bit of background. I am originally from France, grew up sailing with my dad cruising and racing in the mediterranean sea, and windsurfed for many years. As a kid I grew up obsessed with the America's cup and drawing 12mji's as we called them in France. My job took me in a very different direction, the movie industry, as an industrial designer and concept artist. This foiler (monohull yes) is a small snippet of a massive book coming soon about yachts done with other guys. I am responsible for the sailing segment, and extremely proud to do something about my lifelong passion. I hope you guys will enjoy it, if not I will keep cracking up reading the comments anyway 

"ps: I did these concepts in 2014 but was excited to see the AC may go the foiling monohull road. Hell I am excited even if they do it on optimists."
January 18th, 2018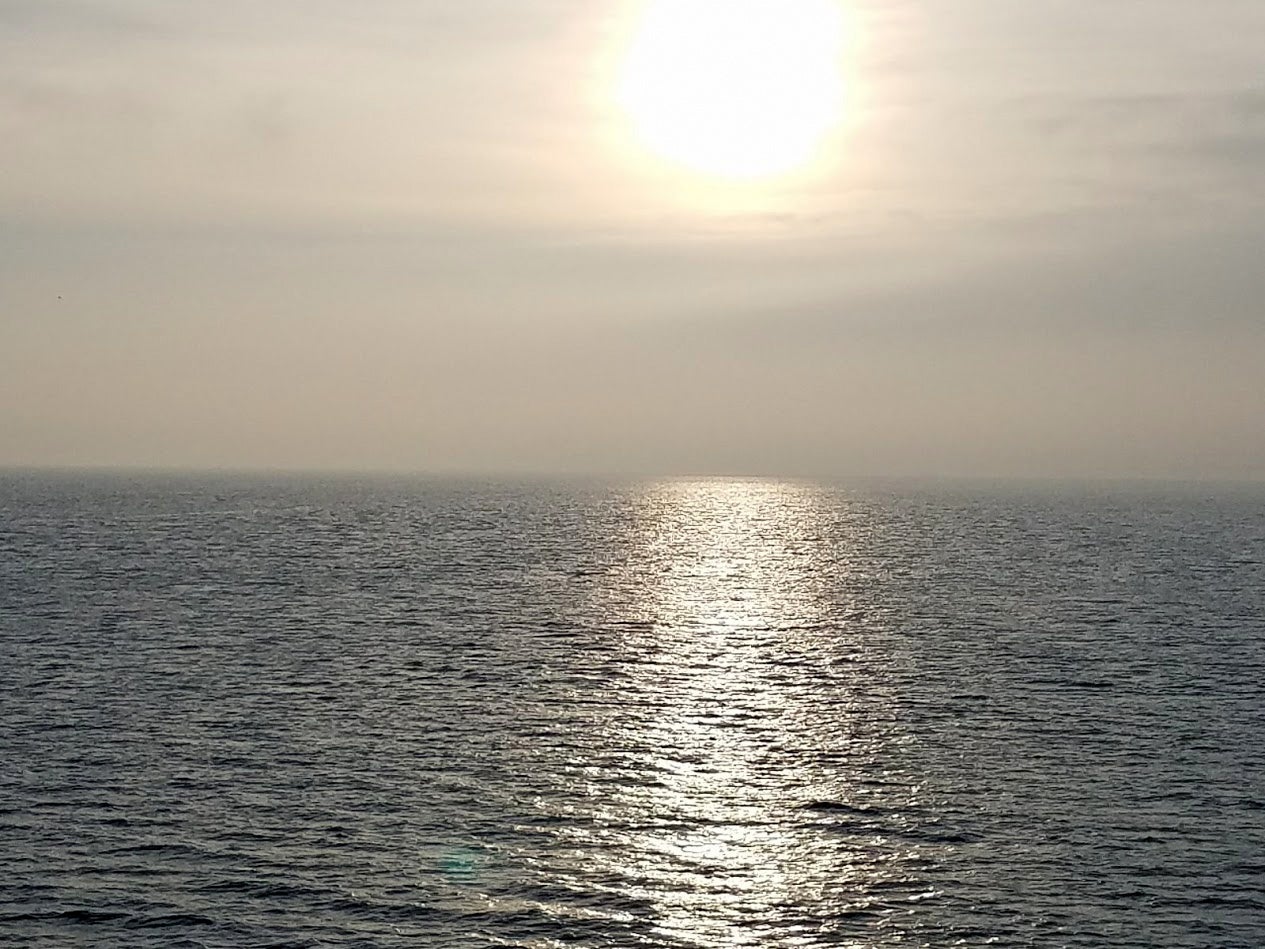 Anarchist Lyn sent this photo in and it immediately made us think of an Iggy Pop song that we guarantee you have never heard…
January 17th, 2018