A beautiful obituary for what sounds like a beautiful character in a sport that's got quite a few of them.  With thanks to SA'er 'dacapo' for the notice and the photo.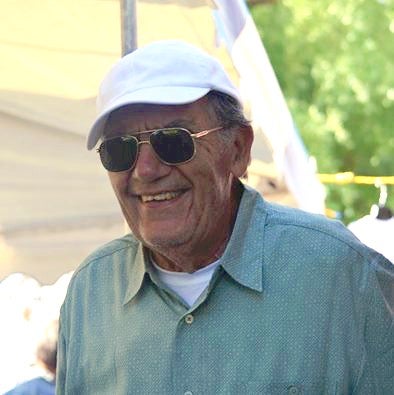 You may not have known know Sal, but I'm sure you knew someone like him.  Sal was a real competitor.  The twinkle in his eye as he herded you to the wrong side of the course to get stuck in a wind hole that only he knew was developing as he tacked back into pressure.  The loud crazy Italian whose arms flailed as he prodded his crew to work harder, faster as they win the start and never look back at the rest of the fleet.  The fountain of knowledge who would pull me aside and call me foolish for tacking too soon…as he sailed to the layline and made the perfect tack to the mark.
Sal won in whatever boat he owned at the time. In the 1960-70′s, he raced a lightning with his family.  Then, for a short time in the 70′s he regularly won in the  Ensign Fleet. As Sal got older, he bought a Catalina 25…and encouraged 6 other to do the same.  They raced in a O/D fleet until they all decided to go bigger…and they all traded up to Catalina 30′s.  Mother Goose has won more races on the Hudson than any other club-owned boat that I know…correcting over the big boys with race boats was his favorite challenge. His boat sailed above its handicap; he could nudge out that extra 1/10 of a knot , when everyone else couldn't seem to find it.
Sal was the first person to call you a chooch if you fucked up, but he was also the first guy to lend you a hand if you needed anything.(except for extra crew
  Sal treated his crew like family. Making dinner for them every Wednesday evening before racing and bringing wine and cheese after every weekend race.
He knew the race results before the scorekeeper did.  He knew the standings and what it took to win a series or regatta.  his mind was always sharp.
Sal won his final race of the 2016 season 3 weeks ago, making him our 2016 overall club champion by percentage points and today he passed away from cancer.   I will miss Sal very much on and off the water.
8 Bells, my dear friend
October 21st, 2016
Other than the world class whiners that every fleet seems to have, there is nobody more loathed by us than the easily offended, officious blue blazer wankers that almost every club seems to have…
How do you know if you're the top boat at the Albacore North American Championships?  A bunch of mid fleet hooligans toss your boat in the yacht club pool after emptying the keg.  How do you know they're Canadian?  They'll tie it securely fore and aft in a polite and seaman like fashion to ensure that that there's no possibility of damage to boat or pool.
Bonus Question- How do you know you're at the wrong club for your big October regatta?  The blue blazer crowd gets upset about the shenanigans.
October 20th, 2016
Big Pimpin'
We are super stoked to have Grand Soleil Yachts onboard SA as the title sponsor of our hugely popular Cruising Anarchy Forum!
Grand Soleil shipyard was founded in Italy in 1973 and since then constructed over 4000 performance sailing yachts between 30 to 70 feet. Today, the Italian known brand continue innovating and developing new models which keep wining design premiers and important racings worldwide.
One of the latest projects is the new GS58 Performance, an Italian masterpiece, designed in collaboration with the famous Italian naval architecture Umberto Felci and the very know Italian design studio Nauta Yachts, all constructed under Cantiere del Pardo's roof.
The 58 project started only a year ago and already the shipyard firmed 11 hulls, which is a great success for the yard. With 4 boats in water the new GS58 has demonstrated to be a perfect match between comfort and performance. Different interior layouts and customizations are offered to each owner, benefiting from the large hull forms without compromising the easy handling, safety and speed.
The 58 provides 3 large cabins or 4 on request, 3 heads (1 day head), 2 different layout for the dinette; kitchen next to companionway or ahead next to the main section, 2 different layout for the owner cabin; side bad with head towards bow, or central bed with side head, crew cabin and tender garage.
The New 58 has recently won the sailing yacht of the year competition in Genova -Italy and is also nominated in category Performance cruiser for the European yacht of the year competition which will take place in January during the Dusseldorf boat show. As for sailing, hull number 3 called "Lazy Dog" 2 weeks after the launch has won a famous Italian race in Sardinia and took the 3rd place in the Les Voiles De St. Tropez race in IRCB!!!  During 2017 a class 58 will be presented and the 58 owners will be welcome to participate in several important European racings.
Another new project is on the run, the New GS 52 LC! 2 years ago Grand Soleil launched a new cruising range starting with a 46 LC (stands for Long Cruise). In less than 18 month the yard sold 27 boats and won the European Yacht Of The Year 2016 competition in category Luxury cruiser.
This success and a high market demand brought to life a new project in a bigger size, the new 52LC. The 52LC will provide 3 or 4 cabins on request, 3 heads, an optional master cabin, a crew cabin and tender garage. The boat characteristics are dedicated to blue water sailing and easy handling in a reduced crew. All the lines, winches and organizers are located next to the helmsman.
The main sheet is connected to the arch and the self tacking jib to simplify maneuvers on sail. Other nice features are the easy docking system (bow and stern thruster), plenty of storage and useful equipment such as generator, AC, washing machine and more for those who love to stay aboard for extended periods. Click here for more on the entire line up!
October 20th, 2016
The Waterlust crew joins a group of brave European ice sailors on a trip to Lake Baikal in Siberia, the largest lake in the world! Because ice sailing requires very specific weather conditions, global warming affects this sport perhaps more than any other.
Click to learn more about Baikal sailing week, and click to  learn about ice sailing in the United States.
October 20th, 2016
Big Pimpin'
Our long history with sailing's premium luxury catamaran brand means we're pretty stoked to see how quickly Grand Large Yachting has brought Gunboat back from the brink.  While we'll need to wait a while to see the just-announced, all-new VPLP-designed GB68 hit the water, this shot of the new Gunboat 57 VaiVai sending it hard in Newport last weekend sends a loud and clear message: Gunboat is back, and better than ever.  With VaiVai hitting 17 knots upwind and 26 downwind last week without even letting her off her chain yet, she's already exceeding expectations.  Compared to the 55, the new boat is 10% lighter – nearly 1.5 tons – all while sporting major upgrades:  An all-carbon interior, a gorgeous, high-modulus rotating Southern Spar, deep daggerboards, and amidships engines.  Throw in air conditioning, a washer/dryer, and a gourmet galley, and you have a full fledged Caribbean dream that just happens to be faster than a new TP52.
A personal note from our editorial staff: We visited with the management of Grand Large several years ago in the south of France, and they are an impressive bunch with a serious passion for yachting. More importantly (given Gunboat's history), they are a solid business with a strong product line and over 700 boats on the water, and we expect they will be around for a lot longer than you will.
It's not too late to have VaiVai for yourself this Caribbean race season. But if you want to try her out first or charter for an event, get in touch here.  Want to buy new?  Looking for a job? Want a free puppy? Get in touch with them today.
We expect a ride on one of these, ASAP, and you all can expect a long chat with Erickson and maybe even the designer of the new 68 coming very soon on the SA Podcast.  Got questions for these guys? Post them in the GB68 thread.
NOTE FROM THE EDITORS: Just to set the record straight, as much as are delighted to see Gunboat 57 VaiVai perform to its expectations, this evolution happened before the new management for Gunboat took over, and they don't want to take any credit for an achievement that is primarily the work of VaiVai's owner, Nigel Irens, and their team.  Congratulations to them on a beautiful boat and a job well done.
October 20th, 2016
When an event includes defeated finalists like ben Ainslie in its history and the past winners list reads like a who's who of match racing (Gavin Brady, Dean Barker, Phil Robertson, Adam Minoprio, Josh Junior, Rod Davis, Brad Butterworth and Chris Dickson have all had their hands on the New Zealand Match Racing Championship Trophy) you know you are in for some competitive and combative top drawer match racing.
Add to that a PRO of the quality of Harold Bennett and a line-up of 8 umpires that included Russell Green (ETNZ and former Oracle Rules Adviser) and you have a recipe for a thoroughly entertaining and professional series of races.
19 Teams – across two flights – came to the line for the first race of the 2016 New Zealand Match Race Championships which like the WMRT started with fleet racing to seed the sailors for the match race element which was to follow.
Racing was held on the waters off the Royal New Zealand Yacht Squadron (RNZYS) and the weather threw everything at the sailors from a drifter with Harold Bennett's finger poised over the hooter with the "N" flag ready to hoist only to be saved by the wind returning, to gusts approaching 30 knots but the sailors' weapons, the locally built Elliot 7s proved ideal for the job.
Add to the wind, tides which were perhaps at their strongest of the year with a 'super moon' providing a cross current which added just a little extra spice to the required judgement of the competitors. Coincidentally the Elliot 7s used for the event which are part of RNZYS development fleet, were built by Yachting Developments who generously sponsored the event.
Quality showed in the fact that although racing was close – with the boats even closer in the pre-start – the Y Flag was not overused by any team showing that in the main they knew when and where their rights had been infringed.
The puffy conditions led to many lead changes as the event developed and as to be expected the easy victories of the earlier rounds gradually disappeared and from the quarter finals onwards the victors had to work progressively harder to make it through to the next round.
The course itself was laid out in the same way as the WMRT with the entry from windward but followed by a reaching start which produced similar tactics in most flights with an absence of split tack starts, committee boat Vs Pin and so on which for some may have taken away from the match race pre-start 'fun and games' but there was no reduction in the typical dial ups and spins as competitors endeavoured to gain the upper hand on each other.
The umpires were kept particularly busy in the boisterous conditions with, particularly the wing umpire, buzzing round to avoid blackouts on whether an overlap existed or otherwise.
Once on the course side the racing had everything. There were "swings and a miss", there was boats almost stopping approaching a mark to try and trap their opponent and as mentioned, multiple lead changes.
The final was between defending champion Chris Steels and Graeme Sutherland. From the start it appeared that Steele's boat handling was superior, especially in the brisk conditions, but this was balanced out by a straight line speed advantage from Sutherland and although the final score line was 3-0 in Steele's favour this was far from a walkover, quite the opposite.
As an extra, the finals were commentated by a voice familiar to America's Cup fans with Peter Montgomery, himself a RNZYS member, viewing the racing from the Squadron providing second by second insights to the racing. Not just to the Squadron members either, such is the keenness in the event that the finals were being broadcast live on a local radio station.
As Peter said in the movie Wind, "The big boats get the glory but the small boats make the sailor".
Well over the past weekend those competitors who were following in the footsteps of so many, now famous, names in our sport certainly showed their mettle and it would be no surprise to see some of them sharing in the 'glory' of one big boat or another at some point in the future.
- Shanghai Sailor.
October 19th, 2016
The odds-on favorite for the 2016/17 Vendee Globe checks out an entirely novel use for his foiling j-board aboard Banque Populaire.  Photo dug up by whoever the hell Nolimit Team 972 is…and there's already a pile of great Race Village photos on the VG site…T minus 18 days!
October 19th, 2016
Thought you knew what J-foils were supposed to look like? Guess again.  These from Jean Pierre Dick's St. Michel Virbac, currently lying in Les Sables D'Olonne getting ready for the Vendee Globe in just two weeks!  Sailing Anarchy will be there – will you?
Title shout to one of the funniest bits in modern movie history.
October 19th, 2016
Crazy-ass Instagram stunt nut Booth8 outdid himself the other day with this 8 story (127′) outlaw jump into one of sailing's iconic spots – Newport Beach, California's inner harbor – just missing a wooden dock and what appears to be an IOR racer.  (Reports that it was the owner of the IOR boat trying to kill himself for owning that shitter are unfounded at this point – ed).
Any morons looking to risk their lives like this dude?  We spent an hour messing around on Google to dig up the location for the jump, and it's a regular old tower full of million-dollar condos.
Just kidding, everyone: We are not condoning idiots jumping off buildings.  But if you ARE going to kill yourself by jumping, do it live.
October 19th, 2016
Is something very, very cool. Check it out here and here.
October 18th, 2016