We don't know who's racing, how 6 boats makes a World Championship in any class, or how many millions each owner is spending on the regatta, but we do know there are few things prettier than a J/Class under full sail.  Enjoy the practice, eclipse, and J/Class Worlds photography from Carlo Borlenghi here.
August 23rd, 2017
With the exception of a holed trimaran, Hamilton Island is heavenly once again.  Andrea Francolini is one of the few photographers able to get to the isolated island off the Barrier Reef to show you just how beautiful it is for the legendary Dorade in this shot.
We'd direct you to results, but Hammo's results screens really suck.   Better to just go to Andrea's Facebook Page for pics and the Hammo site for daily vids.
August 23rd, 2017
We think this is the best video in the history of A-Cat sailing.  Bravo to the sailors, bravo to whoever put this encyclopedia together, and bravo to everyone in the A-Class for fostering an environment of such amazing openness.  Pretty cool to see names like Paul Larsen, Goran Marstrom, and so many other luminaries in the history of fast cat racing.
August 23rd, 2017
We dig just how excited the top two manufacturers are about their respective A-Class offerings, and we love how their social media accounts are duelling just as hard as the racers are in Sopot, Poland (where Barcelona's Manual Calavia leads after 4 qualifying races).  The above photos come from DNA and eXploder, and both builders and an army of regular folks are posting videos, updates, and more on the Event Facebook page.
Longtime whinging SAer SimonN took some issue with the DNA-centric Worlds Form Guide we published over the weekend.  Here's some of his response, and you can head to the A-Class thread for a deeper dive:
As stated, the DNA platform is the same as last year. PJ states that Exploder has moved the beams and foils around a lot this year, resulting in many different Exploders in order to get the right set up. Let's be very clear on this. There has been one small change this year from last year that makes zero difference speed wise. the rear beam has been moved back 100mm to give a little more room to get through the sail when tacking and gybing. I have sailed a boat with both beam positions and cannot tell the difference. In reality, there is no difference between the Exploders this year and what Stevie Brewin used last year. I understand a few have asked for different beam positions and because they have the flexibility to do so, Exploder have complied, but the important thing to know is that the standard customer boat, which both Bundy, Stevie and others are using is the same as last year. Stevie tells me that the intention is to keep it the same for next year as well, in order to provide some stability for customers, just like DNA have done.

Foil development has been interesting. To clear up things from the start, the new production board is the Z22 (the Z21 which PJ referred to was never made). It is actually the same the Z15, but the 15's had an issue with the head of the board being a couple of mm too big that meant that the sliders needed a small modification. The intention has always been to ensure that any new board could be slipped straight into the existing Z10 cases so a new mould has been made for the Z15 that ensures that they can be retrofitted to all boats that had the previous generation of board. The numbering is also misleading because a lot of the boards between Z10 (the previous production boards) and Z22 (the new production boards) only ever existed in the computer. From the customer point of view the situation has been good. Customers were never sold the interim test boards and so they have only got 1 upgrade to do. It should also be noted that all the new boats at this worlds come with the Z22's meaning that they are sailing with the same boards as the "works" drivers. 

I love the way there is an implied criticism of Exploder for trying a number of different foils. PJ claims "Exploder pushed foil development to the extreme by developing literally dozens of prototype foils and rudders". Do the sums. If last year we had Z10's and this year they are Z22's but some of the difference  were never made, how does that add up to "dozens"? In a number of cases, the development team have waited in Australia to get to try new foils because Exploder hasn't wanted to make many of the same iteration in order to keep costs down. On rudders, there has been some development on winglets and 2 different verticals have been tried. the good news is that for most, all they need to do is order a new set of winglets and stick them on their existing uprights. In fact, I was the first to try the bigger winglets and that is exactly what we did. I will not be buying new rudders because we cannot identify any difference between mine and the latest.

I would also suggest that PJ needs new glasses if he thinks the latest Exploder foils look like the DNA ones. I have seen them side by side and they look nothing like each other.

Moving to the rigs, it should be noted that our little training group has done a lot of work on this and in particular, the short rig. 8 weeks ago I would have said there was no way they would even take them to the worlds, never mind use them. Although Stevie used the short rig for some of the pre-worlds, Stevie and Bundy will be sailing with conventional tall rigs because of the forecast and the fact that the short rig hasn't been proven enough in light conditions. The short rig is just too much of a gamble in conditions we haven't tested in enough. What I can tell say is that there is little to no difference in ease of upwind foiling between the tall and short rig. Both take off in about the same wind strength. Both need the same technique. The only difference is in speed when foiling upwind. The short rig is faster. Downwind, I personally don't believe there is any noticeable difference in speed when foiling. Only time will tell if we can find a way of getting enough speed in lighter conditions.

As part of the development program, one of the team will be sailing with the short rig, namely Adam May (of Artemis). This is so we can collect more data and get feedback from a world class sailor and designer.

Based on all the testing we have done, I am pretty convinced that there is still a lot of development work to be done before we find the ultimate rig for the current boats. One thing I remain convinced of is going boomless. We tested both boom and boomless fairly recently and we all agreed that with the current Brewin sail, having a boom is slower. There is a lot that is "illogical" about it and there are times it looks wrong, but for some reason, that "wrong" is fast. I think people need to get rid of their preconceptions about how sails work and what looks right and wrong. By way of example, I way 65kgs and in 15 knots of breeze, I go slower upwind when I fit stiffer battens low down to get rid of what looks like far too much depth in the sail. As an aside, my lightweight gives me an edge downwind in almost all conditions. Once Stevie and Bundy had finally coached me enough, which took a long time, I got to the point where my VMG downwind was faster than Stevie, because while I am a little down on top speed, I can go lower. 6 months ago I thought being lightweight was a serious disadvantage. Now I believe I can compete at top level, although I need to be able to use the speed in a race situation. In my case, great speed helps me get to the wrong side of the course fast!

My hope is that they get enough breeze to showcase upwind foiling. I am sure there have been some huge gains in this area and it would be good to compare the various development groups so we know where we are. I think many people will be shocked at some of the upwind speeds being achieved.

What i do agree with PJ about is where we now are. With what can only be called a lot of luck, the A Class rules have led to us now having a truly wonderful boat. We have been forced to develop foils that give both speed and ease of sailing. Insert from above and leaving all foils down turns out to be the best way to go. I am convinced that without the effective limit on how  big the foils can be, we would have ended up with bigger foils that would have been barely any easier to use but would have been slower, because everybody would have developed inside the current 1500mm rule. The current boats are a joy to sail, if set up right. You do need to do your apprenticeship, but if an old git like me can manage, then most can get there. You don't need to sail full time, but don't think you can sail once a month and get good. The boats are actually really nicely behaved when set up right, probably better than the C foil boats. The thing that takes the biggest getting used to is the speed and the forces involved. I used to have a retaining line that I hooked on with so I wasn't thrown forward when trapezing at the back but now I know what I am doing, I have taken it off. Speeds are getting insane. "Cruising" at between 24 and 26 knots downwind seems almost an everyday thing and on flatish water, I would expect to sail for as far as I want without touching down. Recently, in about 12-15 knts, Stevie and I were sailing out to our training area downwind. We were close enough to talk to each other. When we stopped to regroup with others, Stevie pointed out we had gone close to 3kms without the speed dropping below 24.5 knots. We really weren't trying. If it was just Stevie, you would say it as all down to skill but when a short 58 year old "has been" can do it as well, it shows what a great boat we now have.

Let's see what happens at the worlds. I don't want to make any predictions or give away any more details of speeds, not least because what you can do training on your home water can be very different from what happens on the race track. If we get decent breeze, what I do know is that whoever wins is going to put on quite a show. If it stays light to medium and very shifty, the winner will have put on an amazing display of smart sailing. Let battle commence.
August 23rd, 2017
Many in the sailing community know Billy Black from his work as a photographer in the marine industry. You may have seen his boat at regattas, seen his pictures in magazines, or if you are really lucky, had the chance to spend time with a man who turns every shared moment into some of the best moments you can remember.
What folks might not be aware of is that Billy Black had a fight with ocular lymphoma in 2013 that spread to his brain this past December. By May he had successfully achieved remission and since this type of cancer has a high relapse rate, the recommended course of action is to get a stem cell transplant following remission. He completed that treatment but the doctors say it will be a year before he recovers his previous energy and endurance. The prognosis looks good and over the past month or so he has been getting back on the water and resuming his work, which is fantastic news.
His insurance policy covered most of what was a very expensive treatment. The reality, however, is that he has been out of commission for over 6 months and as a result he had to cancel scheduled work, could not take new bookings, and had no revenue coming in. He and Joyce also incurred significant out-of-pocket expenses related to his treatment that were not covered by insurance and they had to dig into the savings they had put aside, spending a little over $100,000.
Those funds had been earmarked to purchase a replacement for the Silver Locomotive. You may have seen Billy towing his photo boat with this van, kitted out to serve as his home while he was on the road up and down the east coast traveling to shoot all of us on the water. The current vehicle has 350,000 miles on the odometer and is on borrowed time.
To know Billy is to love him. He is the nicest guy in the marine community, and someone who certainly makes me want to be a better person. He is generous with his time, his knowledge, his smile and his art. I know there are people who would like to help he and Joyce out, so Tristan Mouligne and I have organized an effort to pass the hat around. We have set up a joint account in Billy and Joyce's name, and hope that folks in the community can join us in helping Billy bounce back from this challenge. A gift in any amount will help us put Billy back on the road and back on the water. If anyone would like to give, it's simple:
For maximum benefit to Billy, make out a check to Billy and Joyce Black and mail it to the following address:
Morgan Stanley
C/O Tristan Mouligne
53 State Street
Boston, MA 02210
Tristan will take care of the details of getting it credited to Billy and Joyce's account, and I will send out periodic updates of the progress.  If you would like to support Billy with an online gift, please go to www.youcaring.com/billyblack-908322 with your credit card.  It's free to you.
Thanks so much for considering a gift. I know that Billy really appreciates all the support he has been shown by his friends throughout this challenge. If you want to get in touch with him directly, his email is [email protected]. He has been much more active on social media and email as he has recovered from his stem cell transplant, and I am sure he would love to hear from you.
Best Regards,
Michael Hennessey, Skipper
Dragon
August 21st, 2017
Just weeks after seven sailors died in their bunks when the Arleigh Burke-class destroyer Fitzgerald smashed into a stand-on cargo ship, another AB destroyer – the John McCain – collided with a tanker yesterday, and another 10 sailors are missing.
What in fuck's name is going on with the US Navy?  Is the 20 million dollar AN/SPY radar set not good enough to spot a supertanker?  Or are America's armed forces merely emulating the level of competence they see lately in their Commander-In-Chief? Either way, the loss of life for no reason at all is awful, and the damage to the US Navy's reputation – just as regional conflicts begin to heat up and the Trump Train gets ready to get roll with live troops in wartime situations.
The Marines suspended all flying two weeks ago until they figured out why they keep dying in planes and helicopters; is it time for all the deck officers to head off to the local STCW instructor to learn how to keep a fucking watch?
Anyone know how two of the most advanced ships on the water crashed into two massive stand-on ships in less than two months?  Please let the community know!
UPDATE: The Navy has ordered a 'pause.'  About time.
August 21st, 2017
We've had plenty of 'Monster Garage' stories over the year, but the main full for the oddball foil/planing trimaran Frog has to win some kind of award for 'monster roof rack'.  The small trimarans blog has all the info, with thanks to SA'er 'groucho marx' for the show and tell.  Title to an amphibian classic.
August 21st, 2017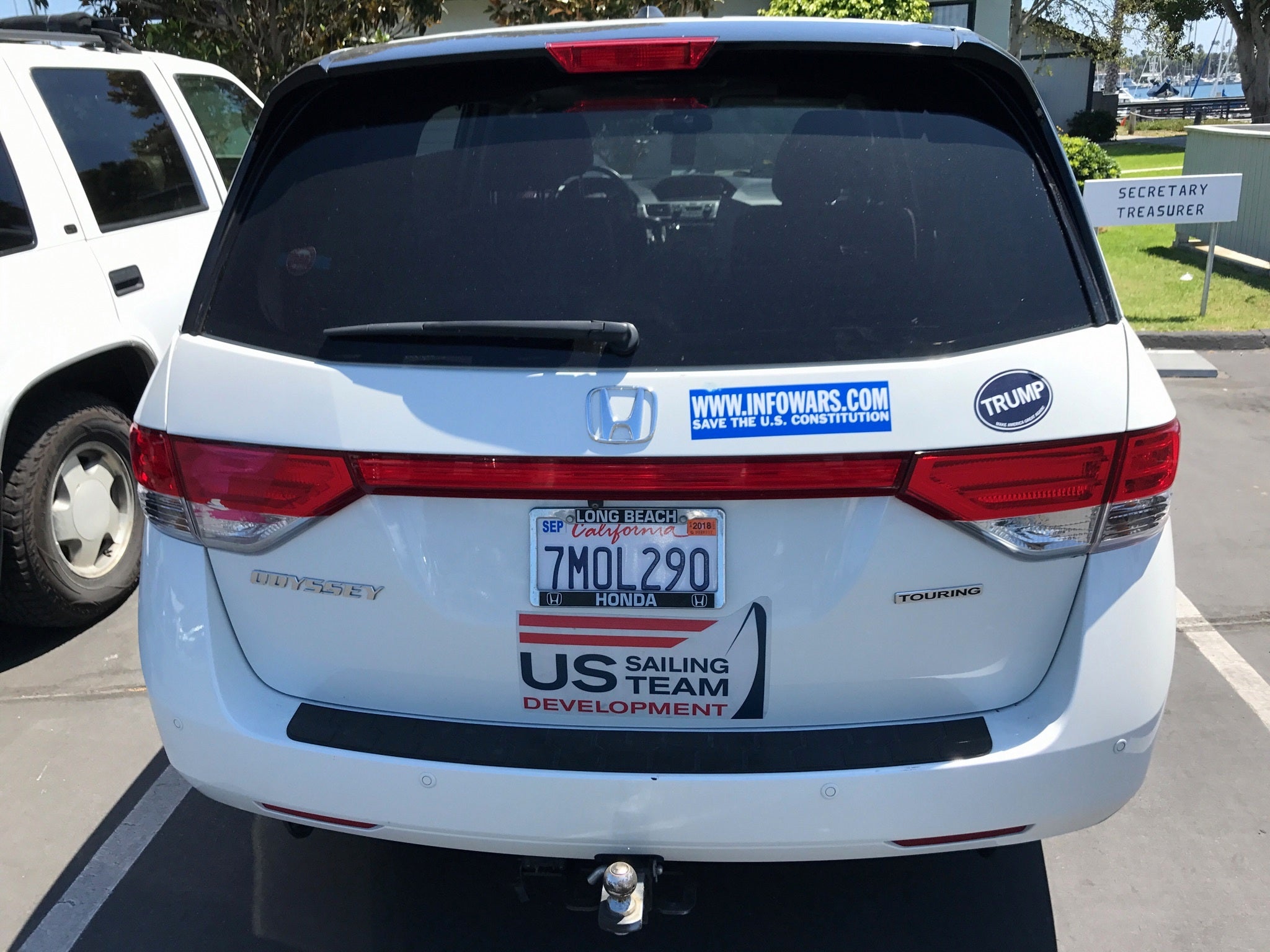 UPDATE:  We admit to getting fired up after seeing an InfoWars sticker alongside a prominent display of support for the youth pathway to the olympics. We may have even gone off a little half-cocked,  and we apologize to the US Sailing Team for mistakenly calling them out as supporters of one of the most toxic scumbags in the the media today.  If you don't know just how much of an animal Alex Jones and his Infowars site are, spend a few enjoyable minutes with Jon Oliver for the deets.
CORRECTIONS:
-The car above is NOT owned by any member of the US Sailing Team or US Sailing – athlete or staffer.  In fact the US Sailing Team's Development Squad shown in the sticker was more of a PR exercise than anything useful and was disbanded not long after being created.  Stickers were awarded to a few mid-level performers at some Olympic class events, and some of them are still rocking them.  The sticker combination above may even be a troll, in which case, yeah – we bit.
-Most of the people on the US Sailing Team and working for US Sailing are far too educated or worldly to be supporters of something like Infowars.  We spoke to a number of USS and USST staffers who were horrified to be identified in that way. We're sorry for that.
SUGGESTIONS: Vandalism is bad and we'd never condone it. Still, it would be hilarious if suddenly that Infowars sticker was found sporting a Black Lives Matter or #resist bumper sticker right next to it!
August 20th, 2017
With the announcement of its as yet unchristened new, foil-assisted monohulls for the 2019-20 crewed lap of the planet, and beyond, the Volvo Ocean Race continues its longstanding tradition of letting the Imoca class do much of its full-scale R&D. But has it all happened too fast this time?
Water ballast was first introduced in the Whitbread 60s for the 1993-94 race having been used on the Imoca 60s' forebears, the Open 60s, from the early 1980s. VO70s made their Volvo race debut in 2005 with canting keels, some 12 years after Isabelle Autissier's Ecureuil Poitou Charentes 2 became the first Open 60 to use one (and several more years after Michel Desjoyeaux – inevitably – had introduced the canting keel to the Mini 6.50 fleet).
Pictured above; It is September 1993 and the then Whitbread RTW race is taking its first big leap into the future after 20 years of evolving IOR design, race winner Ross Field's Whitbread 60 Yamaha 2 leading the last ever IOR maxis out of the Solent at the start of Leg 1. Yamaha would return to the Solent only 10 hours behind Grant Dalton's winning maxi… overall.
In comparison the latest change has been much swifter, the first foil-assisted Imoca 60s launched barely two years ago with the first foil-borne Volvo boats following just four years later.
What must be of some concern is that, compared to water ballast and canting keels, foiling technology is way more complex and tricky to engineer in an offshore environment. For example, of the five newgeneration semi-foiling Imoca 60s on their first major outing in the 2015 Transat Jacques Vabre, only Banque Populaire finished (with structural damage), while others suffered severe failures, the worst being Hugo Boss which was nearly written off.
In last winter's Vendée Globe five of the seven foilers finished, with Alex Thomson famously breaking one of Hugo Boss's boards. Upon finishing, race winner Armel le Cléac'h admitted that he had been cautious about using Banque Populaire's foils: 'I tended to use them [only] in situations where I thought I needed to boost my speed, like a turbo, when I needed to attack a little more.' But this may also have been to avoid repeating the same damage that sistership Edmond de Rothschild sustained to the top of her port foil, which partially broke within its case leaving it, as skipper Seb Josse alarmingly reported, 'just hanging by two screws'.
August 20th, 2017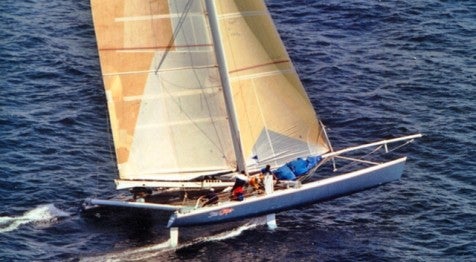 Hey! You can own a piece (or pieces) of America's Cup history. For a "suggested" bid of $229,000, you can own this outdated, slow and near useless catamaran. Don't delay, jump over here and get your bid in, but we'd suggest starting with $22,900, not $229,000…
August 20th, 2017