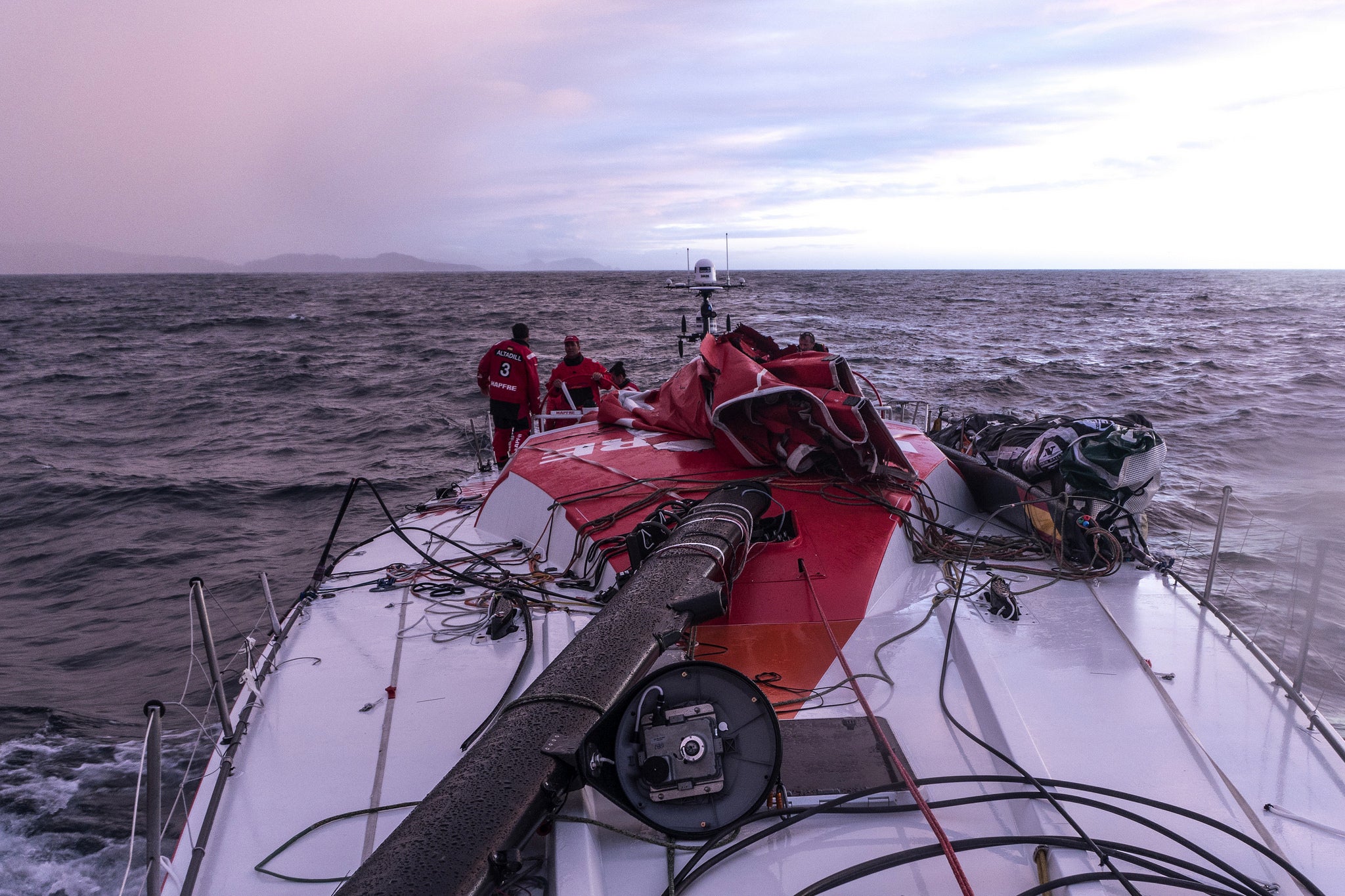 VOR BREAKING
The Mapfre team was sailing about seven nautical miles SW of the island of Ons (Pontevedra) near their home base in around 25 knots of wind and four meter high waves the VO65 MAPFRE's mast broke below the first spreader.
"There was a crash and then the rig started to fall to starboard," reported Pablo Arrarte, MAPFRE's watch captain who was sailing as skipper of the boat during this period of testing. "We were sailing on quite a comfortable reach with waves also from the same direction and so at the moment we do not know why it has broken. We will have to analyse the data and the damaged parts in order to draw a conclusion."
March 30th, 2017
An interview with Hendrik Brandis, ClubSwan 50 Earlybird, reflecting on the Rolex Swan Cup Caribbean 2017
EARLY DAYS
I sailed up to the age of 20, including extensive cruising on-board my family's boat. My first Swan was a 441 (Ron Holland design) followed by Swan 45 Earlybird, and most recently a ClubSwan 50.
After many successes in the Swan 45, I became interested in fast, planing boats. I purchased a Soto 40 and sailed in South America and the Med but then the class collapsed in Europe so I sold the boat and was looking for something new, ideally a combination of the Soto 40 and Swan 45. At the end of the day I find the concept of the ClubSwan 50 to be magic.
THE BOAT
In the very first presentations two years ago at the Copa del Rey, I wasn't sure if it would sufficiently racing oriented… I also had to get used to the reverse bow and I asked for a lighter displacement, deeper keel, carbon fin and a few other things that have since been changed. For example, my opinion always was that she needed to be more a racer than a cruiser: I want the chance to beat the TP52s. I said that if you build an 8 tonne boat I'll buy it: we are now between 8.1 – 8.2 tonnes with the heavy bulb!
March 30th, 2017
We kid – we love these kind of reports from the rank and file – the very backbone of our sport. Andrew Pike, owner of the 1991 First 45F5, and winner of the 2016/2017 SORC Islands of Stream Series, summarizes what it took to complete the series, and become the winner of the famous SORC Winter Series, now known as the Islands of Stream Series
It was the end of the Inaugural Miami to Havana Race in 2016, Achilles had just had a small refit, new running gear, keel faired, new paint scheme, and the race was the first one we entered with an entirely new crew.  The boat performed the best she had done, and although we finished 4 hours behind the rest of the IRC Pack, we were content as due to a navigational error by owner/skipper Andrew Pike, we sailed over 30 miles further than any other boat. It was at that time we decided to give it another crack in 2017. Immediately the core of the team committed then and there to doing the race, and then as the drinks flowed at the Hemmingway Yacht Club, we discuss the Islands of Stream Series.
Growing up a keen sailor in the UK, and with extensive sailing experience in dinghy's such as the 420s when young, I always looked up to the offshore racing circuit. Fastnet was THE race, and every 2 years was avidly watched, through news reports and updates in newspapers, no internet in those days. In the early 80's I moved to the Bahamas, and this side of the Atlantic, in the winter months, the series to do was the mighty SORC.
So here we are 30 years later, despite the rating wars, demise of IOR, introduction of IMS, acceptance of PHRF, SORC has survived and in 2016 restarted the SORC Series with the Islands of the Stream Series, which consists of 4 races, and yachts are scored on the best 2 of the first 3 races plus the race to Havana. A fun series, with finishes in Nassau, Palm Beach, Key West and Havana, guaranteeing an amazing atmosphere to accompany the race.
That fateful day in Havana, the crew agreed that if we were to enter the series then they would like to do the 4 races. Team Achilles' is a low budget Corinthian racing team, where expenses are shared and as the owner I put as much money in to the boat as I am able to. However to compete successfully we would need to significantly upgrade the sail inventory and improve the rig.  Over the months in the run up to the Nassau Cup Race, Achilles' was worked on and in the best shape she had been for years.
Delivering from Nassau to Miami, ready for the race was an exhilarating sail, with winds picking up as we came in to Miami, and Achilles' itching to take off, like a horse in the gates at the start of a race. However the next few days, confirmed that the light winds expected were going to set the stage for a light wind race to Nassau. As we motored out to the start there was next to no wind and race committee postponed the race for an hour to allow the breeze to build. We started off heading to Great Issac's lighthouse, the first mark in the race, however moral was already low as Achilles' needs wind, and struggles in light airs. After rounding Great Issac's , and having to maneuver around some anchored shipping, we set off on a reach to Great Harbour Cay, feeling a little more confident as the wind had filled in, and would provide a nice kite run in to Nassau. However after rounding Great Stirrup, the wind died out totally, and for almost 18 hours, we battled with speeds of 0.2 to 3 knots, at one point travelling backwards on the current which subsided right as we decided to rig an anchor.
It was hot, sunny, quiet, and the crew were beginning to get exhausted. However as one competitor after another retired and motored past us, we decided to hold out and try and complete the race before the cut off on the Saturday morning. All we could think of is the other crews, sitting in the yacht club bar, with cold AC, an icy cocktail and juicy burger, but we persisted. As the wind built and out VMG increased then we would make the cut off, and as the wind died and VMG plummeted to all-time lows, we would see on the mast displays that there was not enough time to finish. Finally Nassau Harbour was insight, and we had 2 hours spare on the ETA and we knew we would then make it. Constant kite trimming, and helming to maximize our VMG, in winds that would cause the kite to collapse with any sudden movement.
Then as quickly as the light breeze filled in it was gone. ¼ of a mile to go, and being pushed to the west of the harbor by the prevailing currents. Little bit forward, little bit sideways, but trying to keep VMG positive. Then we made it around the lighthouse at the entrance and were able to harden up and increase apparent wind and finish the race, with an official time of just less than the 48 hour cutoff, and probably one of my slowest crossings ever. This was just enough to secure a 2nd place finish in IRC and win the best performing Bahamian Boat, trophy.
It was only a couple of weeks later that the team would reassemble in Miami for the 60th edition of the Wirth Munroe race, or Race to the Buffet as it more commonly known between the crews.  This race seemed to be a light wind beat up the coast to Palm Beach. Our strategy was a simple one, get in to the gulfstream as soon as possible and sail the shortest course. The gulfstream forecast had a strong flow against the western side of the stream, and our aim was to get in to the stream and ride the western boundary up, turning further offshore as we approach Palm Beach then as the VMG falls away head for the line. As the race started it was obvious that we were unmatched to race against Wizzard and Chessie, however we stuck to our guns, and after the initial light air, some localized weather provided us with the fast beat towards the end of the race. After finishing and heading to the dock, we knew we had done well, but it was not until we saw the results that it became apparent that we had beaten Chessie on corrected, to take another 2nd place. Chessie was a 2017 Tripp designed IRC racer/cruiser, and even though she was new and the team was still working out the details, it was a tremendous achievement for a 25 year old Beneteau.
This placed us in a predicament. The IRC line up for Key West was very competitive, and we could only improve our position in the series by taking overall first place, which on a fast kite run to Key West, is unlikely, against the likes of Wizard and Chessie, etc. Also Achilles' was starting to show signs of stresses from the two races, with new leaks in the deck, broken bushings in the steering and corroded fuel lines on the engine and loose stanchions.  It was decided with the crew that we would forfeit Key West, in favour of new sails, and repairs to the boat. So the boat was moved to Boca Raton, for a mini-refit.
This went from bad to worse as repairs took far longer than anticipated and then the bombshell, the engine had to be removed to be fixed. Not a problem if we had known in December, but this is two weeks before the Havana Race.  It was decided to order a new engine from Yanmar, and fit it to the boat rather than repair the older engine, as once we started to work on the old engine, there was some concern as to what may be found. The engine was installed some of the contracted work completed, but it was now Monday and we needed to get the boat to Miami.
After delivering the boat to Miami, it was clear that several things were not working, or just omitted, so we prioritized what we needed to get done, and the contractors finally got the boat in to a semi-race ready condition by 3am on race day.
The weather forecast looked great, it would be deep reach down the keys, then as we headed to Havana the wind would clock around and give us a nice symmetric kite run in to Hemmingway. Since we only had to beat 3 boats in the fleet to take the overall series, we decided to sail fast but conservative. Once again we chose to hug the reef to key west then cross the gulfstream, at almost 90 degrees, same plan as last year, but without the minor detour! So the plan was to not get in to any trouble at the start, hug the reef and run in to Hemmingway and push the boat just enough to beat the boats we needed to, but not hard enough that we would brake something. Especially items such as the steering bushings which we know were supposed to have been replaced but were not.
So off to Havana we went, initially with a poled out genoa then switching to the symmetric kite. All was going well, we were keeping up with the pack, and sailing beautifully. During the night the wind shifted and we ended up on a reach with the asym, but still managing to keep around 9 knots over ground. This went in to the evening, and after the very late night getting the boat ready, I hit my bunk and passed out. I was awoken an hour or two later by a concerned team member as we had water in the boat above the floor boards. Immediately checking the bilge, it became obvious that water was coming in to the boat faster than the two bilge pumps could keep up. Armed with wooden plugs, we checked every through hull fitting including the transducers and none were leaking.
However we were still taking on water, and by now we had heaved to, bought the boat upright and were working on keeping the pumps going while we tracked down the source. Stern gland was dry, rudder stock was not leaking, keel bolts were fine, but still we could not fine the leak. After an hour or so, we started to discuss calling Boat US, and contacting the coastguard, as this leak could not be found. Personally I was going through my head what work had we done that could cause this, then it occurred to me, the engine panel had to be replaced, to get to the cabling you had to remove the propane tank, and sure enough when we checked the propane drain had not been reconnected, so as we heeled over on the reach the normally above water line through hull was now below water, and a steady stream of ocean water was flooding in to the hull. 5 mins later the drain we resealed, and after another hour or so the water level was back down to acceptable levels, and we continued on with the race.
The following morning we were ready to take turn south to Havana, however sea conditions were such that a dead run with a large kite was risky, and a broach could easily damage our rig or boat to the point that we would not finish the race high enough to take the overall trophy. In the end a poled out genoa was the course for the day and we cruised in to Hemmingway, taking 4th in class, 1st in series, and 13th finisher overall.
Already the crew have said they want to stay together and we are considering whether to come back next year to defend the series, or broaden our horizons. – Anarchist Andrew.
March 30th, 2017
We're stoked for HH Catamarans – sponsor of our Multihull Anarchy Forum – and the win by their brand new HH 66 Nala at the St. Thomas International Regatta stunning the fleet and taking 1st in Offshore Multihull Class. Read all about it right here.
March 29th, 2017
We continue to be impressed by the outside-the-yachting-box thinking of Race 2 Alaska organizers, with the latest coming via their infographics department.  Click this link to get to the interactive version, and head over to one of just 12 of last year's episodes of CNN's "Really Great Big Story" for a gorgeous and inspiring documentary on three paralyzed men embarking on last year's journey.
With R2AK'ers verbosity approaching that of the Everglades Challenge hippies and survivalists, the forum thread on the race is a veritable cornucopia of info on the event.  Go there.
March 29th, 2017
From our friends at, ironically, Easy Ride.
March 29th, 2017
My husband as a child discovered sailing by accident.  His family has moved to Canada as part of his father's teaching exchange program, and while he was biking during summer break, saw a sailing lesson occurring nearby.  He approached the instructor and made a deal in exchange for learning to sail, he'd help set up and clean up after the lesson.  His love of sailing took hold and is going strong to this day.
His family moved back to the United States and immediately after high school, my husband enlisted in the Marines, becoming a part of the air wing at El Toro airbase on C-130′s.  After serving in Desert Shield and leaving military life, he moved back to where his parents lived in North Carolina, where he joined a crew racing J boats and playing semi-pro soccer.  After a career ending knee injury years later, he opted to rejoin his mother, who had moved back to Wisconsin – where we lives begun together 20 years ago.
Little did I know what I getting pulled into, sometimes kicking and screaming along the way.  We became involved the Hoofer sailing group with the University of Wisconsin, racing an E Scow for a few years and then got a boat of our own, I-505 and campaigned it, even taking part in a regatta with the Indiana University (with stories about outracing a tornado after a race on Lake Mendota, snapping a stay and limping back to dock without losing the mast, standing on the side and just catching it to right the boat when a wind gust caught us by surprise and not catching the side stay release in time, the panic of thinking we lost our trailer boat after waking up on an overnight drive to Indiana).
In 2006 we started our family so I was not longer able to crew on a racing boat, however that never stopped my husband.  He then volunteered – starting a high school youth racing program (MYST – Milwaukee Youth Sailing Teams), co-oping with 11 high schools in the greater Milwaukee area, bringing in the Milwaukee and Pewaukee yacht clubs to loan boats and allow usage of their facilities (and my poor Jeep commandeered for it's towing ability).  What started with 4 kids grew to around 50 and 3 years after it's start, two teams went down to the nationals in New Orleans and brought home two second places.  Eventually our family grew and the MYST program had taken on a staff, so he stepped away and become involved in race committee for Racine Yacht Club when we moved to the Southern Wisconsin.
Fast forward to 4 years ago, my husband had a stroke that was just the hint of things to come for his health.  We are struggling while waiting for disability to go through it's long process and find ourselves in need.  We're hoping you can help spread our message and donate if your able to allow us to keep going.
Our donation link is here. Thank you for all your help. - Stephanie Gruchow.
March 29th, 2017
Wind readings as Cyclone Debbie passed over Hamilton Island.  Must have been pretty close to the eye the way the wind direction changed so drastically! – Anarchist Ian.
March 28th, 2017
Gunboat Tech/Sales Director Nils Erickson got bored on the plane to the Caribbean and came up with this gem of a Form Guide for the high performance, HNW, hard-partying luxury cat racing class at the BVI.  This is too good a piece for plain old pimpin', but always consider the source!  
Hot on the heels of the St. Thomas International Regatta, this year's BVI Spring Regatta may well feature the hottest collection of performance multihulls ever assembled on Virgin Island waters.  This burgeoning market segment is seeing new players in what was once Gunboat's private playground, and with events not only in the Caribbean but in places like Palma (where last summer's Multihull Cup attracted 3 Gunboats, an HH-66, MC2-60 and APC78), the future of big multihull sailing looks bright indeed.
Traditionally, Gunboats have made the Heineken Regatta their winter event of choice, but this year the fleet has settled on the BVI Spring Regatta in Tortola. Nanny Cay Marina has been running the event for several years now, and it's become one of the best events on the calendar. With over 100 new slips open this season and constant improvements to the facility, Nanny Cay and BVI Spring Regatta have become a premier destination and event. This regatta will feature the fastest versions of 4 different platforms (Gunboat 60, Gunboat 62, Gunboat 66, and HH66) which should provide for some compelling action and some great stories.  With that in mind, here's my shot at an impartial Form Guide for the event, and we encourage you to follow along at Gunboat's Facebook page here.
Extreme H2O (Gunboat 66): She's the reigning queen of the West Coast performance cats having won catamaran line honors in almost every race she's entered (Cabo, Transpac, etc). She's left the Left Coast in search of stiffer competition and hopefully a new home (she's for sale). Extreme H2O will face off with her East Coast rivals for the very first time. This Morrelli Melvin designed Gunboat 66 is the most technologically advanced Gunboat out there (hybrid drive system, HUGE C boards, T-rudders, etc) and she's arguably the fastest Gunboat afloat. Weighing it at a svelte 17 tons, she's still going to need a bit of breeze to take advantage of her greater righting moment compared to lighter and smaller Elvis. Extreme H2O will be sailed by Team Gunboat, with Vincent (the LP of VPLP), Xavier, and Matthias also from VPLP, as well as some of Gunboat's French internal design and management team. Hopefully, Extreme H2O project manager Malcolm Park, skipper Hannah Jenner and her core crew can make up for the desk jockeys (myself included) that will be "trying to help". VI legend/Olympic/America's Cup/all-around rockstar Peter Holmberg will be joining to offer some local knowledge and expertise as well. He's recently purchased an Outremer for his own personal enjoyment, so he's the latest member of Gunboat's extended "family". (Photo credit Ultimate Sailing/Sharon Green).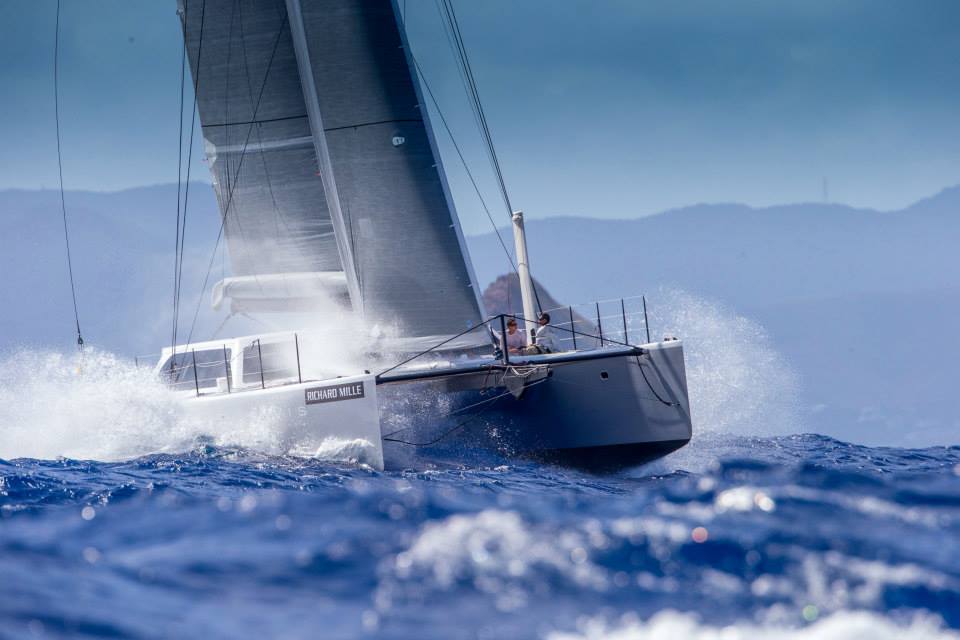 Elvis (Gunboat 62): The King. Jason and the Argonauts. Throw a dart on that boat and you'll hit a world champ. Their bench is deep with talent. Not only is Jason one of the best owner/drivers out there, he's one of the best drivers out there, period. When they aren't sailing on the Gunboat, they are busy in the GC32 circuit. When they aren't doing that, they are crushing it on the Melges 32, Marstrom 32, Viper, whatever is fast and fun. These guys rarely make a mistake on the course and they are fast into and out of the corners with superb sail-handling. At <15 tons she is powered up early, and these boys stay on the throttle up the wind range (I'm not sure they even know HOW to reef). Combined with a devoted rum tank and a booming stereo system, these guys know how to race hard, play hard.  Photo credit Christophe Jouany.
Flow (Gunboat 60): Hustle and Flow. The first Gunboat 60 to be fully optimized, she has redefined what we can expect from the Gunboat 60. There's been rigorous preparation of the boat by one of the industry's best skippers, Tony Teale. Rigging Project's Nick Black has gone through the deck gear, layout, and helped with a new Lorima ultra high mod rig, Jack Slattery has spearheaded a new suit of 3di Sails, and America's most famous multihull sailor and all around dynamo, Cam Lewis, is their own "Neal Cassidy".  Coming out of a refit that pulled 2 tons (!) out of the boat, they are sailing at the top of the game. Photo Credit Laurens Morel
Arethusa (Gunboat 60): No one better exemplifies the real benefits of a Gunboat like NYYC Commodore and Gunboat 60 owner Phil Lotz. He and his wife have spent the last several weeks living aboard, doing some racing and some cruising. They are more Corinthian in spirit, making full use of their boat before, during, and after the regattas. There's nothing like racing at 25 knots, then coming back and cooking a delicious meal and enjoying the sunset from the aft deck of the very same boat. Phil has no shortage of trophies on his mantle, and they are fantastic sailors. They've (so far) avoided the arms race, but with Phil's energy behind the new MultiRule rating rule, there should be more parity among the fleet. Photo credit: Gary Jobson
Momentum (Gunboat 60): Hide your daughters and bring your ear muffs. These Jamaicans WILL have more fun than anyone, guaranteed. The boat has 23 speakers and no shortage of Red Stripes. Legendary skipper Lucky Mike (picture a bald, S. African Captain Ron) and the rest of the crew will be the life of the party.  Photo credit: Lucky Mike
Dominator (Outremer 5x): These guys were the big surprise at this year's Heineken Regatta, beating larger (and way more expensive) boats on the water. Skippered by Gunboat 62 "Elvis" alum Dave Allen, and owned by the father of an Olympic sailor and Rolex Yachtwomen of the Year, this is a family that knows how to sail and these guys are punching way above their weight class. I expect Gunboat and Outremer owner Xavier Desmarest to be shocked at what you can do with/to an Outremer. Still in its original configuration, these guys are just sailing harder and smarter, and it shows.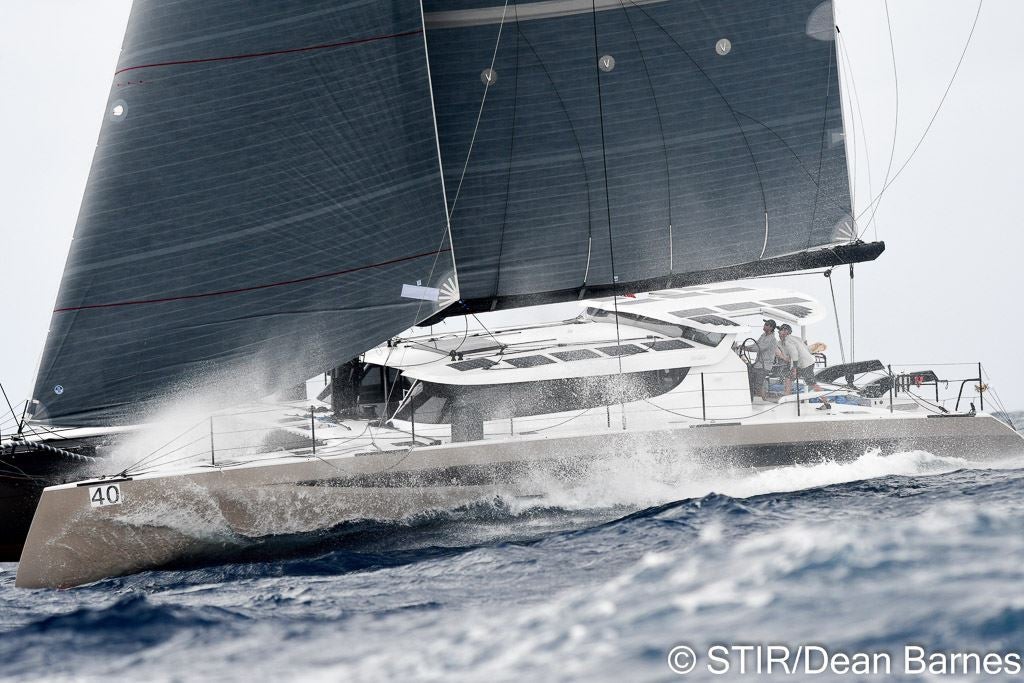 Nala (HH66): The lightest, fastest, and most turbo'd HH66, Nala will be one of the fastest boats on the course. Coming off a big win at STIR, expectations are high for the boat. Owner Jim Vos is a fantastic monohull sailor who is taking his first steps into the multihull scene. He did spend the summer training on his A-Cat, though, so he should be comfortable at the helm. With HH designer Gino Morrelli backing him up and Kenny Read in the afterguard, this boat should be a real threat for line honors. Most people think of Kenny as a monohull guy (Puma, Comanche, Stars and Stripes), but don't forget that he also owned a Marstrom 32 and previously owned my Formula 40, Soma, so multihulls are in his blood. Nala is over 3 tons lighter than her sistership R-Six, so any conclusions drawn about the HH66 based on R-Six's performance at the C600 or Heineken will have to be reevaluated after BVI Spring. (Full disclosure, I was owner's rep for the build of Nala for two years before I accepted the job at Gunboat. We pulled 3 tons out of the platform and turbo'd the mast, boom, and longeron. Despite my role with Gunboat I'm still quite proud of what we came up with. Go Nala!).  Photo credit on the shot with thanks to our old pal L for sourcing it.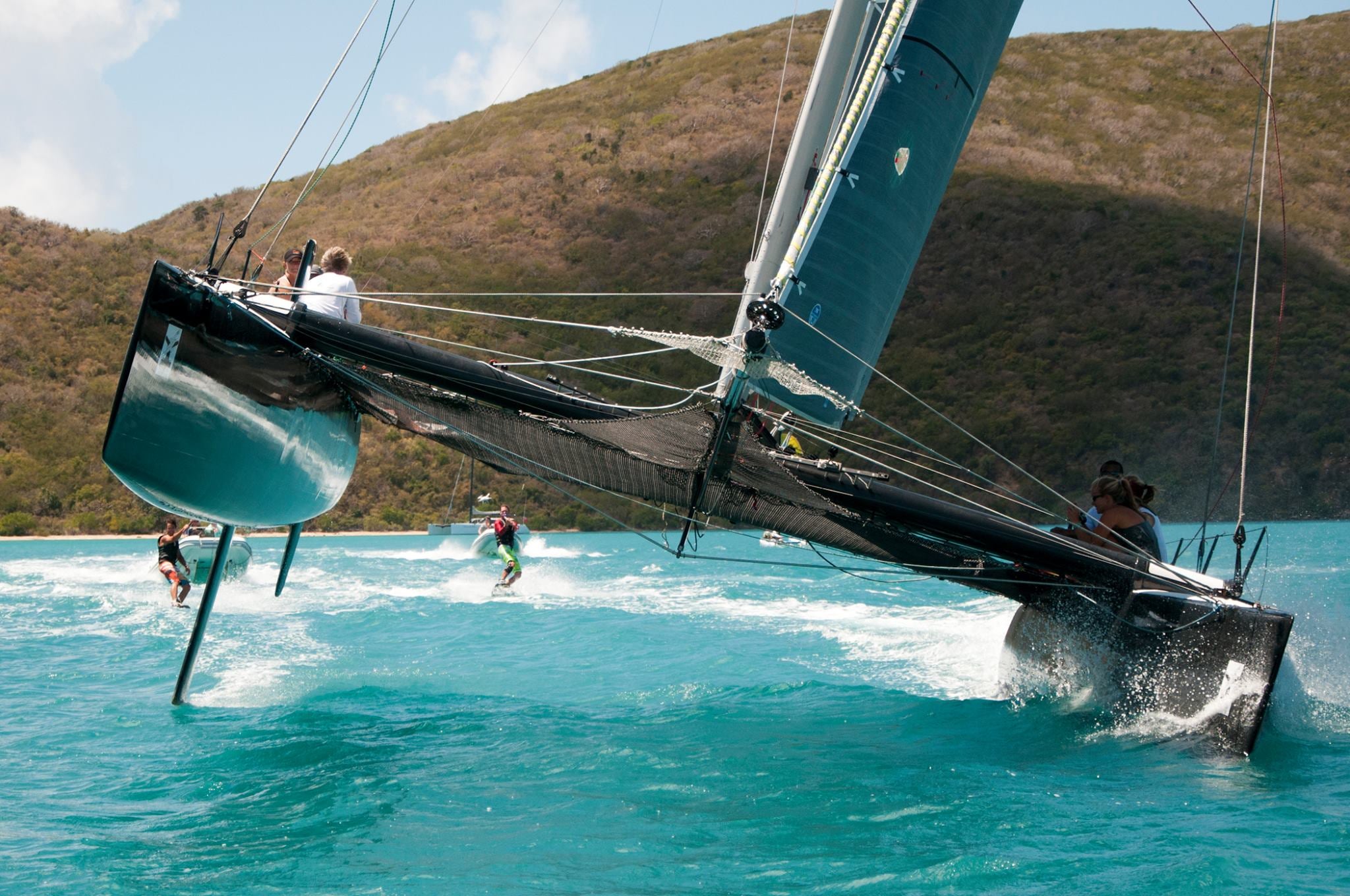 Conspicuously absent this year will be defending champ, Soma. She does have front row seats for all the action in the Sir Francis Drake Channel, though. Like Melania Trump, Soma is just a forgotten and unloved trophy wife…Photo credit: Mar Javierto
In the end, though, it's not about who's got the tallest mast or the most trophies. It has been (and hopefully will remain) about the people and times. The camaraderie on the dock, the time with friends and family, and the late-night repairs (and other shenanigans) are what make the events memorable and why people come back. We at Gunboat have got some fun events planned for the fleet that will hopefully form the backbone of a new tradition moving forward. VPLP are organizing a party at the Willy T (which should be legendary), BVI Painters and Nanny Cay are hosting a cocktail party in the new marina. Of course, Nanny Cay and the organizers of BVI Spring Regatta are responsible for all of it, so big thanks to Cameron, Miles, Emily, Judy, and everyone else there, too.
Though Gunboat invented this market segment, it's a big tent and there's room for everyone.
March 28th, 2017
Whatever your body type, one of the new sporty solos are sure to fit you, and if they all look as good as the Melges 14 fleet above, everyone is a winner.  Look at the excellent video of the 25-boat M-14 fleet in Sarasota last week and tell us with a straight face that you can't wait to get in your Laser…we're waiting…
Results are here in a regatta that saw age ranges from 13-74, with everything from weekend sailors to past Olympians.  Head to Melges on Facebook for more vids and info about the M14, and join the 'Catch On' thread for varied and mostly civil discussions about the M14/Dzero/Aero and the future of solo dinghy racing.
March 28th, 2017