A small handful of media standouts have emerged in sailing over the past few years, and few of them have been more prolific than Brian Carlin.  He's also stayed almost entirely in the fast lane, resisting the urge to take paychecks from anything that ain't high energy and high adrenaline.  Brian takes a look back on his 2016 season with this showreel, and be sure to pay attention to the 2016 Vendee Globe for more great work from the little Irishman.
October 24th, 2016
If you've ever wondered why our sport is so damned strong in New Zealand, just look at this shot from down below on Ika Moana II during the famous Coastal Classic race from Auckland to Russell.  The country has more sheep than people and isn't much bigger than a medium-sized US state, yet they pull 140 entries for this 120-mile race, including around 30 multihulls and literally dozens of full-family programs to the line.
The future looks bright in the Land of the Long White Cloud; take a chapter out of their book and make sure your kids learn to love sailing with you before you shove them into some Opti class and forget about 'em…
Coastal Classic thread is here.  Results here.  Awesome pic thanks to Gillian Williams, skipper of Ika Moana.
October 24th, 2016
Unlike the messy US Election, the choice for the first-ever Olympic foiler was a much less nasty affair.  Plenty of questions remain about the equipment and event choices for Tokyo 2020, but the odds-on favorite for the first flying boat at the Olympics is now the Nacra 17 in its new 4-point foiling configuration.   A majority of the 89 votes cast during an EGM held over the weekend called for the full 'evolution' of a boat that had more than its share of problems in its first quad, and while no one thinks this will be an easy transition, Anarchists who've tested out the new design have walked away with big, big smiles on their faces.  We'll have more on this in a couple of weeks in Barcelona, but for now, here's the press release from the Class:
On the 19th of October the Nacra 17 class members assembled for an electronic Extraordinary General Meeting (EGM). Three topics debated were
a) an update to the class constitution
b) advertising
c) whether or not class members recommend full foiling for 2020 or not

A presentation covering the proposed changes to equipment, pricing, and procedure was shown to 50 members in attendance over the course of 2 hours. Details of how the boats would be made stronger and more consistent were included. Also shown was three pricing options for a mk 2 Nacra 17 was presented which can be downloaded here.


The three options for equipment going forward are:
a) retrofit a mk1 boat to go full foiling for 7,900 euros
b) Buying a new platform for 14,500 euros, retaining the ability to sell the mk1 platform for a next cost of about 7500 euros
c) Buying a new boat for 24,250 euros, an increase of about 2000 euros from the mk1 price

Following the presentation was a discussion with questions and answers from class members and leadership. At the close the meeting, voting was opened to class members. 89 members voted from the total membership of 132, above the 40% threshold required to form a quorum. All of the motions passed, with the advertising and constitution motions receiving 87% support or higher. the major question of whether to recommend to World Sailing whether Nacra 17 should go fully foiling for the 2020 Olympic or not was a closer vote, but ultimately passed 48 votes to 33, for a 59% support level.

As such, the Nacra 17 class has sent a letter to the head of the Equipment Committee of World Sailing with the class recommendation.  Class president, Marcus Spillane, will convey this position at the World Sailing Conference next month in Barcelona. Equipment of the updated configuration will become available following confirmation from World Sailing Conference of their position on the matter. Team wishing to get onto the waiting list for mk2 equipment should be in contact with the Nacra Sailing head office.
October 24th, 2016
Lloyd Thornburg's mighty MOD 70 Phaedo was well on her way to the rare triple victory in the Rolex Middle Sea Race last night, with a big lead over Giovanni Soldini's non-foiling (for-the-moment) Maserati and what appeared to be a couple of hours in hand on the outright race record of a hair under two days. And then they did something you almost never, ever see at this level: They sailed around the wrong mark, costing Phaedo the win, the all-important record, and plenty of embarrassment.  Phaedo co-Skipper Brian Thompson wrote to organizers that "we scored an 'own goal'", allowing Soldini and his crew (which includes Monaco's prince and playboy Pierre Casiraghi) to easily win the race despite their boat problems on the delivery to Malta.
Phaedo is just about finished, while Maserati is likely showered, shaved, and already on the piss.  You can play back the tracker yourself to watch the gaffe unfold (or watch the slower boats still competing), or just watch the GIF above for the money shot.
Results will be updated here.
October 24th, 2016
The first blustery, chilly weekend of the season is upon many of us, and what better time to remind you just how much fun frostbiting is?  Never tried it?  Got kids?  Call your area clubs and find out how to get on the water, all winter long.  Huge thanks to Director/Producer/Writer/Videographer Thurston Smith, and to the early adopters who helped him pay for this great little documentary.
October 22nd, 2016
A beautiful obituary for what sounds like a beautiful character in a sport that's got quite a few of them.  With thanks to SA'er 'dacapo' for the notice and the photo.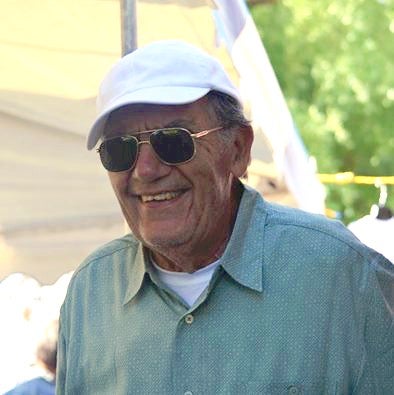 You may not have known know Sal, but I'm sure you knew someone like him.  Sal was a real competitor.  The twinkle in his eye as he herded you to the wrong side of the course to get stuck in a wind hole that only he knew was developing as he tacked back into pressure.  The loud crazy Italian whose arms flailed as he prodded his crew to work harder, faster as they win the start and never look back at the rest of the fleet.  The fountain of knowledge who would pull me aside and call me foolish for tacking too soon…as he sailed to the layline and made the perfect tack to the mark.
Sal won in whatever boat he owned at the time. In the 1960-70′s, he raced a lightning with his family.  Then, for a short time in the 70′s he regularly won in the  Ensign Fleet. As Sal got older, he bought a Catalina 25…and encouraged 6 other to do the same.  They raced in a O/D fleet until they all decided to go bigger…and they all traded up to Catalina 30′s.  Mother Goose has won more races on the Hudson than any other club-owned boat that I know…correcting over the big boys with race boats was his favorite challenge. His boat sailed above its handicap; he could nudge out that extra 1/10 of a knot , when everyone else couldn't seem to find it.
Sal was the first person to call you a chooch if you fucked up, but he was also the first guy to lend you a hand if you needed anything.(except for extra crew
  Sal treated his crew like family. Making dinner for them every Wednesday evening before racing and bringing wine and cheese after every weekend race.
He knew the race results before the scorekeeper did.  He knew the standings and what it took to win a series or regatta.  his mind was always sharp.
Sal won his final race of the 2016 season 3 weeks ago, making him our 2016 overall club champion by percentage points and today he passed away from cancer.   I will miss Sal very much on and off the water.
8 Bells, my dear friend
October 21st, 2016
Other than the world class whiners that every fleet seems to have, there is nobody more loathed by us than the easily offended, officious blue blazer wankers that almost every club seems to have…
How do you know if you're the top boat at the Albacore North American Championships?  A bunch of mid fleet hooligans toss your boat in the yacht club pool after emptying the keg.  How do you know they're Canadian?  They'll tie it securely fore and aft in a polite and seaman like fashion to ensure that that there's no possibility of damage to boat or pool.
Bonus Question- How do you know you're at the wrong club for your big October regatta?  The blue blazer crowd gets upset about the shenanigans.
October 20th, 2016
Big Pimpin'
We are super stoked to have Grand Soleil Yachts onboard SA as the title sponsor of our hugely popular Cruising Anarchy Forum!
Grand Soleil shipyard was founded in Italy in 1973 and since then constructed over 4000 performance sailing yachts between 30 to 70 feet. Today, the Italian known brand continue innovating and developing new models which keep wining design premiers and important racings worldwide.
One of the latest projects is the new GS58 Performance, an Italian masterpiece, designed in collaboration with the famous Italian naval architecture Umberto Felci and the very know Italian design studio Nauta Yachts, all constructed under Cantiere del Pardo's roof.
The 58 project started only a year ago and already the shipyard firmed 11 hulls, which is a great success for the yard. With 4 boats in water the new GS58 has demonstrated to be a perfect match between comfort and performance. Different interior layouts and customizations are offered to each owner, benefiting from the large hull forms without compromising the easy handling, safety and speed.
The 58 provides 3 large cabins or 4 on request, 3 heads (1 day head), 2 different layout for the dinette; kitchen next to companionway or ahead next to the main section, 2 different layout for the owner cabin; side bad with head towards bow, or central bed with side head, crew cabin and tender garage.
The New 58 has recently won the sailing yacht of the year competition in Genova -Italy and is also nominated in category Performance cruiser for the European yacht of the year competition which will take place in January during the Dusseldorf boat show. As for sailing, hull number 3 called "Lazy Dog" 2 weeks after the launch has won a famous Italian race in Sardinia and took the 3rd place in the Les Voiles De St. Tropez race in IRCB!!!  During 2017 a class 58 will be presented and the 58 owners will be welcome to participate in several important European racings.
Another new project is on the run, the New GS 52 LC! 2 years ago Grand Soleil launched a new cruising range starting with a 46 LC (stands for Long Cruise). In less than 18 month the yard sold 27 boats and won the European Yacht Of The Year 2016 competition in category Luxury cruiser.
This success and a high market demand brought to life a new project in a bigger size, the new 52LC. The 52LC will provide 3 or 4 cabins on request, 3 heads, an optional master cabin, a crew cabin and tender garage. The boat characteristics are dedicated to blue water sailing and easy handling in a reduced crew. All the lines, winches and organizers are located next to the helmsman.
The main sheet is connected to the arch and the self tacking jib to simplify maneuvers on sail. Other nice features are the easy docking system (bow and stern thruster), plenty of storage and useful equipment such as generator, AC, washing machine and more for those who love to stay aboard for extended periods. Click here for more on the entire line up!
October 20th, 2016
The Waterlust crew joins a group of brave European ice sailors on a trip to Lake Baikal in Siberia, the largest lake in the world! Because ice sailing requires very specific weather conditions, global warming affects this sport perhaps more than any other.
Click to learn more about Baikal sailing week, and click to  learn about ice sailing in the United States.
October 20th, 2016
Big Pimpin'
Our long history with sailing's premium luxury catamaran brand means we're pretty stoked to see how quickly Grand Large Yachting has brought Gunboat back from the brink.  While we'll need to wait a while to see the just-announced, all-new VPLP-designed GB68 hit the water, this shot of the new Gunboat 57 VaiVai sending it hard in Newport last weekend sends a loud and clear message: Gunboat is back, and better than ever.  With VaiVai hitting 17 knots upwind and 26 downwind last week without even letting her off her chain yet, she's already exceeding expectations.  Compared to the 55, the new boat is 10% lighter – nearly 1.5 tons – all while sporting major upgrades:  An all-carbon interior, a gorgeous, high-modulus rotating Southern Spar, deep daggerboards, and amidships engines.  Throw in air conditioning, a washer/dryer, and a gourmet galley, and you have a full fledged Caribbean dream that just happens to be faster than a new TP52.
A personal note from our editorial staff: We visited with the management of Grand Large several years ago in the south of France, and they are an impressive bunch with a serious passion for yachting. More importantly (given Gunboat's history), they are a solid business with a strong product line and over 700 boats on the water, and we expect they will be around for a lot longer than you will.
It's not too late to have VaiVai for yourself this Caribbean race season. But if you want to try her out first or charter for an event, get in touch here.  Want to buy new?  Looking for a job? Want a free puppy? Get in touch with them today.
We expect a ride on one of these, ASAP, and you all can expect a long chat with Erickson and maybe even the designer of the new 68 coming very soon on the SA Podcast.  Got questions for these guys? Post them in the GB68 thread.
NOTE FROM THE EDITORS: Just to set the record straight, as much as are delighted to see Gunboat 57 VaiVai perform to its expectations, this evolution happened before the new management for Gunboat took over, and they don't want to take any credit for an achievement that is primarily the work of VaiVai's owner, Nigel Irens, and their team.  Congratulations to them on a beautiful boat and a job well done.
October 20th, 2016